Bringing Parisian romance and hospitality to each of their locations, Sofitel Hotels compose a harmonious travel map across the globe. I had the fantastic opportunity to visit the Sofitel Munich Bayerpost this April and take part in celebrating Clementine Pautrot, the winner of Sofitel and Wallpaper* international MyBed™ design competition.
How MyBed™ turned into My Dream Trip
On April 4th 2014, I boarded the plane to Munich to see the young French designer's perspective on the MyBed™ universe. Even if the plane was called back for half an hour due to "technical difficulties" – which would have transformed into panic if not for the excitement of the trip – my second Sofitel experience was like a fascinating dream.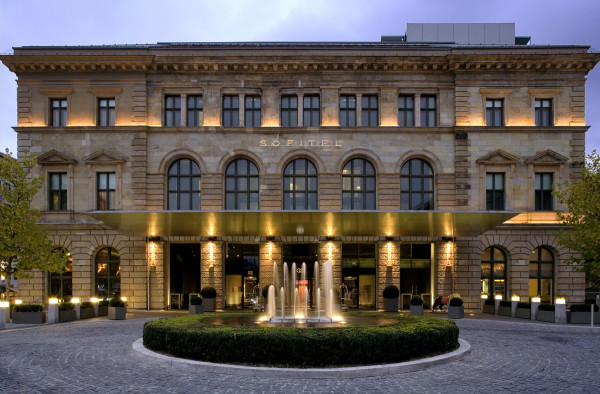 Driving past the Alianz Arena, getting a panoramic view of the Olympiapark München and finally arriving at the Sofitel Munich Bayerpost was an escalating mix of emotions.
I knew the hotel itself was built in the old Munich post office building, but I couldn't imagine such a stunning entanglement of old and new. Redesigned in 2004, the former Bavarian Royal Post Office turned luxury Sofitel hotel greets international guests with the same Parisian welcome!
Bonjour.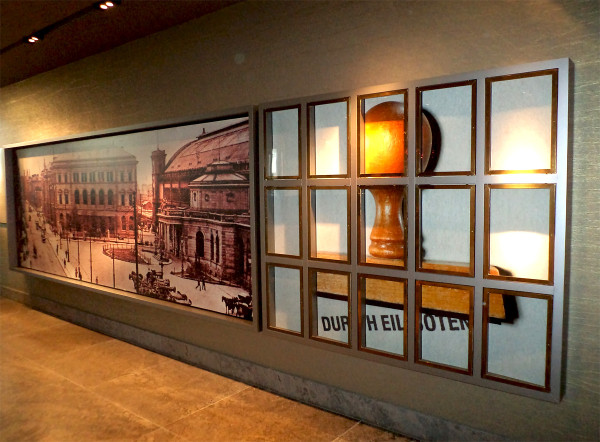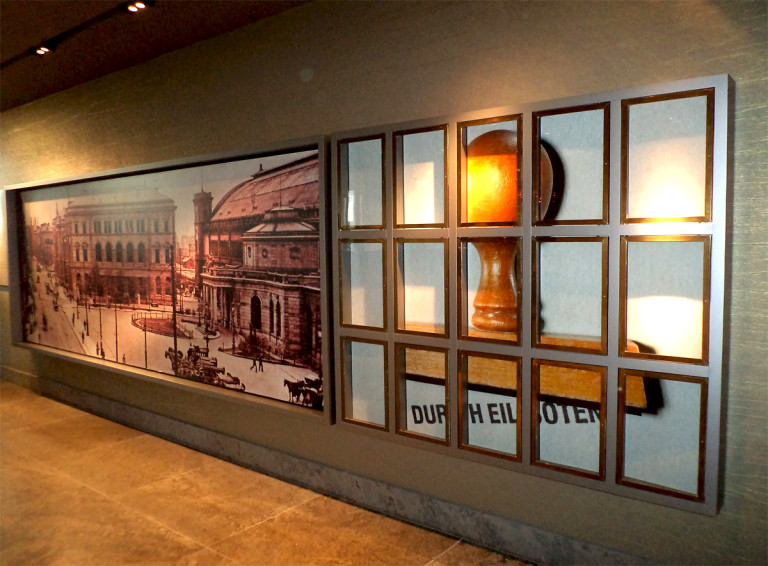 For a second, I indulged in reliving memories gathered at Sofitel Paris Arc de Triomphe, yet the yellowish light in the lobby drew me back to the present, where smiling staff guided me to my room.
Mood Lighting in a Post Office-inspired Reception Area
Later that day, our wonderful guide Philip shined a light on my question about the surprising colored glass covering part of the reception area. This amazing multi-hued glass ceiling 27 meter high creates a sophisticated mood that seems to honor the old architectural style, as well as the modern solutions found to draw in natural light.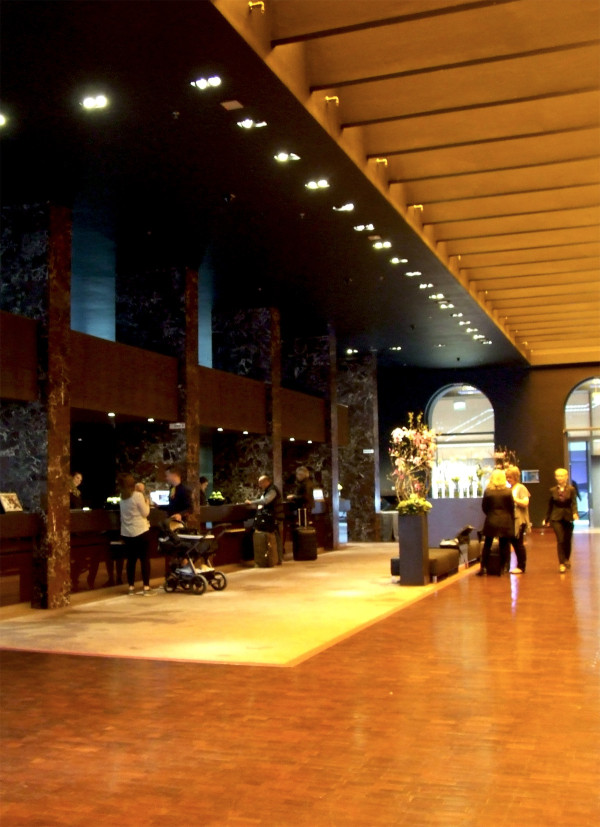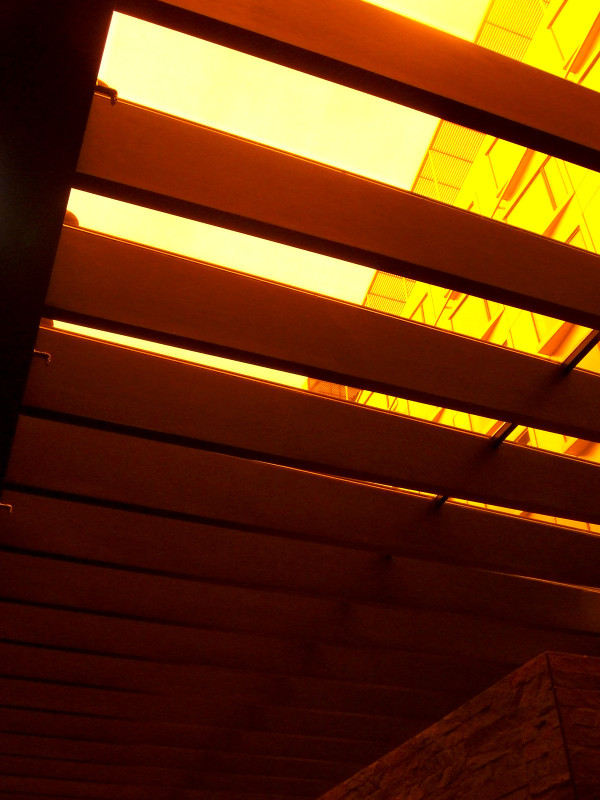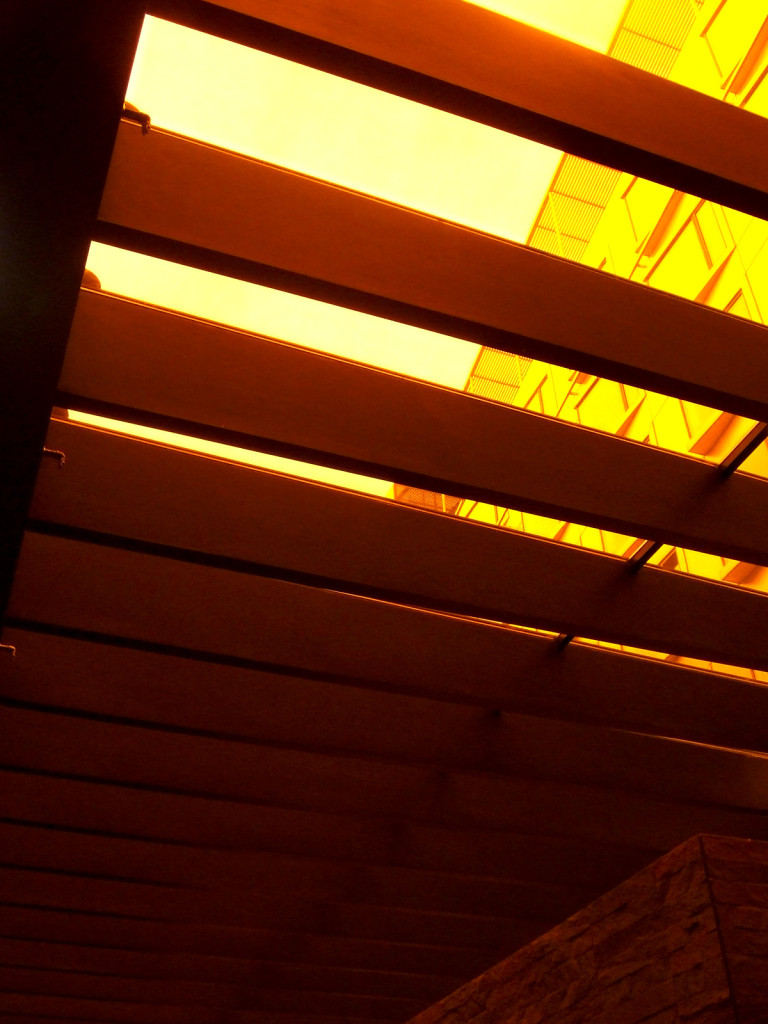 Delicious lunch at DÉLICE La Brasserie
I had a wonderful pre-event lunch and post-event dinner with fellow bloggers Samantha, Kate, Hassen, Sophie and Anna, in a location beautifully incarcerated behind a glass wall lined with different-sized bottles. This charming location – DÉLICE La Brasserie – brought us 6 together first in expectancy of the event, then to share insights about who we met, what we heard, tasted or was surprised by.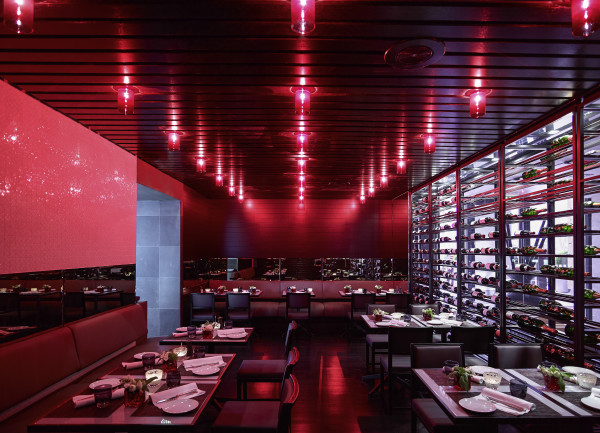 In daylight, the brasserie looks vibrant and bright. Mirrors line the ceiling in a sophisticated pattern and a central island column was dressed in mirrors. This apparently compact space seemed large and inviting while our forks clinked softly, giving the conversation a cheery, rhythmic tune. Under the high ceilings, design lovers like us were sure to feel at home.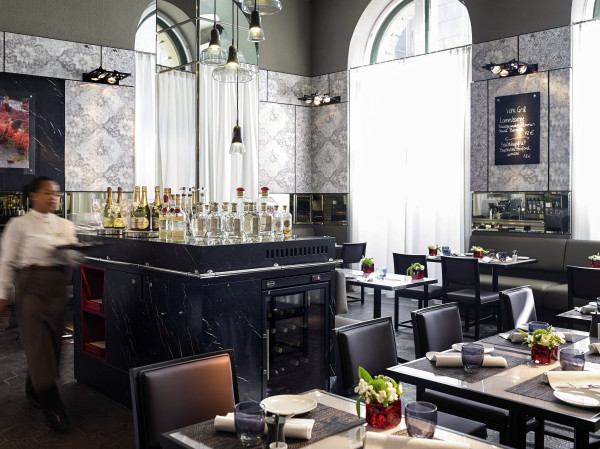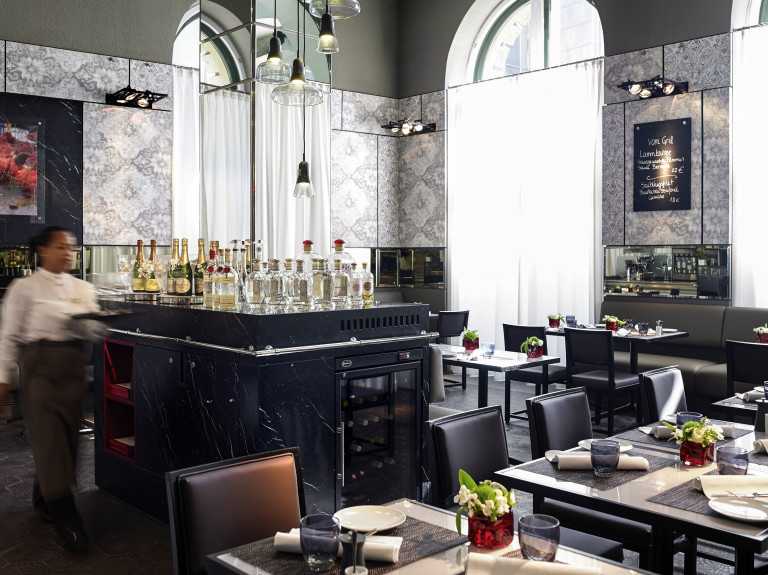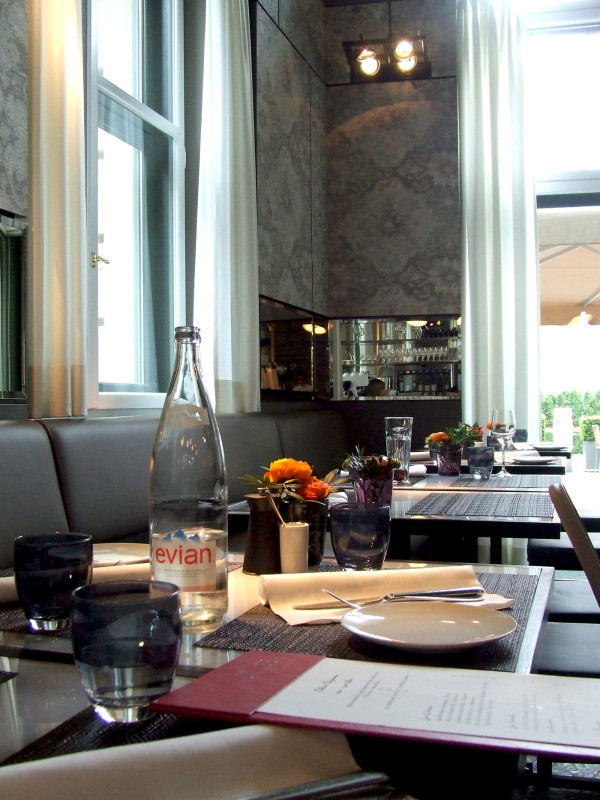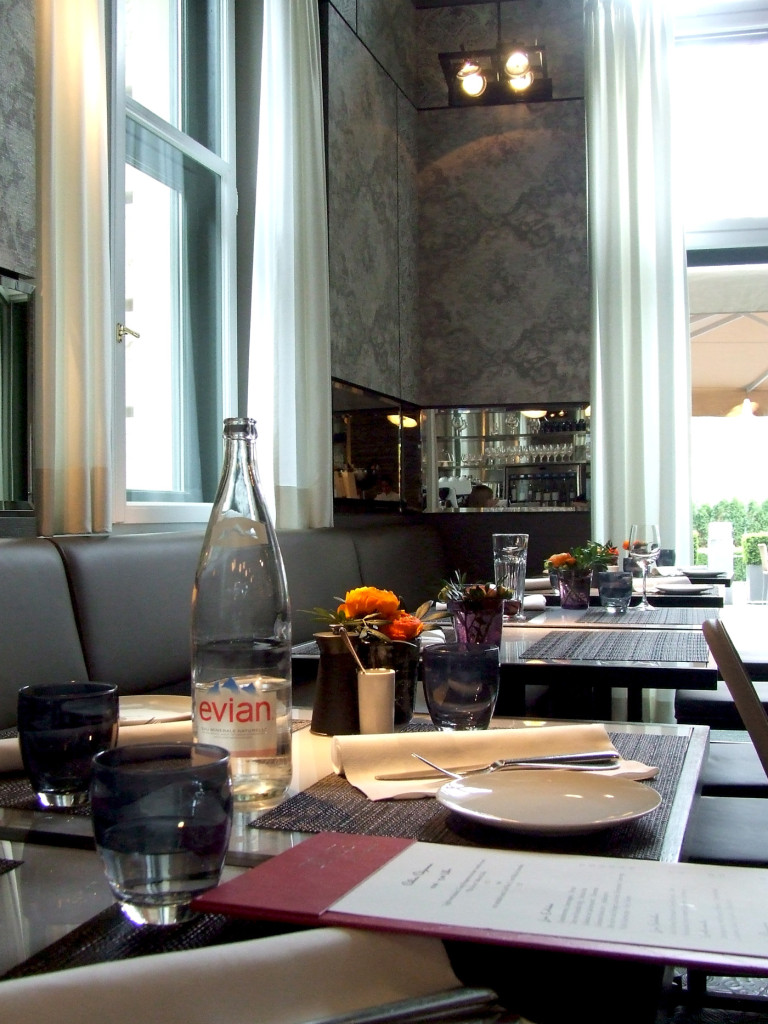 Lunch under a Mirrored Ceiling
I thought lunch should be "just a salad", but I got more than I bargained for. Seeing that Sofitel uses only regional and authentic French produce, I had to try something fresh and I'm still glad I did. The combination between rucola salad and caramelized goat cheese sprinkled with dried tomatoes was mouthwatering. Still is.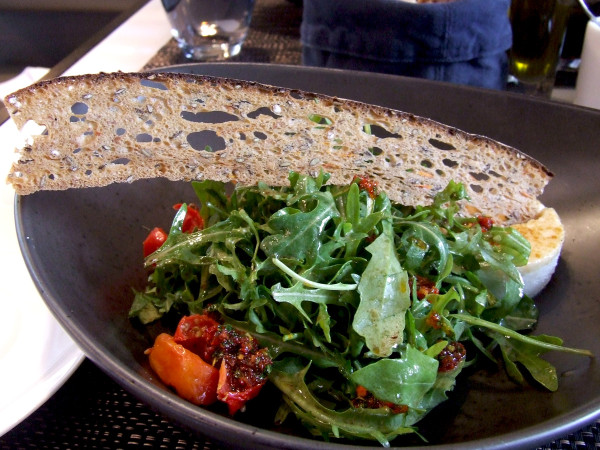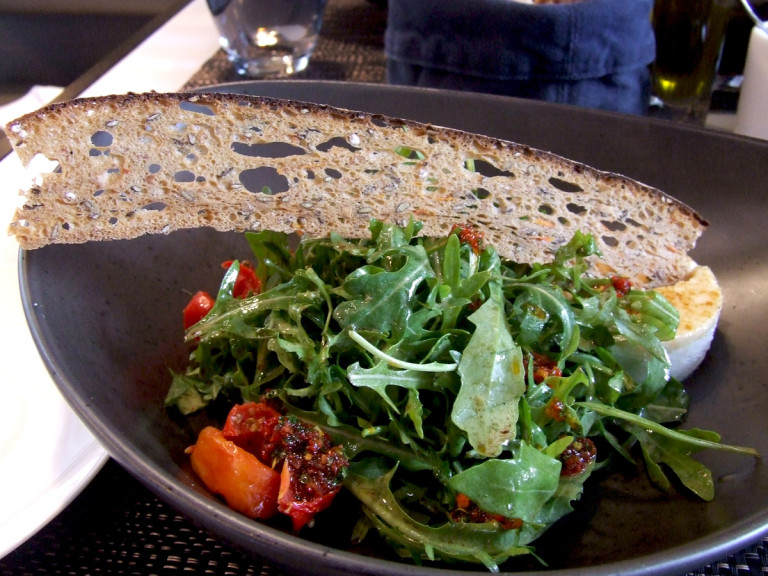 Great people, Delicious Food, Dreamy Sleep
I had two moments in which to indulge in the visual comfort of my room and the physical luxury of an amazing bed: after lunch for an hour and after dinner for 8 hours. I can curiously say that my short trip to Munich was all about relaxation, sleeping and dreaming.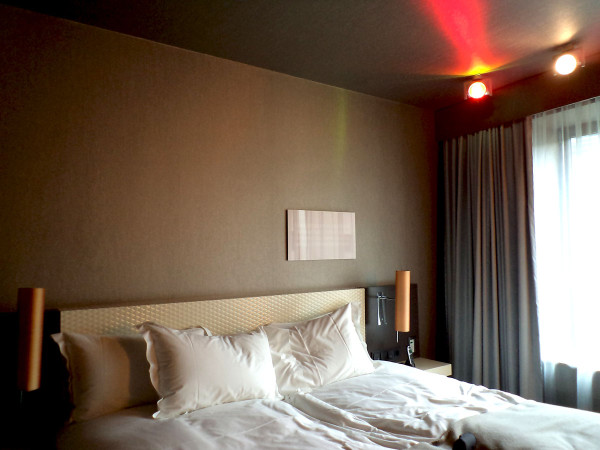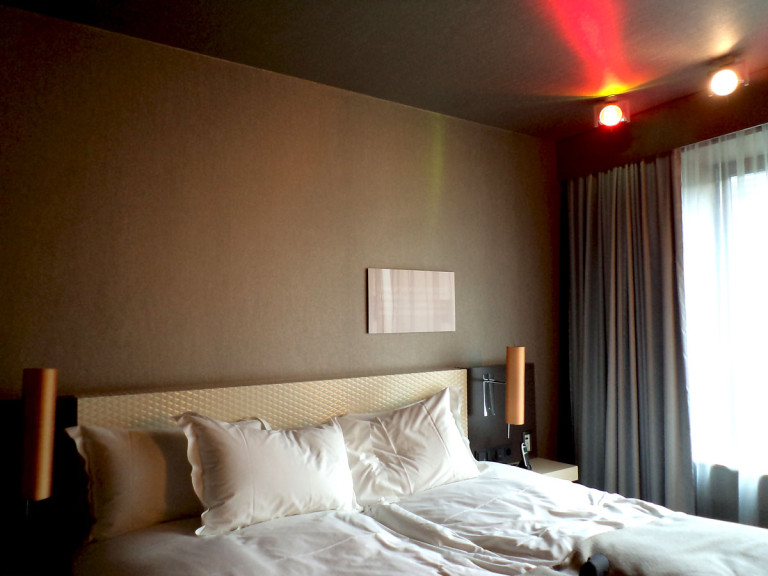 Life is but a dream
During the comfortable night I spent here, I thought to myself that this turned out to be a dream trip like no other. It was a unique MyBed™ experience that translates into different memories from different Sofitel locations, all carrying the same bedding concept. And to remember Sofitel's passion for relaxation and their inspiring MyBed vision, I was gifted a MyBed™ Travel Set.
Enclosed in a rich chocolate Italian leather bag, a travel pillow and a neck pillow by Dumas were fitted to perfection, inviting me to take them as my elegant and functional travel companion.

A Luxury Space for a Unique Experience
Out of Sofitel's 339 bedrooms and 57 suites, I got to stay in a wonderful and compact room opening to views over a landscaped interior garden. Across the room, from behind a glass partition, the bathtub was inviting me to take a moment and bask in the luxury of it all.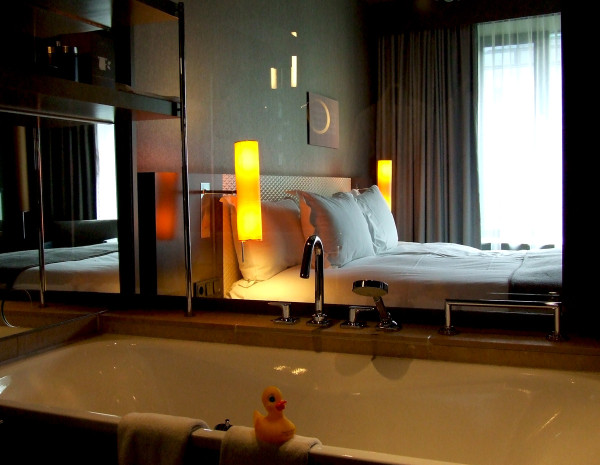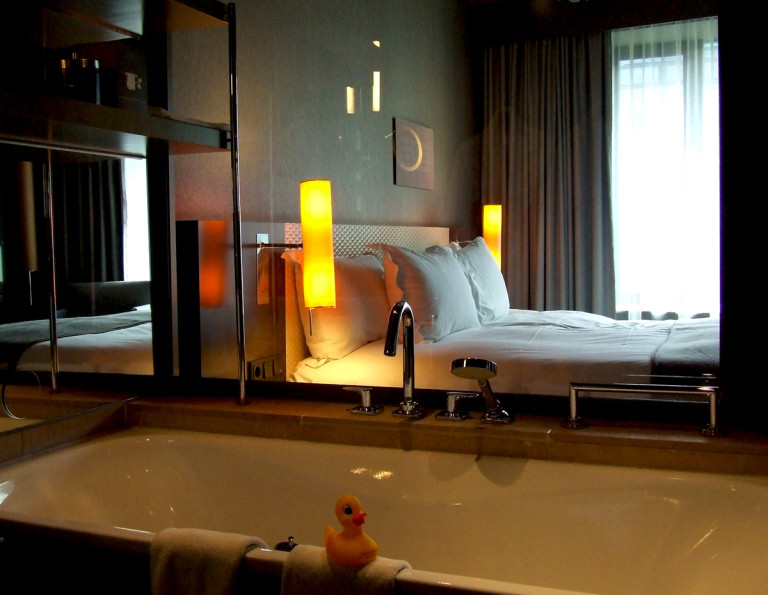 #SofitelDuck
Hermes bathroom goodies, fluffy slippers and cozy bathrobes, a promise that "for every five re-used towels, Sofitel will plant one tree", every detail showed that the hotel does "invite you to taste the serenity of the moment", as they elegantly put it. Discovering the pure joy of a bath was easy along the cute yellow #SofitelDuck I got to play with right before bed.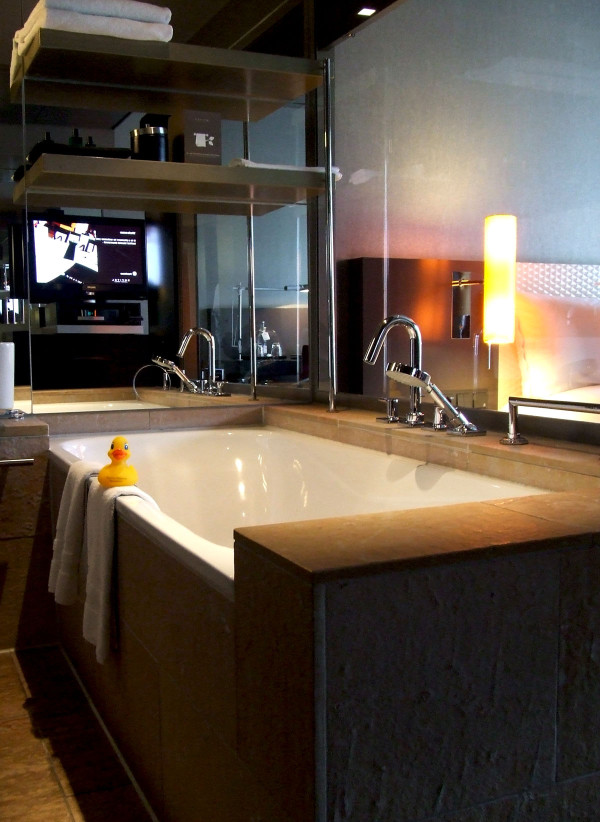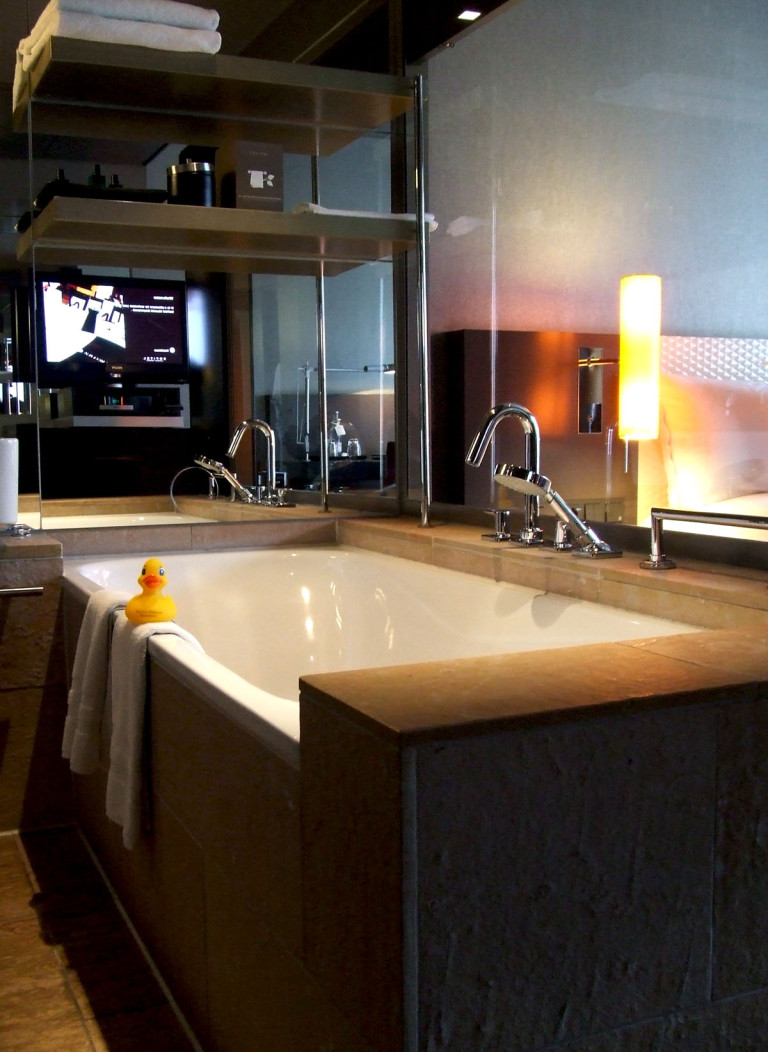 And as a writer, I deeply appreciate a desk in the room, where ideas are pinned down to share with you all. A delicate balance seen in all, from furniture to furnishings, showcases the quality seen in people and things in the Sofitel world. Inside the rooms, harsh architectural elements supporting the building were translated into a mixture of modern materials like leather, natural wood, polished chrome and glass.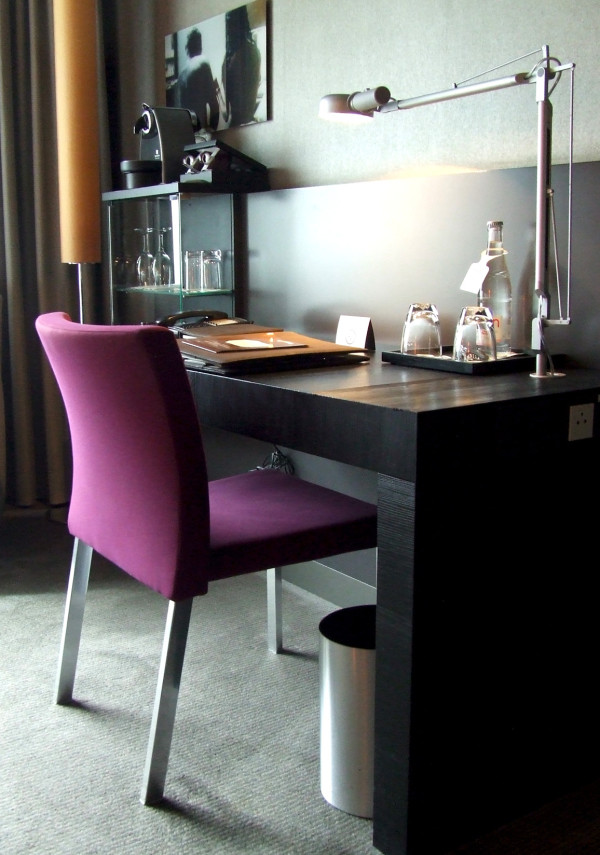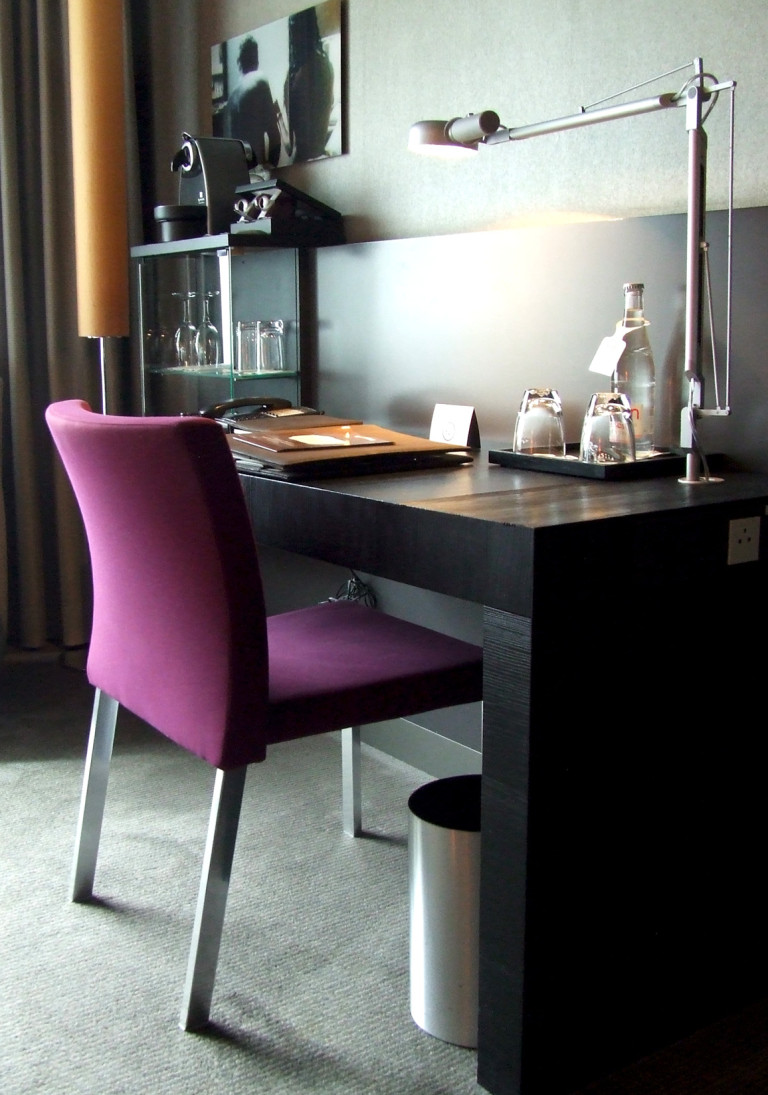 Building Hospitality on a Strong Foundation
Zooming out of the rooms and into the structure of the building, many of the hotel's windows capture the heavy structure from one point or another. The link between the old post office building and the new interior is clearly seen throughout the hotel. Large support structures and systems create both an imposing and fascinating atmosphere.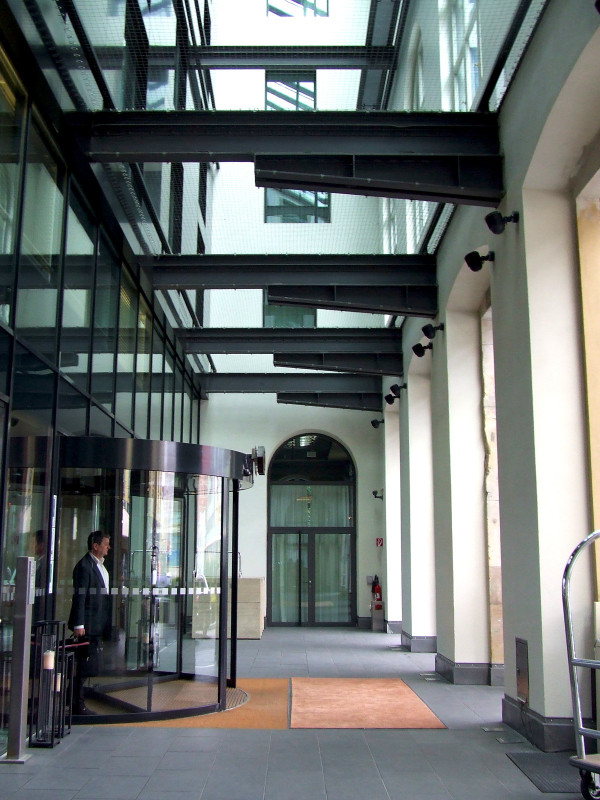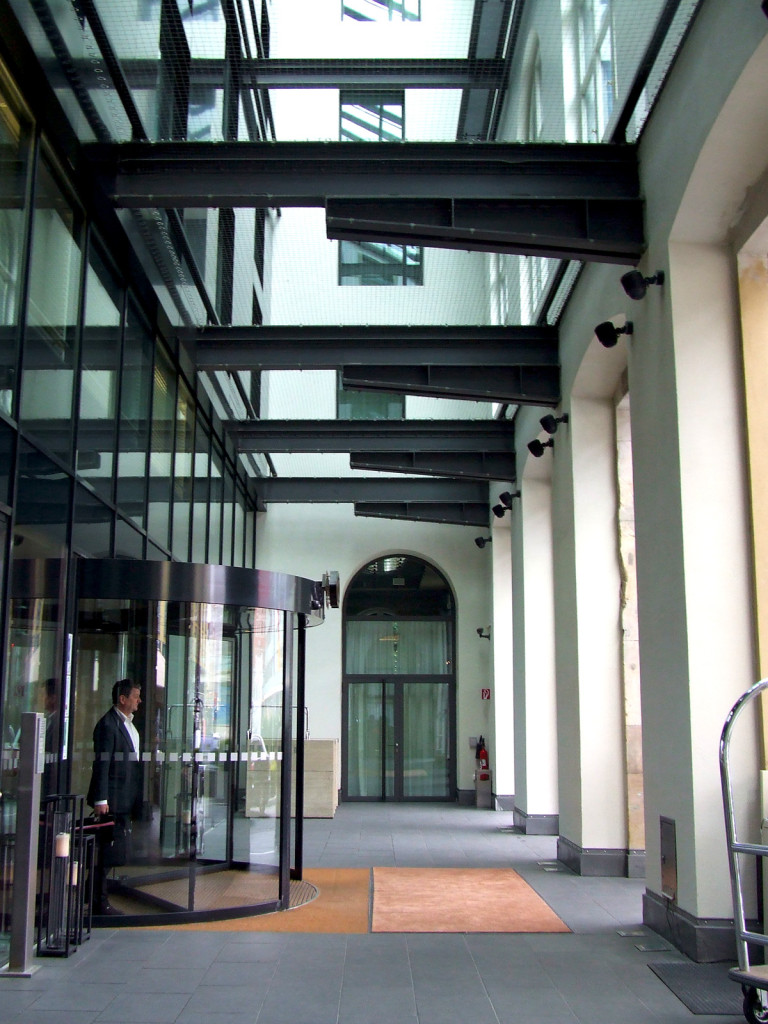 Although redesigned in 2004, Sofitel Munich Bayerpost feels brand new. It might be their steam cleaning system ( a customized steam cleaning systems that prove their care for the clients, as well as the staff ) or the modern accommodations beautifully integrated in a historic building, but each space looks spotless and fresh.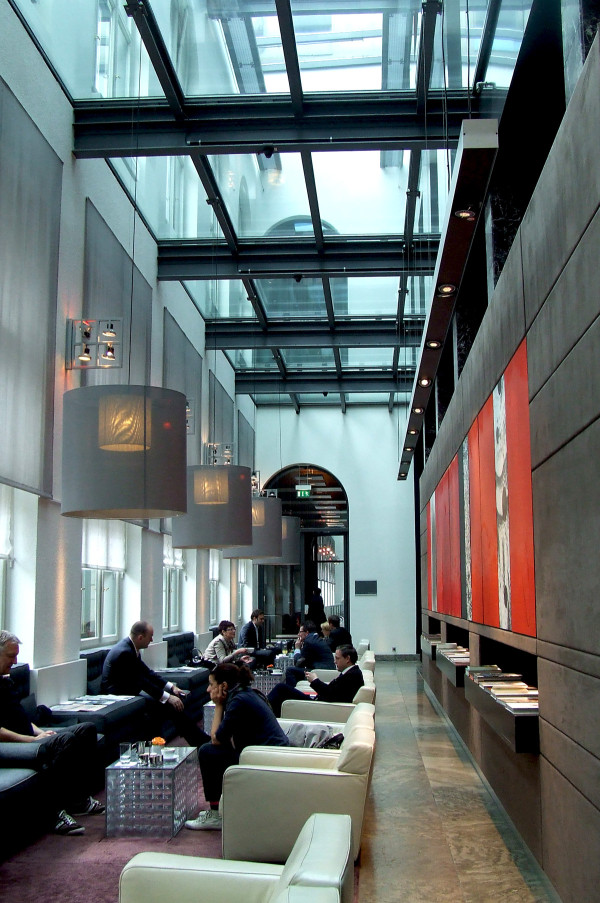 As we walked around the hotel, seeing stunning suites and glass-enclosed corridors, we took pictures and assimilated the vibe. Seeing different perspectives on inviting spaces and yet being fully aware of the magnitude of it all, we enjoyed every space we saw, every smiling person we encountered and every moment spent in such a luxurious environment.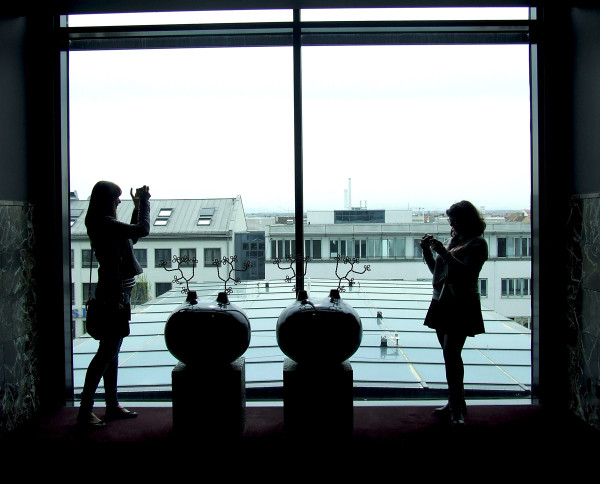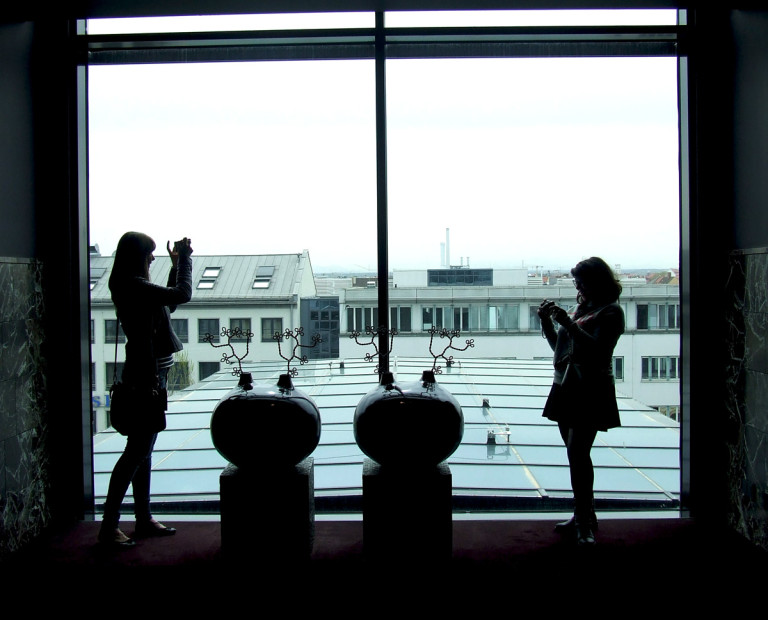 I found Sofitel's attention to details enthralling – from the fresh flowers in the lobby to the deliciously different rooms and suites, this luxurious hotel was designed for every guest, it's a customizable collection of experiences. Each space is different, each themed suite surprises and cocoons you in differently and offers a different atmosphere each time you visit Munich.
After lunch we went up to the rooms to relax and get ready for the event. What followed was an enriching experience with champagne, saxophone music and sparkling conversations around a beautiful MyBed installation in the hotel's central lobby.
It's true when they say: #LifeisMagnifique