Paris is not only the city of love, but also the perfect background for French hospitality brand Sofitel to welcome their guests in a wonderfully redesigned setting. As a symbol for French elegance over 40 countries, Sofitel's 120 luxury hotels combine elegant French origins with savory local influences, creating an inspiring and welcoming experience for their guests. Close to Champs-Elysées and the iconic Arc de Triomphe, the luxurious Paris hotel reinterprets historic values in an intimate setting.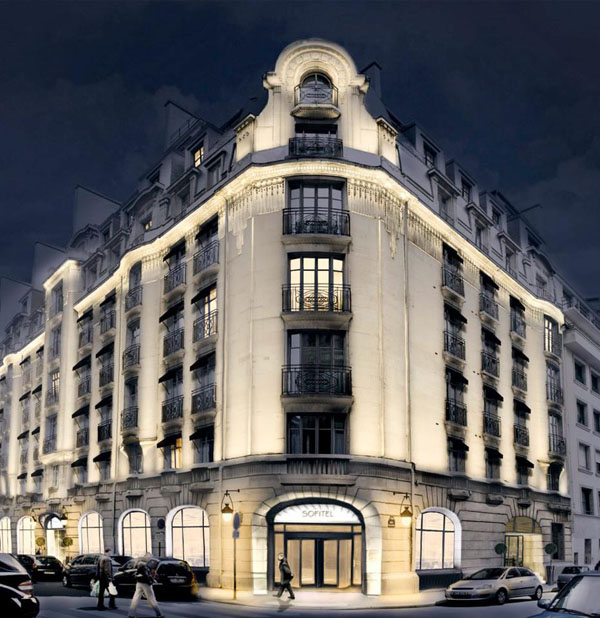 French designer Olivia Putman of design Studio Putman imagined a collection of rooms conveying a chic Parisian feel. Recurring geometric patterns like the square and the oval shape an elegant visual appeal.
Oval ceiling details, oval mirrors and even the circular openness found in the suites compose a circular, reassuring feeling that everything evolves through transformation. The square motif appears in different forms, from the famous Putman checkerboard motif on walls or floors to the gentle blue square nightlight glowing to guide your steps in the room. One of Putman's favorite color – Klein blue – is present throughout, imposing a balanced, serene environment contrasting the hectic city.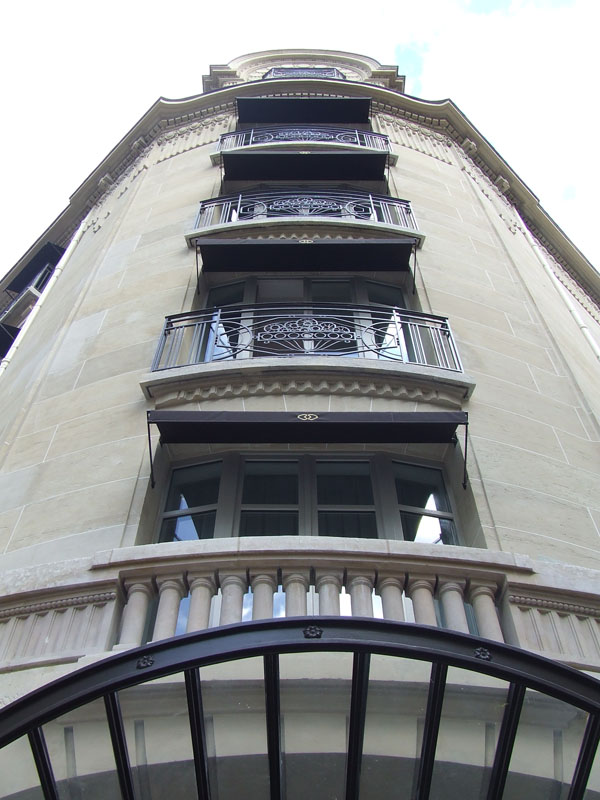 Implemented by the IGLOO architecture agency, Putman's design evokes harmonious interconnected spaces where charm and elegance throne. The lobby hallway is reminiscent of piano keys – oscillating between transparency and reflection. Dark glossy elements shape a fantastic play in perspective – some have mirrors in between them, while others show glimpses of the next room when you pass by. It's a dynamic environment when you yourself are dynamic, offering different perspectives and reflections when you stop to admire the details.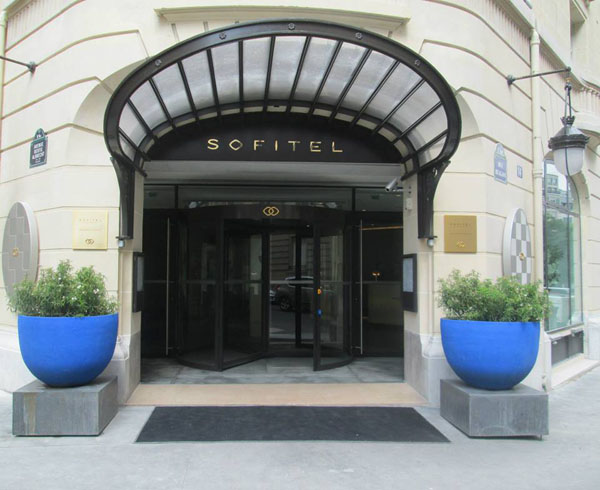 Furnishings like the Crescent Moon sofas and Lang armchair designed by A. Putman, alongside a Constellation rug in the lobby and Andrée Putman's favorite chair -the Gray's Transat armchair and the Fortuny lamp in the lounge create a modern interpretation of luxurious comfort.
With 27 Superior Guestrooms, 66 Luxury Guestrooms, 13 Junior Suites, 11 Premium Junior Suites, five Prestige Suites and two Apartments, the hotel is proud to showcase its modular organization: "the bathroom takes up half the room's area which lets guests arrange and live in the space as they see fit, choosing privacy or sharing, walls or openness."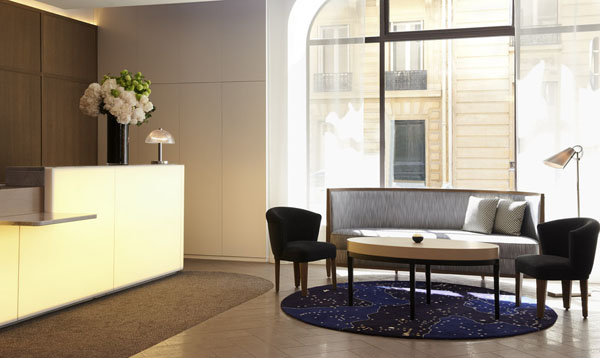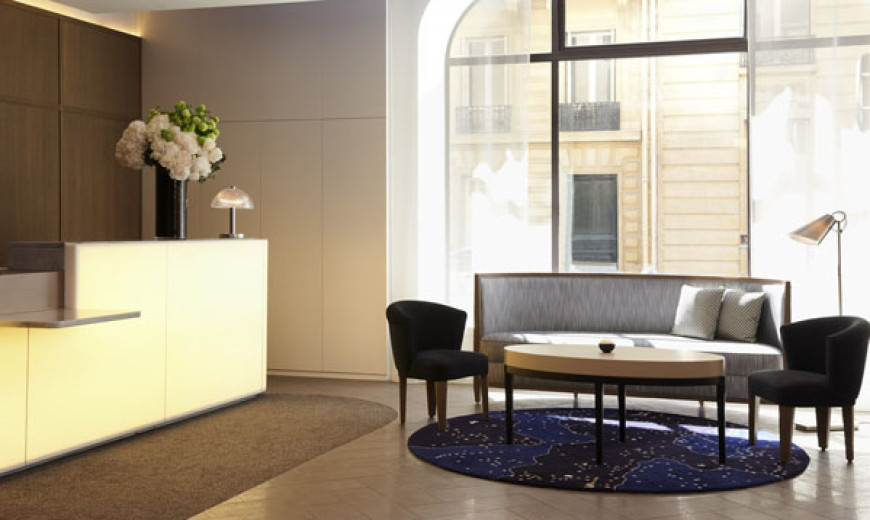 The city was a major design influence seen in the pillow pattern displaying old Paris maps, oversized photography of Parisian architectural details in the hallways, meeting guests at each elevator stop. Soothing colors allow the hotel to accentuate a lively atmosphere created by the guests. They were chosen to offer harmony and serenity within this private Parisian pied-à-terre -inspired environment.
The first Da Rosa Epicerie opened in a hotel provokes a lively atmosphere and the Initial restaurant attracts with exceptional local and seasonal products.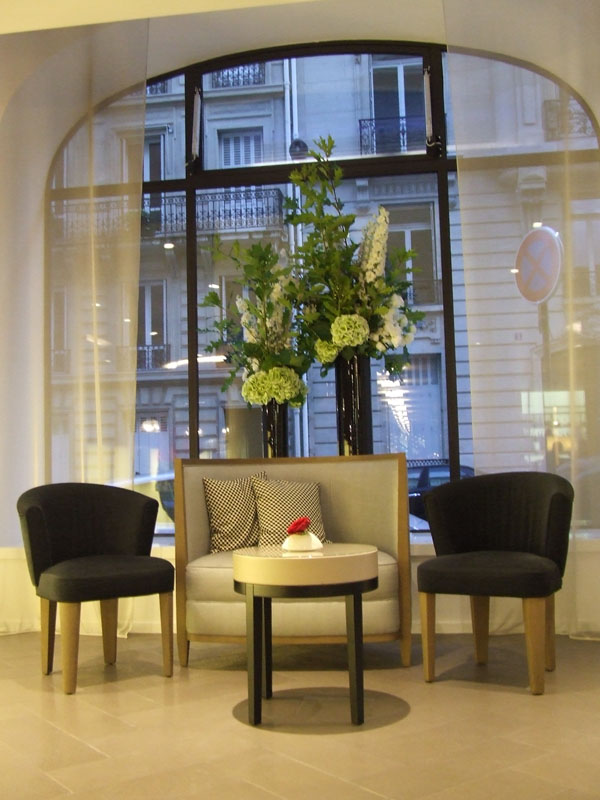 Special attention was given to an aspect widely overlooked in terms of social impact – health and cleanliness. Sofitel Paris Arc de Triomphe was the first of their hotels to use customized steam cleaning systems that prove their care for the clients, as well as the staff, creating the premisses for customized comfort.
Andrée Putman's vision is shared through design and elegantly displayed on the pearl grey walls of the hotel:
"Au final, tout se résume à une idée très simple : l'harmonie." ("When all is said and done, a very simple idea—harmony—sums everything up". )