With Valentine's Day at the end of the week, now is the time to put a special touch on this holiday dedicated to celebrating love. That's right–Valentine's Day isn't just for those who happen to be in love. Kate here, and when it comes to February 14th, I enjoy showering my friends and family with valentines, from cards to special knickknacks. This year I'm making some of my own valentines, including several for my hubby, who woke up today to find this valentine waiting for him on his desk… [from Mirror80]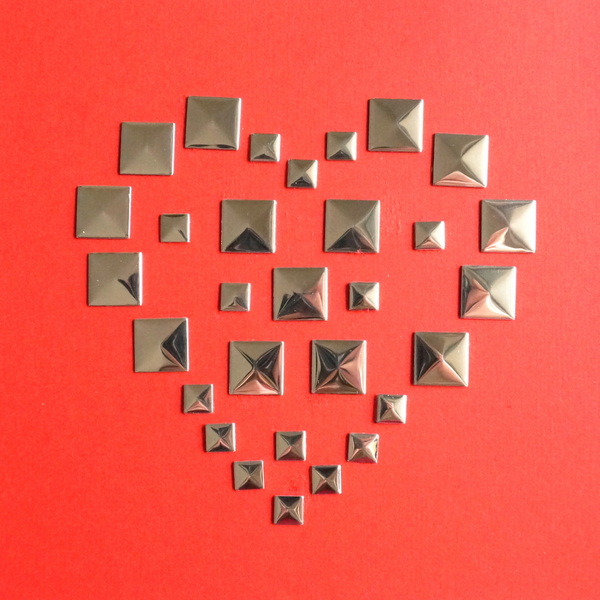 I created the valentine above with red paper and some silver stud stickers I bought at my local craft store this past weekend. I'm still on the hunt for some amazing DIY Valentines, so I thought I'd share the results of my search with you in today's post. There's nothing like a little creativity to make a big impact! All of today's featured projects showcase creativity in spades (or shall we say "hearts"?)… Enjoy browsing the projects below, and have fun personalizing them for the people you love!
DIY Valentine's Day Cards
We begin with the classic and timeless Valentine's Day Card, also known as the valentine. Yet today's featured cards are anything but traditional. In fact, all of the selections below are edgy and fun, proving that sometimes all you need is a dose of the unexpected to show your love and appreciation with style! Let's start with these DIY Simple Glittery Valentines–the perfect blend of glitz and glam. Choose from three easy-t0-craft designs to pick the perfect card for your special someone. A full tutorial can be found at Say Yes to Hoboken.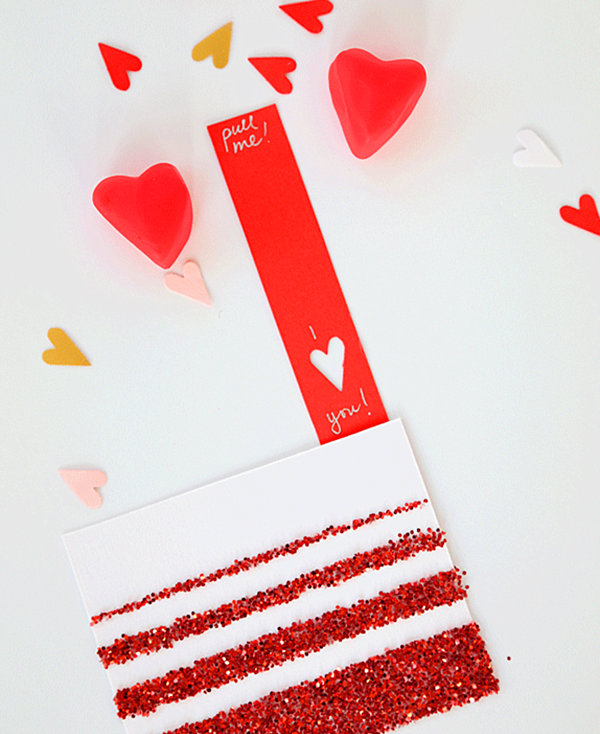 This Love Shower Pinata Valentine is the card version of the pinata featured in our post on Valentine's Day party ideas. Cut, stitch, fill, and you're set! Note how the cloud-shaped "pinata" is stuffed with confetti hearts and candies. For a full tutorial, head on over to A Subtle Revelry…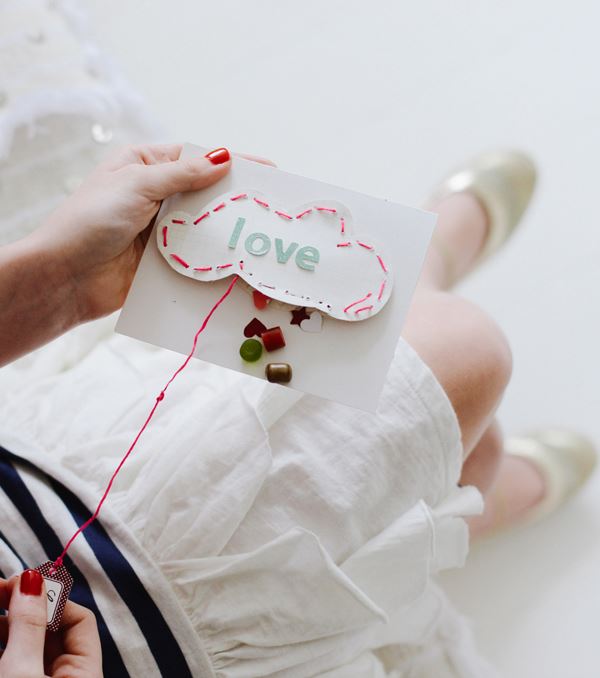 There's nothing like a free printable. Especially when it comes in the form of a Valentine's Day card that celebrates today's geo trend. The watercolor design below showcases the appeal of gem-like facets. Download, print and personalize. The best part: you can choose from both print art and card versions of this design. [from Persia Lou]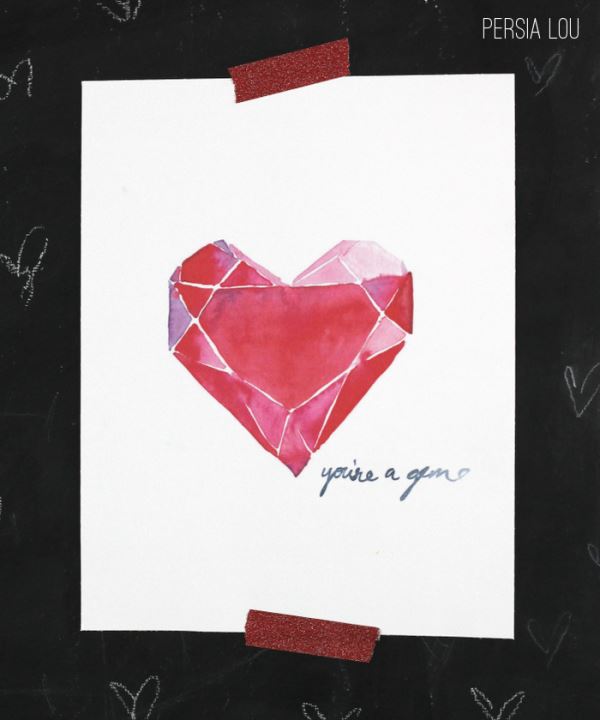 Do you remember weaving placemats with paper strips when you were a kid? Perhaps for a school project? Time to revisit your youth! This Woven Heart Card takes that same idea and adapts it for design lovers of all ages, thanks to an 8-bit look and a gradient effect! For more details, visit Trend Hunter…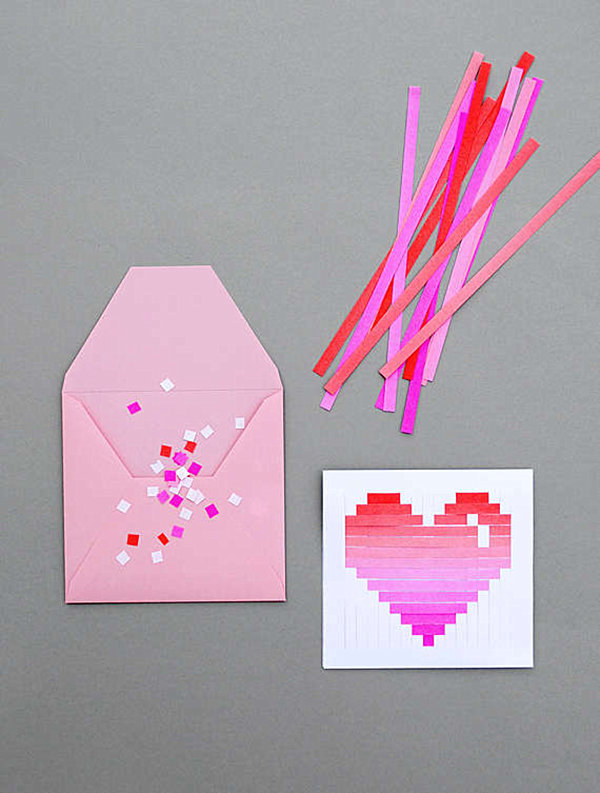 One card is fabulous, but there's nothing like gifting your nearest and dearest with a Wall of Love, covered in special notes. Head on over to Julep for a tutorial so you can learn how to make one of these eye-catching hearts. Then make a slew of them, put little notes of love inside and attach them to the wall for the full effect! [via You Are My Fave]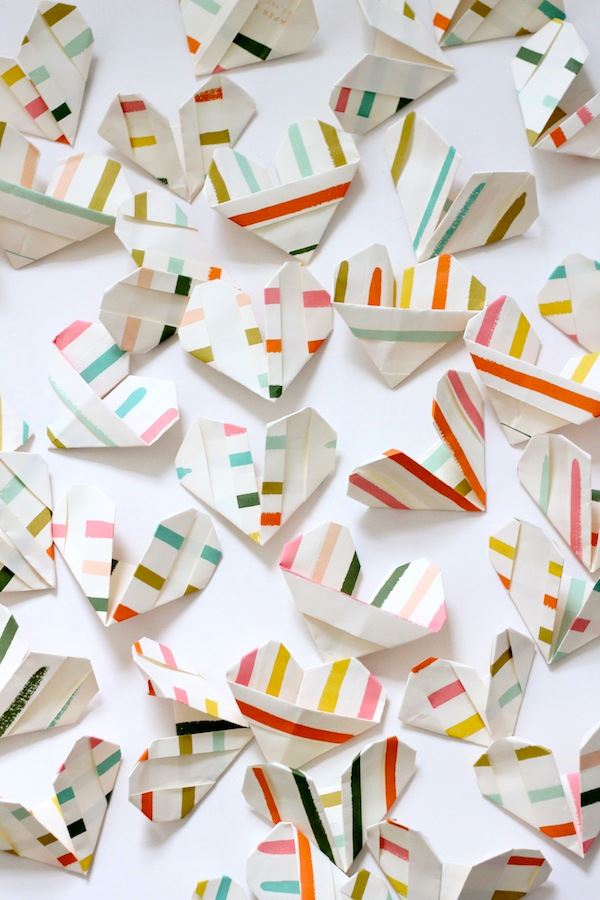 DIY Valentines That Double as Gifts
Sometimes a valentine is a bit more than a card–a little gift that serves as a token of your love. "Write" your message of love on a scroll that your sweetie can unwrap after removing from the envelope. With a few simple supplies such as white canvas, adhesive felt and mini dowel rods, you can create your own version of the clever V-Day gift below. It's the DIY Love Letter Scroll from Say Yes to Hoboken!: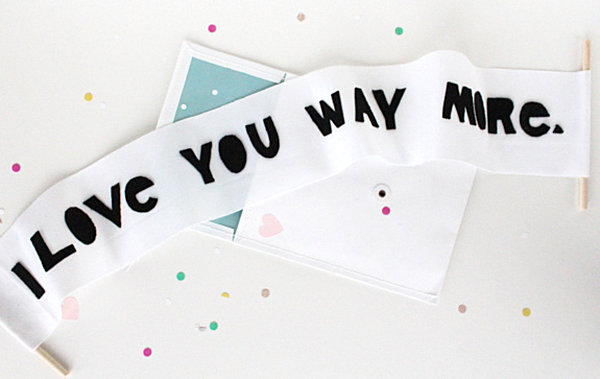 This next valentine idea is so clever that it glistens! Say hello to the DIY Heart Disco Ball Valentine from Julep, which showcases a pixelated effect with the help of some red craft paint and a little patience. It's entirely possible that your loved one will display this gem of a gift all year long…
It's hard to imagine better gifts for design lovers and DIY-ers than these Paint Chip Valentine Bookmarks from Inhabitots. With a paint sample strip from your local home improvement store, a heart-shaped hole punch and some ribbon, you can gift your loved one with an ombre-style reminder of creative color possibilities! You don't have to stick with reds and pinks for this project. Choose color palettes that are true faves of the giftees!
We end by highlighting these DIY Valentine Arrows from Curbly. I actually gave this project a go last night, and it was surprisingly easy and fun! Washi tape, feathers and paint pens are the supplies of choice, along with Sculpey clay, wooden dowels and glue. Feel free to substitute supplies to personalize this project. For example, I made a mini version using a bamboo skewer, and I skipped the clay in favor of a washi tape arrowhead. The possibilities are endless…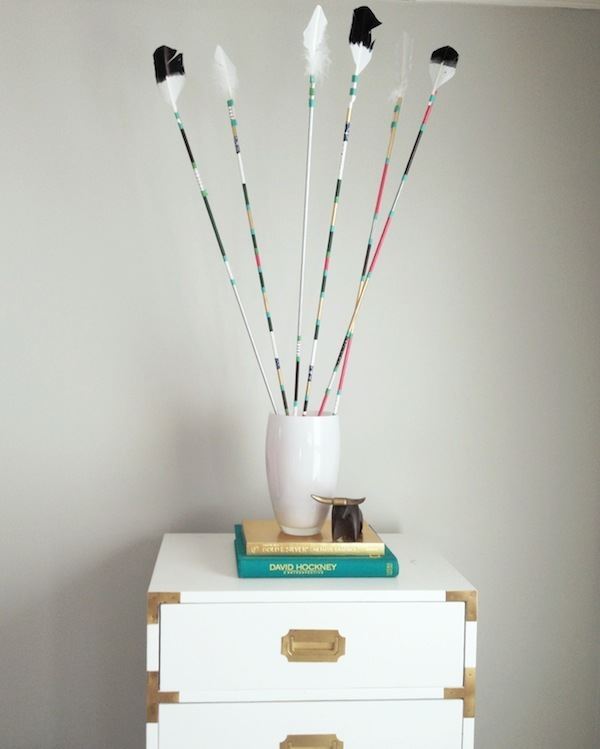 Tell us about your DIY valentine ideas by leaving a comment below…