We at Decoist love profiling changing styles and new trends. The Hollywood Regency living room below is a testament to the fact that season after season, this style was all the rage, with "glossy" being the word of choice. In fact, a few years ago, the upscale ideal for interior design consisted of repetitive geometric patterns, lacquered furniture, elegant flourishes and an abundance of shiny surfaces. [from DKOR Interiors via Houzz]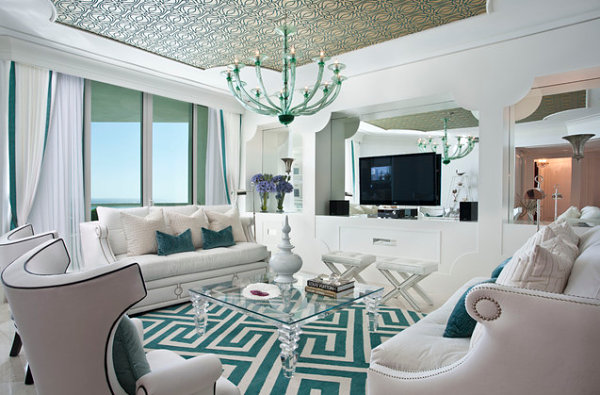 It was a full-blown Hollywood Regency revival! Now that the style is officially back, it will always have devoted enthusiasts, but interior design has taken on a different look in recent seasons… [from CB2]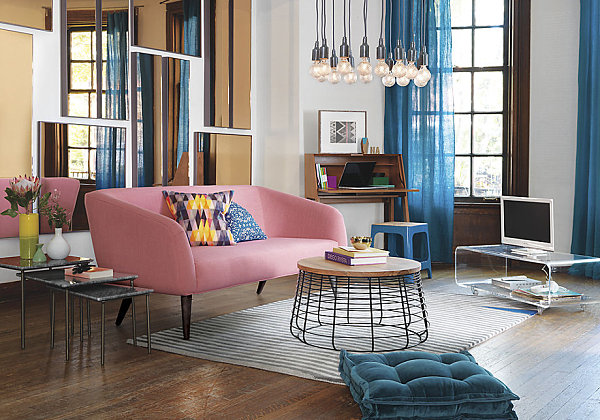 In a lot of ways, bold simplicity is the new normal. As in the image above, radiant color and geometric patterns are often involved. There's also an abundance of natural materials. Metal. Wood. Stone. This month at Decoist, we've profiled all three of these materials and the interior design trends they've inspired. From brass to marble to wooden geometry, it's the materials themselves that have stolen the show. And they've taken on a minimalist look. For example, a domed pendant light, a triangular table and a cylinder-shaped candle holder put form over frills, drawing attention to the veins of the marble, the sheen of the copper and the grain of the wood. It's a new look that deserves a second look…and that's what today's post is all about!
Metal
Metal is shiny, and when embellished with intricate markings, it can be formal and even heavy. Today's design solution: keeping it simple so the material itself can truly shine. This Copper Shade Pendant by Tom Dixon (available through YLighting) is on many a wish list. Profiled in a recent Decoist post, the light makes a bold statement on its own but is also stunning when displayed in a group…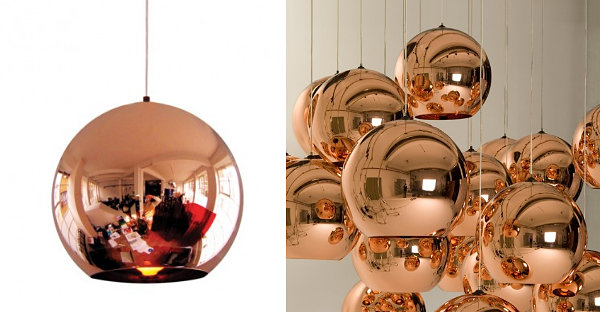 The All-Brass Wall Sconce from onefortythree is crafted of hand-bent solid brass in a natural dull shine. Curved lines and rounded forms reign…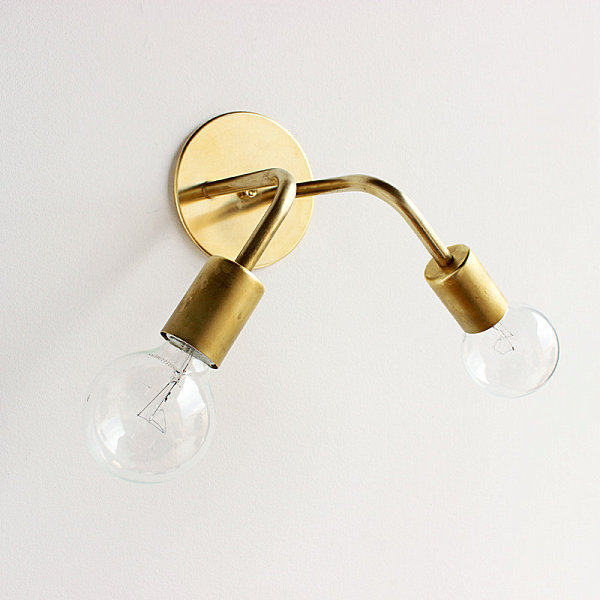 Metal accents aren't limited to today's hottest lighting. They're present on furniture, as well as accessories such as clocks. This iron circle 30″ clock from CB2 is crafted of distressed raw iron and features brass-coated aluminum hands: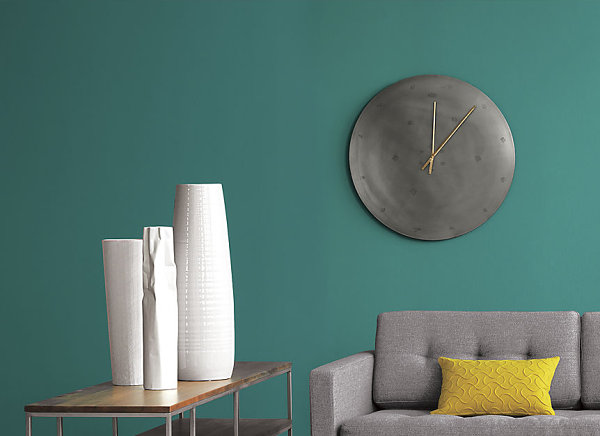 Wood
Wood is a material that transcends design styles, from the rustic to the modern. Some of today's most interesting decor finds showcase wood in all of its natural flair. The Wood Veneer Pendant Lamp from onefortythree features a socket covered in real wood veneer with a natural hand-rubbed finish. Simply chic.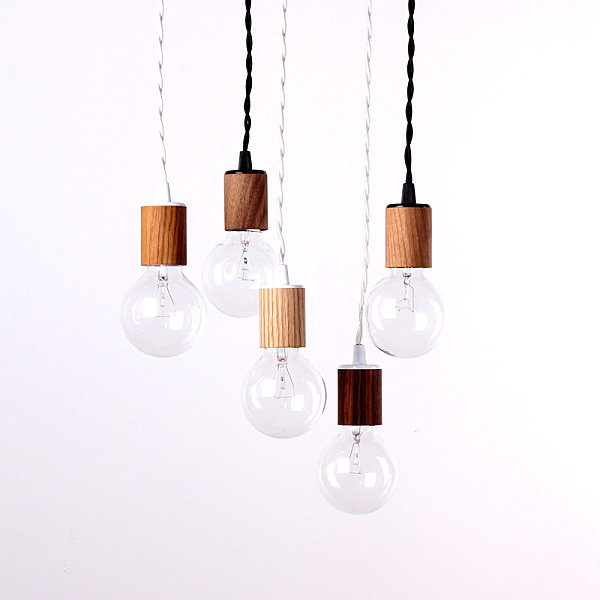 Many of the most desirable wooden finds boast bold geometric forms. This past November, Design This featured the Lightframe Wooden Pendant Lamp, shown below. The light's striking design is enhanced by the warmth of wood and the intrigue of clever geometry.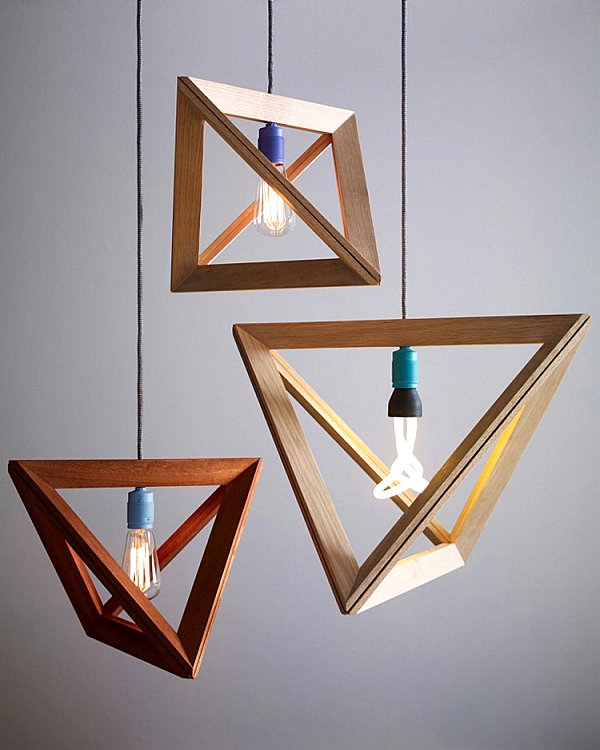 Restoration Hardware shines the spotlight on the beauty of wooden geometry with their Geometric Forms in Cloche Natural, featuring reproduced vintage geometric models encased in blown glass…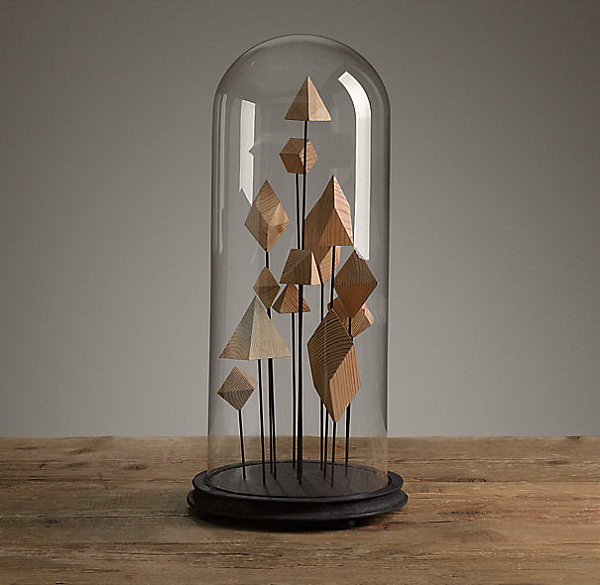 Stone
The appeal of stone is undeniable. From the veining of marble to the banding of agate, the natural patterns are so desirable that they've jumped from the stone itself to items such as textiles. But for now let's start with the rock… A dome of stone makes a big impact, thanks to the rock pendant lamp from CB2. Smooth white marble, an exposed bulb and shiny silver hardware are a powerful combination…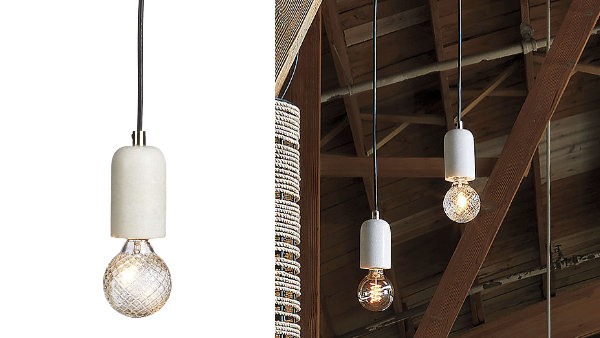 West Elm has recently debuted a series of stone knobs that have taken our breath away. This Agate Knob in Green is a vivid counterpart to the wood of any dresser. In addition to the knob, also note the green agate pulls and handle on the furnishing below.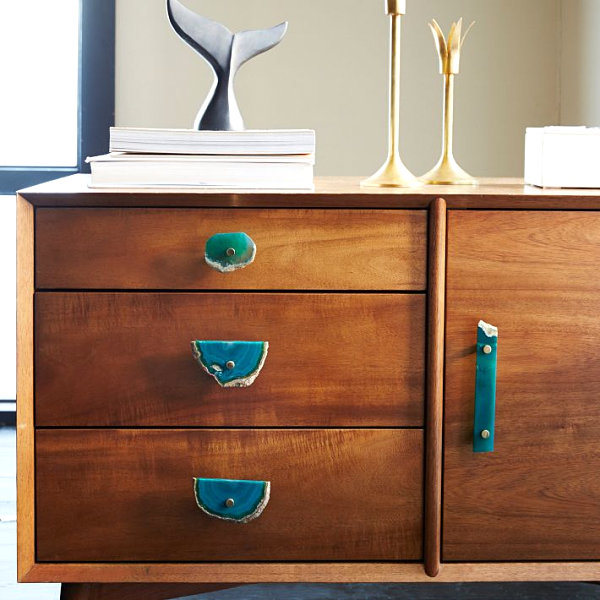 Check out the Agate Handle in Light Gray, and you'll see how the mineral bands are particularly bold against the lighter coloring of this agate selection. Nothing like a dresser with chunks of rock for knobs and pulls! Natural materials at their most dazzling…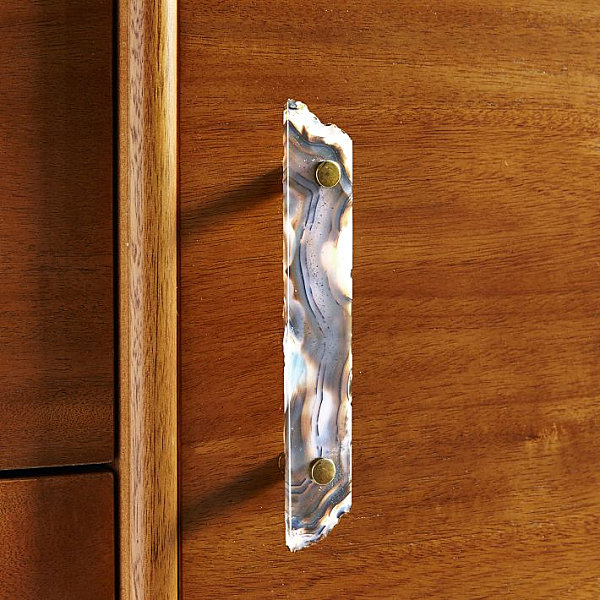 Stone has even influenced the patterns of our textiles, wallpaper and art. These artistic representations of natural materials from Ferm Living are created by Kristina Krogh and printed on 13-mm birch plywood. In addition to the marble veining, note the wood grain patterns: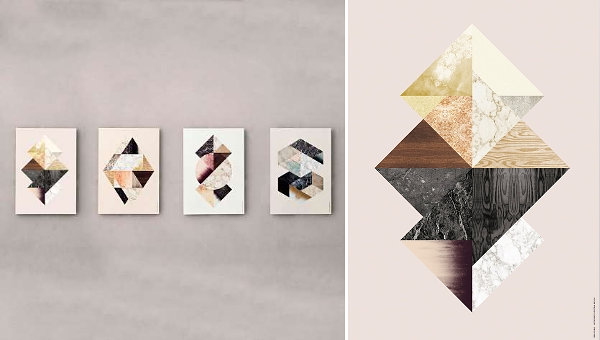 As we wrap up today's post, let's not forget that some of the most popular designs involve a combination of natural materials. For example, wood meets stone in this Marble + Wood Slab, perfect for serving cheese and other delicious appetizers.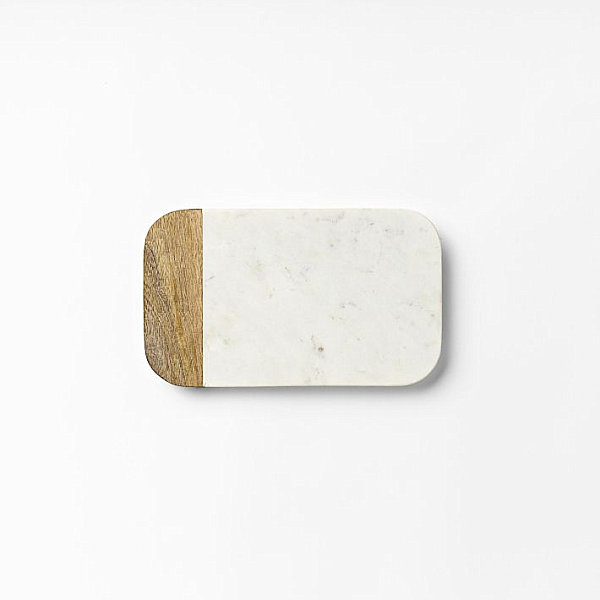 The return of natural materials has ushered in a new wave of talent, with artisans selling their wares on sites such as Etsy. In addition, countless DIY projects have appeared, celebrating wood, metal and stone surfaces. When it comes to this new bold look, don't forget that you can easily integrate colorful pieces, as well as geometric designs. Like Hollywood Regency, the look can be polished. Yet there's a purity there that isn't always present under the shine of lacquer. Do you think the current celebration of natural materials is a deliberate contrast to the reflective shine of Hollywood Regency design? Share your thoughts by leaving a comment below…