Only occasionally do I find a product that becomes an obsession. It truly has to be the perfect design, simple yet sophisticated – almost like I should have thought if it myself. Right now, my love affair is with Tom Dixon's copper shade. It's just too good, and it is starting to appear everywhere. One of these days I will finally get one! It seems there's not a space that this beautiful fixture doesn't belong in. Whether it's a rustic abode, or a vintage, modern or utilitarian space – this fixture will shine.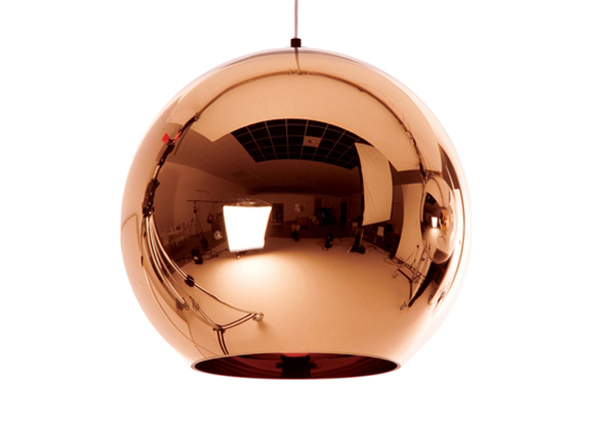 Believe it or not, Tom Dixon is a self-taught phenomenon. An art school dropout with no formal training, he began his career as a hobbyist welding his motorcycle. Fascinated by the process of making, he started experimenting with new techniques. Soon enough, he made the transition from motorcycles to furniture. His successful furniture designs landed him a job as head of design at Habitat. Since then, he's become the creative director at Artek, all the while independently designing his own work.
Innovative Design
In an interview with Dwell Magazine, Tom Dixon said, "You can take the principles of what something stands for and use them in a completely new way. Otherwise you're just a retrospective company." Tom Dixon's designs do just that. They are the result of highly innovative processes – he pushes materials to their limits until he creates something new. Though this shade may appear to have an effortless ease, the process of its making is far from simple.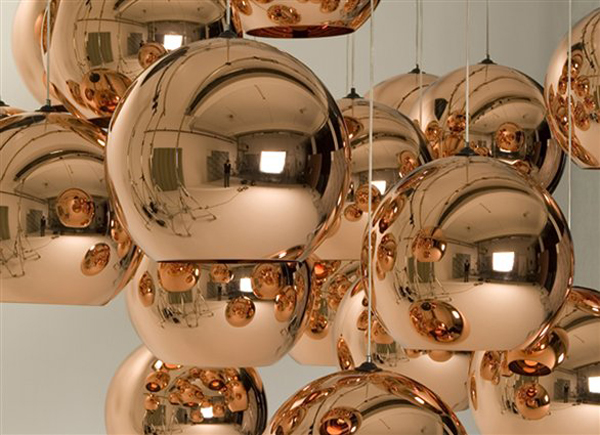 On the cutting edge of manufacturing innovations, this shade was made using vacuum metallization technology. Beginning with a polycarbonate orb, the copper coating is vaporized and applied to the orb through suction via an electrical charge. The end result is this seamless reflective surface in a perfect sphere.
Sophisticated Interiors
The stunning copper shade has the potential to elevate any space into a designer room. It comes in a variety of sizes, and the length is adjustable so it can be customized to your home. Hang them as pendants along your kitchen island, or as a singular large sphere above your dining room table. [from hgtv, House to Home, Vogue]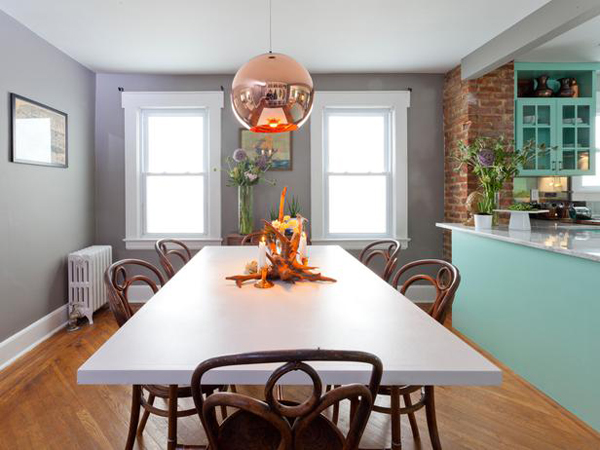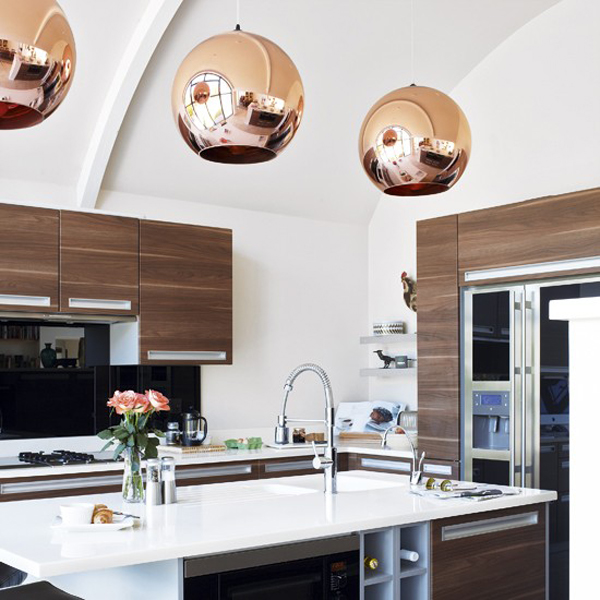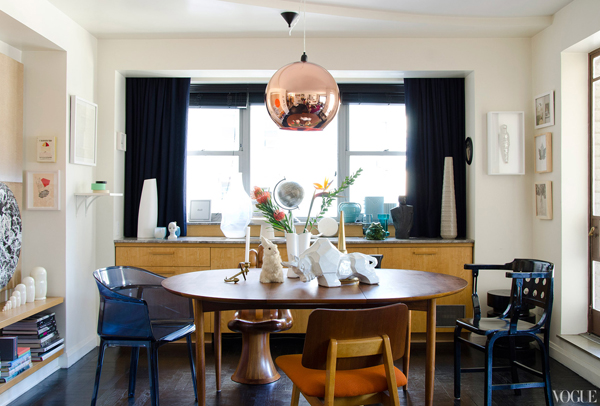 In the photograph below, the copper shades adorn a barbershop in London called Forth Floor, giving this industrial space a classy appeal. Tom Dixon himself used to have his studio on the first floor of this building. I'm guessing he gets his haircut at Forth Floor too! Dixon not only designed the shades, but also the shelving and the mirrors. [from remodelista]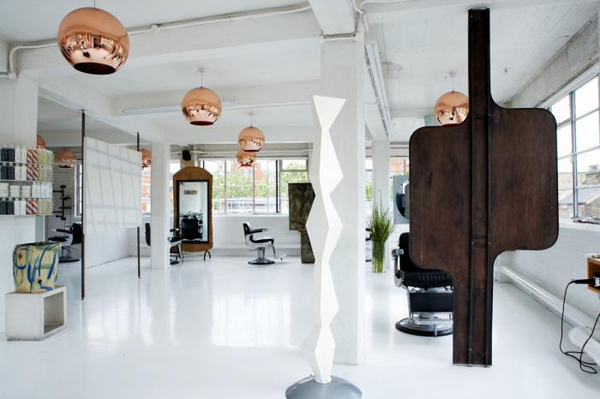 For a more dramatic look, cluster the copper shades. [from LVG Arquitectura]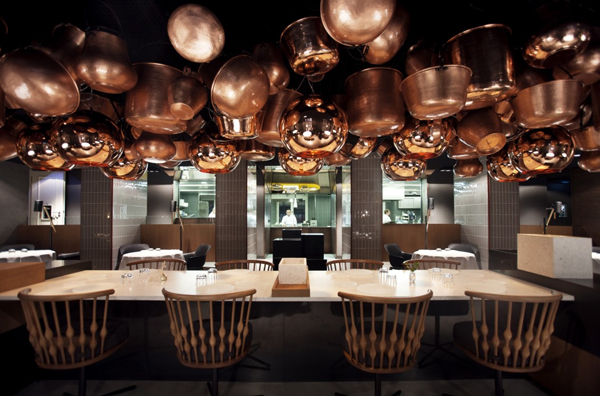 If you have tall ceilings, hanging a substantial light fixture will draw attention to the height, making your space feel even grander. [from The Decorista]
Dare to be different?
If you want to branch out from the copper shade, Tom Dixon has several more breathtaking fixtures that will not disappoint.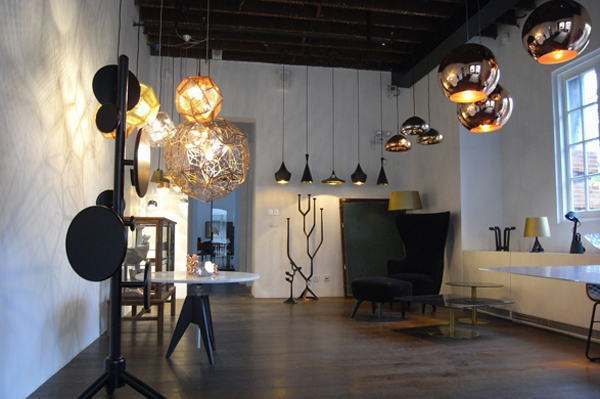 The Beat Light is another favorite that comes in various sizes, shapes, and colors. In designing these fixtures, Dixon was inspired to combine the simple form of brass cookware with traditional water vessels.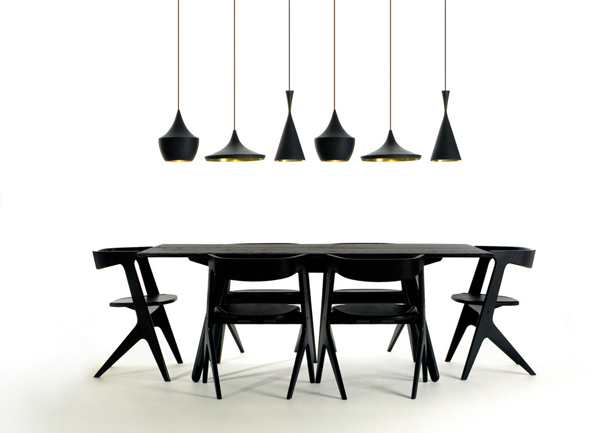 An esteemed craftsman in India makes the shades from spun and beaten brass. The reflective interior helps illuminate the room. [from Arch of Kuwait, LOCZI design]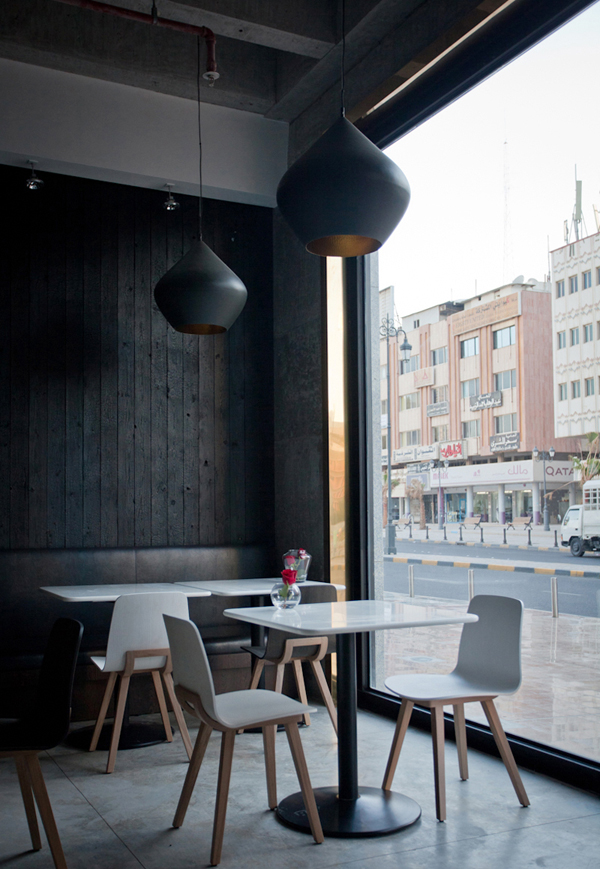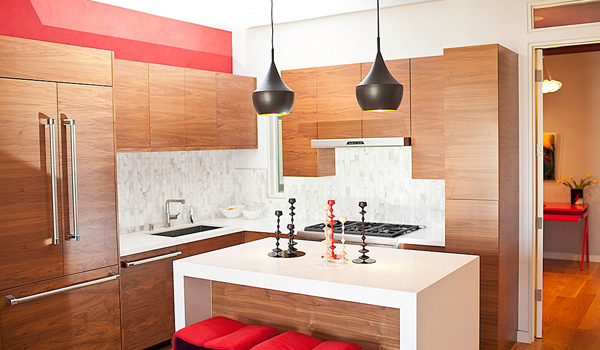 Though Tom Dixon designs it all, it's the lights that have pushed him to the top. Beginning his career in Britain, Tom Dixon's designs are now sold in 60 countries across the globe. What do you think of these edgy fixtures? Are you racing out to get one? Share your thoughts and comments below.