Amazing homes, expansive villas and large residences are obviously dream homes that all of us would love to occupy. Yet the reality is that many of us have to work with small spaces that make use of every square foot. A tiny kitchen is not ideal, but by making the most of what you have, you can still create a beautiful and efficient home. Small kitchens need smart solutions that not only save on space, but also create an open and airy atmosphere.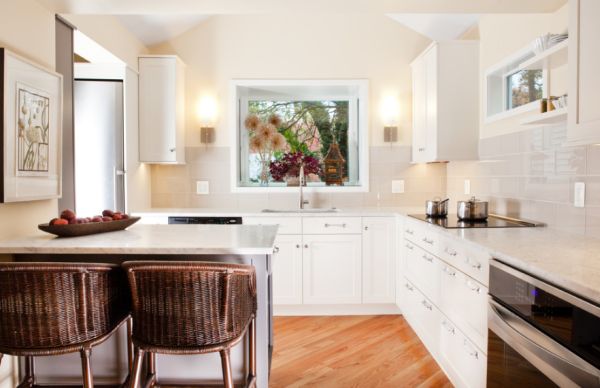 Good design is all about perfectly blending aesthetics and ergonomics. By using a few savvy decorating ideas, one can create a kitchen that looks a lot bigger than it really is. Most of these tips require little effort and are often pretty easy to incorporate. So, instead of thinking about bringing a wall down and going for a major renovation, why not give these simple ideas a shot?
1. Let there be Light!
Try this little trick with any small space and you can rest assured you will not fail. In fact, poor lighting can turn even large kitchens into dull and dingy spaces. The kitchen is the heart of the house, and an imaginative mix of focused and recessed lighting is an absolute must. Combine form and functionality by adding several layers of lighting. If your small kitchen sports a window or two, make sure they stay open to usher in freshness and natural light. Those concerned about privacy can use window treatments in ultra-light hues.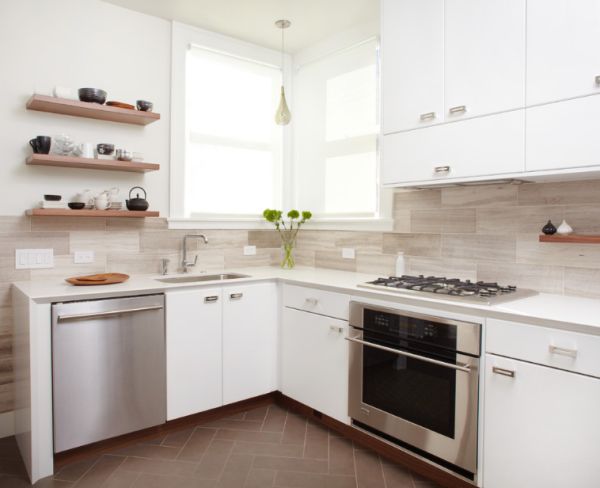 2. Reflective Surfaces and Shiny Kitchenware
No matter what theme or color you use for your kitchen, there is never a shortage of shiny metallic surfaces that you can showcase in this part of the house! Glossy finishes and polished shelves are a great addition to a small kitchen. A beautiful kettle with porcelain enamel glaze, or glittering cutlery with a hint of copper add brightness to the small kitchen. Reflective surfaces further accentuate the lighting in your tiny kitchen and give it a lively, dynamic vibe.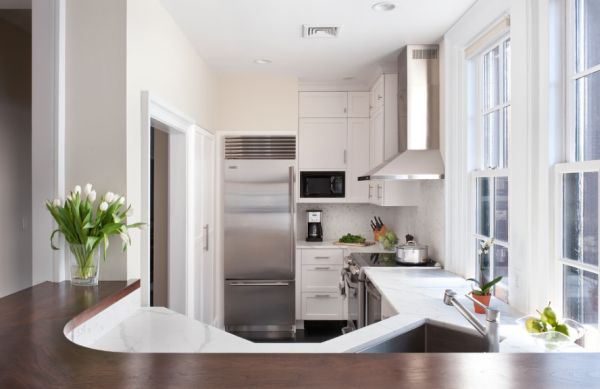 3. Use a Light Color Palette
By now it's probably clear that decorating a small kitchen is all about simple visual tricks! A light color palette used throughout the kitchen gives it a smart, coherent look. Stick to as few colors as possible and do not overwhelm the room with big, bold and gaudy patterns that cramp the tiny area. While you might be able to pull off wallpaper with a subtle, unassuming look, try steering away from it as much as you can. A light color palette need not be all about white alone, as restrained yellows, gentle blues, elegant greens and pale purples work wonderfully as well.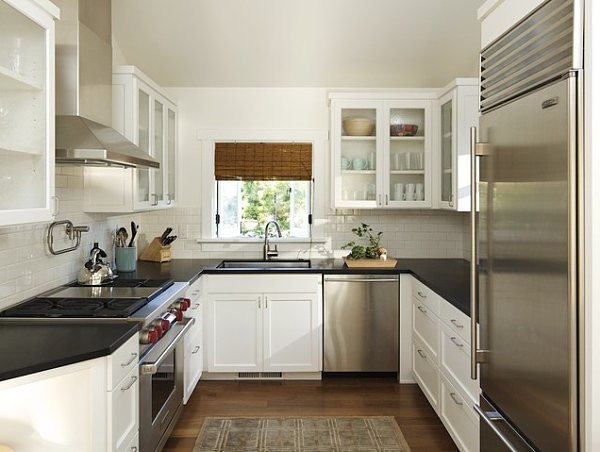 4. Add a Few Open Shelves
Open shelves obviously create the illusion of a spacious room far better than closed ones. Try replacing the closed shelves with open designs wherever possible. You can even go a step further and add minimal-style floating shelves, which further usher in an airy appeal. Simplicity is a key element in designing small spaces, and a minimal approach helps you to achieve this with ease.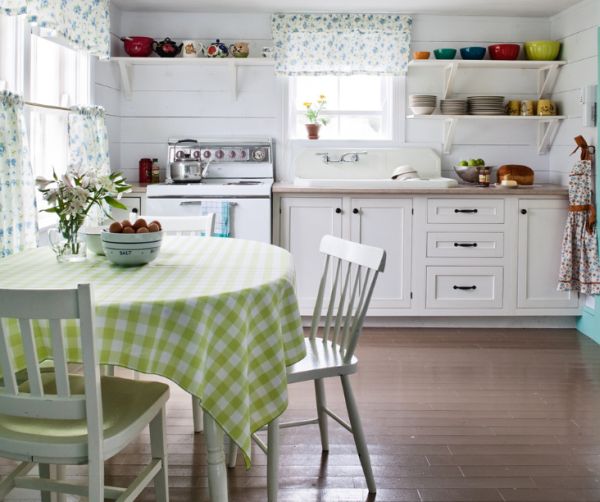 5. Glass Makes a Difference
If you are not all that happy with an open-shelved design and feel that doors are an absolute must, then opt for glass instead of conventional solid cabinet doors. Glass doors offer advantages that go beyond mere aesthetics. You need not always open the doors to see exactly what lies inside, and their transparent nature might even tempt you to keep your cabinets cleaner and more organized than normal! Glass cabinet doors are available in various styles that range from those with a classic wood frame to the trendy translucent ones.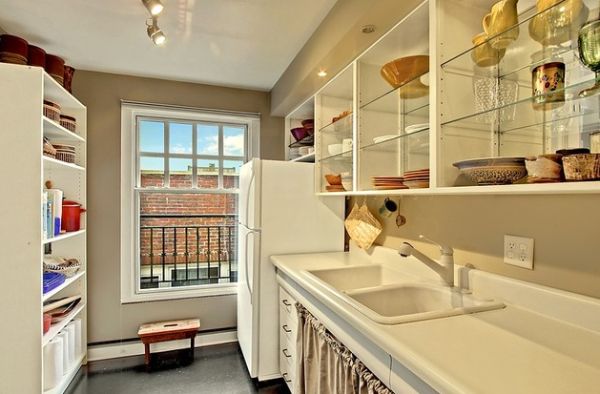 6. Decor That Maximizes Floor Space
This one goes beyond the visual aspect of design and is all about bringing ergonomics to your kitchen. Small kitchens need decor and accessories that use as little floor space as possible. Small kitchen islands, narrow bar stools, tables and chairs with sleek legs and floating shelves that utilize vertical space are all valuable additions indeed. This is a good time to borrow from the design philosophy of Mid-Century modern architect Eero Saarinen and clear up that slum of legs in your tiny kitchen!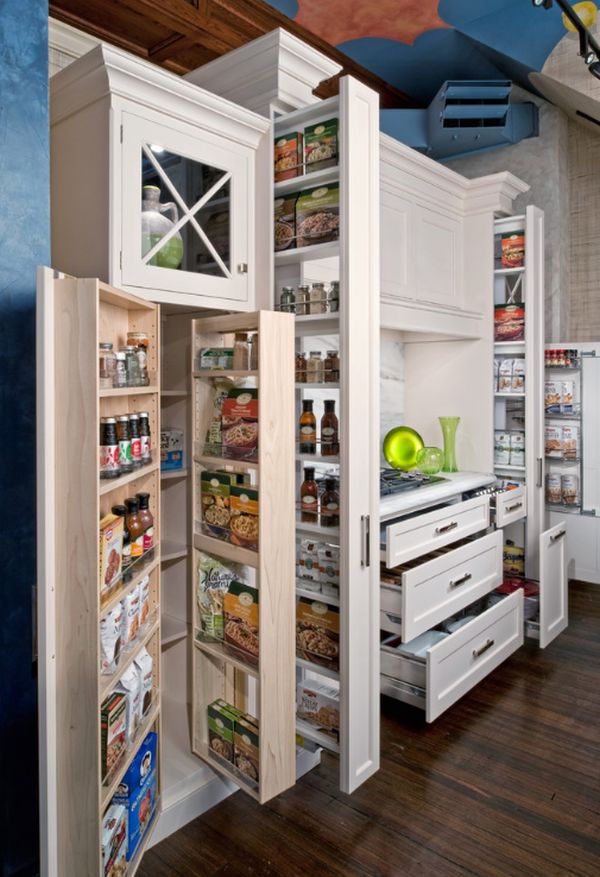 7. Shelves that Blend In with the Walls
Apart from using a neutral color palette with no more than two or three different shades for the walls, another suggestion is to paint the shelves a similar hue as the rest of the space. While shelves in contrasting colors look great in large kitchens, they tend to have a negative effect in small spaces, as they lead to a visual fragmentation of the room. You can still create some contrast by using a pattern or finish that adds geometric variation, or by painting a single shelf in a bold color to infuse some life into the setting.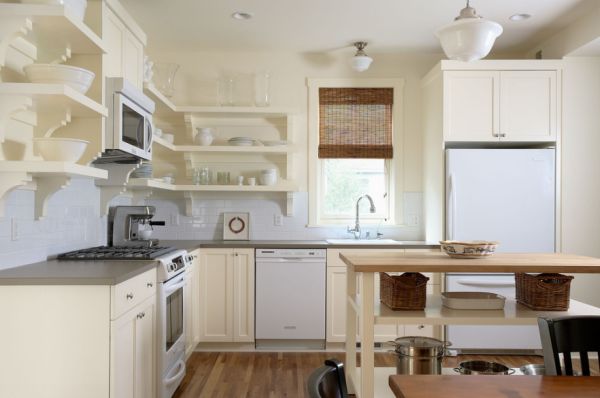 8. Clean and Well-Defined Lines
Combining several different hues and too many variations can give the small kitchen a clumsy and disorganized look. Does this mean you shouldn't add any vivid patterns or styles? Absolutely not. Vertical lines are a fabulous addition to the small kitchen, and by drawing you eye upwards, they actually help make the room appear far more spacious and relaxed. A striped pattern with a mix of dark and white tones often does the trick. A simple brick wall or a tile backsplash can also work brilliantly when done right.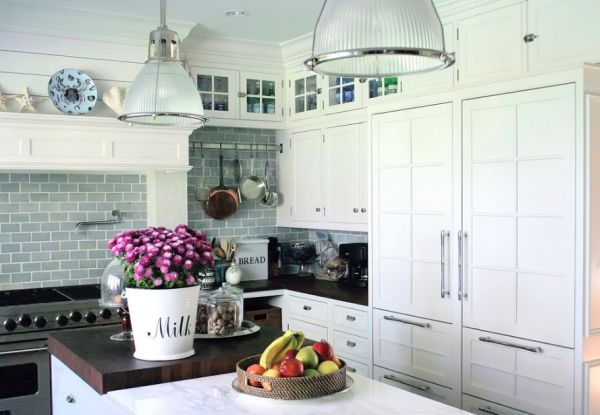 9. Stylish Recessed Cabinets
Recessed shelves that are nicely tucked in between wall studs are a small kitchen trend that is quickly catching on. If there isn't enough space between the walls, then why not make some shelf space within the walls?! Adding a recessed shelf means you will not have to forgo a single inch of your existing kitchen space, and that is arguably the best storage solution one can ask for. It is not very difficult to install recessed cabinets, but for the lazy folk among us, you can always 'call the guy' and have it done as well.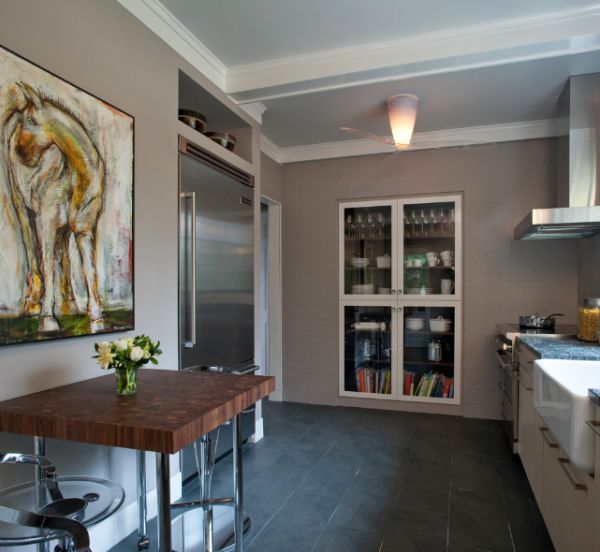 10. Smart Symmetry and a Clutter-Free Look
Symmetry is an important aspect of designing small spaces. Repeated patterns, textures and colors give the room a more spacious and appealing look. Keep your kitchen counter clean and uncluttered, and do not leave out kitchenware that can be easily tucked away in a shelf of two. The more organized your kitchen is, the larger it will appear. Working in a small kitchen can be both convenient and pleasant if you follow these simple, hassle-free decorating ideas. And if you are still not satisfied, then maybe it is time to go for a smart and appropriate kitchen renovation!