It is once again that time of the year when you start planning for the upcoming Thanksgiving festivities. Decorations and table settings obviously play a pivotal role in bringing home that joyous festive spirit, and picking a color scheme is one of the first choices to make. While bright orange shades and beautiful greens tend to be the norm, why not think a bit more opulently this year?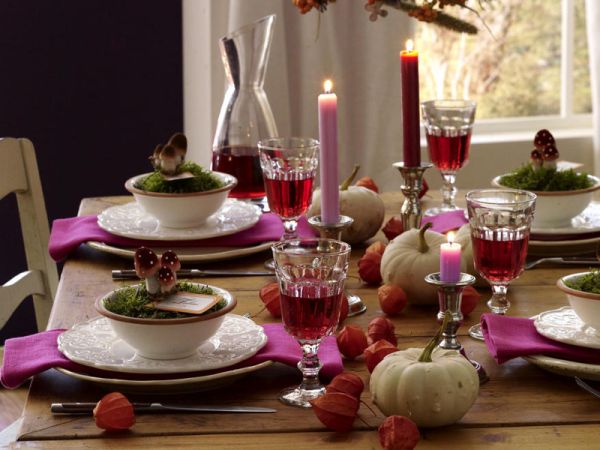 Nothing evokes refined elegance and an image of indulgent luxury quite like purple. Not only is it one of the hot and trending colors of Fall/Winter 2013, it also paints a rich and ravishing visual. So dive in and discover some Thanksgiving inspiration of the purple variety…
Add Sophistication to your Thanksgiving Table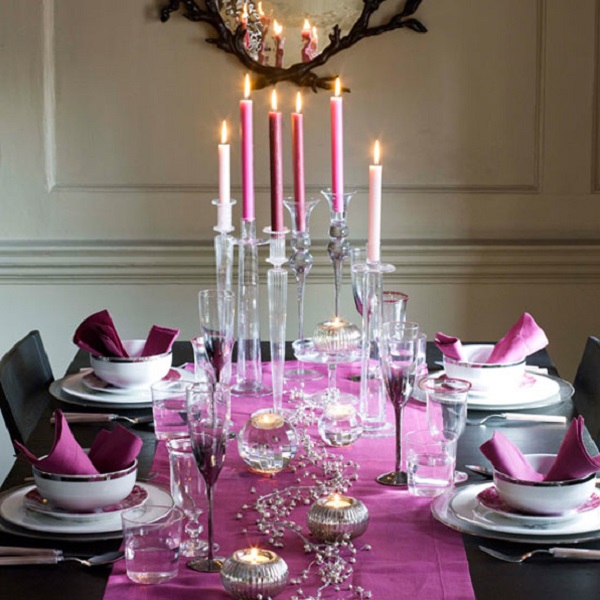 Purple is a color that has always been associated with royalty, and one look at this gorgeous Thanksgiving table tells you why. White china, beautiful glassware and lovely candlesticks perfectly complement the table's purple hues. Combining candles in different shades of purple is a nice touch as well.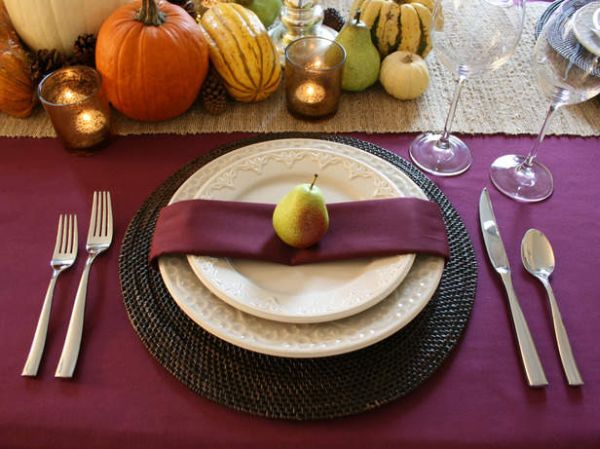 Neatly folded napkins play a pivotal role in creating a crisp Thanksgiving table. Remember that the sumptuous dinner is the highlight of the evening, so make sure you pay attention to detail. Shiny cutlery complements the deep, rich purple hues beautifully.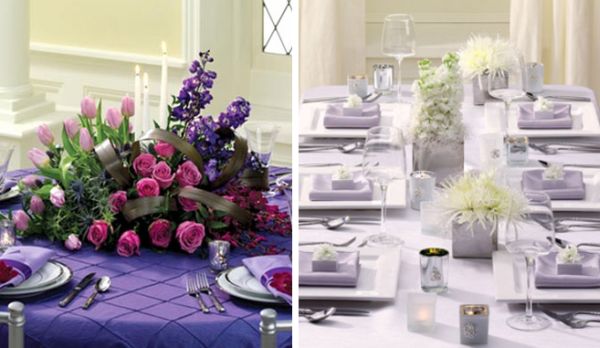 These two stunning tables showcase the versatility of purple and the exciting array of options that it holds. The color comes in many different hues, shades and tones and presents endless design possibilities. A lovely centerpiece with colorful and gorgeous flowers further accentuates the table setting.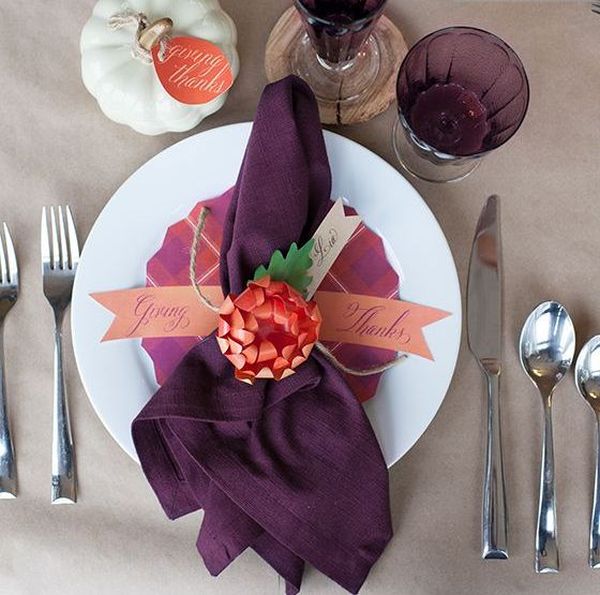 Something as small as a napkin ring can change the entire look of your Thanksgiving table. It also presents you with an opportunity to get crafty and showcase your DIY skills. Fabulous purple napkins even go well with the natural orange tones as shown here. Try out different options before you pick the one that suits the purple color scheme and table theme best.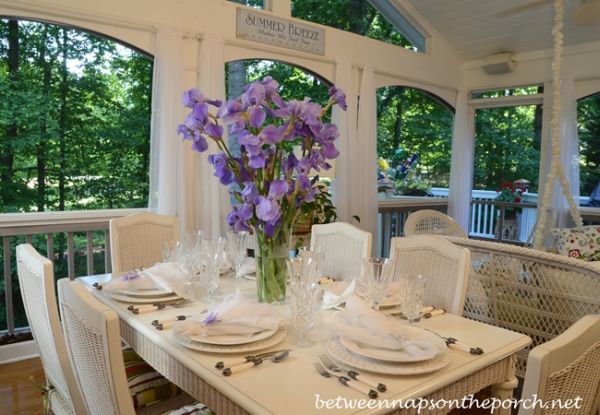 Opting for a purple look does not necessarily mean you have to use it extensively. Delicate additions to the table and a striking centerpiece filled with flowers can get the job done as well. This beautiful table looks organic and is easy on the eyes, and you can alter the color scheme at any moment by simply changing the flowers and the napkin rings!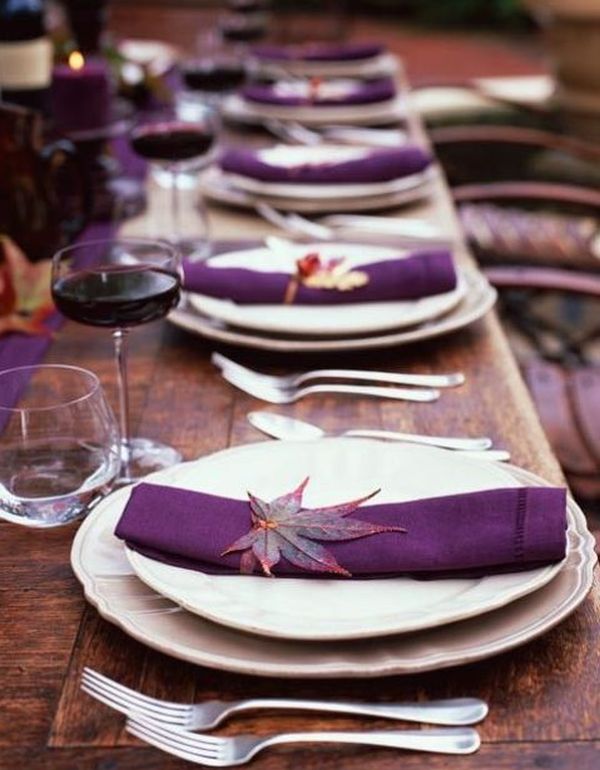 Notice how white plays an important role in bringing out the full majesty of purple? The more neutral you keep your china and the table, the more impact your purple additions will have. This is pretty similar to the way accent colors work. Keep the backdrop neutral and the pops of bright color stand out brilliantly.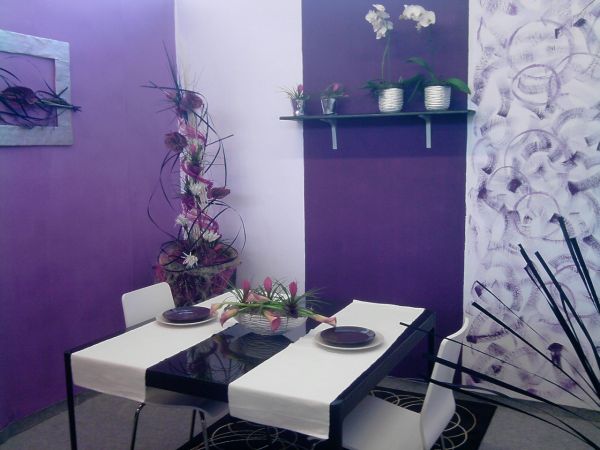 Fall is indeed all about being close to nature. But having a Thanksgiving with an urbane, minimalist look is not a bad idea at all. It sounds all the more appealing if you live in a studio apartment with a view of the New York City skyline or the distant Golden Gate Bridge! A purple-clad inspiration for those who believe that less is more!
A Blend of Styles and Textures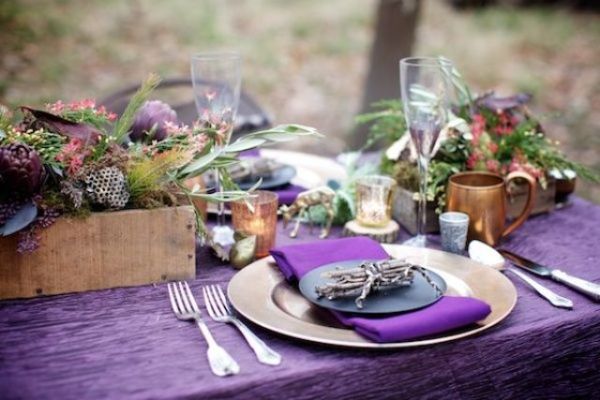 We simply love that textured tablecloth in purple on the table above, along with the casual arrangement of natural fall produce. It is a perfect example of bringing together several different textures in a stylish manner. A hint of metal and some glass complete the multitude of contrasting surfaces on display here.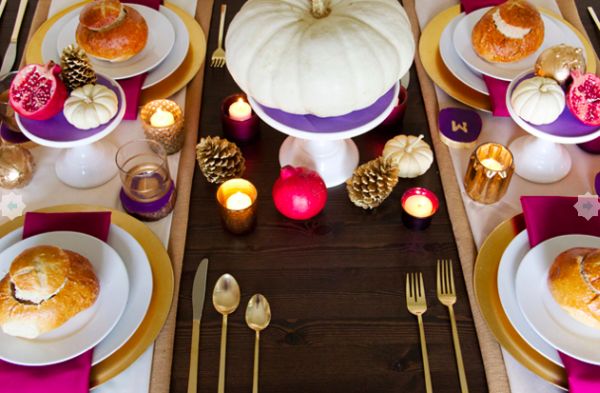 Yes, this table features a few lovely pomegranates, a white pumpkin centerpiece and a few pine cones. But it also sports posh purple additions that combine with the other elements to create an eclectic and colorful Thanksgiving table.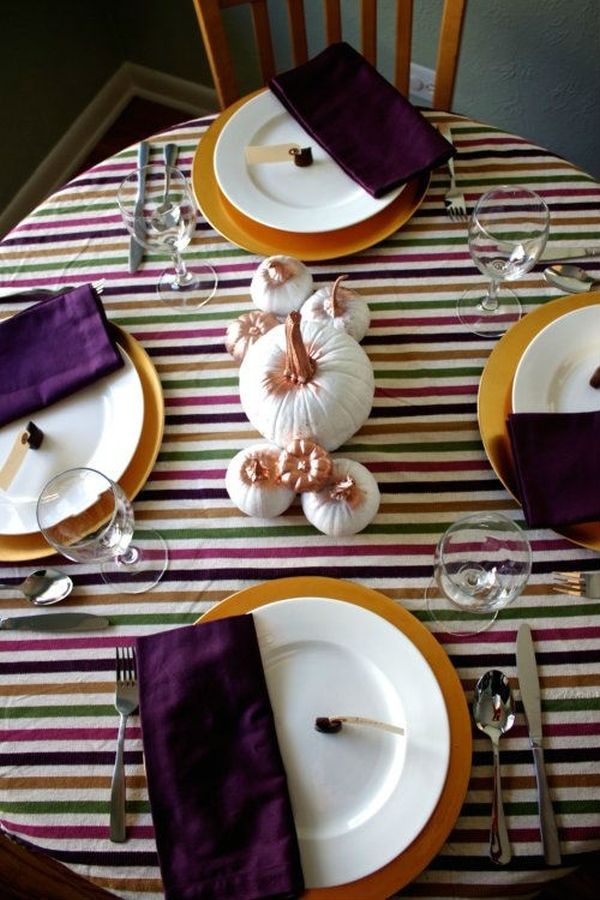 This striped tablecloth with fuchsia (which is technically purple at very high intensity), dark purple, green and brown lines brings a chic and trendy vibe to the table. It is once again the simple addition of purple napkins that adds understated class to the table setting.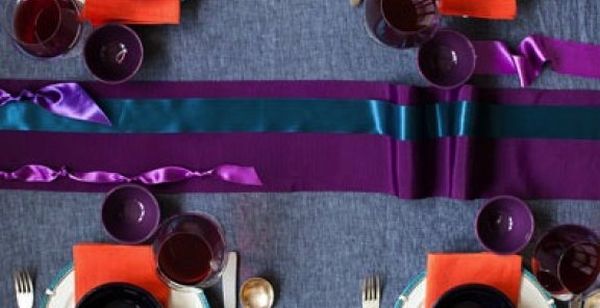 If you are just recovering from all that Halloween fun and frolic and have little time to prepare for Thanksgiving, then combine the orange and black bowls and napkins along with purple to create a plush table. All this table requires is a purple table runner and a few bowls in the same shade to alter the visual completely.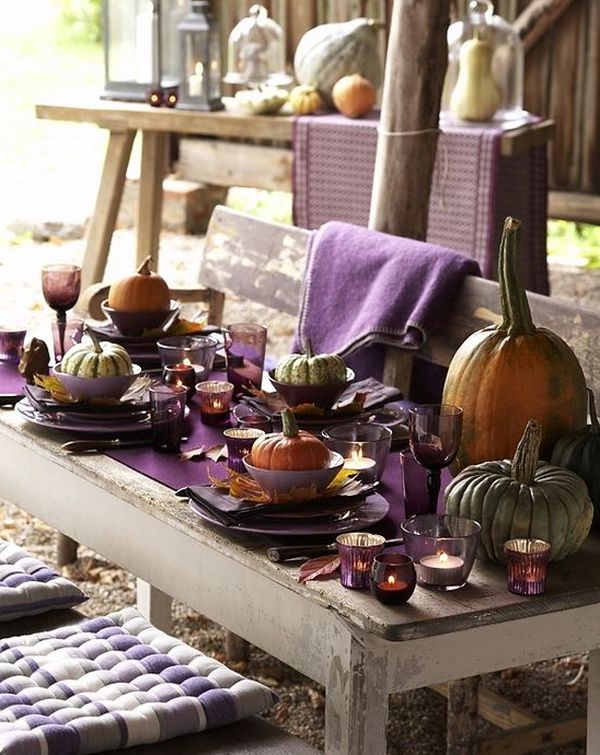 Take the Thanksgiving dinner outdoors! It might not be too long before the winter chills fully kick in, and this could be your last chance to enjoy a lovely meal on the porch or pergola. Embrace the rustic look with a worn wooden table, along with a few pumpkins and candles. Once again, purple adds necessary elegance to the setting without taking away from the theme.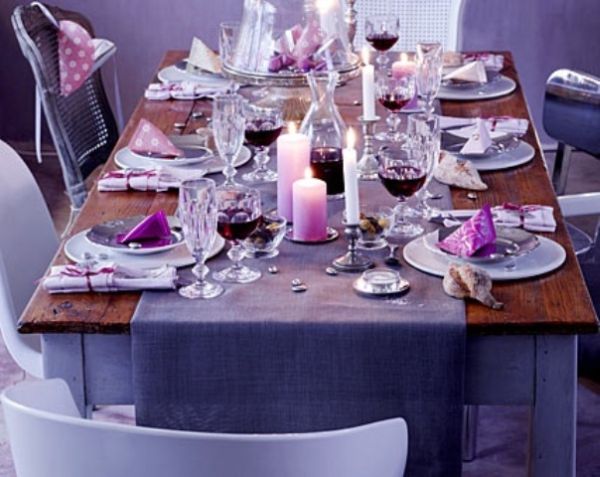 If your dining room already has accent chairs or a stylish accent wall in purple, the job of decorating for Thanksgiving becomes all the more easy. Play off of the decor you already have and try not to overwhelm the room with too much color.
Usher in the Festive Joy!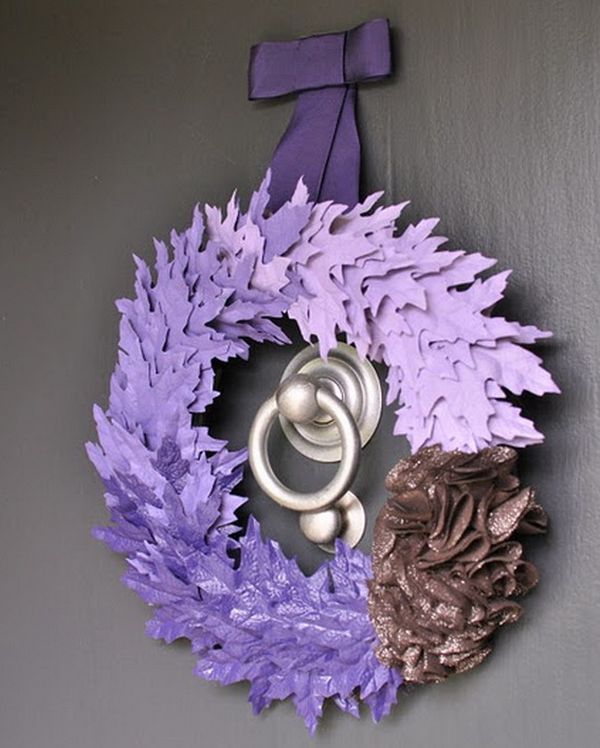 There is something undeniably warm and fuzzy about wreaths that makes them endearing. While the preparations for a tasty Thanksgiving dinner take up most of your time, just hang a beautiful wreath on the door to make up for any lack of other decorations. It sure is a wonderful way to welcome all the guests home!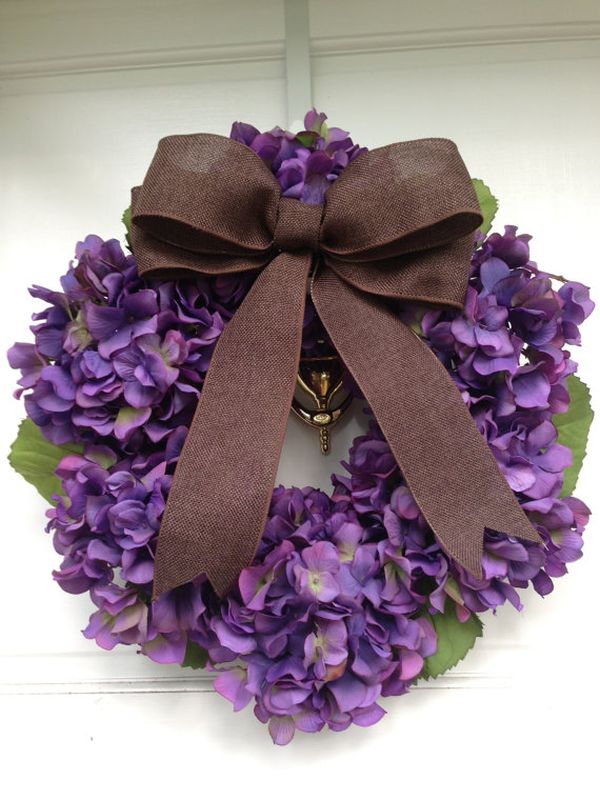 This deep purple hydrangea wreath comes with a dark brown burlap bow, and we're sure some of our crafty readers can make one of these at home. Feel free to use fresh natural flowers to give your front porch a more distinct and refreshing look. Purple is a color that elevates the visual appeal of any space it graces. Its many shades are easy to use, while its richness makes it an ideal color for fall decor.
So, are you tempted to incorporate this vivacious shade into your Thanksgiving celebrations?