We at Decoist believe in living in the moment, enjoying each season for what it is, and waiting until after Halloween to start talking about Christmas… Which is why today's post stops short of heading into holiday decor territory! But we can't ignore the winter decor that's taking over our favorite retailers. We're a design blog after all, and we've got to tell it like it is! So we're giving you a winter preview of delicious products that will help you celebrate the upcoming season.
And if you're a planner, now is a great time to start thinking about welcoming winter style to your interior. You don't have to put up a Christmas tree to feel festive. Thanks to an array of snowy, metallic and jewel-toned merchandise, the beauty of winter can hit your living room well before you start wrapping gifts. Check out the items in our roundup today, then tell us about your favorites at the end of the post…
Snowy Statements
We begin with an homage to winter whites. After all, nothing is more enticing than a living room filled with snowy decor. Which is why this Snowdrift Wallpaper Mural from West Elm is such a stunning way to deck your walls! Featuring an image laser-printed in high definition, this low-VOC mural easily sticks to the wall: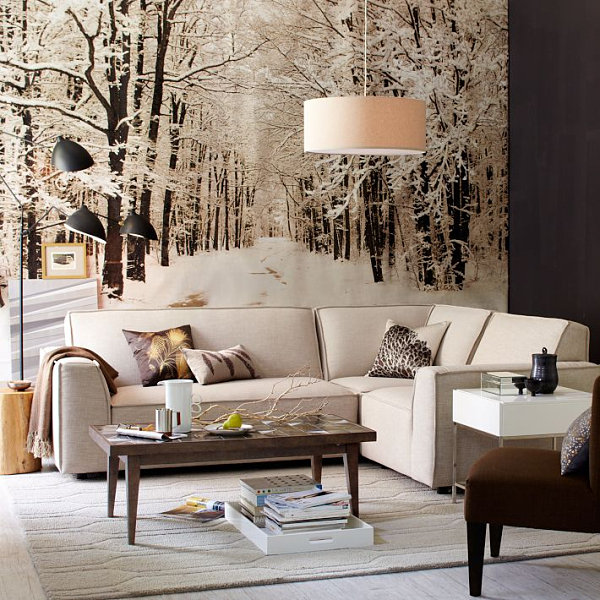 These Starlit Trees in Snow from Restoration Hardware are the perfect way to bring a warm glow to your interior when it gets cold outside. Shining white lights and posable snowy-toned branches create a magical effect…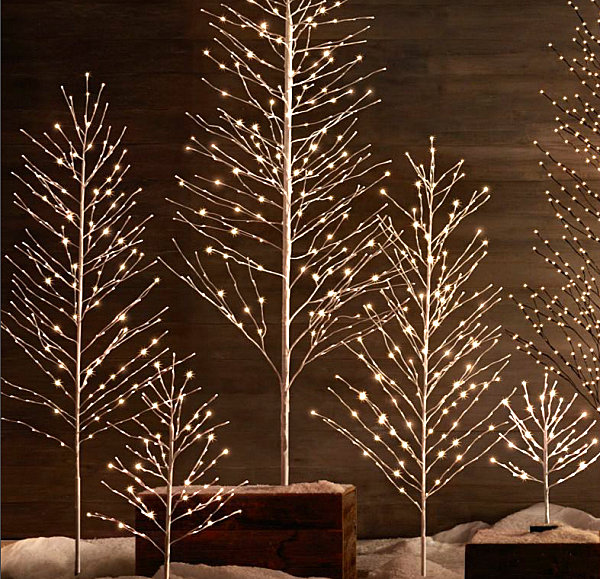 From snowy to milky… This Stratus and Cumulus Double Old-Fashioned Glassware from CB2 features cloudy white chevron and dot designs on handmade glass. And because they're not holiday-specific, you can enjoy these glasses all year long!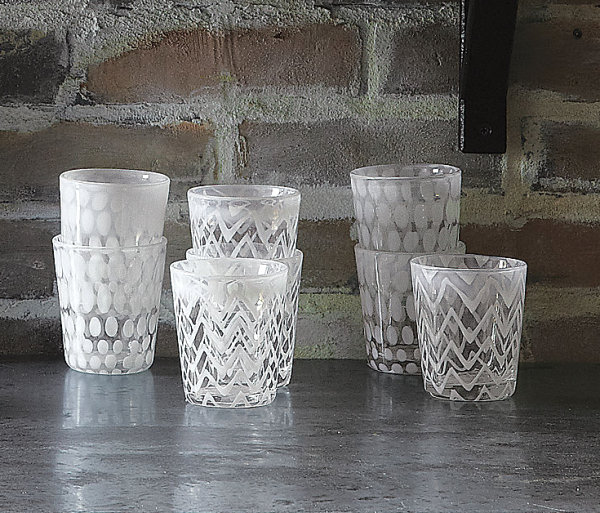 When the weather outside is frightful, makes your warm drinks delightful with the help of these classic Snowflake Glass Mugs from Crate & Barrel. A timeless motif complements a variety of decorative styles. They're the perfect winter addition to your kitchen, especially when it's time for a midnight snack on a chilly evening!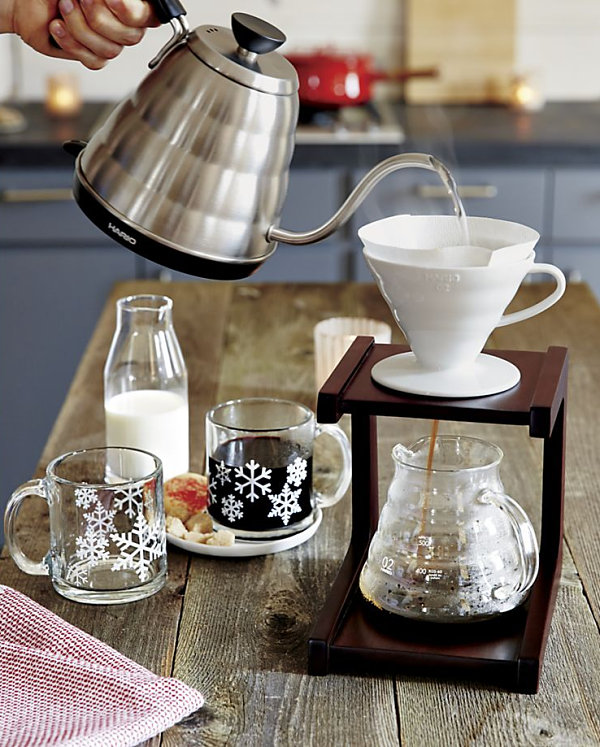 This Cut-Glass Candleholder from Crate & Barrel features a silver-toned container that's embellished with handcut ribs to create sparkle. The result is a wonderfully icy look that dresses up your mantel or tabletop: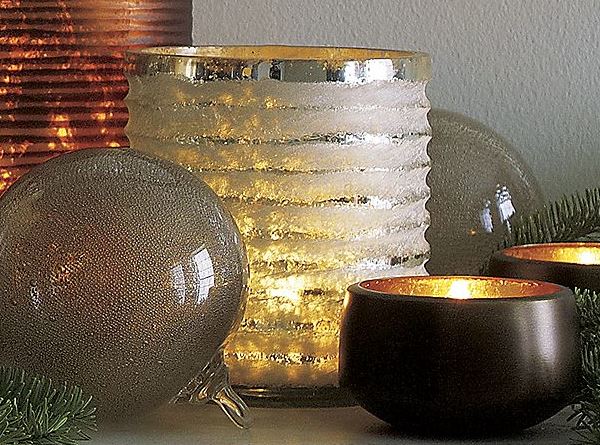 Memorable Metallics
We now move on to metallic decor that adds a festive sparkle to your interior. We were instantly drawn to this Embroidered Metallic Bull's Eye Pillow Cover in Multi from West Elm (shown at the top of the pile), especially since it features an array of shimmering tones. Crafted of 100% cotton sheeting in bronze, silver, gold and rose gold, these pillows celebrate multifaceted shine at its finest. And as you can see, West Elm offers a range of pillow covers in solid hues as well. We're fans of the rose gold…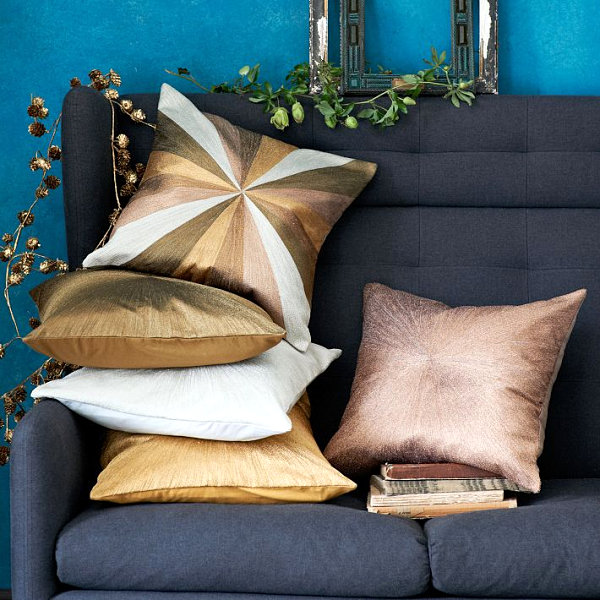 Speaking of rose gold, this metallic hue is definitely enjoying its moment in the spotlight. Which is why we love the Perch Table Lamp in Rose Gold from West Elm, an eye-catching piece constructed of blown glass in a rose gold finish. The lamp's Mid-Century-inspired design is heightened by a sleek white linen shade: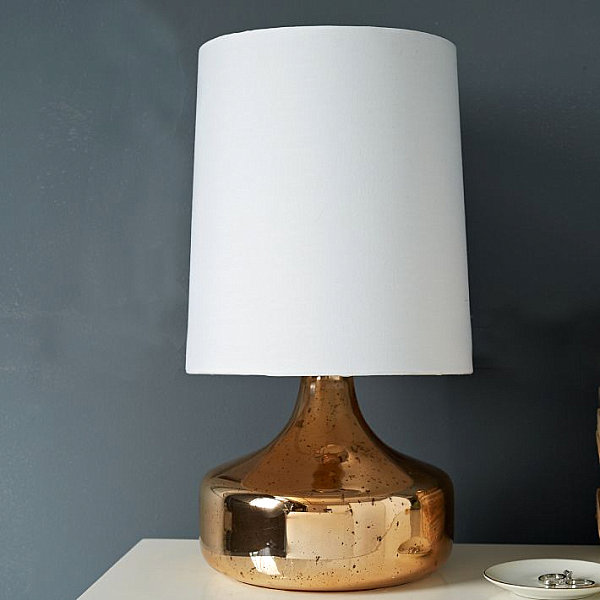 Like rose gold, brass is definitely having a moment! We like these Pinch Bowls from CB2 so much, we're featuring them again after highlighting them in our recent post on eclectic interior design. Available in two sizes for your convenience, these brass-plated stainless steel bowls have pinched edges that reflect the light.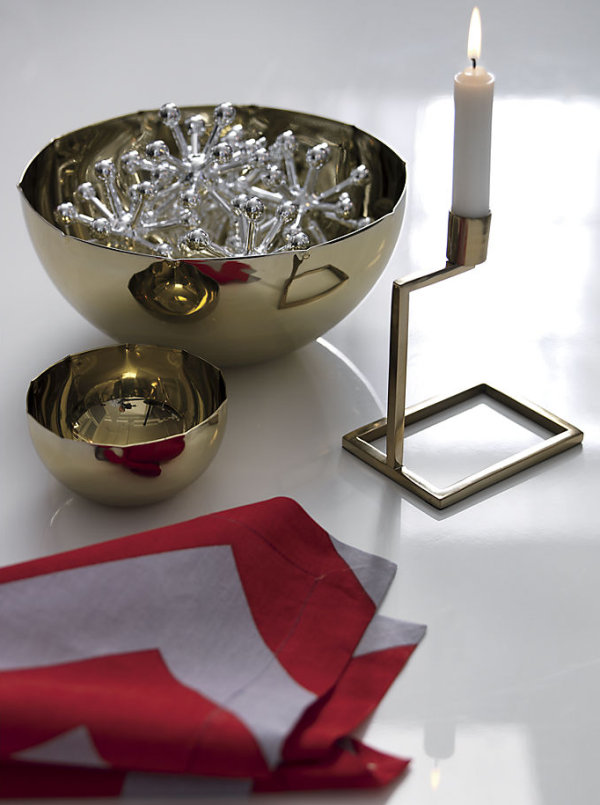 Introduce a doubly warm shine to your interior with this 3-Piece Step Up Candleholder Set from CB2. Each piece is a different height so you can make your own geometric design. Between the glow of the candleholders and the glow of the burning candles, you will be hard-pressed not to feel warm and cozy…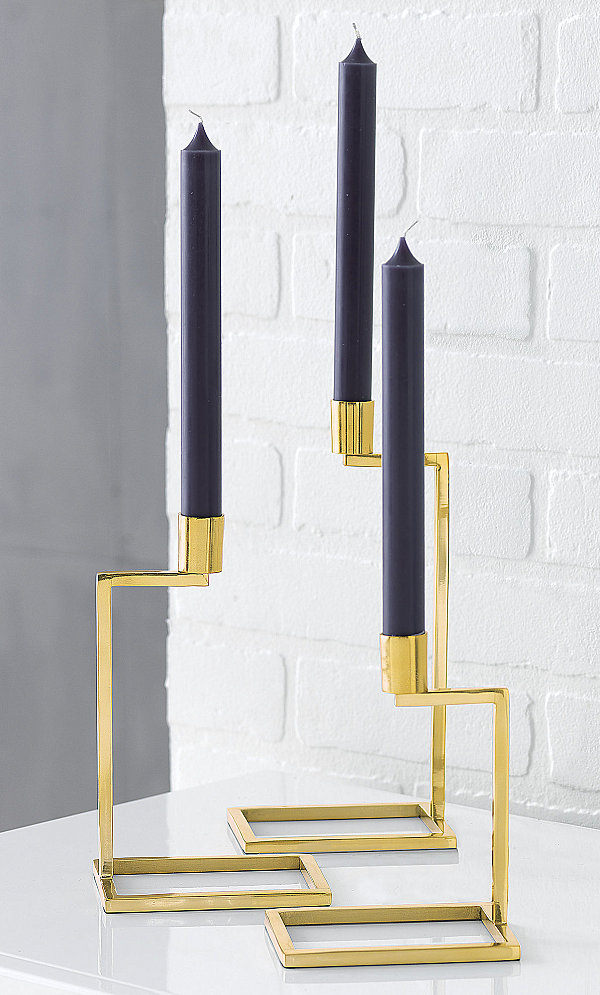 From the warm to the cool.. Add some dazzling silver sparkle to your tabletop without the glare of glitter. These subtle Matte Glimmer Placemats from Crate & Barrel are crafted of PET and nylon threads. Thanks to their neutral shade, they're definitely not holiday-specific. Or winter-specific, for that matter!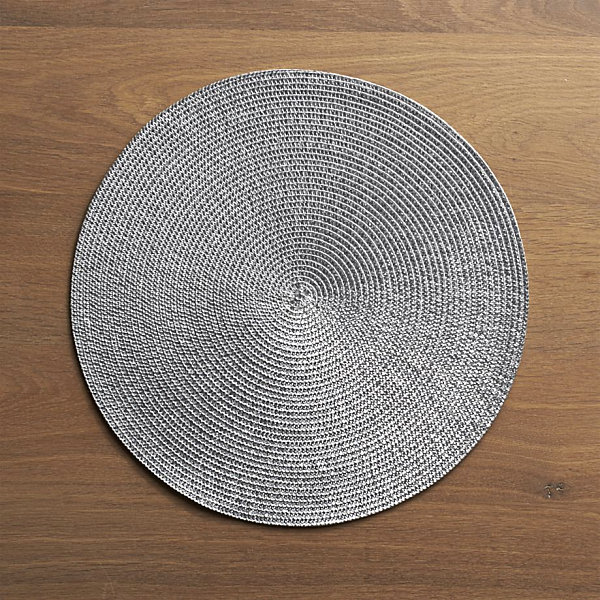 A mix of metallics is hard to resist! That's why we just had to feature these Soiree 6.5″ Plates from Crate & Barrel, complete with gold and silver bands, as well as an eye-catching asymmetrical design. Perfect for your winter parties. Bring on the appetizers…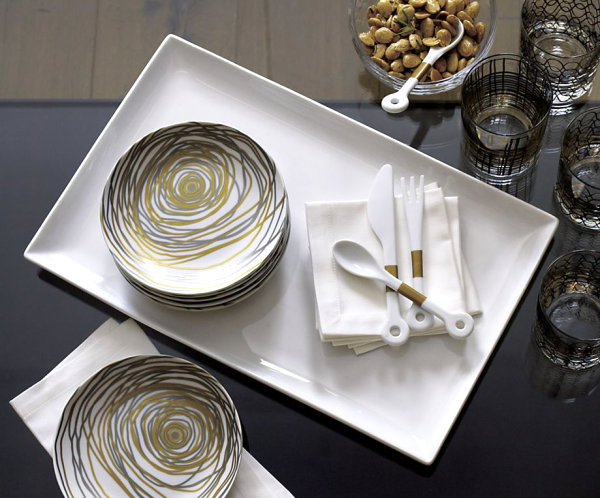 For a metallic party piece involving lines instead of curves, check out the Mingle Decanter from Crate & Barrel. Gold and platinum strands intersect in wavy right angles for a sleek design that doesn't take itself too seriously. Did we mention that this decanter is crafted in Poland by the master glassworkers of Krosno?!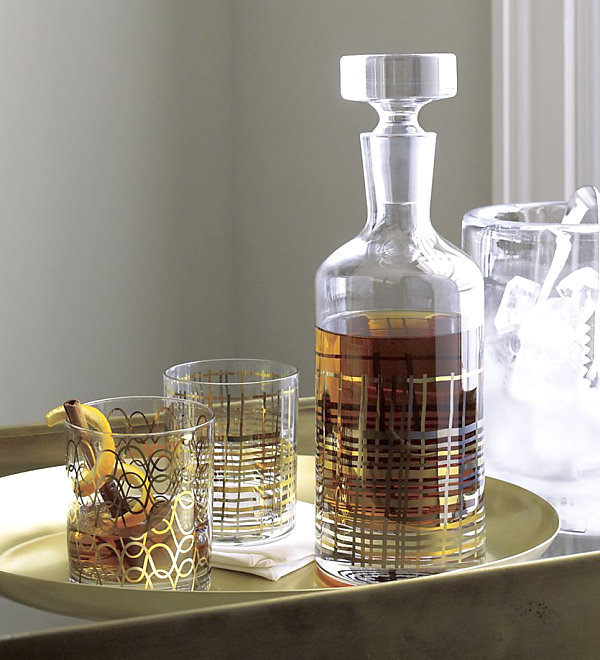 Jaw-Dropping Jewel Tones
Forget subtlety! It's time to get vivid. One of this season's biggest holiday trends is the use of jewel-toned decor. And sometimes the products are even designed in the likeness of jewels. These Faceted Glass Vases from West Elm are crafted of hand-cut glass. Aren't they divine when holding rosy blooms?!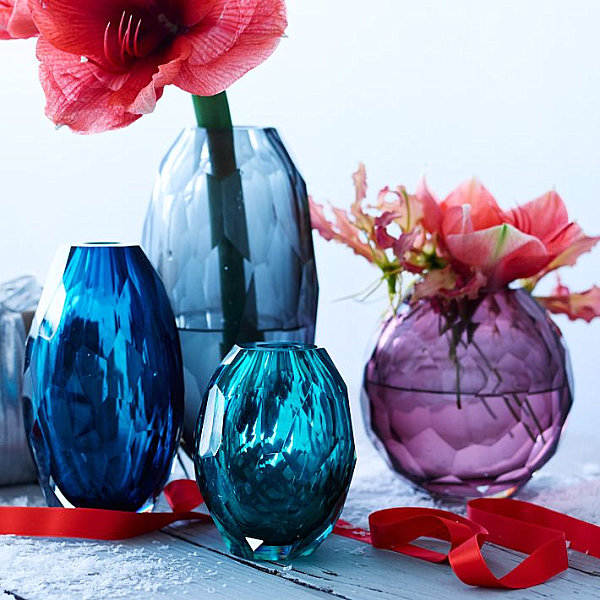 Add some mineral-inspired shine to your winter vignettes with these Crystal Votive Holders from West Elm, carved from solid quartz and amethyst. Light the candles to create a jewel-like glow that evokes the magic of of icicles, the wonder of nature, and the festivity of the season…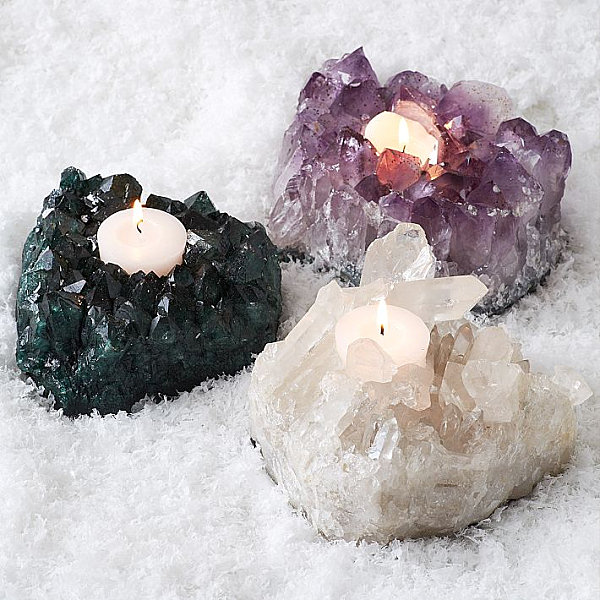 What's metallic on the outside and radiant on the inside? These Molten Candleholders from CB2! Molten aluminum is the material of choice, and an industrial shape is perfect for modern interiors. Thanks to an interior finish of vivid hand-applied enamel, rich color is at the center of each piece!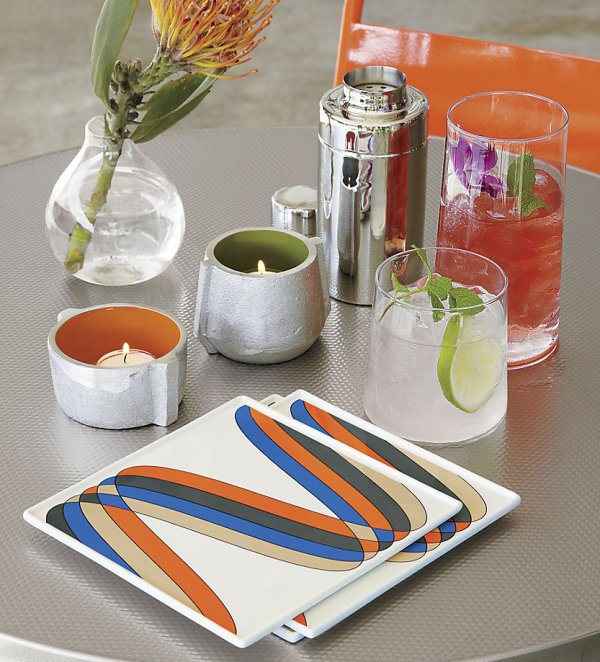 Teal. Ruby red. Royal blue. Aquamarine. These are the deep hues of the whimsical Handcrafted Sisal Birds from West Elm. Inspired by beloved birds of the forest, these avian friends crafted of hand-painted sisal fibers will perk up your tabletop.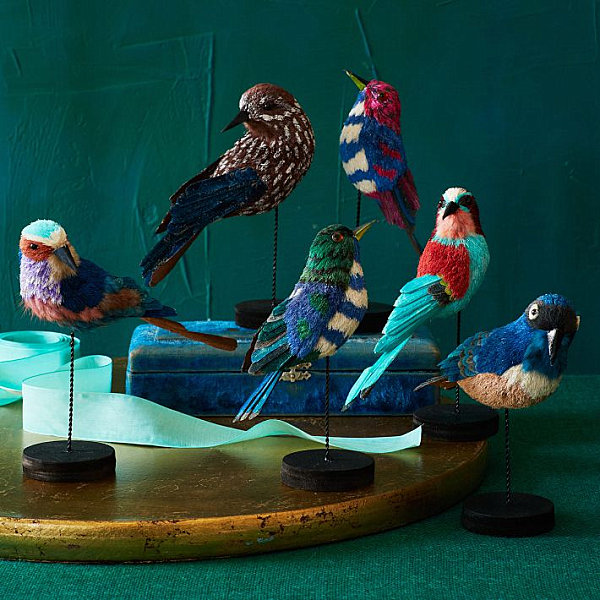 We end by shining the spotlight on vibrant new products from CB2, which are perfect for winter entertaining. The leaves may have fallen from the trees outside, leaving nothing but bare branches, but that doesn't mean your interior has to be without color! The dishware and glasses below are fabulous, but we're partial to the faceted Red Ruby Glass Candleholder (below, left). As you can see at the top of the heap, the piece is also available in aqua!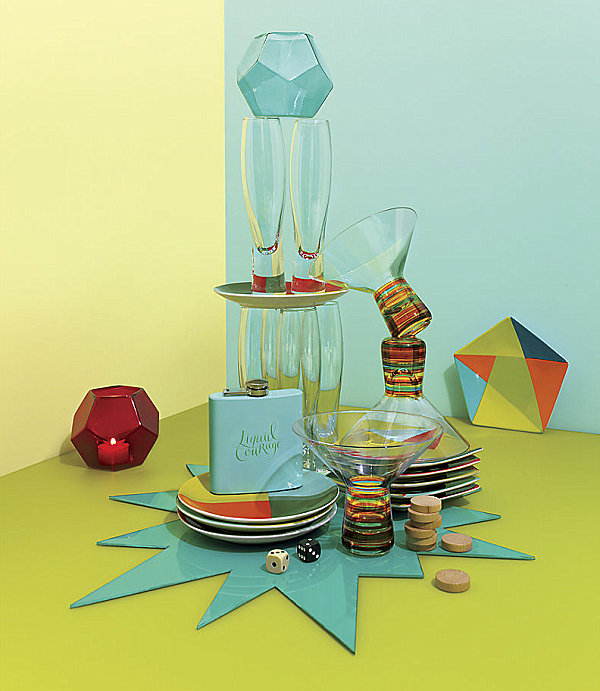 We've shared some of our top winter picks, and now we want to hear from you! What's your winter style? Do you prefer warm winter whites, the sparkle of metallic shades, or the rich depth of jewel tones? Share your thoughts by leaving a comment at the end of the post…