Fall is definitely in the air. With the official start of the season this past weekend, we can finally say "It's time to do some autumn decorating!" As we saw with this year's fall collections, the look isn't all about earth tones and overt autumnal themes. Instead, reds, blues and metallics are making a statement, along with a more subtle approach to seasonal style.
Of course, if you know where to look, you can always find a slew of pumpkin- and leaf-themed designs. However, today's blog post celebrates a more chic, understated approach. In fact, some of these finds can even stay on display through the holidays! Enjoy browsing our top fall decor picks below, then tell us about your favorites at the end of the post…
Fall Accents for Your Seating
Let's start with your seating. What better way to embellish your couches and chairs than with festive throw pillows that celebrate the season's style! Below we see metallic finds from West Elm, including the Sarah Campbell Embellished Stripe Pillow Cover. This silk and sequined work of art is the result of West Elm's collaboration with British designer Sarah Campbell.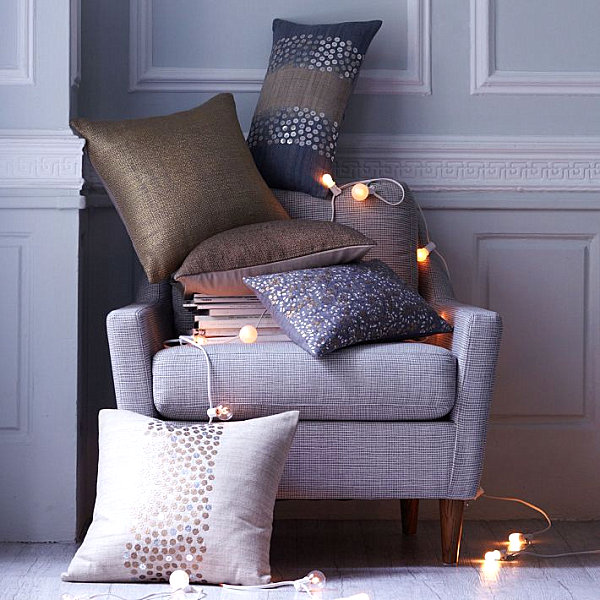 For a whimsical approach to fall decor, check out the Squirrel 20″ Outdoor Pillow from Crate & Barrel. Designed by Elvis Swift, this piece has a stylish cartoon-y look that celebrates one of the season's most active creatures. The piece also reverses on the back–white lines become dark and the dark background becomes white. Change your look at a moment's notice!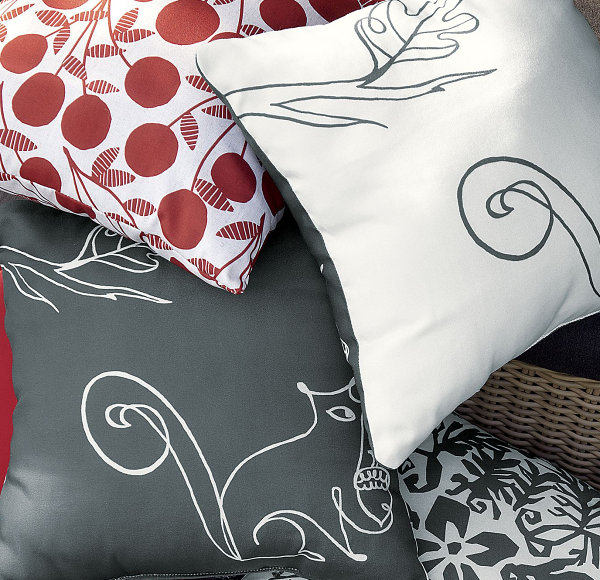 There's nothing like a cozy cover to snuggle with on the chilliest of fall evenings. Even better if it's packed with style! Take your pick of colors when you select your own Solid Cashmere Throw from Williams-Sonoma…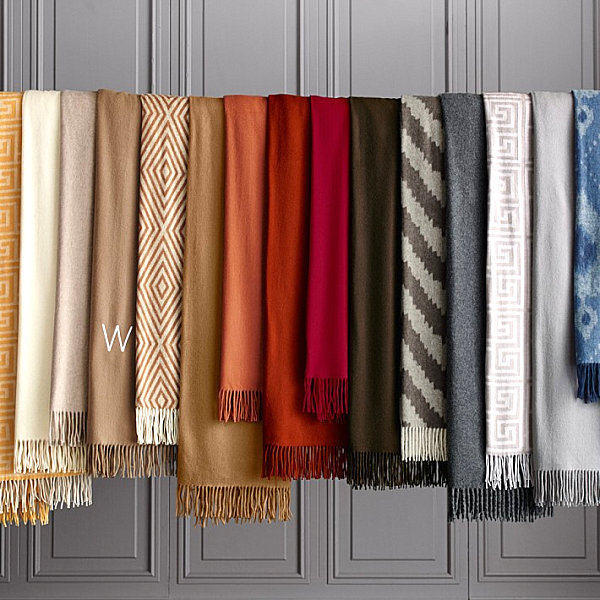 Deck the Walls with Fall Decor
From the furniture to the walls… Don't forget to hang reminders of fall on the walls of your home. Or the doors! Welcome your guests with this Autumn Berry Wreath from Williams-Sonoma. Perfect for early fall, Halloween, AND Thanksgiving, this piece is anything but artificial, thanks to a rich-toned collection of air-dried canella berries: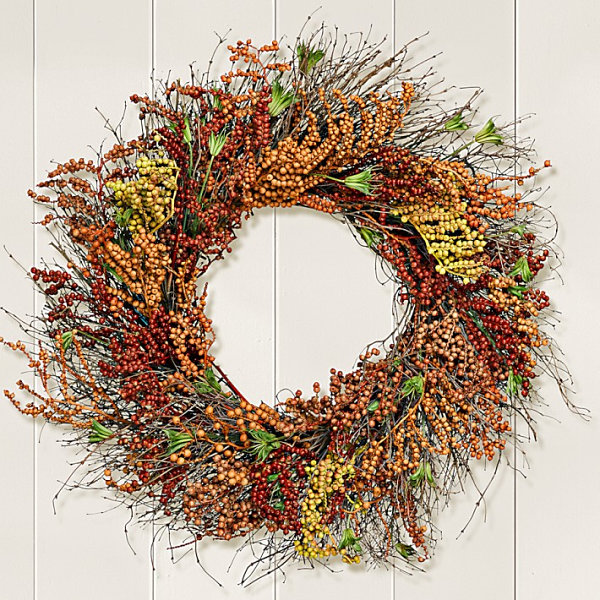 This next fall find is attached to the ceiling rather than the walls, but it glistens against the backdrop of your choice, regardless of paint color! The Sphere Hanging Mobile from CB2 is crafted of brass-plated iron. Celestial spheres will remind you of the autumn moon. Buy one for a gorgeous statement, or purchase a few for a heavenly effect.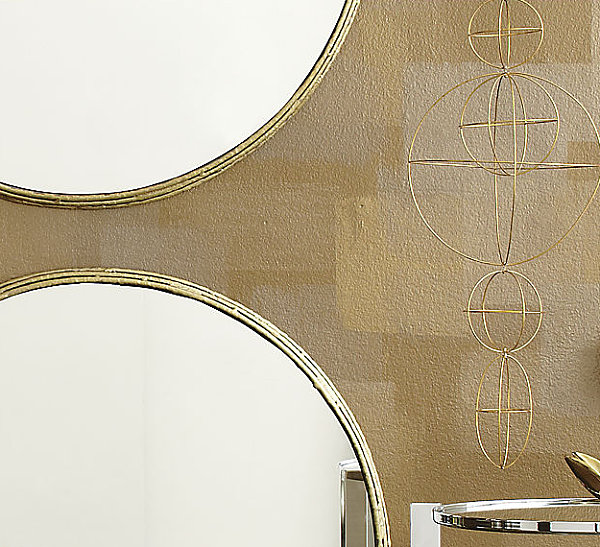 Gazing at the fall sky, filled with stars and a harvest moon… This framed print – Observation De Leonardo I, created for West Elm by Benjamin Arnot, will remind you of autumn's most enchanting evenings. Printed on birch wood, the piece is inspired by the historic study of moon phases. Not to mention, it manages to be rustic and chic at the same time!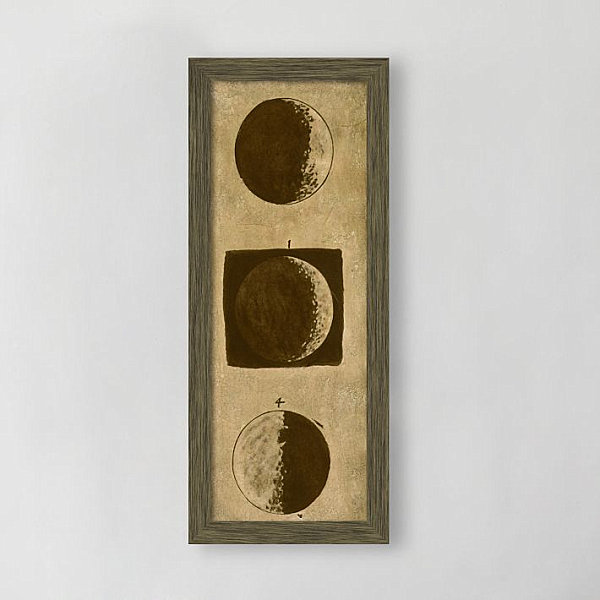 Fall Finds for Your Surface-Top
We now focus on fall decor finds for your tabletop. Or shelf-top! For a big dose of fall with a classy shine, check out the Antique Mercury Glass Pumpkins from Pottery Barn. With a mercury finish, these pieces are festive without being overly glitzy. Plus, they are available in both large and small sizes so you can find just the right size (or display a mixture of the two)!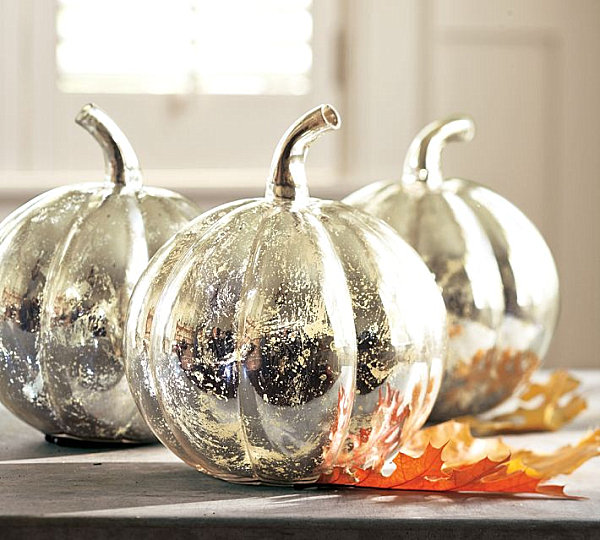 With a watercolor motif that will remind you of a rugged autumnal landscape, the Stanton Vase from CB2 wows with an abstract gray and red design. This piece of handmade earthenware features a reactive glaze, as well as one of the season's hottest colors. Go bold this fall!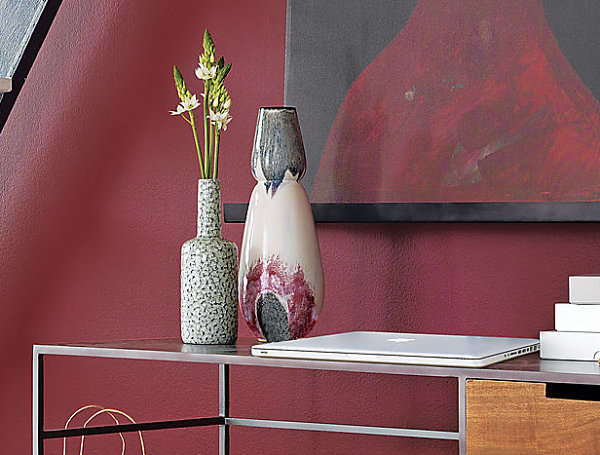 If you love indoor fall foliage but you're hesitant to go artificial, you'll be delighted to know that this Dried Autumnal Tree from Pottery Barn features leaves made of dried mango.  A limestone base adds another layer of authenticity…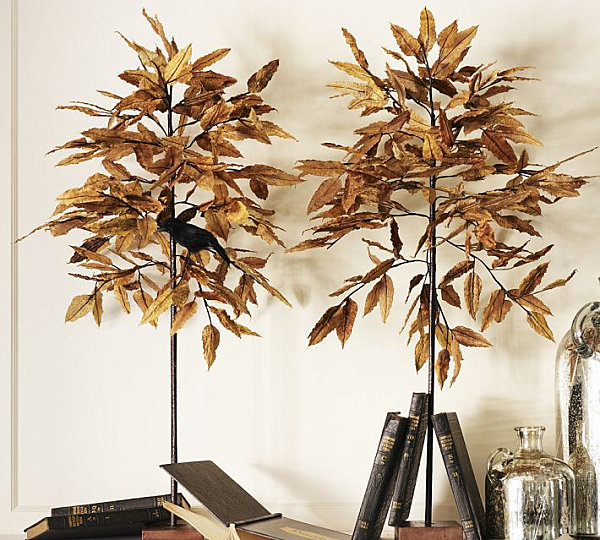 If fall entertaining is in store, why not decorate your autumn table with grey and ochre, thanks to the Babo Runner from Crate & Barrel?! Featuring an ikat-style pattern hand-printed on a blend of jute and cotton, this piece is the perfect blend of subtle hues and timeless style. Leave this runner on the table all season. After all, it would make a lovely embellishment to your Thanksgiving table!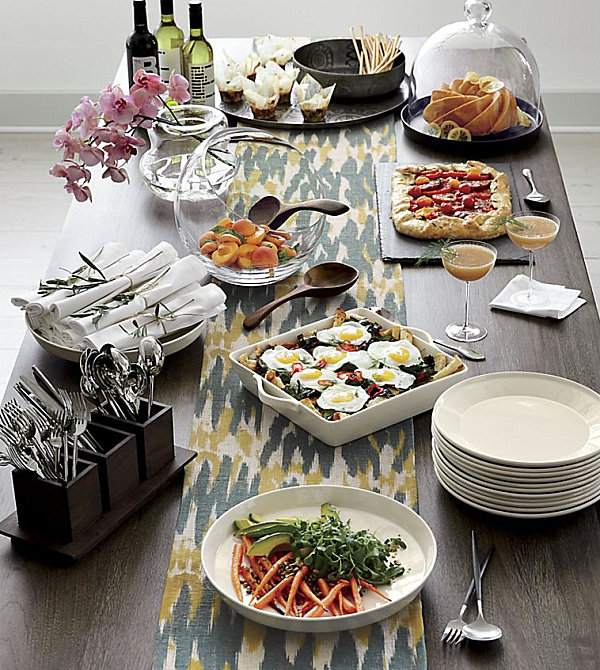 We end with some terra cotta-hued drinkware that is earthy and sleek at the same time! These Copa Sangria Glasses from Crate & Barrel are a mix of glazed and unglazed red clay. Matte meets shiny for a look that is ideal for fall but can really work in any season…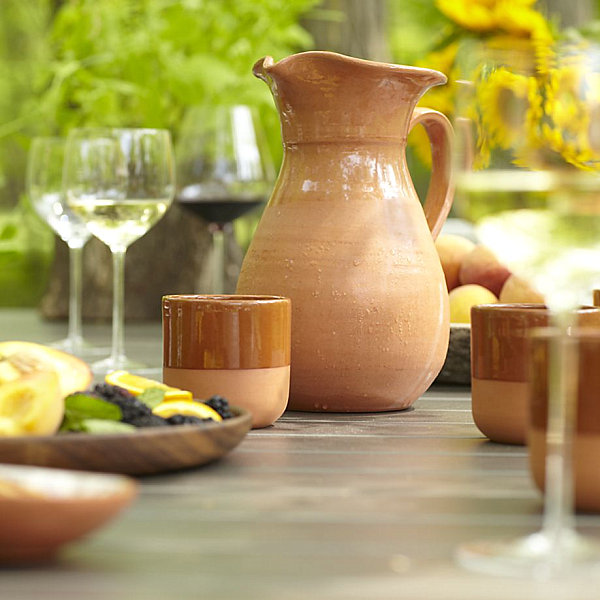 Now tell us about your favorite picks from today's post… Do you prefer pumpkins and fall vegetation? Or do you enjoy a more subtle approach that conjures the season without screaming its name? Share your thoughts by leaving a comment below…
Liked the story? Share it with friends.