I've fought the temptation to write about fall decor for weeks now. After all, why write about fall when it's still summer? There 's plenty of lounging left to do! I haven't even hosted my end-of-summer brunch yet! But if you're a design enthusiast like I am, you understand that the 2013 fall collections have already hit stores. You've probably noticed a plethora of new colors and styles while browsing your favorite shops and websites.
We want to keep you informed on the latest trends. How could we not write about fall decor?! Today we feature a range of new items that have caught our eye. You may be surprised that many of these top fall finds showcase vivid colors such as red and blue rather than the traditional earth tones of the season. And we find that to be totally refreshing! Buckle up and get ready for a tour of furnishings and decorative items you won't want to miss…
Setting the Stage…
We begin with a series of items that have the power to transform a room. After all, if it's all over the walls and the floor, you'll be hard-pressed not to notice it! We've been delighted by the faux marble trend, best showcased by West Elm with products like the Strata Marble Tile Wallpaper below. Part of this retail chain's debut wallpaper collection, this selection is PVC-free so you can breathe easier at home: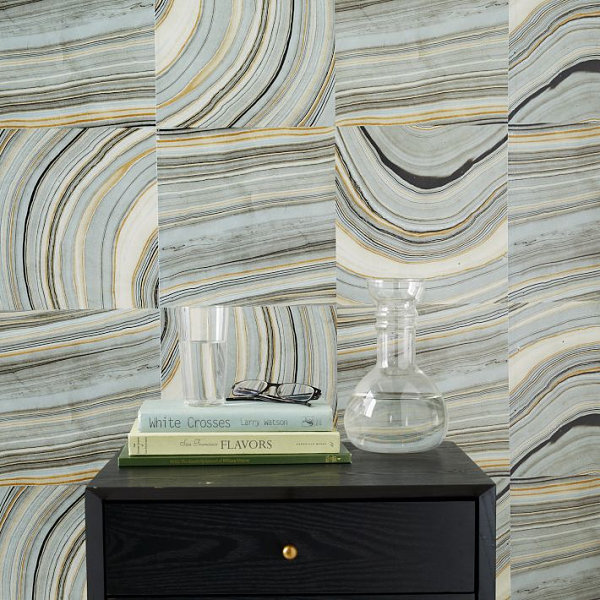 Look at the radiant hues featured on the Verona Rug from CB2! In fact, CB2 has been on a color kick for fall. Earth tones and deep, rich shades are very appropriate for the new season, but sometimes it's nice to see something different. Something with "look at me" color! This eco-friendly item, which incorporates the full spectrum of rainbow hues, is made from fabric remnants from textile mills in Rajasthan, India.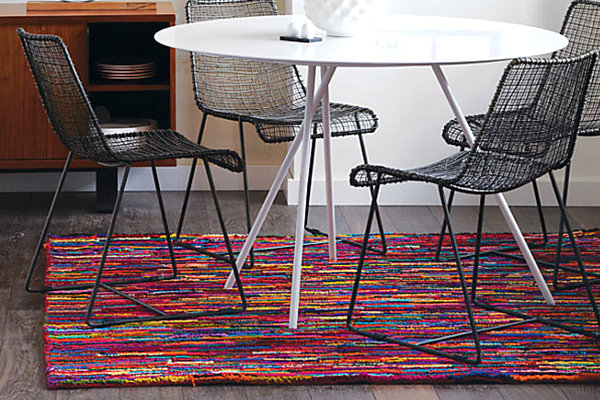 Bright yet earthy, the Teal and Tan Bridget Kilim Rug from Jonathan Adler is a true standout. Put this piece in your space and voila–you have an instant focal point!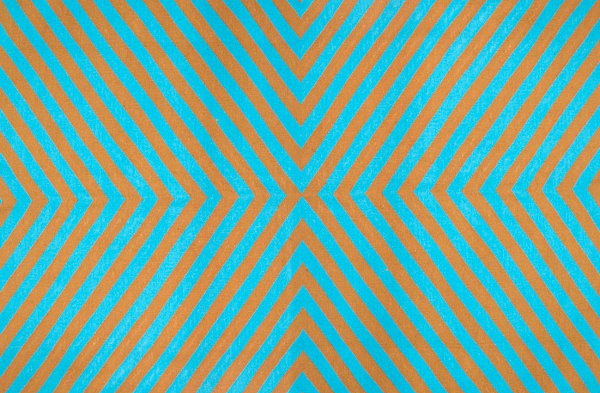 Also from Jonathan Adler is the William Shower Curtain, which updates the chevron pattern with a stair step interpretation. Screen-printed on cotton duck fabric, the design is given a crisp finish, thanks to grosgrain ribbon that graces the top and bottom: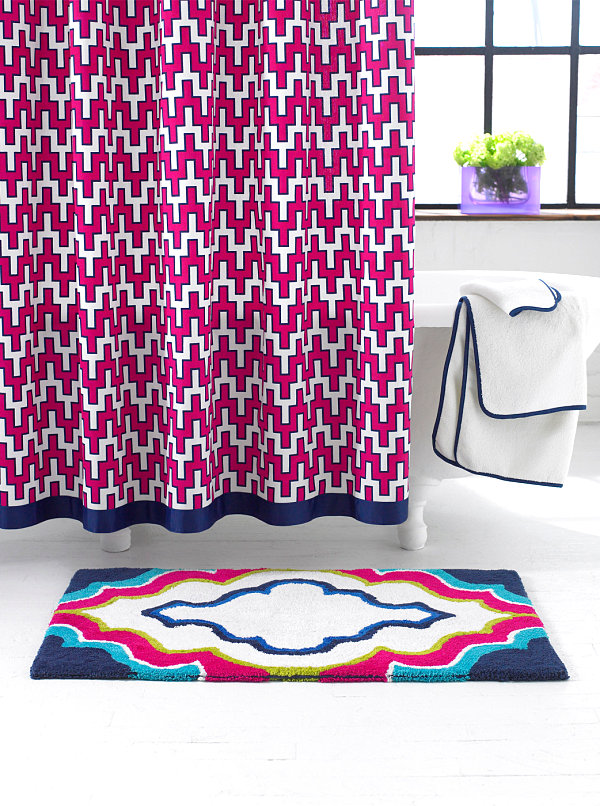 Fall Furniture
We now move on to furnishings that make a powerful statement for the season ahead. First, more marble-style fun… Here's the Scoop-Back Chair – Marbleized from West Elm, originally featured in our fall preview post.  One of the many great things about this chair is the way it keeps the look neutral with golds, grays and browns. Yet this is the edgiest display of neutrals we've seen in awhile…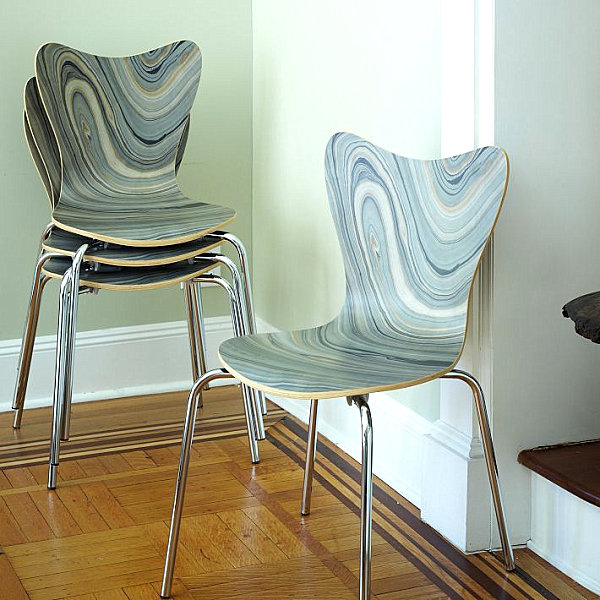 Geo forms have been popular for quite some time now. What began as a crafty modern statement featured mainly on sites like Etsy has turned into a full-blown geometry party, as shown by the presence of angular pieces at major retailers. This Lucida Side Table from Crate & Barrel features gem-style cuts and a bronze finish: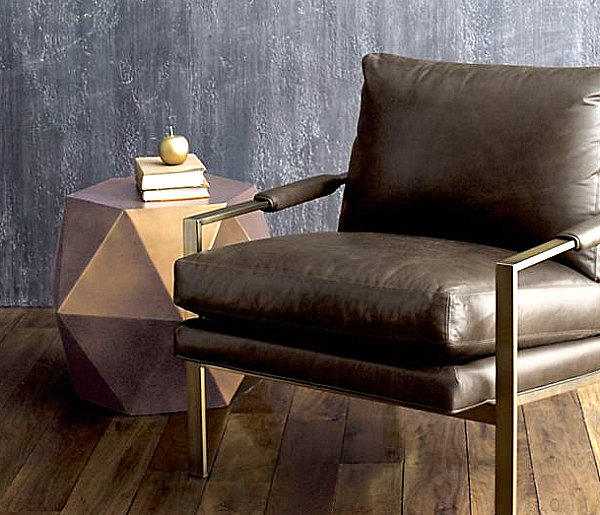 Don't forget that emerald is still Pantone's color of the year (and will be through the rest of 2013). Z Gallerie has certainly remembered this fact, as shown by their new Max Emerald Mandarin Bed. A jewel-like pattern in crisp white gives this piece a decadent feel: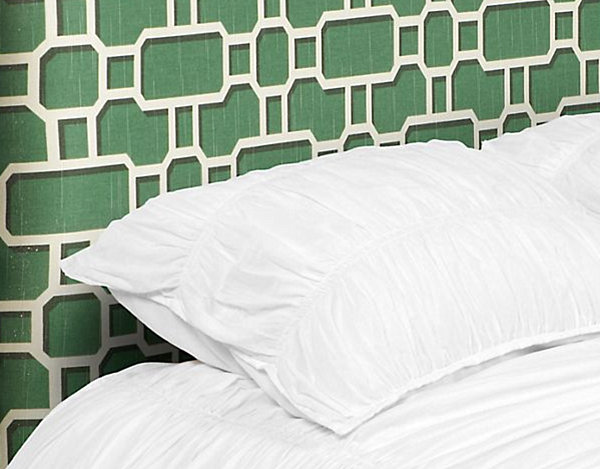 Finishing Touches for Fall 2013
We now spotlight textiles and accessories that are the icing on the cake in your festive fall interior. From colorful geometry to elegant decadence, there are many different styles and options to enjoy. Diamonds are forever, so why not buy a few as the weather turns chilly? The Gio Duvet Cover from Jonathan Adler features a slew of them in a wonderful geometric pattern. Red-orange on white is the color combination of choice, and we think it couldn't be more vibrant!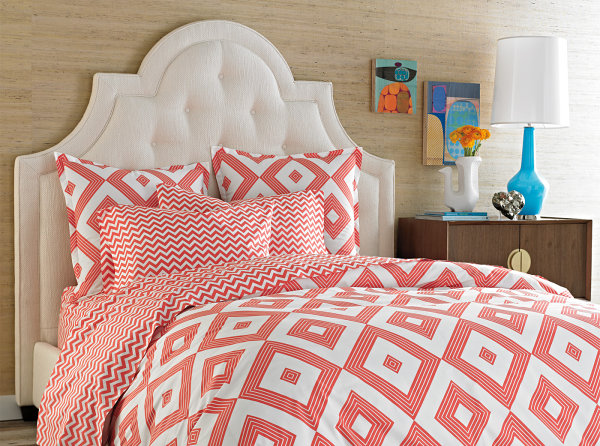 Make an impact with beautiful blues and greens. Teal is a hot color this season, and The Sparks Blue-Green 16″ Pillow and Sparks 23″x11″ Pillow from CB2 put a modern, elegant spin on this striking shade: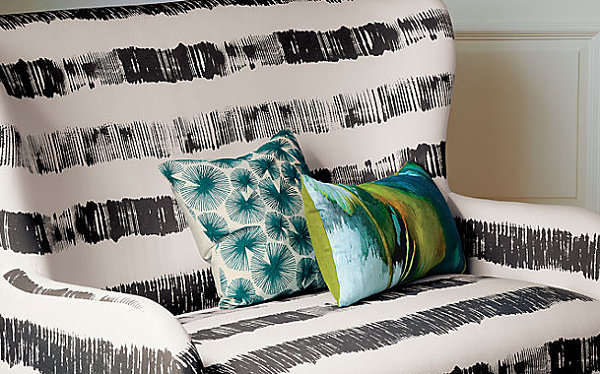 Oh faux marble pattern, how we love thee! These Marble Print Silk Pillow Covers from West Elm feature a swirly design that evokes the mysterious bands of minerals. A variety of color combinations ensures you will find just the right shade to complement the hues of your interior. Look closely– many colors are featured in each pattern: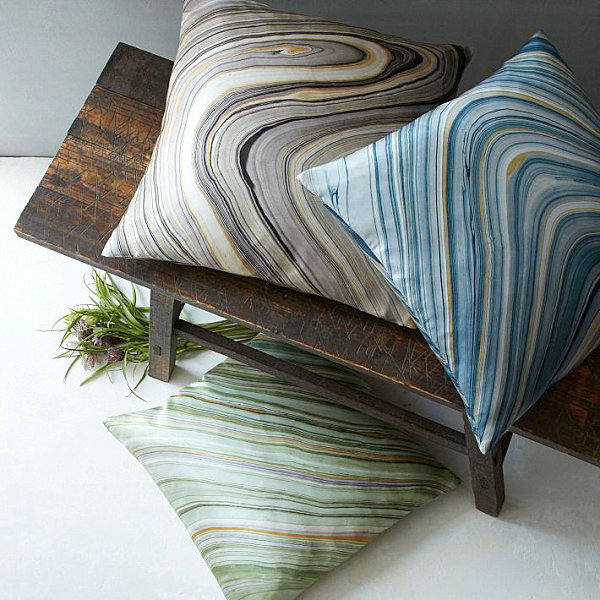 Ready for more geo-style fun? One of the many ways this look is taking hold is through pendant light design. Like the Union Pendant from Crate & Barrel, which is geometric and architectural while evoking the feel of a cage. Good thing the only item that's "imprisoned" is the bulb!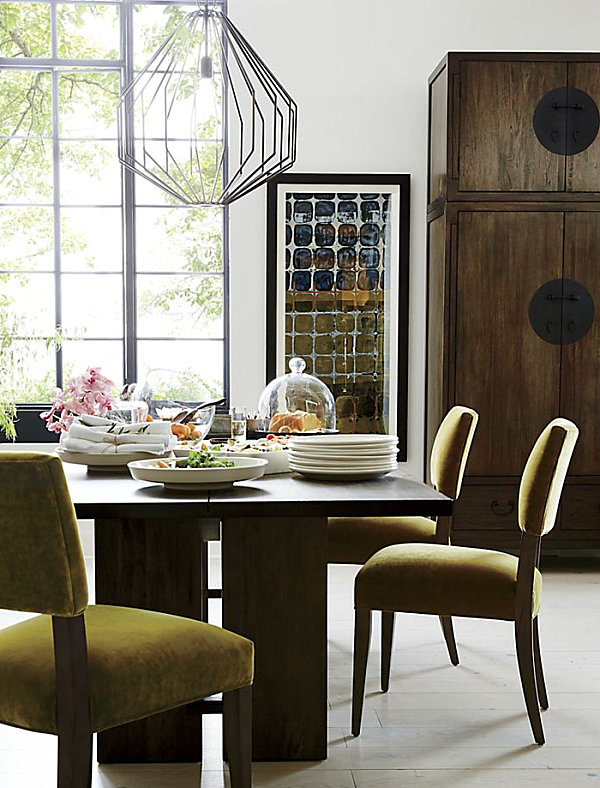 For more angular, sculptural fun, check out the Sculpted Sphere from Pottery Barn. This item is crafted of hand-welded iron, and it's given a well-loved look thanks in part to its bronze finish. Display the sphere on a surface top, and we're sure it will become a true conversation piece in your space: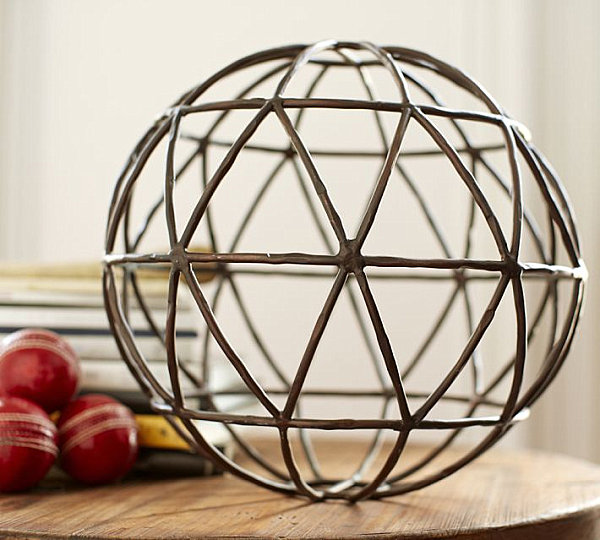 Once again we have a vibrant pop of color with the help of CB2. This Geo Mod Clock features concentric circles and a split-screen effect. But we won't lie–our favorite part is the eye-catching statement made by a pair of red-orange stainless steel hands. Hang this item on the wall, and you have an instant work of art…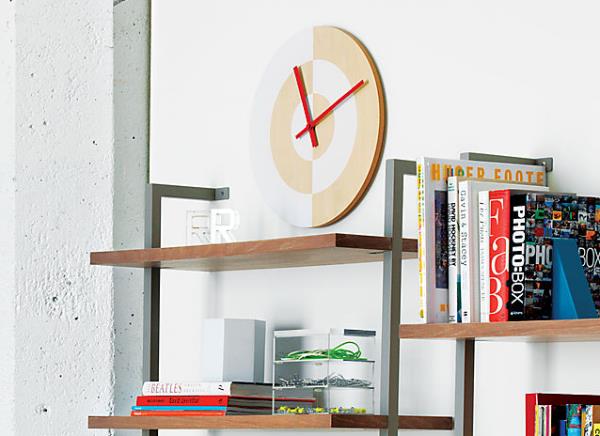 We finish by featuring a few tabletop pieces that are sure to make eating and entertaining quite fun! Below we see a slew of new retro-style finds from Jonathan Adler, including the Orange Bobo Dorothy Placemat. Reds and blues are BIG this fall…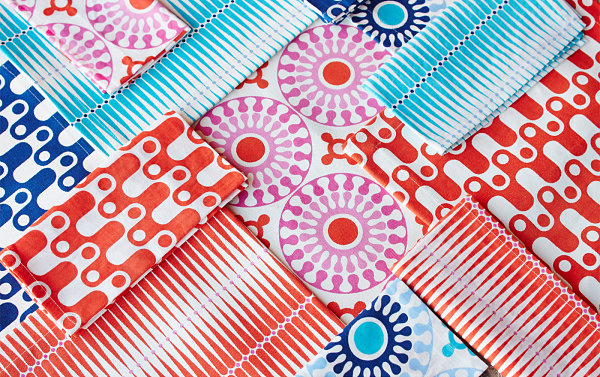 Speaking of red and blue, these shades are prominent in the Colorblock Square Platter from CB2. OK, so maybe the shade is fiery orange rather than red… But you get the idea! Crafted of porcelain, the item is shown here with the Stack Bowls and other serving pieces. One of the great things about this platter: the way it has the power to set the tone of the entire table…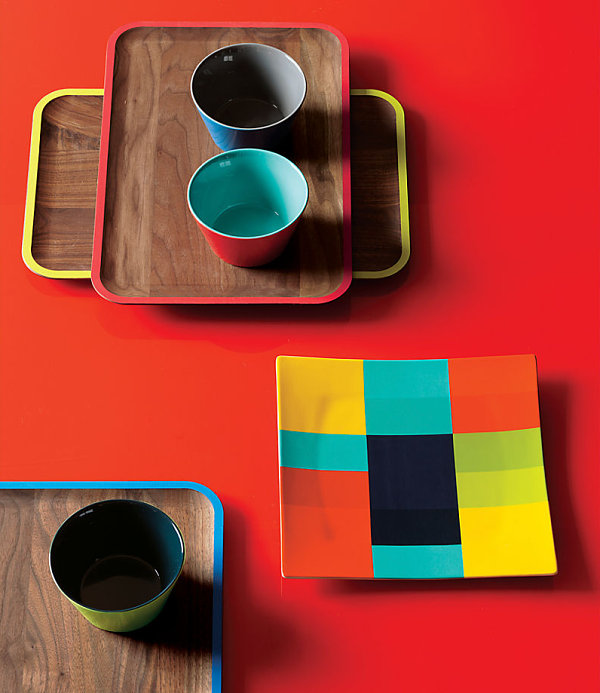 Ready to get classy? Very classy? This Library Stemware from Pottery Barn features a series of hand-cut squares. Elaborate yet masculine, these pieces have an icy look that is also sturdy and strong: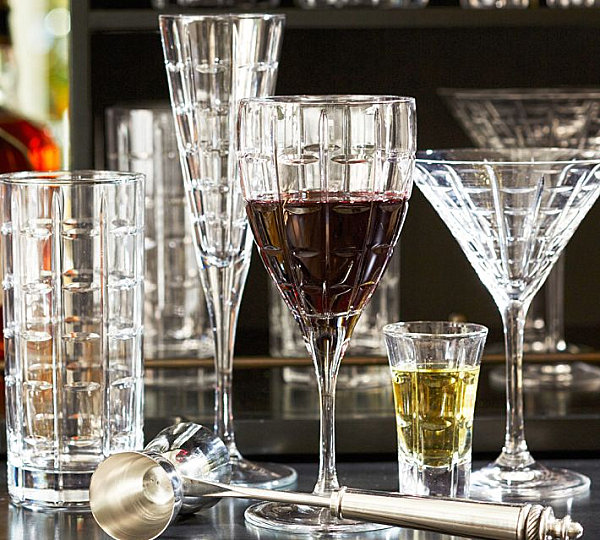 There's no denying that minerals are "in." Big time! You can always purchase a mineral specimen, but there's something extra special about this Agate Jewelry Box from West Elm. Made of glass and an agate pattern decal, the piece also resembles the banded look and emerald hue of malachite. Not to mention, it's another example of fall decadence at its best!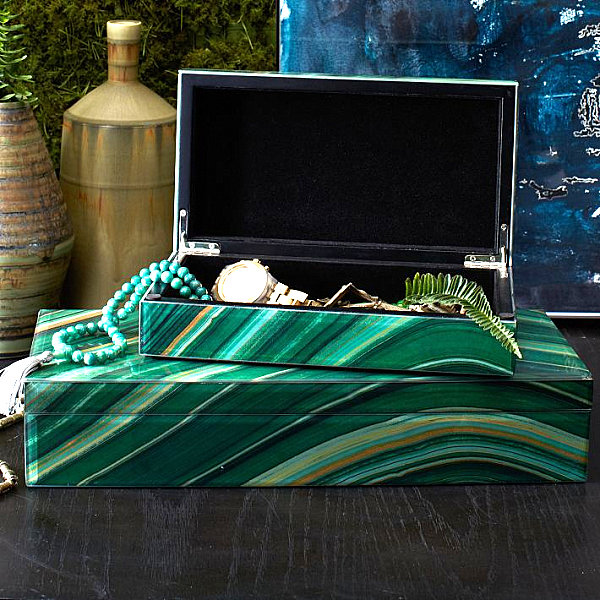 Tell us about your favorite fall trends! Are you partial to bright colors? Do you enjoy the elegance of rich hues and lush patterns? Perhaps you're a fan of geometric forms and the way they're appearing as pendant lights and furniture. And let's not forget the alluring bands of marbleized patterns. Share your thoughts by leaving a comment below…
Liked the story? Share it with friends.