Yes, it's that time of the year again. Fall! The temperatures are starting to drop, and there's a wonderful sense of change and possibility in the air. Could there be new possibilities for your tabletop as well? As the leaves begin to change color, why not take your cue from nature and bring a touch of autumn indoors?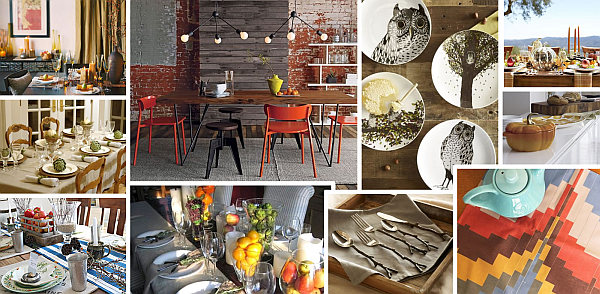 Many people shy away from fall decor because they feel that popular motifs like an abundance of faux leaves and orange pumpkins are overdone. Believe it or not, there's room for individuality when incorporating seasonal decorations. Today we spotlight a more subtle approach to autumn tabletop decor. Because sometimes the best surprises are those that stray from expectation…
Make a Statement with One or Two Large Pieces
If a large spread of fall festivity is not your thing, never fear. One or two large pieces can make just as strong a statement. Take the dining room below, which features a nucha vase from CB2, as well as a tray of citrus fruit. Modern and vibrant, this pairing is eye-catching enough to command the attention of the entire room.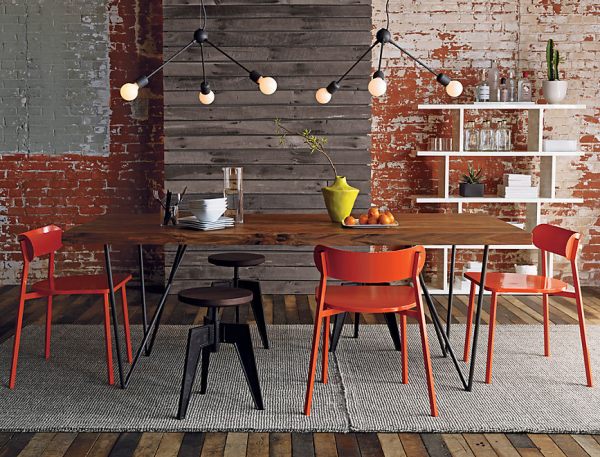 Keep it classy with an elegant gold velvet runner from Z Gallerie, then complement it with other golden accents, such as delicate dishware. Not pictured: the fabulous tassels that dangle from each end of the runner!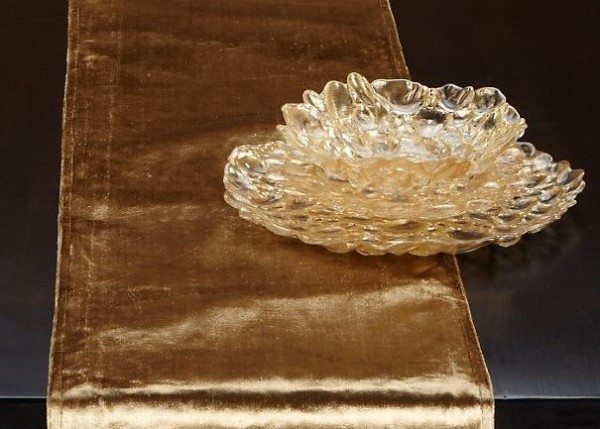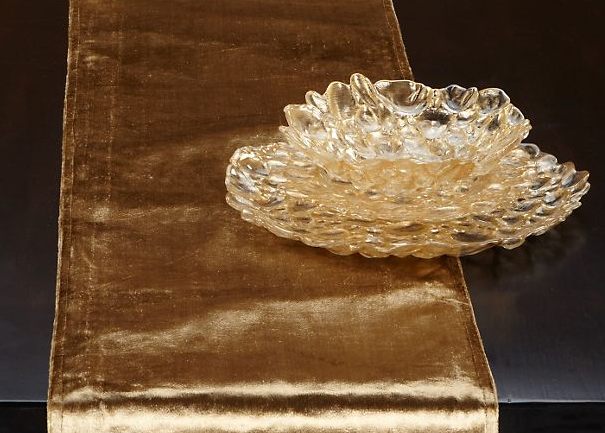 For a more casual approach, go with a couple of sturdy ceramics. The Staub Pumpkin Covered Casserole and Pumpkin Platter from CB2 are fun and low-key, yet contemporary enough to mix with a simple wooden cutting board and modern linens.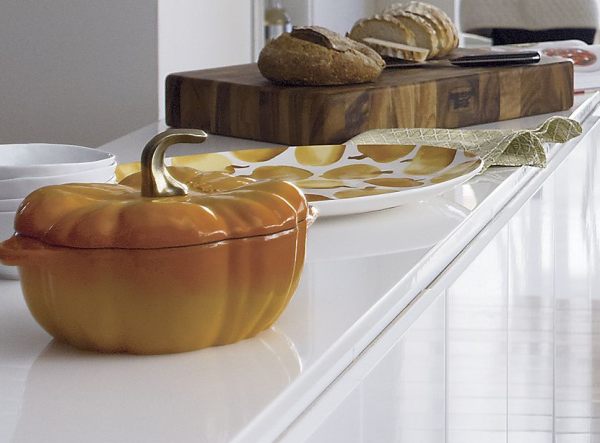 For an eye-catching symbol of the harvest, place a cluster of purple grapes in a vibrant orange bowl. The combination of rich colors is undeniably autumnal, and the vivid pairing is strong enough to act as a single centerpiece that gets noticed! [from West Elm]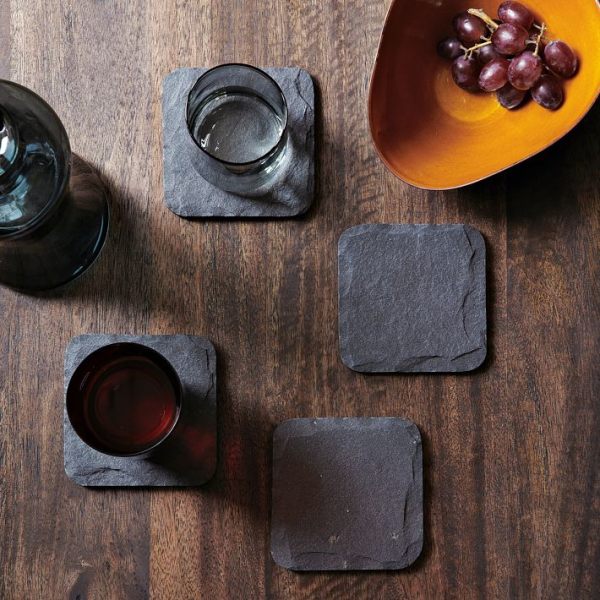 Create a Smorgasbord of Fall Decor
Sometimes more is more, and perhaps because autumn reminds us of harvesting food, many centerpieces feature clusters of items for a "cup runneth over" effect. Below we see a table filled with goodies. Our favorite in the bunch? The Antique Mercury Glass Pumpkins from Pottery Barn. They remind us that every eye-catching grouping needs a focal point!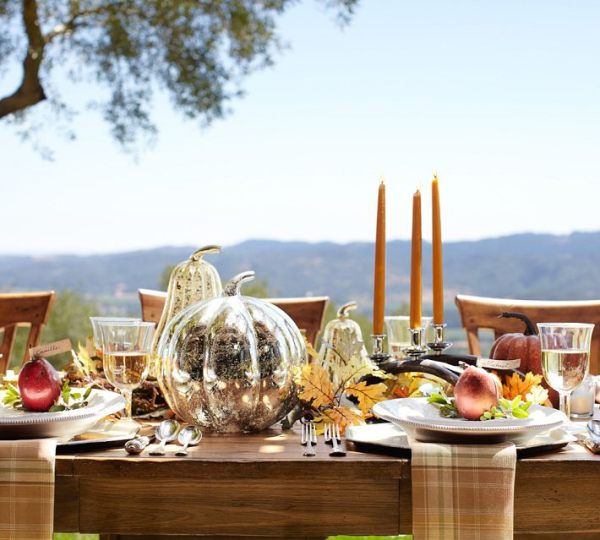 Even with tabletop decor that features many items, a pure and simple approach is possible. Try displaying bunches of fall fruits and veggies in clear vases. Not only does this display technique allow the food to take center stage, it results in a clean, modern look! [from DigsDigs]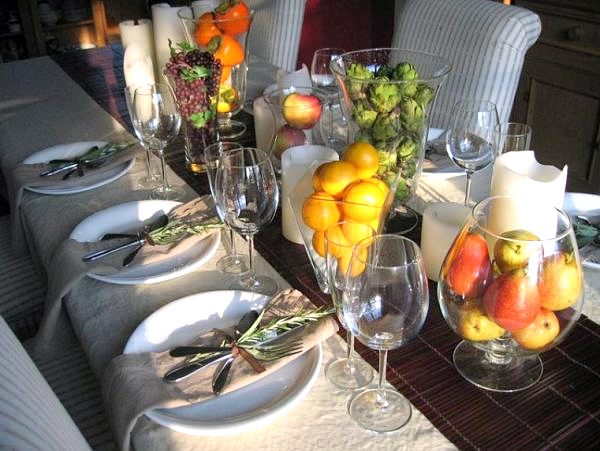 Who says your smorgasbord has to be food-related? This next image features a grouping of pine cones and leaves, with a few feathers thrown in for good measure. Not only does the centerpiece create a natural, earthy feel, the browns and greens are a nice break from the golds and oranges featured on many a fall tabletop. [from DigsDigs]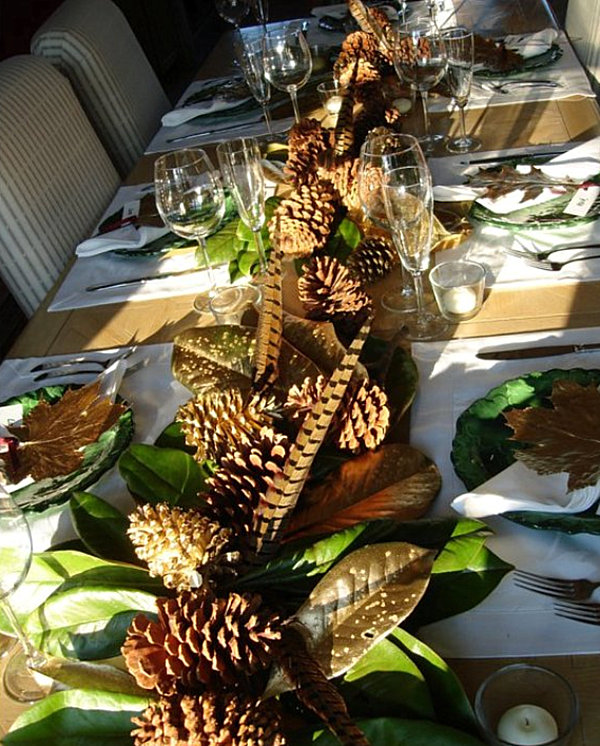 The individual components of a tabletop display are as important as the overall effect. Pepper your display with beautiful dinnerware, like these special Owl Dessert Plates from West Elm. They make fall dining fun and stylish while offering a shiny yet understated look.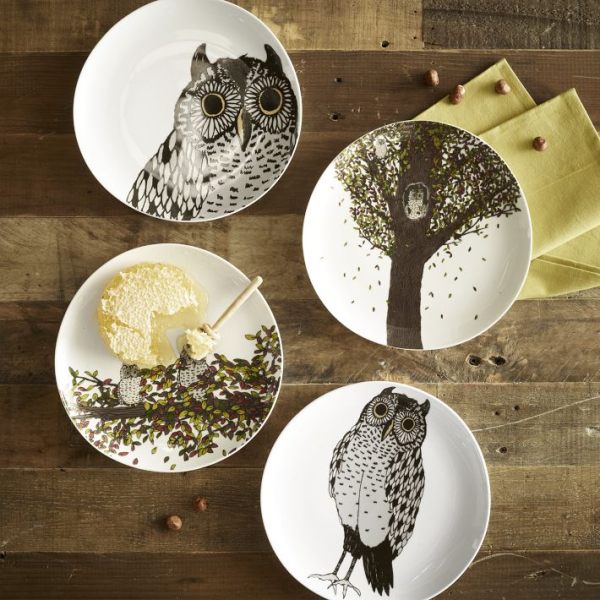 Another amazing tabletop option? Flatware that conjures images of fall branches, such as the twig flatware below. Pair it with wooden serving pieces for a rustic yet modern effect. [from West Elm]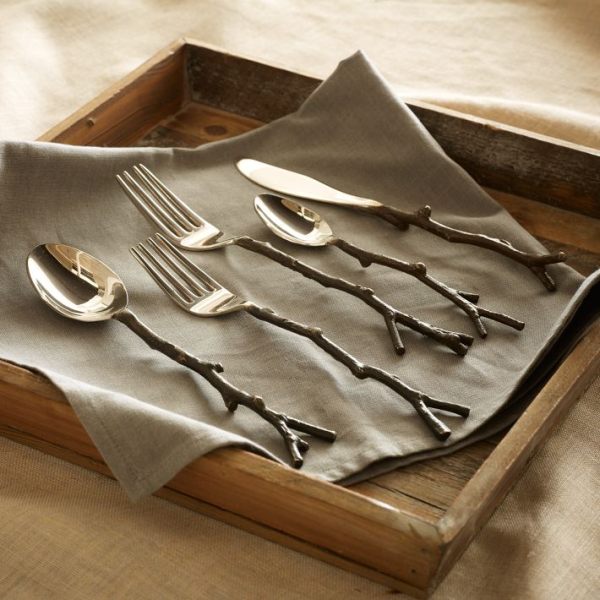 Instead of layering specific types of items for your fall tabletop, try layering specific colors! Gold is the word in the dining room below. Note the abundance of golden items, from the candles to the plates to the stemware. [from HGTV.com]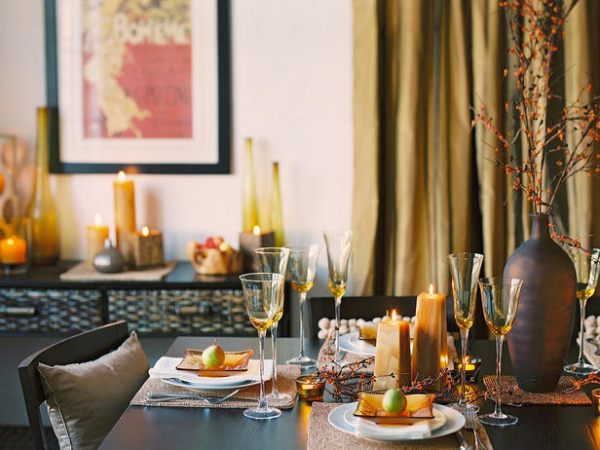 Enjoy Patterned Textiles in Fall Colors
A sure-fire way to usher in fall is to update your table linens with vibrant selections in autumnal colors. Does this mean that golds, browns, oranges and reds are the only hues allowed? No! We love the addition of blue to the zig zag napkins below. [from Wolfum]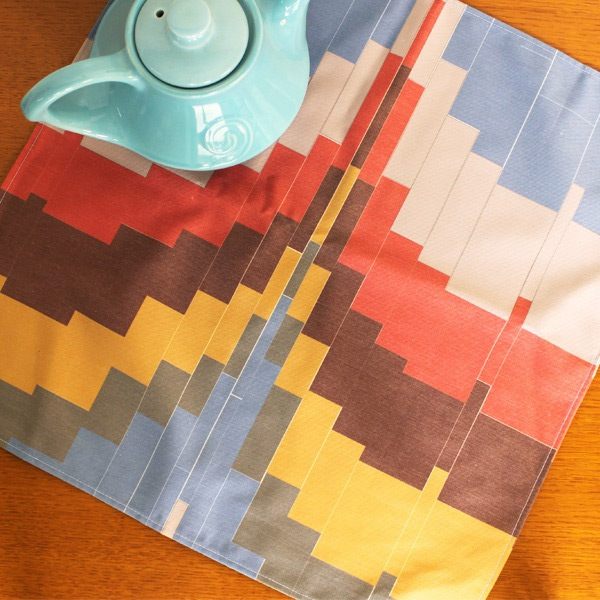 Nothing evokes the joy of nature's bounty like the Marimekko Lumimarja line, available through Crate and Barrel. In the next image, we see this bold pattern in orange. Lovely and modern, especially in a neutral room!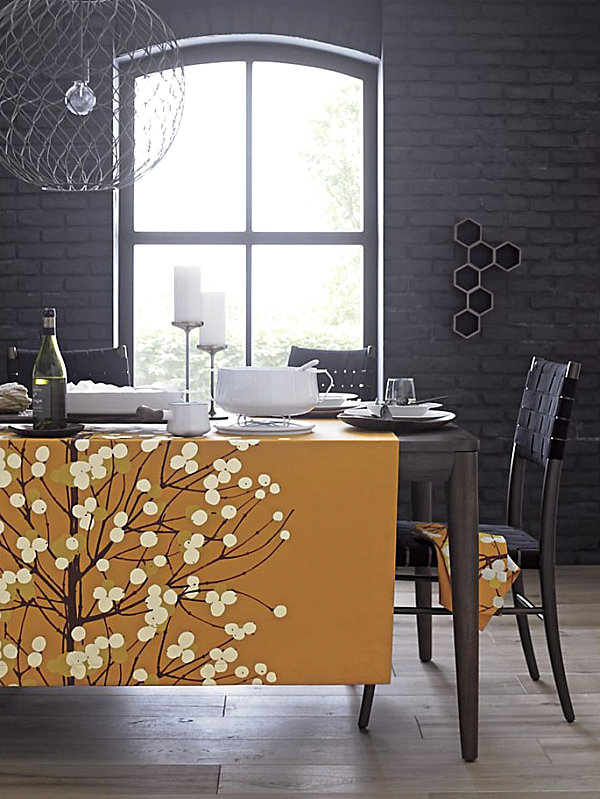 Red can be a striking nod to autumn, as shown by the pairing of the Leona Placemat and Cotton Henna Napkin from Crate & Barrel: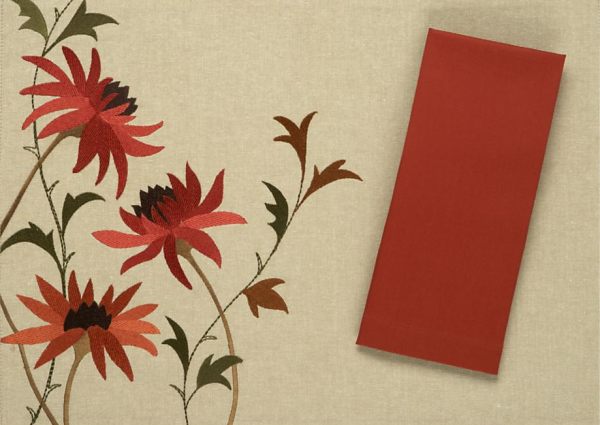 Don't forget to honor your design style and sensibilities by selecting tabletop pieces that speak to your taste. Are you a fan of geometric patterns and Hollywood Regency flair? Check out the Modern Orange and Green Table Runner from Etsy shop Proper Pillow, shown below. Not to mention, this item has an added bonus: it's reversible! That's right, folks–the other side features the same pattern in green. Flip it over and keep it on the table for Christmas!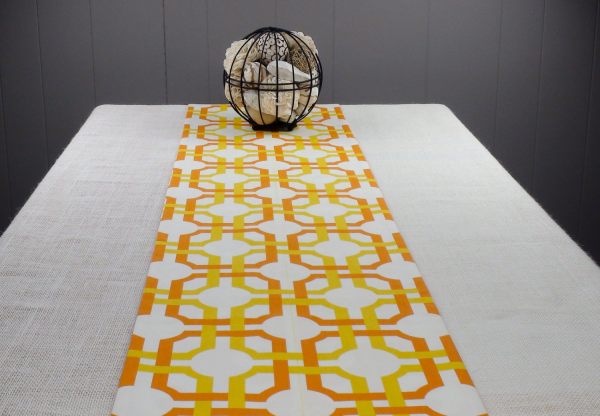 If you're a fan of Ikat, check out the Kamal Runner from Z Gallerie, a reversible piece that features two different patterns in rust. Play up the white detailing with crisp modern dishes, as shown in this next image.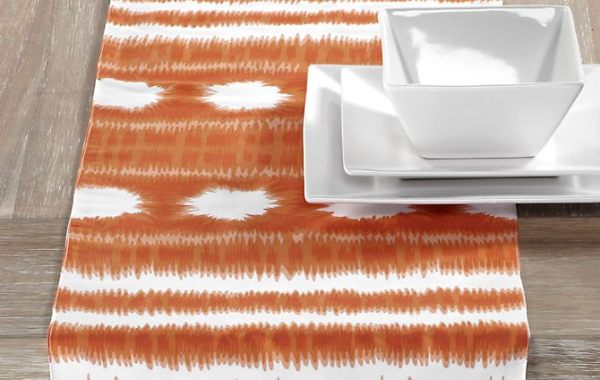 Go for the Unexpected
There's no rule that says you have to stick with orange pumpkins when it comes to fall decor. Try taking your guests by surprise by choosing unexpected motifs for your table. Instead of fall leaves, go with fall apples! Add some eucalyptus pods and dried branches, then choose a contrasting color such as blue for the table runner. The stripes below are refreshing, aren't they?! [from Perfectly Imperfect]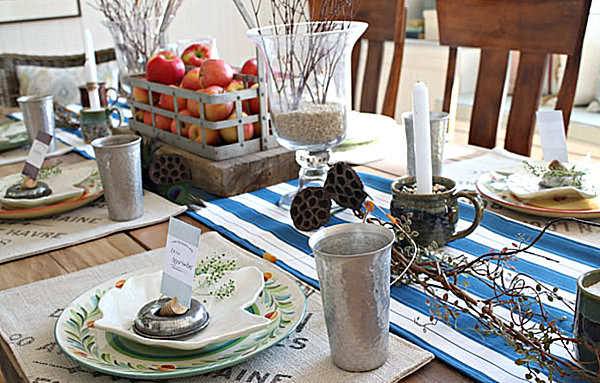 Or try a beautiful floral arrangement in a milk glass urn. Soft and subtle, this approach incorporates a soothing shade of white, which can be mirrored in striped pumpkins that are added to the mix. [from Quince via Design Sponge]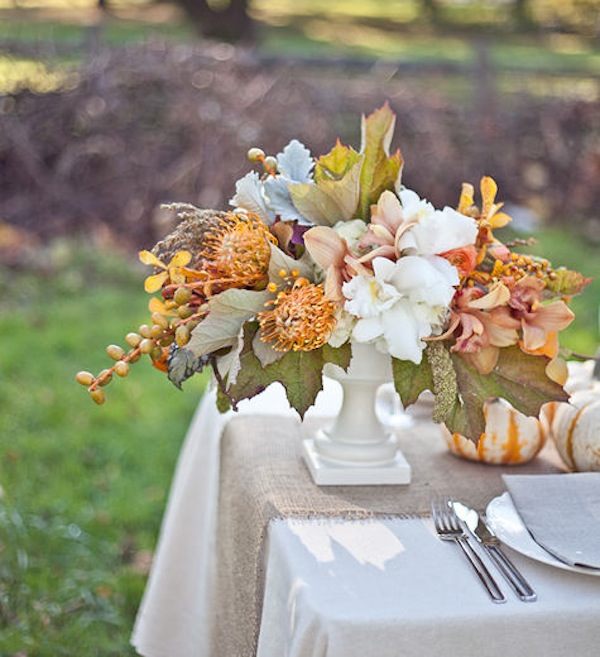 Looking for something even more simple? Who can beat a few earth-toned daisies in a clear glass vase?! This arrangement is the embodiment of "less is more" decor. [from HGTV.com]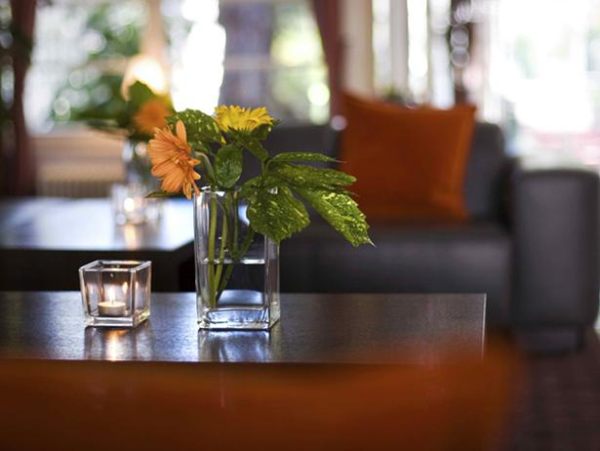 Why not trade in orange pumpkins and fall leaves for white pumpkins and artichokes?! That's right–artichokes! The table setting below is from HGTV fan Tetbury, who also includes details such as linen napkins tied with green string and weathered urns filled with pumpkin-topped moss. [from HGTV.com]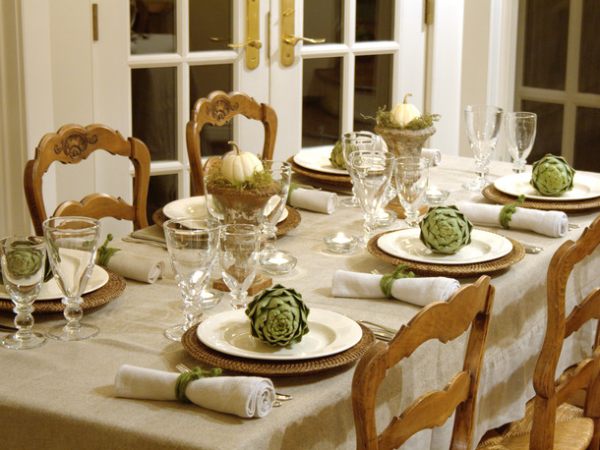 Go big with tall dried branches in striking slim vases, as shown in this next image of the HGTV Green Home 2012. One more fun tidbit: since this table setting is outdoors, its designer added cozy throws on the back of the chairs. Not only do they add a splash of orange, they provide warmth on those chilly fall evenings! [from HGTV.com]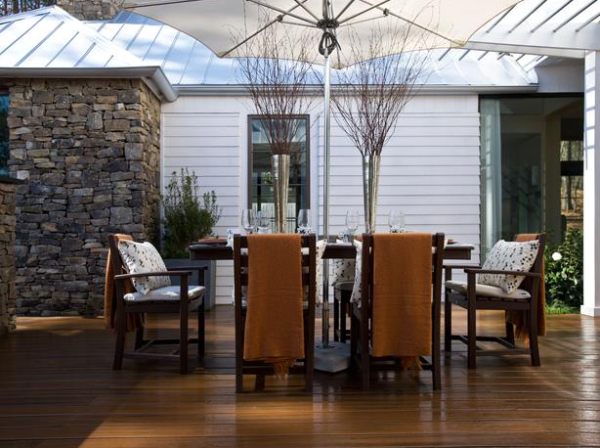 Not planning a fall dinner party just yet? Tabletop decor isn't just for guests–it's for your enjoyment as well! Seeing touches of autumn on your table is a joyful reminder of the beautiful changes in nature that happen at this time of the year. If a big spread isn't your style, celebrate the season in small ways, such as with a simple vase of flowers or some vibrant textiles. And don't underestimate the delight of purchasing a pumpkin or two! Even these signature fall items come in unexpected colors like white and green!