Entertaining gives us a chance to decorate with food, flowers, dishes, napkins and more. And we at Decoist never pass up an opportunity to celebrate stylish decor! We also know that when you're preparing food and drinks for a group, you may not have oodles of time to meticulously plan out each and every decorative flourish. Today we make it easy for you by providing a slew of table setting ideas for your next event, be it a large dinner party or a cozy brunch for four!
As you browse the images below, check out details like vases, blooms, candles, food and more. In fact, many gorgeous table settings cleverly use the party food itself to be the true focal point. Others set an elaborate stage with accents that reflect the best in modern interior design. Whatever your preference, we think there's a table below for you…
Beautiful Centerpieces
We begin with tables that showcase beautiful centerpieces. Sometimes one bold statement is all you need to make a big impact. Below we see a vase of rosy blossoms on a wooden table. In fact, the vase is the same color as the table, creating a monochromatic look that is offset by the crisp white accents in the room (and of course, the beautiful blooms). [from SF Girl by Bay]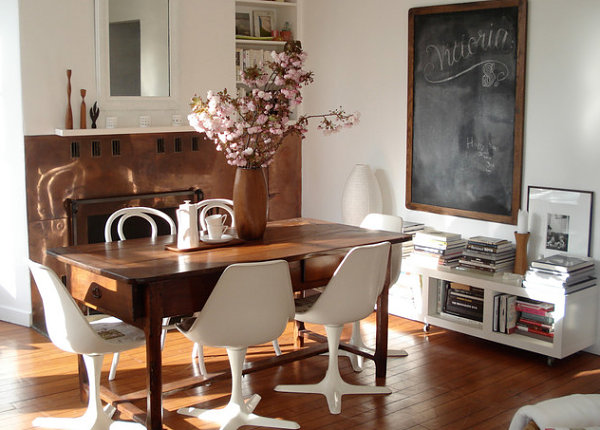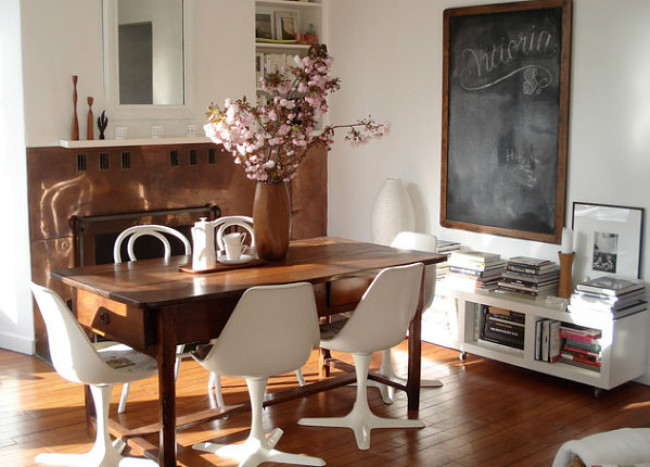 For an easy centerpiece that will last for weeks, purchase a couple of monstera leaves and arrange them in a vase, as shown below. This tropical greenery is dramatic and festive, especially for summer gatherings. Use a white tablecloth as a base, then sprinkle confetti on either side of the centerpiece, mimicking the look of a runner. [image from Kate Simmons]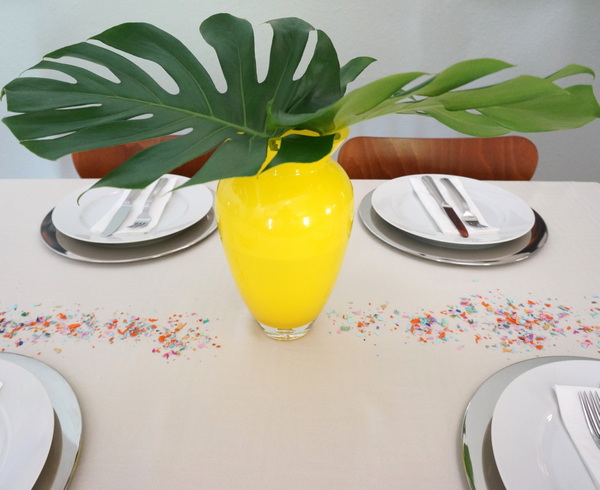 When summer transitions into fall, get ready to incorporate some seasonal produce! We're loving the look of the spread below, especially since it involves succulents. There's no rule saying that autumn=corn husks and scarecrows. Blend pumpkins and gourds with other design elements for an updated look. [Photo by Jeff Hanley; styling by Sheila J. Schmitz via Houzz]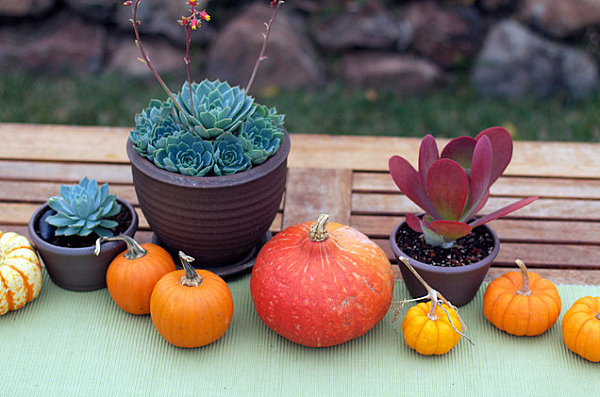 Speaking of fall centerpieces, the gorgeous selection below gets its flair from an array of fall produce, as well as unusual color combinations and dramatic blossom-filled branches. A classic urn anchors the arrangement. [photo by Karen Mordechai for Sunday Suppers via Salutations.com]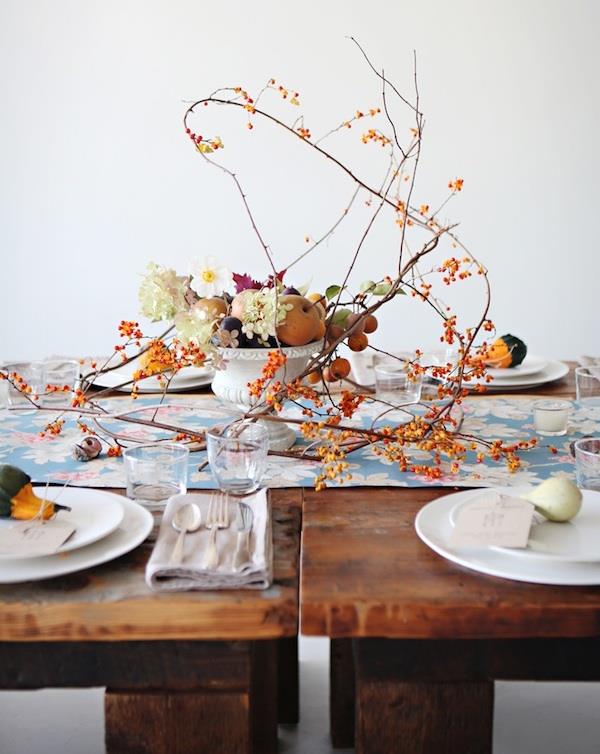 Let's hear it for candles and the power of repetition! We love the look of this next centerpiece, which actually spans the length of the table. Bowls of blossoms make a big impact, especially when interspersed with bold red taper candles. Amethyst tumblers create a jewel-toned effect. [photo by Manvi Drona-Hidalgo for HGTV.com] 
Funny how a collection of carnations in a bottle vase can have such a striking look! Below we see a centerpiece with a bit of Asian flair, perfect for the dinner that is obviously soon to follow… [from Close 2 My Art]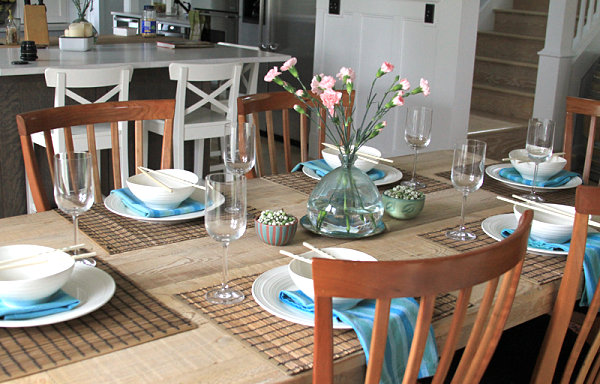 Candelabras and a tall vase of lilies provide just the right level of drama for this ultra-long dining table in a room with a view. Don't hesitate to create a centerpiece using a variety of elements, including votive candles… [from Crisp Architects]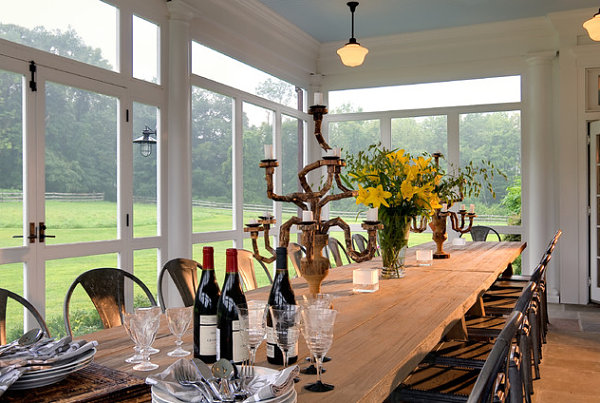 Design-Worthy Place Settings
From the centerpiece to the place settings… Don't forget that what you display on the placemat is just as important as what graces the center of the table. In this next table designed by Sharon Taylor and Kendra Skinner, a beautiful coral specimen rests under a glass cloche. Yet the place settings are no less stunning. Small compotes of red cherries are accented by favor bags with robin's egg blue ribbons. [image from Janae Hardy for A Beautiful Mess]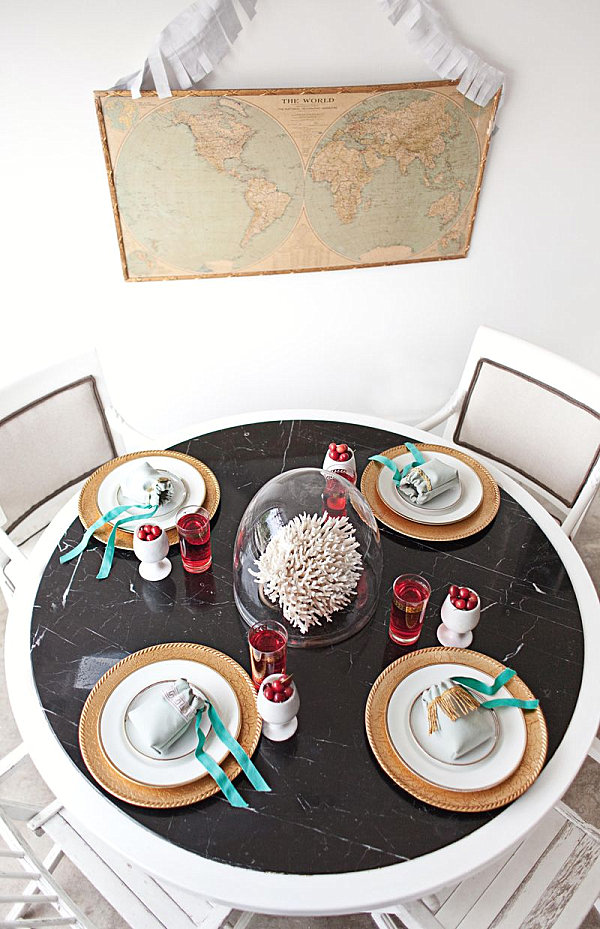 In another summery vignette, coral once again takes center stage. The place settings are an important highlight of the table, especially since they feature fabulous vintage fish plates found at Goodwill. Striped napkins and candles are other key accents, along with blue-tinted tumblers boasting milk glass-style edging. [from Coco & Kelley via Oh Happy Day]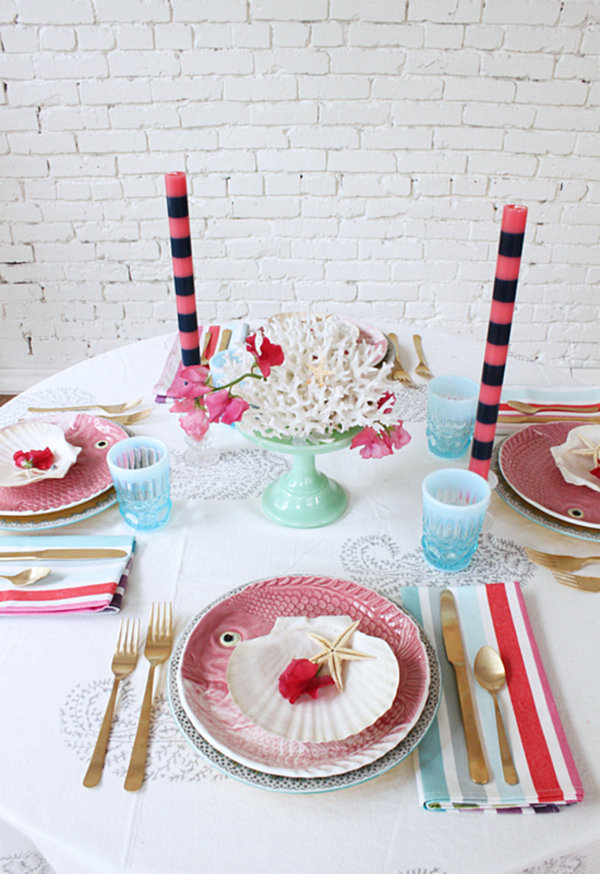 How colorful is this stunning Moroccan-style table created by blogger Camille Styles? Featuring finds from Hayneedle, this vignette featuring fresh produce, lush blooms, and blue and white dishware was lovingly pulled together by Camille for a date night with her husband: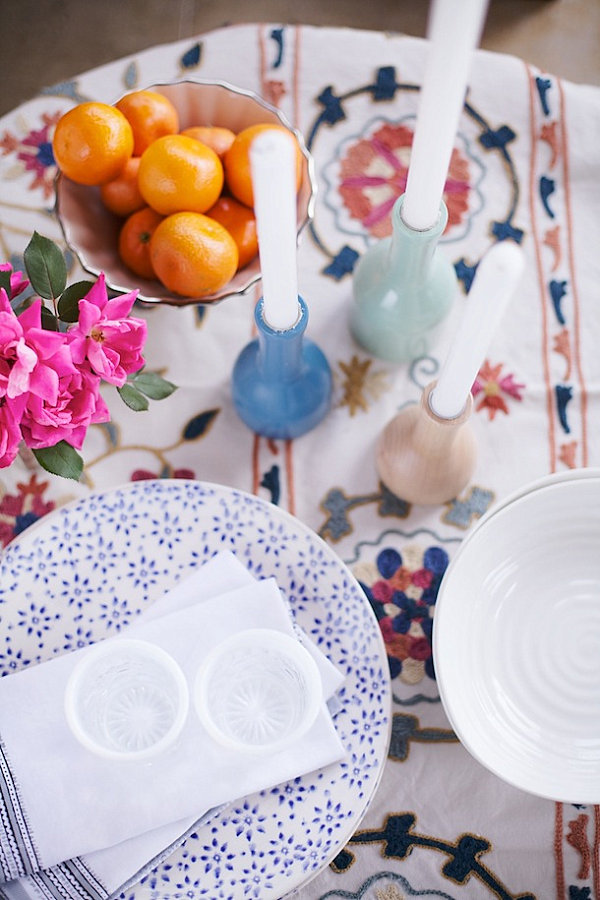 Making the place settings special can be as simple as incorporating festive tumblers and beautiful flatware, then setting a menu on top of the napkin at each spot. For more on the colorful paint chip wall confetti below, check out the full DIY from A Subtle Revelry…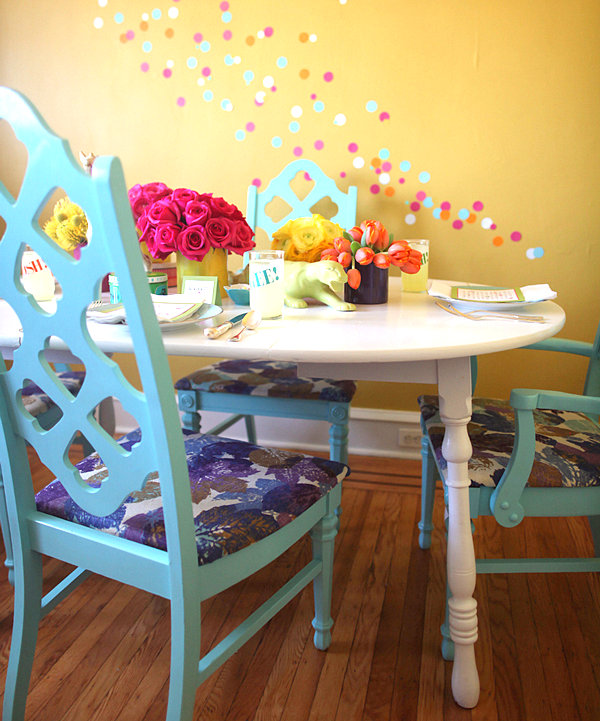 Don't forget that a beautifully wrapped favor can be the true star of each place setting, as illustrated by this next gorgeous table. If the wrapping is colorful, you can always keep the dishware simple and chic. [photo by Rubyellen Bratcher and Irene Diongzon via Cakies]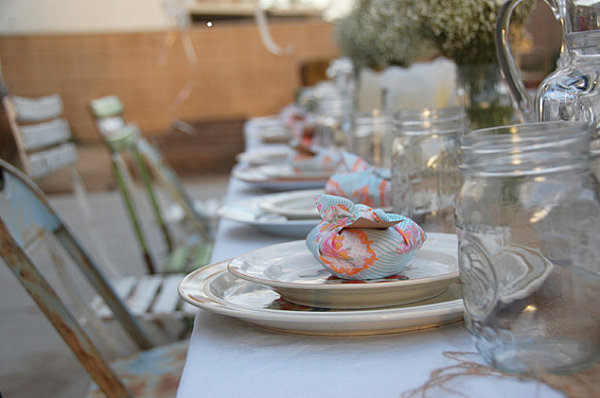 When the Food Takes Center Stage
Sometimes all you need to make an unforgettable statement is a table full of delicious food! When crisp greens and fresh produce are the food of choice, bright white is a stunning hue for tablecloth and napkin. For more basic details on how to set a table, check out this tutorial from StepbyStep. [image from Chef Aimee via StepbyStep]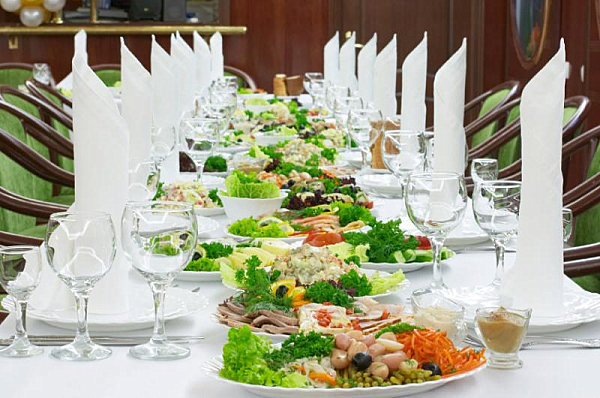 We're loving the use of bread as a centerpiece in the spread below. Not only do long loaves make a great statement at the center of the table, a toned-down version (a la crispy breadsticks) provides an edible arrangement at each place setting as well. [from Coroflot]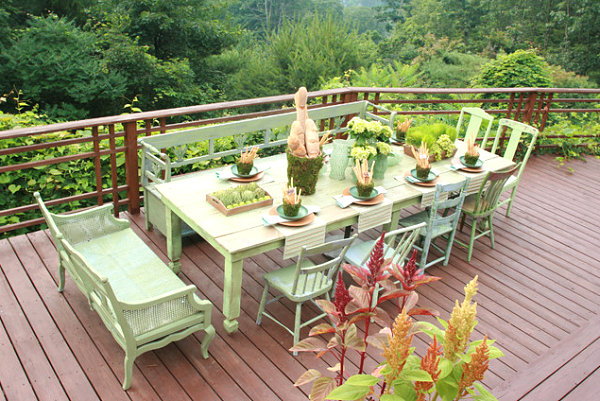 With the weather still nice, it's the perfect time to indulge in a little picnicking. And when you're making your meal a portable one, it may be tricky to get fancy with a variety of centerpieces. But you don't have to! The food itself is the glorious centerpiece for your delicious meal outdoors. Take a look at the picnic spread below, which allows the food speak for itself… For more picnic packing tips check out Design Mom. [via Oh Happy Day]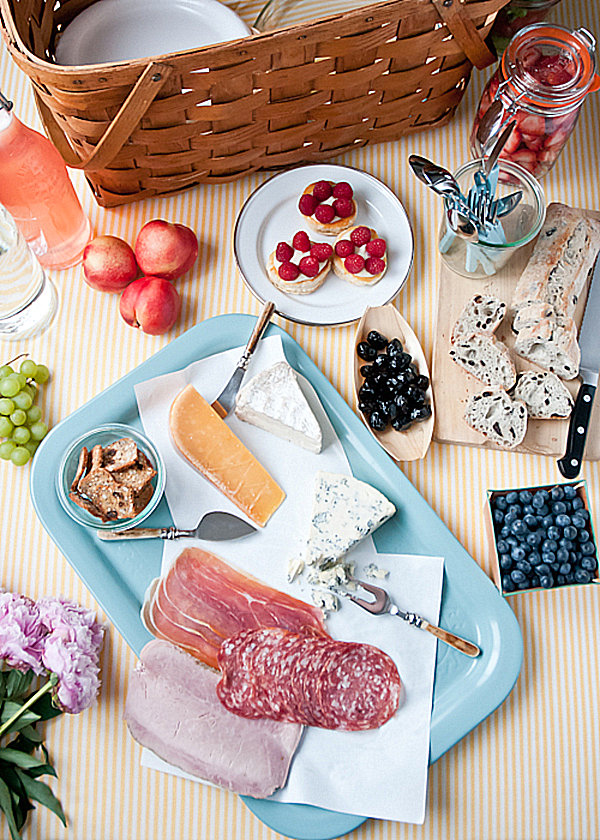 Pay attention to the color of your food when deciding on a table scheme for your gathering. This olive green dish is absolutely stunning against the sea blue of a weathered table, along with a bright turquoise and white napkin in a floral motif. All of it looks good enough to eat! [from Canelle et Vanille]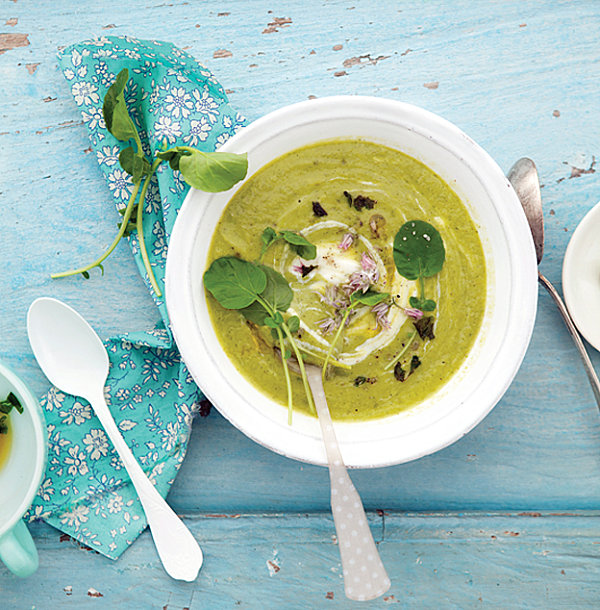 Your dining table is where the action takes place, but don't forget about the other surfaces in the room. For example, your drink station can be quite welcoming if you set out some delicious garnishes that will add a fresh element to each glass. Fill containers with lemons, limes and olives. It's a self-service beverage station with true style! [Photo by Manvi Drona-Hidalgo for HGTV.com]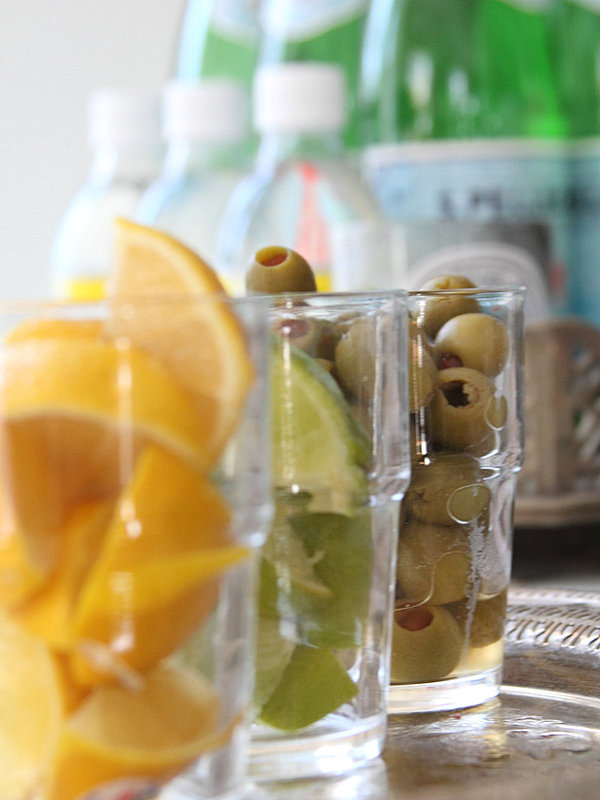 Now we want to hear from you! Tell us about your favorite table setting ideas from today's post. Or perhaps you have a special centerpiece or place setting idea of your own! Share your thoughts by leaving a comment below…
Liked the story? Share it with friends.