A sofa is more than just a place to sit. It's one of the largest pieces of furniture in your house! It can help set the tone of the entire room, which is why people spend so much time selecting just the right piece. Should you stick with a neutral and add color with accent pillows? Should you go bold with a bright statement sofa? So many choices …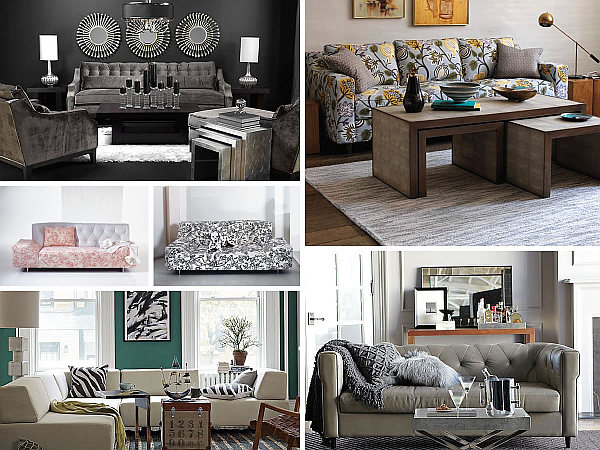 While a large number of sofas on the market celebrate Mid-Century modern style (think tapered legs and long, lean frames), other formerly-outdated styles are making a comeback. Who would have thought that sectional sofas would return the mainstream? And why not? The large amount of seating they provide can't be beat! Not to mention, patterned sofas, which once made some design lovers cringe, are back in full force. Take a look at the modern selections below, complete with helpful links that direct you to the place of purchase. You never know when you'll find your new living room centerpiece!
Solid Sofas
We begin with sturdy solids. They anchor a space with one strong color. Not to mention, the simplicity of a single hue calls attention to the form of the piece. Take the Avec Tweed Sofa below. Who can resist its retro arms, long frame and gunmetal legs? Somehow this amazing couch manages to be dainty and substantial at the same time. [from CB2]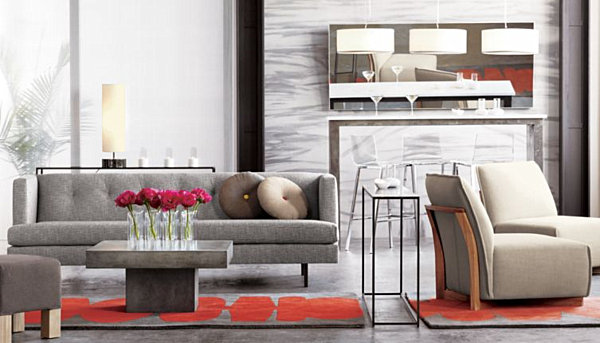 Some sofas make you want to plunge into the middle of the cushions and sink into the fluffy seat! The Walton Sofa makes its comfort known with five puffy back cushions. TV time has never been enjoyed from so decadent a spot. [from West Elm]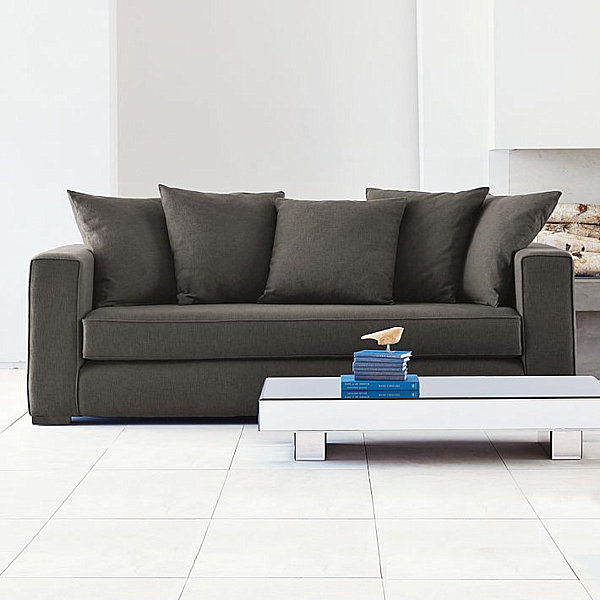 Speaking of comfort, the Oasis Sofa also boasts an assortment of full back cushions, as well as a crisp linen slipcover. [from Crate & Barrel]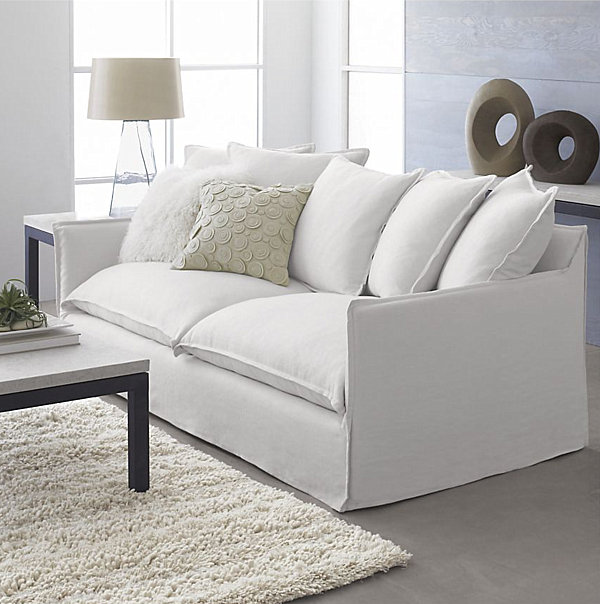 The Jack Sofa is distinguished with its rust cotton velvet fabric and button tufted seat. While some design experts may recommend going neutral on the walls when introducing color through furniture, it's hard to resist a red sofa in front of a red accent wall, as shown below. [from Z Gallerie]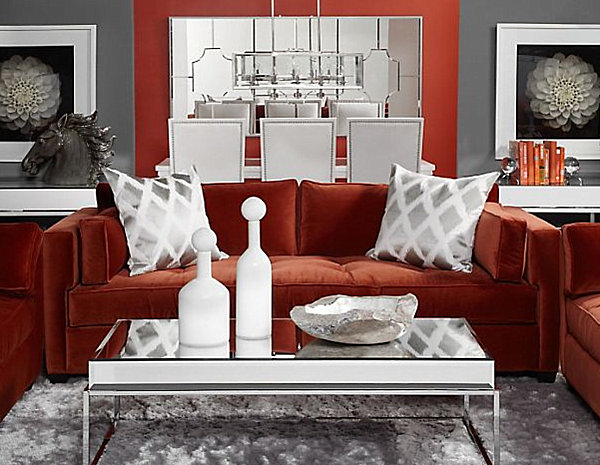 What about some grey on grey? Deep walls are the perfect complement to the Harrison Sofa, especially since the piece is covered in rayon with uneven yarn to create texture. Plush furniture and rich walls? Perfection! [from Z Gallerie]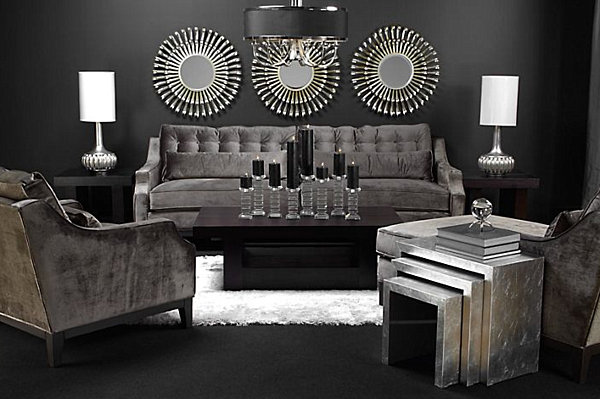 Long, clean and lean. That's the Lorimer Sofa! Wide arms and a low back are two reasons this piece makes an ultra modern statement. And who doesn't love the elegance of a navy sofa? [from West Elm]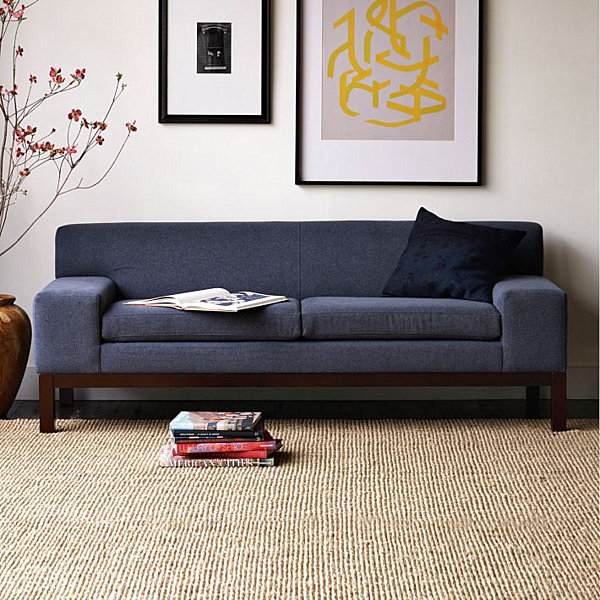 Go bold with the Movie Pool Sofa. And yes, its color can't help but evoke the wonderful deep aqua of a swimming pool! What keeps this sofa from being overbearing? Mid-Century modern legs that clearly place the piece in retro modern territory! [from CB2]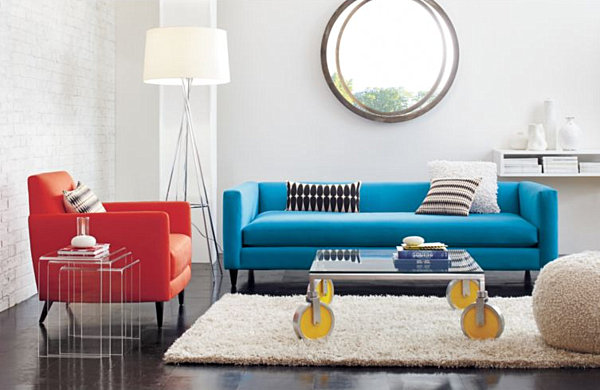 Patterned Sofas
Patterned sofas are no longer the stuff of outdated living rooms! A new crop of modern fabrics has made patterned seating irresistible, not to mention eye-catching. Take the Bancroft Sofa below. A thistle-like print keeps it contemporary, while tapered legs and a tuft along the back can't help but have a wonderfully retro effect. [from Dwell Studio]
The Larkin Sofa, shown here in the Freja Citrine pattern, is available in a variety of fabric options. Recessed legs prevent a boxy look and create a fabulous floating effect. [from Dwell Studio]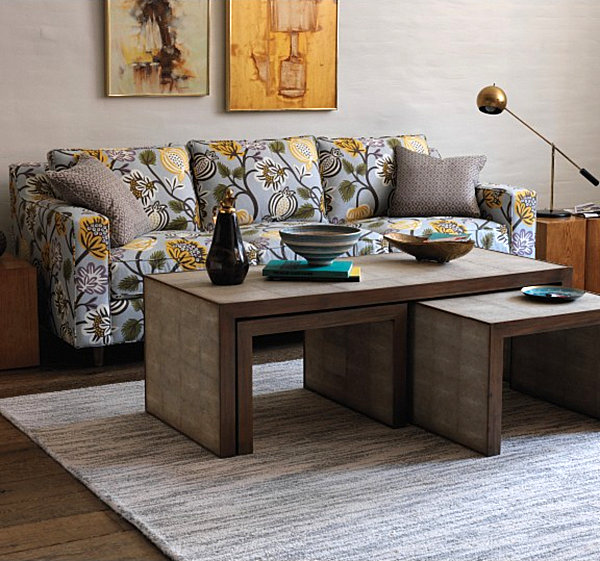 Below we once again see the Larkin Sofa, this time in a Medallion Band Mineral pattern. Note how this large print is complemented by small-print wallpaper in a similar color scheme. [from Dwell Studio]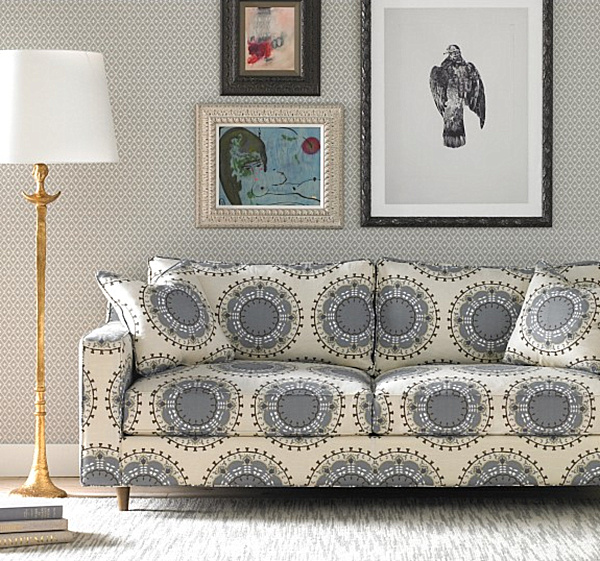 For a cutting edge take on the patterned couch, check out the Blanche sofa. An unconventional shape, removable floral seat cover and white tufted leather back give this piece a fresh look. Talk about a touch of the unexpected! [from Bruehl]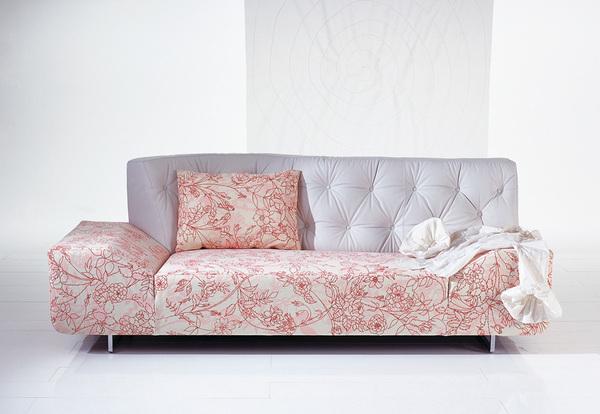 We now see the Blanche sofa surrounded by an arabesque woolen fabric. The cover is removable, but why take away such a striking pattern? Dalmatian not included. [from Bruehl]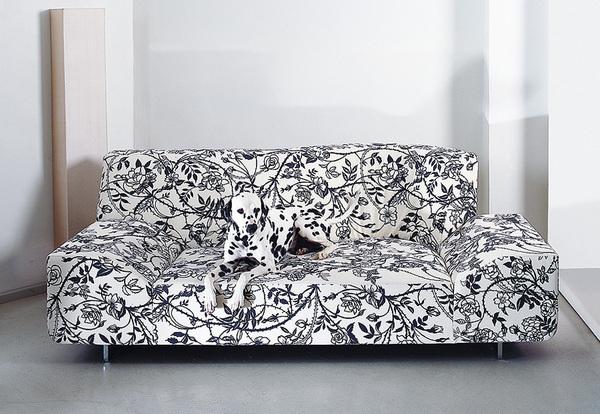 Leather Sofas
Formerly the furniture of bachelor pads and masculine offices, leather sofas are getting a breath of fresh air thanks to new frames and the strategic use of tufting. Take the Chester Leather Sofa below, which features Mid-Century modern-style legs and button tufting. [from Dwell Studio]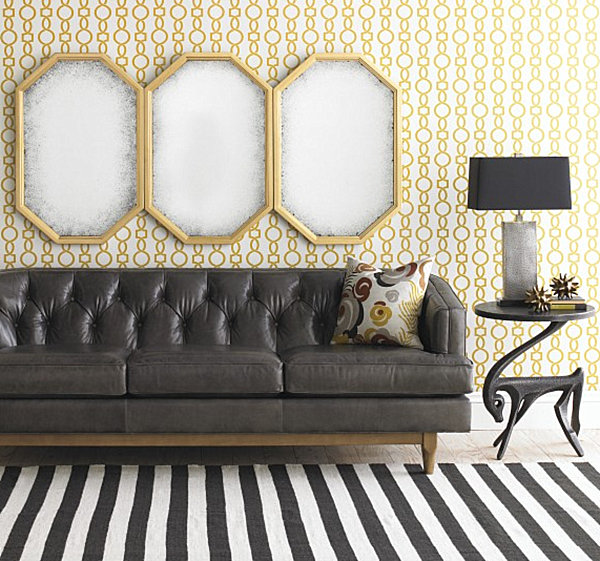 Or go tan with the Petrie Leather Apartment Sofa. Who can resist its '60s-style form and overall tailored look? [from Crate & Barrel]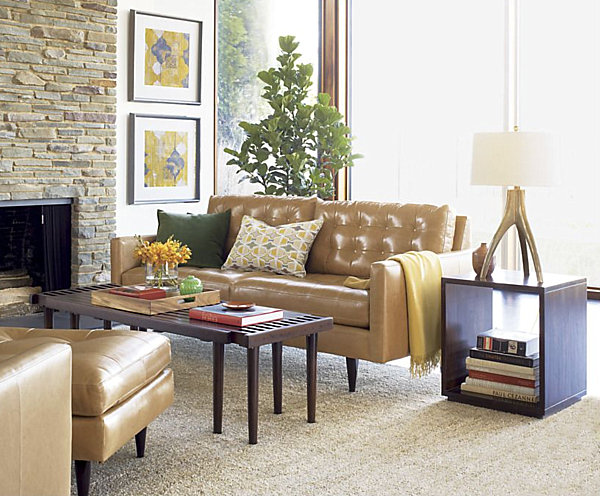 Next we have a curvier version of the Mid-Century-style leather sofa, this time with a slightly more glamorous silhouette. The Chester Tufted Leather Sofa is stunning with its rounded back, dainty tapered legs and rich Italian leather. [from West Elm]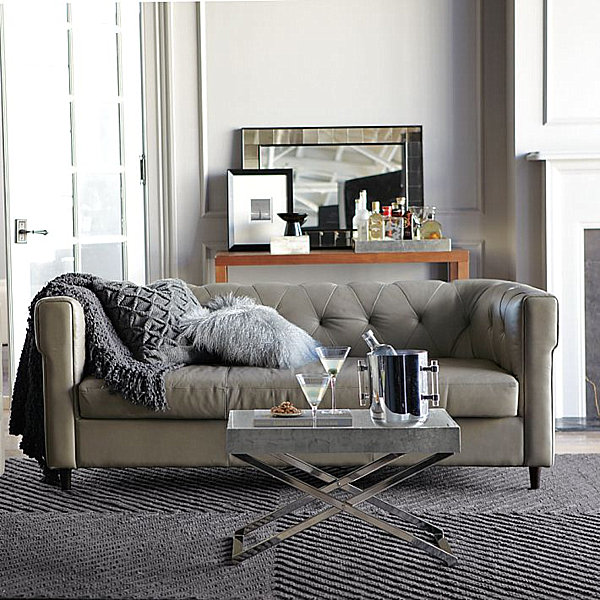 Funny how wide padded arms and a boxy frame make this Domino Sofa super modern. The white bonded leather doesn't hurt, either… [from Z Gallerie]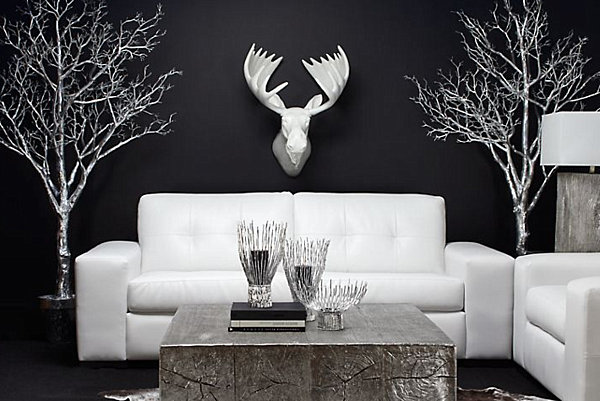 Sectional Sofas
Ah, the sectional sofa! Once the eyesore of the outdated living room, this seating has returned with a vengeance! Perfect for maximizing comfy space when it comes to entertaining or simply lounging at home, the Edward Angled Sectional Sofa is a '50s-inspired piece with buttonless tufting. [from Dwell Studio]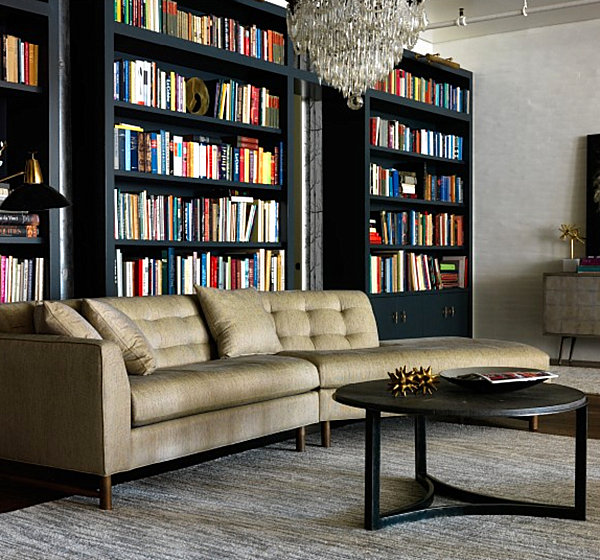 For a sectional version of the Oasis Sofa showcased earlier in the post, check out the Oasis 2-Piece Sectional Sofa, complete with its fresh, crisp linen slipcover. An abundance of white fabric and bulging cushions makes it so tempting to dive into comfort… [from Crate & Barrel]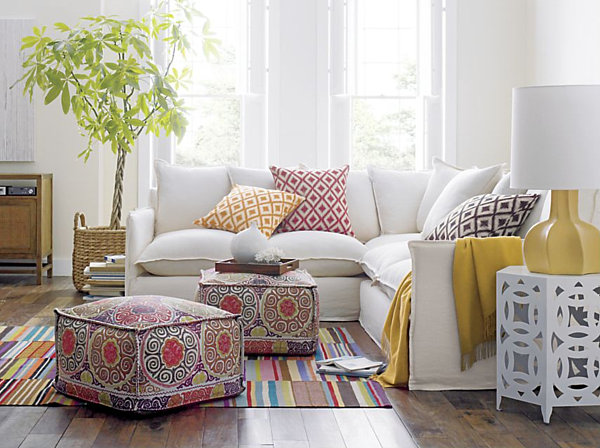 For Mid-Century modern greatness, try the Dual Pebble Sectional. This set consists of three pieces that can easily be flipped to orient the seating left or right. [from CB2]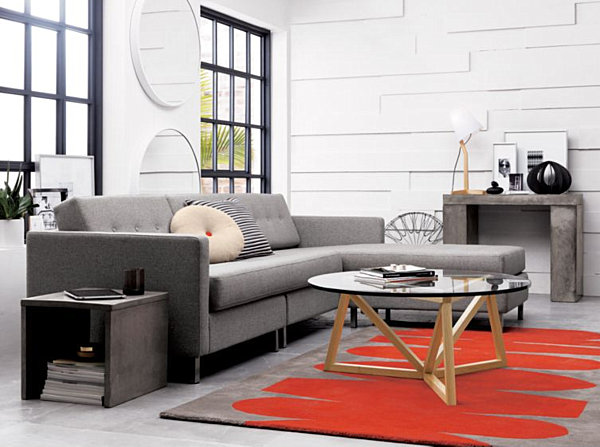 We end by going modular. There's nothing like flexibility of arrangement, and Tillary Modular Seating can be purchased in individual units or as sets for a variety of layout options. Add a chic lounge-y look, and it's clear there's as much substance as there is style to this seating. [from West Elm]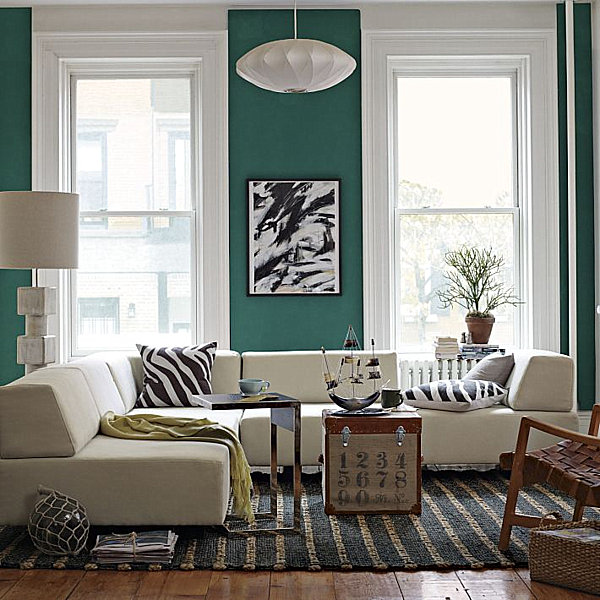 Did any of the sofas above surprise you?! If you'd never before considered a leather sofa, perhaps the tailored, tufted selections caught your eye. Maybe you never thought you'd give white sofas the time of day, but the modern, airy effect they have on the rooms they inhabit made you reconsider. You can plan all you want, but sometimes when you see the sofa of your dreams, you know you'll find a way to make it work. On the other hand, don't forget about important design elements, like the color of the room where the sofa will reside, as well as the style of your other furnishings. With a little forethought and creativity, you'll find your signature sofa and the perfect place for it in your home!