Mineral mania has hit the design world, and we've got the pictures to prove it! Why this interest in nature's treasures? For one thing, minerals are beautiful, unusual conversation pieces. Not to mention, they have a magical quality that reminds us of collecting rocks and minerals as kids, don't they?! Another mineral fun fact: they're versatile!
Minerals mix well with a variety of design styles. Think about it–their shimmering nature adds gloss to Hollywood Regency-style rooms and their mysterious element makes them perfect for curiosity cabinets and quirky, eclectic spaces. Not to mention, there's something kind of retro about a big mineral specimen on a modern coffee table in a room featuring furnishings of the '50s, '60s, '70s or '80s. What's not to love about mineral motifs?! See for yourself:
Magnificent Malachite
We start with one of the trendiest minerals in today's design vocabulary–malachite! Why the current obsession with this emerald green substance? We've got three reasons: the color, the pattern and the shine. A mix of rich green hues, malachite is sophisticated and luxurious. Plus, its signature banding pattern is oh so unique! Designer Kelly Wearstler thought so when she used malachite motifs to decorate Miami's Viceroy Hotel, shown below. [from Viceroy Hotels and Resorts]
We now zoom in to get a closer look at painted molding in the style of malachite patterning! So elegant, don't you think? [from Leonard Pardon Studio]
Bring on the lacquer! The simple form of the modern coffee table below is perfect for showcasing malachite mineral banding. [from My Haute Style]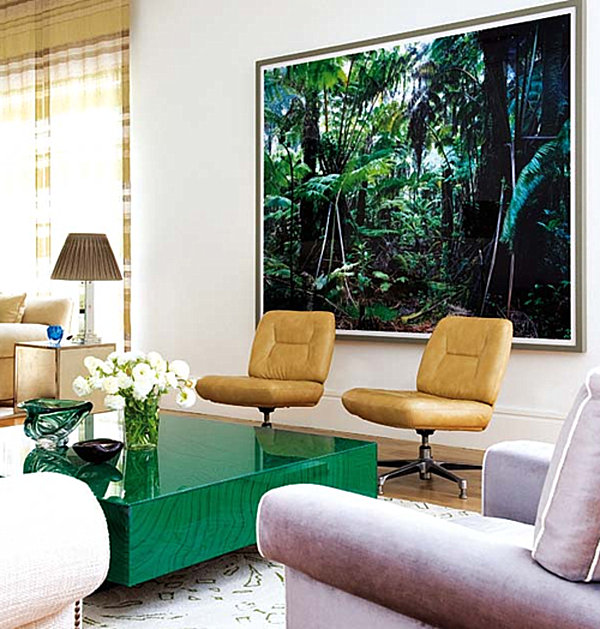 If a large piece is too much malachite for your space, showcase this mineral in box form. In fact, a glossy malachite box is the perfect small statement. [from Evolution via The Goods Design]
Malachite accessories can be expensive. If you're on a budget but want to bring a bit of banded bling to your interior, create your own malachite box with this DIY tutorial from The Aestate:
Crystalline Quartz
Quartz is appealing because its well-defined crystalline structure gives specimens an icy appearance. And who doesn't love a little frost?! Below we see a pair of quartz lamps. We think they take this glamorous bedroom by M. Design Interiors to the next level:
Are you ready for your close-up, Mr. Quartz? This time we have a smoky quartz geode, showcased in the New York City apartment of interior designer Nate Berkus. [image from The Nate Show]
Notice anything funny in the fireplace below? A geode, you say?! This one's amethyst, and it's so grand it needed its own special display area. [from Lonny via Haus and Home]
Of course, smaller geodes can be just as fetching, especially when displayed in a pair as bookends. [from Tiffany Leigh]
Mineral Specimens
We end by getting back to basics–sometimes there's no better way to celebrate mineral mania than by displaying a big honking mineral sample in the center of the room! You may think the star of the space below is the sectional sofa or the white cylinder coffee table, but deep inside, we all know it's the aqua mineral formation! [from M. Design Interiors]
How about this rocky formation at the center of designer/furniture dealer Evan Lobel's living room? It's a chyrsocolla specimen from Astro Gallery of Gems, and we love its aqua presence. Once again, a neutral palette lets the mineral truly shine! [photo by David Allee via New York Magazine]
Here we see that same mineral from a different angle in Lobel's '80s-style living room:
For a more subtle effect, check out the quartz specimen at the center of this next fabulous space by M. Design Interiors. When other bright accents are commanding attention, go clear with your mineral selection:
This time the quartz is purple amethyst, and in geode form! [from Glitter & Goat Cheese]
Check out the plethora of beautiful mineral specimens below! Not only are there giant glistening quartz crystals, there's a huge geode by the fireplace and an assortment of fossils. Is this a living room or a museum?! [from GeoDecor]
Speaking of museums, for a glamorous yet museum-like display technique, try mounting specimens on their own individual stands, as shown in the image below from a 1974 book on minerals. [from The Peak of Chic]
Our final image shows the museum-quality appeal of mineral specimens. Using glass boxes from Crate & Barrel, Michelle from AM Dolce Vita created Smithsonian-worthy displays, as seen below:
Whether you showcase one large mineral specimen or enjoy the thrill of collecting a whole bunch, we're sure you'll agree there's something intriguing about bringing the natural world indoors. And how can you beat the benefits of a design trend that can enhance so many different styles and looks? Elegant. Retro. Curious. Scientific. You name it, there's a mineral for you!