Does your house have that one room that can't quite come together? You know–a mixed-use space that's supposed to be a guest room and an office, but that has no actual sleeping space? Or that third bedroom that will one day be a nursery but needs a current function?… Today we once again focus on ways to make your guest room spectacular! Because even if your guest room is also a nursery, a home office or a home gym, there IS a way to integrate various elements into a cohesive whole. And to make it FABULOUS…
Mixed-Use Space Solutions
We begin by exploring some mixed-use space solutions that make it possible for you to enjoy a dual-purpose guest room. The key ingredient to accommodating others? A bed! So just how do you fit a sleeping space into a room that plays more than one role? Make the bed compact. The classy daybed below beautifully integrates into the space, don't you think?! [from Increation]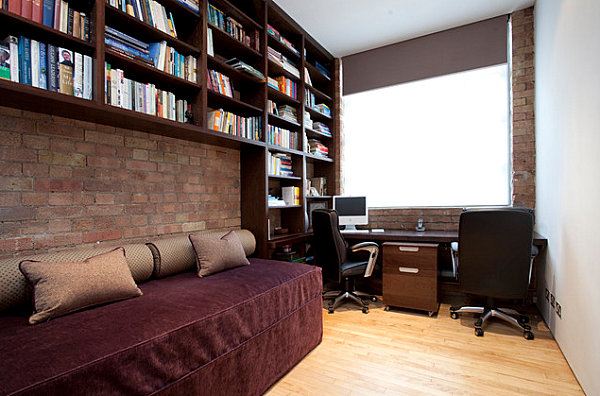 Believe it or not, you can get a lot of mixed-use ideas from designer teen bedrooms, which are all about creating a place to work, play and sleep. That's exactly what the bedroom/office/music room below does! A very adaptable look for a guest room that doubles as a home office or other creative space… [image by Francis Augustine for Marie Burgos Design]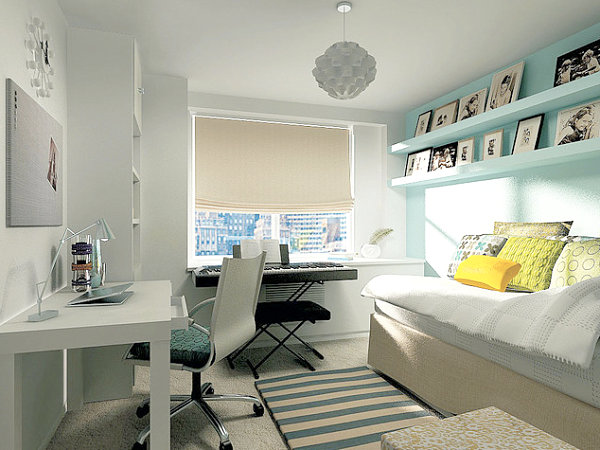 The home gym/guest room combo is particularly tricky. While many recommend against combining gym equipment with nice decor (for the safety of your beautiful furnishings and smalls), there aren't many people with houses big enough to have an entire room devoted to working out. Don't sweat it! Put a comfy sleeper sofa in the corner, and you're set. We love the colors used in the space below. [from Stagetecture Home Life Solutions]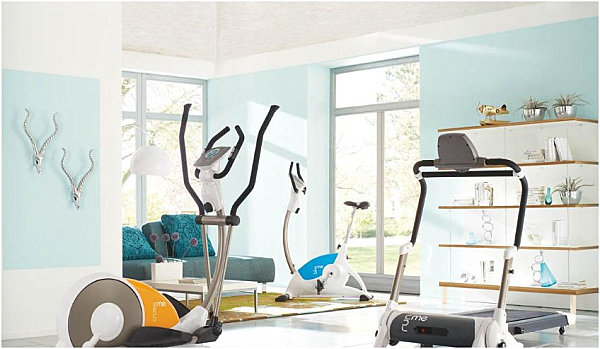 Let's take a closer look at some of the sleeping solutions that can make a multiuse guest room work. How about a Murphy bed? It will fold down for sleeping space at night, then tidily fold away during daytime hours so all you see is the wall. Or the shelving. Or the cabinet. [from The Interior Place]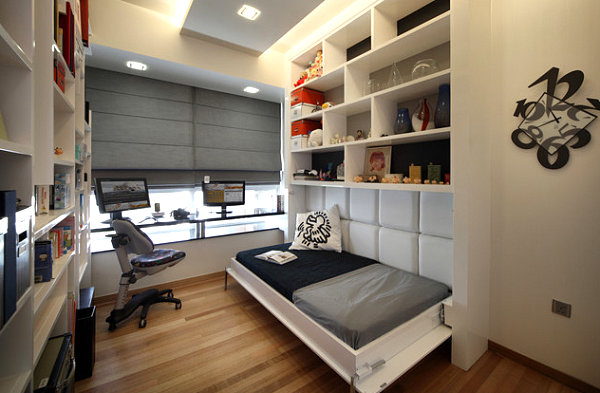 Yes, even bunk beds can fold away. So if you'd like for your home office to accommodate guests but you don't have space for a queen bed, all hope is not lost. And if you're wondering, bunks aren't just for kids. The gorgeous woodworking in this next room makes the space very grown up! [from Caden Design Group]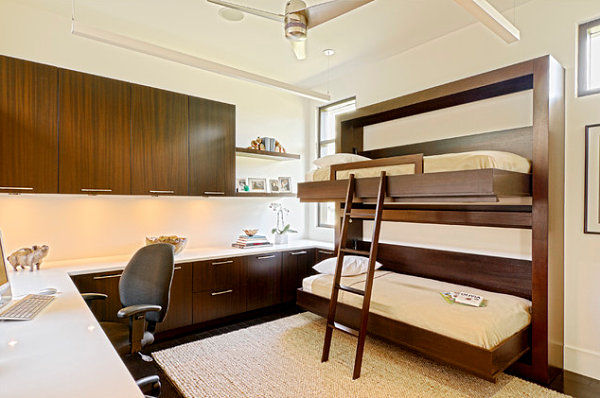 Let's take a look at a space that regularly stumps homeowners and renter alike: the nursery/guest room combo. Of course, you should decorate your child's room with his or her best interest in mind. But it can also be fun to create a space that can be appreciated by adults as well, especially if the space start out as a guest room, then transitions to a nursery once your little one arrives. Below we see Funky Forest furniture from Numi Numi Design in a space designed by Project Nursery. Once again, behold the stylish power of bunk beds! [image by Ilan Klein]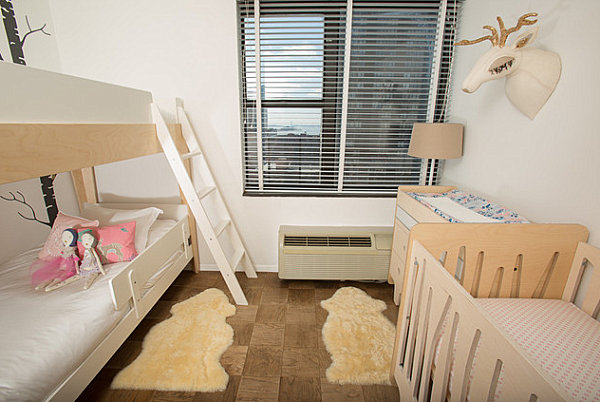 Another key ingredient for a multipurpose space: ample shelving. This is especially helpful in a home office that doubles as a guest room. True to form, next we see excellent design style in the bedroom of a teen. Funny how a room with a study area can inspire amazing home office design… [from Cathy Morehead + Associates]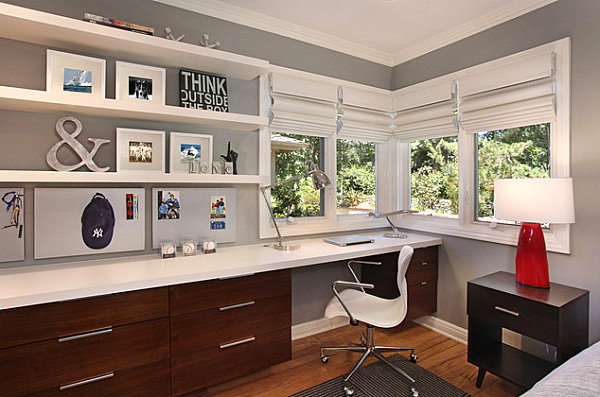 We now turn our attention to the beauty of the sleeper sofa, which can make an amazing modern statement by day and comfortably accommodate one or more at night. This Tandom Sleeper Sofa from CB2 is easy to maneuver, and as an added bonus, the sides become a headboard and a footboard for sleepy time: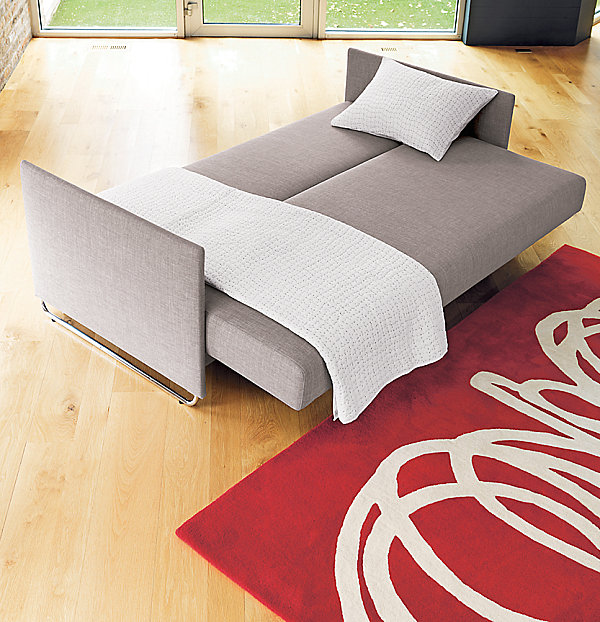 For another sleeping solution from CB2, check out the Lubi Turquoise Sleeper Daybed, which dazzles with its deep blue hue. This amazing piece is small yet striking. Tuck it in the corner of a mixed-use space such as a home office. It's the perfect place to lounge by day, and it can accommodate guests in twin or queen configurations by night.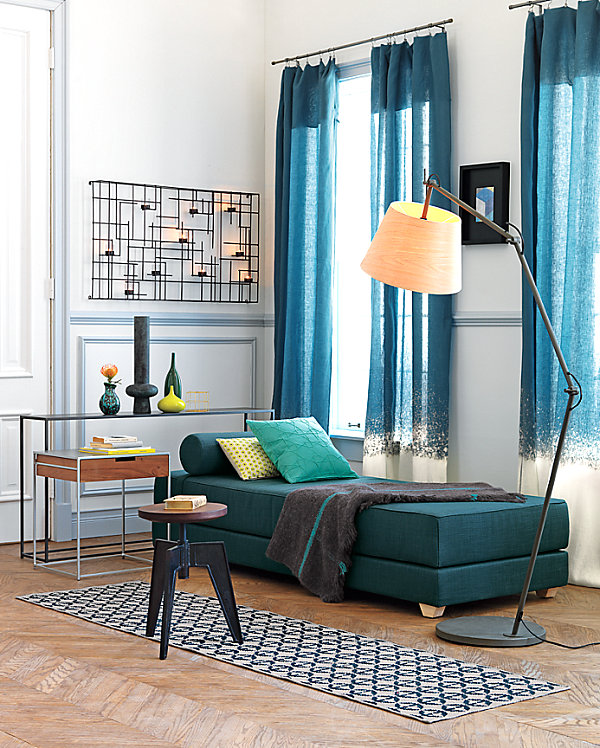 Our final CB2 find is a great reminder that adding a place to sleep can be the perfect opportunity to introduce a bright splash of color. This Flex Orange Sleeper Sofa can be arranged in three different positions. With a fiery hue and a polished chrome base, it would nicely accommodate any dual-purpose space.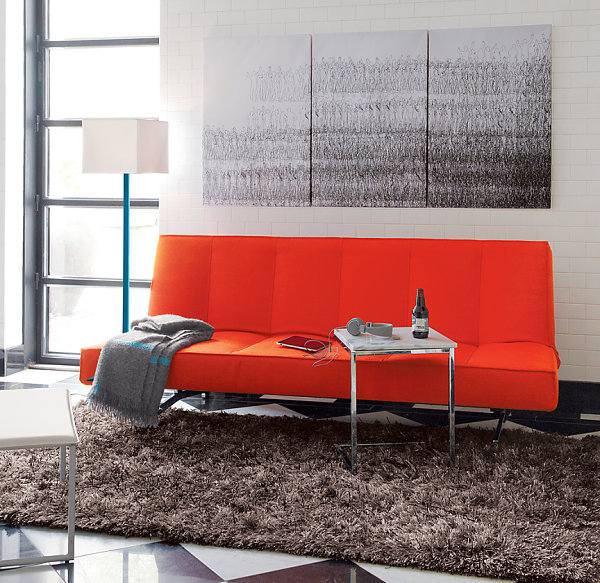 Mixed-Use Space Style
We now take a look at the challenge of integrating different functions into one cohesive style. How do you unite office and guest room under one design umbrella? How do you make a nursery feel accommodating to a guest who is crashing there when it's time to sleep? We begin with a multiuse space in Austin, Texas from Matt Garcia Design. The style: rustic. Living space, office and bedroom seamlessly blend: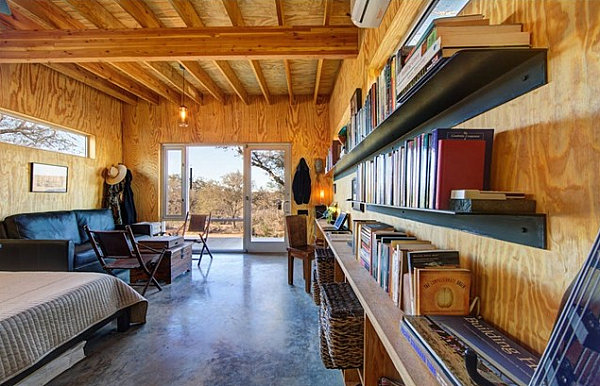 Check out this light and airy gym…and if you look a little closer, you'll see a bed at the lower right of the image. The soothing color of this home gym/sleeping space is a great unifier, along with expansive windows featuring white trim. Sometimes clean and crisp is the way to go… [from Home Clr]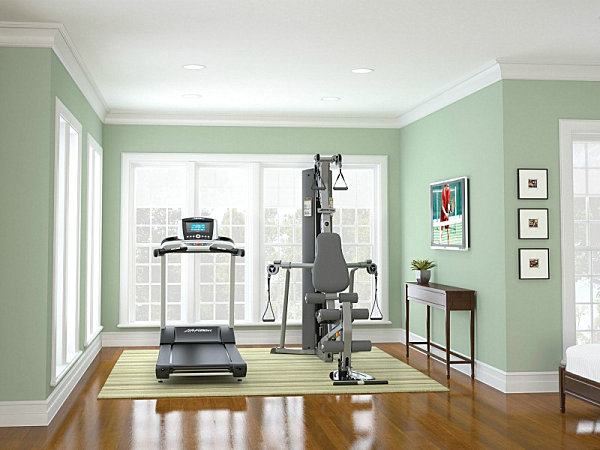 Or you could go traditional with plush seating and bedding and floor-to-ceiling drapes. Below we see a guest room and office space from a townhome model tour, as featured on Centsational Girl: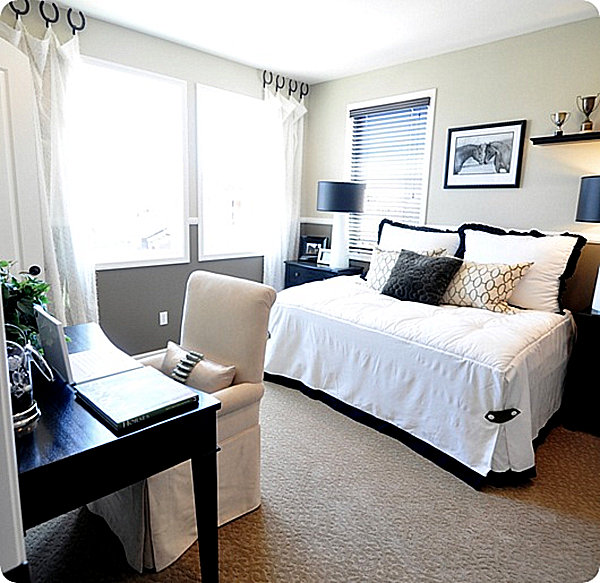 Another sleek style for a mixed-use space? Swanky! Mirrors and shimmering tiles add shine and class to the office with seating below. If your seating transforms into a bed, you're set! Plus, guests will appreciate the ability to check their email from the comfort of their quarters. [image by Kerry Johnson for Johnson + McLeod Design Consultants]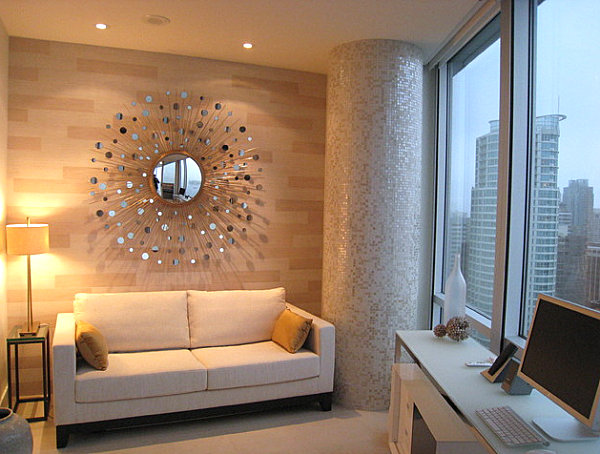 One growing trend in nursery design involves modern yet kid-friendly style. Geometric wallpaper, hanging lanterns, circular mirrors and eclectic pillows are eye-catching and ageless! This guest room/nursery is a truly welcoming space. And in case you're curious, that's a West Elm Parsons Daybed along the patterned wall… [from Robin Colton Interior Design Studio]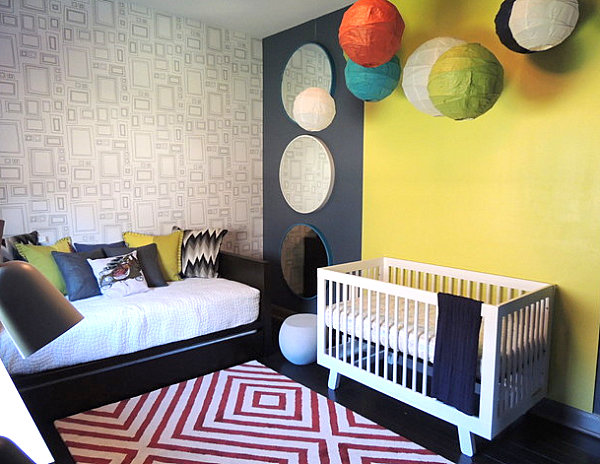 "Elegant" is another approach. Beautiful upholstery, gallery-style artwork and draperies with a border set a chic tone in the space below. Yet details such as chalkboard paint and bright accents are clearly child-centered. [from Caitlin Wilson]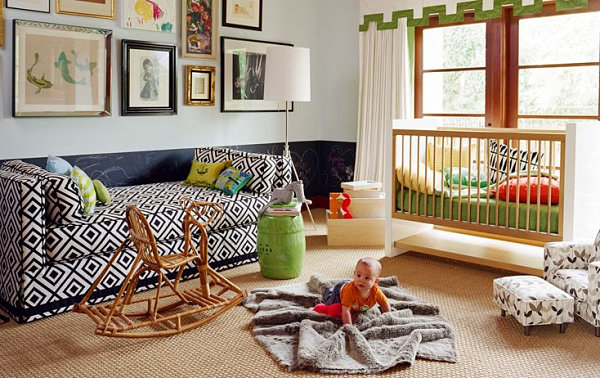 Next we have a modern nursery with a Hollywood Regency-style daybed. Note how bold hues, elegant lighting, modern artwork and a sculptural mirror create a grand effect. This is one chic space that can accommodate guests with ease. Yet there's no doubt that the room also meets the needs of its young inhabitant. [from Olive Juice Designs]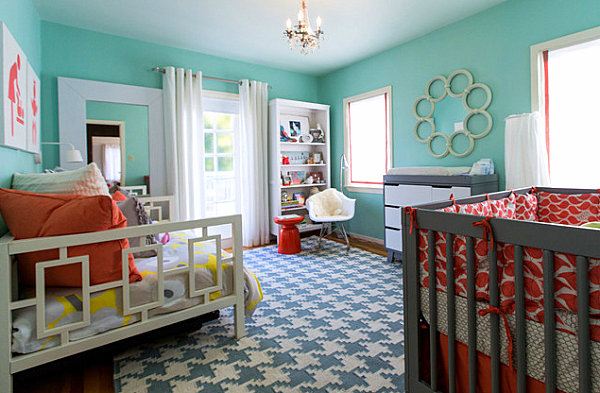 Our last featured nursery celebrates artistic style. Many stylish elements combine in this space that also offers room to sleep. A table by Isamu Noguchi is surrounded by acrylic seating. A purple chair in the bold look of vinyl art toys is a modern focal point. A diverse collection of pillows makes it clear that the style of this room can't fit under one category. And that's why we love it!  [from Amy Thomasson]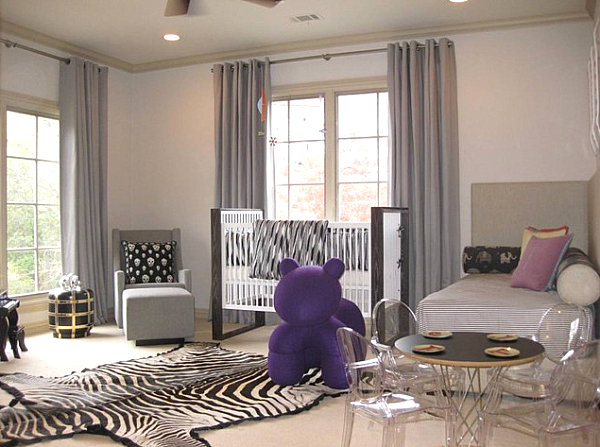 Have you solved any decorating dilemmas in your mixed-use space? How do you accommodate guests at your house? Share your thoughts by leaving a comment below…
Liked the story? Share it with friends.