Oh, the joy of decorating a nursery! There's the excitement of expecting a little one, mirrored in the festivity of channeling this happiness into an amazing design project. What a wonderful way to express your feelings through creativity! In today's interior design world, an array of modern options awaits you.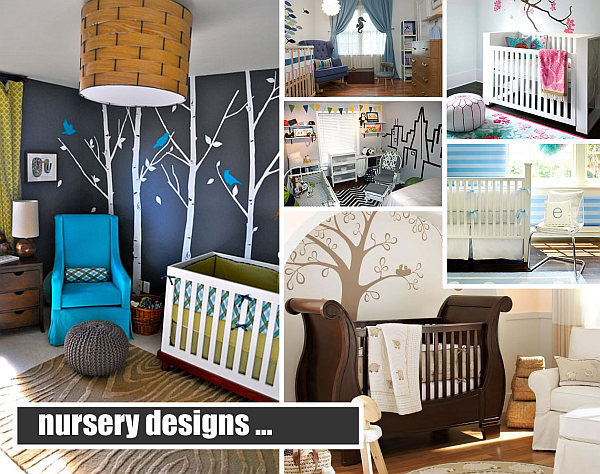 Whether you desire a clean-lined space with a dash of traditional style or you favor a more contemporary eclectic motif, we've got you covered. From artistic wall murals to enchanting themes, we've curated the most interesting modern nursery design ideas for your inspiration.
Baby Girl Nursery Ideas
While some people prefer nurseries that don't cater to a specific gender, there are many who delight in designing with a baby boy or a baby girl in mind. If you're searching for feminine motifs, keep in mind that you're not limited to traditionally "girly" colors and themes. Nonetheless, if you want to revel in pink flowers, perhaps the nursery below will pique your interest. Note the Asian-themed wall mural in this photo by Janis Nicolay. [from StyleAtHome.com]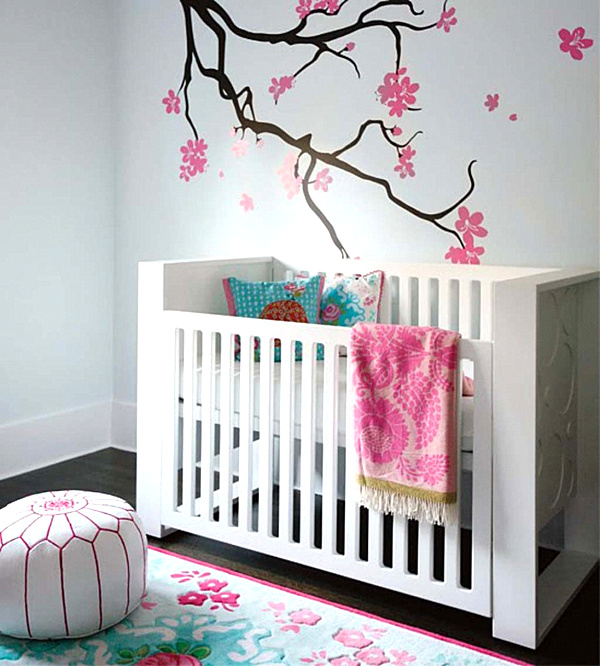 A dash of fairy tale style can be added to a space with a leafy chandelier and golden artwork, such as the tree mural beside the crib. In fact, when it comes to mural locations, a crib-side display is a popular choice, as it ensures that your little one can fully enjoy the image. [from HGTV]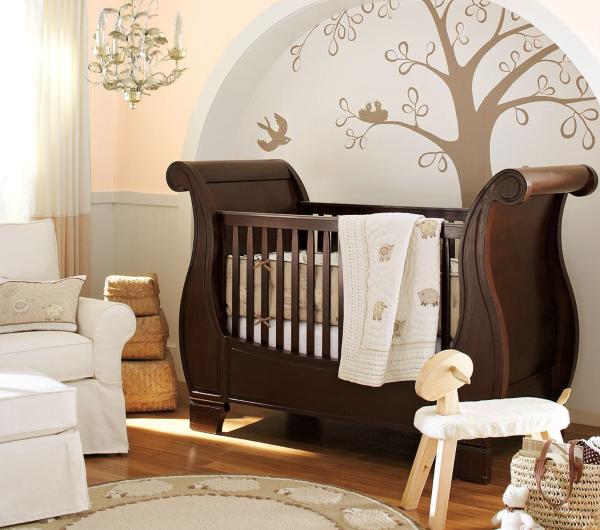 Walls can also be defined with decals, as shown in the nursery below for the baby of Laila Ali (daughter of Muhammad Ali). The metallic decals create the illusion of paneled walls, an elegant statement that's enhanced by bright accent colors like pink and lime green. [from HGTV.com]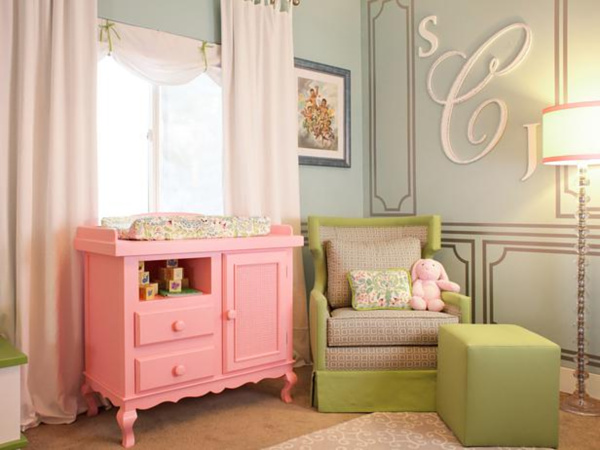 If wall decorations aren't your cup of tea, consider adding handmade pom poms. Often crafted from tissue paper, they create a mobile effect when displayed as a group. [from Simple Sage Designs]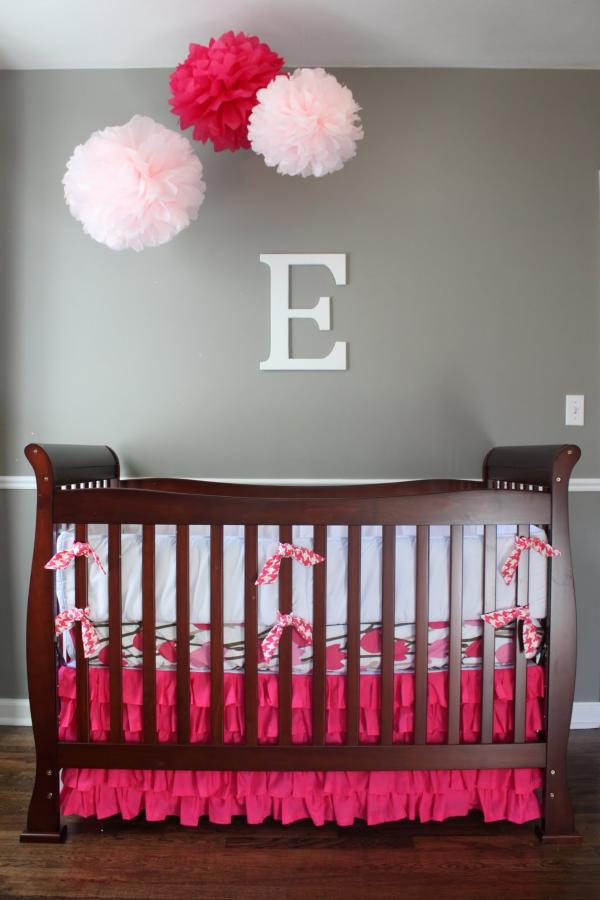 Textured details such as a floral ottoman and a butterfly mobile add dimension to the nursery designed by blogger Nicole Davis. For more information on the room's fabulous decor, check out Me Oh My.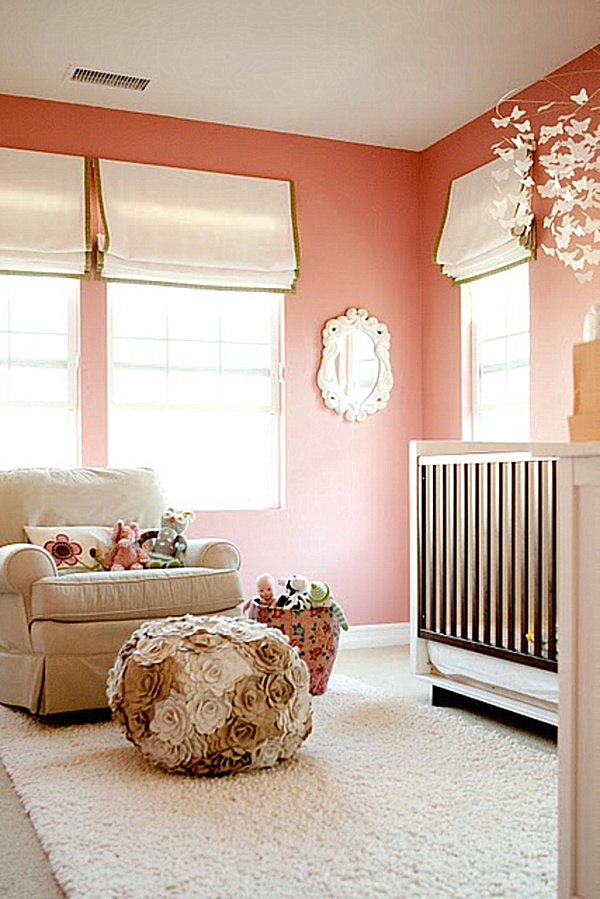 Wall art displays add personality to a nursery, as shown by the framed treasures in the lavender room below. A trio of necklaces and a collection of flowers bring an element of curiosity to the space. For further design details, check out What I Made Today.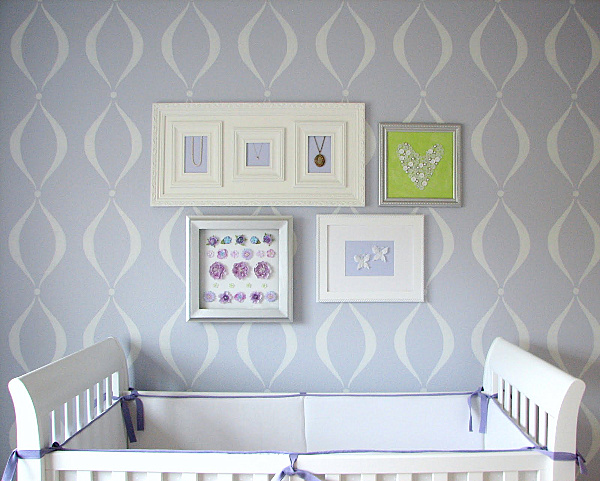 Another clever wall art idea involves the use of embroidery hoops in a grouping. In fact, embroidery hoops are becoming increasingly popular as nursery decor items, and materials such as patterned fabric, felt and scrapbook paper are the fillers of choice. For additional details, check out Cheap & Chic Nursery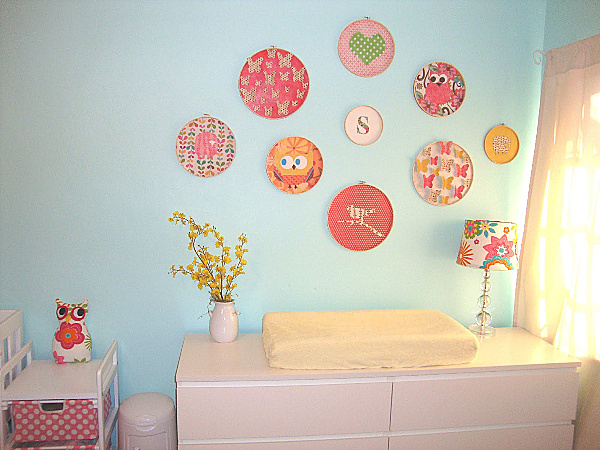 An additional nursery trend for baby girls is the use of glamorous decor, such as the gold-trimmed, mirrored pieces in the room below. Black and white stripes are a striking drapery pattern. [from Apartment Therapy]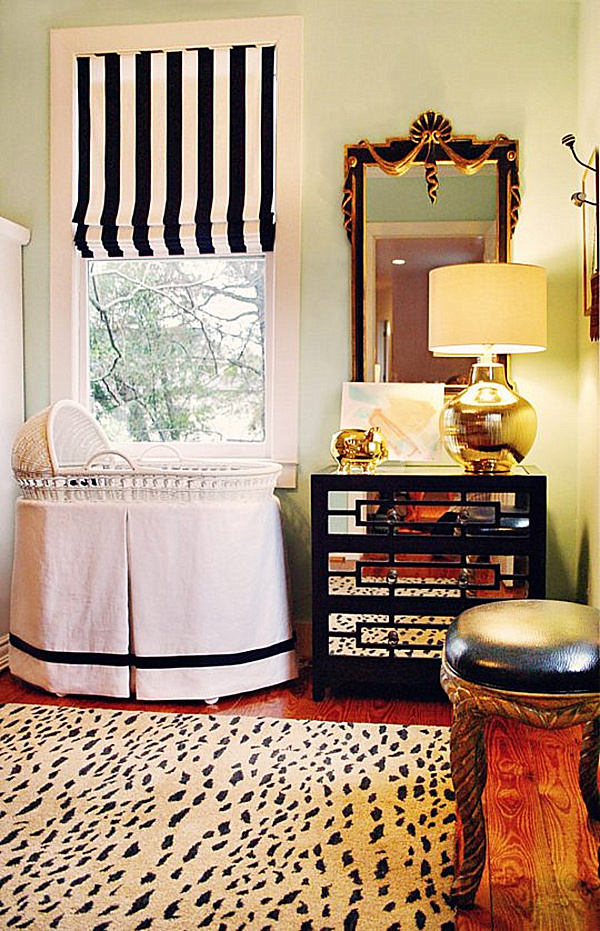 Baby Boy Nursery Ideas
Murals are gaining popularity in the nurseries of baby boys. Colors such as green, blue and orange repeatedly emerge as hues for paint and decor. In the room below, a hanging birdhouse brings a forest mural into the 3-D realm. [From Nursery Ideas + Inspiration]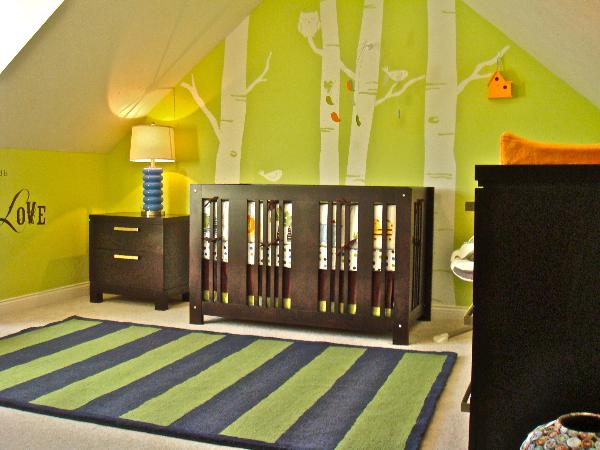 Another woodland theme is given textural significance with a wood grain motif rug and a basket weave ceiling fixture from West Elm. Designed by the creator of the blog MODG, the nursery features many delightful details, such as an Etsy wall decal. For more information, check out Apartment Therapy.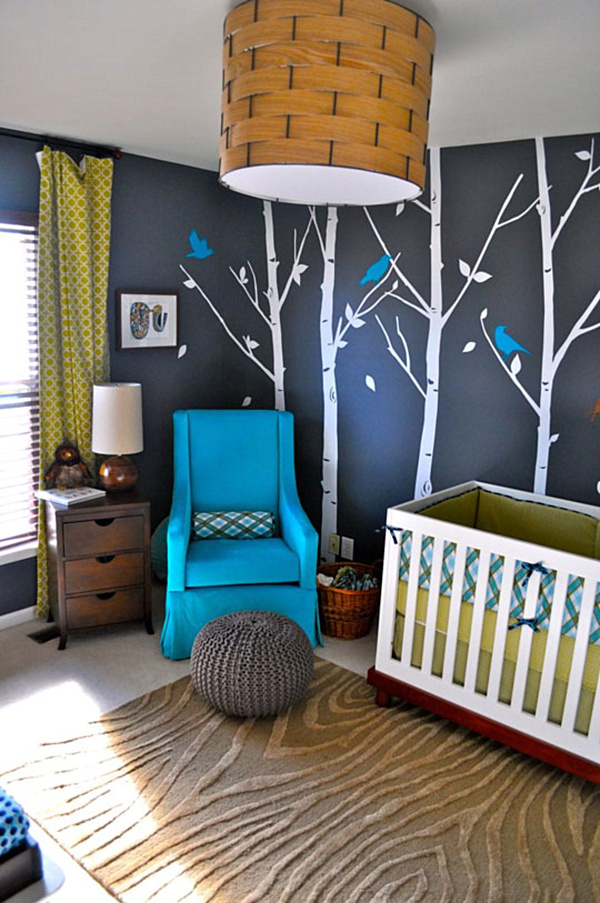 For an alternative to a painted or decal mural, try using paper or felt to create a compelling wall image, such as a swimming school of fish. [from The Baby Sleep Site]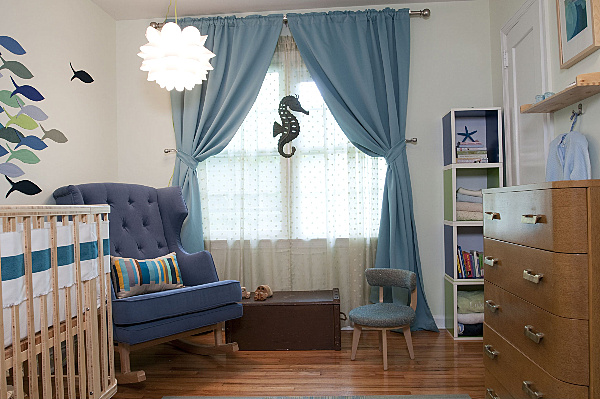 The Star Wars-themed nursery below pays homage to the popular sci-fi film with details like a Wampa rug and mounted light sabers. Yet a minimal vibe keeps the space from reaching Star Wars overload. For more details, check out Apartment Therapy.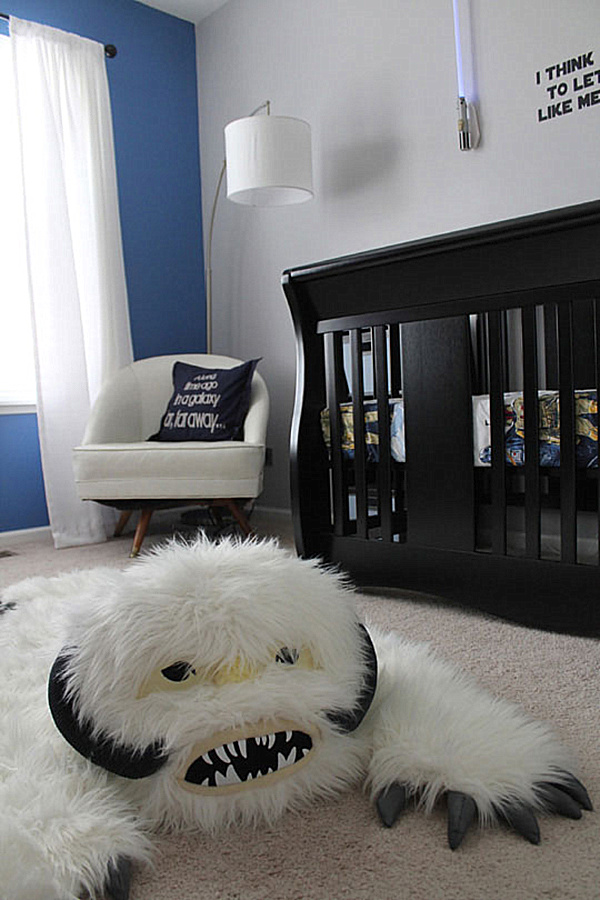 Target and IKEA finds, a chevron rug and a DIY city skyline highlight the eclectic space below. Posted by Project Nursery user RAM Designs, the space features many wonderful flourishes, which are showcased at Project Nursery.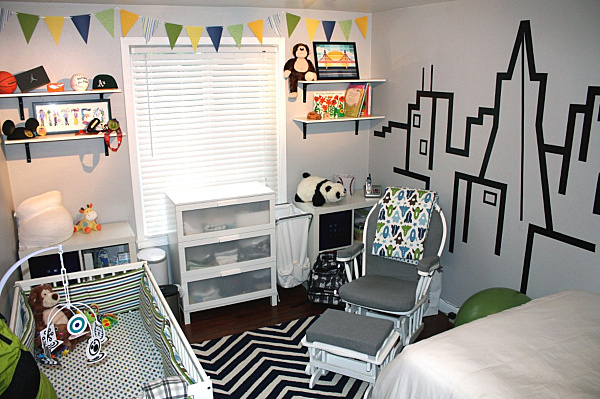 Sometimes a modern wallpaper pattern and a monochromatic color scheme are all that it takes to create a stunning nursery space. [from Home and Office – Furniture and Interior Design]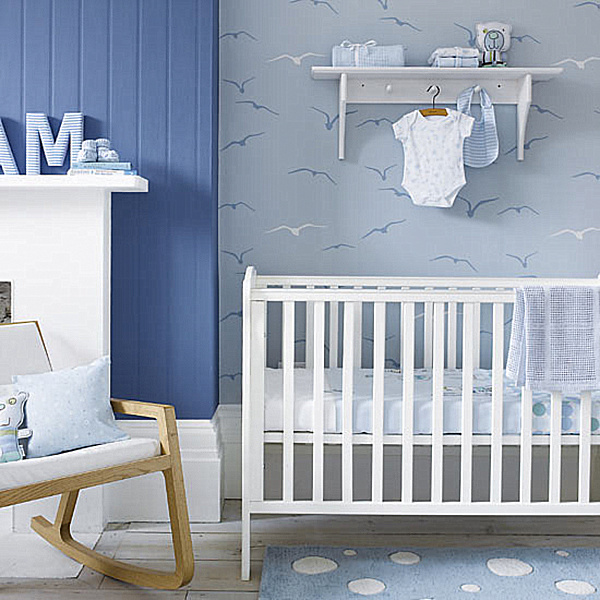 Another blue color scheme involves the use of a striped wall and a vivid pom pom hanging near the crib. In this design idea from New Arrivals, simplicity is the key. [from Project Nursery]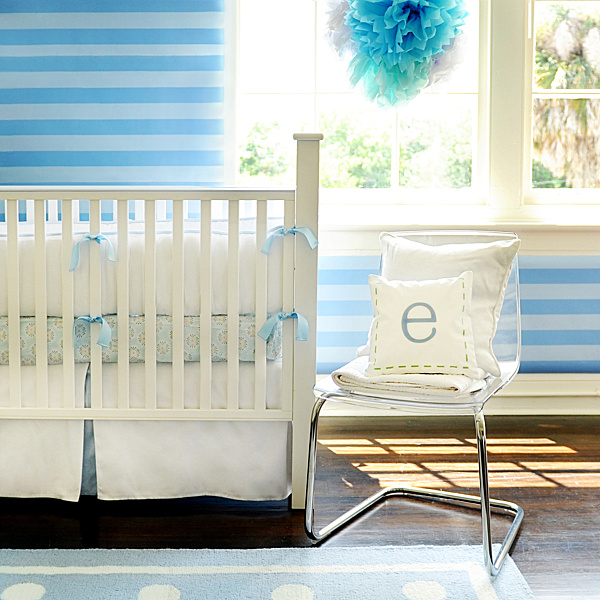 For a subtle yet vintage effect, try combining earthy, classic colors with bolder patterns, such as Greek key and chevron motifs. Designed by Jenna Robbins for her son, the Navy-themed nursery below mixes old and new items for a truly interesting space. For more details on specific furnishings, check out Project Nursery.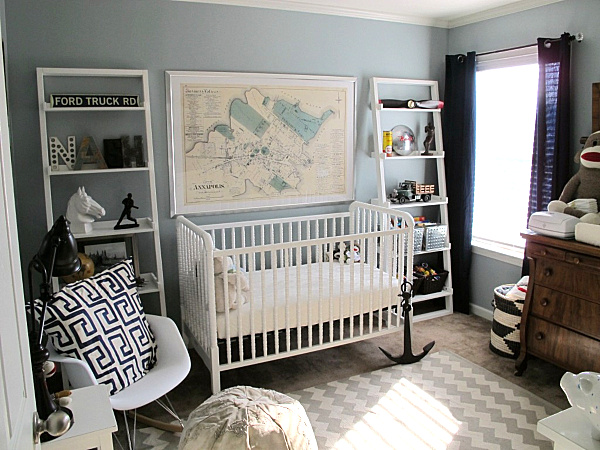 Gender Neutral Nursery Ideas
Who says baby girls must have nurseries of pink and lavender, or that blue is the color of choice for baby boys? Gender neutral nurseries add a dash of the unexpected and make a space versatile, opening up future design possibilities. An increasingly popular nursery style is modern eclectic, which often spotlights quirky collectibles and rainbow hues. In the nursery below, a design idea from Vertbaudet, dot banners provide a wonderful alternative to the oft-used hanging flags, and vibrant toys take center stage. [from DigsDigs]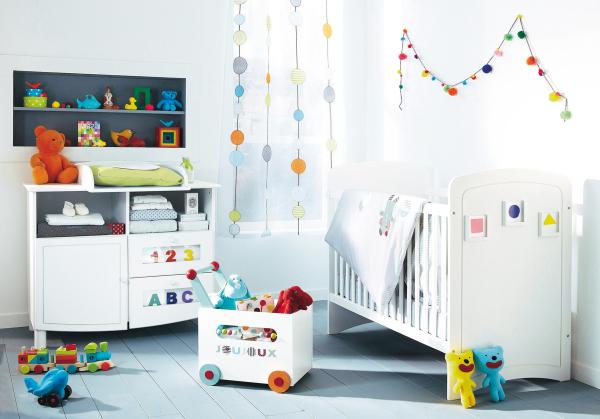 More eclectic fun abounds in a nursery created by Andrika King Design. The space features a Stokke Sleepi crib, Cubitech shelving and bold accent colors of orange, lavender and yellow. [from Project Nursery]
In a music-inspired nursery by designer Jenika Kurtz, a striped rug and an intricate pendant lamp add sophistication to a space adorned with colorful books and toys. [from Apartment Therapy]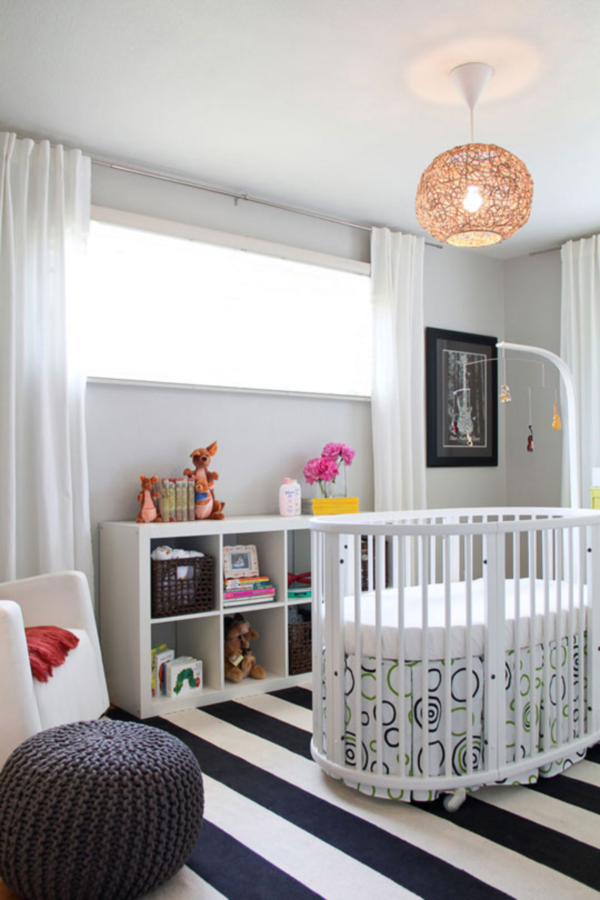 In another Vertbaudet nursery idea, whimsical owls and magical clouds come alive on carefully-appointed walls. [from DigsDigs]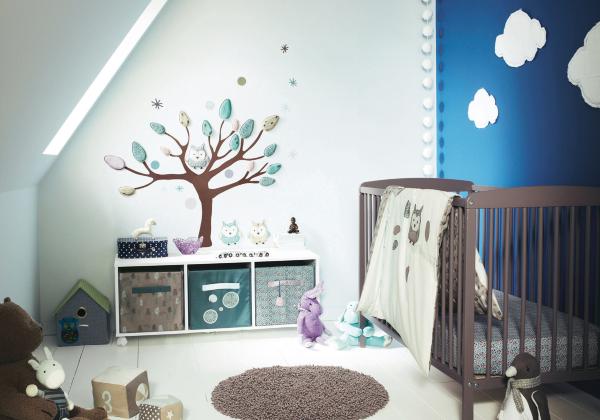 Sometimes good old-fashioned paint is the best tool of all. The tree mural below features Benjamin Moore paint, creating the focal point in a nursery designed by ColorTHEORY. For more details, check out weeDECOR.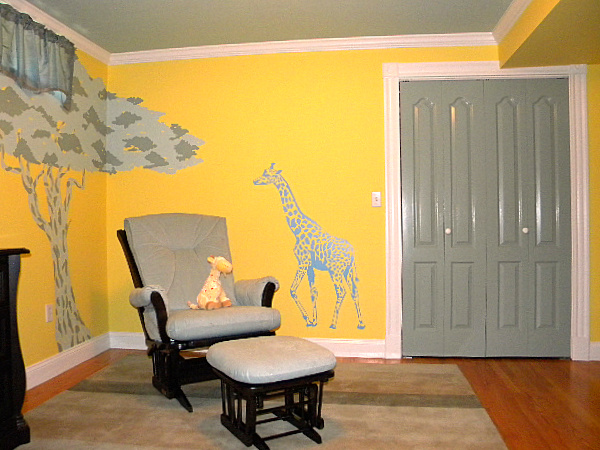 A large Etsy wall decal and a slew of DIY projects beautifully merge in a room designed by Cate of the blog See Cate Create. Additional information can be found at buymodernbaby.com.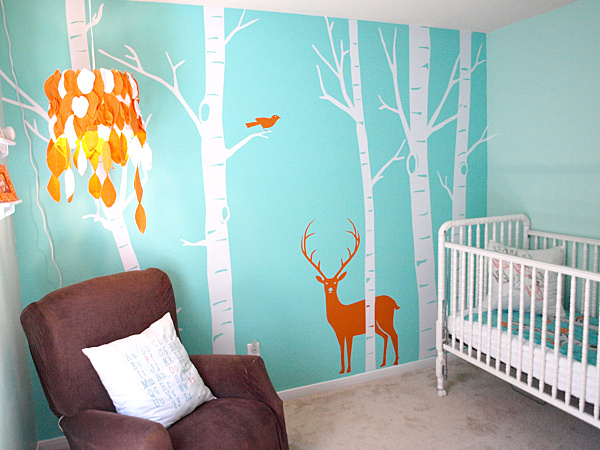 Yellow and gray beautifully combine in a room where the chevron pattern makes a big yet gentle impact. [from Project Nursery user kay8love]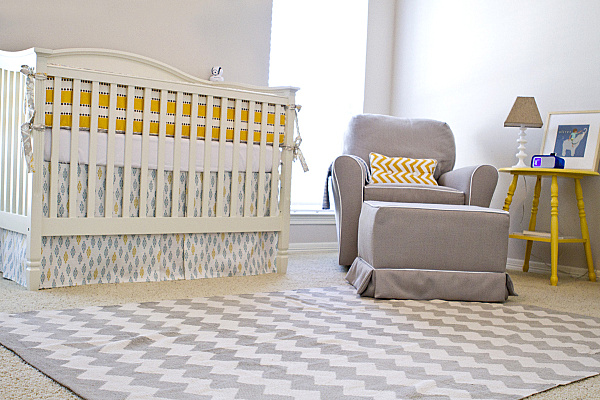 For a lacquered yet child-friendly approach to elegant nursery decor, check out the space below, which features 15th Century Britain-inspired furniture by Nurseryworks. [from Project Nursery]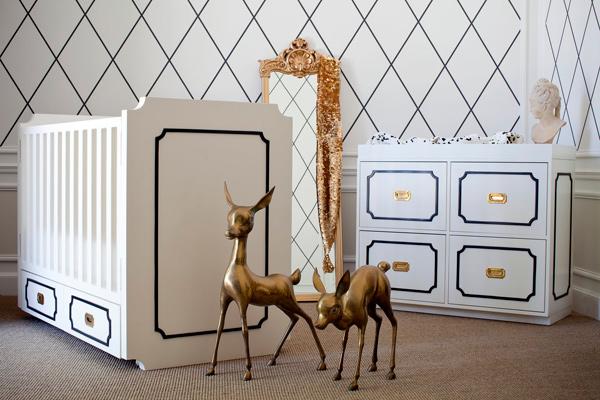 Are you challenged by the confines of a small space? Never fear, IKEA is here. The room below showcases bright curtains and the effective use of storage to create a compact yet functional nursery.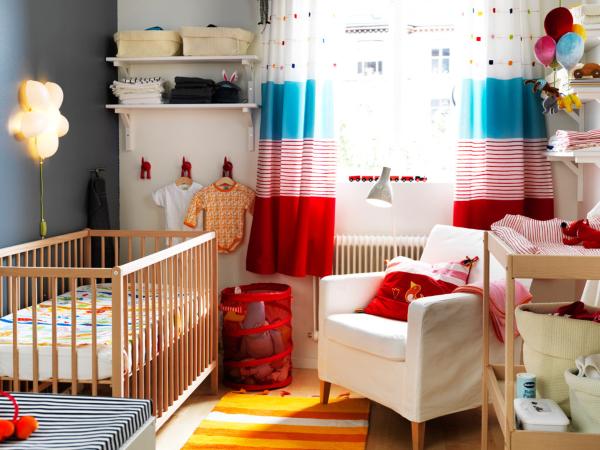 When you're faced with the challenge of designing a modern nursery, don't feel the pressure to stick with one theme. While a unifying motif can be helpful, it is hardly required. Many of today's most creative spaces involve a collection of items that truly reflect the personalities of the inhabitants. Piece together furnishings, artwork and smalls that have a special significance to you (for example, a painting with a family history), then supplement them with decor that makes you smile. Don't forget to add colorful accents for an eye-catching finish!