When you imagine the perfect guest room, what do you envision? Luxury bedding? Soft lighting? Perks like fresh flowers and a stack of magazines? If you don't know where to start, begin with the features of a typical hotel room: one or more beds, a luggage rack, a place to sit, a desk for work. Sure, not every guest room can mimic the scene of your last hotel stay, but seeing the room as a getaway spot is a step in the right direction!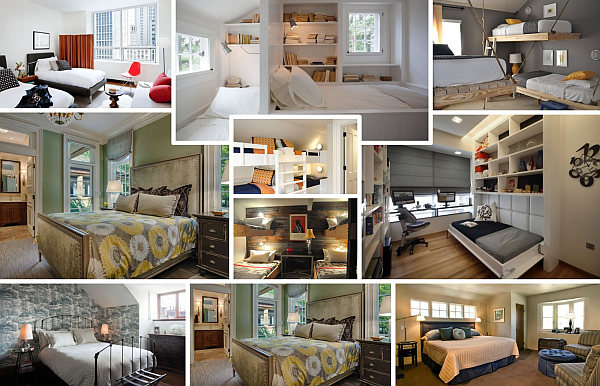 If you don't have a guest room, you're not alone. In fact, many people make due with an air mattress or an extra pillow for couch surfers. But the pics below are a reminder that regardless of space constraints, it's the special touches that make a difference. We think you and your guests will agree!
Guest Rooms With One Bed
For many, a guest room is a luxury. To be able to offer company a space of their own is a true gift. Often a guest room will house one bed and serve another purpose in the home, such as an office. If you are fortunate to have an entire room devoted to housing out-of-towners, you can focus on making this interior a truly special one.
Start with the biggie s– comfy bedding an a welcoming layout. Bed + nightstand = a great beginning! In fact, for smaller spaces, this may be all you can manage, and it will certainly get the job done! For larger rooms, a dresser, a chair and other small furnishings can be added. In the space below, two chairs and an ottoman help create a comfortable vibe. [from Mitch Wise Design]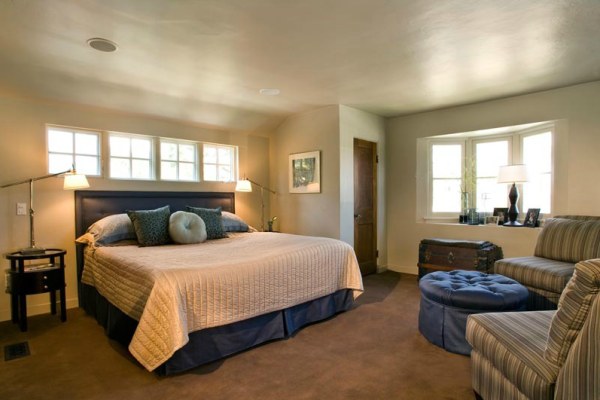 This next room has a view! But the homeowners also paid attention to details like window treatments and soft lighting. [from Mitch Wise Design]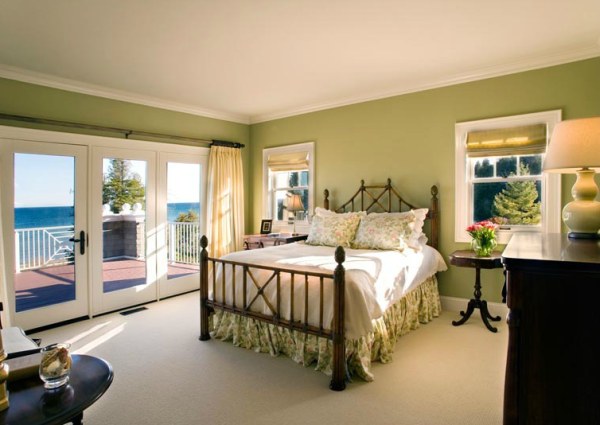 A little decadence goes a long way. In the elegant room below, a chandelier and a tall headboard with nailhead trim are true highlights. [from Mitch Wise Design]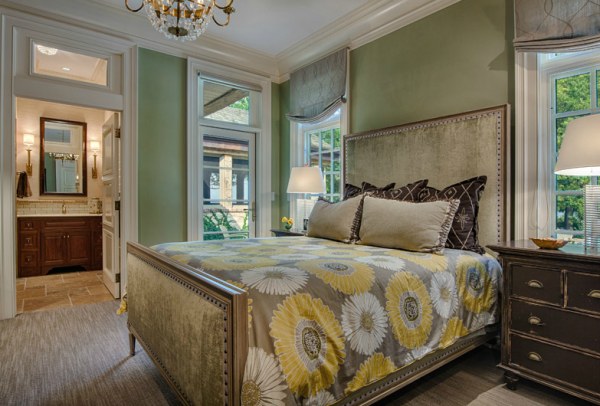 Don't forget the power of color, especially in a white room where a few key accents can make such a big differences. Then there are the details that make a guest room truly welcoming. Note the fresh flowers, welcoming lamp and handy alarm clock in this next space. [from Beth Dinkel and Associates, LLC]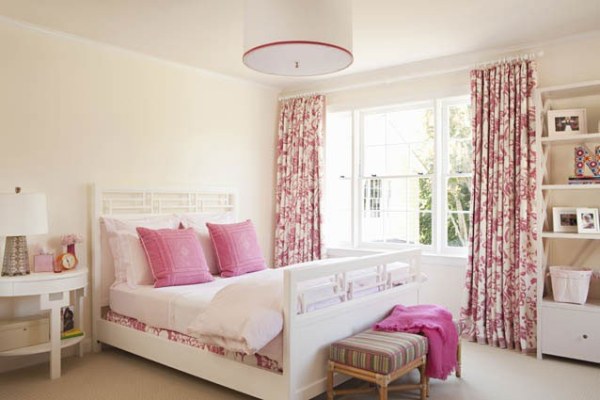 Nothing says "guest room" like a luggage rack. Not only is it practical, it's a playful nod to a travel theme, and it adds an air of hotel class to an interior! [from DHD Architecture and Interior Design via Houzz]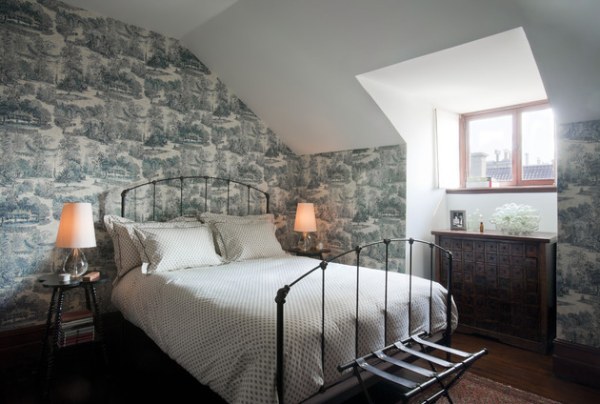 The modern guest room below is a great reminder of the power of one accent wall. Try wallpapering the wall behind the bed for a splash of color and style. [from Emerald Interior Design]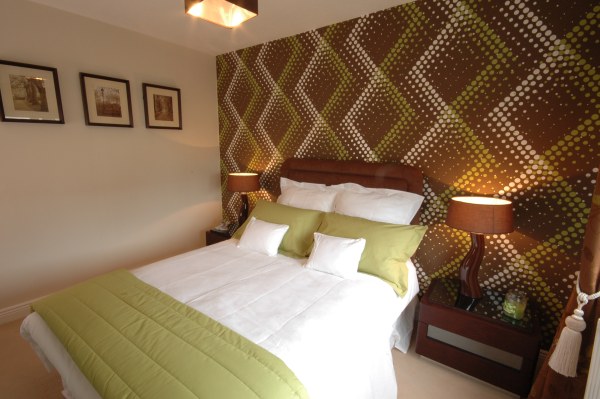 Not sure how to dress up your guest room? Go monochromatic, as shown in this next white room. For a touch of dramatic contrast, add a vase of flowers in the color of your choice. [from Joie Wilson via Houzz]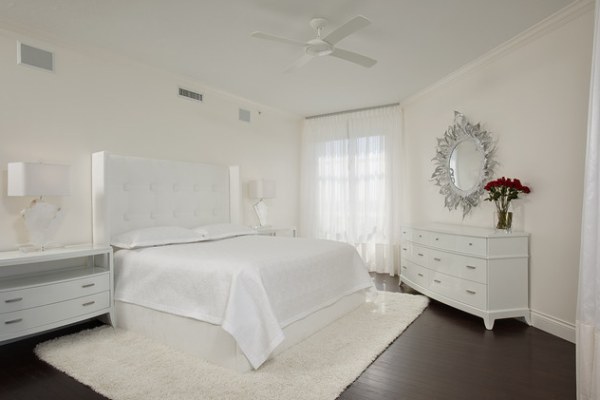 Is your guest room also an office or other functional space? Never fear! Guests will jump at the chance to use your computer to check email and do other simple tasks! Your guest bed can be simple and compact. Add a playful pillow for a dash of style, and you're set. [from The Interior Place via Houzz]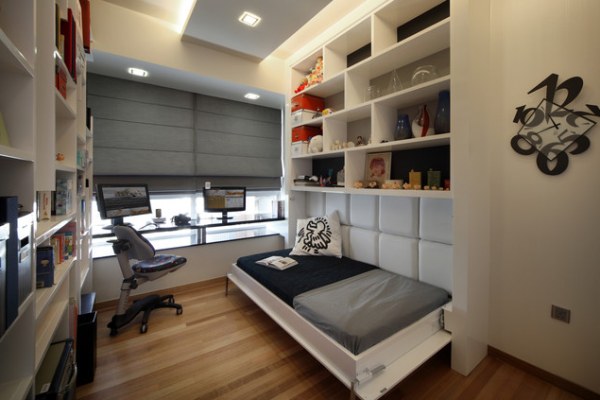 Guest Rooms With Two Beds
Some homes may have the benefit of a larger guest space that can accommodate more than one bed! Bring on the hotel style! Let's start with a side-by-side bed layout, courtesy of a posh guest room that has fun with the symmetry of sleeping two. If you think that sharing a room is a disappointment for guests, think again. When they see a beautifully designed space like the one below, all they'll be talking about is your sense of style! [from Naka Designs, LLC via Houzz]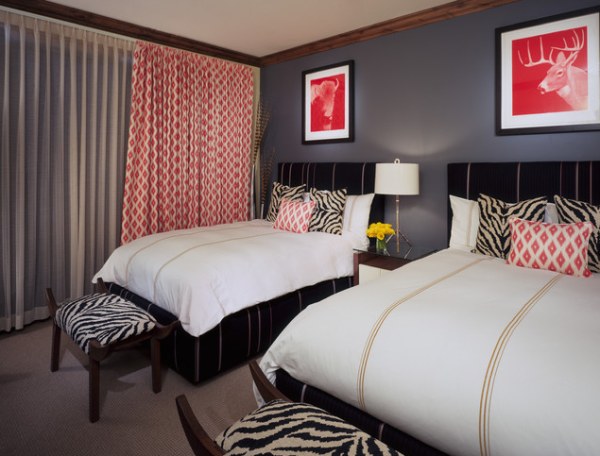 The next space features built-in beds and book nooks. Although the beds are perpendicular, a divider wall ensures privacy. [from Sullivan Building & Design Group via Houzz]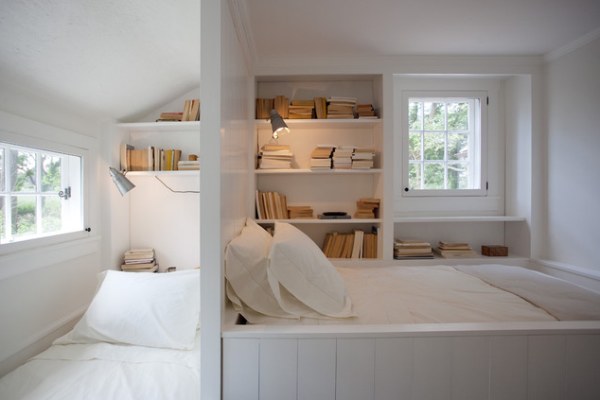 Don't forget to have a little fun with the space. Below we see a room that features half-canopy coverings and pendant light fixtures over the bed. At the foot of the beds are plush benches. Need another reason to love this space? How about the textured wall coverings and tile-inspired rug? [from Elizabeth Dinkel Design Associates, Inc. via Houzz]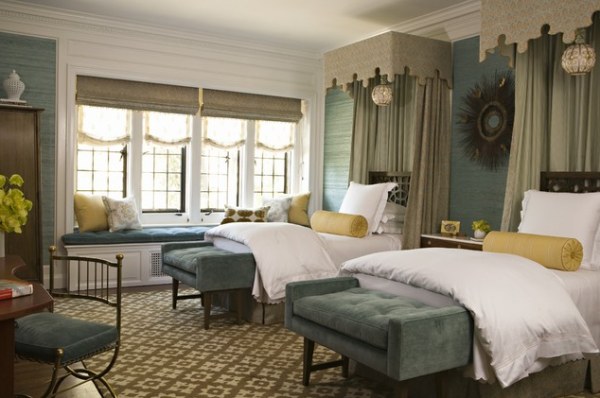 You can always go with a theme! The next featured room is a nautical retreat. Note how touches like framed maps and a sailboat on the window-side table contribute to the style without being overkill. [from Mitch Wise Design via Houzz]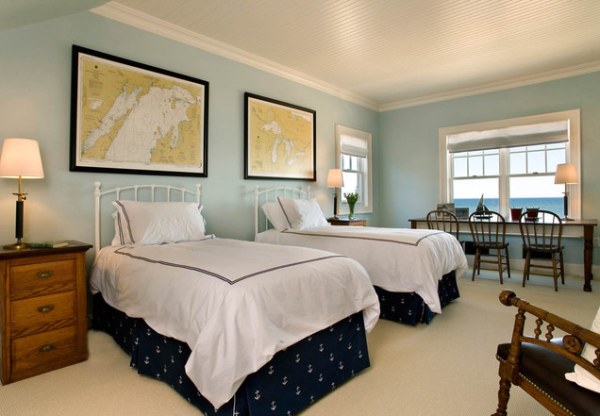 Here's another nautical room that makes use of a navy and white color scheme. The daybeds are compact, but a plethora of pillows gives them an ample appearance. [from Molly Frey Design Studio via Houzz]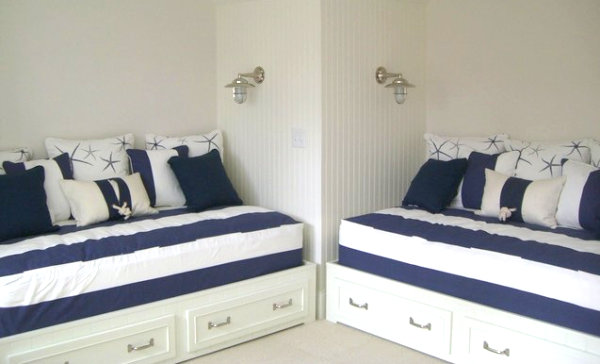 If a guest room will house kids from time to time, add whimsical touches like playful lamps, stuffed animals and colorful accents. The space below has a vintage chic vibe that is grown-up enough to amuse adults when they make use of the room! [from Elizabeth Dinkel Design Associates]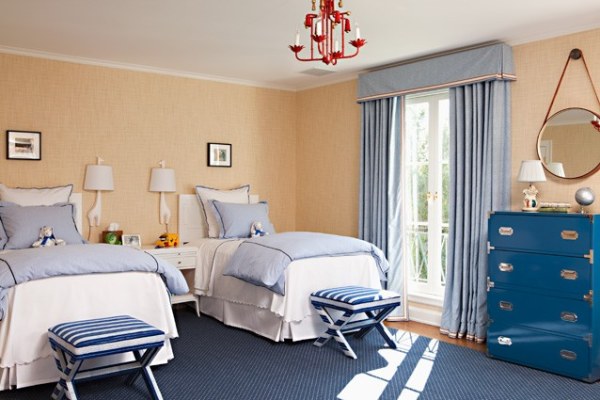 Guest Rooms With Multiple Beds
Ready to host an army? OK, maybe a small army? Bring on the beds! The challenge of fitting several guests into one space can seem daunting, but why not have a little fun along the way? The room below evokes the elegance of a tropical resort. In fact, the decor is so appealing that you almost forget you're looking at a tight space. [from Munger Interiors]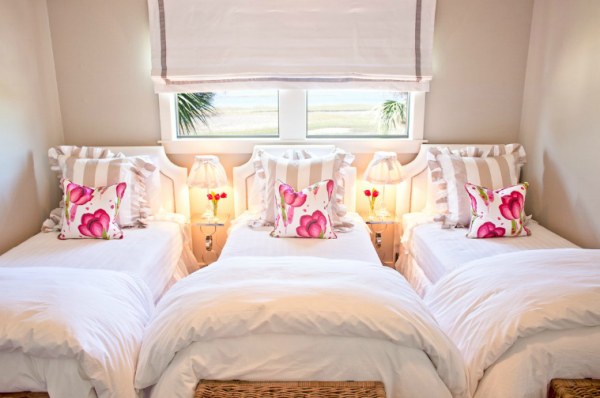 Need a guest room that sleeps three? Try pushing a daybed against the wall to accommodate that third guest, as shown in the New York bedroom below. [from Kristen Rivoli Interior Design via Houzz]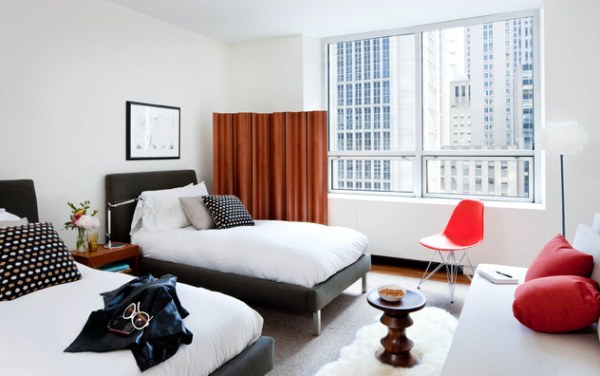 Enlist the help of a professional to pull off this next look, which makes use of suspended beds to accommodate three! [from The Bumper Crop]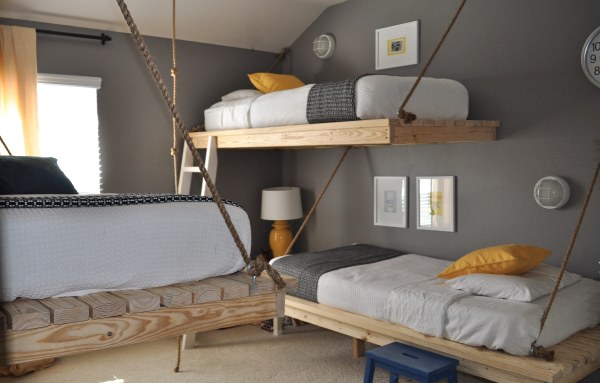 Need a place for four guests? Call it like it is and go with bunk beds. They bring back the magic of childhood, and with the right bedding they can evoke any style you're after, such as bright and elegant. [from Wayne Windham Architect, P.A. via Houzz]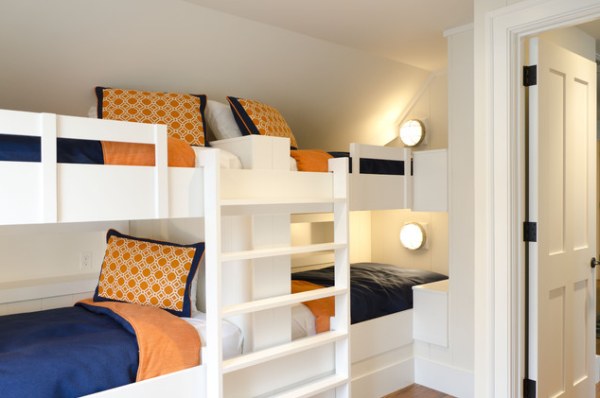 In fact, the room below plays up the "lodge" element of the space by making use of a wooden plank accent wall. Remember the days of summer camp?! [from Living Well 7]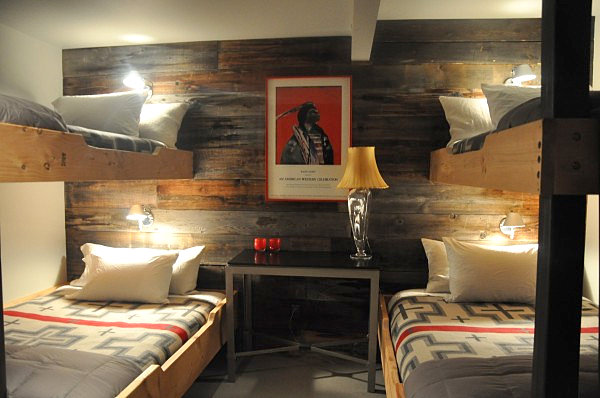 Simple and modern gets the job done. Note the interesting configuration of bunk beds in this next space, a guest room for sophisticated sleepers. The L-shape also opens up the room, ensuring that it's not cramped in any way. [from The Inman Company via Houzz]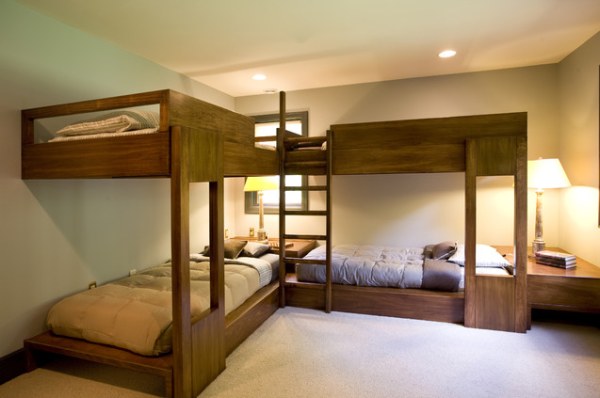 Whether you have multiple guest rooms or no guest rooms, don't underestimate the power of flourishes like a folding luggage rack, a vase of fresh flowers and a stack of magazines by a sleeping space. These small tokens of consideration will let your guests know that they are more than welcome!