Oh, the joys of sharing a bedroom with a sibling! If you've ever occupied a shared space, you know the challenges of sleeping two (or more) to a room! Not only are there the logistical questions, such as how to accommodate twice the amount of stuff, there's the issue of style. How do you design a space that's child-friendly, visually pleasing and functional? We ask this very question in today's post!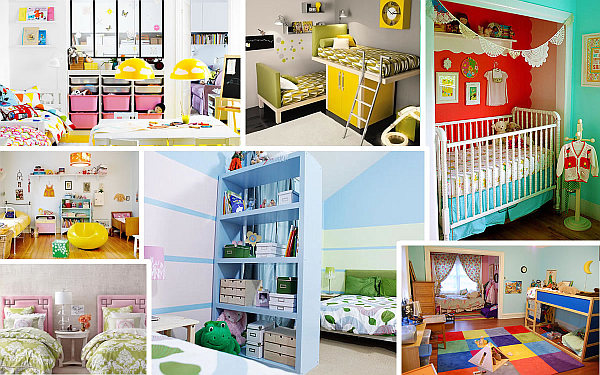 When it comes to shared kids' rooms, design challenges often result in a whole new level of creativity! We're talking an "I'd rather sleep in this room than have my own room" kind of cool! Big risks are taken, unique solutions are orchestrated, and low and behold, you end up with design magic. Don't believe us? See for yourself…
Shared Girls' Rooms
People often say that it's easier to design a space shared by children of the same gender. In some cases, this may be true, especially when the room's inhabitants agree to matching comforters and elegant pink headboards with nailhead trim! If duplicates are preferred, you can always differentiate with little touches like monogrammed pillows. [from Serena & Lily via HGTV.com]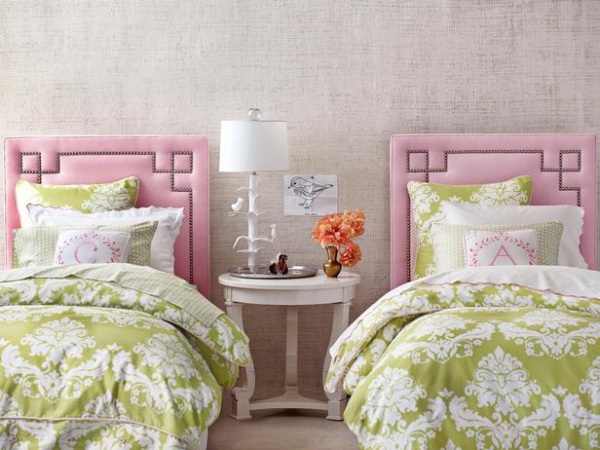 At other times, children of the same gender have distinctly different tastes. Or at the very least, different bedding preferences! It's time to get eclectic. Maybe vintage eclectic, as shown in the room below. Old and new finds combine to create a whimsical space that's packed with quirky treasures. [from Emmas Designblogg]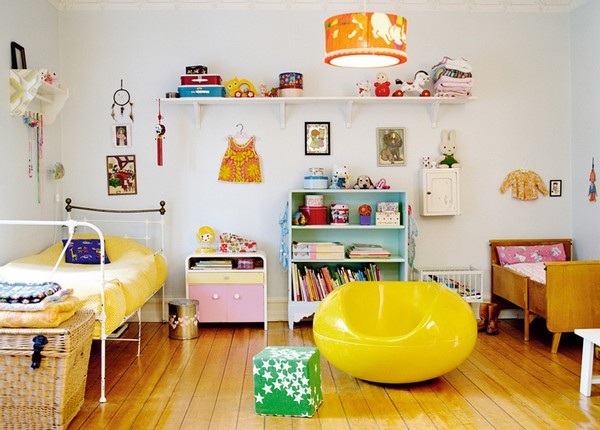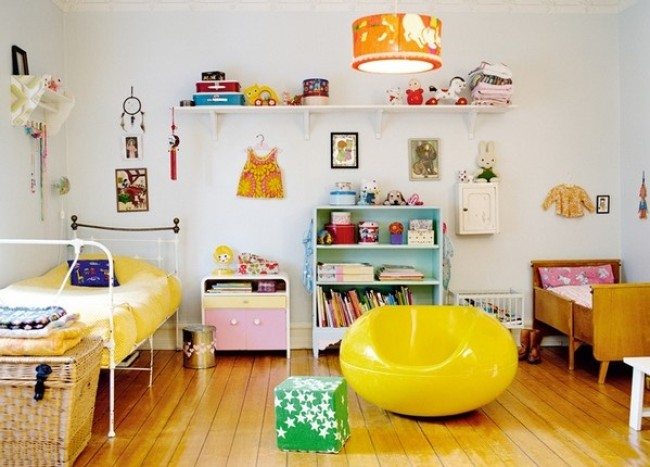 In time, a division of space may be desired. Time to call the contractor for some dry wall? Think again! Use a shelf as a divider, as shown in this next room designed by Dan Vickery. Paint your divider the same color as the walls, or pick a contrasting hue to create a fun focal point. [from HGTV.com]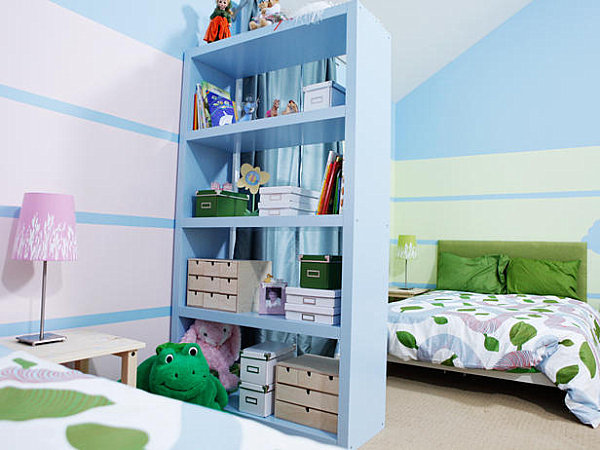 Many shared spaces have common areas enjoyed by both inhabitants. The desk below seats two! Not only does it match the nightstand, it's painted a charming shade of mint green. [photo from Ongap/Bigstock via houselogic]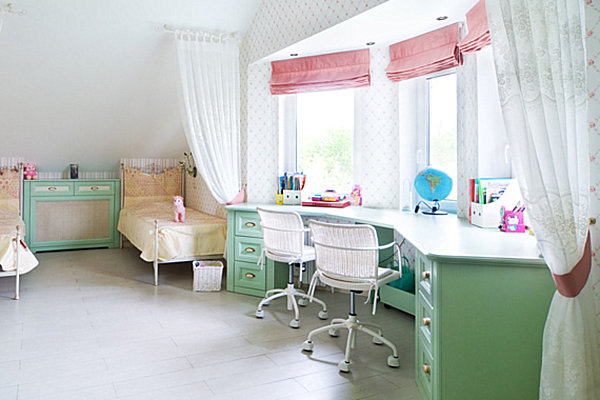 This next shared room–a colorful, modern space–inspires creative collaboration with an art table and easel. Cloud-covered pendant lights serve as a sunny yellow centerpiece. [from IKEA]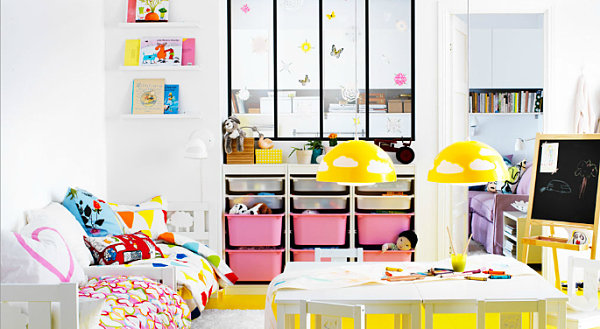 Shared Boys' Rooms
Time for boys' room design! If you think automobiles and animals are you're only options for themes, you'll be surprised by the one-of-a-kind spaces below. Check out Cooper & Campbell's shared bedroom! Not only is there a distinct carnival vibe, DIY creations take center stage in this amazing space. We're loving the corn starch fabric wall decal project! [full details at Apartment Therapy]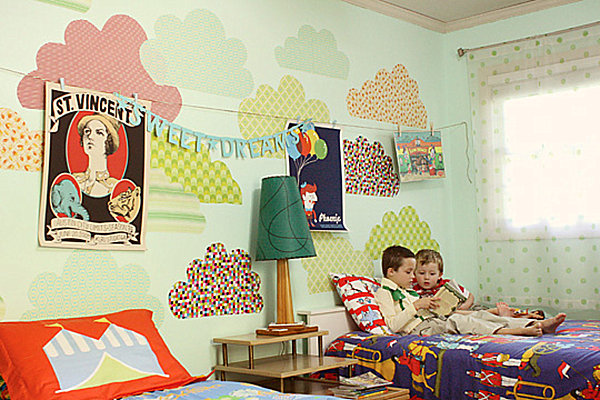 If vintage whimsy isn't your cup of tea, you can always go modern! The creative sleeping solution below leaves extra space for desk work and play time. [from Pambaboma]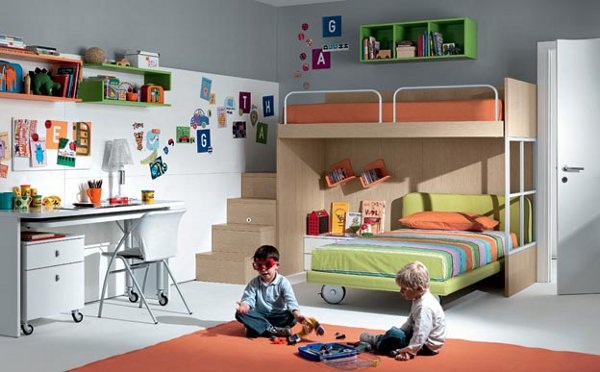 This next modern shared space features Tumidei furniture, Note the twin beds–yes, there are two! You may have missed the second bed, which is cleverly stashed under its counterpart to maximize space. [from Home Designing]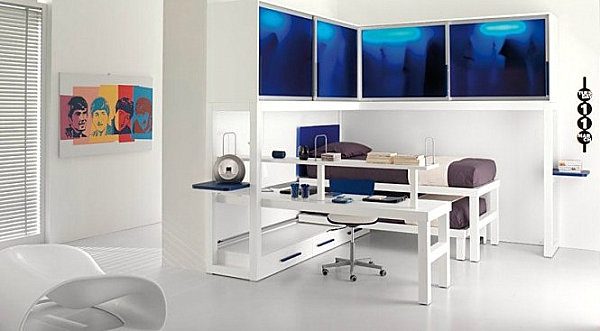 If both beds are on the ground, try having them meet in the corner with a nightstand in the middle, as shown in our next featured room, designed by David Hertz. This perpendicular formation opens up the space, creating more room in the middle. [from HGTV.com]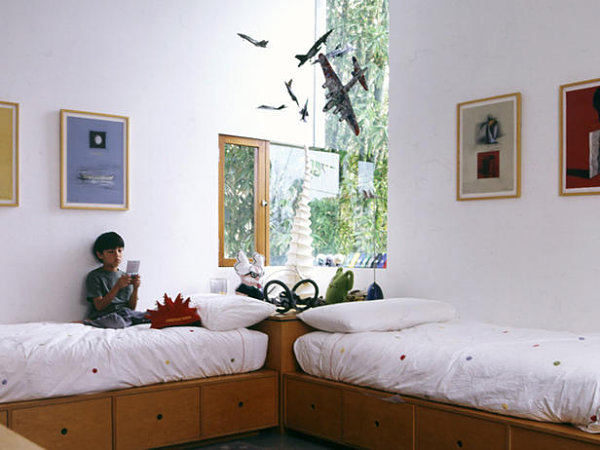 Eye-catching and kid-friendly, our last boys' room showcases the bold use of color. Supplies are accessible, and an effort to organize the space makes the most of its small size. [from IKEA via Pambaboma]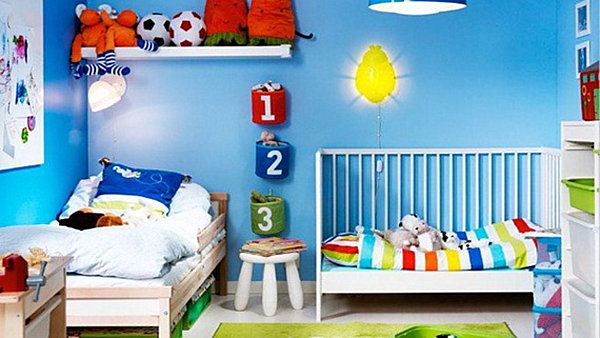 Shared Rooms for Girls and Boys
When one space must meet the needs of two genders, obvious girly or "all-boy" themes go out the window. Searching for common ground is a must, and you may find there's something liberating in avoiding cliches. In the room below, blue and white stripes are the perfect backdrop to a space shared by Hadley and her baby brother Kohen. For more details on the painted furniture and other fluorishes, check out Apartment Therapy.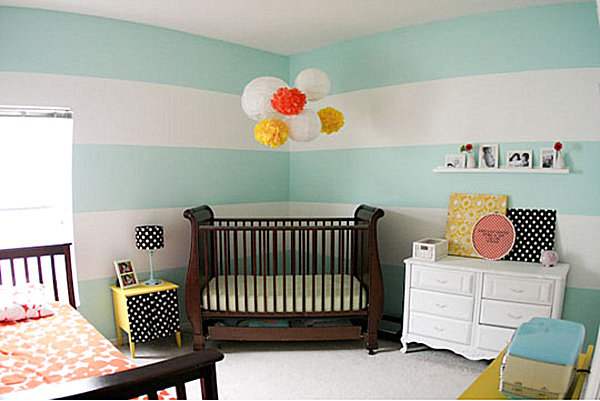 Yellow is the color of choice for Keegan and Makena's bedroom, which features a flag banner and matching name signs that unite the different bedding patterns. [from Little Lovables]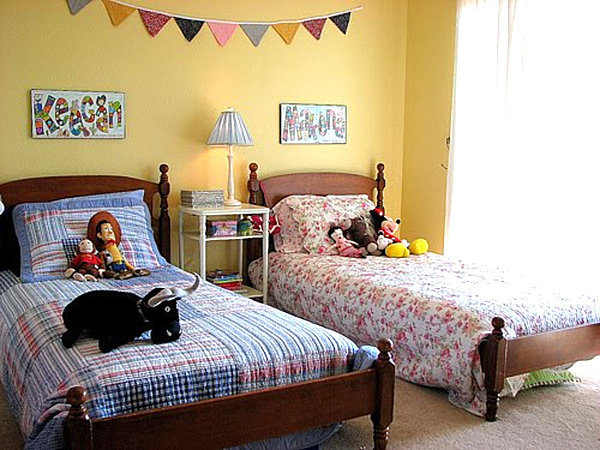 Colors like olive green and taxicab yellow are hip and gender-neutral, as shown in this next bedroom featuring Tumidei furniture. [from Home Designing]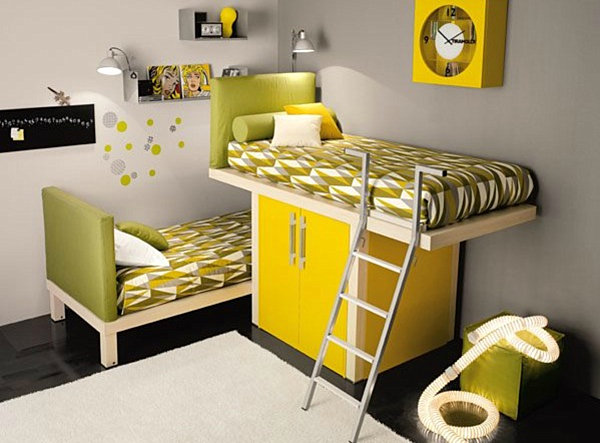 If both a feminine and a masculine look are desired, blending the two is very possible. Especially when a room has an old-fashioned sitting area that can be converted into a floral bedroom nook! Note how painting the small space a contrasting color helps to define it as a distinct "room" of its own. [photo from Jessica Gale/Flickr via houselogic]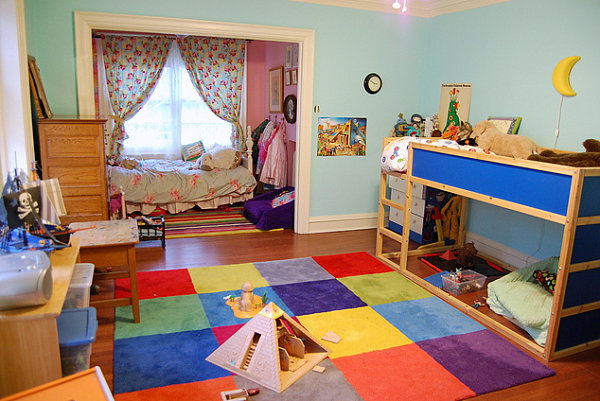 On a similar note, this next room accommodates two boys and a baby girl! The littlest gets her own crib area, complete with a doily banner and a tomato red paint job. Now that's a clever use for a closet! [from Apartment Therapy]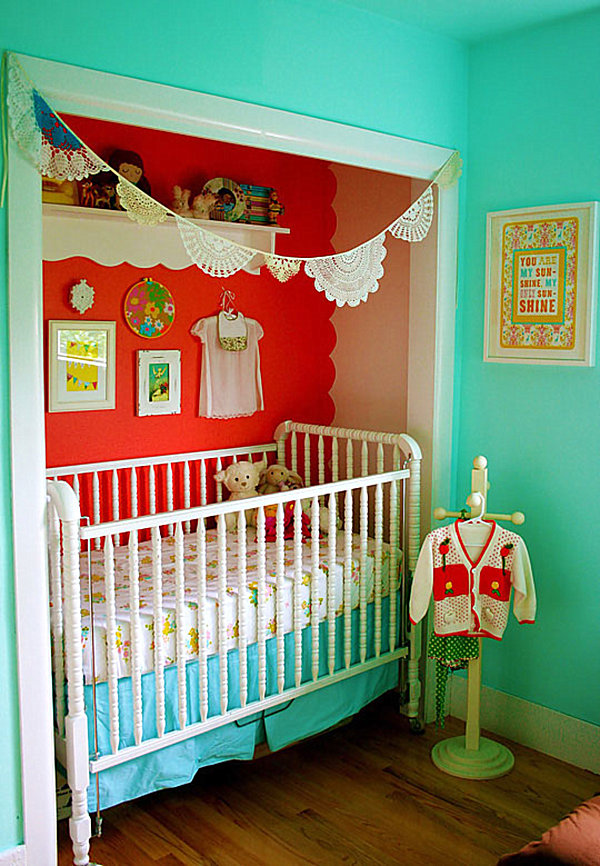 As you can see, there are no rules for designing the perfect shared kids' space. While it can be tempting to take complete control of the room, the most interesting results occur when the children are involved in the process. For example, if you've collected antique toys to arrange on a shelf for your little ones, encourage them to mix in their own treasures, putting their distinct personalities into the vignette.
Don't hesitate to let each child pick out his or her own bedding. Different patterns can be united with a common paint color, matching pillows, or wall art that incorporates a variety of colors. Most importantly, have fun! Sometimes a childlike creativity yields the best outcome!