Today's post is dedicated to the art of decorating a vacation home. There's something about a space designed to inspire rest and relaxation that can be applied to any abode. Most of us are spending a lot of time at home these days, thanks to a global pandemic. While some are quarantined at vacation homes, many have one place to call home, and it may very well be on the small side.
Whether you're looking for inspiration as you decorate an actual vacation home or you're searching for ways to bring a laid-back vibe to your everyday house (or apartment), keep reading for a collection of design tips that we all can use. Especially during uncertain times when our homes are our true havens! [photo from Emily Henderson, details to follow]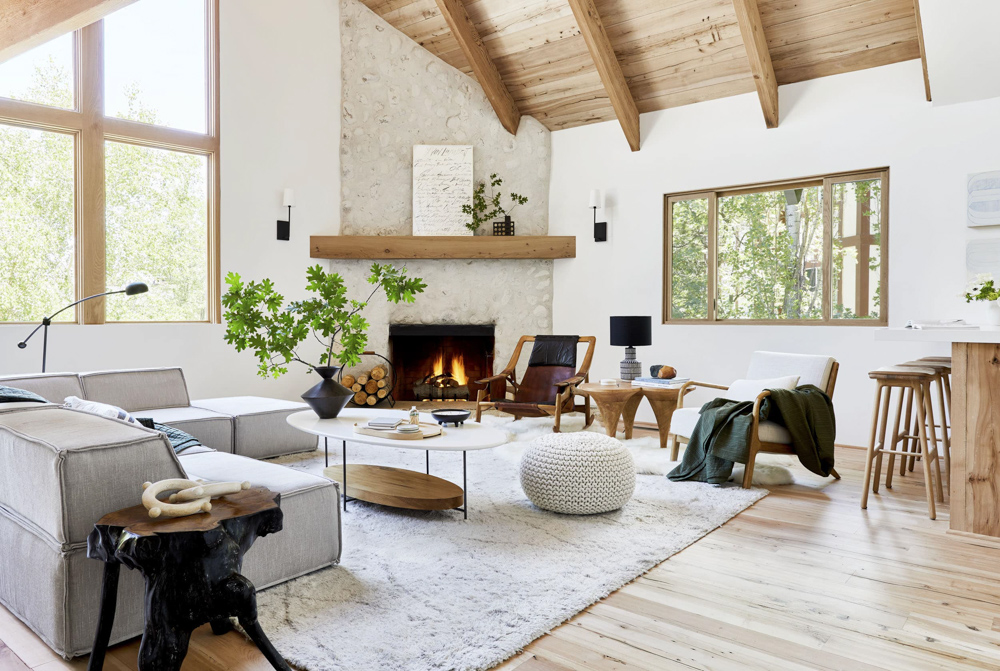 Grand Spaces
Got vaulted ceilings?! Or maybe you live in a one-room efficiency. Creating a spacious look is about more than space. Today we take inspiration from designer Emily Henderson's California mountain house, which she's thoughtfully designed with an abundance of neutral tones and textures. Below we see her light-filled living room, complete with a "Scandinavian chalet vibe". Think minimalism combined with plenty of warmth. Calm is the name of the game.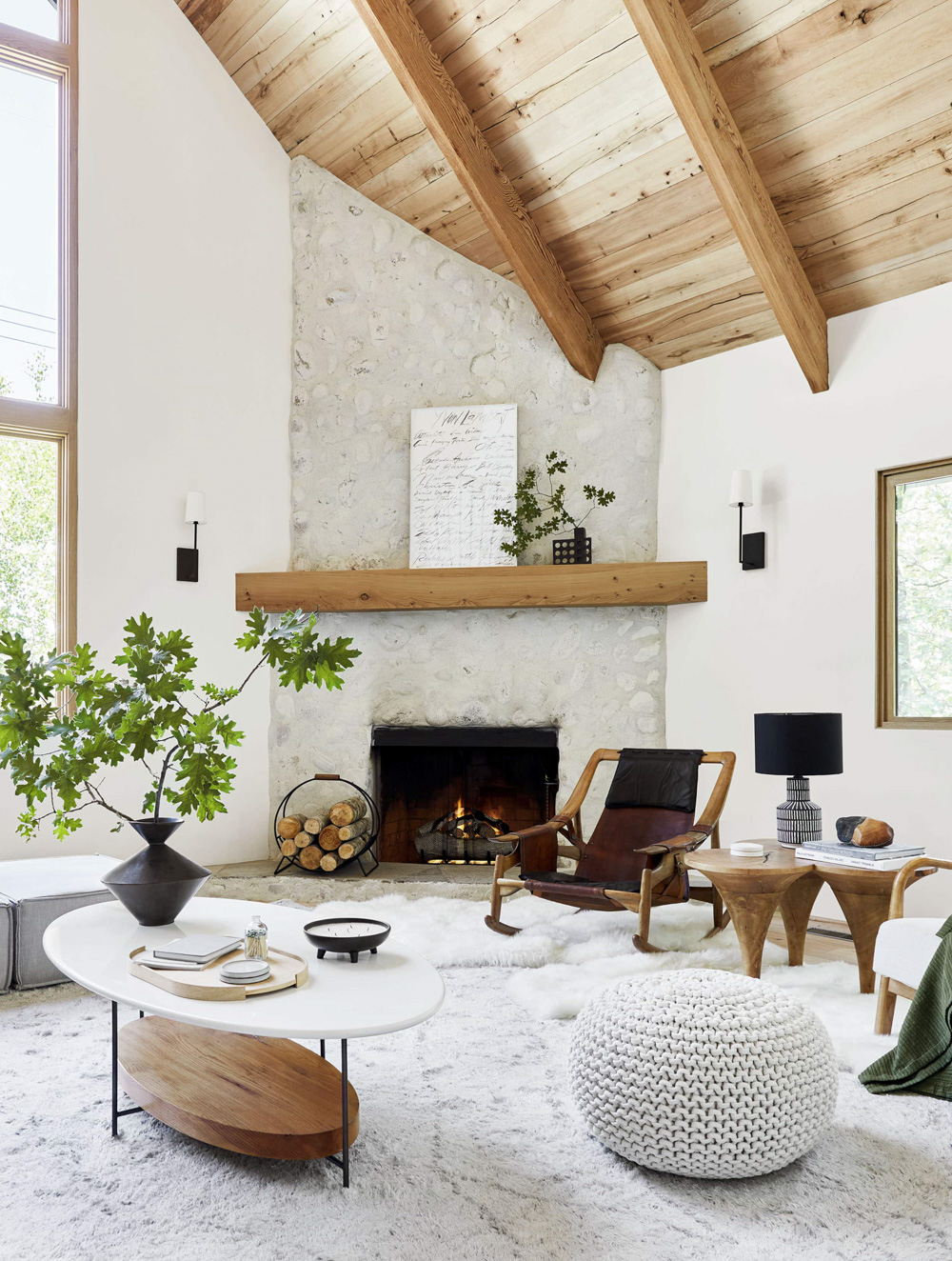 What are some ways you can create this look at home?! For starters, if you're interested in learning more about this amazing space, check out Henderson's entire post here. In the meantime, keep reading as we highlight tips on how you can create an inviting, relaxing space with a "grand" feel. Neutral and light tones can go a long way here, folks…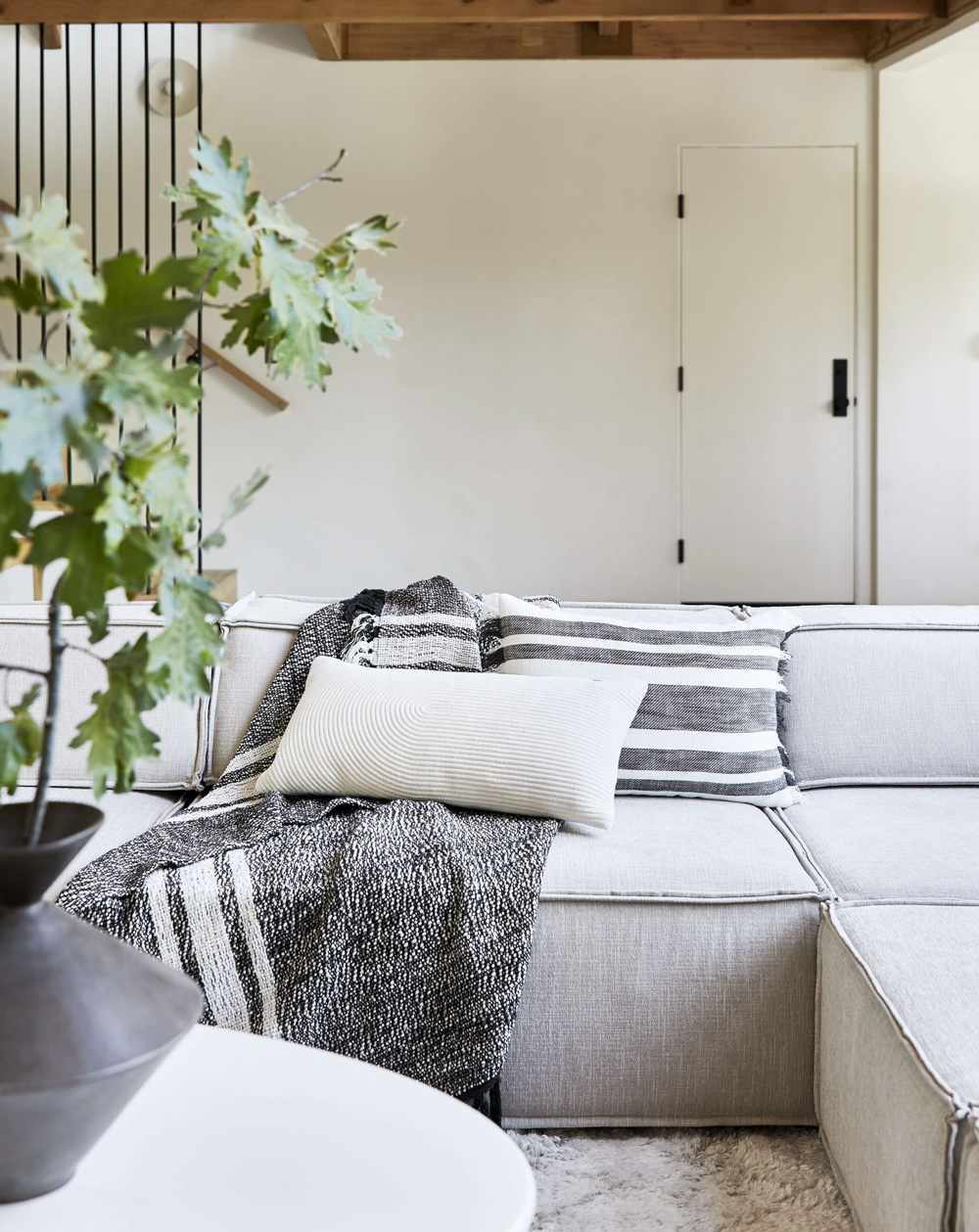 As Emily Henderson reminds us, choosing finishes that aren't high-contrast can help create a soothing look. Think white walls and wooden tones, rather than extreme darks and lights. However, touches of black are great when it comes to grounding accents. In addition, consciously opting for spaciousness means avoiding clutter. Less is more when it comes to furniture and decor. Not to mention, anything you can do to draw the eye upward will create the illusion of height. We're loving Henderson's tall, leaf-covered branches in the black vase!
And how about getting that light-filled look? Choosing light paint colors, eliminating heavy drapes that block windows, and using reflective surfaces to your advantage can help you work with what you have. One more hint on achieving a relaxed look for a space that's grand or modest: cozy nooks for reading and resting. Think throws and an extra pillow or two, as shown above.
Special Features
There's just something special about a vacation home, isn't there?! No wonder so many of them feature special touches. This section of the post features images from Athena Calderon's Amagansett, New York home. Below we see the bedroom, which is filled with interesting pieces, from the vintage rattan chair and bamboo lighting to the Beni rug in warm tones (which grounds the space). Check out all of the design details in this post.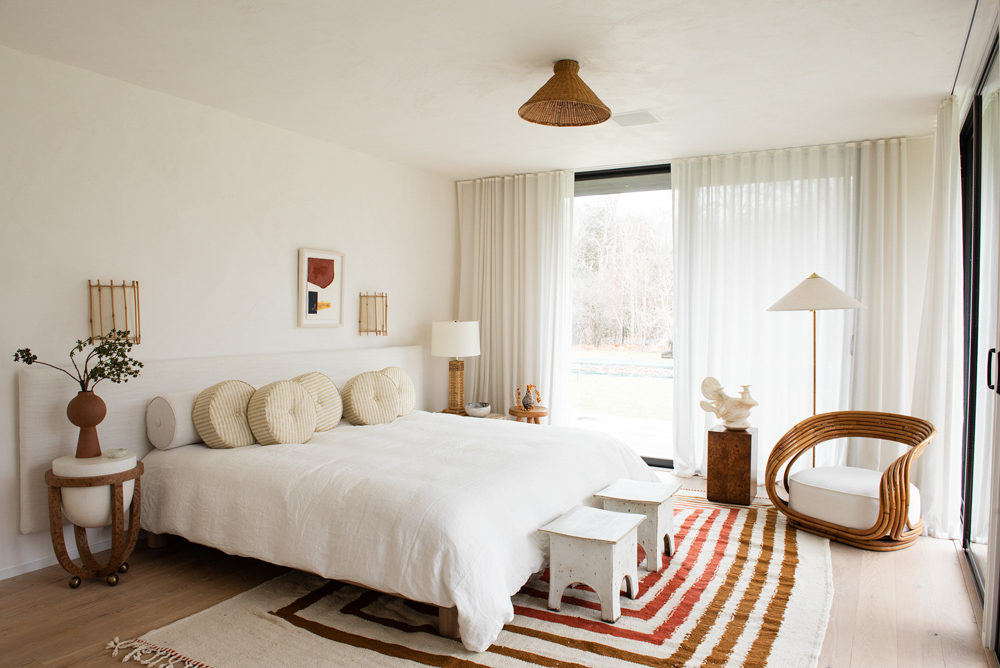 To create a space that's special, Calderone reminds us to choose pieces you love and let them guide the design of your interior. This may involve incorporating vintage pieces and collecting over time. Or maybe it's time to shop your house for pieces in one room (or in a storage box) that breathe new life into another area of your space. As Calderone says, "…you don't need to spend a fortune to make small improvements in your home."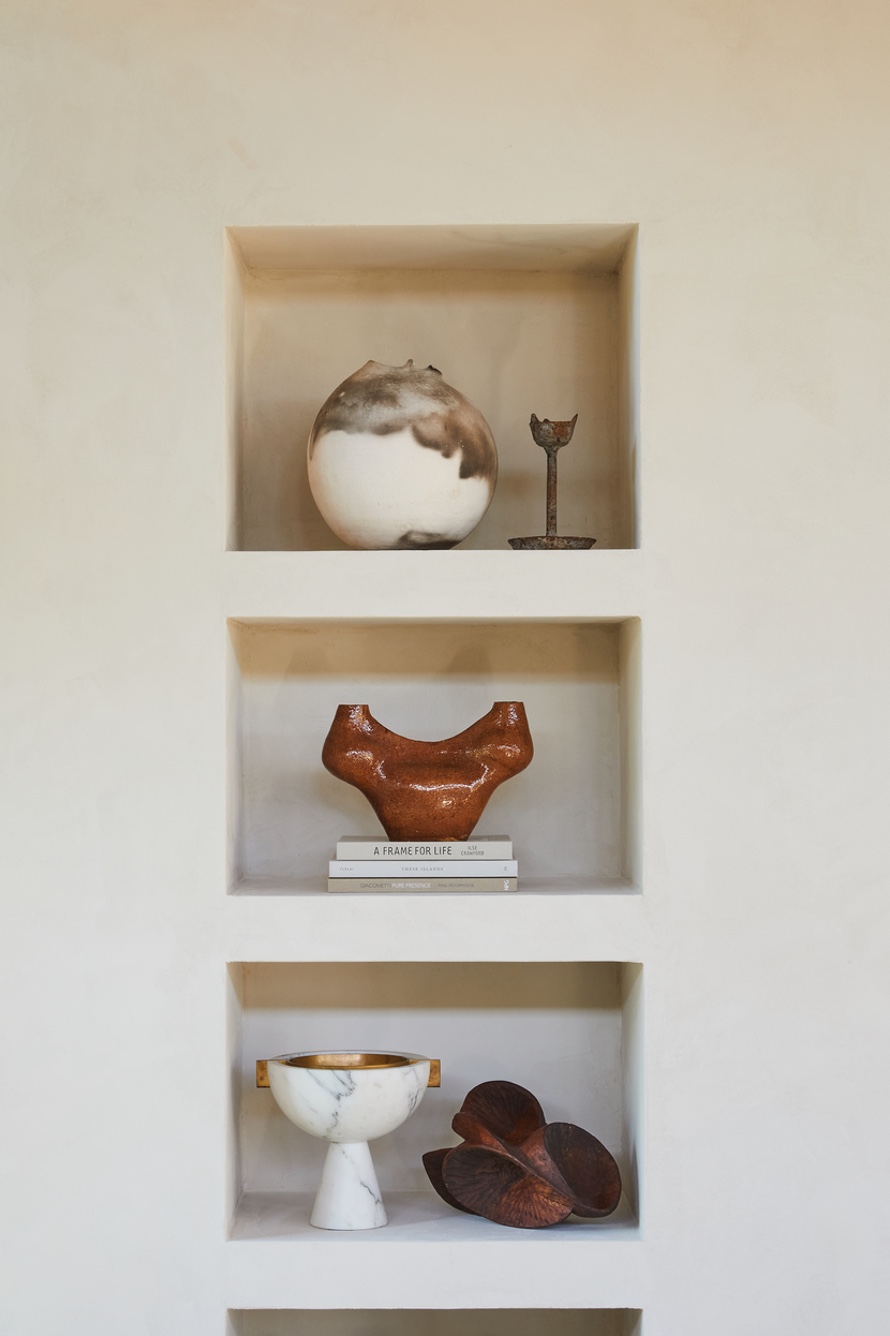 As she gives an overview of her entire Amagansett home refresh, Calderone highlights a range of special features and pieces. For starters, the compartments in the wall niche (shown above) create a beautiful area for displaying artful objects. If you don't have a built-in display area of your own, try re-styling a shelf you currently own, and pay special attention to each piece as you curate the arrangement. Sometimes less is more.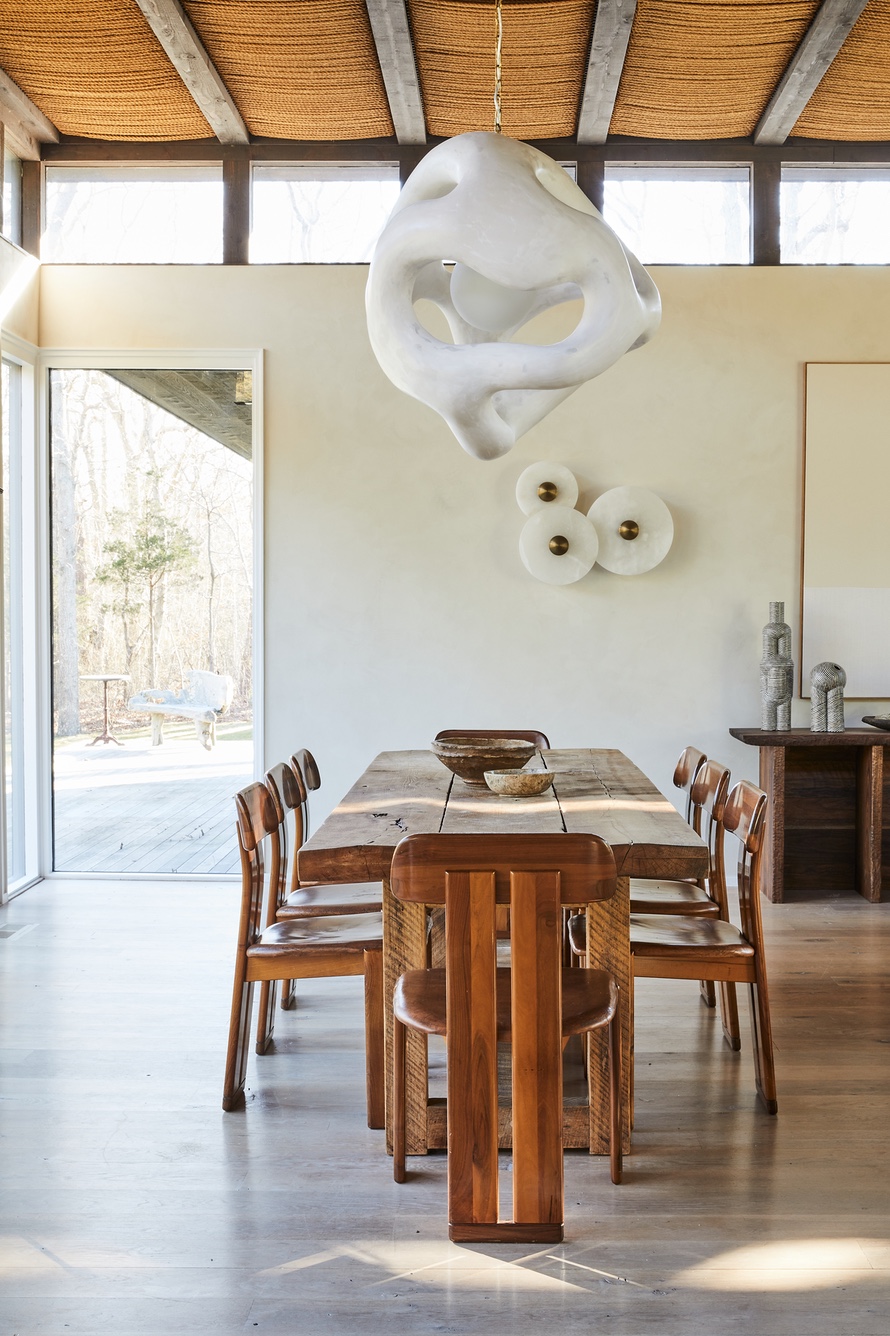 The light sculpture over the dining table above is by Rogan Gregory. As you choose focal points for your home, select items that truly speak to you, as well as items that tell a story. Did an artist friend of yours gift you with an interesting creation? Is there a piece you own that has a special history, or that reminds you of an important time in your life? Be intentional. Also, now is a great time to craft something of your own. Whether you take an afternoon to make a wall hanging or you try your hand at pottery, unleash your creativity!
Fun Touches
Have you ever noticed that people are a lot braver when it comes to decorating their vacation homes? Since these abodes are places to unwind, there can be an overall sense of risk-taking and fun when it comes to incorporating bold elements. We end today's post by featuring photographer Gray Malin's Lake Michigan vacation home. A bright red backgammon table graces the living room, adding a fun and festive punch 0f color. Note Malin's original photography hanging above the table (swoon)!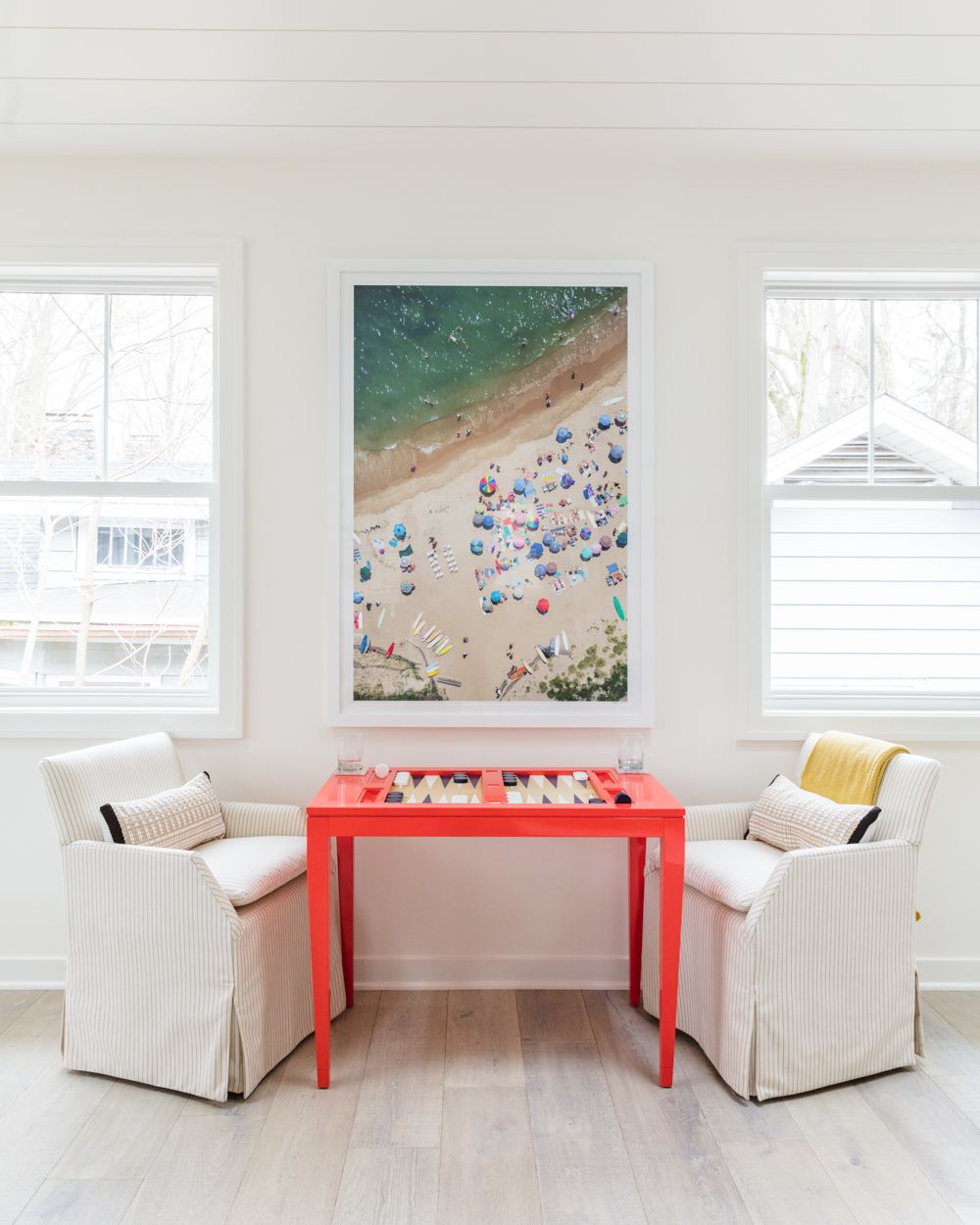 Speaking of great photography choices, check out this special nook of the master bedroom, complete with a welcoming bench and another one of Malin's amazing photographs: The Sailor. Eye-catching artwork makes all the difference when creating a vacation vibe at home. Bonus points if the art channels a vacation vibe.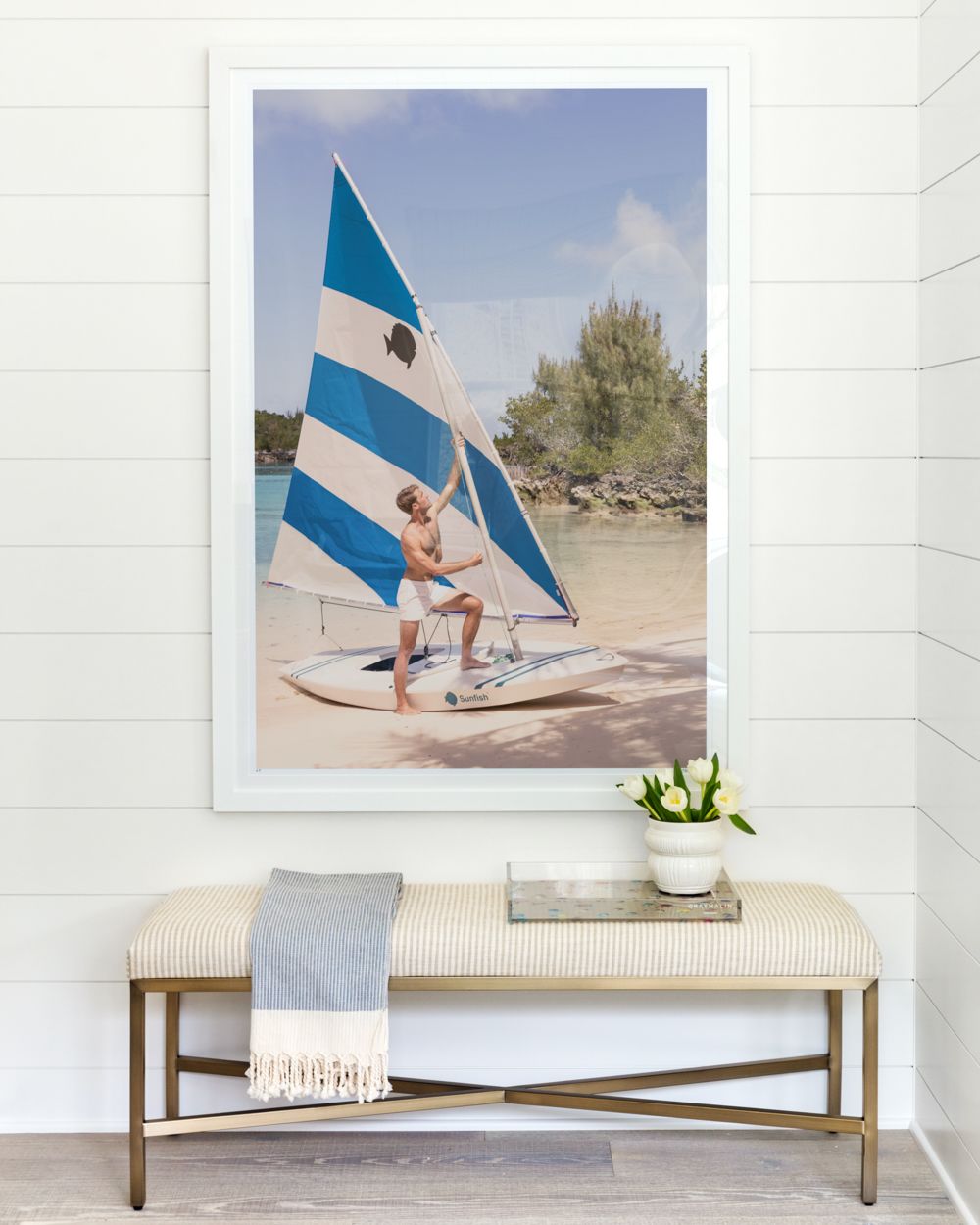 Last but not least, we see how colorful choices such as the blue Fireclay Tile in the kids' bathroom below can bring an interior to life. But you don't have to get a new floor to bring color and pattern home. Even blue tile-inspired photographs like this one and this one can create a vibrant look.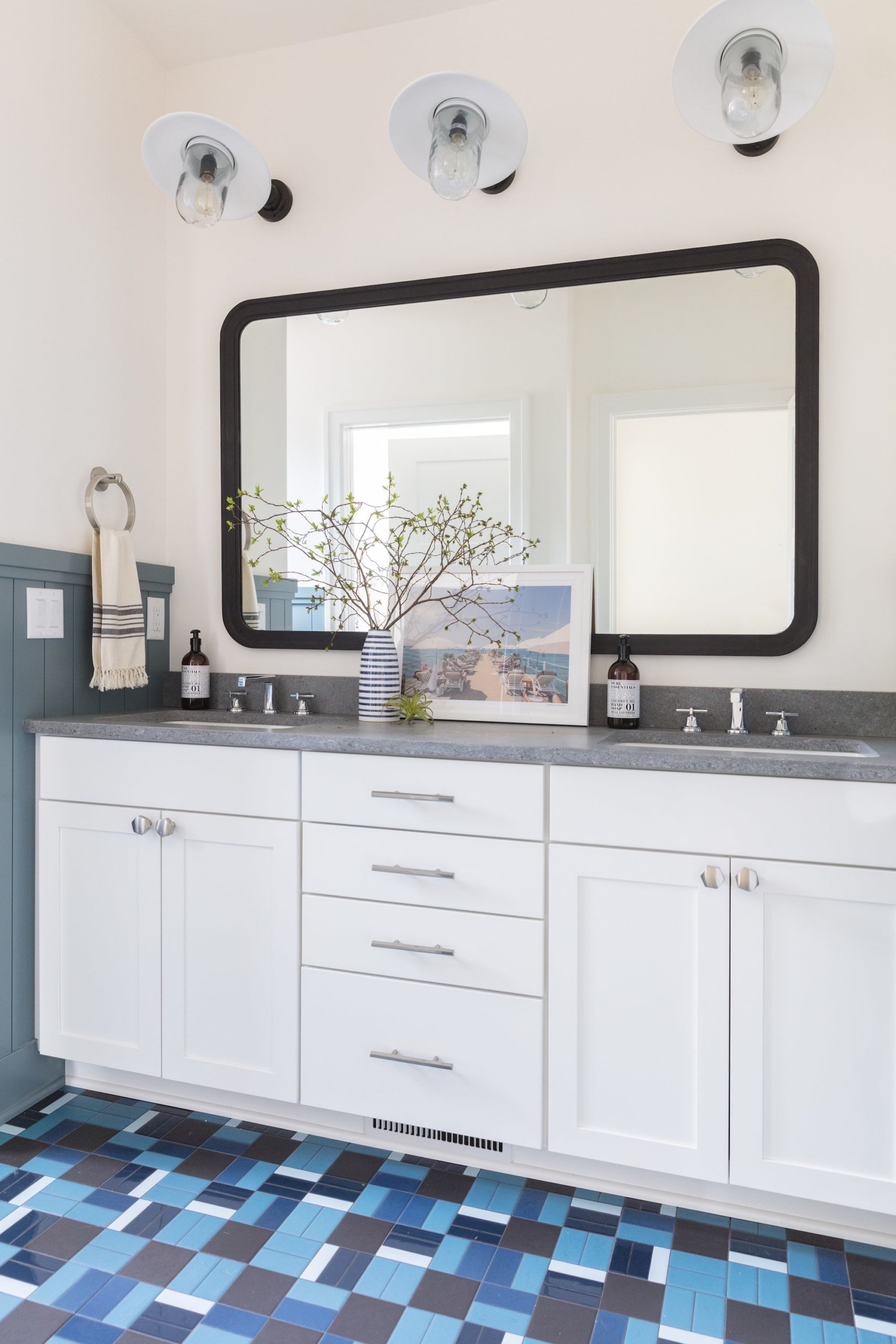 We hope today's post has given you a range of ideas for bringing a vacation feel to your home. Now more than ever, our abodes should be places that create a sense of peace and calm. Since many of us are on a tight budget and/or would rather not venture out, there are easy ways to make small changes that create a big effect. Decluttering, repurposing items from one area of the home to another, and crafting interesting focal points are a few of the many ideas explored today. Happy decorating, and thanks for reading!