The early patio season is officially upon us and the home goods stores are rolling out their trendiest displays of outdoor seating, dining, and lounging options. People are eager to soak up every minute of fresh air that they can right now, and like you, we are dying to pay for an overpriced sangria on a patio somewhere. Until that's a reality, the simpler solution is to create your own beautiful patio space at home. Don't have a backyard? Believe it or not, you don't need one. If you rent a space, transforming a small balcony or patio area is a great way to make it feel like home. We browsed countless catalogs and Pinterest feeds to round up the best tips and tricks, and then compiled them into 10 simple rules to nail your perfect patio design this year.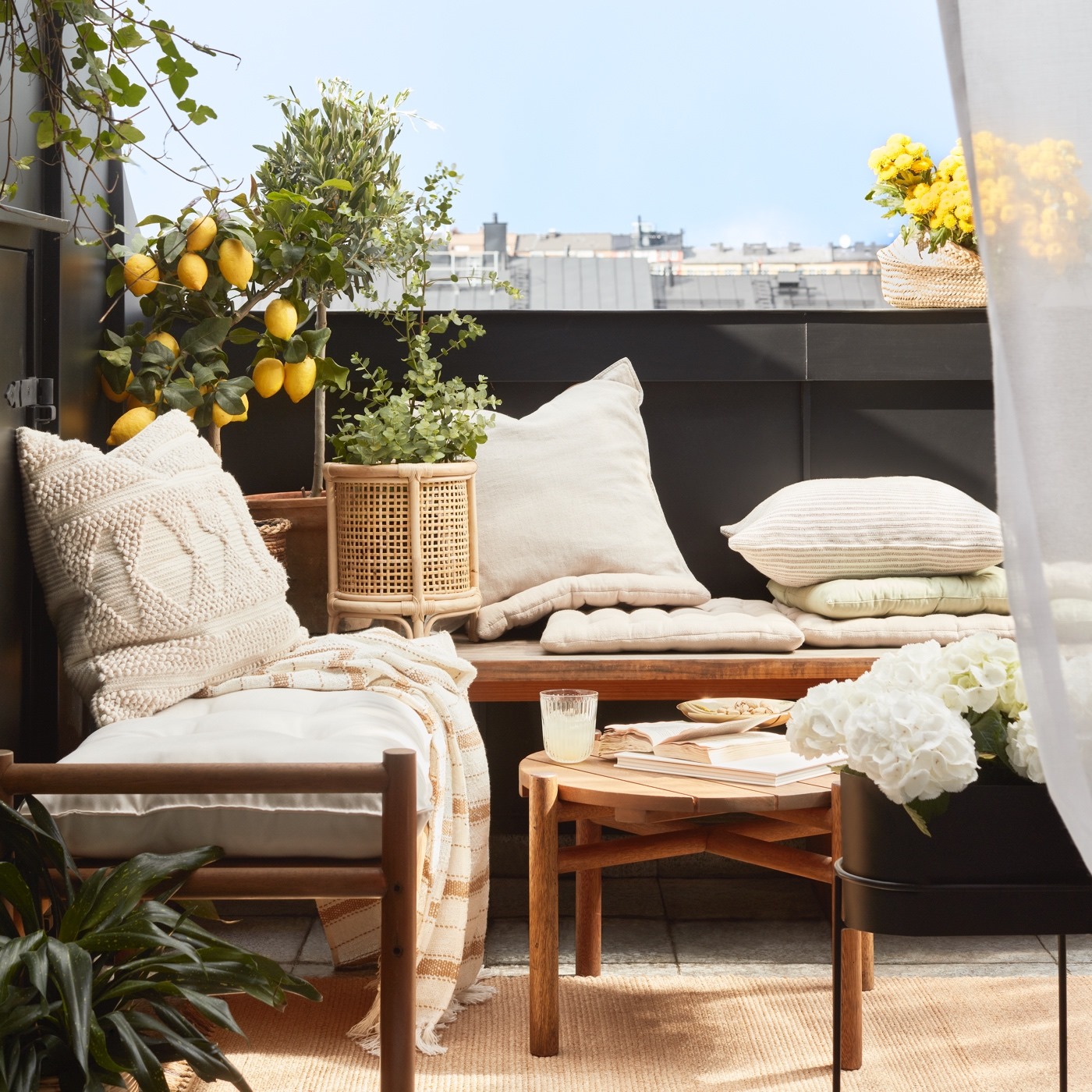 1. Clean Your Space
Winter and all of its weather are on the way out but what's left behind is streaky windows and dead plants. Before you begin decorating your patio or balcony space give it a good old fashioned power-clean. Do any cleaning or minor landscaping you need to and rinse off all the debris when you're done, then you're ready to bring in the decor!
2. Install Weatherproof Flooring
If you're lucky enough to have a nice wooden deck, you can skip this step altogether. If you don't have a deck space, chances are you're dealing with concrete or grass. Thankfully, theres weatherproof flooring options that are ideal for the patio. These modern flooring options are removable and usually quite easy to assemble, blending seamlessly into your decor scheme. Combine with a patterned rug to complete the space and make it feel cozier.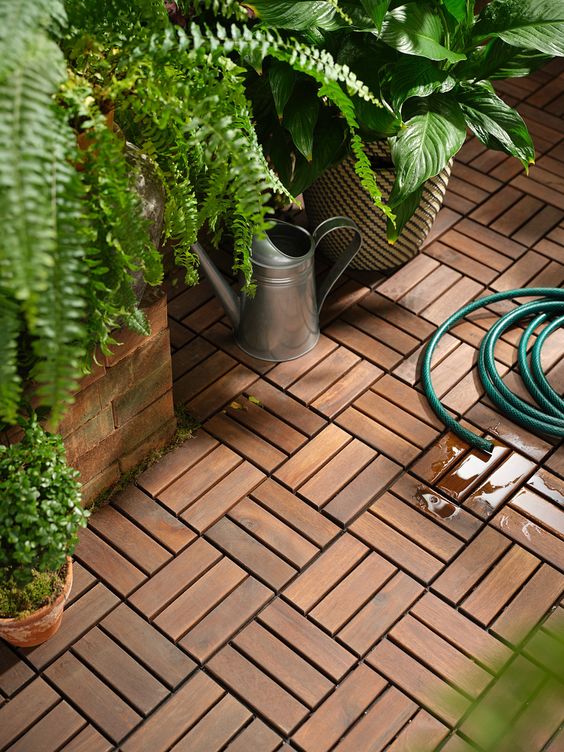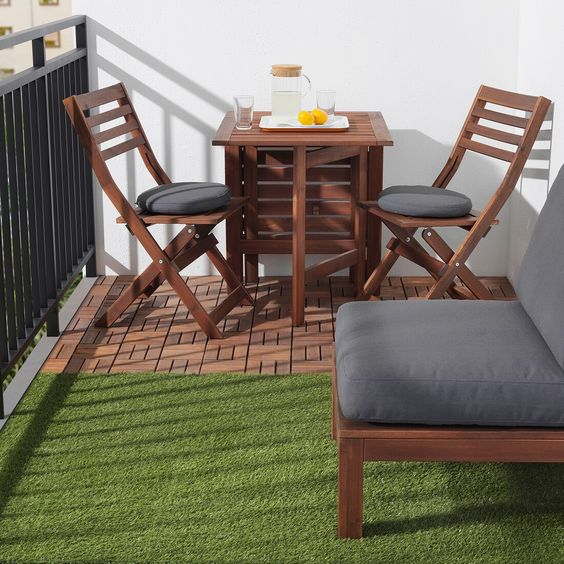 3. Pick the Perfect Patio Set
Keep the size and layout of your patio area in mind when you're shopping for furniture because there's a variety of style options that can help maximize your patio space. If you have a smaller space to work with, consider choosing a bistro set that takes up less room but still sets the scene for socializing. If you have a larger space, embrace a sectional like the Brookbury Sectional Dining Set from Walmart (shown below). Always make sure a table is central is in your set up for socializing.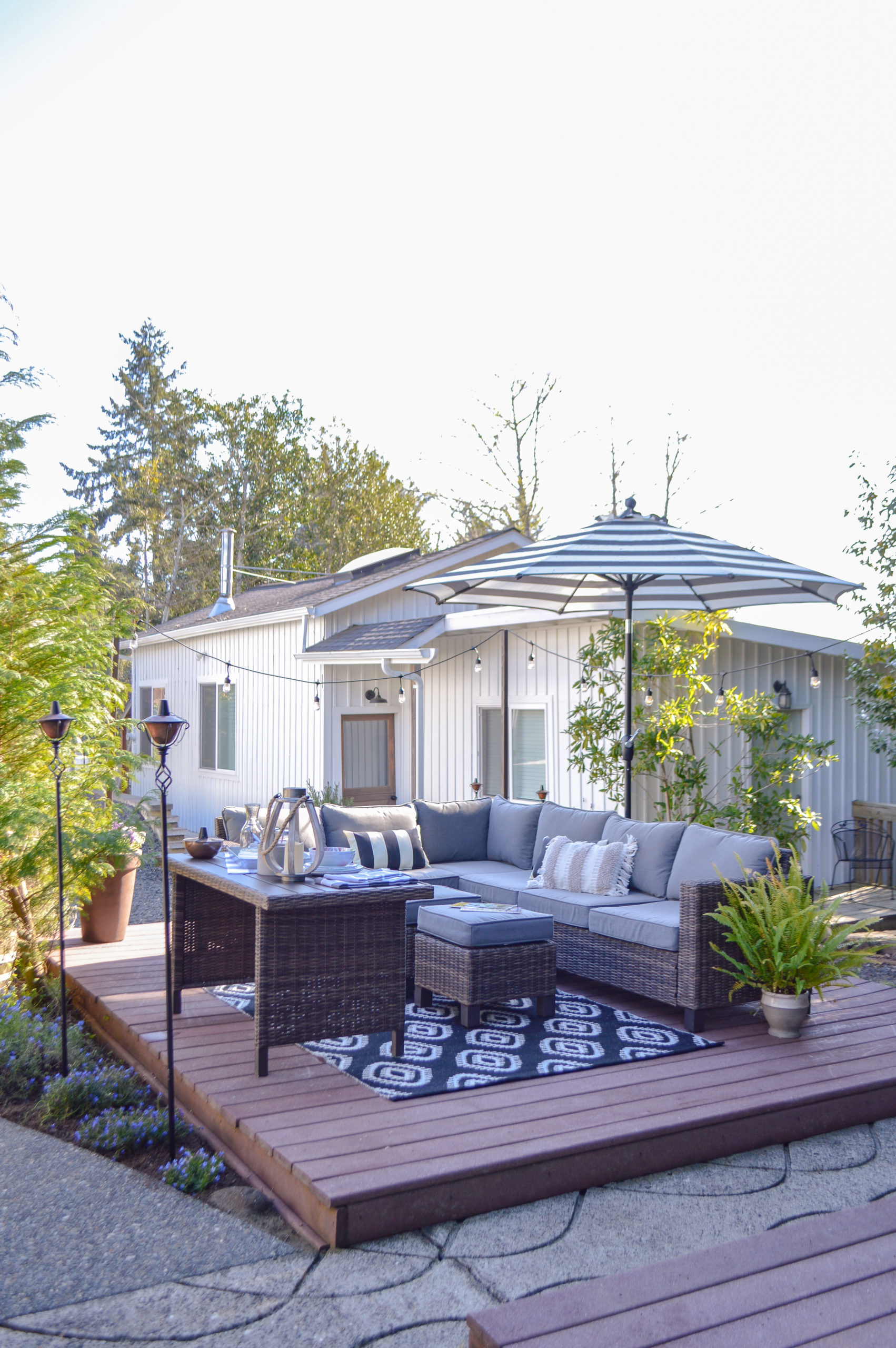 4. Lighting
Extend your useable time in your patio space into the evening and late hours of the night with outdoor lighting. Selecting the perfect lighting helps set an ambiance that can be reminiscent of a restaurant patio. With so many options to choose from including hanging lights, twinkle lights, and lanterns, different lighting options can give you a different vibe.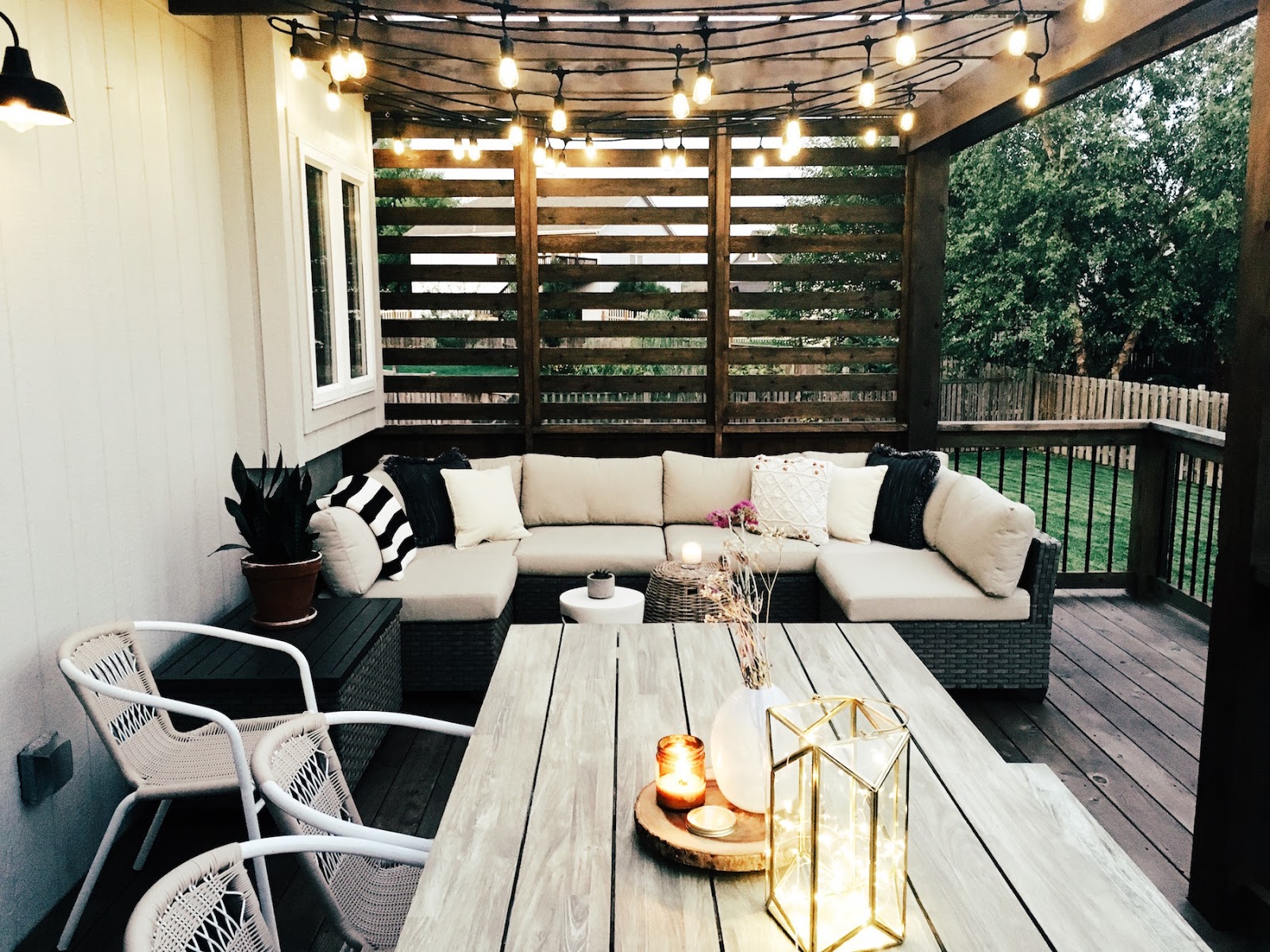 5. Select a Theme
Some people choose to continue a theme that is already styled in their house, extending the comfortable feeling of the inside of the home to the outdoors. However, some people prefer to embrace a different theme altogether, creating a brand new vibe just outside the door. The most popular patio themes right now are Boho Chic, Farmhouse Rustic, and Coastal.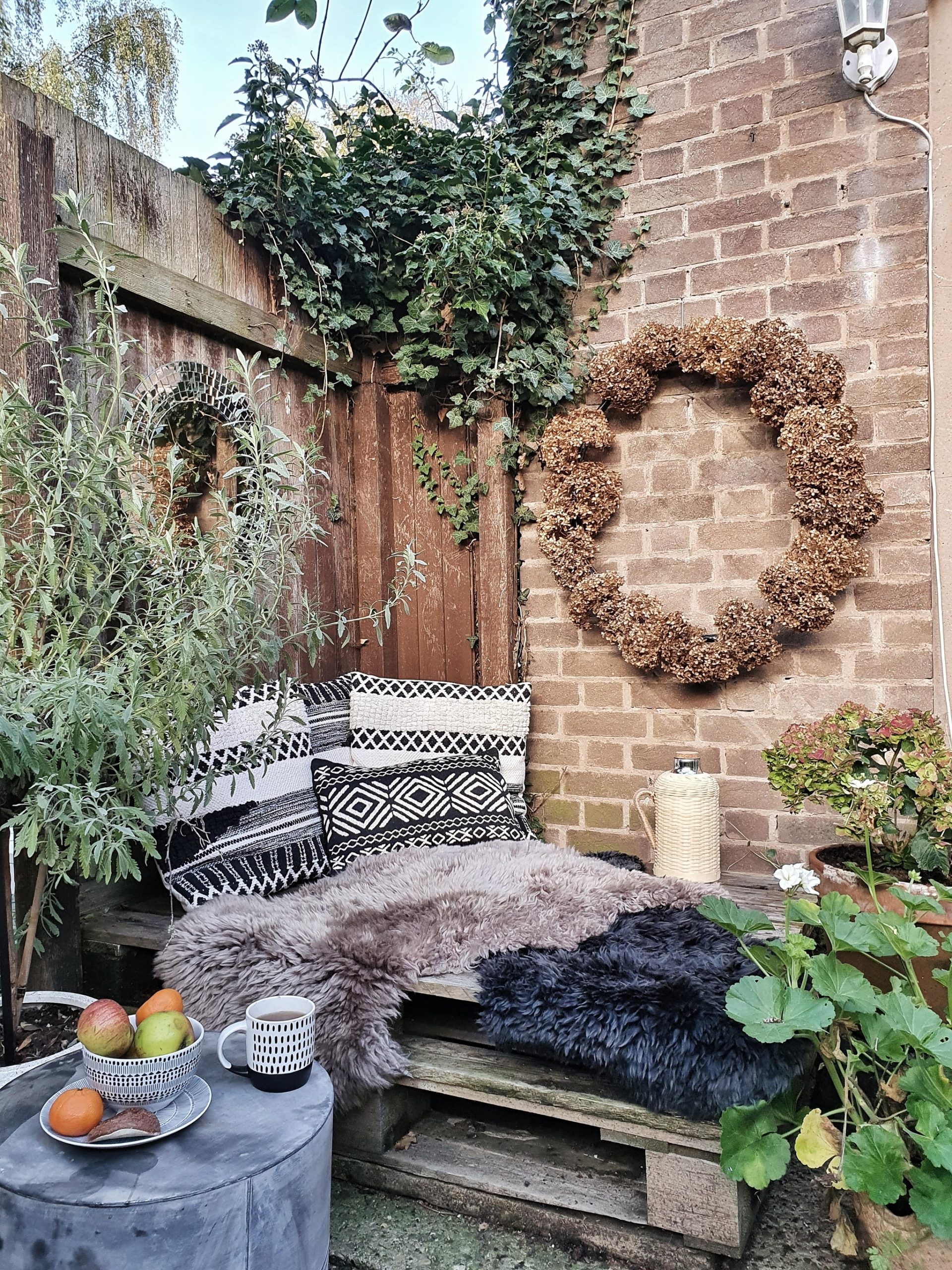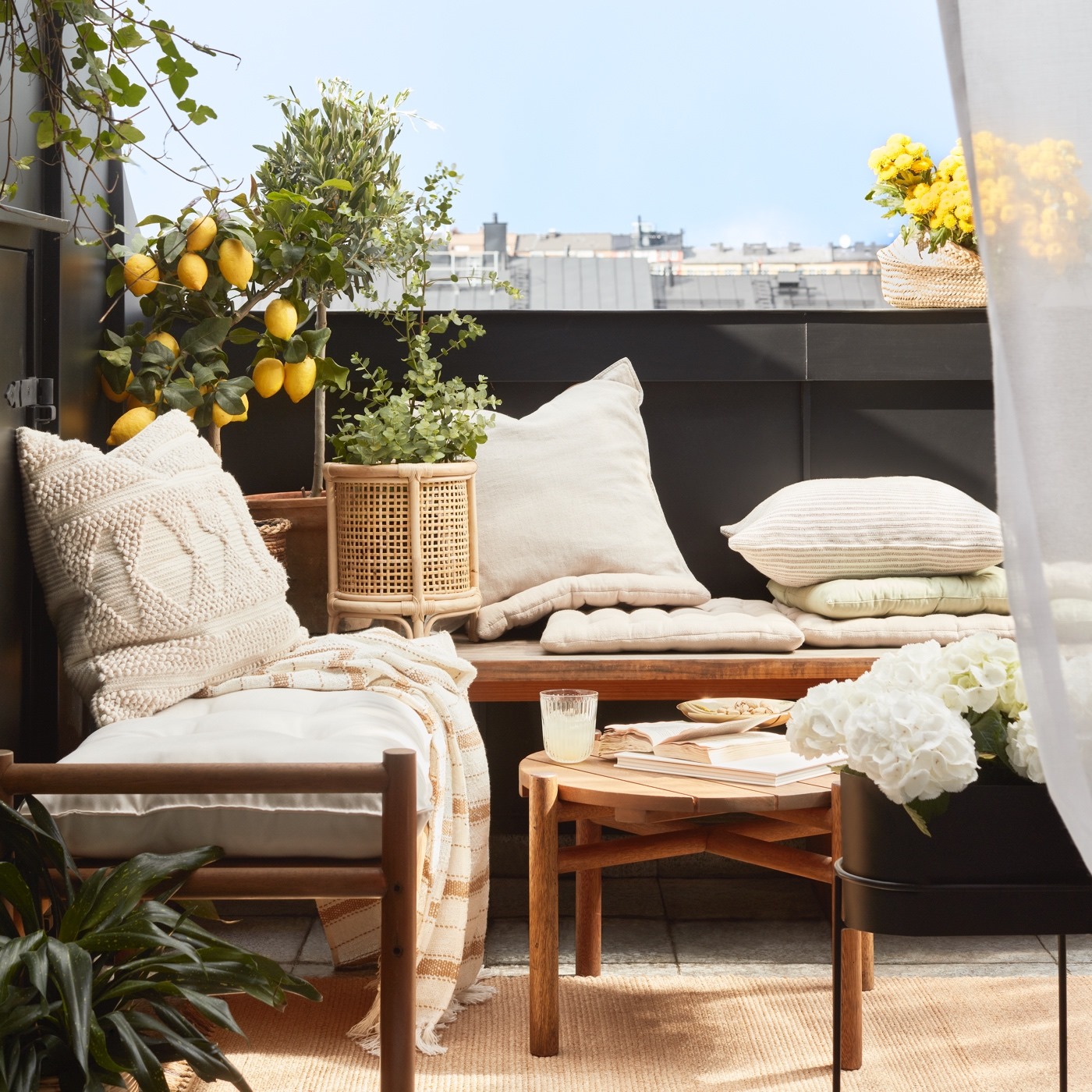 6. Plant Life
Use real or fake plants depending on your living situation – real plants are of course the best option because they're great for purifying the air naturally and add an organic feel to your space. But styling a balcony with plants can be a little more challenging, especially if it's a high floor. This is where fake plants work perfectly giving you the same tropical aesthetic without the risk of your live plants dying in weather or wind.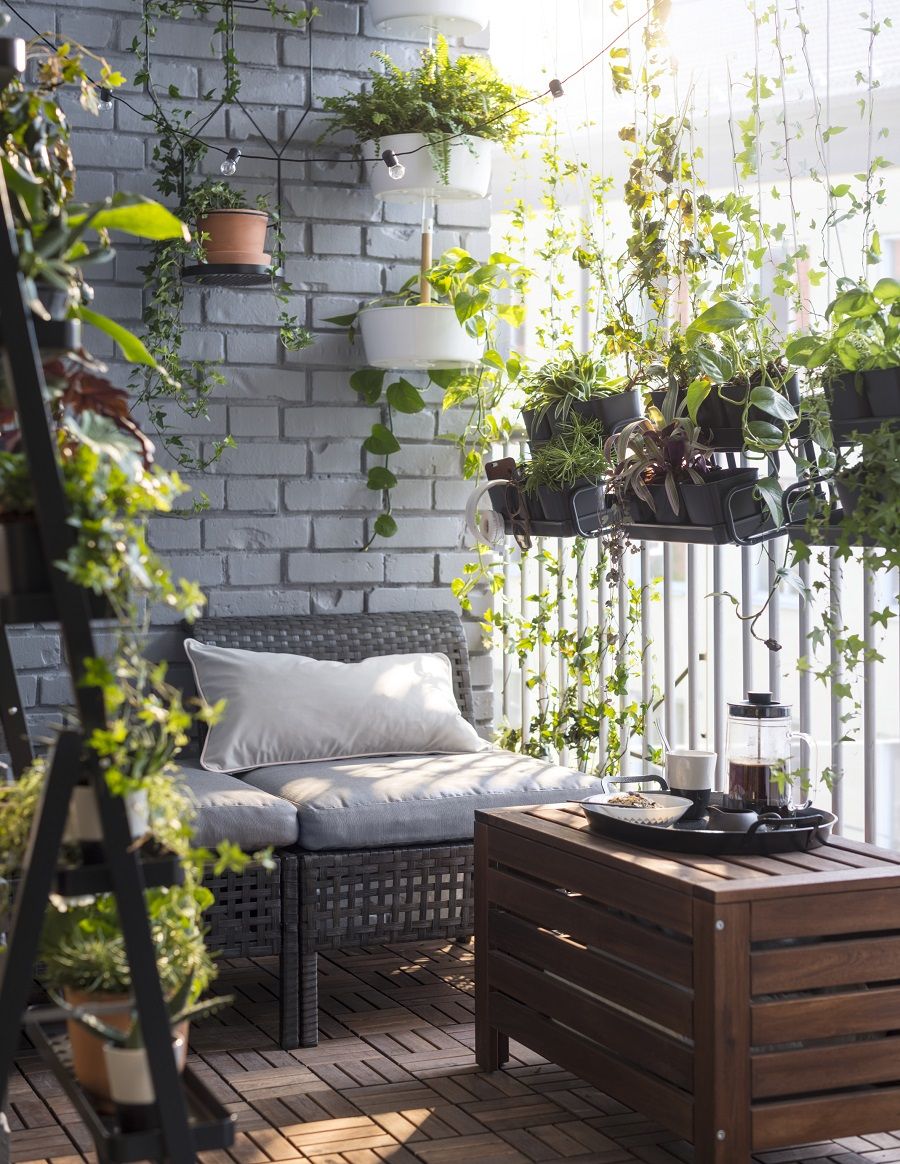 7. Incorporate Storage Wherever Possible
We love a good storage moment, and you don't have to sacrifice storage for style on the patio. Be mindful of the wind and weather and invest in storage bins for when you're not using the patio to preserve the quality of your outdoor decor by years.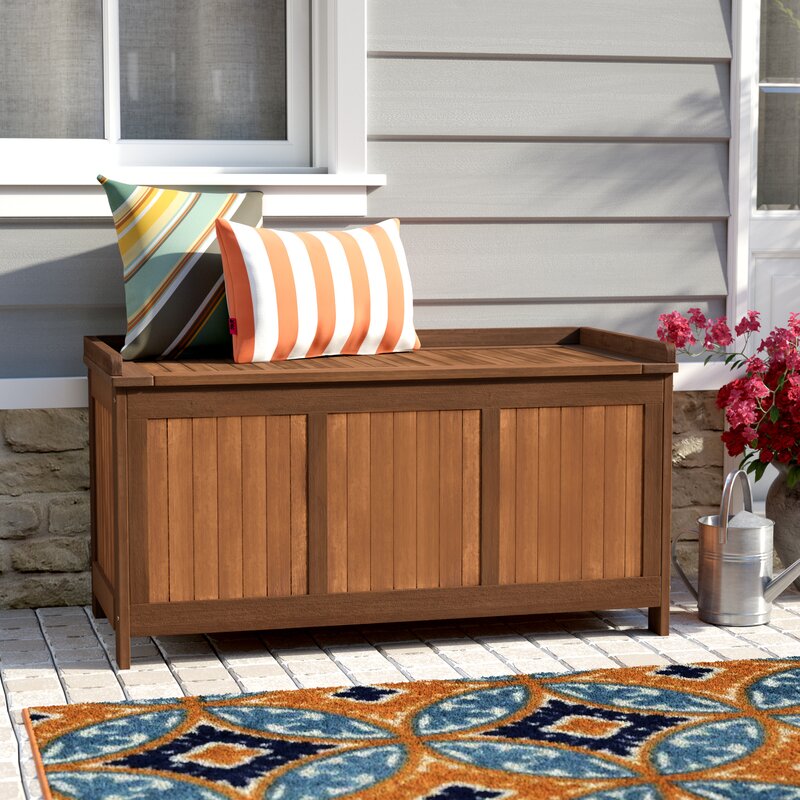 8. Style an Outdoor Art Feature
This could be a statue, wall hanging, chandelier or mirror for example. Choose something to tie your theme together and draw attention to the space.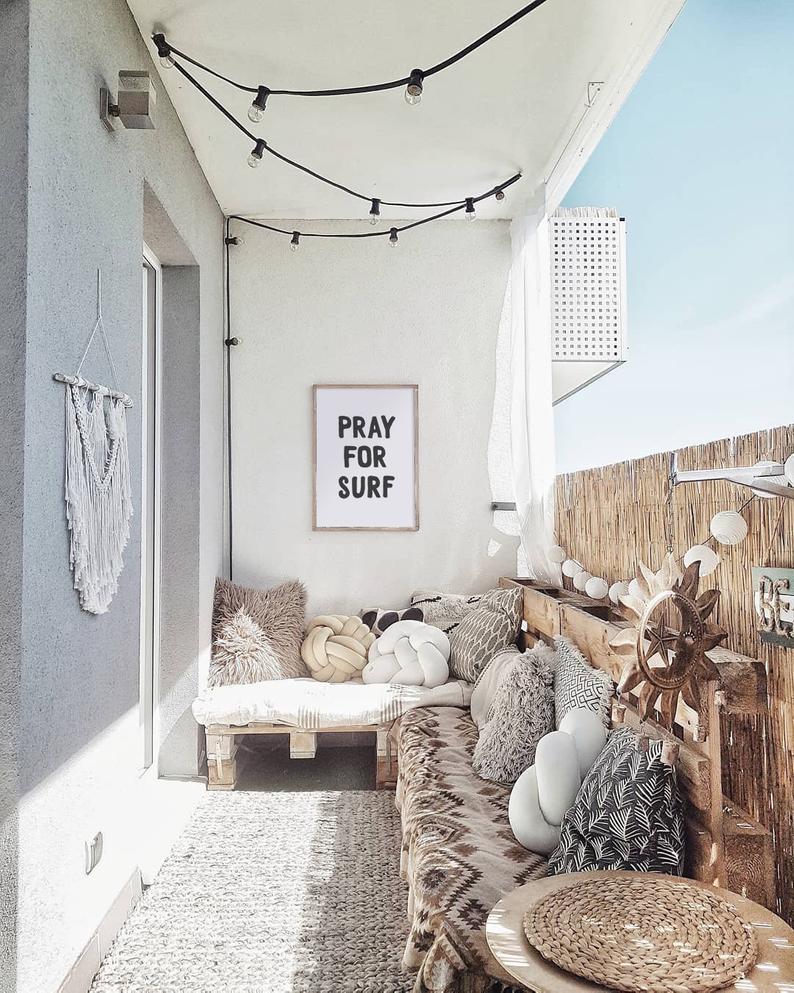 9. Choose Fun Pillows and Cushions
Have fun with color! Mix and match patterns and textures to add style to your space wherever possible. One easy way to achieve this is by using throw cushions and pillows. Pillows are taking over the patio decor trend by adding a cozy-at-home comfort to an outdoor space.
10. Get a Water Feature
Unfortunately, we can't all afford a beautiful waterfall pool immediately off our patio area. A more realistic option is introducing a water feature like a decorative fountain. A water feature will elevate your space from a basic patio to an awesome oasis tucked away at your home.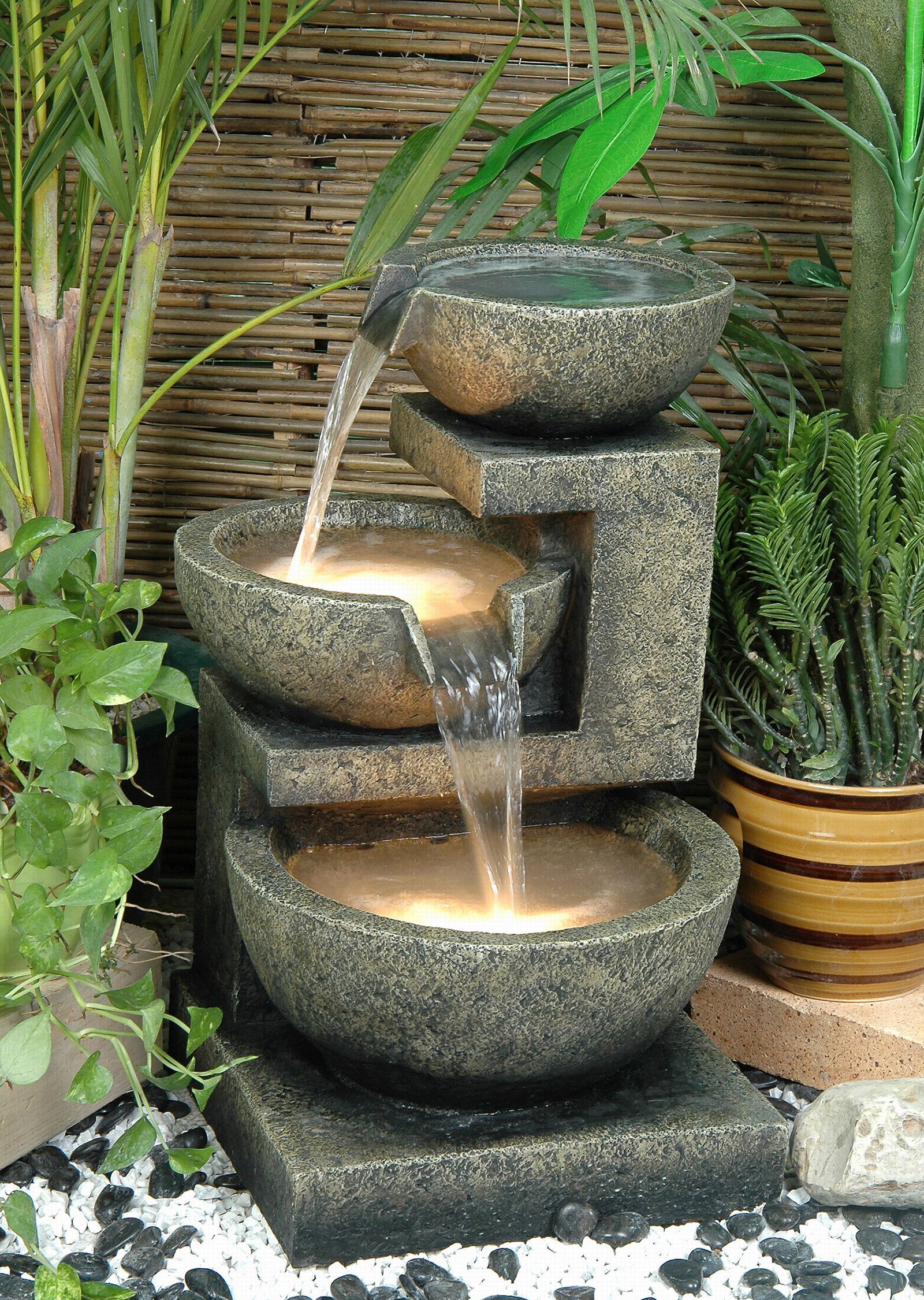 If you follow our 10 rules for styling your dream patio, you'll have the best outdoor space on the block in no time. Don't forget to snap a pic of your decorated patio and share it with us on Facebook, Pinterest, and Instagram!