Anyone else notice how tricky it can be to find stylish outdoor patio cushions? We're not kidding! Designs may be intentionally drab so they blend with a variety of outdoor decor options, or they may be overly patterned with bold prints that may or may not make the statement you want. How do you add comfort with class? Today we at Decoist explore that very question by rounding up a collection of images that maximize outdoor seating style.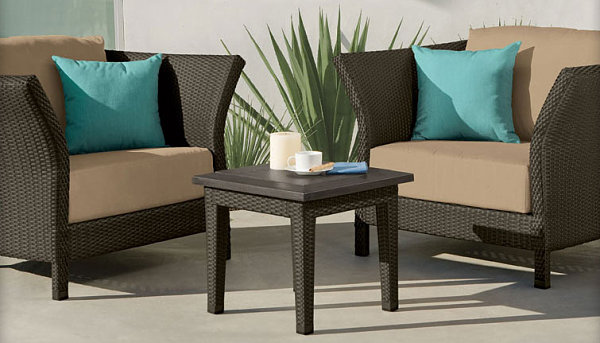 As you browse the images below, note the different approaches you can take when it comes to selecting cushions for outdoor seating. For example, many people prefer to keep it simple with the cushions themselves, then jazz up the vignette with a bright pop of color via throw pillows in a vivid accent shade (as shown above in an image from Today's Patio Furniture & Decor). What's your patio cushion style? Check out the images that follow, and don't forget to share your thoughts with a comment at the end of the post…
Colorful Outdoor Patio Cushions
If you're a person who enjoys radiant color, our first featured set of images is for you! That's because they showcase festive summer shades that add vibrant color to your outdoor setup. We begin with the Alfresco Grey collection with Sunbrella Apple Cushions from Crate & Barrel. Not only does the apple green hue play up the lawn green of the grass, these practical cushions are fade- and mildew-resistant as well!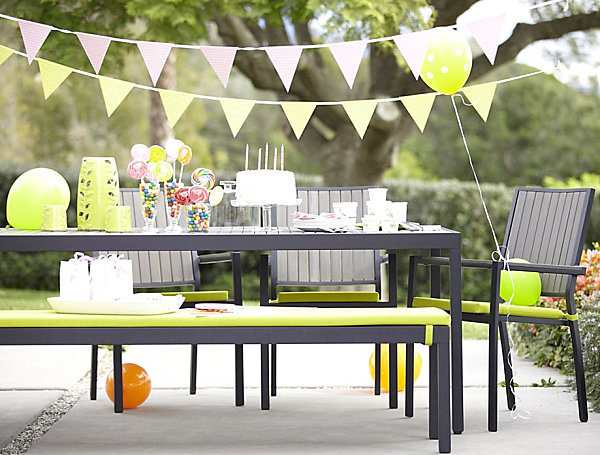 We're loving the decorative strategy of using patio cushions to enhance the dominant colors of your outdoor space. That's why this yard designed by Janet Rosenberg & Studio is so stunning! Aren't aqua blue cushions the perfect choice for poolside lounging? [from Peter A. Sellar Photographer]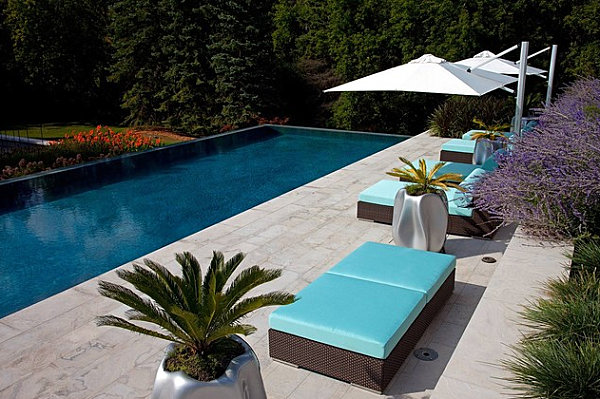 Speaking of blue, did you know that teal has made a comeback? And since this shade is oh so summery, it couldn't be more perfect for your outdoor seating! Below we see the Valencia collection with Sunbrella Harbor Blue Cushions from Crate & Barrel. Note how a touch of patterning is added by the use of a throw pillow…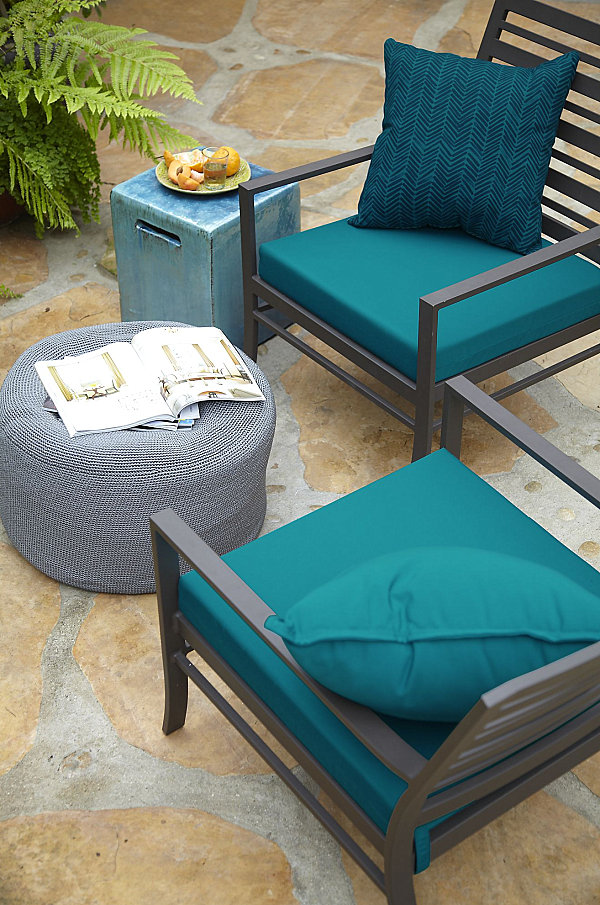 In fact, adding colors or patterns with throw pillows is a wonderful option for keeping it classy on your outdoor patio. The combination of green, blue and stripes below is subtle, elegant and eye-catching, don't you think?! [from Dufner Heighes]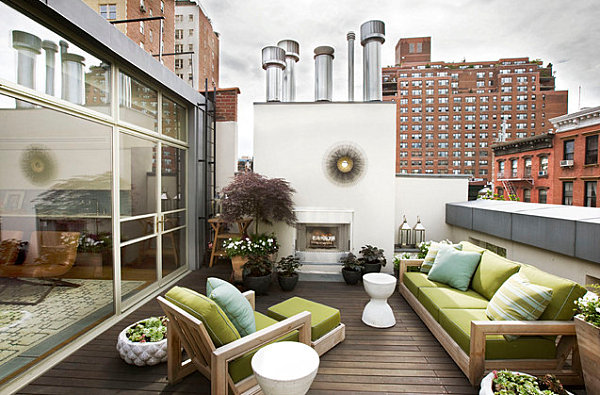 You can even keep your patio cushions a neutral shade (such as gray), then add throw pillows in the brightest of colors. Did you notice how teal blue keeps popping up? It's no question that this shade is a winner for summer. In fact, below we see the Rocha collection with Sunbrella Charcoal Cushions from Crate & Barrel. And then there are those teal tables…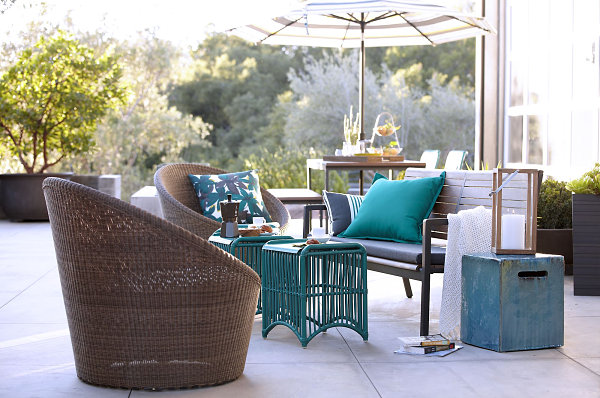 Sure, we've showcased an array of blues and greens. But what about pinks and oranges? They might be just what the doctor ordered! In fact, the orange of the chairs below picks up the orange tones in the wooden fence, making this color a bit of a neutral in the image below. Pink becomes the accent color, and a radiant one at that! [from Axis Mundi]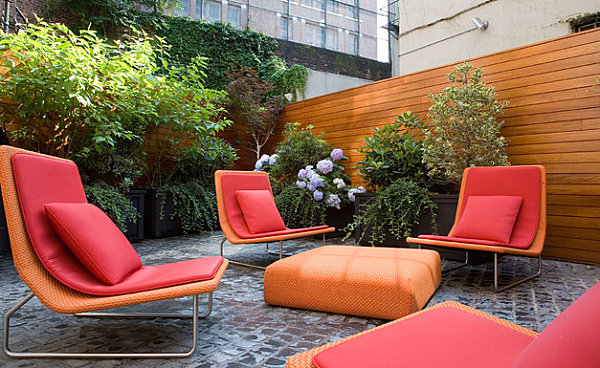 Neutral Patio Cushion Solutions
We now turn our attention to two sleek and neutral shades that can't help but class up your outdoor patio. We begin with gray. But what about bright pops of color? Let's just say that sometimes the best way to highlight the greenery in your yard is by sticking with understated yet chic colors for the main shades. Note how gray and white combine in the space below, thanks to furniture from Henry Hall Designs and large white planters. The result: a refreshing palette that emphasizes the trimmed boxwood and other charming plant selections. [from Alex Amend Photography]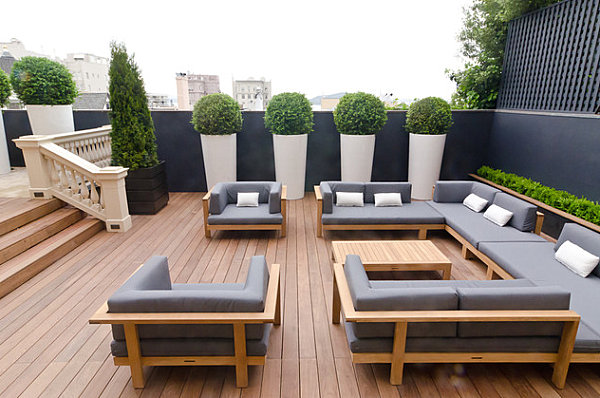 Speaking of white, this hue is so crisp and perfect for summer! Sure, it can be harder to keep clean, but it helps if you have a covered patio, as shown below. In this image from Texas Construction Company, we see get a glimpse of white cushions that emphasize the white trim of the home. Once again, white and gray combine in design perfection…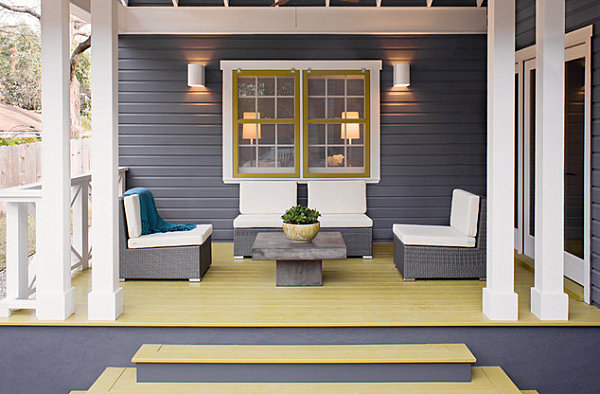 Striped Patio Cushion Options
We end today's post by honoring one summer pattern that is always in style: stripes! We're loving the array of colors and the thin bands of the print below, featured on Multi-Stripe Outdoor Canvas Chaise Cushions from Pottery Barn. They are made of water-repellent, fade-resistant polyester, so they are as durable as they are stylish.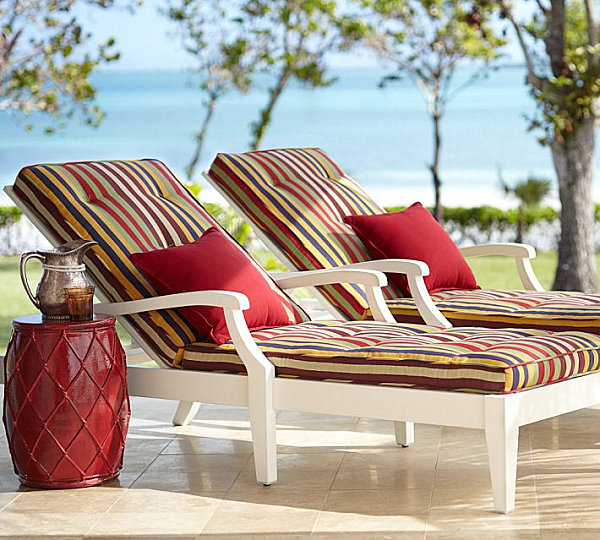 We're also drawn to the way that stripe and solid combine on the seating of this next patio. As you can see, the seat cushions feature stripes that pick up the colors of the blooms that surround the space, while the back cushions are a deep shade of solid blue. [from Lawrence Architecture Inc.]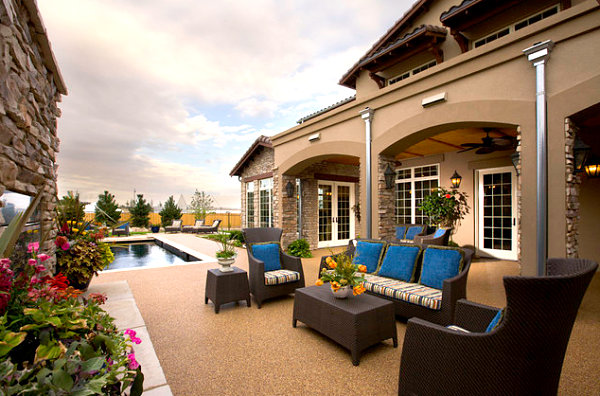 Our final image is a reminder of the power of white stripes combined with, well…any color! These Striped Tufted Outdoor Chair Cushions from Pottery Barn are refreshing and classic, thanks to the addition of colors such as blue, red and gray. And of course, the fact that they're fade- and mildew-resistant makes them all the more appealing!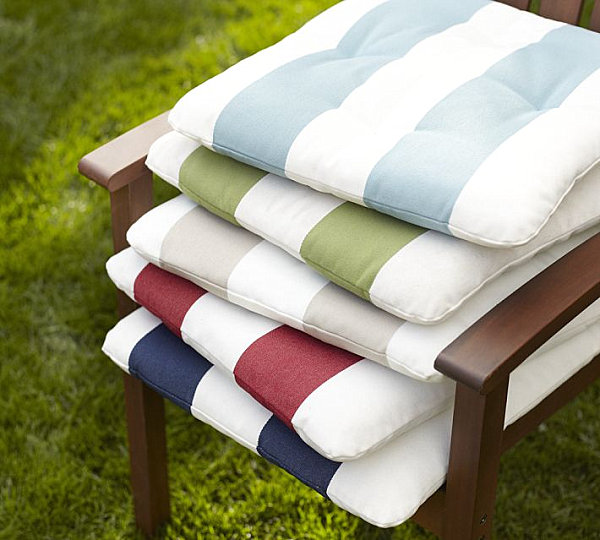 Which outdoor patio look do you prefer for your seating solution? Do you enjoy vivid colors on your cushions, or do you prefer neutrals like gray and white? Or perhaps you're a fan of stripes?! Share your thoughts by leaving a comment below…