Summer is here–time to shine the spotlight on some stunning patios that enhance the design of the backyards they inhabit! Flowing curtains, lush planter arrangements and modern furnishings are a few of the flourishes you'll find in the spaces below. Kate here, and these five featured patios are my current obsession. Ready to learn more about what goes into creating the ultimate in patio style? Taking backyard design to a new level, these summer patios are sure to inspire you as you decorate your own outdoor space. Enjoy…
Outdoor Dining
Let's get started with the clean-lined, fresh outdoor patio of A House in the Hills blogger Sarah Yates Mora. In fact, this outdoor dining space features furnishings from West Elm and IKEA, as well as an array of interesting potted plants to bring in an organic element: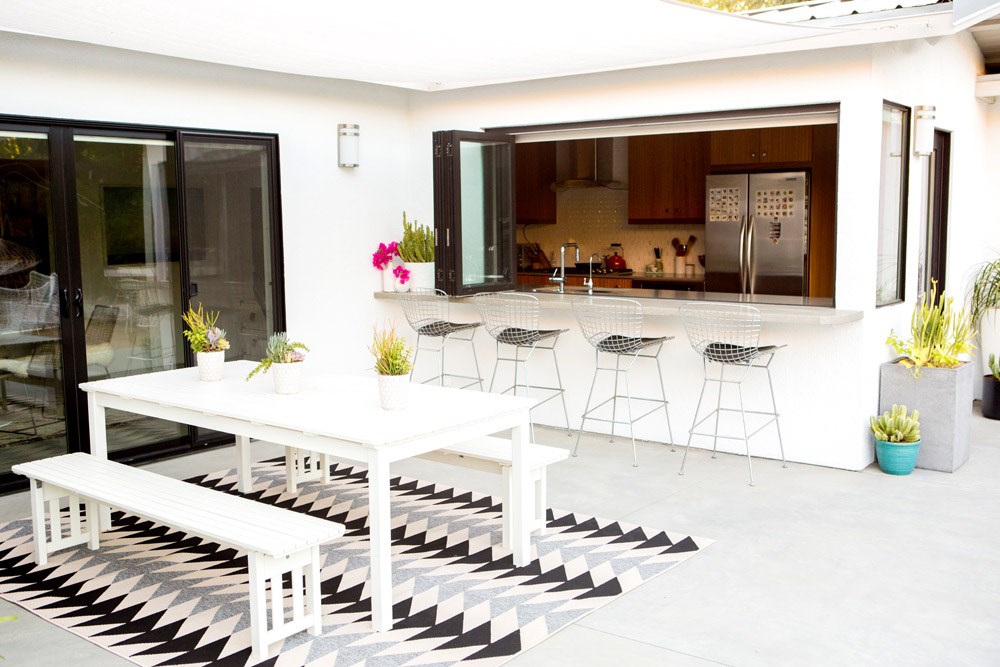 An outdoor bar and a geometric rug are two other standout features of this patio that takes al fresco dining to the next level, but this outdoor space truly shines in the way it mirrors the modern manicured look of the backyard. The plants take center stage here, as a careful selection and strategic placement of greenery makes all the difference. See more photos (including before/after shots) of this patio makeover at A House in the Hills.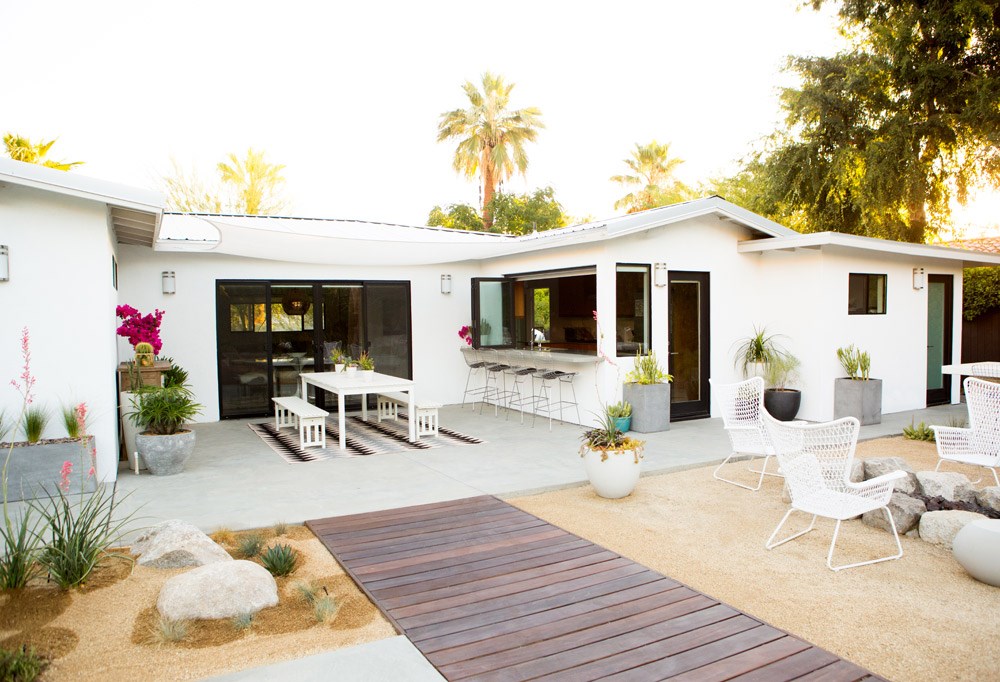 Poolside Elegance
This next summer patio showcases the work of Talianko Design Group, LLC. A poolside location gives the lounging area a tranquil feel, don't you think? I'm also drawn to thoughtful details such as the beautifully landscaped patch of earth to the left of the patio in the image below: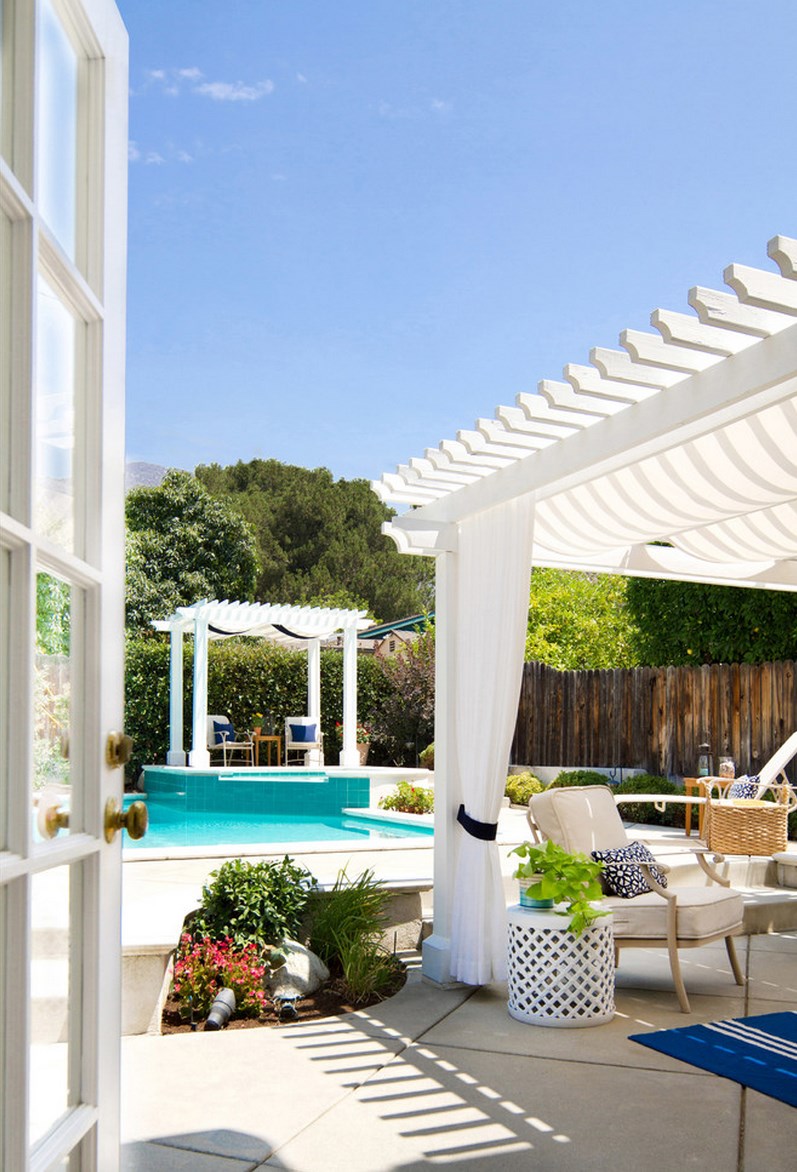 Featured on Houzz, this California patio is as crisp and refreshing as the nearby pool, thanks to flowing curtains and an abundance of blue and white fabric: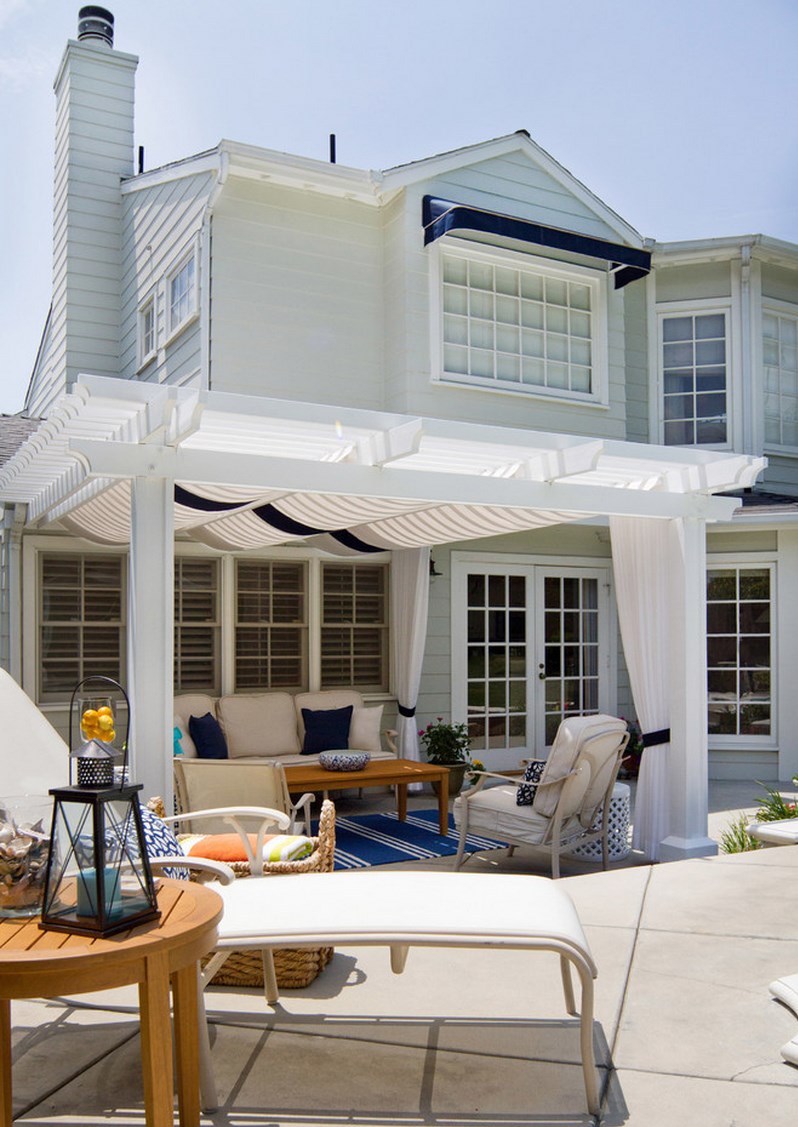 Garden Green
I can't say enough wonderful things about this next outdoor patio and garden, as I've made two visits to the enchanting space via garden tours. James David and Gary Peese put great care into their glorious home and the surrounding grounds. Beautifully curated urns of succulents, trimmed hedges that evoke the charm of an English garden, and flowing water are a few of the standout features. The dining area/patio below is anything but frivolous, the perfect choice when you want the surrounding beauty to speak for itself. [photos from Curbed]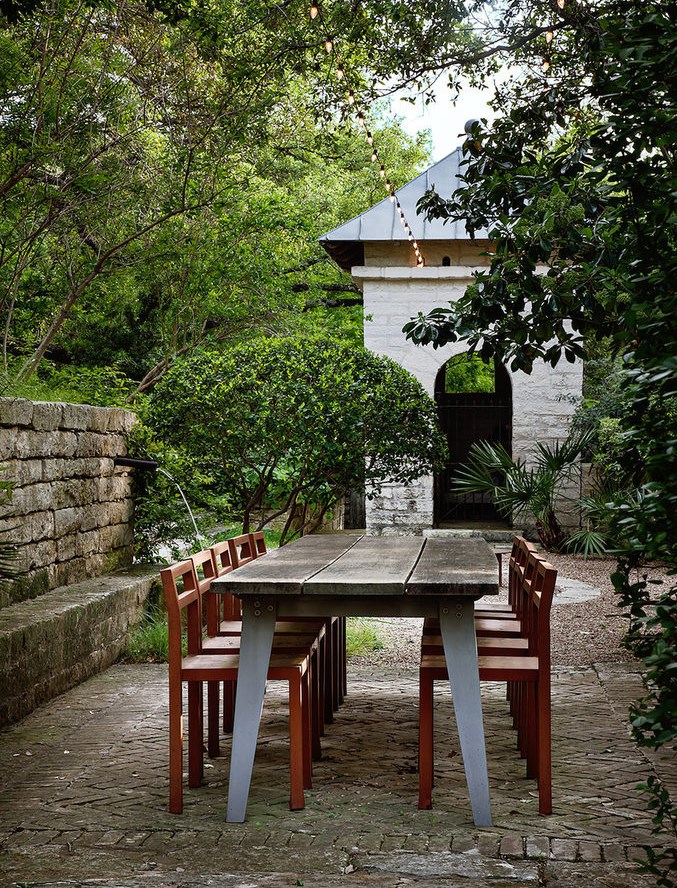 When everywhere you look you see exquisite vignettes both manicured and wild, simple touches such as overhead string lights are all you need to bring your outdoor patio to life.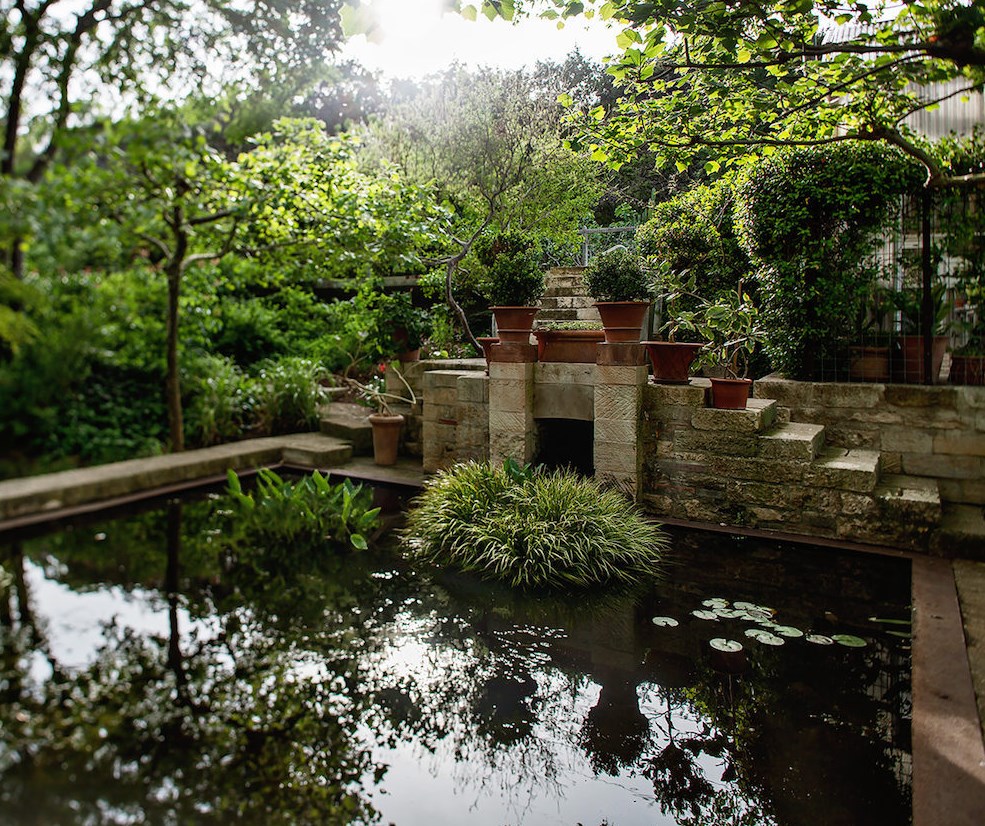 Pergola Perfect
A pergola can change the look and feel of your summer patio, especially if it's used as a place to hang flowing white curtains, string lights and a plant chandelier. Say hello to the patio of A Beautiful Mess blogger Laura Gummerman: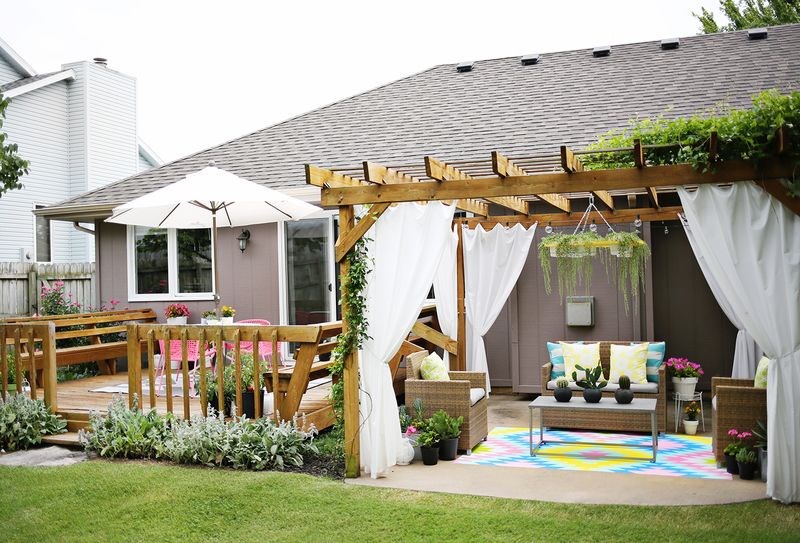 A lush green lawn fills most of the backyard, so the bright colors of the textiles and flowers in this space are the perfect complement to the vibrant grass. And take a closer look at that outdoor rug…it's actually painted! The number of DIY projects that fill this amazing patio make it clear that great summer design can be yours with a little bit of patience and creativity.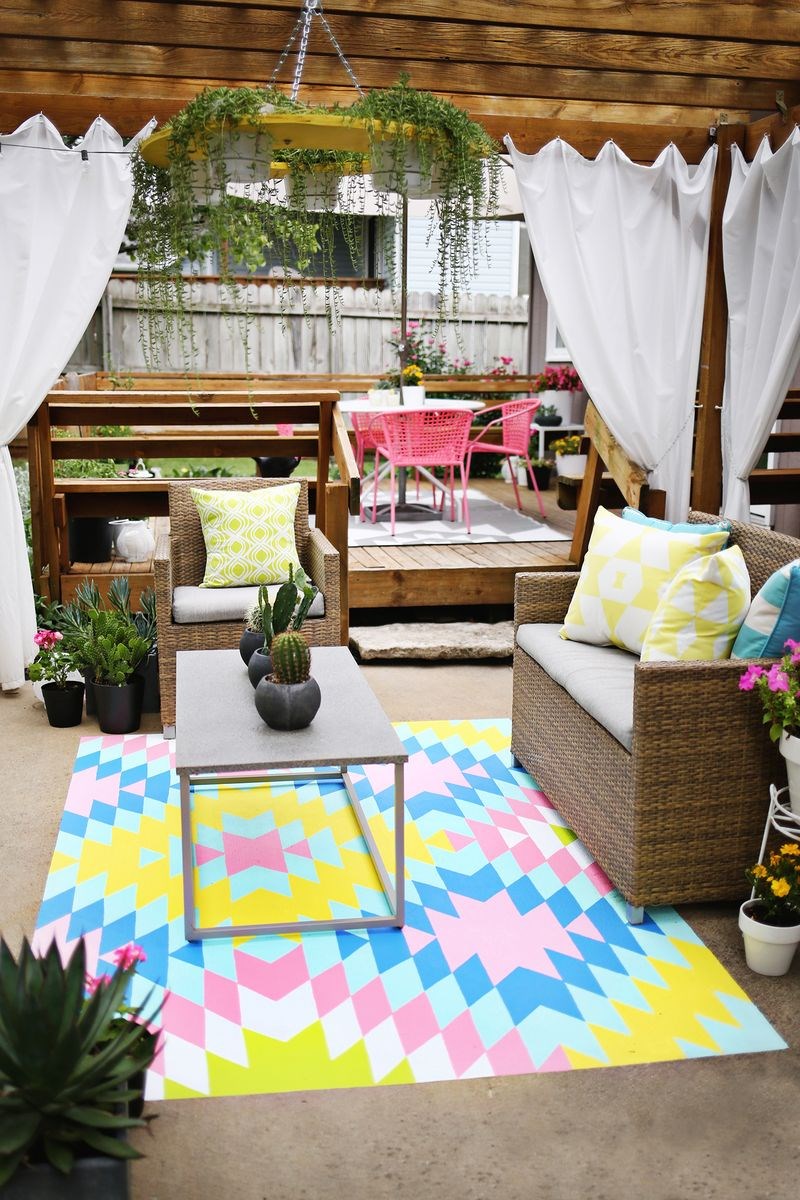 Catalog Chic
If you regularly read my posts here at Decoist, you probably know that I'm a bit obsessed with CB2. This modern brand consistently offers beautifully designed furniture and decor at an affordable price. Which is why I've spent quite a bit of time browsing the images in their summer catalogs. I just had to feature this outdoor patio and backyard from one of the catalog shoots: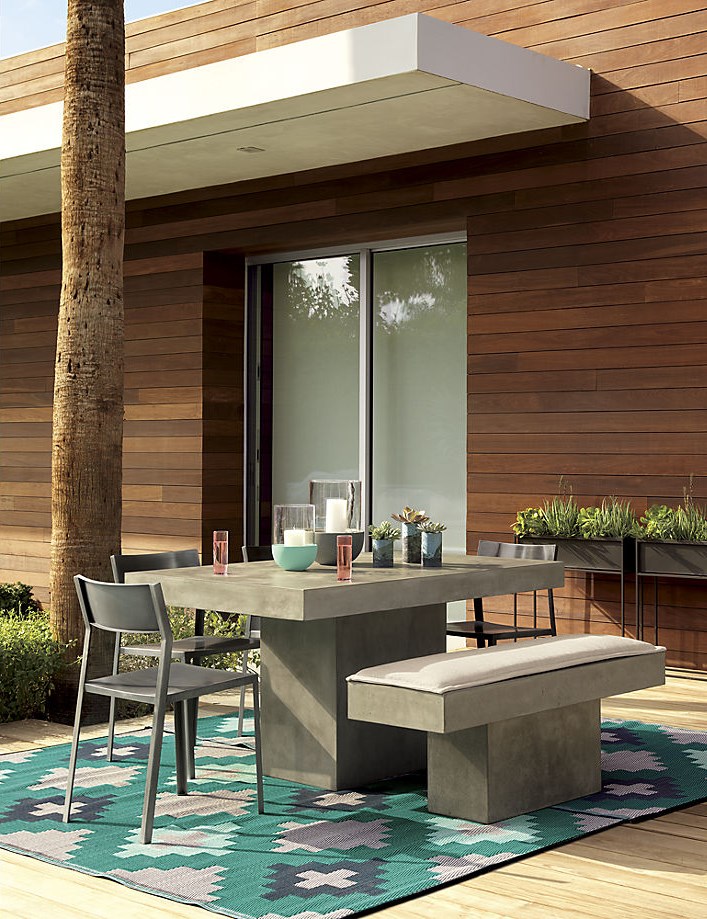 Earthy neutral tones fill the space, tempered with the green and blue of plants, pool water, and beautifully designed merchandise such as the rug shown above. When modern architecture is an important component of the backyard, why not go modern with the furniture and plants as well?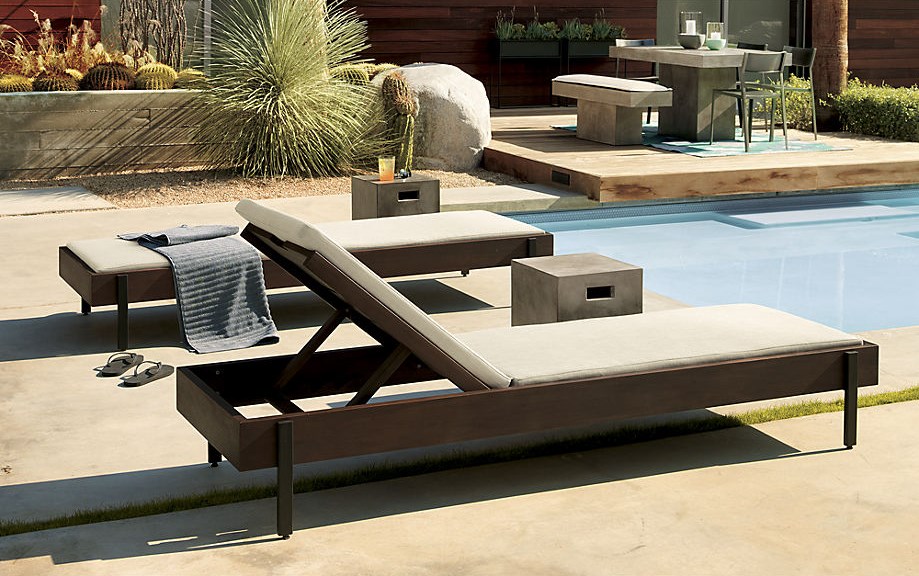 I love that each of today's featured summer patios has a unique look of its own. Some are high-end, and some showcase the power of clever decision making and DIY charm. Which of the patios above is your favorite? Share your thoughts by leaving a comment below…