The idea of relaxing on a beautiful deck that is seamlessly connected with the 'entertainment zone' of your home and indoor kitchen is a dream that most of us have. While some beach style decks seem perfect for holiday retreats and beautiful homes in the tropical and subtropical regions, those who experience far less sunshine might be well served with the classic rustic-style deck. This is especially true if your awesome vacation retreat of a fabulous modern residence overlooks the distant mountains, provides a view of a lush green canopy, or sits next to a meandering lake. The rustic deck excels when placed in such raw, natural landscapes with scenic beauty!
Of course, the rustic deck varies vastly in terms of materials used, finishes, its overall design and the features it holds. The overall appeal of your soothing, secluded rustic deck depends on the style of your home, available space, the topography of the landscape and your personal taste. Charming, sensational and at times relaxing, here are 25 of the very best from across the world –
Waterside Wonders!
Nothing seems more appropriate for a fabulous fall party on a wonderful evening lit up by candles, paper lanterns and string lights like a rustic deck that sits right next to a calm lake or body of water. If you are fortunate enough to live in one such picture-perfect home, then make your holiday season even more special with a deck that seems like a natural extension of the living space indoors. Most rustic decks are crafted using pressure-treated lumber, and you can finish them off with affordable options like Redwood and Cedar or more expensive alternatives like Ipe for that classic, countryside appeal.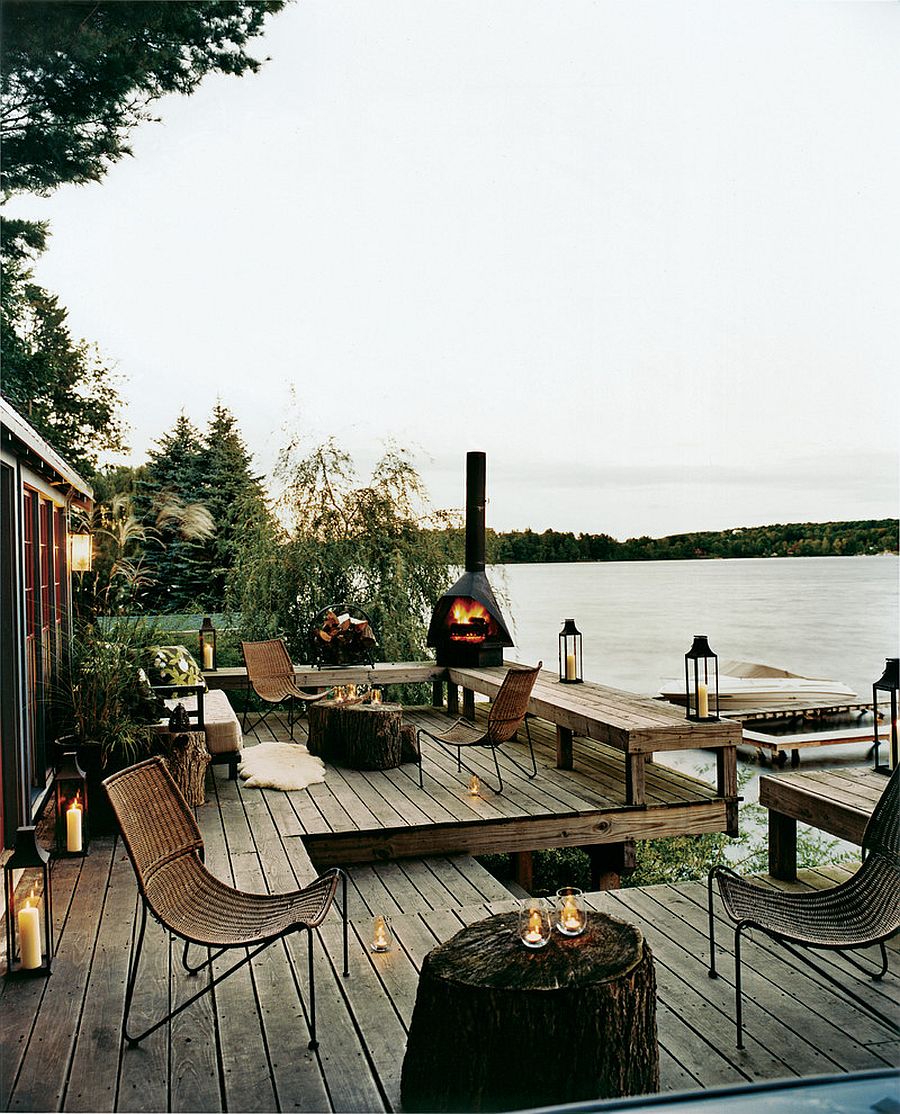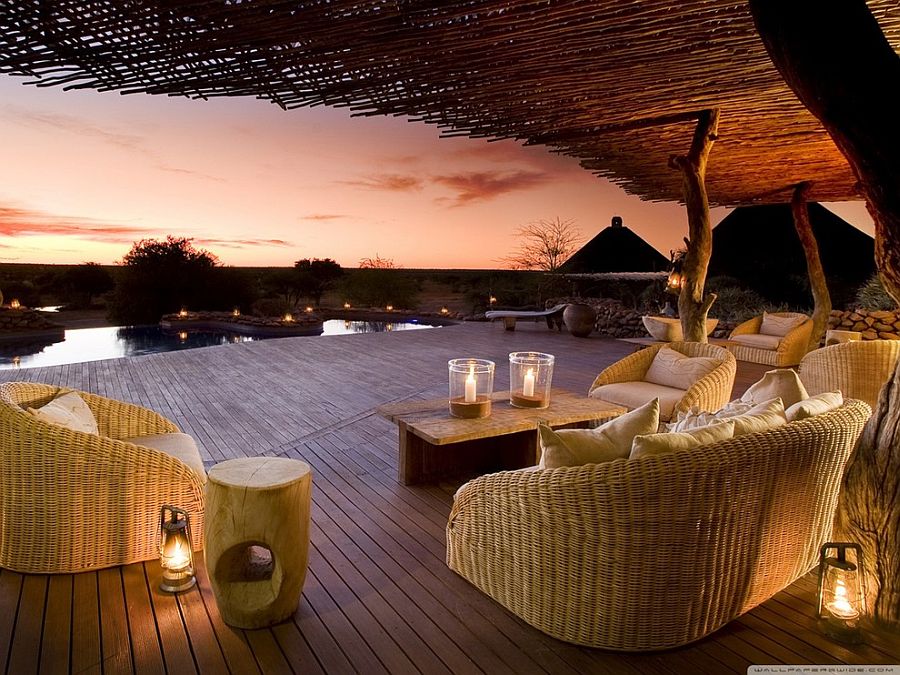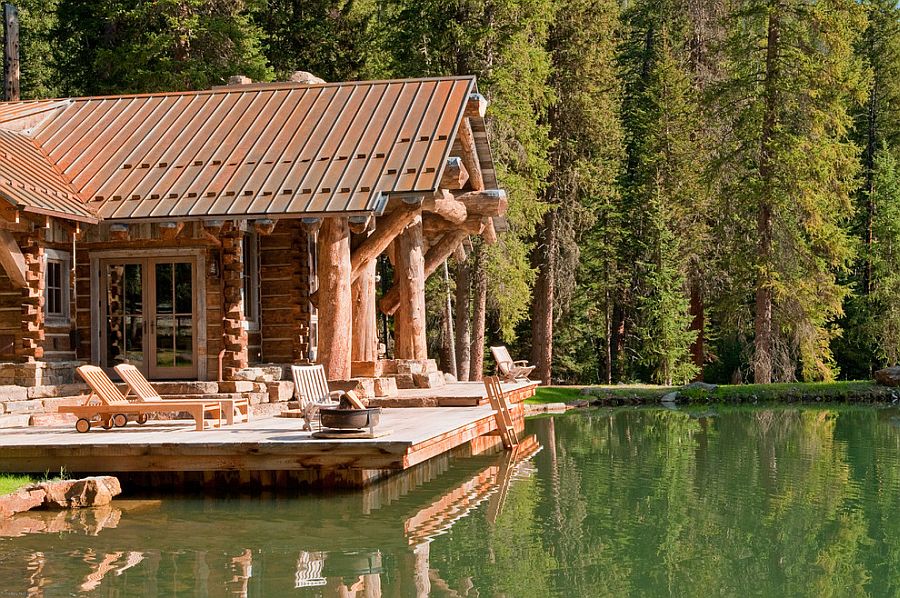 There are plenty of ways that you can combine rustic touches with more modern aesthetics to create an ergonomic deck that will offer the best of both worlds. Keeping the décor modern while using stone, wood and other natural materials to fashion the deck is one such alternative that many homeowners seem to be leaning towards. Another smart option is to replace that traditional rustic railing with glass alternatives so the view on offer is left undisturbed!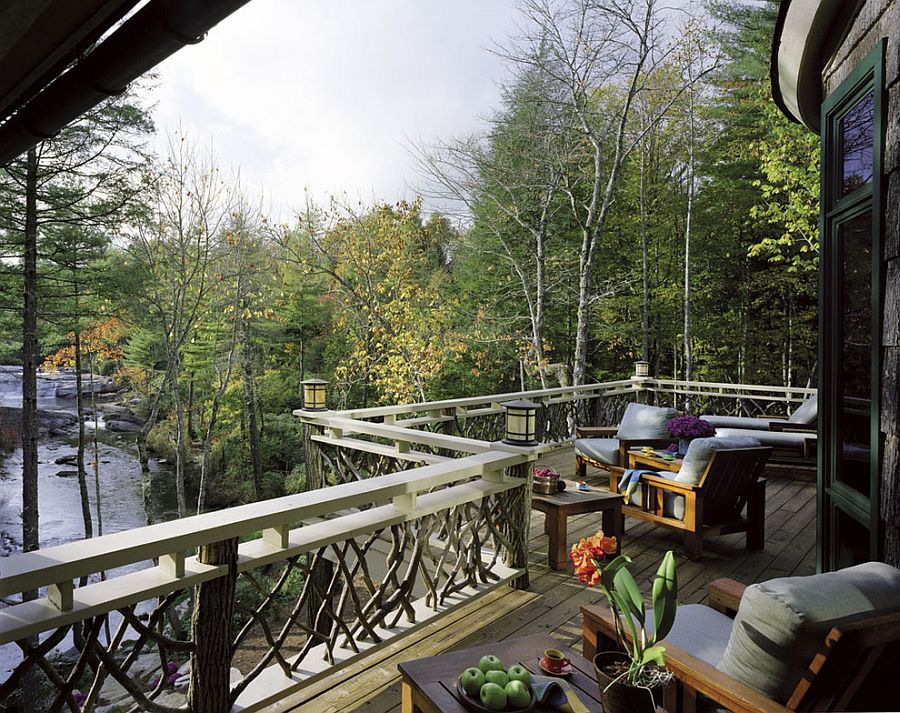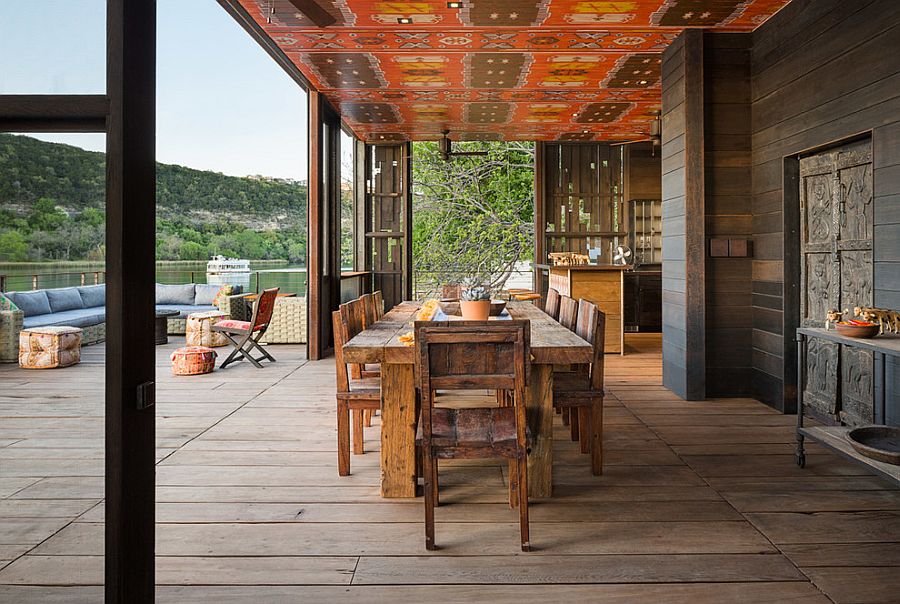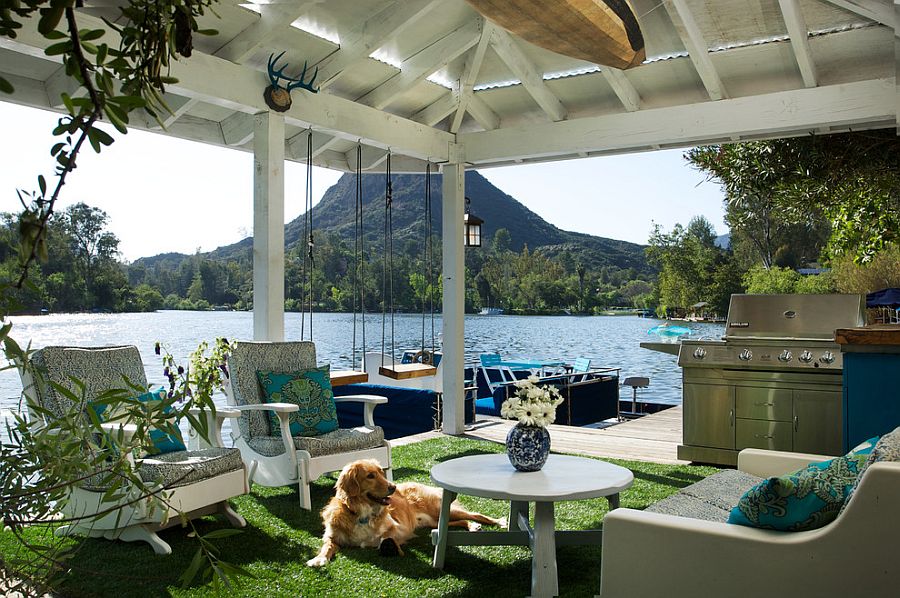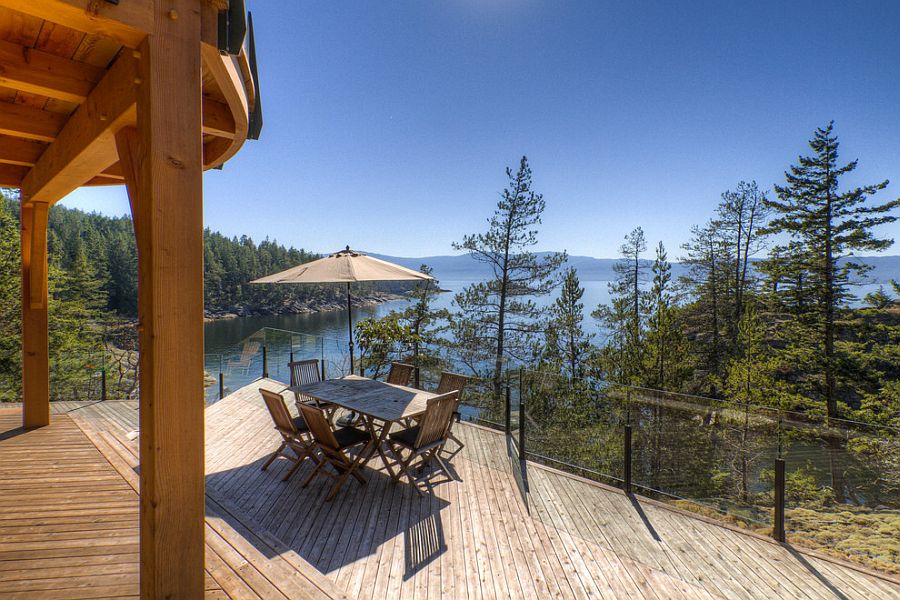 A Roaring Fireplace
Another absolute must for that magical deck with rustic allure is the fireplace, a focal point around which the rest of the deck organically evolves. Since we are talking about all things rustic, stone fireplaces top the charts with their modern counterparts coming in a distant second. There is nothing like a cozy stone fireplace surrounded by plush décor to set the mood on cold winter evening! For those who might not have the budget to spare, traditional standalone fireplaces are a wonderful alternative. If all else fails, we suggest a lovely fire pit; something that is easy to build and is super-affordable.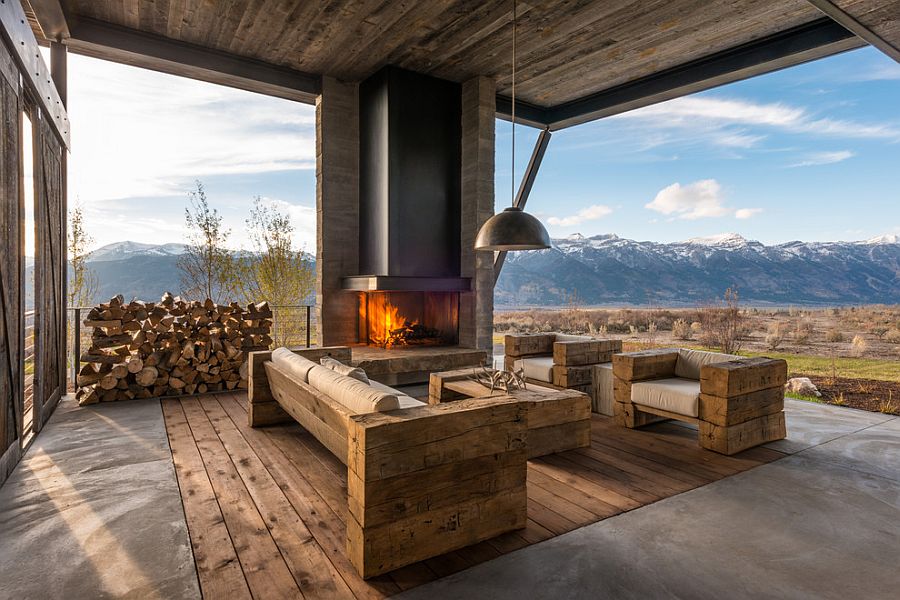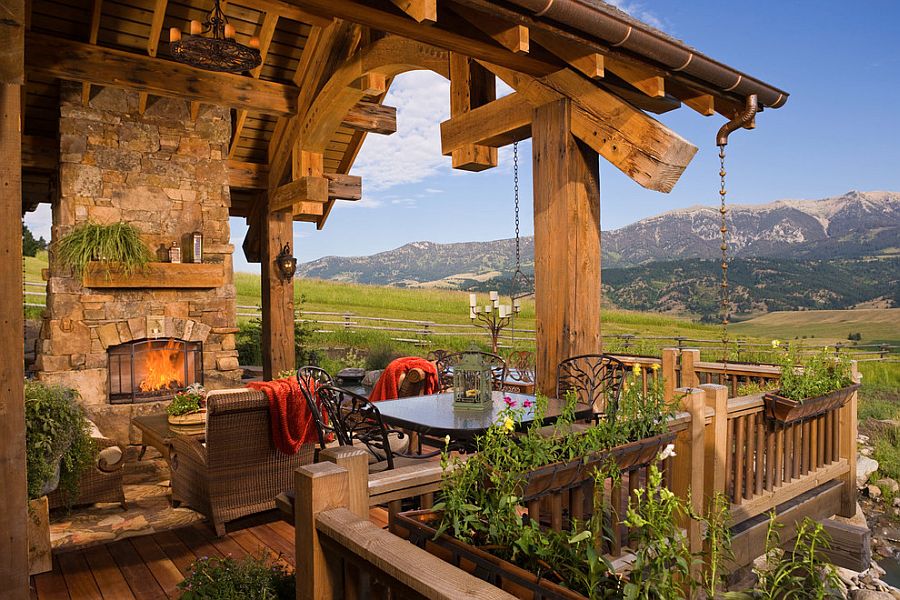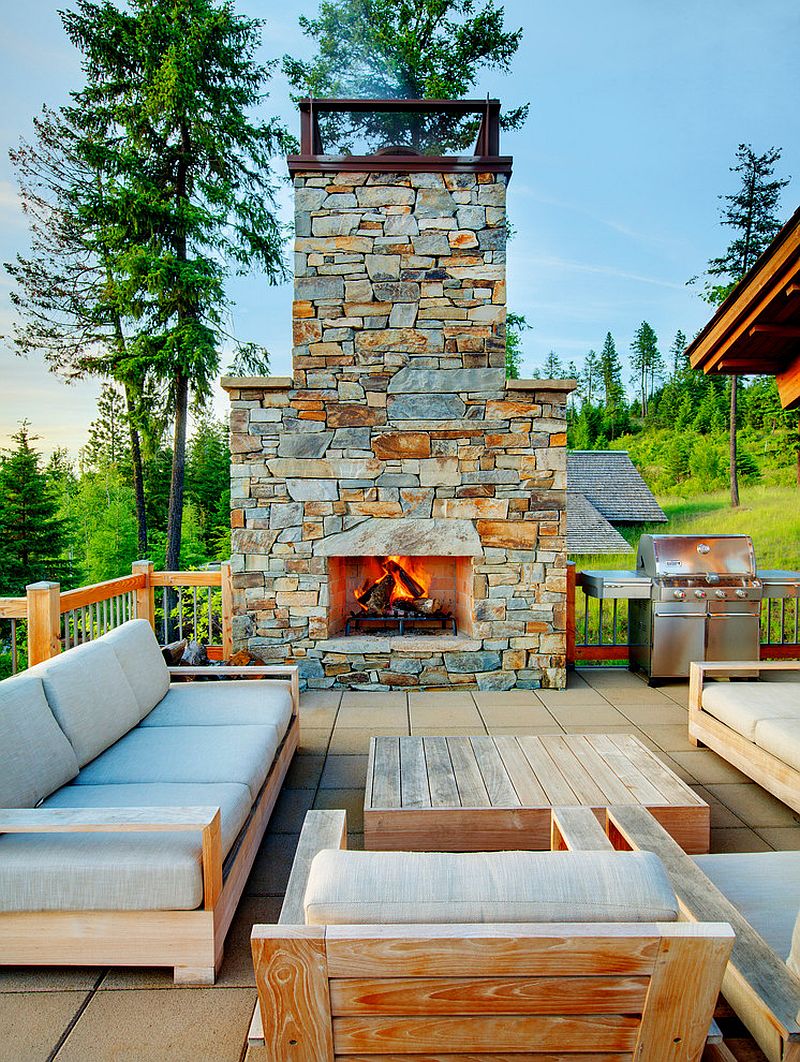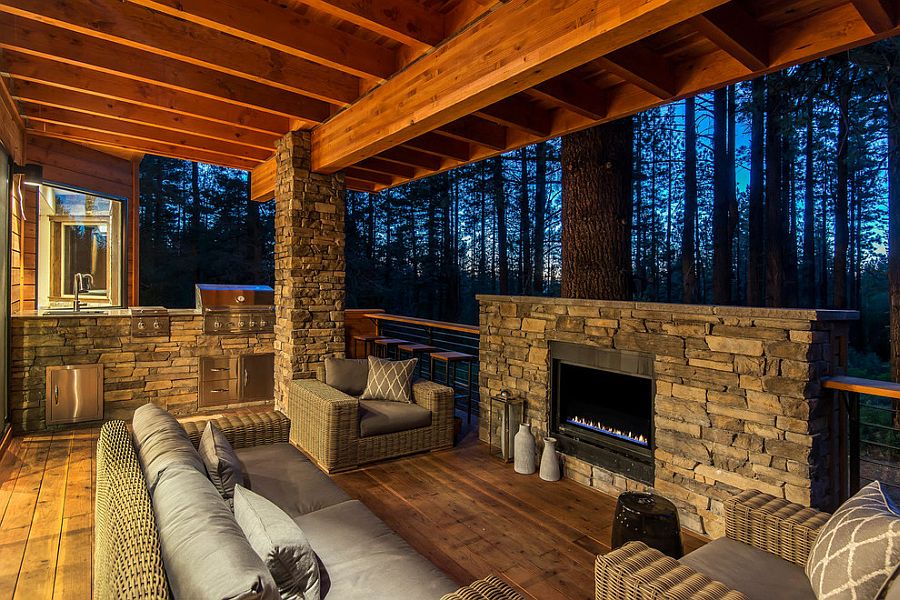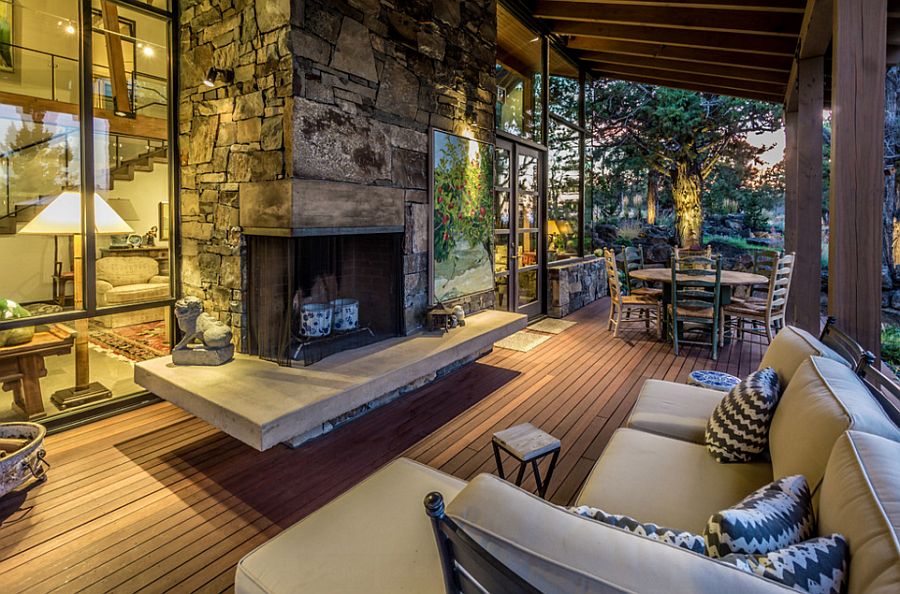 Sheltered Retreats
Do you need an impressive, open deck that connects with the landscape around your home in more ways than one or a sheltered alternative that feels far more reclusive? This is one of the most basic choices you need to make, and often it is a choice determined as much by the elements as personal preferences. There is no point in building a deck without any shade above when it is going to snow for most of the year! Sure, it might hinder part of the appeal of the deck and the amazing view on offer, but it definitely is the more sensible option. A pergola-style structure that covers half the deck and leaves the other half open to the elements is a clever compromise here!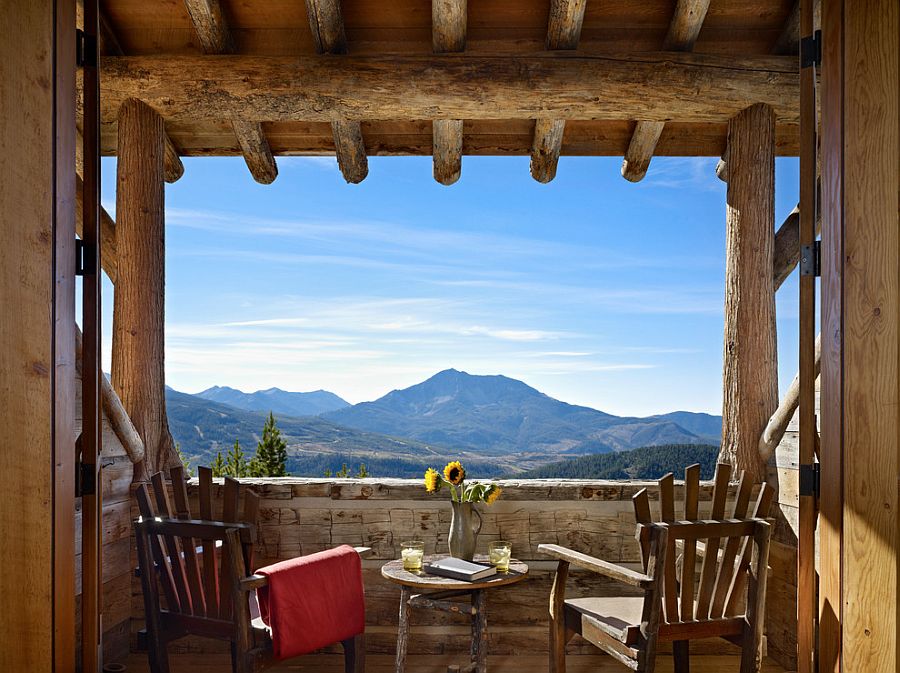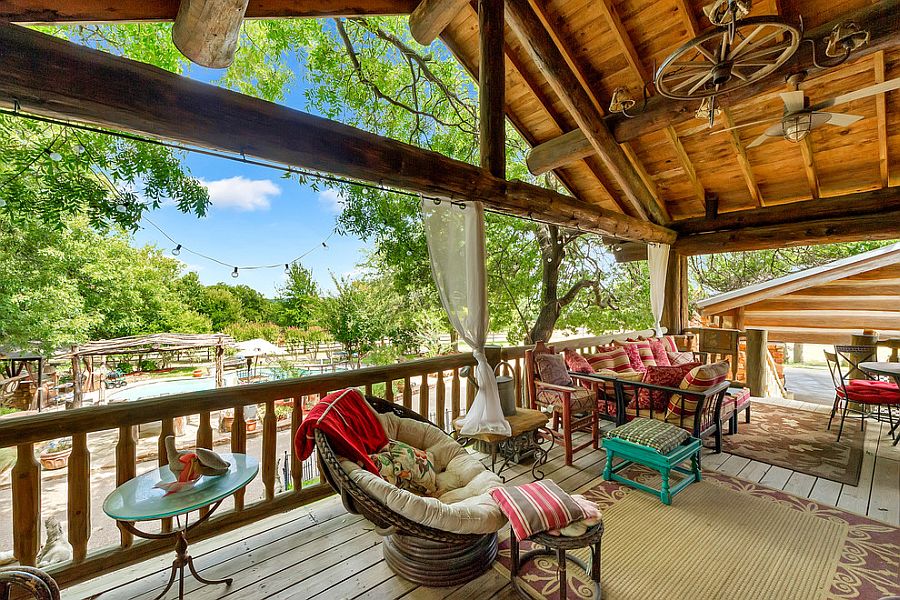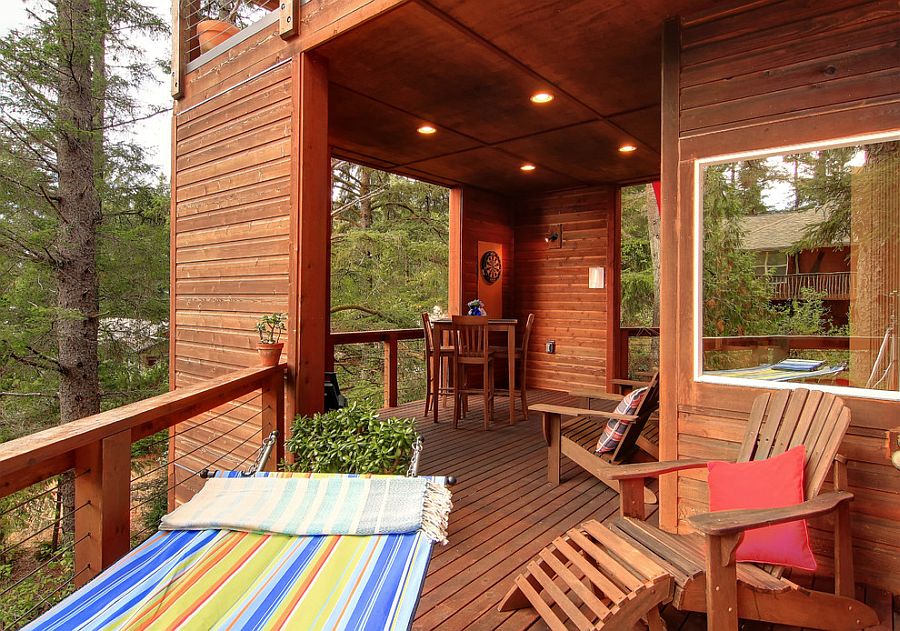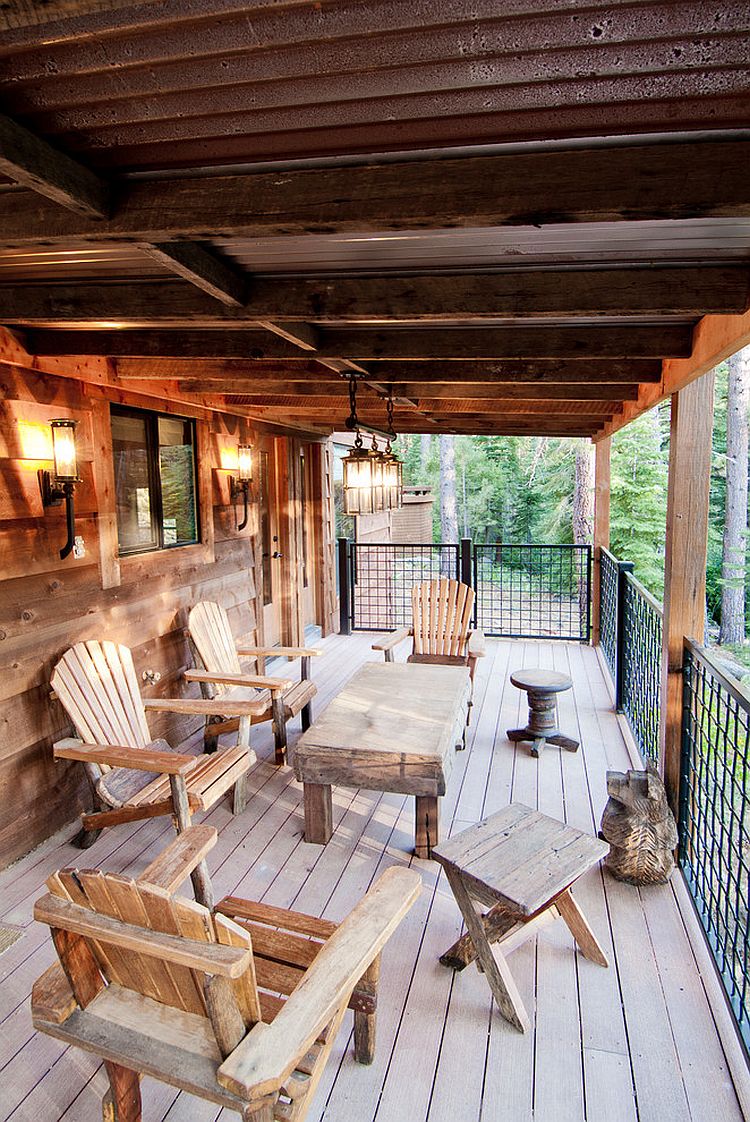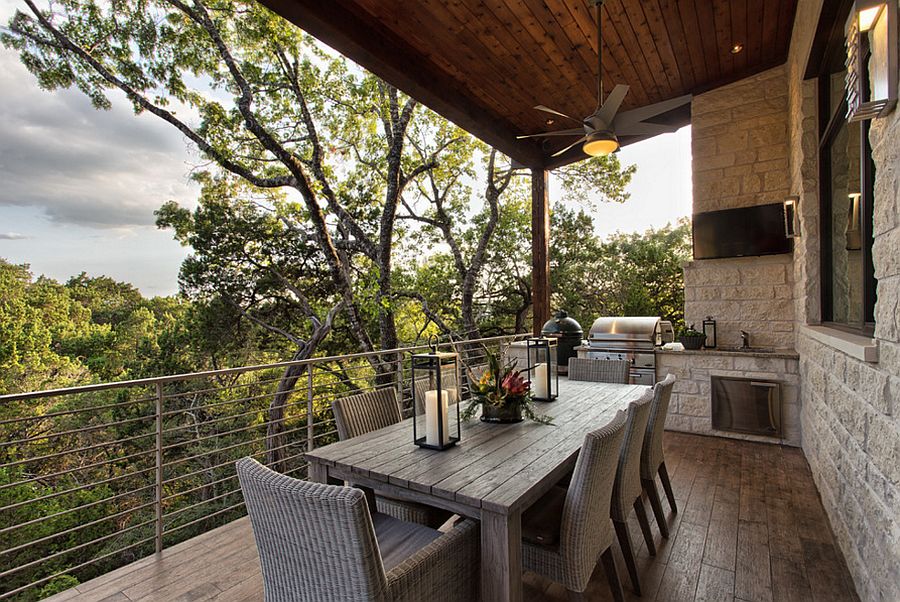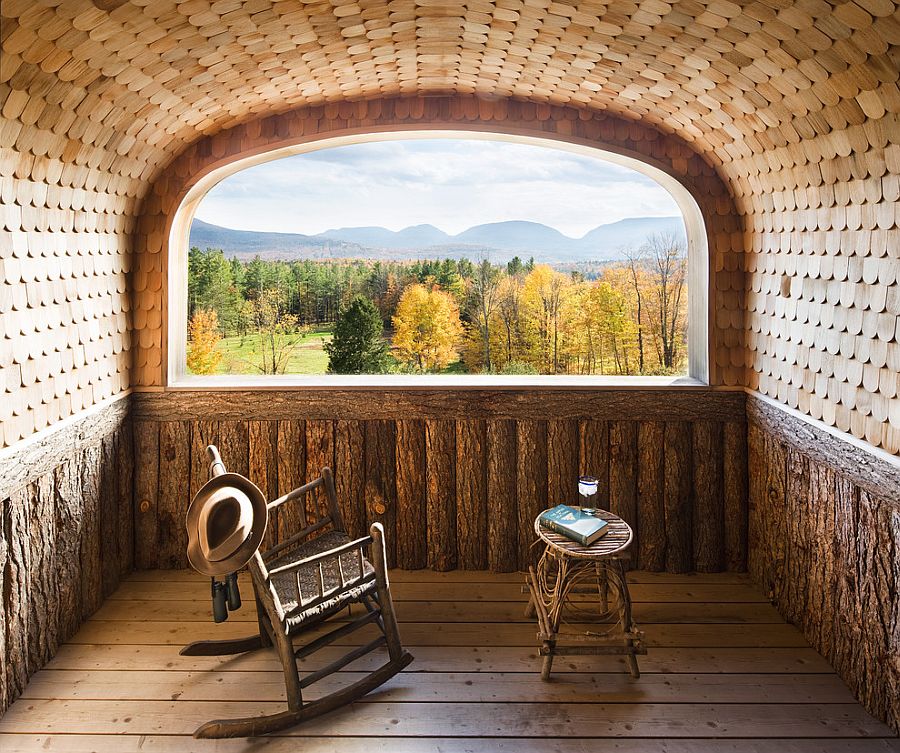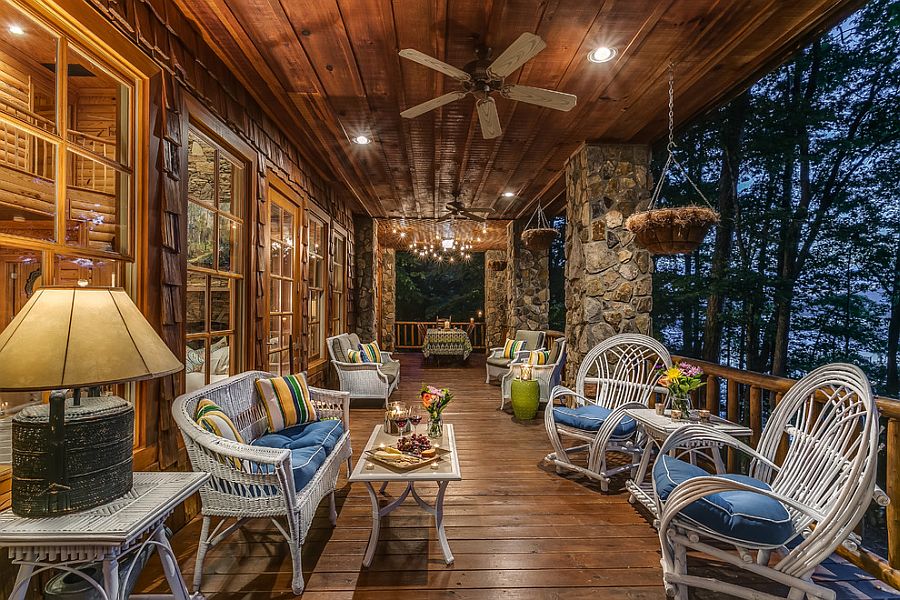 Choosing the Right Décor
The popularity of reclaimed furniture means that your rustic deck will give you ample opportunity to try out some of these salvaged and upcycled pieces. Natural cedar outdoor furniture is an obvious fit that never fails, while custom décor crafted from locally source wood is both an eco-friendly and affordable way forward. No matter what you choose, remember that the décor you pick will most likely take plenty of battering from the elements. Colorful outdoor furniture allows you to add a playful twist to the rustic deck while swapping accent hues with the changing seasons.