With temps finally below 100 degrees, I can begin thinking about fall entertaining! There's a cool breeze in the air, so it finally seems appropriate to buy a pumpkin and start planning a few delicious fall menus. My favorite part of entertaining? Creating artful vignettes that I can share with friends and family. I've scanned my favorite blogs for some amazing images to inspire me as I plan my next gathering. Today I share these with you, in hopes that they will stir up some autumn festivity. Check out the fall party ideas below, then tell us about your favorites at the end of the post…
Fall Party Decor
Let's talk decor. Because there's nothing like a fall party that sets the mood with beautiful, original decorations. Fall is a mysterious time. The leaves are changing color, and the air is ripe with possibility. Harness the natural beauty around you by crafting some Alphabet Letter Leaves, as envisioned by A Subtle Reverie. Embellish a cluster of leaves with letter stickers, then scatter them on your party table, or group them together to make a garland…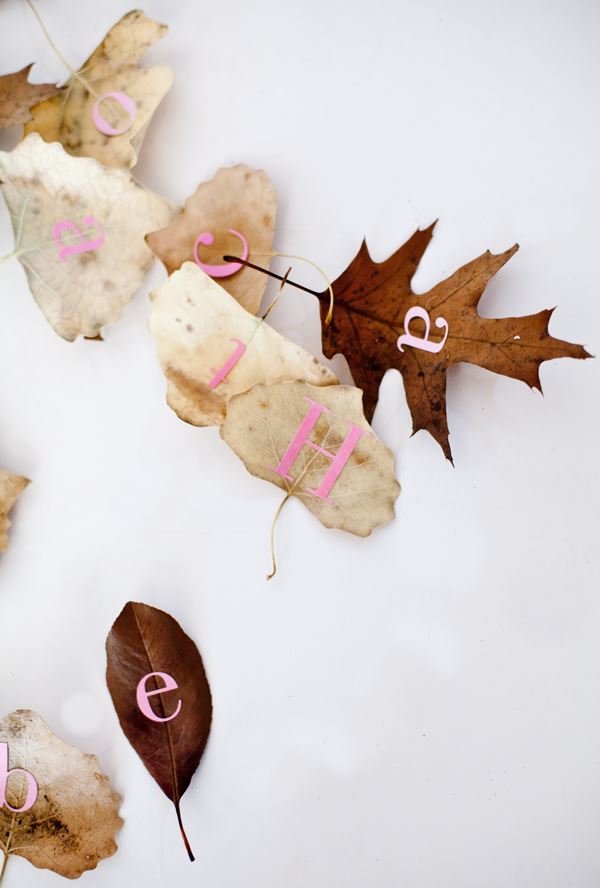 I'm crazy about this next artful idea… sculptural hanging decorations crafted from three sizes of coffee filters. Color them with fabric dye, string them with fishing line, and suspend them from the ceiling! These lovely creations made the perfect subtle yet striking statement at a fall wedding featured at Green Wedding Shoes… [photography by Jenny Haas]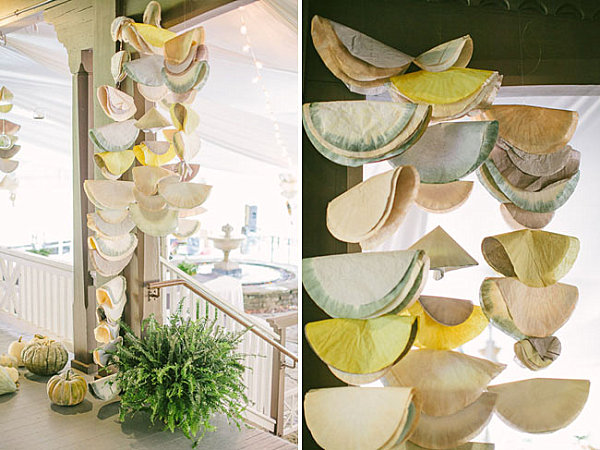 We recently featured blogger Emma's living room in our recent post on creative living room interior design ideas. Emma adds many special touches to her space, and one of my favorites is this display of seasonal pumpkins and squash. Wouldn't they make the perfect classic fall party decorations? Especially when placed against a stunning background, like the black and white striped wall shown here… [from A Beautiful Mess]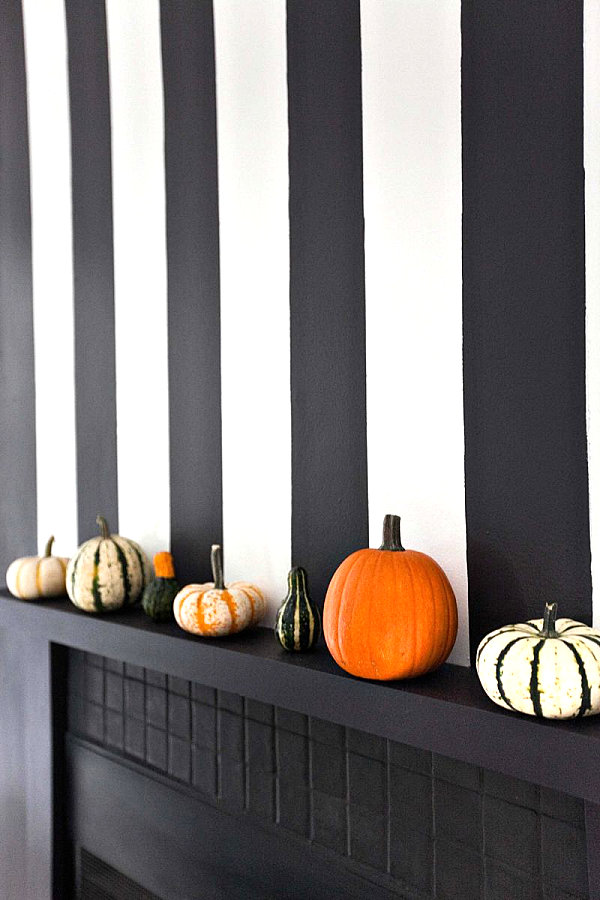 Oranges, yellows and….blues?! Absolutely! This autumn wedding from Green Wedding Shoes features a rustic meets retro look, as well as a slew of gorgeous blooms. We love how blue blossoms are the perfect pop of color in a space filled mostly with earth tones. I may have to borrow this idea for my next fall fete! [photo by With Love & Embers]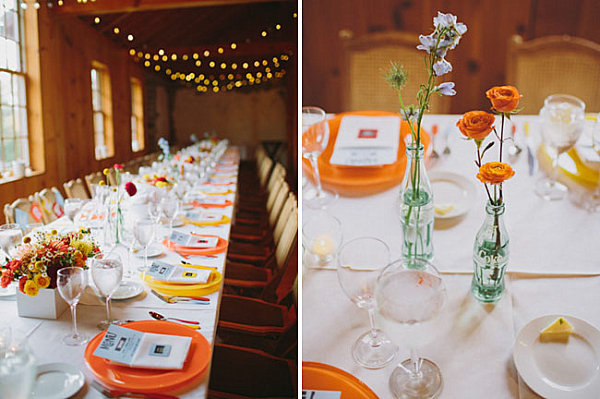 Fall is back-to-school season! So why not conjure the excitement of a fresh start and the thrill of learning by grouping antique books with mossy greens? And for an extra special touch, print out the menu and display it at each place setting, along with a delicious roll on an individual bread plate. [image from Levi Stolove Photography via Ruffled]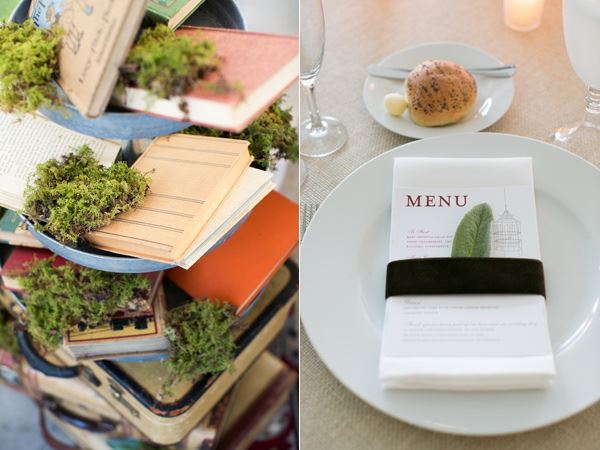 Fall Party Food
We at Decoist love the magic that happens when scrumptious food becomes part of the decor. That's why creating an enticing spread is definitely worth the time and effort! Don't hesitate to write the menu on a small chalkboard, giving guests a glimpse of the delicious treats that will follow. Incorporate fresh fall produce into the mix, and make a batch of apple cider for your party table. A vintage Halloween wall decoration is the perfect focal point, as shown in this seasonal gathering featured at Katie's Pencil Box: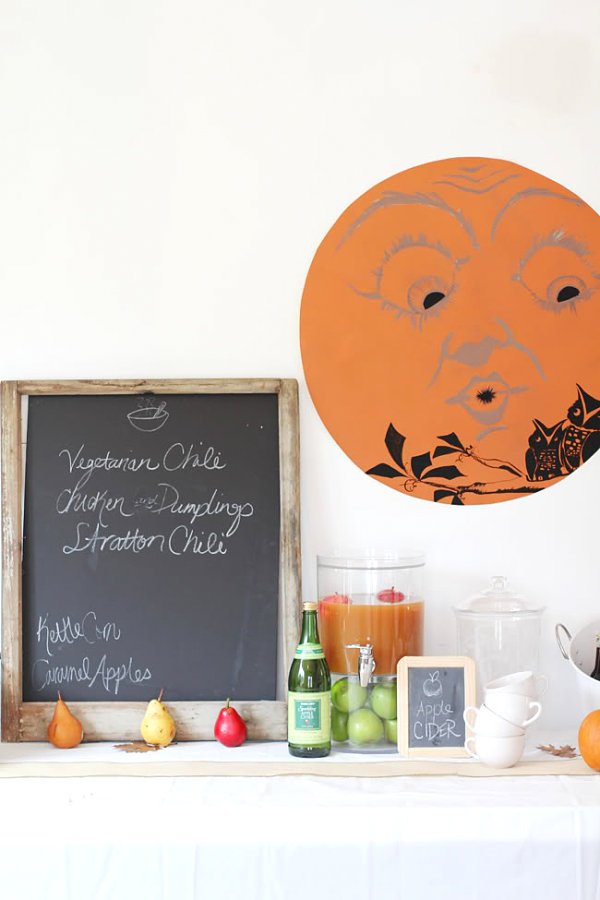 When it comes to throwing parties, we can certainly learn a lot from wedding photos. In a post on fall wedding must-haves, Style Me Pretty spotlights a clever use of apples for escort cards. We think this idea can easily be applied to dinner party place cards, especially since stores are filled with interesting apples this time of the year… [photo by Trent Bailey Photography]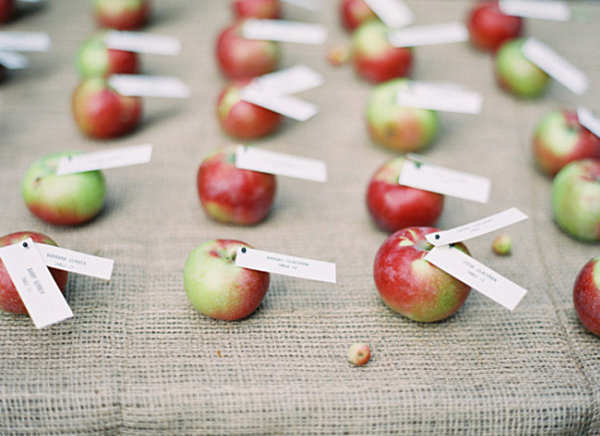 Inspired by an earth-toned Missoni design, this dessert table created by Amy Atlas celebrates the power of crisp, bold outlines. Note how the desserts mirror the colors and well-defined designs of the background wall. We're loving the idea of letting a fabric pattern inspire your fall table decor… [via Meg Biram]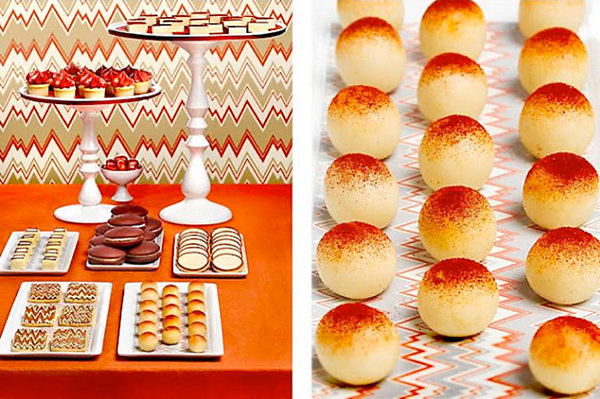 I can't help but admire the colorful fall party food featured below. Who can resist an assortment of spreads on crostini, or the simple beauty of fresh tomatoes, mozzarella and basil? Very do-able and very chic! [image by L. Photographie for Hostess with the Mostess]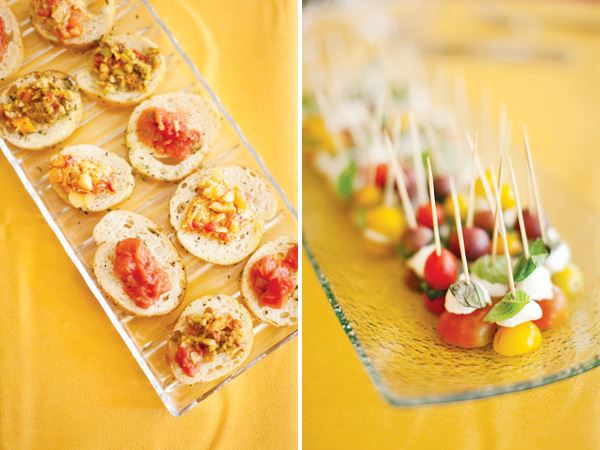 If your party includes little ones, never fear… There are plenty of kid-friendly recipies that are delicious and healthy, as well as gorgeous on the party table. For some tasty ideas, check out this Fall Menu for Kids from Carrie Ryan of Camille Styles. You can't go wrong with sweet potato home fries and chicken satay!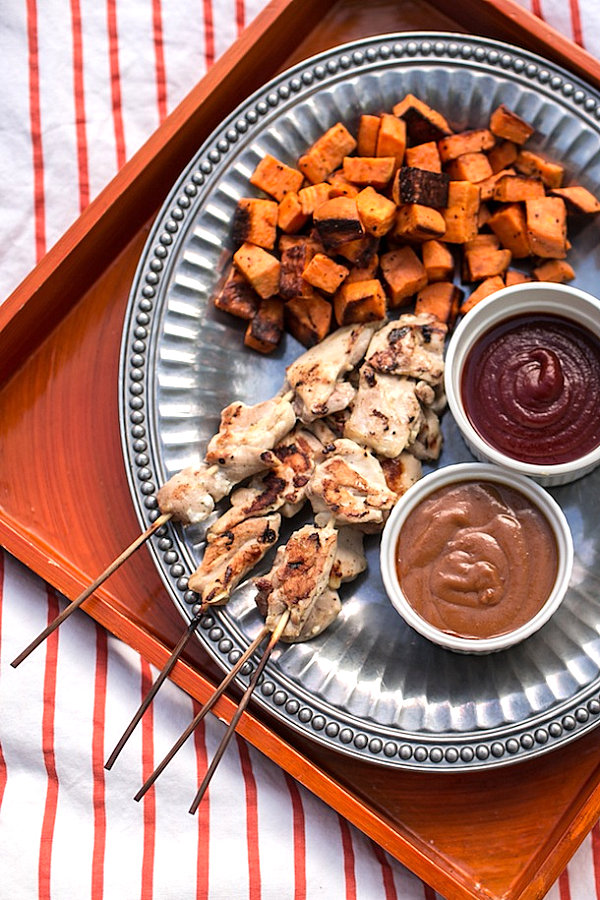 Fall Party Fun and Favors
If you haven't seen this next party idea yet, chances are you will…there's a bit of a buzz surrounding it! It's a cleverly designed squash bowling activity from Martha Stewart, complete with a pumpkin "bowling ball" to knock down the "pins." All you need is squash, acrylic paint, stickers, painter's tape and brushes!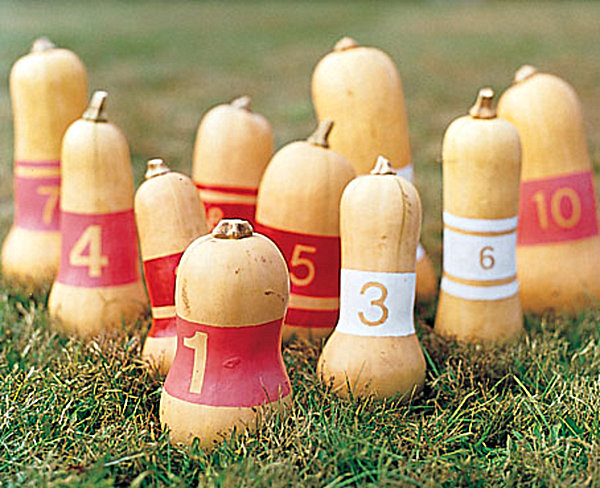 Send your guests on their way with a delicious sweet treat. Why not make a batch of gourmet caramel apples, then wrap them so they are easy to transport?! For a scrumptious recipe, complete with multiple toppings, head on over to The Yummy Life.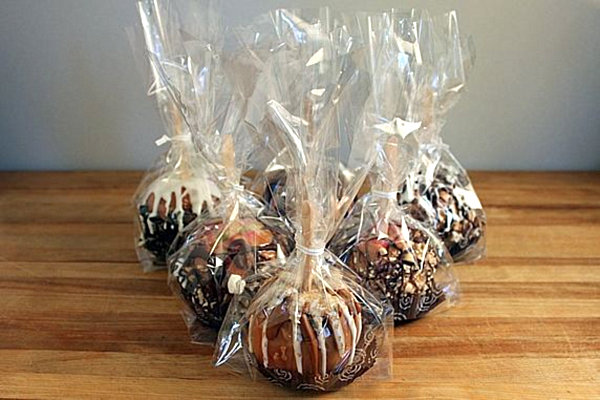 I'm curious about your fall party ideas. Do you enjoy entertaining in autumn? Are there any go-to recipes you'd like to share? Don't forget to leave a comment below…