Patio shade ideas are clever ways of turning your yard into a comfy and fully-functioning area. With summer just around the corner, nothing beats having a little outdoor retreat. If you appreciate a nice outdoor relaxation, then get out of the house and give yourself a little sun. Do not let the heat intimidate you, though. With these patio shade ideas, you can still spend some time outdoors for as long as you like without the sunburn. Even the dampness that comes from the unexpected drizzle and torrential downpour has no room to ruin the mood.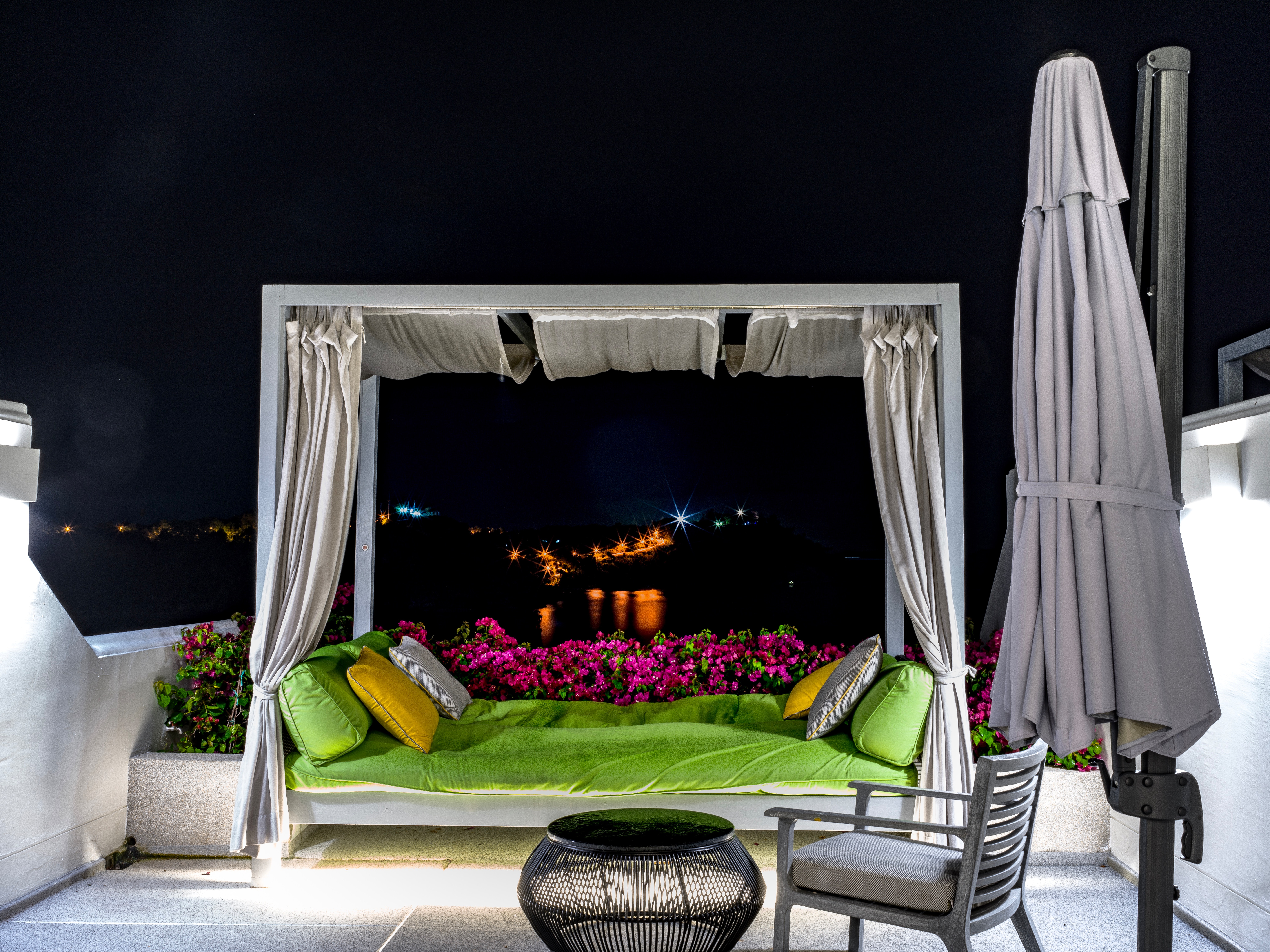 From temporary canopy to permanent fixtures, there is an endless list of patio shade ideas. So, we gathered some of these awesome concepts to turn your deck into a haven of relaxation. Get your neighbors and passers-by to do a double-take. Need we mention that you can also increase your home's value with some smart patio shade ideas?
Wonderful Patio Shade Ideas to Try this Summer
A Temporary Triangle Sun Shade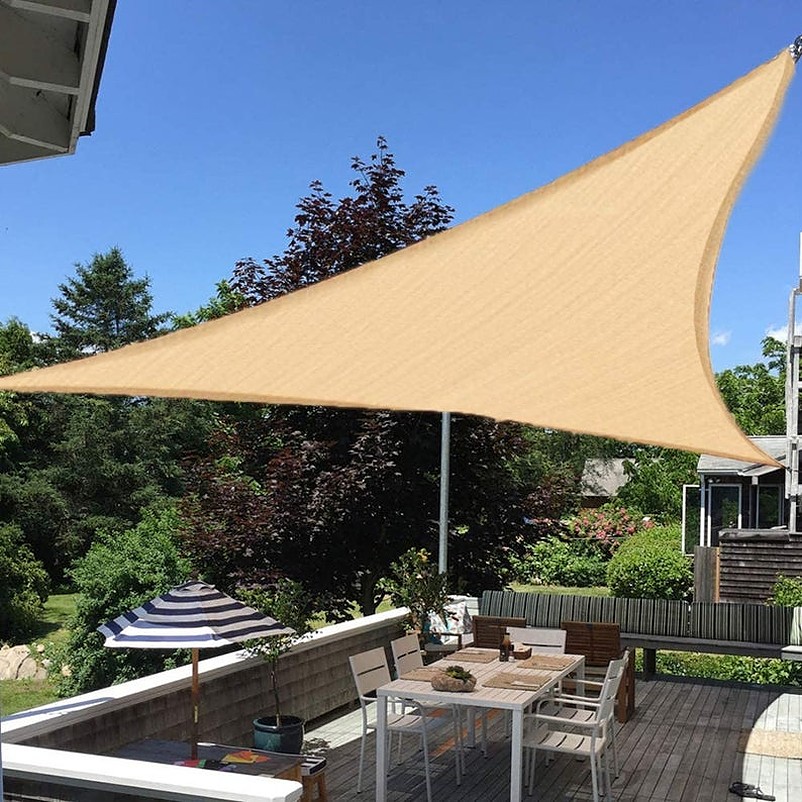 If you want an inexpensive and effortless way of shading your front yard, get your hands on a fabulous sunshade. Aside from the sun protection, they also add a sense of style as chic decorations. Triangle sun shades are practical as you can prop and hang them easily on poles. They are also one of the coolest patio shade ideas, quite literally. These breathable shades allow the passage of air to cool down the area underneath it. Speak about cool ventilation and sun protection!
Make it Airy with Sail Shade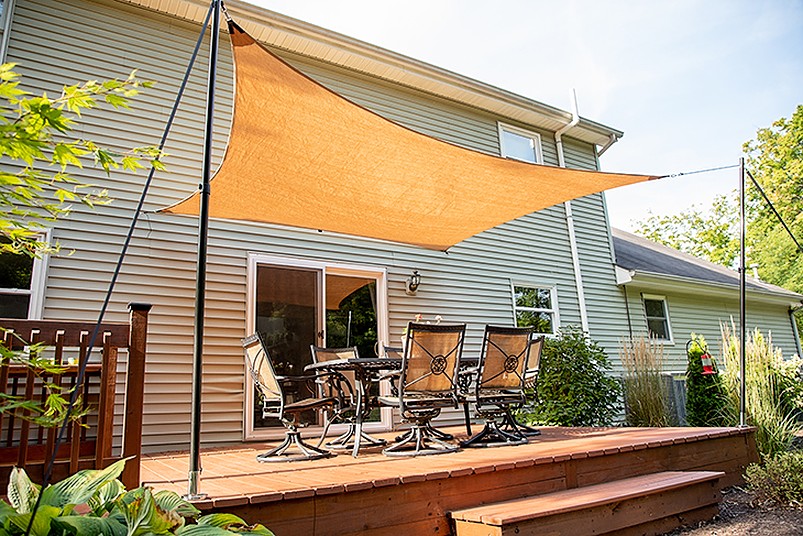 Sunshade sails in large cuts can cover a wider expanse of your patio. This rectangular sunshade, for example, offers a light and airy feel to your front yard. All you need is a stable pole to hold the corners together. It is effortless sun protection that will not send debris on the surface. You also do not need to worry as it will not pool rainwater during a downpour.
Romantic Cantilever Umbrellas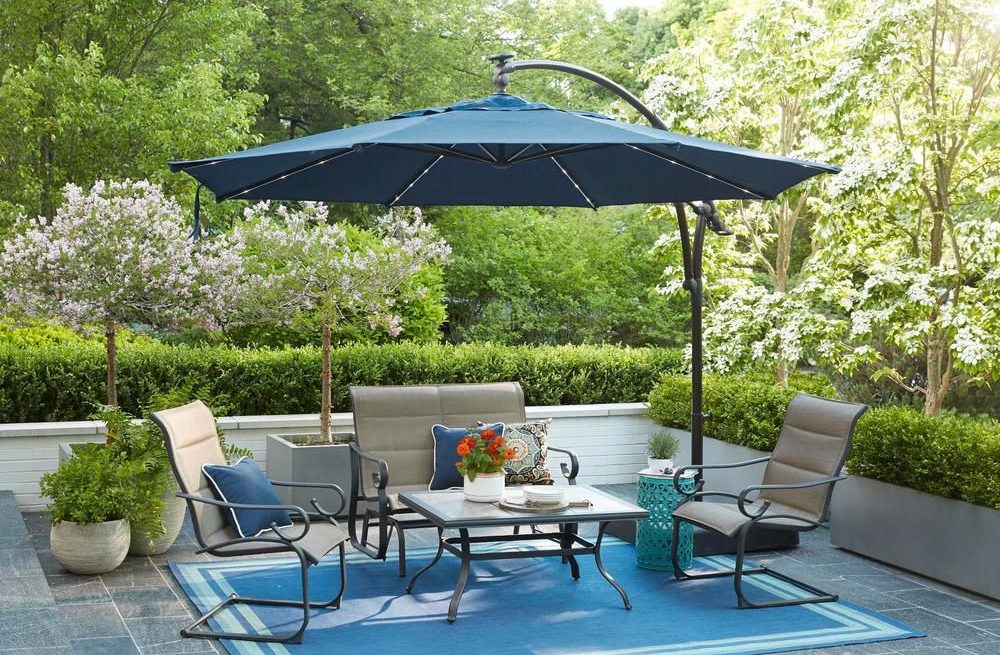 Garden patio umbrellas are a popular trend when it comes to outdoor shade solutions. Tilting umbrellas, commonly known to us as cantilever umbrellas, deserve a spot on this list of patio shade ideas. And if you want to stay way past dusk, these umbrellas are often reinforced with LED lights. So enjoy the romantic space without going elsewhere. This simple sunshade can turn your ordinary patio into an exciting little getaway.
Gush Under the Canopy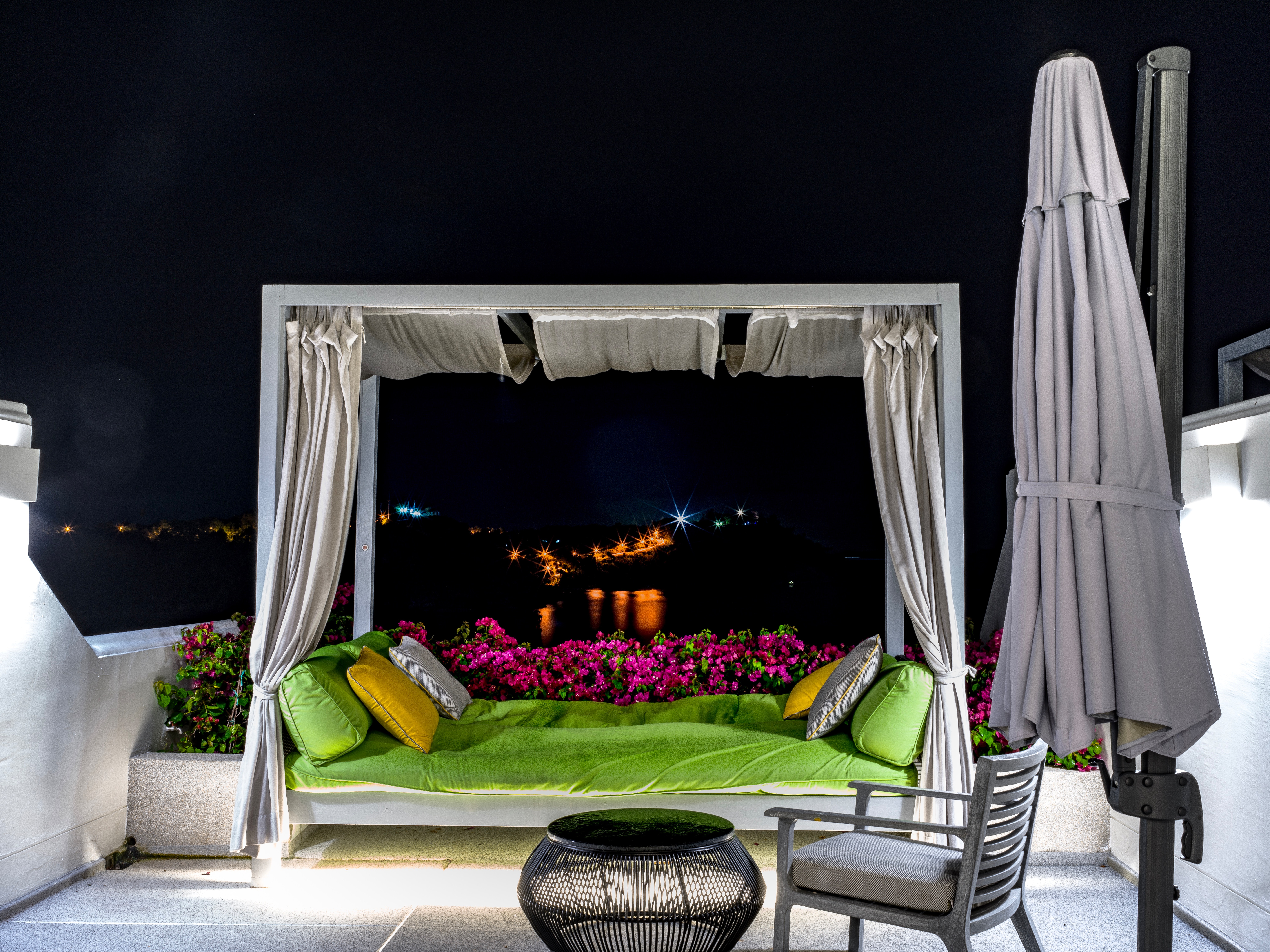 Speaking of a romantic getaway, transform your patio into a fabulous retreat area with a canopy and a bed. This gray and green canopy bed beside potted flowers is such a cool way to relax after sundown. Think about lazing and cooling down in this space from late afternoon and then some nightcap to end the day. Isn't it great?
Prop Offset Umbrellas in Open Spaces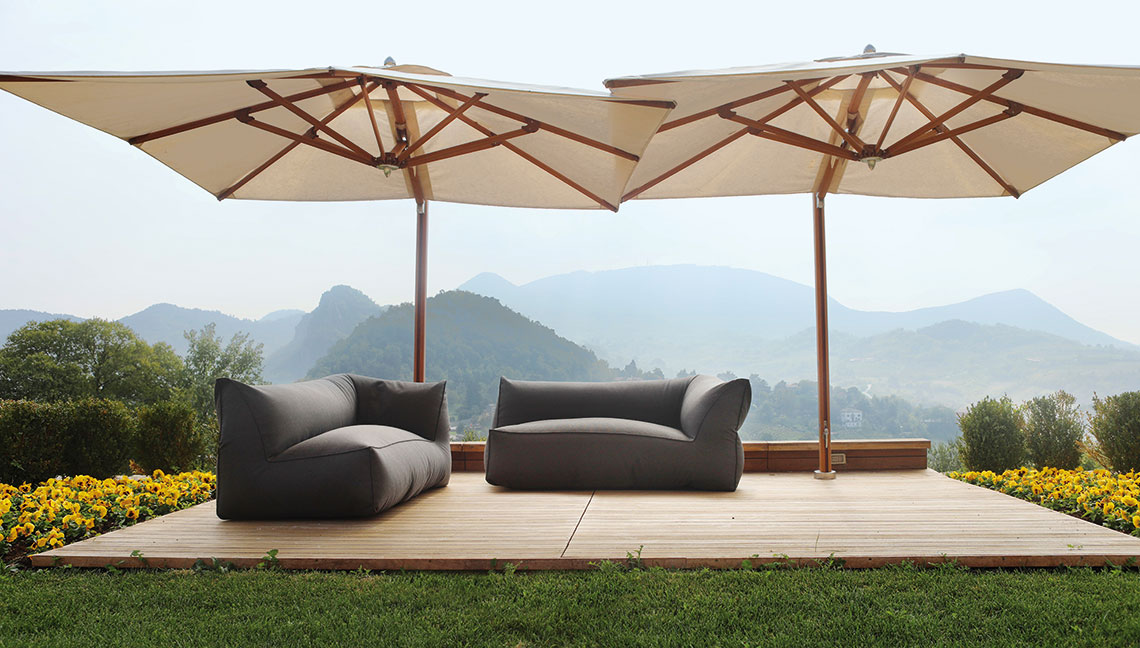 You can almost hear the calming breeze and sound of summer on this awesome patio. You can also make those summer days more memorable if you have a phenomenal view like this in your yard. Set up a temporary patio and prop offset umbrellas to cool the space. Now, you can extend your horizon without the sun stopping the fun with these practical patio shade umbrellas.
Sit Down Under a Makeshift Canopy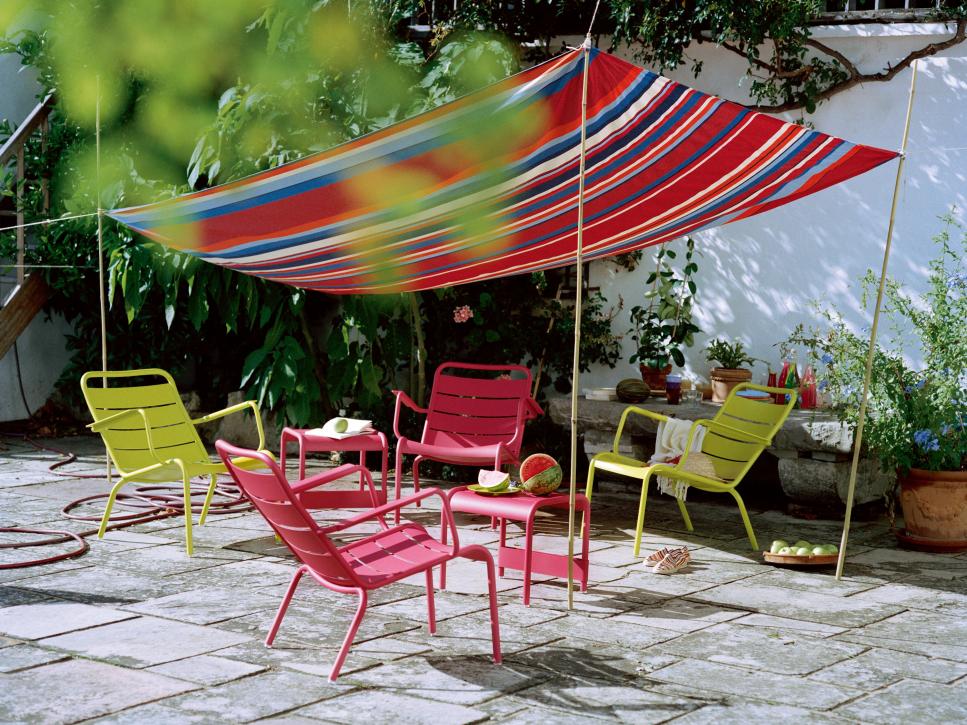 This canopy of many colors gives the drab patio a functional makeover. Makeshift canopies belong to the easy patio shade ideas. This is best if you do not want to commit to permanent fixtures. Shove some colorful chairs and tables or set up your barbecue grill beside it. You can enjoy your backyard sans the scorching heat. And when summer is over, you can just remove it and wait for the next season to hang it again.
Shady Spot with Canvas Patio Shade Ideas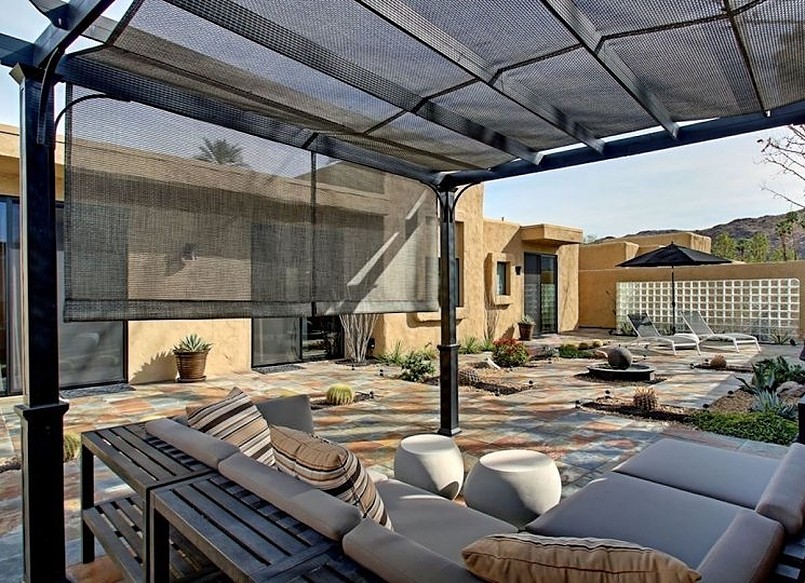 This Mid-Western home gets an elegant modern vibe with a canvas patio shade. It filters the sun and leaves a cool spot to lounge after the day's work. It further exudes an understated glam that complements its environment. Canvas patio shades are the best if you want to add a decorative piece in your backyard.
Retractable Canvas Awning Protects the Patio, Rain or Shine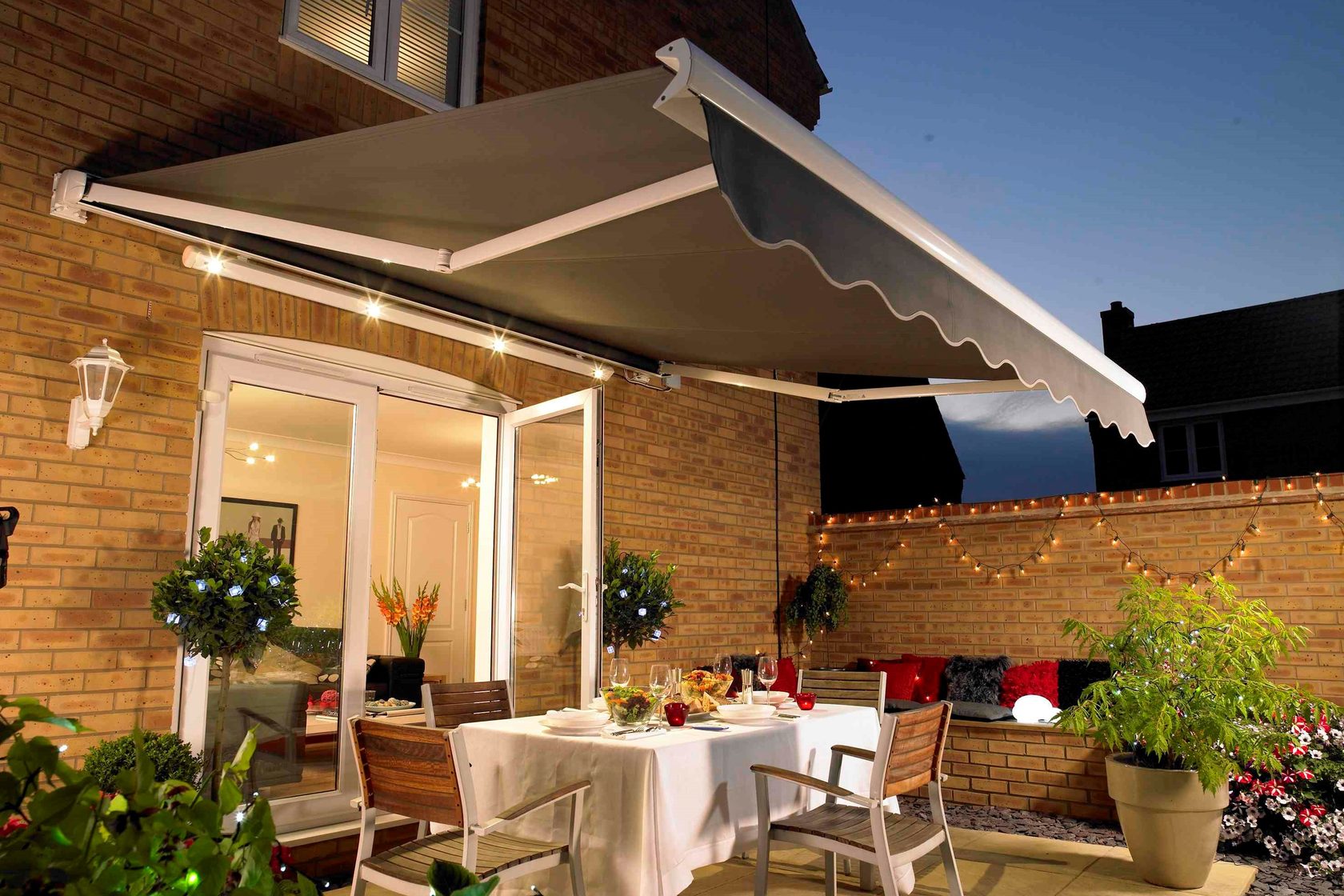 Retractable canvas awnings are reliable patio shade ideas not just from the sun but also from the rain. All it takes is a trusty waterproofing solution for it to offer rain protection. Furthermore, canvas awnings are durable and can resist weather changes for a long time. They are also more stable if the gushing wind is a nuisance in your area. It is the midway choice if you do not trust sun sails and canopy, but also hesitant for permanent awnings.
Incorporate Some Fun Tiki Hut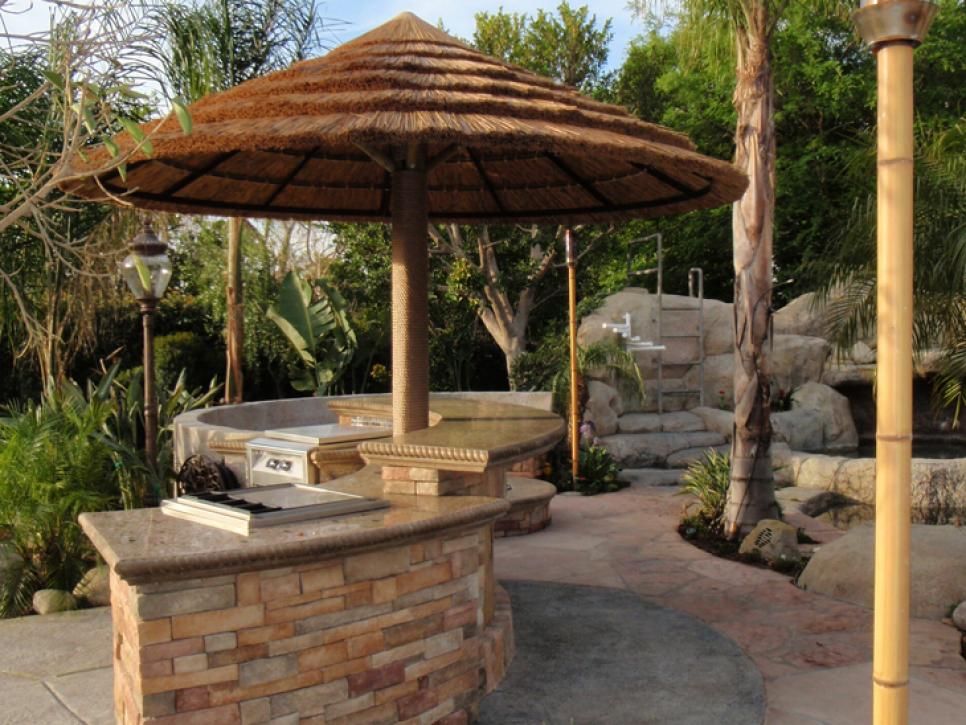 Complement your outdoor greenery with native tiki huts and give your curbside a tropical feel. Tiki huts are mostly lumber with a thatched roof made of palm fronds. These are literally cool patio shade ideas since thatched roofing is natural insulators. Thus, they can keep the shade underneath it at a lower temperature. You can also build a posh bar table, get some tiki torch, and enjoy lounging by your patio all summer round.
Build a Cozy Cabana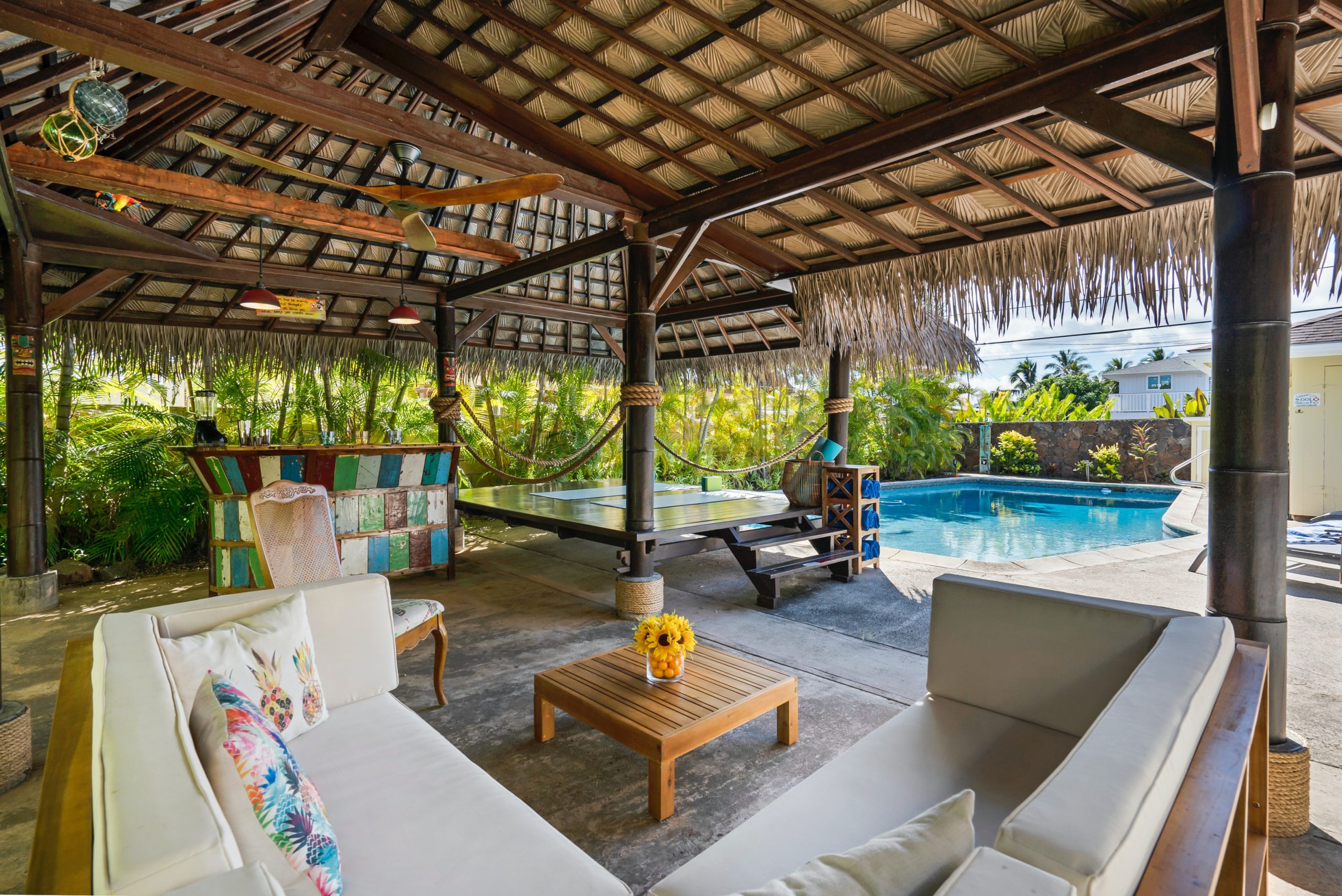 If you have a wide expanse of space, amazing patio shade ideas come in an endless list. To make the most out of it, why not build a cabana? This poolside natural shelter conveys an airy as well as a homey feel. It has a modern-rustic appeal with its natural materials and posh furniture. Covering a wide space with its shade, it is the perfect place for your family's weekend get-together.
Go Boho with Pergola and Flowers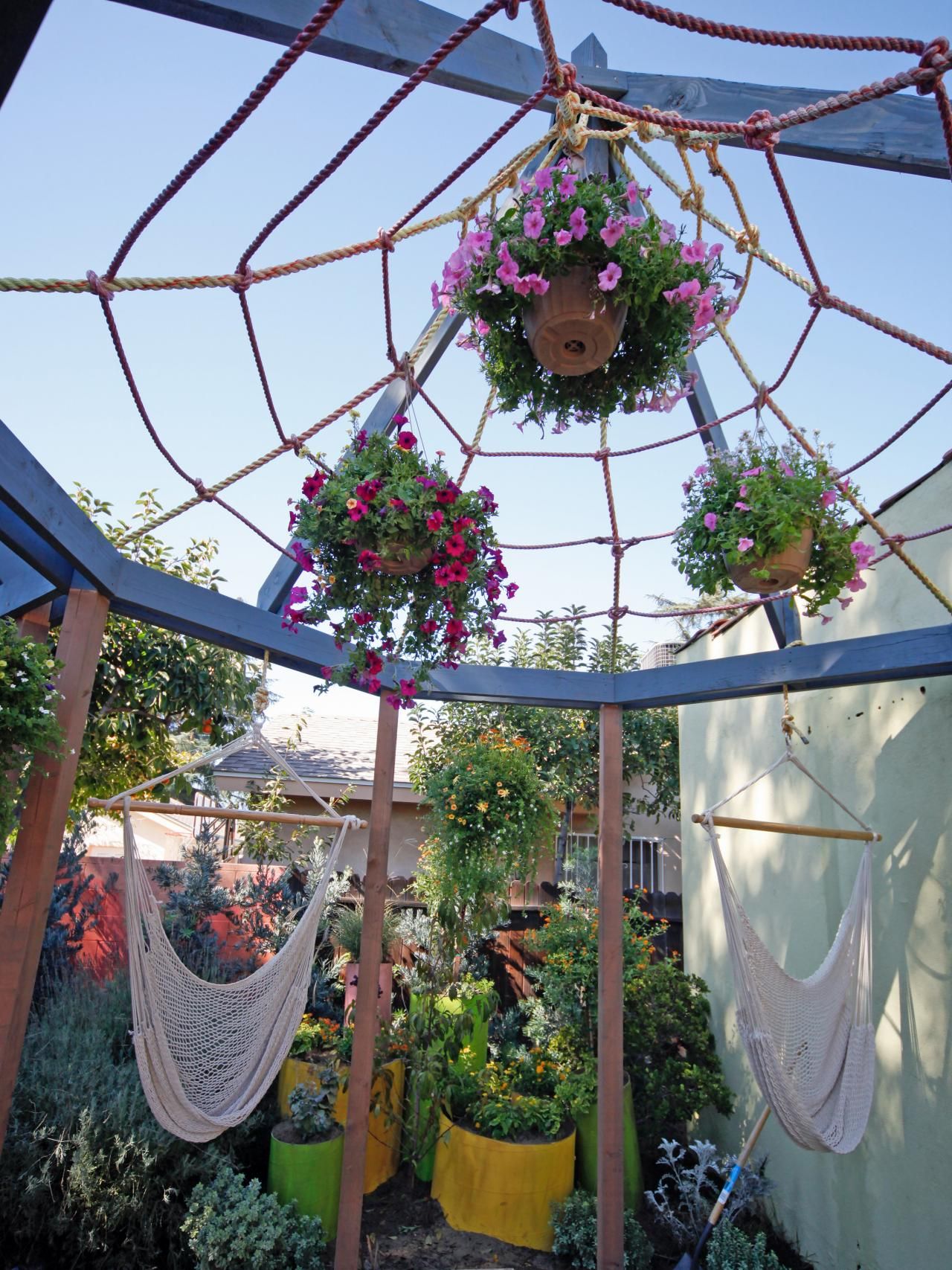 Plants and flowers are perfect choices for a patio shade if you want a more natural and eco-friendly yard. Instead of the usual steel or wooden truss, this hanging garden uses ropes to give it a bohemian spin. Potted flowers provide temporary shade, while the plants around the place give it a cool ambiance. Trained vine climbers covering the trusses are also impressive additions if you want to upgrade the look.
Outdoor Curtain Shade and Privacy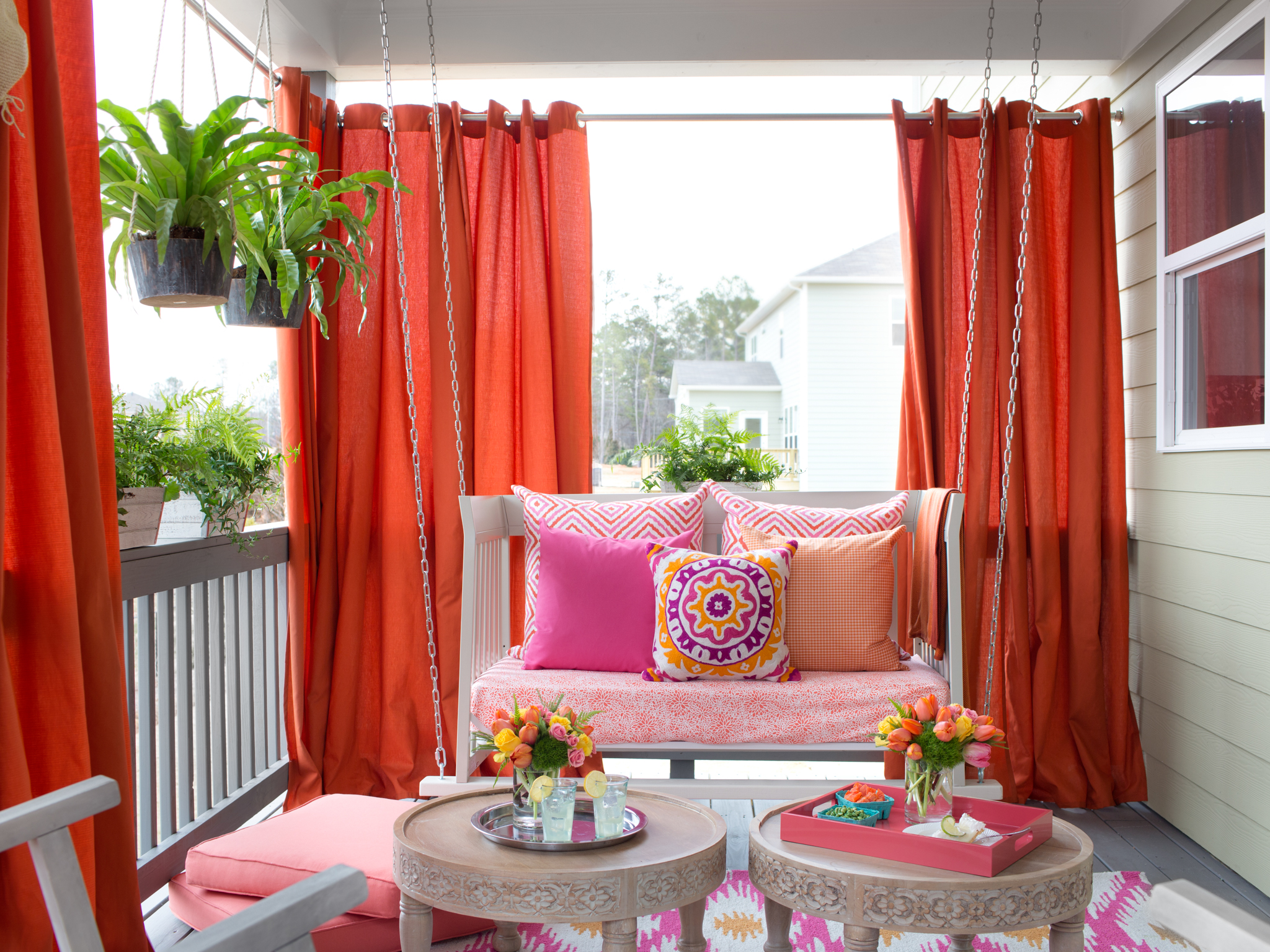 The sun does not only shine overhead. If late afternoon sun rays bother you, keep your patio cool with outdoor curtains. You can hang it on hooks on dowels or curtain rods, so you can also slide it close or open it if you need to. It will not only shade your space from the sun, but it will also shade you and give some privacy from the neighbor's view.
Block the Sun with Shade Cloth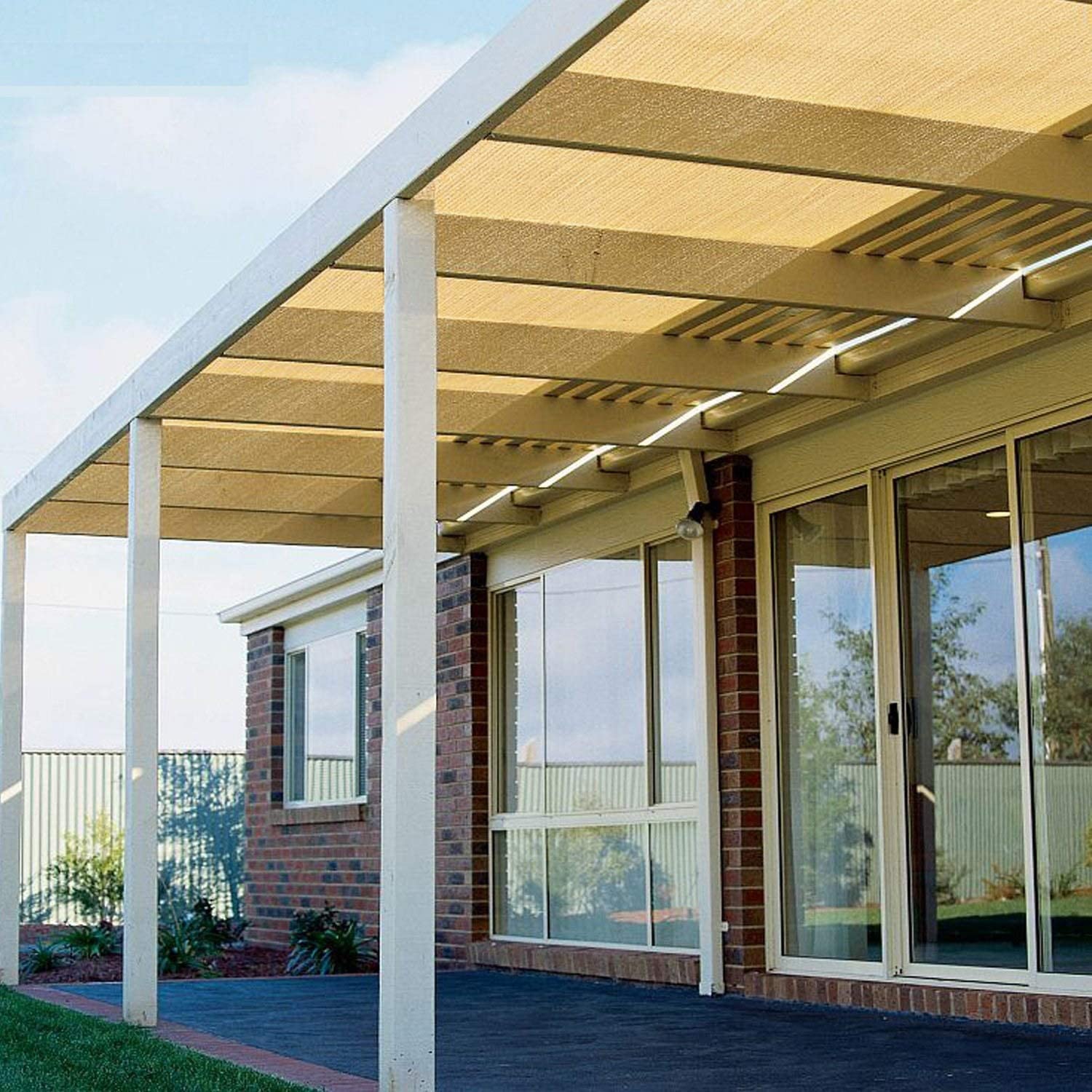 Shading fabrics are also excellent patio shade ideas. These types of draperies are wear-resistant and do not easily sag. It can also remain flexible even through long sun exposure. You can fasten a shade cloth on your pergola to give you protection from the sun and wind. It is also an inexpensive solution that you can do yourself with a few carpentry skills.
Faux and Elegant Pergola can Upgrade Your Patio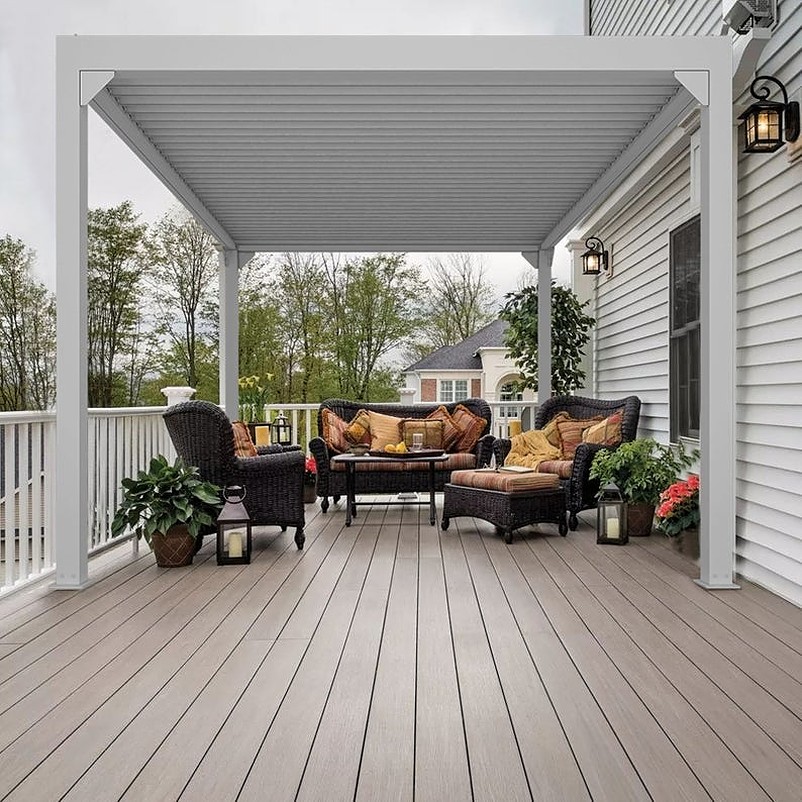 Still undecided about permanent patio shades? The good thing is, you can now buy a freestanding pergola that you can prop easily in your property. Stake it to the ground with bolts and cover your deck with these elegant ensembles. This modern freestanding pergola has angled slats or louvers that open and tilts through a motor. It even has some LED lighting to turn your patio into a cozy place at nighttime.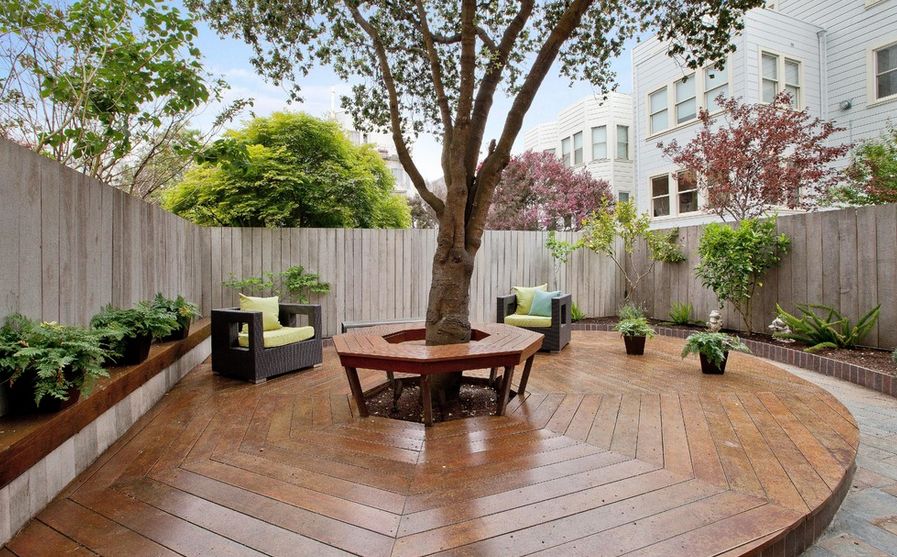 Growing large trees by your patio is a greener and more effortless way of shading. Maybe not as effortless when it comes to yard cleaning when fall comes, but still. Aside from privacy, they can also beautify your yard and provide a home for birds and other small animals. If you are just starting to grow your natural patio shade, it may take you some years to see the result. We suggest growing evergreen trees that will last you through seasons.
Takeaway
There are a lot of patio shades that will let you enjoy your deck all day long. It doesn't matter if your patio is short in space or blessedly expansive. You will not fall out of style with simple and chic details to beautify it. Best of all, patio shades are mostly inexpensive and effortless to install. So, make the most out of your deck and shield it from the elements with our awesome patio shade ideas.