The lights are an essential part of every room; whether they are the defining factor in setting the mood or just part of the decoration, they have the superpower of bringing the best out of a room. Today we are focusing on neon lights, mainly as an element of daring decoration for anyone who loves an interior with a bit of edge. Seek the inspiration in the neon lights below and let the ideas illuminate your mind!
Neon Lights Within A Bedroom
The place where you rest and sleep should have a special lighting that wakes up in you the feelings of serenity, but at the same time still feels unique and dynamic. The last thing you want is to be bored by your bedroom decor. Neon lights are a creative way of making your bedroom look innovative and mystic, when all the other lights are off and the neon lights are illuminating the dimmed room!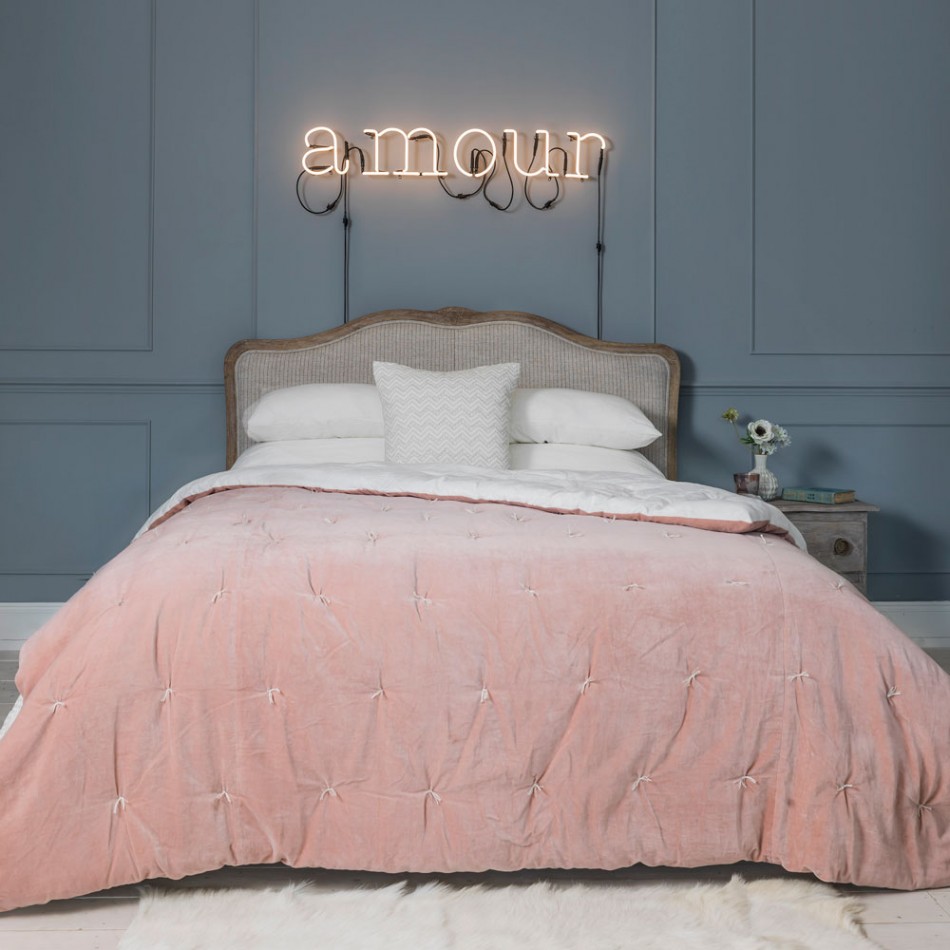 This gentle bedroom by Style Made Simple is made outstanding by the neon sign above the bed that spells amourand so entirely fits with the rosy, love-like interior!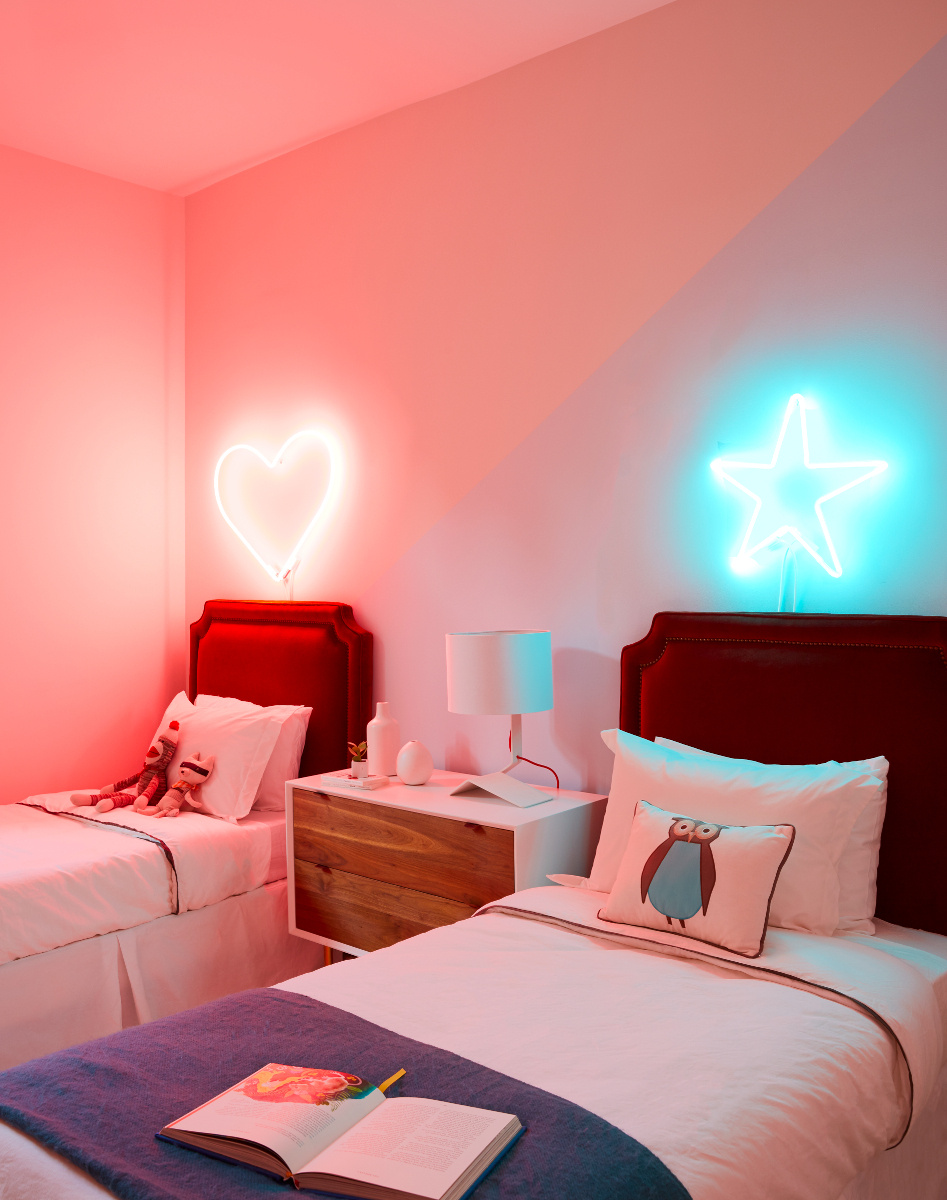 A perfect way to uniquely decorate a bedroom for two children is with neon lights that seem as an extension of the headboard, just like you see at Casinha Colorida.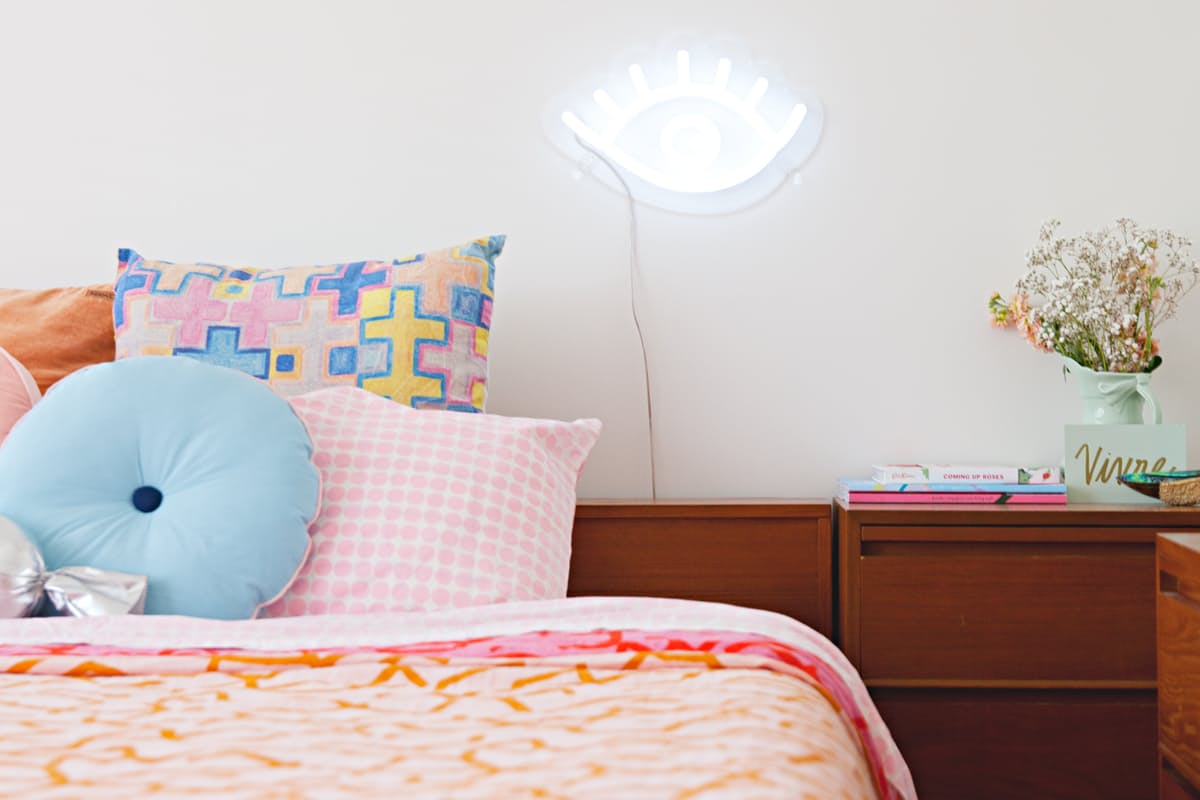 Do you find the normal bed lights too mainstream and want to decorate your bedroom with something more eccentric? A neon light is the right choice, as seen on Apartment Therapy.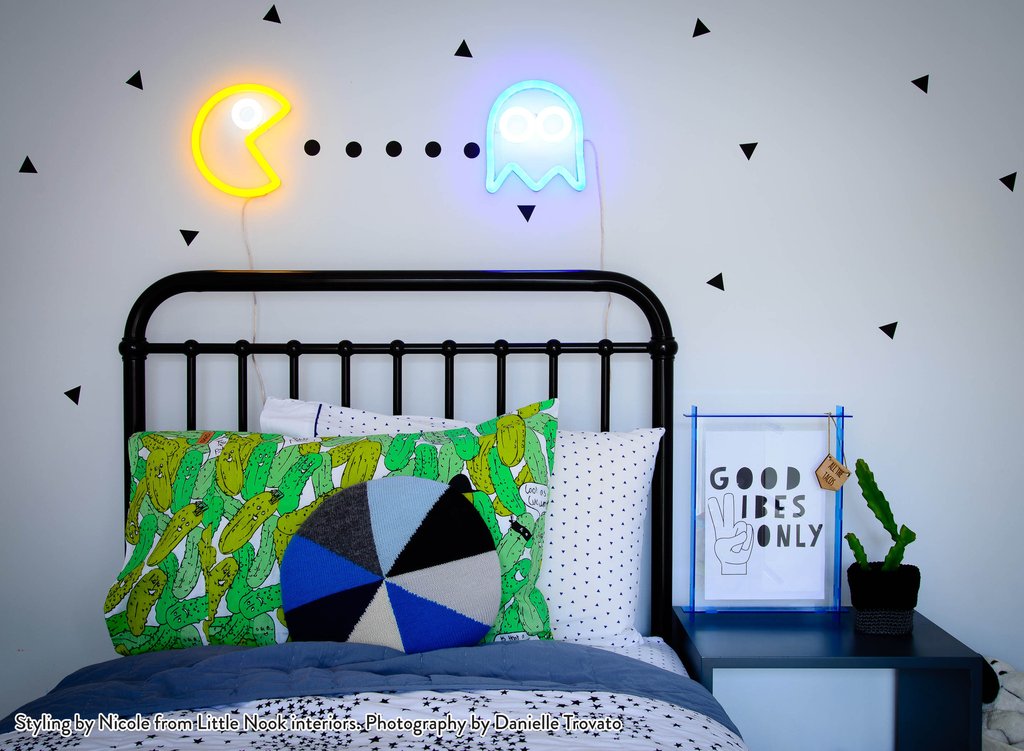 Children will love the neon lights because of their brightness and therefore the magical ability to keep the monsters away! Pick out a funky motive, like this Pac-Man neon light by Electric Confetti and see how your child feels about his newly illuminated room!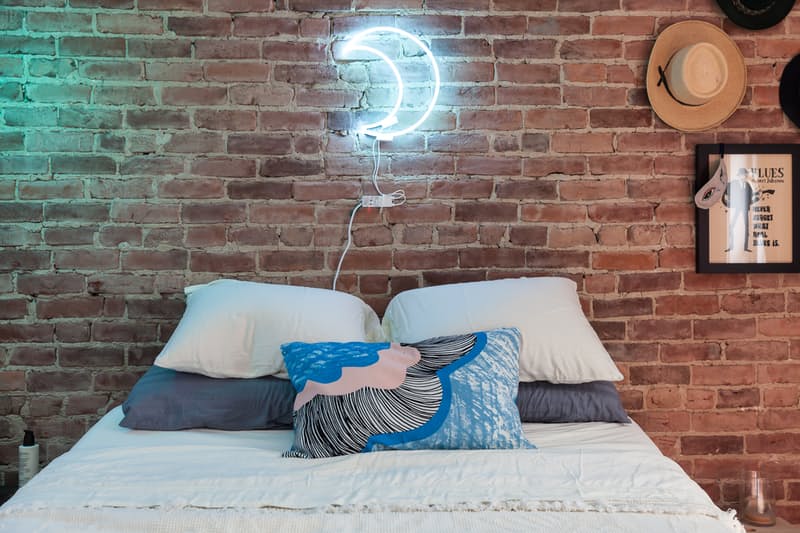 Hang up a neon crescent for the perfect slumber under the beautiful, radiating moon all days of the month, even when she is nowhere to be seen in the sky. This styling by Apartment Therapy, bringing together a brick wall and neon lights, works exceptionally well!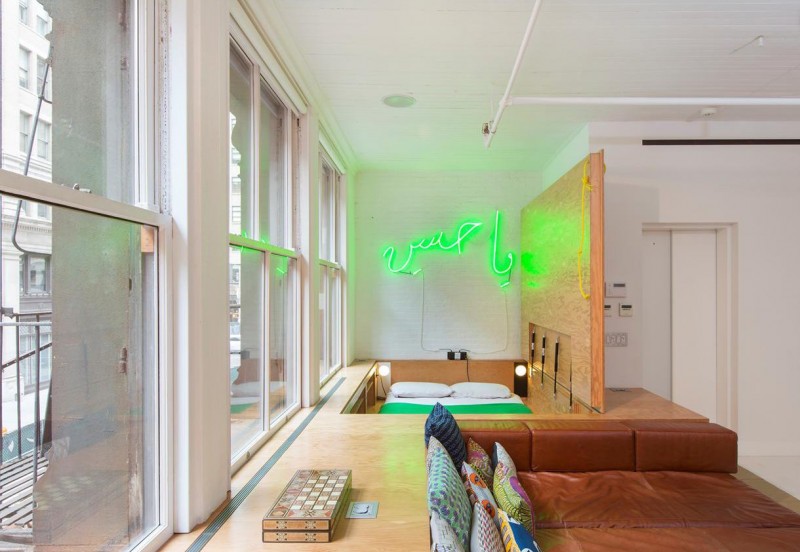 In a vast loft apartment, one needs a focal point; something that gives the rest of the place a purpose! A big, bright, pulsing neon sign couldn't be a better choice! It clearly marks the bedroom corner but highlights the entire living space too! See for yourself, at Housely.
Kitchen and Dining Space Illuminated by Neon
Visible, vibrant neon signs give off the feeling of a classic bar and you can bring some of that devilish vibe right into your kitchen or dining room. Don't settle for plain dining corners and bland kitchens – dare to highlight your home's best features by lighting them up in neon lights and eating in the glow of their colorful light.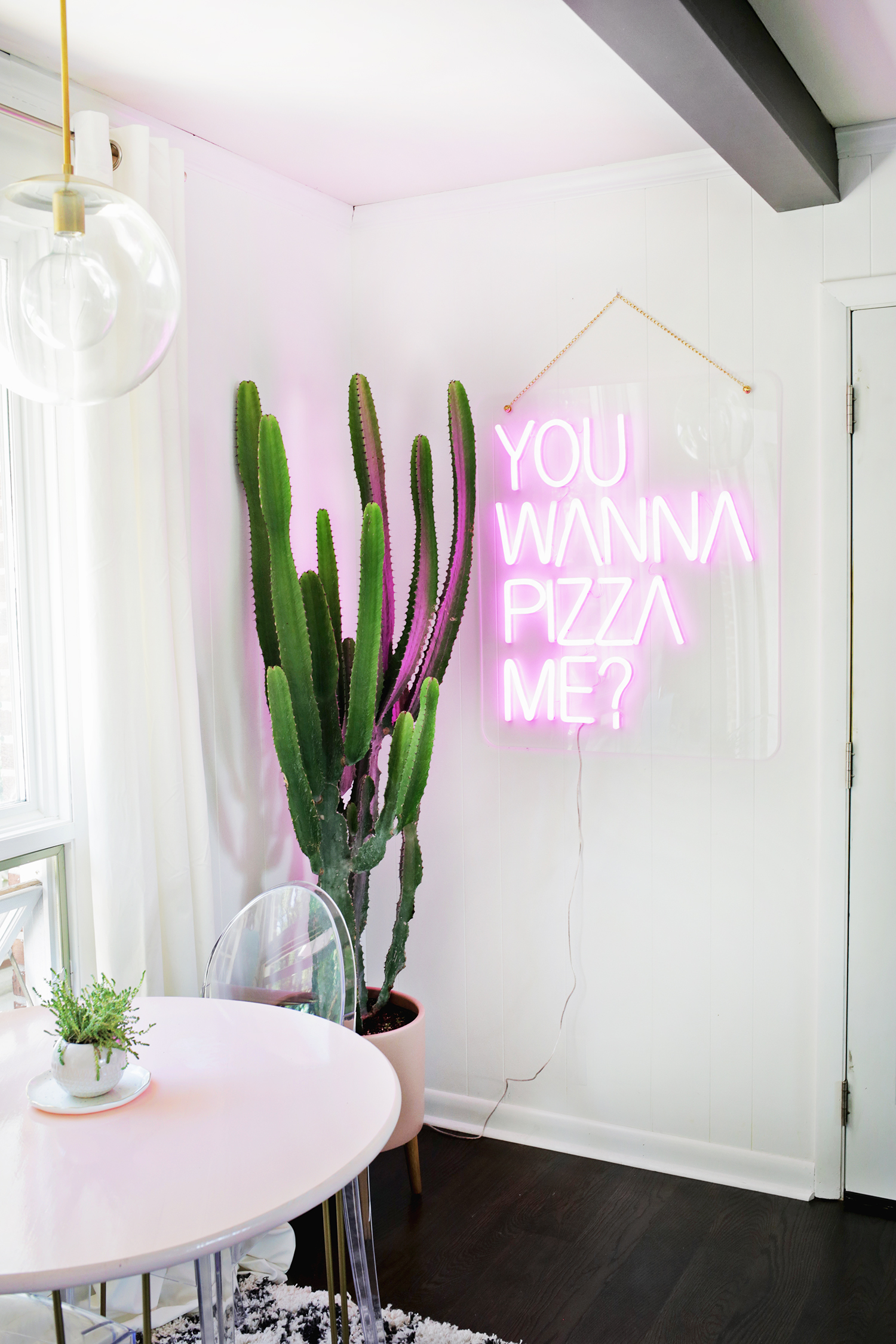 Spice up your dining place with a bright and sassy neon sign – preferably one that will always make you crave your favorite food! We love how the pink neon lights go with the gentle rosy table! Picture found at Photobucket.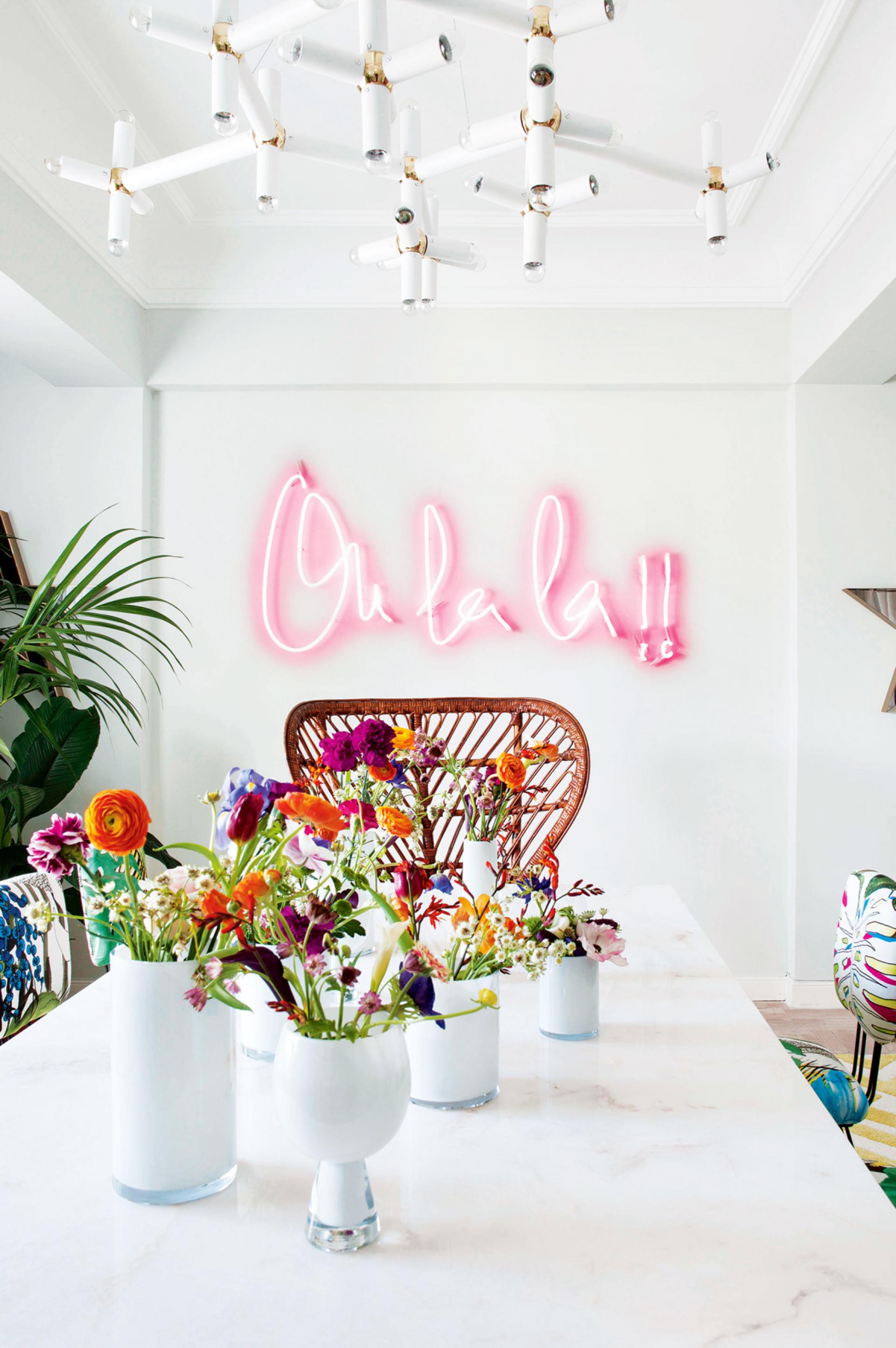 Oh la la indeed! This dining room by Inside Out wouldn't be what it is without the bright magenta neon sign breaking the stream of white decor, adding some much needed color into the room!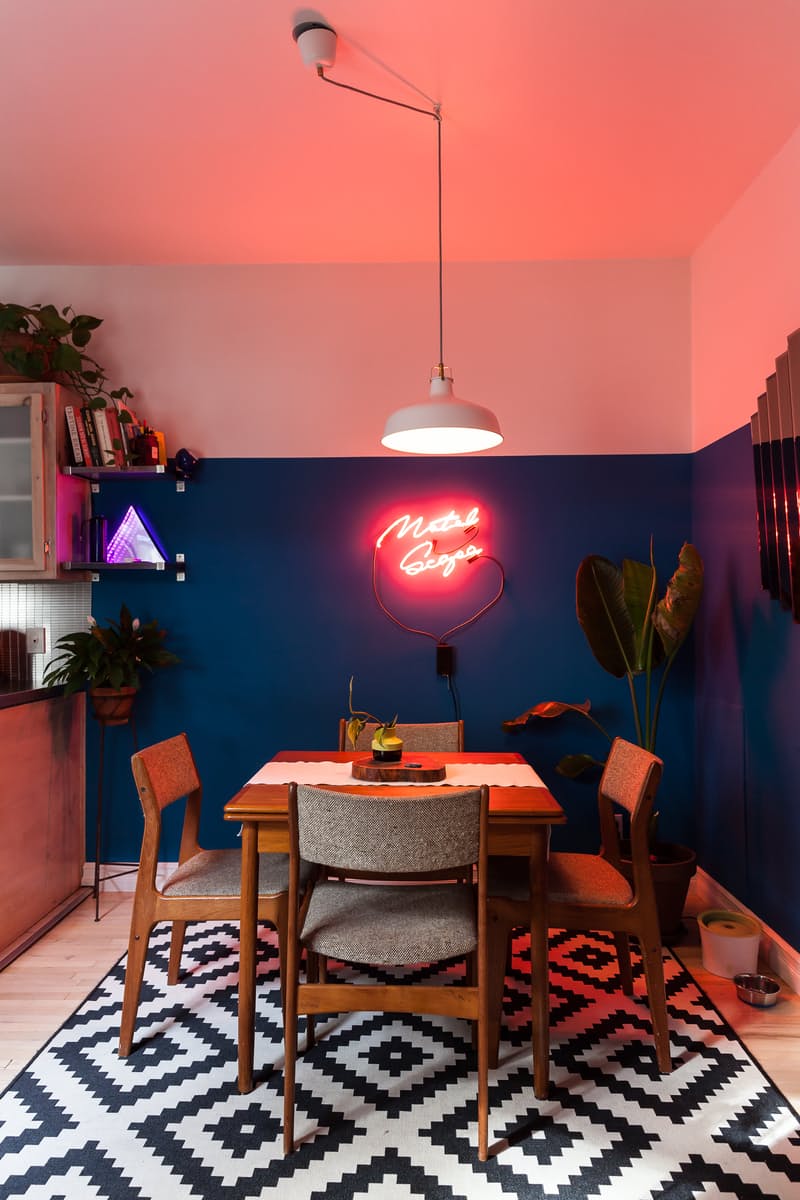 A darker dining corner is the perfect territory for neon lights! Creating a pub-like atmosphere it is a truly inspiring, cozy space to dine in! See it up close at Apartment Therapy.
Neon Workspace Inspiration
Our workspace should be an inspiring and creative place where we come in touch with our game-changing ideas every single day! Make sure that your ideas never run dry by decorating the space where you spend most of your day with bright and energetic neon lights!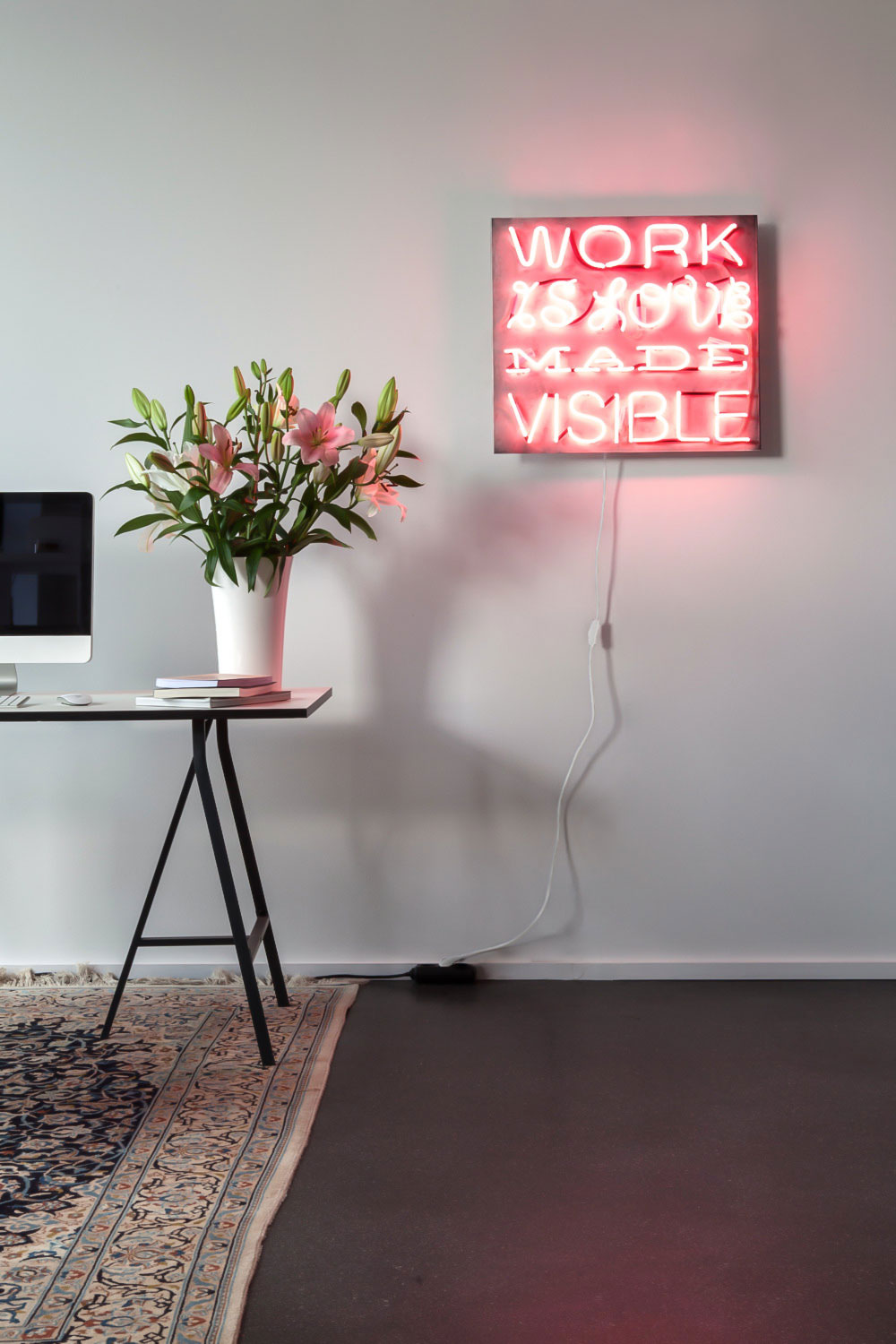 The great thing about neon signs is that you can easily use them in the place of motivational posters in your creative corner or home office, like this example by Miss Moss.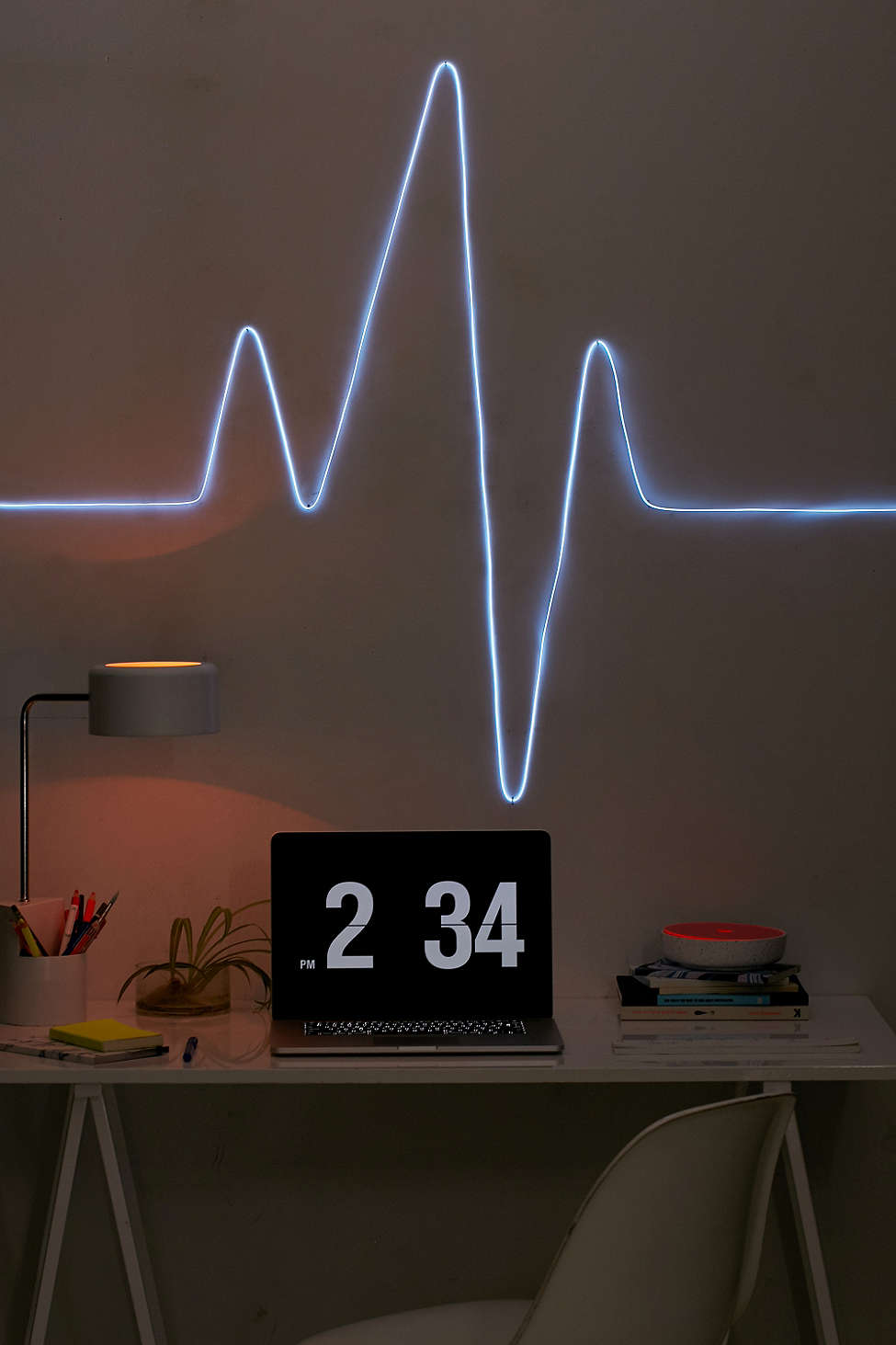 If you work from home, or just like to have a creative space set up, you know that staying inspired is the key. There's something about these fluorescent lights against a plain white wall that ignite the innovative energy! Picture by Urban Outfitters.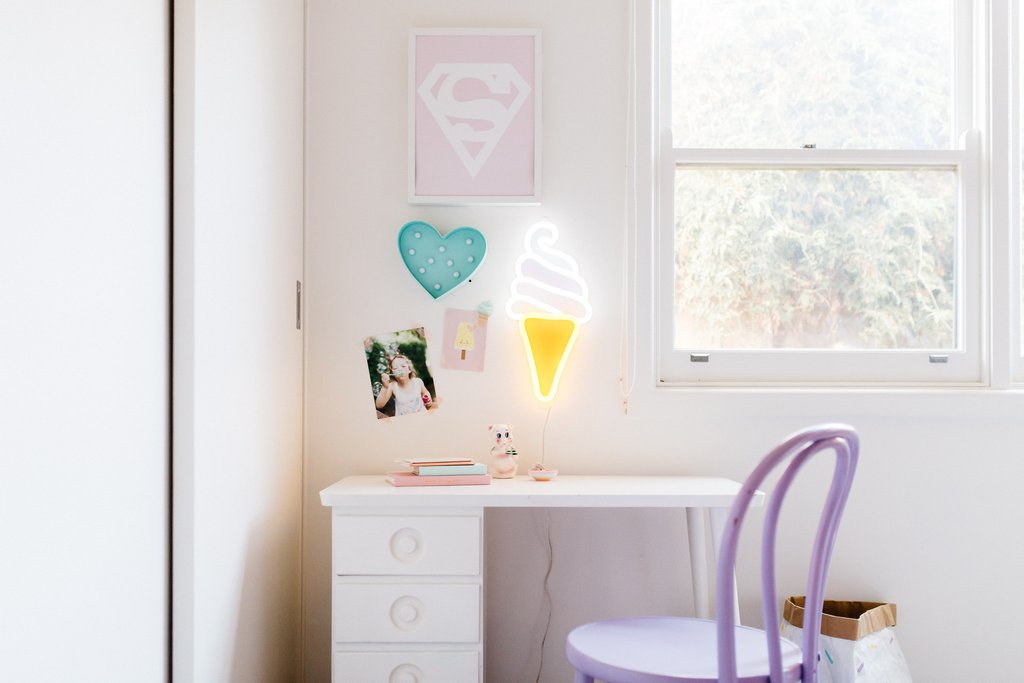 Neon lights have the full capacity to blend in with the environment you put them in. They don't have to be too crazy if you don't wish them to be and can work really well with a subtle, tender decor. A beautiful example is this tiny working corner by Electric Confetti.
Purposed Little Corners With Neon Signs
Every home has a few specially decorated corners that radiate and stand out in any room they are a part of. Those are the small places that seem insignificant or random at first look, but with carefully chosen decor, such as dazzling neon lights, you can bring out the best of them.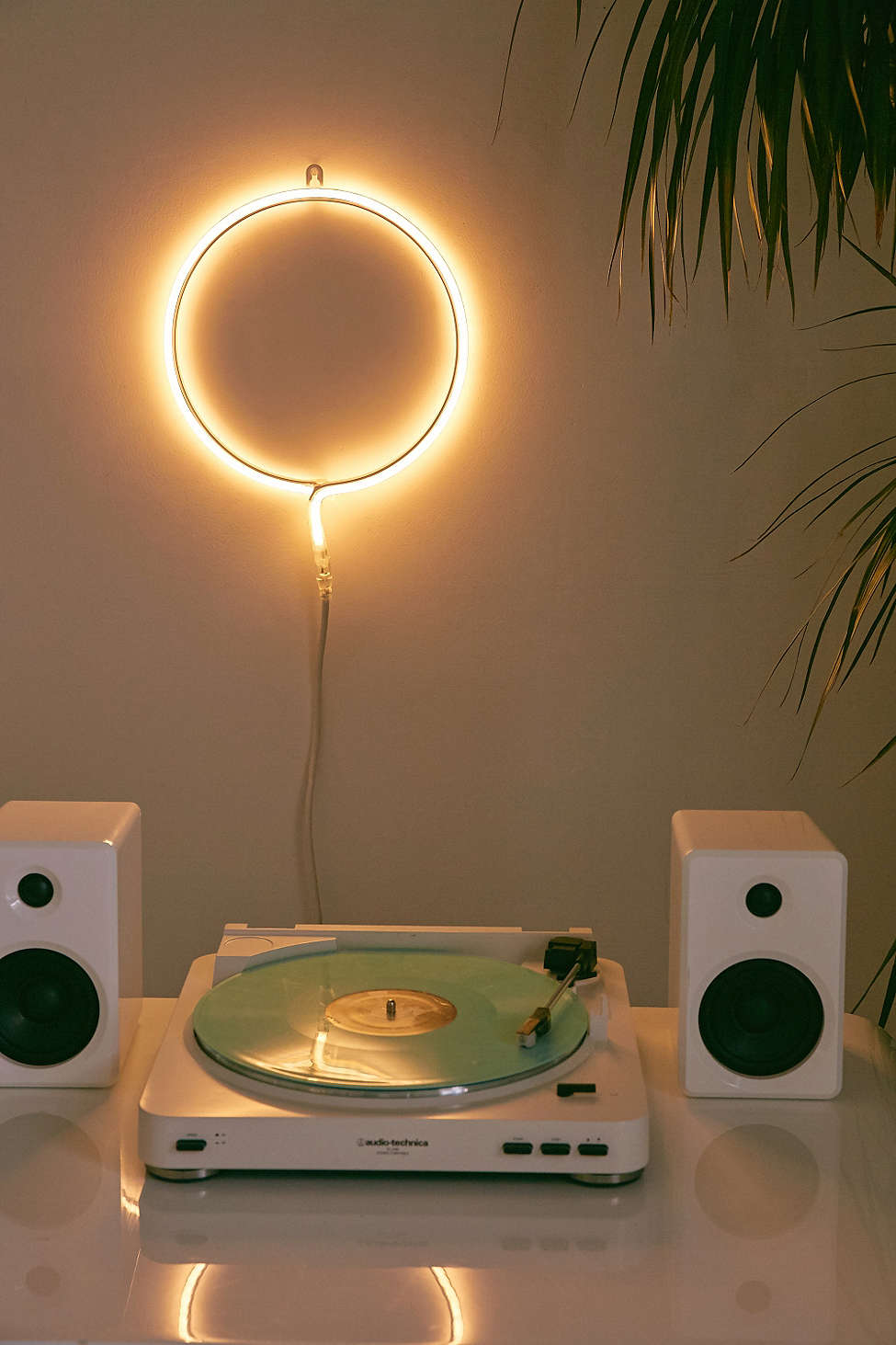 Let Urban Outfitters show you how neon lights can make the best of the dedicated little corners in our living space, for example a retro music spot or a little space for all of your family's old photographs. Allow the warm neon lighting to wake up the nostalgia!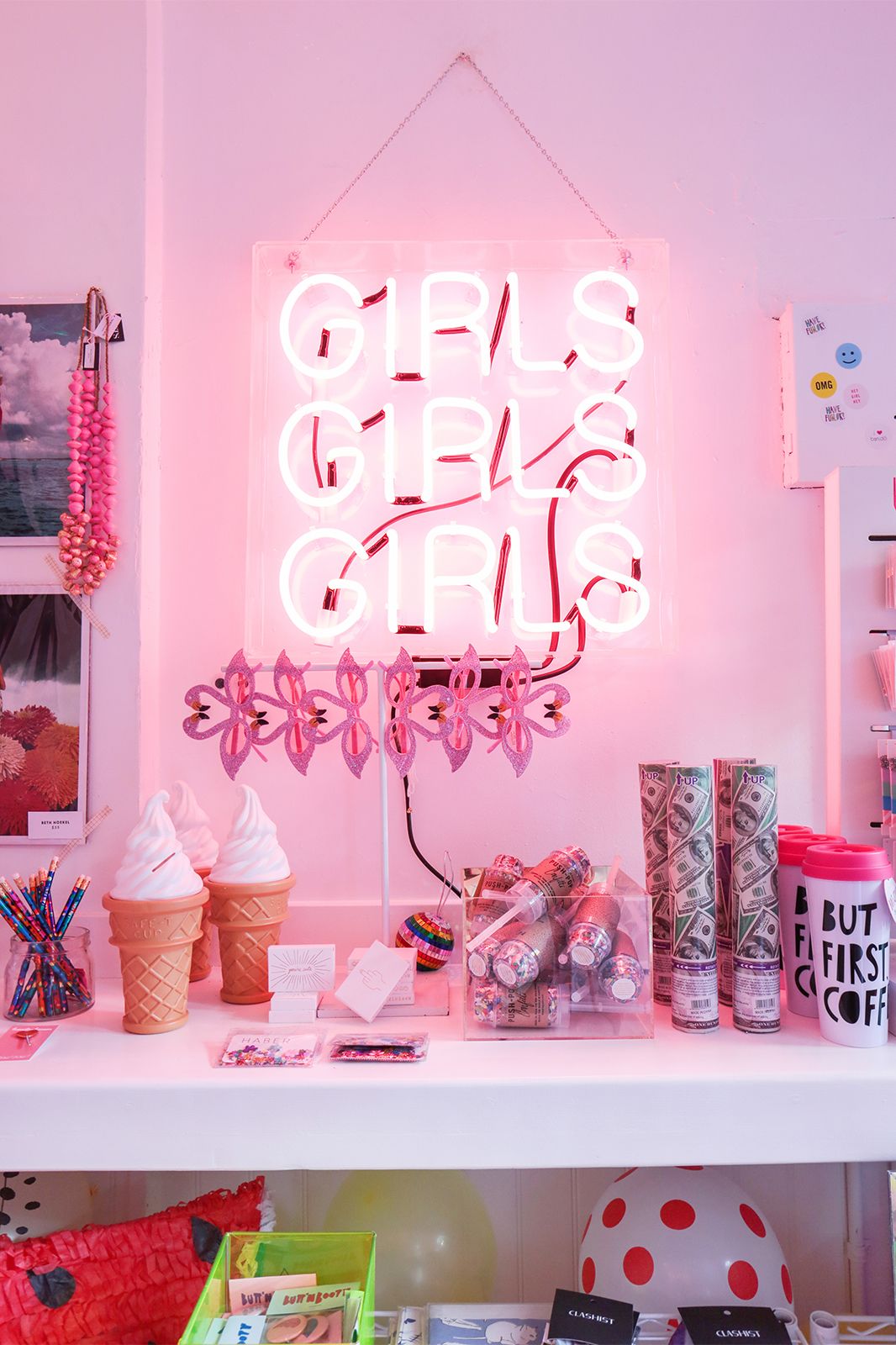 If you absolutely can't get enough of all things pink, have a neon sign radiate the vivid color in a little corner dedicated to all things girly! Idea by Refinery 29.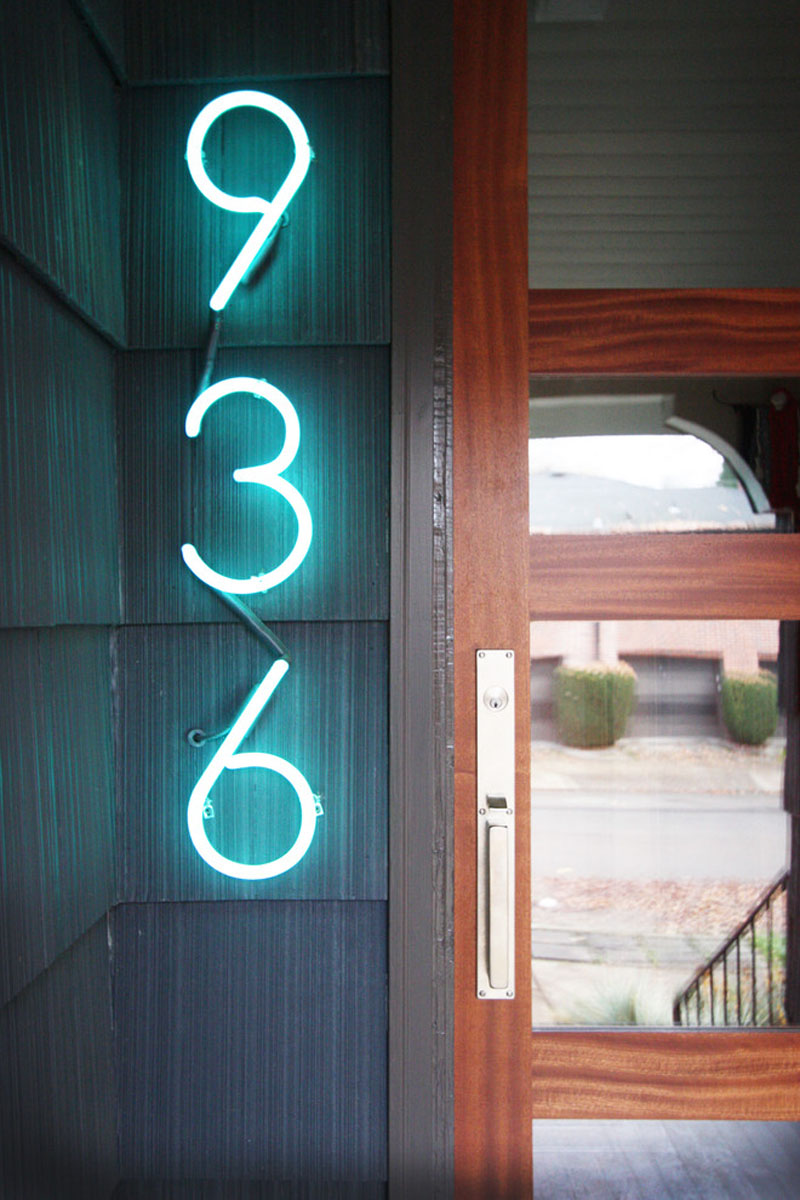 Having a neon house number is definitely unconventional, but it channels the spirit of a secluded bar with a big neon sign inviting you in! This neon exterior idea by bright designlab will make your doorway look significantly more welcoming!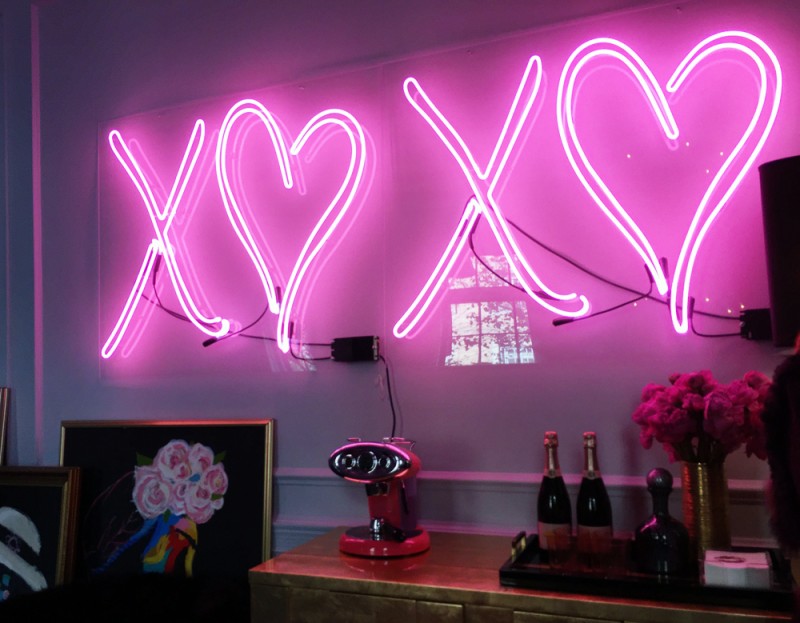 Hugs and kisses, for you and your significant other, shining brightly in neon lights, illuminating a romantic corner of the room where you can keep the artifacts of your love!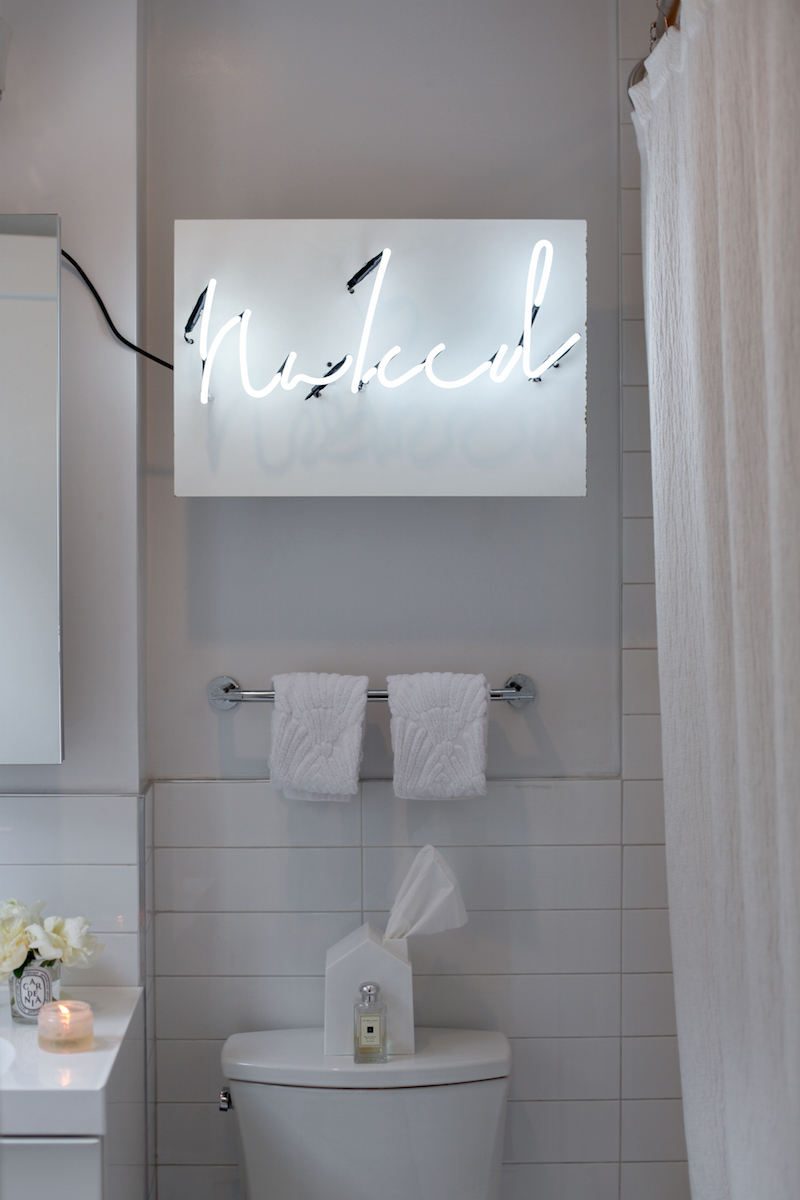 While neon lights in bathrooms surely aren't common, there's nothing stopping you from giving them a go and creating something never-seen-before, like the white restroom corner at The Every Girl; keeping close to the overall color scheme but nonetheless changing the bathroom game!
Living Rooms and Neon Lights Perfection
A living room is a place of socializing, relaxing, spending time with your family, laughing and simply, as the name suggests, living. If you want to make your living room feel exhilarating and alive, don't hold back on the neon lights – especially if they come in a form of a witty or personal sign, displaying words of wit and wisdom!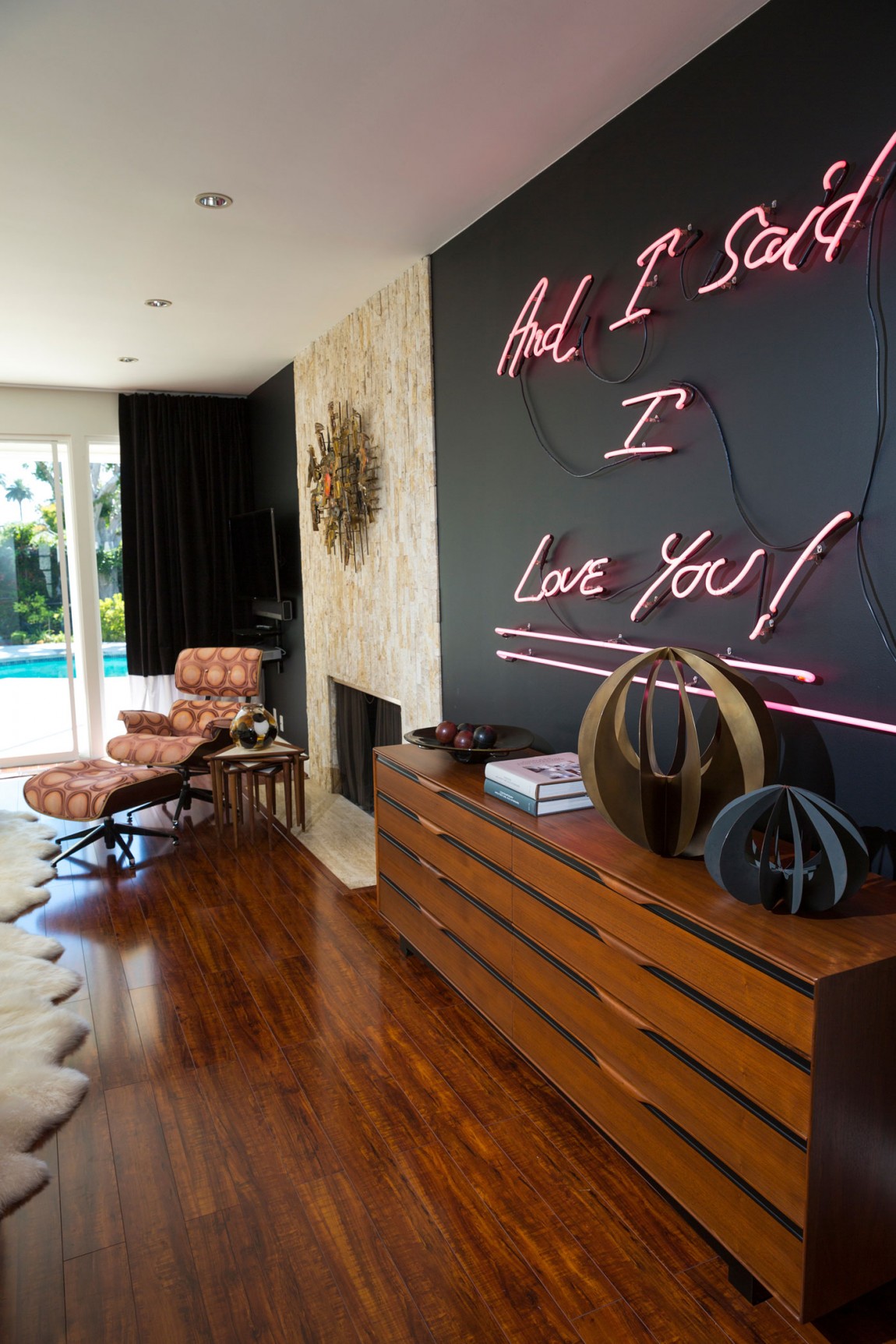 However bright your living room may be, there's always room for some neon lights to add a little extra lighting and create a dynamic space with an entertaining neon sign!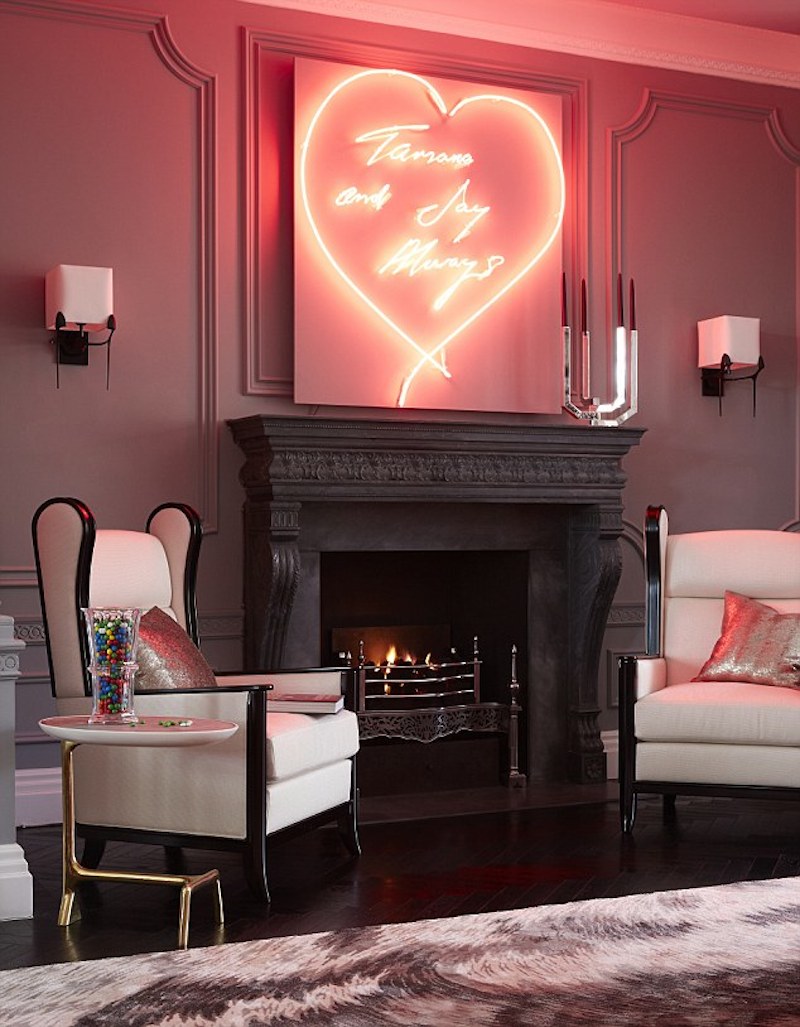 Transforming your living room from random to romantic can happen with a simple addition of a glowing neon sign that is radiating red light, instantly creating a passionate atmosphere. The Daily Mail went into Tamara Ecclestone's 57-room, £70 million mansion in London if you want to read more about it.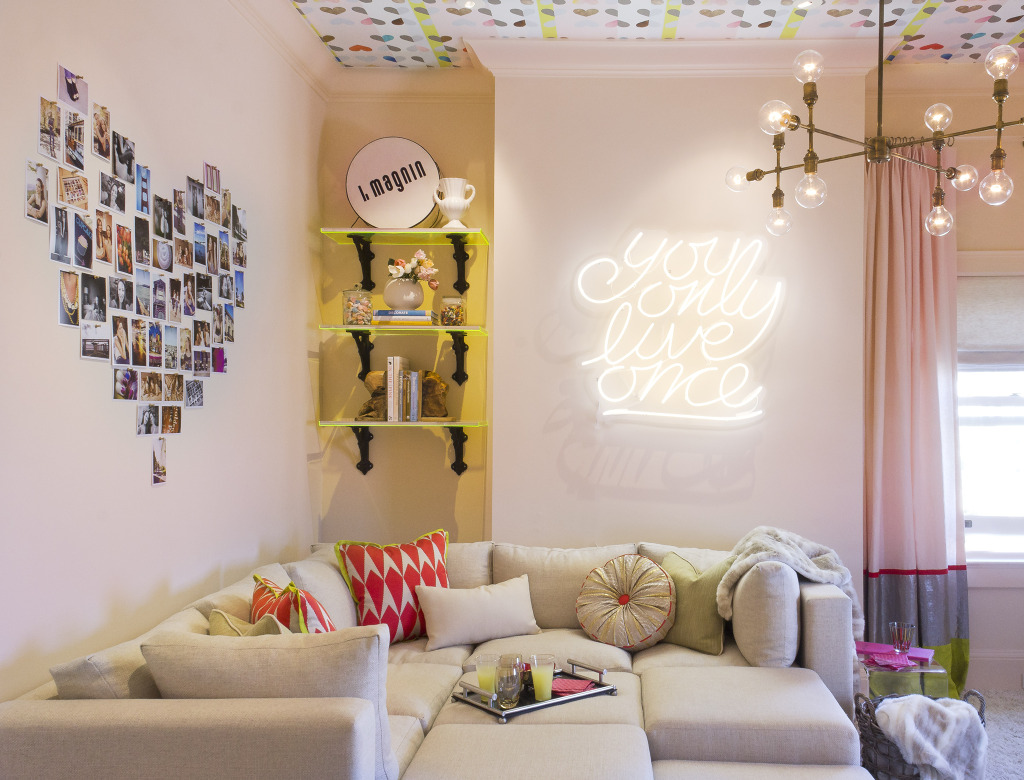 A neatly decorated living room in a gentle color scheme can only benefit from neon lights and their incredible talent of making the room seem more dynamic and lively! We love this styling found at Emily Mughannam.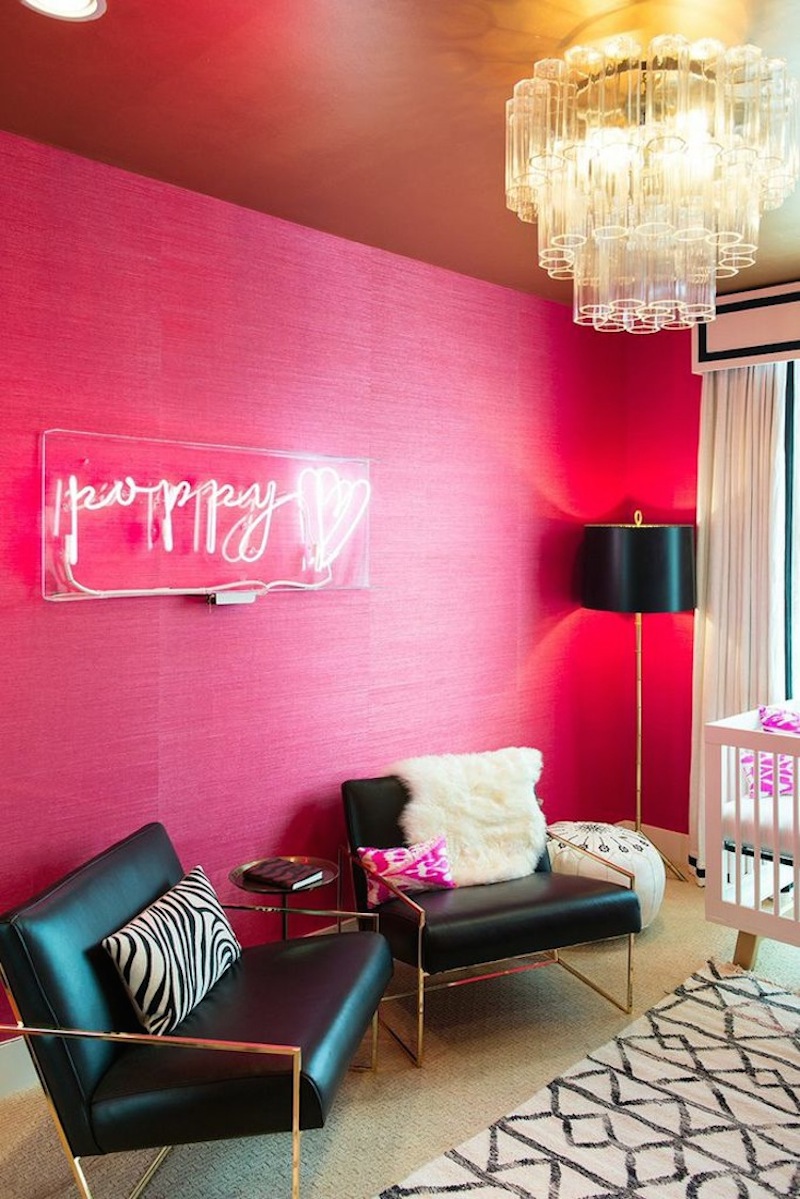 The beauty of neon decor is the freedom of being able to personalize it and therefore really make it fit your home and be a significant part of your household. See this beauty at Flat 15.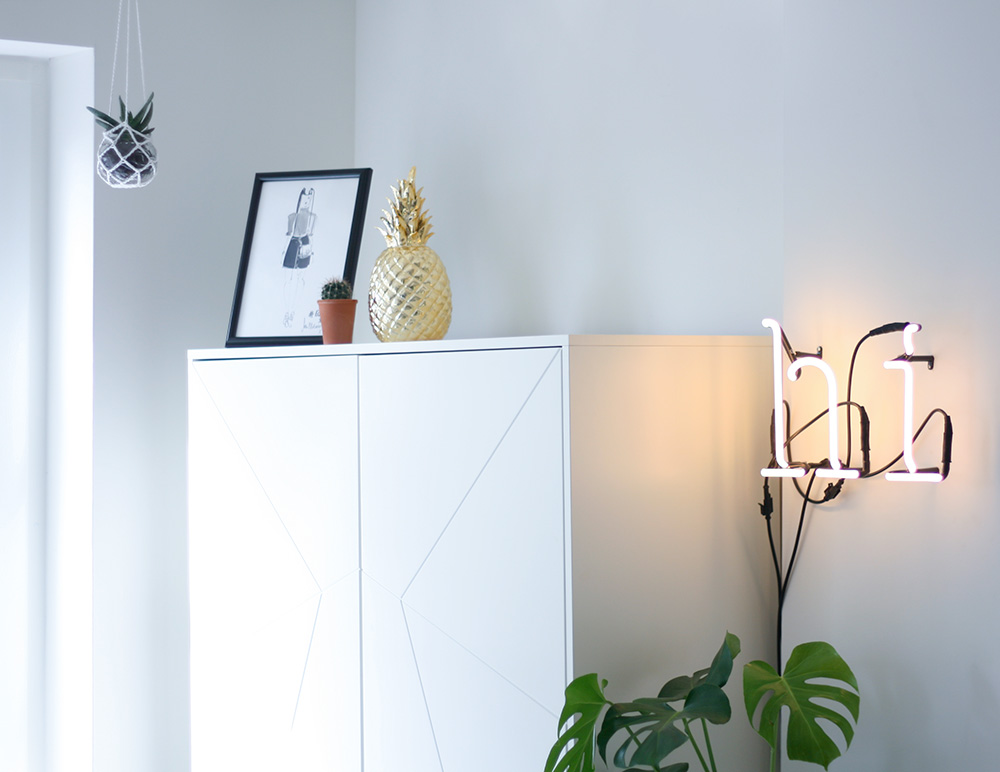 A sweet little space in your living room, stating a welcome to everyone who enters it, is something neon lights can do with class and charisma! If you want to extend the radiating light, go ahead and add a small golden decor element, like the pineapple we can see at A Dash Of Fash.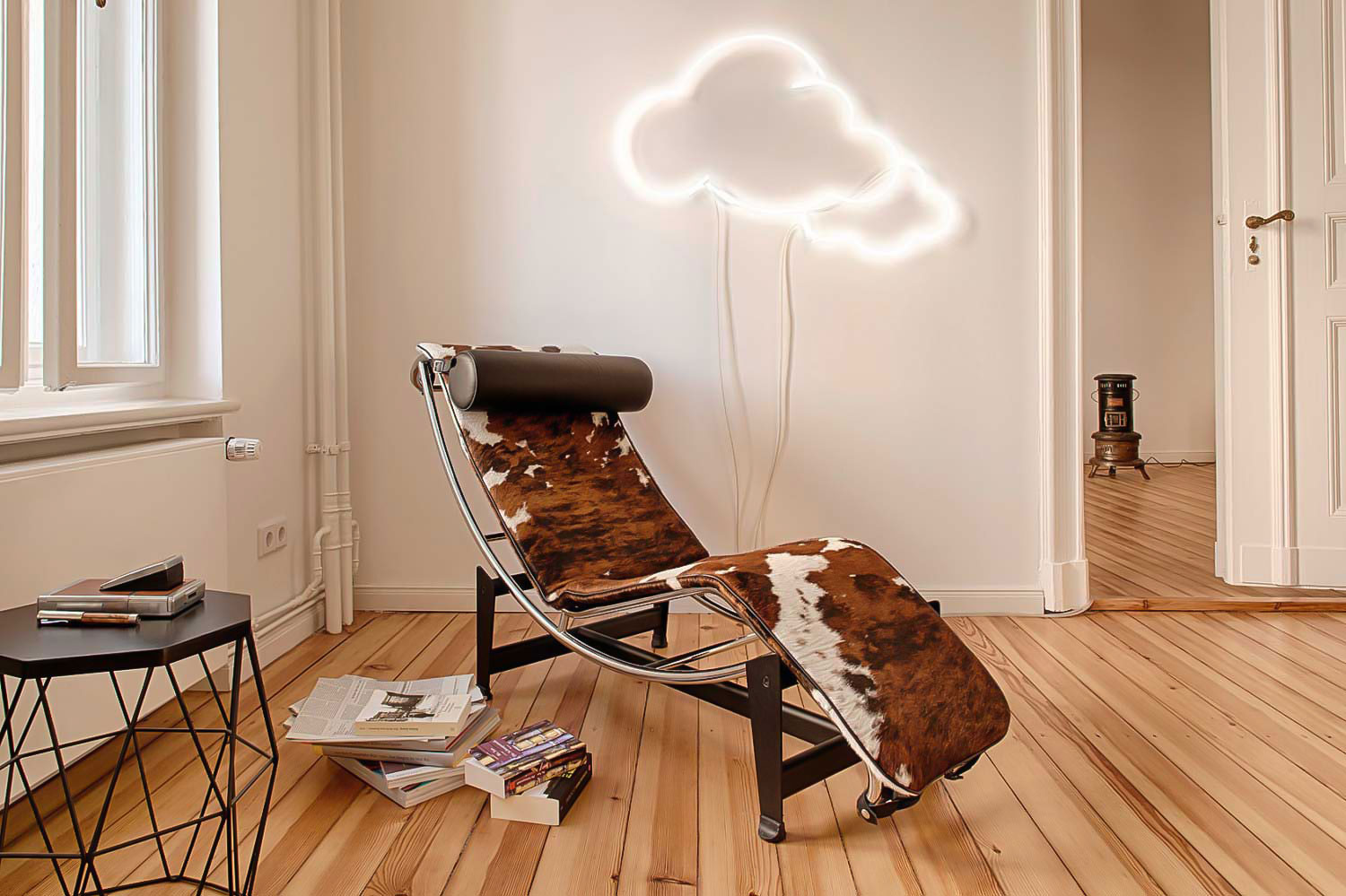 By Miss Moss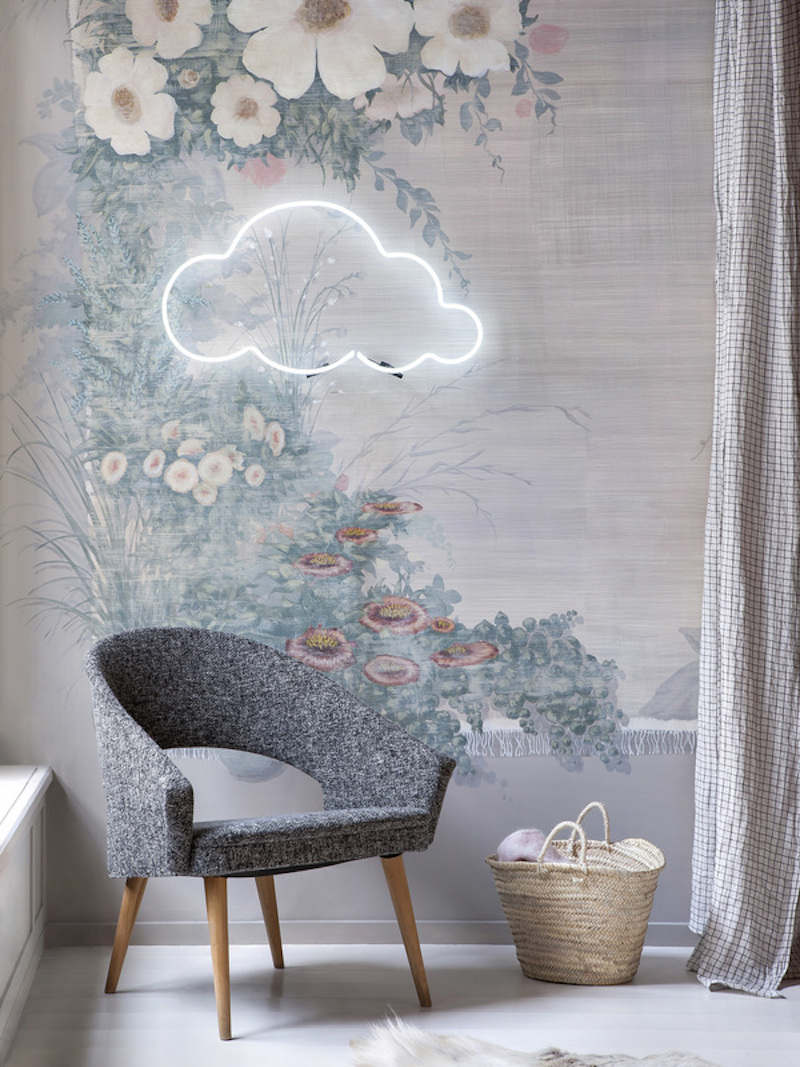 By ABL
Even a quiet reading space will benefit from some neon lighting, but perhaps – if aiming for a serene environment – opt for the lights of more subtle color and a neutral shape. Perfect for daydreaming, when your head's in the clouds, only a little neon light hanging above you will suffice.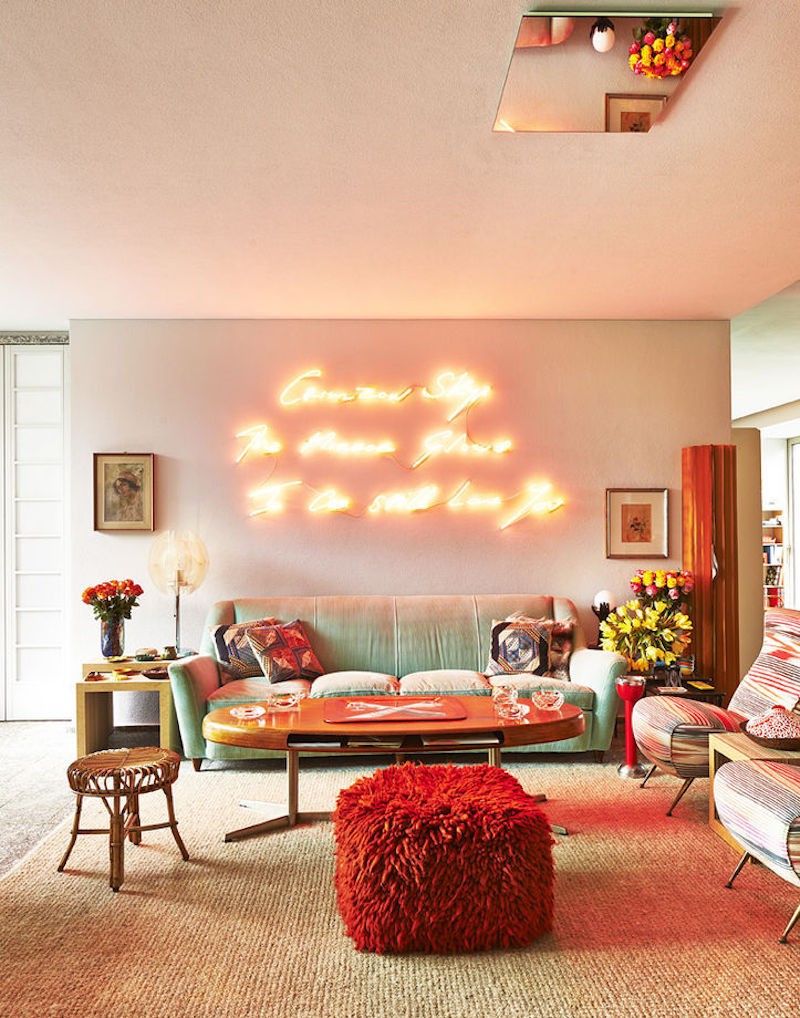 Here's another red and romantic living room that is almost designed for eternal romantics and their soulmates! When love is the way of life, this charming living room with a blinding neon sign is the place to be! Picture by Le Book.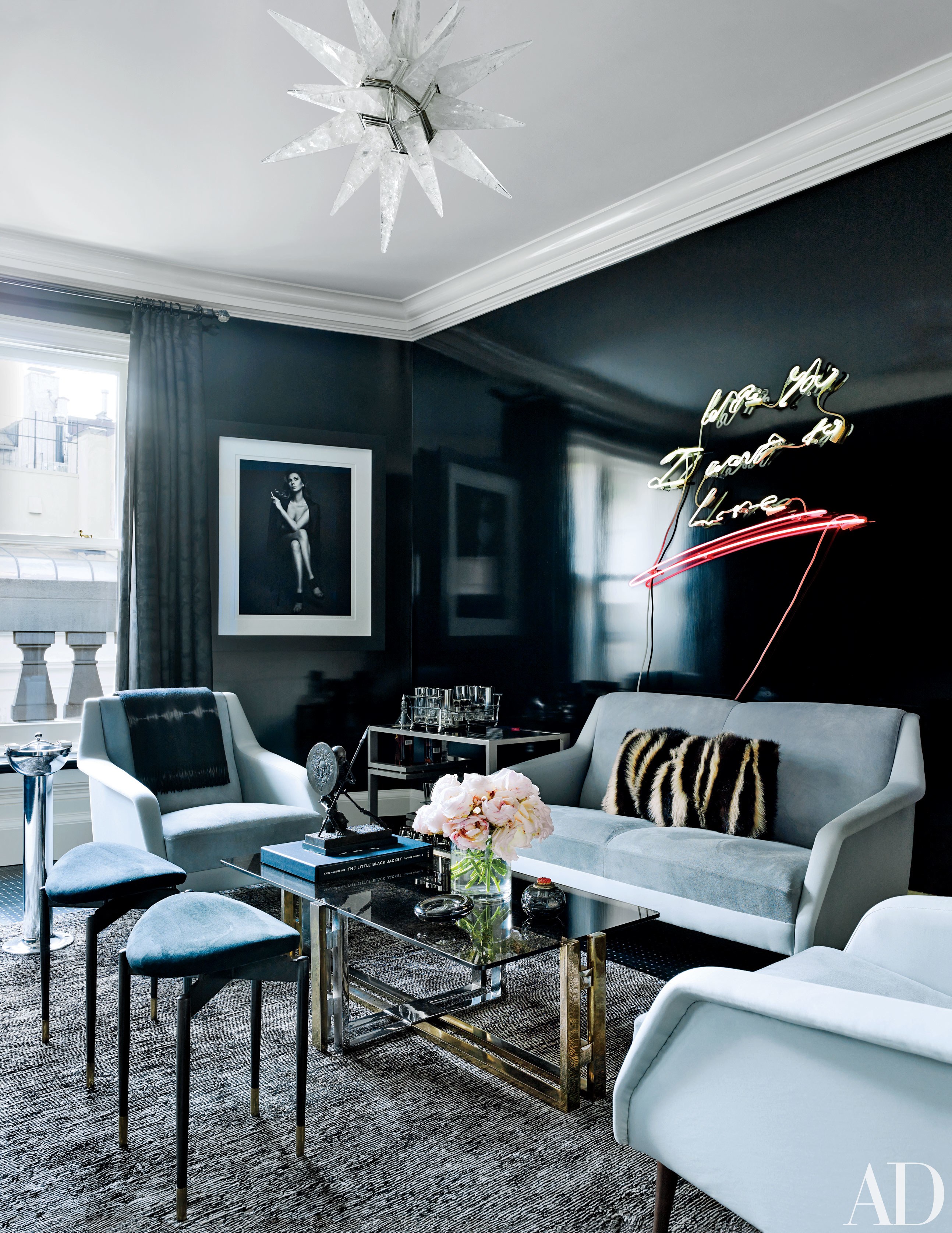 In a neutral living room a neon sign is the balancing element, spicing up the gray decor and allowing the room to carry an air of youth! We totally fell in love with this one at Architectural Design and can call it a feature favourite. How about you?
Pretty Neon Wall Art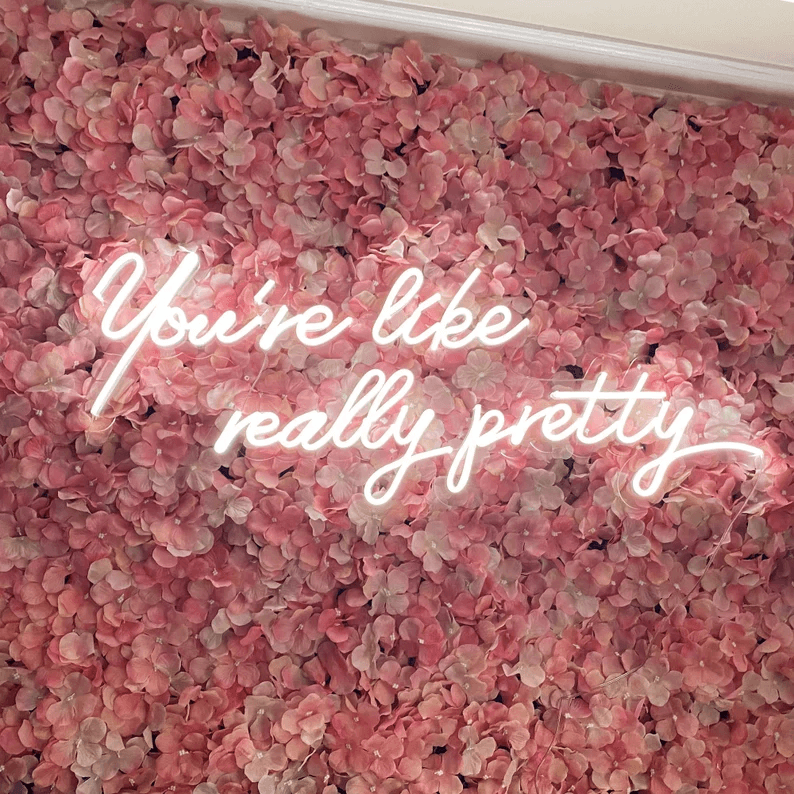 Channel your inner girly girl at heart! Even if pink is not your go-to color, you can still use neon to help your outstanding personality. These handmade "you're like really pretty" neon signs are a fabulous way to wake up every morning with a positive assurance hanging right above your head. It's quite easy to get caught up in your worldly struggles rather than taking a moment to discover indeed how far you've come. You and your loved ones deserve to be reminded how fabulous you are every single day!
Cute and Colorful Rainbow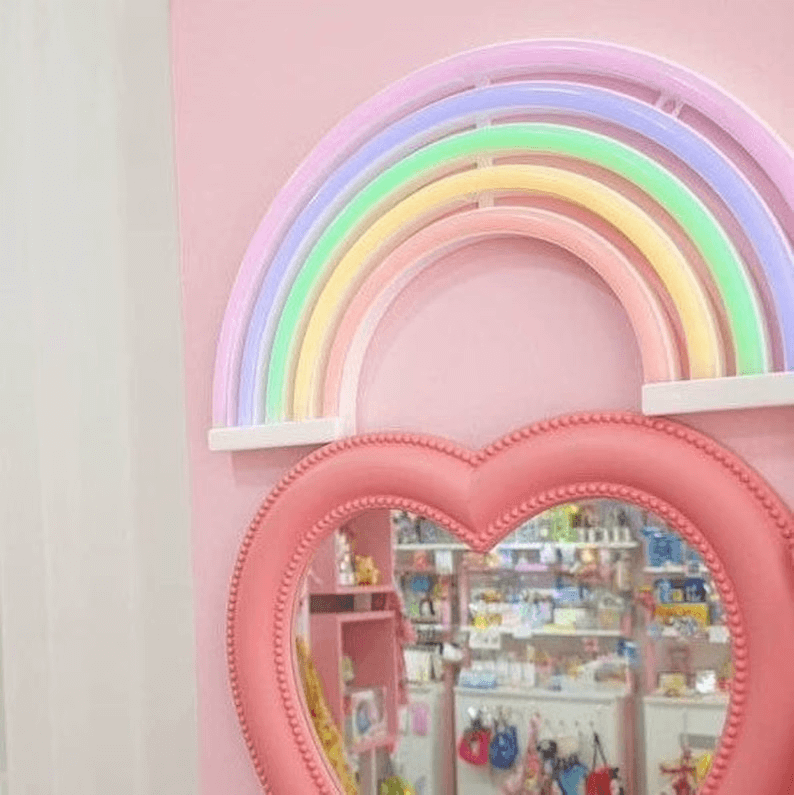 Your children are the most prized and gratifying part of your life. So spruce up their room with a gorgeous neon rainbow! Think back to when you got your first night light as a child. That was probably an unforgettable experience that you have in your memories forever. This handmade rainbow can be utilized as the best night light for a child that tends to get more terrified when trying to overcome the darkness of night. This rainbow decoration is still a great complement to any bedroom, even if your child is not afraid of the dark.
It Was All a Dream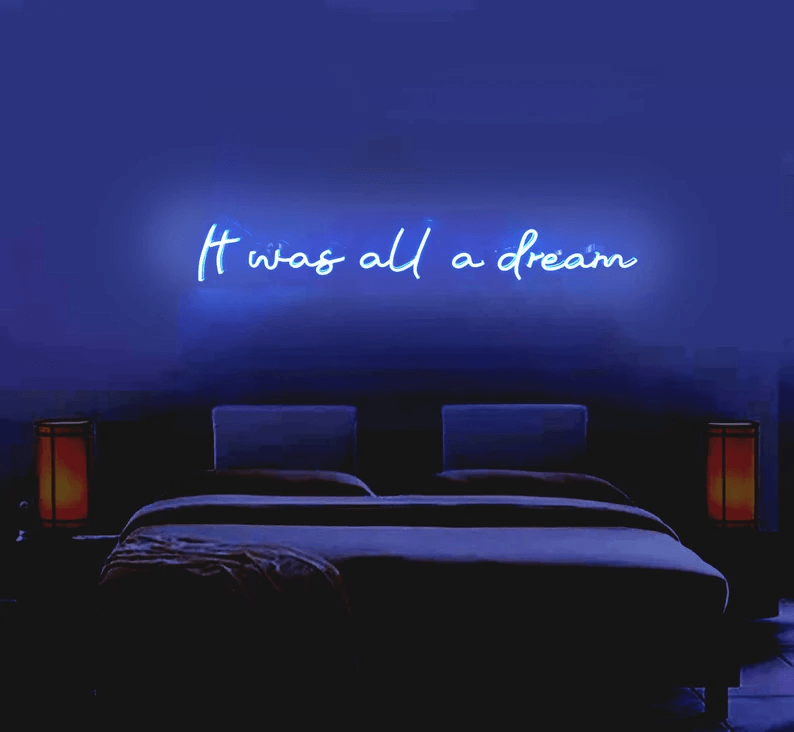 Use this neon sign as a wall art piece above your bed. The PVC molding technology allows for high-level innovation and a high-quality look and feel. This neon sign can be the last light you see before you ultimately fade off to sleep after a long day. Also, this neon light has an installed dimmer to make sure that the lighting isn't too overbearing when you're ready to sleep.
Stay Sassy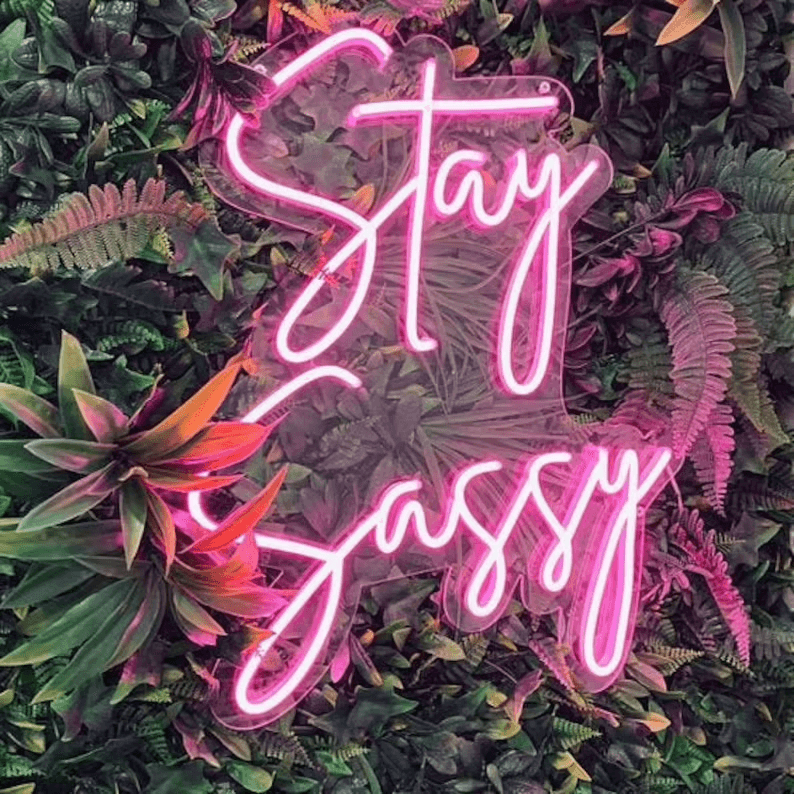 Has your room had the same dull decor for as long as you can remember? Take advantage of this customizable neon wall decor if you're willing to switch up your everyday style. Adding just the least amount of character to your bedroom can help you feel more satisfied in your space.
Cheers!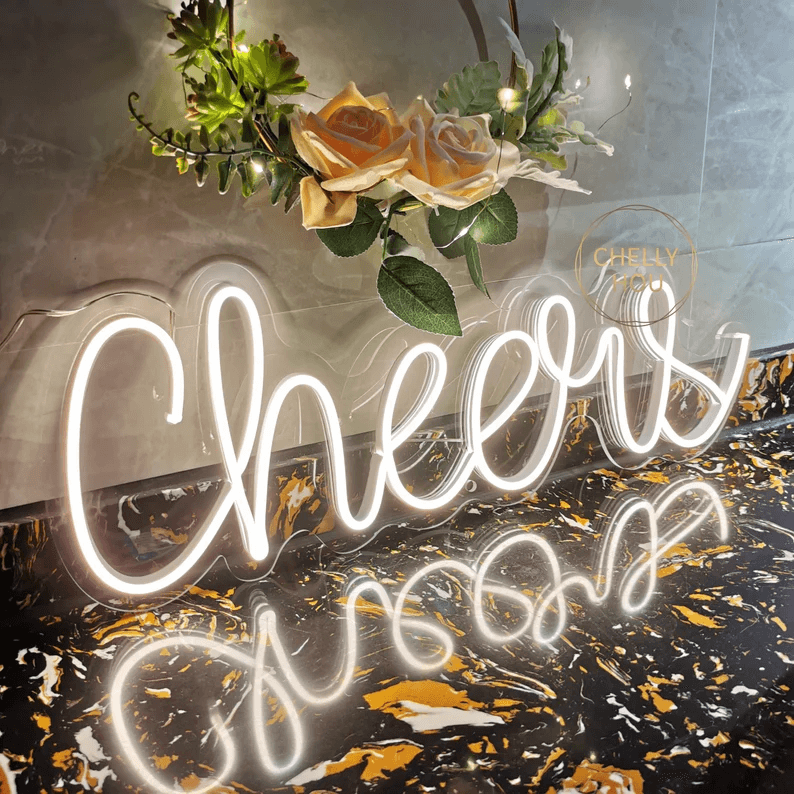 To The Moon and Back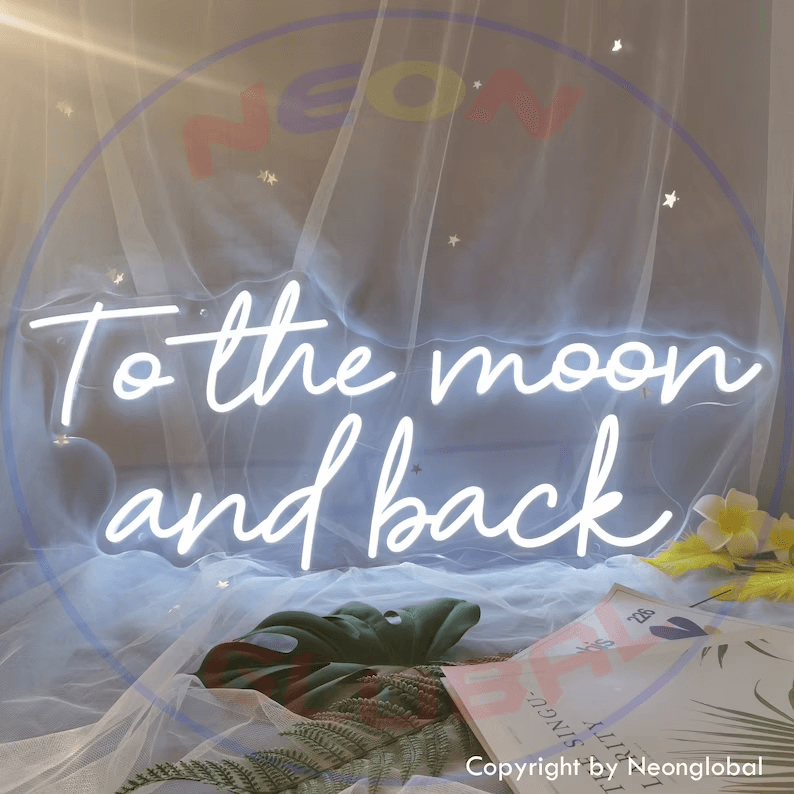 If you're looking for something fun and bright to jazz up a nursery, look no further than this "To the moon and back" neon sign. The LED technology is exceptionally durable, and the pliable silicone tubes allow you the opportunity to choose exactly what you want this sign to say. Aside from the nursery, this personalized neon sign can also be used for various home decorations, social events, room décor, and so much more!
Good Vibes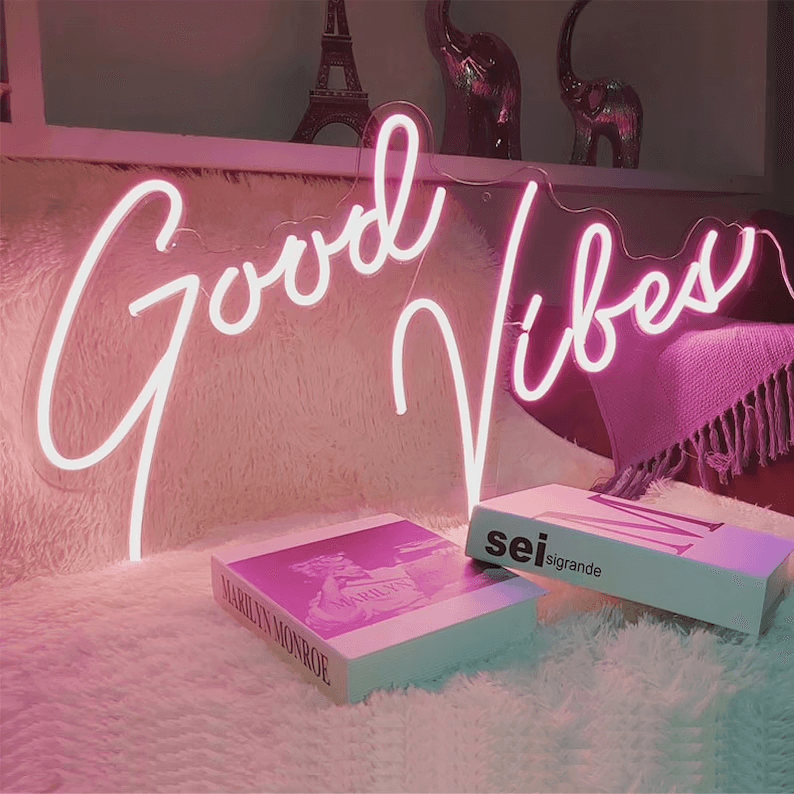 Use the "good vibes" neon sign as a way to rid yourself of all the negative energy that tries to take the essence of your life. This sign is an exceptional way to add a cheerful flair to your room that also represents your personality. If any you know is going through a tough time, this can be just the right motivation they need to know they're not alone in their fight. This beautifully handmade wall art makes a great gift for someone you care about. There is no such thing as too many good vibes.
Game Room Sign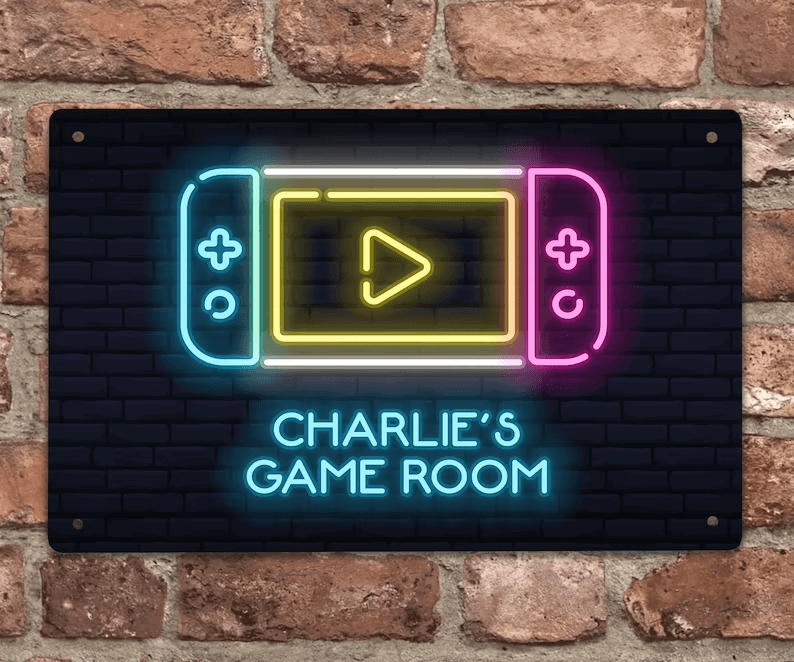 Nothing says game room like a neon light perfectly shaped into a handheld Nintendo Switch. If you know someone who loves to immerse themselves in the gaming world, this wall art can be a great addition to them. This sign primarily focuses on the people who think themselves master gamers, but there is always room to personalize the message underneath. The gamer signs come in both small and more extensive sizes, so you can customize the sign to fit the space you're working with.
Angel Wings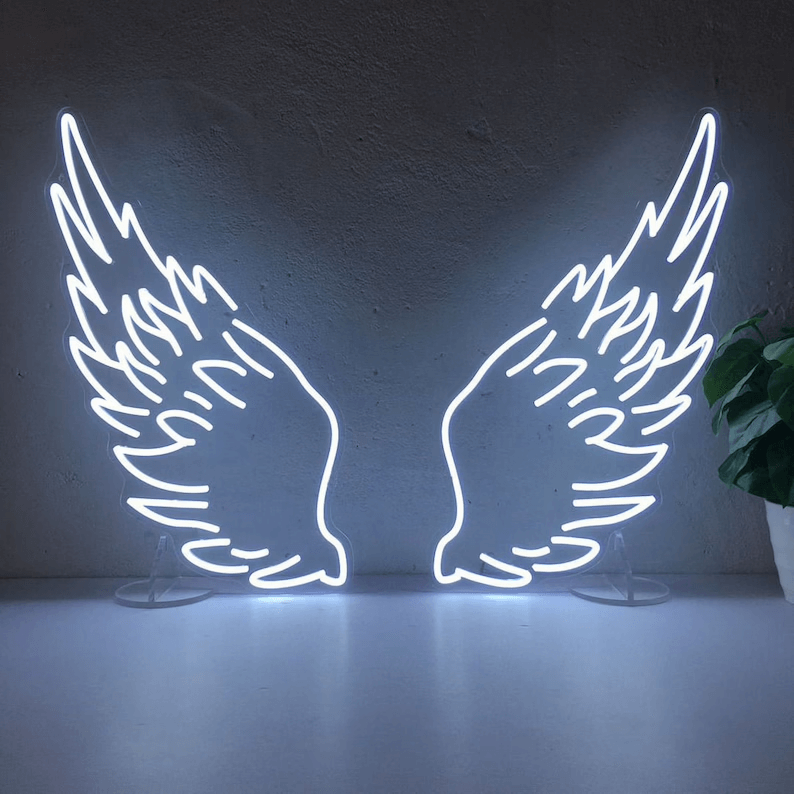 With high-quality acrylic backboards, these LED angel wings can be effortlessly hung up on your wall. Use this neon wall art as an incredible background that will feed your love of photography. You will instantly fall in love as soon as you mount these on your wall.
Bridal Sign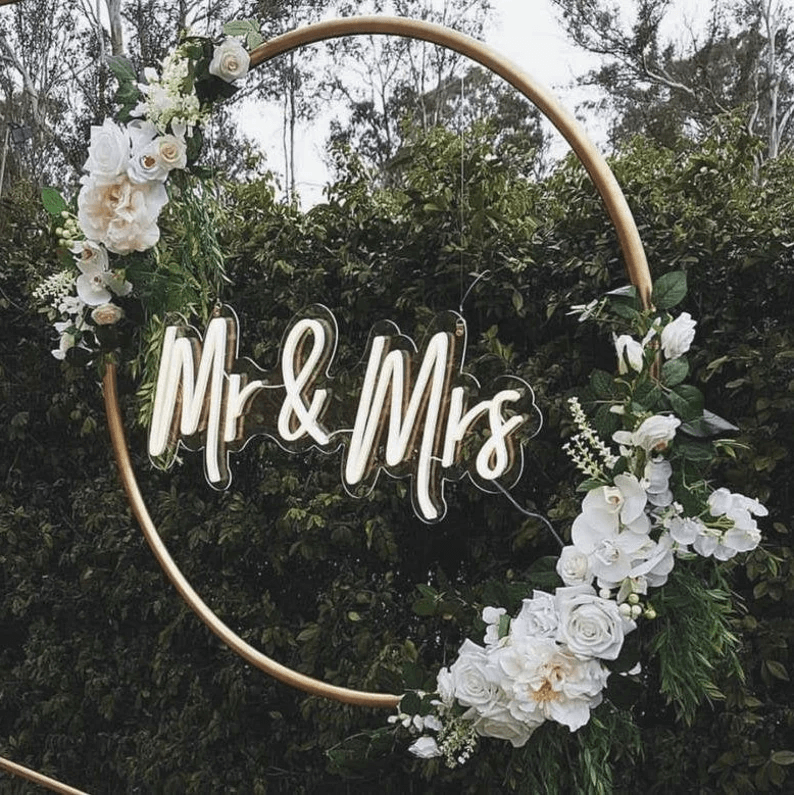 Your wedding is one of the most special days of your life, and you can add a little bit of your personality to your remarkable day with this "Mr. & Mrs." neon sign. It will go great in the middle of a floral circle just for you. If you've never really on to go outside of the box for decorations, your guests will never see this one coming!
Happy Birthday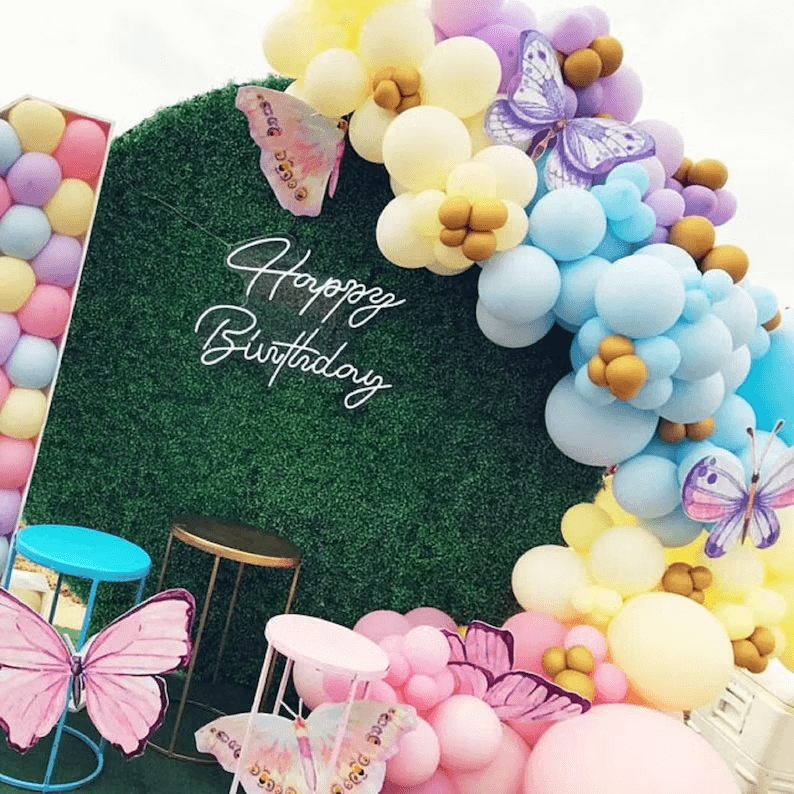 Another celebration that you can illuminate with a neon sign is your birthday or someone else who is special in your life. Mark a milestone birthday with a stunning neon sign. If you keep the messaging simple you can reuse it for many birthdays to come!
Classic Bar Sign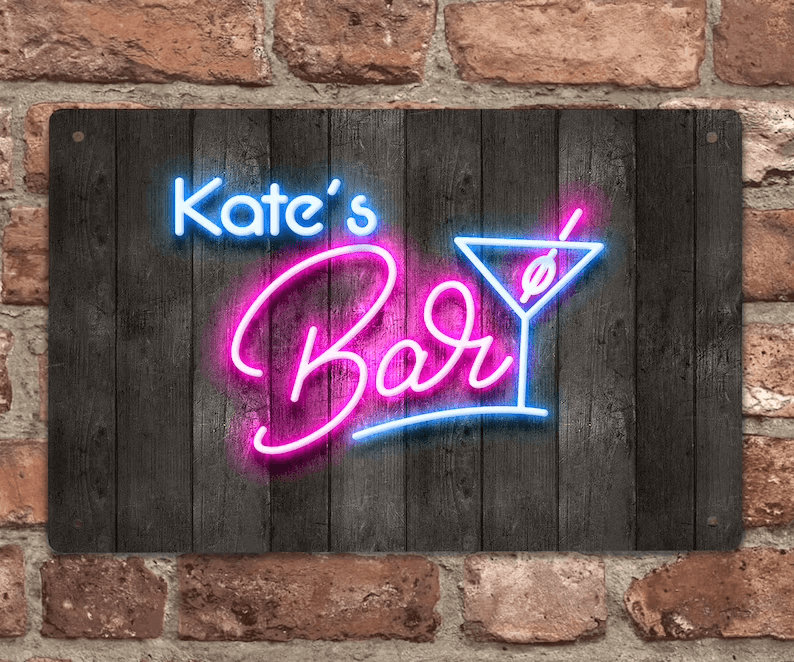 This neon sign provides you with a refined spin on the regular light-up version. The design you choose is printed onto an aluminum base, so you can use this either indoors or outdoors. So this is a great sign for those outdoor bar patios. The glossy finish really brings to life your name or can even be used for company logos. Maybe you don't actually have a bar business to call your own, but the amazing drinks you mix up in your backyard may cause quite the talk in your neighborhood!
Surname Art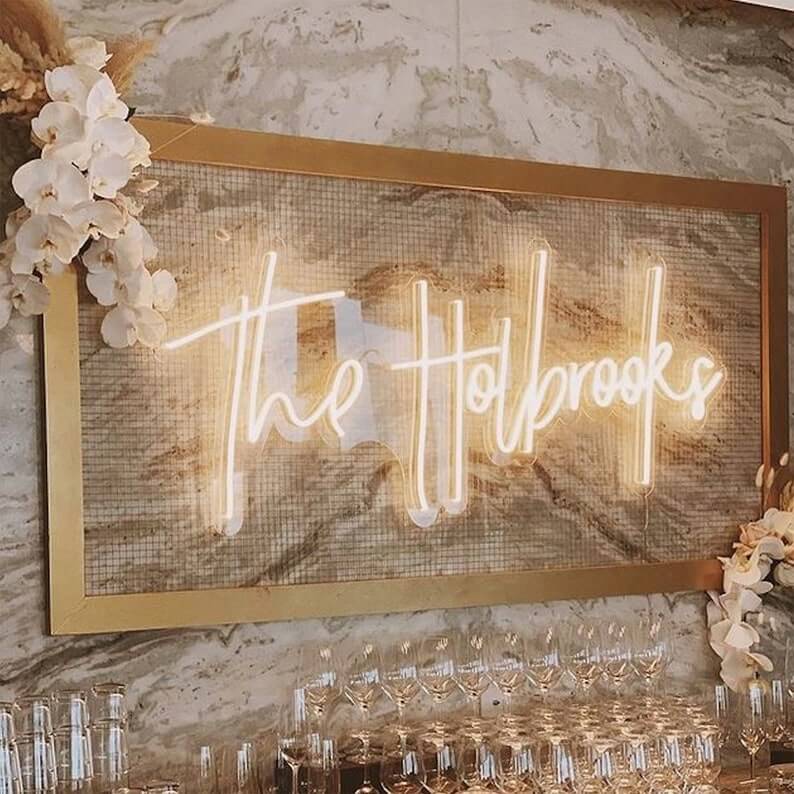 Surname wedding signs are one of the best neon sign decor ideas because you have the power to fully customize the sign you decide on. You can use these signs for either the wedding ceremony itself, just the reception, or maybe even both. Whatever scenario you choose to use, your sign will add a nice romantic feel to your fabulous wedding day.
Flying Saucer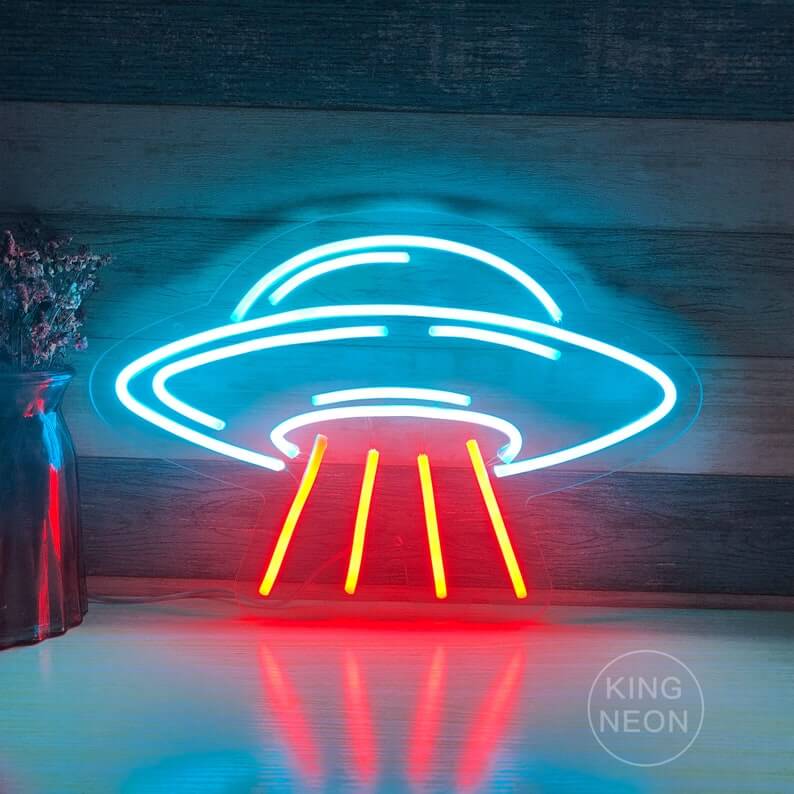 A UFO neon sign makes an amazing addition to a child's bedroom. If you know someone who is fascinated by aliens, this sign will greatly complement their bedroom wall. A flying saucer sign can be the motivation they need to start adding a few more neon additions that will transform their bedroom into outer space. A flex LED neon sign is much more suitable for larger decorations because it's not fragile and will last for a long time. This multi-colored sign is perfect for both indoor and outdoor use as well!
Yes to Champagne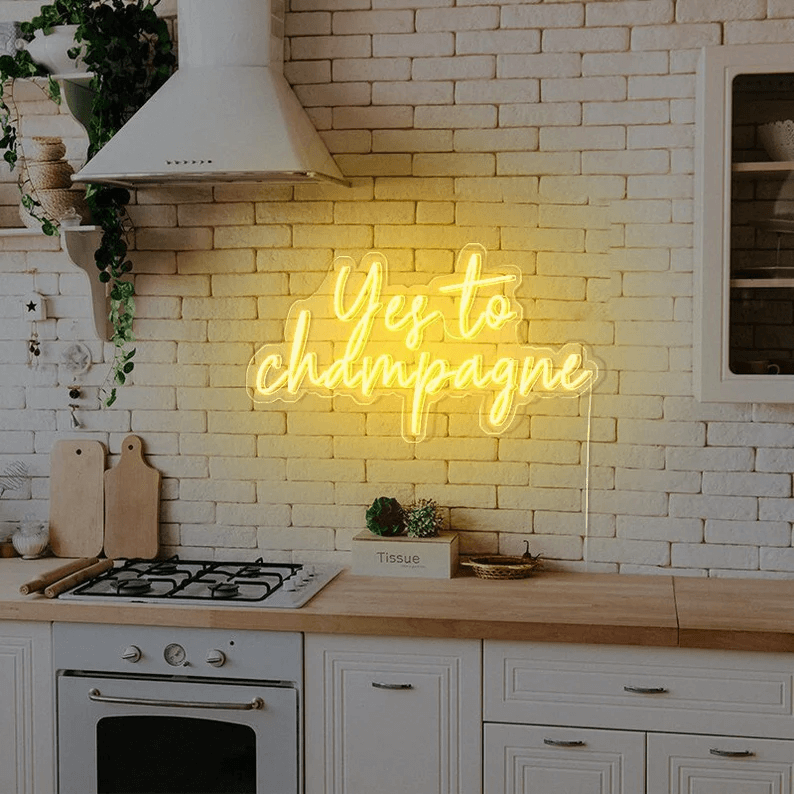 Create a kitchen scene that envisions who you are as a person. Add some flare and illumination to your cooking space with a neon sign. This "yes to champagne" sign is a great way to spruce up your kitchen area without squandering a lot of money, time, or effort. With this special sign, you can customize the font and the color to make it truly stand out and align well with your personality.
Kid's Room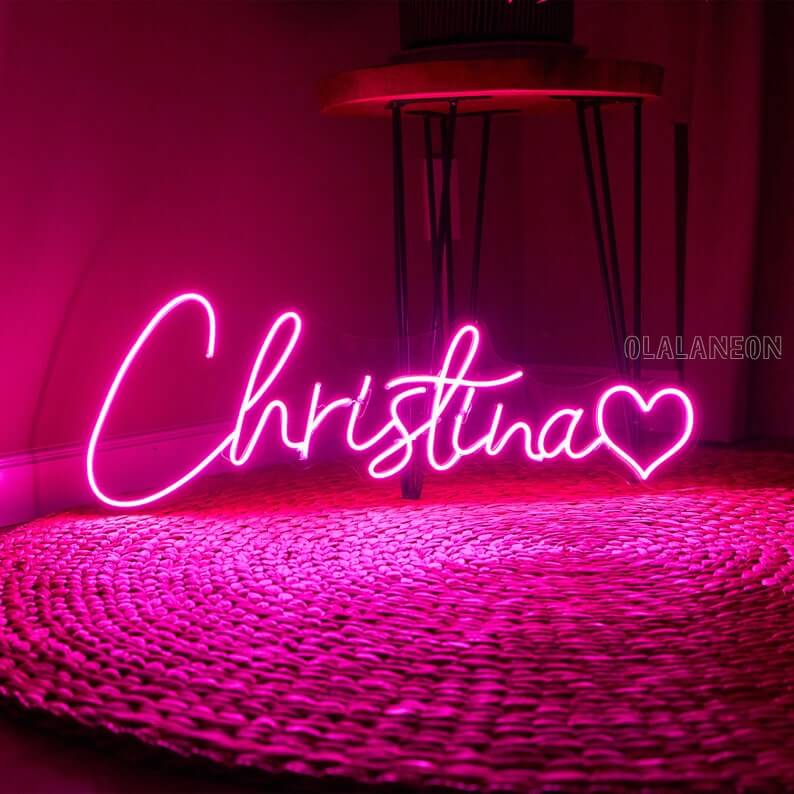 What better way to show your children the enormous amount of love you have for them than to give them a custom-made neon sign with their name on it? This can be an intensely special birthday gift for your younger children. If you have a young adult who is now in college, this is the best way to allow them to personalize their dorm room so they don't get devoured up in the hallows of endless studying.
Red Lips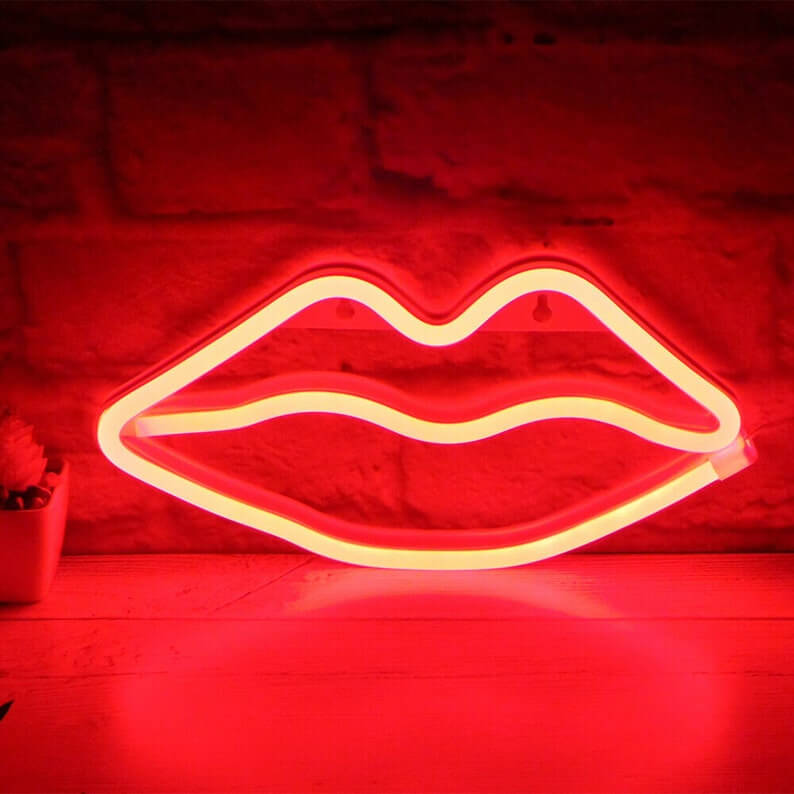 This glowing red lips sign is an excellent addition to any bar or bedroom space. Let your disposition shine through with this fun yet exotic wall art that can truly be placed on any wall in your home. Some days when you need a little pick me up, turn on this neon sign to remind yourself how fun and easygoing life can be.
Coffee Bar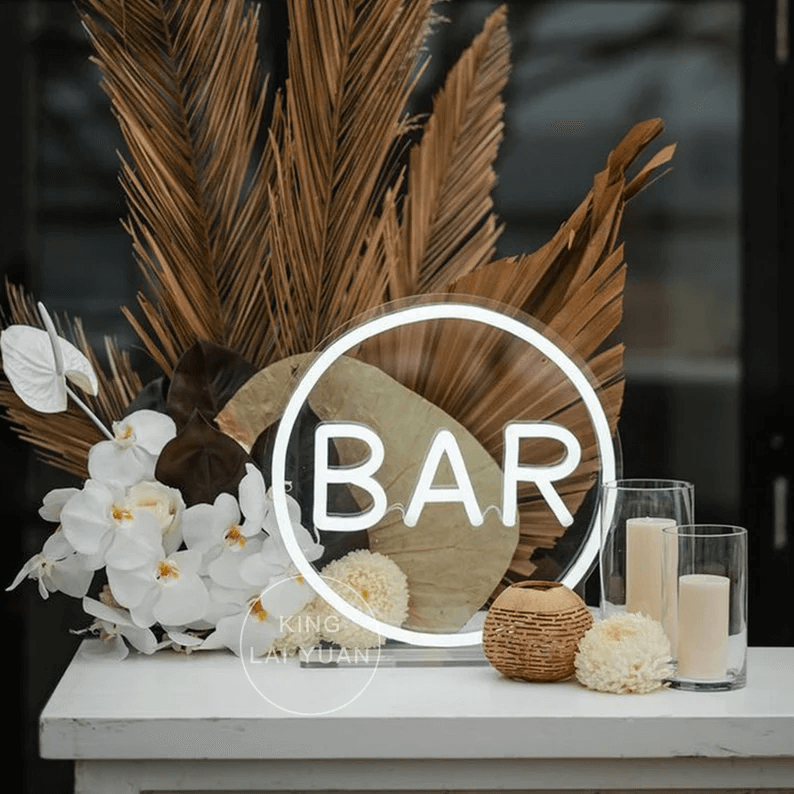 This circular bar sign will help you add the finishing touches to the coffee bar in any room in your home. Any time is a wonderful time for you to set up a cozy coffee station in your space, and this sign will make sure your coffee bar space is fantastic.
Newlywed Initials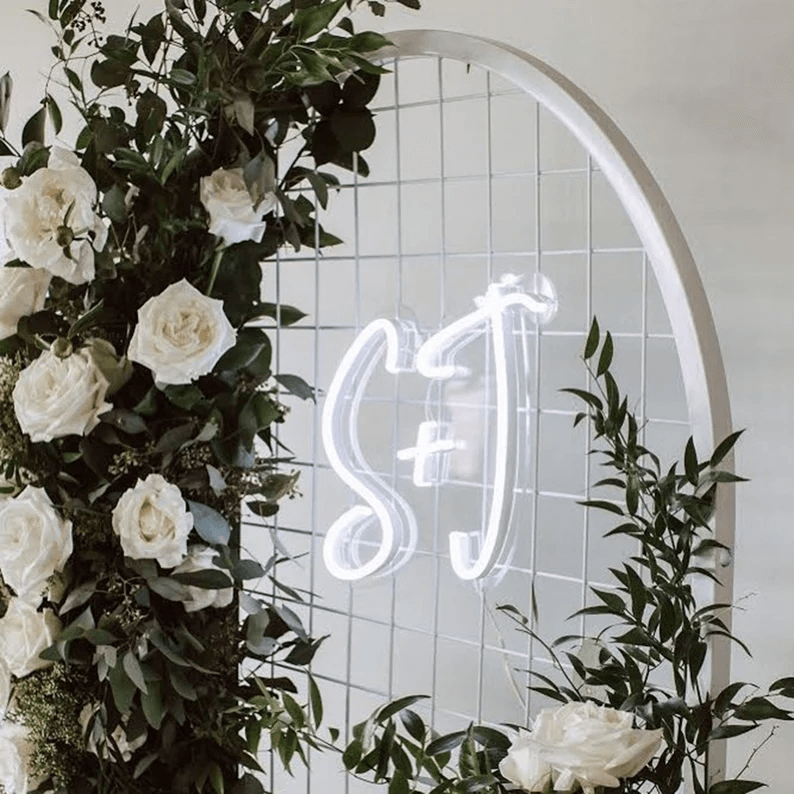 Bright White Cloud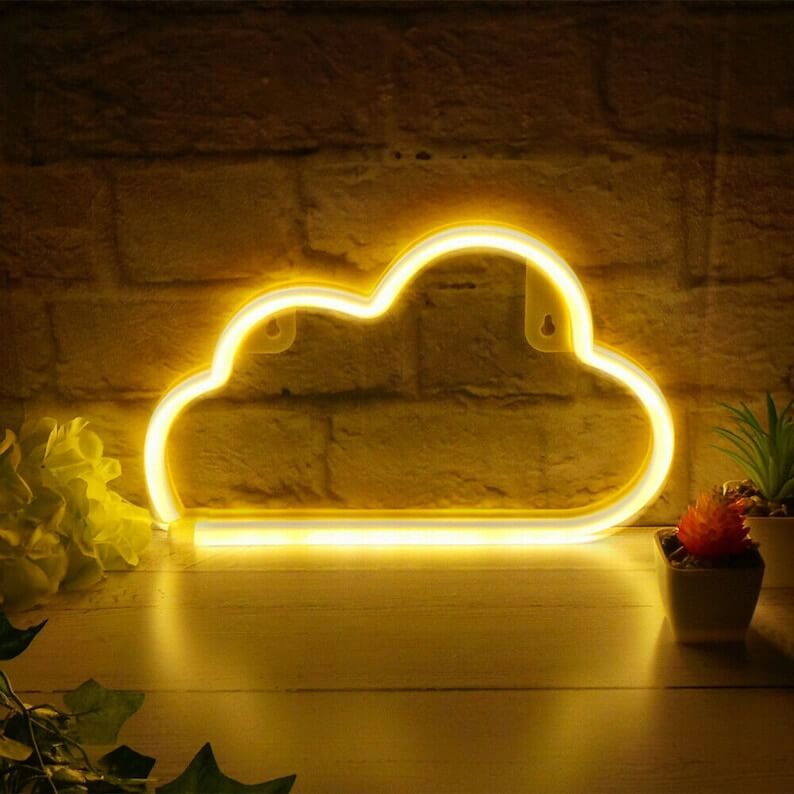 Float away on this wonderful white cloud of alluring neon light. Your bedroom could always use a makeover, so start with this adorable light option. The uncomplicated shape lets you calm the more minimalist side of your personality while satisfying your innovative edge. This warm color is particularly inviting and can be used for any room inside your house. The soft lighting produced by this special light is also great for a child's room.
Twinkle Twinkle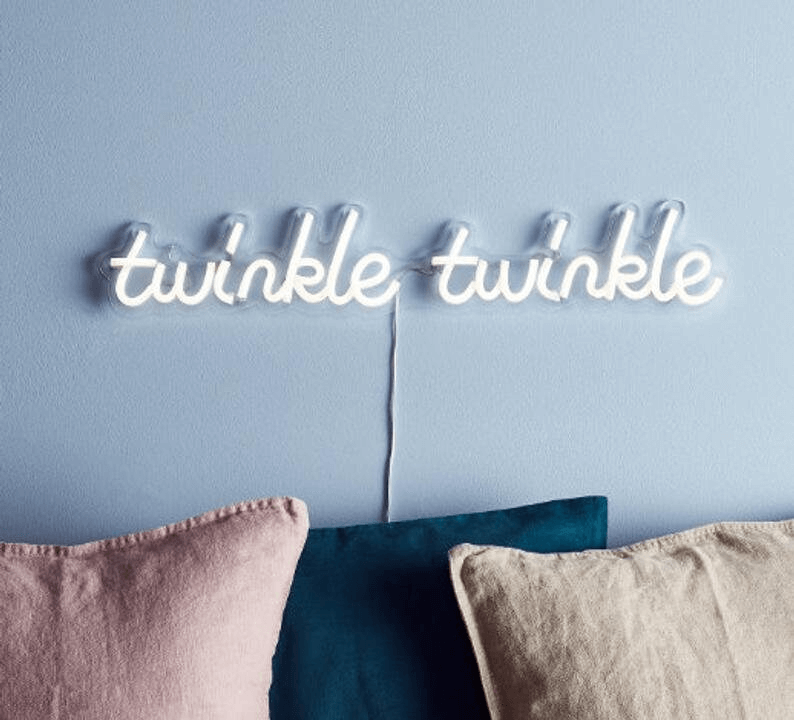 Guitar Night Light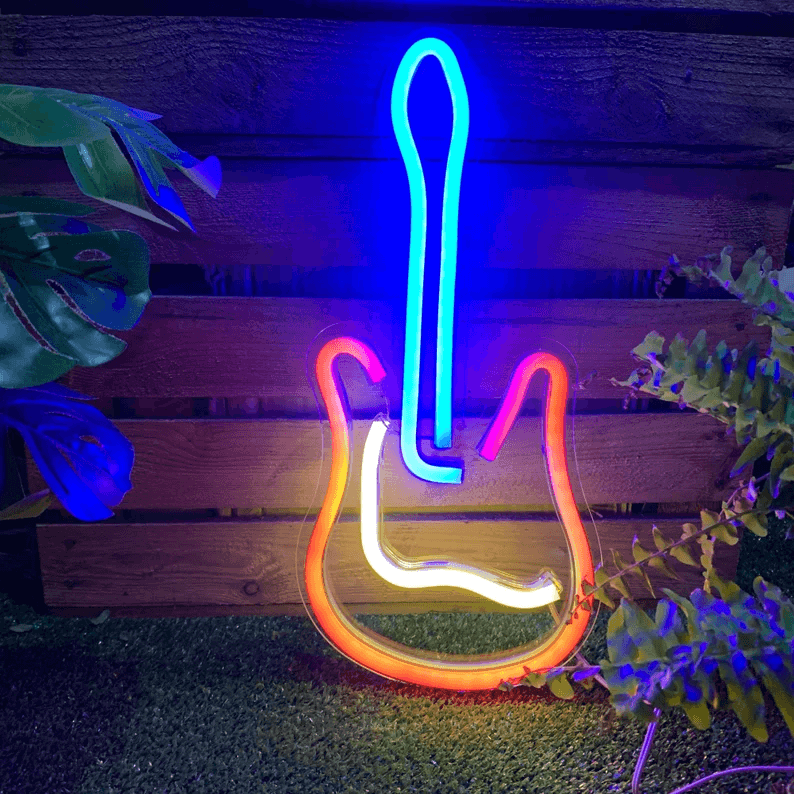 If you're an avid enthusiast of all aspects of the music industry, especially guitars, then this neon light will be right up your alley. The red, blue, and yellow colors all blend very nicely together to truly form a masterpiece that will look amazing inside your home. If you want your living room or kitchen area to have an edgy look, hang this neon sign up on the walls and let the guitar do all the talking for you. Your guests will truly appreciate the fun atmosphere this neon guitar creates.
Valentine's Day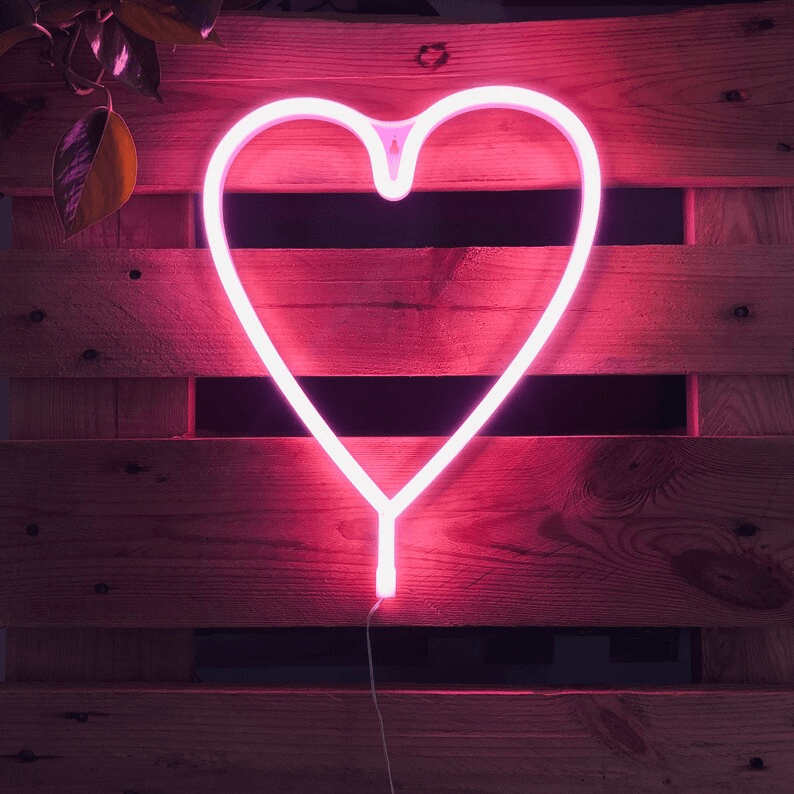 Start preparing yourself for Valentine's Day's loving atmosphere, and if you haven't quite settled on the right present for your significant other, use this as a small nudge to get them this gorgeous neon heart. The unique pink color quickly lights up any room and sets the ideal mood for date night. If you'd like to make the experience a little more intimate, place this neon wall art right above your bed. If you don't want to use this for your own special events, you can also give this as a birthday present to your loved ones.
Wedding Newlywed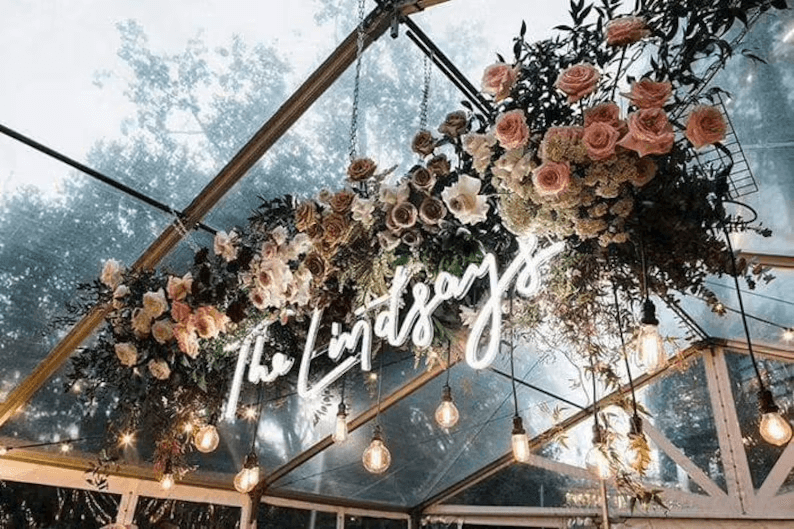 This is one of the best neon sign decor ideas for a wedding. This surname wedding sign will look gorgeous right in front of your favorite flowers. Everyone gets flowers for their wedding day, but you could also add your own design by including a neon sign in the font and color of your choice. You can hang it in your home after the wedding and keep it and enjoy it for years to come!
ON AIR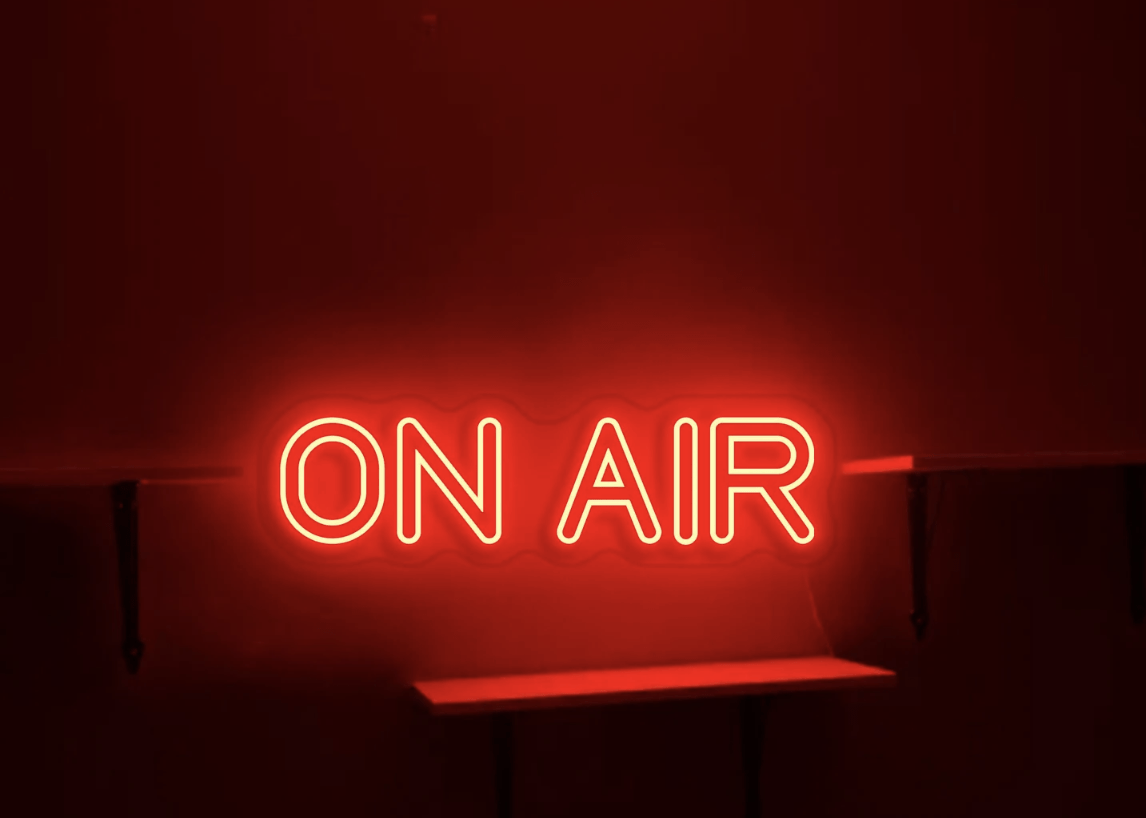 This sign is an awesome option for bedroom walls, but you can also take it a step further by using it for your next social gathering. These LED decorations don't produce any buzzing sounds that may divert you from your business while working at your office desk or sleeping soundly in your bedroom. If you're slightly behind with your current decorations, there's no problem a fun neon sign can't fix!
Frequently Asked Questions
FAQ
Are neon lights better than LED?
There's no doubt that LED lights are definitely brighter and can even be seen shining during the day, whereas the light from glass tube neon signs is considerably softer and more prominent after dark. So it's all a matter of what style and type of light you are after. A neon light makes a softer night light.
What colors are best for neon lights?
Red and green LED Neon Flex are two of the most popular colors for creating neon signs. Associated with dates such as Christmas, St Patrick's Day, and Valentine's day, this lighting is often chosen for these purposes but yellow and pink are also becoming increasingly popular colors for more modern and trendy decor.
Do neon signs use a lot of electricity?
LED neon signs are highly efficient for energy consumption. Statistically, one foot of conventional neon light absorbs about 20 watts of electricity per hour. In contrast, the same length and thickness of the LED neon tube can be consumed as low as 1.2 watts for the same duration
Do neon lights get hot?
There's a myth that neon tubes get very hot, and this is simply not true. They may get slightly warm to the touch but would not burn you. If a neon sign has been manufactured correctly and supplied with the correct size of transformer for the number of neon tubes, then the tubes should not get hot.
Can you leave neon lights on overnight?
Yes, you can leave y our neon lights on overnight. Although it may seem counter-intuitive, leaving your neon sign on 24/7 will make it last longer. The electricity cost will be minimal.
If you're interested in other lighting ideas for your home, take a look at these articles: