The farmhouse laundry room is a perfect venue to showcase the splendor of rustic motifs in your farm. Farmhouses have legendary charm and sophistication, but they do not always denote characteristics of the bygone era. They are also a combination of timeless elegance and modish comfort in their own distinct way.
The major appeal of farmhouse laundry rooms is in their humble materials and subtle hues. They mostly border on soft and neutral tones littered with vintage pieces. However, there is so much more to farmhouses than just wood and nature.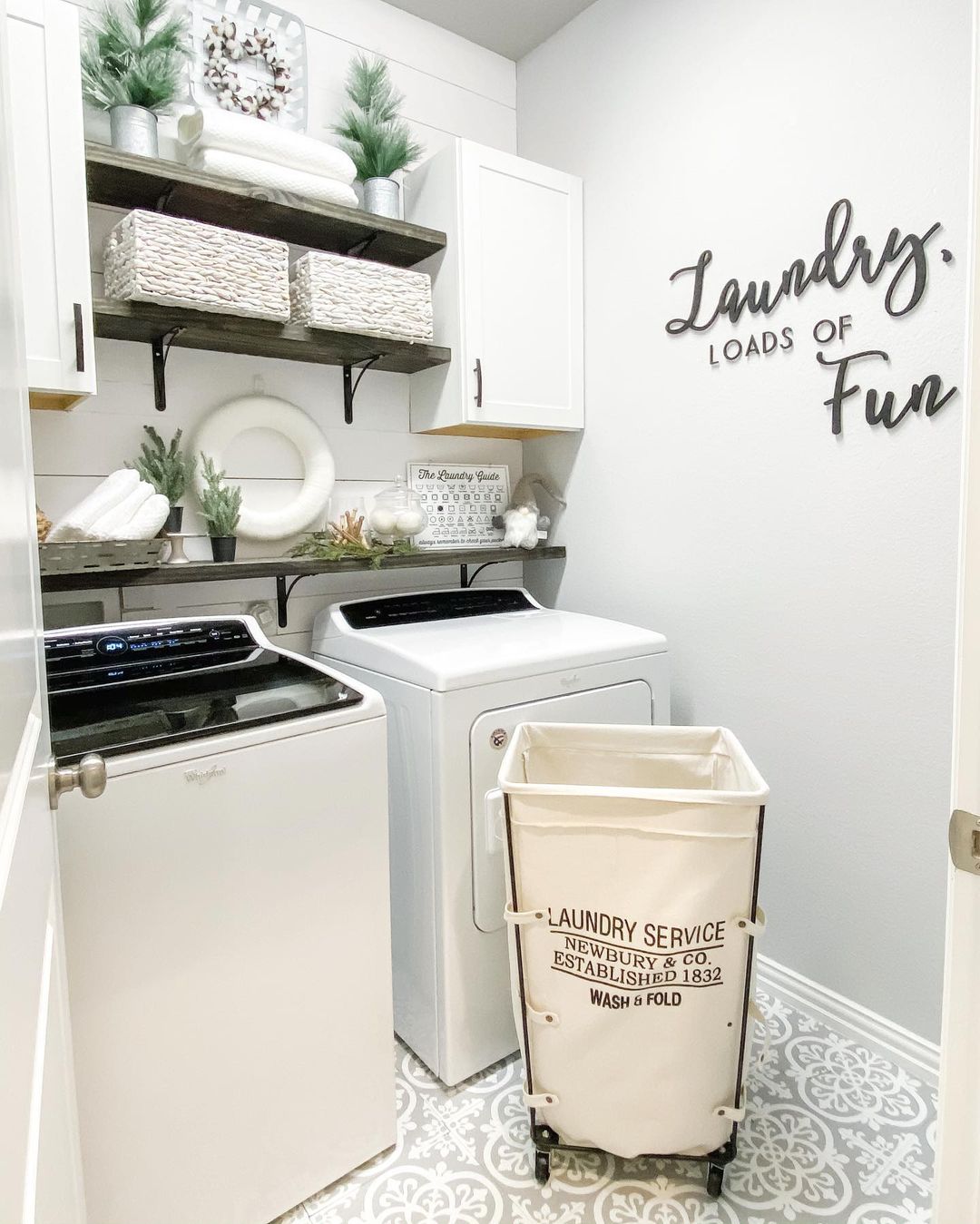 So, we collated a slew of ideas you might want in your laundry room. Here's to that little rustic feel as you go about your chore in this busy little space.
Spell Rustic with Slabs and Batten Cabinet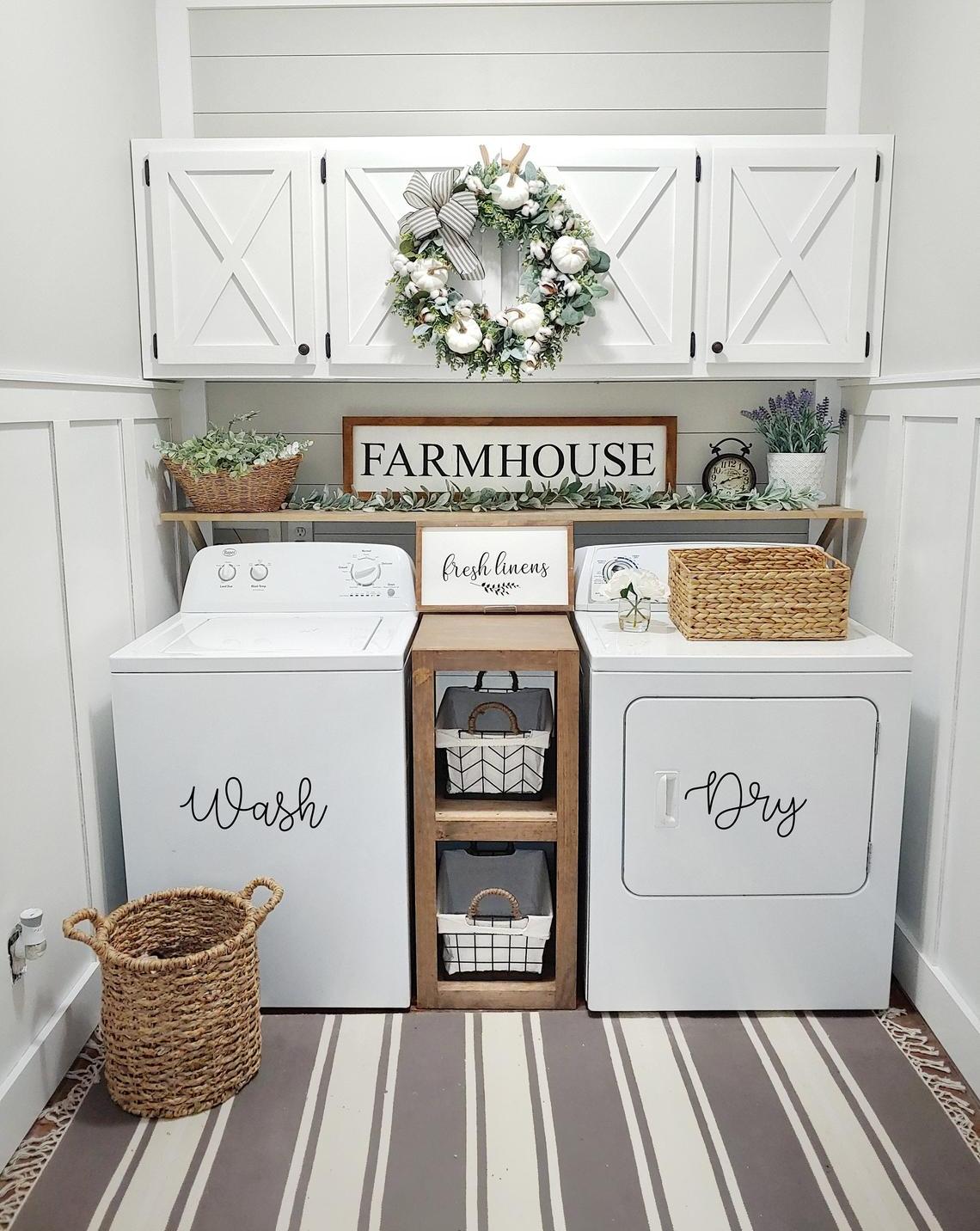 Little concepts like traditional doors boast the idea of rustic appeal. Slabs and batten doors, for example, connect the whole concept of farmhouse designs. This chic farmhouse laundry room maintains the clean and natural charm with soft tones. The striped floor mat complements the room and gives it a balanced look. Hang in a wreath and some plants and turn this place for chores into a pleasant place for inspiration.
Throw in Traditional Pieces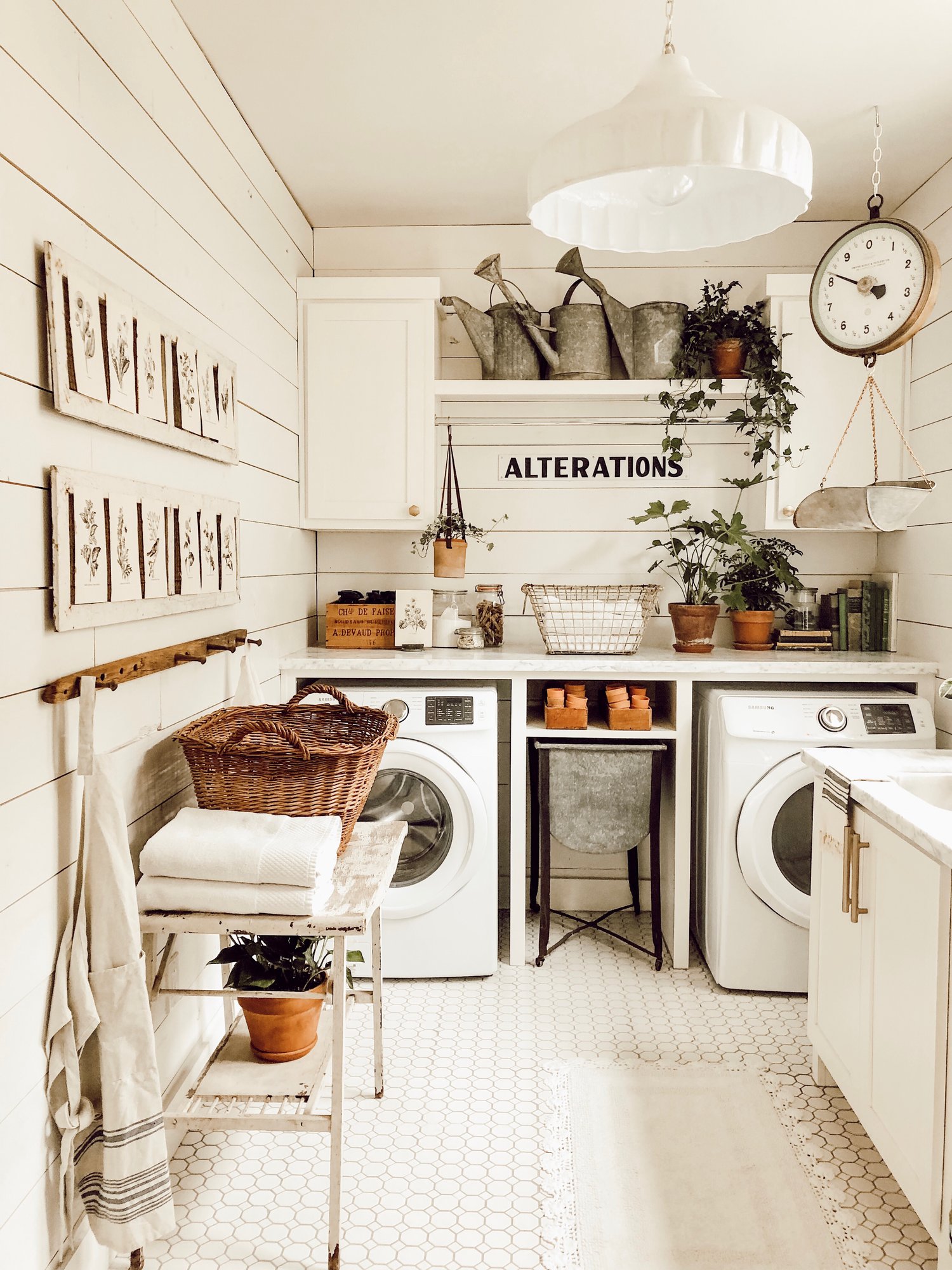 Rustic decors are a lovely addition to a farmhouse laundry room and give it a crafty touch. The vintage washstand, weighing scale, and water sprinklers are great pieces for this classy laundry room. The tiny geometric floor tiles add a harmonious detail to the old-fashioned shiplap walls. Never miss the minimalist but stylish pendant lamp that also highlights the farmhouse character!
Choose the Suitable Door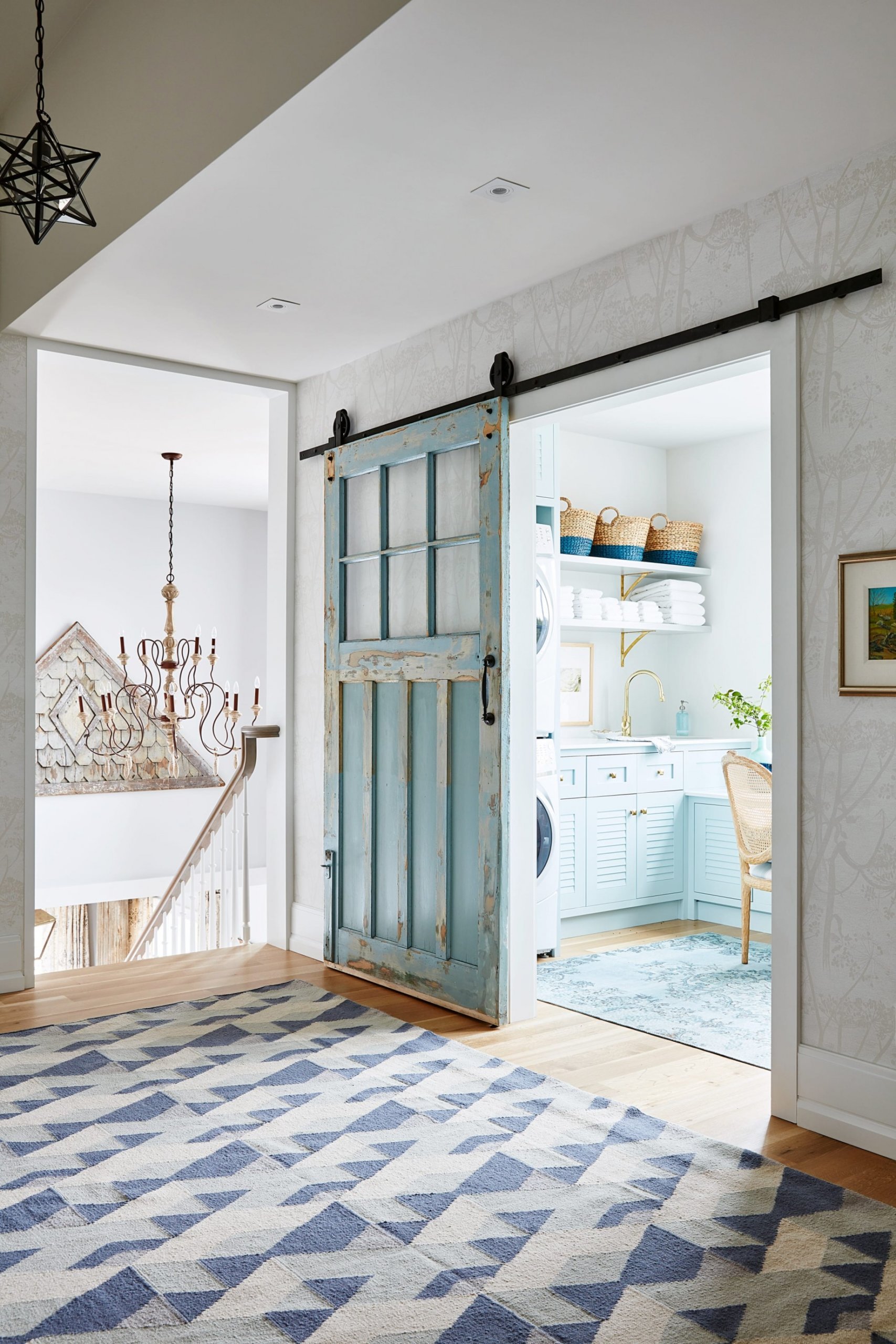 Barn doors have a distinctive attachment to provincial living. They are not only ideal for suggesting a rustic character into a farmhouse laundry room. These doors are also practical for homes with small laundry rooms. They simply glide into the wall and do not take up any space at all. Such a subtle statement updates the modern farmhouse appeal of the laundry area. So, if you are saving on floor area, it won't hurt to install a barn door instead of swinging ones.
Add a Personalized Touch with a Wall Gallery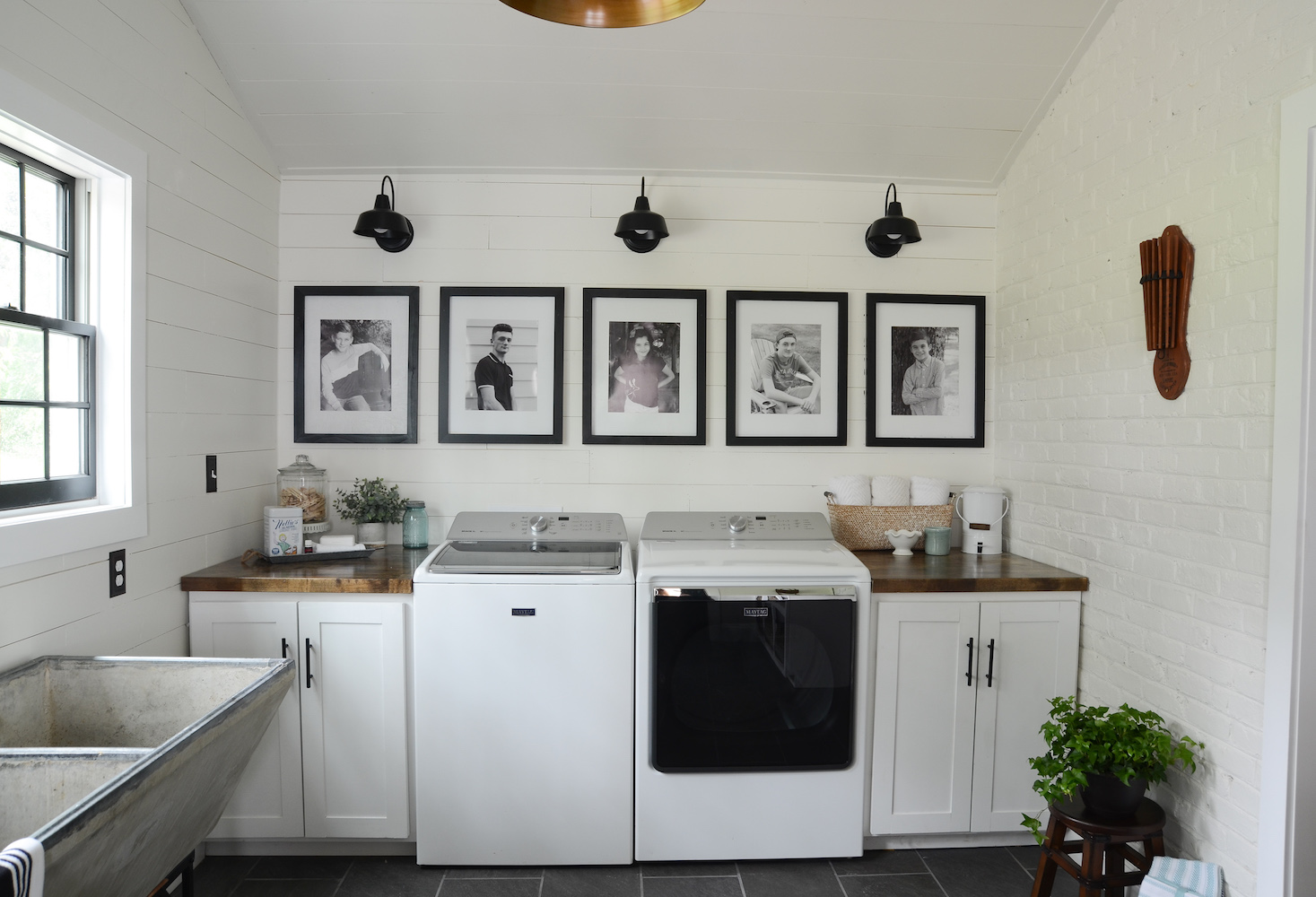 Turn your laundry area into an inspirational space by hanging photos on the wall. Notice the monochromatic colors of this room? It conveys an emotional state and balance for that rustic statement piece. These simple decorative pieces add an authentic and personal touch in a surprisingly effortless way. This farmhouse laundry room maintains a classy ambiance that is not typical of other modern homes.
Hide Things Under the Fabrics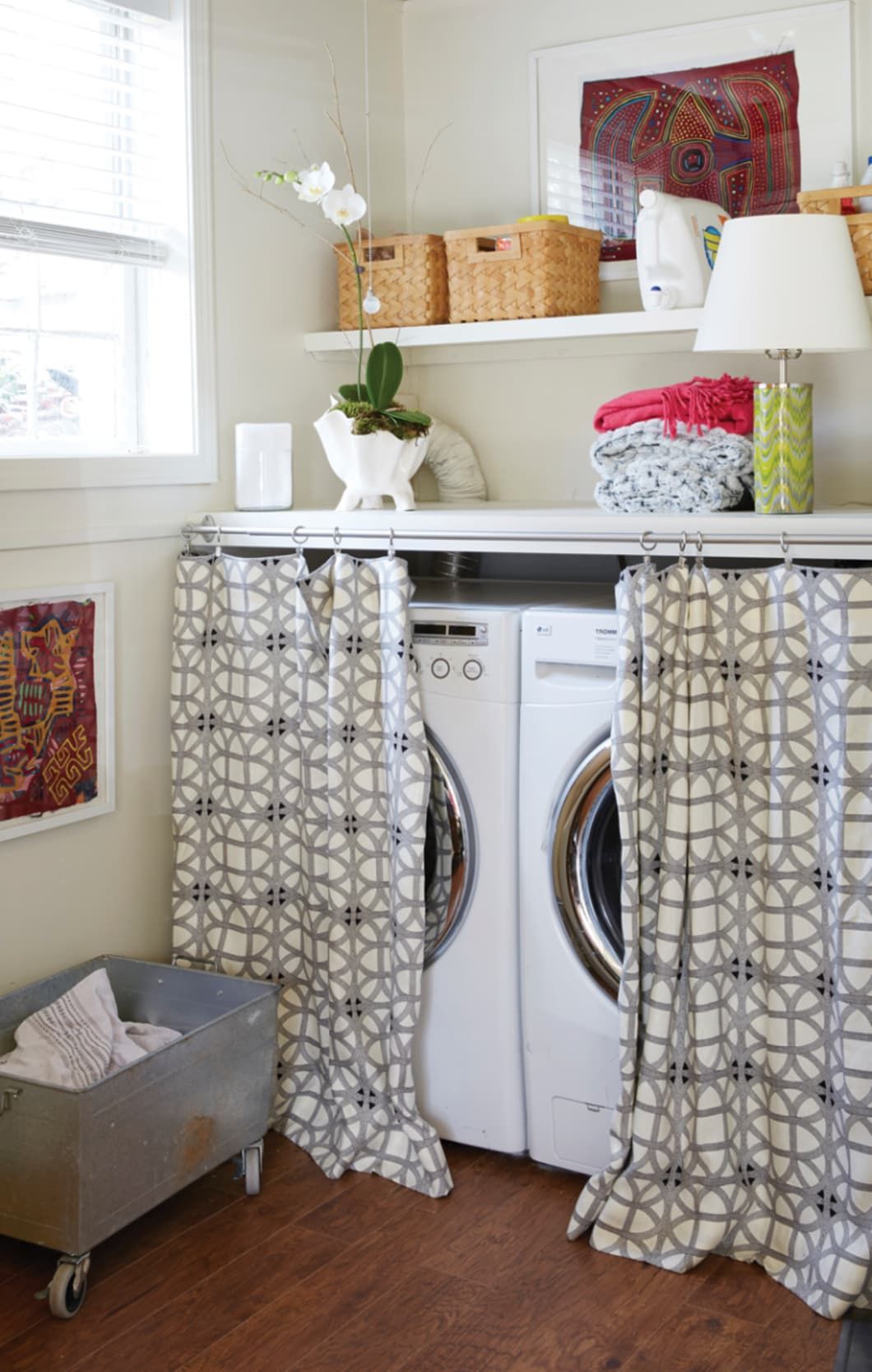 Fabrics and frills are also distinctive properties of a farmhouse laundry room. Hanging some curtains are styles that never go out of date if you want to keep the room tidy and neat. Pick up fabrics with neutral hues if you want to redress your modern laundry area with rural fashion. They also offer a practical function by hiding the clutters underneath. And, if you are tired of your existing design, you can always change curtains as often as you like.
Say it with a Graphic Tile Floor Project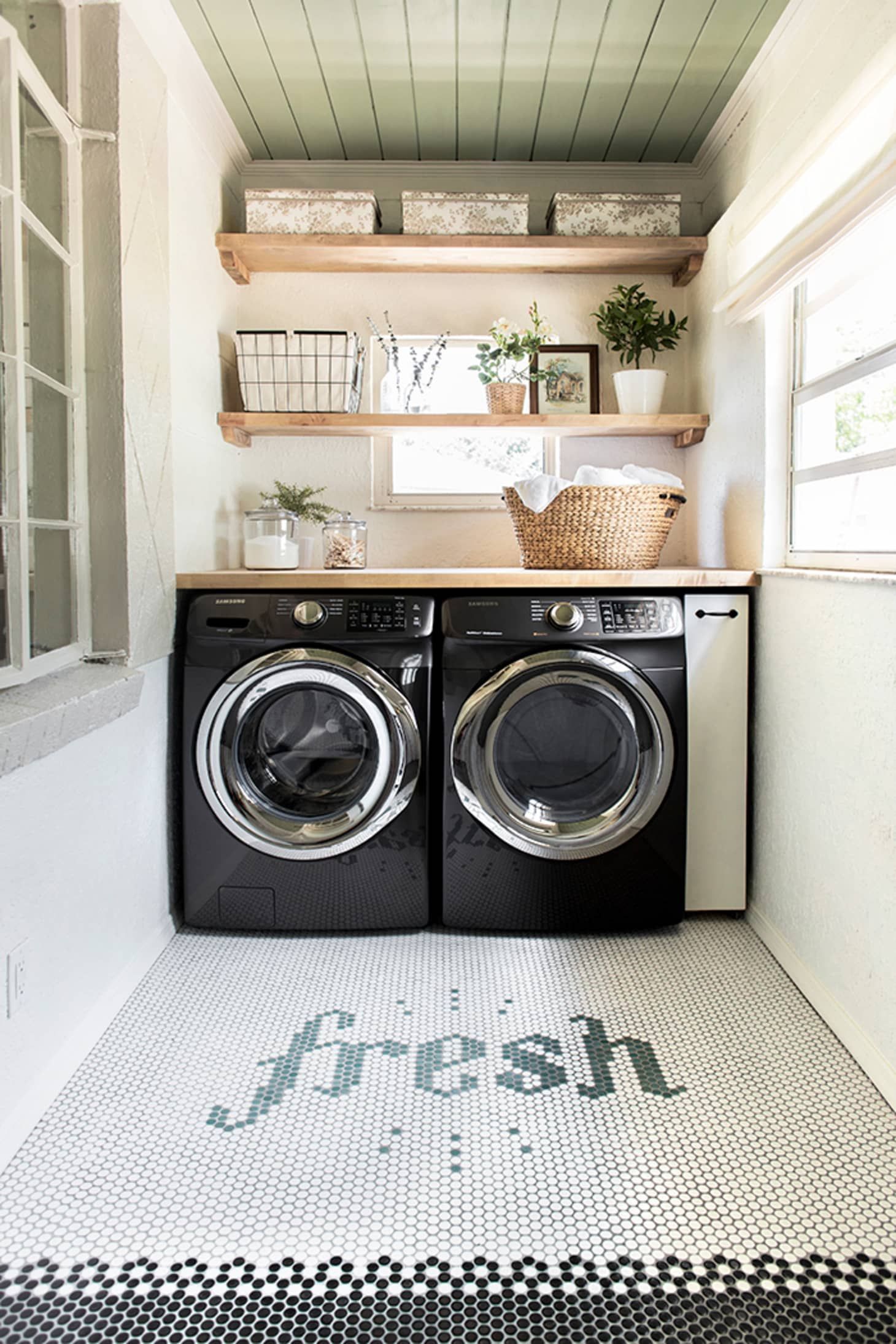 This Florida farmhouse laundry room got a major makeover from a drab utility room. Natural elements like wood in sage green paint and gold accent give it a warm yet airy feel. The penny tile floor gives the room a fresh and inviting atmosphere. The tiny geometric pattern also invigorates the room and gives it a unique visual flair.
Never Be Afraid of Colors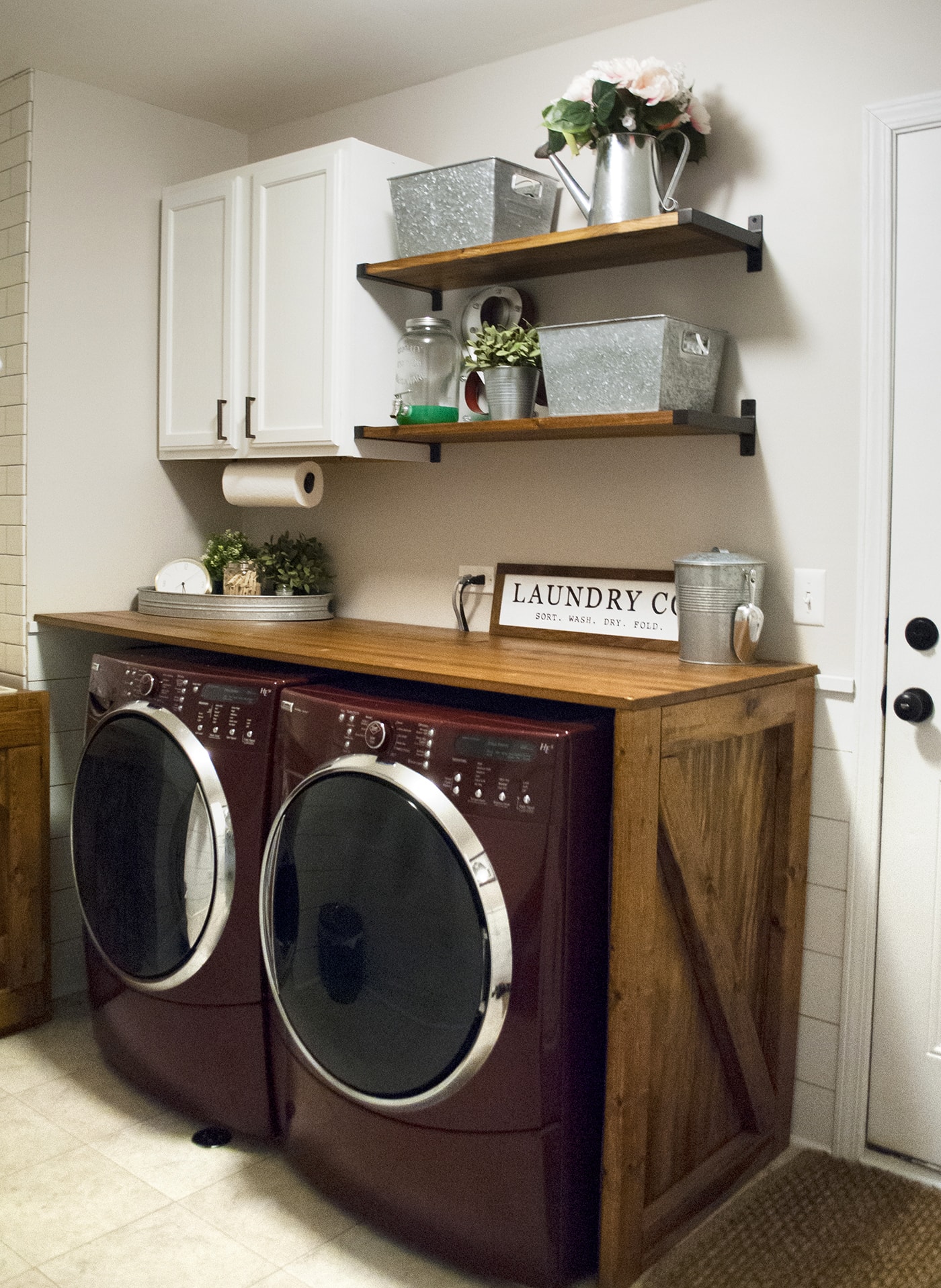 Neutral and earth tones define a farmhouse color scheme, but you can always add an accent tone like this burgundy washer and dryer as a focal point. The natural wood against the gray wall turns this modern farmhouse laundry room into a cozy little nook. The galvanized storage and decors also lend it a compatible rustic concept.
Turn the Floor into Rhythmic Patterns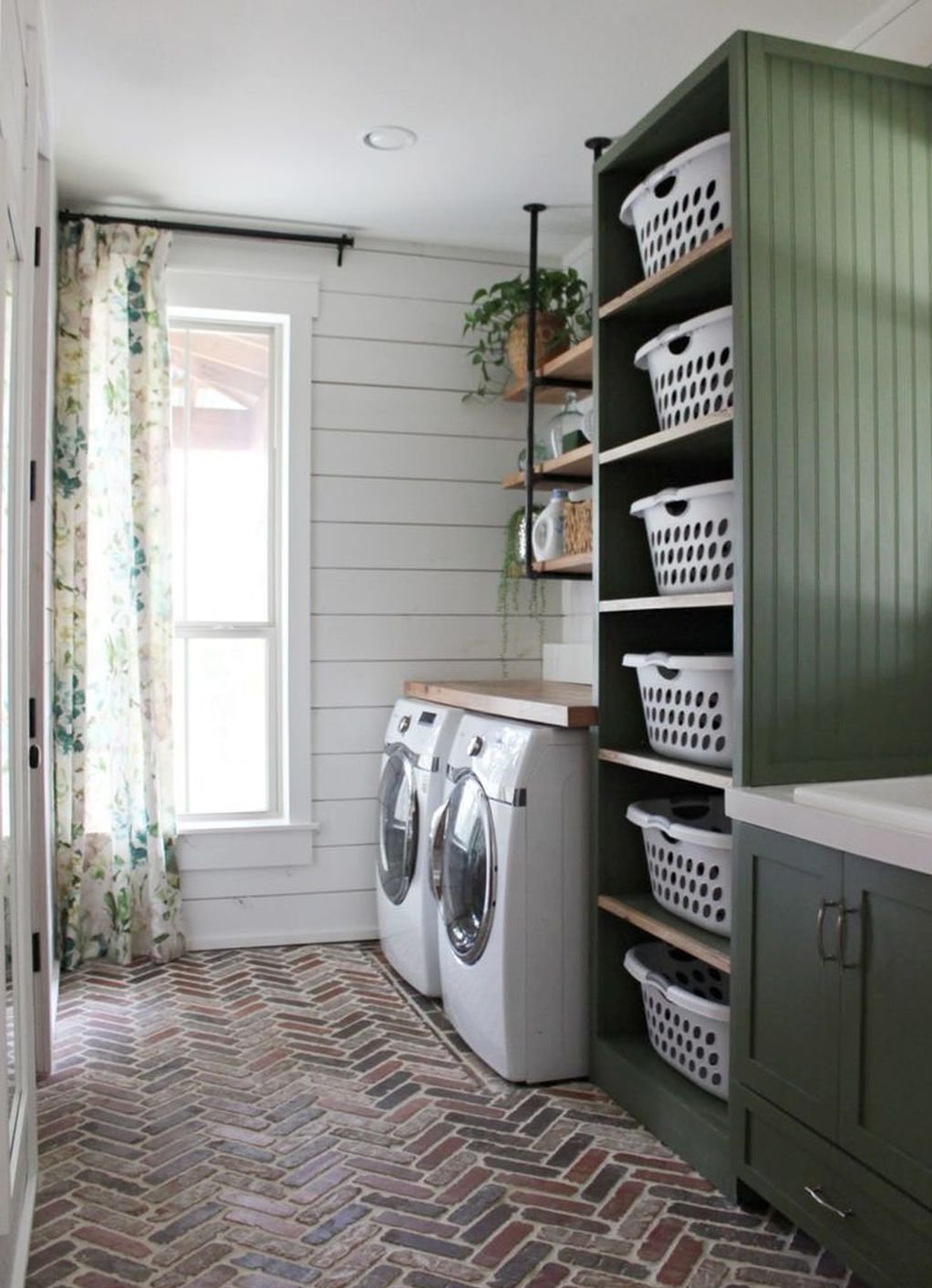 Brick and stone are amazing features that will give a rustic dimension to a room. Take this herringbone subway tile that matches the shiplap wall design. It creates emphasis and maintains a continuous and cohesive look. A laundry tower with ample shelves for storage baskets also keeps the room tidy and pulls the rustic look together.
Amp Up the Space with Stunning Storage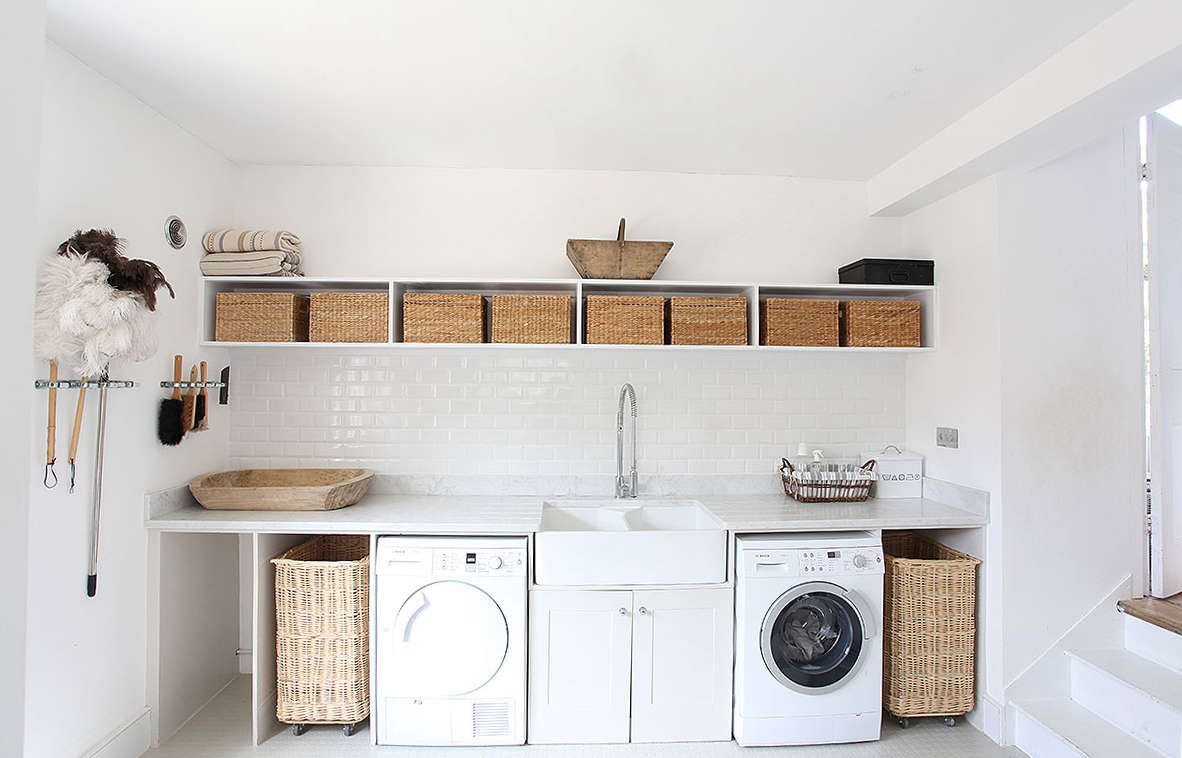 Speaking of storage, steal this Somerset farmhouse laundry room looks with classic wicker baskets. Woven baskets, usually made of reed or wicker, are typically attractive. It also provides proper contrast and breaks the monotony of this classic white laundry area. This space evokes a sophisticated and super clean look with the right balance of natural details.
Embrace the Idea of Wallpapers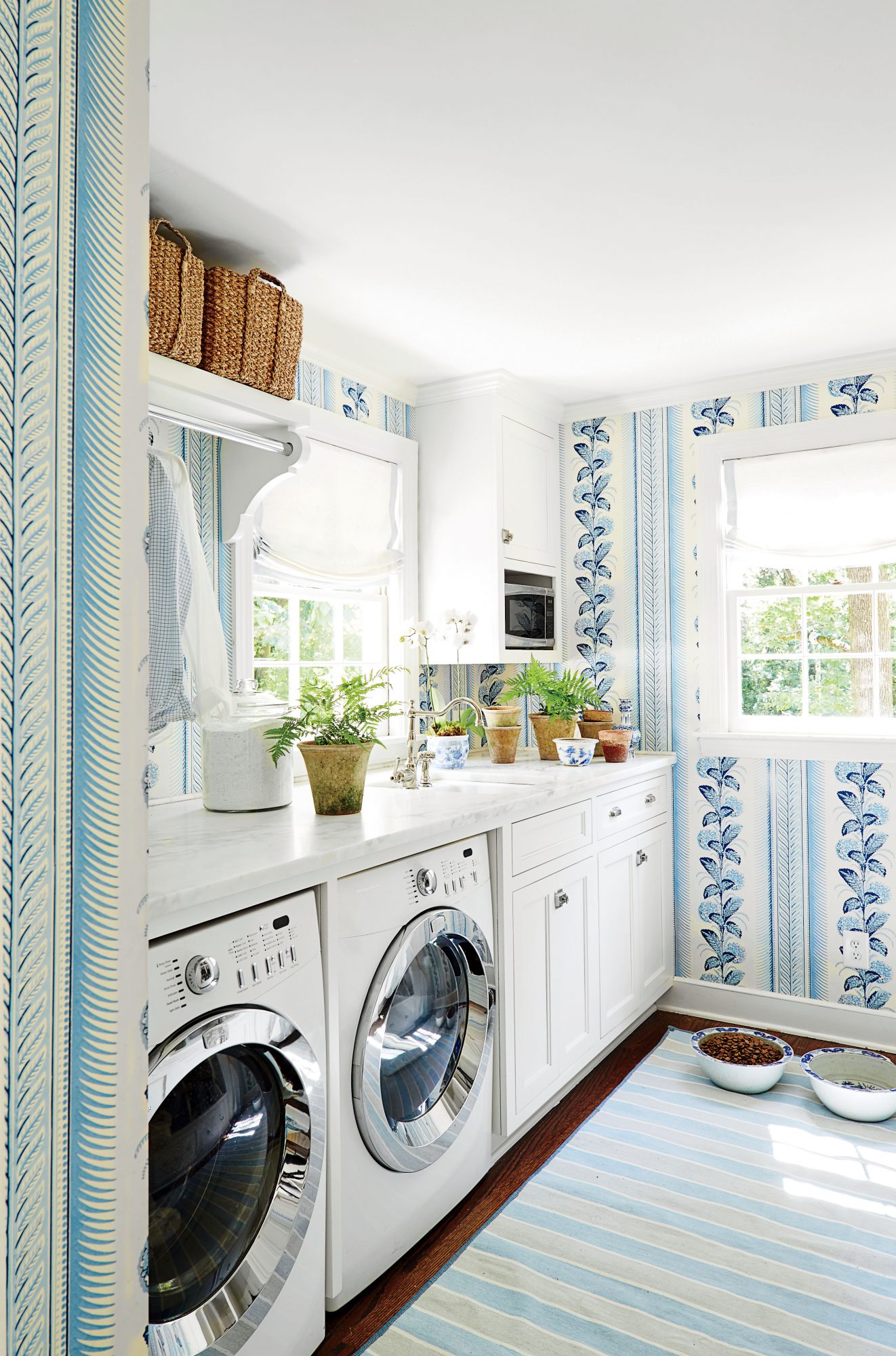 Wallpapers are trendy materials for home decoration for hiding wall imperfections. They are also easy to install and easy to re-do when you feel like changing your home's theme. The climbing hydrangea wallpaper design of this farmhouse laundry room floods the room with a natural glow. The striped floor mat of the same color scheme perfects the look and spreads the friendly vibe all over the room. Add in some potted plants and animate your countertop with natural freshness.
Stack Up Clean and Nice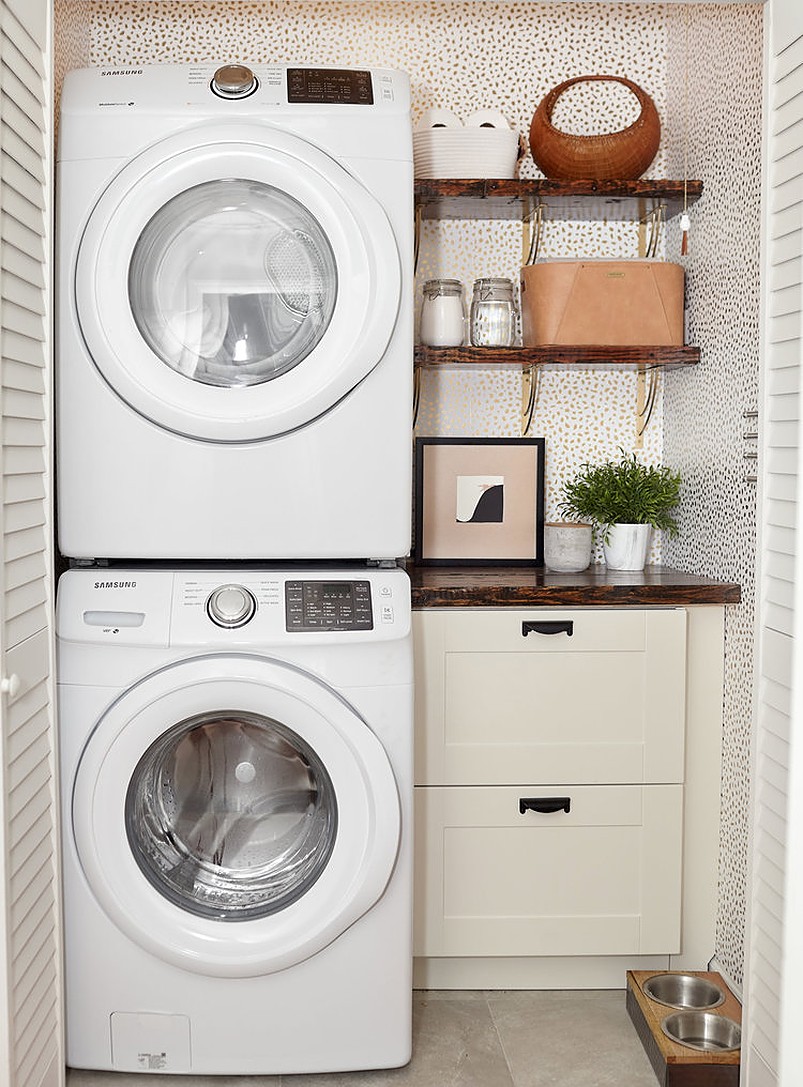 Limited space also limits your creative capabilities. You could not do what you want when it comes to designing your farmhouse laundry room. However, you can still introduce fluidity and pleasing lines in the room by making use of the vertical space. Use a stack-up washer and dryer to maximize the limited area. The printed wall as well as the neutral tones of the cabinet and shelves finish the look with a classic traditional feel.
Hang Quirky Notes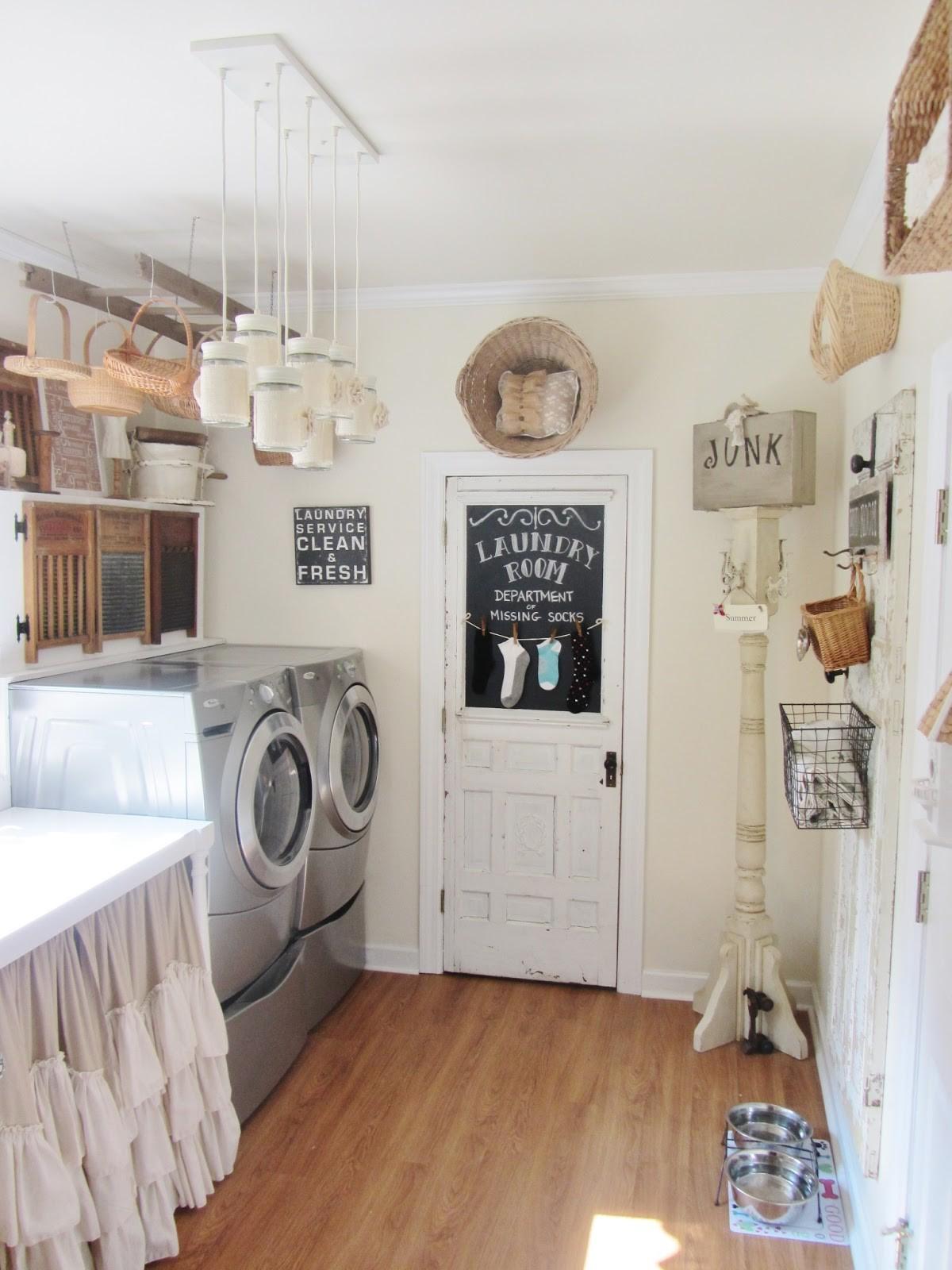 Most modern-rustic homes bask in the homey feel of hanging letter decors. Such displays add a twist and impact to dreary rooms like this farmhouse laundry room. The vintage post also adds a practical interest into the room's corner that serves as functional storage for hanging stuff. The wicker and wire baskets are chic and stylish storage organization ideas to maximize the space. The hanging decors are also a gorgeous addition to this classic laundry area.
Go All Natural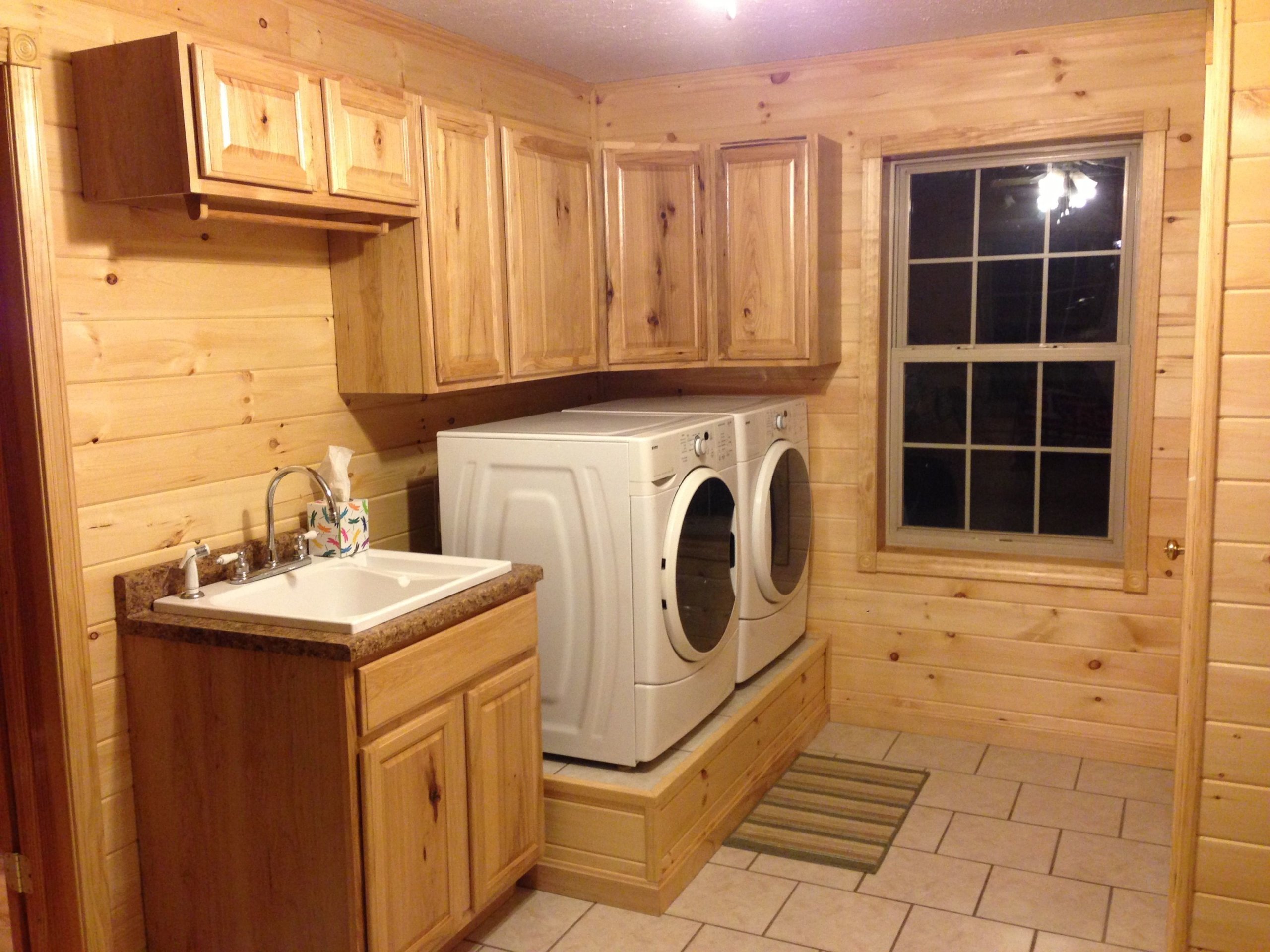 Nothing speaks farmhouse better than the wooden and natural materials of a log cabin. This stunning cabin-inspired farmhouse laundry area is rich in earth tones and natural features. The polished sink finishes the look without going over the monochrome palette. This place exudes a rustic personality and character all over. It has both the humble appeal and nostalgic elegance of the farmhouse imprints.
Mix and Match your Materials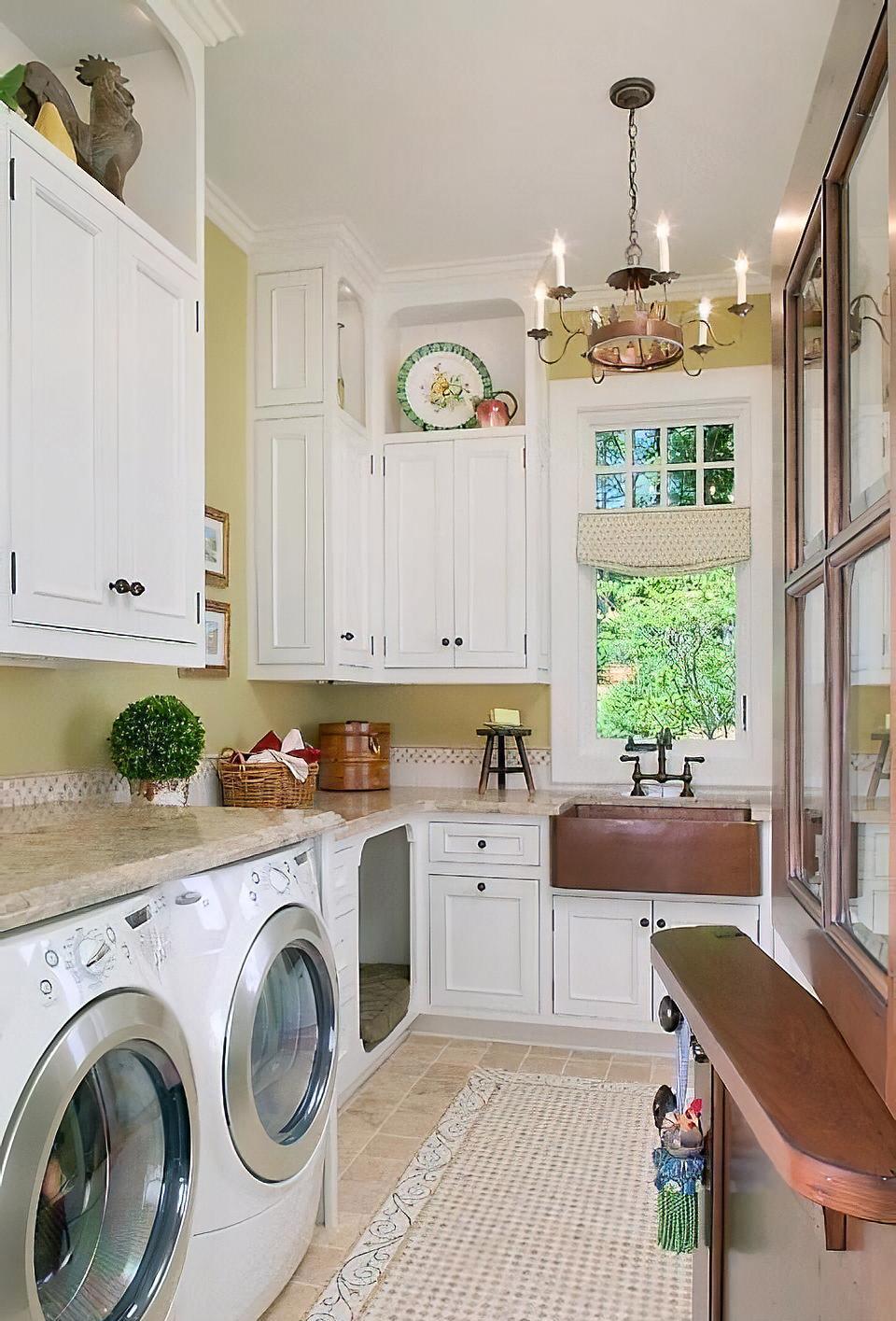 If you find monochrome boring and dull, you can also mix and match materials to pull a vibrant farmhouse vibe. Notice the old-fashioned sink that is an illustration of rural living. The ornate candelabra chandelier also adds a revolutionary vintage feel to this fabulous room. Rustic accents like hardwood ironing board further add a rich character to this space.
Bring in the Outdoor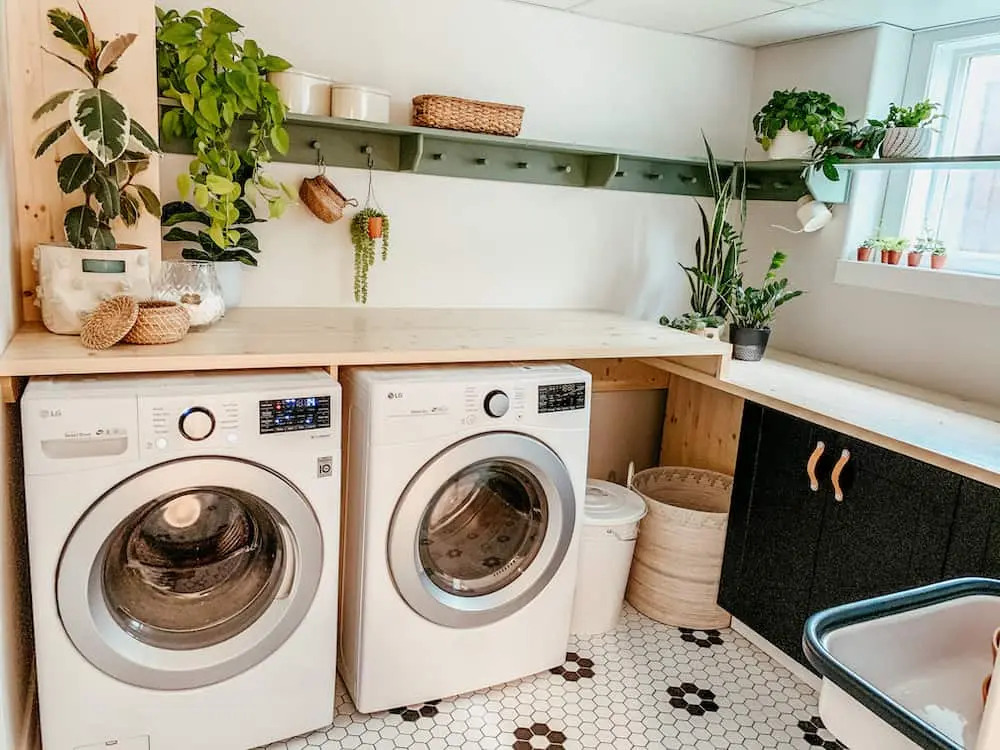 Bring life into your farmhouse laundry room countertop by introducing some greenery. It does not dwell on a single tone yet it still conveys an uncluttered feel. A touch of fern color on MDF shelves creates a subtle line of focal interest for a seamless visual flow. The exciting tile pattern littering the floor also gives it a cohesive and youthful look. With large windows allowing ambient light in, this laundry room is an oasis of perfection.
Takeaway
A combination of elements and color schemes can transform a farmhouse laundry room into an extraordinary space. Live up to your style and preferences with simple and laid-back designs without going overboard with details. Now you can turn your drab laundry area into exciting and inspirational corners to get you started with your chores. Not everyone loves laundry day. But maybe you can start loving it as you make this small corner an extension of your home's personality.