Some say the laundry room is the hardest working room in the home. Laundry is no easy job, and while sure, modern machinery has made this job less of a chore, there's still hang drying, folding, and ironing that must be done. These jobs are made easier with lots of space but space is not always available in all homes, so what does one do when their laundry room is confined to a smaller area?
You can undoubtedly maximize a small space with organization, a well-planned layout, and the right accessories. Today, we move towards the laundry room and explore how you can make the most of a small laundry room.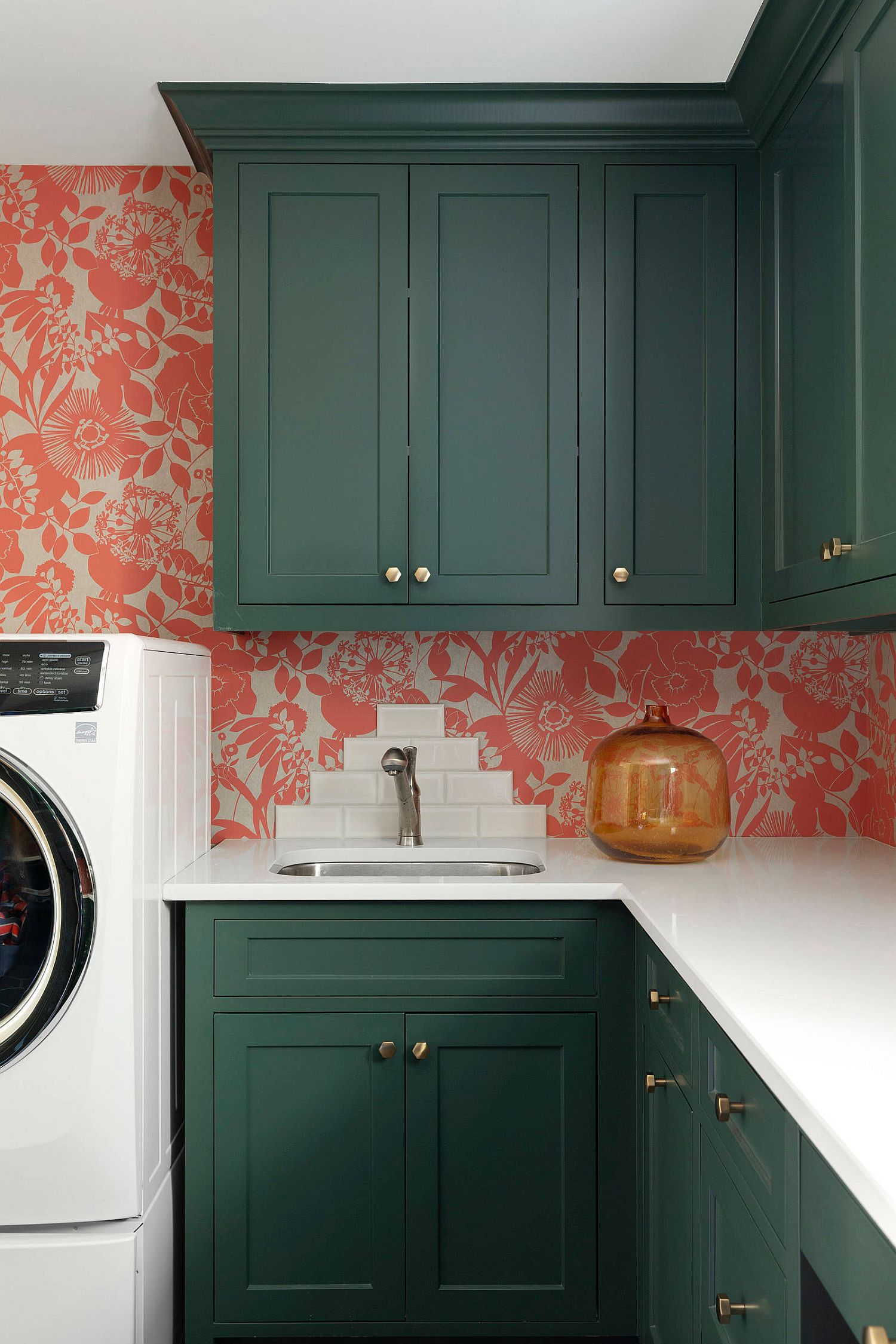 A space-savvy and stylish small laundry room does not demand too much in terms of square footage. The washer and dryer units can sit next to one another, while all the other features in the room depending on your specific needs. A smart laundry room makes your daily life easy and does not turn laundry day into a taxing affair. This is a look at the best small laundry rooms around –
Finding a Niche in Your Home
You need not always find a whole room for the laundry. The best way to create additional space for the laundry in the kitchen, hallway, or any other place is by putting it in a small niche that would have been otherwise neglected.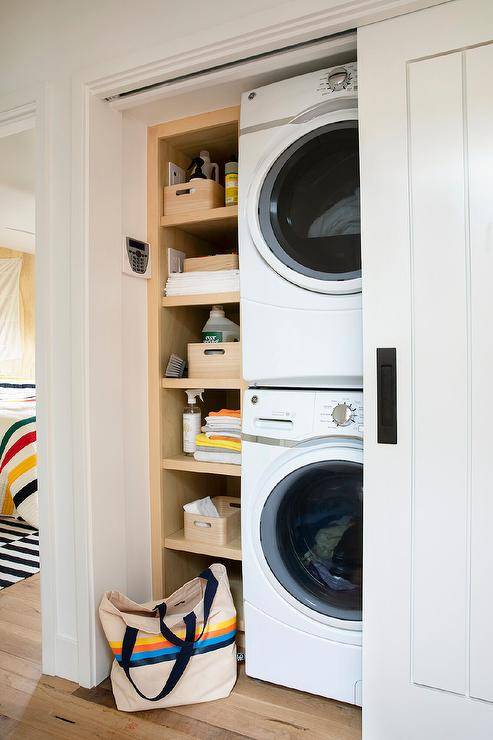 Many of these corners are generally left unused, or you tend to find an indoor plant or large floor vase gracing this spot. But you can add functionality to this little nook by custom units holding both the washer and the dryer. Everything else in these tight little spots is an extra you can eliminate by maximizing vertical space.
RELATED: 50 Best Space-Savvy Small Apartment Bedrooms Offer a Comforting Escape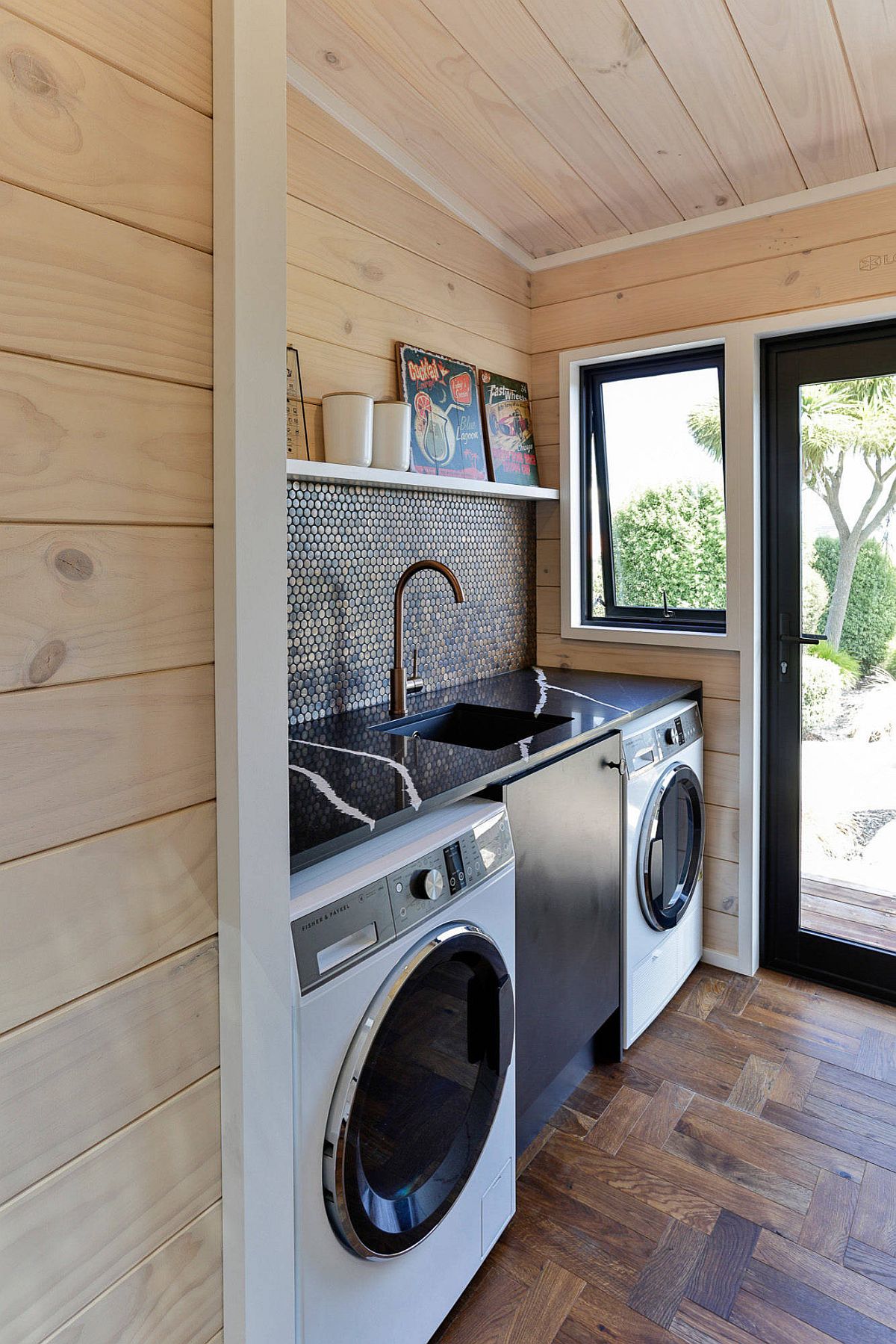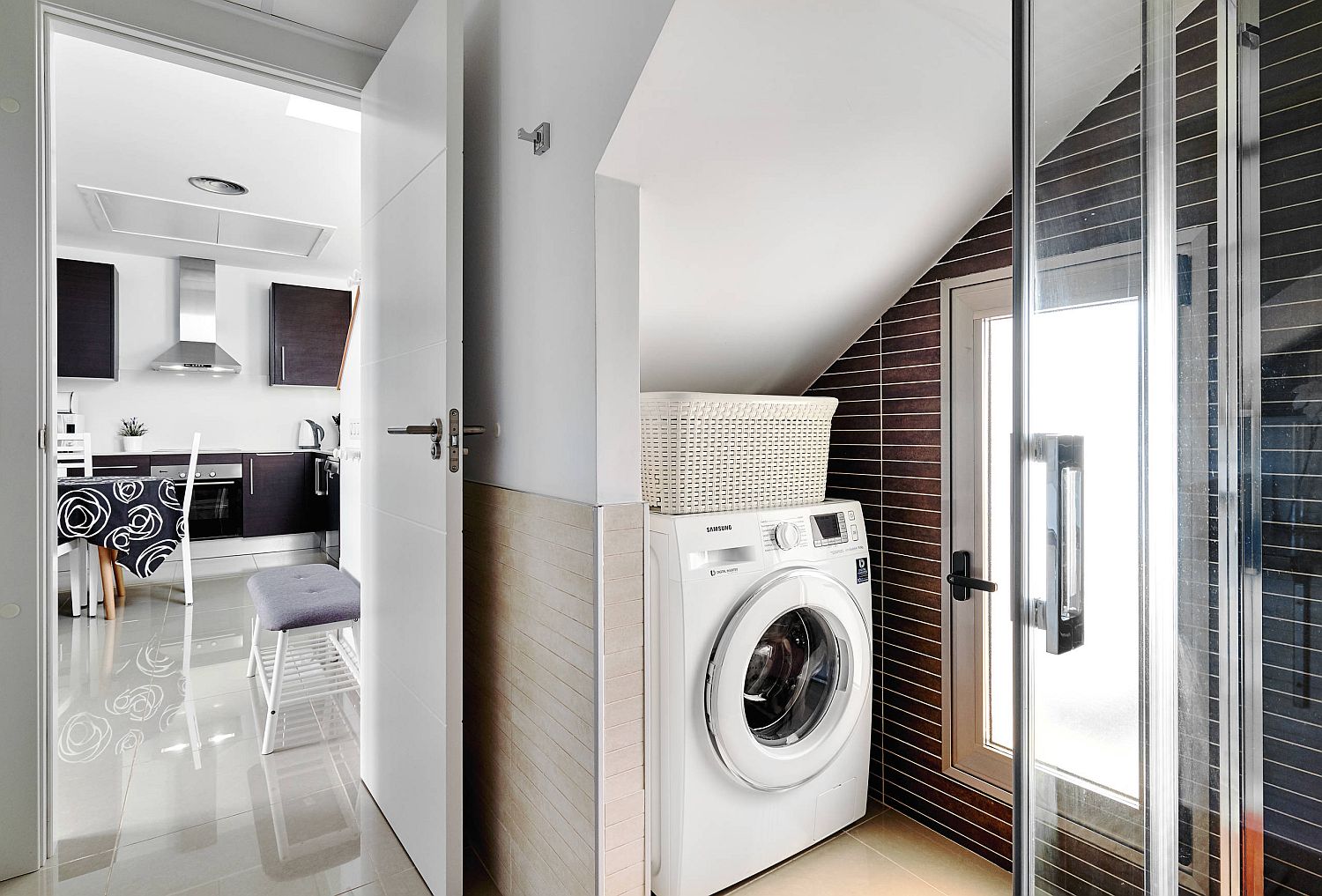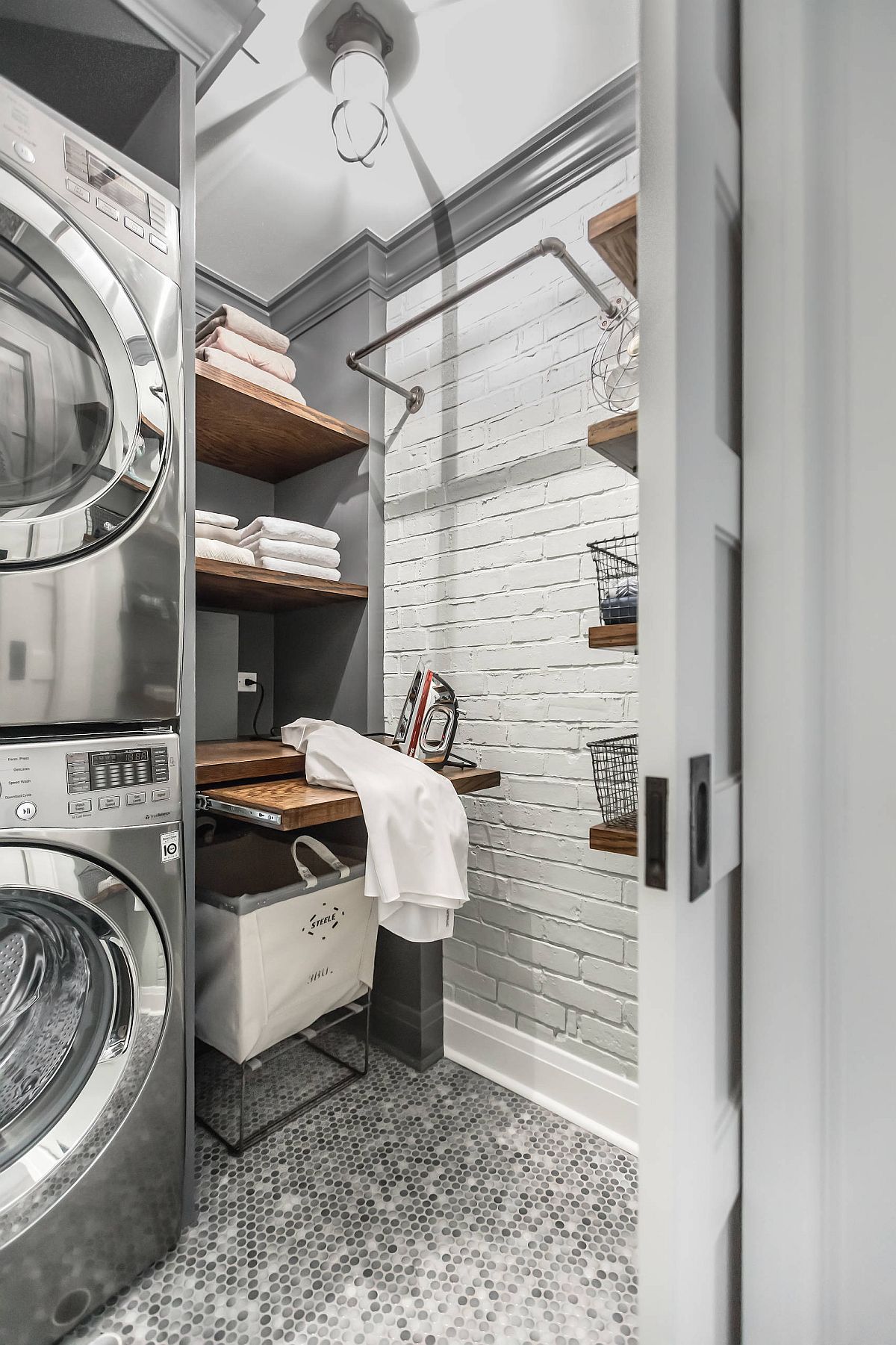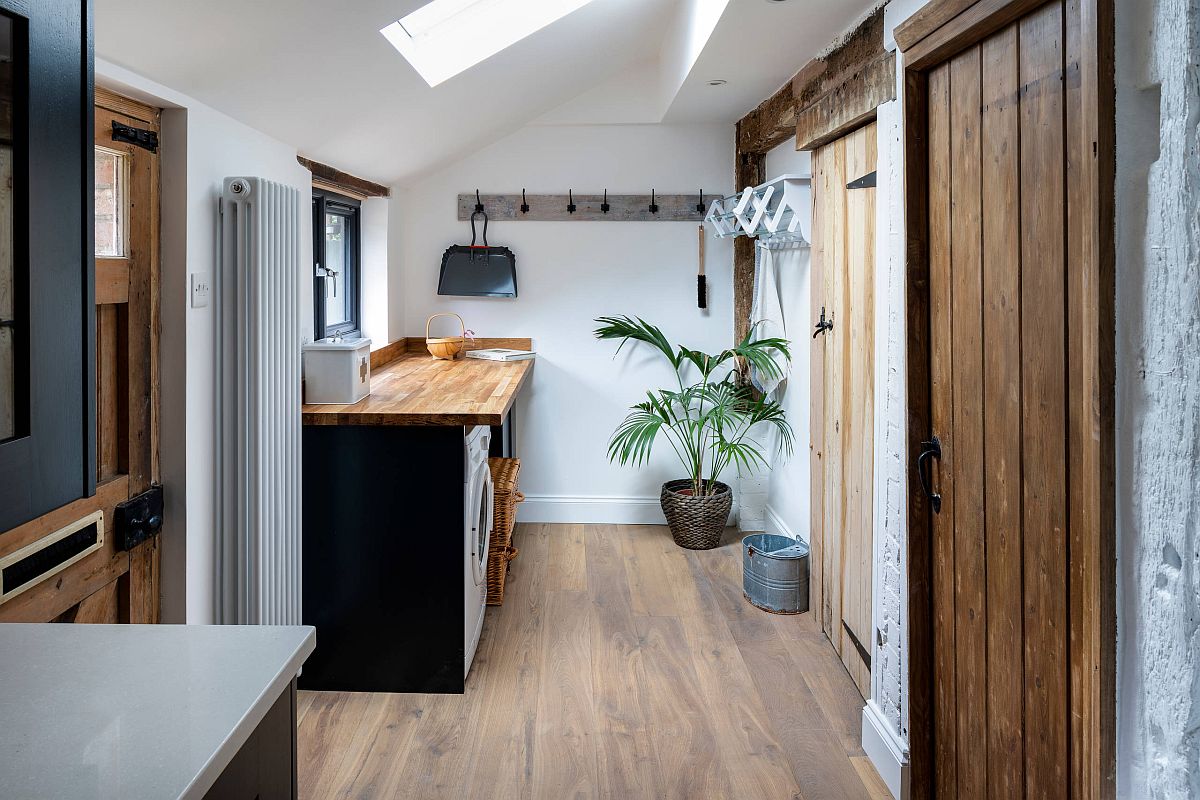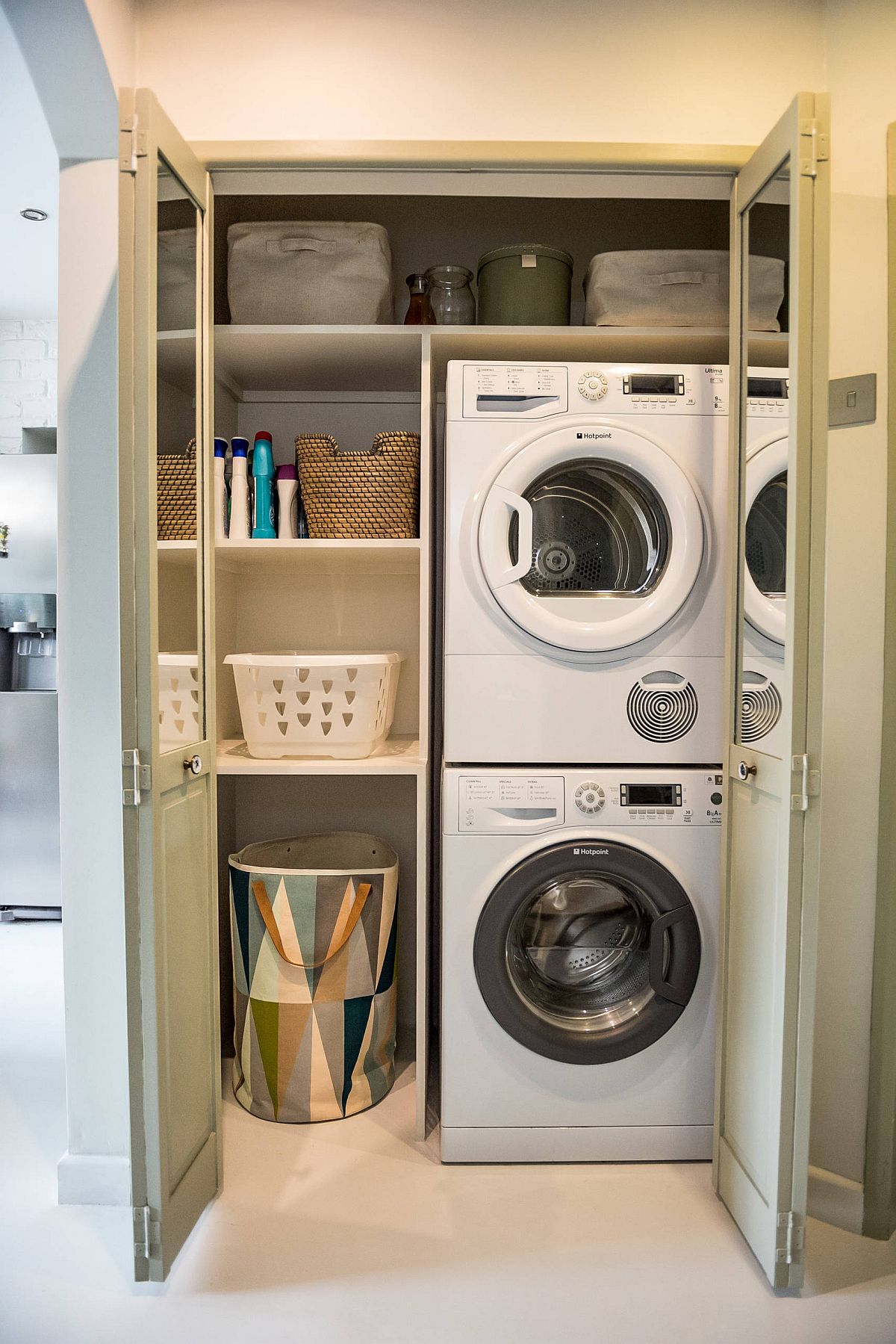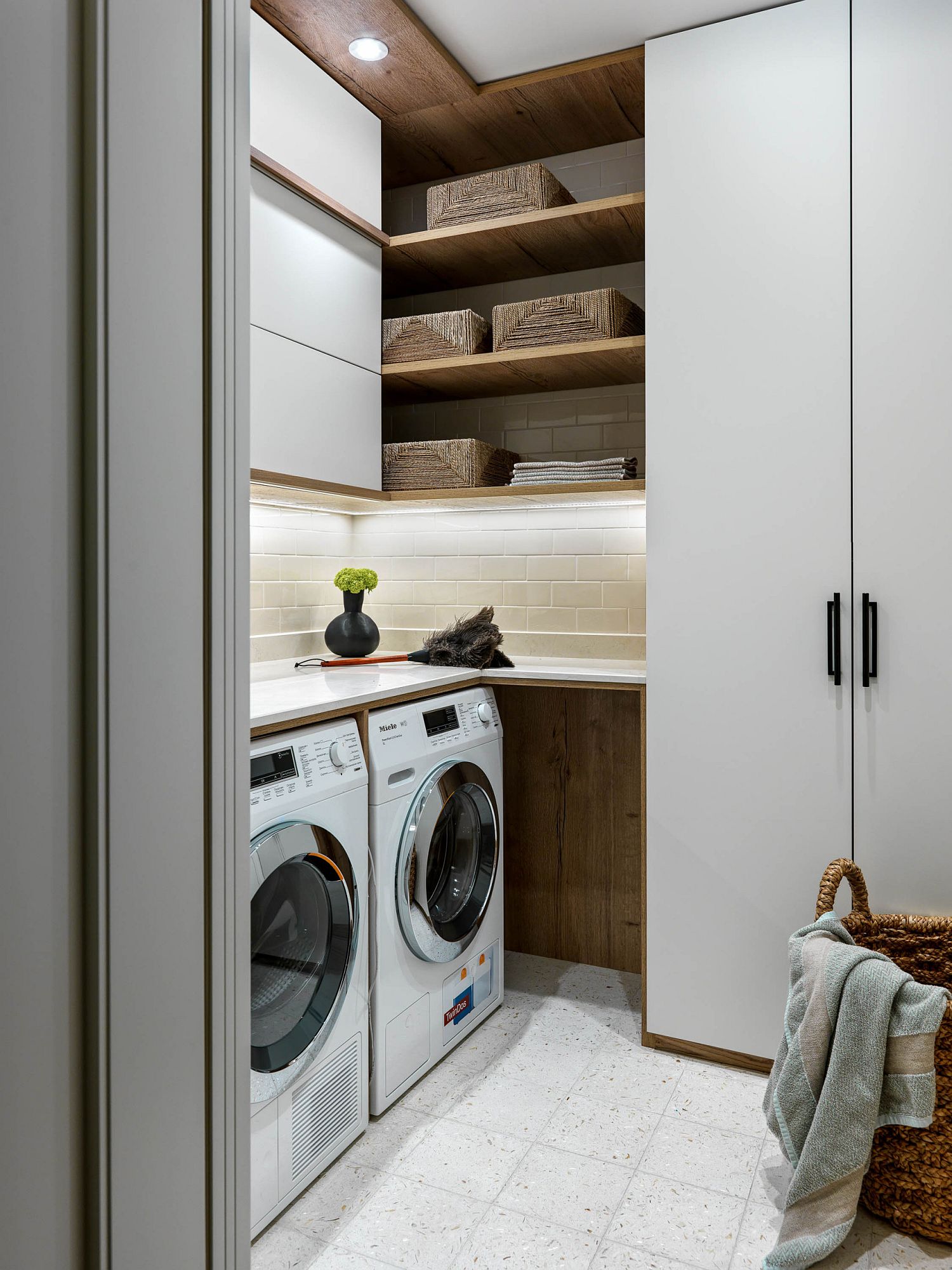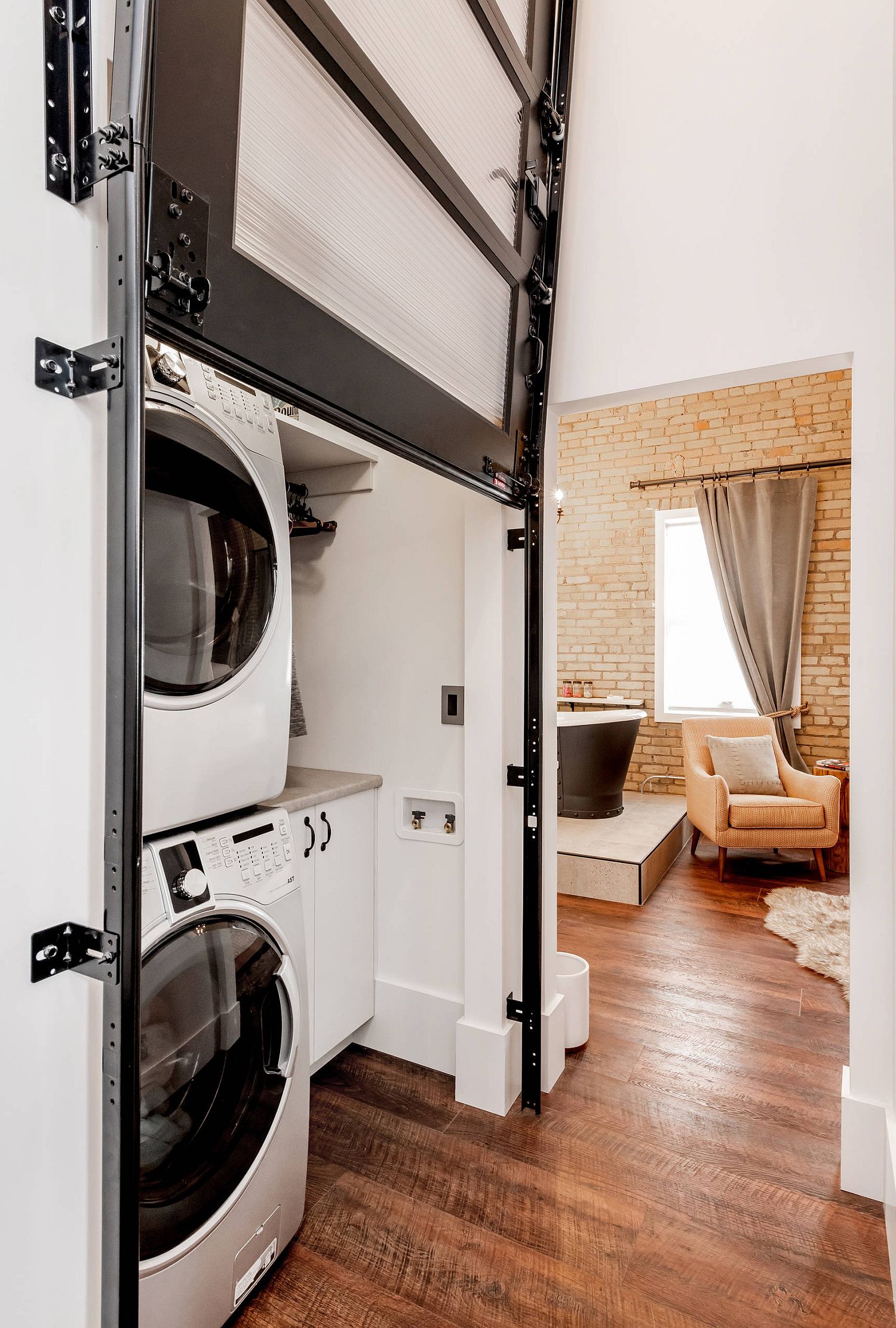 Color and Contrast
The theory behind color palettes in most tiny rooms and spaces is to keep them down to a bare minimum. And most often, this is a theory that makes plenty of sense. But this does not mean you should completely stay away from color in the small laundry room. The washer and dryer units themselves can bring in bright pops of color here.
Think beyond white and gray, and pops of dark blue coupled with white can create an excellent blend of modern and beach styles. Dark greens, bright reds, and pretty pinks all have a place in the tiny laundry as long as you do not put them all together simultaneously!
RELATED: 35 Laundry Room Shelving And Storage Ideas for Space-Savvy Homes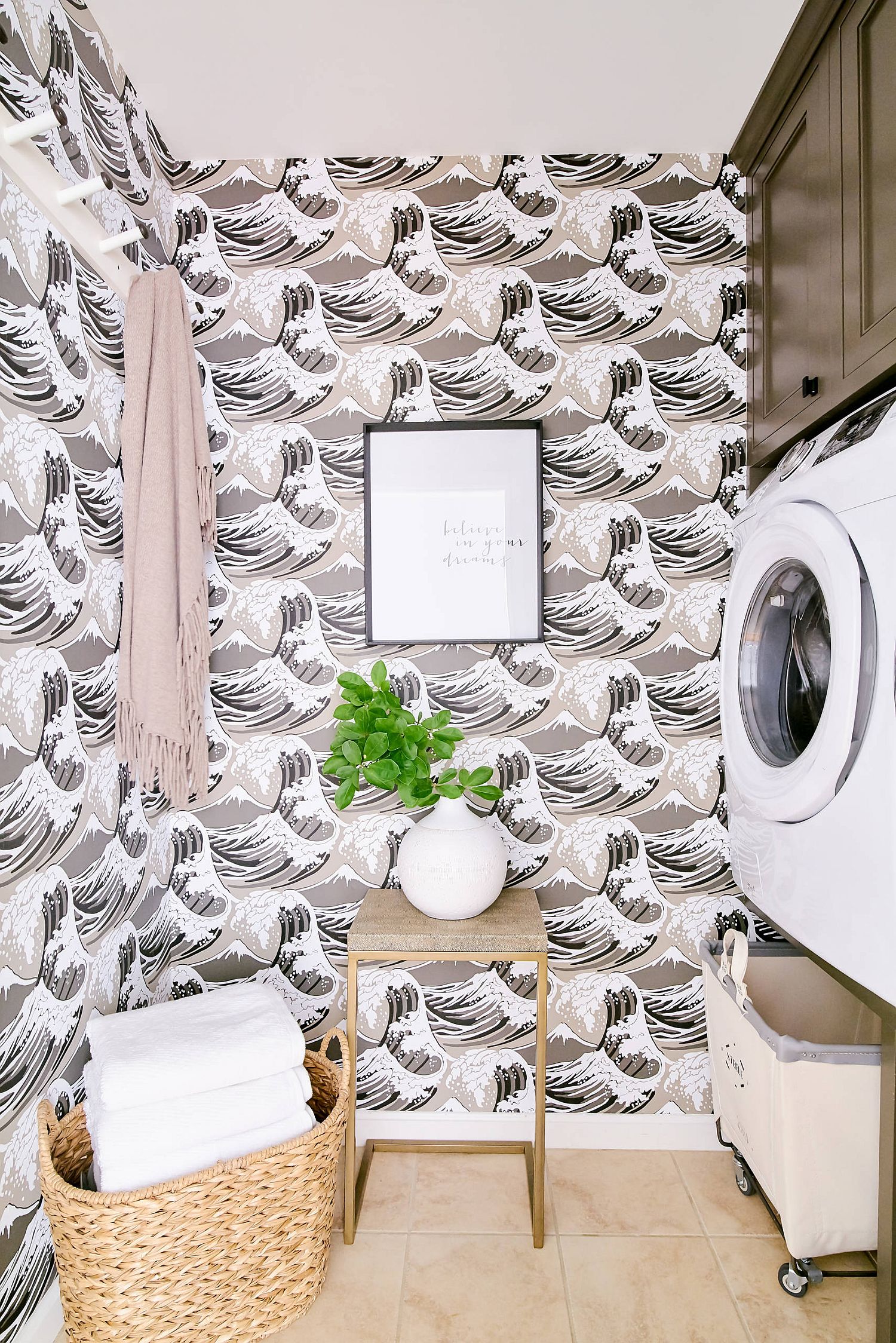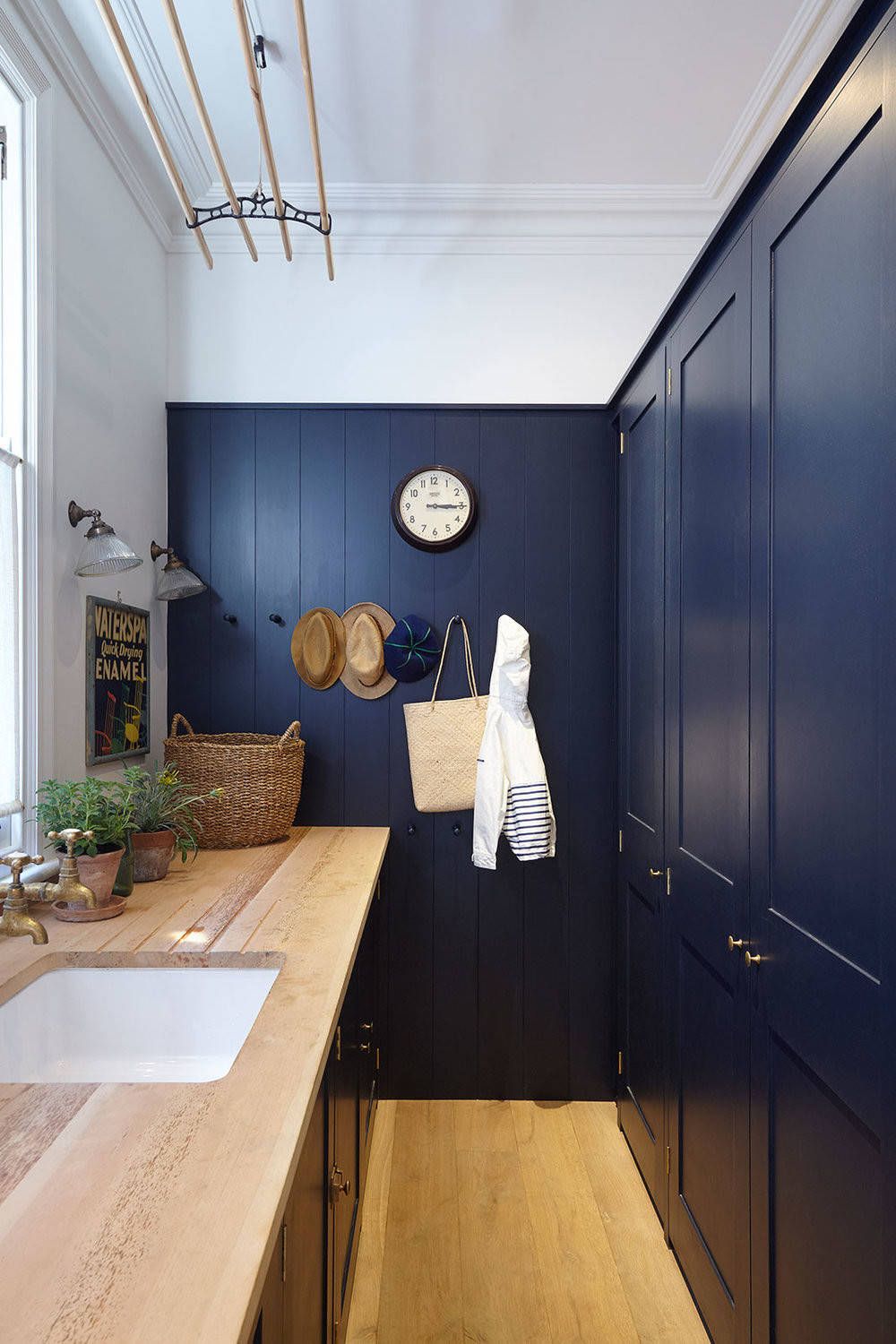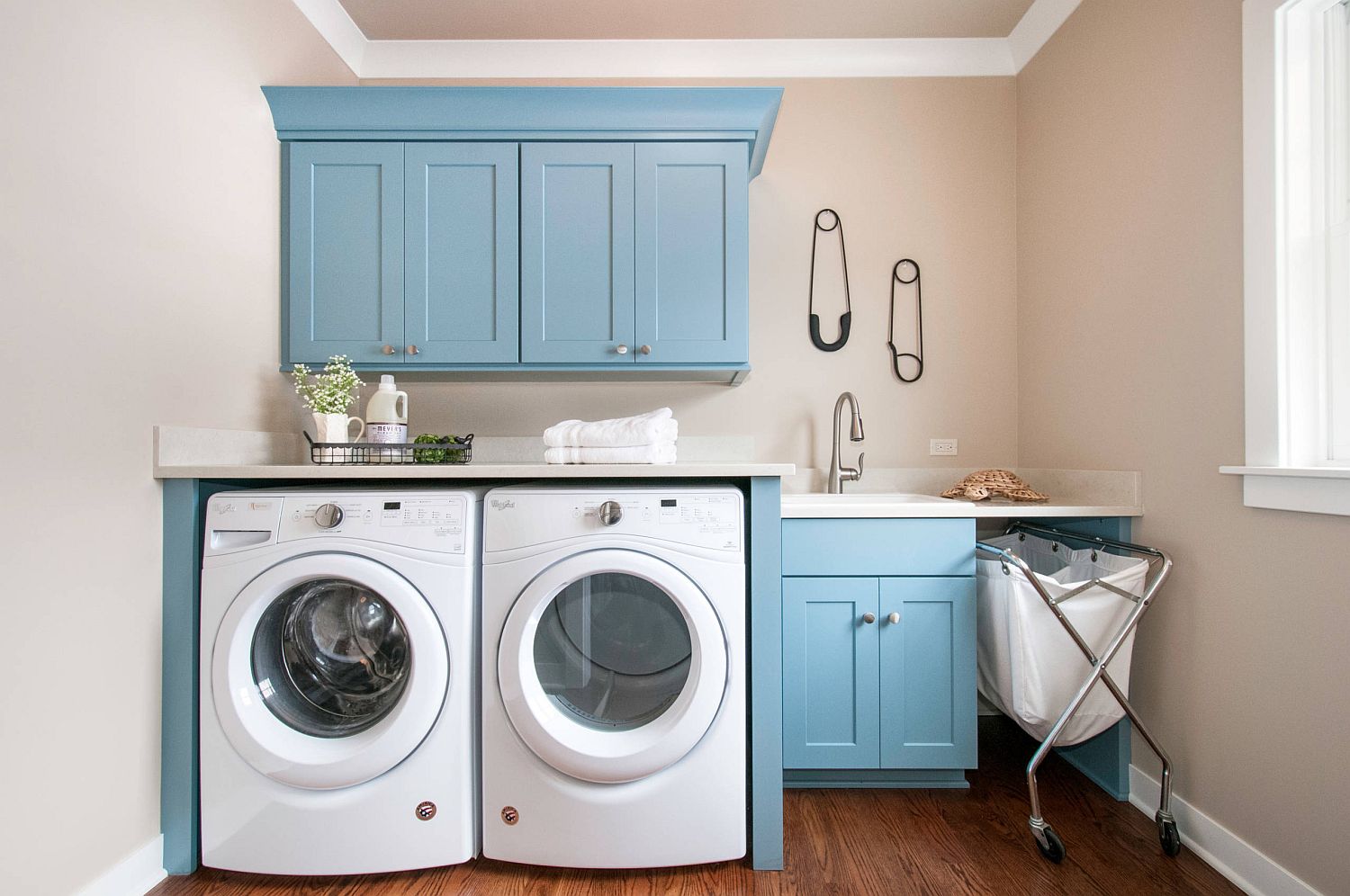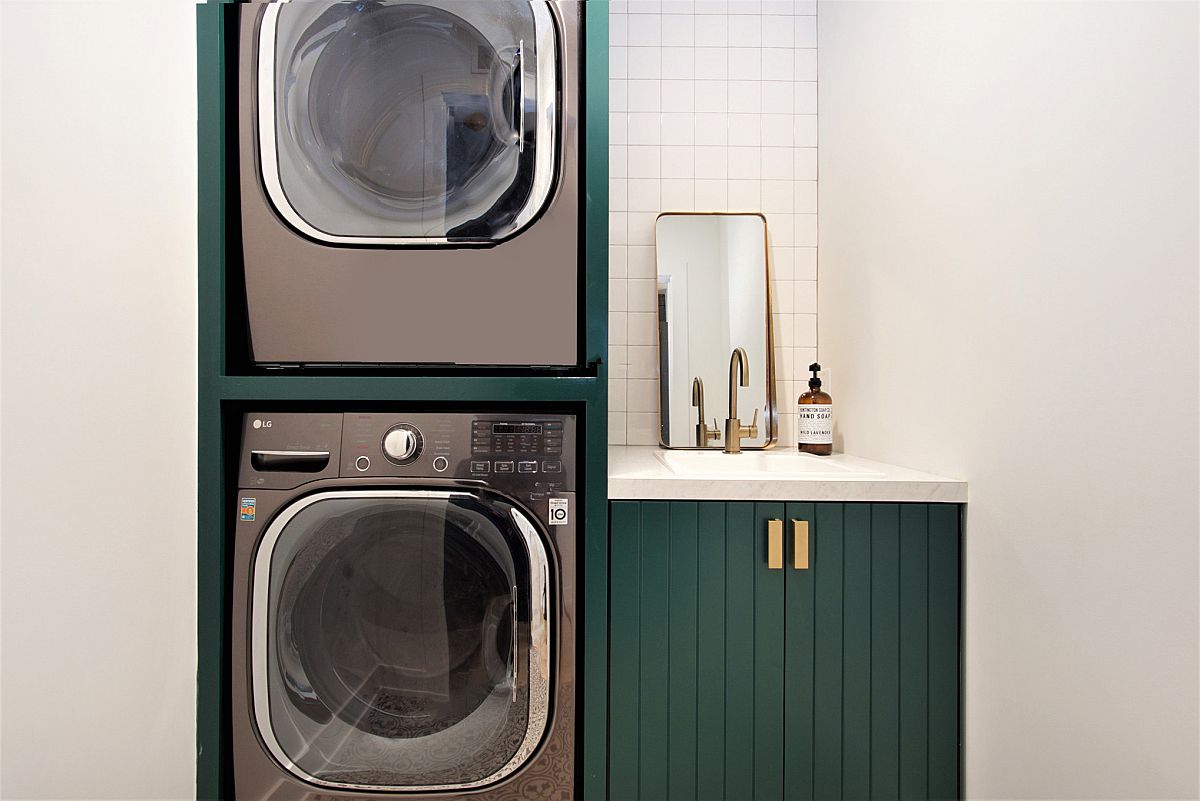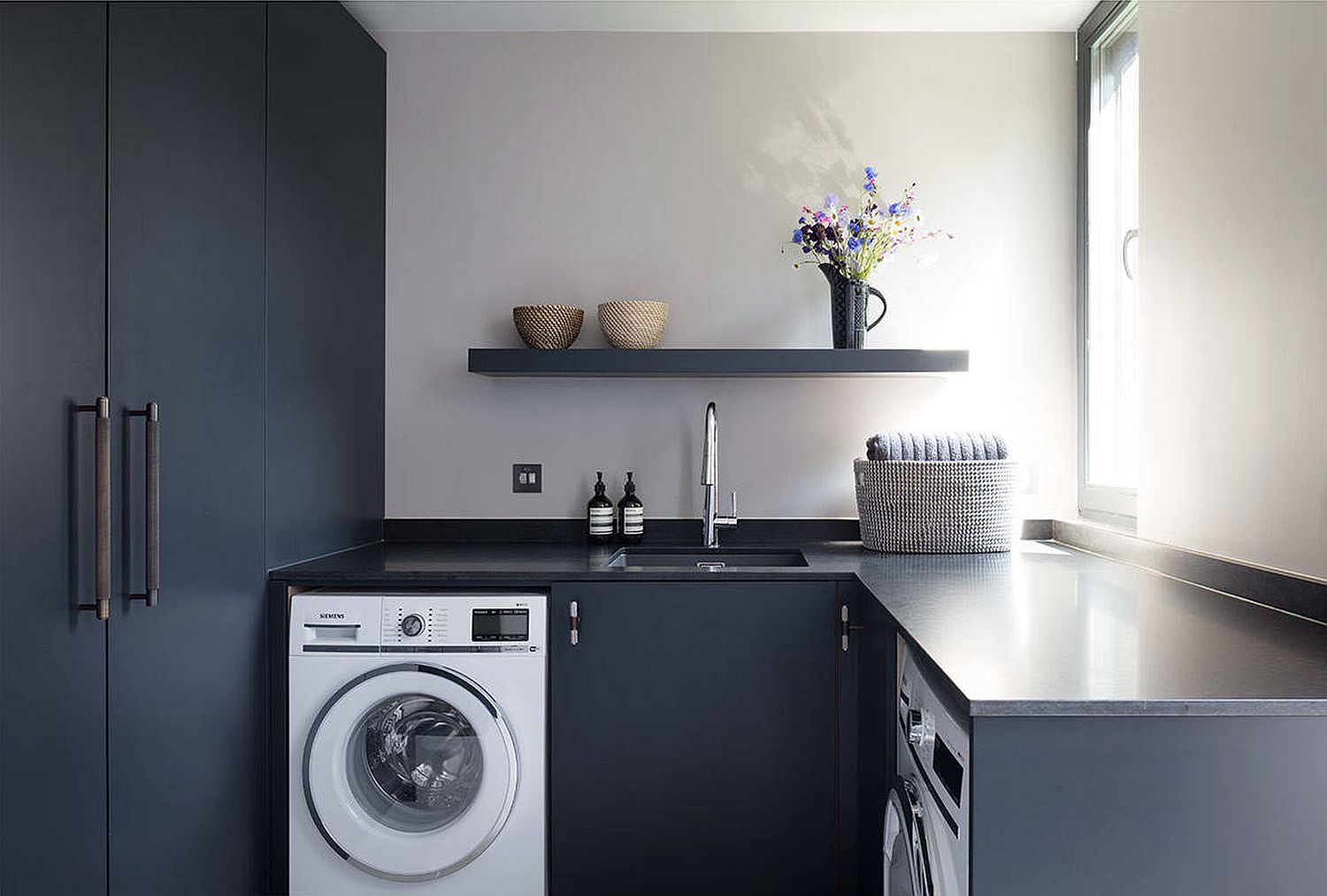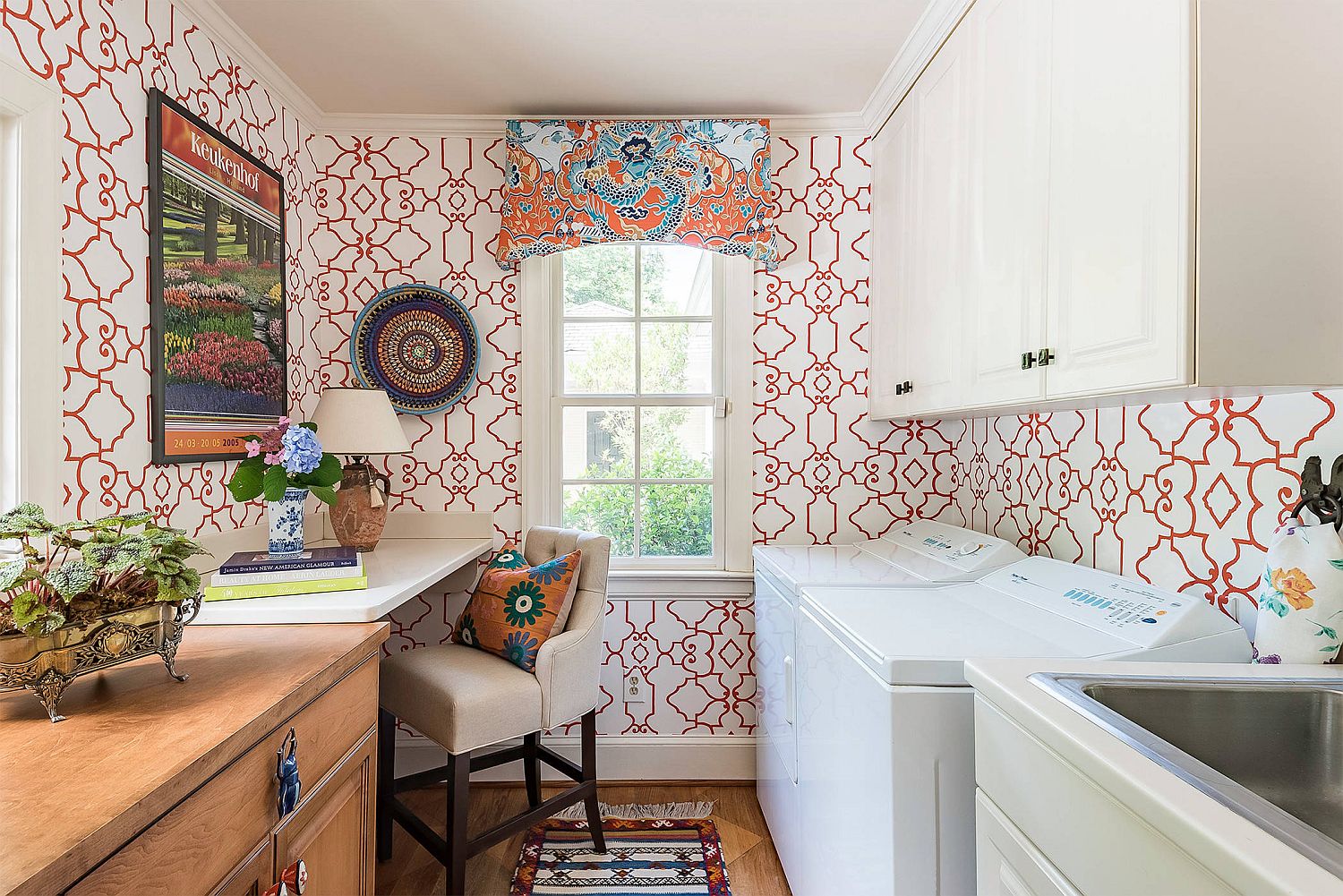 Go bold with a beautiful backsplash!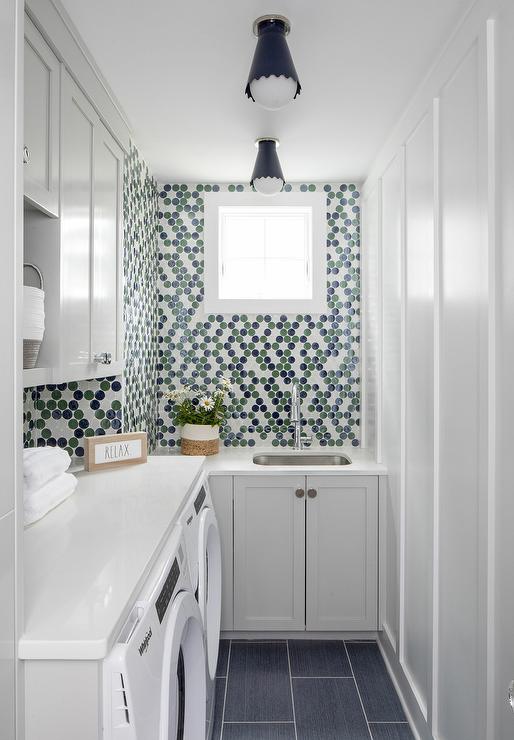 Combine Form with Functionality
Once you have sorted the ergonomics of your small laundry space, it is time to turn focus towards aesthetics and look beyond just color. Wallpaper in small spaces is a trend that is catching on across the globe, and you can dip into this and give the laundry niche identity of its own. An accent wall with color and textural contrast goes a long way in providing the laundry area identity of its own.
Laundry bags on wheels, drying racks, sleek wooden shelves for all your laundry, and additional storage baskets will help put the final touches on a gorgeous space. It's sure to serve you well for years to come.
RELATED: 15 Small Guest Room Ideas with Space-Savvy Goodness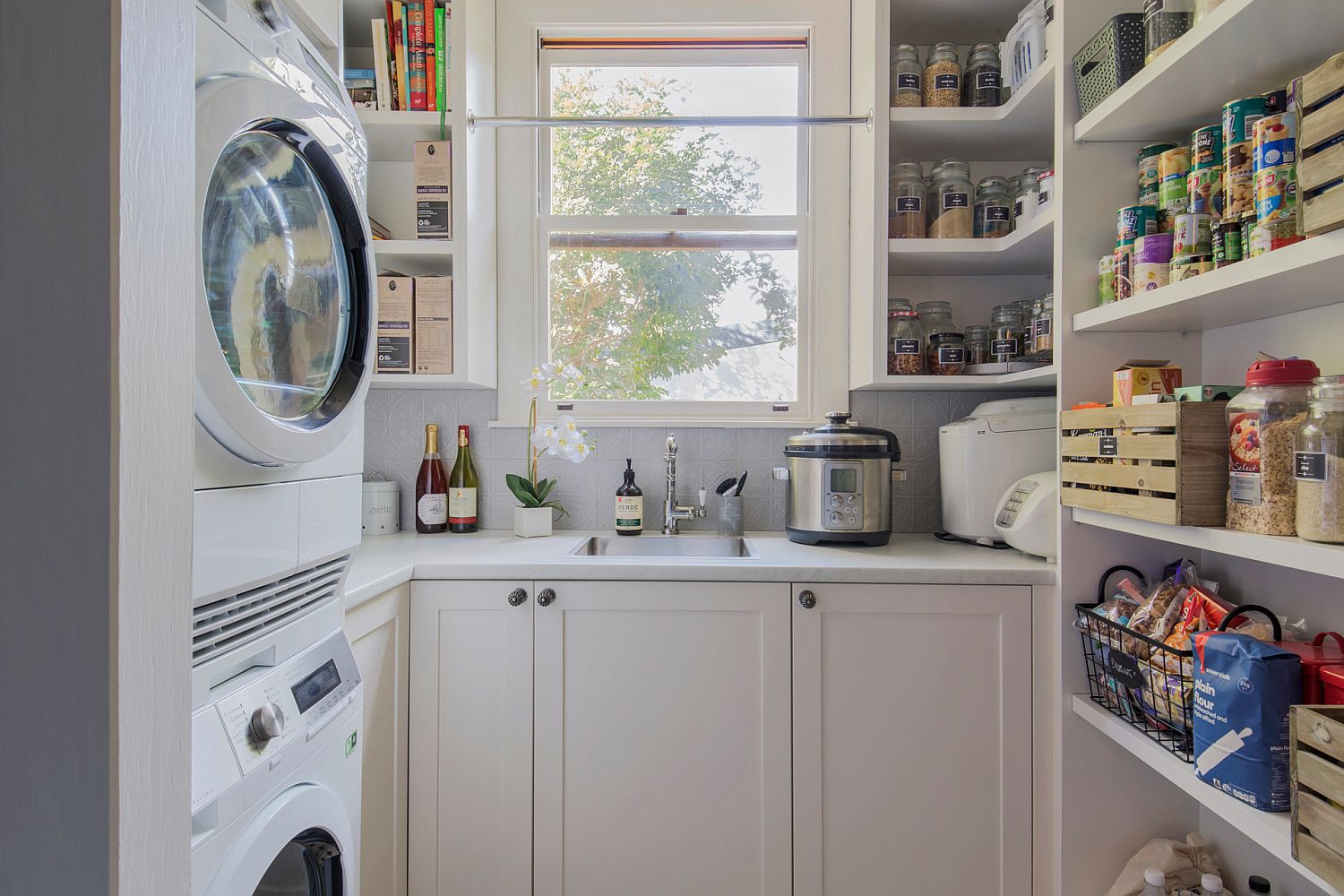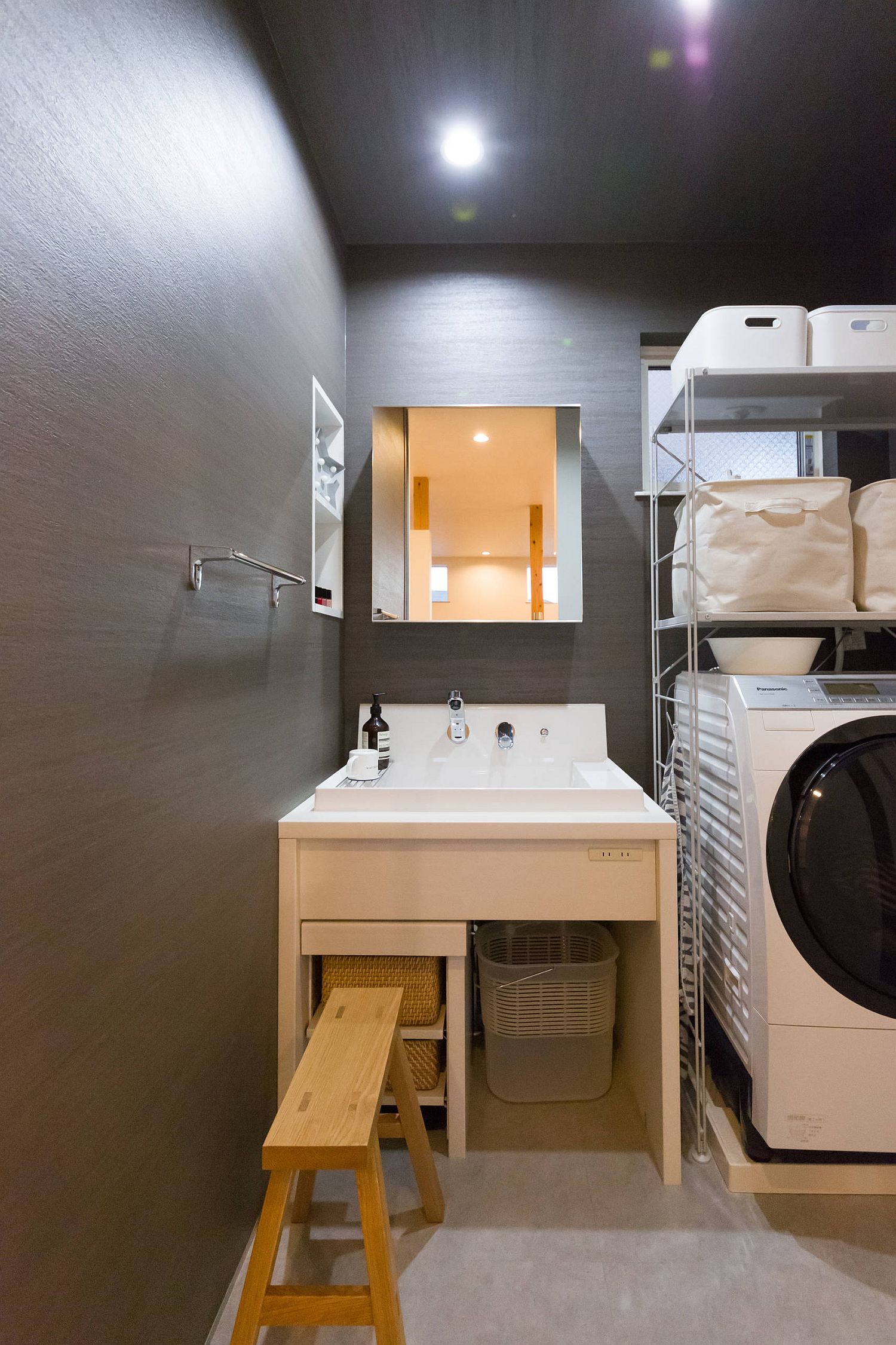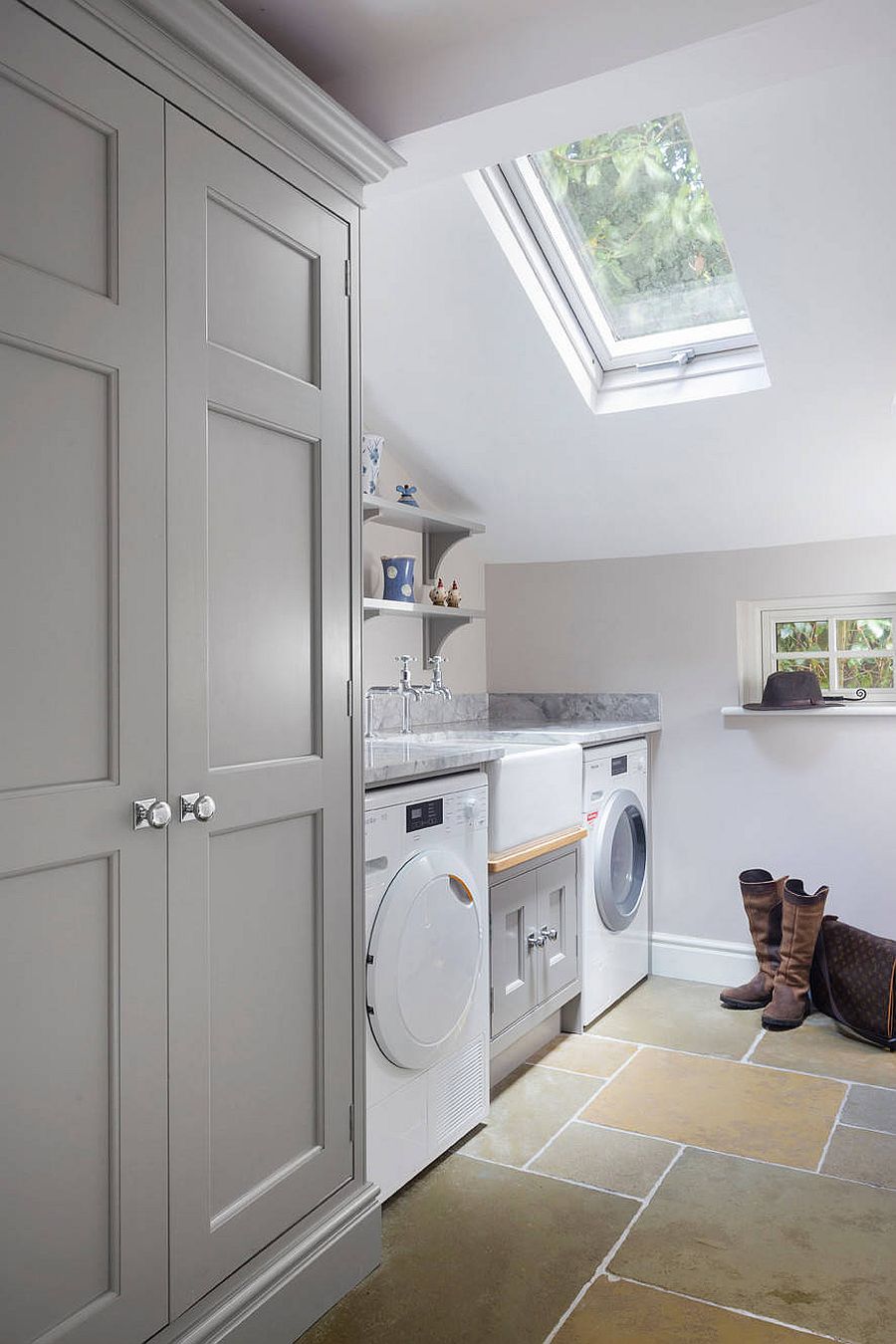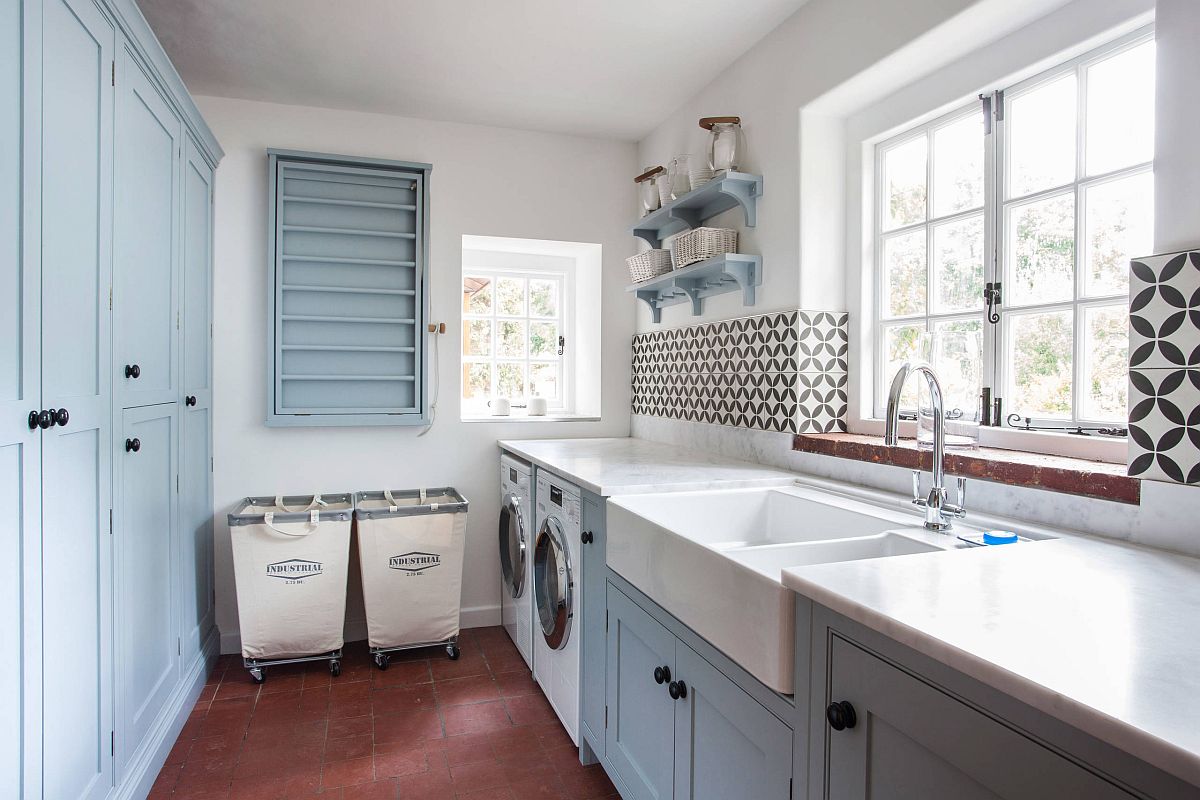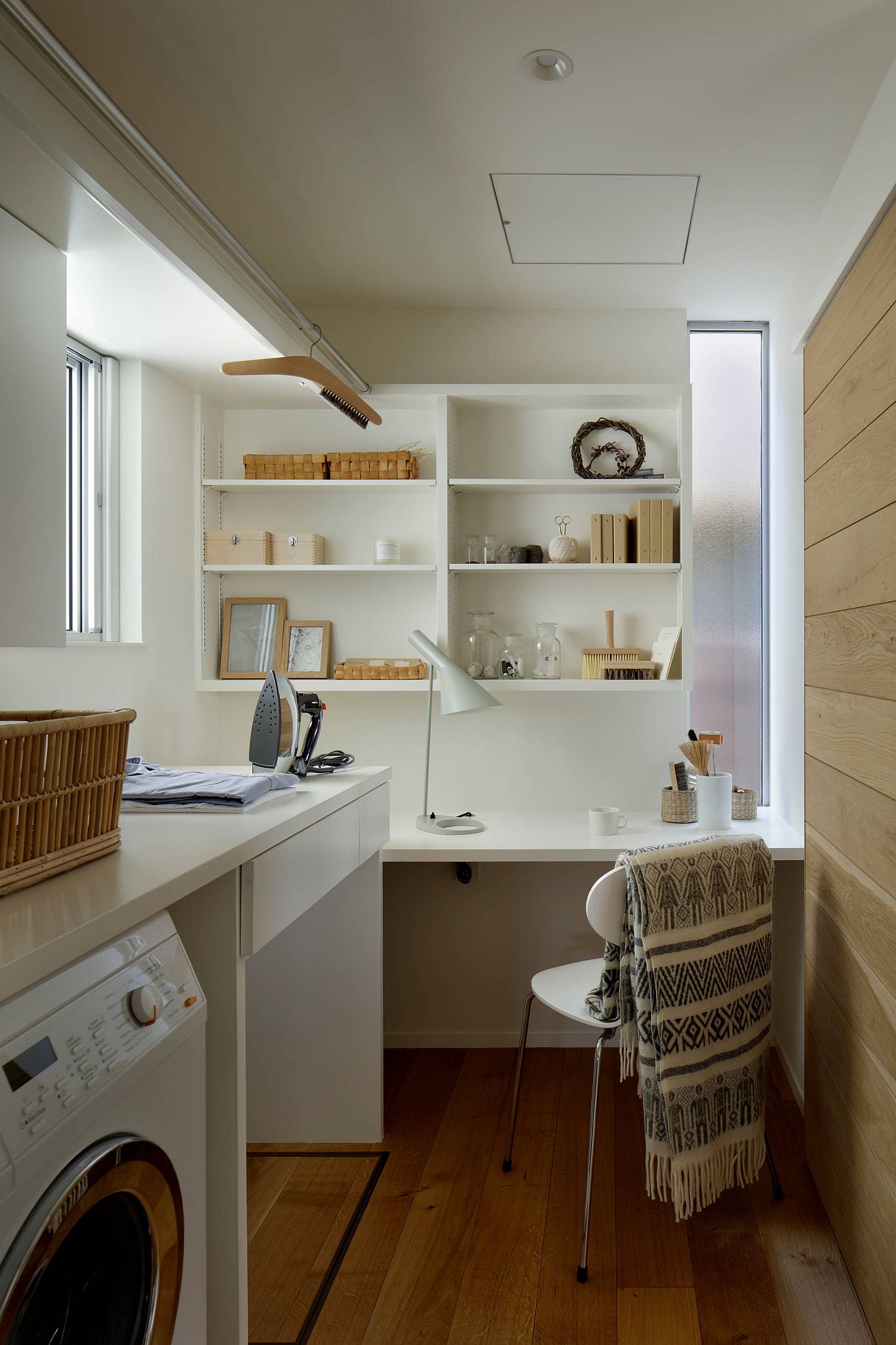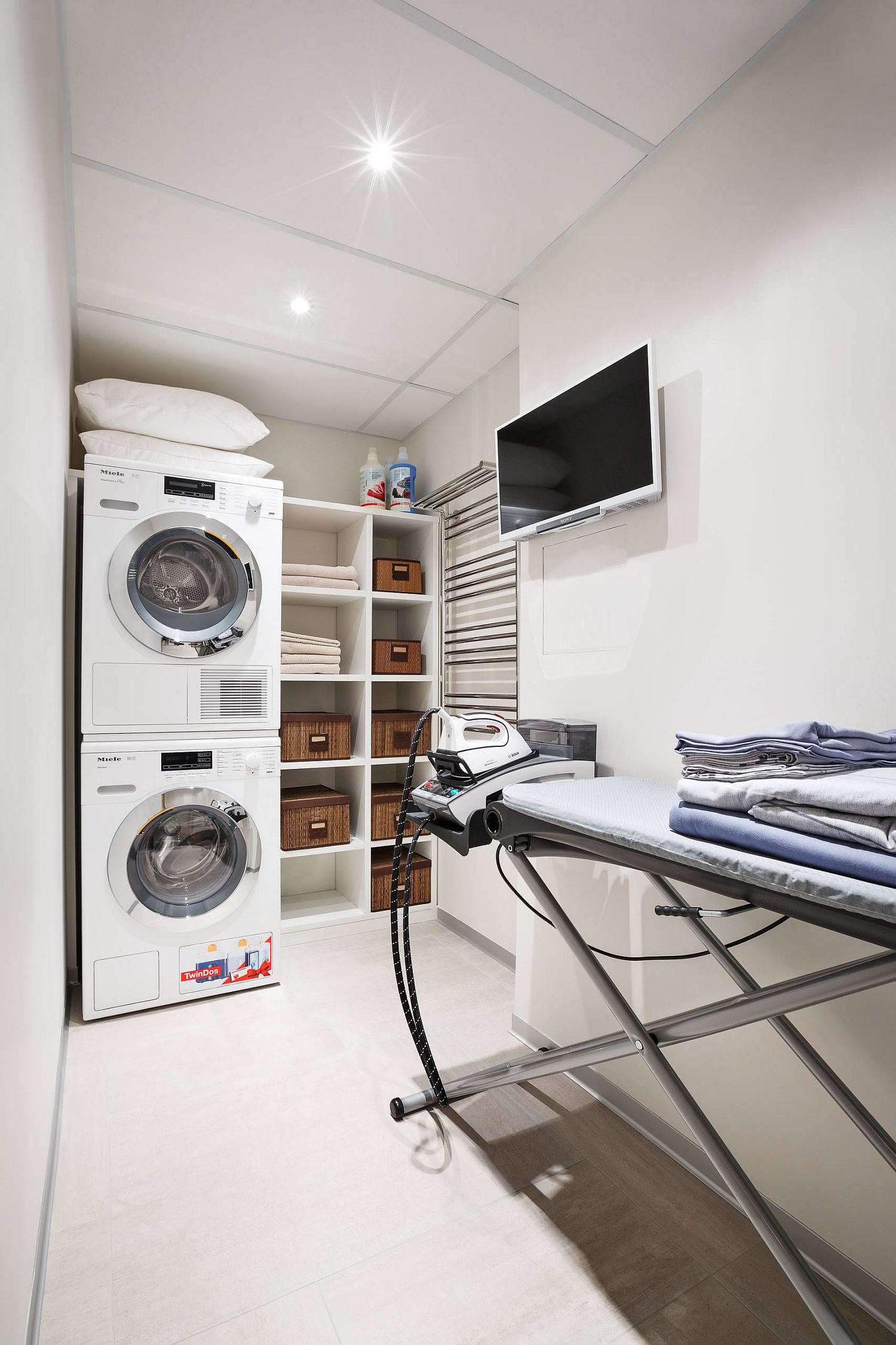 Get Smart With Doors
When working in a small space, it's essential to make sure you are aware of every last inch of the room. Whether your doors swing out or in, they will always take up more space. Sliding barn doors are a style increasingly popular and don't seem to be fading any time soon.
They are a perfect fit for a small laundry room. They will conceal mess and not take up any space in or out of the room.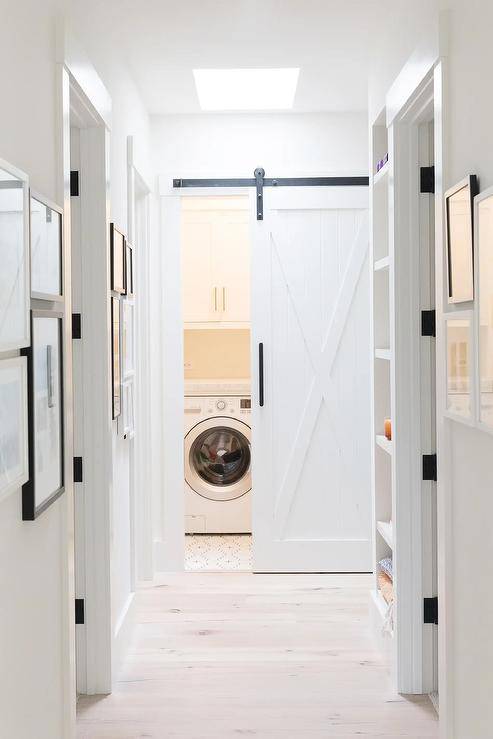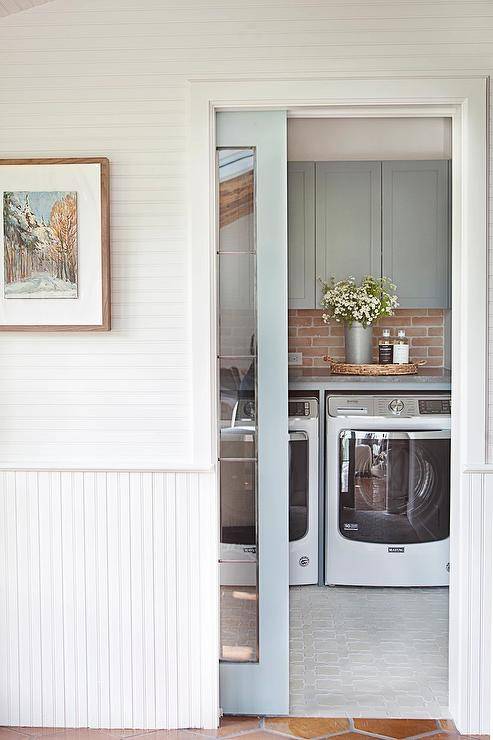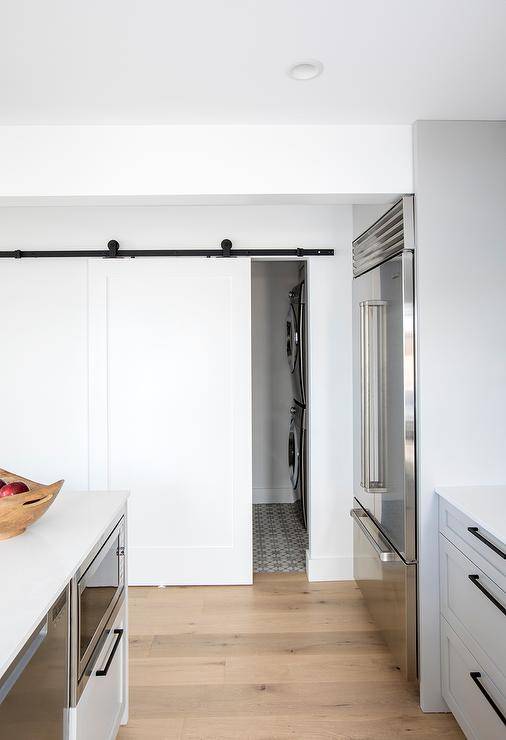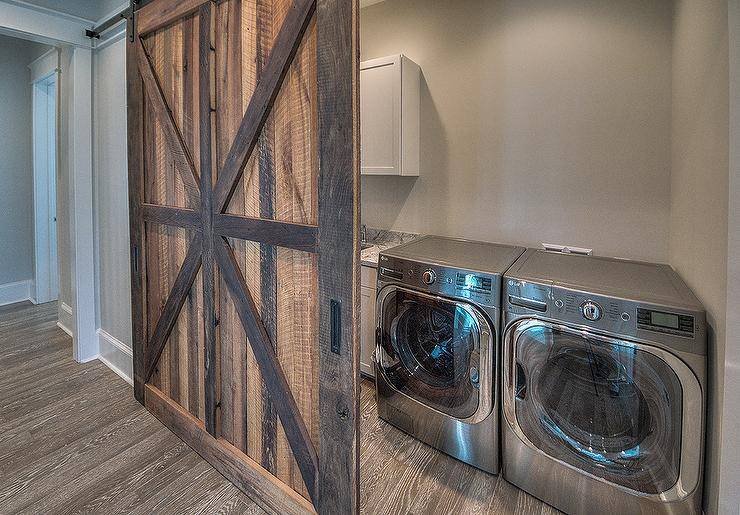 Use Drying Racks
You can install small wall-mounted or under-cupboard drying racks when short on space. They don't take up much space, and you can hang your delicates easily.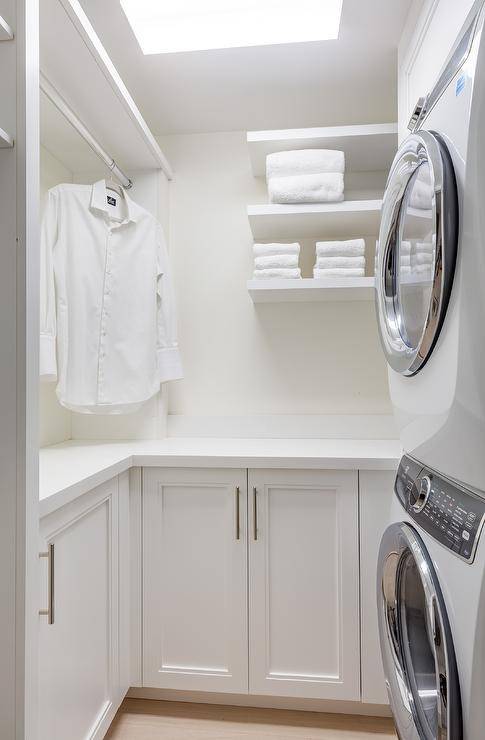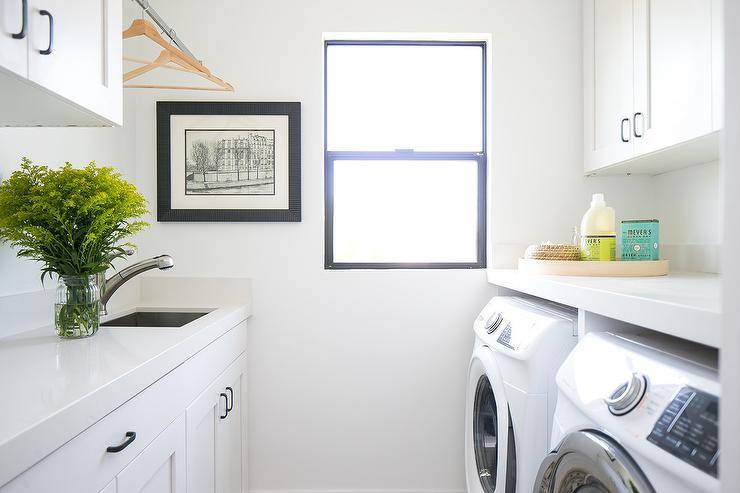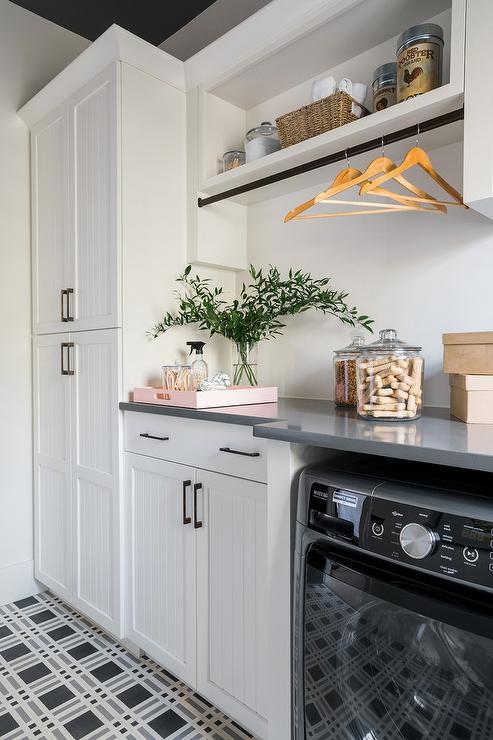 Awkward corners are great spots for clothing rods.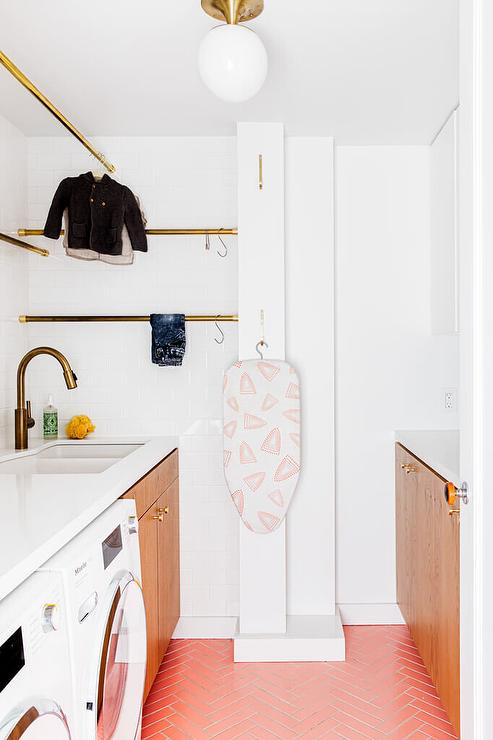 Creative Sink Placement
A small laundry room doesn't mean you can't have a sink. A sink in a laundry room is most necessary, and you don't have to sacrifice this pivotal element because you're short on space.
They make small laundry sinks in so many different varieties now that you are almost sure to find one that will fit your space.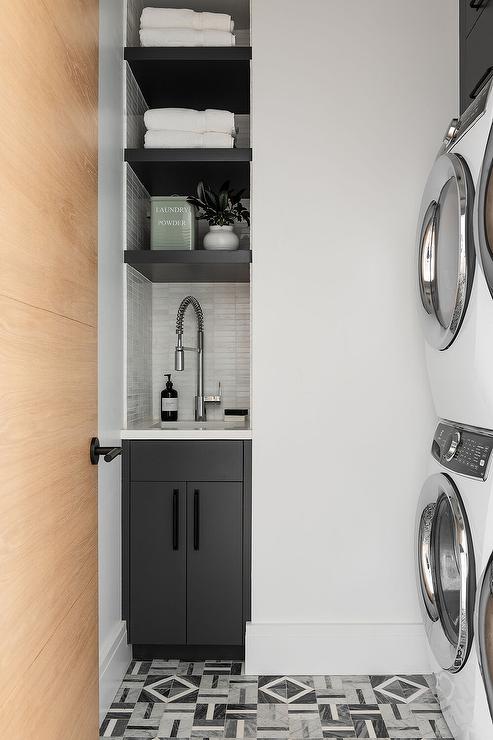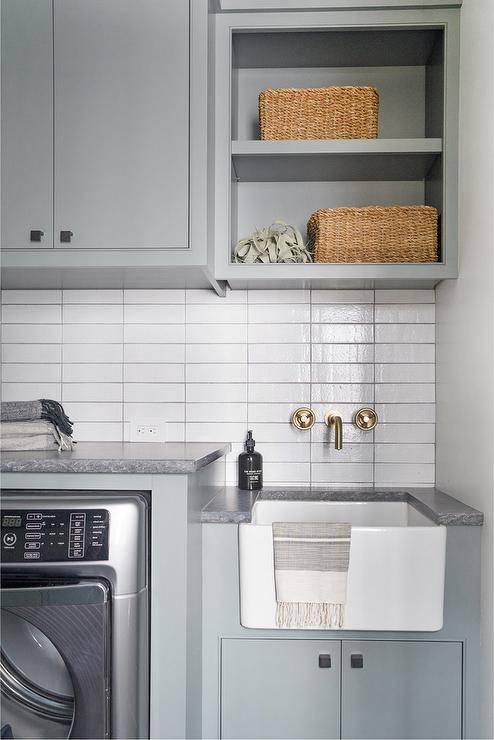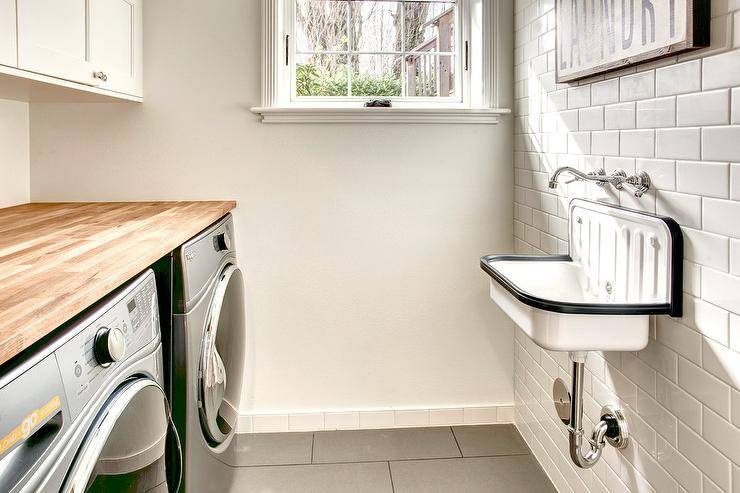 Use Lighting to Your Advantage
A well-lit space can make any small room feel so much bigger than it is. Use lighting to your advantage and ensure that your laundry room is well lit. If you're lucky enough to have a large window in your laundry room, make sure not to cover it with heavy drapery and dark coverings — light sheer curtains are best.
Interior cabinetry lighting also will work to your advantage in lighting up your small space.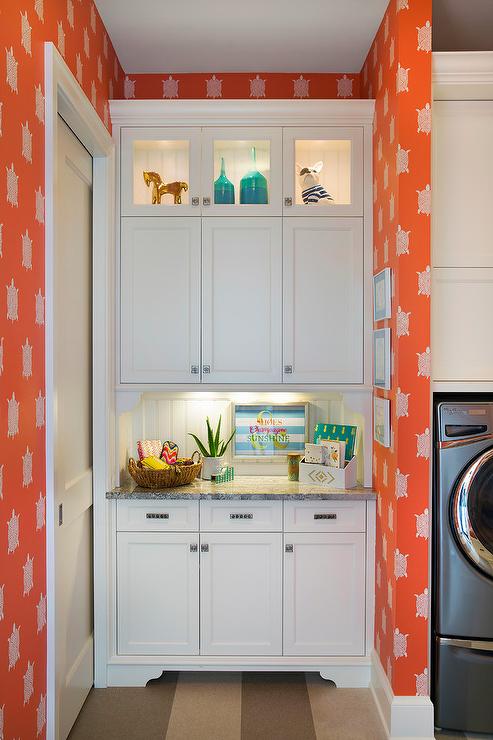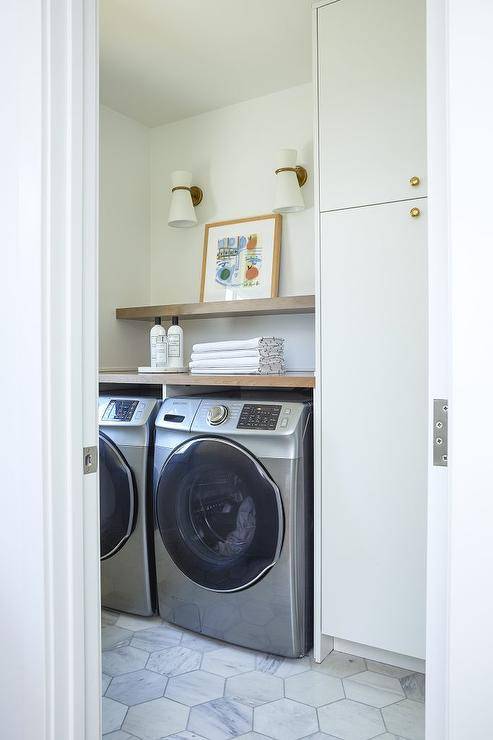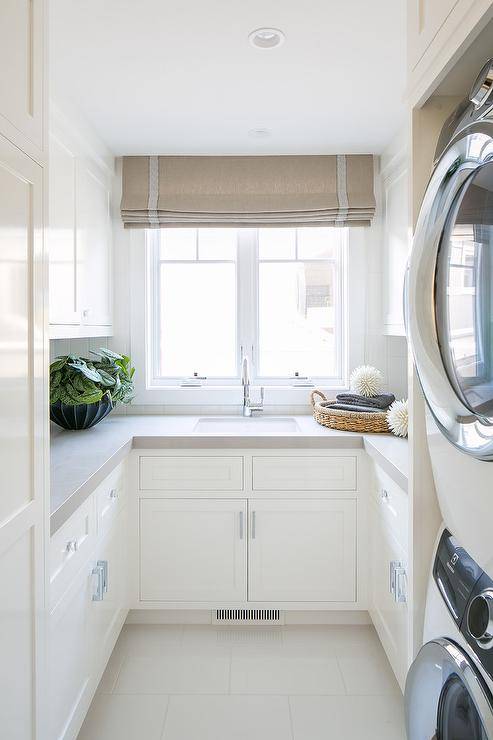 Make Use of Shelves
If you don't have the luxury of a countertop in your laundry room, you can use shelving to your advantage. You can install shelving above your washer and dryer, or you can also do wall-mounted shelving. This will give you ample room to store laundry materials and soaps.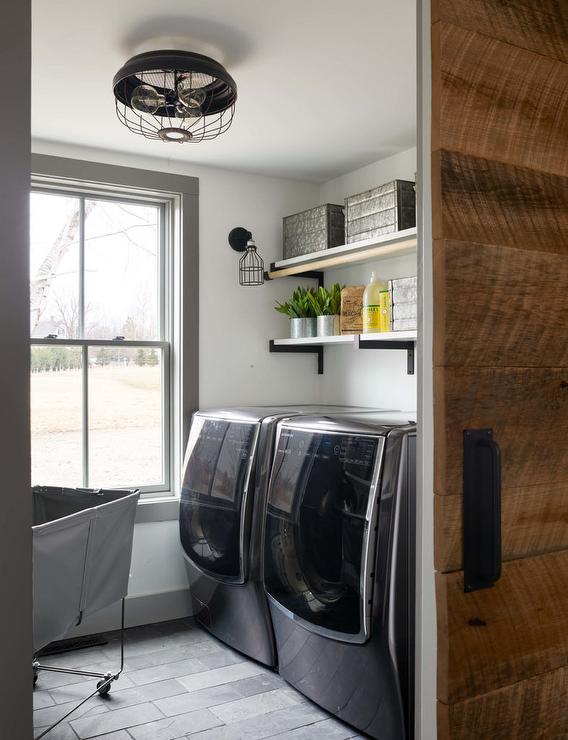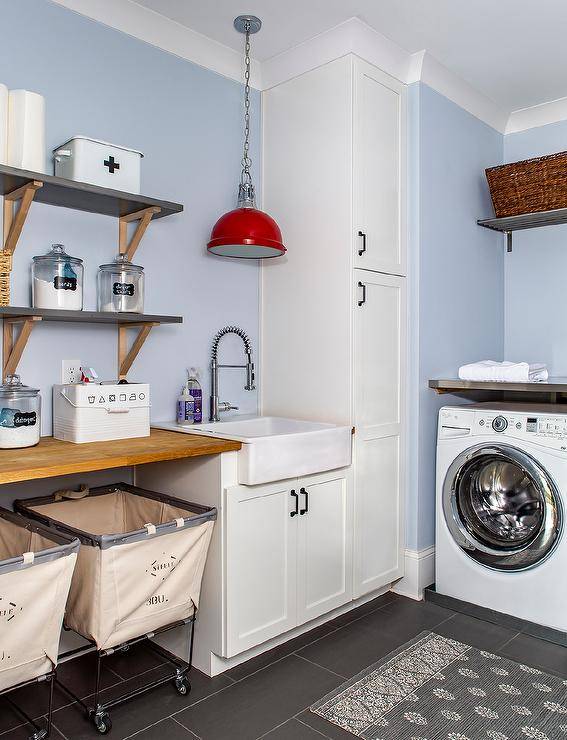 Even if your laundry room is in a closet, you can still make great use of shelving.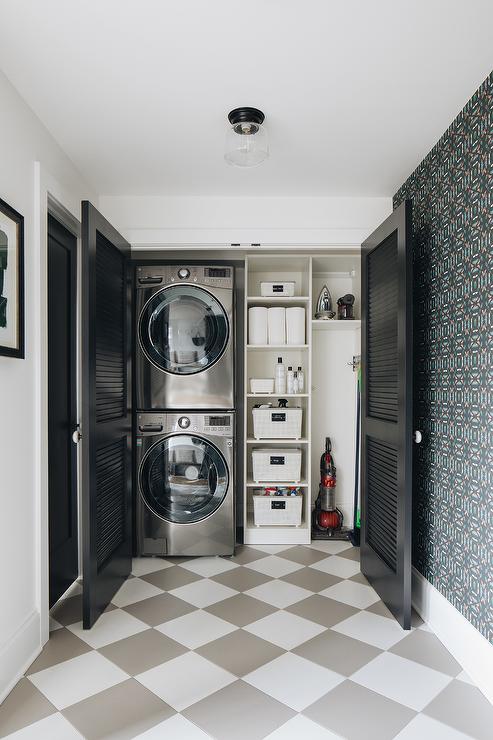 Closed Cabinetry
Installing upper closed cabinetry in your small laundry room will give you more storage space and room to store items you don't want on display. You will also be able to keep your small space clean and more organized.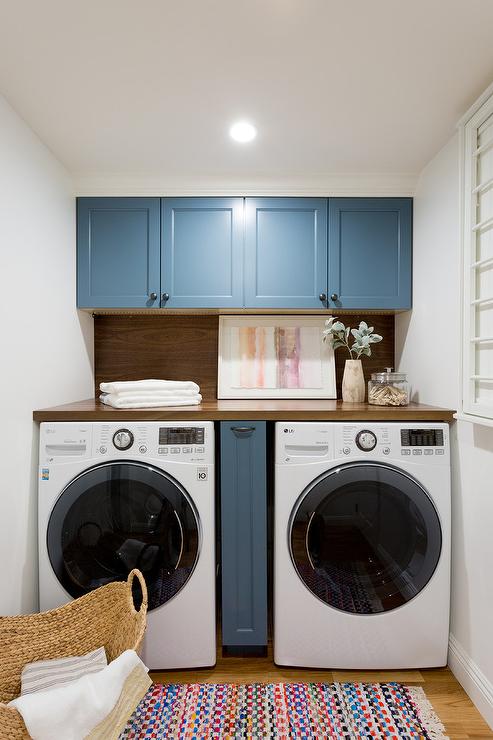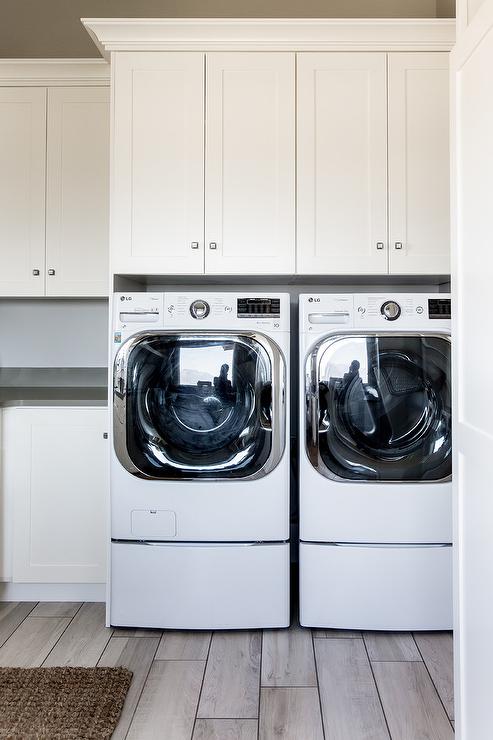 Maximize Space in Closet Laundry Rooms
Sometimes all you have is a closet to work with, but just because you don't have an actual laundry "room" doesn't mean you can make the most out of what you have.
Closet laundry spaces can be set up to be both functional and pretty. Make clever use of shelving by storing items in baskets. Stack your laundry machines to allow more room to hang clothes and install accessories like pull-out hanging bars to hang dry clothes.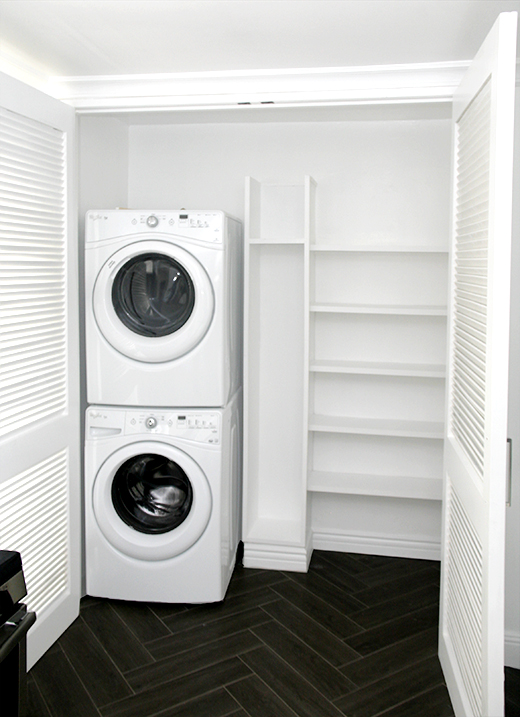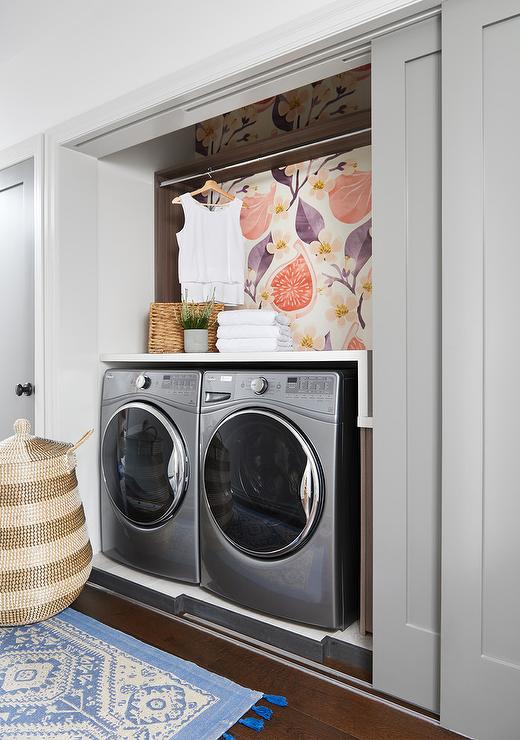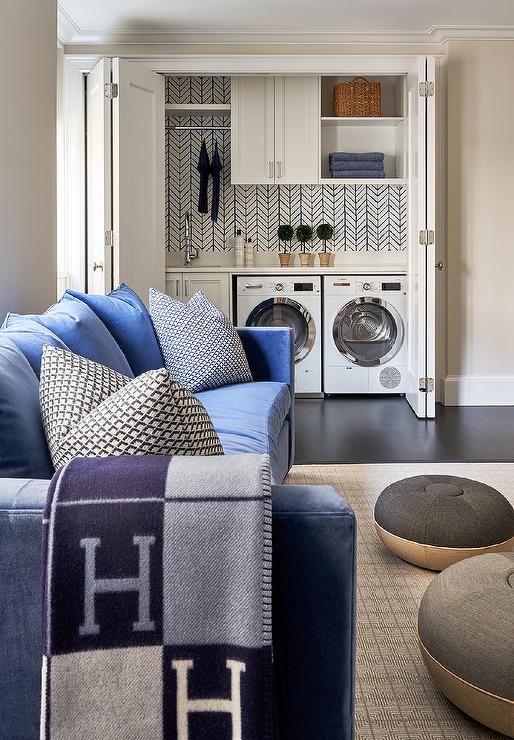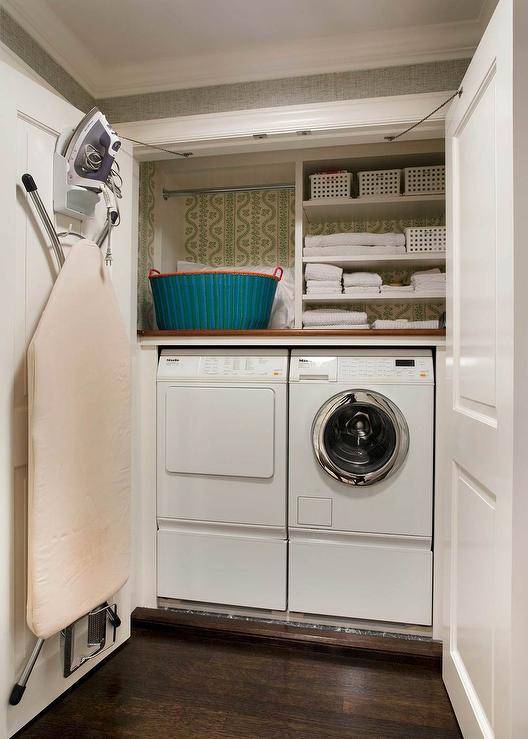 Frequently Asked Questions
FAQ
How can I maximize my small laundry room?
To make the most of your small laundry room, there are several ways to maximize the space you've got. If you are able, you can stack your washer and dryer. This will make use of vertical space and give you more room to install a sink or extra cabinetry.
Keep clutter and items to a minimum. Overdoing the space with decor and non-essential items will take up unnecessary space. Install items like pull-out shelves and pull-out drying racks that can be tucked away when not in use.
What can I use if I don't have a laundry room?
If you don't have a laundry room, you can get a small stacking set and sacrifice a little closet space to make a closet laundry \"room.\" Unused powder rooms can also be easily transformed into laundry rooms.
Can you put a washer and dryer anywhere?
You could technically place a washer and dryer anywhere in your home with the right bit of construction. However, it still must be in an area with the required utility hookups and ventilation capabilities. An electric unit needs a 240-volt electrical supply, while a gas unit needs the same gas hookups as full-size freestanding machines.
Where do you put a washer and dryer in a small house?
Great locations for a washer and dryer in a small house are inside the kitchen or bathroom or directly next to one of those rooms. If you want to ensure that you are close to plumbing, it will be easier to reroute it.
Can a washer and dryer be in a closet?
Yes, you can certainly place a washer and dryer in a closet. It does require at least 2×2 feet of floor space, and you will need sufficient depth for tubing and ventilation.
How much space is needed behind a stackable washer and dryer?
The space needed for stackable washers and dryers needs to be at least 40 inches deep. Since many models run around 30 or more inches in depth, having an extra five to 10 inches of space behind the units should be more than enough to house any hoses or plugs.
If you need more laundry room ideas, you may like these related articles: