Open concept shelving is a trendy and modern way to organize your things, and it can work in any room of your house. Whether it's your bathroom, kitchen, living space, or bedroom there's room to organize and there's room to design.
Open shelving requires dedicated planning and attention to detail and is a fun way to incorporate style into your home while staying organized and making the most of your space. If you're not sure where to start, we have you covered. Take a look at these inspiration guides for guidance on incorporating open shelving in every room of your home.
Kitchen
This is the most unique area for an open concept shelf. Having open shelves in the kitchen goes against the grain of the well-known, and dare I say overused, cupboard. An open concept shelf in the kitchen adds a unique splash of style to a modern kitchen.
There are opportunities to add recipe books, plants, and some fresh kitchen decor such as fun framed prints alongside dishes with open shelves.
By the way, your shelves don't strictly have to be on a wall. Having them by the window is a chic and stylish option.
If you want to really nail the rustic kitchen vibe opt for displaying your dried bulk goods in mason jars or other glass reusable containers.
Or, keep it simple with wooden shelves and simple but modern white dishware.
Bathroom
The bathroom is another unique space that doesn't see a whole lot of open shelving, but that doesn't mean it can't be done.
Open shelving in the bathroom can display flowers and other decor, as well as housing important bathroom necessities in neat and organized glass jars or wicker baskets.
If you have time for a small DIY you can cut out the middleman and make a basket into an open concept shelf.
Living Room
The living room isn't completely new to this whole idea of open shelves, but we've decided to lean into the trend and create some originality and buzz around open shelves in the living room.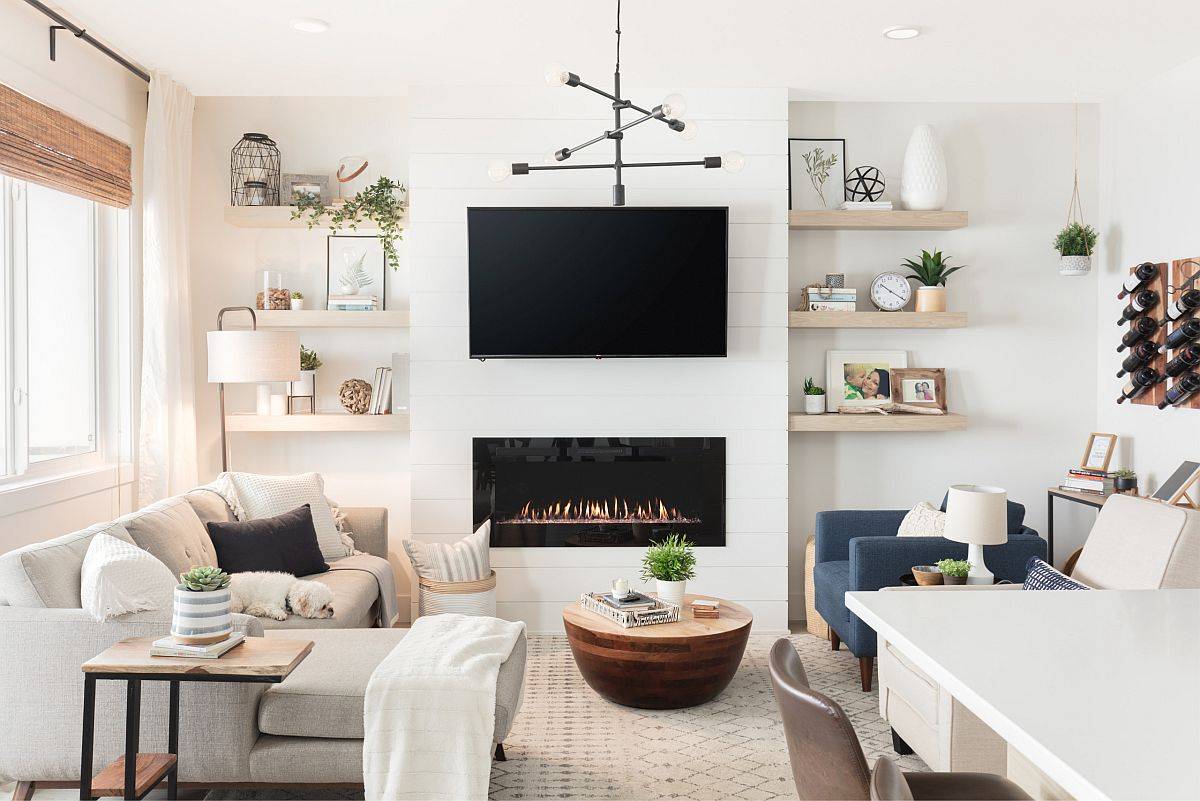 Keep your shelves busy with sculptures, plants, photos, and everything that keeps your living s pace original and true to your authentic self.
Or do the opposite and leave some shelves bare.
The empty space adds a chic and cool effect to your room.
And, of course, you should leave some space for the bar. If you're lacking a bar cart, show off your collection on an open concept shelf instead. You can drink your decor too!
Bedroom
The bedroom can often struggle with a sense of interior design identity. There's only so much putting up prints and painting your walls can do to showcase yourself in the space. That's where open concept shelves come in.
Opt for shelves in the form of a headboard. The varying sizes and amount of shelf space leave endless design opportunities.
A floating shelf fits the design bill in a small bedroom.
And if you're feeling brave, there's always the option of turning your closet space into open concept shelves.
Open shelving gives space to let your creative self shine in your home. Not only do they force aestheticism and balance they sort of make it look like you have it all together. Even if you don't, setting a scene where perfectly stacked kitchen plates and neatly folded sweaters are front and centre says otherwise.
Open concept shelves can be in any room of your home and are a no brainer addition to the busy-bee organizer, and to the stylish decorator. They're sure to impress your family, your friends, and yourself. Once you give it a go in one room you're bound to keep the open shelf train going. Lucky for you, we provided all the inspiration you need to keep going.