Urban homes have little space available hence why you need indoor gardening ideas if you want a chance to reconnect with nature. Gardening in small spaces is all about frugality and smart design. It requires creativity and ample care. From simple terrariums and step gardens to potted plants and herb gardens, this is a collection of ideas for those who wish to live a greener lifestyle.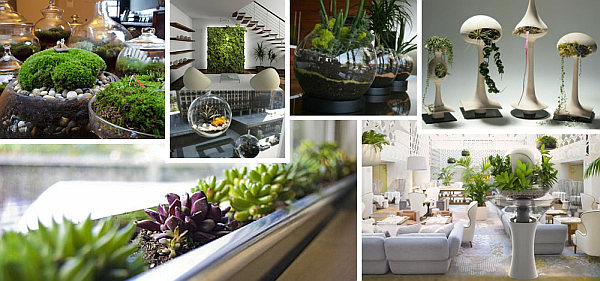 A Collection of Plants
We'll start with an irresistible image of an interior from the Mandarin Oriental Barcelona Hotel. Do you want a grand garden effect in your indoor space? Scatter large planters throughout the room, and fill them with tropical greenery. Potted palms and ferns make a big statement. For an extra touch, sprinkle some hanging planters throughout the room. Note how the green plants below look stunning against the white palette.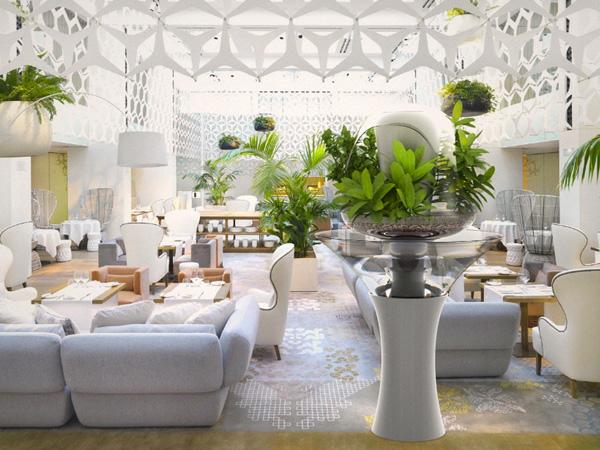 We now turn our attention to Tend, which offers customers everything from container gardening items to interiorscaping services. In the image below, a photograph of a residential design project, a horizontal planter makes a wonderful "gardening bed" for a collection of three long-leafed plants.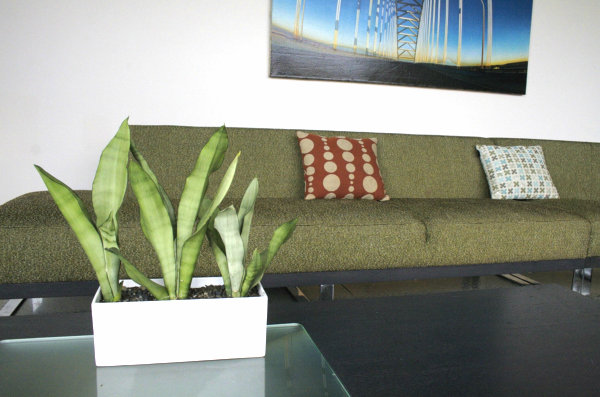 Tend also offers Golly Pods, ceramic planters created in collaboration with designer Jason Lane. They have an other-worldly look, and they are particularly striking when grouped, as shown below. There's nothing like a freestanding garden, especially when the containers are this interesting: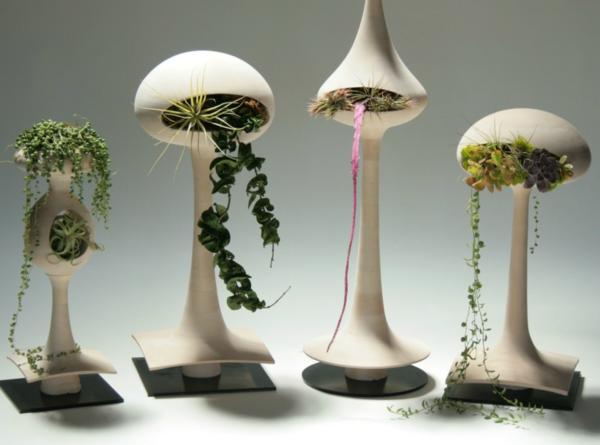 Another residential project by Tend showcases tall potted plants. A similar planter style unifies the greenery, and placing the plants on either side of floor-to-ceiling glass doors makes the transition from room to room a visually smooth one: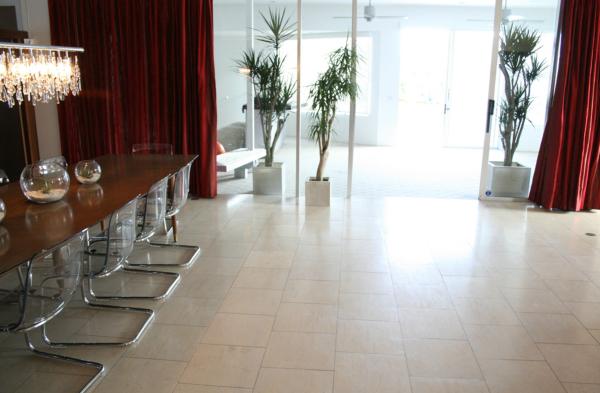 A windowsill garden is ideal for growing herbs that need plenty of light. For a vintage look, use tea caddies as planters. A full tutorial can be found at Apartment Therapy.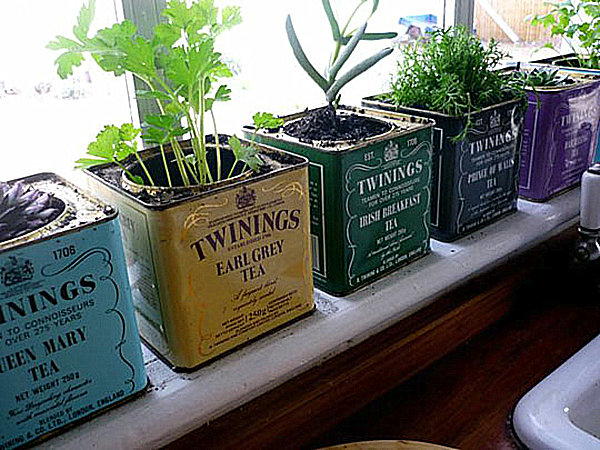 Vertical gardens are a current design obsession, and there are indoor options for those with bright spaces. If you don't want to create your vertical garden from scratch, check out the Modular Green Wall from Hercs, shown below: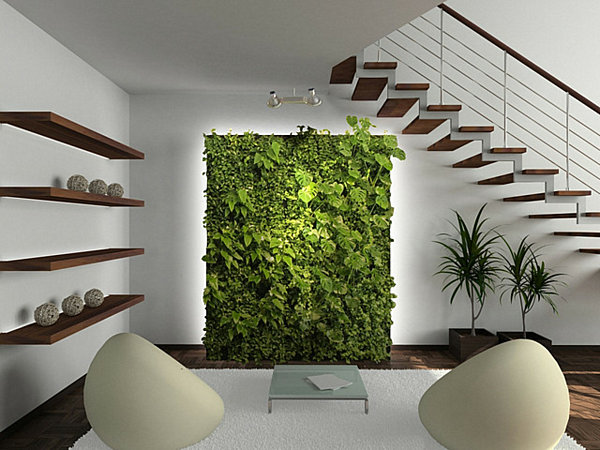 For a DIY version of the indoor garden, use a recycled palette and fill the cracks with the plants of your choice. Check out the helpful tutorial from Fern Richardson of Life on the Balcony. [via Design Sponge]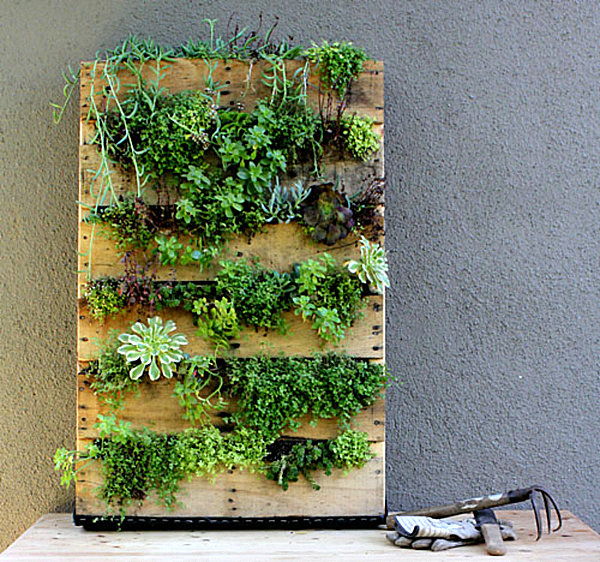 Potted Succulent Arrangements
Succulents make great indoor plants. Note only are there many interesting varieties to choose from, they can be combined in a planter to create a visually stunning arrangement that brings modern charm to a light-filled space. While typically low-maintenance, succulents can be a challenge to keep alive at times, so check with your local nursery for maintenance tips. Below, a planter filled with succulents takes center stage in a residential design project by Tend: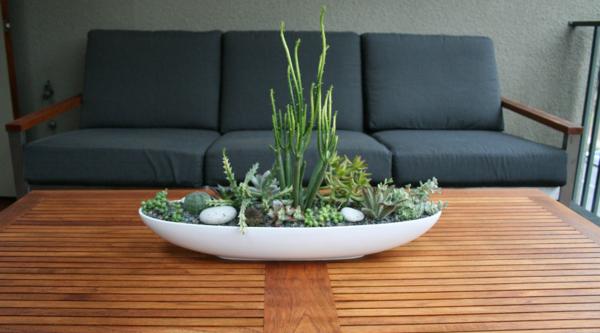 The small scale of succulents makes them ideal for indoor gardening. Don't hesitate to make your potted succulent arrangement a true work of art, Add shells, rocks and other items of interest for a one-of-a-kind creation. [from Big Red Sun]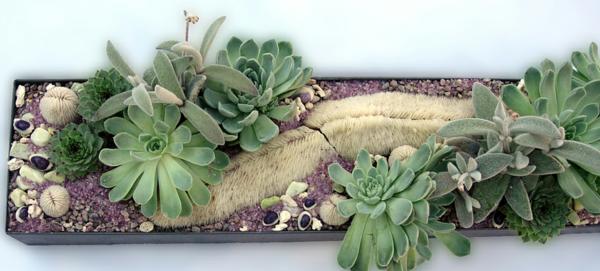 As you can see, when it comes to succulent arrangement, the sky is the limit. Add glass balls, rocks, driftwood and other eye-catching baubles to make your succulent garden a true plantscape! [from Big Red Sun]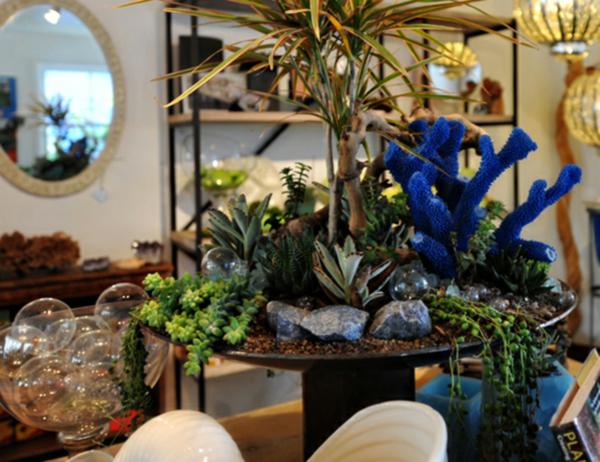 Or make your succulent garden part of a tabletop arrangement, incorporating both artwork and decor into the vignette. [from Big Red Sun]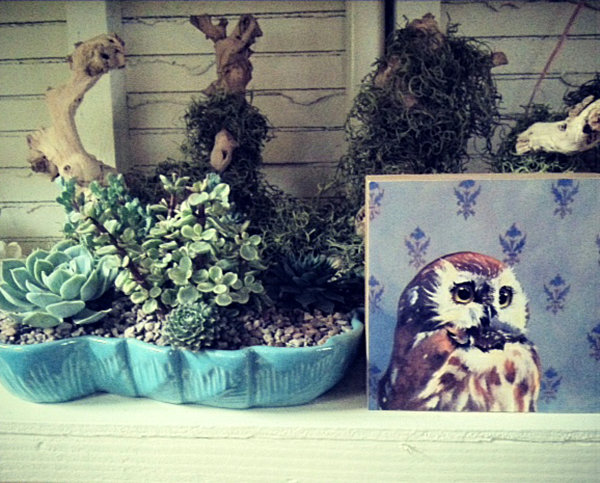 Since succulents love light, what better way to incorporate them into your space than by crafting a windowbox planter using an aluminum gutter and letting the plants reign? A full DIY can be found at Shelterness.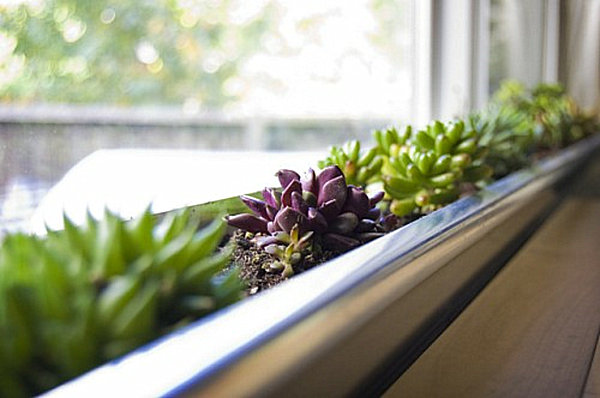 Sometimes an assortment of individual succulents in pots can create the perfect indoor garden. In the image below, pastel containers are the ideal complement to succulents in shades of jade, mint and rose. [from Design Your Revolution]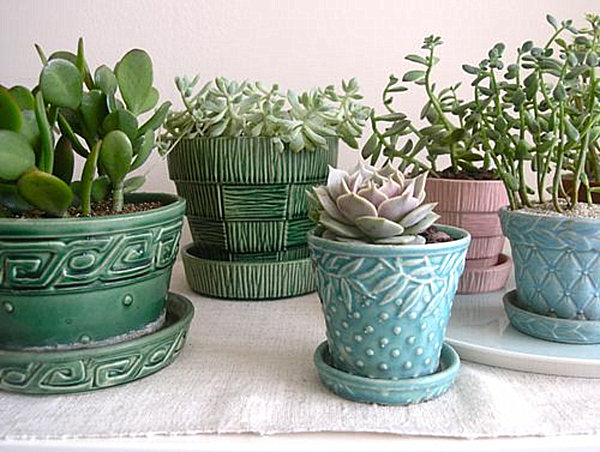 For a floor-to-ceiling indoor garden effect, try placing succulent arrangements on shelves and interspersing them with decor items, such as vases and sculptural spheres. [from Big Red Sun]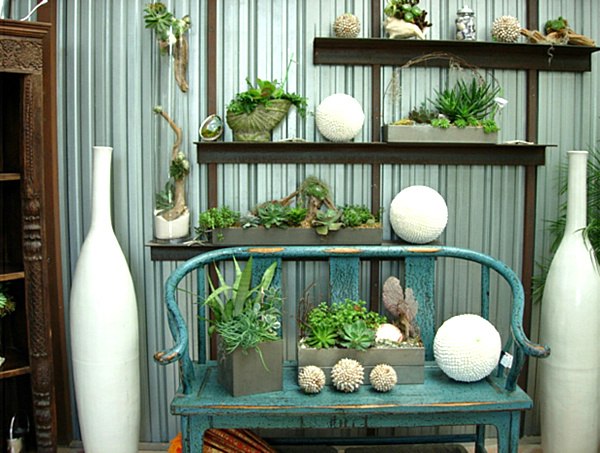 Terrariums
We couldn't end our indoor gardening article without spotlighting the latest verdant design phenomenon: terrariums. While once reserved for grade school science projects or gardening endeavors for the most devoted of enthusiasts, terrariums are now mainstream in their appeal. Artisans are adding quirky elements to their terrarium creations, such as figurines and one-of-a-kind finds from nature. The succulent terrarium below is from a previous Decoist article on Decorating With Houseplants–check it out! [details at Mini Manor]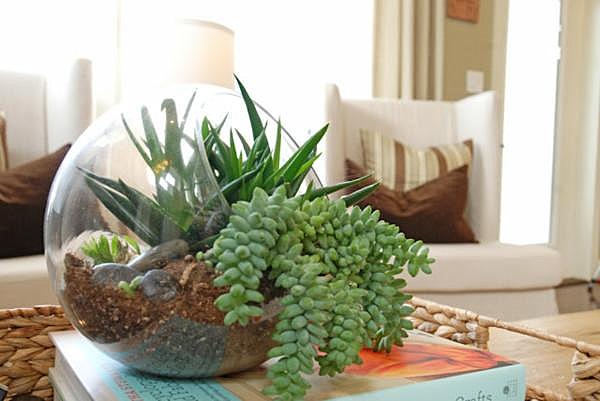 While a terrarium is a mini garden within a glass container (sometimes open and sometimes closed), the garden effect is heightened by grouping a series of terrariums in the window, as shown below. If you look even closer, you'll notice plastic dinosaur toys in these creations! [design details at Two Straight Lines]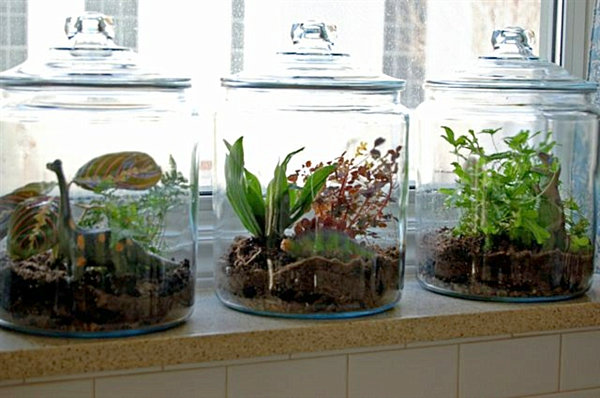 Another row of terrariums can be seen in the next image, which shows the successful use of container uniformity and plant diversity. [from Tend]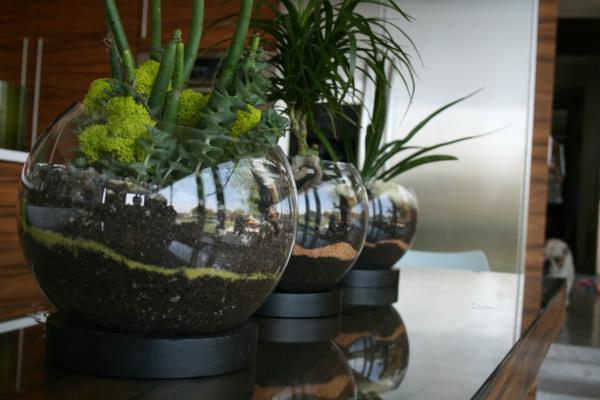 Twig has taken the terrarium world by storm, creating true mini worlds (complete with miniature people) within stylish glass containers. These humorous and clever scenes have taken terrarium building to a new level. For design inspiration or to purchase your own terrarium, shop online or check out Twig's offerings in select Brooklyn stores.
For a mini garden that seems to float through the air, consider a hanging terrarium. Compact and ultra modern, these selections from Tend are perfect for rooms with floor-to-ceiling windows: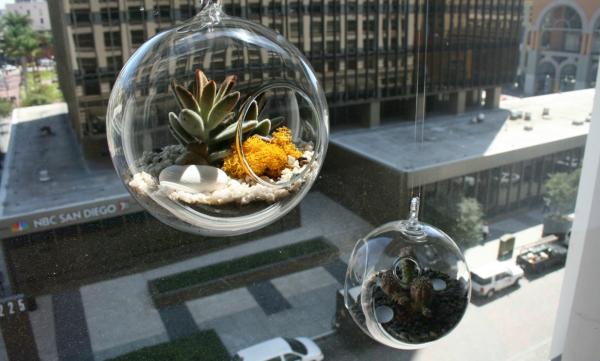 We end with a giant terrarium from Emmanuelle Moureaux Architecture + Design via Home Insides. What better way to bring the outdoors in?!: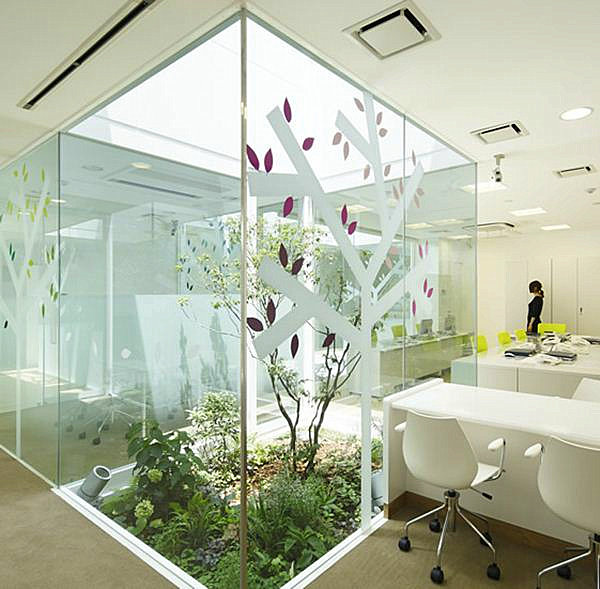 Are you seeing green yet? The images above are proof that no space is too small for an indoor garden. Keep it simple with a few potted plants, or go large scale with a vertical garden. Most importantly, be prepared for some trail-and-error experimenting. Don't be discouraged if certain plants thrive while others struggle. If at first you don't succeed, try again, and remember that the unique conditions of your space will create a great home for some lucky collection of plants…