So you want to bring some greenery indoors…and why wouldn't you? Indoor plants purify the air and beautify a room with a touch of nature. Popular houseplants include Dracaena, spider plant, snake plant, succulents, golden pothos vine, and ferns. Some are sturdier than others, but each has a distinct look that can enhance your space. From large potted plants to the increasingly popular air plants, our collection of green images will inspire you to make room for indoor sprigs and bushes!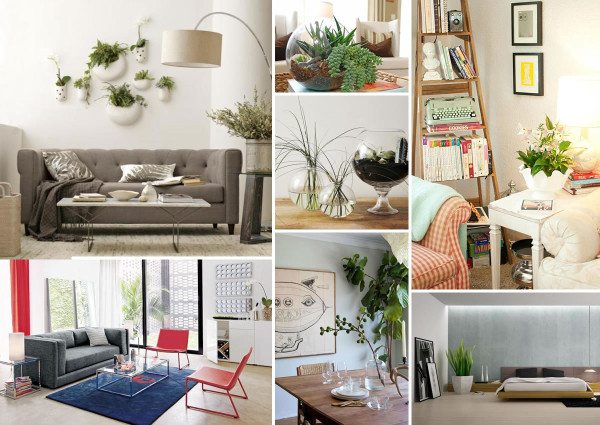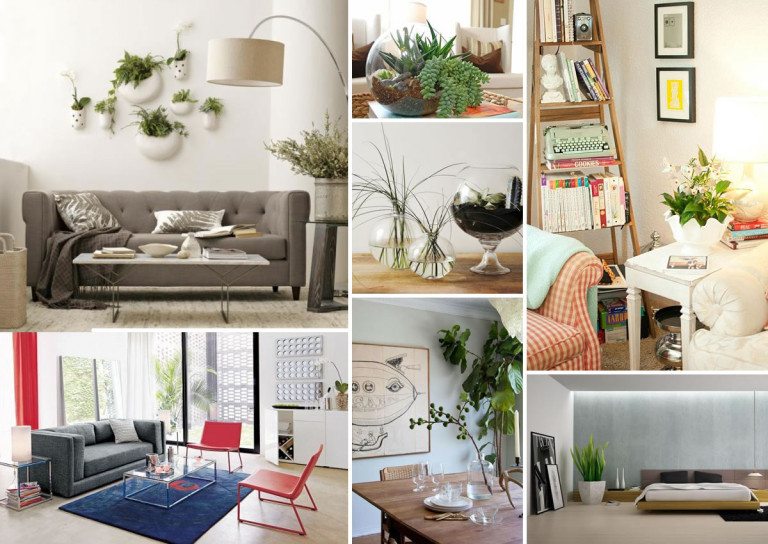 Small Houseplants
Sometimes a little greenery is all it takes. In fact, a smaller plant can be the perfect addition to a room, or several can be grouped together to create an indoor garden.
A Collection of Houseplants
For plants that make a big statement, choose an assortment of potted cactus to grace a tabletop in a bright space. [from CB2]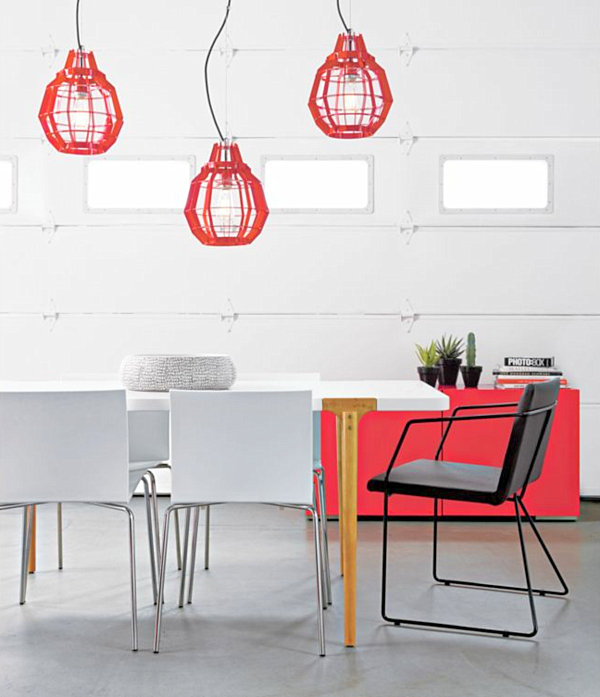 A collection of green plants in a white room can create a conservatory effect, especially when botanical themes abound. In the room below, nature is celebrated through butterfly and bird prints. Add the potted plants, and the look is complete! [from IKEA]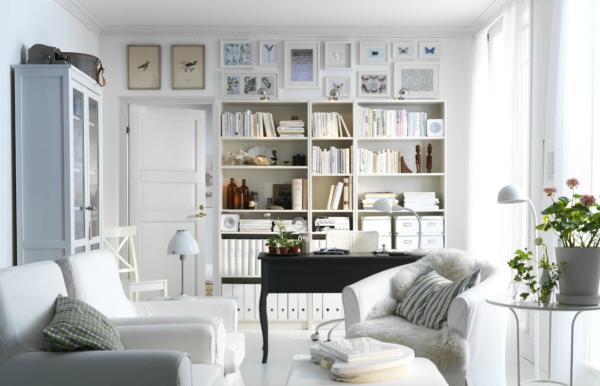 If a room were a terrarium, the space below would be the winner! From tall plants to small plants, the abundant greenery sets a garden-y tone, yet the ratio of furniture to plants keeps the greenery from overwhelming the room. [from IKEA]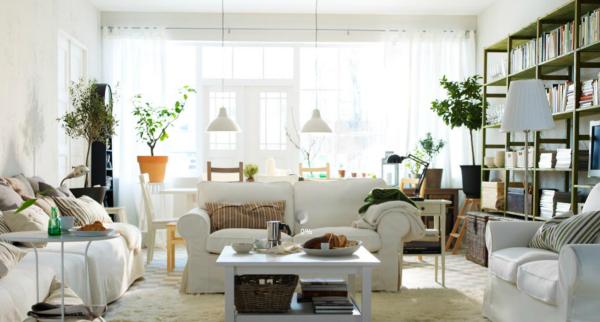 For an interesting twist on the indoor garden, check out West Elm's collection of Shane Powers Ceramic Wall Planters. These modern pieces are instantly charming with the addition of verdant fillers. There's even an aerated planter for orchids!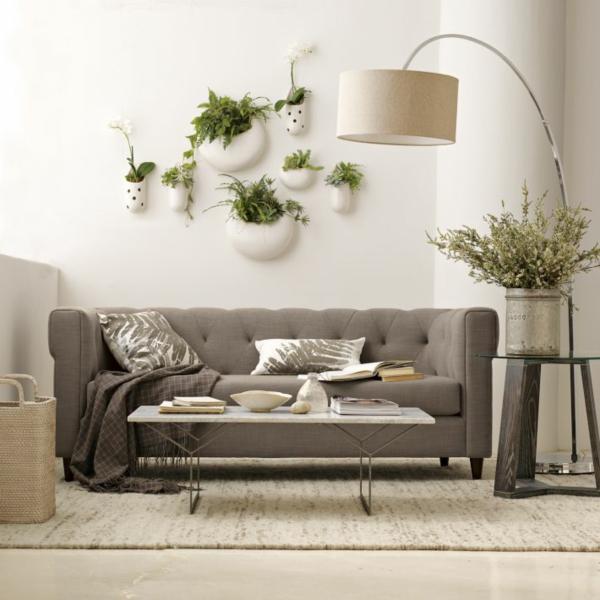 One Stunning Potted Plant
We now move away from plant collections and focus on the power of one potted plant to change the dynamic of a space. There's nothing like a bright green plant in an all-white room! Fresh and crisp, a potted plant near the window packs a powerful punch. [from IKEA]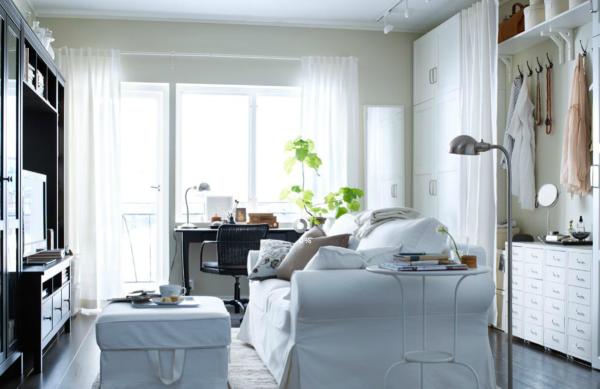 Then again, a little color never hurt anyone! Below we see the strong impact of a modern, colorful pot! A succulent in a yellow container is the bright centerpiece the room truly needs. Don't forget that cut greenery can also enhance the decor, as shown by the tropical leaf on the console table. [from CB2]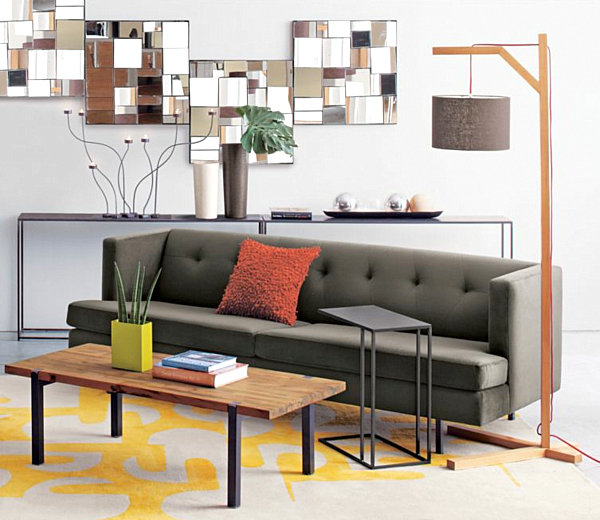 In the Jonathan Adler-designed space below, a potted orchid is undeniably elegant. Yet this Palm Beach residence also benefits from bells of Ireland, the cut blossoms in the white vase on the right side of the bed. [from Jonathan Adler]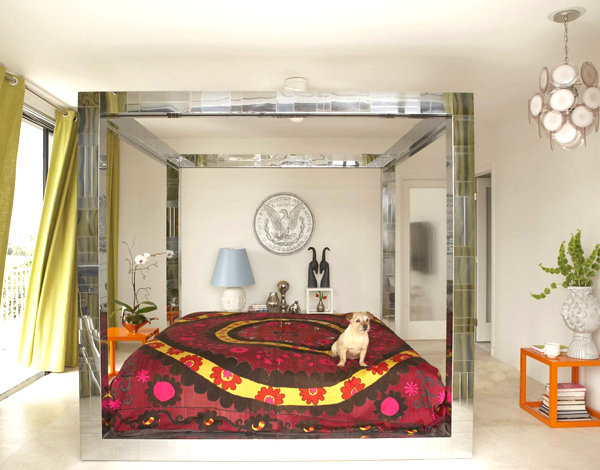 Houseplant Decorations
Let's not forget that the fun doesn't stop with the plant itself! To turn your potted plant into a full-blown plantscape, try adding some paper decorations. For example, the greenery below features a collection of paper flags suspended from draping string. [from Domestic Fashionista]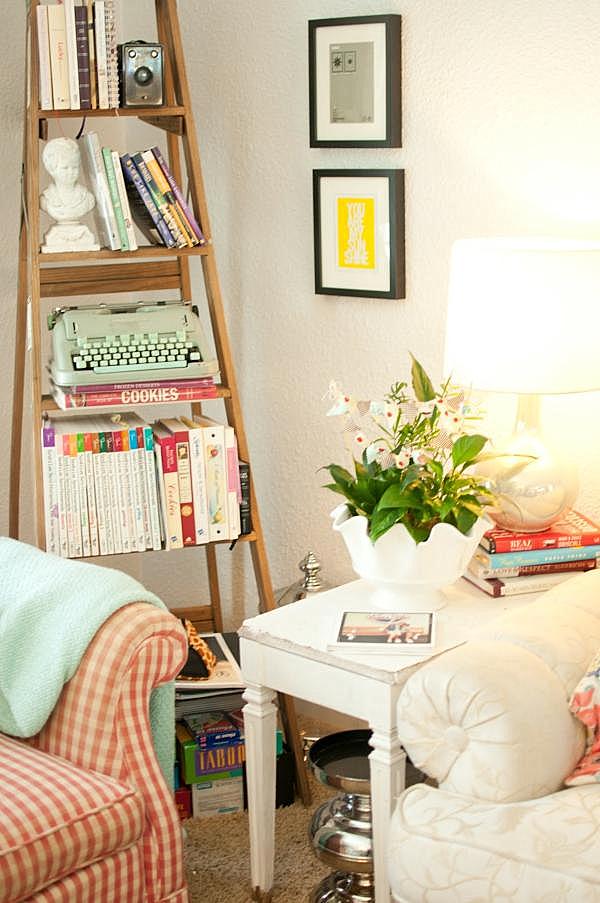 Not to mention, flags and other designs can be attached to skewers, then stuck into the the soil. In this next image, we see how newspaper flags give a burro's tail succulent a boost of height. [from Nesting Place]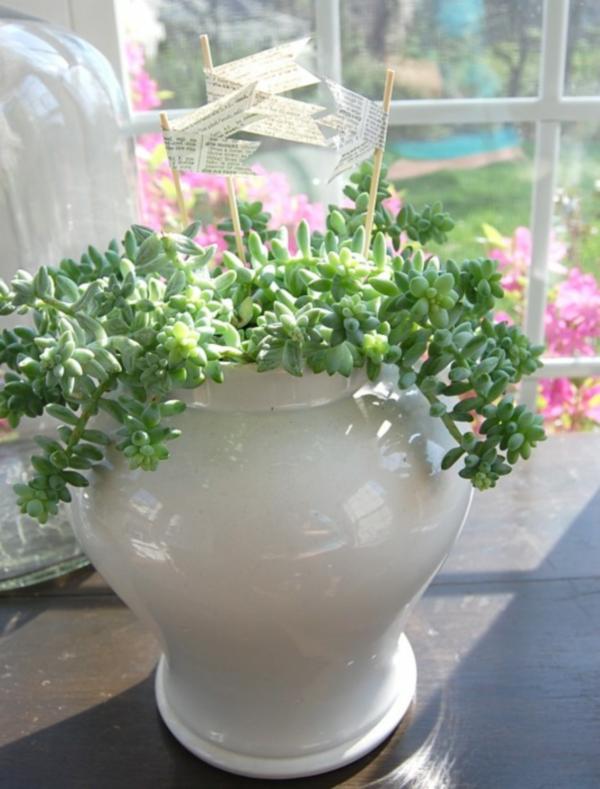 What about nature-themed props? Bring them on! Below we see a Rock-Textured Planter, crafted of terracotta to mimic the feel of stone. Note how seashells bring the arrangement to life. Other popular plant additions include animal figurines and pebbles. [from West Elm]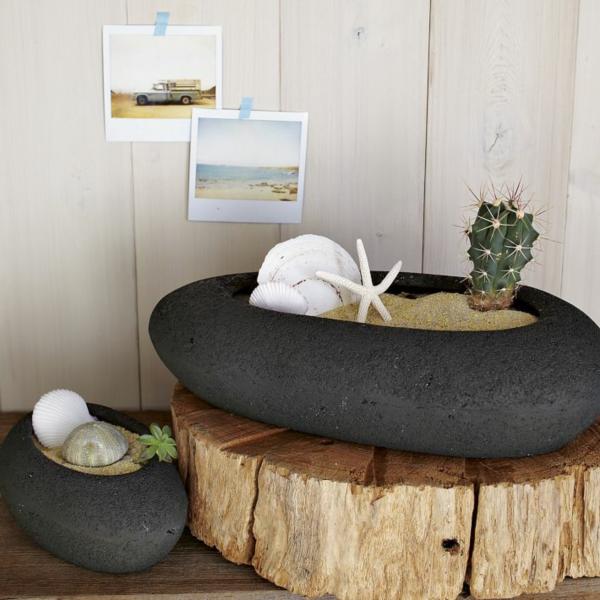 Terrariums
Ah, the terrarium! That perfect combination of glass and greenery, creating the look of a stylish laboratory experiment! Terrariums are plant-filled glass containers that are open or closed. Because the plants are enveloped in clear glass, water often accumulates on the sides, trickling back down to the soil and creating a low-maintenance ecosystem. Terrariums are stylish, modern and perfect for bright rooms. Below we see a succulent terrarium that was created for under $20! [from Mini Manor]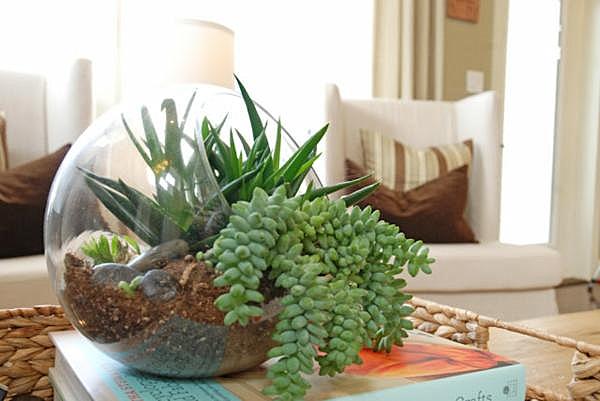 The succulent terrarium below looks amazing when grouped with other cut greenery. Of course, the display of plant life in modern Shane Powers Fish Bowls doesn't hurt, either! [from West Elm]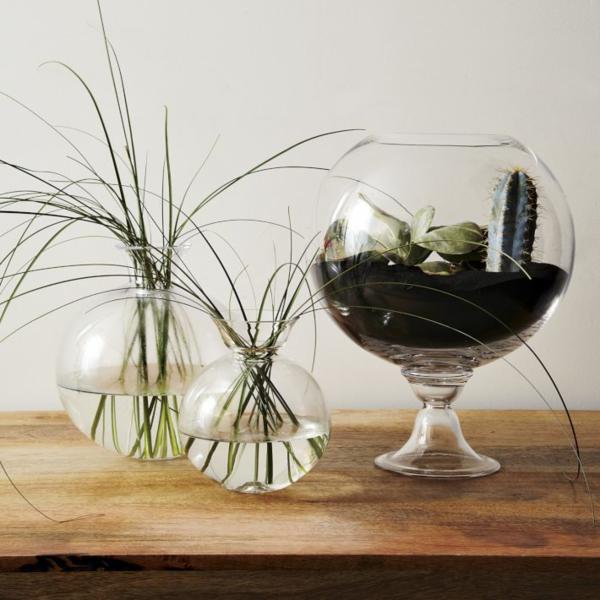 Air Plants
Despite their name, air plants need more than air to survive. While they don't need to be planted in soil, they should be soaked in water once or twice a week to maintain moisture. Check with your local nursery for directions specific to your air plant at the time of purchase. When it comes to display, check out the Shane Powers Hanging Glass Bubble Collection. Enchanting and perfect for air plants! [from West Elm]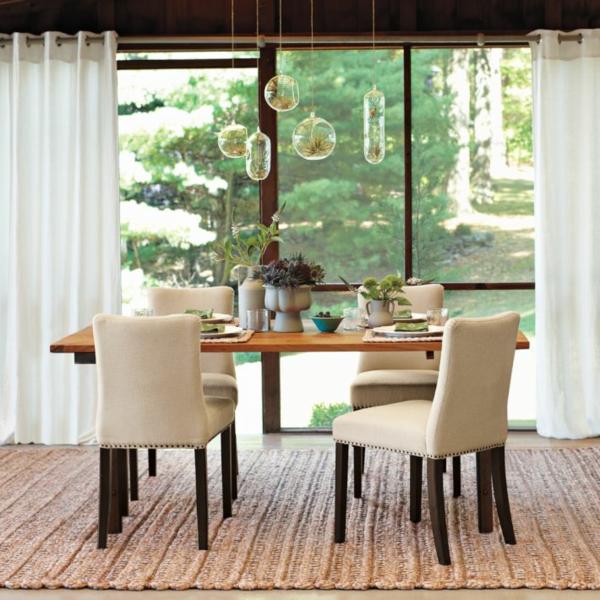 Another air plant option involves hanging them upside down for a pendant light effect. Except these pods emanate greenery rather than light! The Hanging Air Plant Pods by Mudpuppy (shown below) are wonderfully modern. [from Supermarket]
Large Houseplants
Now it's time to bring out the big guys! Large houseplants can be as substantial as furniture, especially when they take up key space in a room.
Large Houseplant Arrangements
For a dramatic effect, combine plants into one container. In this next image, we see a dark pot that holds a bird's nest fern, a garden croton and a begonia. For height, feathers are added to the mix! [from Erbology]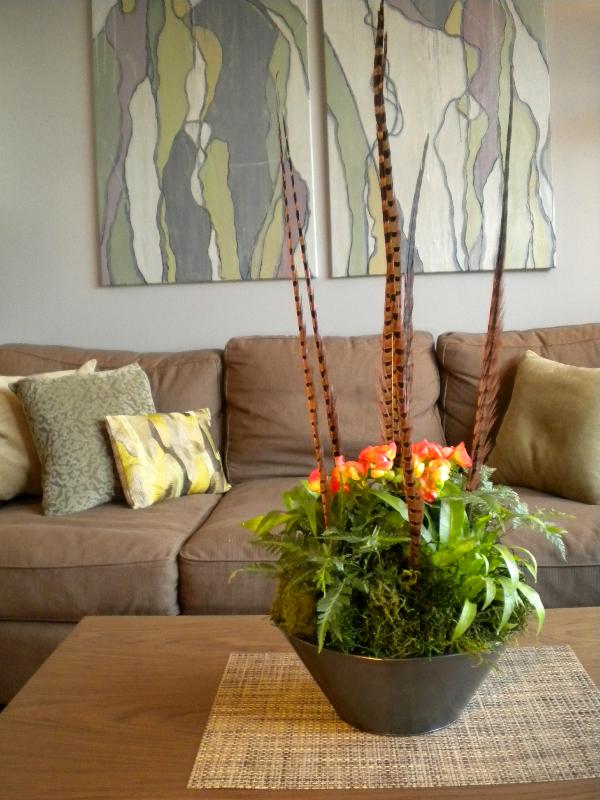 Potted Trees
In the Palm Beach residence below, designer Jonathan Adler makes a colorful statement with a potted tree in a large orange planter. [from Jonathan Adler]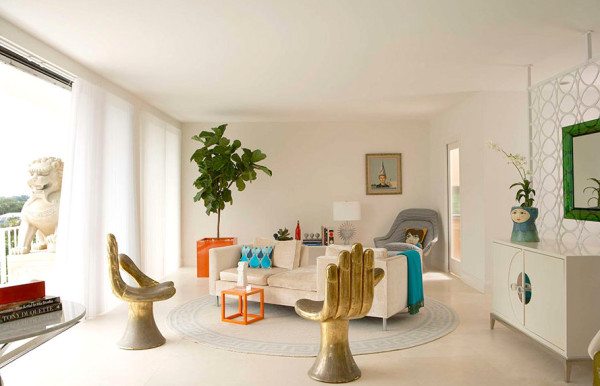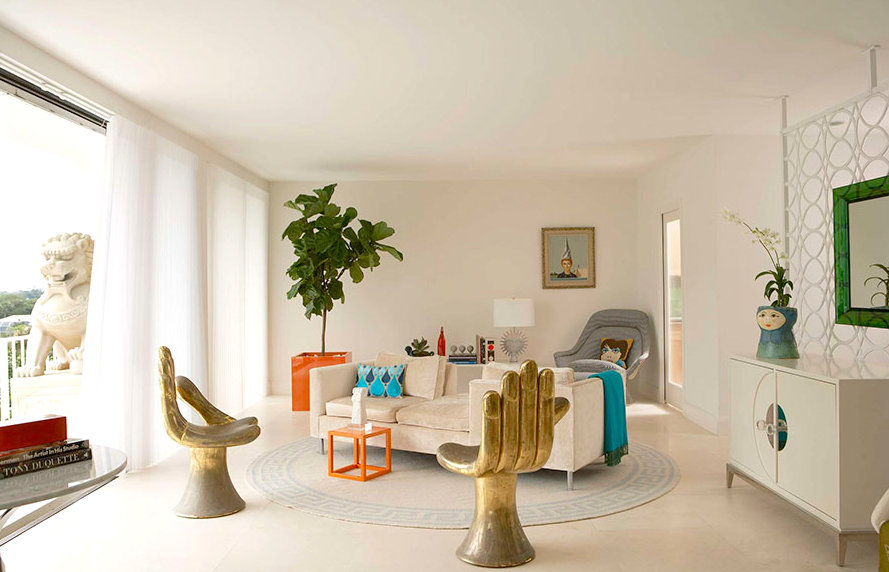 We now turn our attention to another potted tree, this time in a dining room. When combined with tabletop berries and black and white artwork, this houseplant adds a fresh, modern touch to the space. [from Emily Henderson]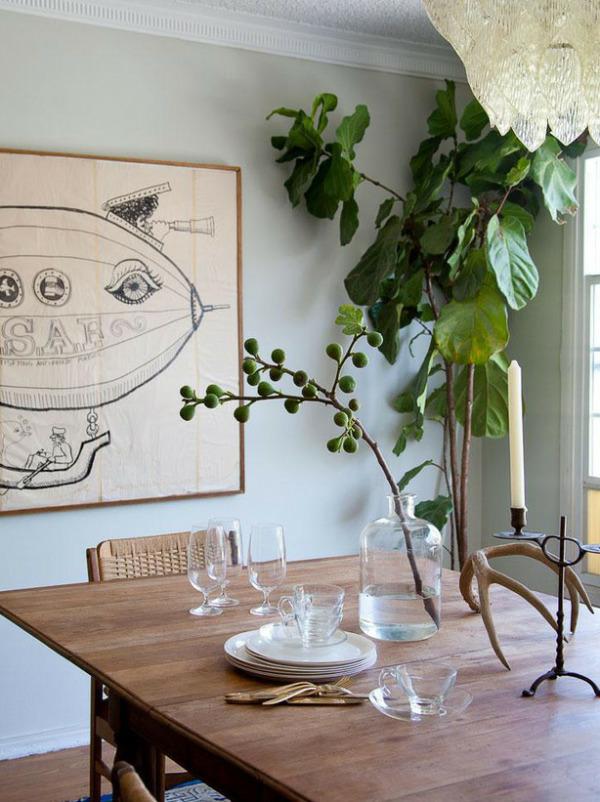 Tropical Houseplants
Now it's time to go tropical! Snake plant is a sturdy choice for contemporary spaces. Its size and scale add a substantial punch of green, and the modern planter blends seamlessly with the room's decor while at the same time standing out. [from Home-Designing]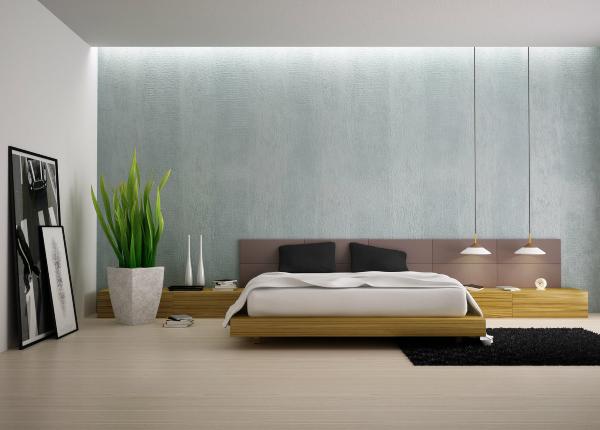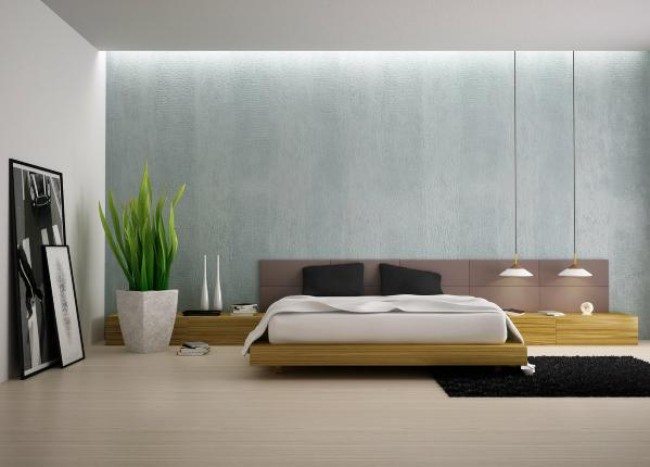 How irresistible are the areca palms below? When two houseplants are involved, unify them with the same planter, yet add variety by choosing different colors for the containers. [from Home-Designing]

We end with a loose interpretation of a "houseplant." While the potted palm below is technically on the balcony, it has a strong presence in the room, thanks to floor-to-ceiling glass doors. [from CB2]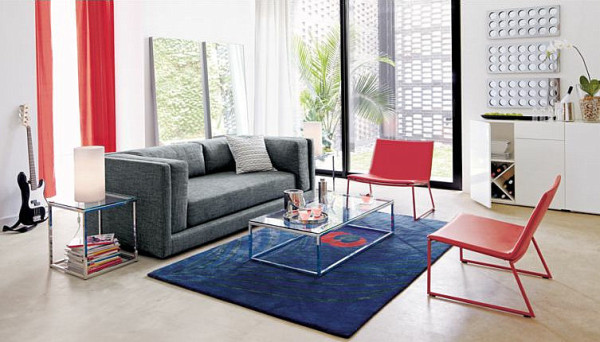 Many people are intimidated when it comes to choosing a houseplant. In fact, some consistently choose artificial plants for fear of inadvertently killing the real thing. While certain indoor plants, such as succulents, can be tricky to maintain if over-watered, they are well worth the trouble. Remember to check with your local nursery for special instructions when you buy the plant. Also, if a plant seems to be faltering and water is not the culprit, try moving it to a different spot. Sometimes more or less light is the perfect revival for your houseplant!