Pastel colors are inherently soothing and create an atmosphere of pleasant tranquility. Maybe pastels remind of a being a kid and bring back some cherished memories. Maybe it is simply the effect of these light and gentle hues on our general personality. Maybe it is because they have an undeniable touch of femininity about them. Irrespective of the reason, pastel hues give an interior calming and charming ambiance. It is a look that fits in perfectly with the needs of a modern home office – a space that needs to be serene, stylish and productive. Bringing both these elements together seems all too obvious!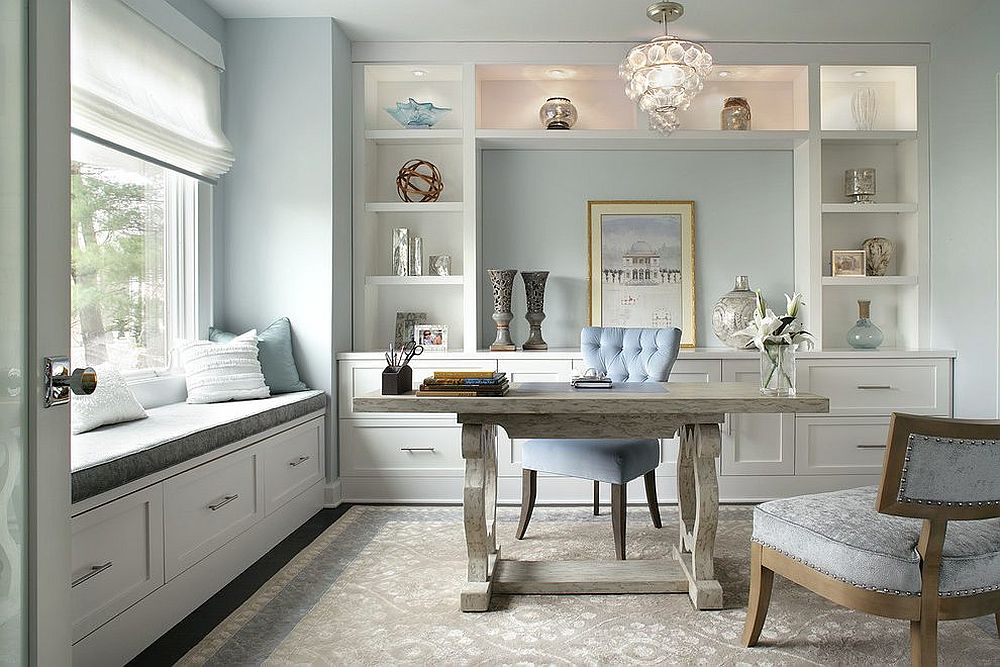 Trying out pastels in the modern home office is pretty easy. But committing to them takes a bit more effort. A good way to start is by replacing white the contemporary home office with pastel blue, pink or even green. This keeps the room still largely neutral in its appeal even while giving it a 'glowing', pastel-centric look. Here is a look at few gorgeous pastel home offices that get it done in style –
Modern and Scandinavian
Scandinavian home office presents the perfect setting for trying out pastel colors. Since Scandinavian design demands a sense of minimalism and encourages the use of light, soothing colors, creating a backdrop in light pink or pastel blue is all too ease here. Modern Scandinavian home office décor in wood also blends in with this exquisitely, colorful look in a seamless fashion. A flood of natural light coupled with the right accent and ambient lighting should complete your picture-perfect home office draped in pastels!
RELATED: The Power Of Pastels: Stylish New Finds In Soft Hues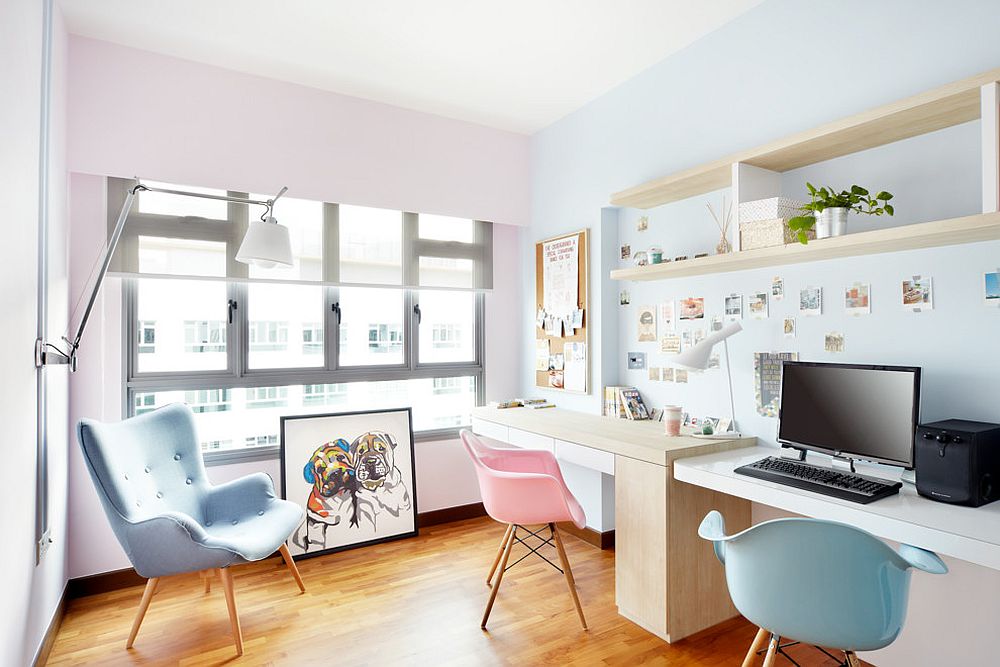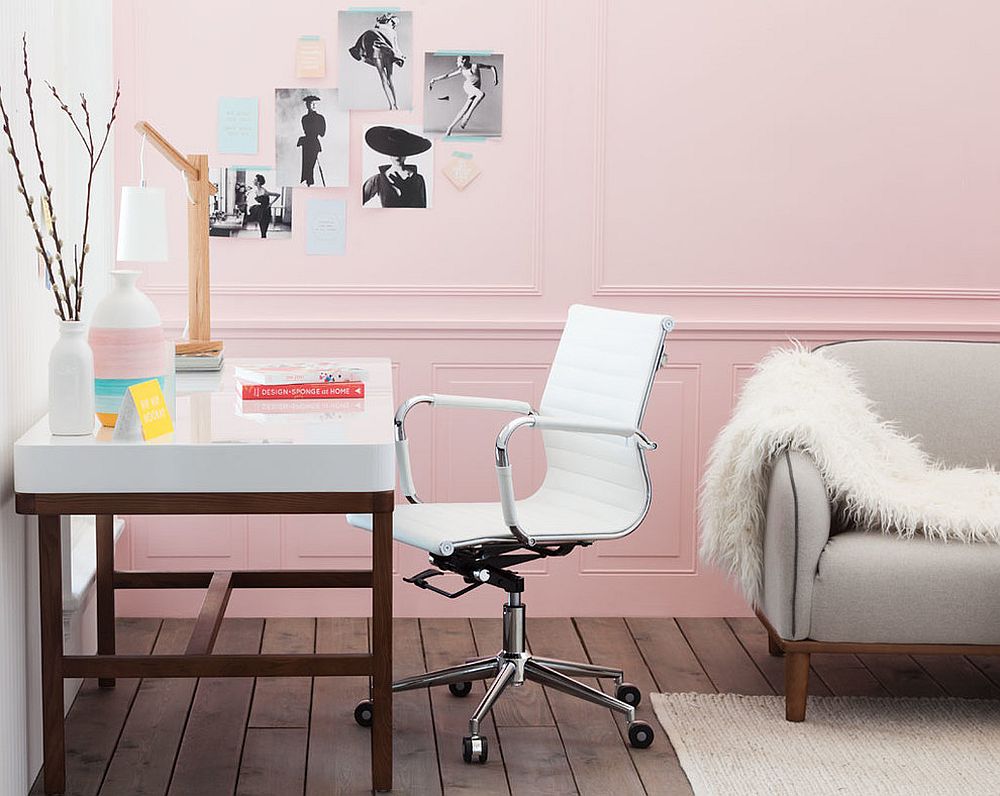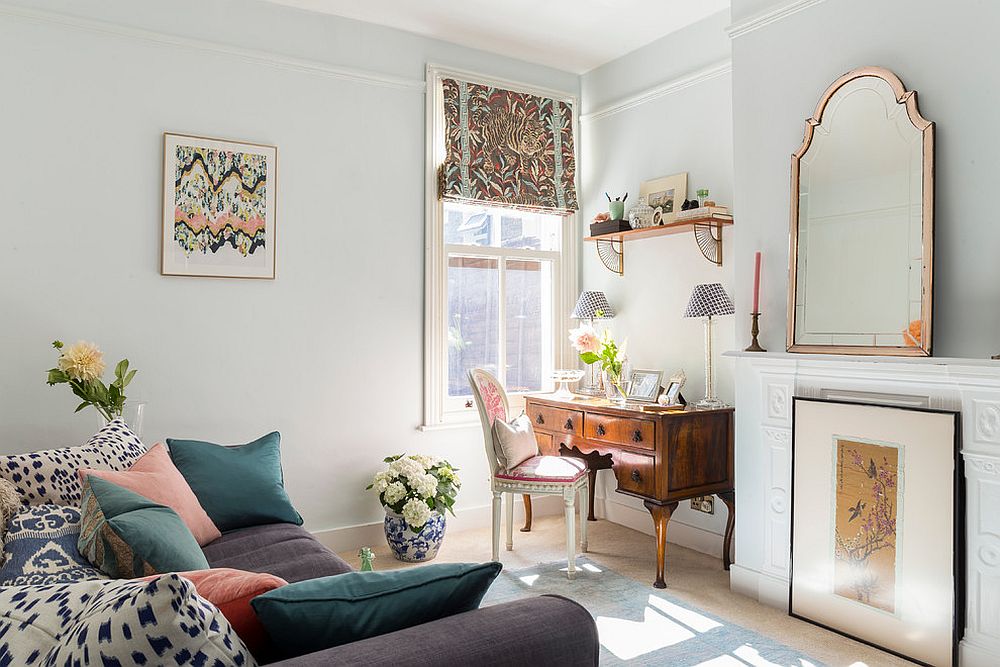 Beautifully Blue!
Pastel colors allow you to craft a monochromatic home office that is still visually pleasing. Even if you are not trying to create a monochromatic look, the many shades of pastel blue definitely add a touch of calm and class to any space the adorn. Blue, even in its brighter variants, is a perennial favorite among homeowners across the planet. It easily accommodates a variety of styles and allows you to transition from one look to another with effortless ease. It makes sense then that even in the world pastel home offices; blue is the inevitable leader of the pack!
RELATED: Hot Trend: 40 Gorgeous Ideas for a Sizzling Home Office with Fireplace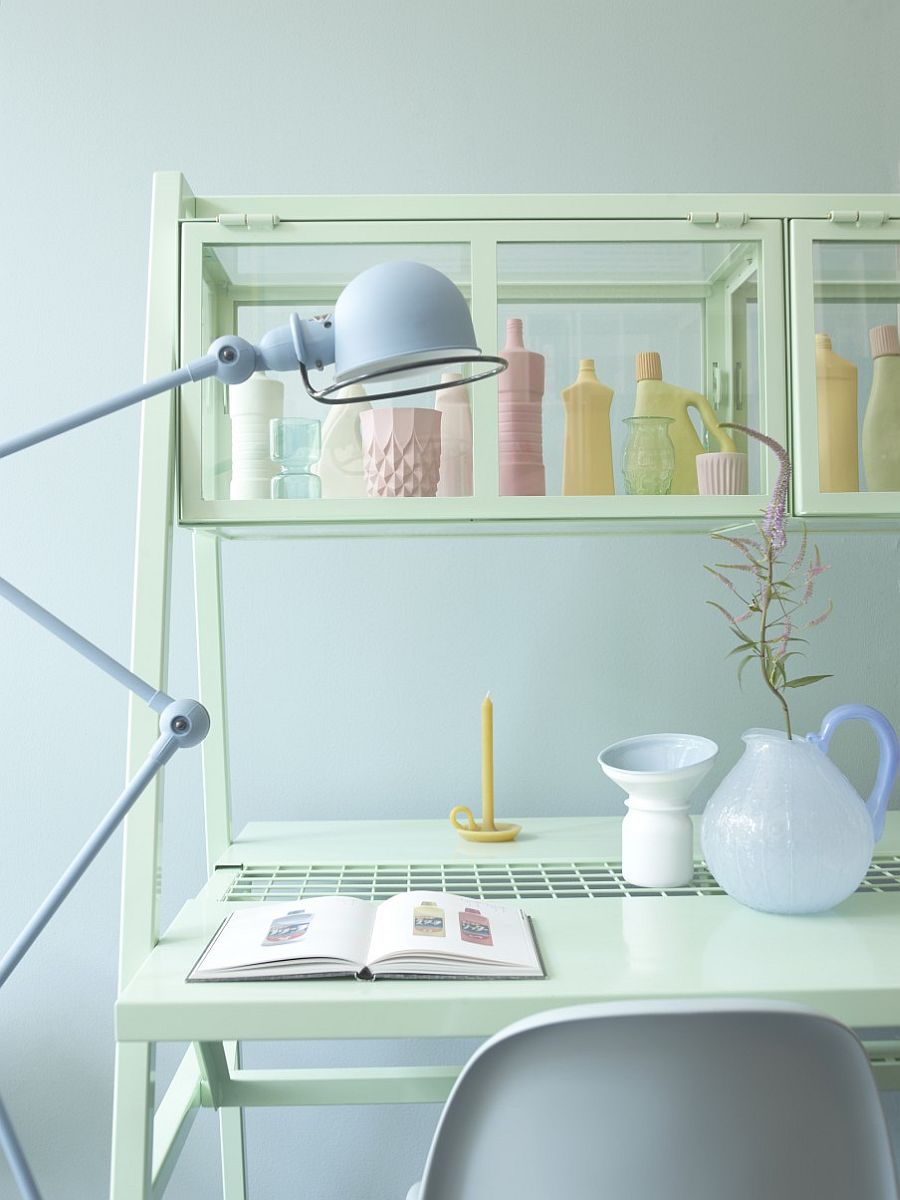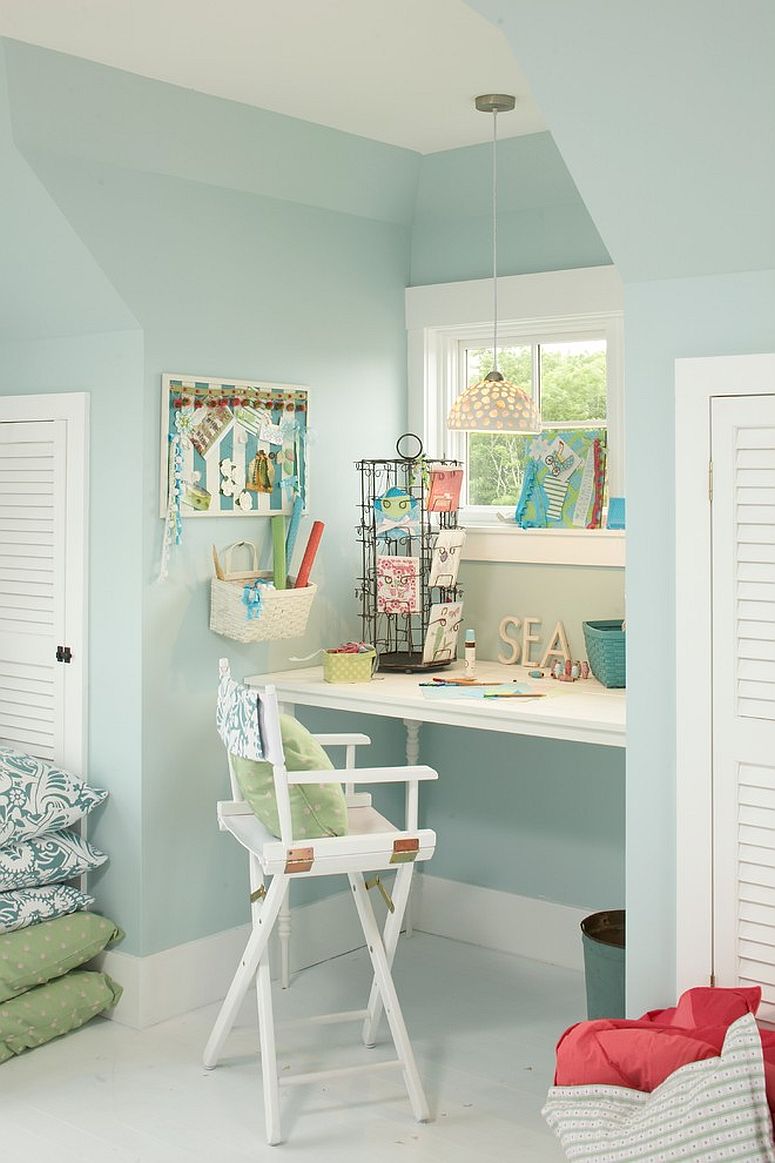 Too many pastels can be boring at times. For that chic, playful look, combine the lighter pastels with splashes of bright green, effervescent yellow or spunky orange. Use the bolder hues as accents and repeat them within in a room to fashion a more curated ambiance.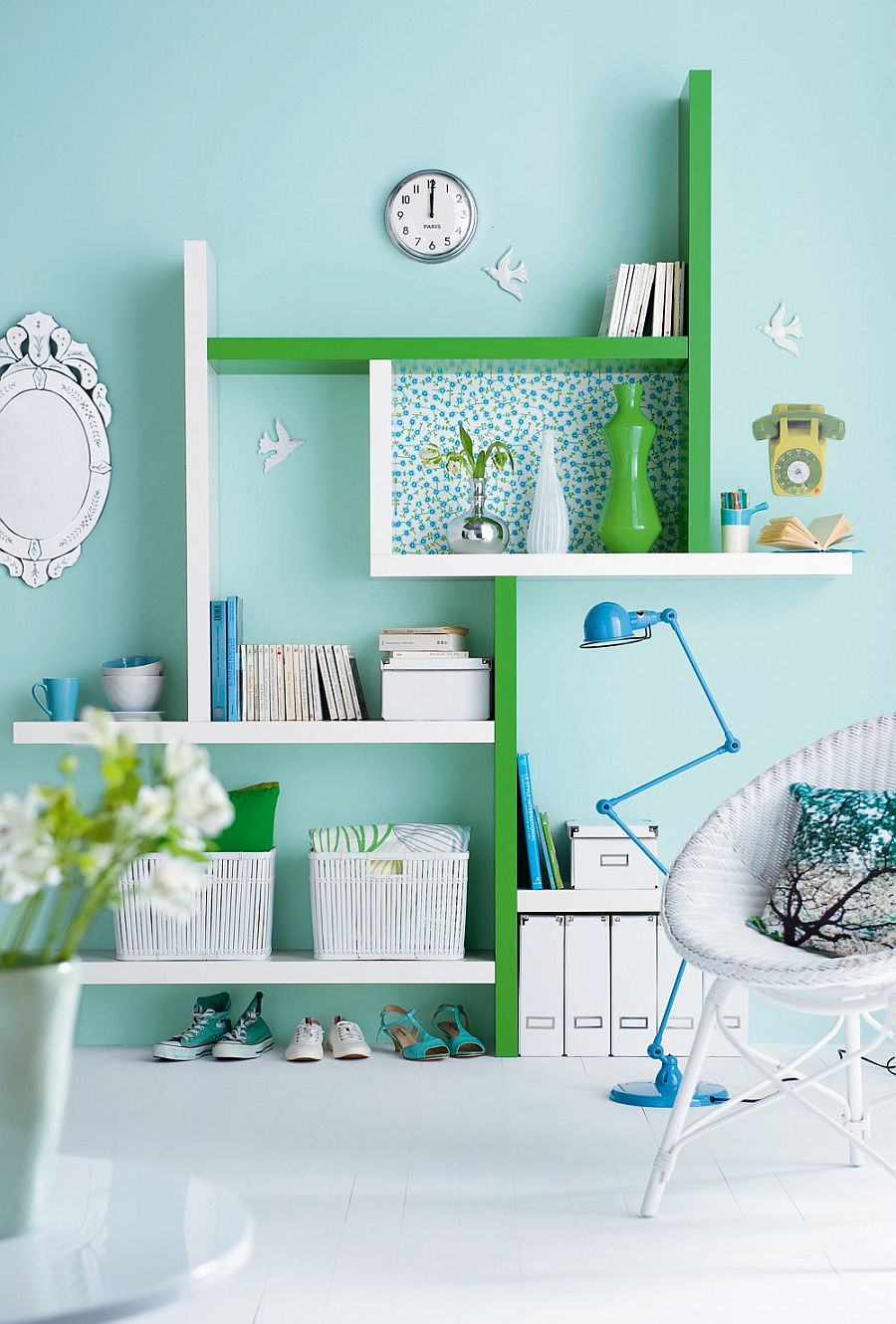 Pastels, White and Light
Combining different pastel colors can be a bit tricky at times. The style of the home office here can veer between shabby chic and eclectic to Scandinavian and just plain modern. The more modern a home office needs to be, the more white you can use for the backdrop. It is not a must to always drape the walls in pretty pastels when trying to add them to the home office. Those still not sure about 'pastel power' can simply bring in a chair in a pastel hue of their choice while leaving the white backdrop unaltered. White, pastels and a flood of natural light are ingredients that inevitably produce a stunning home office.
RELATED: How to Create a Healthy and Relaxing Home Office