Today's post is dedicated to pastel style with a modern twist. In fact, the use of pastels in interior design has shifted through many phases. At times, pastels are mainly the stuff of kids' rooms. For awhile, they were used mostly in shabby chic interiors, coating distressed furniture in candy-colored hues. But something really interesting has happened in recent years: pastels have gone modern. It's been fun to see them evolve with today's current geo trend, and they're increasingly combined in unusual vignettes, often with Scandinavian style. Below you'll find a series of delicious images filled with sweet (but not too sweet) shades…
Pastel Interiors
We'll begin with a collection of rooms beautifully decked out in pastel tones. This first featured interior is layered in pastels, creating an eye-catching, undeniably modern blend of colors and forms. Sometimes more is more! [from Beppe Brancato]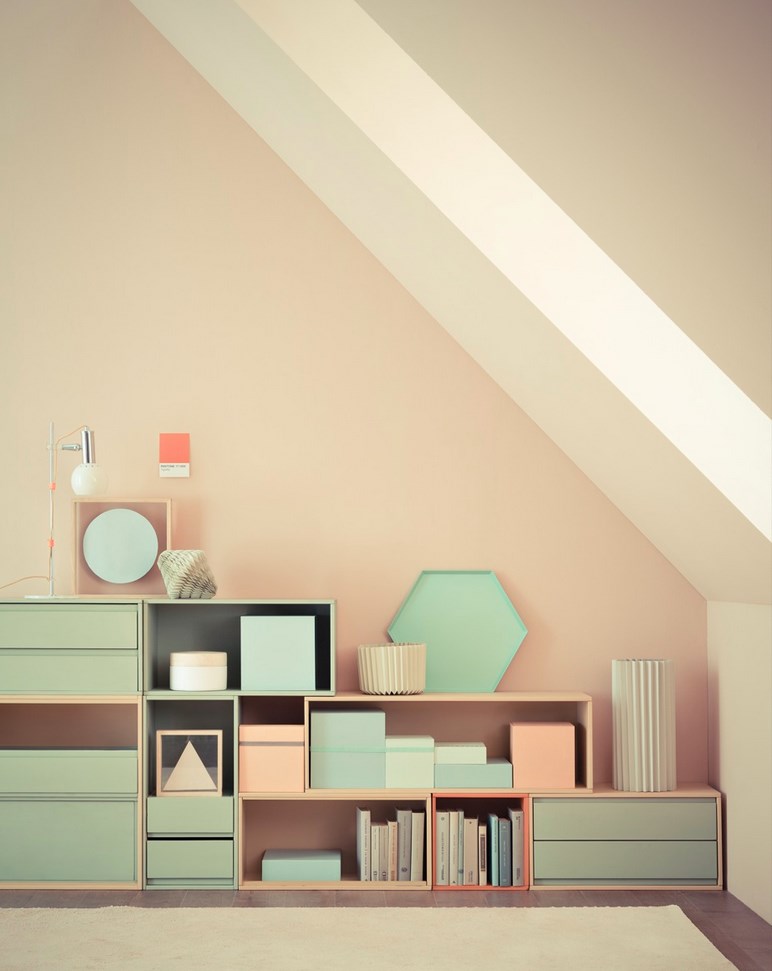 Here's another space that's awash in pastels, this time a dining room that's coated in soothing hues. The walls, the pendant lighting, and even the tabletop are the turf of soft colors in this room from vtwonen.  [photography by Tjitske van Leeuwen and styling by Marianne Luning]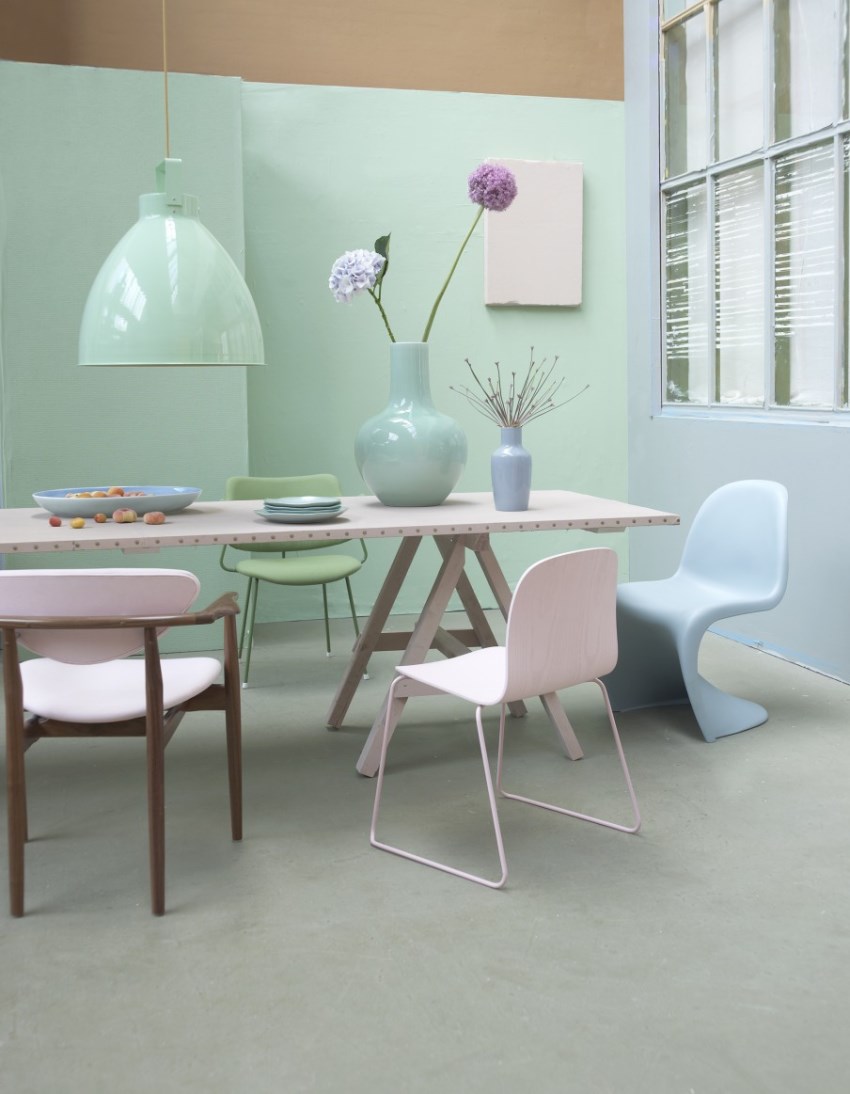 This dreamy kitchen is anchored by bright white paint, shelving, cabinetry and tile. Yet the true stars of the space are the bowls and cups, which take center stage in both pastel and bright tones. A Smeg fridge in mint makes it clear that pastels reign in this space, the studio kitchen of Sugar & Cloth. [photo by Jared Smith]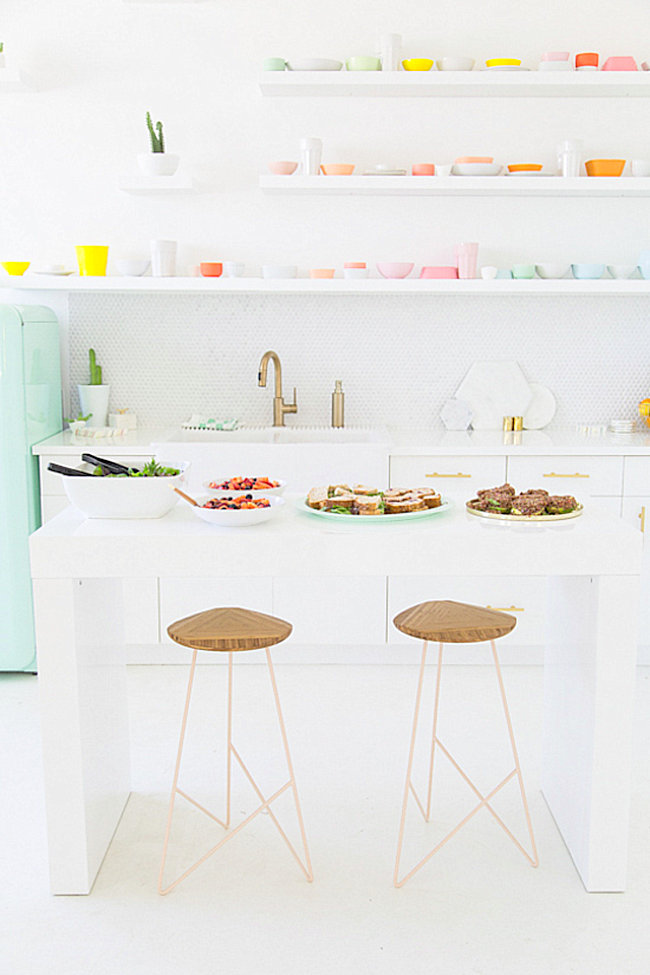 Peach, powder blue and mint are the pastel standouts in the living area below. Darker shades such as teal also command attention. If you like the look of this interior (especially the rug), check out the full DIY rug tutorial at vtwonen.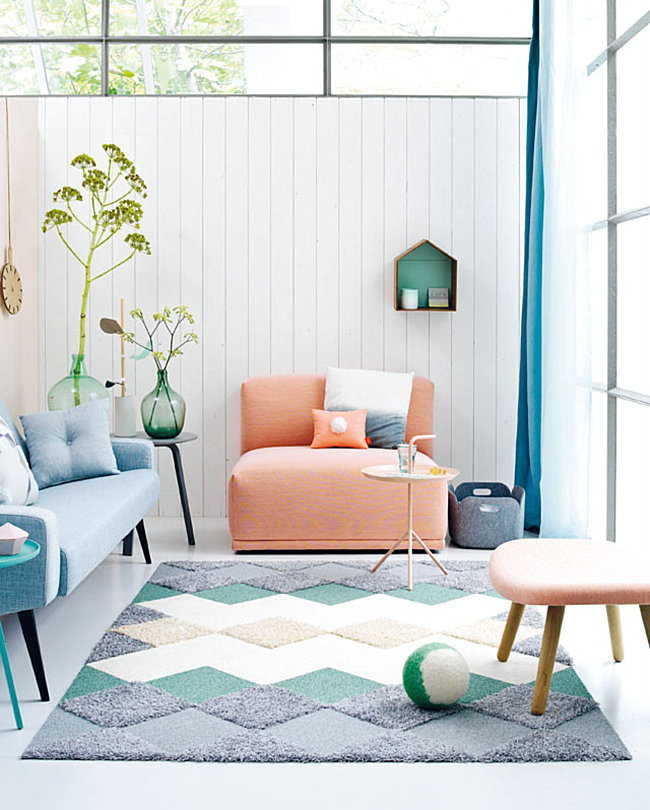 We've seen rooms bathed in pastels. We've seen interiors that use white as a backdrop. But what about grey? The two rooms below show the power of grey as a contrasting hue to colors such as soft pink, ice blue and mint. [Lake Martin for Kotivinkki via 79 ideas]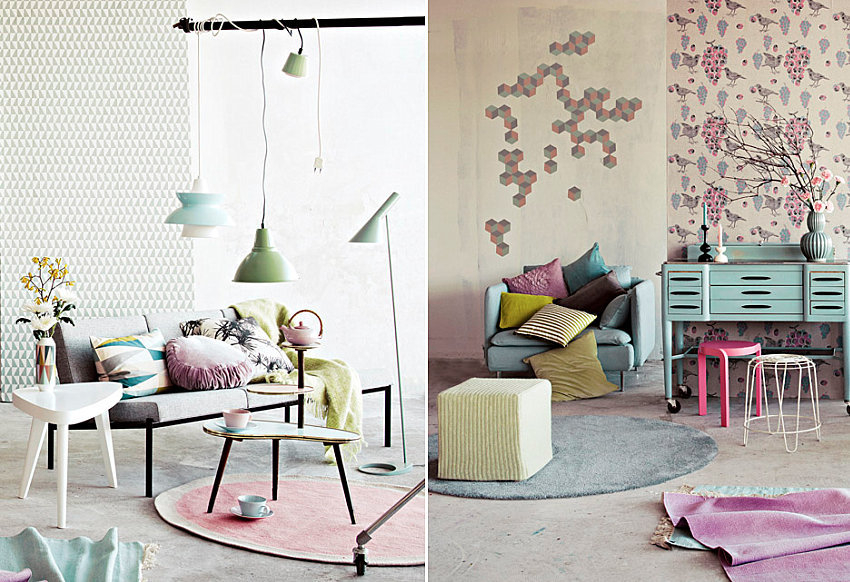 We'll end this section with a reminder that pastels are dynamite when combined with neon hues. Neon shades can really add dimension, waking up a space that was once purely soothing. You decide how much to spice up your pastel interior! [from GoodHomes via Design Milk, photo by Maxwell Attenborough]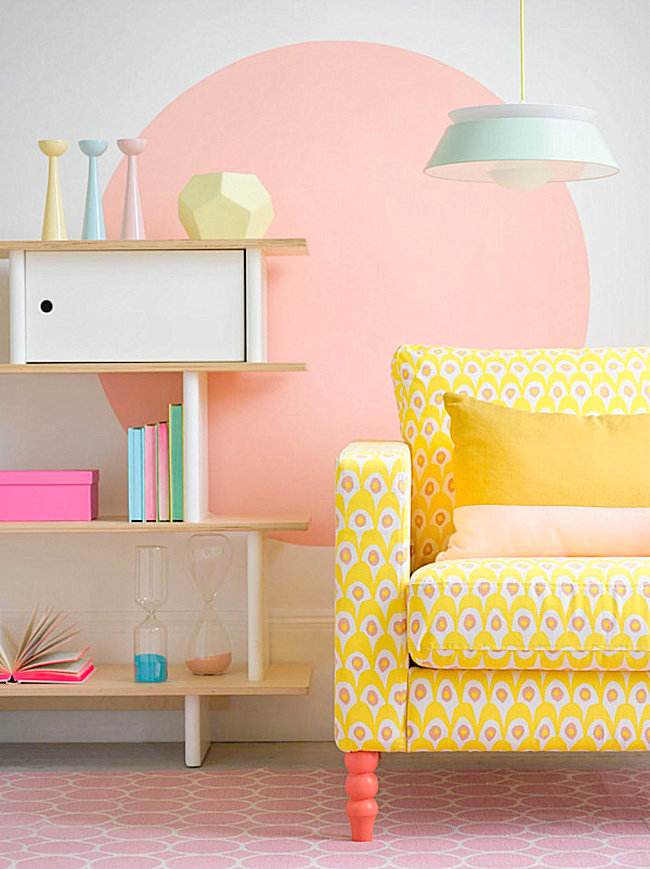 Pastel Decor
Let's take a look at how specific decor in pastel shades can make a big impact! This mint chair by The Family Love Tree may no longer be available, but have you ever considered painting your favorite chair in a pastel tone, then recovering the seat in candy-colored fabric? [via Flodeau]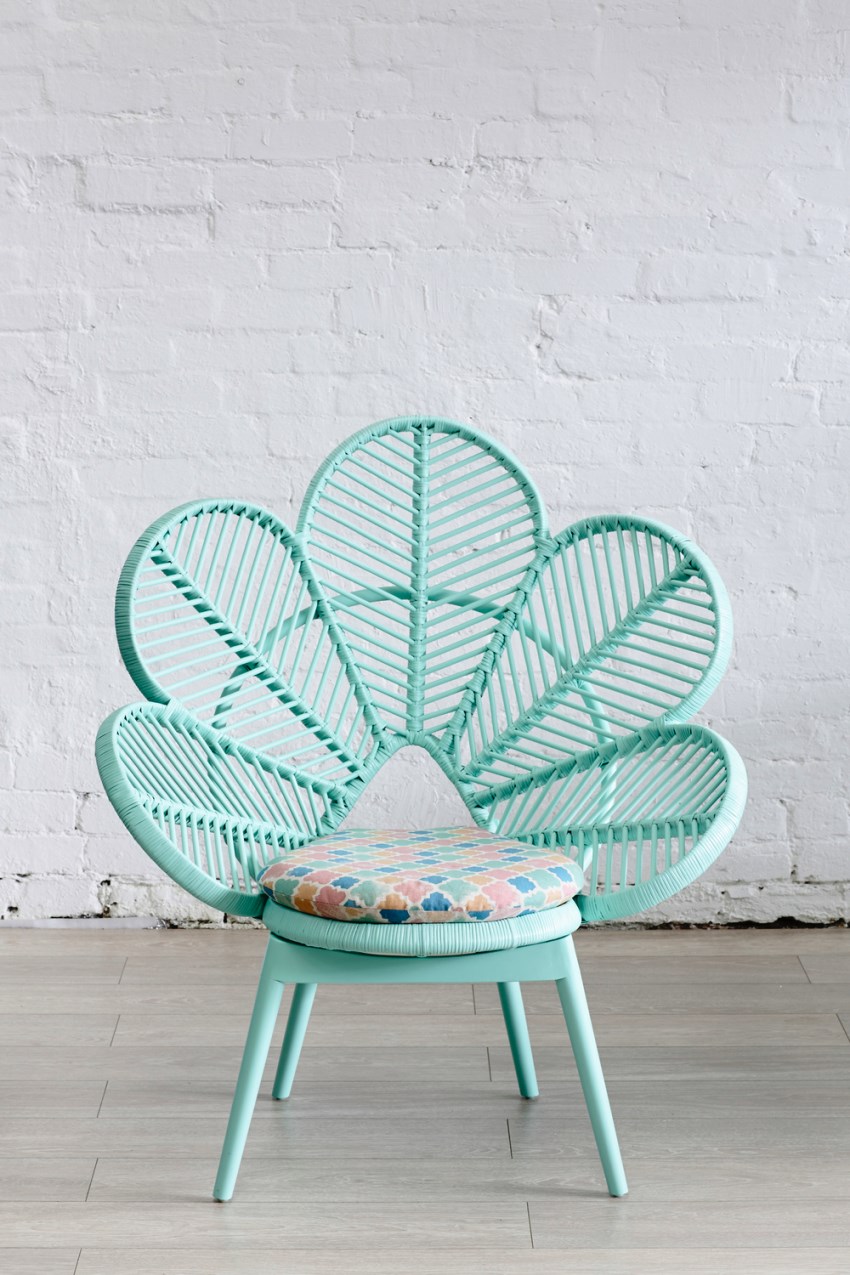 Another fun pastel decorating strategy: purchasing a group of soft-hued items and combining them to make a big statement. Below we see Hex boxes by Evie Group. They're modular and stackable, making them perfect for interesting surface-top combinations: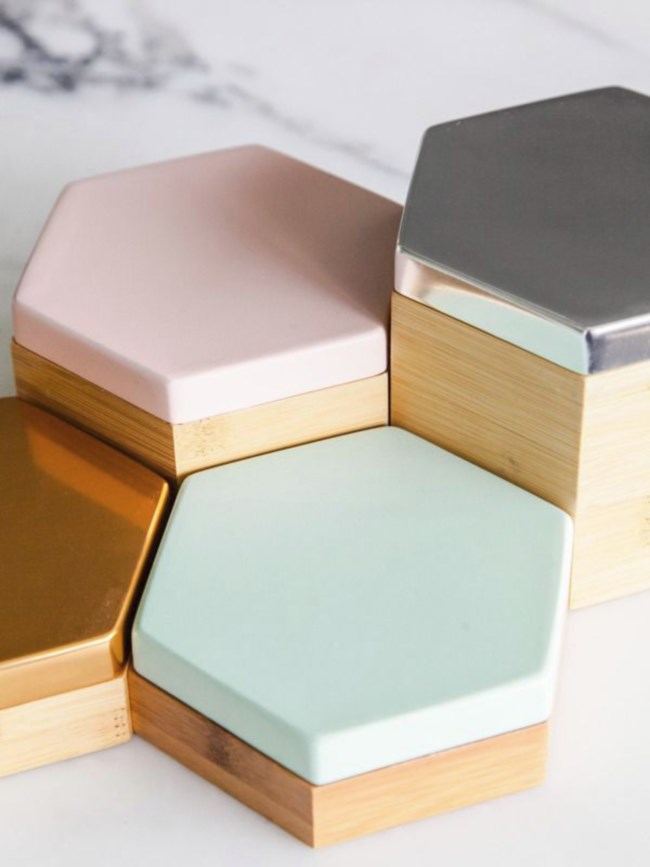 When pastels meet ombre style, the result is pure magic. Consider adding some pastel ombre treasures to your interior, such as these Houses of Money from ferm LIVING. Yes, they're piggy banks (!), and with colors like mint, yellow and coral to choose from, you can't go wrong: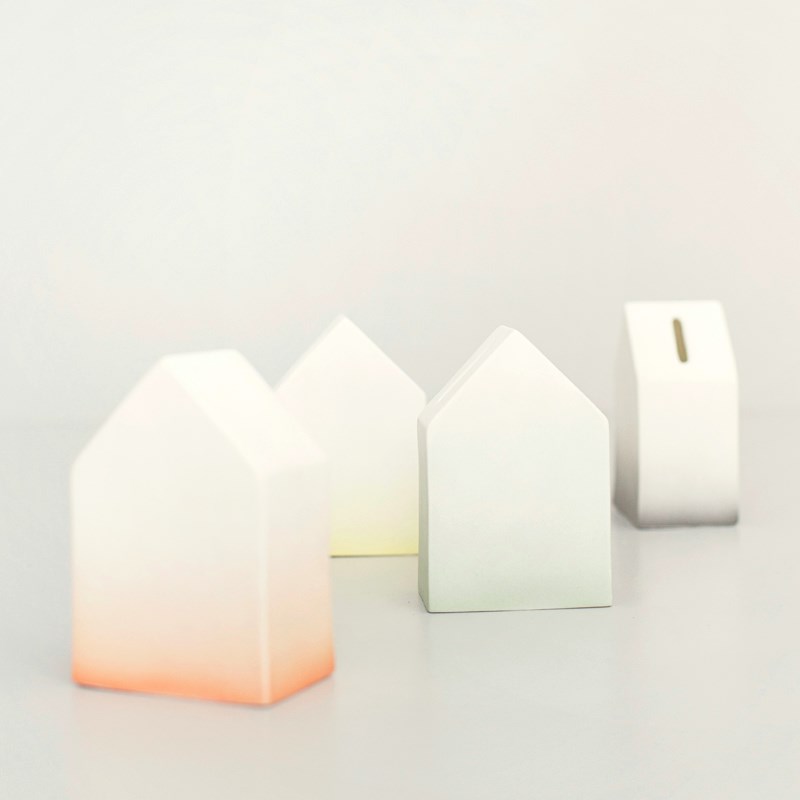 Also remember that pastels + brighter colors = design perfection! These HAY Paper Fans from Grandpa are available in a range of colors and patterns. Note the juxtaposition of hues such as powder pink and hot pink. Paper and bamboo are the materials of choice: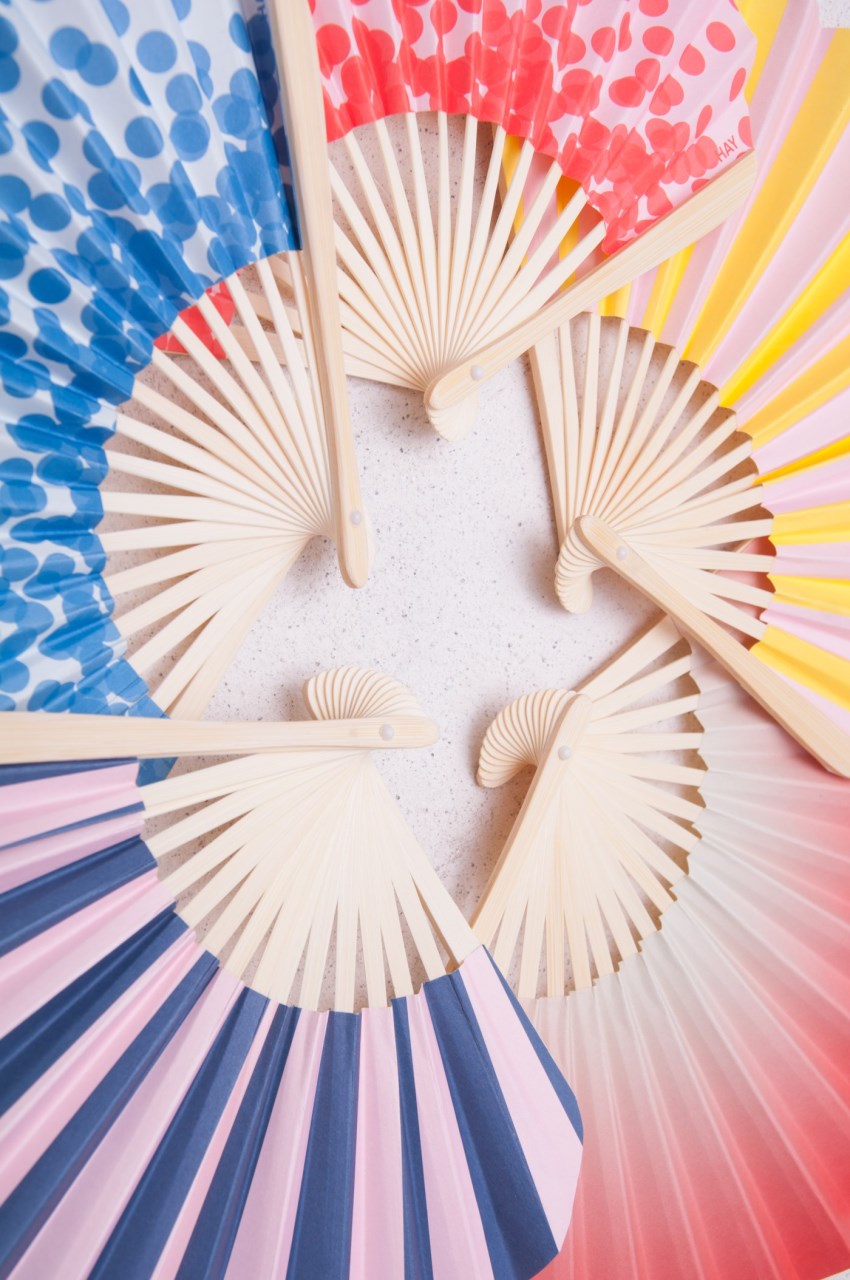 Ready to add some pastel style to your home?…
Liked the story? Share it with friends.