The most popular holiday colors are obviously green and red, but that doesn't mean you can't stray from the ordinary to create a more unique and still very festive look around your home! Perhaps one of the newest and trendiest holiday color schemes that has emerged over the past few years or so is the combination of black, gold, and white (or sometimes silver). Although it's very different than the traditional green and red, this color scheme totally screams holiday party time! Have a look at some of the gorgeous ideas below that take advantage of these classic, striking colors.
Ornamental Elegance
You can really glam up your tree with some ornaments in the black, gold, and white color scheme. Have a look at these great DIY ornament projects from Homey Oh My and Pizazzerie if you're feeling crafty this holiday season!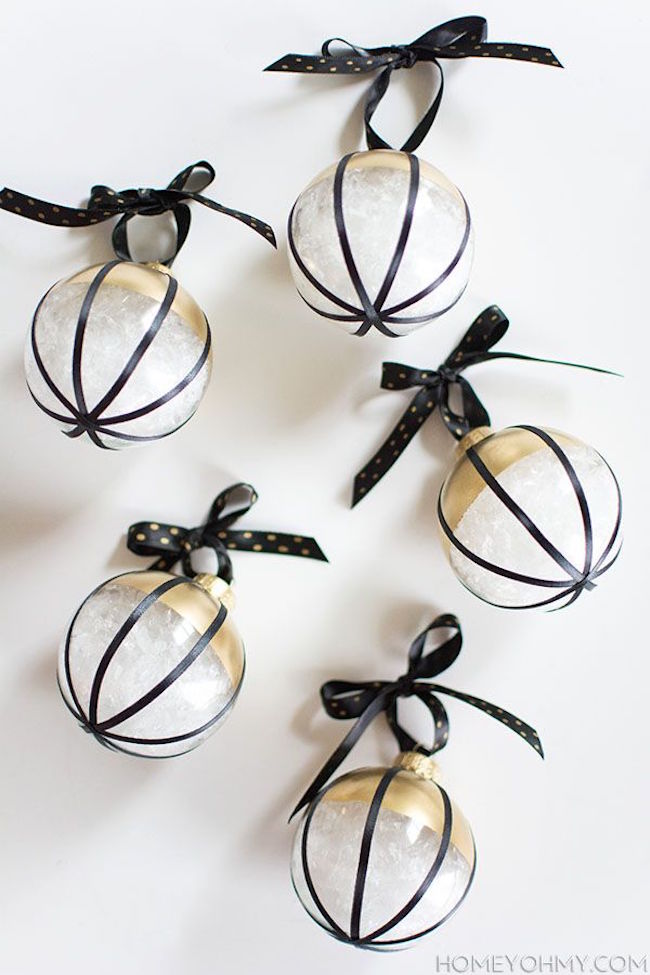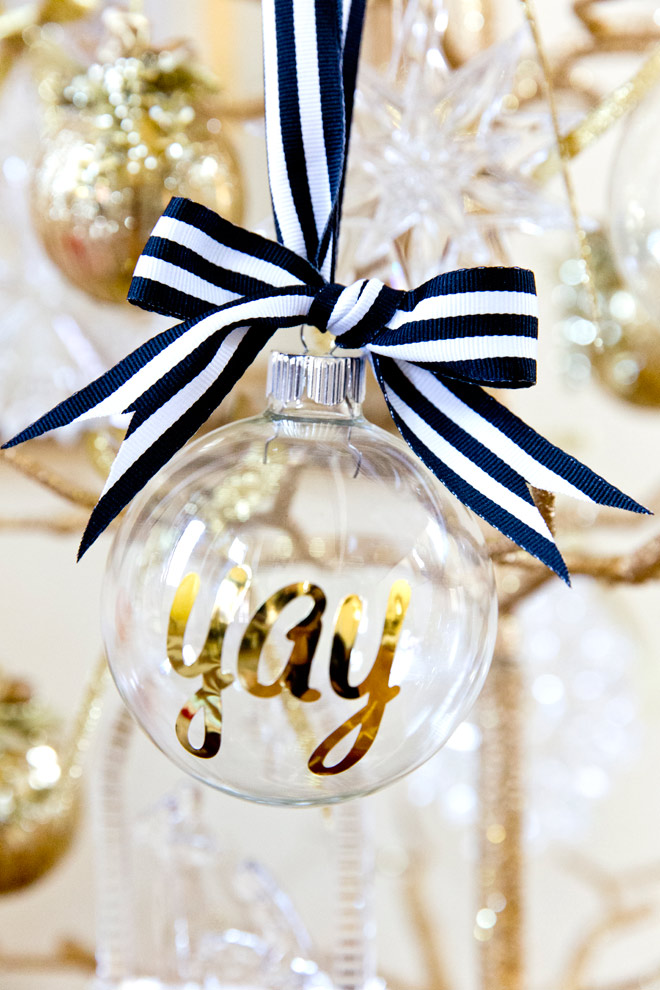 No room on the tree? The Wow Style shows you how to display your ornaments or some beads in some glass cylinders as centerpieces or accents to put around your home.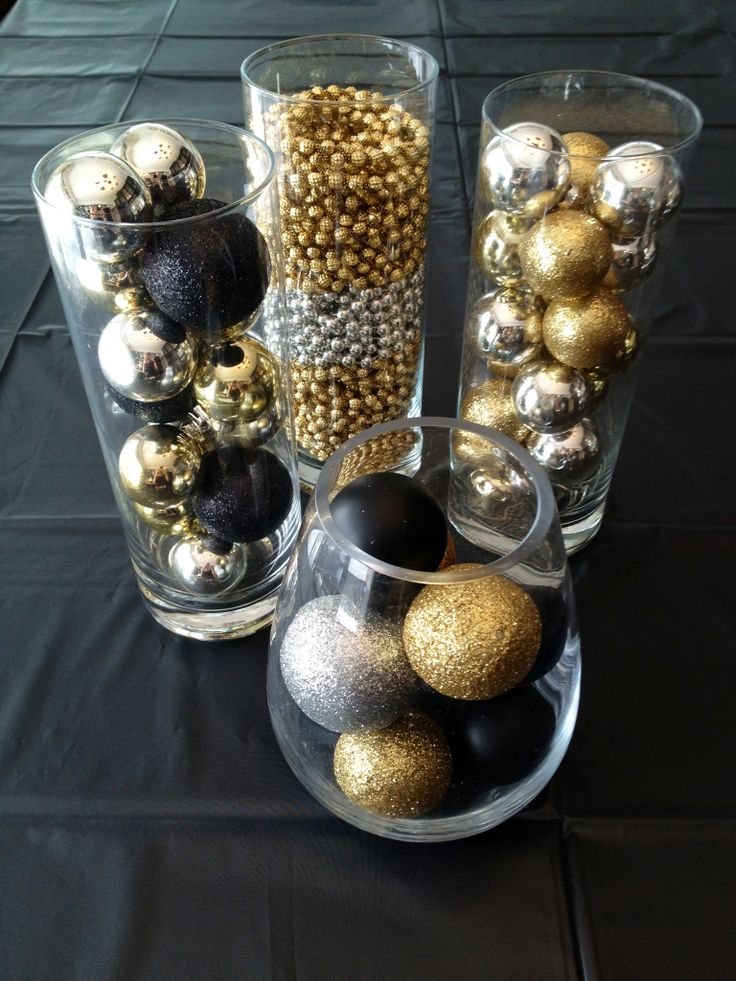 These festive confetti pinwheels look fun enough to make on your own, but you can buy them from Anthrpologie if you're not into DIYing it.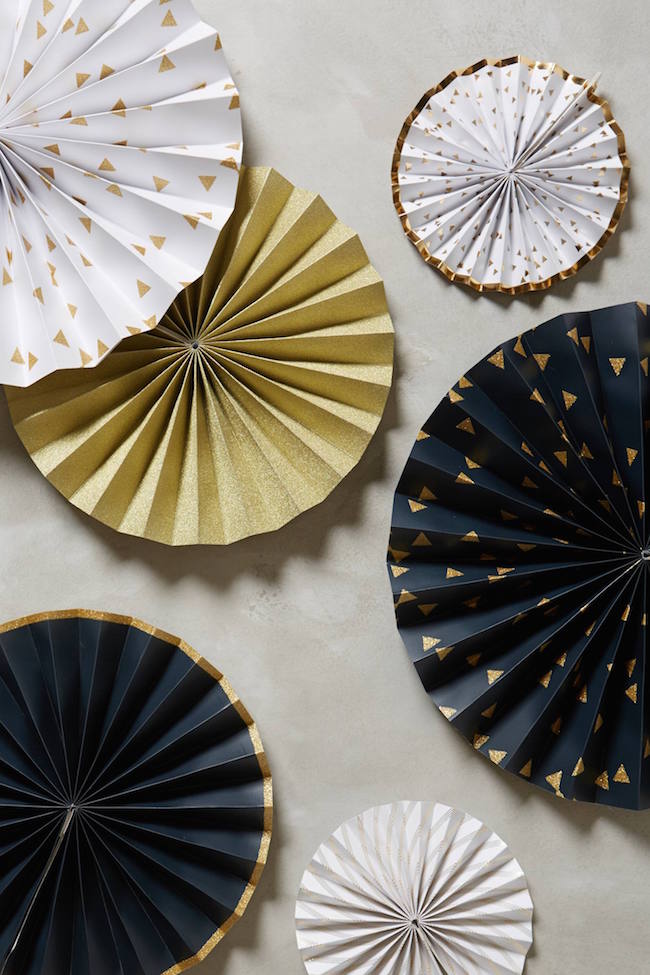 Modern Mantel Decor
Everyone knows that the fireplace mantel is one of the main places in a home to dress up for the holidays. And yes — the black, gold, and white color scheme can certainly work! Take a look at these beautiful examples for inspiration from Bliss at Home and Monica Wants It.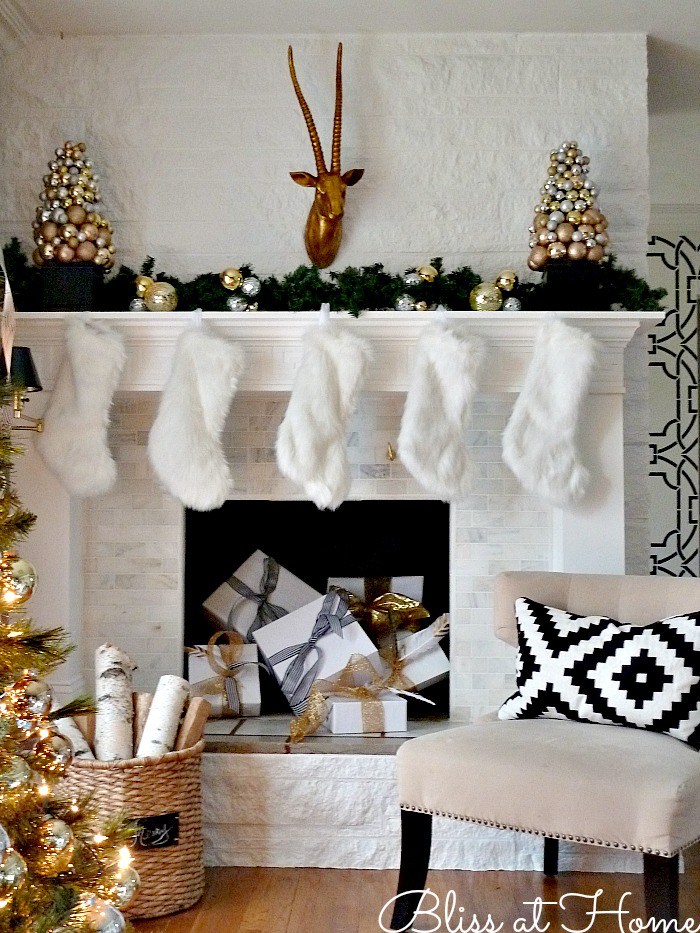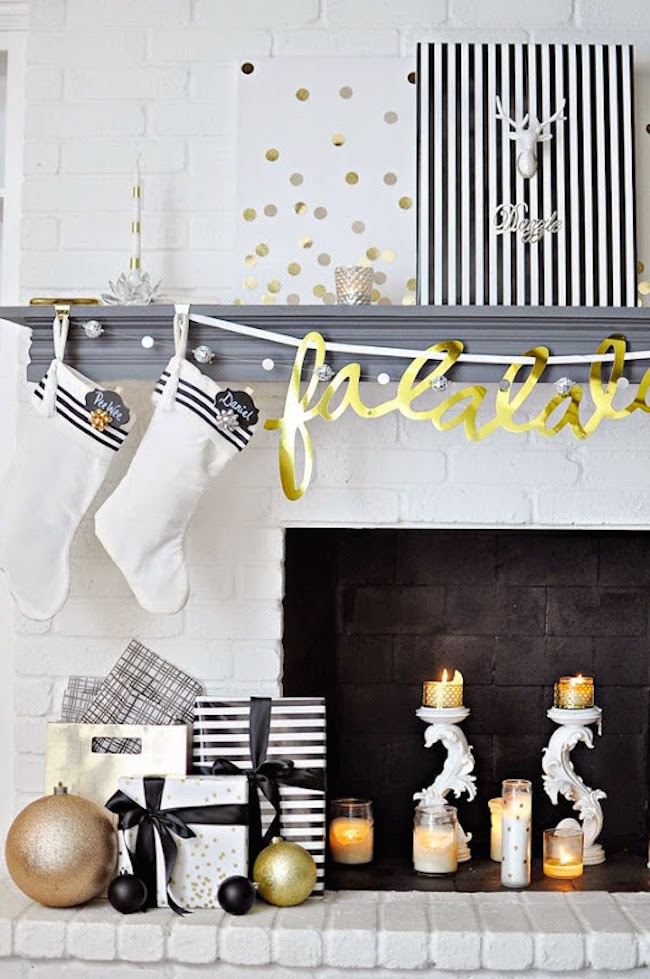 You could even try making this gold and glittery deer head canvas for your mantel using the tutorial from Hey Lauren Rene.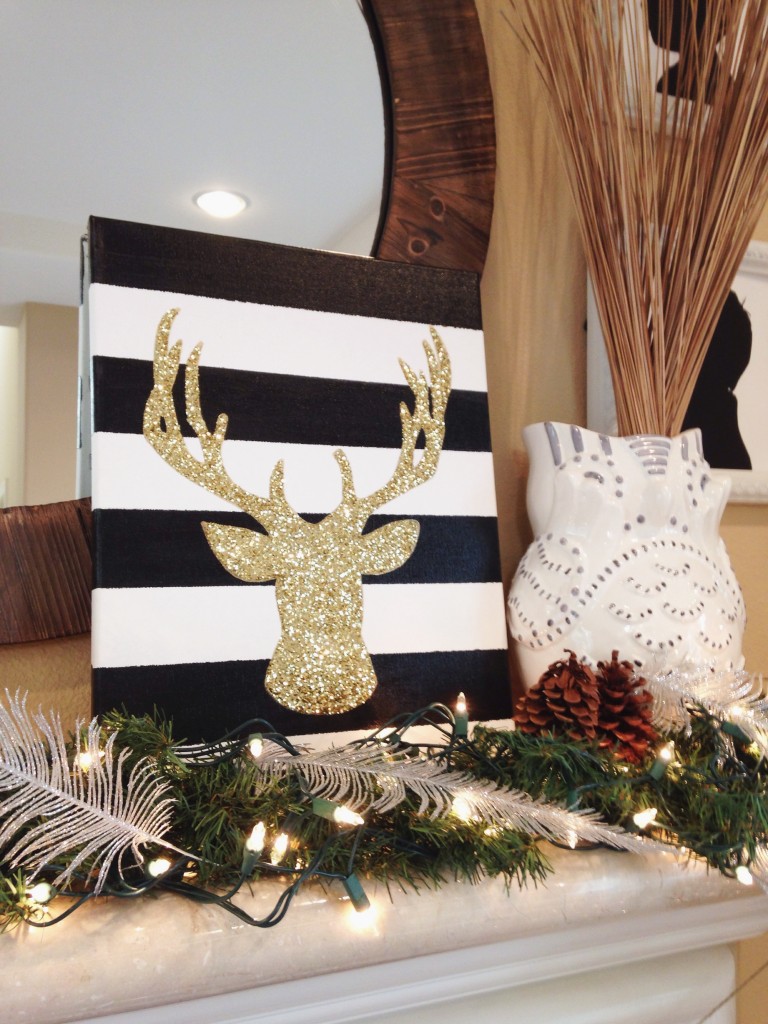 Sparkling Trees
The ornaments shown above would look great on practically any tree, but how about taking your decorating style to the next level by making it all black, gold, and white? These tree decorators certainly did! This first tree from Just Destiny Mag features lots of great ornaments and striped ribbon, while this second tree example from Stylizimo Blog takes a more minimal approach with some lights and just a few ornaments.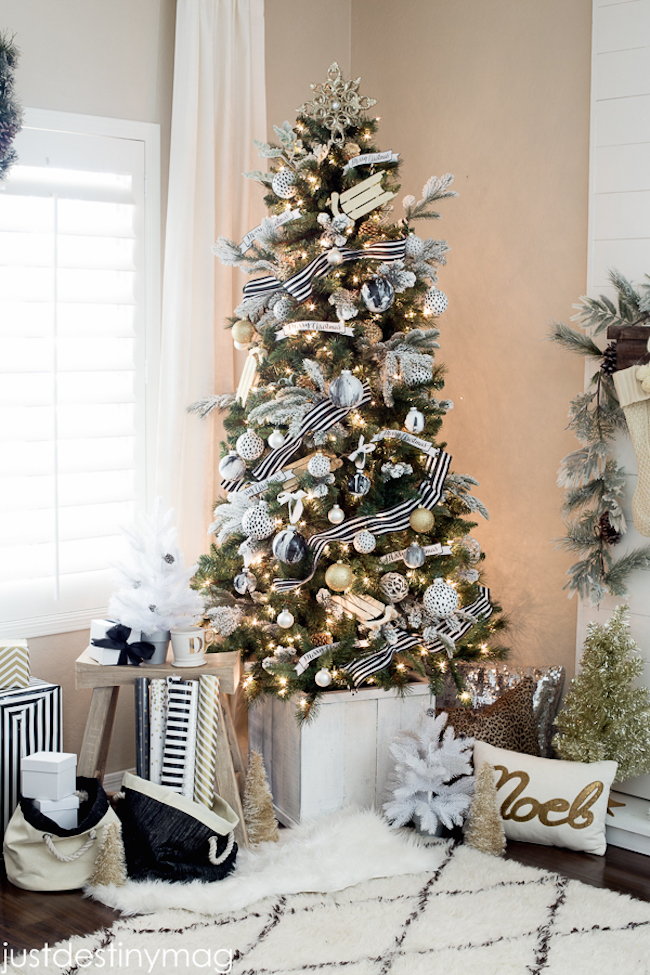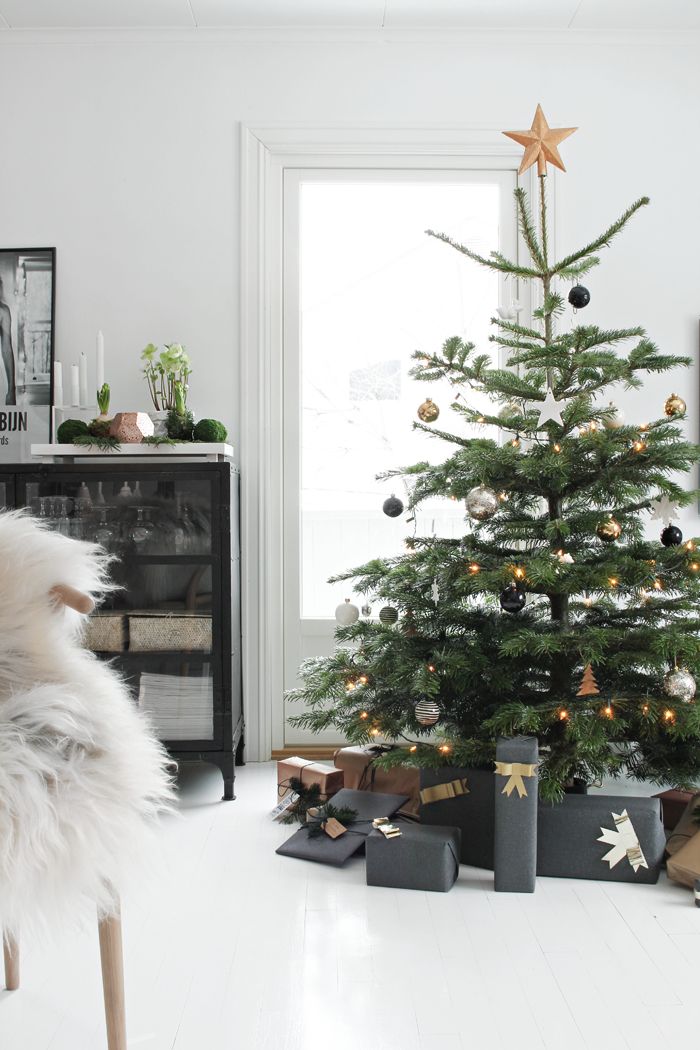 Do you have a white Christmas tree? Then this color scheme will really stand out! Take a look at these all-black, gold, and white tree examples from Kara's Party Ideas and Live It Love It Make It.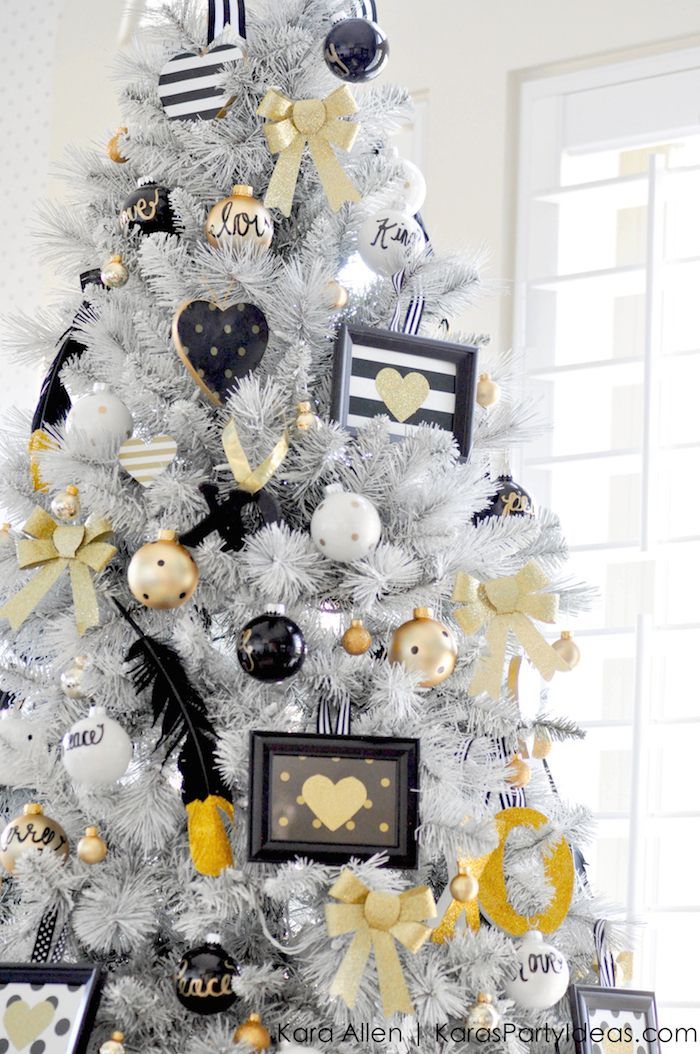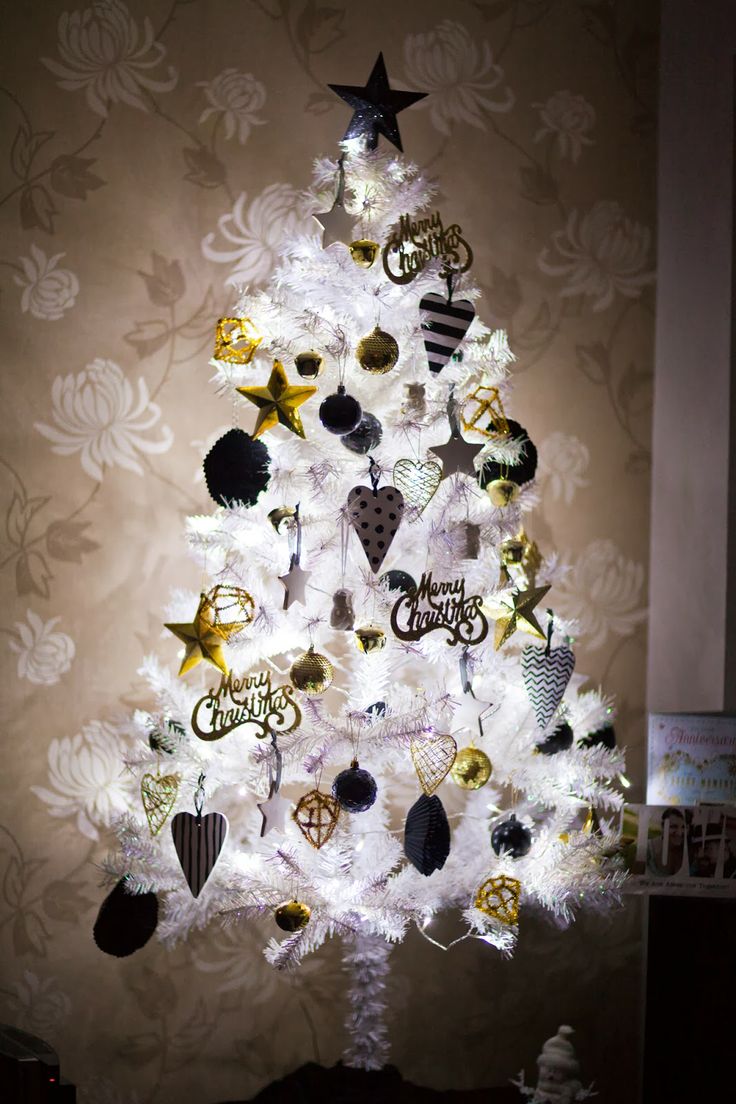 Refined Tablescapes
If you really want to wow your family and guests for Christmas dinner, then you definitely should consider going with a black, gold, and white color scheme for your table setting. The best part is that you can make it as unique as you want it to be! Apartment 34 shows one with lots of bright white, while the second example again from The Wow Style glitters it up with gold accents.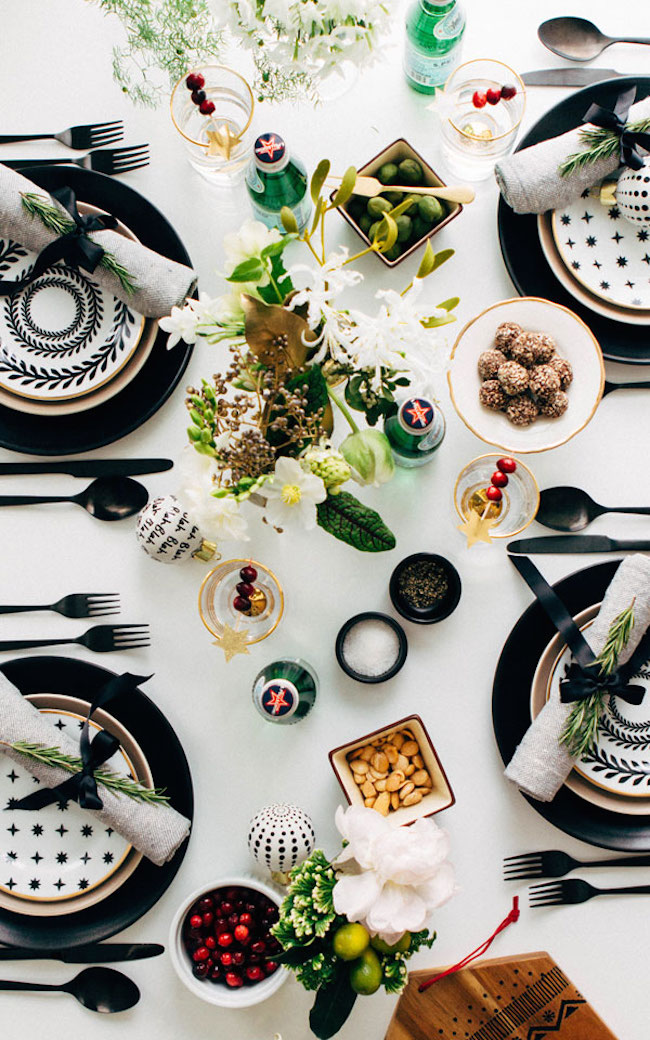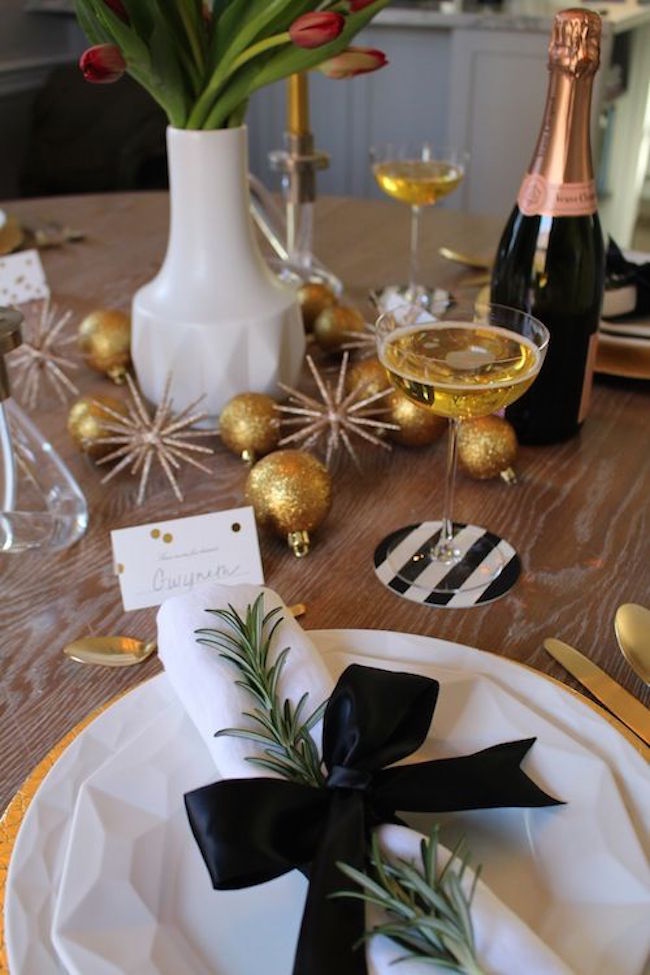 This last tablescape example from Good Housekeeping uses these adorable personalized ornaments to place guests and paper trees in the middle. I'd personally replace the yellow cups with gold instead!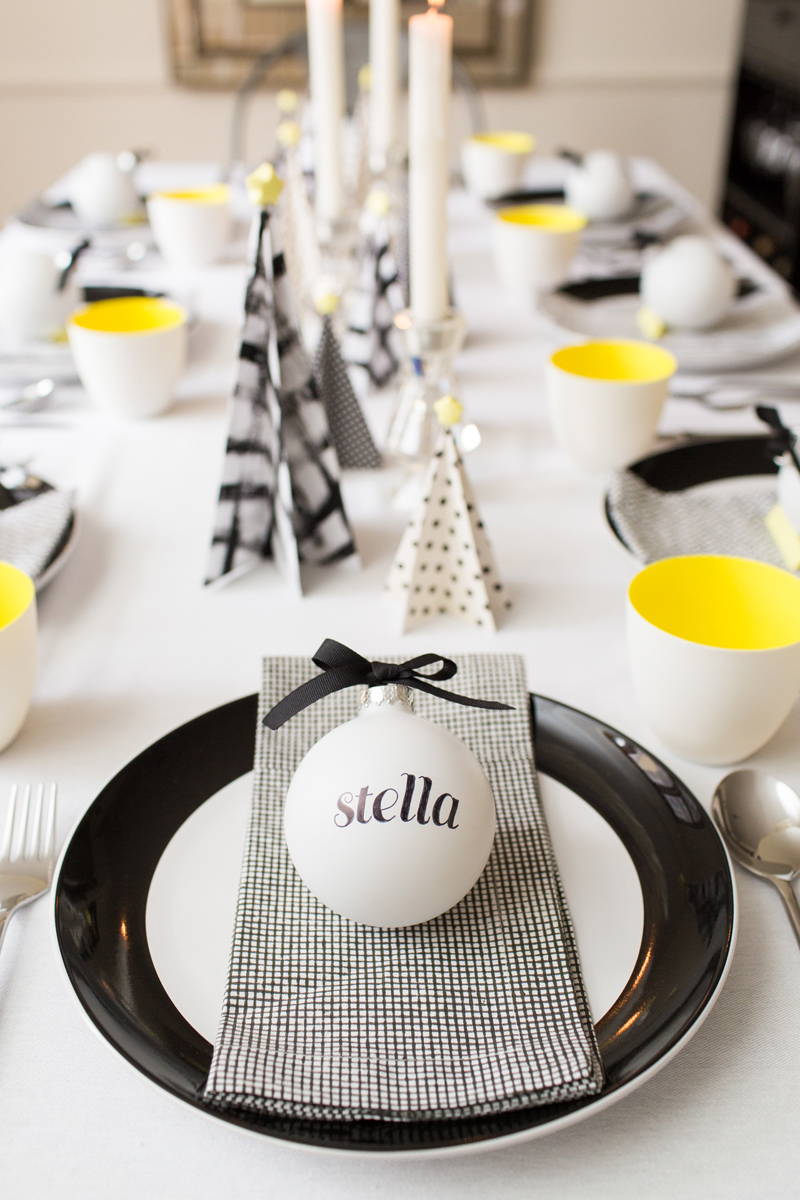 Too Pretty to Unwrap
If you're one of those people who spends just as much time wrapping as picking out gifts, you'll want to know about this beautiful DIY wrapping paper idea from My Domaine. It's super easy to do too, so your gift recipients hopefully shouldn't feel too badly about ripping apart the paper.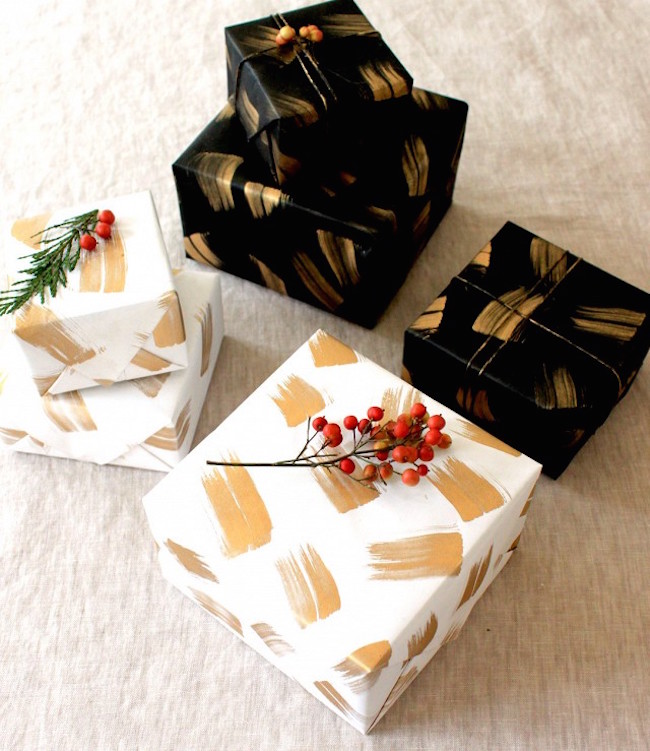 A brilliant wrapping paper idea from 11 Magnolia Lane uses regular sheet music and pairs it with some beautiful gold ribbon and jewels for a super pretty and elegant look!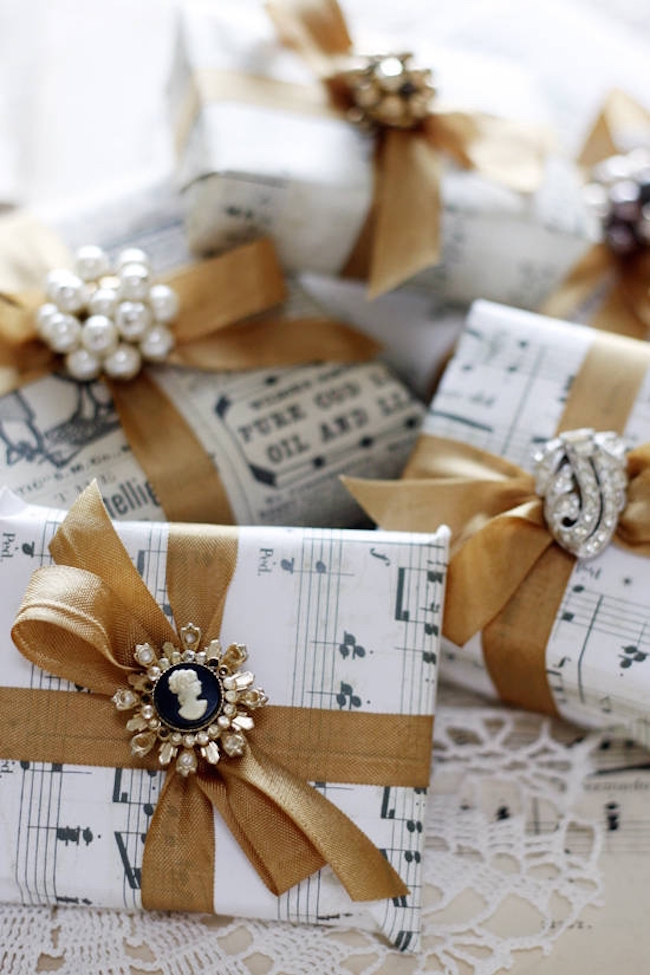 Of course, you can always just skip the DIY idea and buy wrapping paper in black, gold, and white. This polka dotted paper found on A Beautiful Mess is great inspiration for that.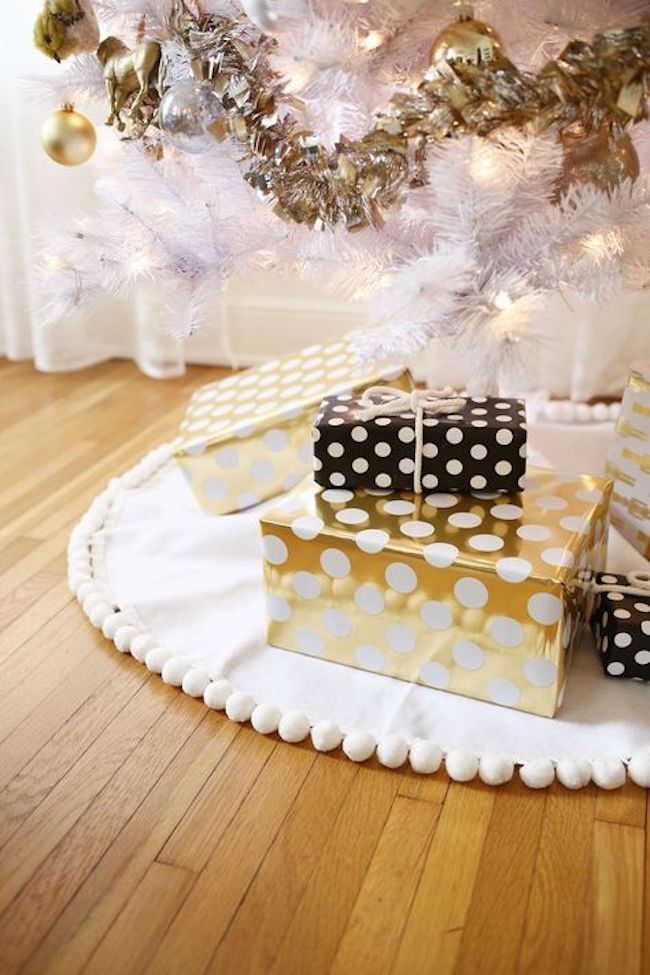 Elsewhere Around the Home
You don't have to stop at the tree or your fireplace mantel when it comes to incorporating this beautiful color scheme into your home for the holidays. Take a look at this great entryway table idea found on The Decor Fix, or this cute and cozy hot chocolate station from 733 Blog.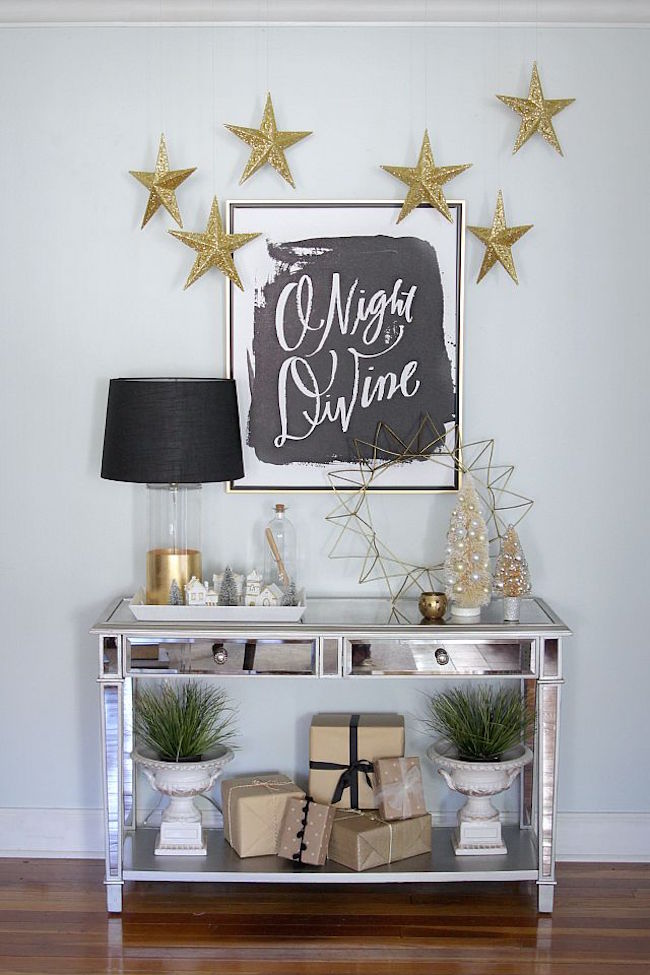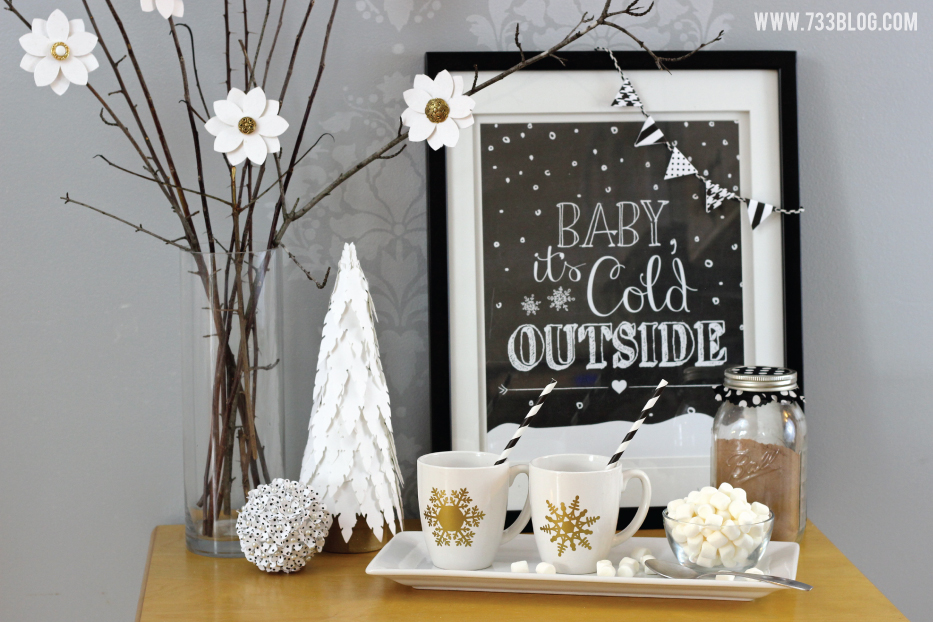 And hey, you might even love this color scheme so much that you decide to work it into your regular decor! Sarah Sherman Samuel dresses up some shelf accessories with holiday greenery for a great look.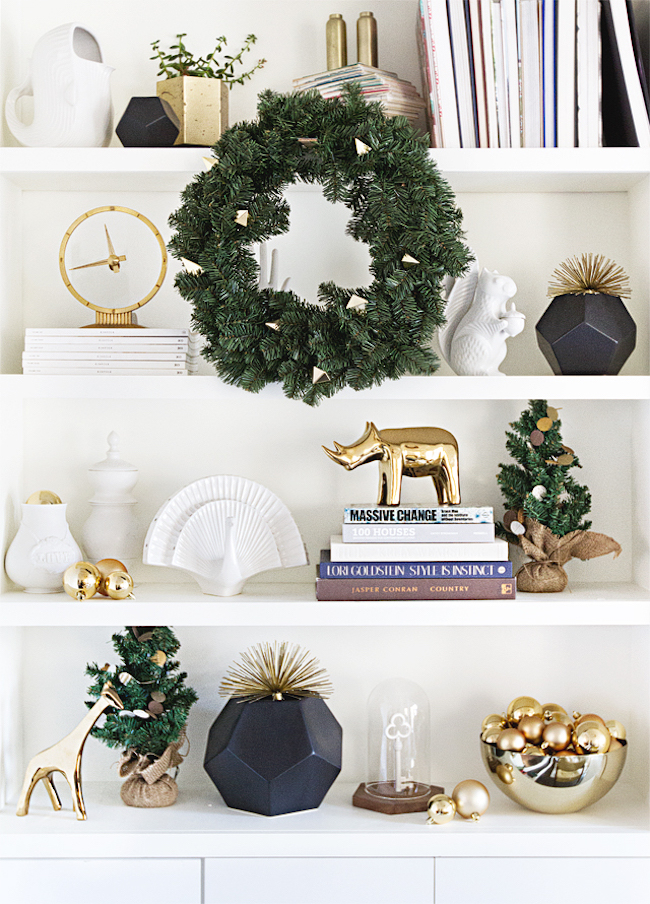 This is one holiday color scheme that probably isn't going anywhere anytime soon. It certainly would make for a creative and refreshing change from the more common colors we see all around us this time of year.