There's something about porcelain. Perhaps it's the quality, or the timelessness, or the way the light can shine through it to cast a warm glow. It's no wonder porcelain pendant lights are growing in popularity, punctuating homes with their fine allure. From the sculptural and the ornate to the industrial and the modern, there isn't a style that porcelain can't enhance! Below you'll find 20 porcelain pendant light options that celebrate the beauty of illuminating design…
Sleek and Modern
We begin with sleek finds that enhance modern spaces. Make a big statement with a porcelain egg! This translucent porcelain pendant lamp comes from Etsy shop lightexture. While it appears white when not illuminated, you can see in the photo below that its amber glow is sure to be the focal point of the room when darkness falls: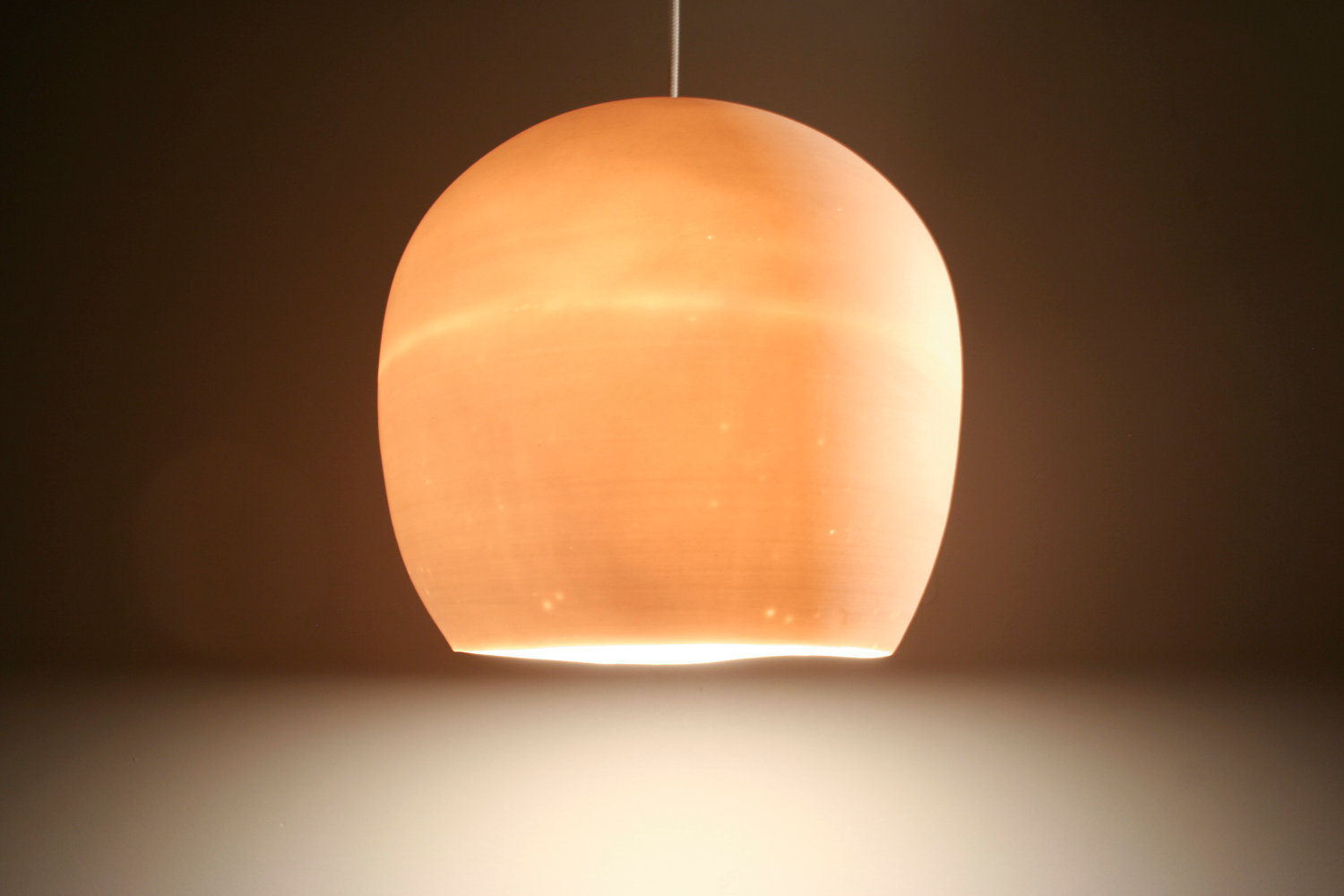 If you prefer a dome to an egg shape, check out this set of 3 porcelain pendant lights from Etsy shop Flux Surface: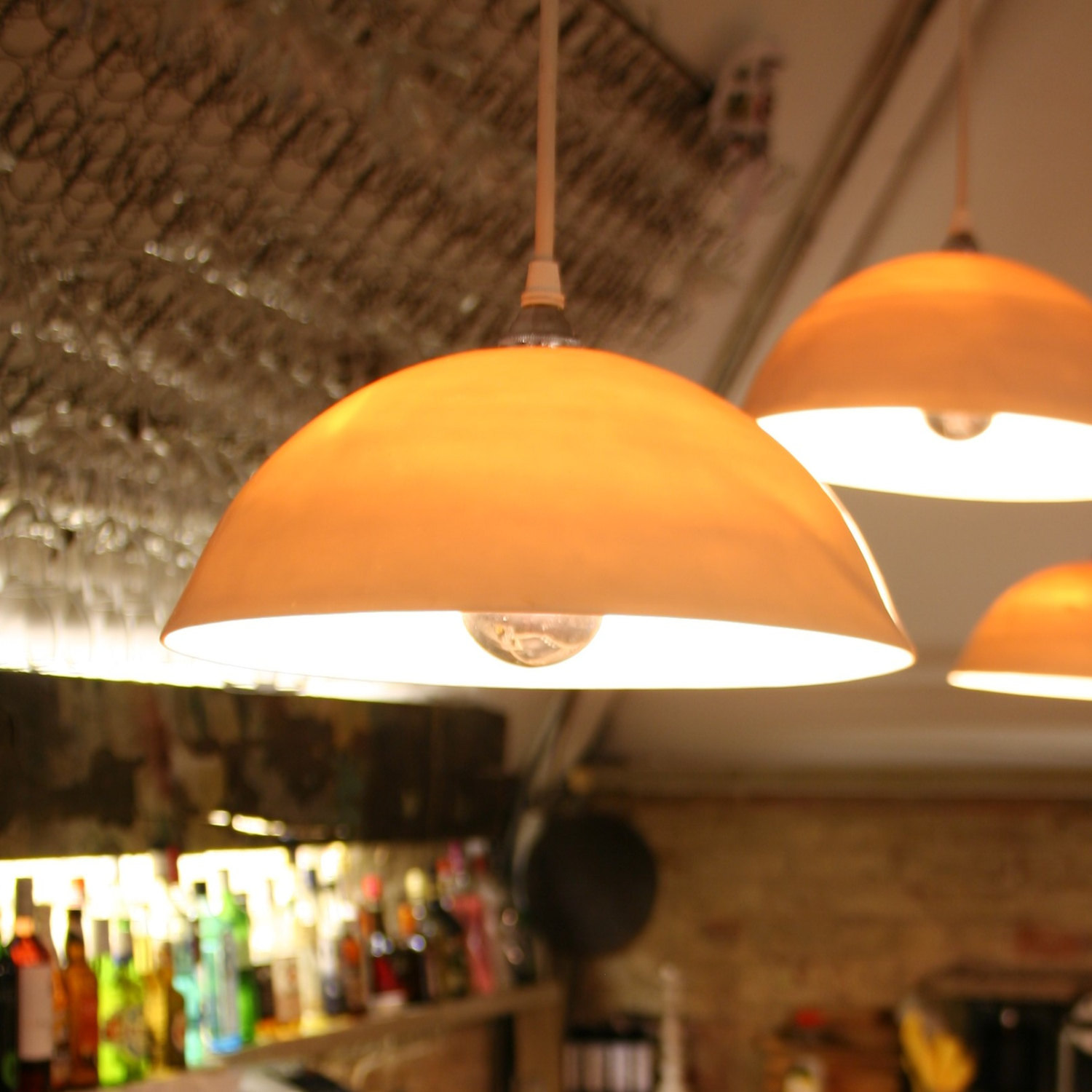 The MY Pendant Lamp by Tobias Grau combines bone china porcelain with oak and polished aluminum. Below we see the height-adjustable suspension light, but MY is also available in table lamp form. [via Archiproducts]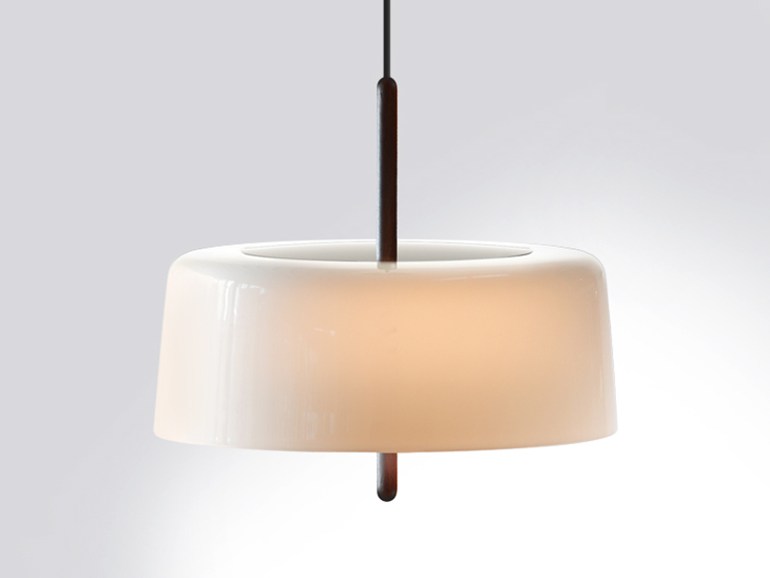 Fuse Large blends Italian craftsmanship with Nordic style to create a sleek, modern piece with a wooden fuse. And don't these lamps look amazing in a group?! Fuse Large is designed by Note Design Studio for ex.t.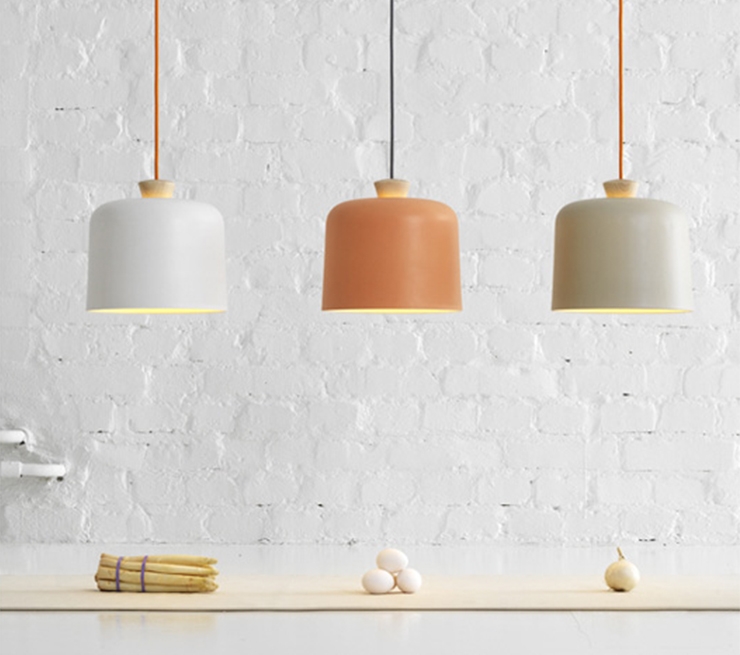 For a petite take on this pendant light, opt for Fuse Small, or better yet, purchase lamps in both sizes and hang them in a group. We're loving the use of orange and grey cording: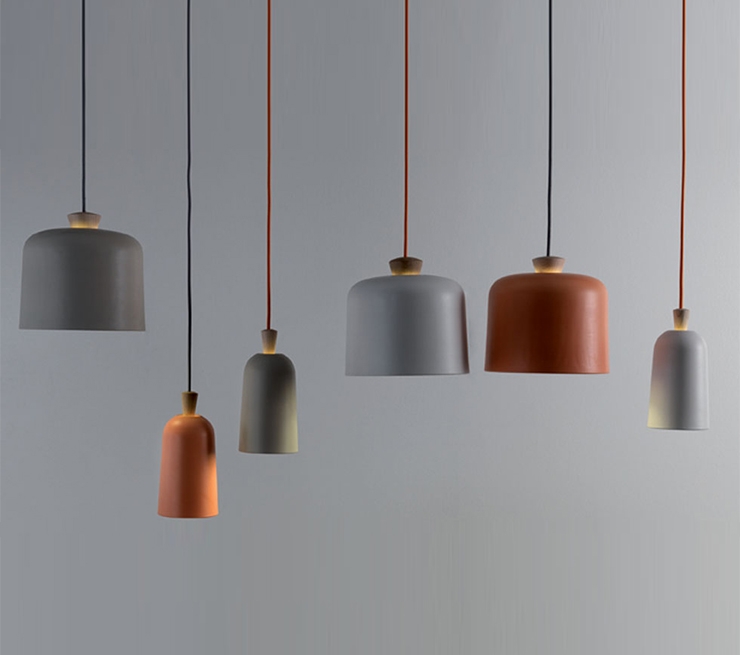 The Babula Pendant Lamps below are designed by Krools, and they are inspired by the form of the Russian Matryoshka doll. While these pendants are also crafted from wood, we're partial to the porcelain version. [via Archi Scene]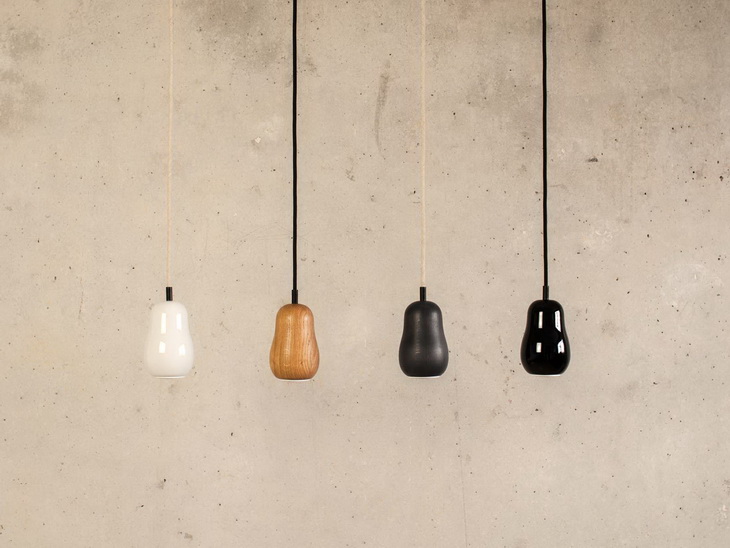 You can also purchase the pendants in clusters of 3, 5 and 7! In the next image, we see a cluster in black: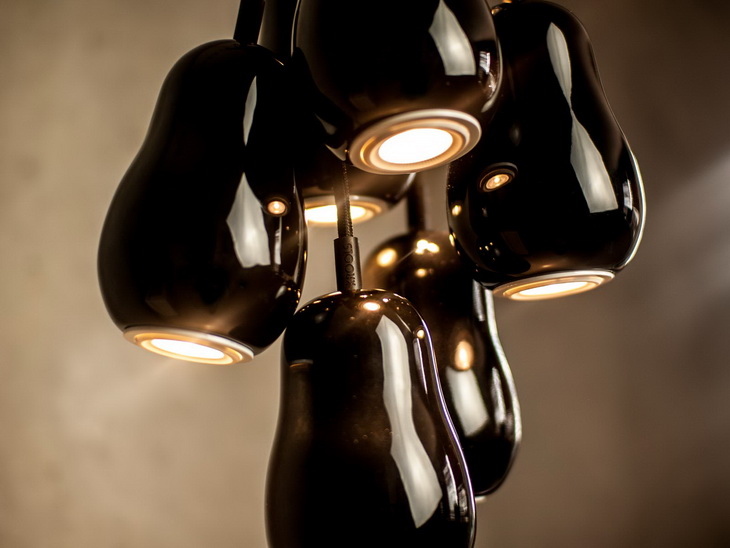 The Plera pendant lamp by Enrico Zanola is a ceramic suspension lamp with a touch of wood along the rim. Designed in 2012, this minimalist piece is available in a range of tones, including white (pictured below):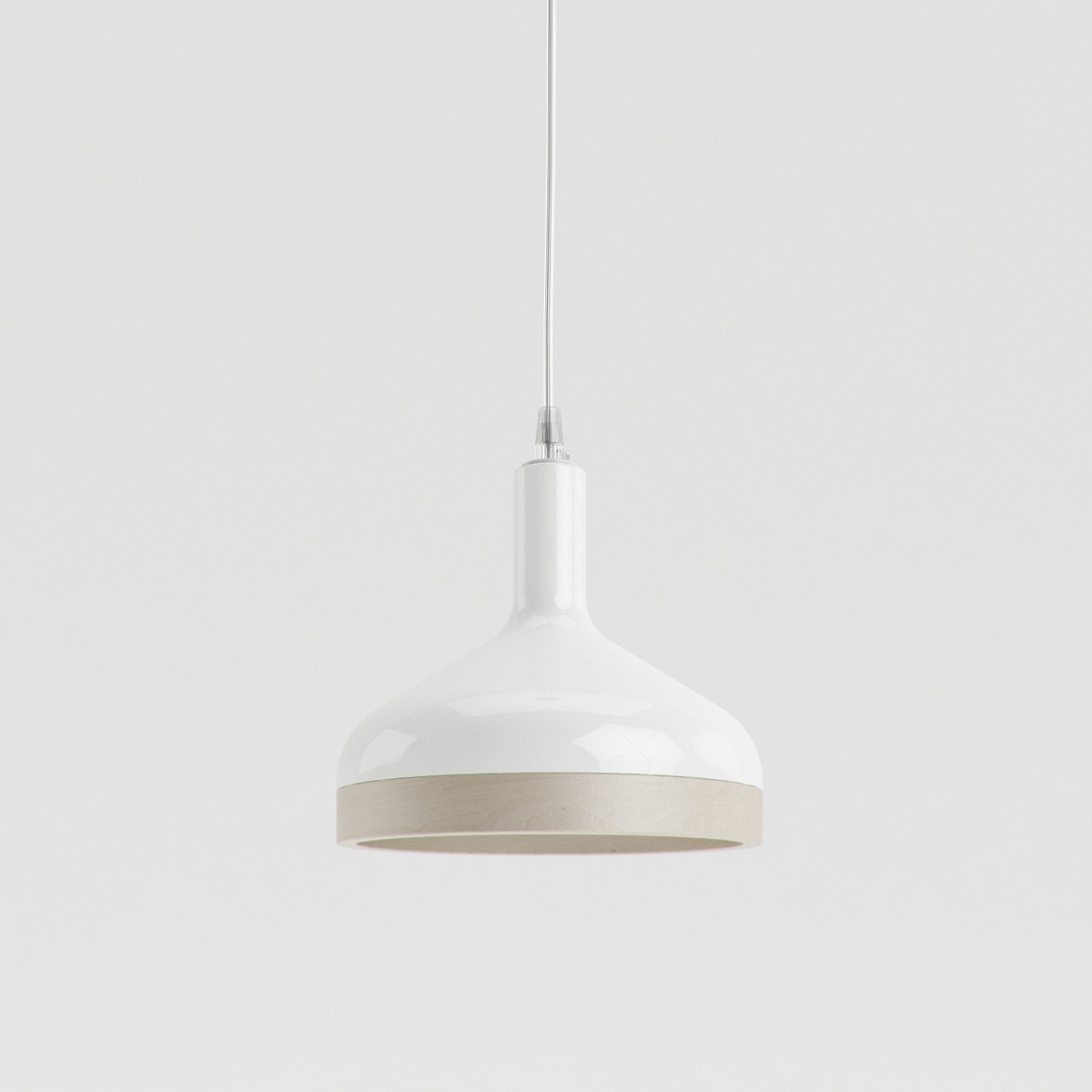 Say hello to Sospensioni…Issima!, a glossy pink pendant lamp designed by Sam Baron via Bosa. Modern forms have never been so sleek. Or rosy!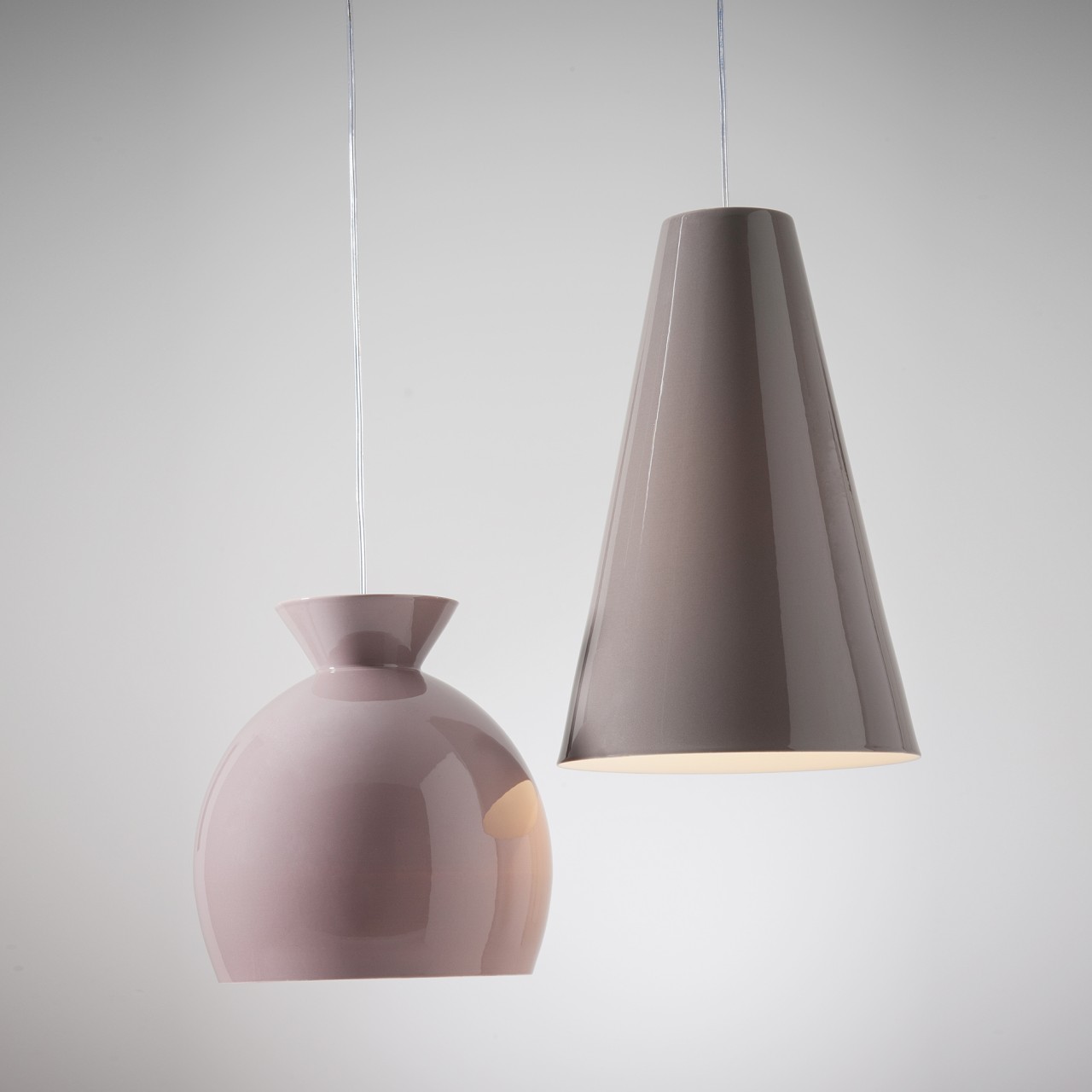 While this porcelain and enamel pendant lamp is antique, it has the power to thrive in industrial modern kitchens. The piece sold via Preservation Station (and is no longer available), but don't hesitate to hunt down your own pendant lamp treasure. They're out there!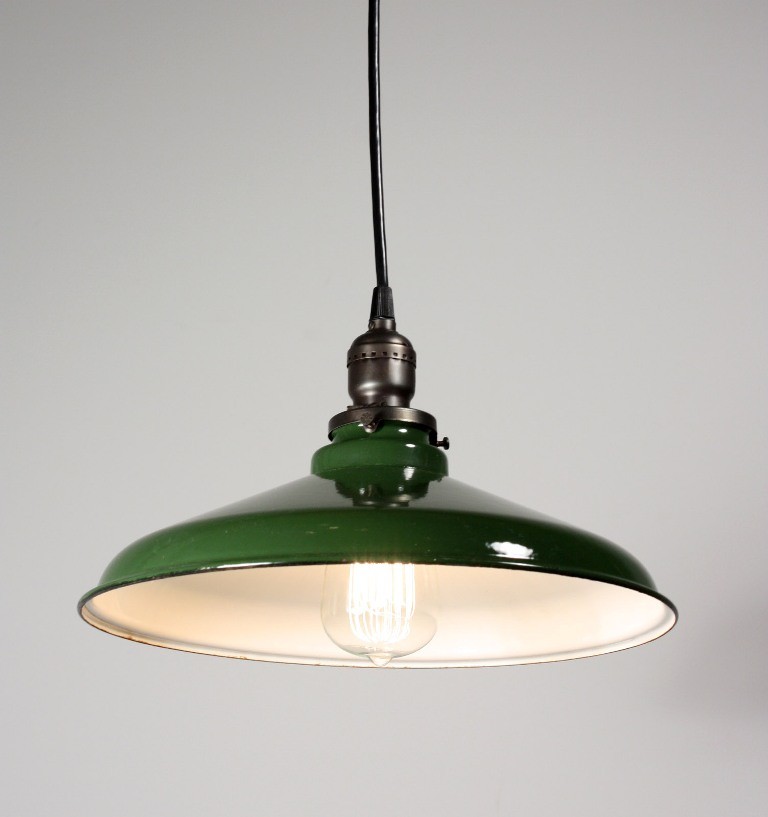 This new pendant lamp with a white porcelain enamel finish comes from Etsy shop Blue Moon Lights. The 14-inch light comes in a set that includes the pendant, enamel shade, Edison light bulb, ceiling canopy and installation hardware: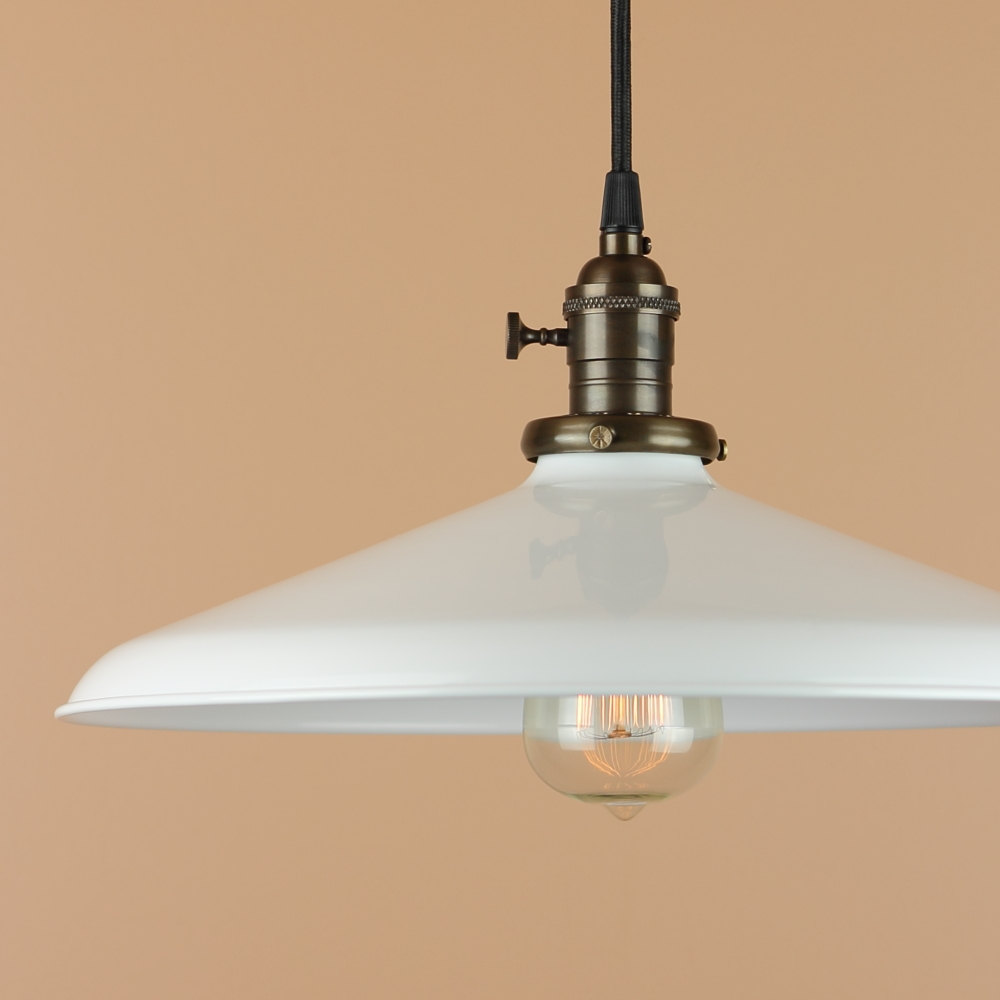 The Ivanhoe Sinclair Porcelain Pendant from Barn Light Electric celebrates industrial style. Choose from a wide range of colors, cord styles and Edison bulbs to customize the light for your interior!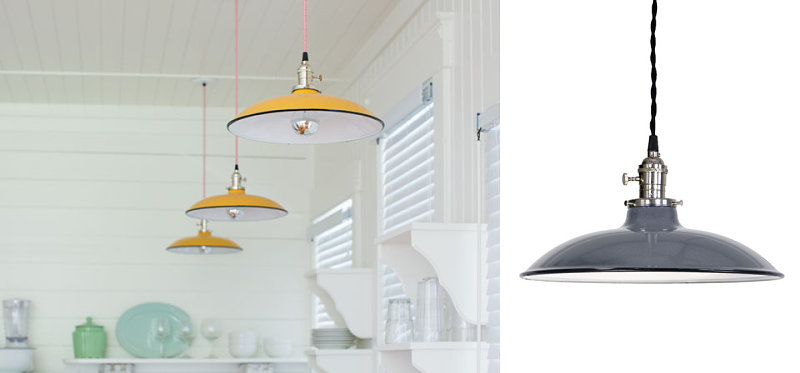 Sometimes petite statements are the most powerful! Edison Light Globes offers porcelain pendants in a range of colors, including light blue, as shown below. A variety of cord options are available as well. Simple, retro-modern and fabulous!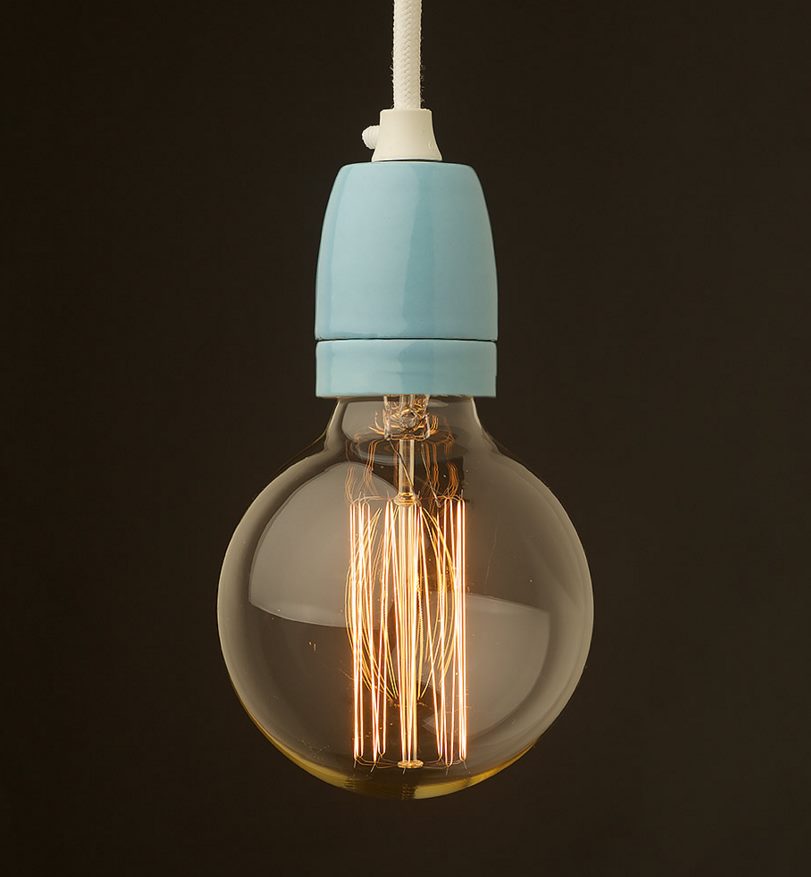 Artful Details
We now turn our attention to porcelain pendant lighting that features interesting details, from hand-carved designs to gilded accents. Speaking of gold, this hanging pendant light from Etsy shop Rachel Nadler Lighting and Ceramic Design showcases black leaf shapes outlined in 12-karat gold stain. Light shines through the holes in the black leaves, as shown below: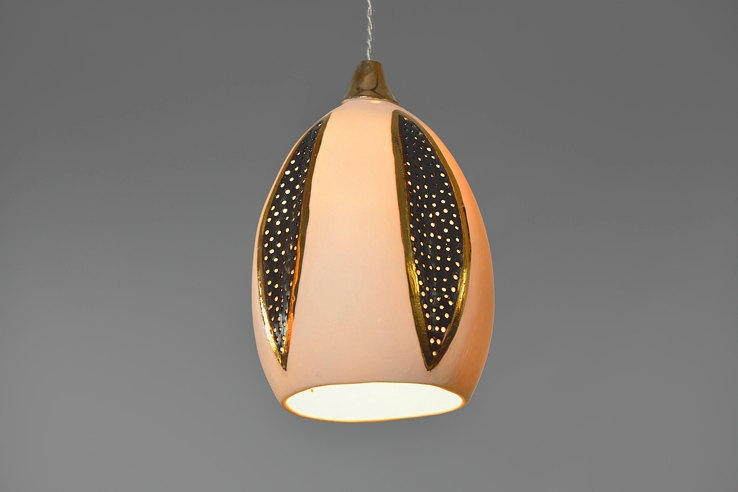 Hand carved details are the essence of this stunning porcelain pendant lamp from Etsy shop Sue Canizares Ceramics. Birds and flowers add life to this light, and blue cording completes the charming design: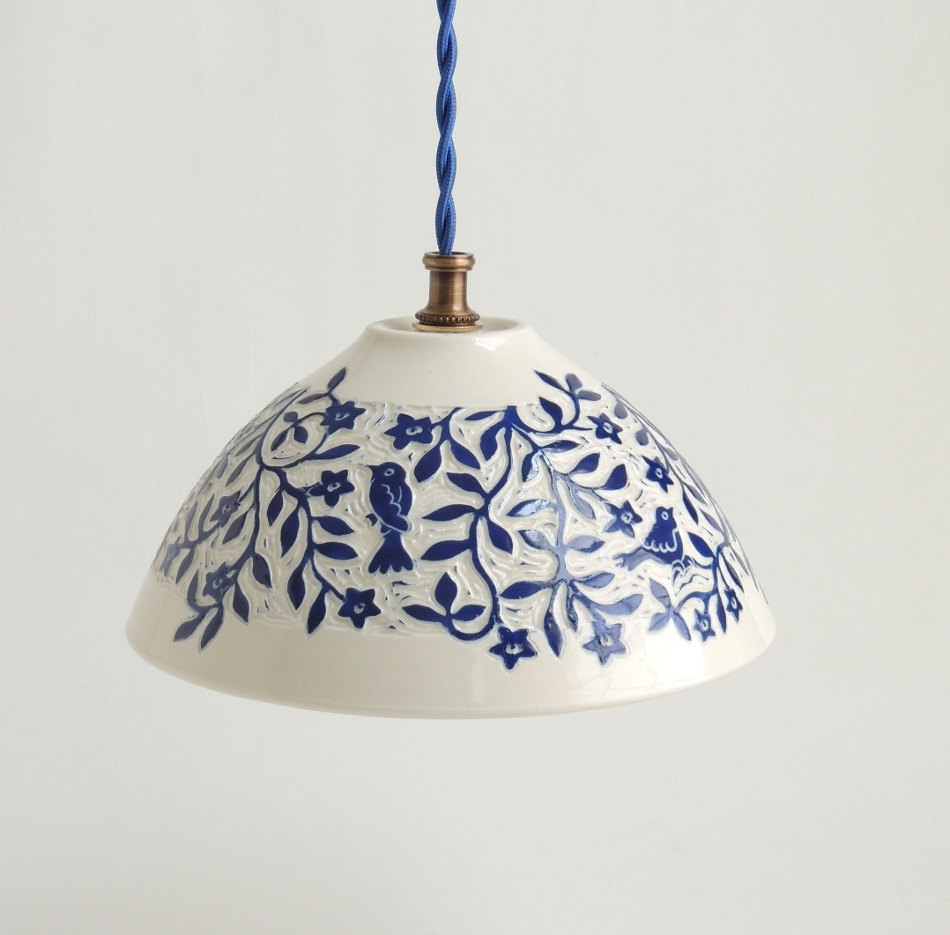 From holes to seeds…the Porcelain Seedlamp from Etsy shop Lightexture combines a cylindrical form with voided traces of rice or barley and quinoa seeds embedded before the porcelain was fired. We've seen plenty of examples of glowing translucent porcelain in today's post, but here's the tone of these pendants when not illuminated: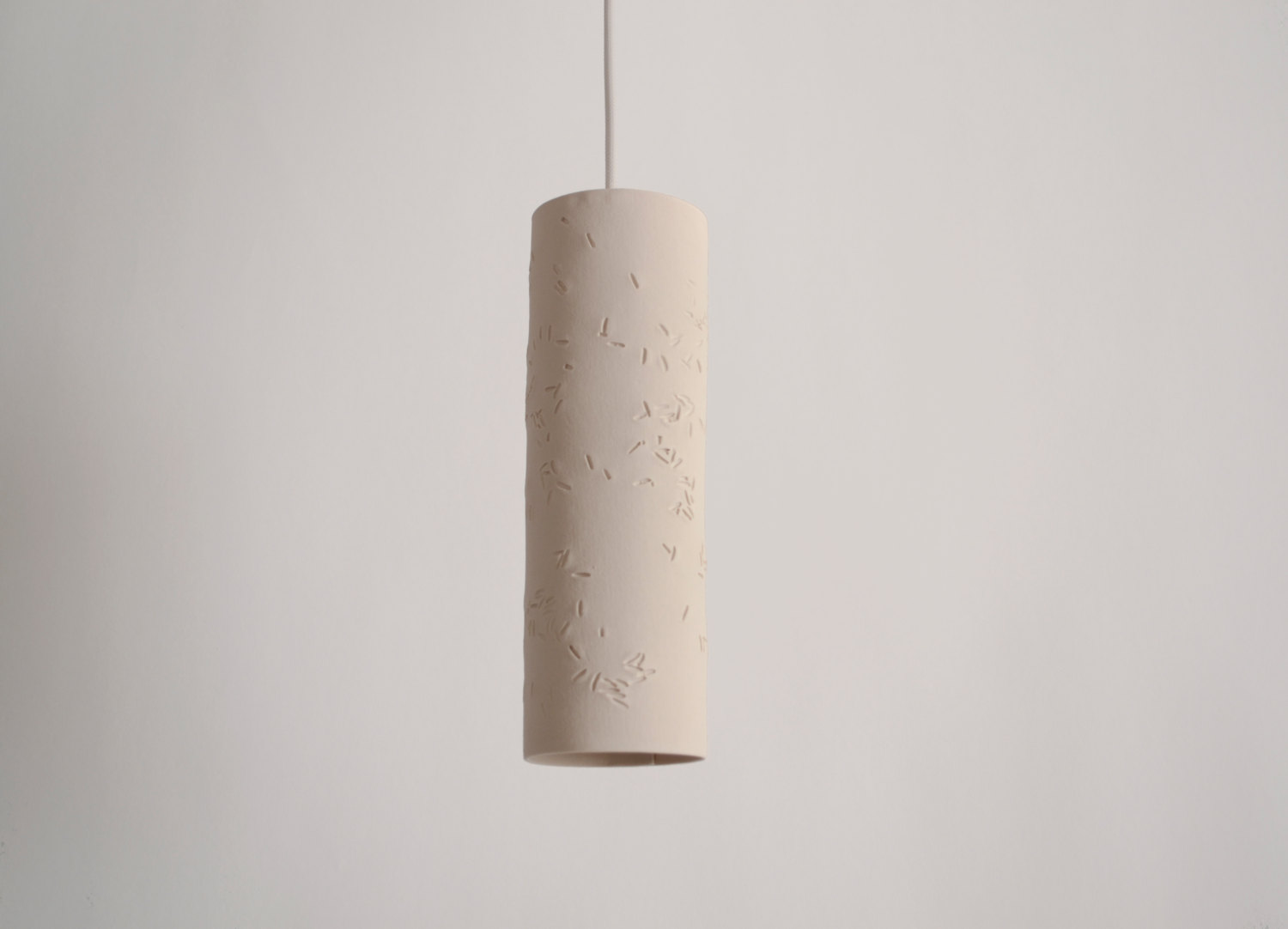 This porcelain pendant light comes from Etsy shop L&S Handcrafted Lighting. Each one is hand carved to get the textured effect, and the look that results is organic and modern: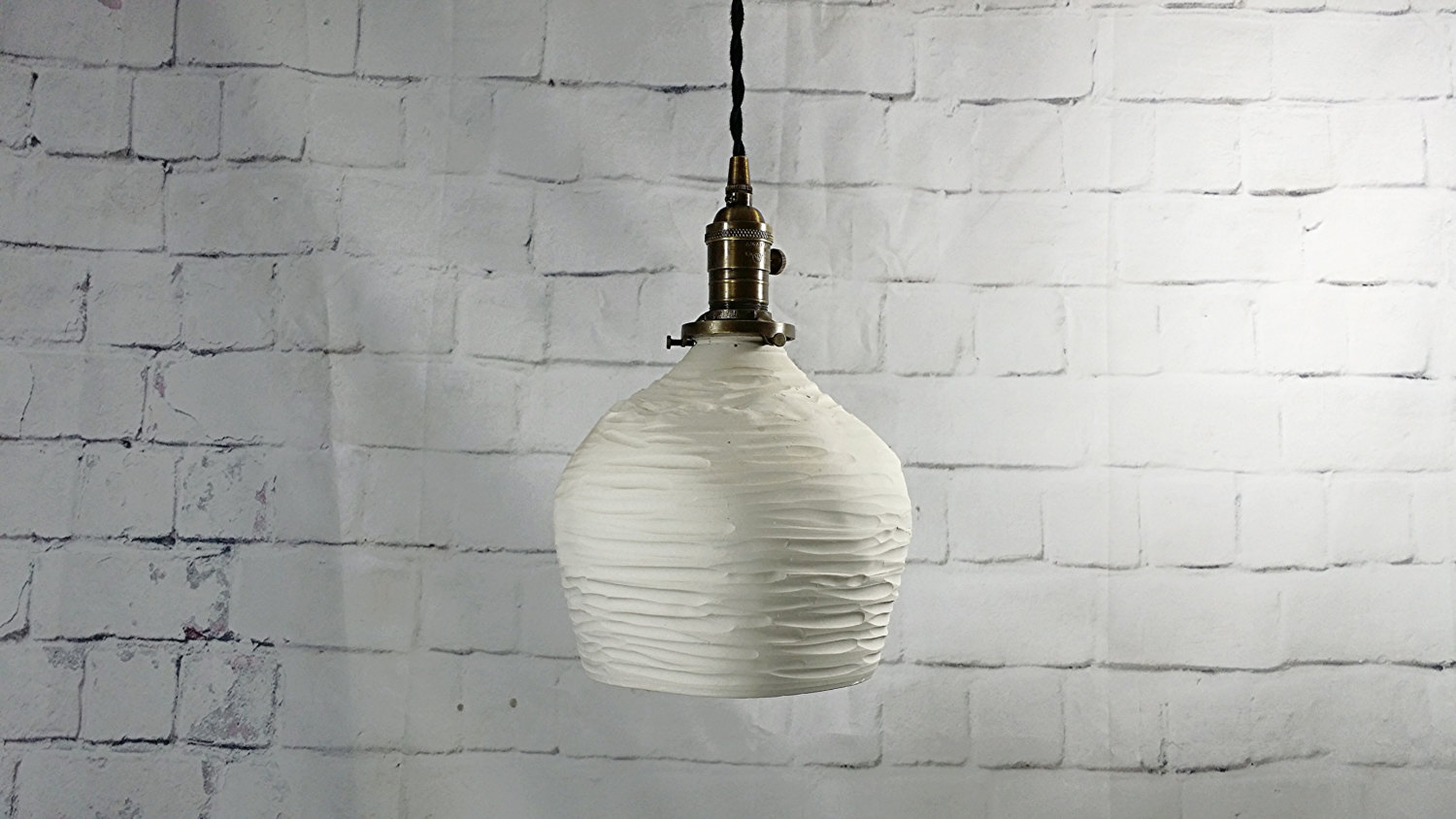 This geometric porcelain pendant light from Etsy shop Revisions Design Studio celebrates the power of facets. As with the pendant at the very top of the post, translucent porcelain is the key to getting that soft glow: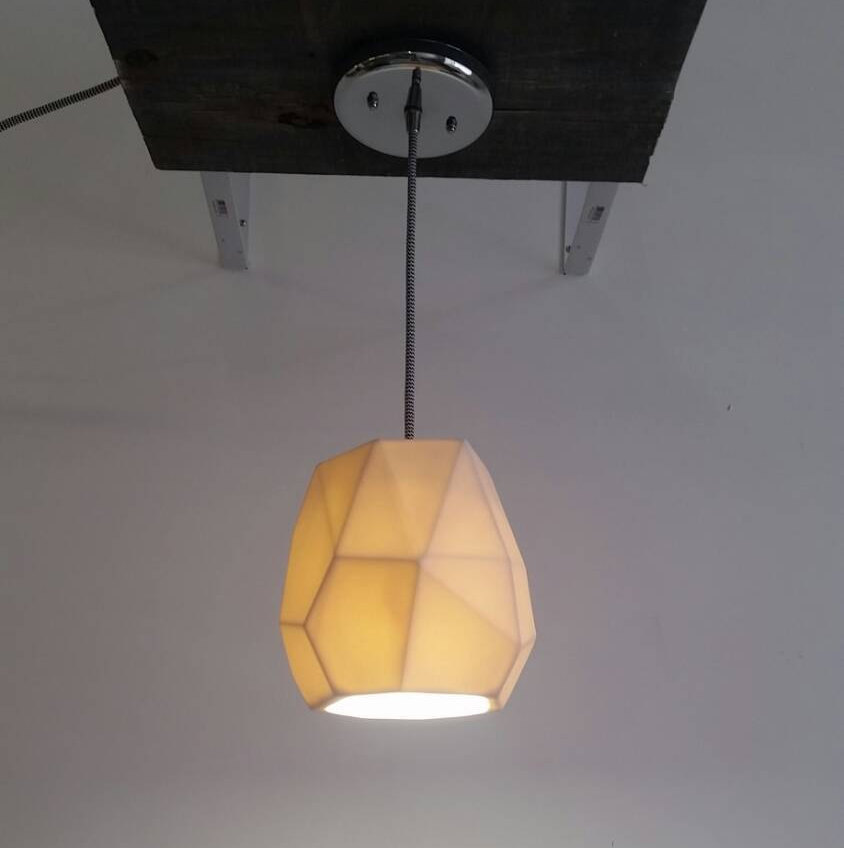 Here's another faceted piece, this time featuring a thick black cord (that also comes in white and red). K1 is a geometric drop light by Gant & Mania, crafted from clean white porcelain and available via Not on the High Street.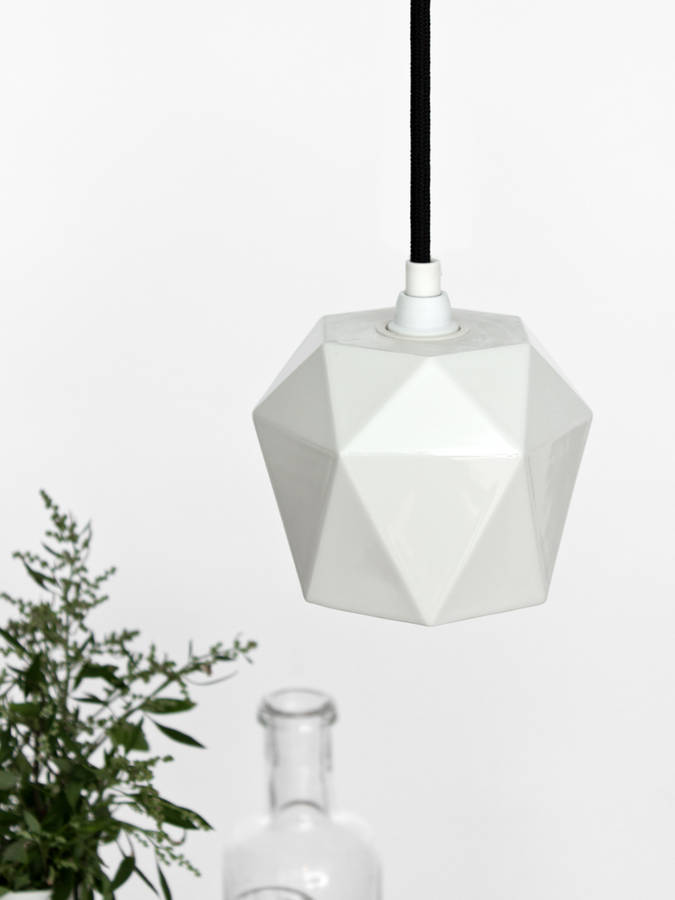 Bring on the pleats! This pleated porcelain pendant light is crafted by Art & Manufacture for Etsy shop La Fabrique Deco. Black braided cording and a touch of brass complete the design: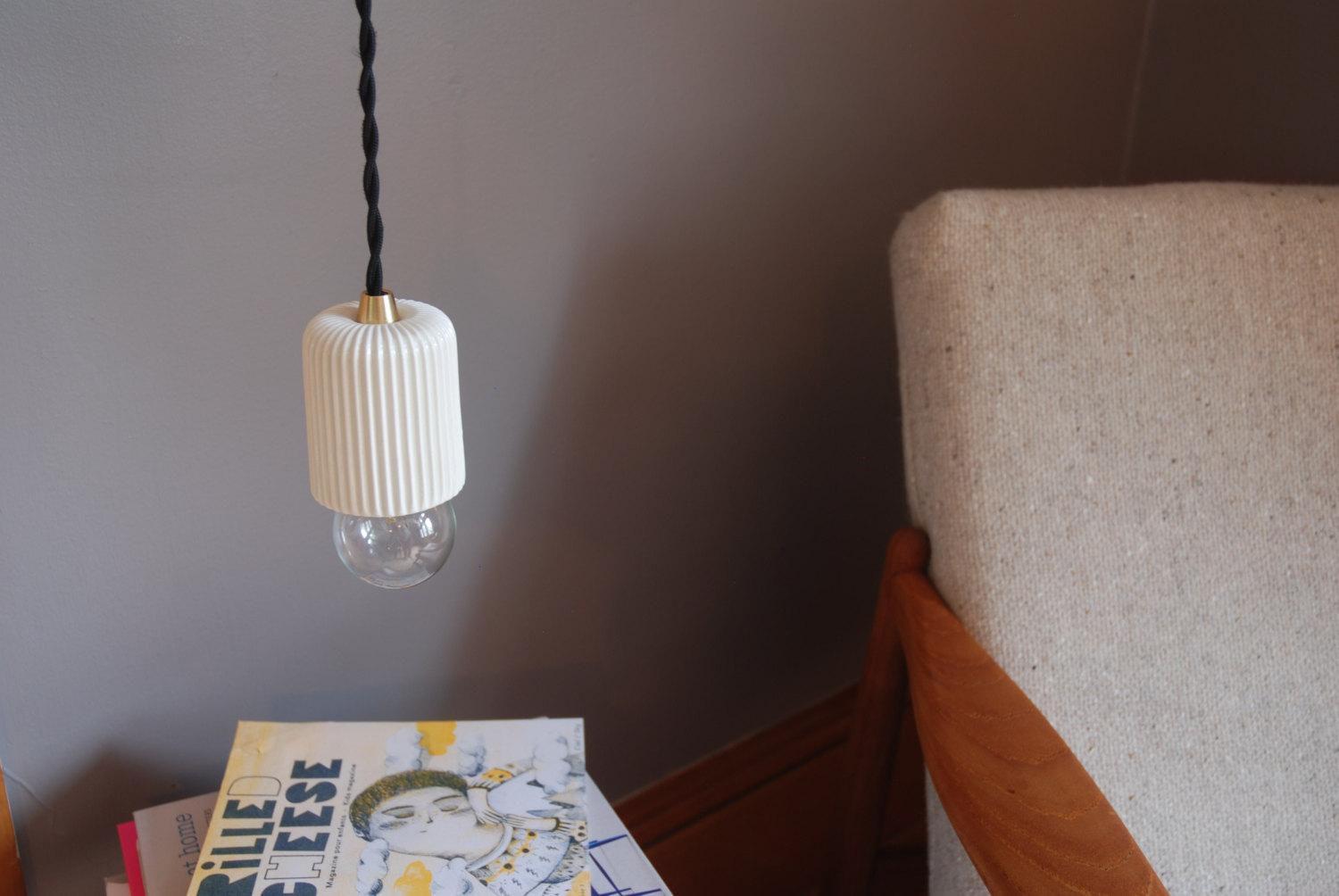 Whether you're into the soft glow of translucent porcelain or you're looking to make an opaque modern statement, today's featuring pendant lights prove there's something for everyone when it comes to porcelain!