Apart from your living room, if there are two spaces in your home that make the biggest impression on your guests then they are the entry room and the powder room. One welcomes in guests gleefully while the other allows you to showcase all your decorating skill and taste in interiors with a touch of extravagance. Powder rooms move away from the usual decorating norms. They are a world in themselves with the style, theme and color palette of this tiny space being entirely different from whatever works in every other room of your house. It is a surreal escape that leaves your guests captivated when done right.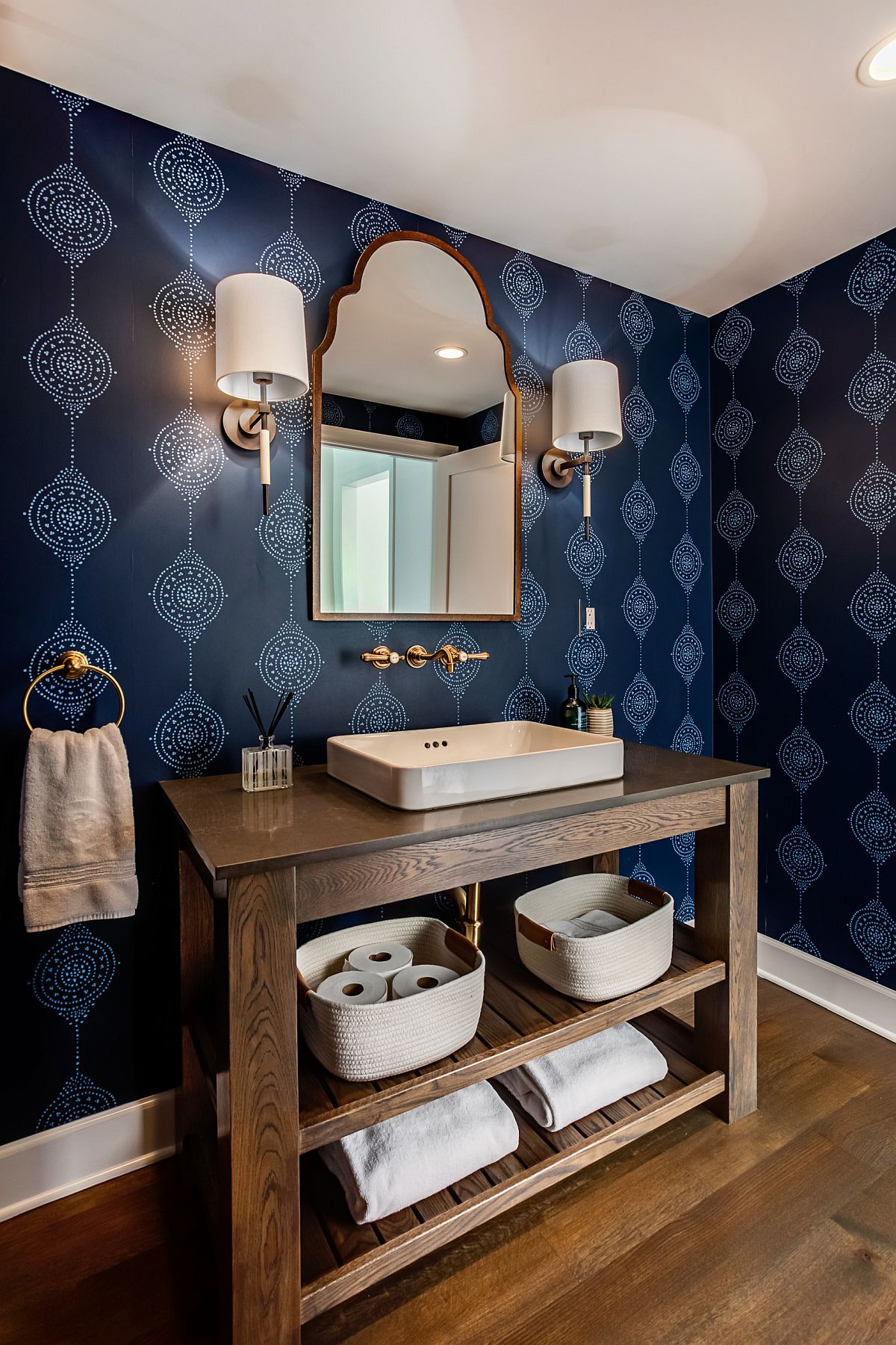 There are many different styles that you can choose in the small powder room and even the vivacious, blissful eclectic look looks stunning in here. But f you are someone who loves a bit of old-world charm, presence of wood and its warmth all around and a space that is more organic than it is man-made, then the trendiest choice at the moment is 'modern farmhouse' Farmhouse style powder rooms with a touch of modernity are both gorgeous and timeless. They bring together the best of two contrasting worlds and yet everything fits in perfectly. Be it the understated or the ornate, these farmhouse powder rooms will not let you down!
Modernity Still Has its Place
Gone are the days when farmhouse style meant that you need to strictly stick to the classic farmhouse-inspired materials and finishes. This year, you can freely combine modern aesthetics with traditional farmhouse elements to experience a bit of both. Keep the backdrop as neutral as possible with colors such as gray, white or cream on the walls. Then adding layers of farmhouse-themed décor pieces and accessories feels that much easier. It also allows those few special pieces in the small powder room to stand out visually. If paint is not your thing, shoot for a more dramatic look using wallpaper.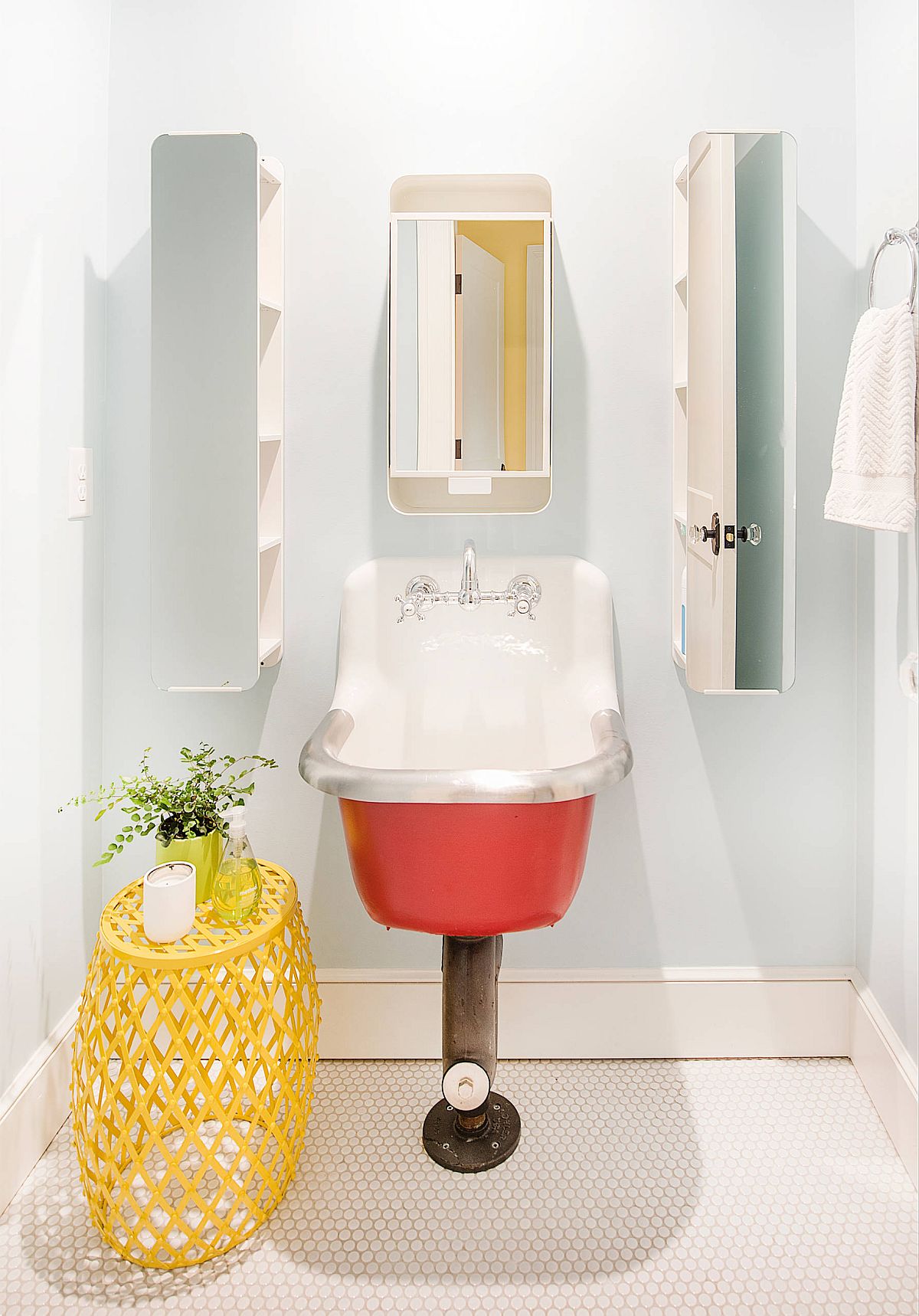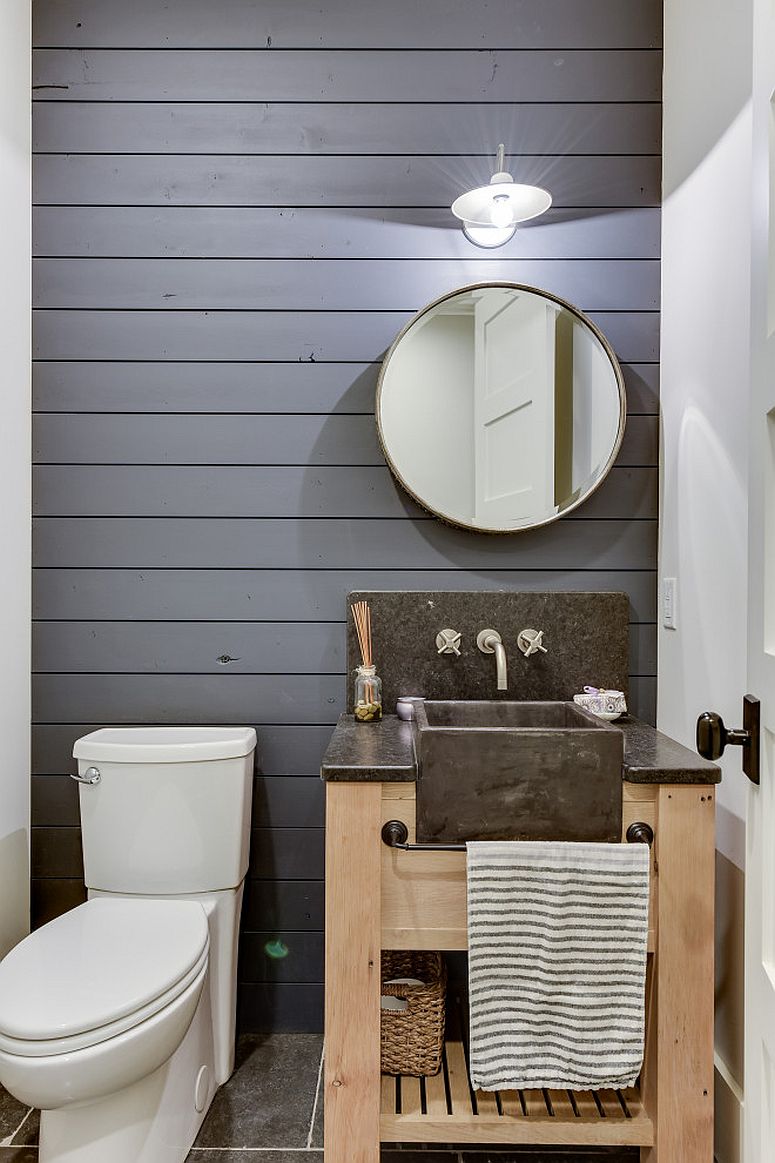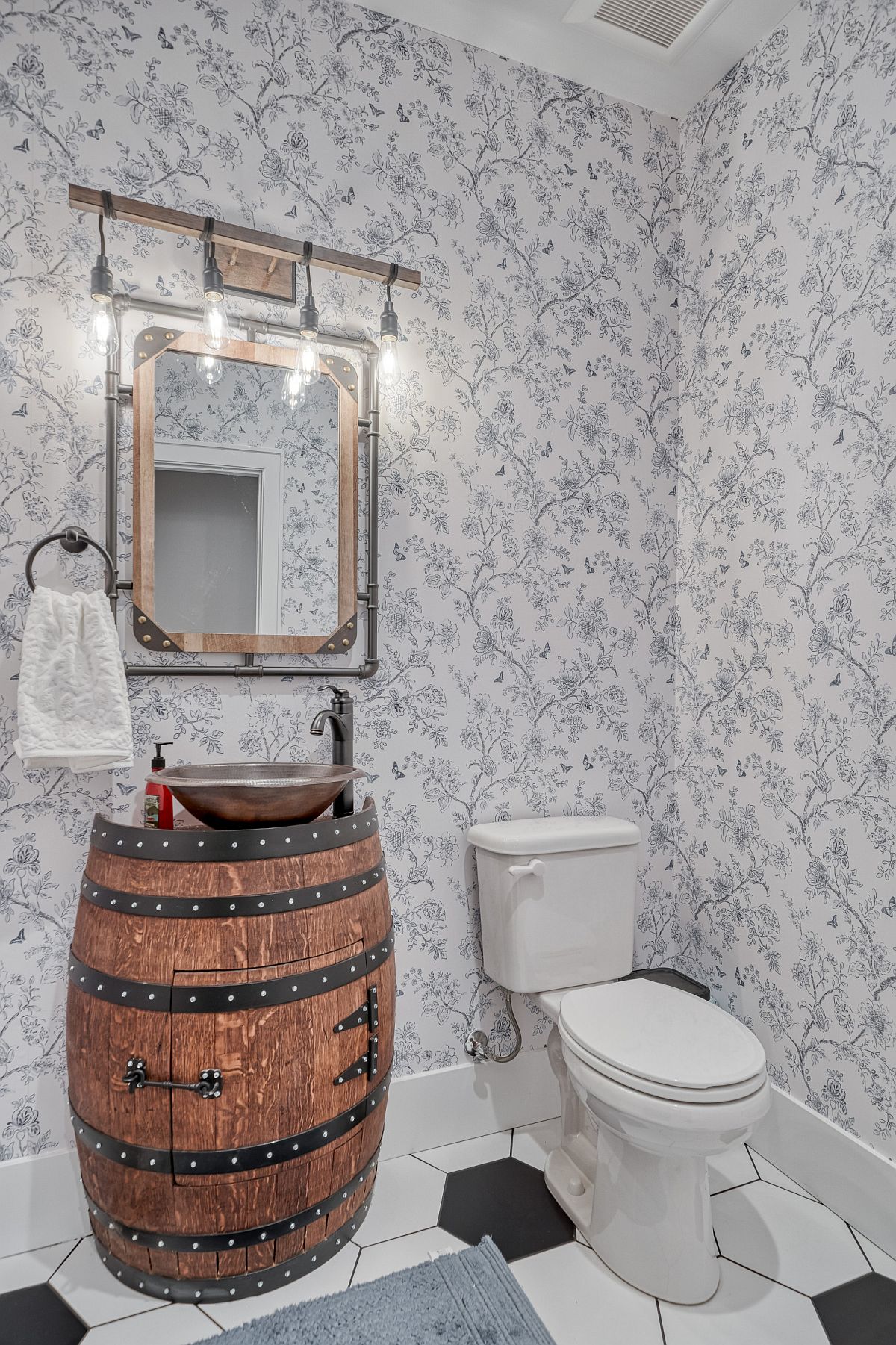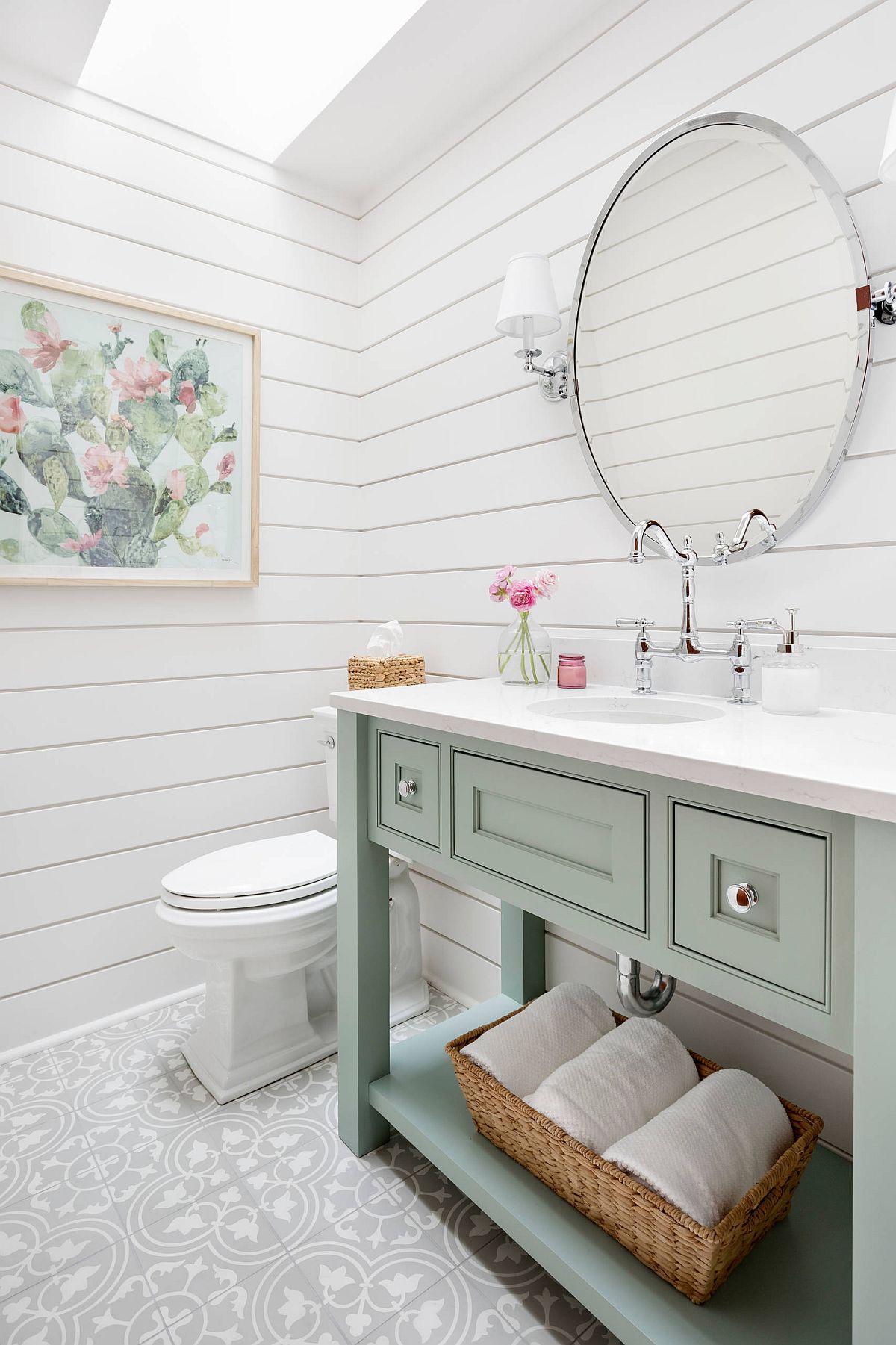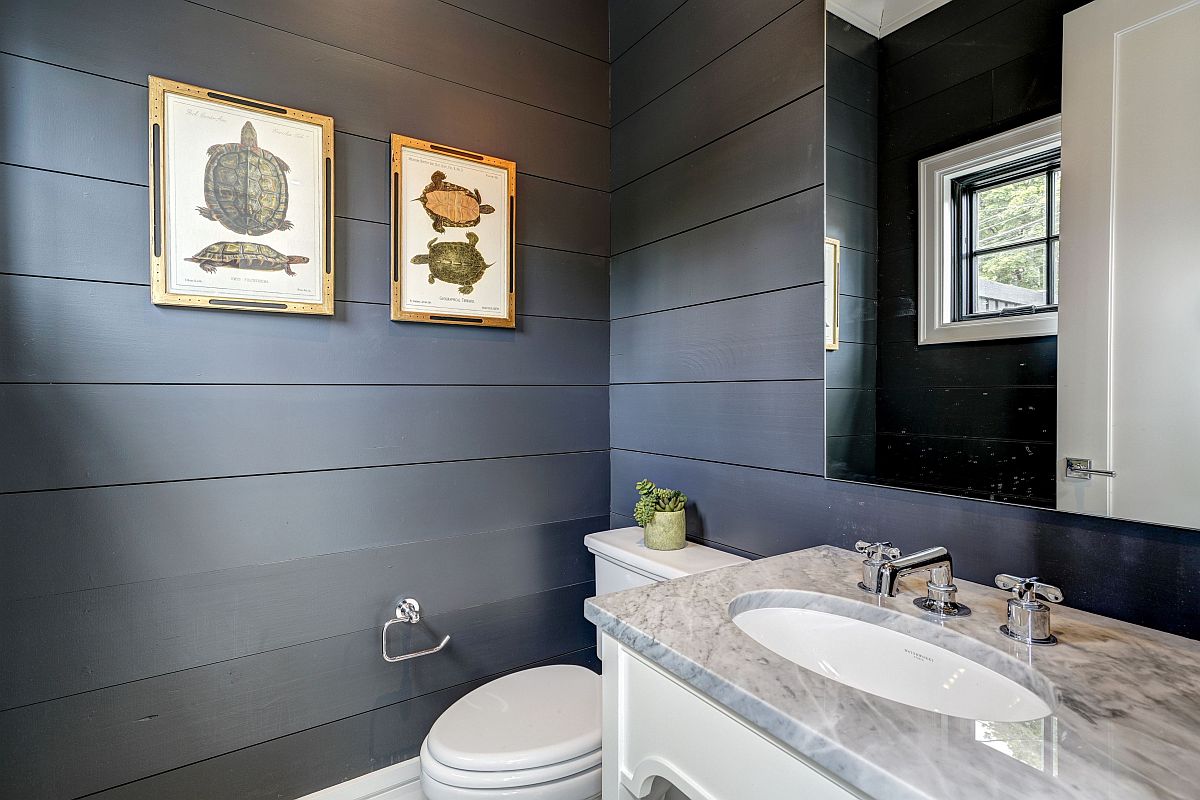 Wood Makes a Difference
If there is a certainty in the farmhouse style powder room that is bound to work every single time, then it is the beautiful wooden vanity. The wooden vanity feels like a natural choice in here and depending on the size of the powder room and its overall appeal, you can choose between one that is simple and basic or a vanity that is much more ornate and 'ageless'. Even if you are not one who loves the wooden vanity with flowery pattern, then use wood as the material for the mirror frame or even just as the vanity countertop. Be it window frames or a complete accent wall in wood, this is a material that always comes up trump in the powder room.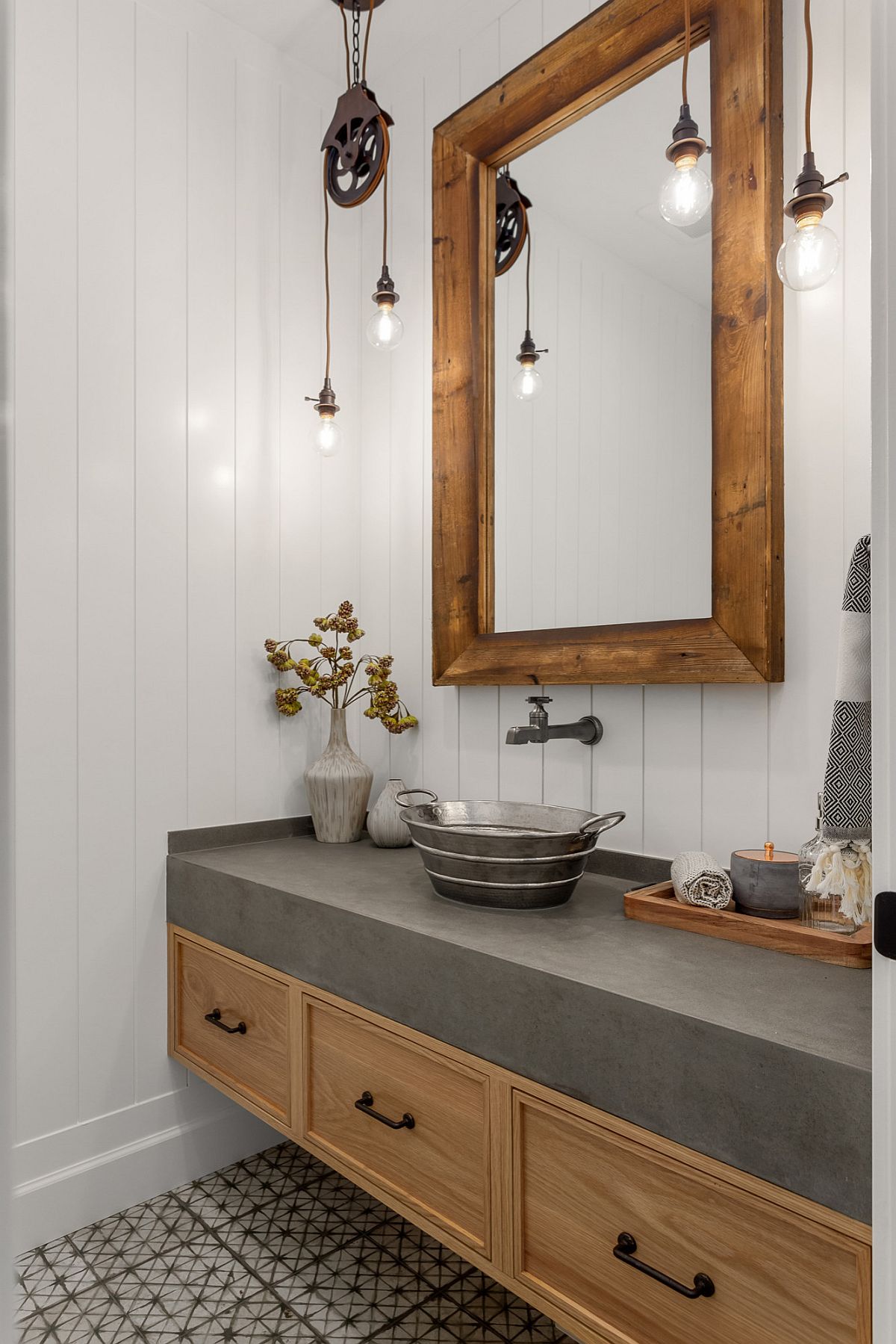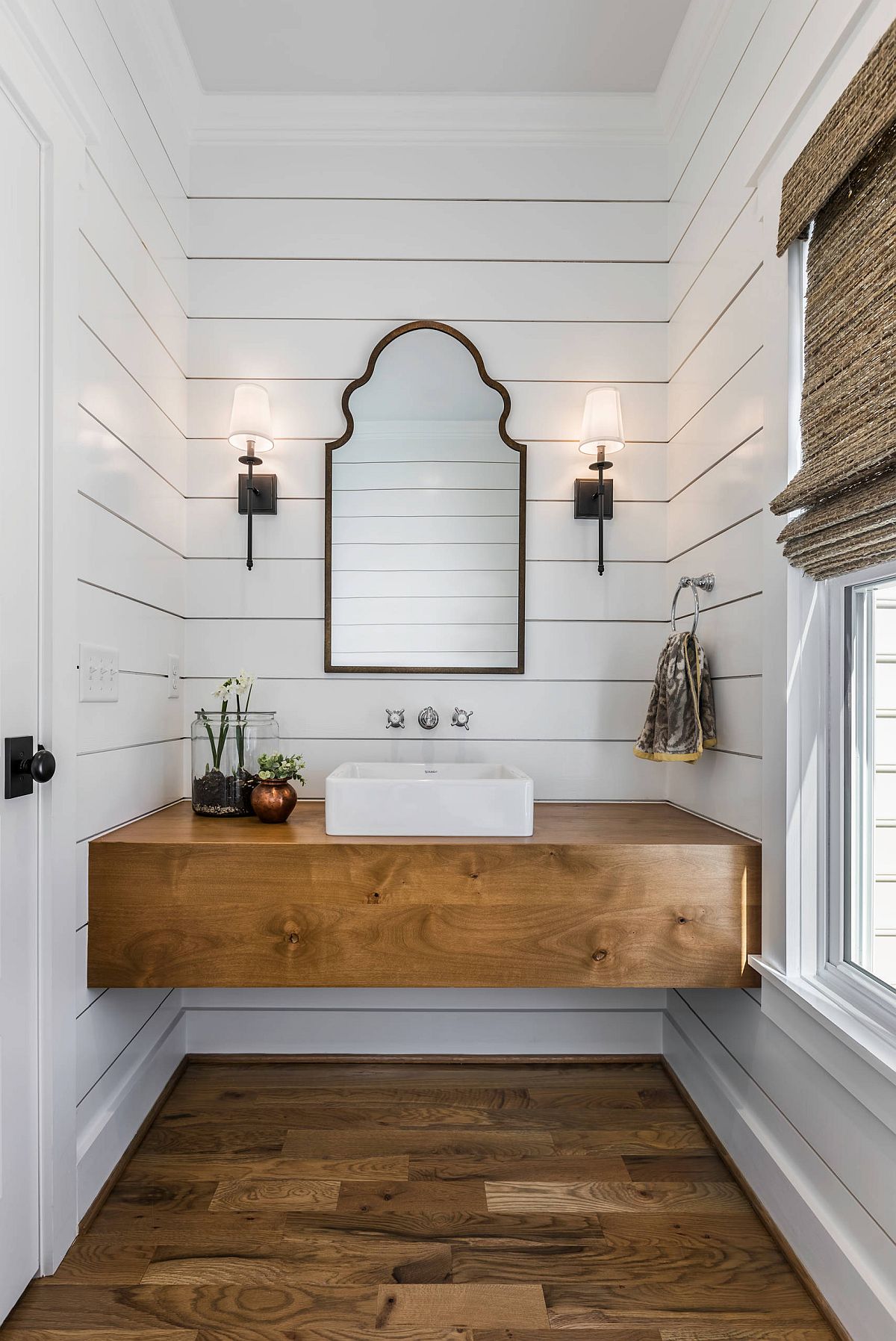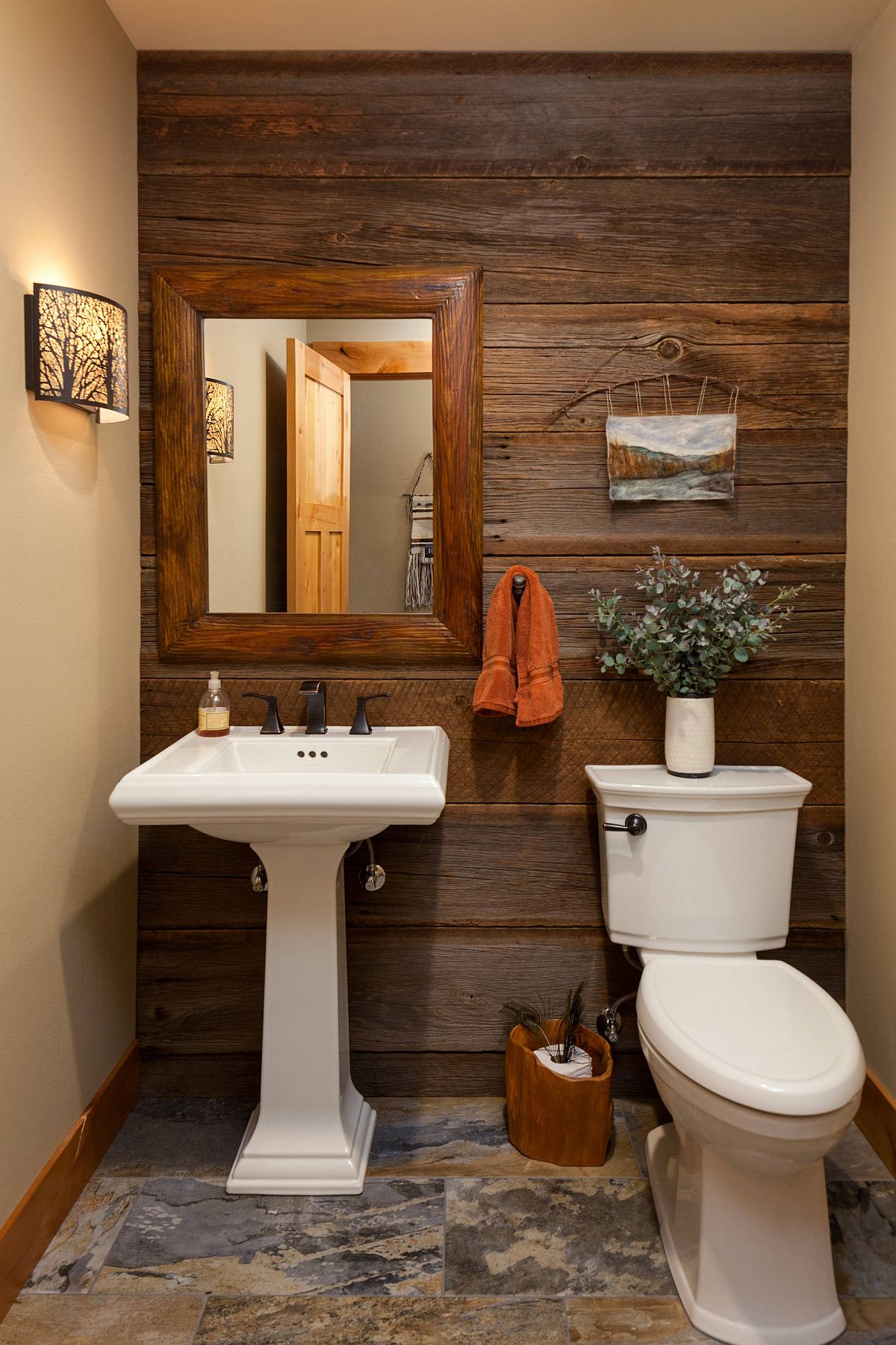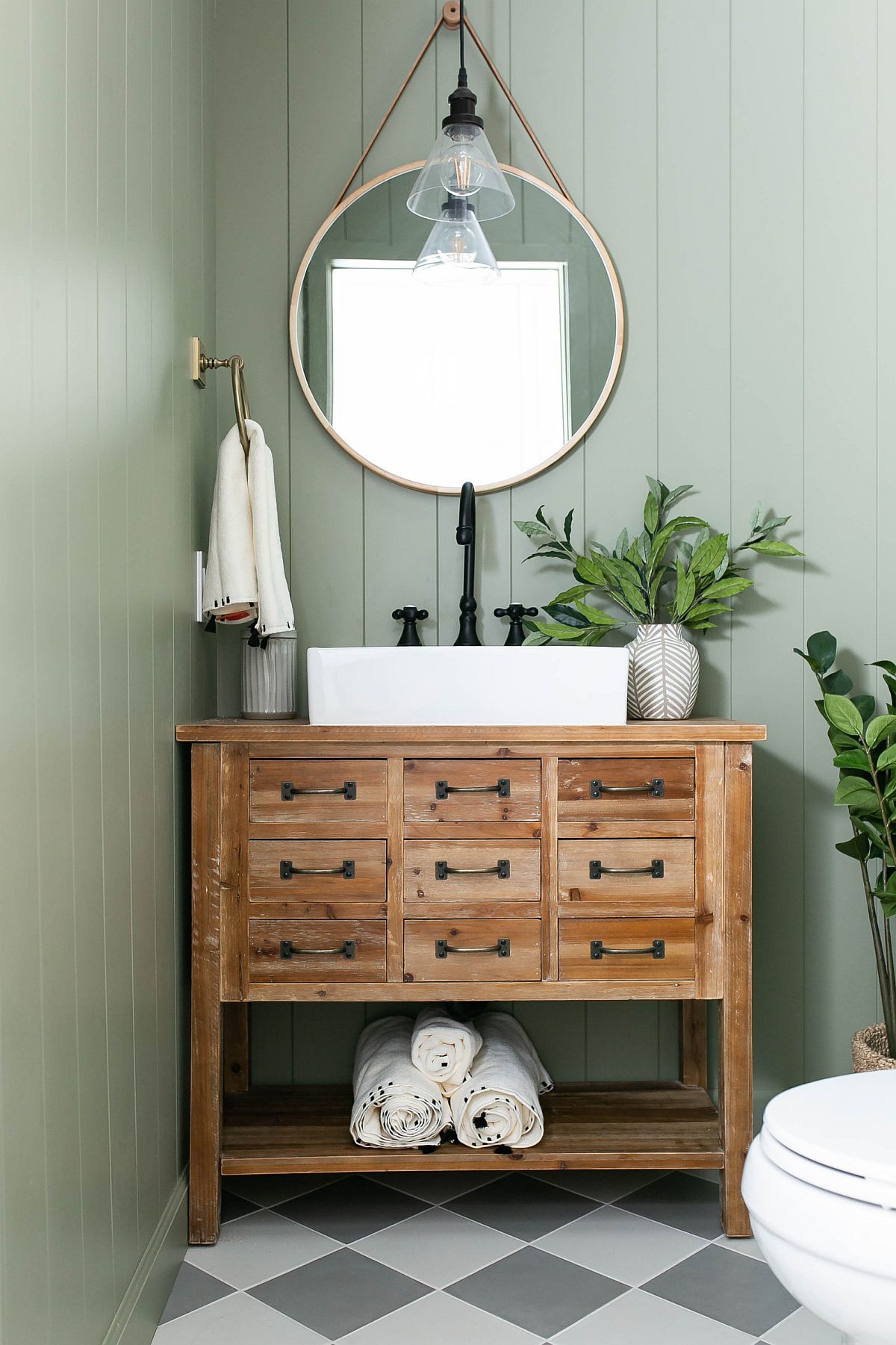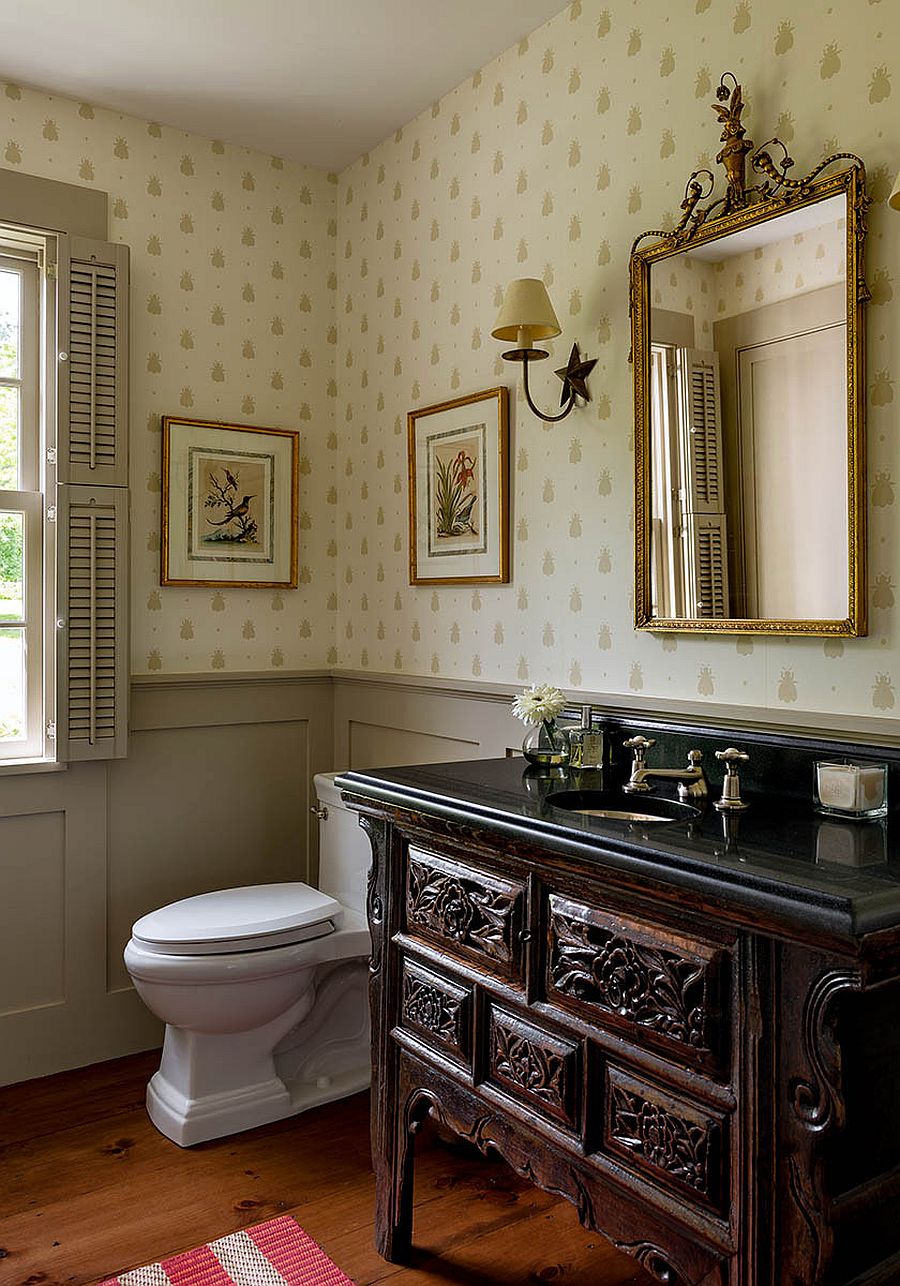 Color, Lighting and More
We already alluded to the fact that it is always easier to create a gorgeous powder room with farmhouse style when the backdrop is clad in neutral and muted colors. Even pastel colors are an option in here. But for those who are daring enough to try out a brighter look, wallpaper in deep blue or hot pink are popular choices that they can try out. Since powder rooms already do not have enough space, sconce lights and pendants are the obvious choice when it comes to lighting. Those blessed enough to have a skylight in the powder room should take full advantage of all the natural light it ushers in.