If cooking is important to you then having the perfect kitchen is your holy grail. Since that's settled, you should know that storage units are must-haves in every kitchen. They help you stay organized and on top of meal prep.
Thinking about vegetable storage can be tasking because you now know not all your fruits and vegetables can go in the fridge. Leaving them also seems to mean they will perish faster. Not always though. You have to consider some factors like temperature and airflow. We have some cool storage ideas that meet all these conditions.
Stacked Metal Storage Basket

Metal storage baskets are low-maintenance storage units. They are compact which makes them easy to be carried around. They also tend to be more durable than those made with other materials like wood or plastic. To make maximum use of space, your storage basket should be the one that can be stacked. This ensures that only vertical space is used leaving room for other items and kitchen equipment. It blends right in with any kitchen style of your choice particularly rustic and modern style.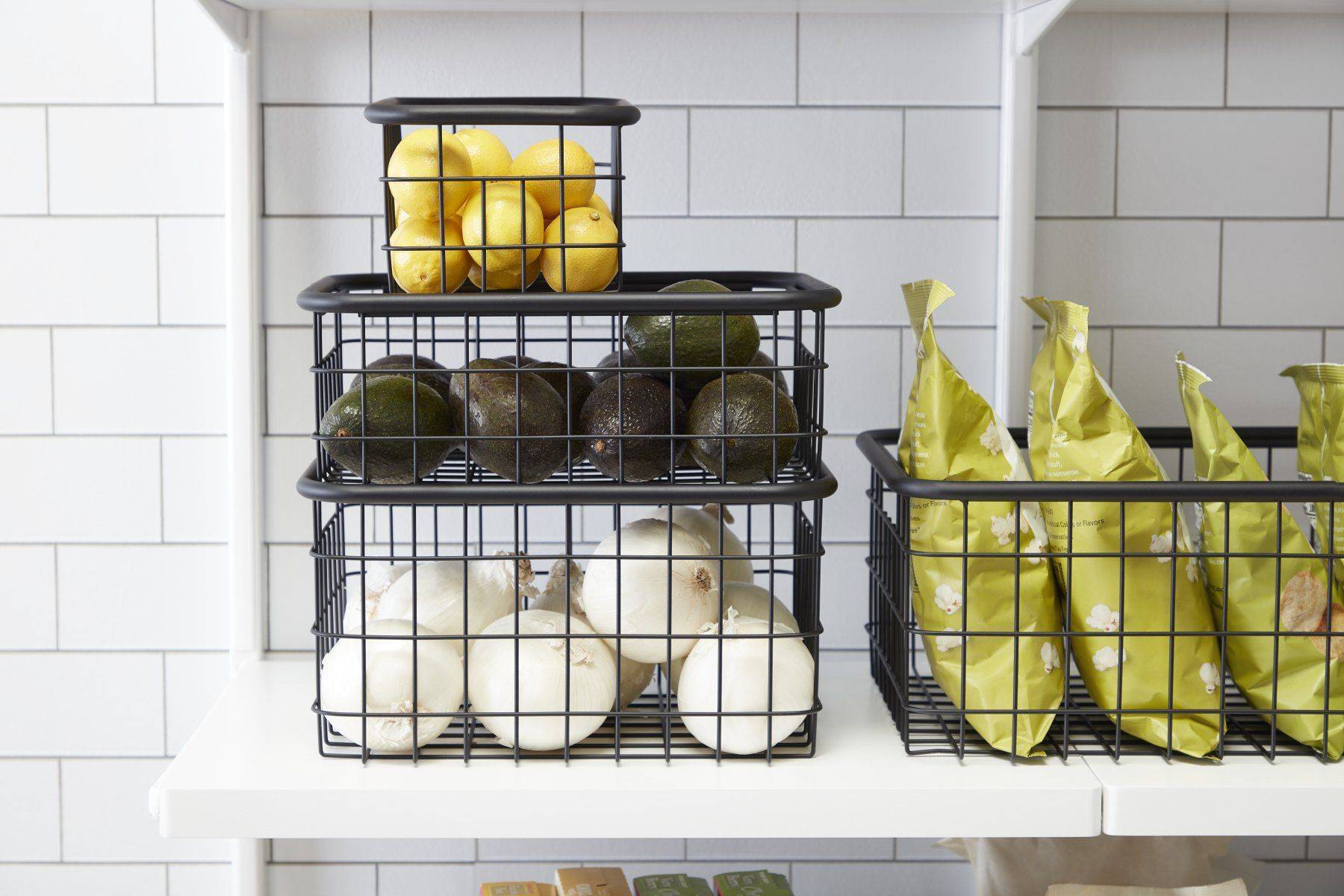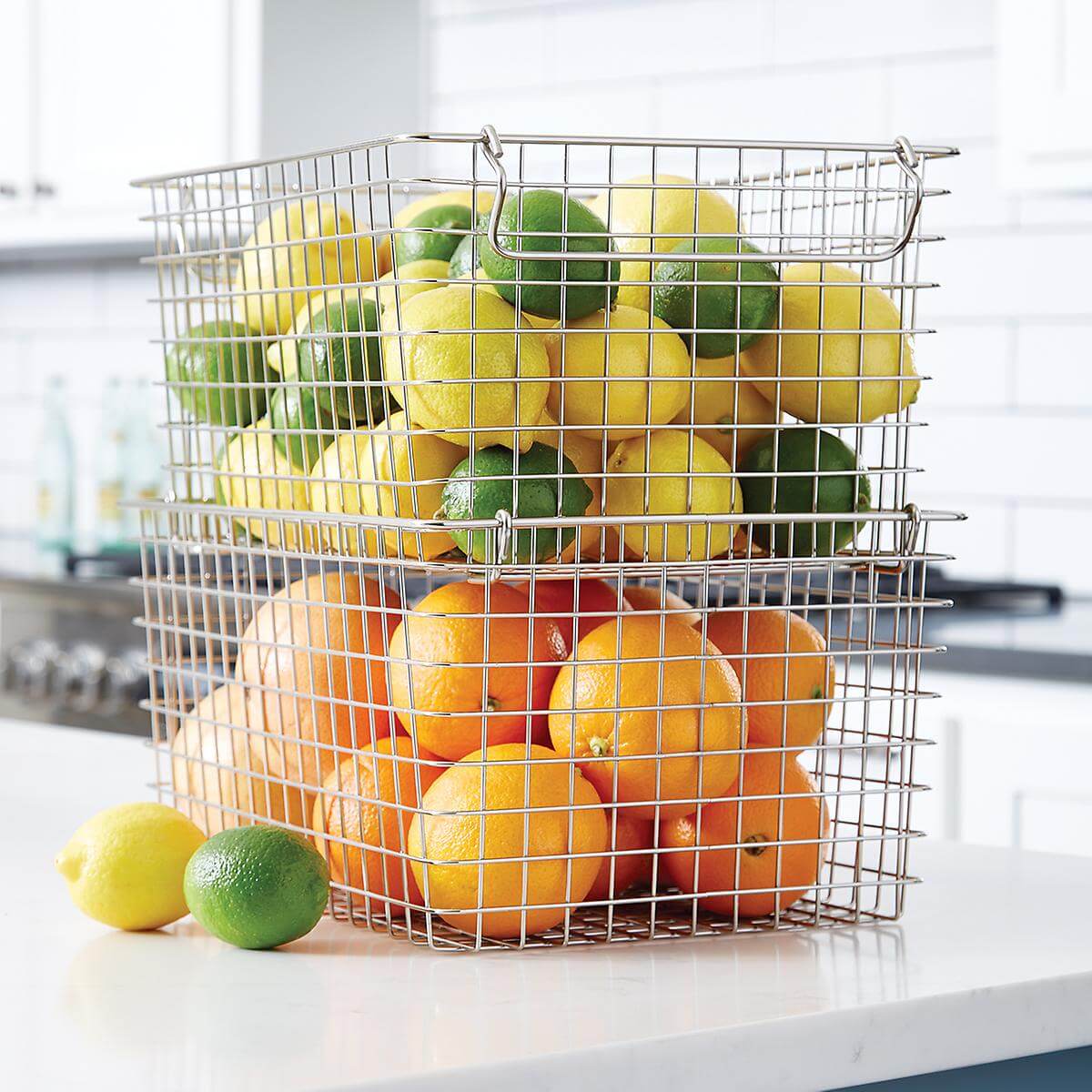 Wooden Storage Crate

Crates are known to serve many different purposes in the house. They are great examples of how an item can be both functional and aesthetic. With the gaps between the pieces of wood, they are suitable for storing vegetables without heat causing them to rot. They can also double as decor pieces for your rustic-styled kitchen. Easily obtained from your nearby local store, they come at a low cost. This makes it easy for you to buy as many units as you need.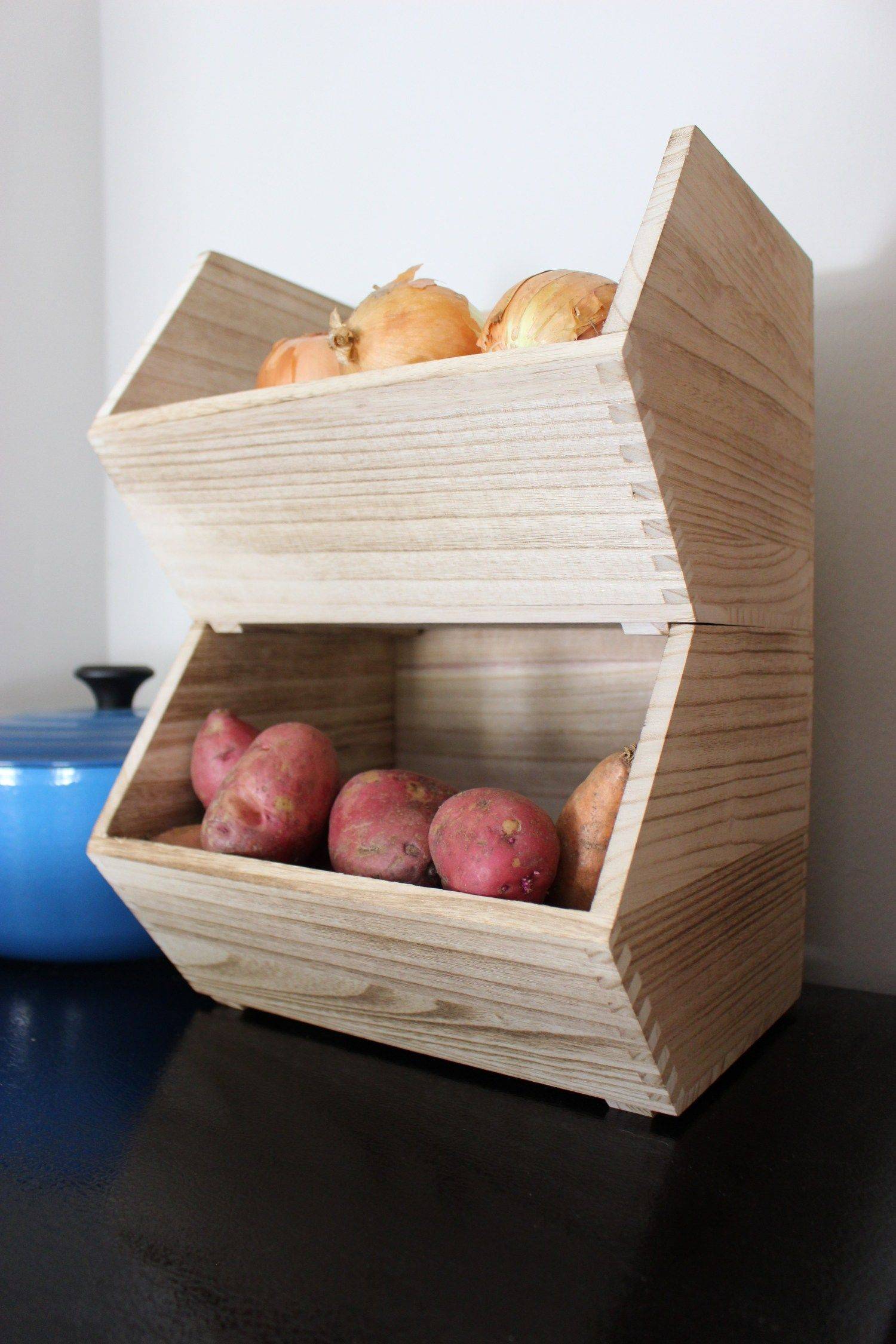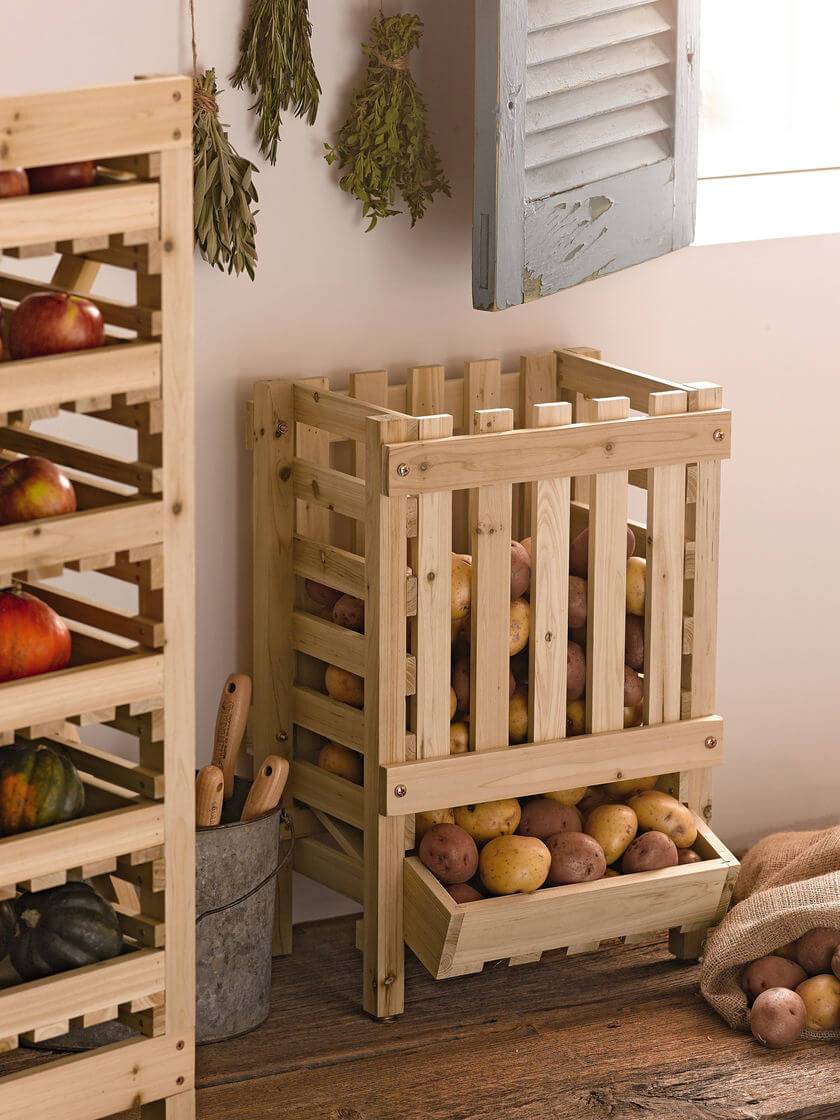 Plastic Storage Stand

Although many people do not like having plastic storage units because they can be flimsy, they remain highly recommended for vegetable storage. They can be easily washed, air-dried and reused. The plastic storage stand should remain open which is perfect for vegetables and fruits. This allows for better inspection and also better airflow. It is important to check that the plastic used to produce the storage unit is food-grade plastic as this is one way to limit health risks.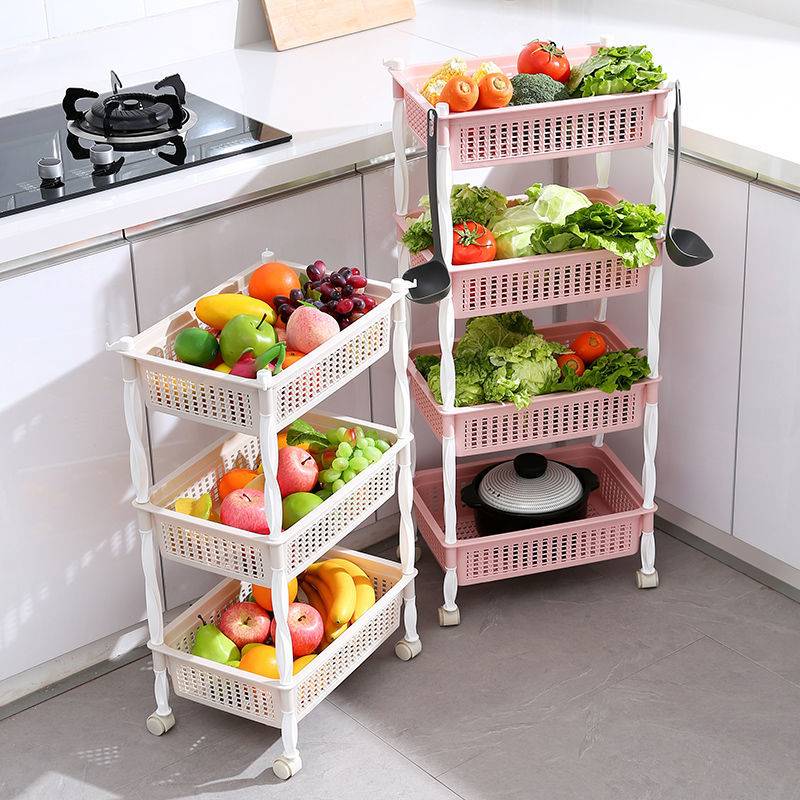 2-in-1 Kitchen Counter and Storage Cabinet

For a small-sized kitchen owner, you're always looking for ways to utilize space in the most effective way, right? Having a countertop attached to several storage compartments is a brilliant idea. While preparing to cook, all the vegetables, other food items and utensils you need are right below the counter, within arms reach. You don't need to walk around the kitchen to get them in one place and you can easily have your kitchen looking as tidy as ever.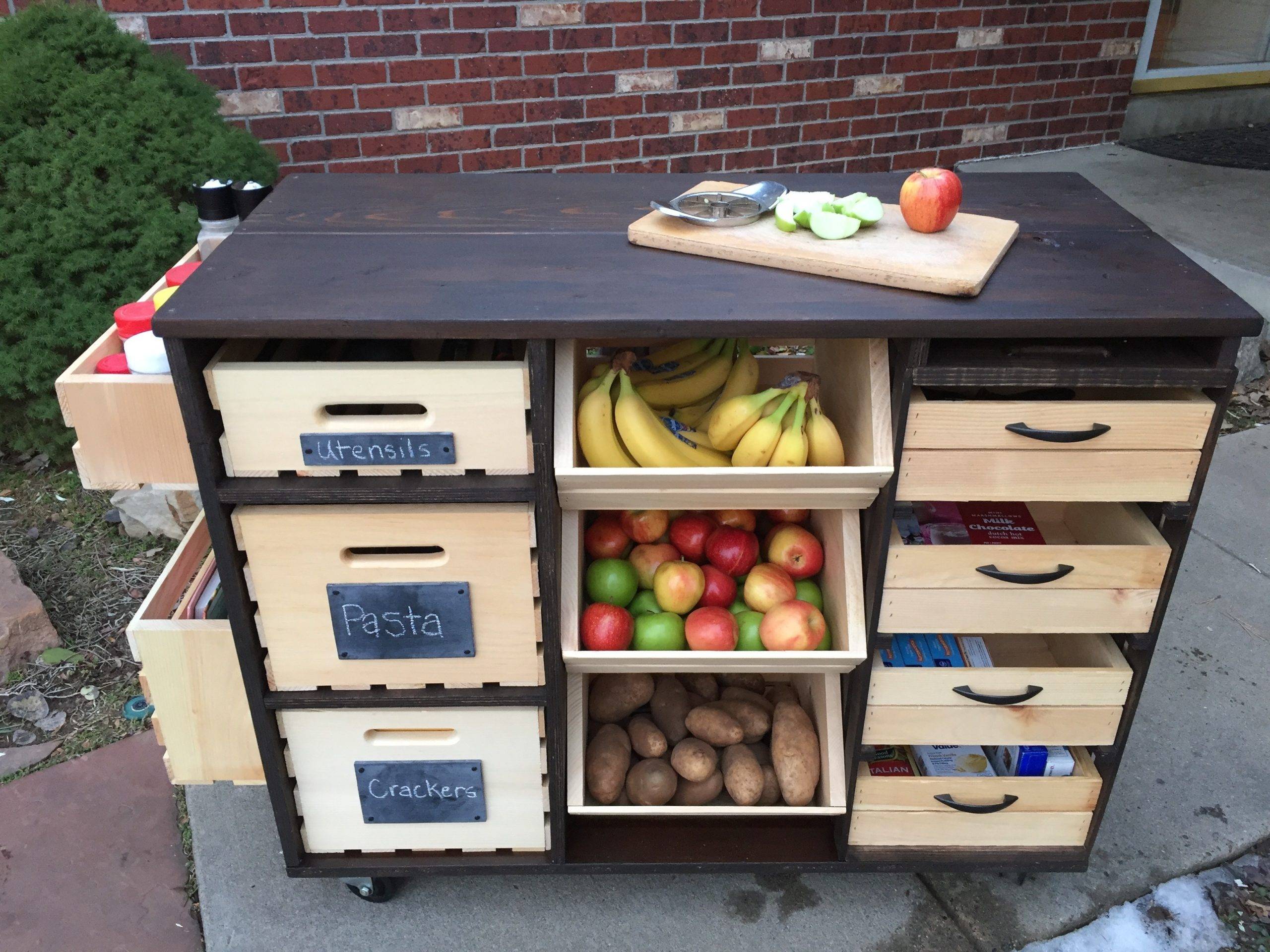 Hanging Fruit Basket

Are you artsy and crafty? This is one way to show your creativity. This hanging fruit basket can be a major decor piece for your kitchen especially since it will hold several colorful fruits. If you've been concerned about the boring look of your kitchen, here's your answer. It's a great choice if you don't have a lot of vegetable and fruit supplies to store.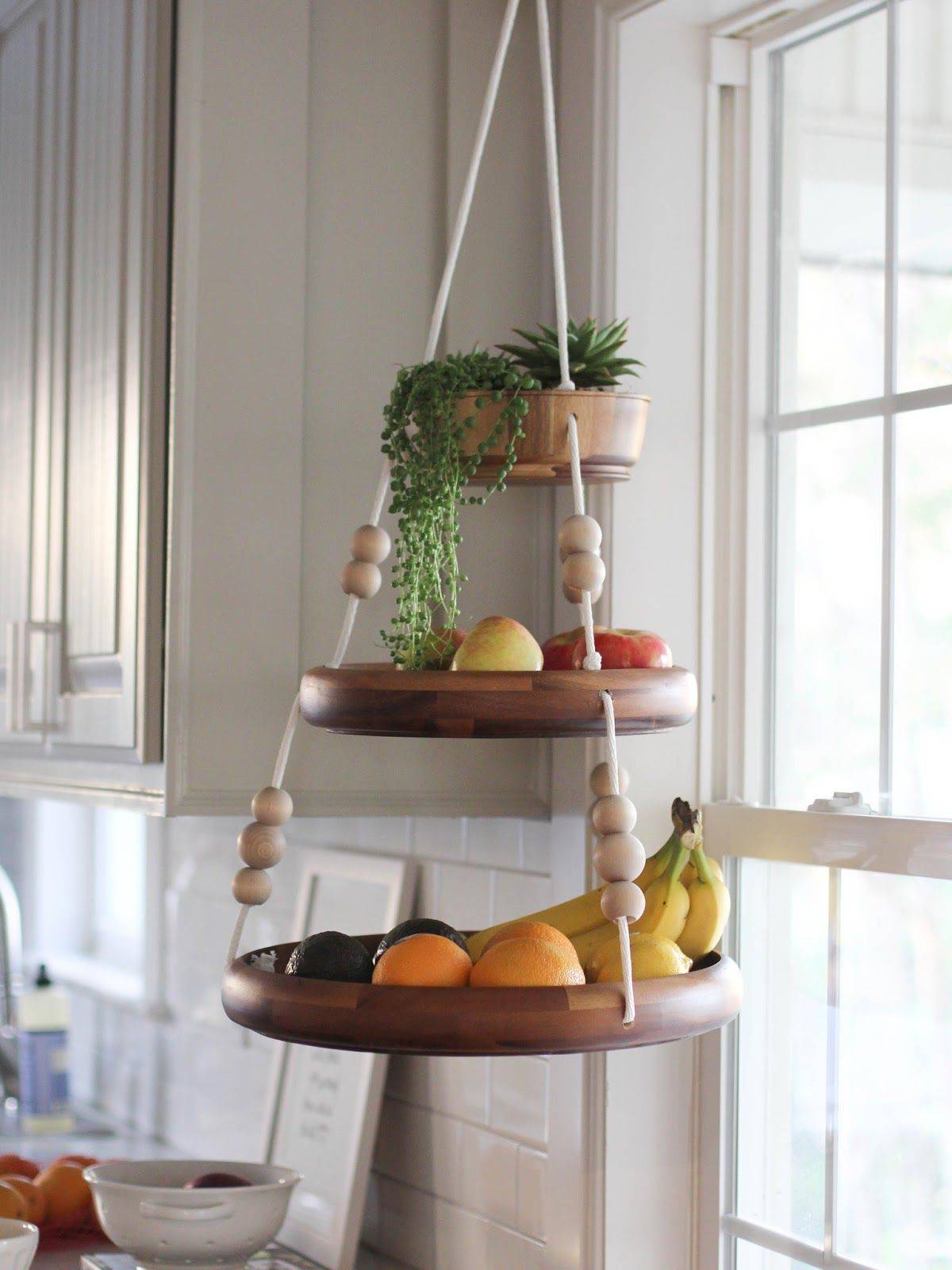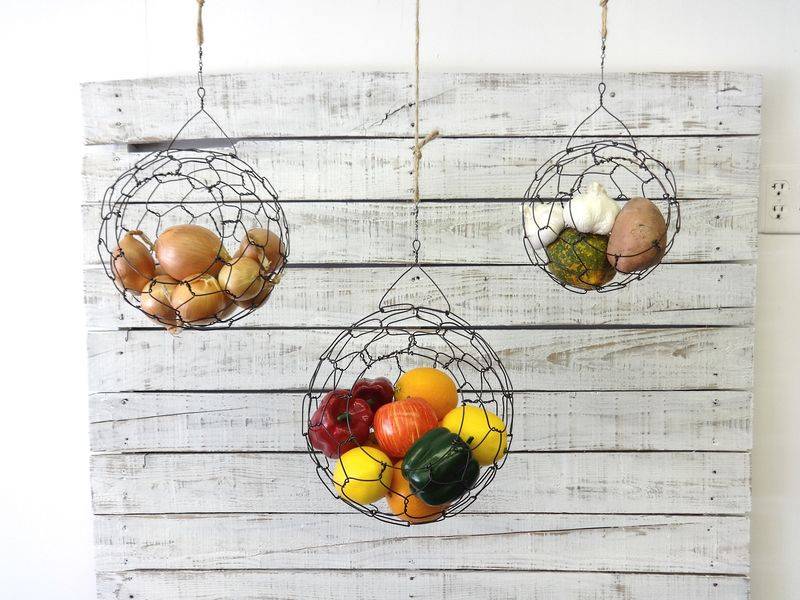 Tiered Wall Baskets

Maximizing space in your kitchen is one advantage of having storage units. For example, your wall will be there anyway so you might as well make use of it to the fullest. Tiered wall baskets are great for vegetable storage. You can store different types of vegetables in their different layers to avoid any form of cross-contamination in the case of spoilage. They can be made of any material but the ones commonly available are made of steel. Depending on the kind of vegetable and fruit you want to store, they can fast become the pop of color you need in your otherwise drab kitchen.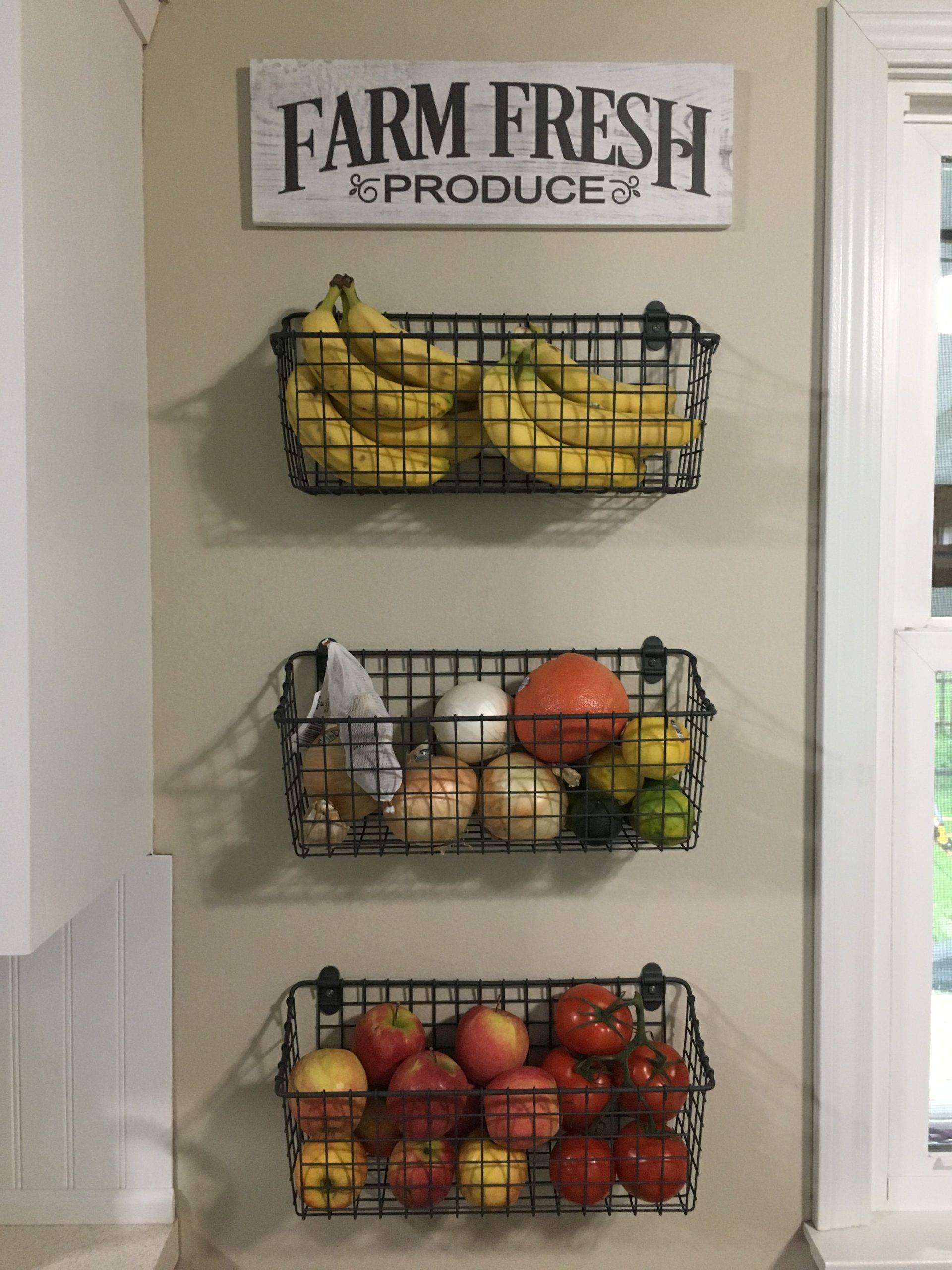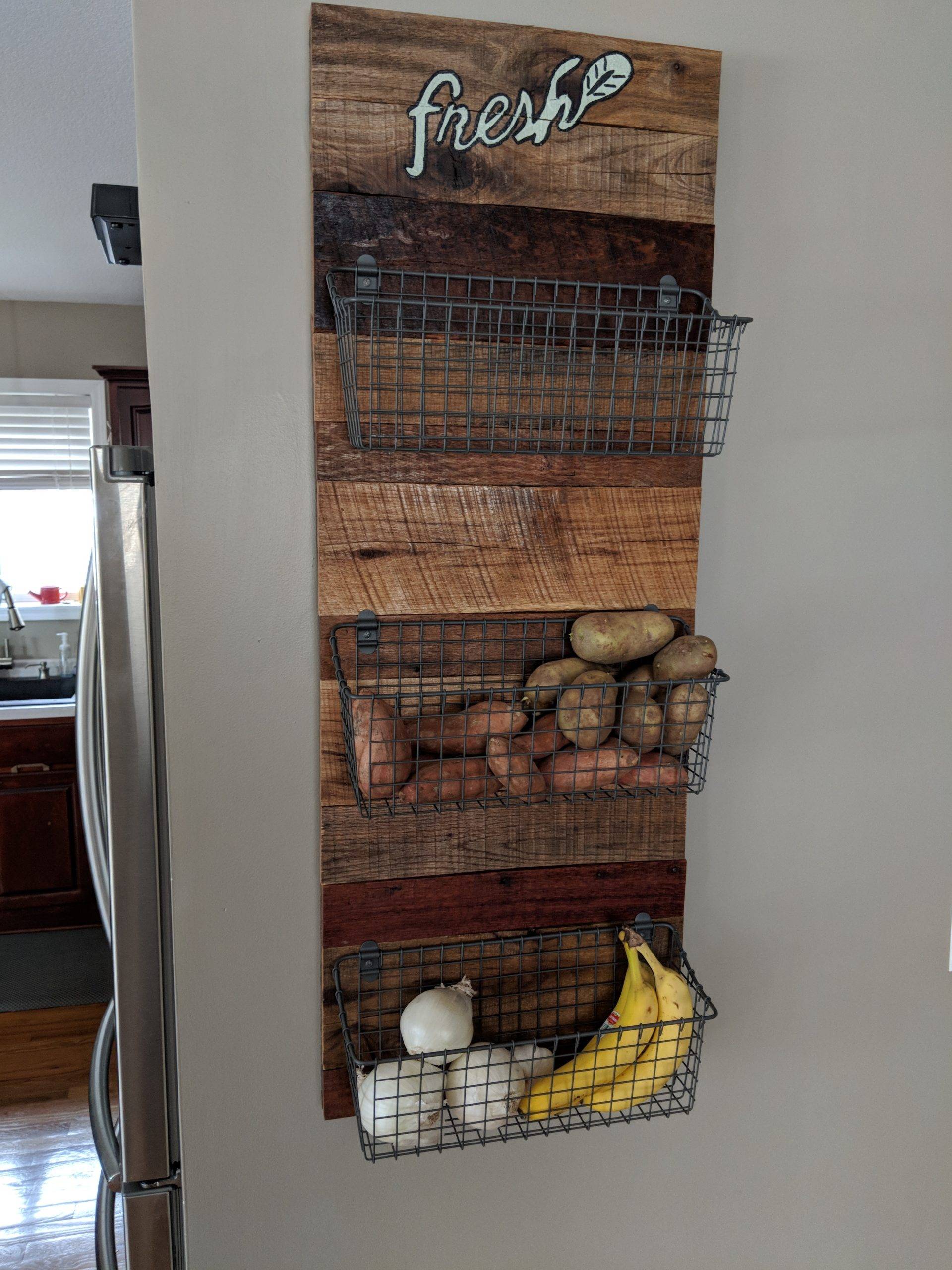 Mounted Storage Baskets with Chalkboard Background

Having a chalkboard gives room for a whole range of creative expression. You can label your baskets based on what you keep in them, make goofy drawings, and even draw up a meal plan on there. It can serve as an accent wall giving your kitchen a unique look.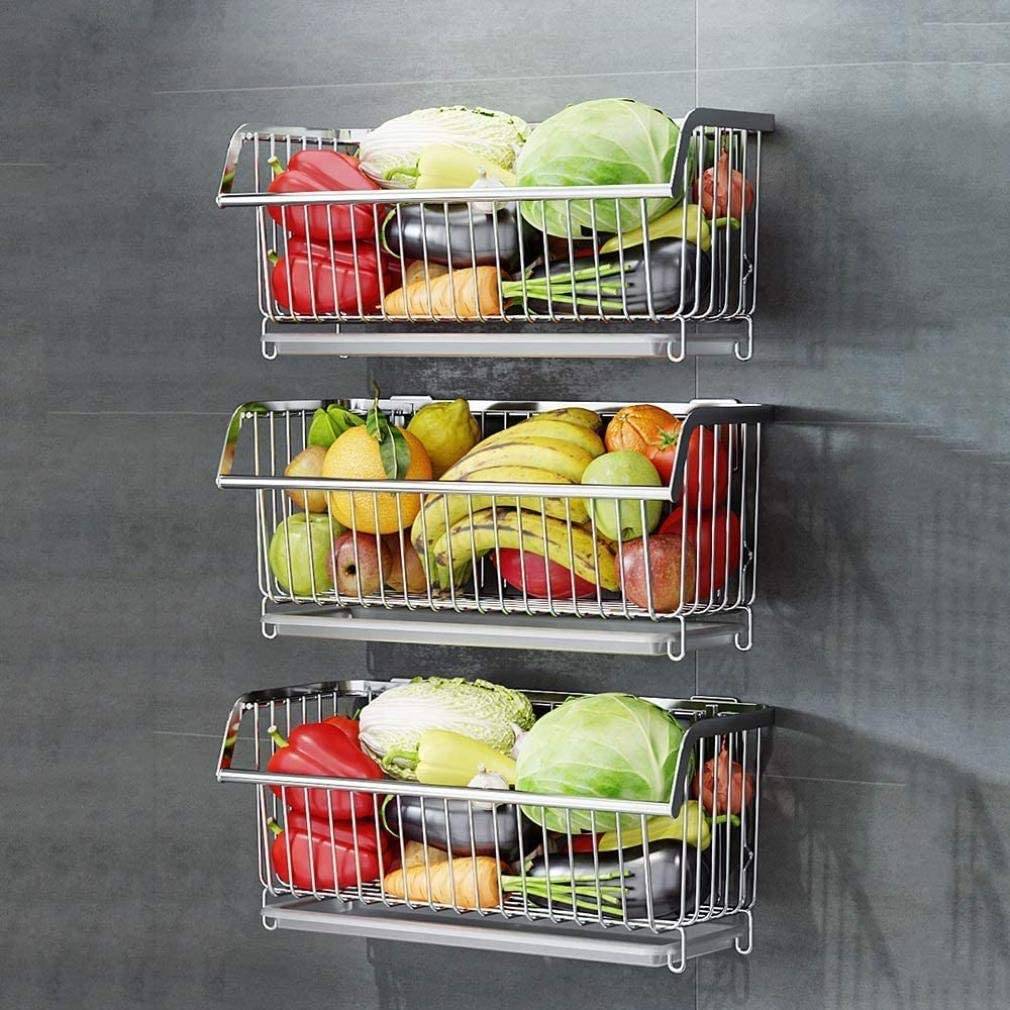 Perforated Brown Paper Bags

Brown paper bags usually come as grocery bags so you might have a good number lying around from previous shopping. Before you start to store your fruits and vegetables, you want to make sure it's perforated to make sure there is airflow to keep your produce fresh. Brown bags without holes can be used to ripen your fruits faster.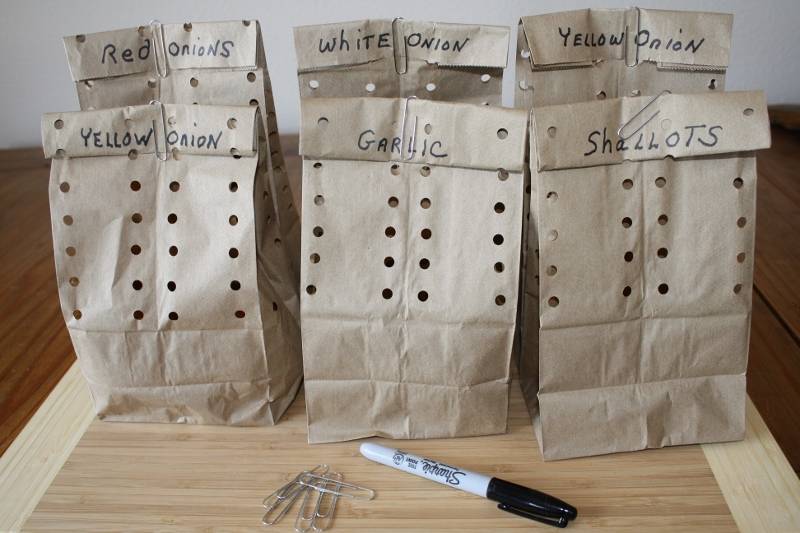 Two Layers Countertop Vegetable Holder

With a layered countertop vegetable holder, you can have a wooden box not as wide as a single holder but one that can still store as many vegetables. It can easily be pushed to one side of the counter and it is easily accessible for food prep. When it is made of wood, it requires little to no form of maintenance. You can separate the two layers, labeling one for vegetables and the other for fruits.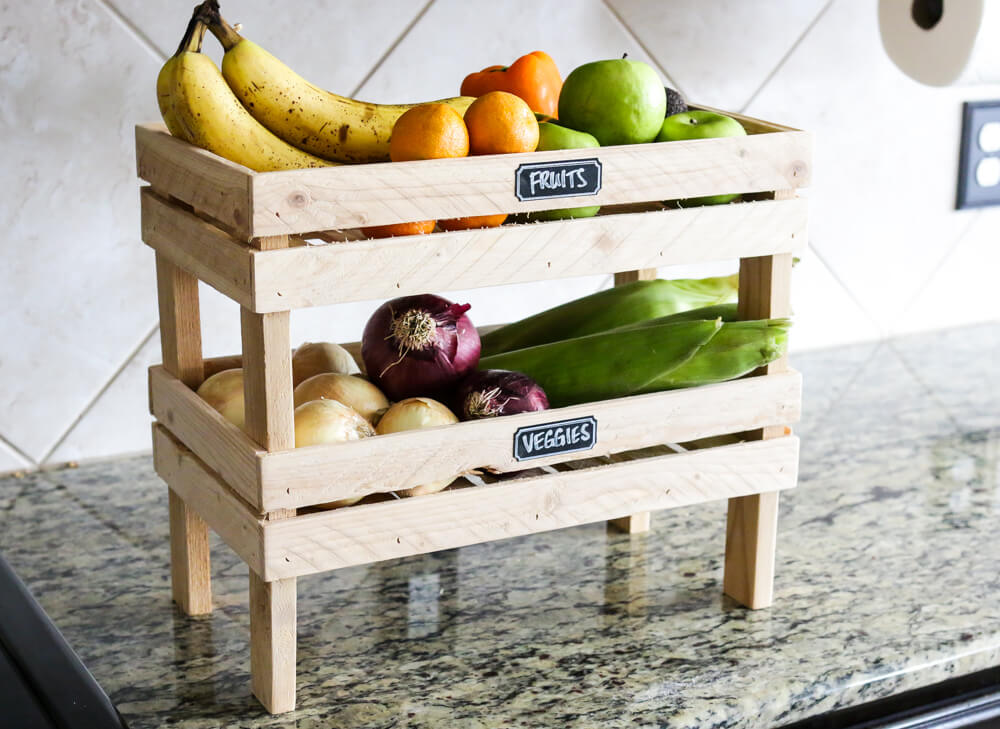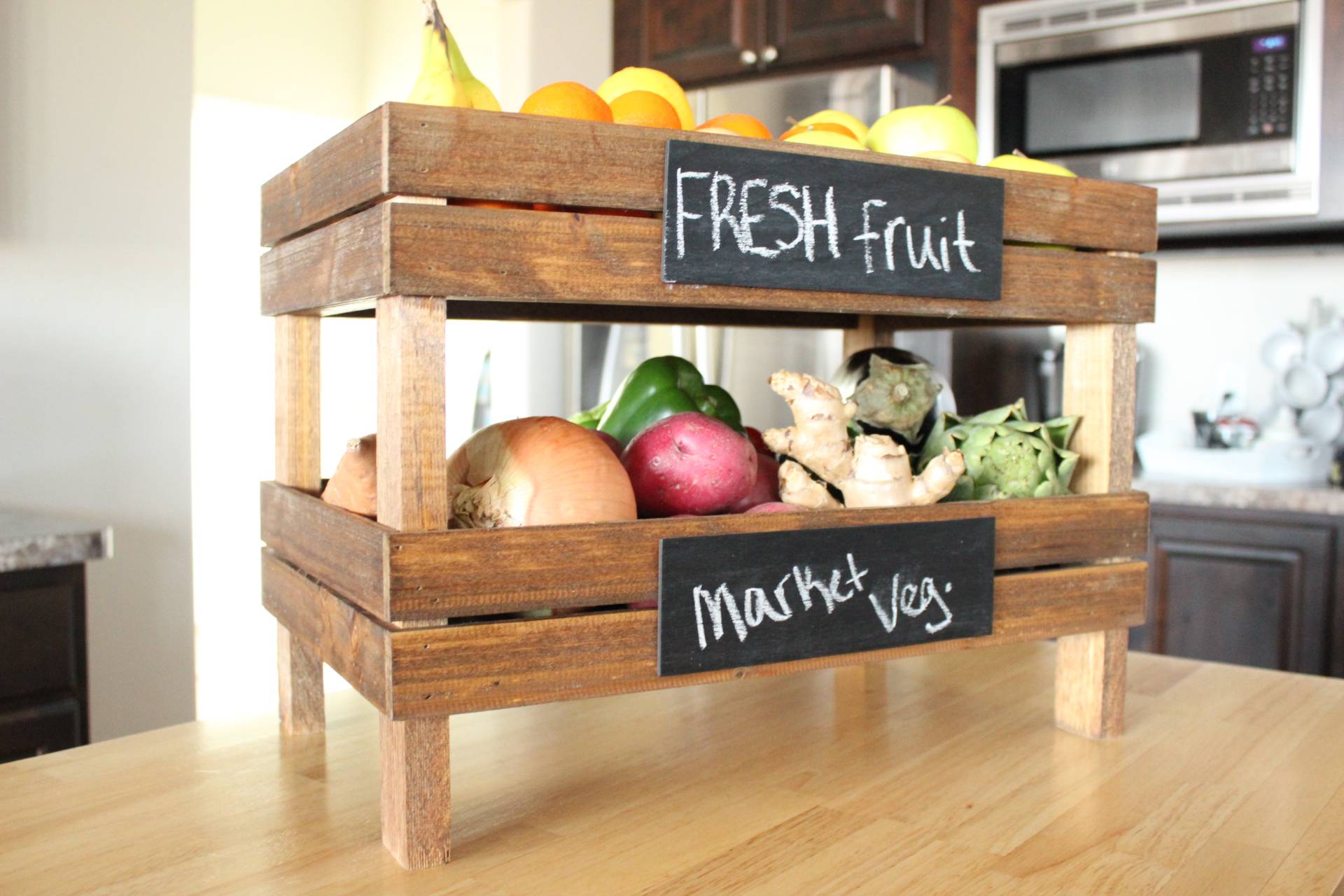 Countertop Wooden Box


Got a little space on your counter? A small wooden box is looking for a new home. Talk about the lack of accessibility? This right here is the solution to that problem. You're free to store whatever size of fruits and vegetables you want. With the simple stretch of your hands, you can have plates of your favorite food made in a jiffy.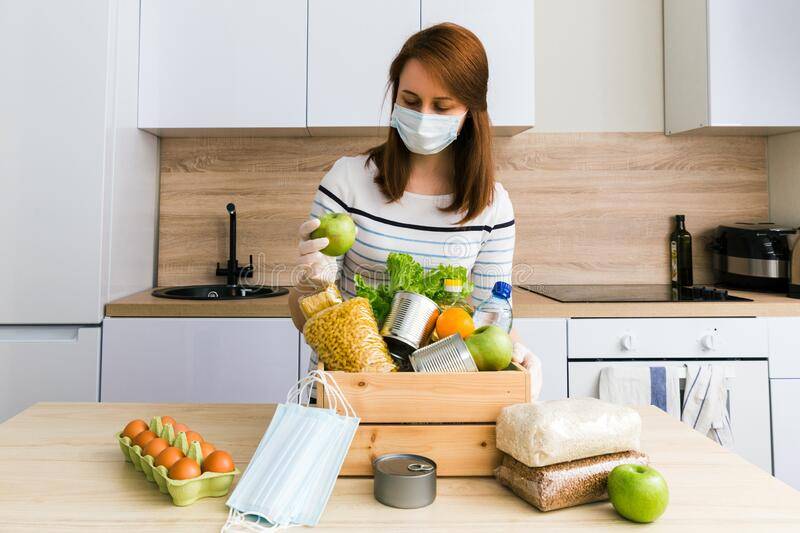 It's no news that the secret to a tidy kitchen is having a proper storage unit for all items. Vegetable storage should top your list as most of them require care and special attention. To avoid spoilage which can inadvertently lead to food poisoning, it is important to pay attention to how they are stored. The ideas suggested in this article are those that have been tried and tested by others. Whichever you choose, it is sure to be a great addition to your lovely kitchen.