A kitchen upgrade can be expensive, which is why many design lovers embrace DIY projects when it comes to home improvement. If hiring a contractor for a full kitchen remodel isn't in the cards, don't fret. There are plenty of ways to take matters into your own hands and give your culinary space a boost. From clever backsplash projects to kitchen cabinet makeovers, the possibilities are endless. Read on for a collection of DIY kitchen upgrades that prove style and function can go hand in hand…
Backsplash Solutions
Let's start with some backsplash action! We recently featured the kitchen below in our DIY backsplash post, but we just had to highlight it again. Because sometimes a little bit of paint is all it takes to completely transform your space. See more of Laura's eye-catching painted backsplash at A Beautiful Mess: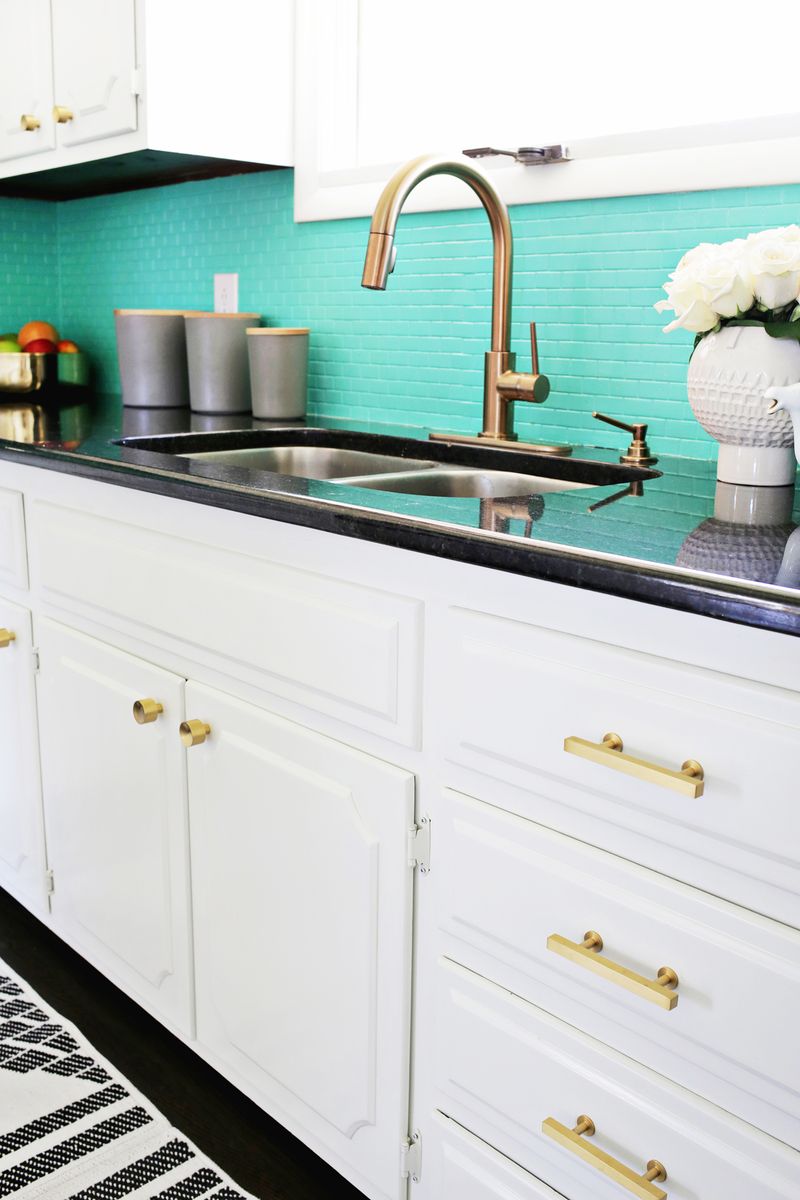 RELATED: DIY Kitchen Backsplash Ideas
Mandy from A Beautiful Mess shared a helpful tutorial for an inexpensive plank backsplash. Not only does it add unique, classic style to your kitchen (love those horizontal wooden planks!), it's affordable too: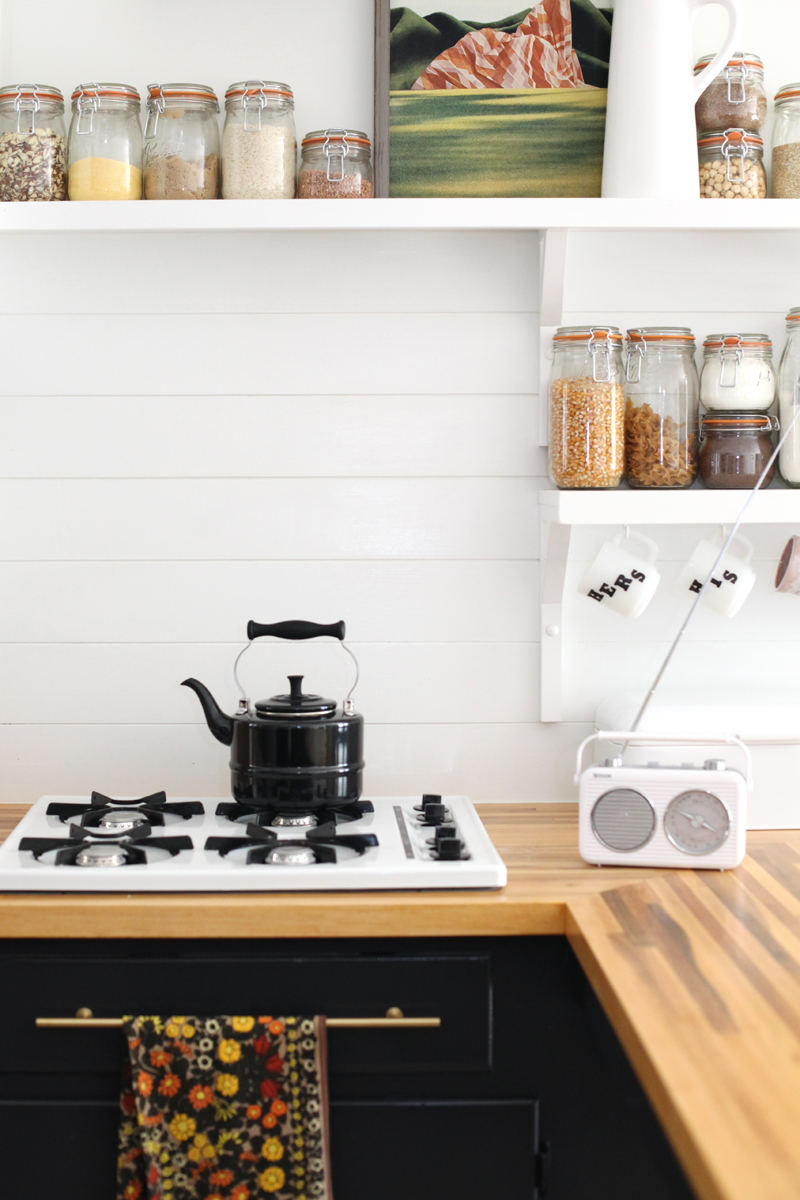 Fabric-covered plywood protected by tempered glass creates the patterned backsplash below. Isn't the fabric choice a perfect fit for this kitchen?! Learn more at Engineer Your Space: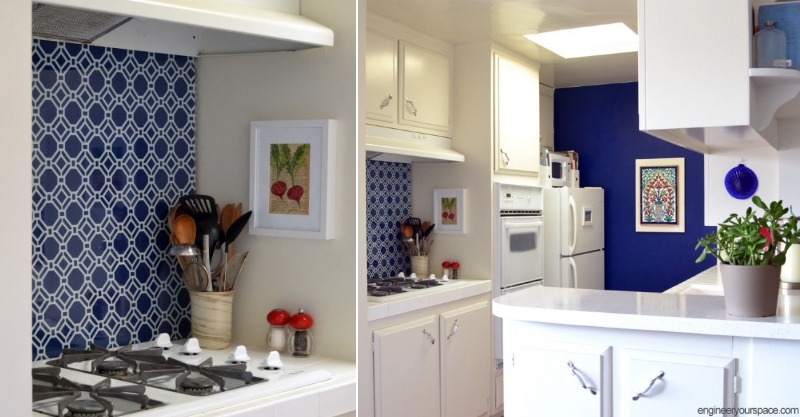 These peel-and-stick glass tiles from Aspect remove the need for the usual involved tile installation. The power is in your hands, and since the tiles are backed with adhesive, they will stick where you put them! Available through Amazon.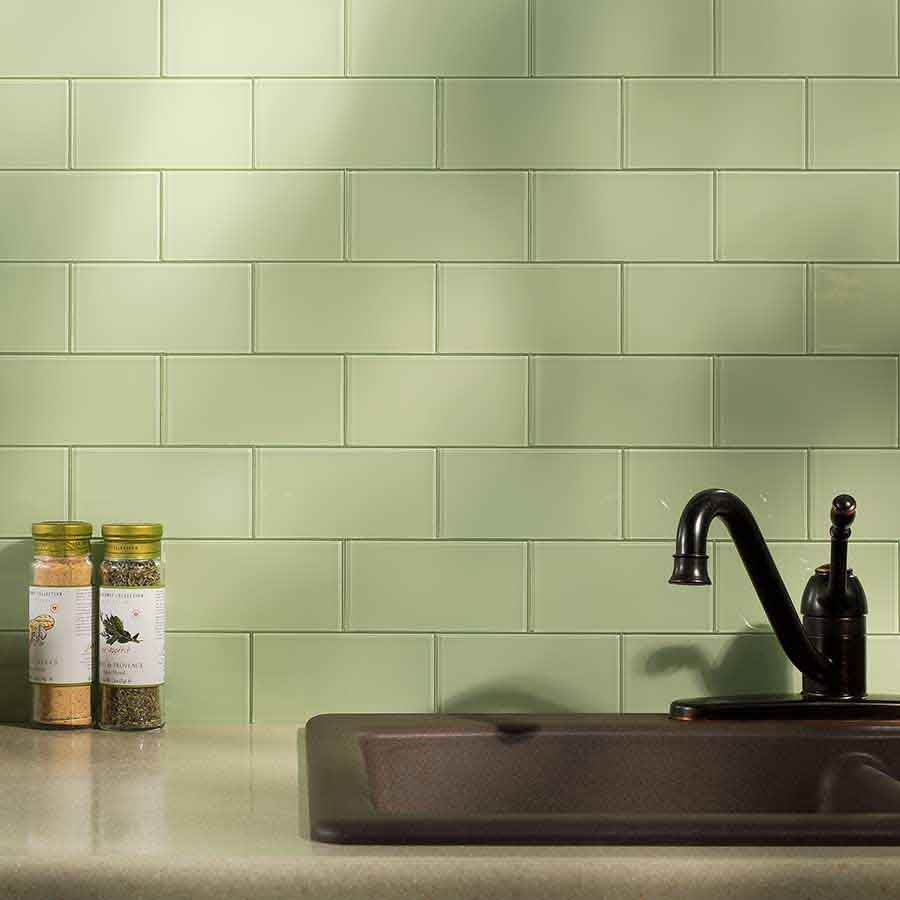 Counter Makeovers
Your kitchen counter can set the tone for your entire culinary space. If your budget doesn't allow a do-over, try a makeover! Concrete creates a neutral, modern finish, and it can be directly applied to your existing countertop to give it a refresh. Learn more at A Beautiful Mess: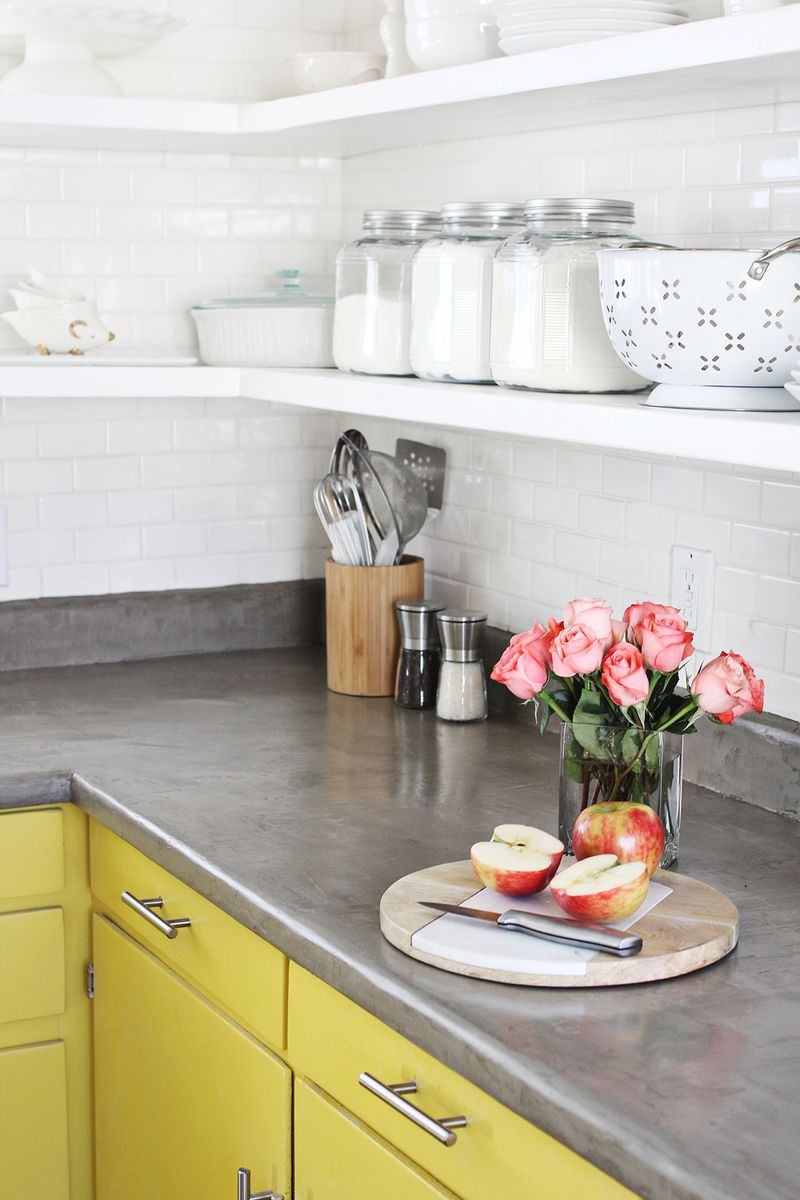 RELATED: 8 DIY Backsplash Ideas To Refresh Your Kitchen On A Budget
Would you ever paint your kitchen counters? This faux marble painted countertop tutorial from Sarah Lemp/All Things with Purpose definitely caught our attention: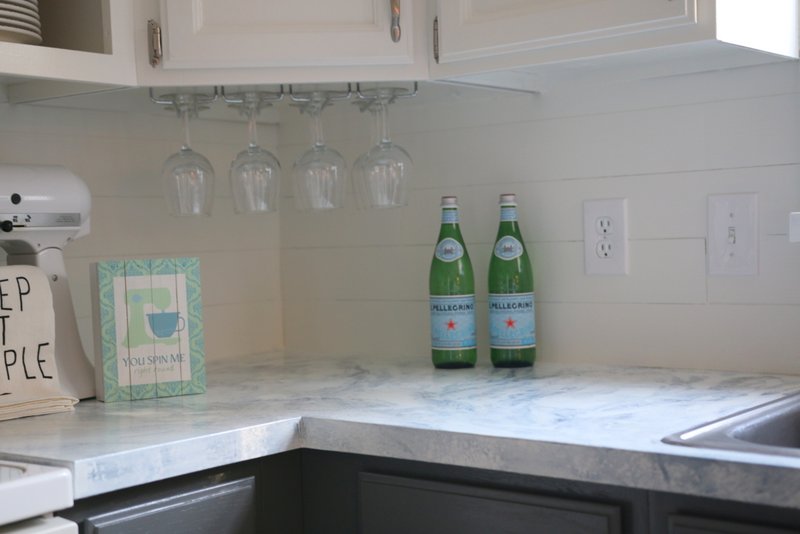 Here's another faux marble countertop upgrade, and this time the paint extends from the counters to the backsplash. Learn more at Gorgeous Shiny Things: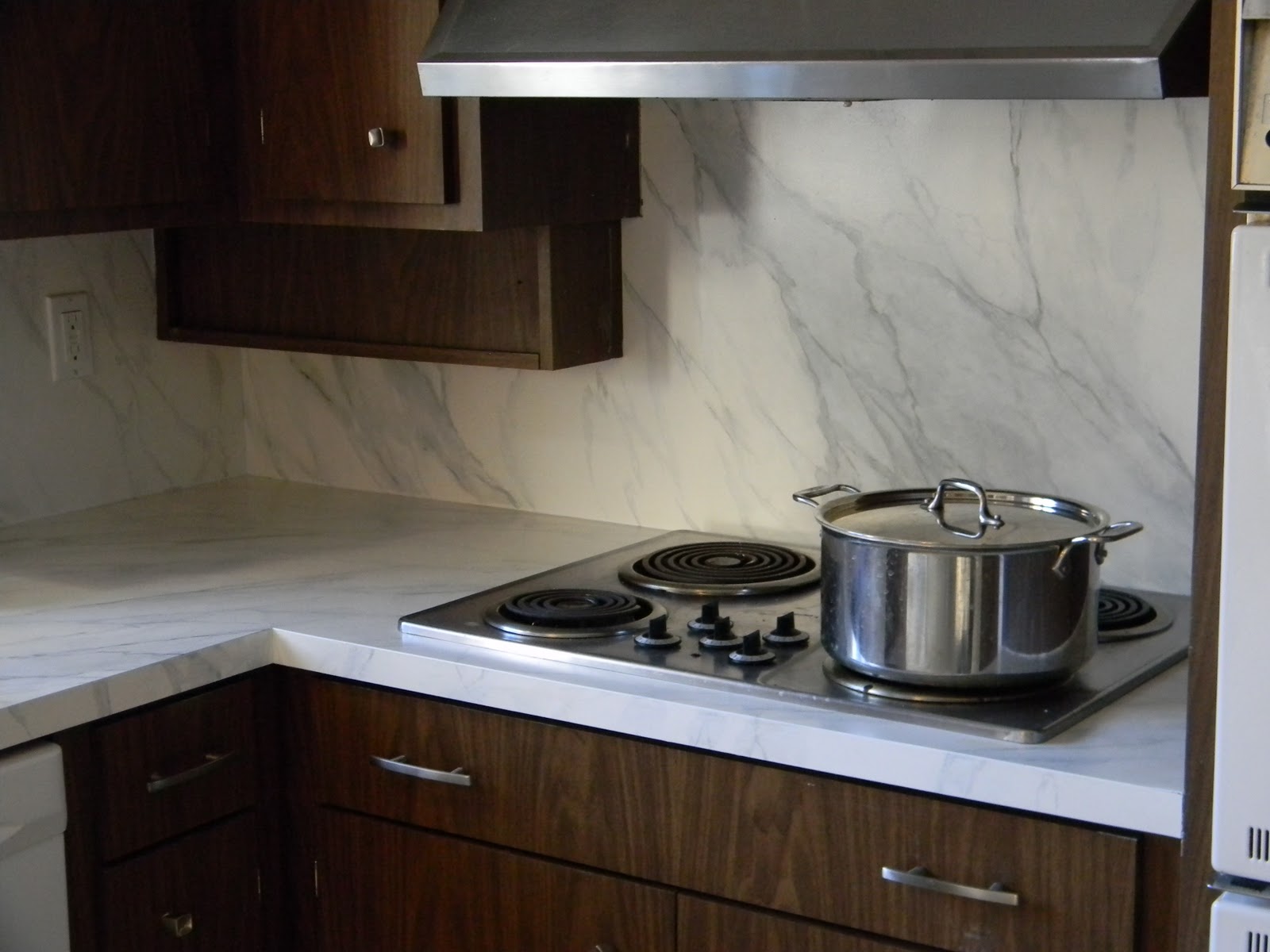 If you're not sure you can pull off a faux marble paint job, how about going with chalkboard paint? There's nothing like being able to leave important culinary messages for yourself right on your kitchen countertop! Get all the details (including a non-toxic, eco-friendly paint option) at March Orchard: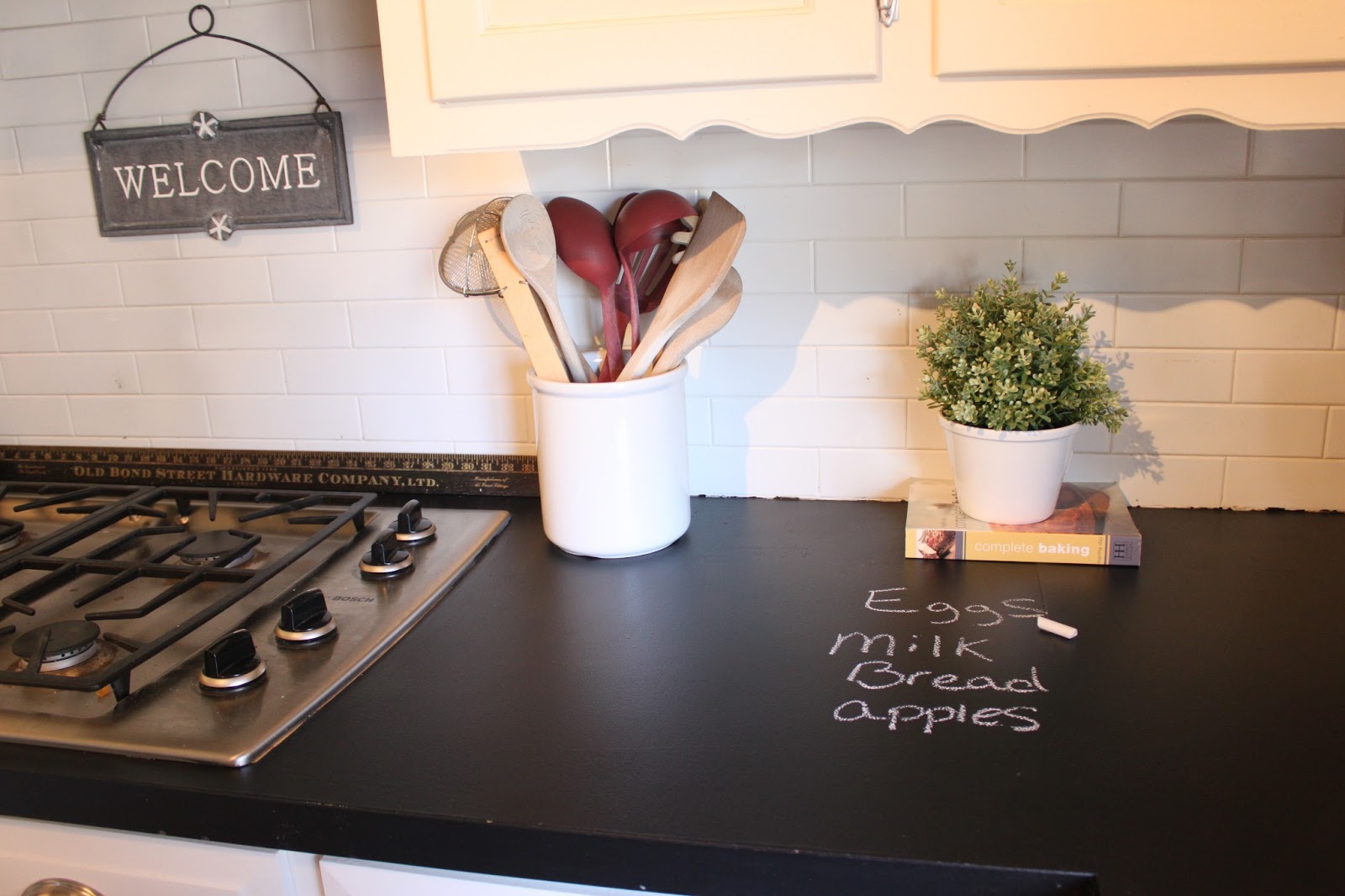 Cabinet Duty
When you're on a budget and your cabinets are less than desirable, what's the best way to pull off a stylish upgrade? One solution: paint the cabinets. Get helpful tips (such as the importance of protecting countertops before painting) at The Family Handyman: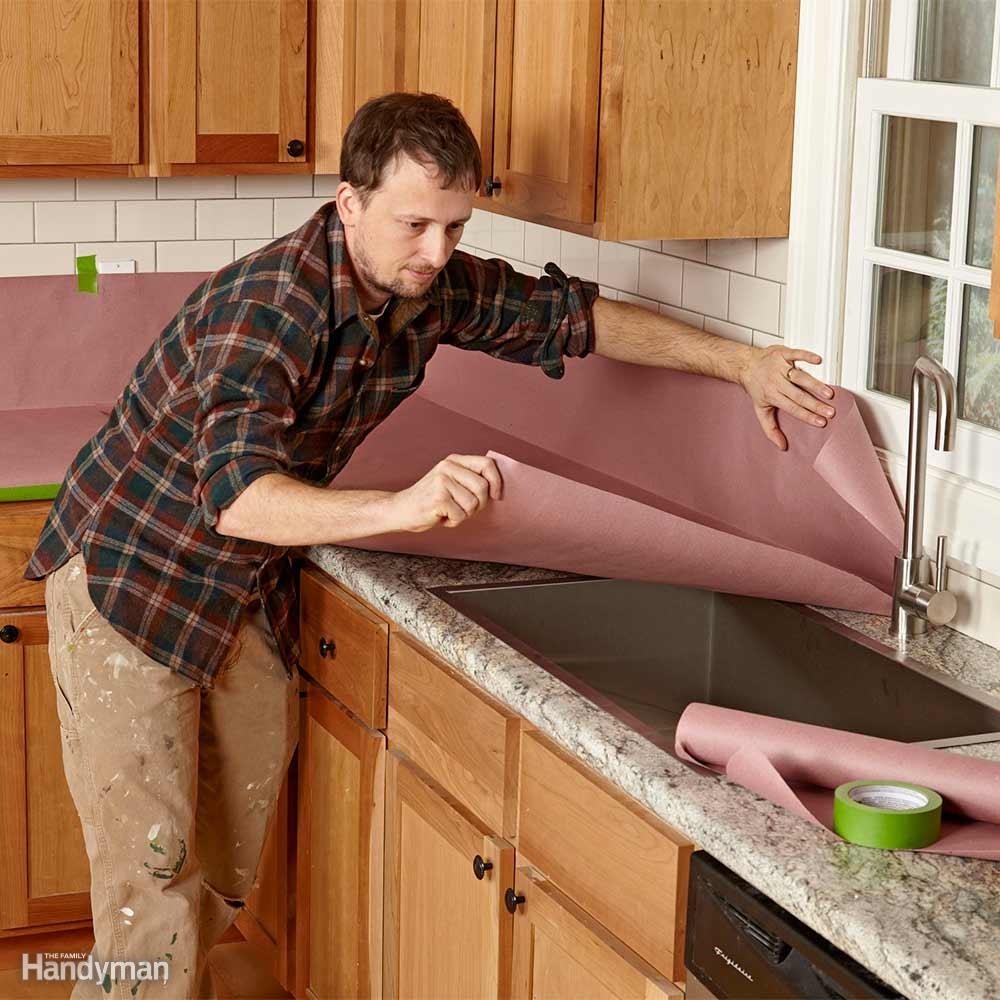 Just as a bright painted backsplash wowed us in the last section, this emerald green island shows how painting a section of your kitchen cabinetry in a bold hue can create an elegant, vibrant focal point. [photo via O Interior Design via DIY Network]
RELATED: Kitchen Color Schemes: 14 Amazing Kitchen Design Ideas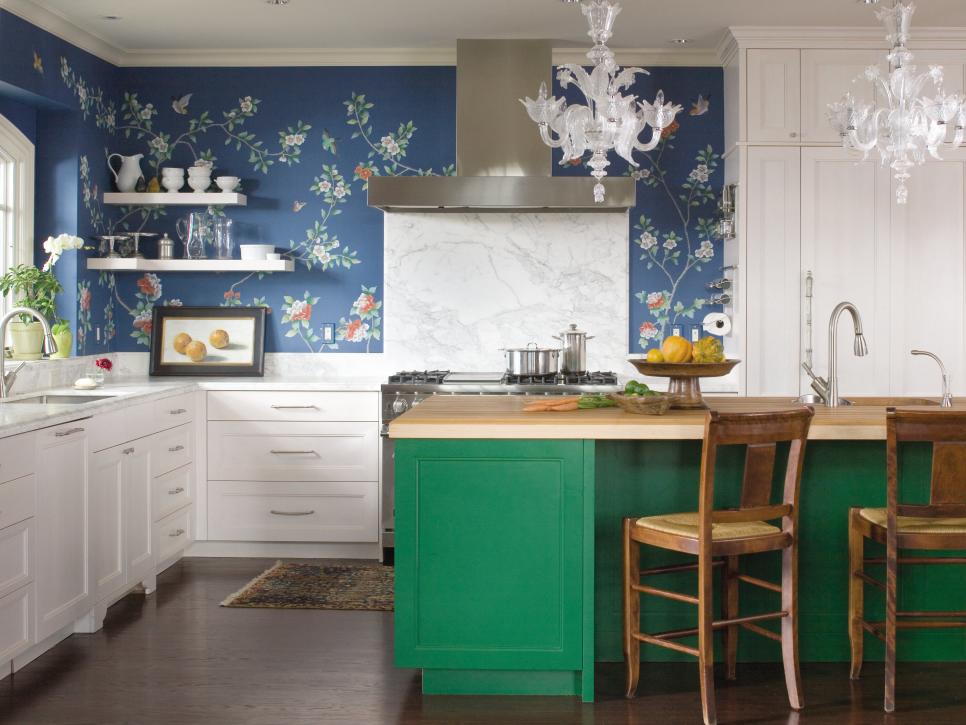 One of our favorite kitchen refreshes of 2015 is the culinary upgrade below, which makes an impact with the help of painted cabinets and other improvements. Going from wood to white on the cabinetry made all the difference! For details, visit A House in the Hills: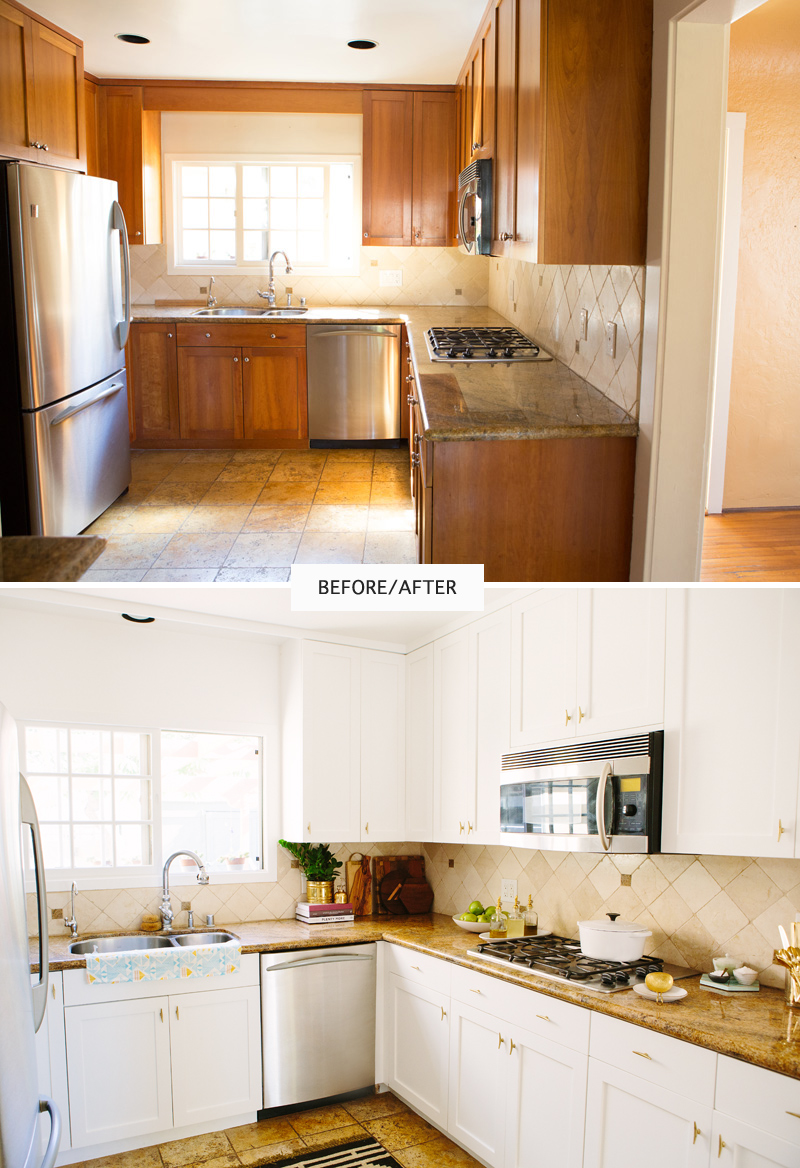 Sometimes knowing when to remove a cabinet is just as important as knowing when to paint it. As part of the same kitchen makeover shown above, blogger Sarah removed cabinets and tile from the wall, which is no small feat. But it was well worth it, since she was able to add chic open shelving. Learn more here.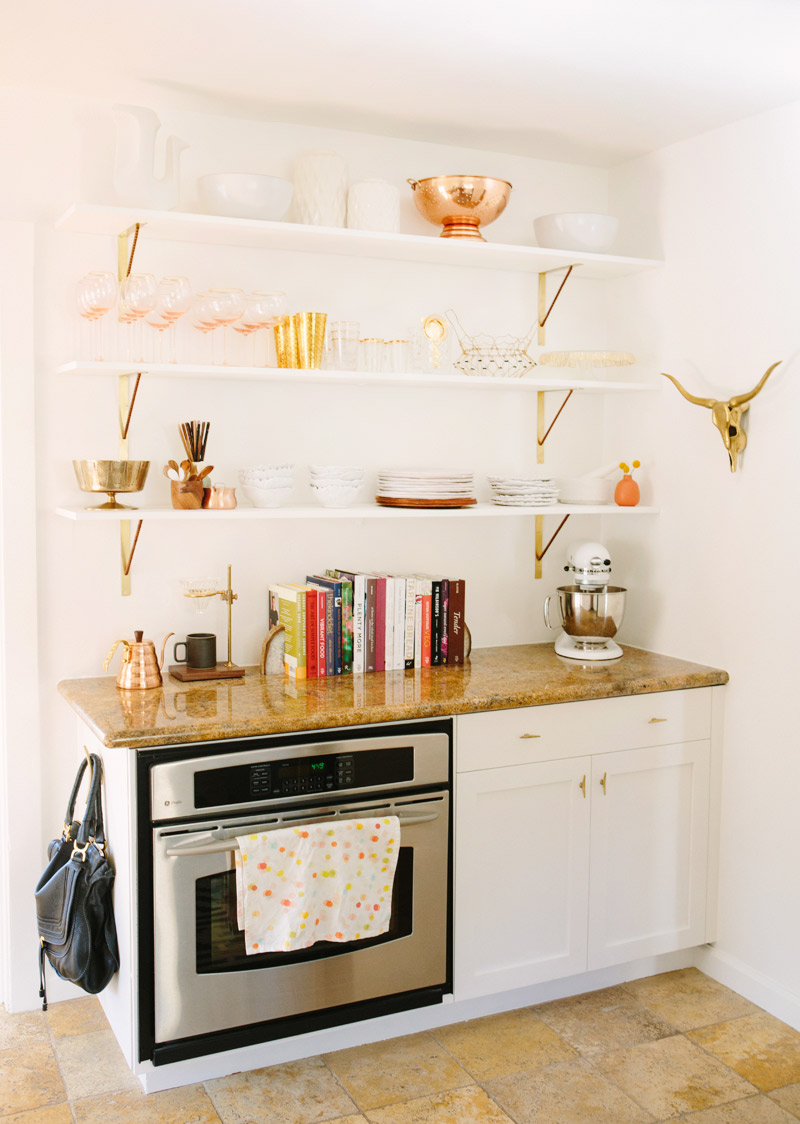 Special Touches
Time to put the icing on the cake! Even if you can only upgrade one element in your kitchen, choose wisely, and you will give your space a new look. Try a knob and drawer pull upgrade, as shown in the kitchen of A Beautiful Mess blogger Mandy. Switching to brass makes a big statement. Plus, Mandy was able to budget by choosing very affordable brass-plated knobs, since she splurged on the lovely brass bar pulls. It's all about strategic choices! See her entire DIY kitchen makeover here.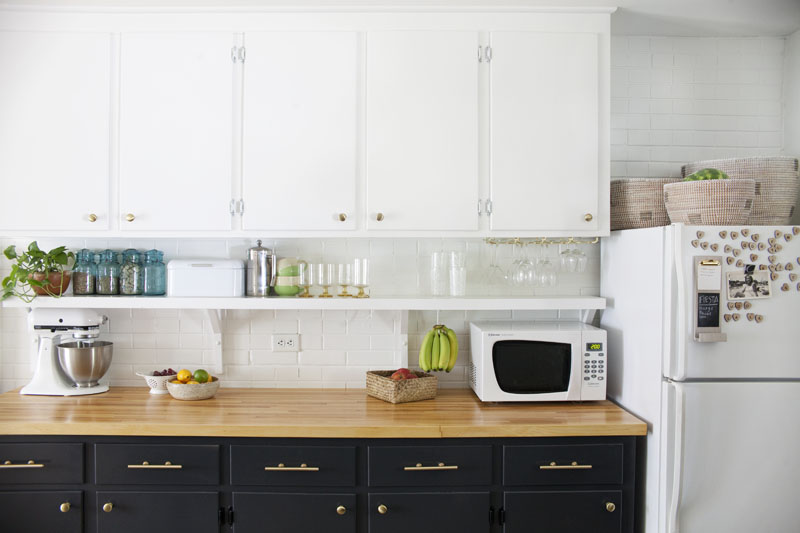 There's definitely a gold-toned trend going strong in the realm of kitchens, and Sarah from A House in the Hills embraced the warmth for her kitchen upgrade. Since golden tones already abounded in this room through counters, backsplash tile and flooring, she decided not to fight them. From stylish brassy knobs purchased through Anthropologie to warm accents such as gold flatware, beige is the new chic in Sarah's space: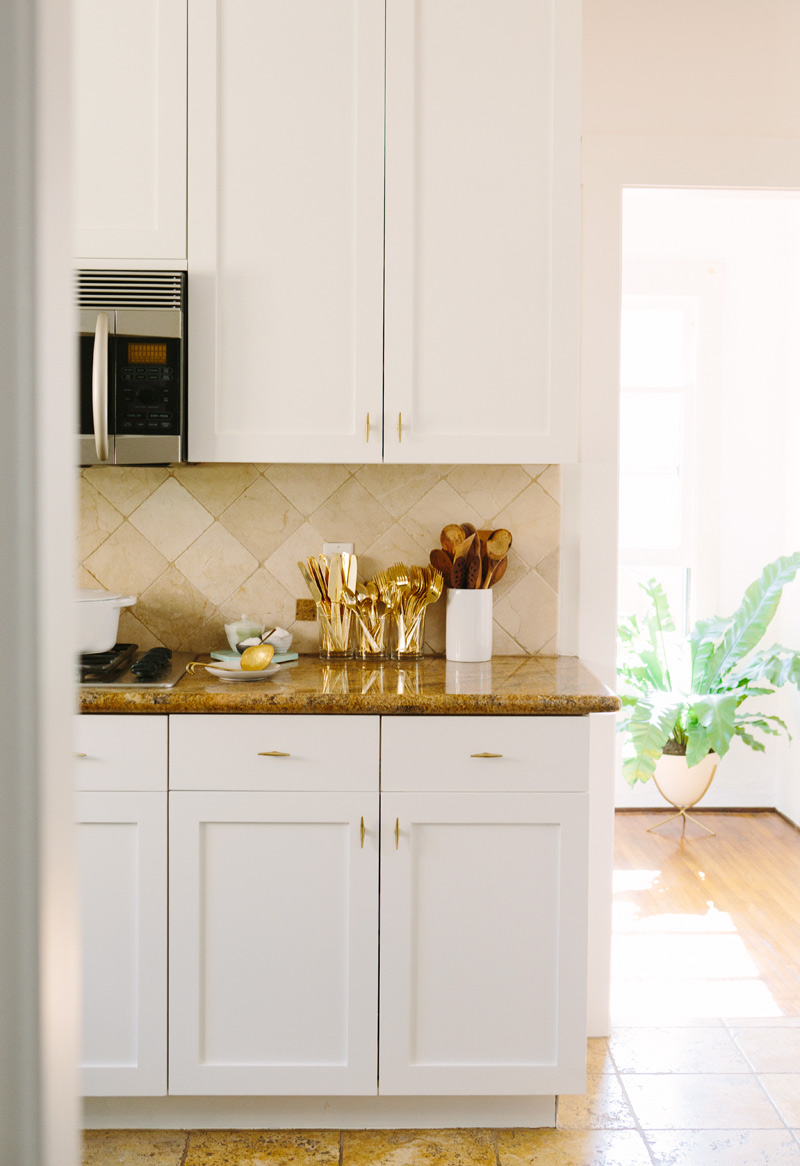 Even a simple update such as a wall grid or a hanging pot rack can add style and function to the kitchen by freeing up counter and cabinet space. [image via Pinterest]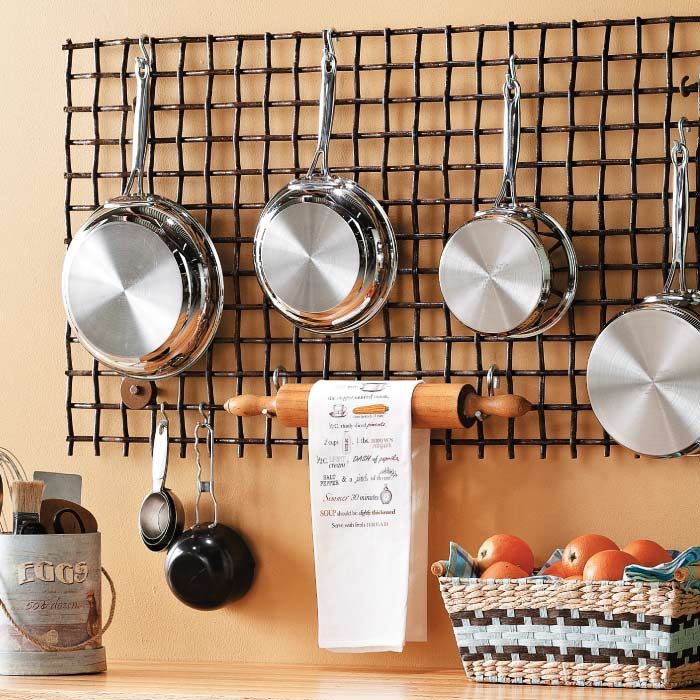 We'll end today's post with this kitchen tour from Oh Happy Day. While it's not packed with DIY projects, it truly illustrates the fact that little things mean a lot. Details such as a beautifully styled shelf, a light fixture upgrade and a new faucet can work wonders. No kitchen upgrade is too small!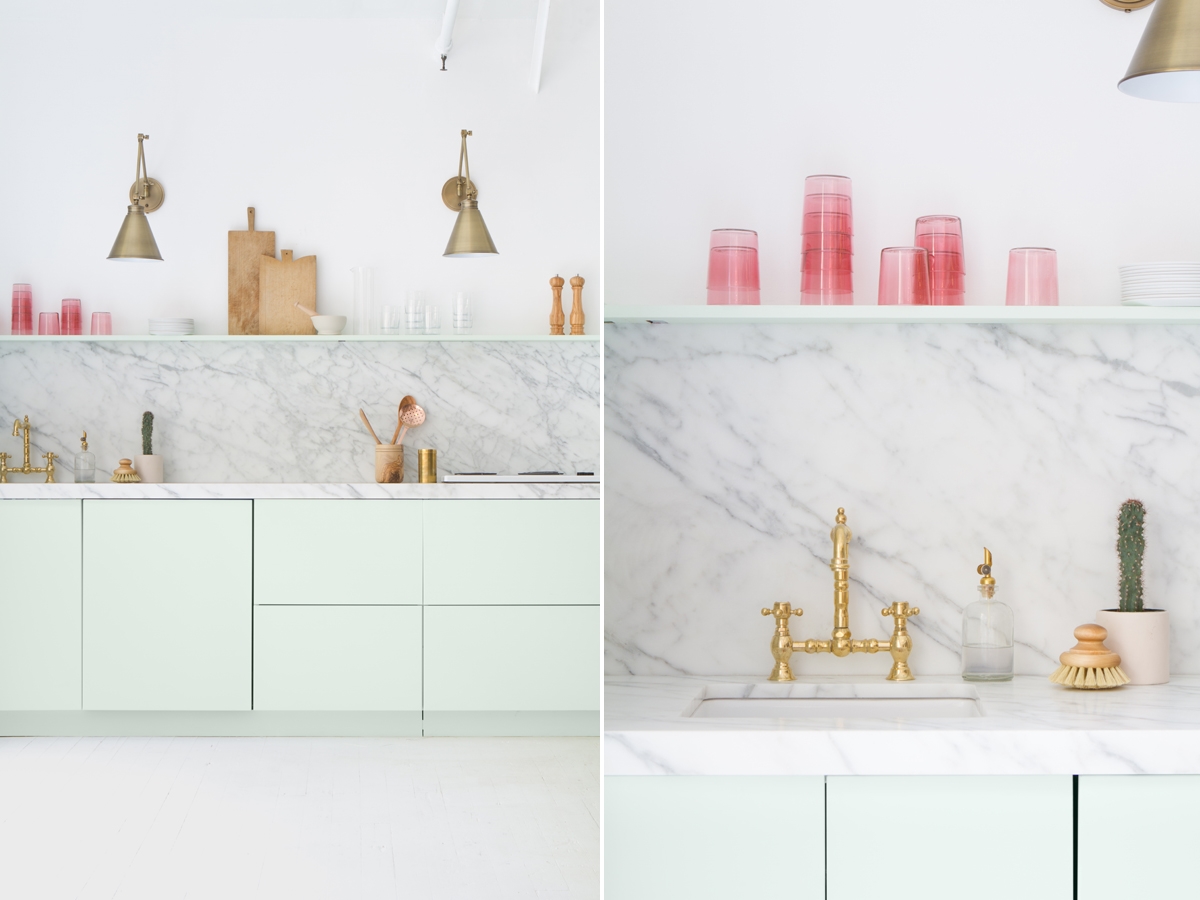 Wishing you a burst of DIY energy as you tackle your kitchen upgrade(s). Hopefully today's post gave you a jump start in the design inspiration department! Happy decorating!