Looking for a clever way to create a backsplash for your kitchen? Today's post features a range of DIY ideas, from true tile installations to renter-friendly solutions that are both affordable and stylish. Whether you're ready to get your hands dirty or you're looking for a way to fake it, check out the DIY kitchen backsplash ideas below and begin planning your next home improvement project…
Tile and Beyond…
Let's start by exploring the many types of materials that can be used to create a backsplash. A Beautiful Mess is a wonderful resource for kitchen backsplash tutorials, and this post on backsplash tiling tips is packed with handy pointers and links. Plus, it's an honest description of the large amount of work involved. If you're wanting to install a tile backsplash yourself, be sure to check it out:
RELATED: 8 DIY Backsplash Ideas To Refresh Your Kitchen On A Budget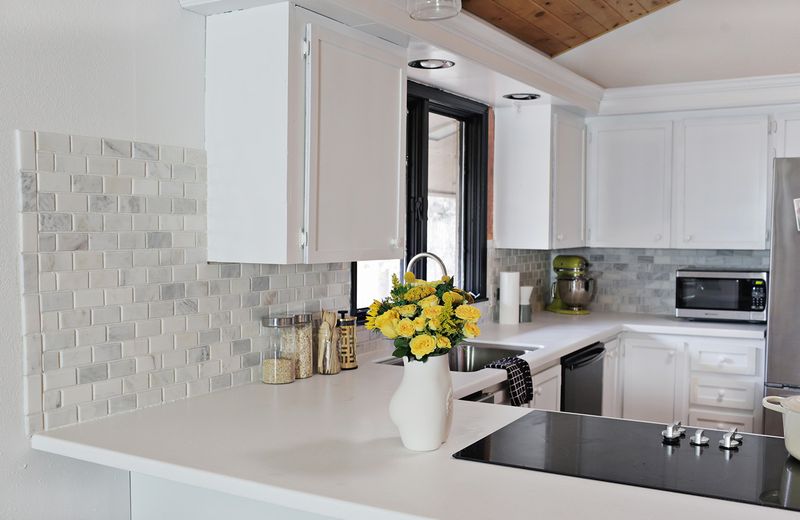 This DIY tile backsplash featured at hometalk showcases a breakdown of supplies required, as well as some great photos that illustrate how a stove backsplash can transform your kitchen. Check out the pics, but don't visit the original site (beinghomedecor.com), as it's now a spam site. We love the look of this tile and the metal trim: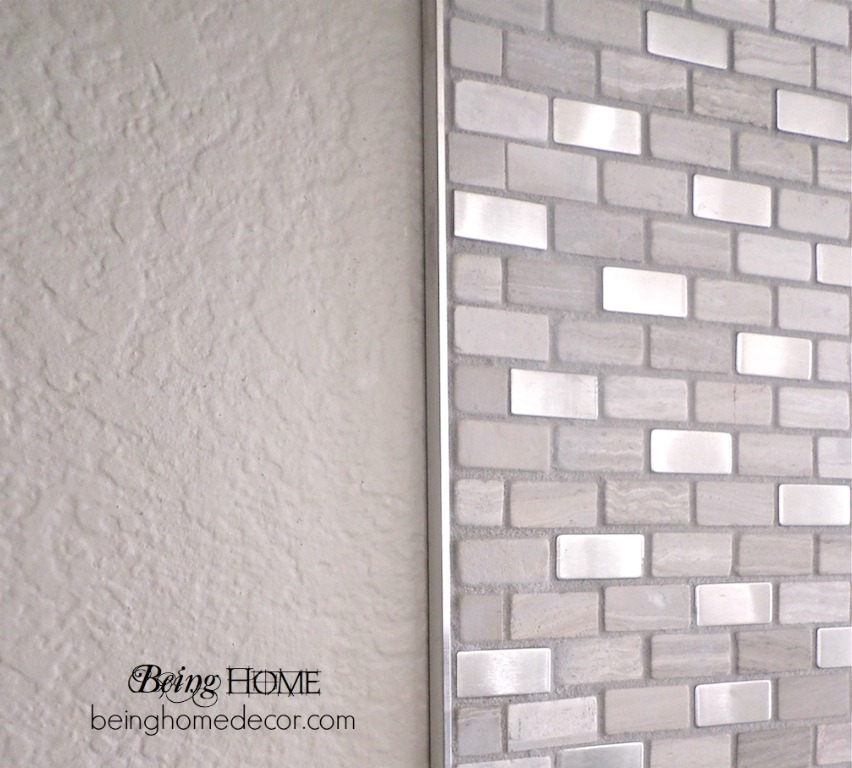 Can you believe that this DIY fish scale tile backsplash was created with the help of oven-bake clay?! Not only did the tiles solve a design dilemma for Kara Parslay Designs, they proved to be easy to cut with a sharp razorblade. This comes in handy in terms of installation.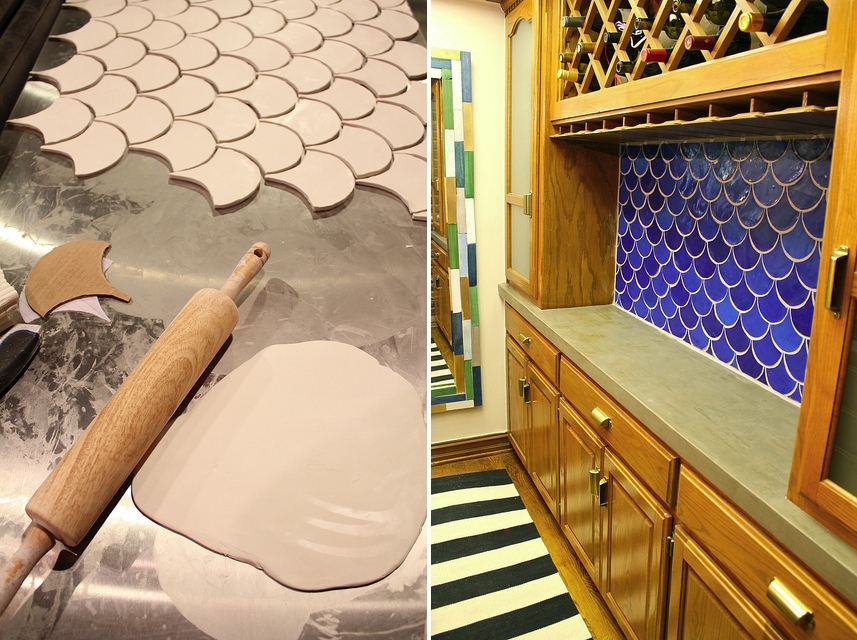 Not feeling the tile vibe? That's OK! There are plenty of interesting solutions that can punctuate your space. This pegboard backsplash from DIY Network is budget-friendly and storage-friendly. That's because once you hang the board on your wall, you can use hooks to suspend handy tools and gadgets so they're at the ready when you need them most: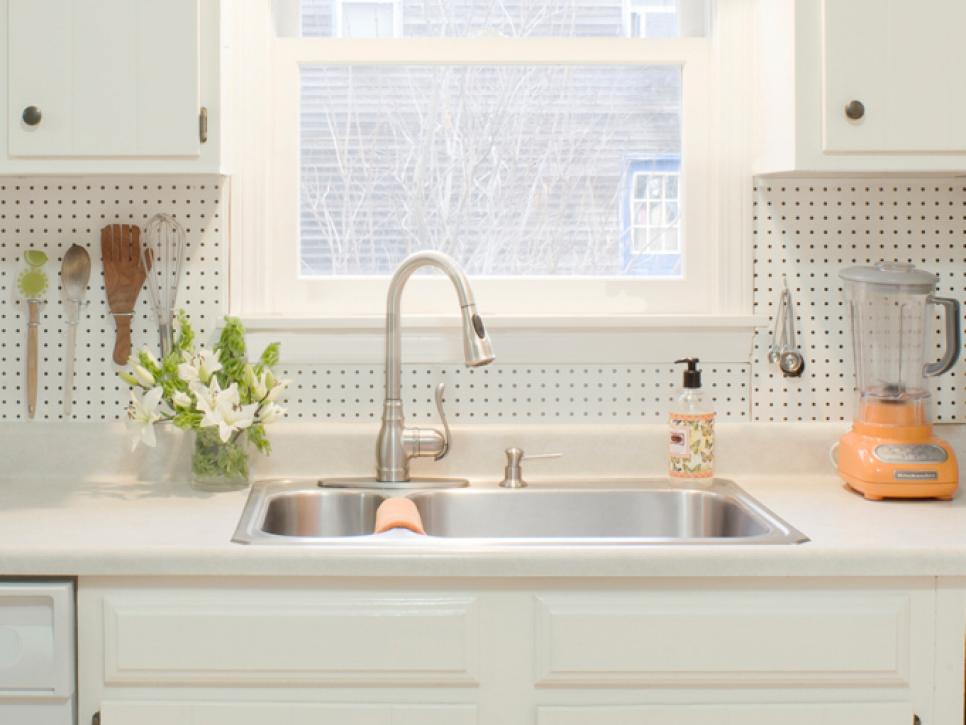 Also from DIY Network is this salvaged wood backsplash, which creates a rustic look with salvaged molding and boards: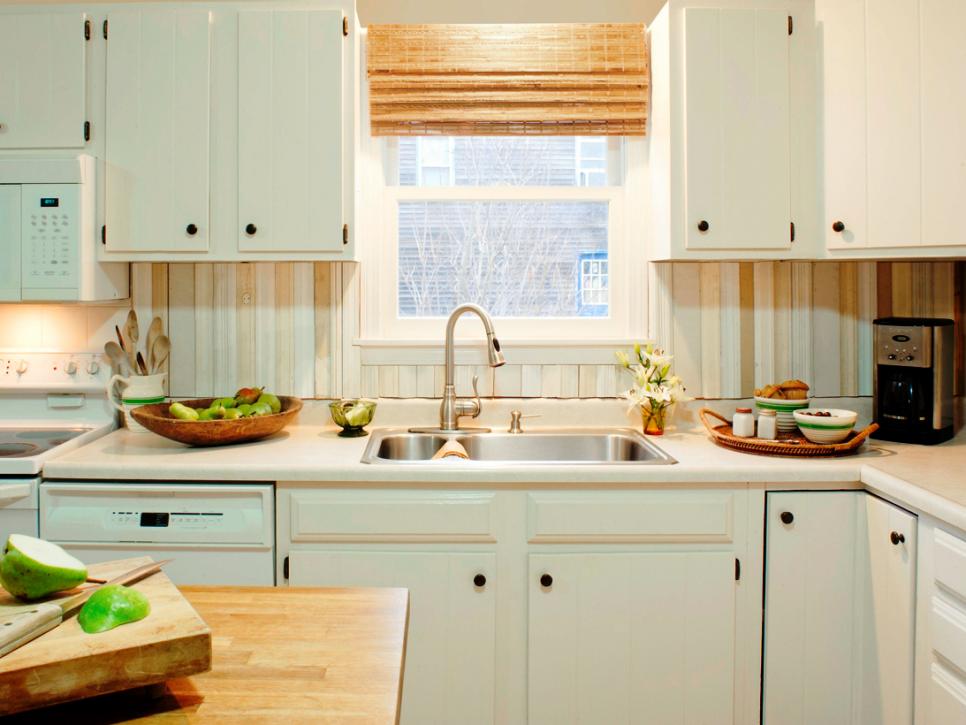 How sleek and stunning is this acrylic backsplash from fogmodern?! More budget-friendly than glass, it's also customizable, as you paint the inside of the acrylic so the outside retains its shiny finish. Stunning!…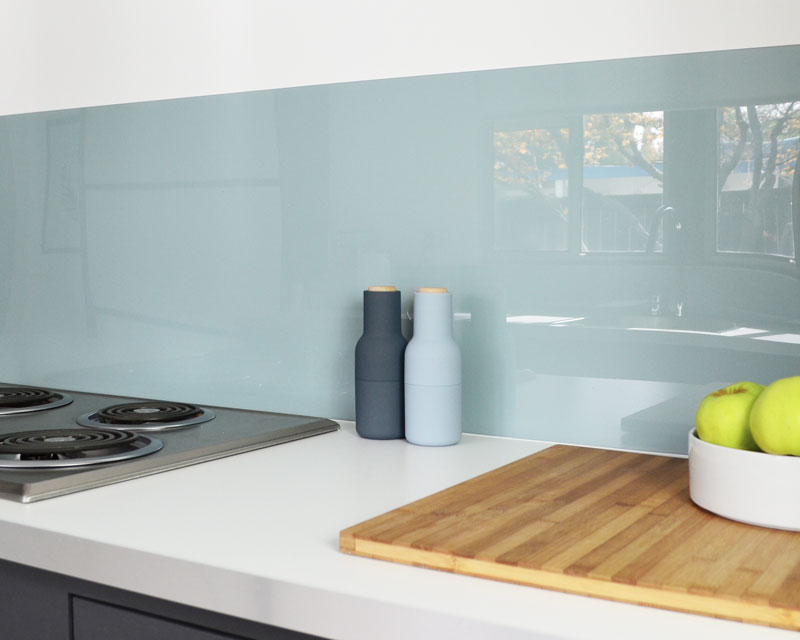 Placing fabric under acrylic is a growing backsplash trend, as the fabric adds pattern while the acrylic creates a smooth, durable surface. For a renter-friendly (easily removable) version of the project, try using vinyl instead of acrylic. Check out all the details at B.Y.O.V.: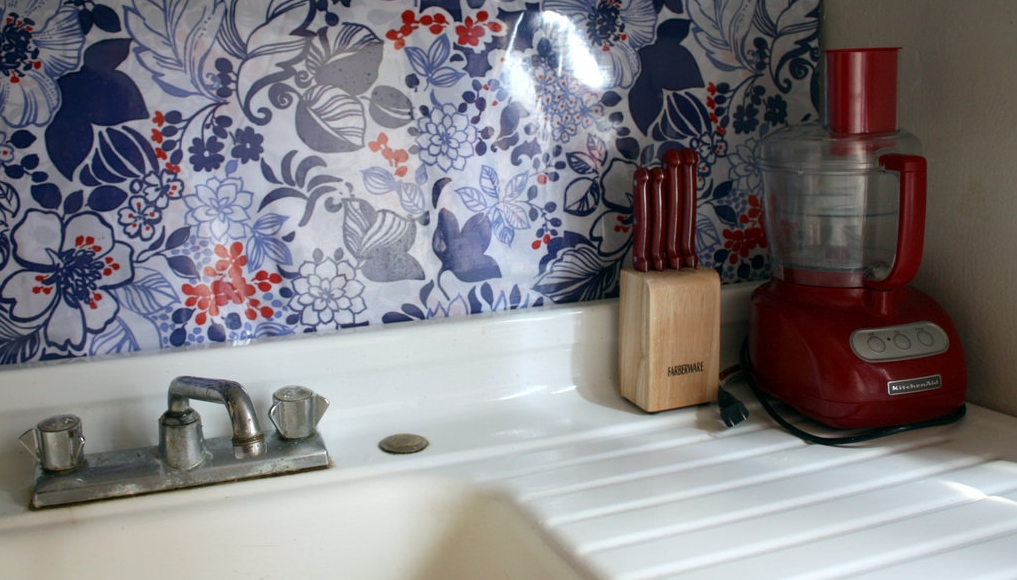 Here's an extra credit project for you… It's a labor of love, but what a way to celebrate the current holographic trend in your kitchen! This mosaic-style backsplash was created from old CDs. Learn more at Instructables: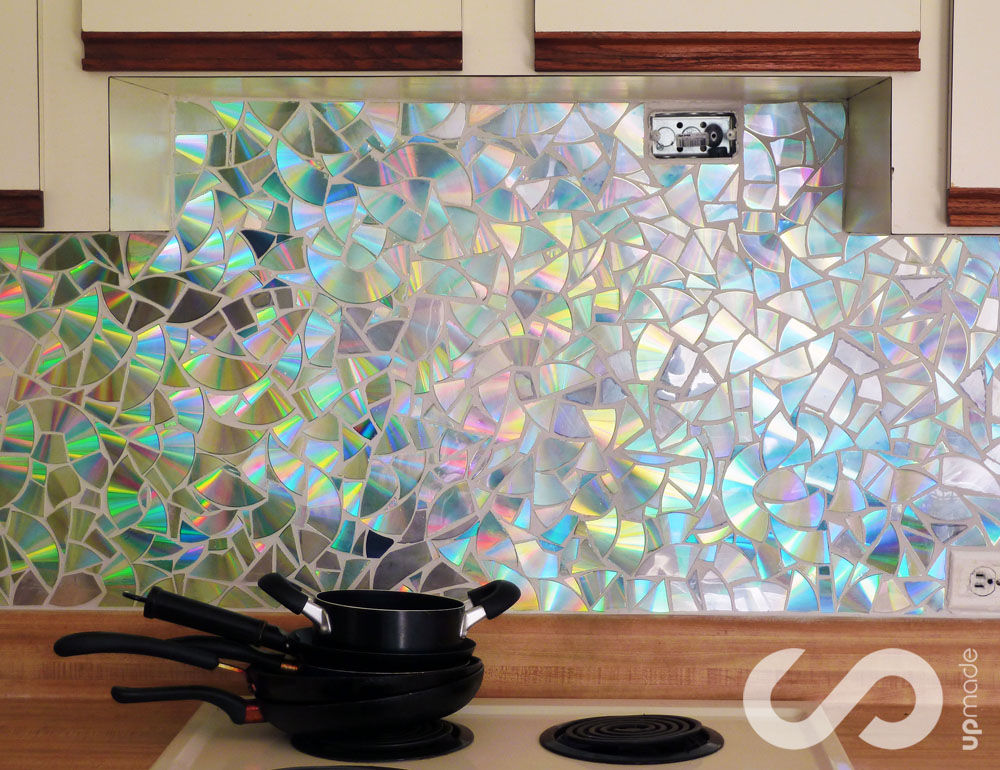 Creative Solutions
Time to get creative! You don't have to spend hours or days installing a new backsplash from scratch. Whether you're limited by time and tight budget or you're looking for a creative solution, check out the backsplash ideas that follow. Another gem from A Beautiful Mess, this post on how to paint a tile backsplash shows how you can use silicon epoxy paint to make tired tile look vibrant and new. And we're loving the green hue:
RELATED: Kitchen Backsplash Ideas To Update Your Cooking Space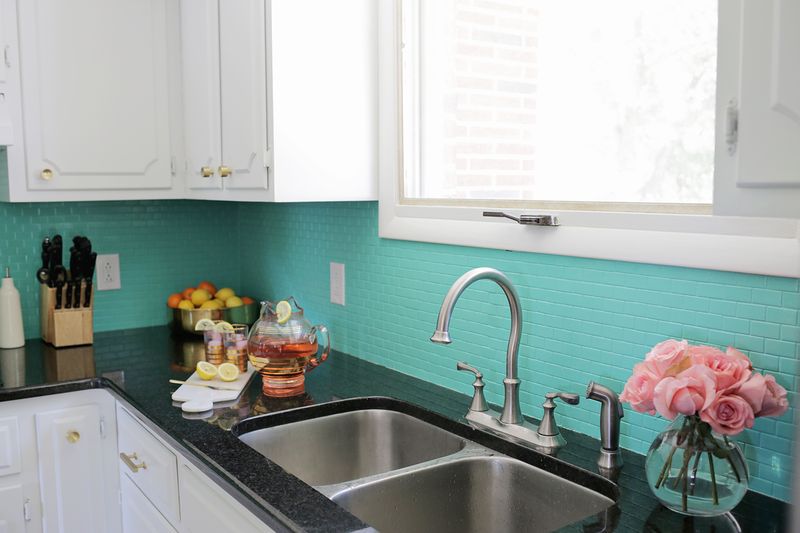 Here's another painted tile solution, this time with a geo motif. Get all the DIY details at One Kings Lane:

If you don't have a tile backsplash and you're looking for something easier than a full-on installation (complete with grout), try peel-and-stick tile. Elsie from A Beautiful Mess gave it a whirl, and she was thrilled with the results. Read about the process here: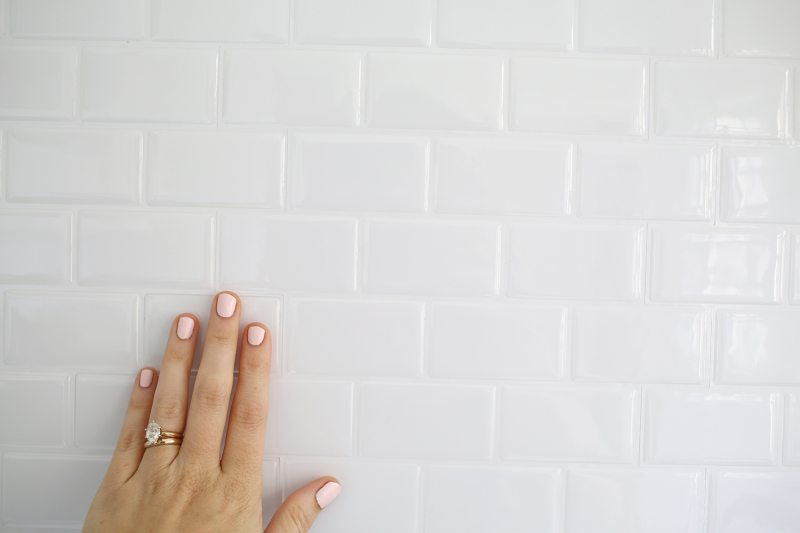 This Aspect Peel-and-Stick Stone Kitchen Backsplash is available through Amazon.com and features real stone. Not only is it affordable, it requires no grout!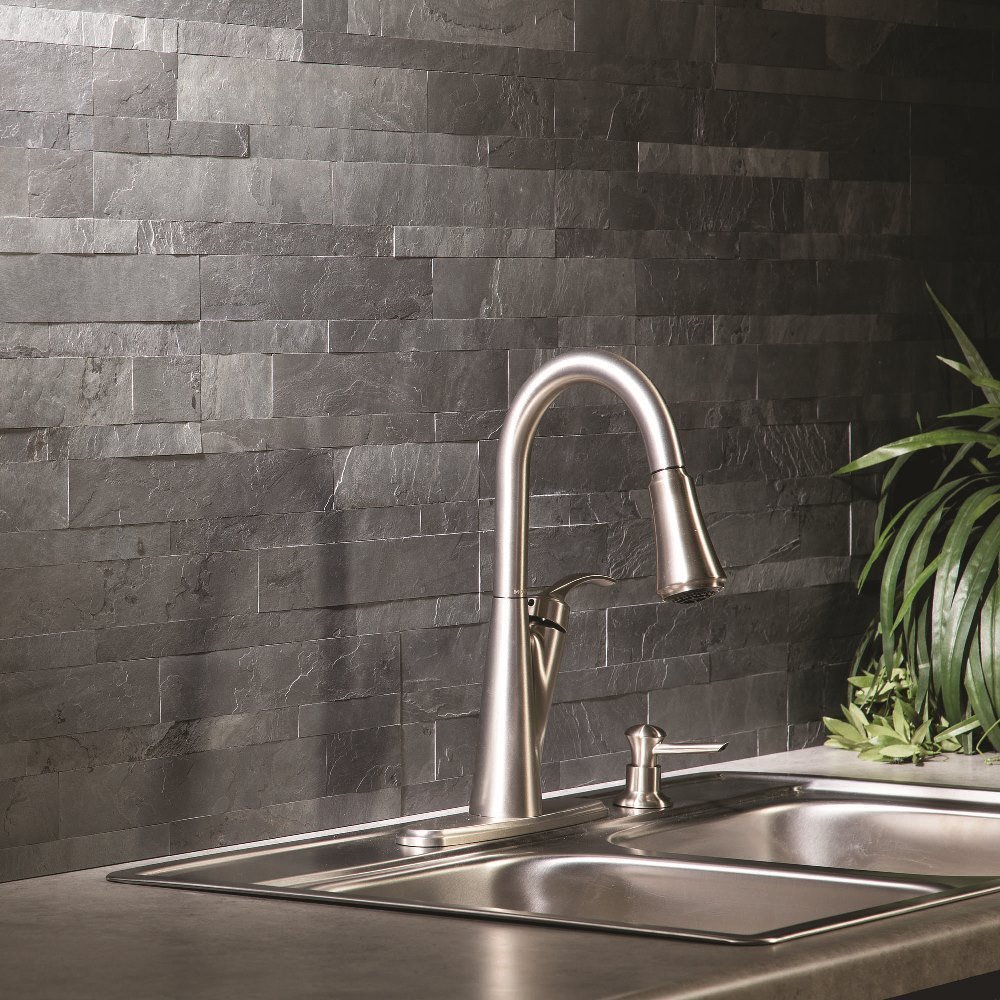 Aspect also makes peel-and-stick glass tile, and The Hatched Home gave it a try (see the results below). Plus, the blog shared some key tidbits that can come in handy when dealing with adhesive tile (including the fact that it's super sticky). Not to mention, stores such as The Tile Shop will cut your tile for a small fee, taking one more thing off your plate!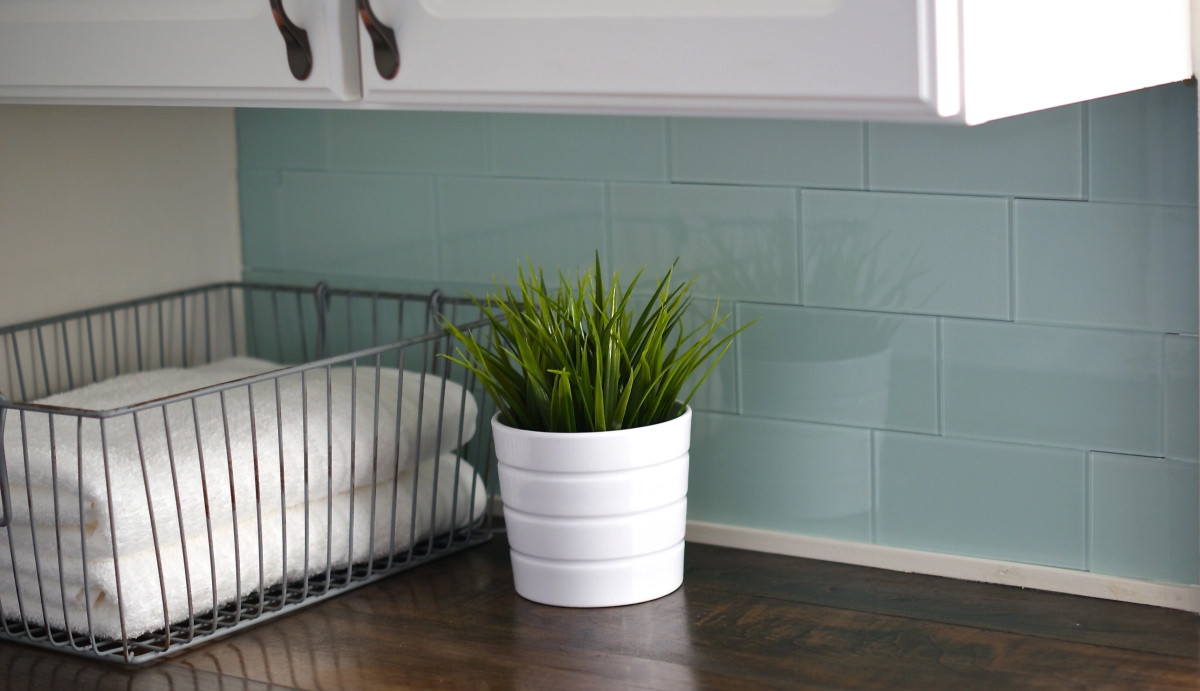 $75 and one afternoon of your time. That's all it takes to create this faux brick backsplash cleverly crafted by Bless'er House for Remodelaholic. Affordable faux brick paneling gets the job done, along with a whitewashed finish: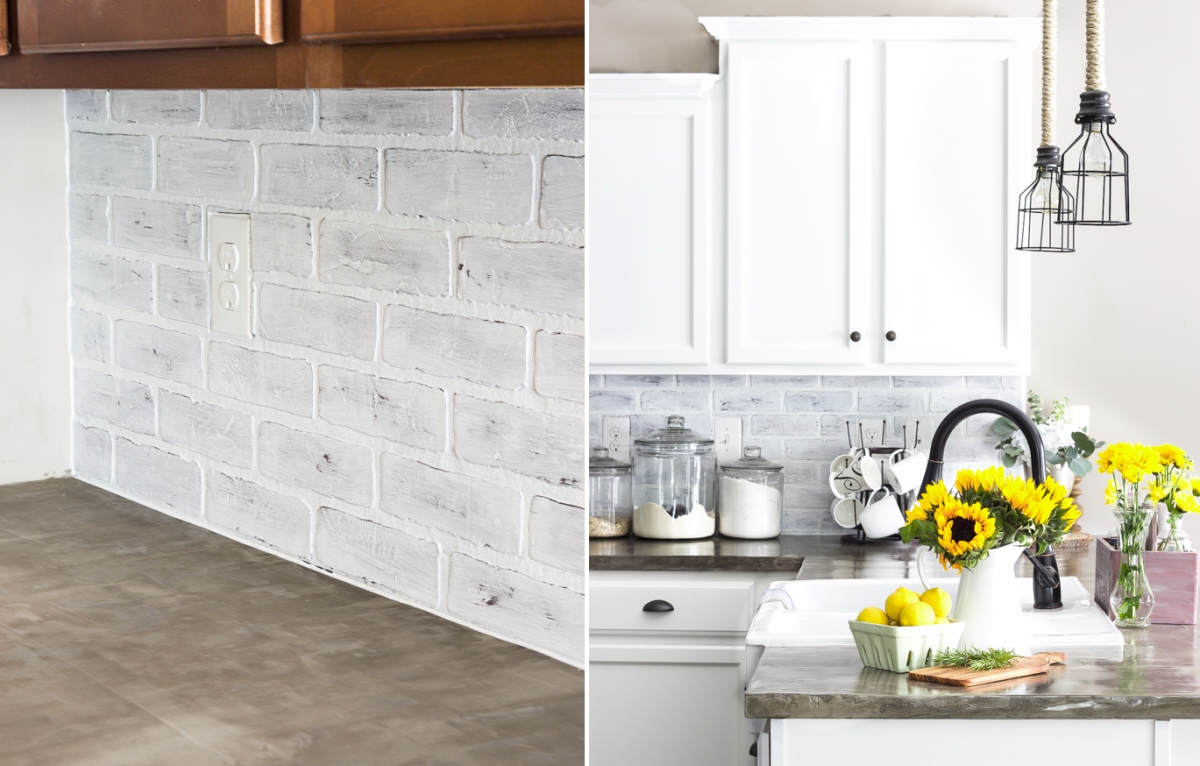 On a similar note, this faux tin backsplash is created with the help of affordable panels you can purchase at the home improvement store. Easy to and stall and totally vintage-style, don't you think?! Details at A Cup of Jo:
RELATED: Kitchen Backsplash Ideas: A Splattering Of The Most Popular Colors!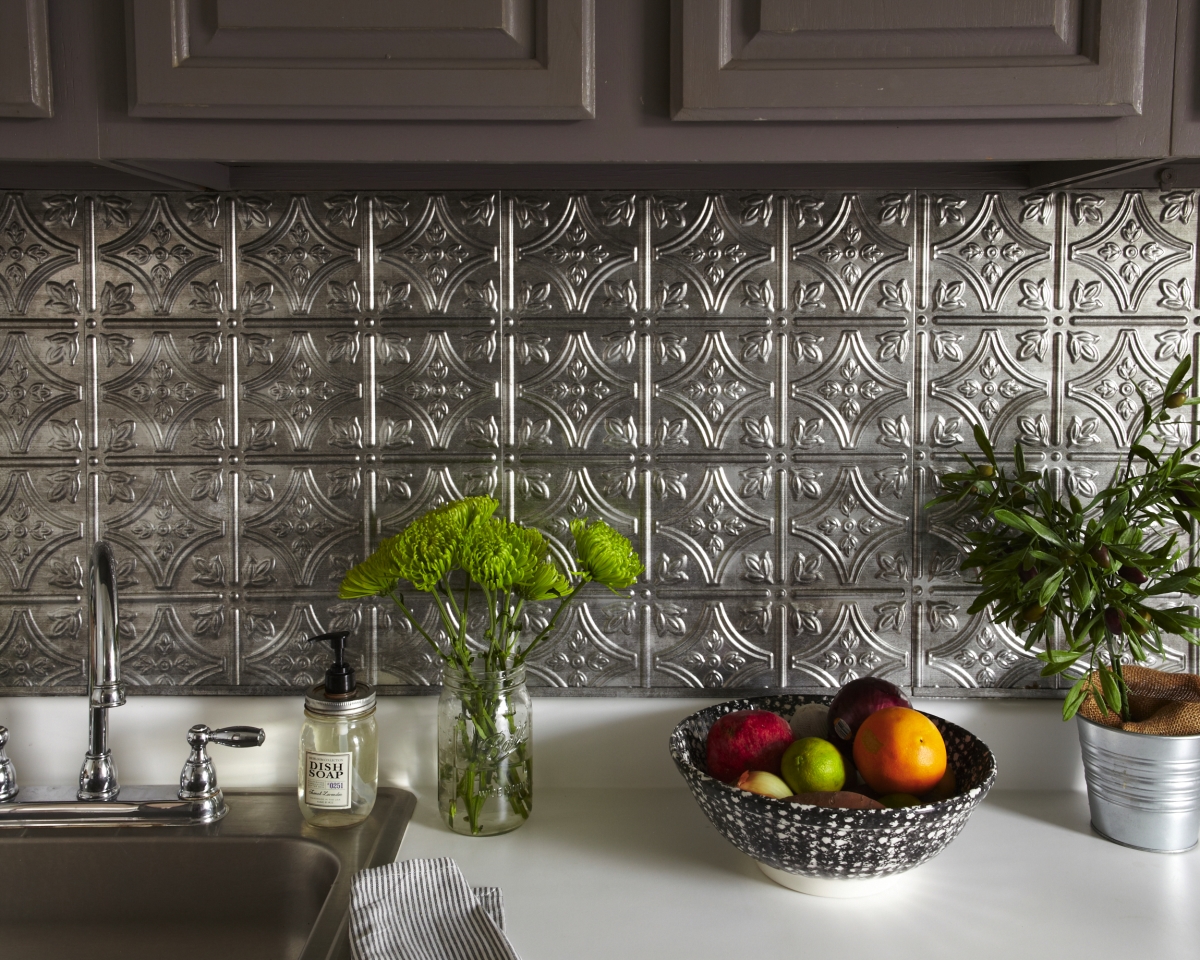 This DIY Faux Herringbone Backsplash from A Beautiful Mess proves you don't have to give up on your dreams of stylish tile in the kitchen. Fake it with black paint pens! Yes, the tile below is drawn onto the wall…and for less than $10!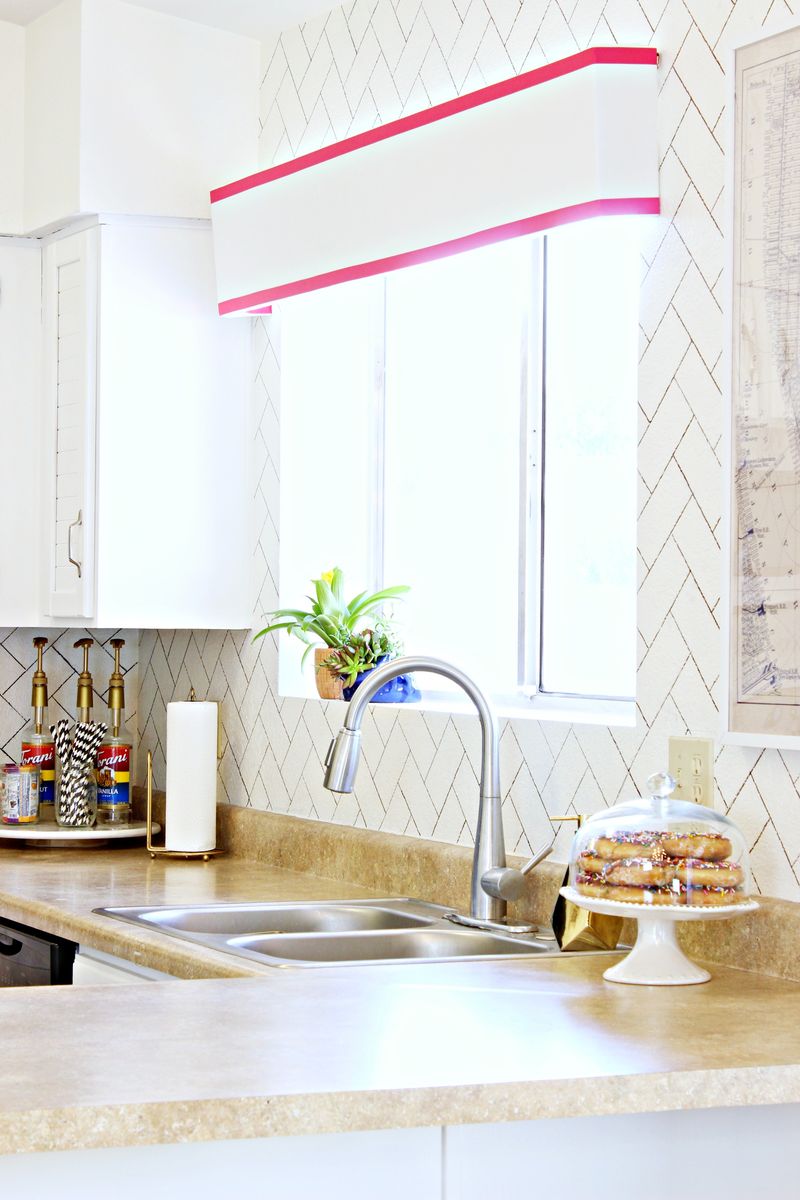 Painter's tape is your friend for this DIY Herringbone Tile Backsplash from My Blessed Life. Once again, we see how paint can create the look of tile, this time with a light-on-dark approach: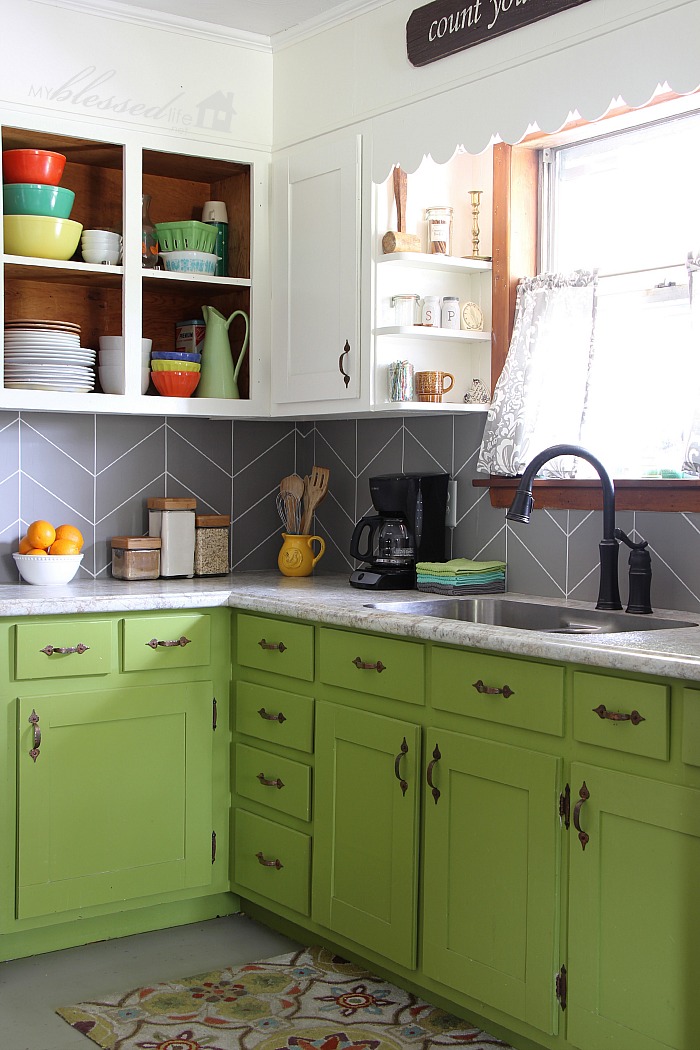 If a tile vibe isn't what you're after, go with a chalkboard paint backsplash, as shown in this image from HGTV.com. There's nothing like getting to draw, write and embellish as needed. Just don't erase the board when you're using the stove. Nobody likes chalk dust in their food!
Did you find a kitchen backsplash idea in the roundup above? Whether you install it, paint it, or peel and stick it, we at Decoist wish you the best of luck with your project!