Cozy minimalism takes the sleek, pared-down style of minimalism and combines it with warm, inviting details. It's about making each item count, which is the perfect design philosophy for simplifying life during a global pandemic! Yet the style was evolving long before the current crisis, precisely because there's something timeless about it.
By bringing an intentional softness to a "less is more" approach, the comforts of home take center stage, and a reduction in clutter allows your choice items to truly shine. A textured throw on a reading chair, a woven storage basket and a sculptural object with fluid style all stand out in the cozy minimalist home. Plus, this selective approach to design can work with a range of styles, from the modern to the boho. Read on as we explore ways to get the look and create a beautifully curated home. [image below from Zara Home]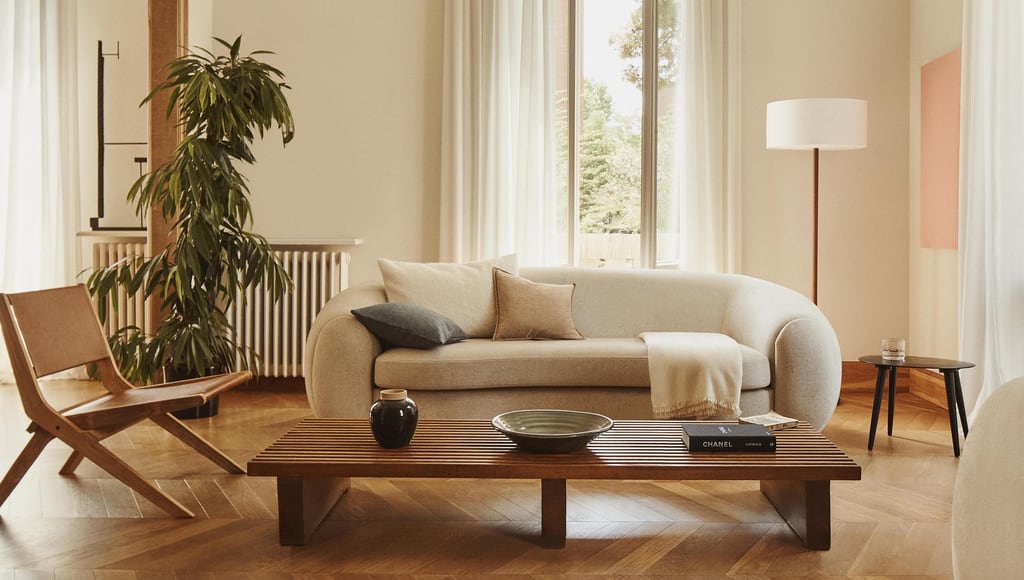 Inviting Details
You can achieve a sleek, streamlined look while making room for comforting, inviting details at home. Even in the most modern of spaces, a special touch such as a throw pillow, a cushy rug and a comfy chair (with room to put your feet up) signal that your abode is a place to rejuvenate and relax. [photo below from CB2]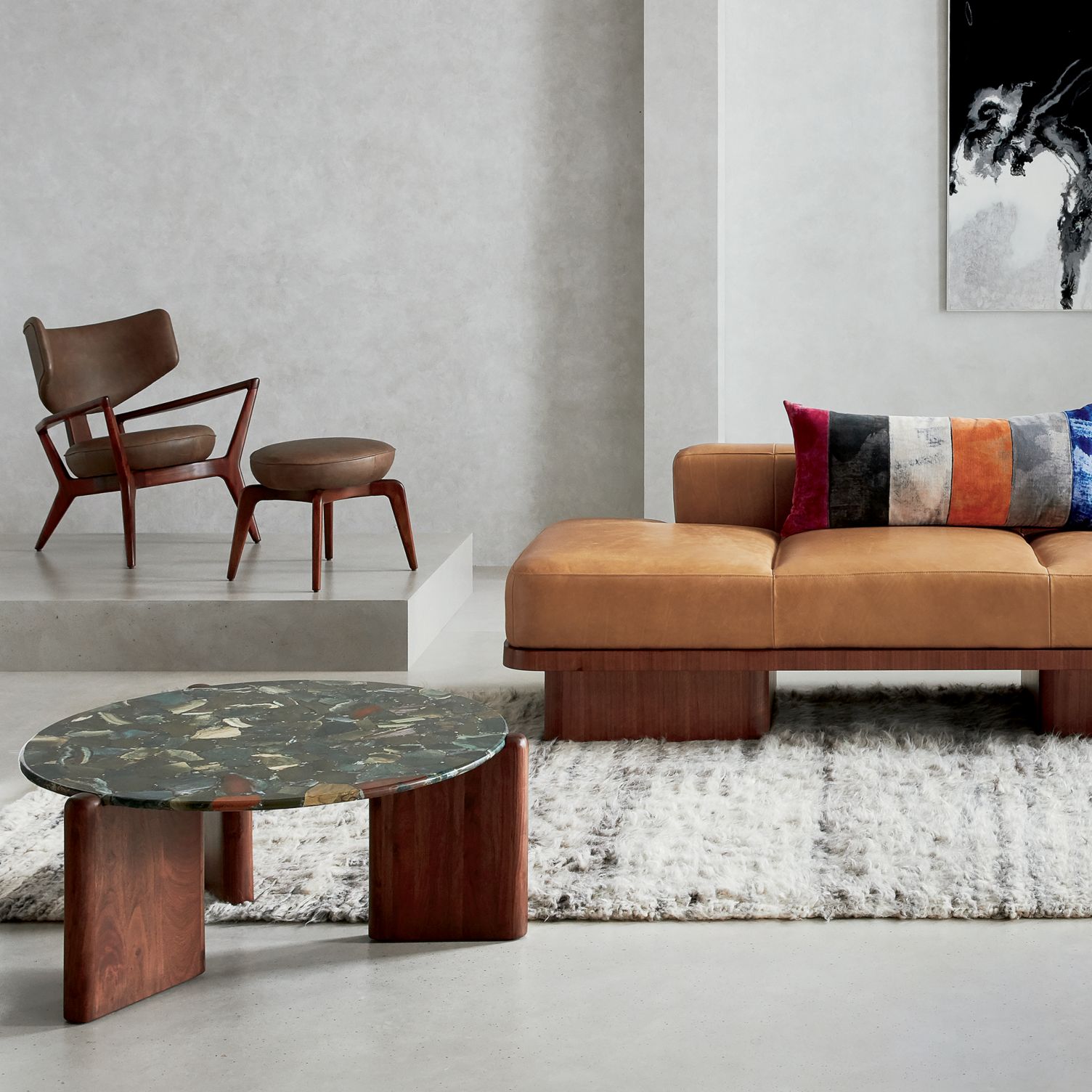 Could anything be more inviting than ferm LIVING's Calm Cushions, shown below? Neutral hues, serene lines and cotton-linen fabric provide a big dose of tranquility, beckoning you to cozy up on the couch, the floor, or any space where lounging is possible: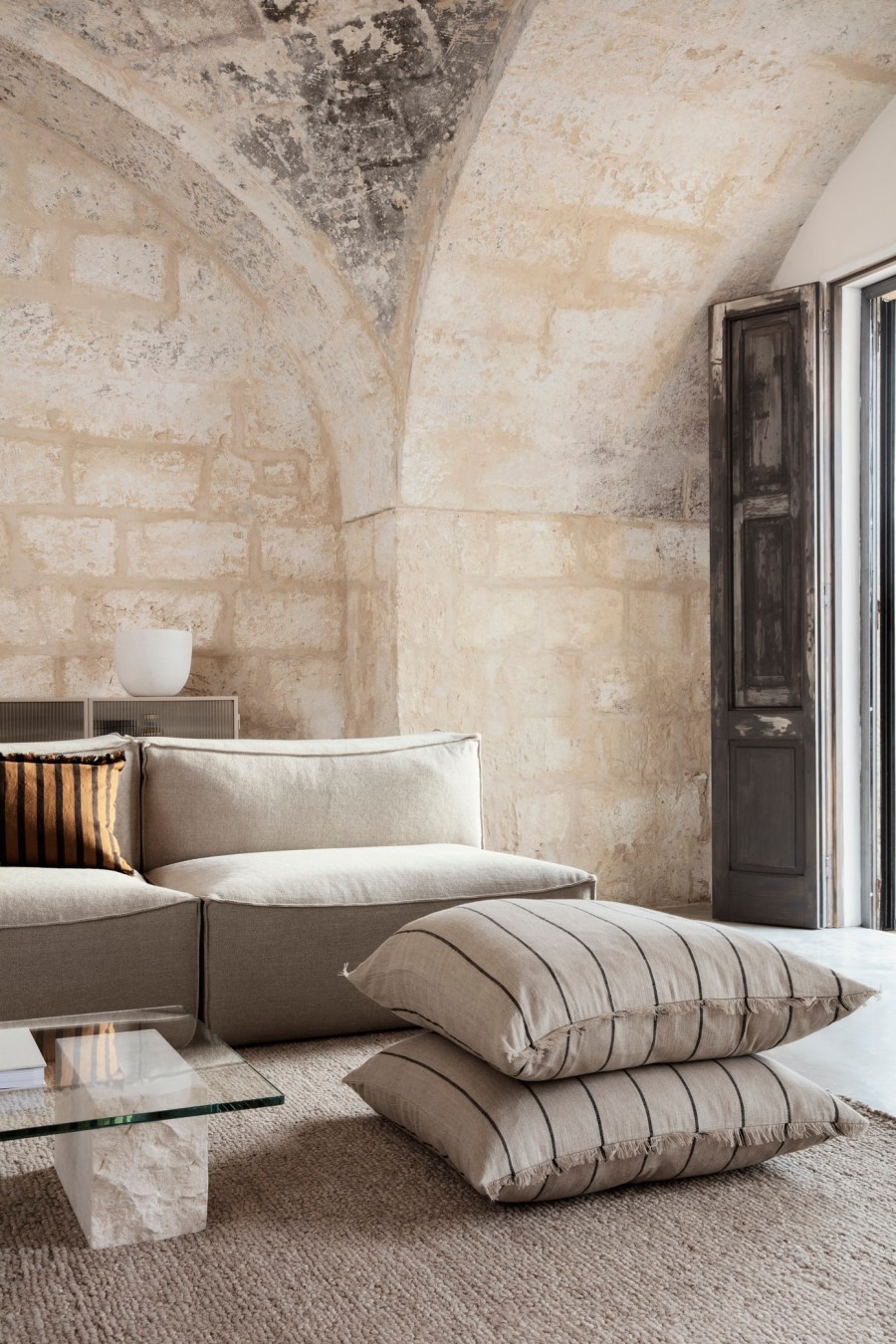 Eye-catching bedding doesn't have to be lined with frills. Sometimes calming lines and neutral hues are as beckoning as a display of luxe style. Add a modern water carafe by the bed, and you have the perfect combination of creature comforts. [Arum Wall Lamp from ferm LIVING]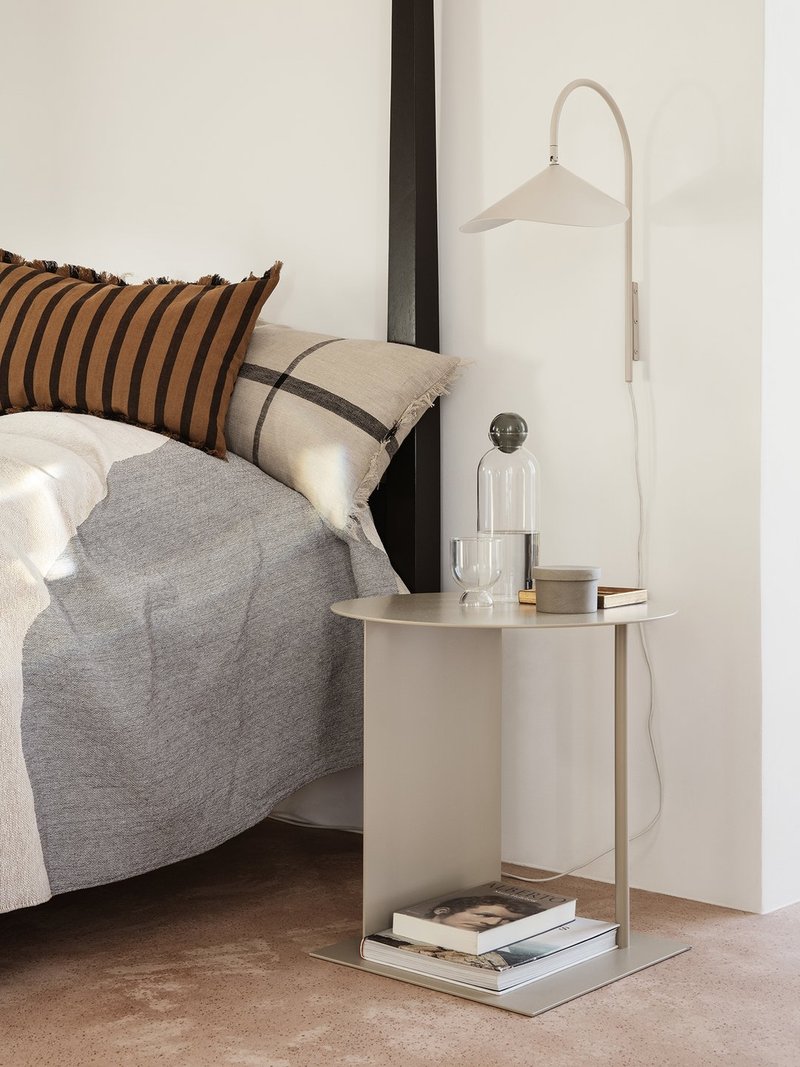 The warm glow of lighting is the ultimate cozy minimalism detail. It illuminates, creates a softness in your space, and adds another layer of design to the mix. Plus, there's something warm and cozy about a light in the dark. Below we see Urban Outfitters' Ansel Table Lamp, crafted from glass: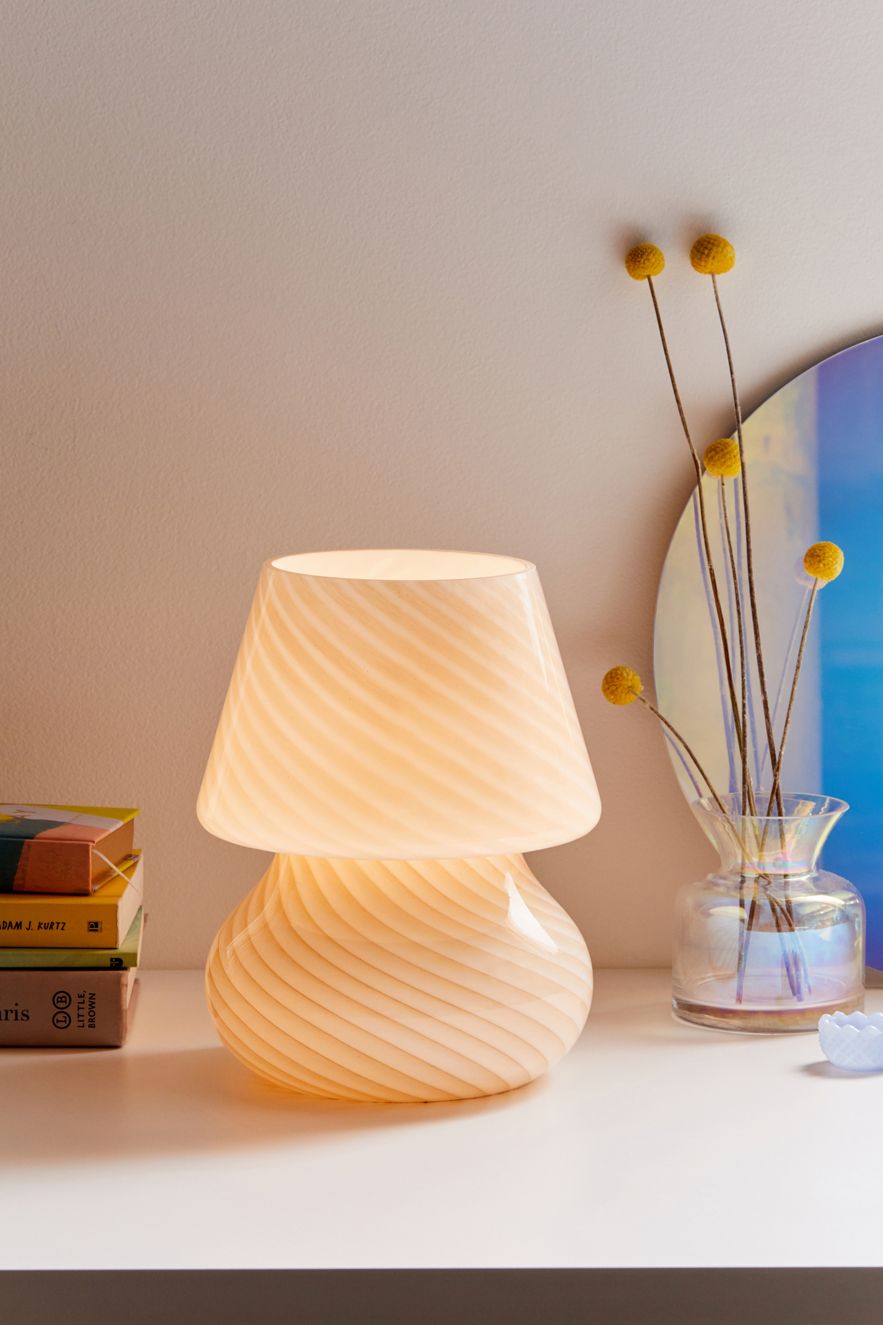 Fluid Forms
Many cozy minimalist rooms feature neutral tones. Beige, cream, white, black and grey are popular hues for these spaces. When the colors are muted, it's fun to add personality and movement in other ways. Fluid forms can encompass everything from sculptural objects to flowing textiles. Zara Home's Broderie Anglaise Jacquard Bedspread looks especially fetching when used to create a lived-in look. Put those rumples and creases on display: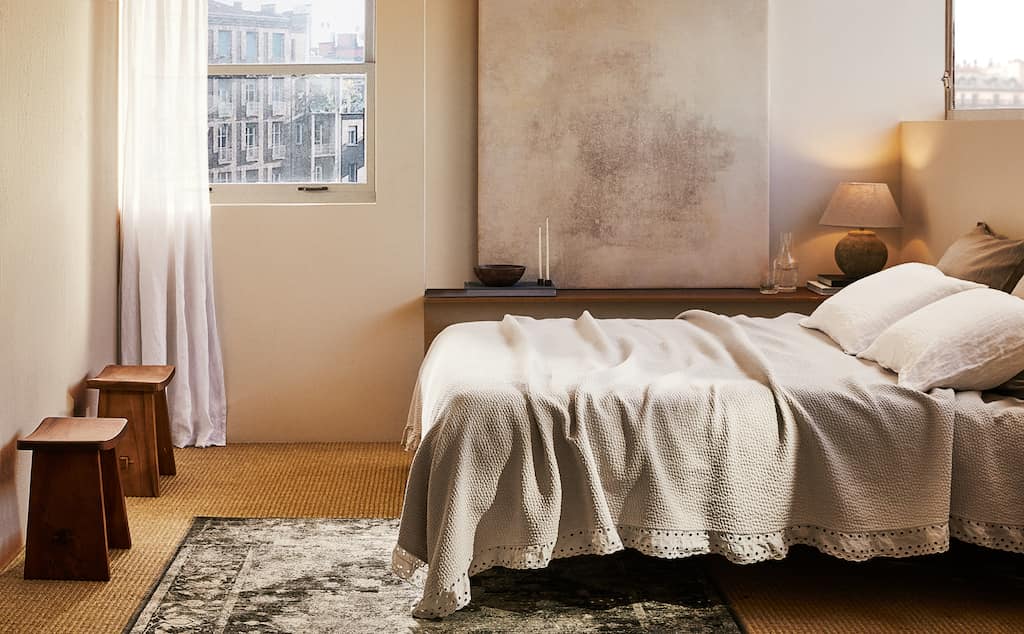 Also from Zara Home, the Textured Glass Vase seems to reach for the ceiling, whimsically stretched between the table on which it sits and its own bumpy lip. The green hue creates an organic feel when combined with the waves of the piece. You can celebrate fluid forms in your abode by seeking out items that feature meandering lines and textured surfaces. More on texture in the next section of the post.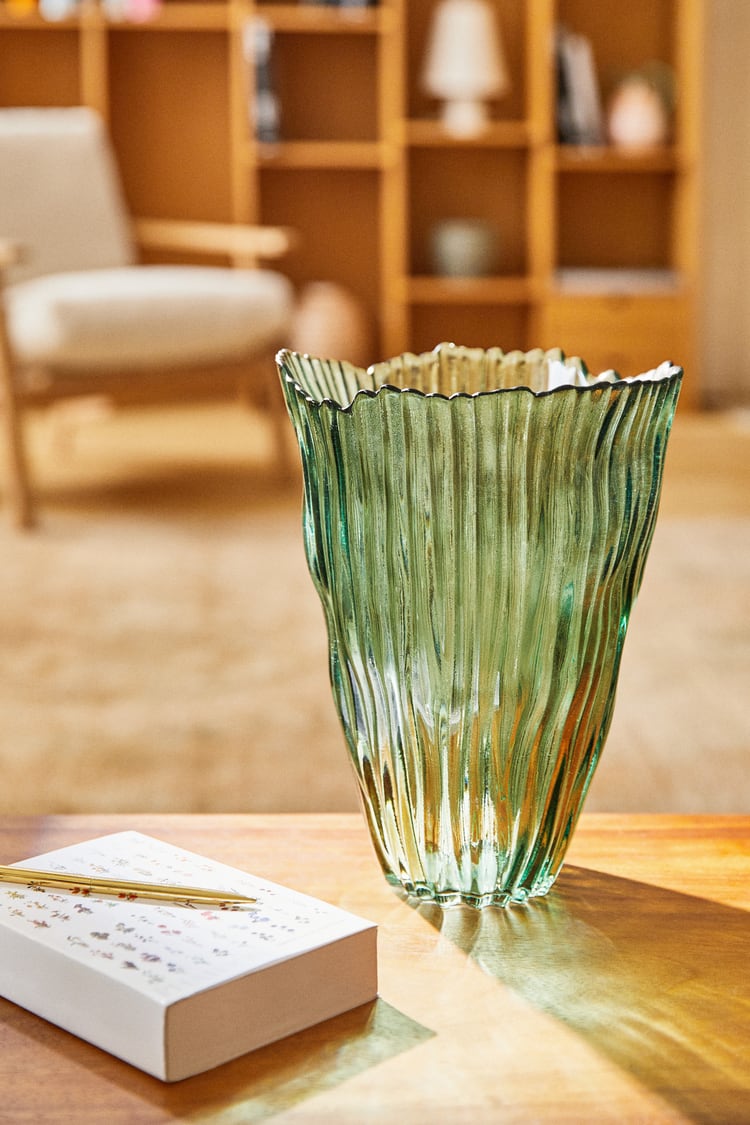 Sculptural vases and objects add an artful element to the rooms they inhabit, and when the lines are anything but precise, they beautifully contrast the more defined curves and angles of the space. Below we see ferm LIVING's Tuck Vase and Berg Ceramic Sculpture: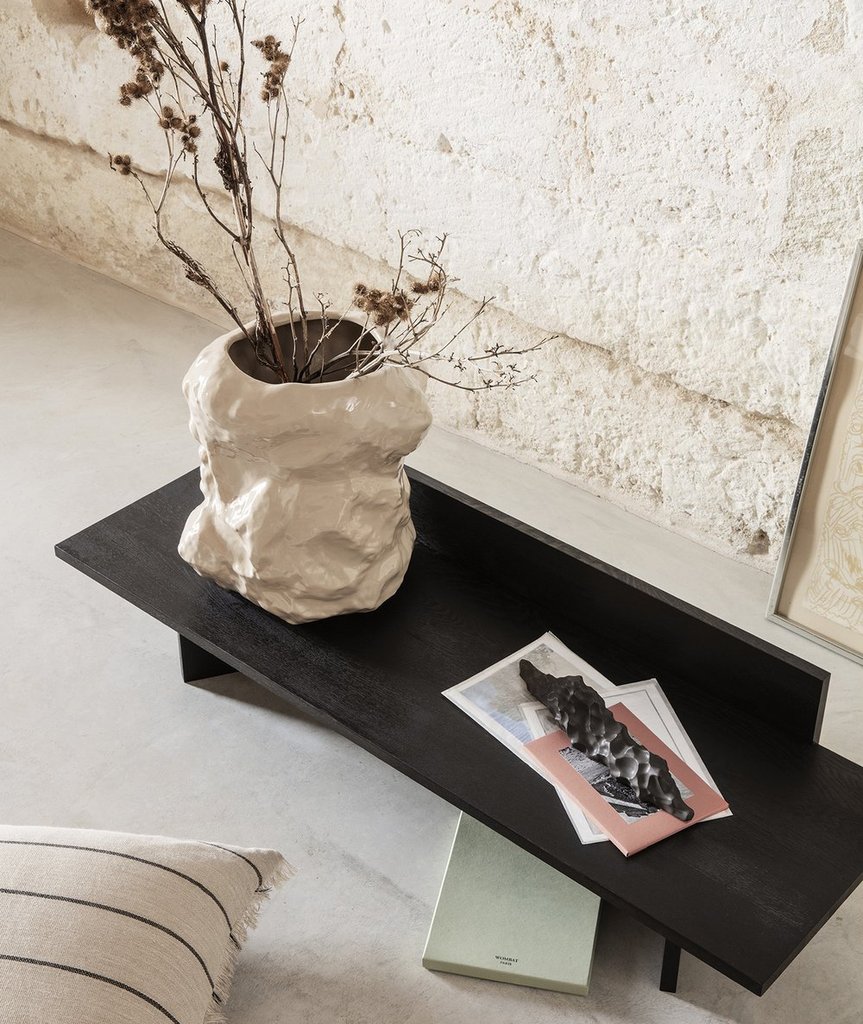 Also from ferm LIVING, the Sculptural Object (in stainless steel, shown below) has the power to serve as a shiny exclamation point in a sea of neutrals. Look for small ways to make a big impact in your cozy minimalist endeavors.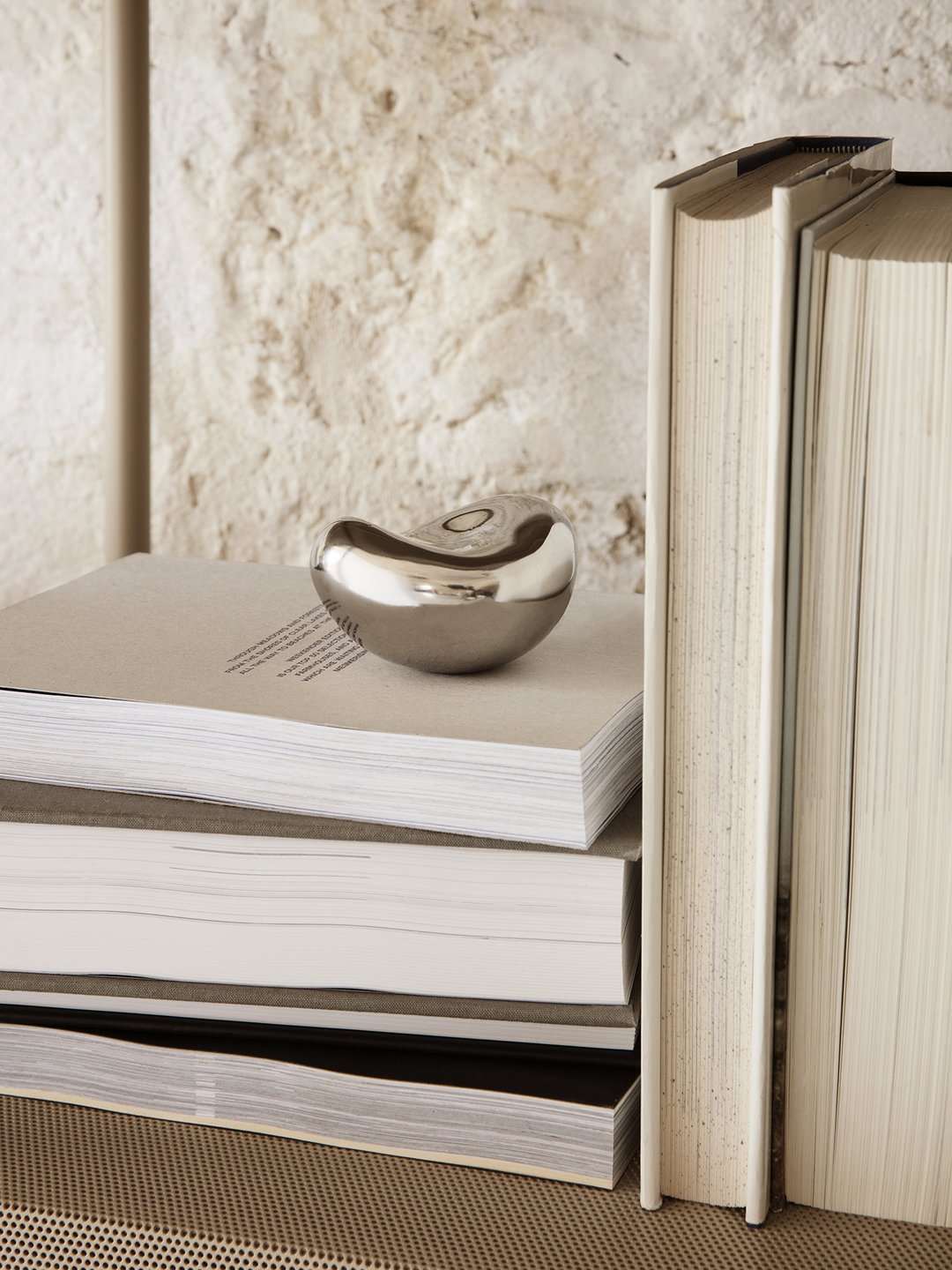 Line drawings are one of today's top design trends, especially when it comes to faces. CB2's Silhouette Pillow takes line drawing to new heights. The look is free, artistic, and both neutral and striking at the same time. These qualities make it ideal for the world of cozy minimalism.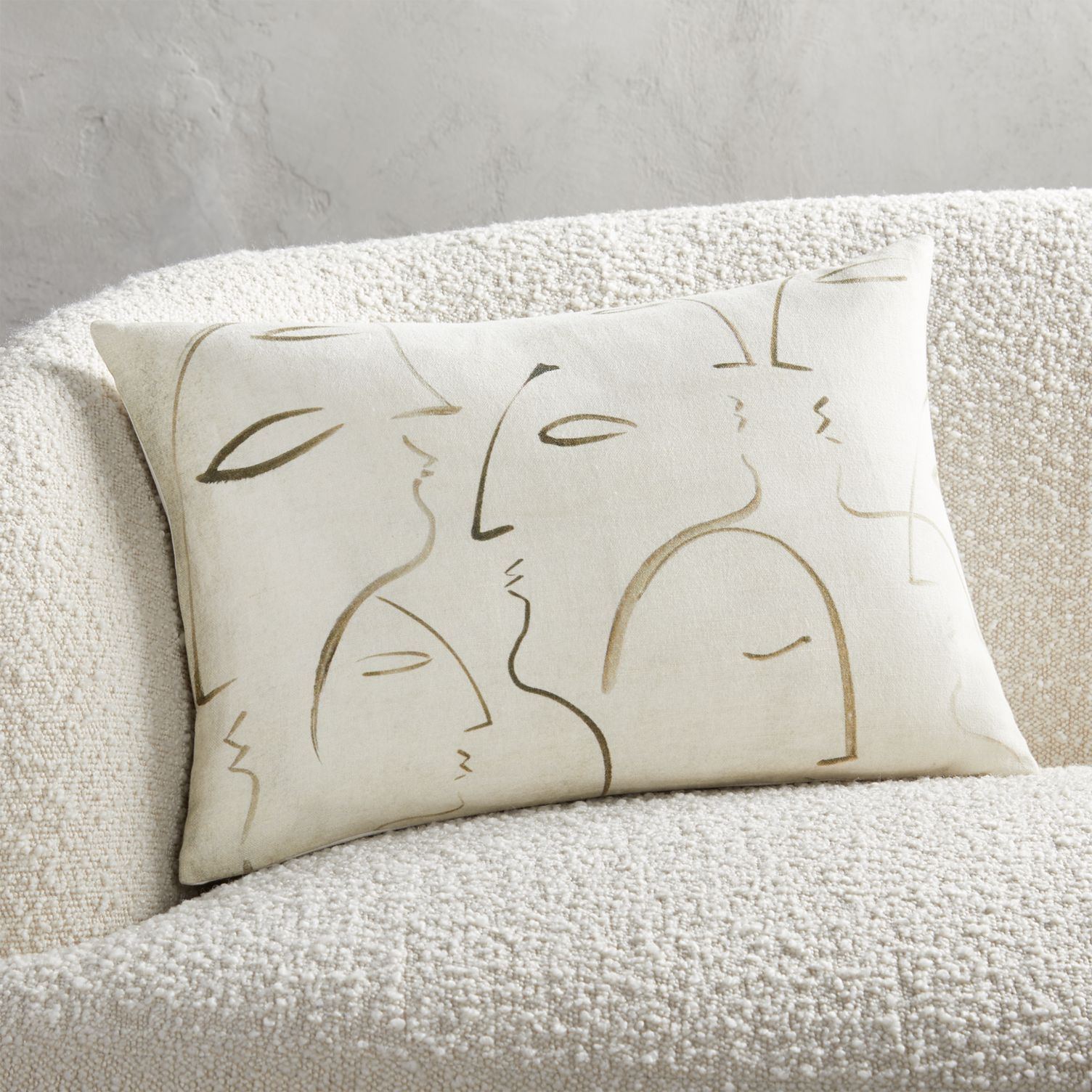 Also from CB2, the Velma Handknotted Rug features an assortment of abstract shapes displayed against the backdrop of white New Zealand wool. Creativity reigns in each unexpected form, yet the neutral hues ensure that this rug beautifully complements a variety of palettes: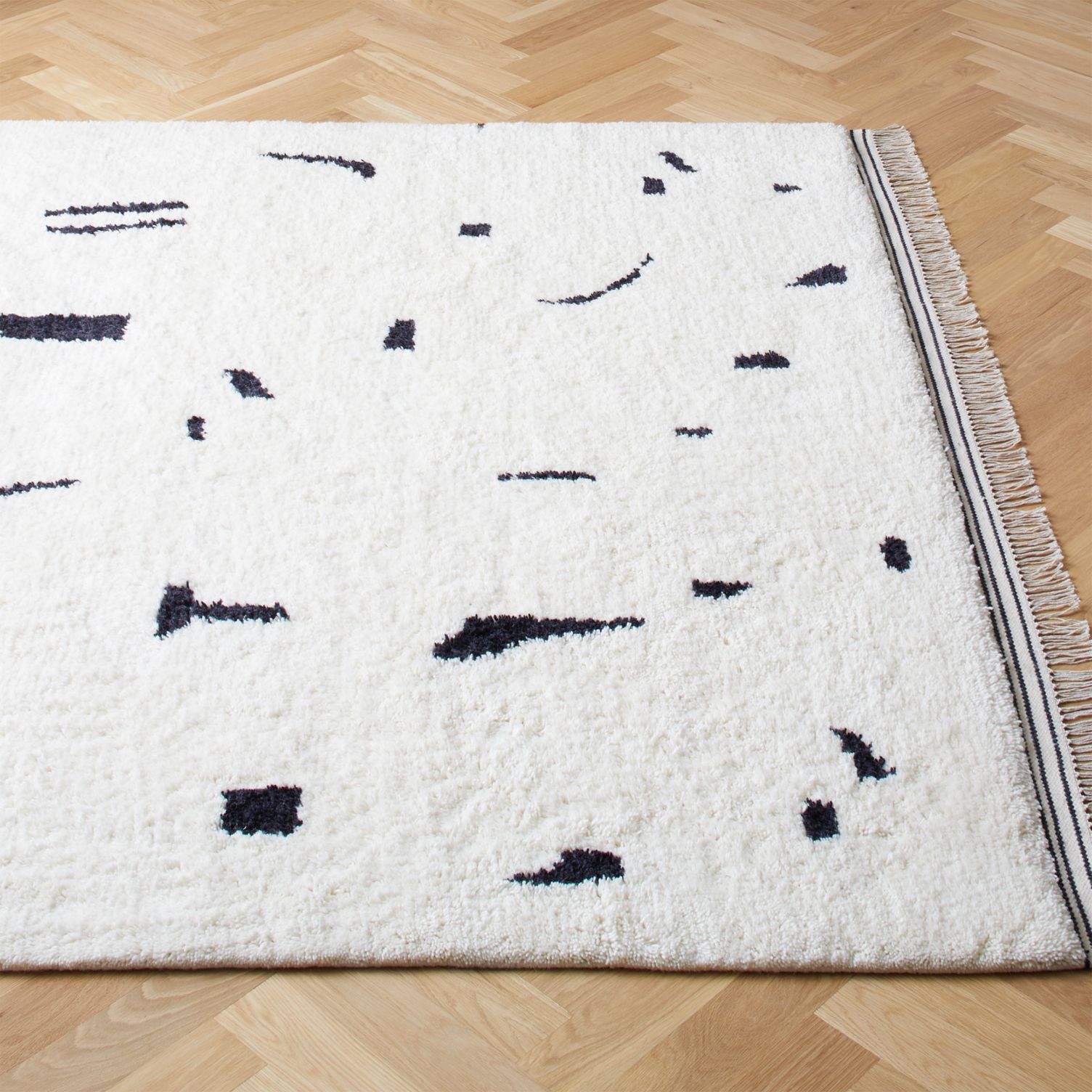 Texture, Texture, Texture
In a cozy minimalist home, texture is an easy way to bring on the cozy! It can be added through a wide variety of elements, from wall hangings and throw pillows to storage baskets and houseplants. A tactile surface is the visual equivalent of a design hug, the perfect addition to a carefully curated space, especially when the space is filled with neutral tones. Below we see Urban Outfitters' Aden Tufted Throw Blanket: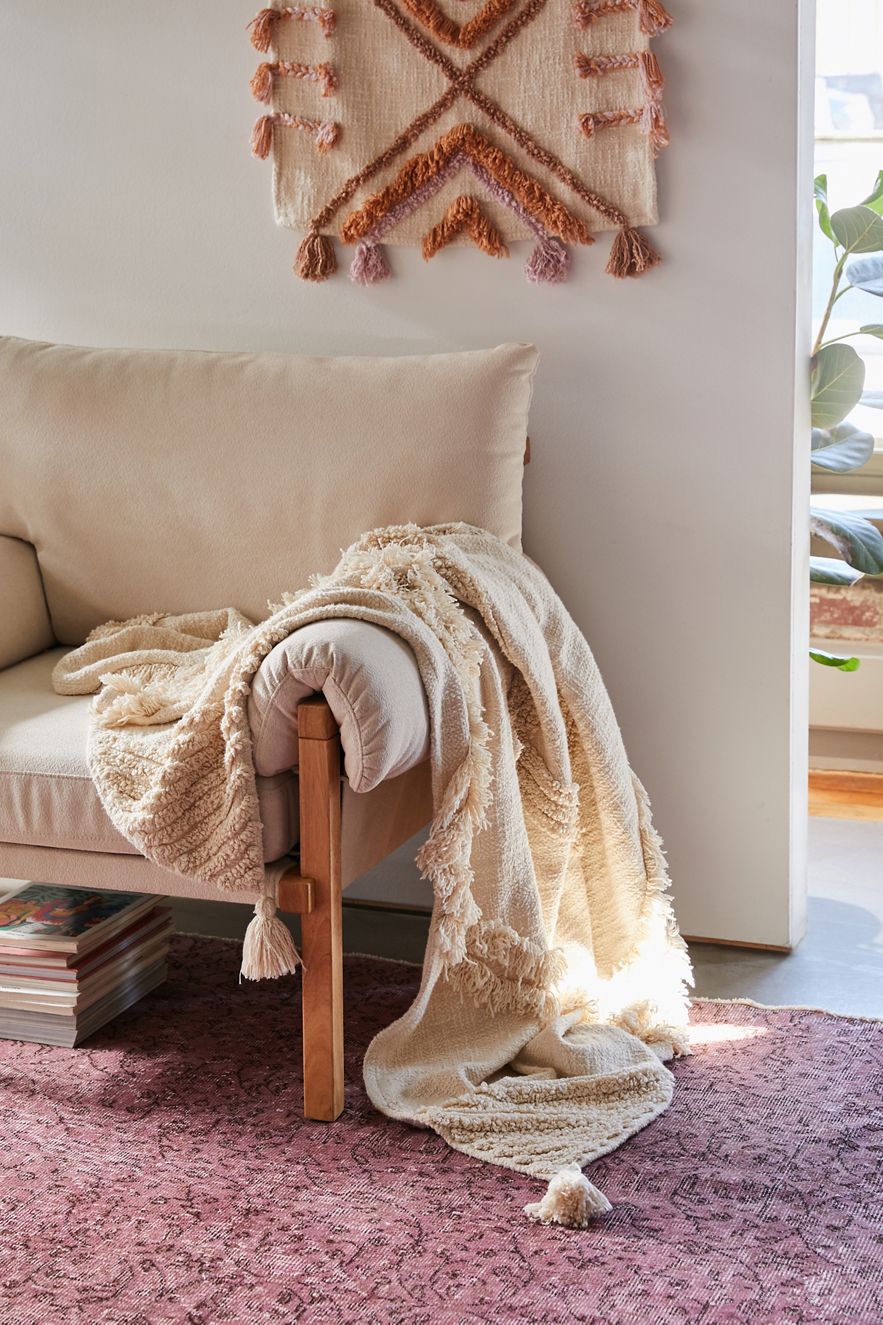 Textured bedding creates a cozy vibe in the bedroom. Current offerings from top brands reflect a range of textural bedding options, including Urban Outfitters' Tufted Dot Duvet Cover, shown below in Honey: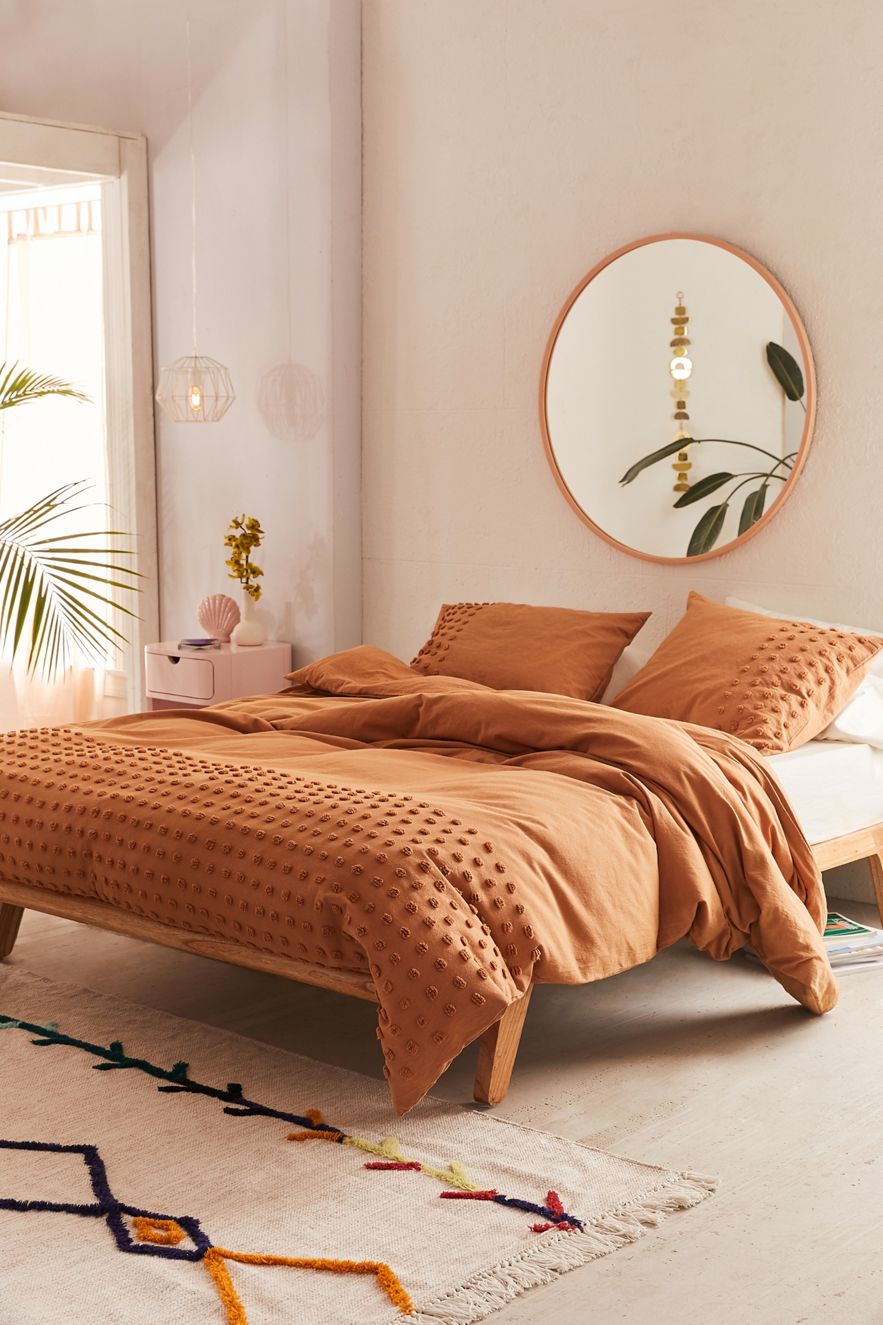 Sometimes the tufts are along the border of the textile, and sometimes they're used to create patterns throughout the design. The Tufted Geo Sham Set in the next image shows how texture can add visual interest in an all-white room: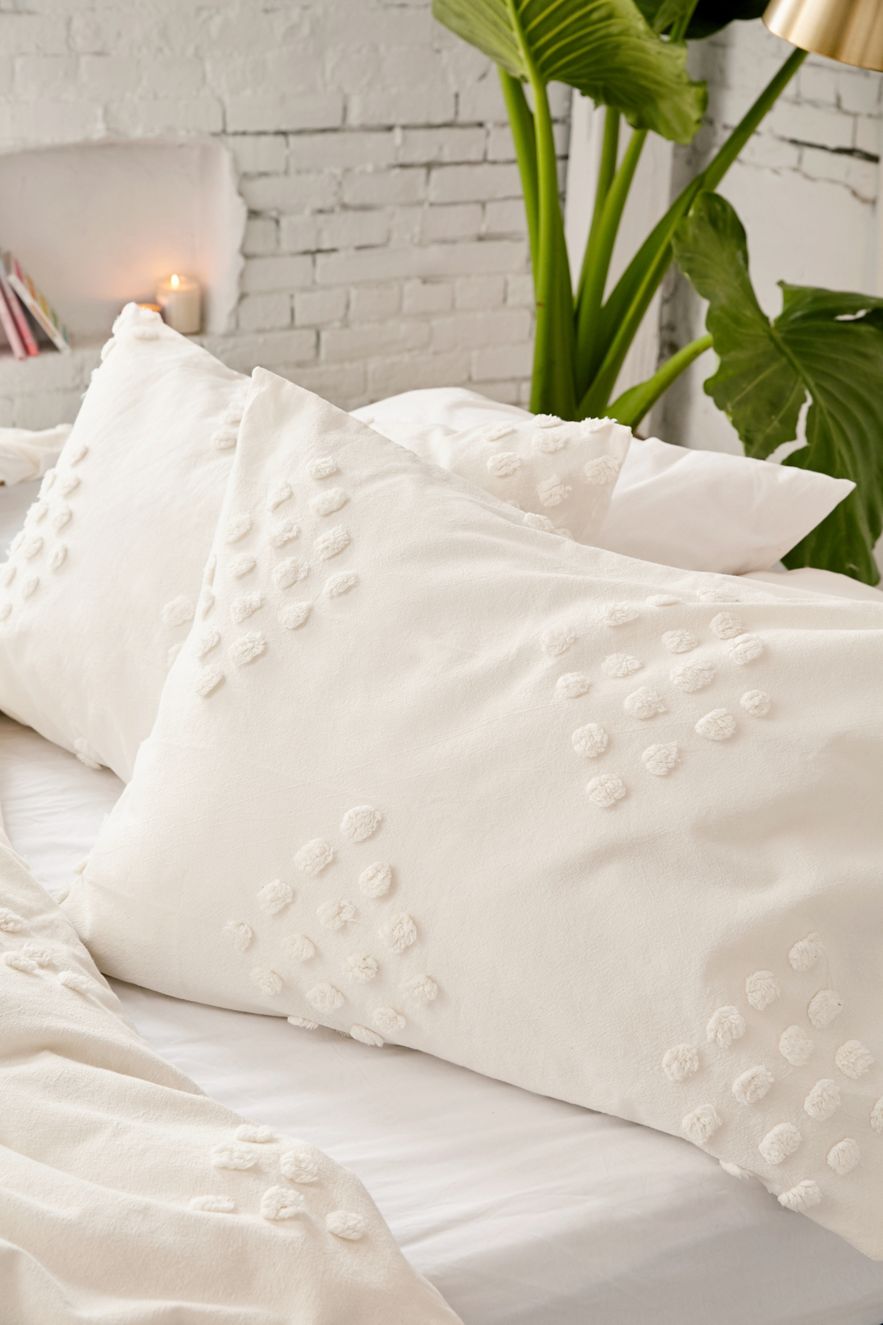 Tassels and shaggy triangles reign in Urban Outfitters' Rumi Shag Throw Pillow, shown below in a range of colors, including Marigold, Rose and Indigo.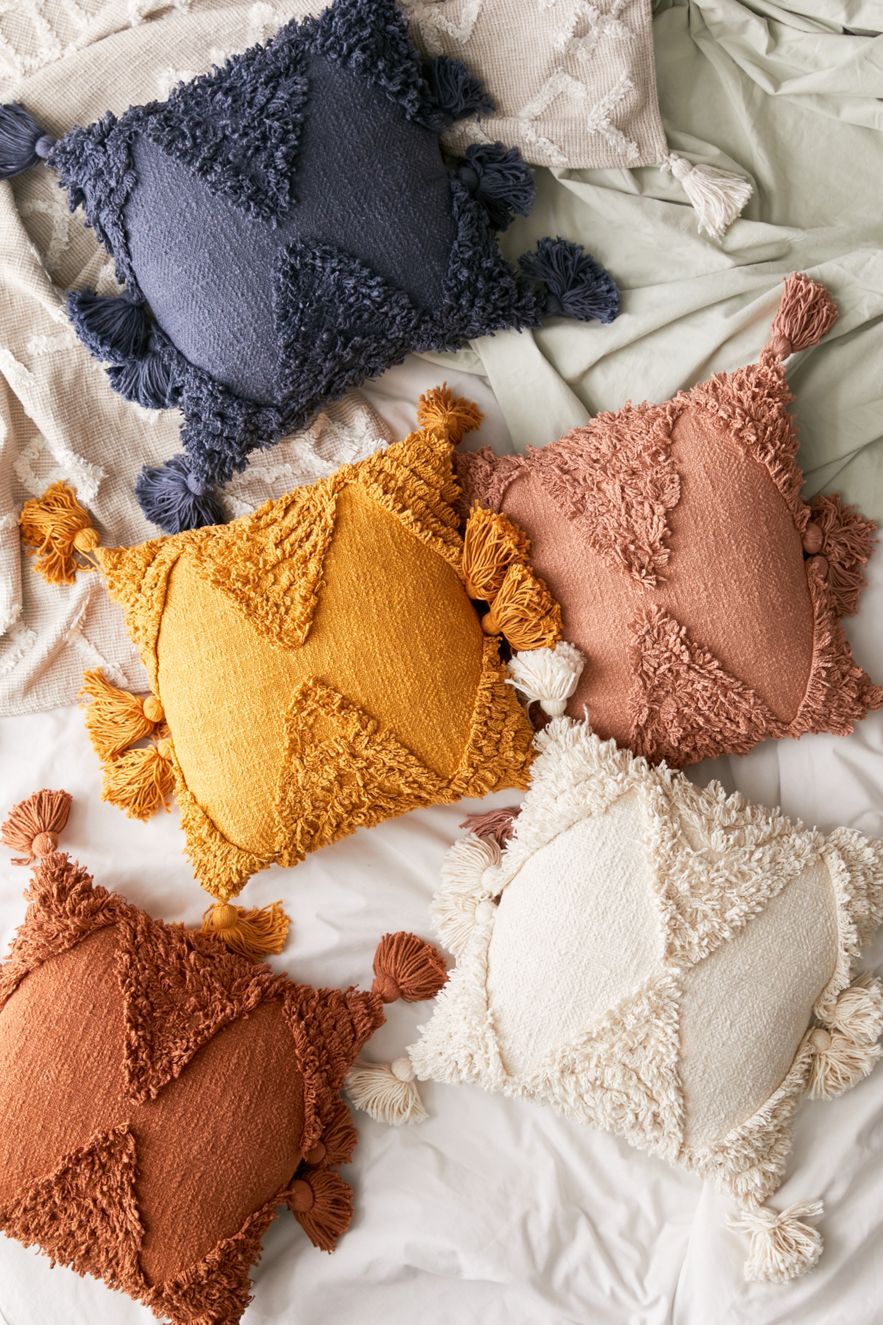 Tufts, tassels and pom poms appear on everything from baskets and bedding to pillows and ottomans. Don't hesitate to incorporate texture in the least expected of places. Even an outdoor space can benefit from a textured textile. [image from ferm LIVING]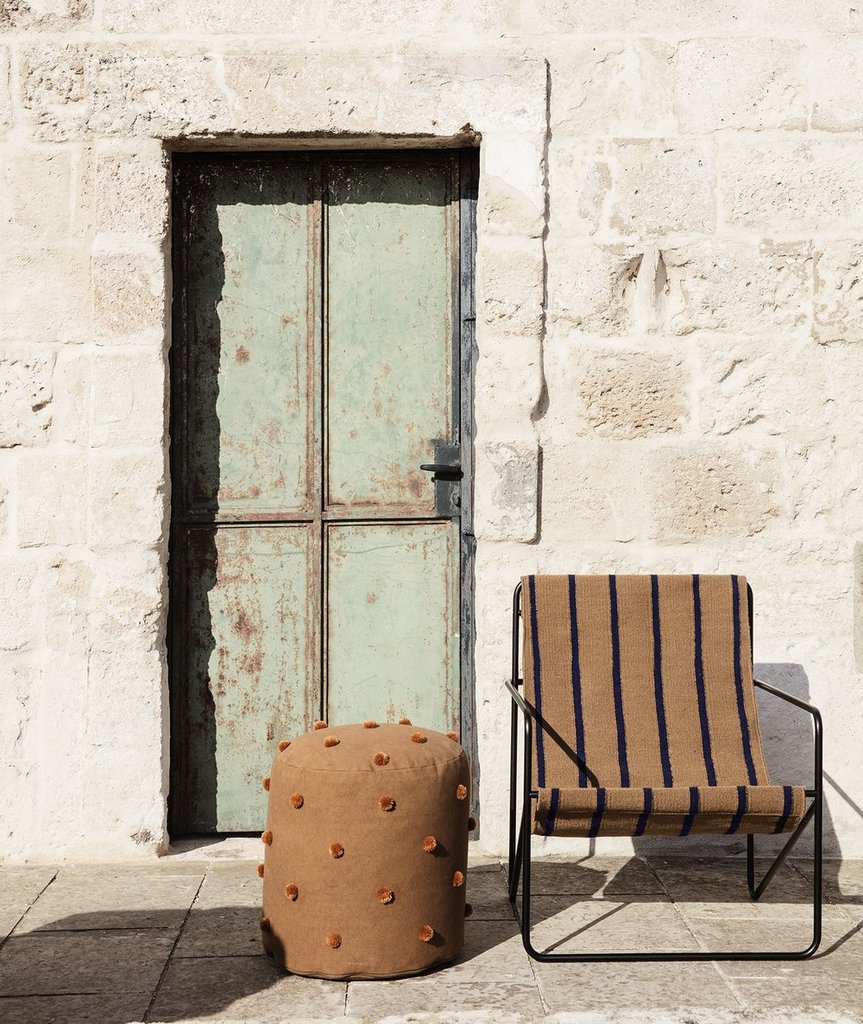 Woven baskets are one of today's top design trends, especially when it comes to incorporating texture. Not only can they make a design statement in a cozy minimalist home, they can conceal clutter and provide storage. When the woven baskets include additional textural elements (such as pom poms), even better! We're smitten with Xinh & Co.'s Mini Pom Pom Baskets, available through Etsy: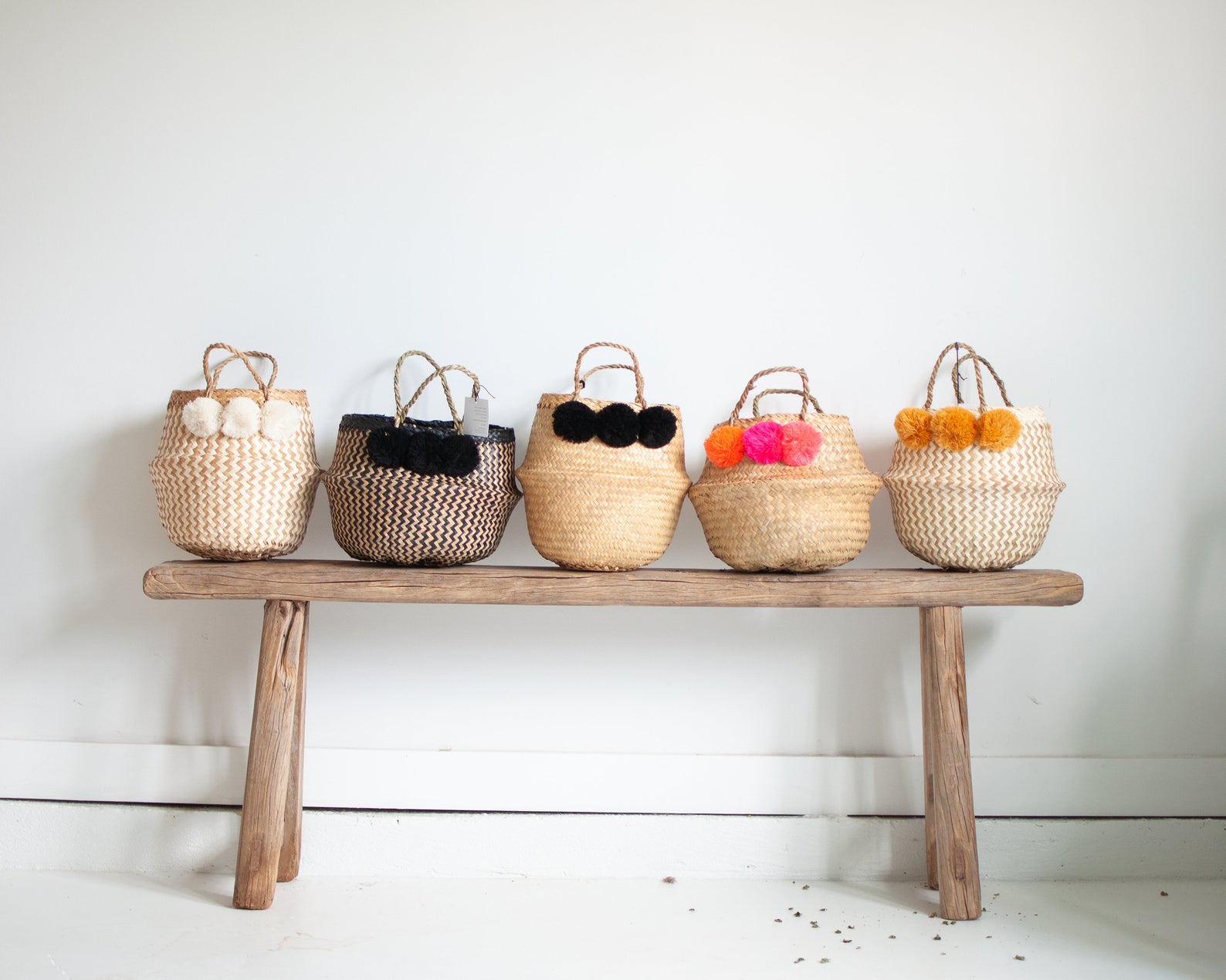 We end with Urban Outfitters' Alina Storage Ottoman, which reinforces two key elements of cozy minimalism: texture and excellent storage. Creating more with less means making each piece count. Dual-function furniture that creates visual interest is the equivalent of design gold: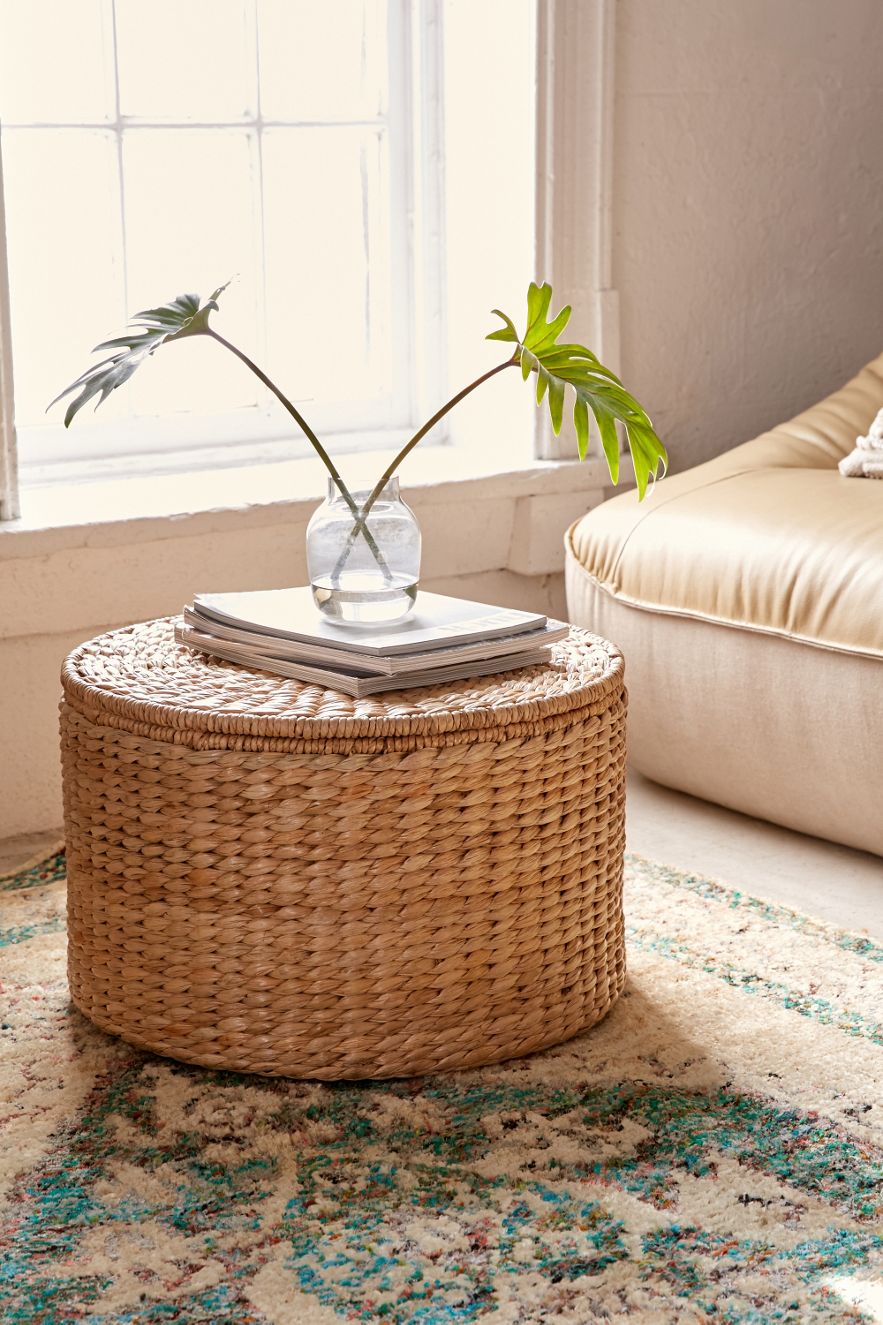 Are you ready to give your home a cozy minimalist makeover? By paying attention to design tools such as texture, fluid forms and special, inviting touches, you can make sure that each piece counts and create a truly inviting space. Cozy minimalism has become mainstream, precisely because it's easy to put your own stamp on the look. Traditional, modern, eclectic, Scandinavian and boho are just a few of the many design styles that are compatible with cozy minimalism. In other words, there's something in it for everybody, and it's compatible with a range of approaches and palettes. Happy decorating, and thanks for reading!