Vases make the perfect gift, as you can fill them with fresh blooms to create an instant work of art! Vases also make ideal decor for desks, tabletops and more. Today we present a collection of 20 vases, organized into categories based on price. If you're on a budget, there's no reason to sacrifice good design. As noted in the title of the post, there's a vase for every price range! Be sure to check out the links for details and purchasing information, and enjoy the design inspiration provided by the gorgeous images that follow…
$10 and Under
You just might be surprised at the affordability of the interesting vases in this category. Below we see the Colada Pineapple Vase from CB2, which also doubles as a planter. Fill it with a succulent or a plant with long leaves (such as aloe vera), and you have a tropical statement that will delight in the winter and be seasonally perfect for the summer. An ideal hostess gift!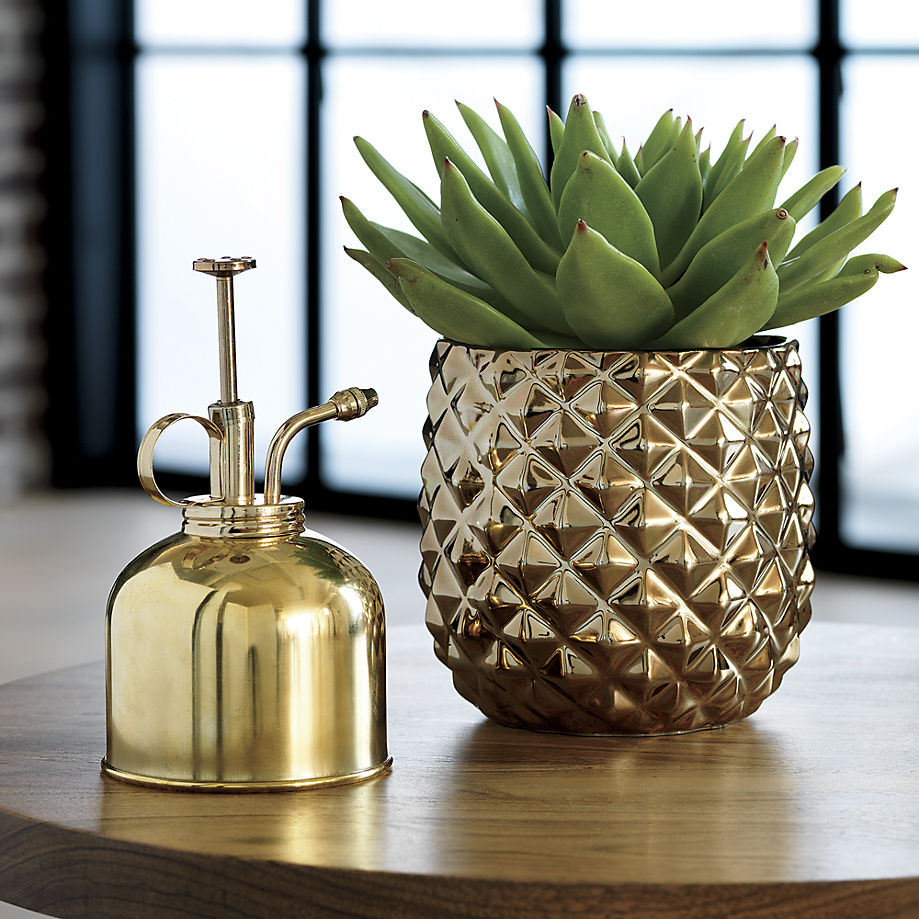 Next up: the Gatz Vase from CB2, which you may remember serving as a receptacle for roses and red berried branches in this recent Decoist post. Super affordable at only $6.95, this earthenware piece is perfect for stockpiling in your gift closet so you have an instant present at the ready should the need arise!
At only $10, this Geometric Porcelain Vase from Terrain is classic and modern. Not only does it work well in a variety of interiors, its clean-lined geo design and creamy hue are a perfect fit for any flower: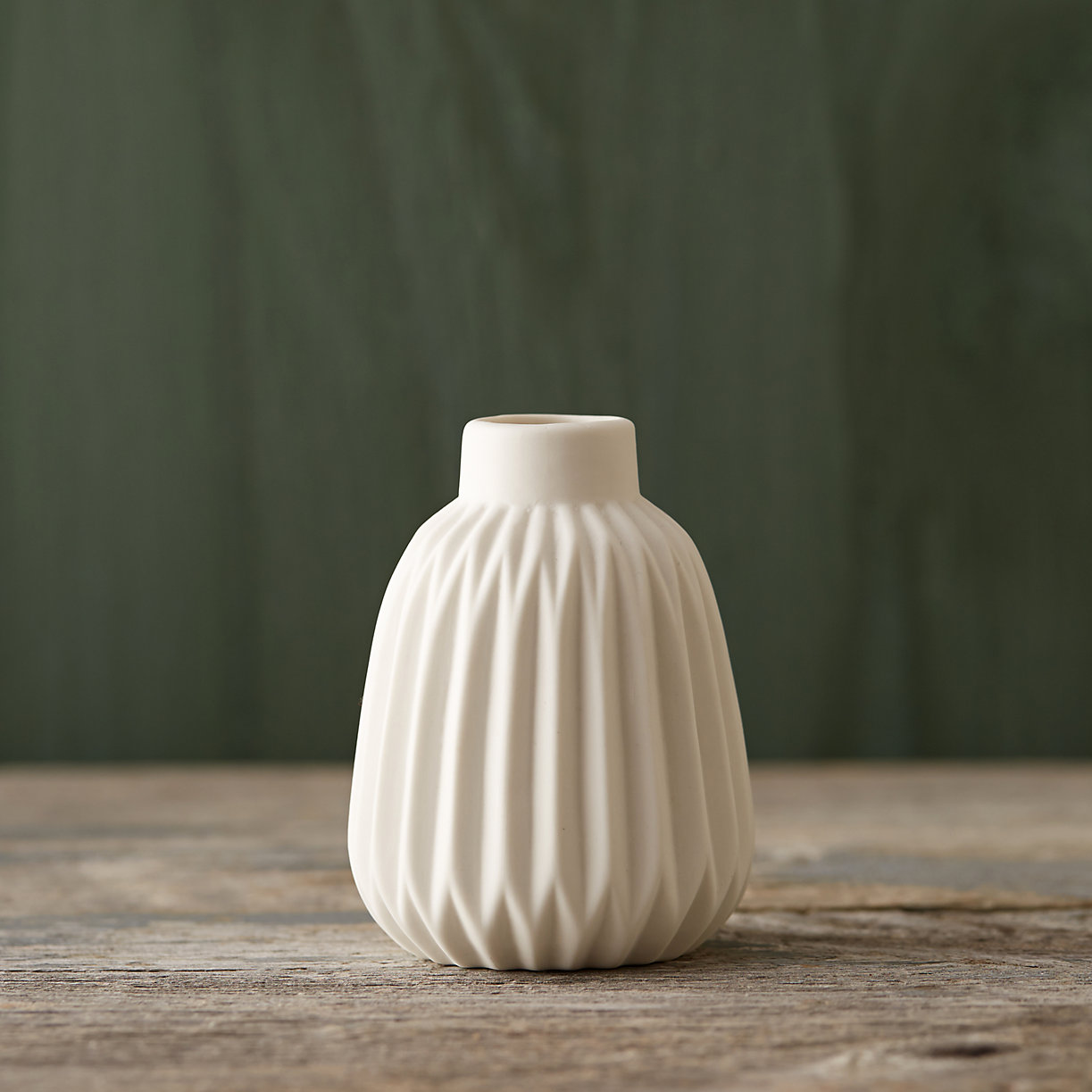 Under $25
We now step up one price bracket, which still leaves us in affordable territory. If you have more than $10 to spend, check out the eye-catching containers that follow! For starters, the Thirteen Seafoam Vase from CB2 is a bargain at $12.99, and it epitomizes on-trend modern style with its minty shade and sleek yet earthy appearance: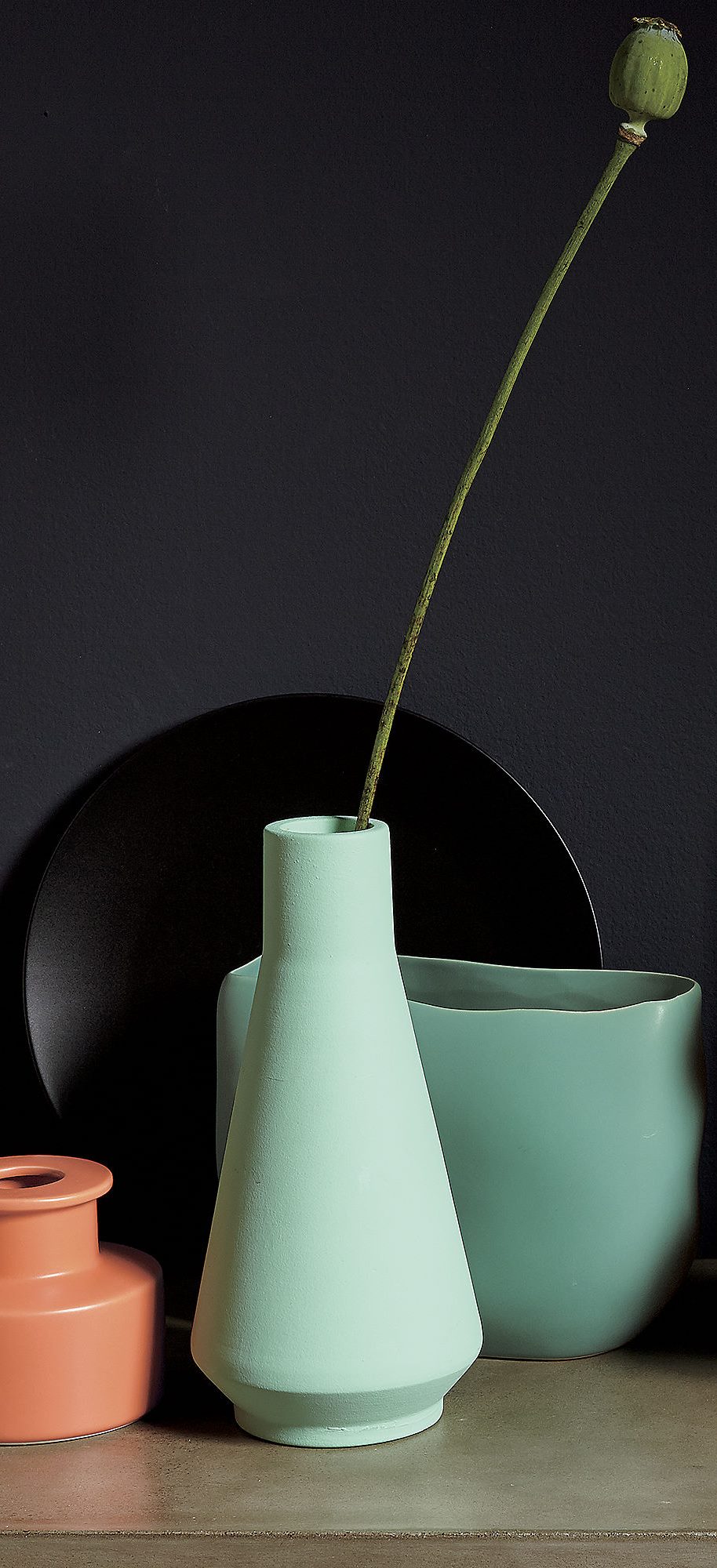 Currently on sale, these Modern Wood Ombre Vases from West Elm are a vision in mango wood! Modern yet rustic at the same time, the vases work well in a range of interiors, from the contemporary to the eclectic.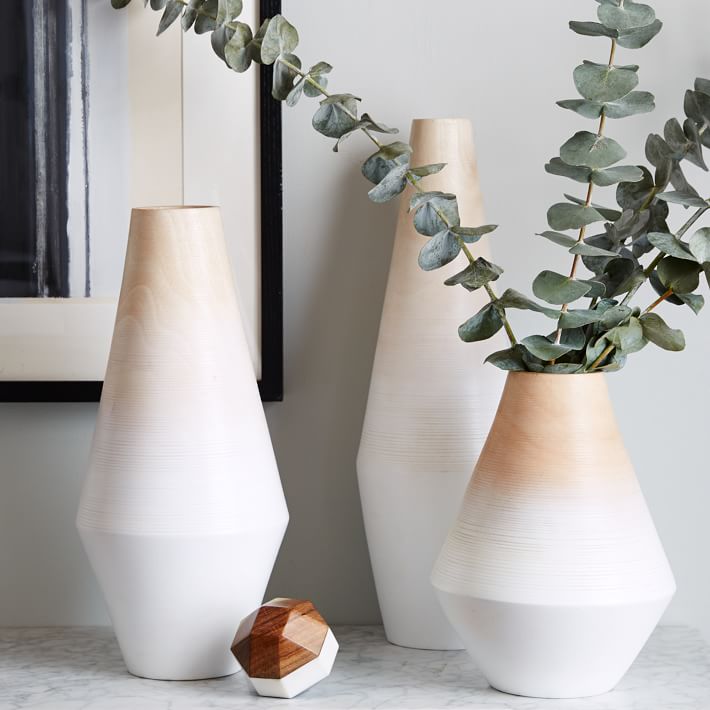 Also on sale, West Elm's Avron Ceramic Vases are inspired by celadon pottery. A raised diamond pattern adds personality and geometric flair. Branches, white blooms and rosy flowers alike would shine in these classic receptacles. Plus, for many color-lovers, shades of blue-green serve as neutrals, making the hue of these vases picture-perfect!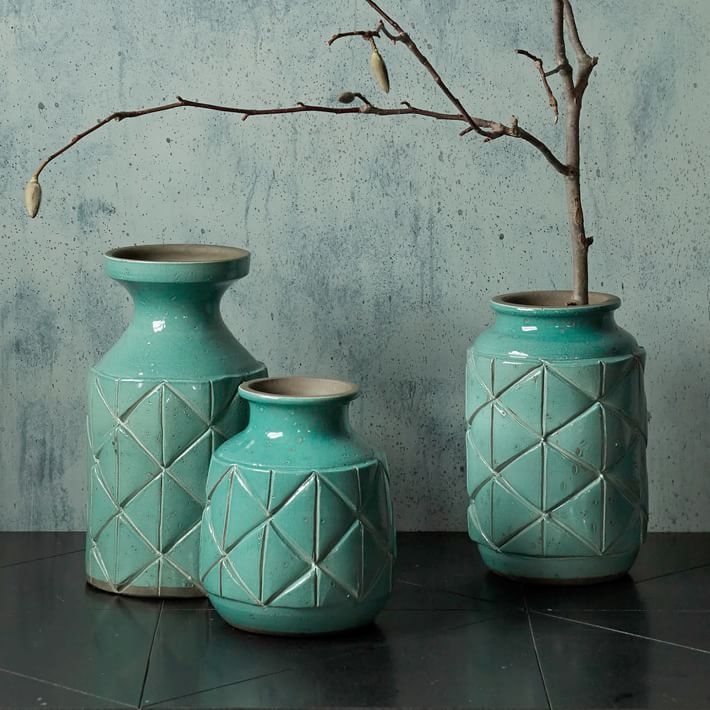 The ultimate geo vase statement, CB2's Hex Vase is a vision in pale green. Triangles abound on this earthenware piece that celebrates the beauty of sculptural style: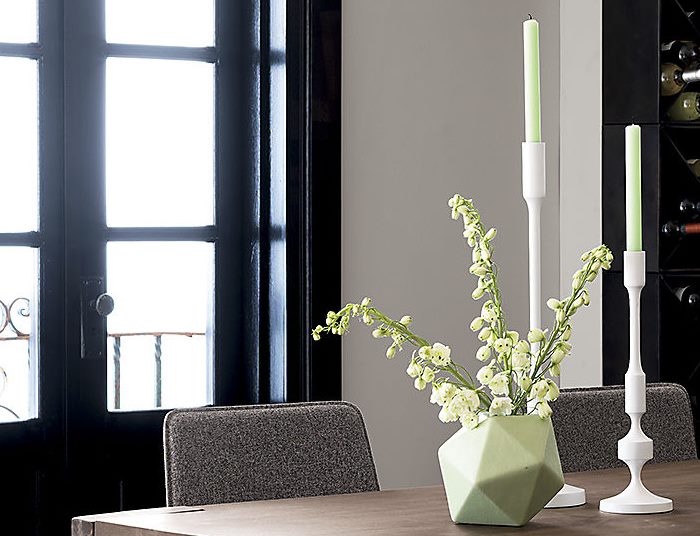 Also from CB2 is the Bennie Low Vase-Planter, which (as its name implies) can be used as a vase or a planter. Faceted style is alive and well on the surface of this stoneware container. Note: it's only to be used with dried botanicals/faux florals.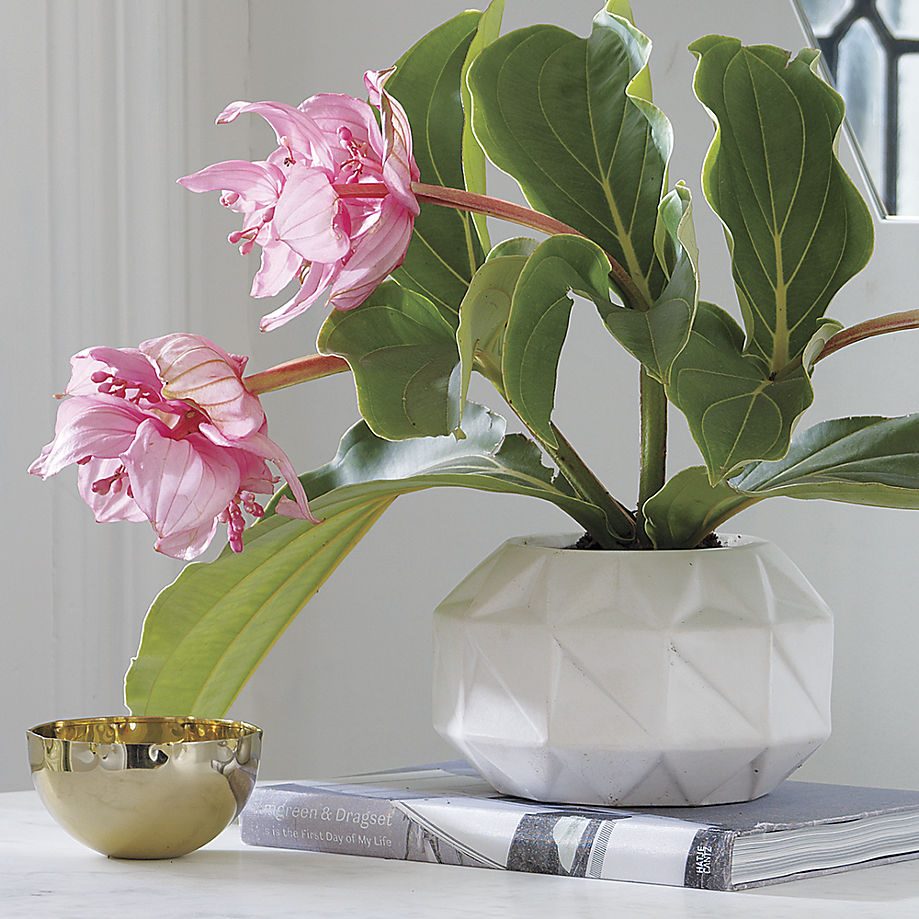 On sale for $18.99, Jonathan Adler's Baby Lantern Vase is the petite selection featured in the next image. Channeling the striking form of a Chinese paper lantern, the vase also reflects the signature style of Jonathan Adler, making it a design-fabulous gift for those who appreciate iconic modern flair: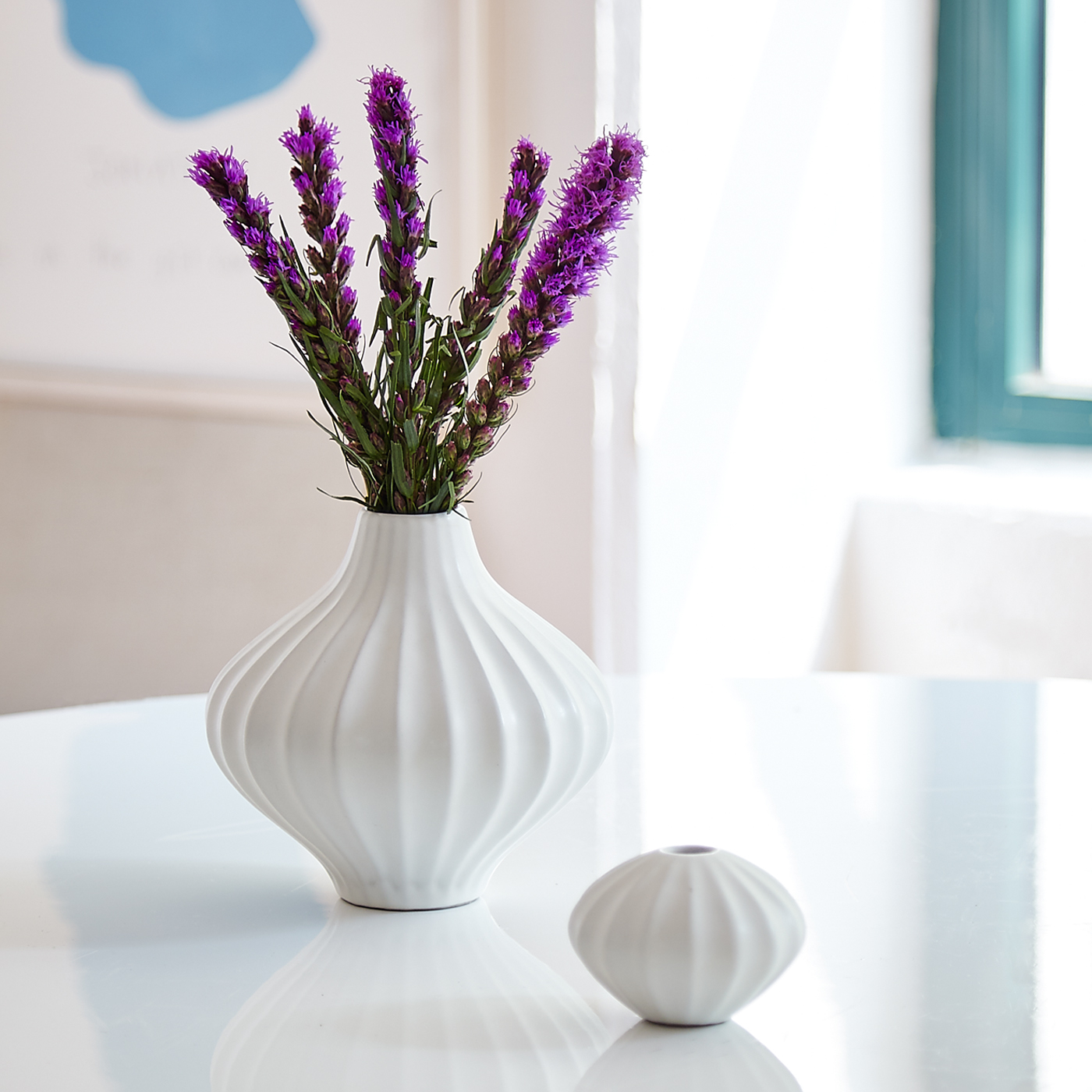 Terrain's Alabaster Bud Vase is hand-carved and painted in Italy. And yes, it's only $20!!! Plus, it's this season's hottest hue, channeling 1/2 of Pantone's Color of the Year combo: Rose Quartz.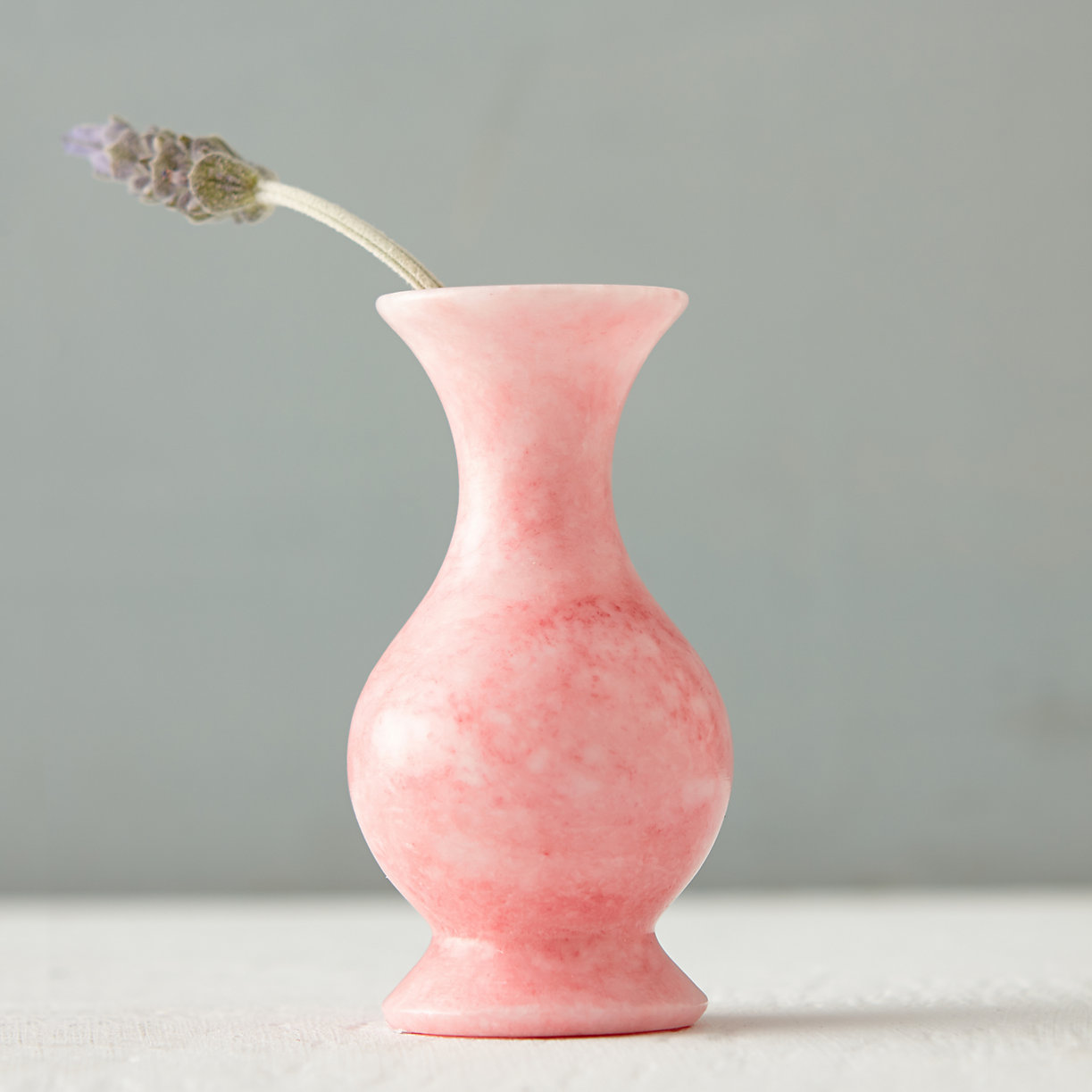 West Elm's Tinted Glass Vases are a celebration of delicate ombre style. The tall teardrop vase featured at the back of the vignette below is currently available (and on sale), making it easy to add a hint of blue to your interior: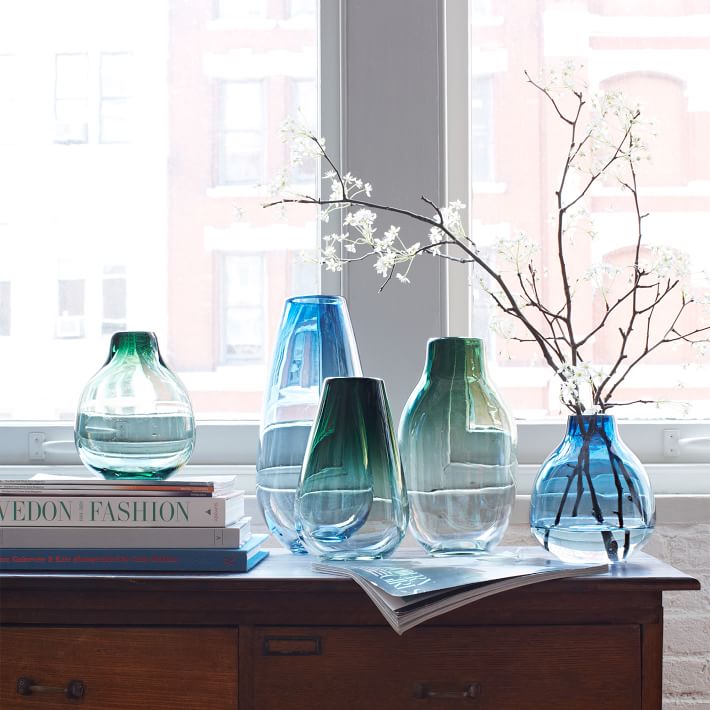 Terrain's Smoked Geometric Vase takes hand-blown glass to an angular level, yet with a softness that makes it a lovely fit for delicate blooms. A neutral hue and clean-lined design make this piece universally likable: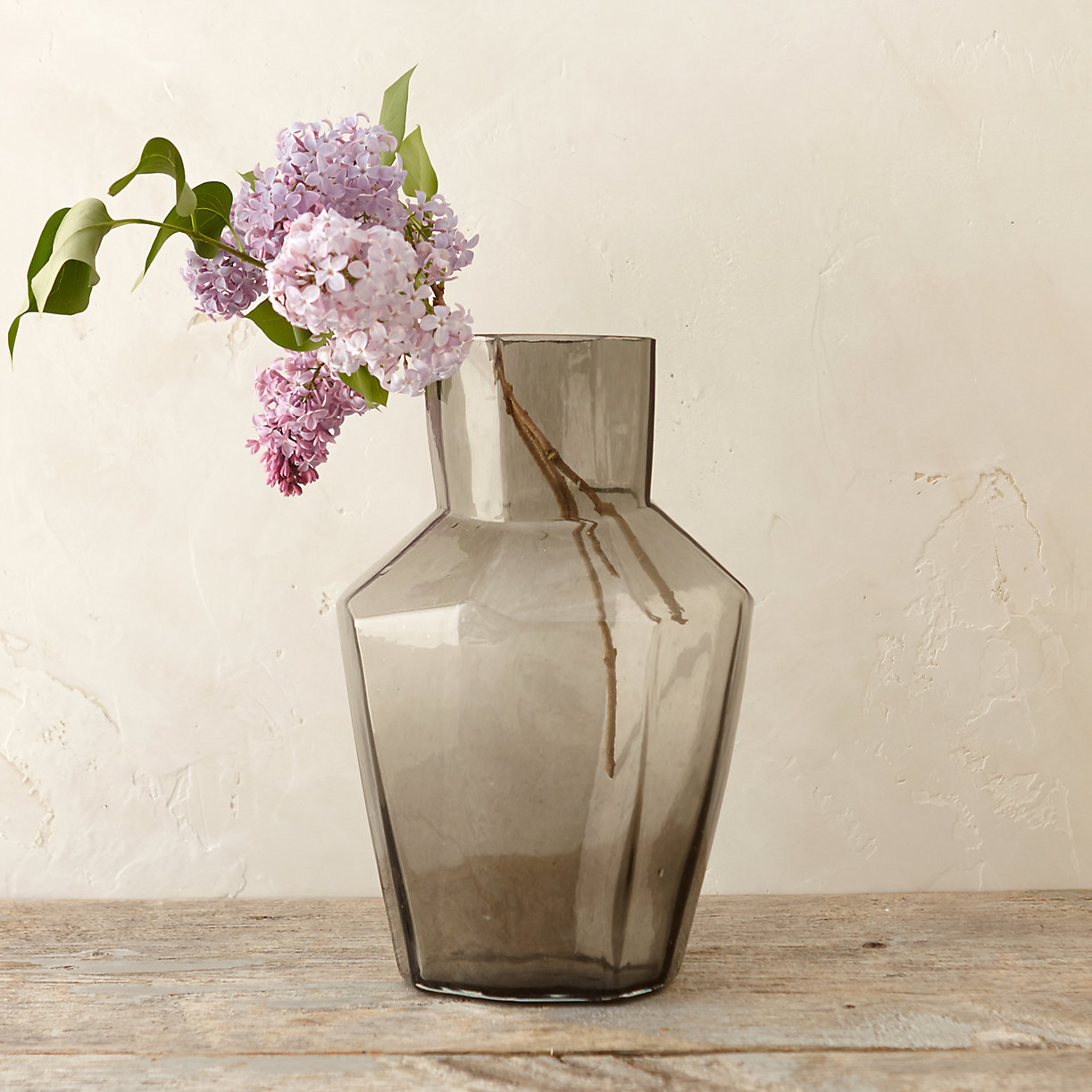 Under $50
Let's climb up to the under $50 category. Hint: get ready for some true statement pieces! In the next image, we see the Bevin Vase from Crate & Barrel. It's the one holding the branches, and it's fabulous with its teardrop shape and grey glaze: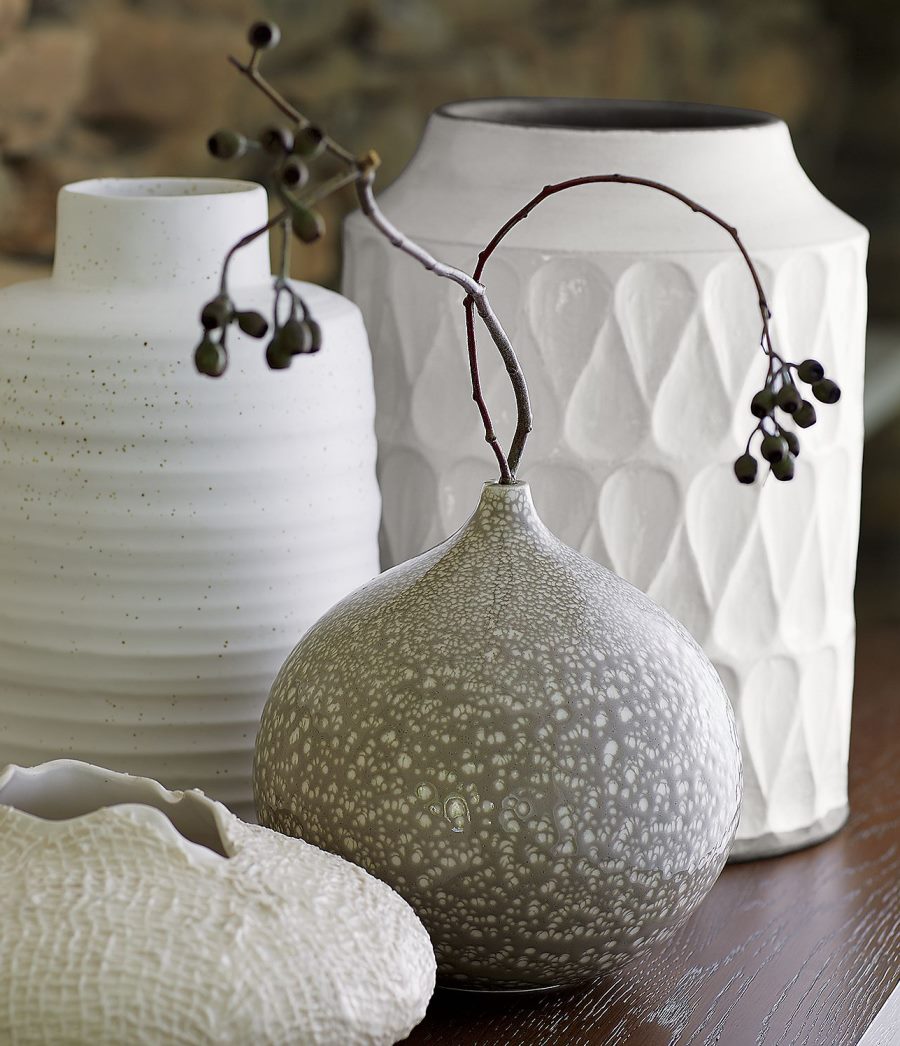 Also from Crate & Barrel is the Sabine Vase, which wows with its bottle-like form and tiny copper bubbles! Seeded eucalyptus is the foliage of choice in the photo below: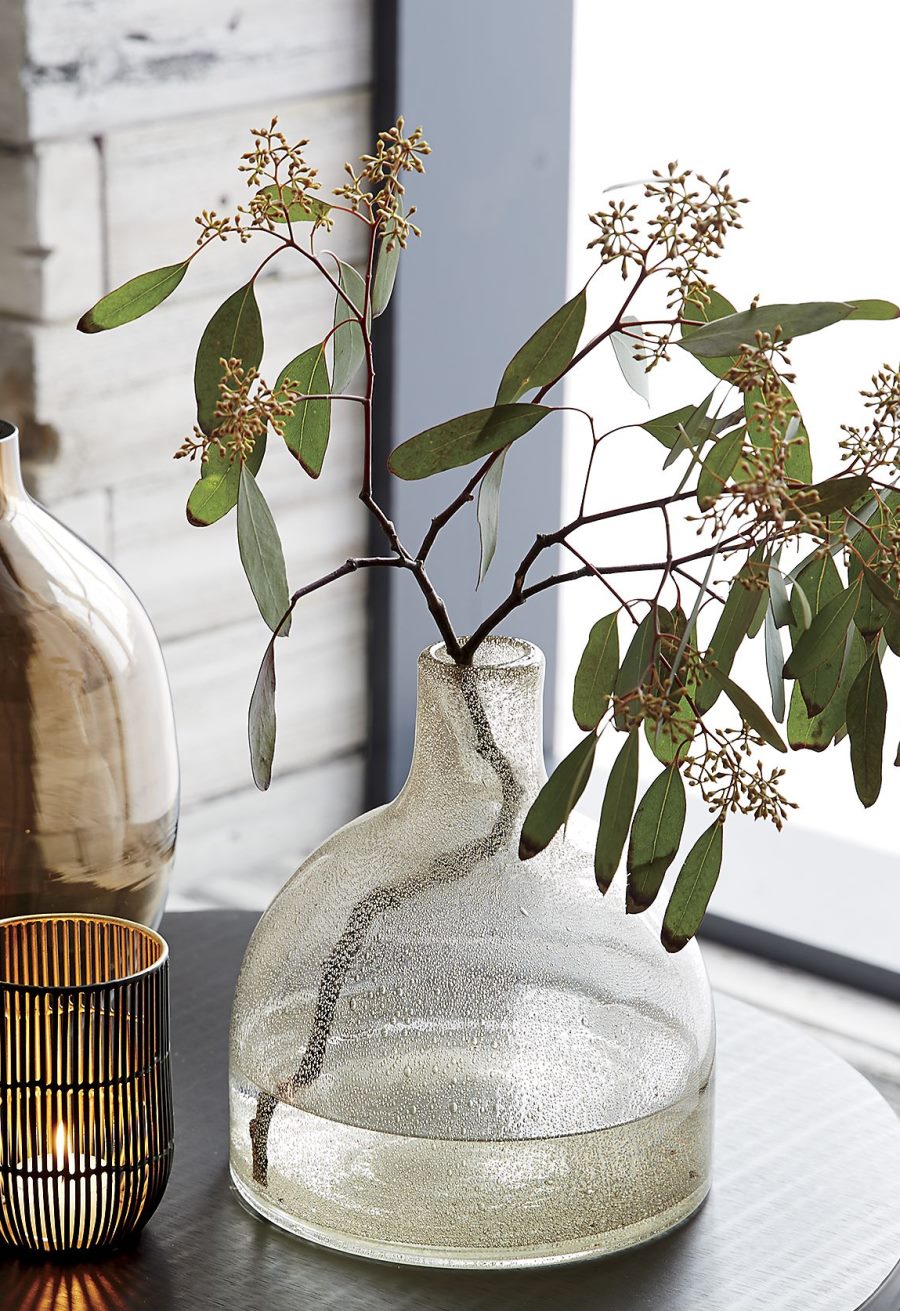 On sale for $32.99, the Santorini Selene Bud Vase from Jonathan Adler is the color of the sea, with dashes of pure gold, of course!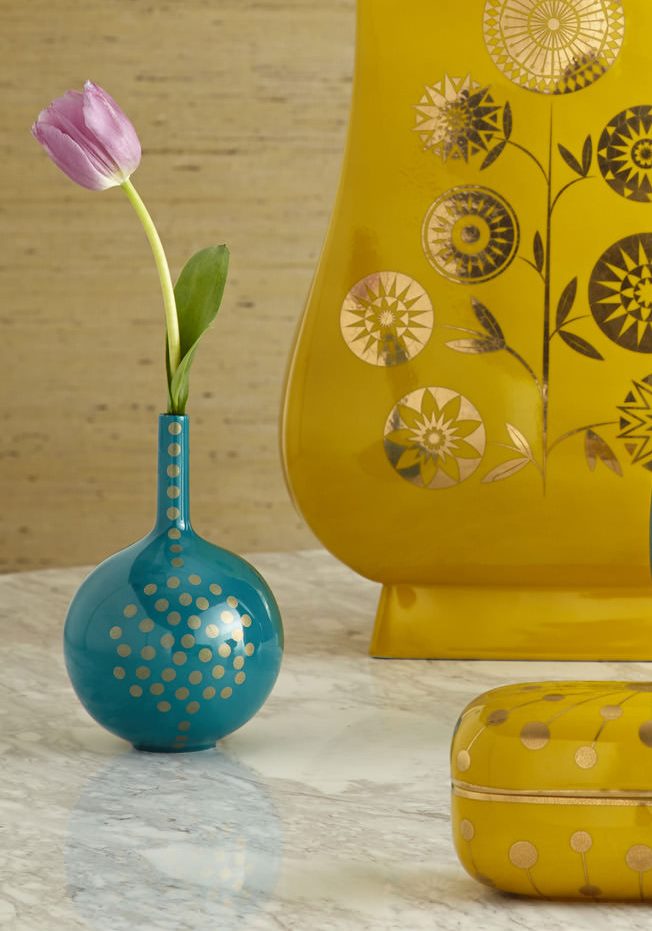 Anthropologie's Spotted Indigo Vase is a vision in blue glass. Blurry circular forms create a hand-dyed effect that's perfectly on trend and ideal for modern, Boho and eclectic interiors alike!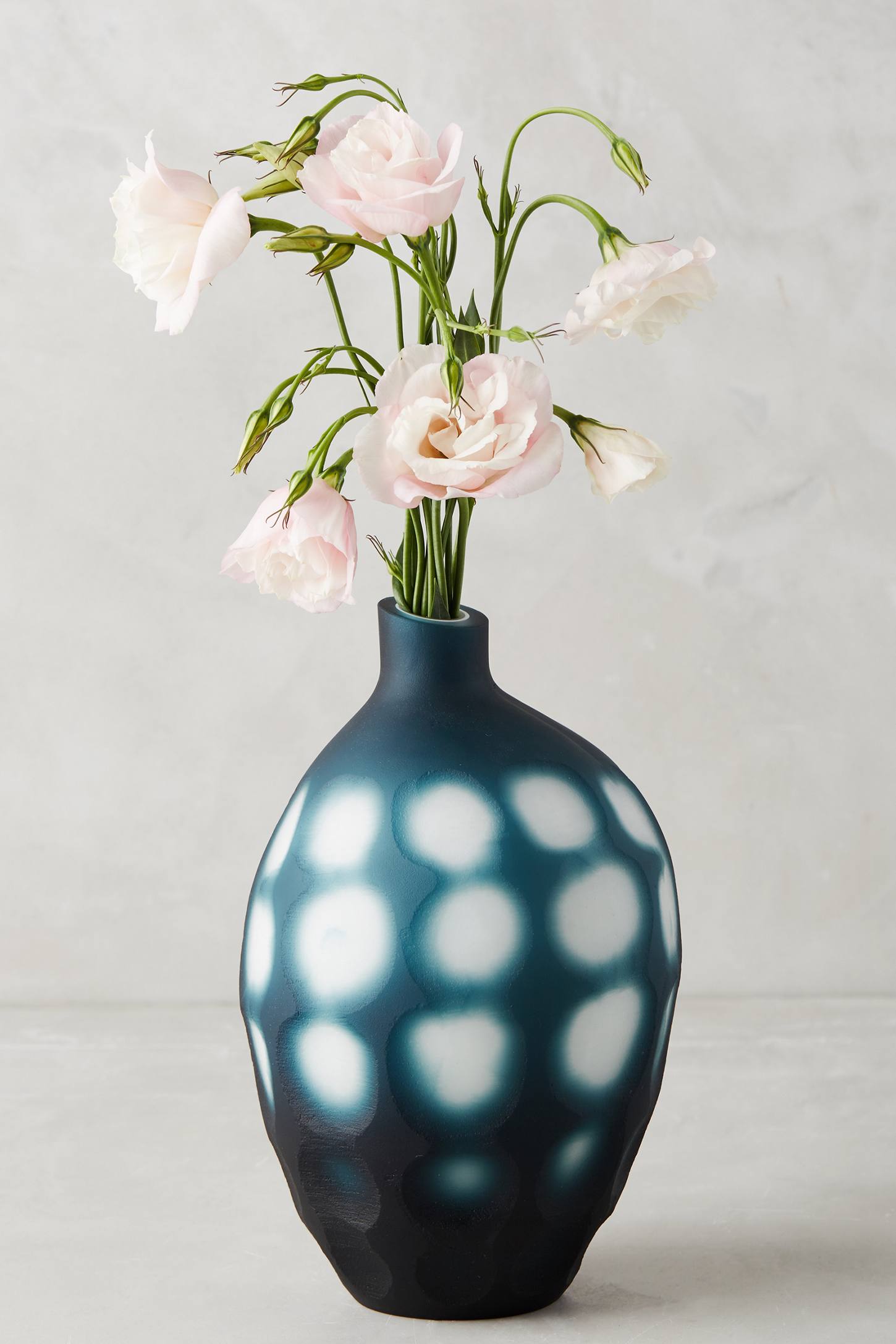 Under $100
Ready or not, we now end today's post with a collection of beautiful vases that fall in the $65-$100 price range. RH Modern's Brass Geometric Vase Collection is inspired by crystal structures in nature. Hand-sculpted from solid brass, these works of art are quite striking!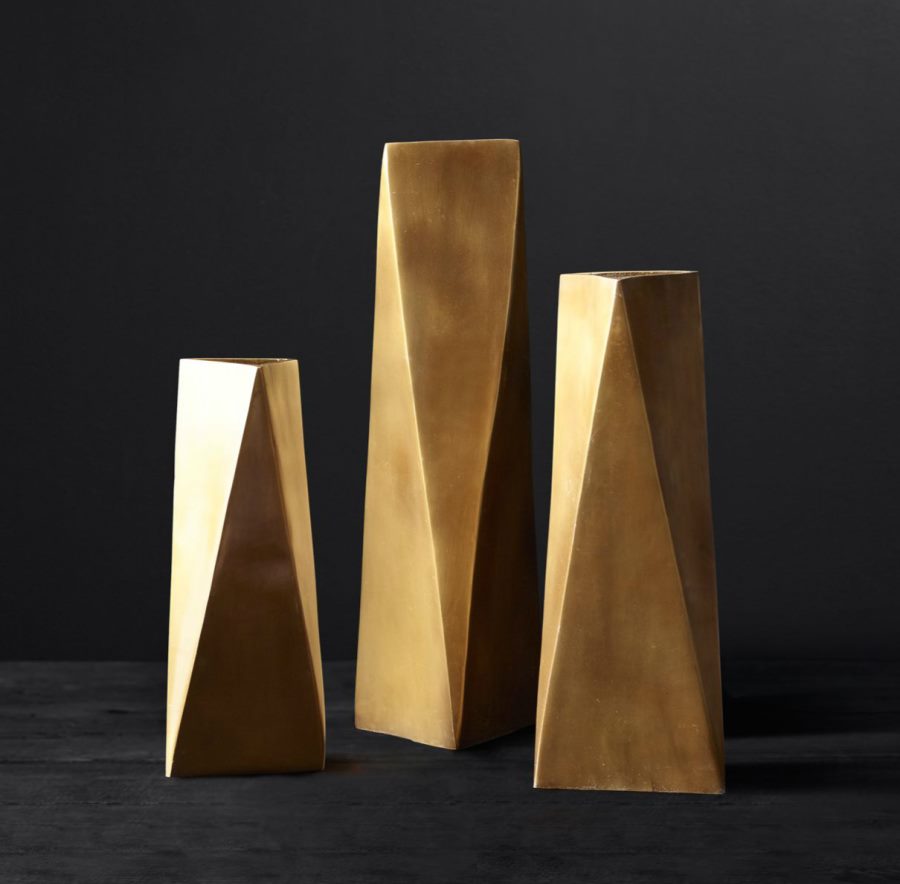 One of our very favorites in today's post, Anthropologie's Iridescent Angles Vase is crafted from hand-blown glass. Geometric and enchanting, it can stand alone or be beautifully enhanced with flowers or branches: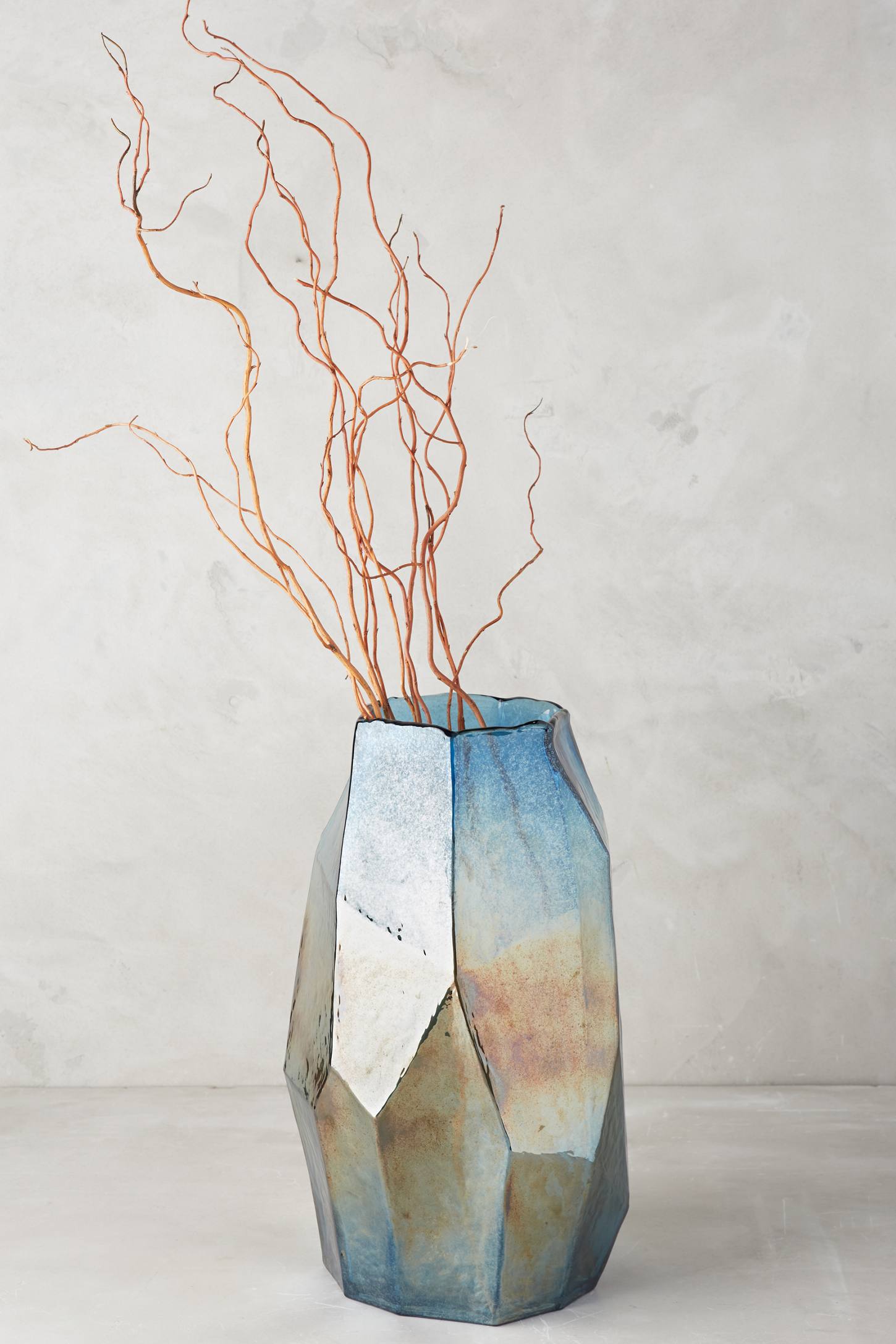 The 16″ Moretti Marble Vase from RH Modern is clean-lined and crisp, as fine white marble can truly stand out when showcased in simple yet beautiful form: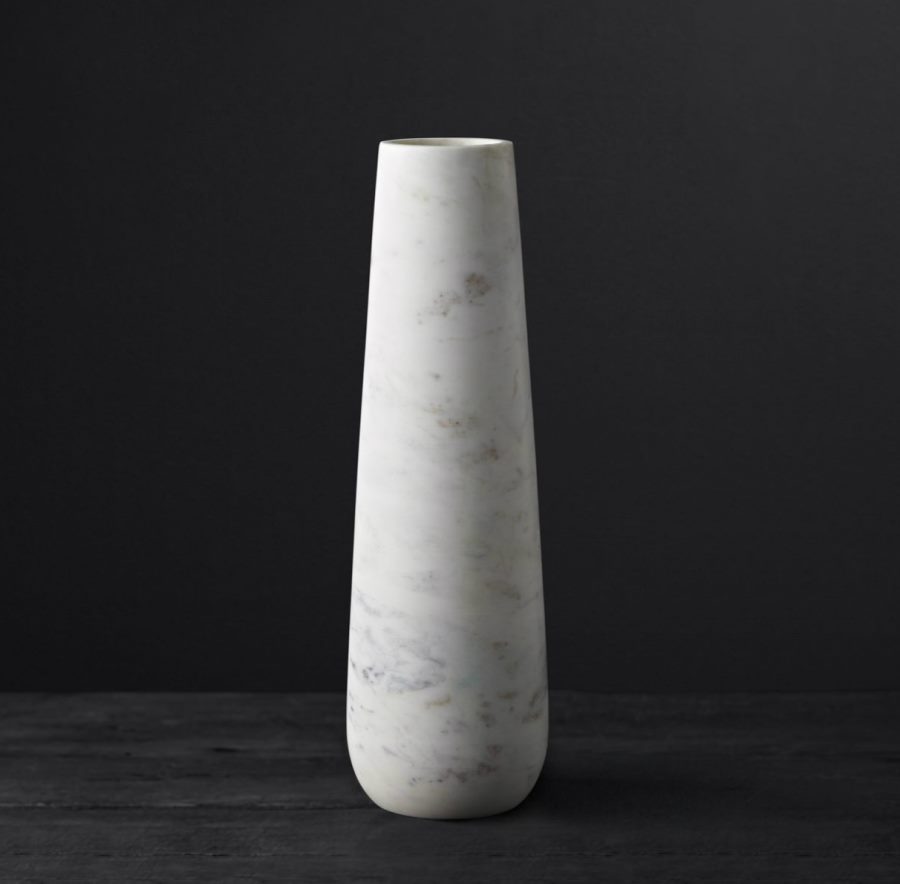 Last but not least, we shine the spotlight on Jonathan Adler's Bel Air Mini Scoop Vases, which instantly bring a pop of color to your interior. At $98, these small treasures make a big statement, especially since the colorful drops are suspended in Lucite cubes!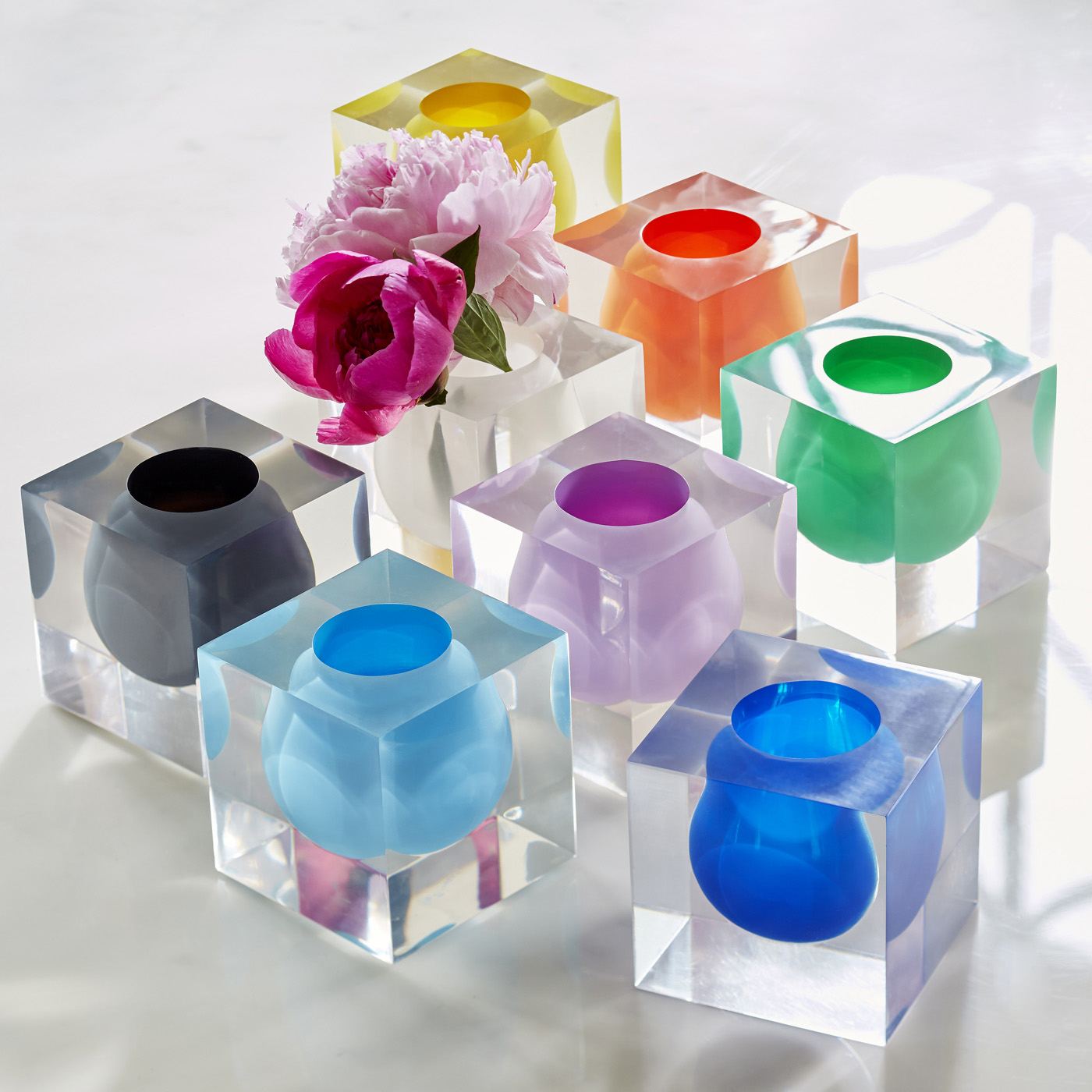 We hope today's post has helped you in your decor shopping endeavors. Whether you choose a vase from this list or you find one on your own, the proof is in the photos: vases are timeless and filled with design possibility!