Whether you're entertaining during the holidays, hosting Christmas dinner, or you simply want to dress up your dining table as part of your holiday decor, today's post shows you three simple ways to make a big impact with berries! Kate here, and this weekend I picked up a bundle of winterberry branches at the grocery store for a few dollars. I brought them home and quickly realized that red berries offer an endless array of design possibilities for the holiday table. From the decadent to the sleek, the arrangements below prove that mixing seasonal branches with nature's bounty creates a winning holiday combination…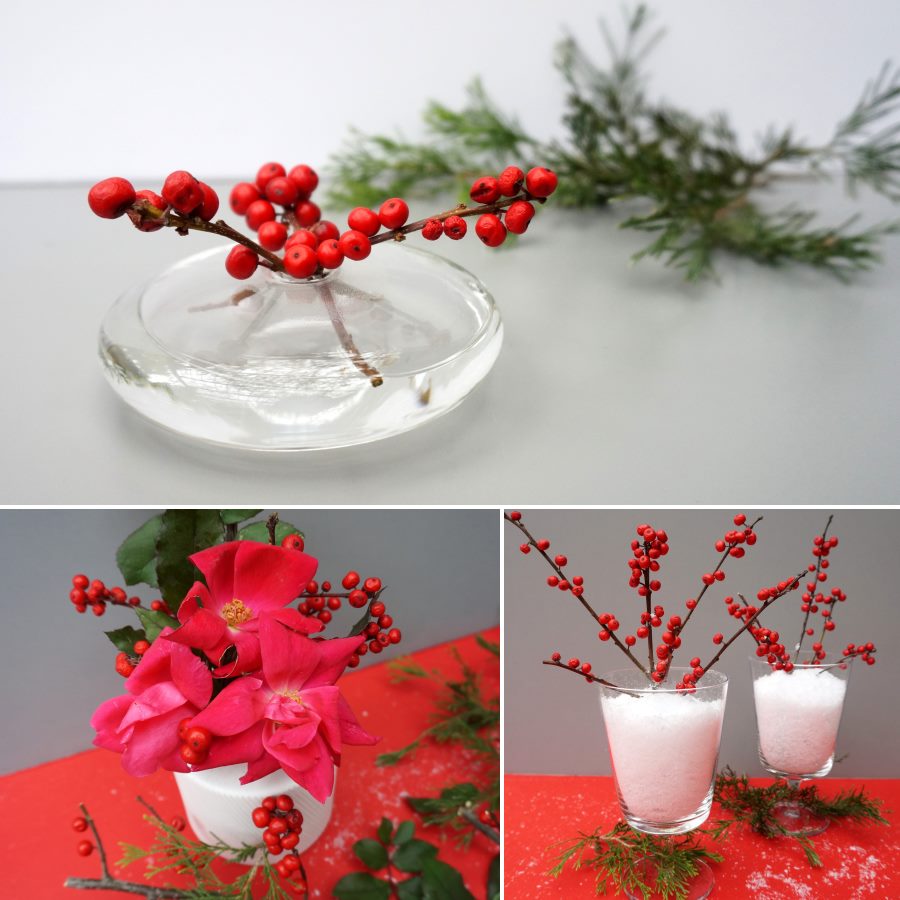 To create the arrangements featured in today's post, I used items from around the house and yard. Many of them appear in the next image. I'm constantly raiding my vase collection as I craft my centerpieces, and below we see a couple of tiny vases that I've had for years, as well as the white Gatz Vase and Flat Mini Bud Vase, both from CB2: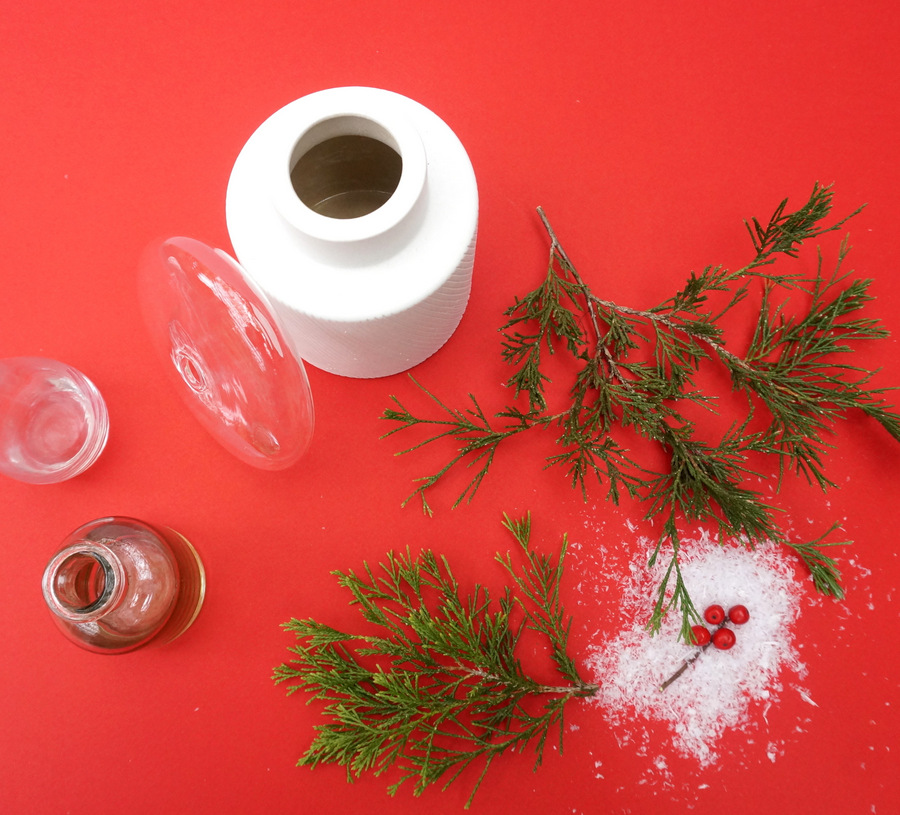 The arrangements that follow are named for the look and feel they create! So think about the holiday style you're going for and choose accordingly. Can't decide? Neither could I! Create all three looks. The red berries will unify your designs, creating consistency in your interior.
Enchanting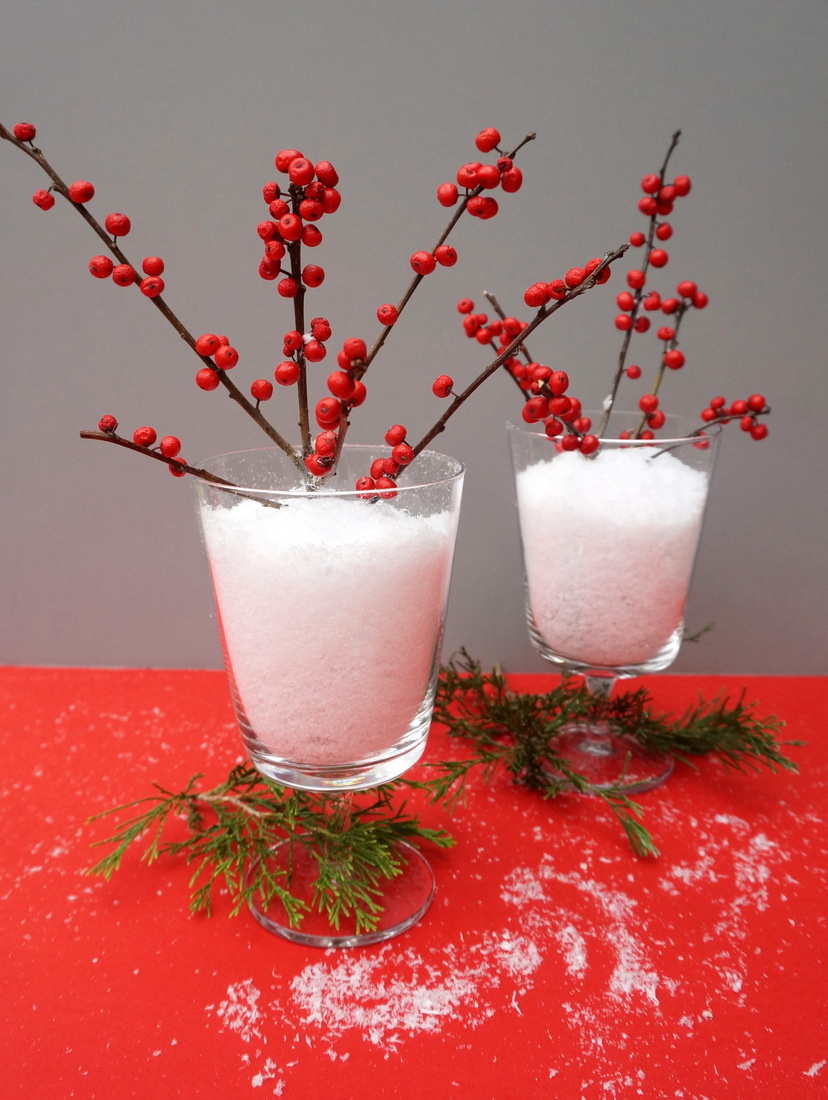 This first enchanting arrangement is easy to create, not to mention fun! To get started, you'll need:
a small vase
a clear goblet or other container that's larger than the vase
berry branches (such as winterberry)
water
faux snow
greenery (optional)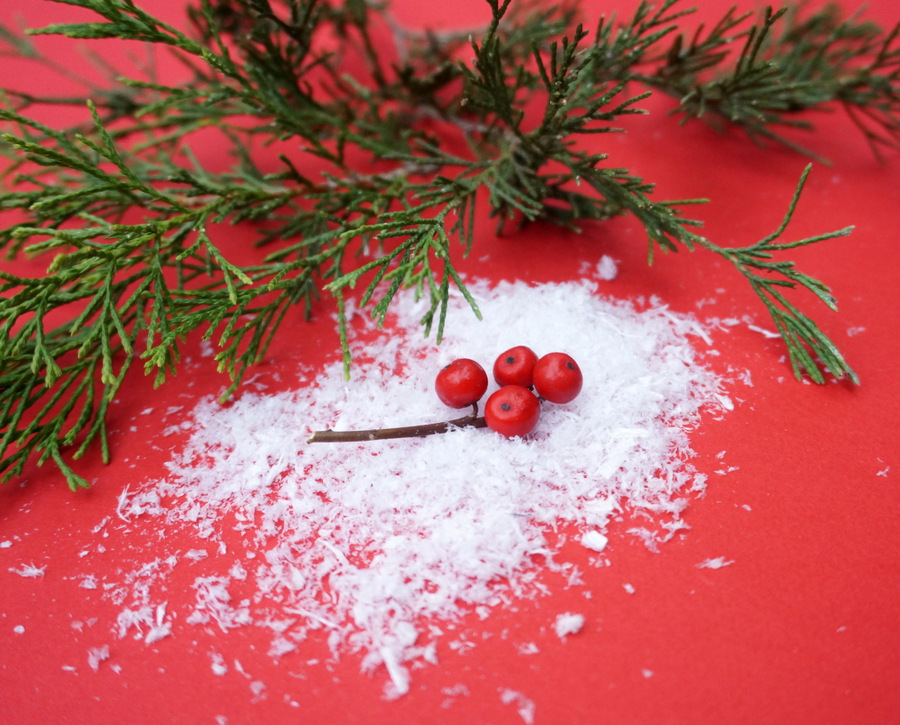 For the containers, I used a small vase from my collection, as well as a water goblet from my kitchen cabinet. There are different opinions about how long winterberry branches will live once cut, as well as whether or not they require water. I wanted to maximize the life of my winterberry arrangement, so below you will find instructions that involve hydrating them in a vase of water. However, if you don't need your arrangement to last long, feel free to skip the water and simply place the berry branches in a goblet filled with faux snow.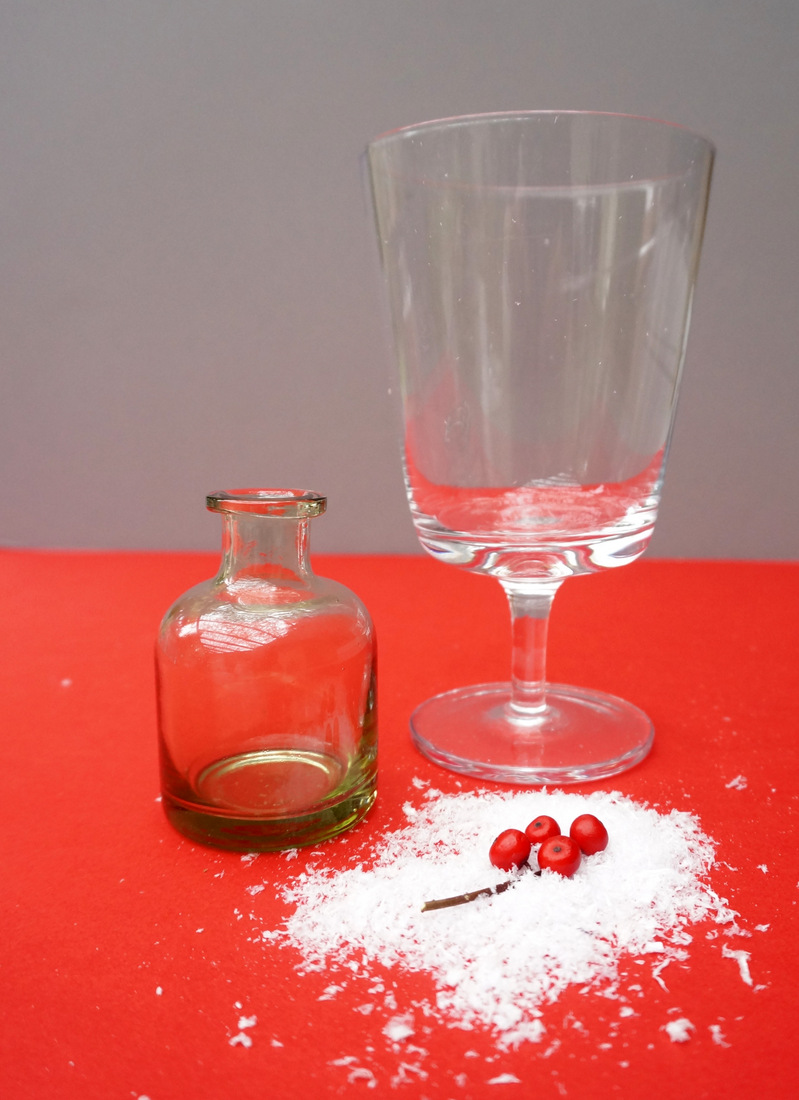 Step 1: Fill the small vase with water, and place the berry branches in the vase. I chose a portion of my berry branch bouquet that was full and wide, as a substantial branch segment will add drama to the arrangement!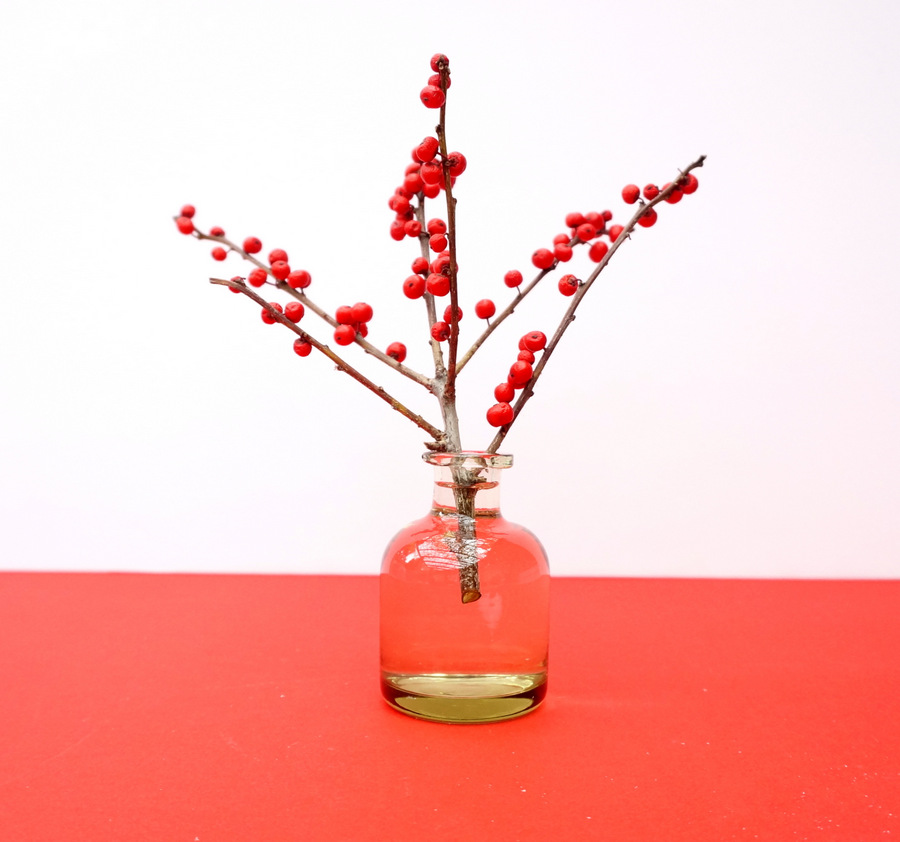 Step 2: Place the vase inside of the goblet (or the container of your choice). A clear goblet or container works well for this arrangement, as the faux snow can really take center stage when the sides of the container are transparent.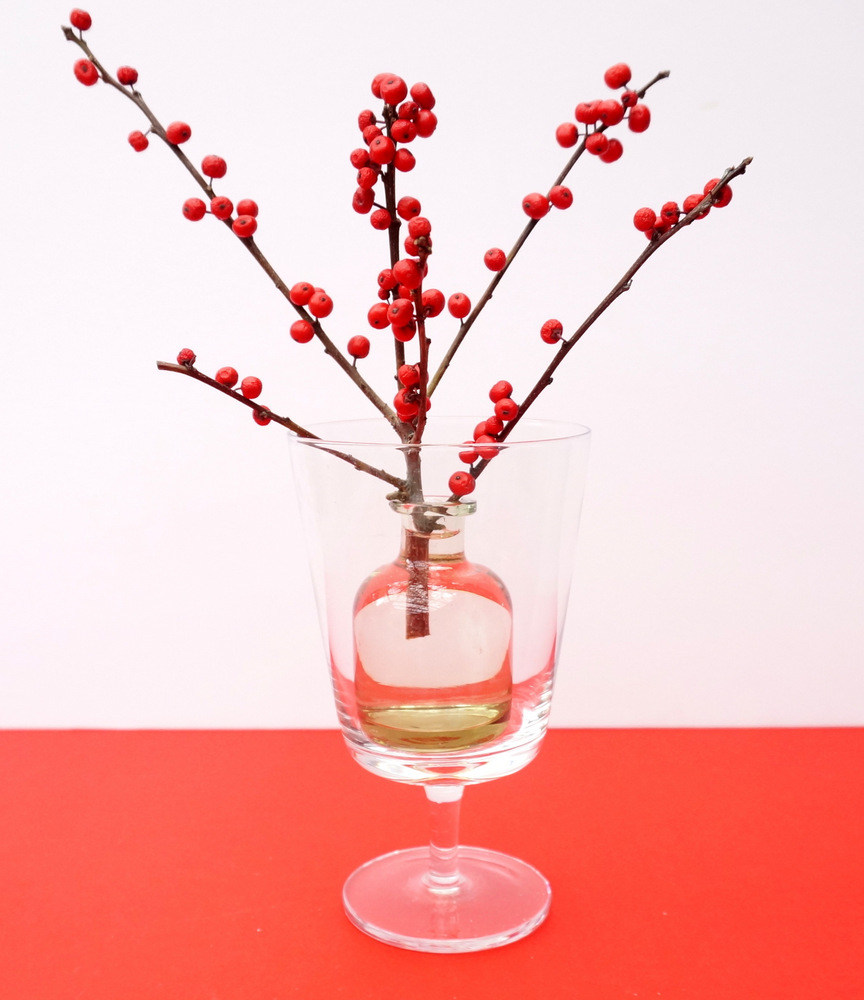 Step 3: Fill the goblet with faux snow, covering the small vase so the berry branches appear to emerge from the snow. I love the whimsical, fairy-tale look of this arrangement, and right now there's a goblet of snow and berries on either side of a brass bowl on my dining room table. Divine!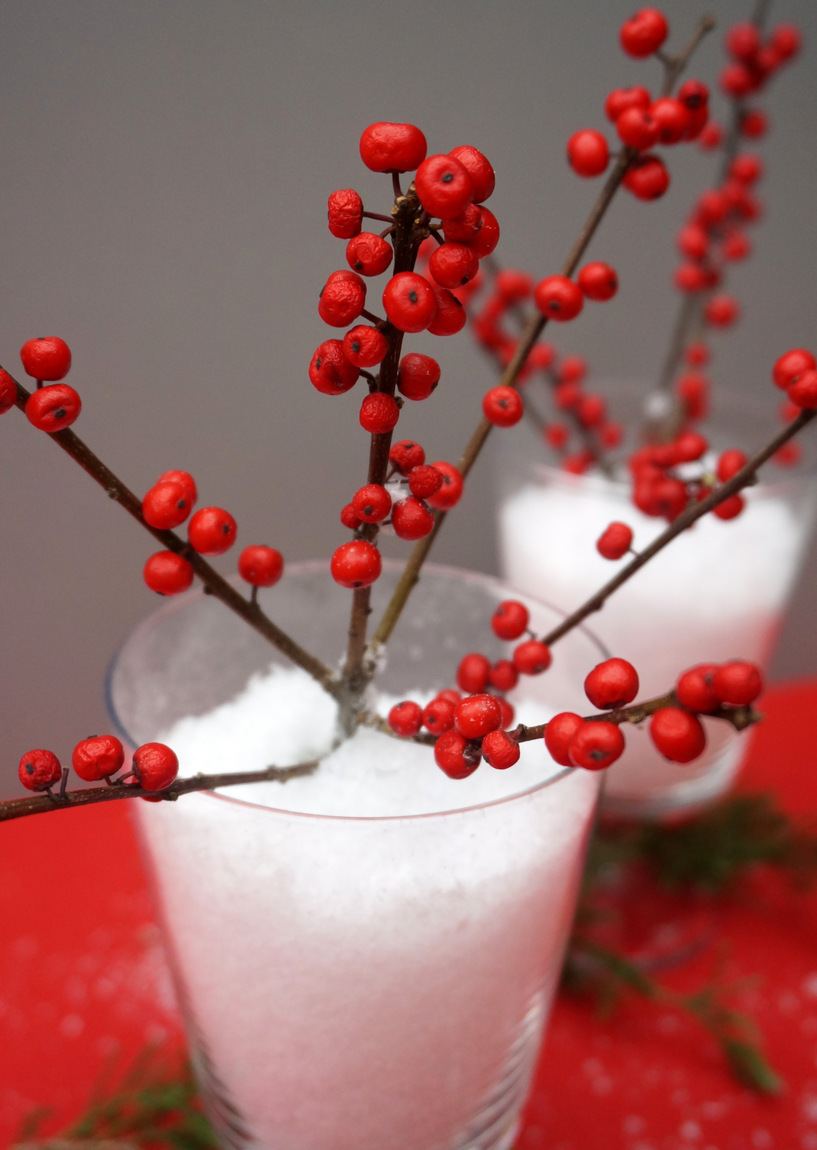 Add some cut greenery to the base of the goblet for an extra touch of holiday charm!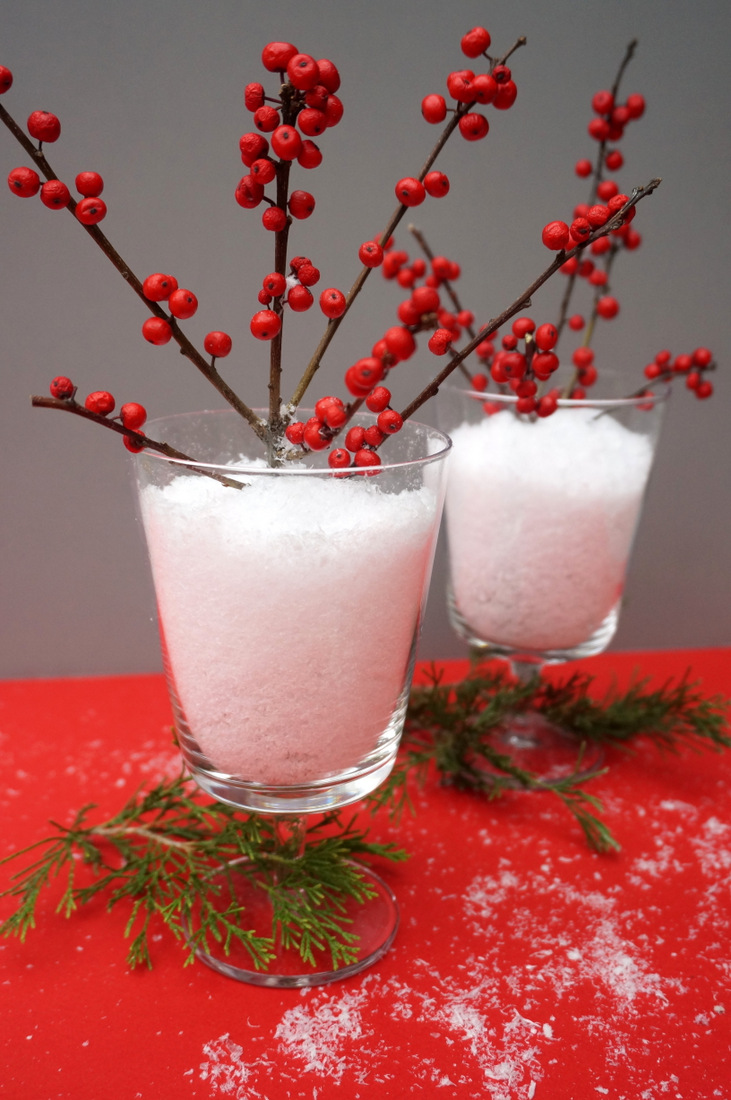 You may be wondering about the difficulty of changing the water once the little vase is covered in snow… Simply lift the vase, pour out the water, refill the vase and place it back in the goblet. You may need to bury it a little and pour some new faux snow over the top. But given that a bag of faux snow is a few dollars, you should have plenty left to replenish the goblet if necessary.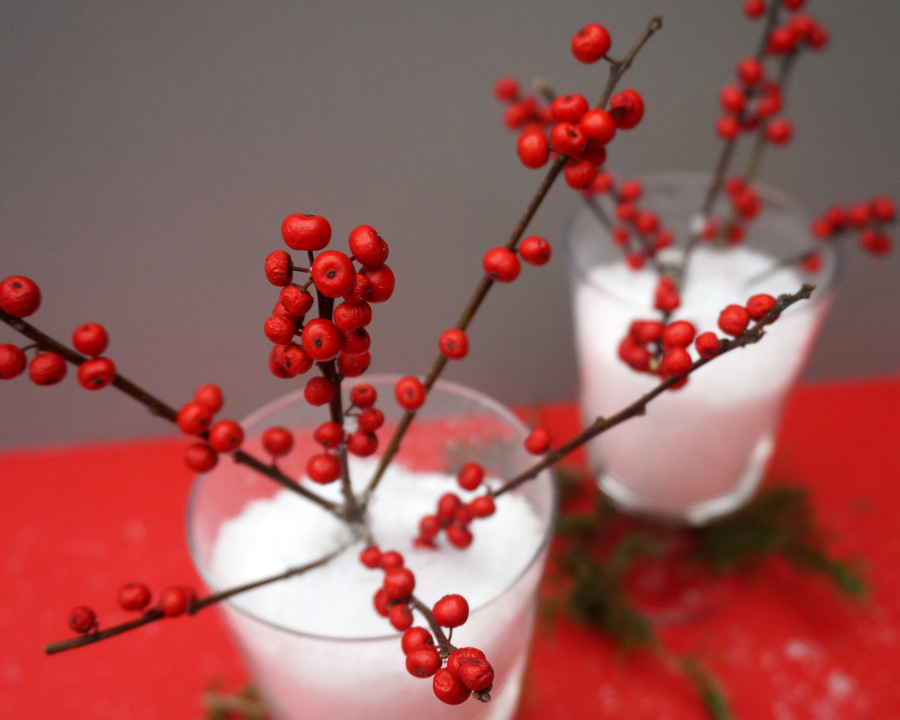 Decadent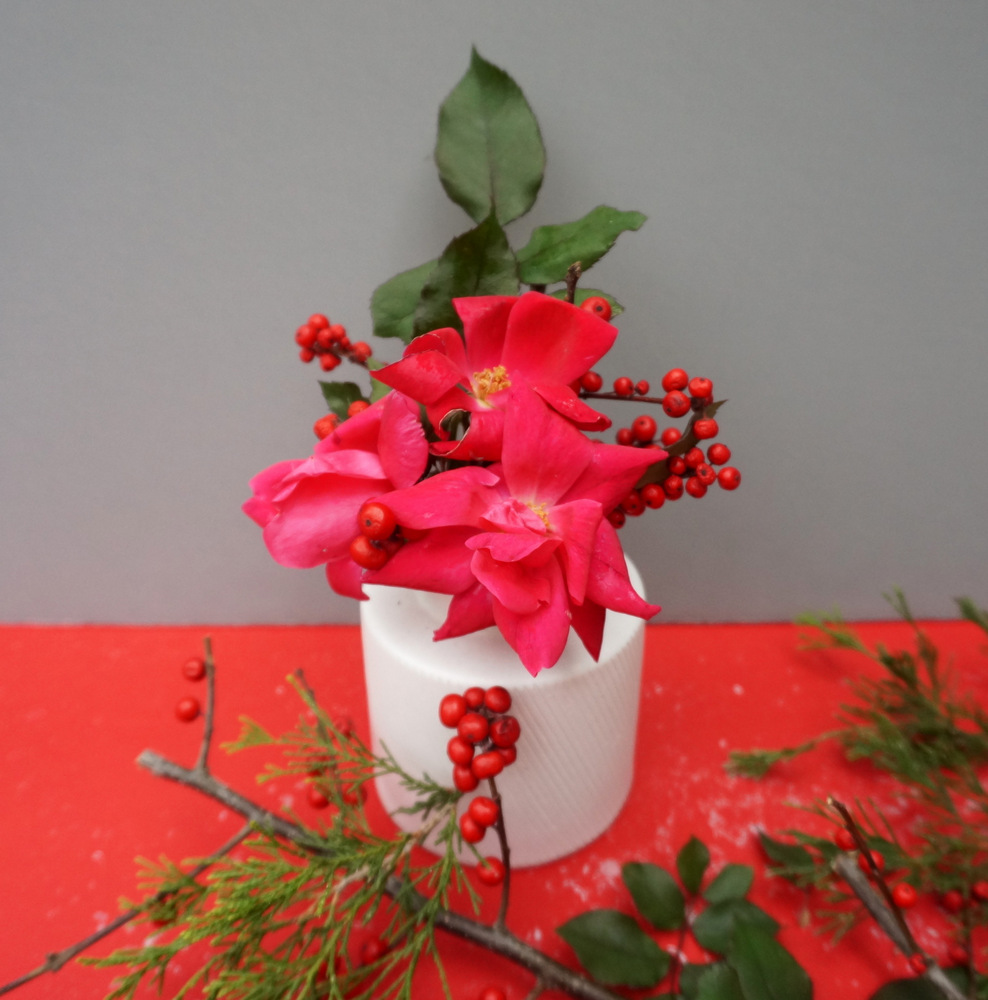 This next holiday arrangement is the ultimate in decadent seasonal style! Here's what you'll need to create the look…
a vase
red berry branches (such as winterberry)
flowers in rosy hues
water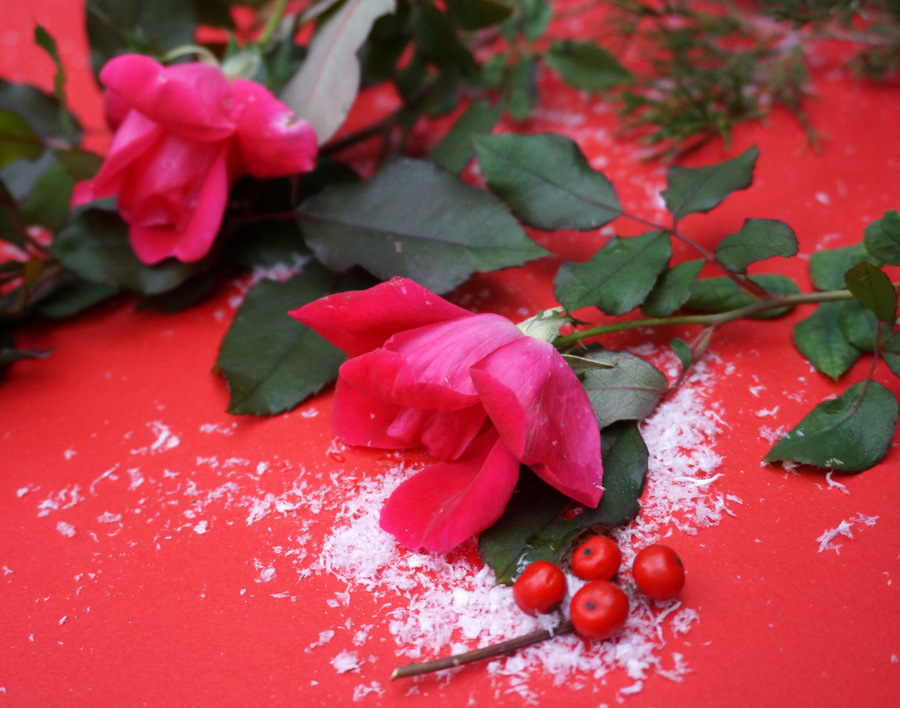 This arrangement is super easy to create: combine berry branches with flowers in a decadent display of rosy foliage.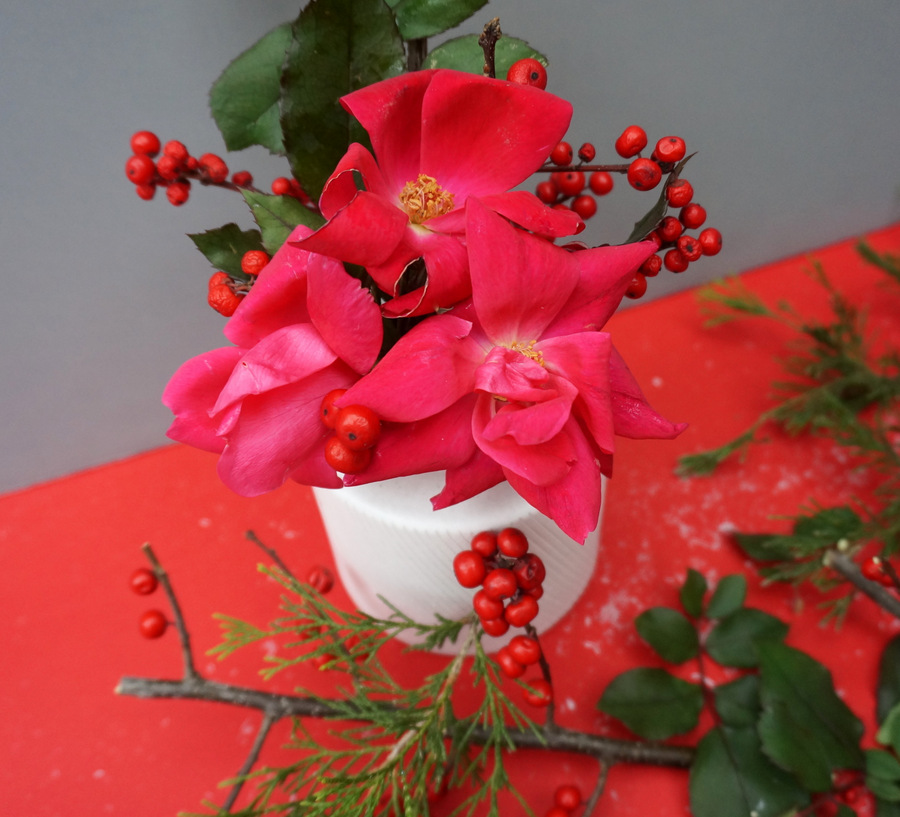 I used hot pink roses from my garden, and the mixture of red and pink created a rich, layered look filled with monochromatic style. Also note how the colorful foliage pops against the white of the vase. So use a white vase if you desire a similar look!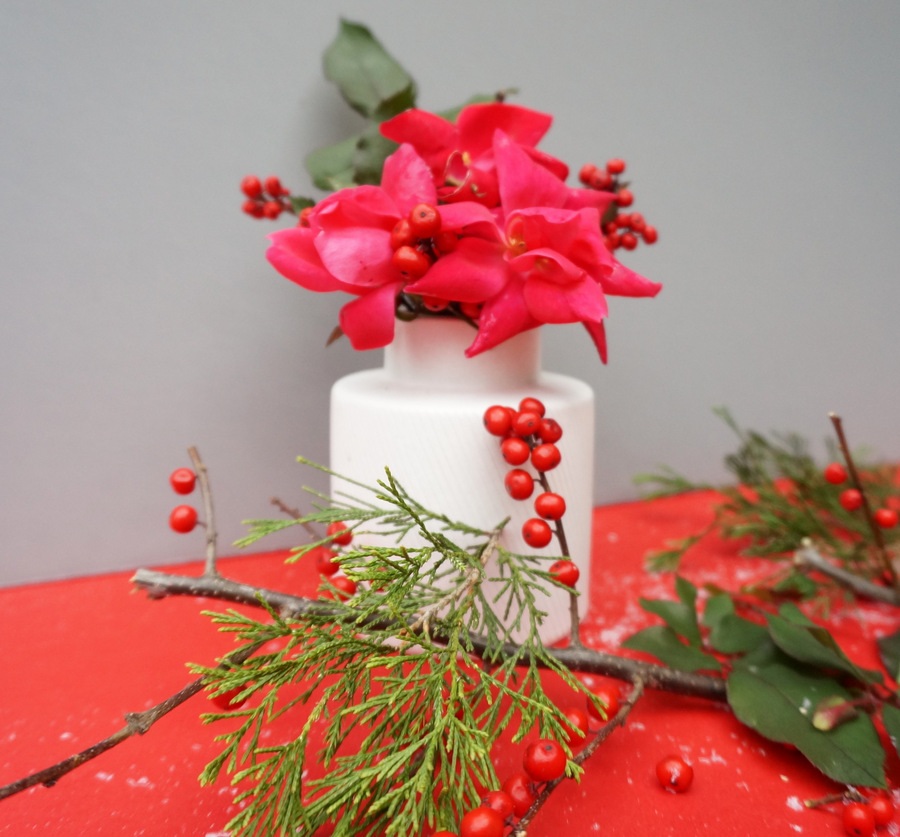 If there are no blooming flowers in your garden at this time of the year, purchase some affordable flowers to create the arrangement. You don't have to spend a lot of money to get a bountiful feel. Yes, grocery store roses are fine!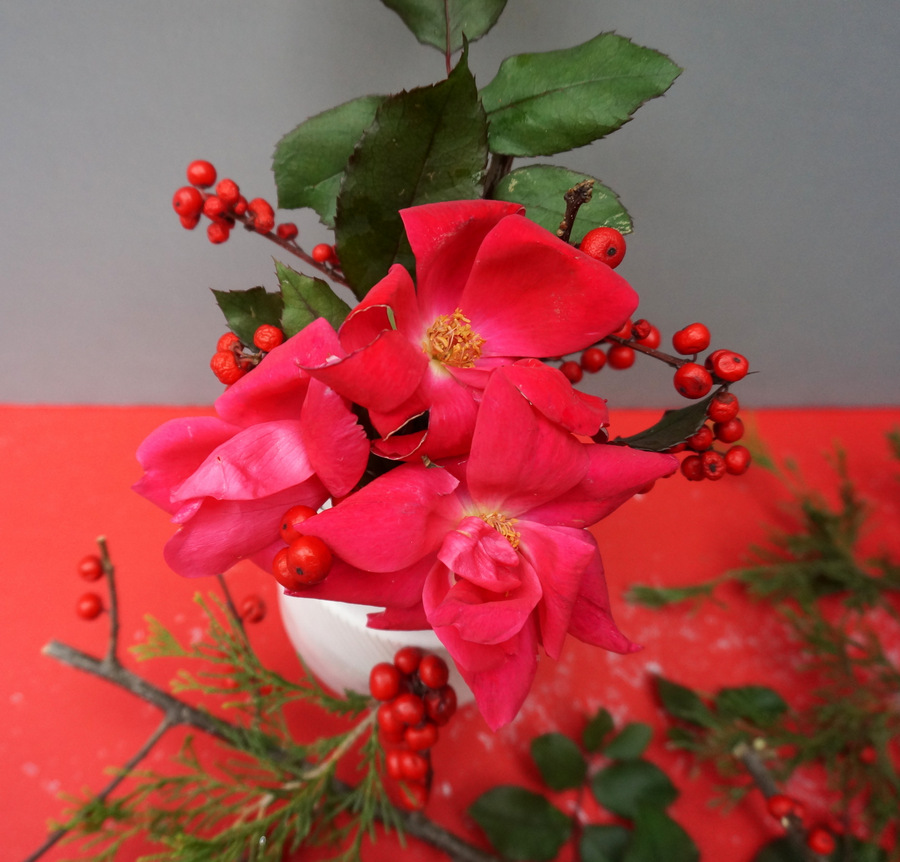 Modern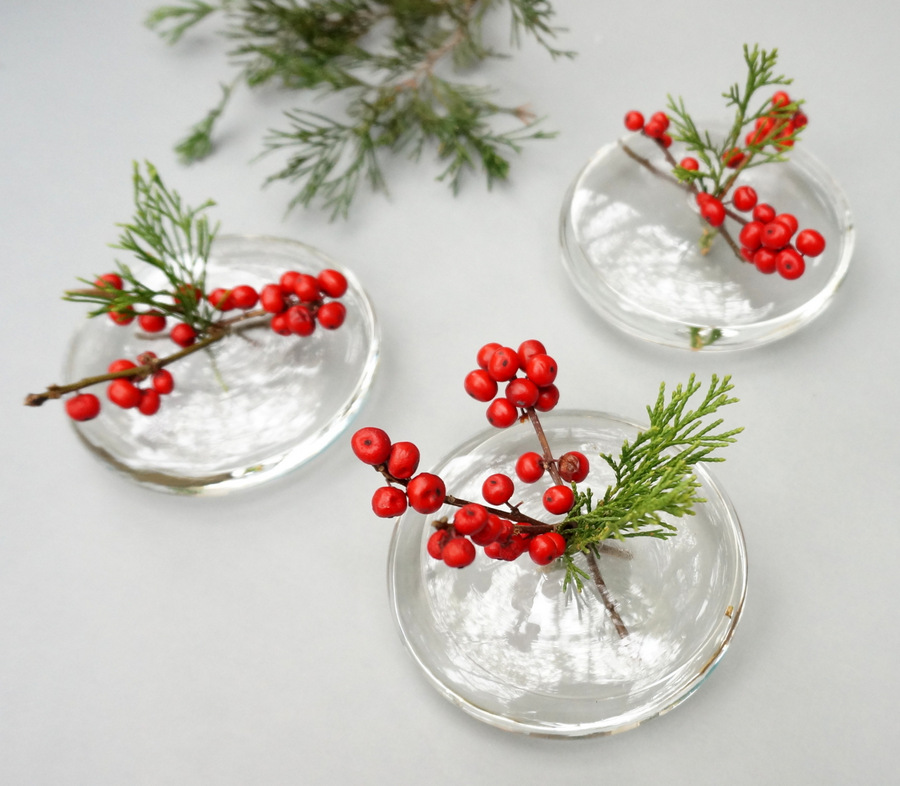 Today's last featured arrangement is all about modern style! By using a less-is more-approach and a collection of sleek vases, you can create a clean-lined holiday statement. To get started, you'll need:
small vases
berry branches (such as winterberry)
fresh greenery
water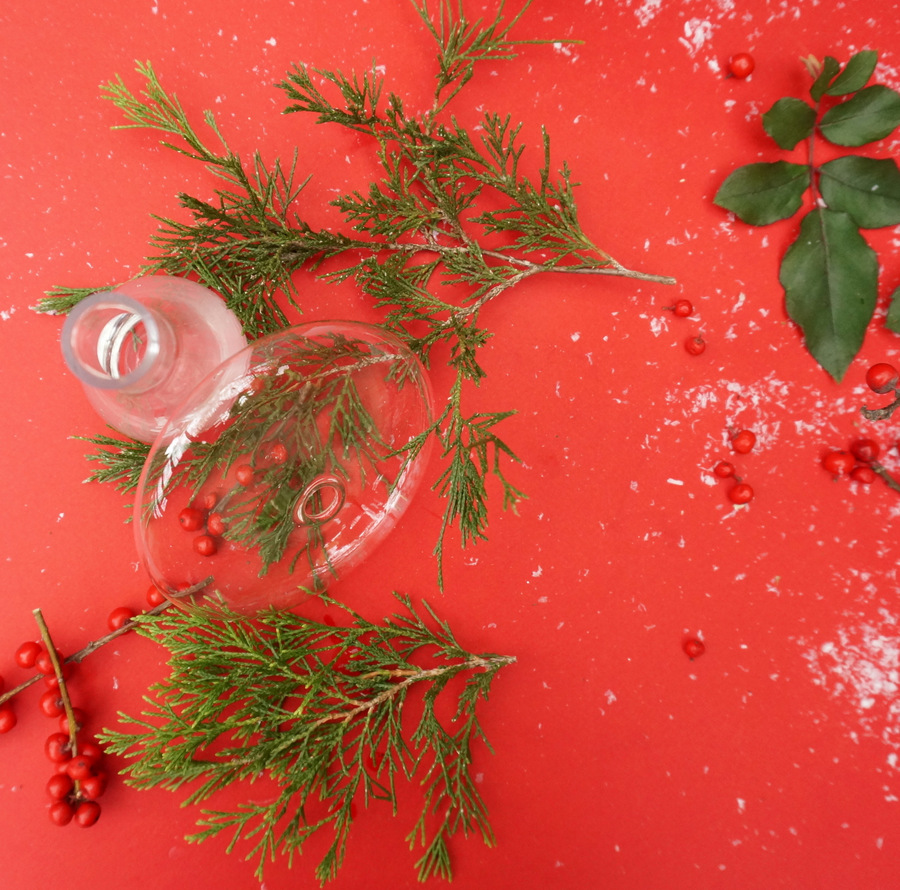 To get the look, arrange berries and greenery in a trio of glass vases. Display the vases in a row or a cluster for a modern take on holiday style.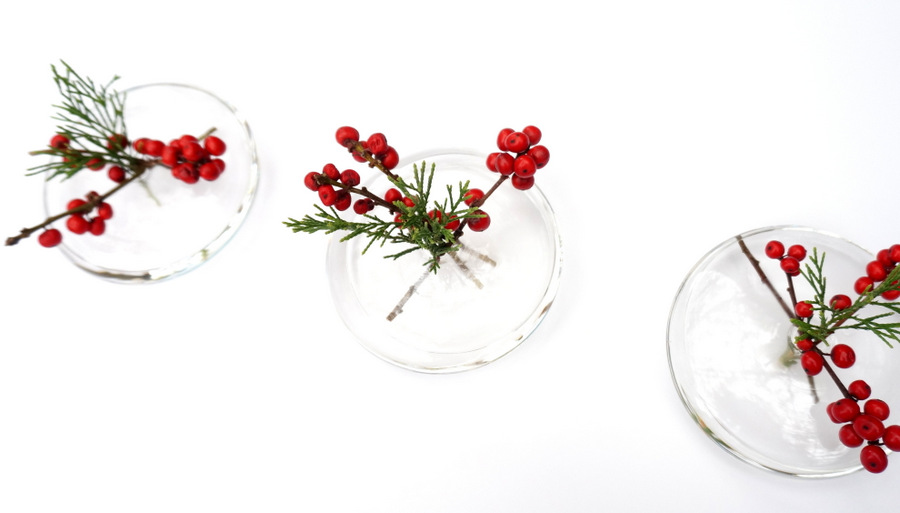 As mentioned at the top of the post, I used inexpensive disc-like vases with small openings from CB2. As a result, I didn't overload them with thick branches, but rather focused on smaller foliage to get the job done.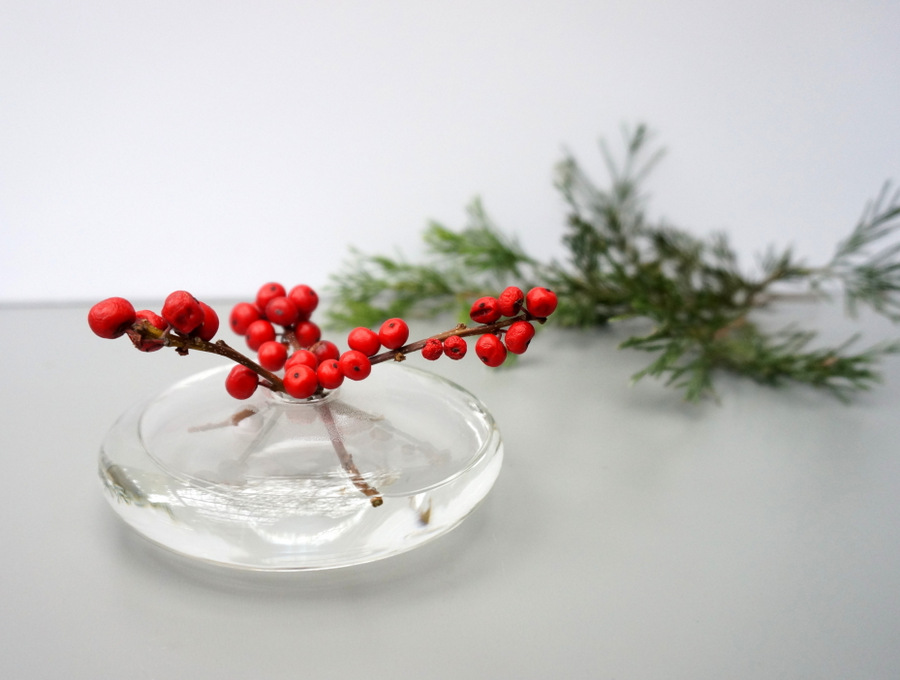 While you don't have to add greenery, I think it truly enhances this arrangement. I snipped a few pieces from my evergreen tree in the backyard, and that was all it took!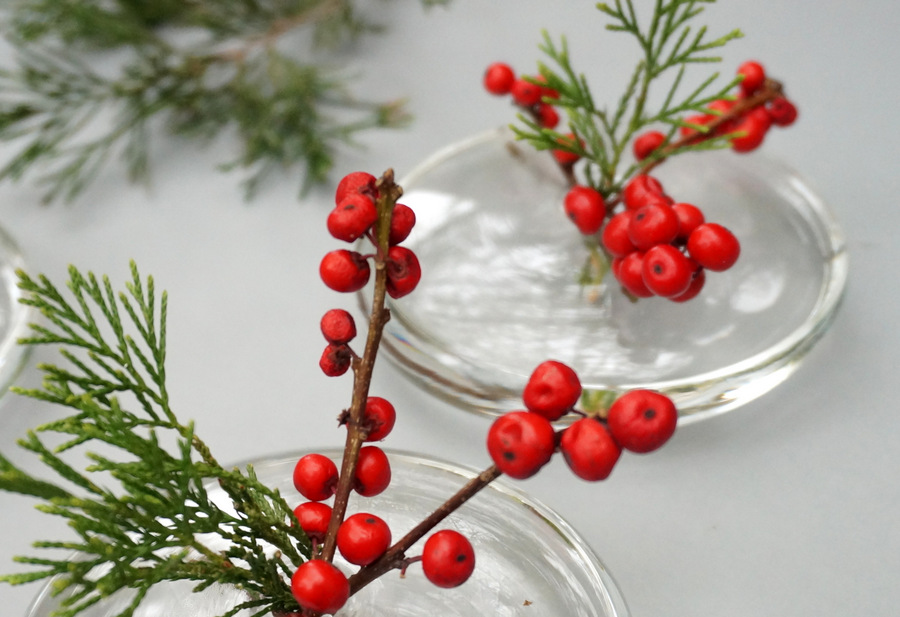 This centerpiece idea is perfect for the middle of a small table, and it can even take center stage in a kitchen window: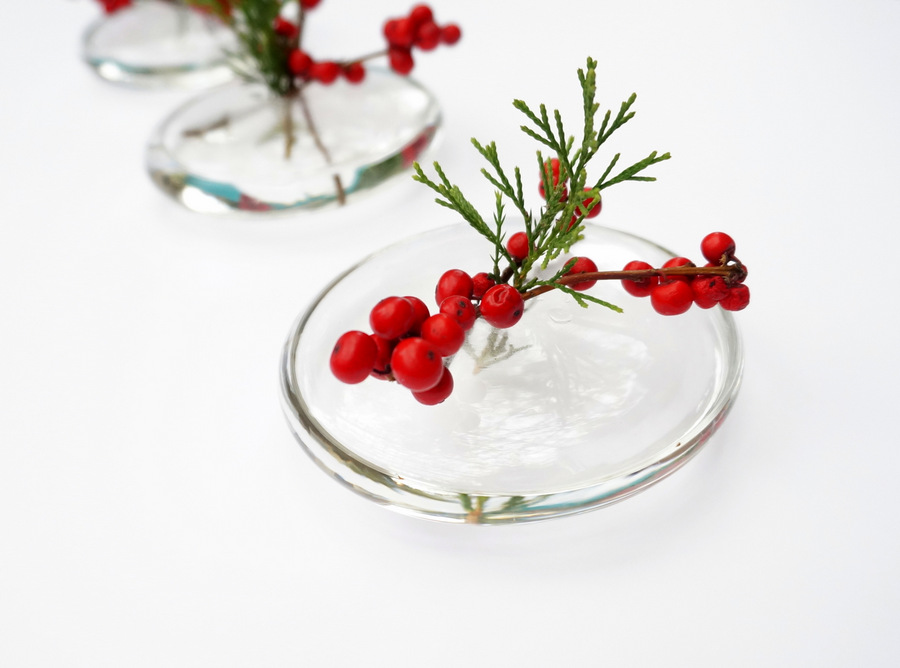 As always, we at Decoist encourage you to research your plant and flower choices to determine safety for pets and children. For example, winterberry is toxic to dogs and cats, and the berries should NOT be eaten by children. Keep arrangements out of reach if you're using foliage with the potential to be poisonous. On a happier note, wishing you a colorful start to your holiday season. Enjoy the decorating process, and don't be afraid to get creative!