As with any other room of your home, designing a stylish and eye-catching bathroom requires careful planning and attention to the tint details that go on to make a big difference. A vanity plays a big part in shaping this ambiance and choosing the right vanity is as much about color and finish as it is about size and style. While a bathroom vanity in white or wood seem like the 'safe choice', something much darker can make a bigger visual impact in your polished, contemporary bathroom. With spa-inspired bathrooms and those in neutral hues currently dominating the trends chart, a black vanity makes plenty of decorating sense.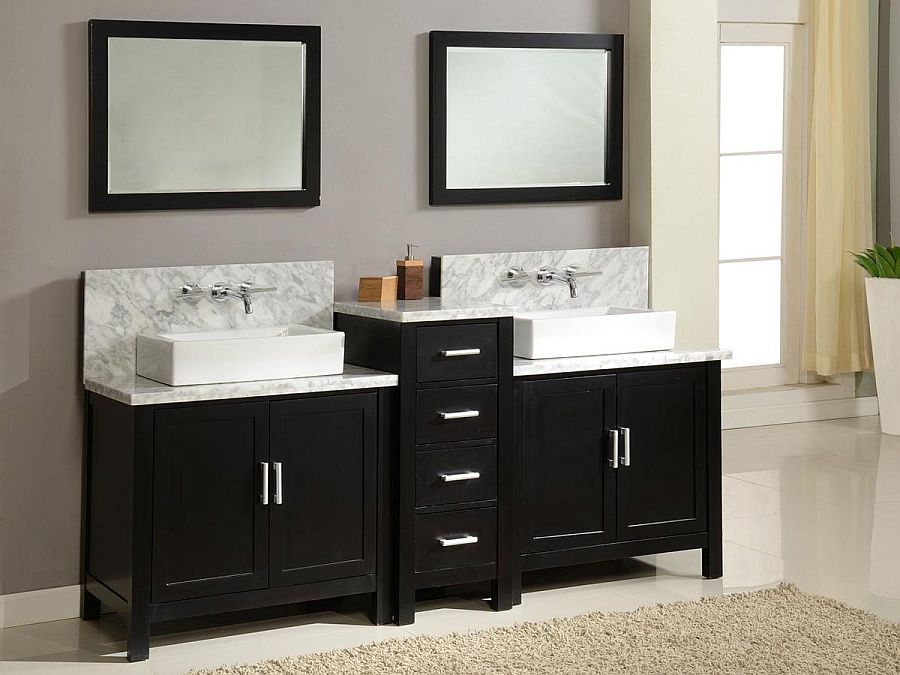 Since many among us strictly stay away from black, the idea of adding a black vanity to the bathroom might feel a touch shocking to begin with. But black is the perfect color for a bathroom that is already filled with plenty of white, gray and other neutral hues. A beautiful black vanity anchors the breezy bathroom and gives it a focal point you simply cannot take your eyes off! Striking, versatile and often sensational, here are 51 bathrooms that showcase the beauty of the black vanity –
Black Vanity and Bathroom Style
The perception that black vanities work in only polished, modern bathrooms is just a misconception that is being fanned by those picture-perfect bathrooms on catalogs and décor magazines. The black vanity can easily fit into any style you already have in the bathroom. It all depends on the material that you choose and the finish. A vanity in polished stone or with man-made finishes obviously looks great in the minimal, contemporary and transitional bathroom. One the other hand, a dark wooden vanity with a distressed finish is perfect for traditional, shabby chic, eclectic and rustic spaces.
RELATED: Dark Indulgence: 18 Black Bathtubs for a Stylish, Dashing Bathroom!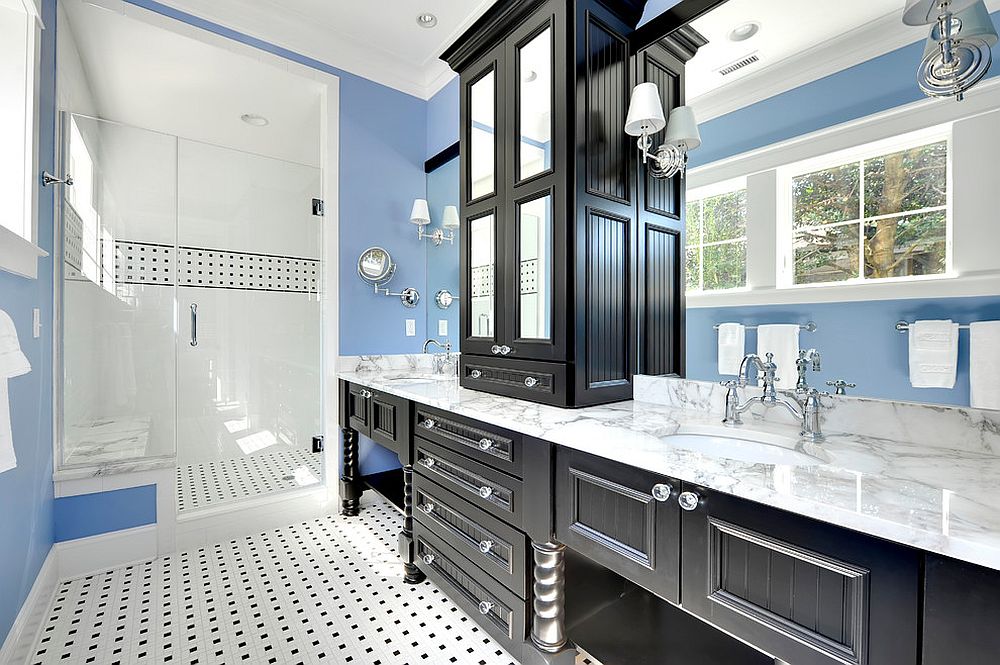 Basic black works as a chic wardrobe staple and a striking bathroom accent, too. While you can deck out the walls or the floor in your fave shade, we just love how black cabinets can make a space pop and keep stains hidden more easily. Before you go picking out ebony wood finishes, you can rest assured knowing that having an all-black vanity cabinet doesn't mean your washroom will be gloomy.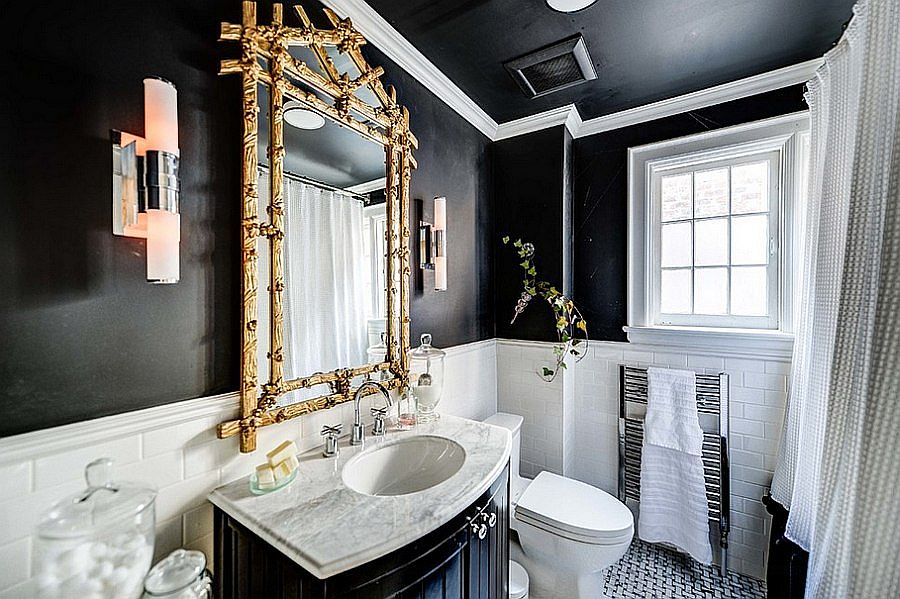 Even in light-filled, beach styles bathrooms that are usually draped in white and blue, the black vanity seems to fit in effortlessly. It brings a completely different aesthetic to the coastal style bathroom and sets it apart from the more mundane designs. The ornate and slim table in black that serves as a gorgeous vanity is a perennial winner in the retro and art deco style bathrooms with a modern touch.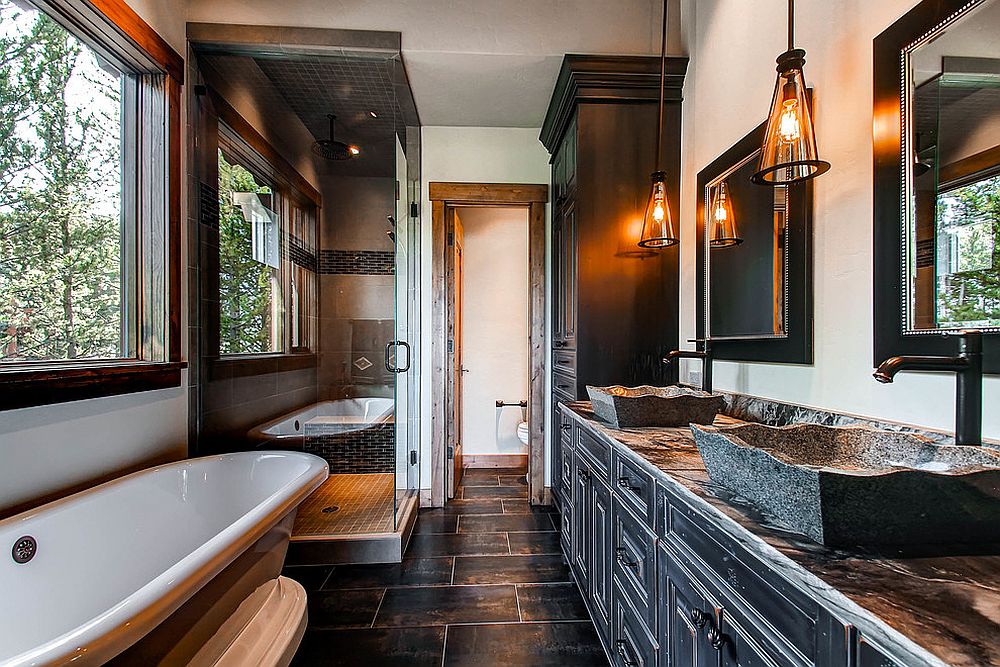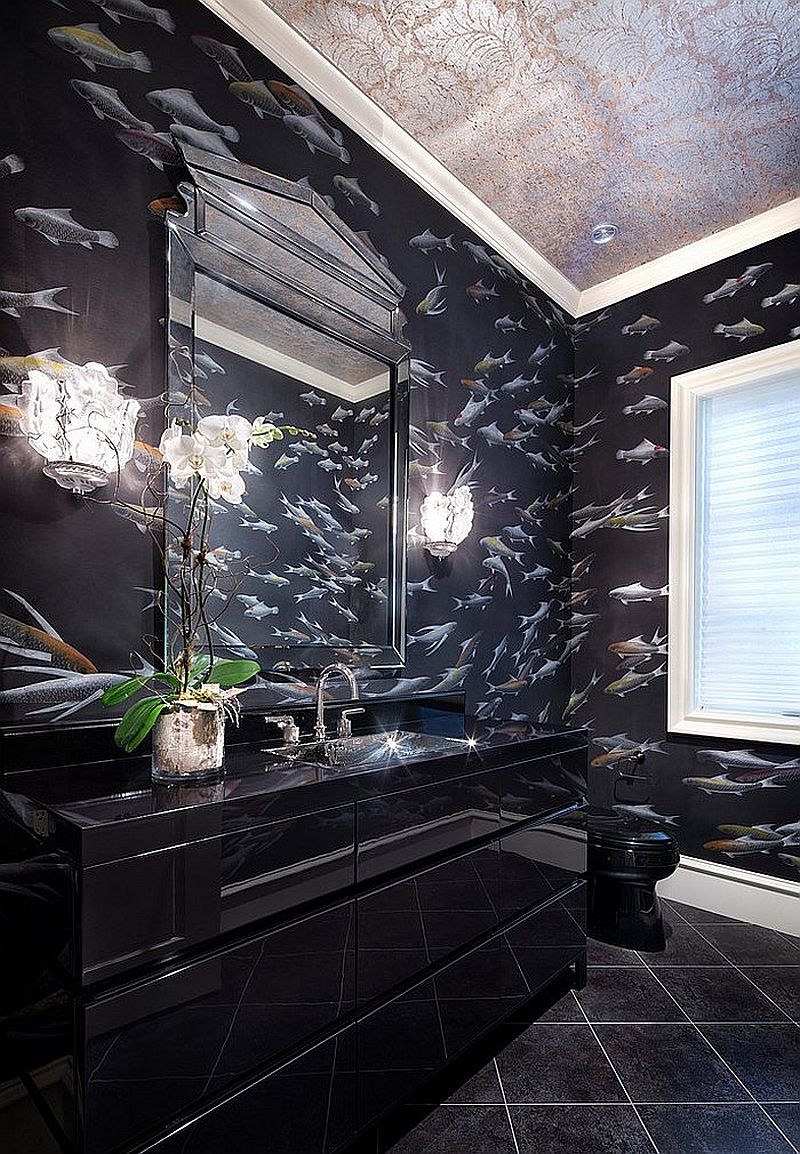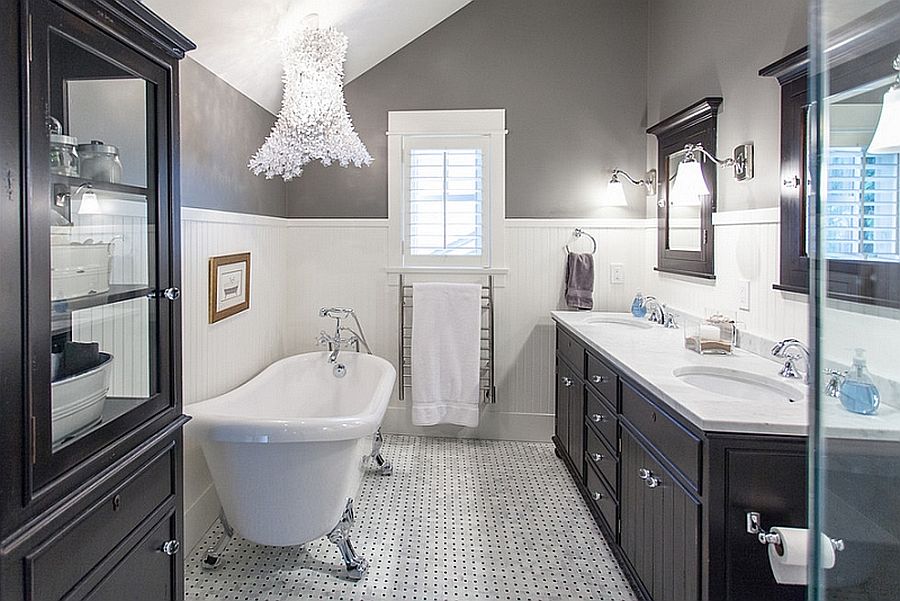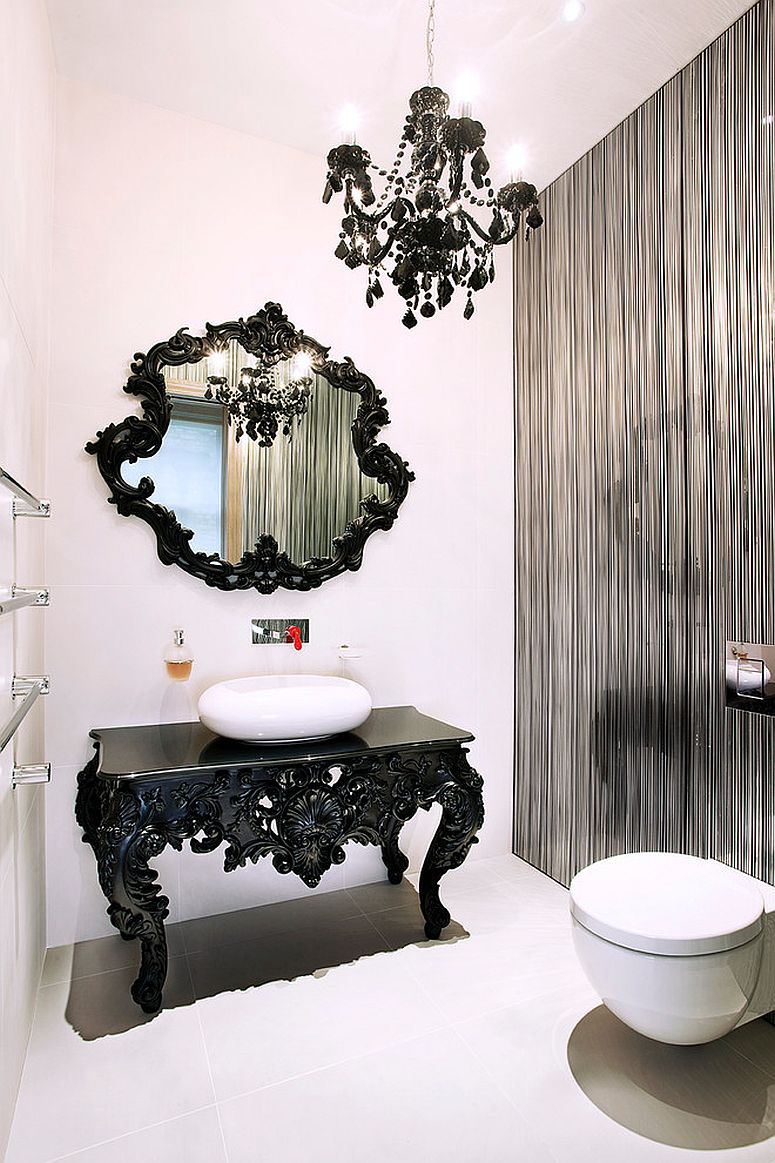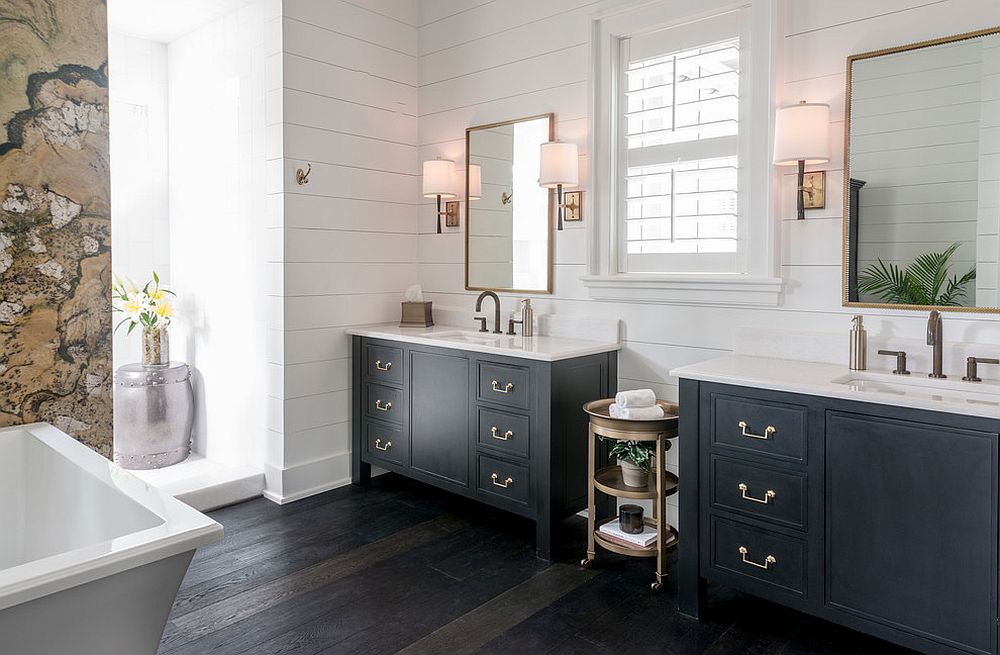 Finish and Placement
We already talked about how the material you choose for the black vanity can define the style of your bathroom. Take this a step further by carefully selecting the finish of the vanity and the fixtures and accessories around it. Beyond the glossy lacquered and matte finishes, think of the material used for vanity handles, sink, countertop and the bathroom fixtures. A dark vanity with white marble countertop is a hot favorite among homeowners and those who love warm metallic glint can throw in brass handles and bathroom fitting. If you prefer cooler metallics, then chrome handles and fittings are the way to go.
RELATED: 22 Bathroom Vanity Lighting Ideas to Brighten Up Your Mornings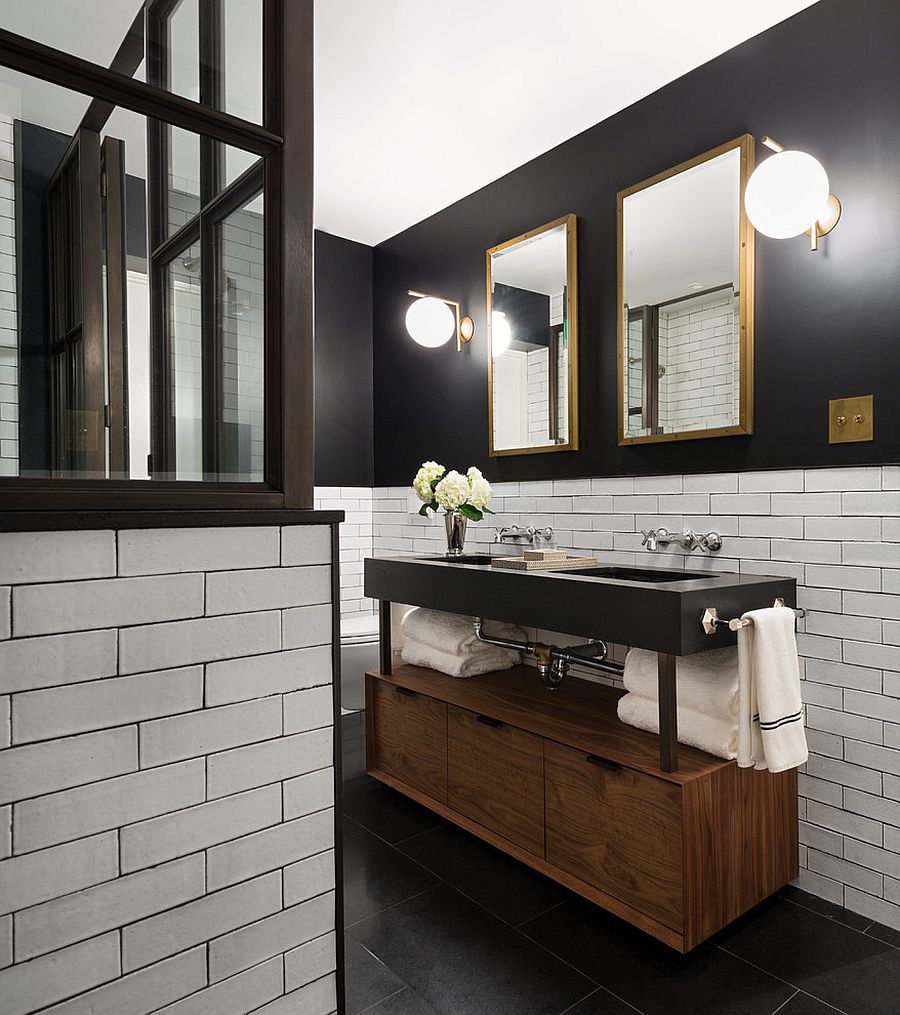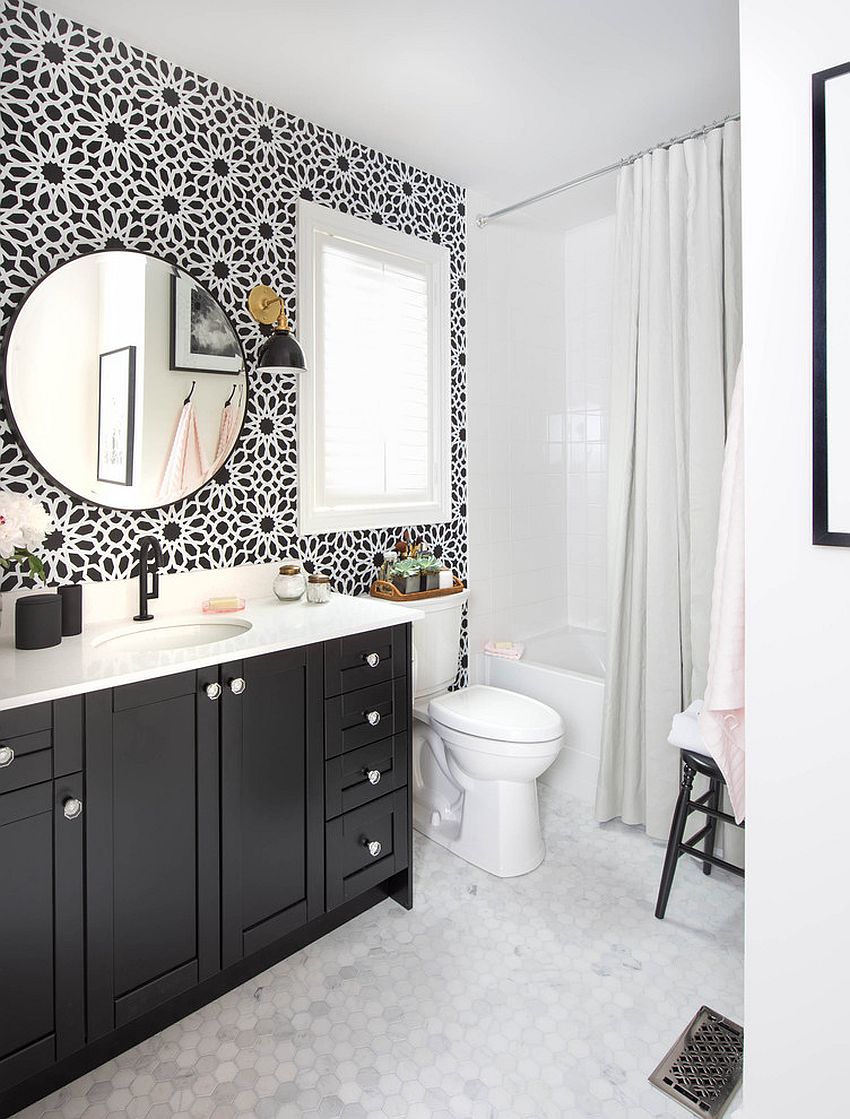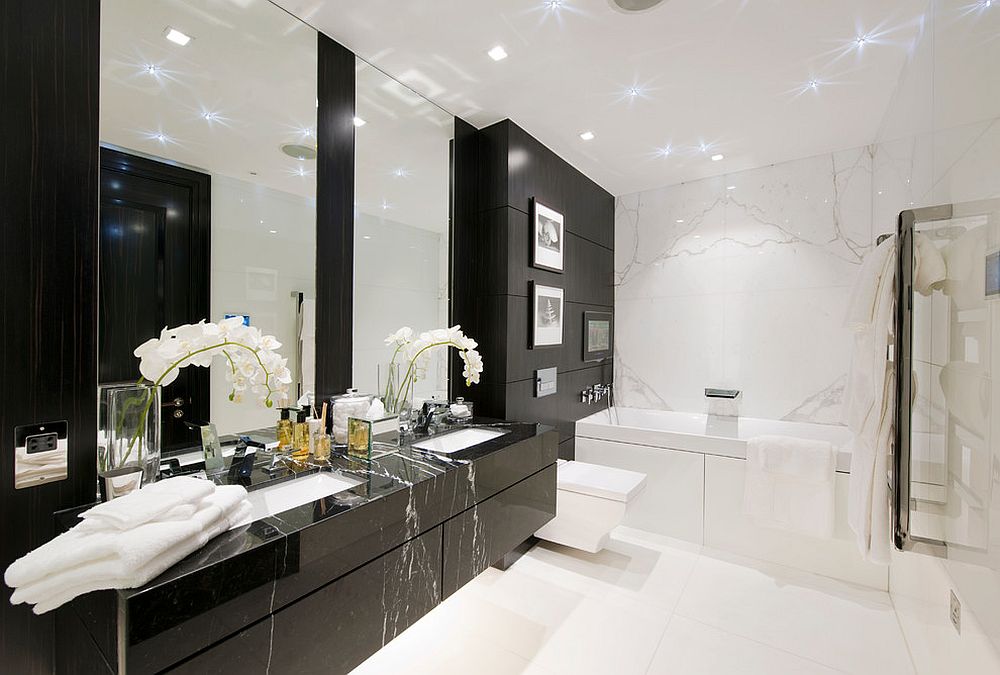 Consider where you want to place your black bathroom vanity to create the biggest visual impact. This is where you need to find balance between practicality and form and sometimes sacrificing a few inches of precious space can give you big aesthetic perks. Repeating the hue of the black vanity in the bathrooms also helps in creating a more elegant and curated space.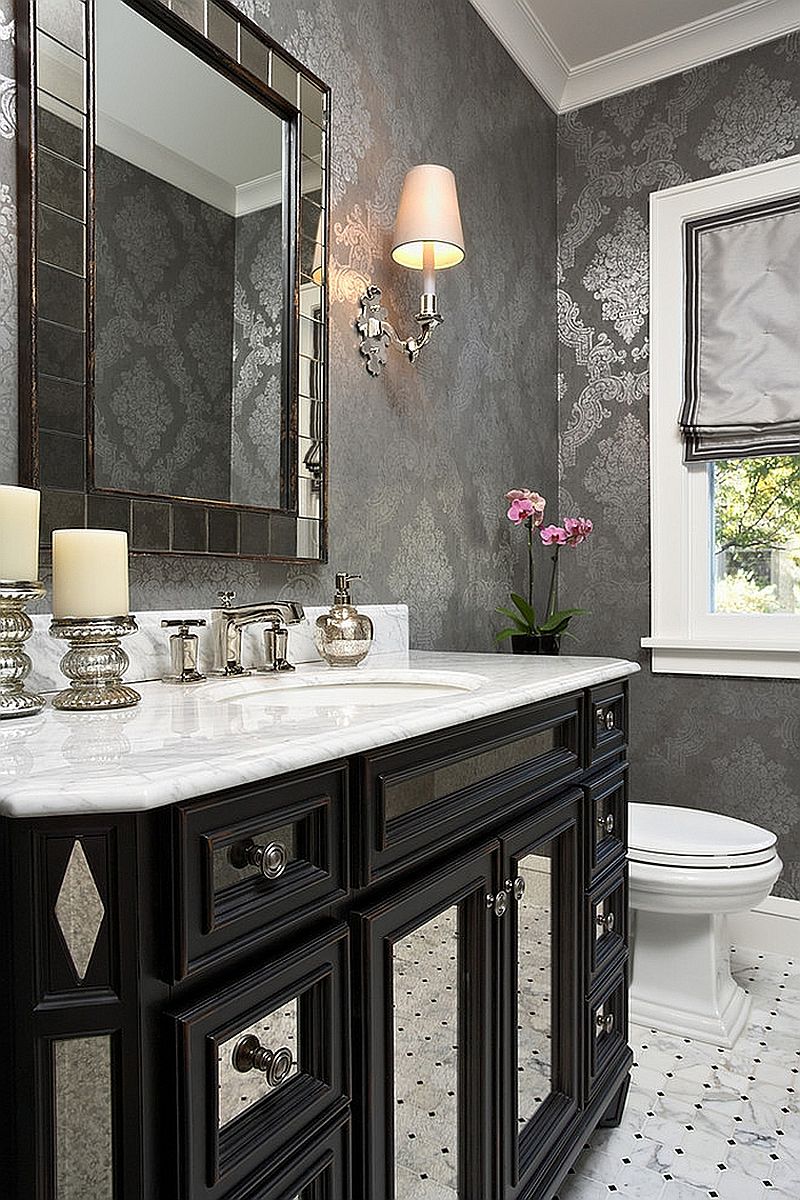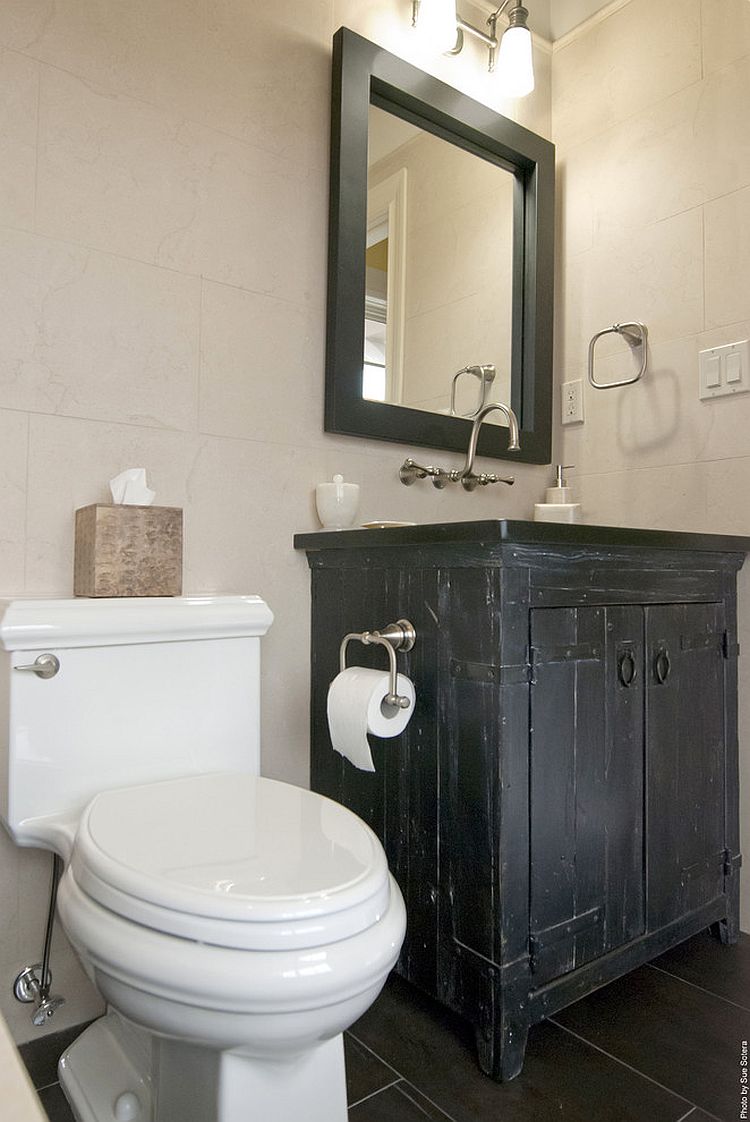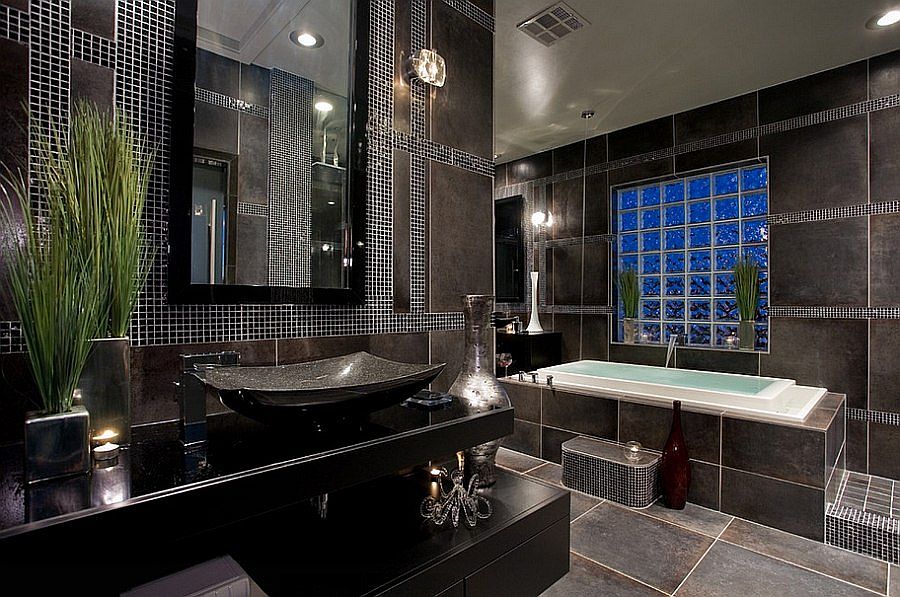 Storage and Display
Modern floating vanities have brought with them a whole array of exciting storage and display options that were previously unavailable to homeowners. Now you can choose a lovely vanity in black that also offers plenty of cabinet space and also a few open shelves for the neatly folded towels in white! Again, the black backdrop of the vanity gives you an entirely new range of decorating options that you never had with a white or wooden bathroom vanity. Enjoy this decorating freedom and try out colors like red and orange as you turn the bathroom vanity into a showstopper!
RELATED: A Natural Treat: Live-Edge Vanity Top Redefines Modern Bathrooms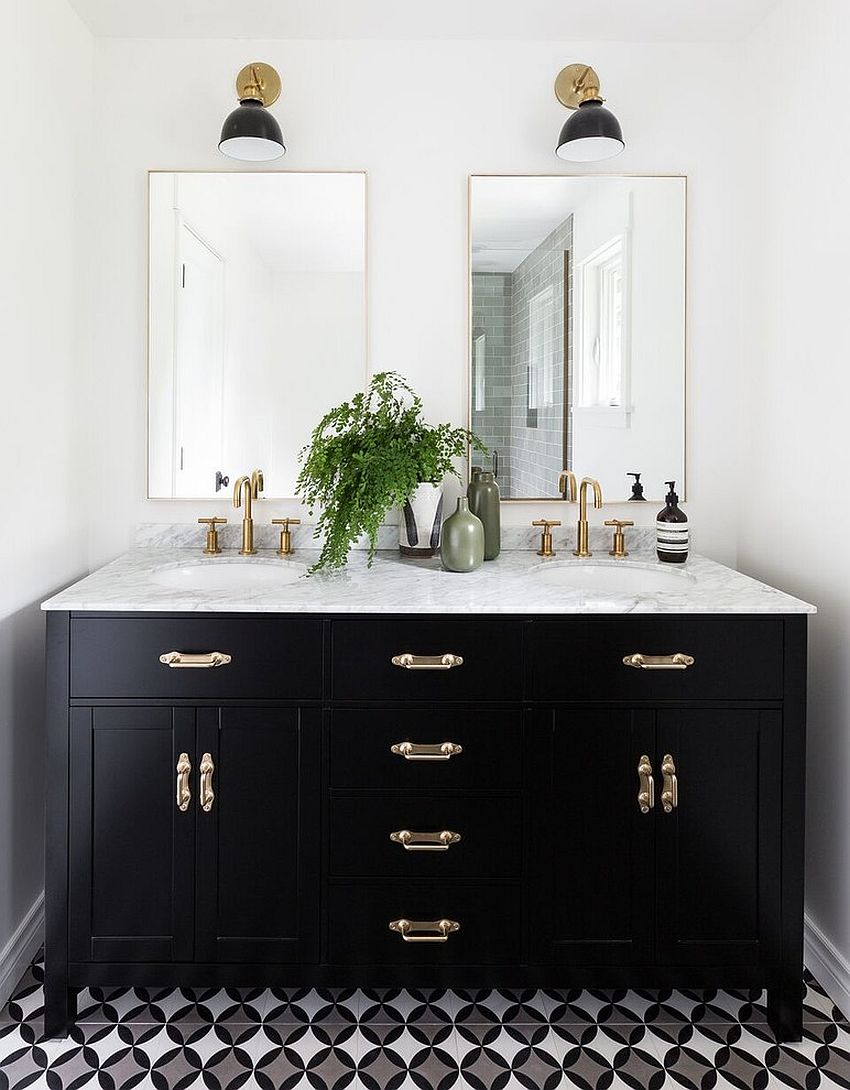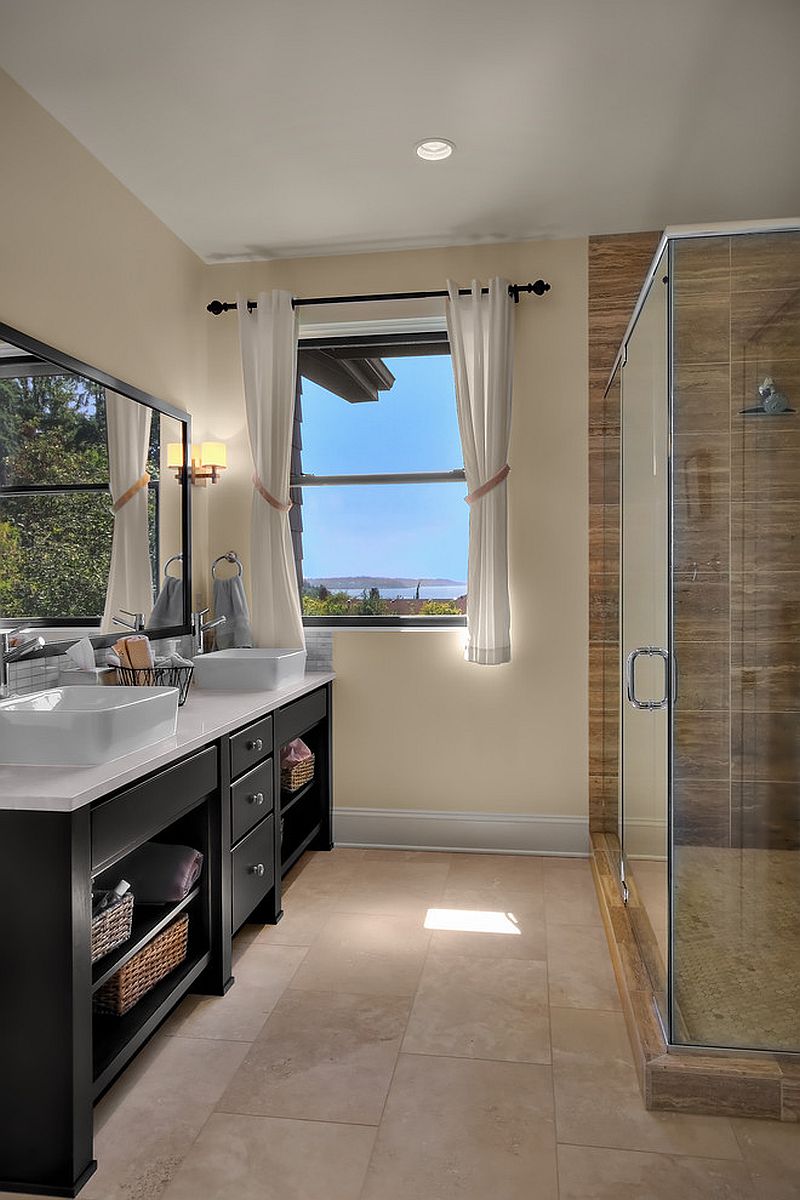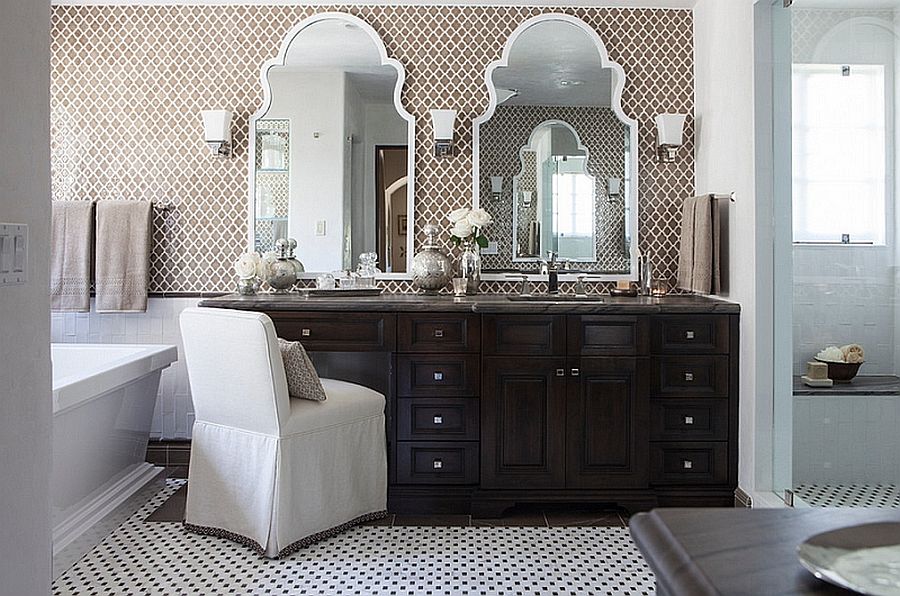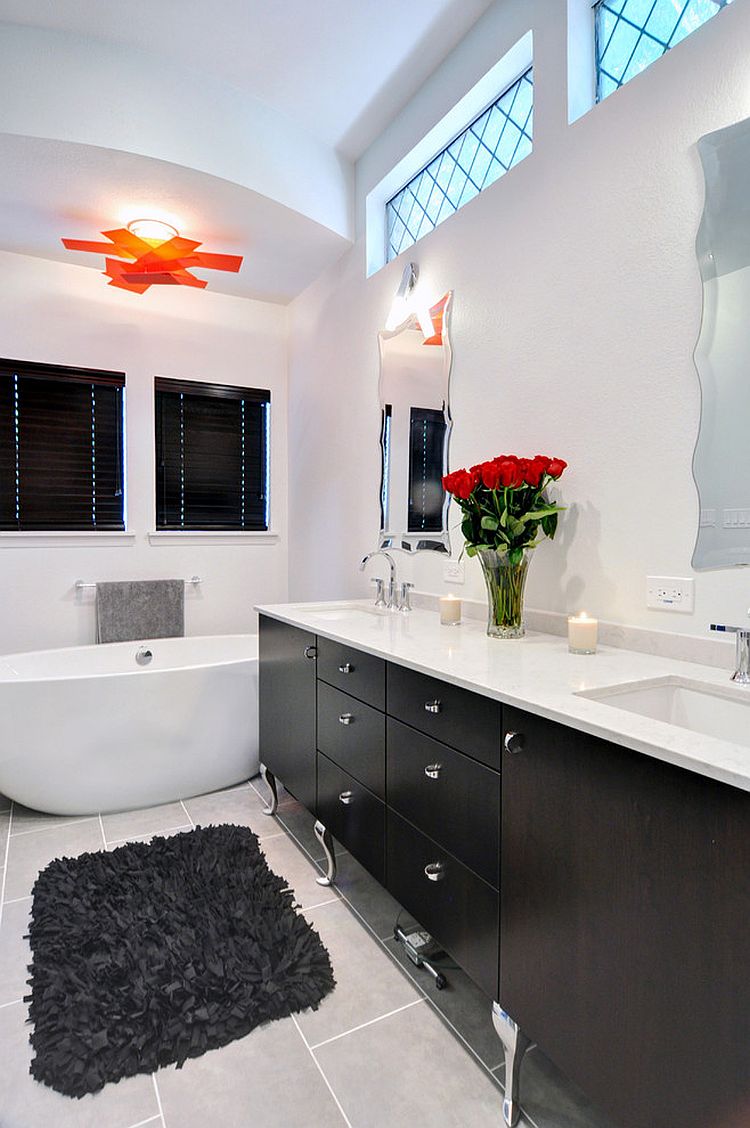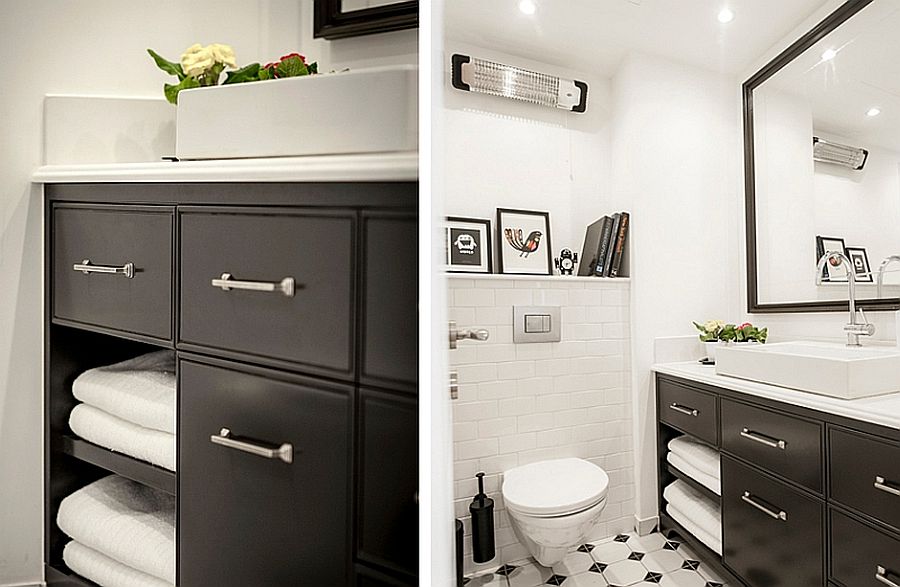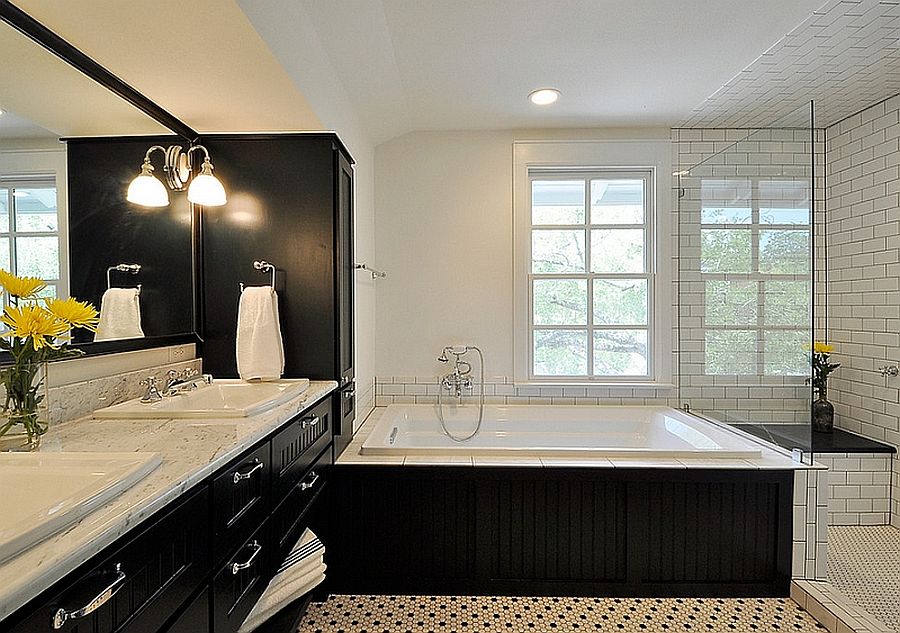 Black Vanities and Small Bathrooms
Since bathrooms are typically some of the tiniest rooms in your home, your first instinct may be to style an all-white design. But contrary to popular belief, dark colors can honestly make a small bathroom feel wider and more spacious—and their moody vibe is an ideal way to bring personality to your space.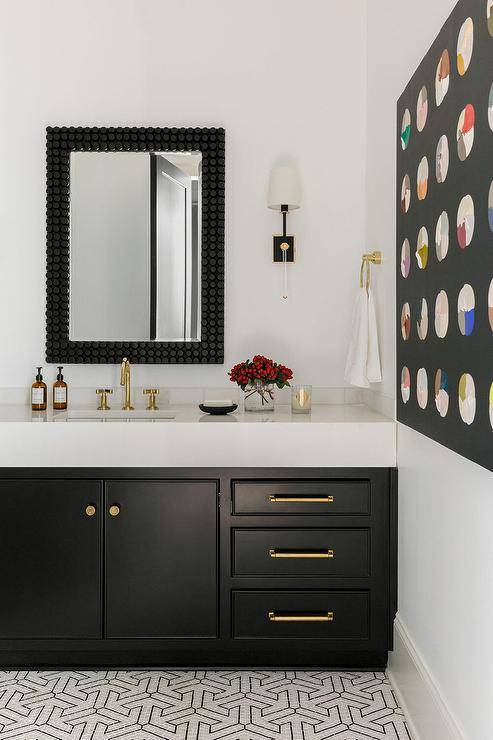 Black bathroom cabinets have a way of suggesting opulence. But as you can see from this simple yet stunning bathroom, even a simple vanity looks just as classy.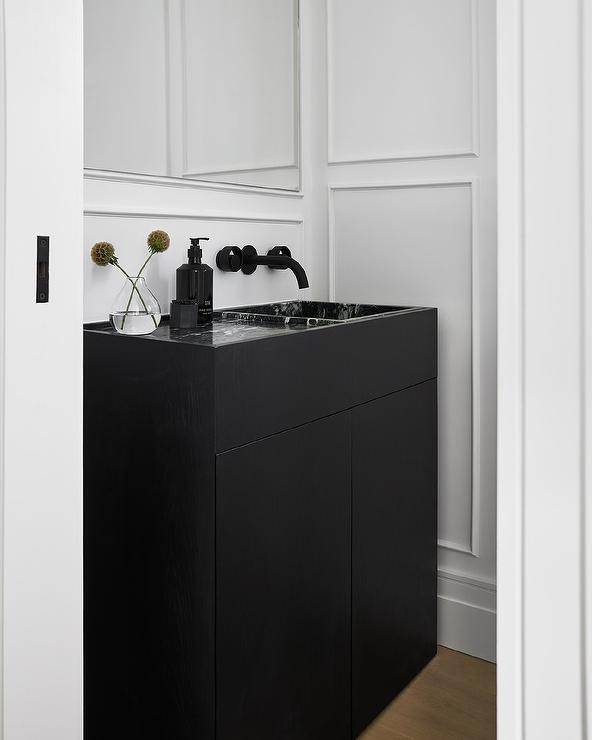 If your bathroom is exceptionally small, a floating vanity may be a better option for you. By keeping your vanity off the floor, your space will appear much larger.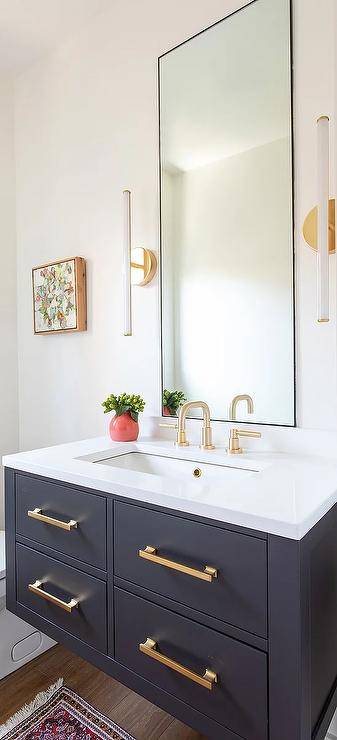 We have Ashe Leandro to thank for this chic black bathroom. The floating vanity with wall mount brass fixtures makes an already jaw-dropping bathroom even more sophisticated.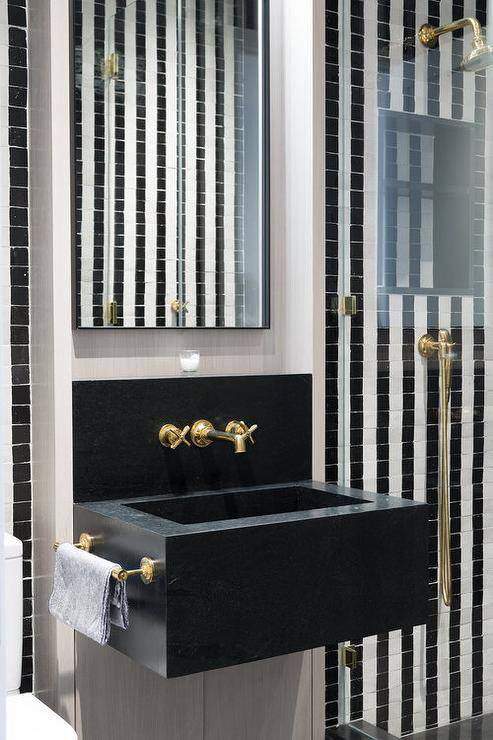 Black Vanities and Color
While black and white are a classic and safe choice for the bathroom, that doesn't mean that you can't add a little color. In fact, there are lots of colors that are complementary to a black vanity. While you will want the black vanity to be the focal point of your bathroom, you can offset the dark color with a hue that will soften and complete a stunning look.
Black and Blush Pink
This black vanity encased in a stunning pink marble is a showstopping piece. The rest of the bathroom picks up the black hue throughout the accessories and allows for a soft blush pink on the wall to carry a subtle tone throughout the room.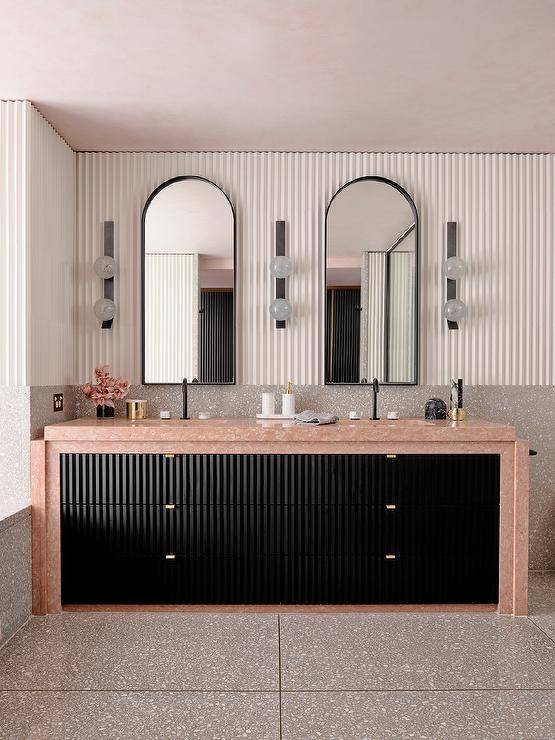 Although there are only two pieces of blush pink in this small bathroom, it just shows that you don't need a lot of colors to create a visually appealing space. Less is more in this case!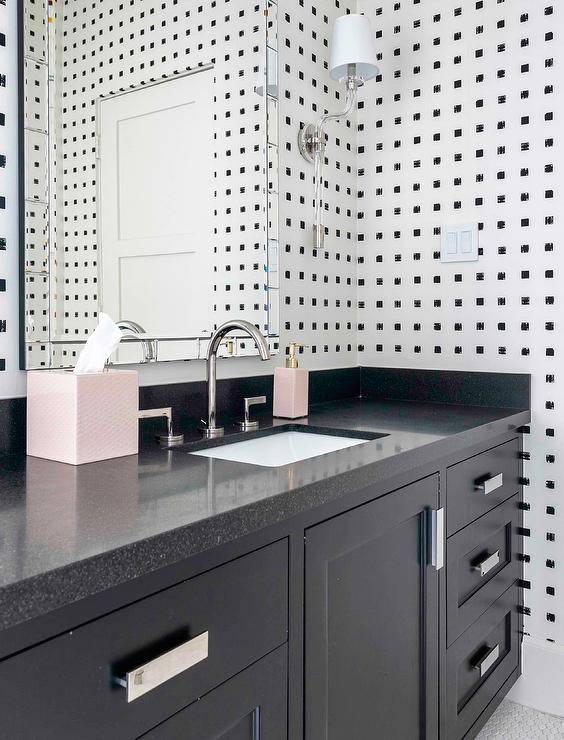 Black and Green
We love this stunning green contemporary wallpaper that is like a massive piece of art wrapping around this bathroom. Notice how the designer opted to have the vanity blend into the wainscotting around the wall making for a seamless style and look.
Slick and Shiny
Black and gloss go together like peanut butter and jelly. This cool contemporary bathroom with a modern twist shows how you can go all black yet not feel like you are in a cave. The large mirror reflects light off the tiles creating a shiny and glossy effect.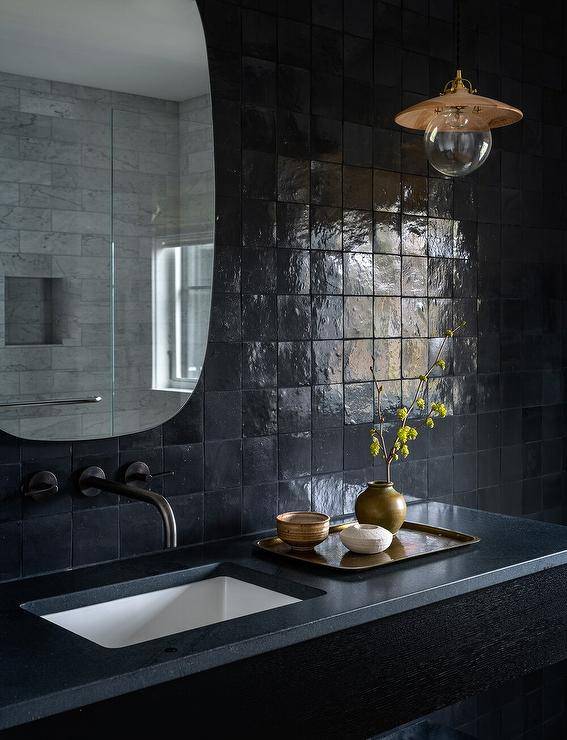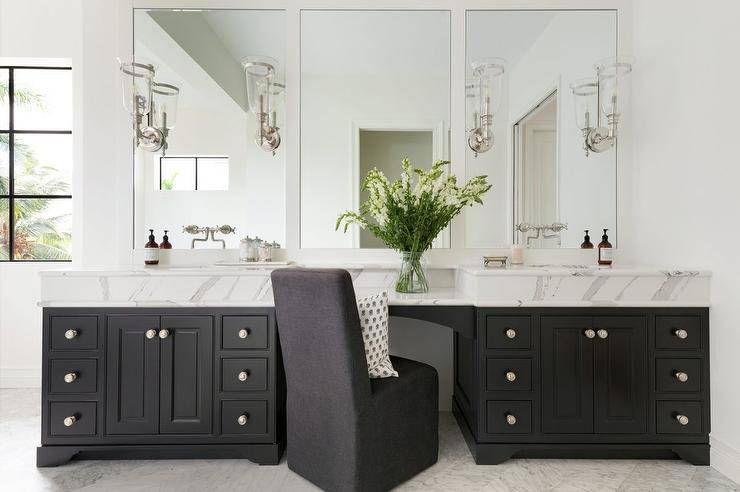 Master bathrooms often have two separate sinks with a sconce between them. However, this washroom takes the his and hers layout to the next level by adding a third section for primping and even has space for a vanity chair. The saturated black cabinet finish and the all-black hardware create a dark monochromatic look in this bright space that we love!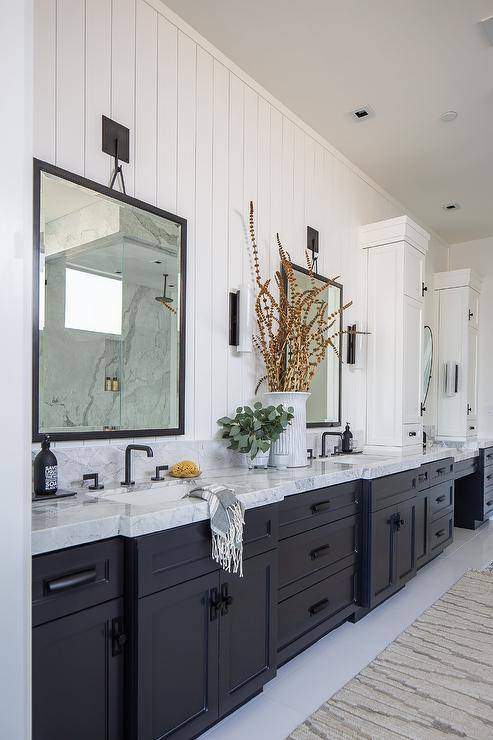 Photo Credit: Brooke Wagner Design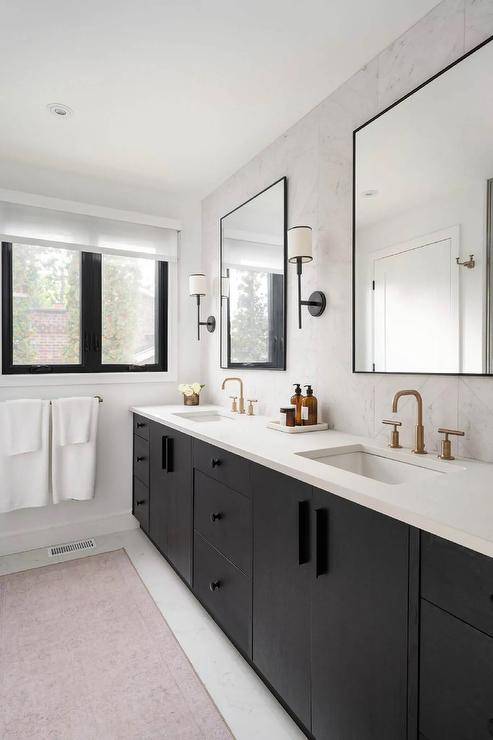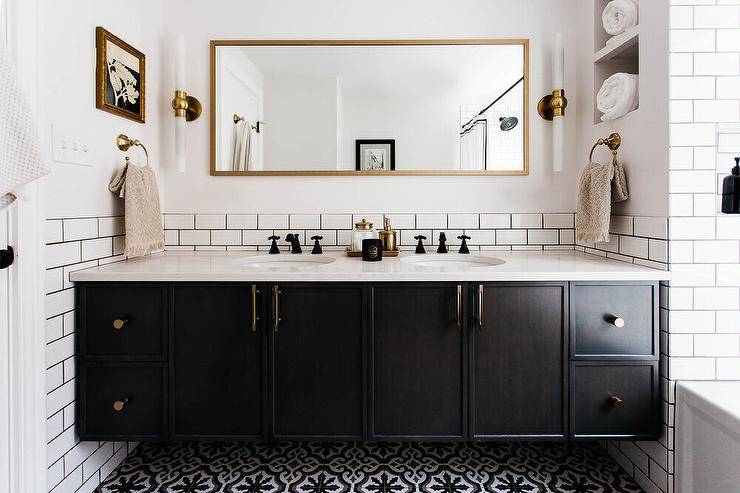 Black Marble
If you want to impact, go with a black marble floating vanity. Not only will your bathroom instantly have a more luxurious and rich look, but your vanity will also act as a focal point for the entire room and create a visually appealing centerpiece.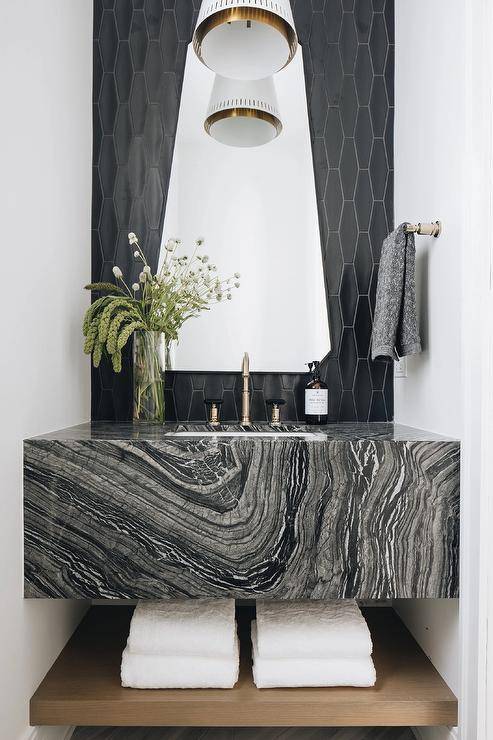 Dark and luxurious, this powder room features stunning sunburst wallpaper and an eye-catching free floating marble vanity. The cozy, comfortable style leans towards a modern and elegant look.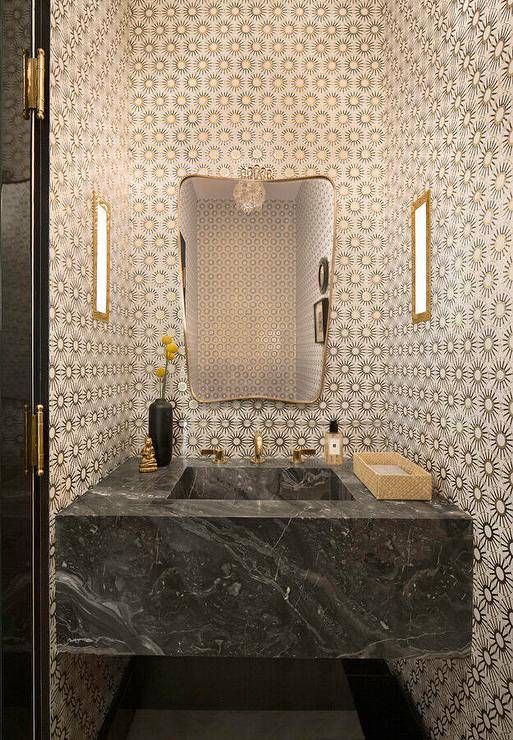 Photo Credit: Elizabeth Dinkel Design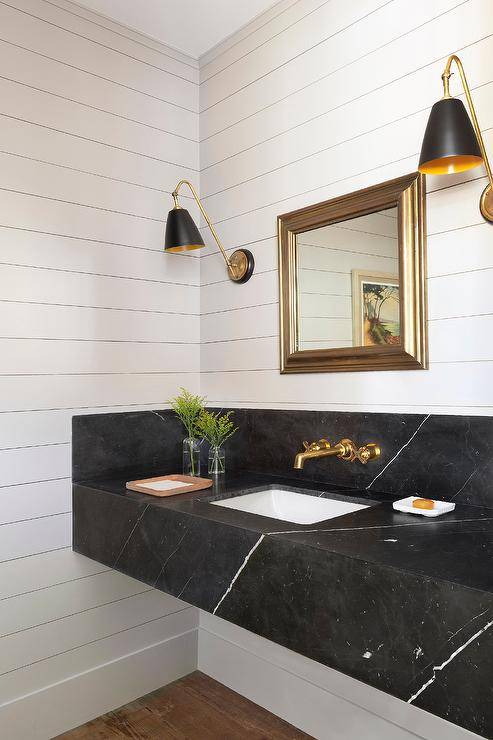 Classic Black and White
It's difficult to pull off an all-black bathroom unless it's enormous or has lots of natural light, but black, along with white, can be used in all sorts of interesting ways to show off your design skills. This is why black and white will always be a classic choice for the bathroom.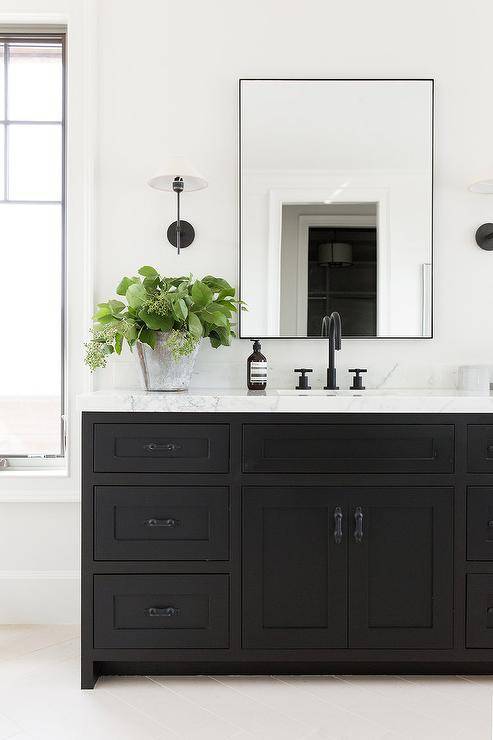 Graystone Custom Builders did away with typical drawer hardware for this vanity cabinet and opted for finger pull cutouts instead. The lack of pulls and knobs allows the gorgeous black cabinet design to speak for itself without any visual interruptions.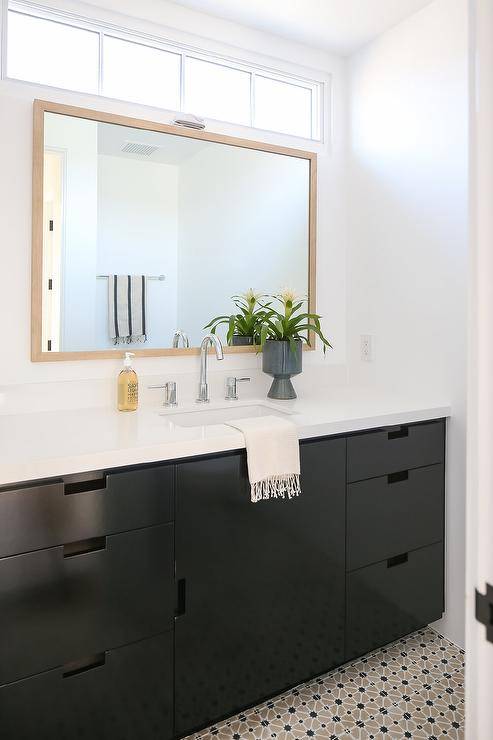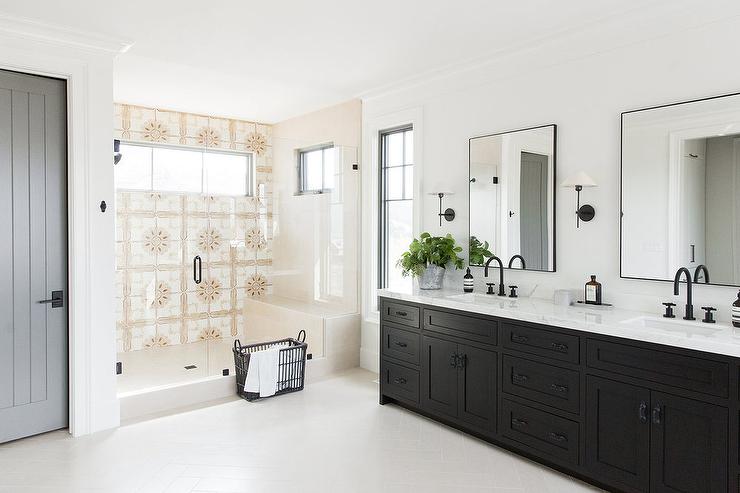 The black cabinetry in this bathroom stands out beautifully thanks to the contrasting white walls, marble countertop, and, of course, the luxurious white marble floor. This bathroom has us swooning!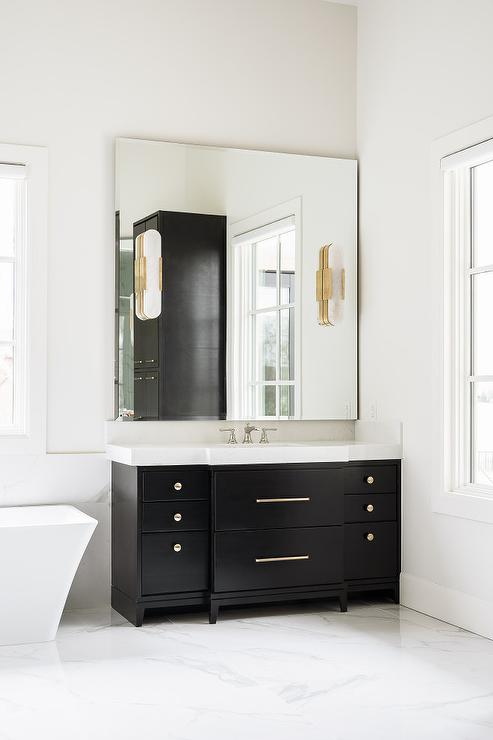 Add in Gold Touches
If you want to elevate your classic black and white look for a bathroom space, add in some gold touches. Gold complements both black and white and will take your bathroom from simple modern farmhouse style and give it that sleek and refined look that it's missing.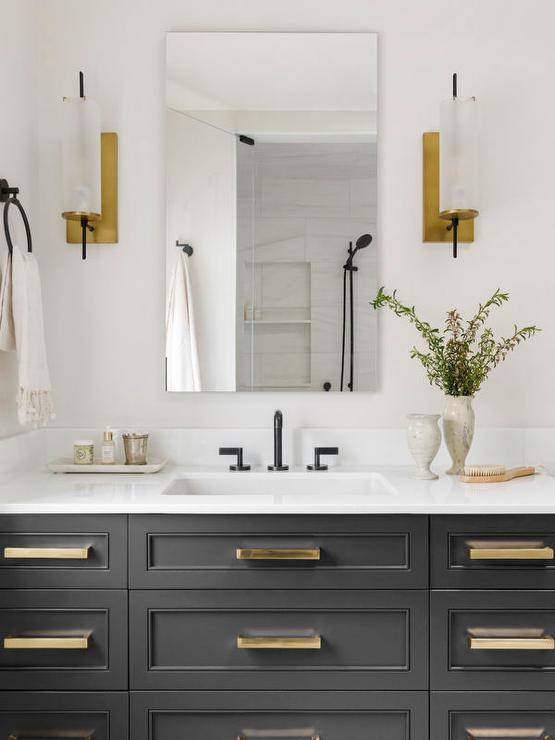 Use gold in your hardware, lighting, and taps. You can also install gold towel bars and toilet paper holders. Just make sure if you are using gold to stay away from polished chrome or silver as you don't want clashing going on.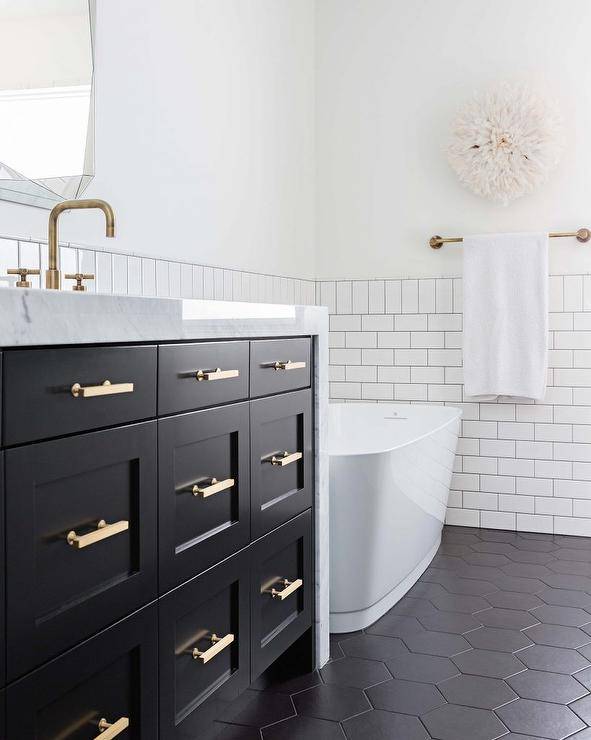 This traditional style with black vanity and large cabinets on either side. Modern light fixtures and minimal faucets give the space a touch of contemporary style.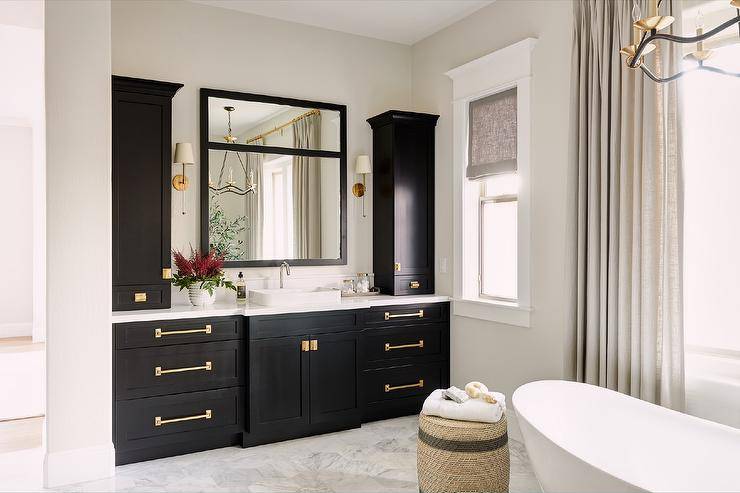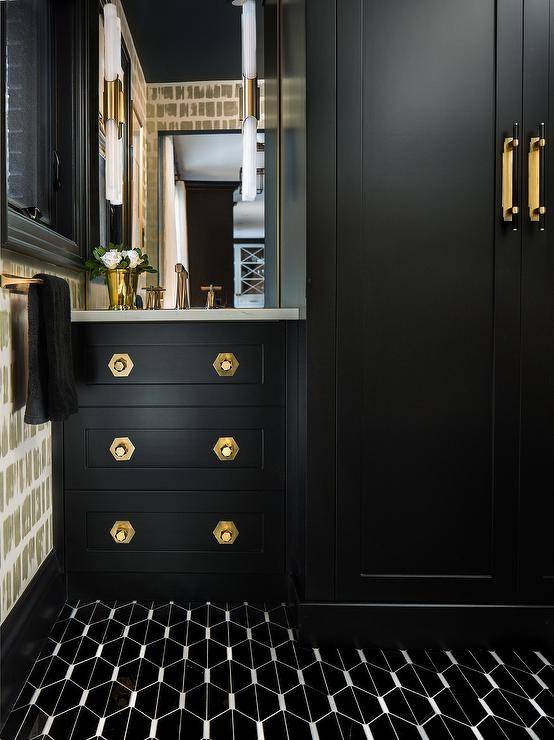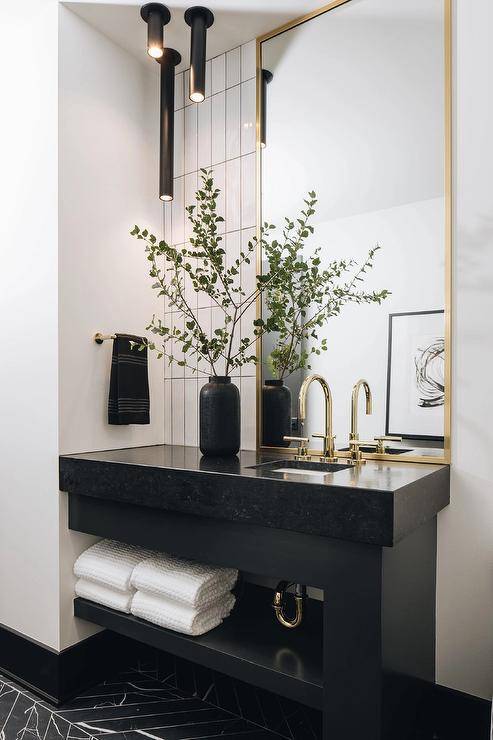 Fancy Tile Work
The great thing about a black vanity is that it gives you a chance to get creative with your tile work around the bathroom. Since black can complement many different looks and colors, you can have fun with your tiles. Floor tiles and shower tiles can be creative and unique.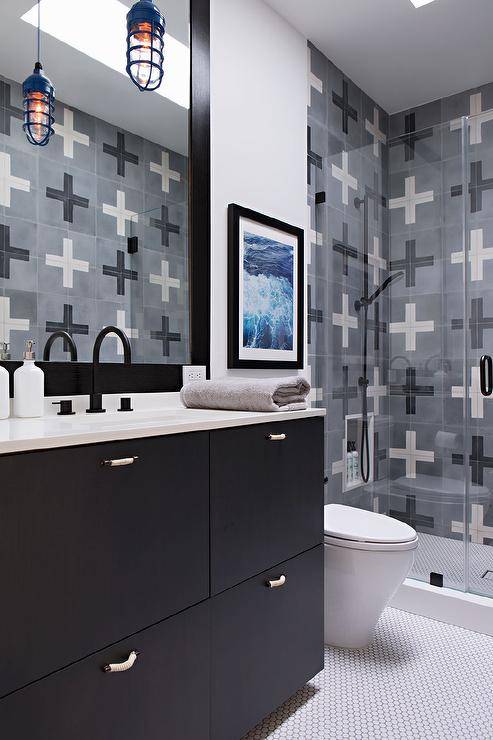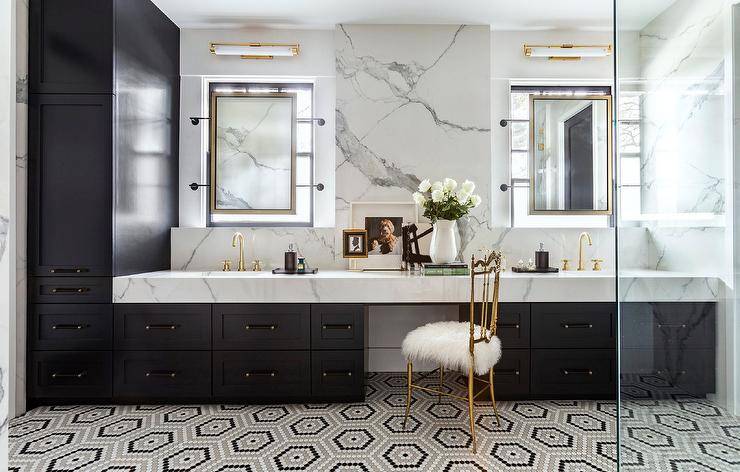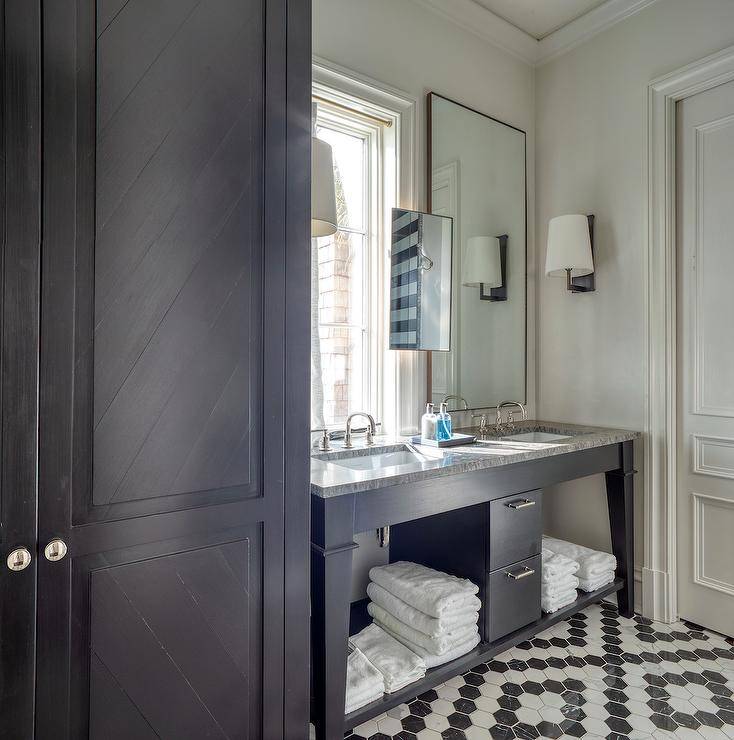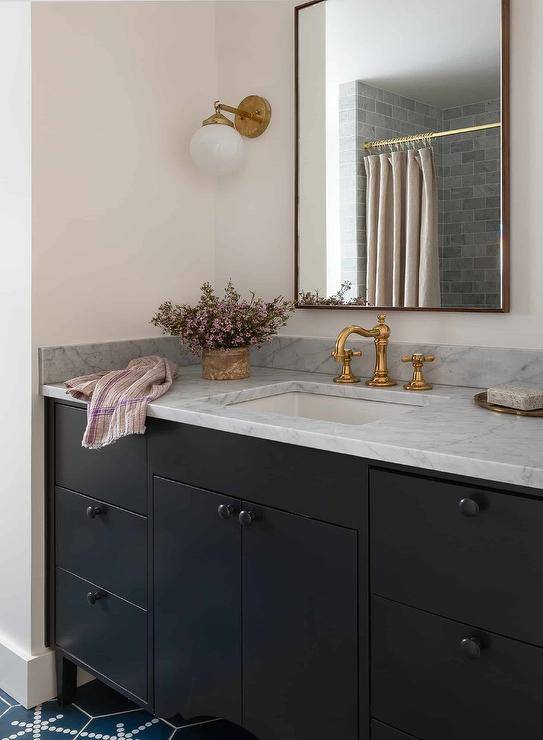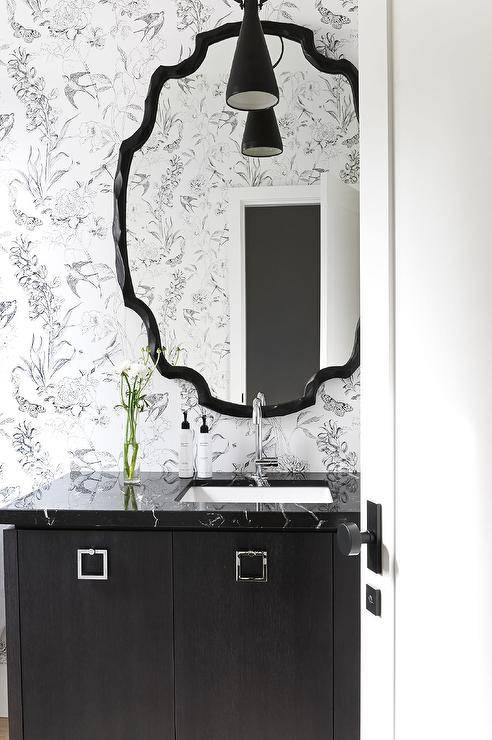 We forget how stylish monochrome can sometimes look. This handsome bathroom design is masculine and polished, without feeling like the wall tiles and cabinet's darkness is overbearing.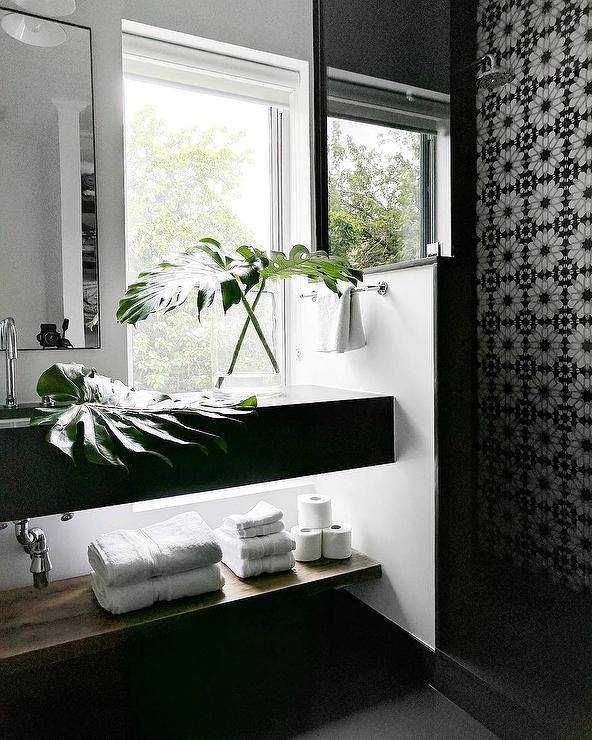 Black never goes out of fashion, so using it ensures that your decor doesn't go stale. With a few decor tweaks once in a while, you can refresh a black bathroom at a low cost.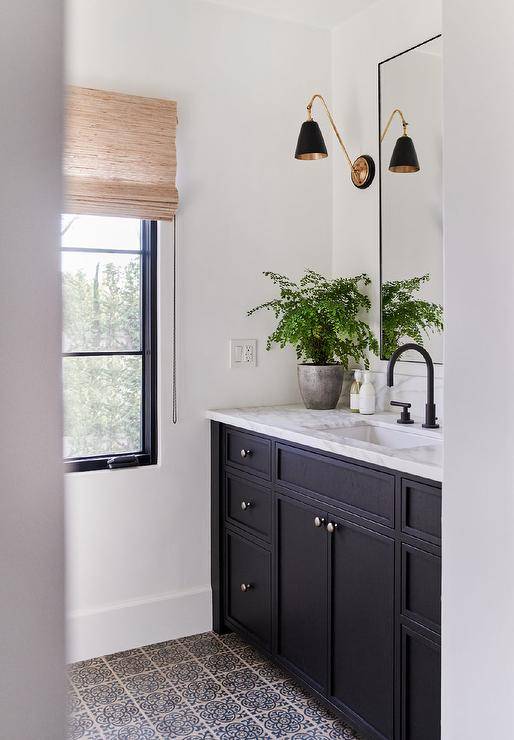 If looking at all these black vanities has convinced you that you need a black vanity in your bathroom, but maybe it's not in the budget, don't forget that there's always paint! Painting anything black is always easier than any other color and will give an old outdated vanity a modern and stylish update!
Choosing the Right Type of Vanity for Your Space
There's more to consider when choosing a bathroom vanity than just color. One of the most essential considerations you should apply is the type. This can help you narrow your options down the line. Here are some of the most common vanity types that you can choose from:
Pedestal Vanities
A pedestal vanity is favorably versatile, and the primary advantage of getting one is the fact that it takes up little space in the bathroom. It's easy to install and quite simple overall, but it doesn't offer any sort of storage or counter space.
Floating Vanities
If space is an issue in the bathroom, a floating vanity can be one of your most suitable options. It's designed to be mounted on the wall and doesn't take up any space on the floor. On one hand, that means less storage, but on the other hand, it gives the bathroom an open and airy look which is critical if the room is small.
Free-Standing Vanities
This type of vanity comes in an assortment of different shapes and offers an abundance of freedom in terms of overall size, storage, and additional features. A freestanding vanity can have two sinks or numerous storage drawers or shelves. It's also not mounted on the wall or the floor, making it easy to move it around or replace it if needed.
Vanity Cabinets
You could consider this a type of freestanding vanity in many ways. A vanity cabinet gives you some storage in the form of drawers, shelves, or cubbies and often includes a countertop. It can be paired with various different types of sinks.
Frequently Asked Questions (FAQs)
What color bathroom vanity is the most popular?
White bathroom vanities continue to be a popular choice, and they are probably the most popular, but with so many different design trends, it's hard to narrow it down to which is the most popular. Popular doesn't always mean the best when it comes to choosing a vanity color, though. Whether your decor style is traditional, coastal, or contemporary, a black bathroom vanity can be just as stunning and versatile a centerpiece that will work with most interiors.
How can I brighten up my bathroom if I have a black vanity?
If you are opting for a black vanity but still want a bright and airy-looking bathroom, make sure you use neutral color tiles, incorporate layered lighting and have large mirrors to reflect lots of light.
If you need more help or inspiration in the bathroom, take a look at these related articles: