As opposed to some far-fetched, futuristic fantasy, the bathroom of the future will be made up of several essential, realistic components: sustainability, technology and good design will be key to bathroom innovation. One company in the vanguard of this is Noken, a manufacturer of bathroom equipment and part of the Porcelanosa Group.
Sustainability
With growing worldwide urbanisation, there will be an ever increasing focus on developing eco-friendly products and solutions: specifically, resource areas such as water, electricity and waste management will be of prime concern to government agencies and businesses. In order to compete—not just economically but with a view to addressing environmental concerns and sustainability—companies need to think about smart technologies and eco design. Using current trends in bathroom equipment, Noken is able to anticipate the likely designs of the future and in particular, the importance of efficiency and sustainability.
The gradual using up of natural resources will necessitate a serious review of how we use energy and water. Noken's 'Ecodesign' approach offers a selection of environmentally friendly options that minimise risk and achieve a high level of efficiency. For example, the levers on its 'cold water opening system taps' move only to the left: this allows for temperature control and ensures hot water is used only when necessary. Other sustainability instruments developed by Noken include: an 'Eco cartridge' (its two-position switch makes it possible to use 50% less water and energy), and a water 'flow rate limiter' (that uses jets and air to reduce water consumption).
Innovative technology
From Noken's perspective, bathrooms of the future should be guided by advanced technology, found in the latest operating systems and through interactive experiences. A bathroom of the future will cater to the specific needs of individual family members, including: customised temperature control of the room, mood music, lighting and adjustable basin heights. Moreover, multi-screen displays will introduce an interactive experience to the bathroom.
In Noken's 'Mood' series, the Mood taps incorporate a digital controller that allows the user to control the opening and closing of the water flow rate, as well as the temperature.
With the 'Urban c' LED washbasin mixer, the LED light changes colour depending on the temperature of the water. Cleverly, the light's power is self-generated by the flow of water through a dynamo.
Technology and design
Noken foresees bathroom interiors imbued with lively, avant-garde atmospheres, and future-oriented ceramic floor tiles and wall tiles (by Porcelanosa). With Krion™, a next generation solid surface from Systempool (a Porcelanosa company), the bounds of bathroom design are, in effect, limitless.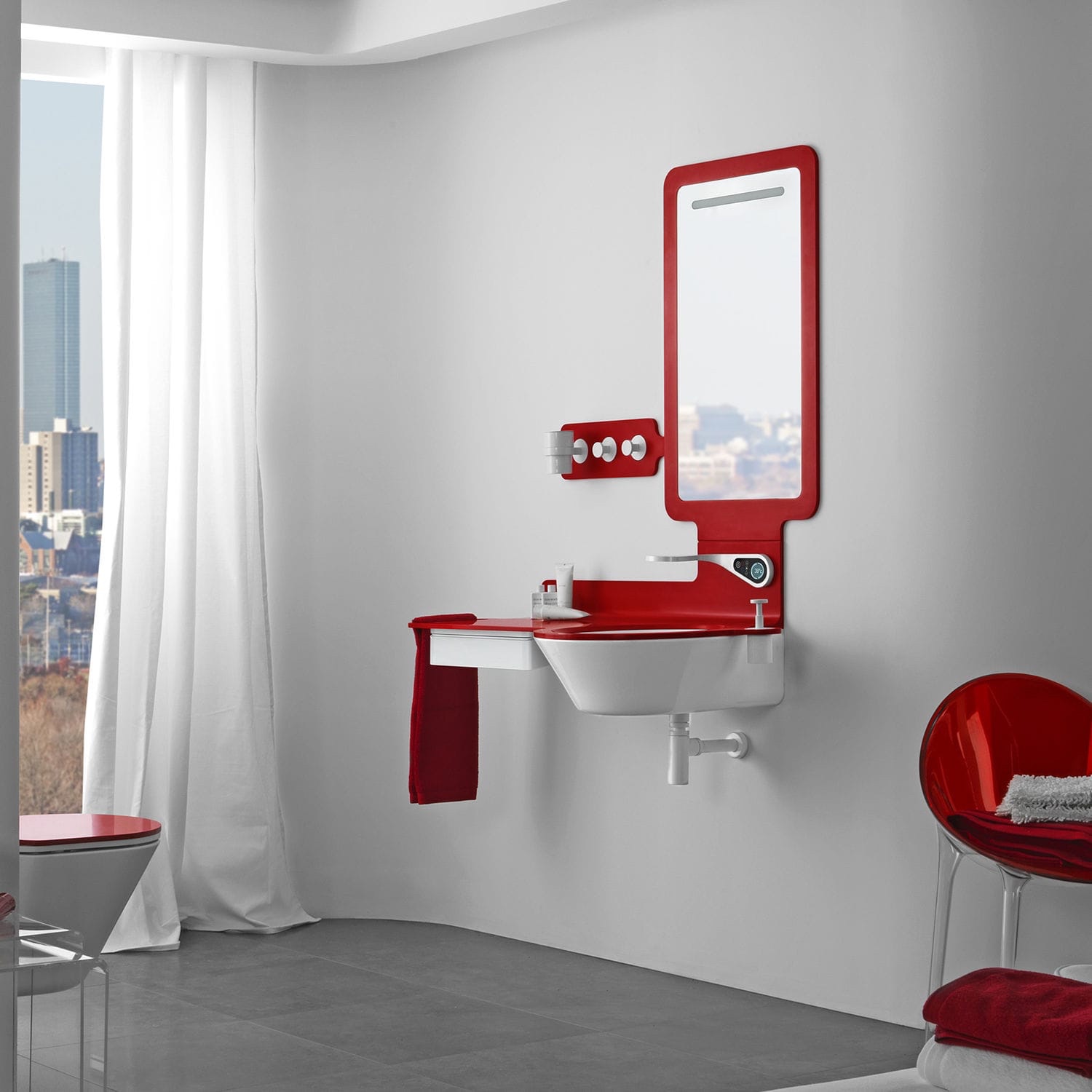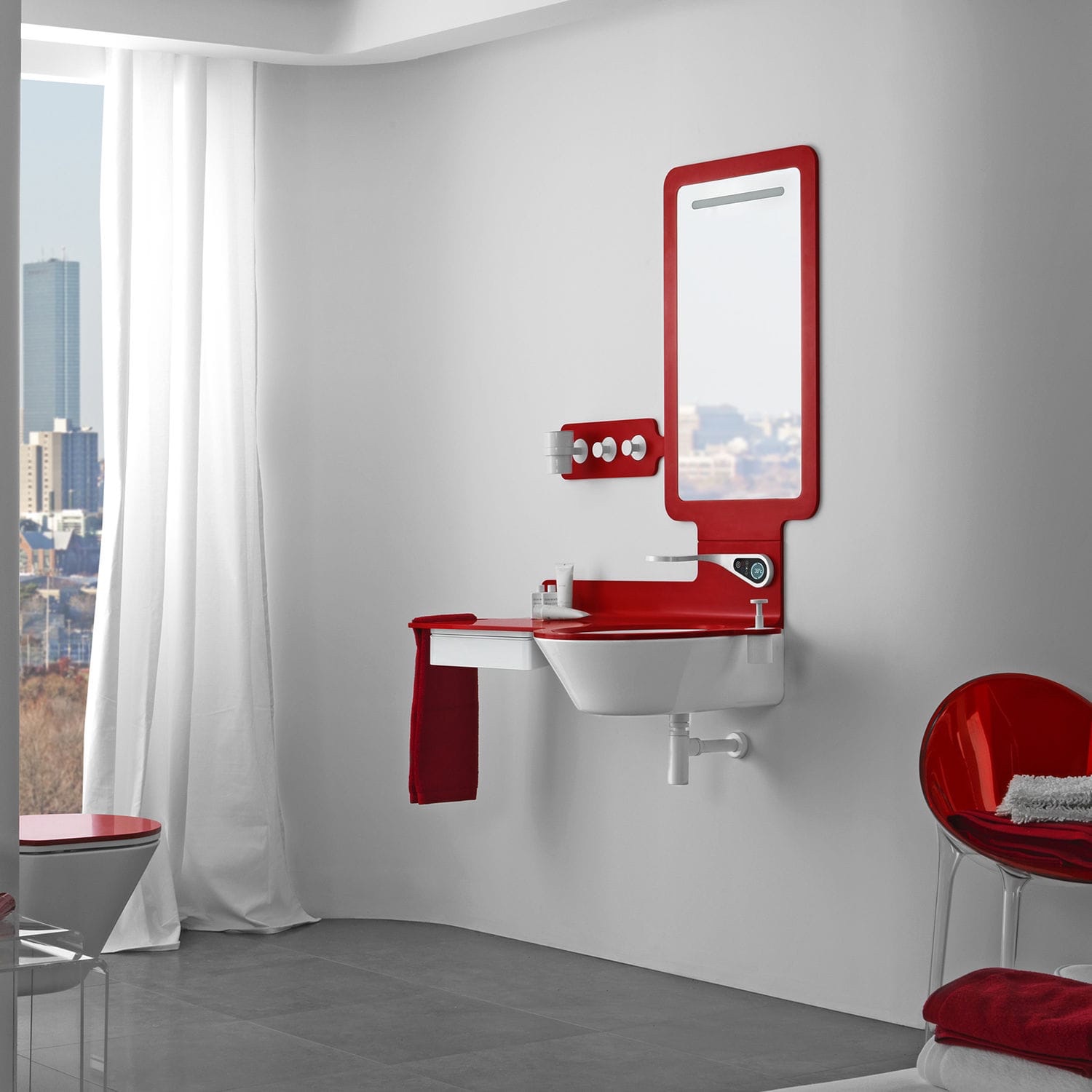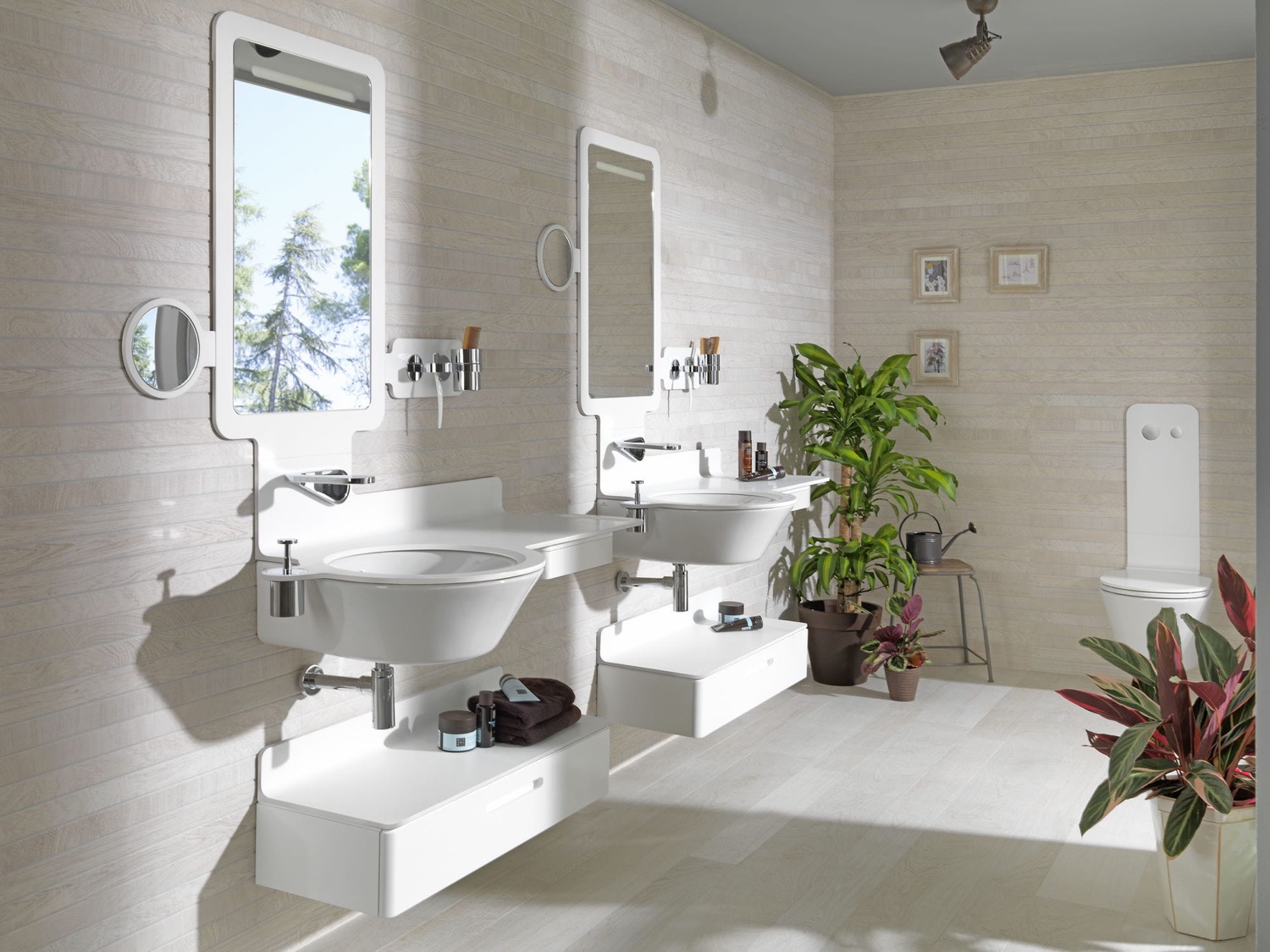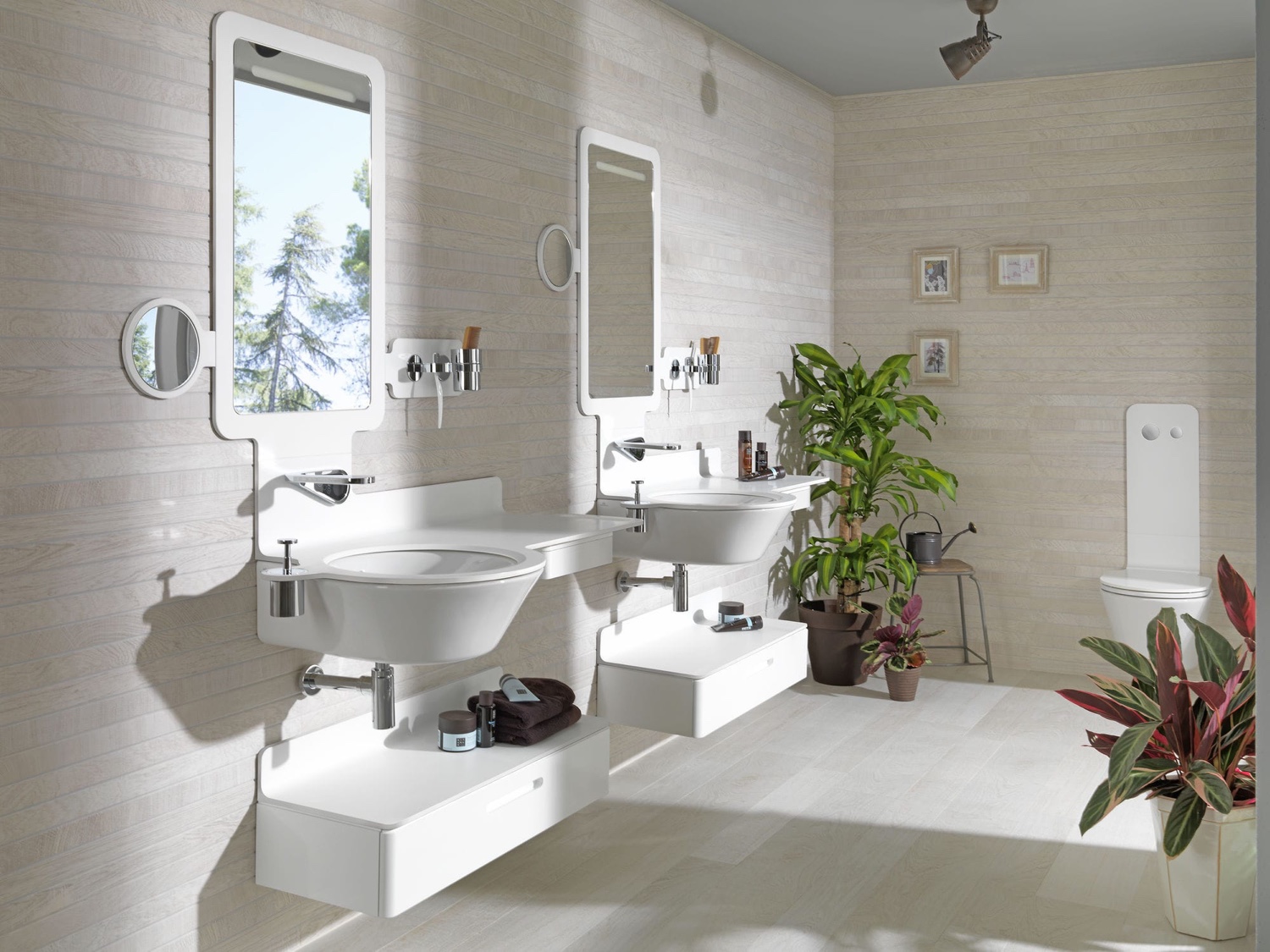 Advances in technology will heighten the bathroom's role as a place of refuge and escape from life's daily rigours. Noken points to the role of technology in improving our emotional state, by using colour, perfume, sound and virtual reality.
Vitae by Zaha Hadid Design
Imagine dipping your hand into a warm, silky, flowing stream. Visualise walking barefoot in a gently babbling brook. Picture lying in a beautiful, clear pool, the water softly cascading around you. Each of these imagined scenarios underpin the design of Vitae, a recent bathroom concept from Noken, developed in collaboration with Zaha Hadid Design. This revolutionary bathroom collection is striking in its form and presentation, with integral components that evoke images of Zaha Hadid's dramatic architecture. In truth, Vitae offers the perfect refuge and escape from life's everyday demands.
Vitae—meaning 'life'—comprises fluid lines that conjure up images of flowing water. Indeed water is the recurrent theme throughout the collection. Vitae's taps, basins, sanitaryware, mirrors and bathtubs are both organic and futuristic in their design. The result is a bathroom collection that is sensuous and sumptuous, tactile and functional. It is the perfect synthesis of expressive, useful and aesthetic design.
In a similar way to the TONO collection—designed by Foster + Partners in collaboration with Porcelanosa (read about TONO here)—Vitae challenges commonplace thinking on bathroom design. Vitae's various components work in harmony to create a unique, innovative and sustainable 21st century bathroom experience.
To learn more about Vitae, Decoist.com put a number of questions to Pasqual Casanova, Marketing & Innovation at Noken Design.
What was the inspiration for Vitae?
The inspiration for Vitae was mainly nature, and more specifically water. The way we see and experience water flowing though our hands; the way it transforms nature and landscapes.
How did Noken and Zaha Hadid Design work together to create the Vitae bathroom collection?
It is the union of two major brands and the team worked fantastically well together. After all, that is what you need in order to produce this outstanding bathroom collection.
What were some of the key challenges when devising and designing the Vitae bathroom collection?
The most challenging part of the Vitae collection was actually to create a consistent design repertoire—one that would bring all of the different elements together.
Who was Vitae designed for; where do you see its application?
I think Vitae is designed for the world itself. We can't say it was meant for this or for that. On the contrary, like nature, its application is everywhere.
What key elements differentiate Vitae from other bathroom collections?
Vitae is one and only. When designing bathroom elements, usually the main idea is to make functional elements that melt [into] the bathroom decoration. Vitae doesn't want to be like this. Vitae wants to be the star of the bathroom, and I think that's the key for being different.
Many of Vitae's components—the taps, basins and sanitaryware—evoke images of Zaha Hadid's dramatic architecture. Was this a conscious decision?
Yes and no. Undeniably, the essence of Zaha Hadid is in Vitae: the collection has been true to the DNA of Zaha Hadid's designs. But inspiration found in nature, water, trees, mountains . . . is the main source for our work. So, although we were aware of this [Zaha Hadid's designs], we did not have all of those designs in mind all the of time, but allowed ourselves to get lost in a world of nature.
Vitae—meaning 'life'—comprises fluid lines that conjure up images of flowing water. As a vital source of life, how does Vitae's design ensure water is managed sustainably?
A responsible use of water is vital and when designing Vitae, we kept this in mind. As a result, Vitae bathroom taps incorporate a water flow rate limiter of 5 litres per minute, when the standard flow rate is 12 litres per minute.
The Vitae collection is both organic in its design and futuristic. How did you achieve this balance?
When you work with a natural inspiration such as water, it is easy to come to an organic design—it's what we expect for a bathroom collection. Futuristic? Yes, it is also futuristic and here you can observe the hand of Zaha Hadid. So, the balance comes because of two paths joining in a unique idea.
Is there an element of the Vitae collection that you are especially proud of?
Well to be honest, I'm proud of all of it. It is a whole set and I can't really separate one element from another. It's a whole thing that comes together.
Encapsulated in a sentence, what is the essence of Vitae?
The essence of Vitae is the essence of Zaha Hadid and Porcelanosa bathrooms: functionality with the highest aesthetic value, but also aesthetic value with the highest functionality.