It is hard to describe the interior design and decorating extravaganza that is Salone del Mobile in mere words. If you are a design aficionado, being there is the only way to truly find out what it is all about and enjoy its amazing lineup of inspirational designs. But that simply is not possible for all of us each year, and so we bring you the next best way to marvel at the world's ultimate design fair by rounding up the very best of Salone del Mobile 2016.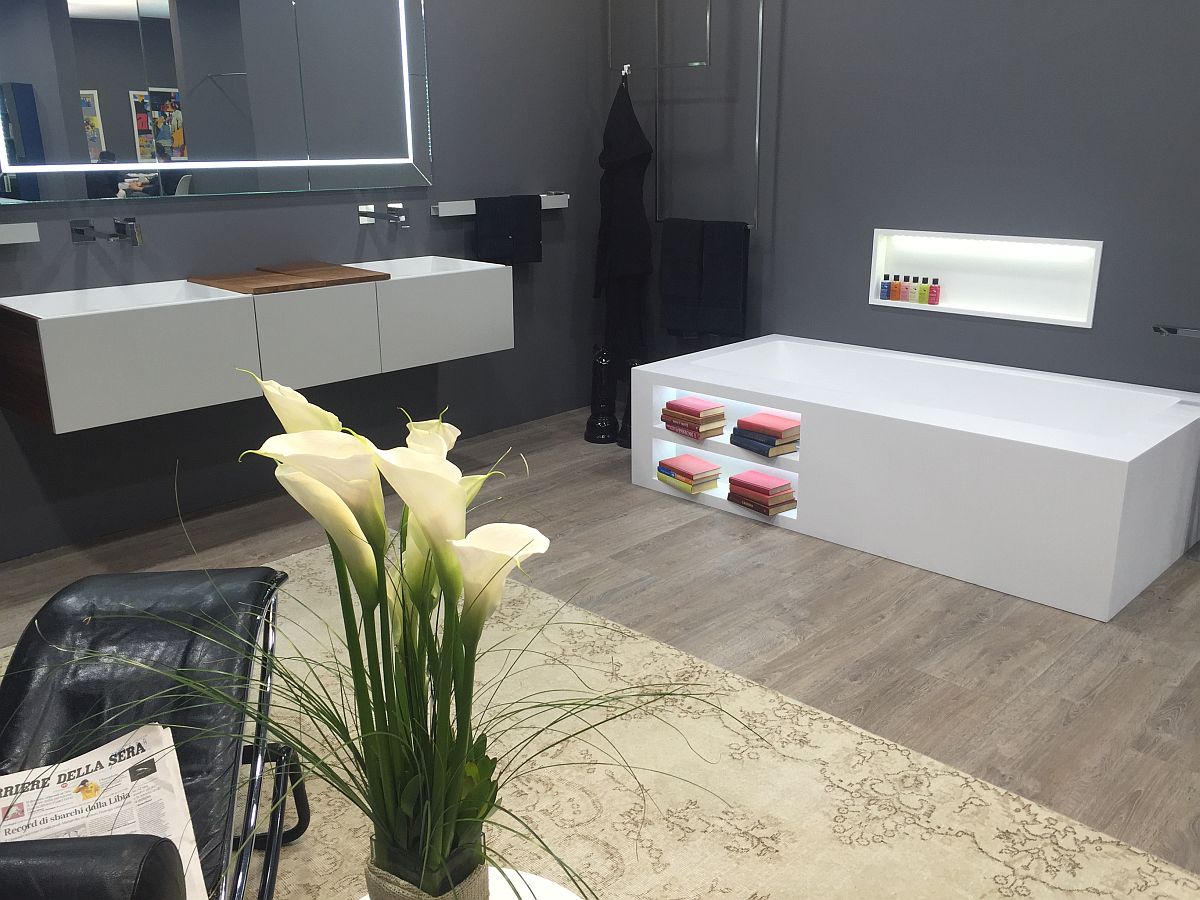 Many of our readers must have already enjoyed our live coverage of the event this year. But for those who missed out, here is another great chance to see the best of Milan 2016 without the frantic pace and hectic crowds! As the dust settles, we take a look back at 60 inspirational bathroom décor ideas we unearthed this year – Designs that will define bathroom trends for the next 12 months. Enjoy!
1. Delightful Array of Styles
Starting out in 2003 and gradually finding its space in the large and astounding design carnival that is Salone del Mobile, the International Bathroom Exhibition is a biennial event that gives us a glimpse into both the current trends of bathroom design and the direction in which they are headed. And this year's event was no different, with some of the finest bathroom designers from all across Italy and the world showcasing why their own designs are special, unique and cutting-edge. This obviously meant that the plethora of varied styles on display was captivating, and times, overwhelming!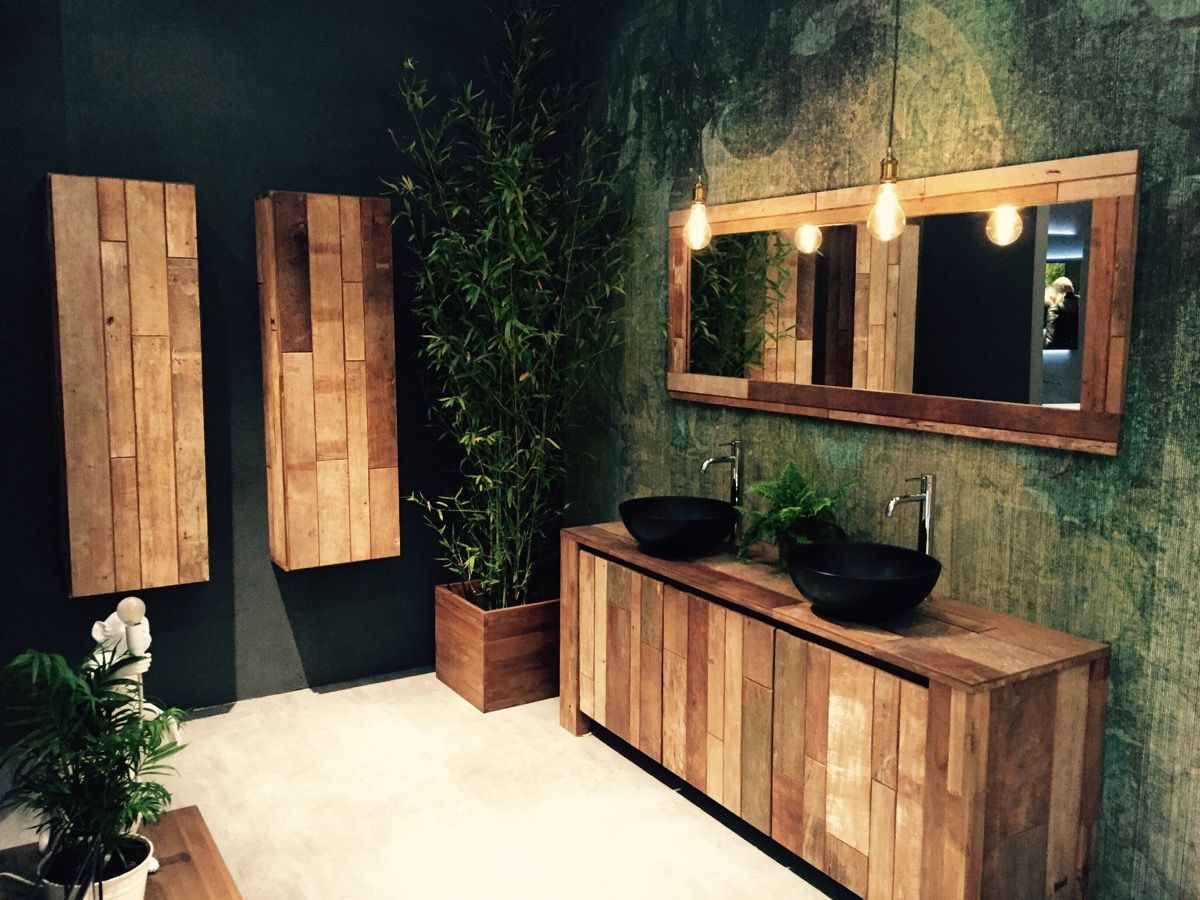 Styles ranged from the Art Deco overtones displayed ever so eloquently by the bathrooms from ArlexItalia to the modern-industrial delights of Archeda. This was not merely a parade of polished and contemporary bathrooms with glossy finishes. There is much more to take in and savor at Salone del Bagno 2016.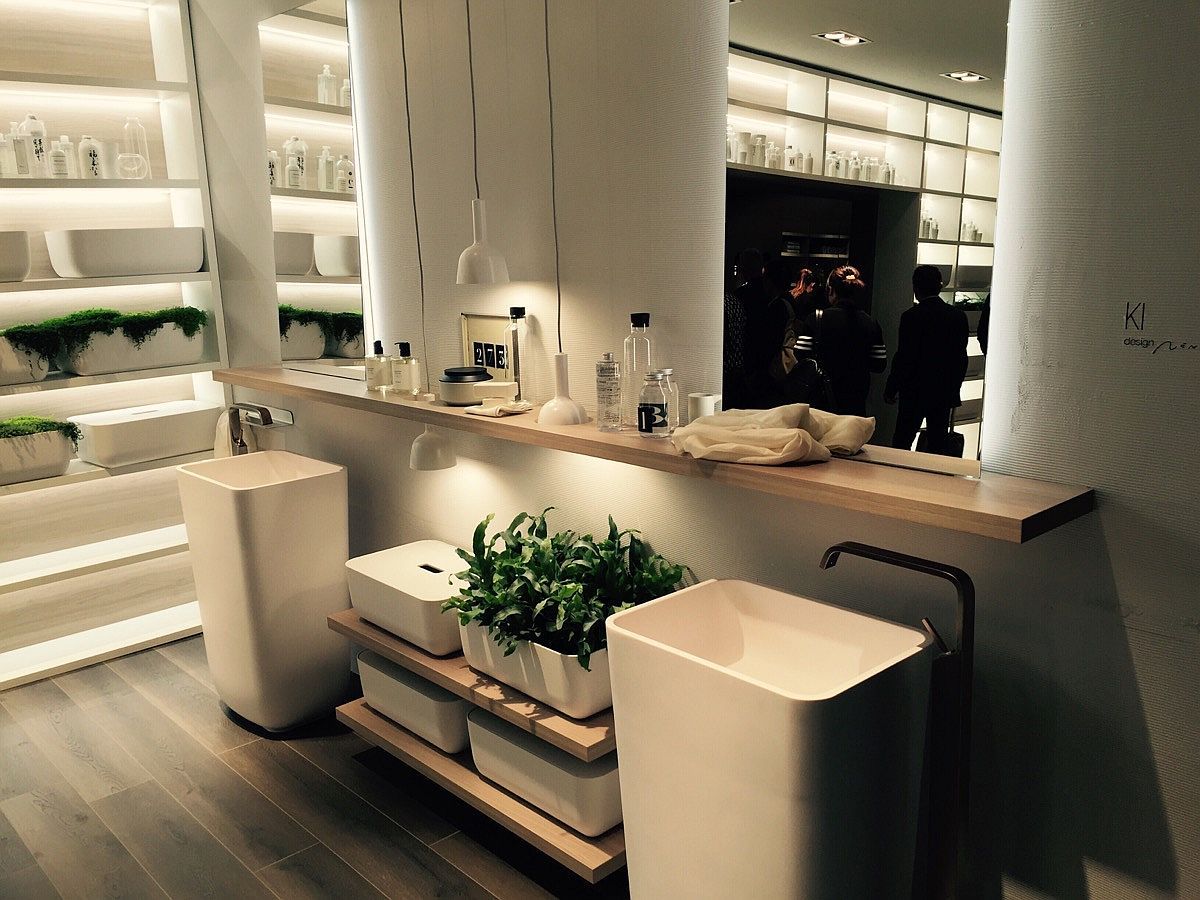 2. New Age Bathtubs
They might have initially arrived as a hot trend, but freestanding bathtubs are definitely here to stay. There was absolutely no shortage of inspiration in this regard at Milan 2016, with the likes of Falper rolling out bathtubs that blur the line between traditional and contemporary design. Not only do they become one with the bathroom storage and display units, they also offer additional shelves and racks for a few books and a bottle of champagne or two! This idea of standalone bathtubs with open shelves seems to have been embraced by others as well, even as clean lines seemed to take over from sensuous curves.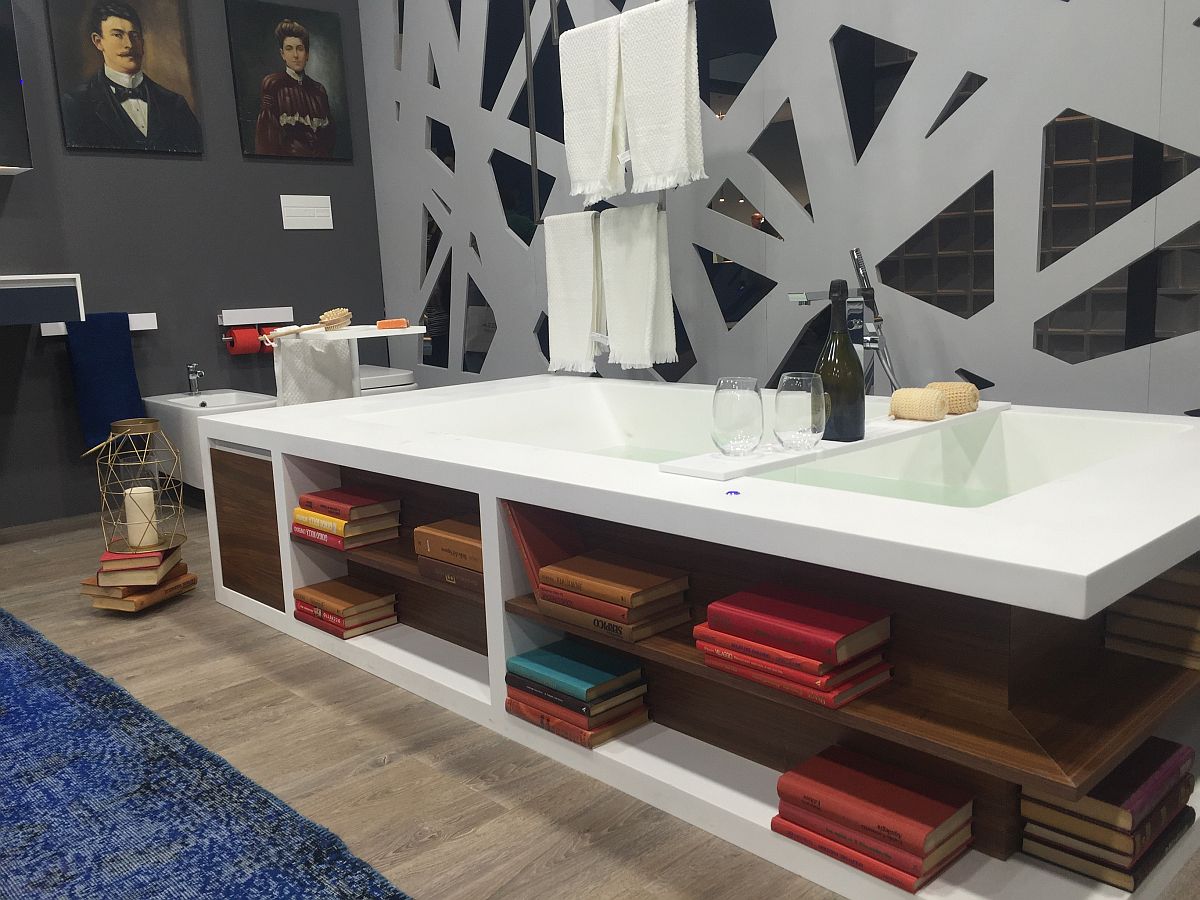 Dimasi Bathroom and Moma Design provided more excitement and affluence to this display of contrasting bathtubs with their latest designs that focused more on a curvy silhouette. Then there is a fabulous hexagonal bathtub or two thrown in there as well for those looking for even more geometric contrast. No matter your choice of shape, this is a bathroom trend you just cannot ignore any longer!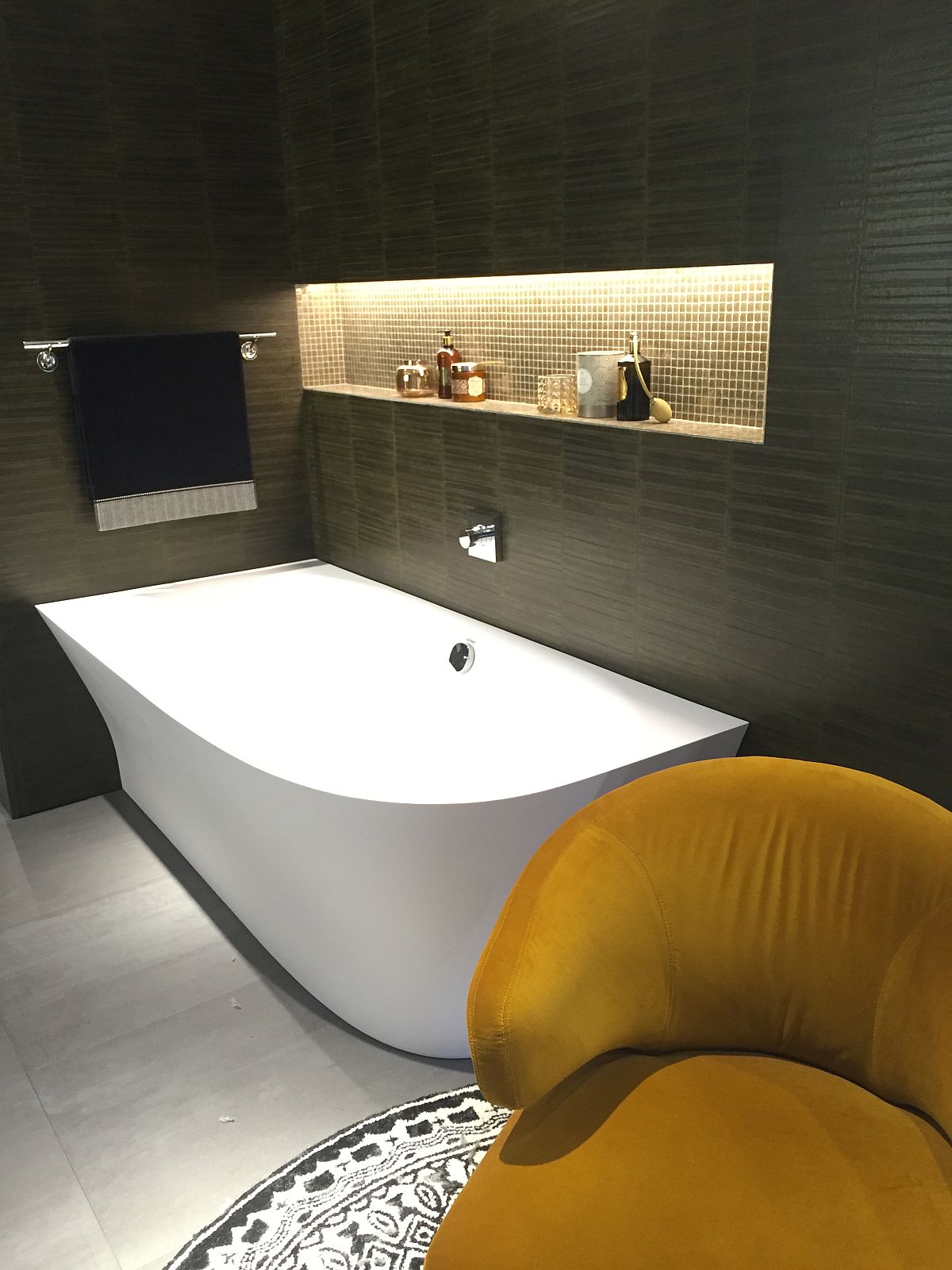 3. Finding Your Ideal Bathroom
It is the age of adaptive design where décor and accessories tend to offer modular and customized solutions that specifically respond to your home. Bathrooms at Milan 2016 epitomized this trend, and we are certain that anyone and everyone who takes a look at the 60 inspirations on display today will be able to adopt at least one of the ideas. Sinks and vanities that save up space, bathtubs that fit into small corners, shower spaces that barely take up square footage, and of course an endless lineup of medicine cabinets, shelves and other storage units that are truly versatile – even the tiniest bathroom can be reinvented with the décor on display here.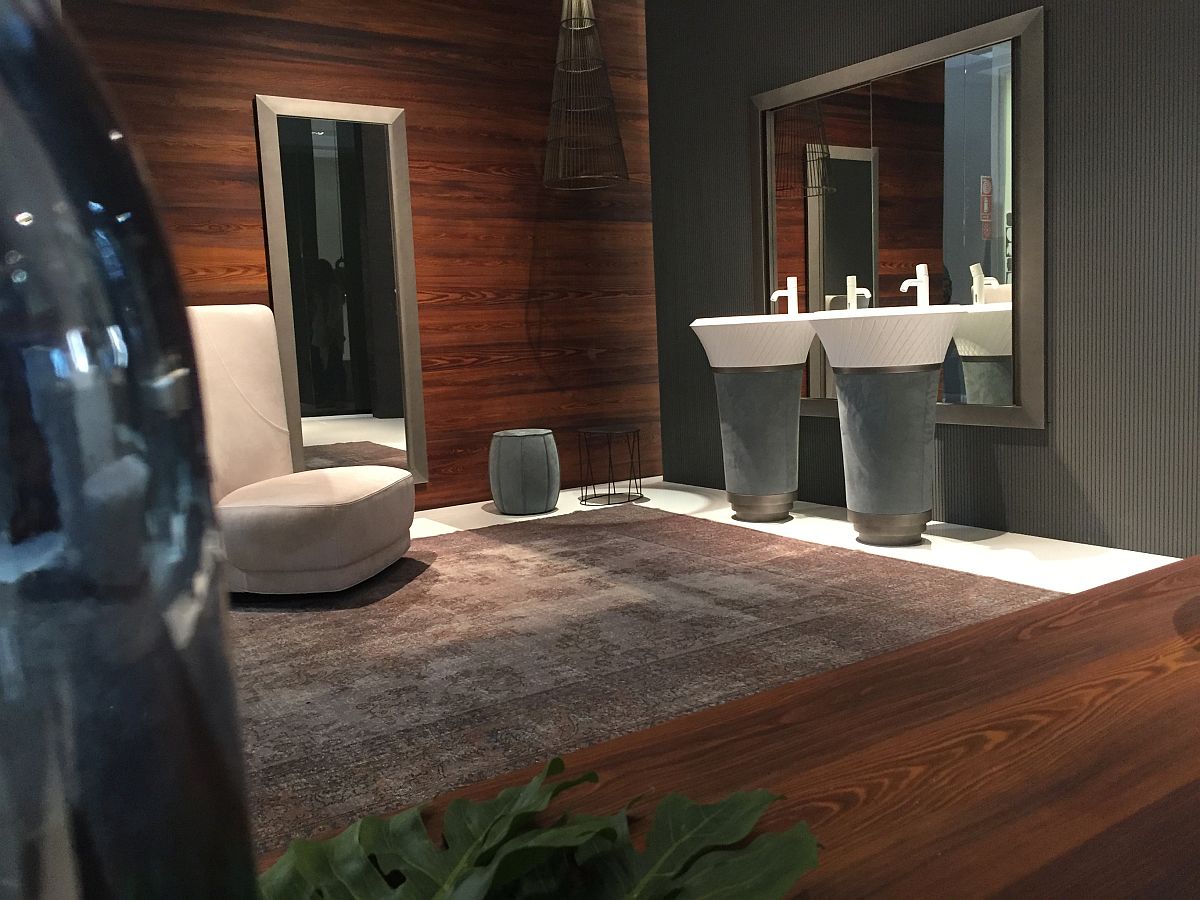 Bathrooms from Puntotre and Cielo Italy lead the way here, but others are not too far behind as the gallery below showcases. With a hint of minimalism and plenty of flair, compromising on space does not mean you need to sacrifice style as well!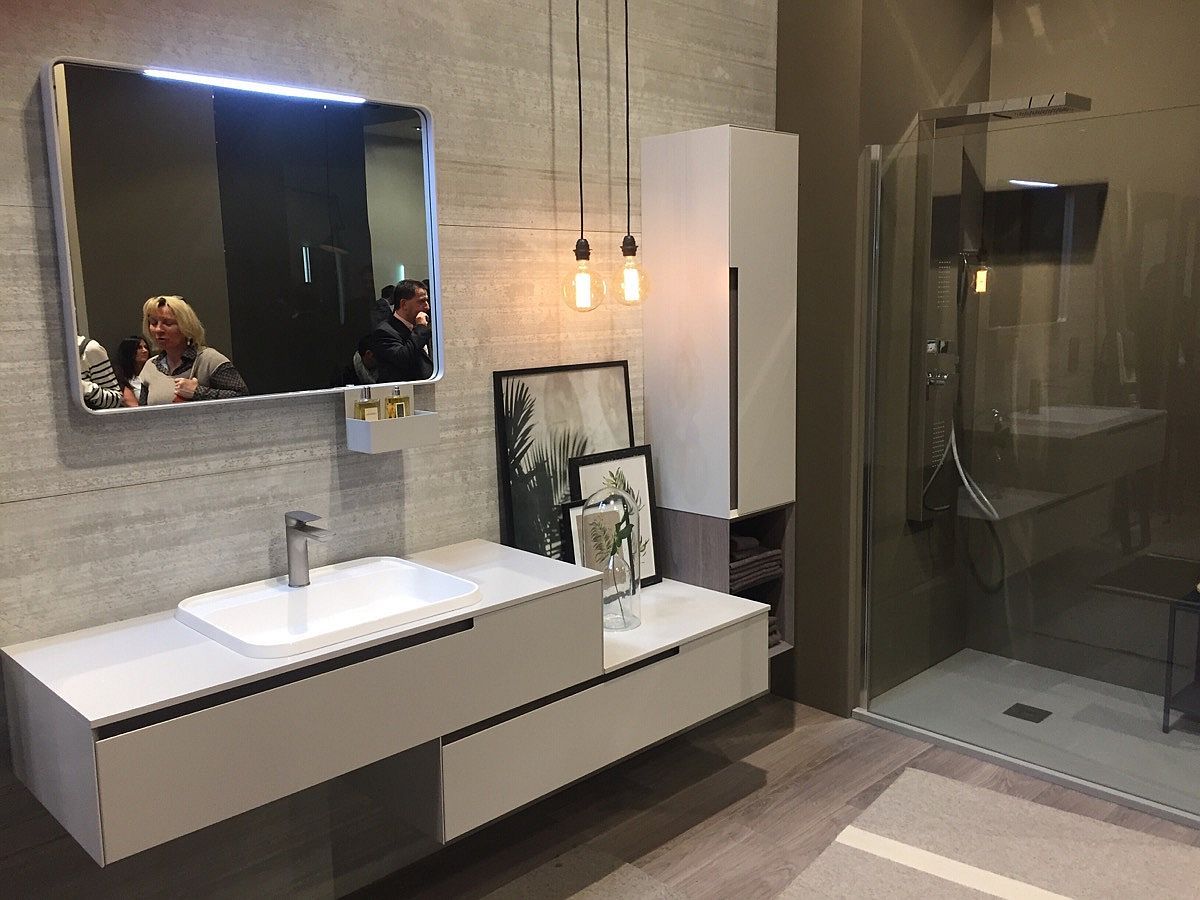 4. World of Vanities
When it comes to bathroom vanities, there is absolutely no dearth of inspiration at Milan 2016, but some obviously outshone others both in terms of functionality and aesthetics. Scavolini with a series of smashing bathrooms that include Aquo, Baltimora, and Magnifica stole the show, but that should barely come as a surprise to anyone. IDEAGROUP Bathrooms also mesmerized with compositions where their sleek, floating vanities effortlessly combined form and ergonomics.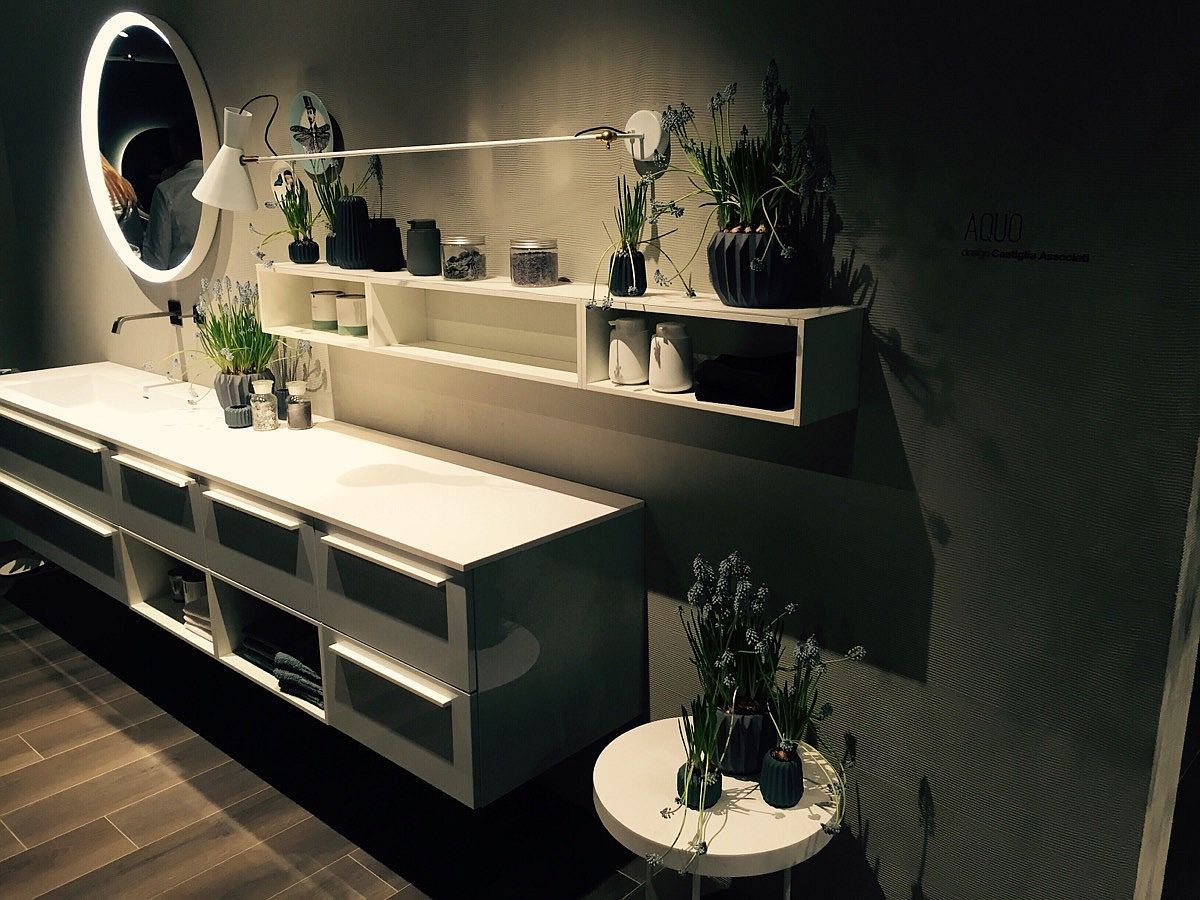 While vanities in a wide range of wood and stone finishes were as popular as ever, it was essentially the 'year of marble', as it presented a picture that perfectly fused contemporary style with an ever-lasting image of opulence. Marble bathroom vanities made a big splash at this year's Salone del Bagno 2016, and many of these designs will simply leave you spellbound.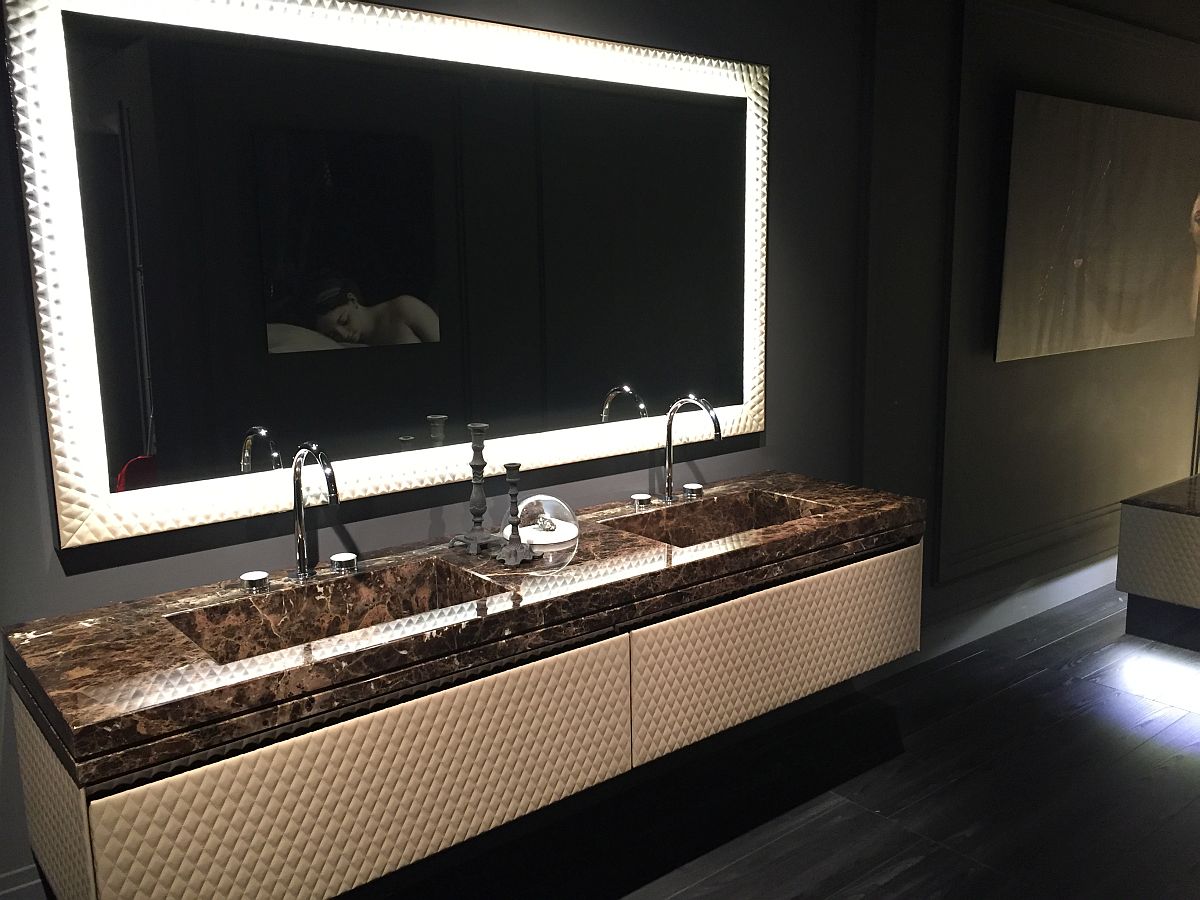 5. Mirrors and More
No great bathroom is complete without those finer details that truly separate it from the mundane. A great mirror that fits in with the style of the rest of the bathroom is the place to start, and then you can move on to lighting and accessories that add glitter and color to the space. When it comes to mirrored bathroom décor and amazing lighting, Inda simply left everyone dazzled, and their bathrooms seem like an amalgam of old world Hollywood Regency charm and futuristic sheen. Newform with its glitzy and classic golden mirror frames was not too far behind, and those who prefer understated, nautical beauty can check out Biselarte.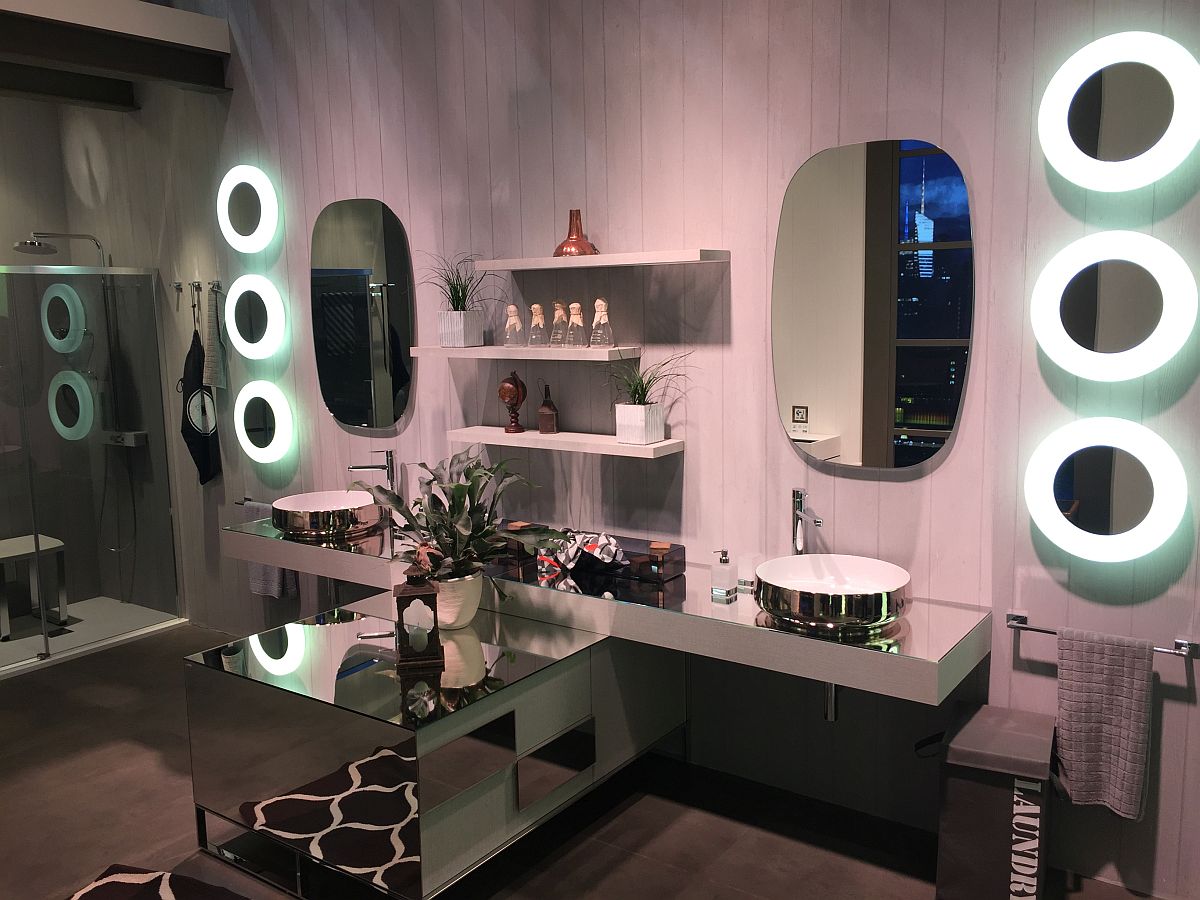 And among all this was the most innovative sauna you will ever see, thanks to KLAFS that brings together tomorrow's technology with Scandinavian simplicity and a Zen-like ambiance. And finishing our rejuvenating roundup is a state-of-the-art home spa from Dornbracht that promises to wash away all your aches and woes in one gentle flow!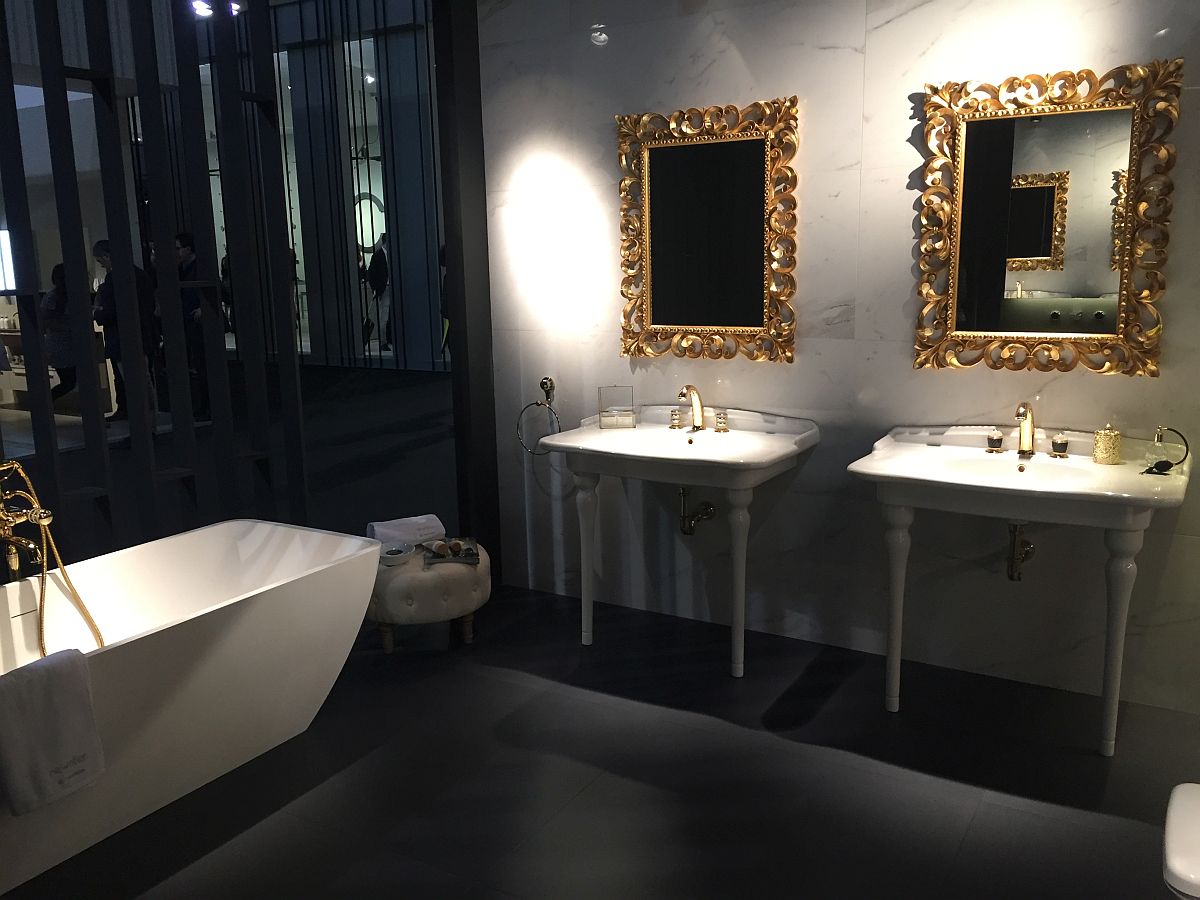 So, which of these bathroom décor ideas did you find most inspirational? If you have a favorite, let us know below!