Maybe it's because I'm looking for a new place to live, but it seems like I keep seeing the same thing over and over again: a small hallway bathroom with minimal counter space. Don't get me wrong–in most cases, this is a much-coveted second or third bath! What's not to love about an extra powder room? But at the same time, it does present a challenge: how do you make the most of a small bathroom?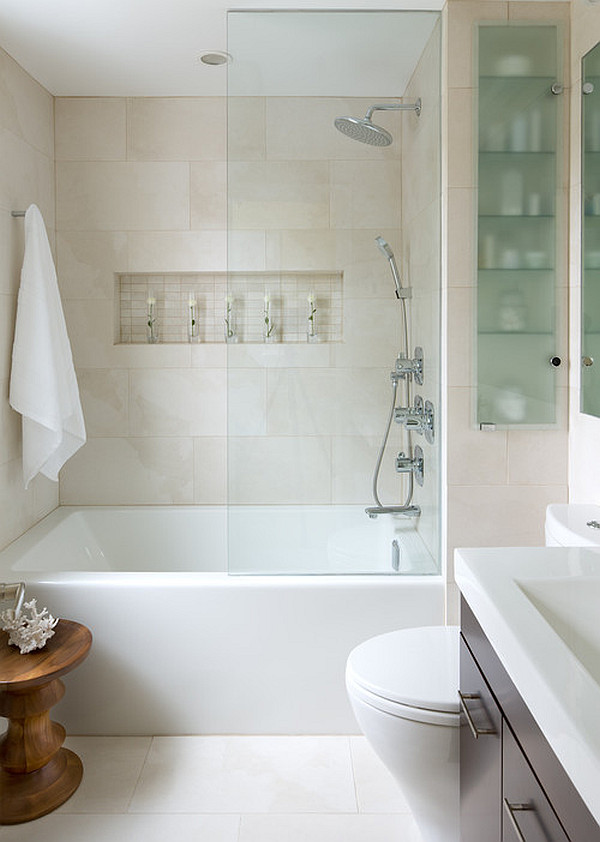 Unlike other decorative areas of the home, a powder room often needs to store many items, from hairdryers to basic grooming products. Some people even keep their towels and other linens in the bathroom. How do you maximize the design potential of a powder room? We think the images below offer some fabulous ideas, from the simple and chic to the innovative and unique. Get ready to be inspired…
Practical Touches
We start with one beloved technique for decorating compact spaces: stick to the basics. What does this entail? Think about the items that you want and need to have easy access to–soap, tissue, cotton balls. Then display these items as beautifully as possible. If you have limited counter space, you may need to use some of it to house useful items. But you can do it in style, as shown by the apothecary jar of cotton balls below. [from Linda Yowell Architecture]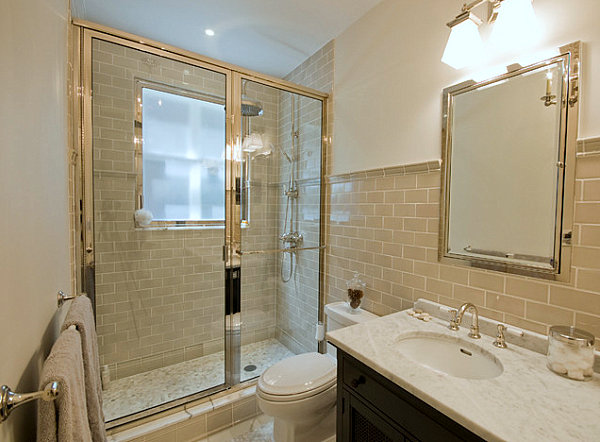 In fact, some people go all out when it comes to containing disposable grooming products. In the next image we see a set of even fancier apothecary jars, and this time both cotton balls and Q-tips are on display. [from Barclay Interiors]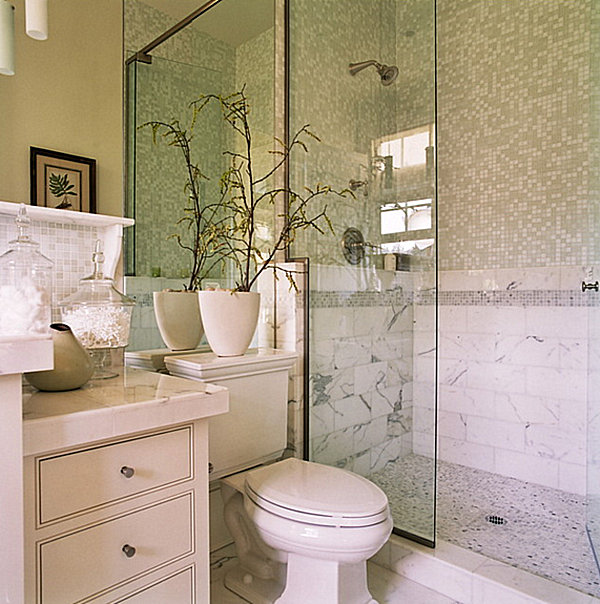 Some design enthusiasts enjoy matching sets of powder room basics, such as the soap dish, soap pump and tissue box below. On a side note, we also see how a clear glass shower door can increase the sense of space in a small bathroom, as your eye is allowed to see completely to the wall. [from Ask Kent and Co.]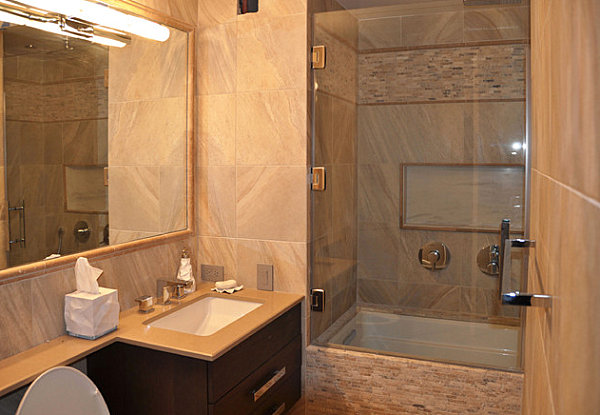 Don't forget that you can find interesting, lovely containers for the storage of basics such as soap, lotion and tissue. Pay attention to the style of your space, and make sure you select items that maximize the design impact, especially if you have room for little else on the counter. [from Custom Designs Cabinetry]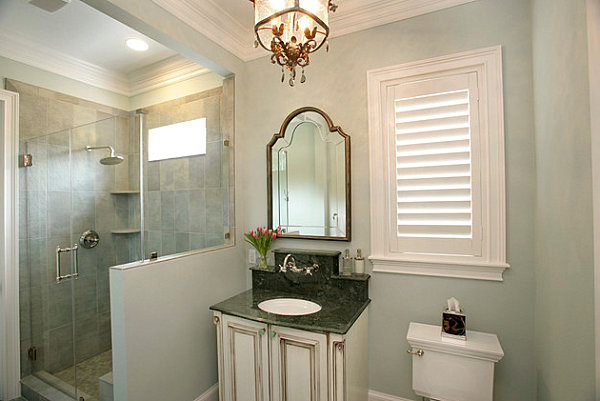 Basic powder room items can also introduce an element of color to the space, as shown with the contemporary tan soap dish in the next image. Its neural tone mirrors the earthy colors featured in the artwork on the white wall nearby. [from a-h design]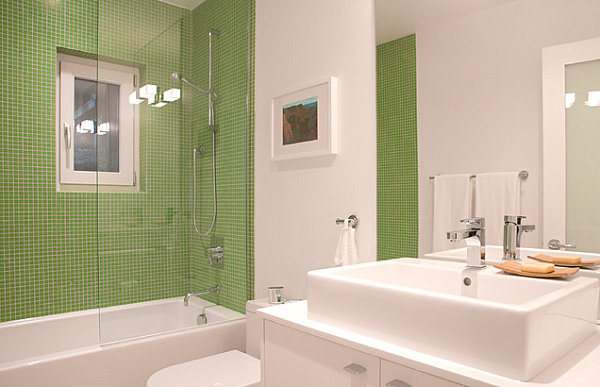 Special Features
When a space is small, it pays to make it extra special. This may involve strategies such as adding extra shelving, selecting beautiful lighting fixtures, or strategically embellishing the walls. In the San Francisco bathroom below, we see a sleek wooden ledge that leaves room for thoughtful touches such as artwork and flowers. [from Mark Brand Architecture]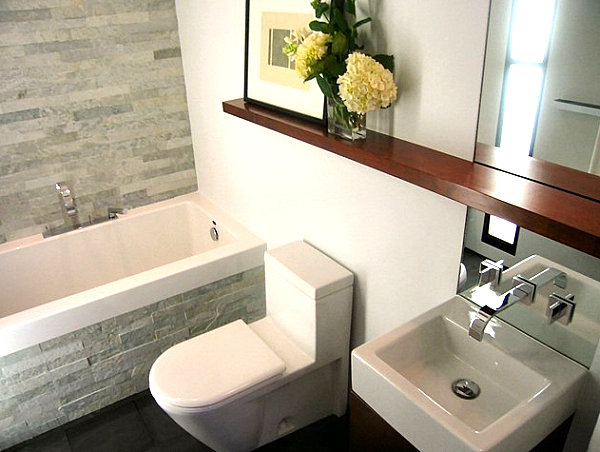 Another creative solution for adding shelf space to a small powder room? Put a plank across the window! This type of shelving leaves room for plants, which add a fresh, green element that can make all the decorative difference! [from The Red Jet]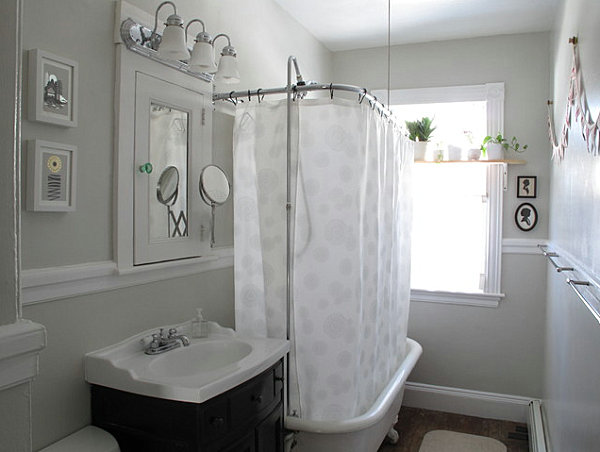 Another clever design option involves placing shelving on either side of the mirror above the sink. Even if decorative touches are subtle, they will add depth and dimension to the room. [from EAG Studio]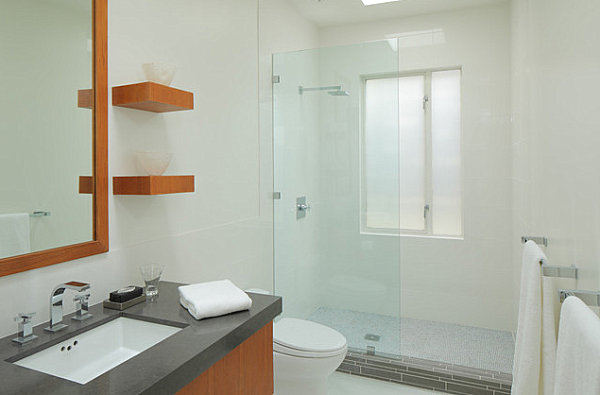 Ready to get glamorous? Many choose to dress up their small statement with elegant flourishes. It's hard to get more elegant than the ornate mirror, chandelier-style white sconce, and the two-toned sink with chrome detailing, There's even an under-sink rack for the storage of towels… [from Lonny]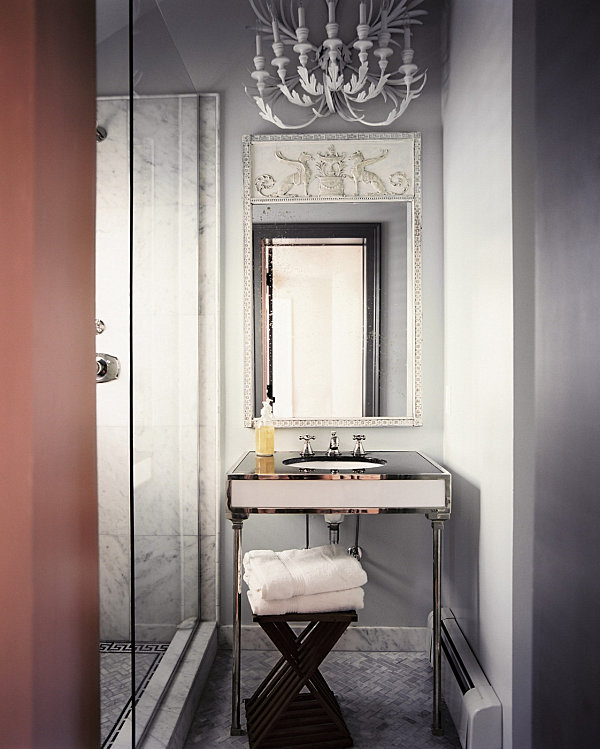 Don't be afraid to get creative! Below we see a tent effect created by the draping of striped fabric. Golden embellishments and Asian-style decorative detailing creates an opulent feel. Excess in the powder room? Sure, why not go decadent?! [from Lonny]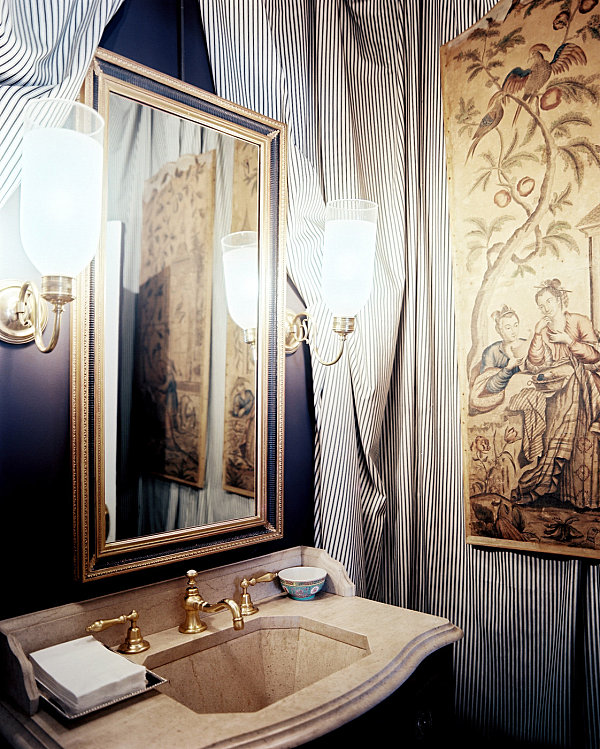 Wallpaper is another strategic solution for a bold impact. In the next space we see graphic wallpaper that evokes the feel of abstract branches. Not to mention, globe-like pendant lighting from Design Within Reach clearly designates the space as modern. [from Regan Baker Design]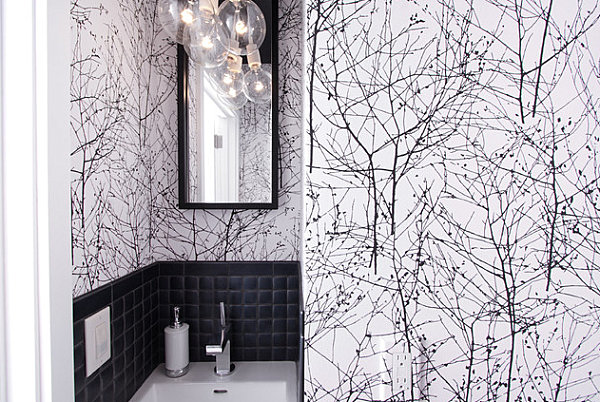 Want to take it up a notch? Combine wallpaper with colorful sconces, such as the selections below. Red shades are the perfect counterpart to a blue/black and white color scheme. A clean-lined mirror keeps it simple (since the other decorative details are so bold). [from Lonny]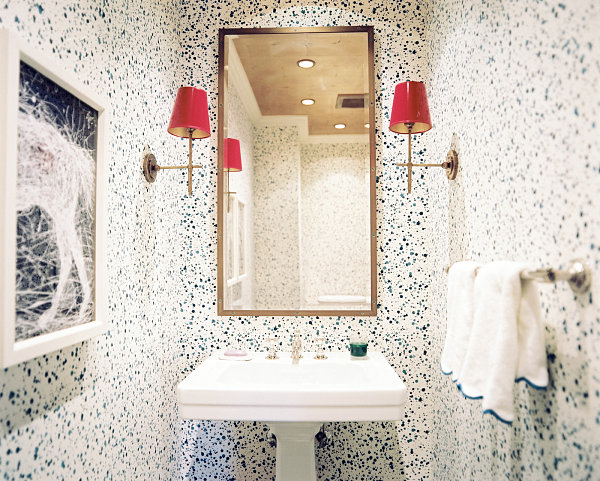 Tile can add a big impact. In fact, the blue and white Mediterranean tile in the bathroom below defines the space as a soothing and unique one. A Greek key-motif mirror adds further interest. A blue and white porcelain piece under the sink complements the tile, further cementing this compact room's theme. [from Lonny]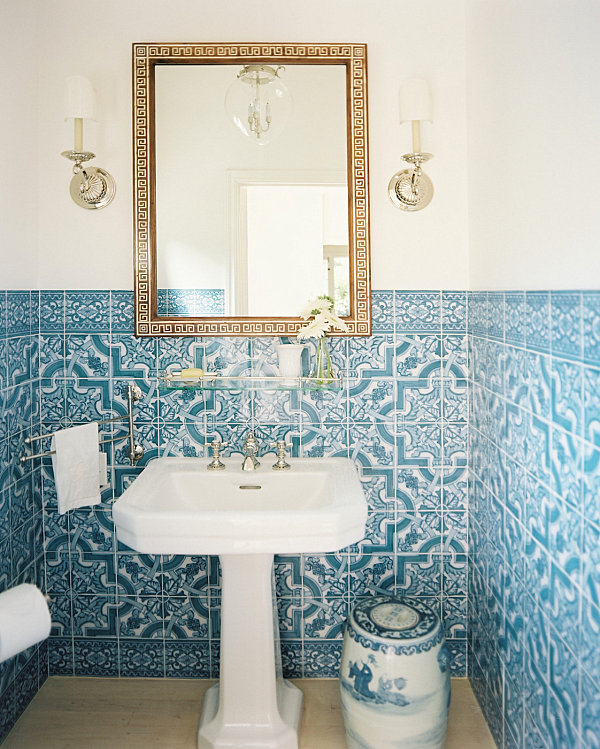 Remember that you don't have to make big design changes to create a strong statement! The bohemian traditional bathroom below cleverly uses artwork to set a creative tone. The theme: silhouettes! The black and white scheme of the artwork nicely enhances the black and white tile of this small powder room. [from Lonny]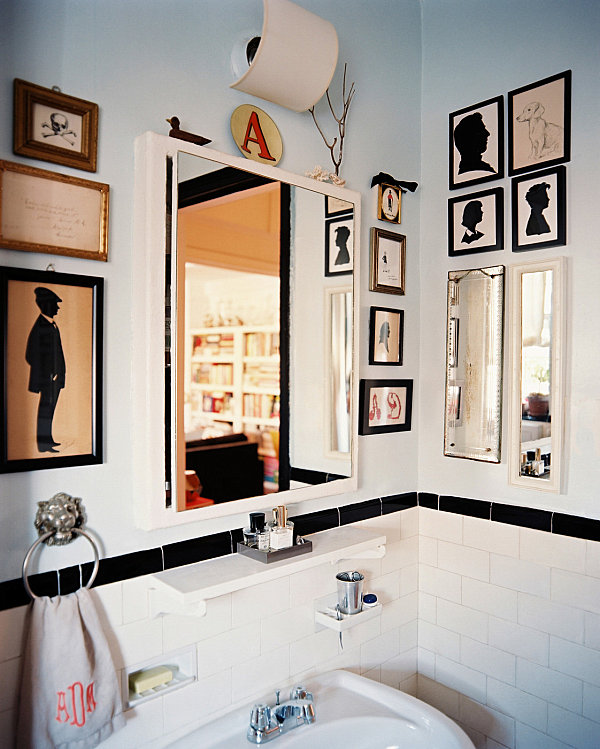 It's the Little Things That Count
Sometimes it's all about the little details. Yes, when space is scarce, one or two decorative flourishes may be all that the room can hold. Better make them count! Below we see a bathroom with Asian flair, complete with an orchid that rests next to the sink. It's hard to imagine the space without this perfect detail.  [from BiglarKinyon Design Partnership Inc.]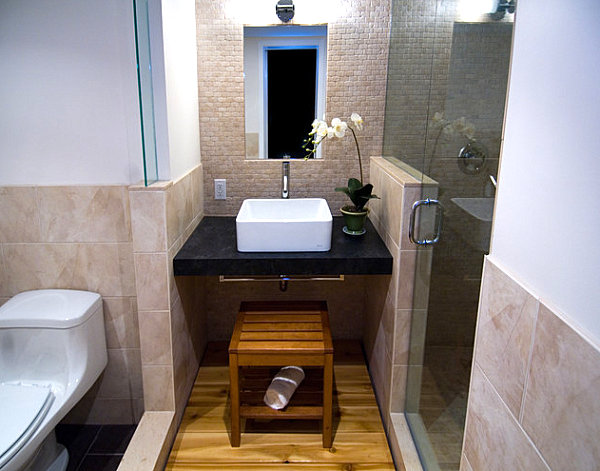 In fact, plants are a very popular addition to small bathroom spaces with room for only one or two flourishes. For example, the aloe plant in the next featured bathroom is the perfect modern touch, don't you think?! [from Alex Amend Photography]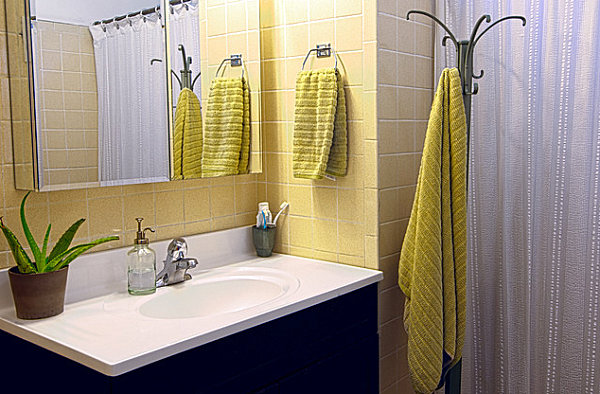 Another beloved bathroom plant? Ferns! They love the moisture from the shower! We often see this greenery in crisp tiled power rooms, such as the refreshing white space below. The fresh look of the fern could not be more perfect for this light and airy space. [from Brennan + Company Architects]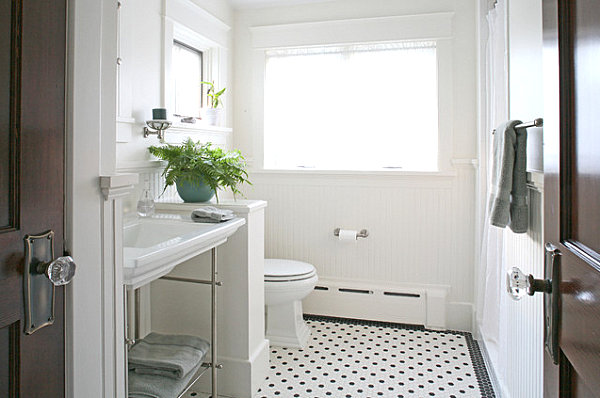 Sometimes two is better than one! Especially when a duo of matching vases is involved. One is red, and one is white, but the yellow flowers unite them. This is a clever way to solidify a compact room's color scheme and introduce a new hue to the mix. [from Michael Tauber Architecture]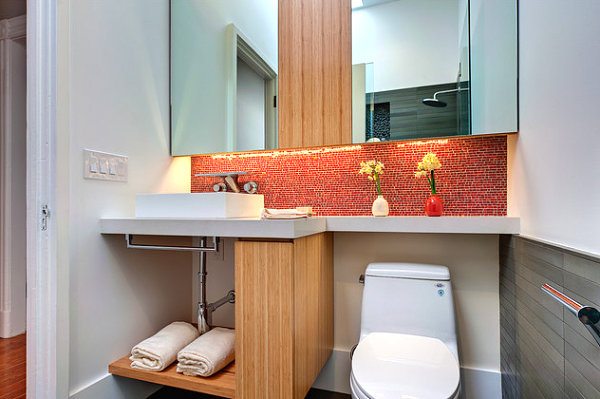 Or go for a hotel effect! Special details such as guest hand towels, wrapped soaps, and a bit of tropical greenery in a modern vase can lend a spa-like feel to a bathroom and add a splash of luxury. [from Archipelago Hawaii]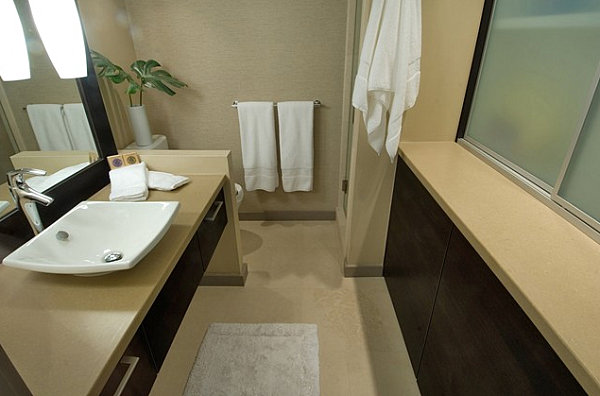 We end with a space that makes the most of playful touches.  Like a vintage-inspired sink, motto-based artwork secured with colorful tape, and other quirky touches. The result: A truly unique interior that celebrates whimsical design! [from Lonny]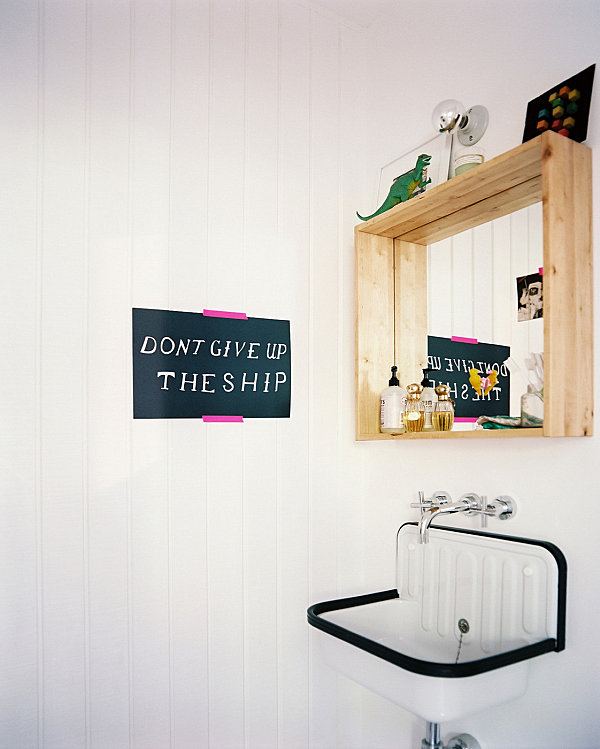 Do you have a small bathroom that you've decorated with style? How did you solve the design dilemma of creating an inspiring compact space? Share your thoughts by leaving a comment below…
Liked the story? Share it with friends.