The best backyard ideas for kids are exactly what everyone in the house needs. Kids can take some time off their gadgets and school works, and parents will get them off their hairs for a while. What will keep them up their feet to stretch those muscles? Maybe some interesting home activities to indulge in? We shared our best kid-friendly bedrooms but now take a look at what you can do with a kid-friendly backyard!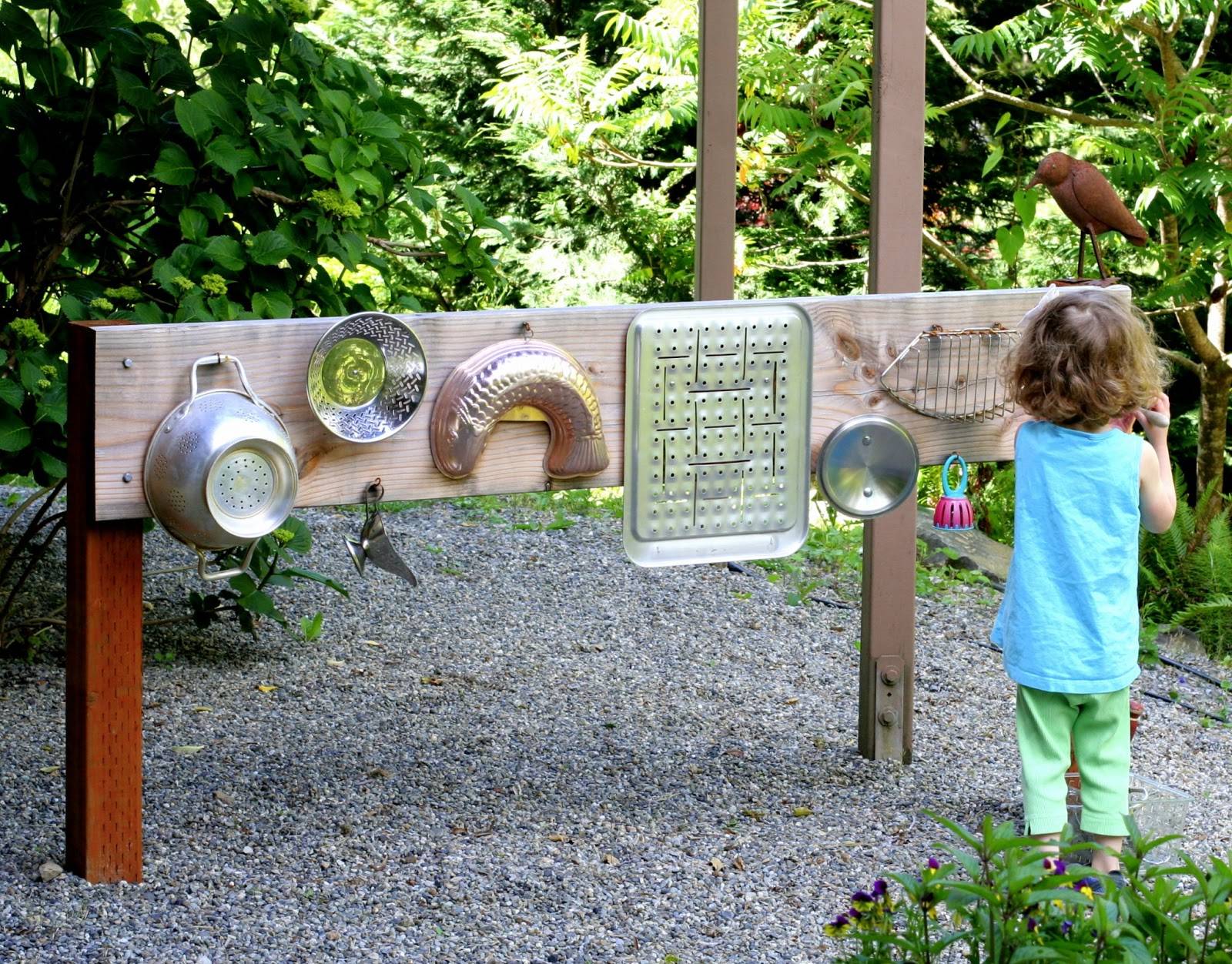 So, have a look at some of our grandest backyard ideas for kids. If you are looking forward to hosting a playdate, get inspired with the best concepts in this list. Whether you have an expansive lawn or a small one, you can maximize its potential and turn it into an inviting space. Kids will love it, maybe even adults too.
15 Backyard Ideas Your Kids Will Love
Come to the Tree Fort!
Redress that tree in your backyard and turn it into an amazing playhouse for the kids to enjoy. An epic treehouse makes every childhood more magical and exciting. So, give them a piece of that childhood with your treehouse plans for kids. With some carpentry skills, you can bring your creativity a little high up in a tree. It is probably not the best idea for the fainthearted and protective parents, but ask any kids, and no one will say no.
Up to the Playhouse, We Go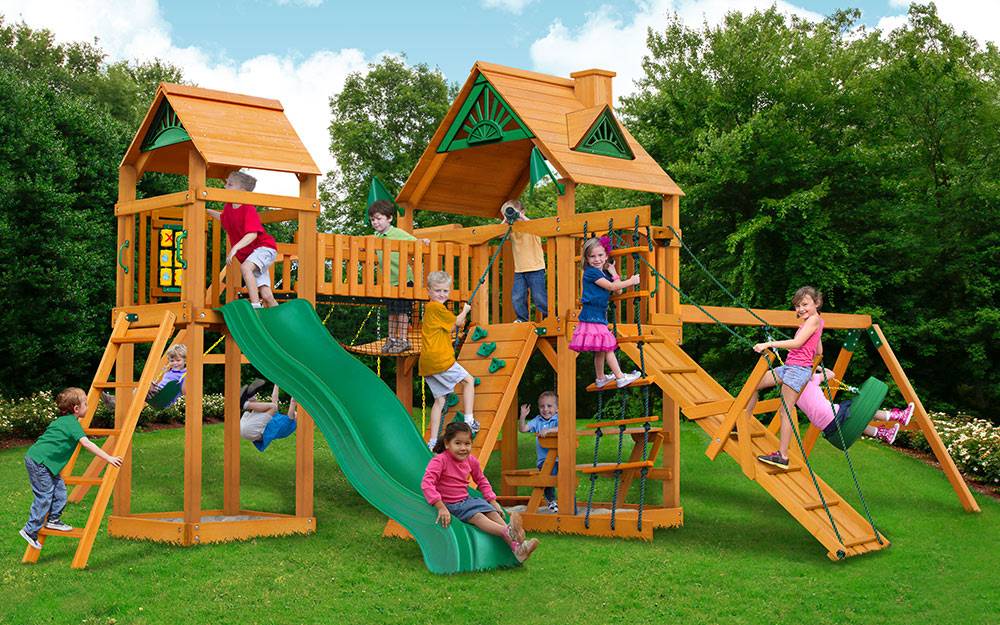 Even if you do not own a single tree out in the back, you can still keep the fun rolling. Build a strong playhouse and include fancy and entertaining amenities. Which kid would not like the swing, slide, ladders, and climbing wall of this amazing backyard playhouse? Playhouses are the best backyard ideas for kids that will truly contain the excitement of their childhood.
Hunker on a Repurpose See-Saw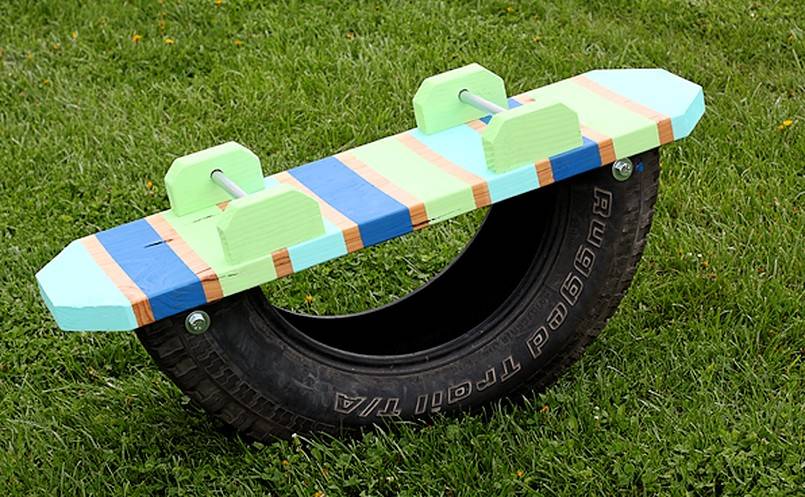 You have but a limited backyard space and toddlers in tow? Set them down for a squeal of delight with a mini seesaw. You can build a simple lever and fulcrum from wooden planks and boards. Or, you can DIY this tire teeter-totter for an endless fun activity with your toddler. All you need is an old tire, a scrap wooden board, some pipe, and bolt and screws. A touch of fresh paint will make this one of the best backyard ideas for kids.
"Did Humpty Dumpty Climb Up the Climbing Wall?"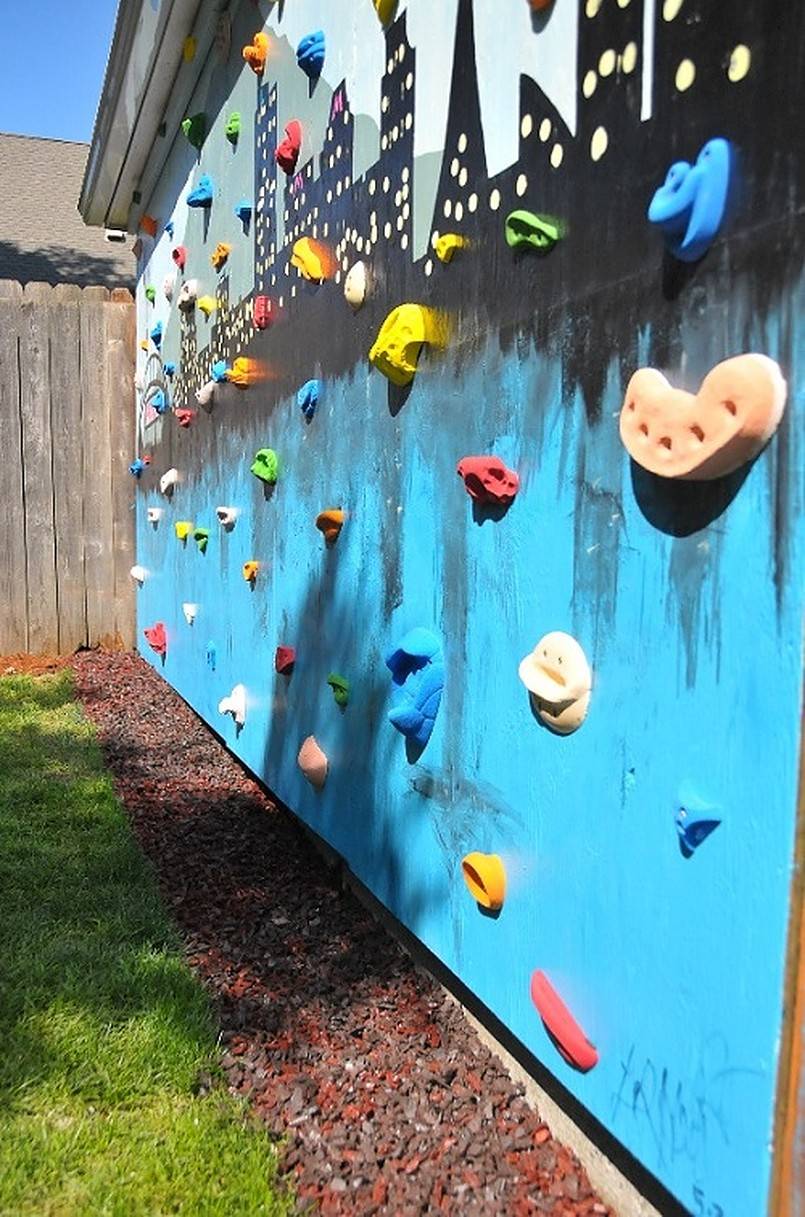 We get it – kids do have enough energy that will burn throughout the day if you let them. So channel that energy into something energy-burning for your active little children. If you have that blank wall that spans up a height, turn it into a backyard climbing wall. You can do that with pressure-treated boards, heavy-duty screws, and plenty of climbing holds. Maybe make it sturdier to hold daddy fair enough too?
When Life Gets Boring, Build a Car Track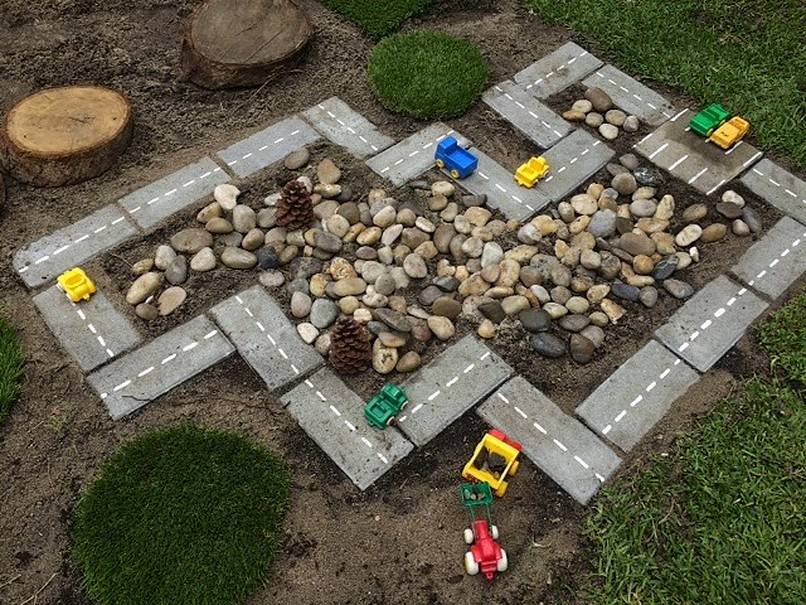 Toddlers are called "Terrible Two" and "Annoying Three" for a reason. You cannot let them cooped up in a house without losing your head. So take them out into the backyard and handle their attention span with interesting backyard ideas for kids. Little boys will love this brick car track where they could run those mini car collections. If they want, they can even help build this one up to take much of their plenty of time.
Create Your Own Backyard Zipline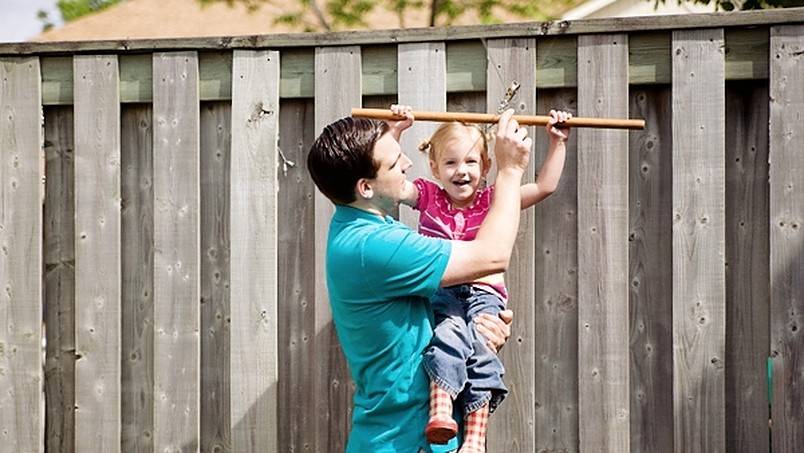 You can make use of that wide backyard space by turning it into your very own Adventure Land! Take your cue from this clever backyard zipline for your kid's endless summer fun. You can recreate this using a strong nylon rope, a pulley, a handle, and sturdy posts to tie the line. It is another way of unleashing your child's courageous side and let them cope up with their fears, the fun way.
Inspire Little Kids to be Future Chefs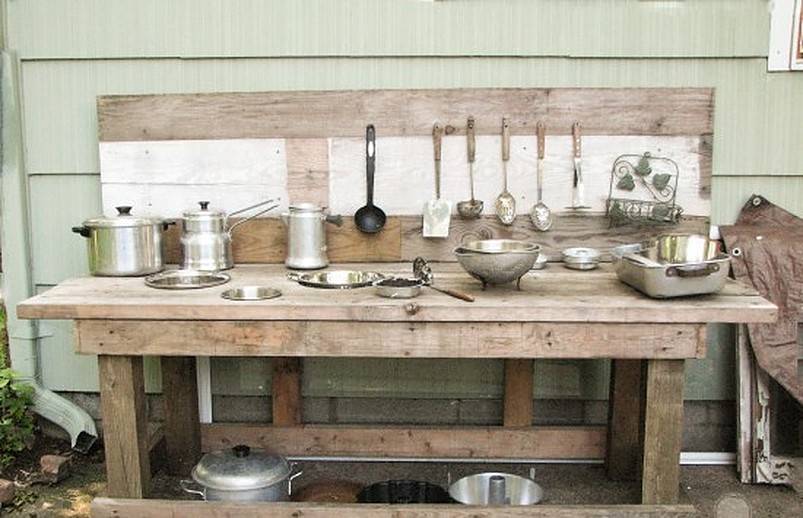 Little girls (and even boys) can marvel at playing house if you will give them the time – or resources. Instead of letting them learn simulation games on a computer screen, let them take it outside the door for the real stuff. Take this kitchen mud bar, for example, as one of the best backyard ideas for kids. Complete with pots, pans, and other kitchenware, kids can indulge in pretend-play that will keep them occupied for hours… and probably unleash their love for real cooking.
"Oh I Love the Trees, with the Big Tire Swing"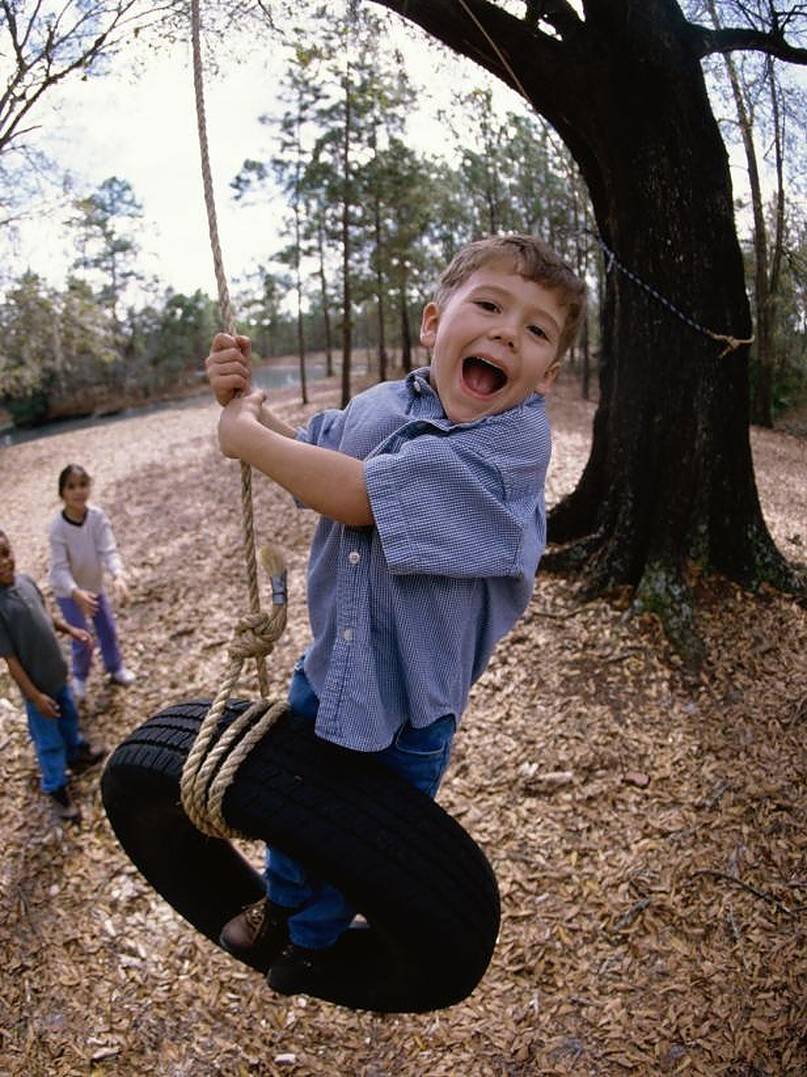 Any recollection of the tire swing and a lot of singing? Give your children a part of that childhood memory as you reminisce yours with them. A backyard with a big tree makes a perfect spot for this kid project. Or you may also tie one on sturdy beams, whichever is available. Let them hang in there as kids build their own memorable moments to cherish in the future.
Build a Quirky Sound Bar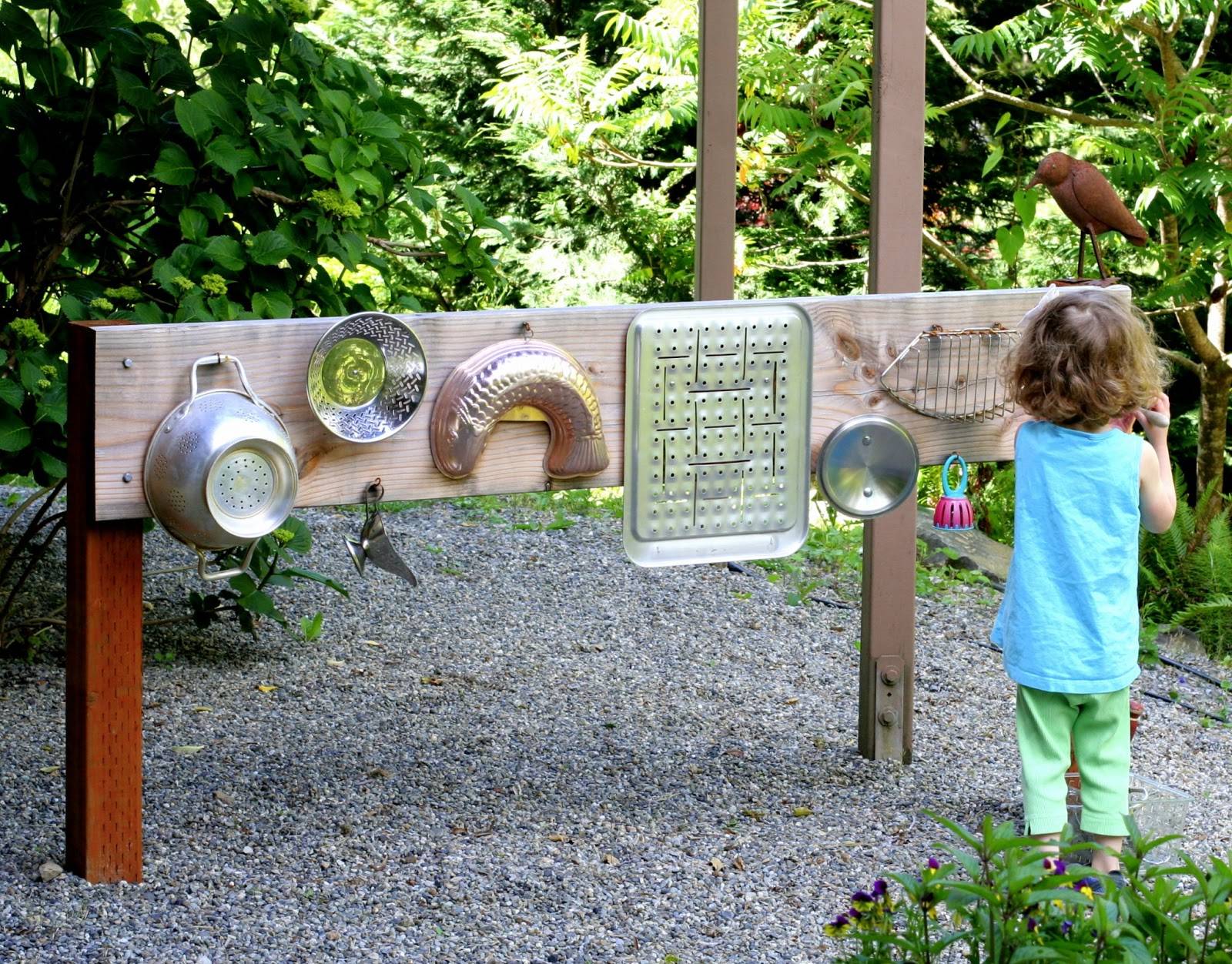 Learning about sounds fascinates kids. That's why one of the first toys we offered them as babies are those that tinkles and jingles. You can introduce them further into the basics of sounds – their sources and volume – through a sound wall. Put all the pieces you can think of and give them a drumstick to tinker it through. It is one of the best backyard ideas for kids if you do not have a grumpy neighbor nearby.
Some Tree Stumps to Jump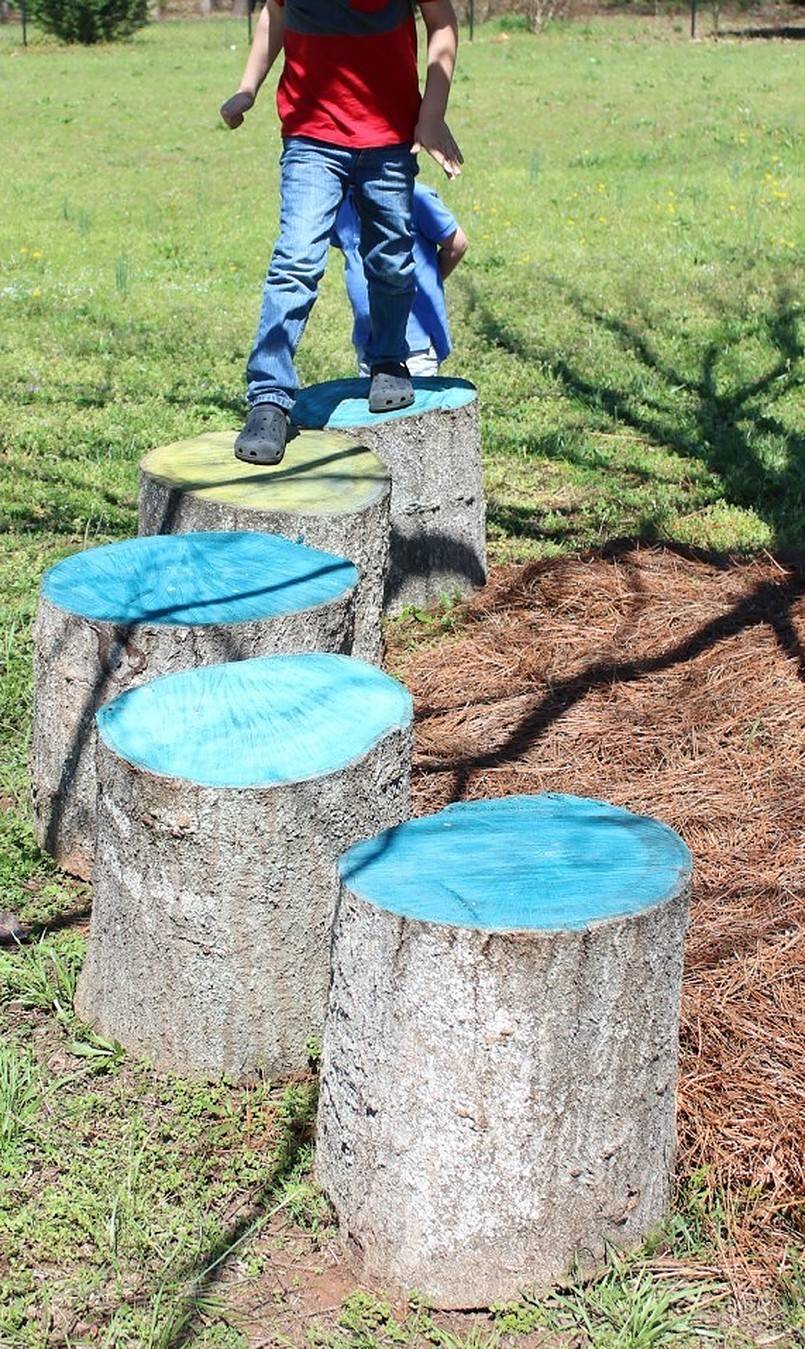 The best backyard ideas should encourage children to learn while subtly having fun. Planting these tree stumps is an entertaining way of working on kids' gross motor skills. So, if you can score a few trunks, paint it with colorful hues, and let your children take the cue. Alternatively, you can turn a long tree trunk into a balance beam whichever way you like.
Turn Your Backyard into a Race Track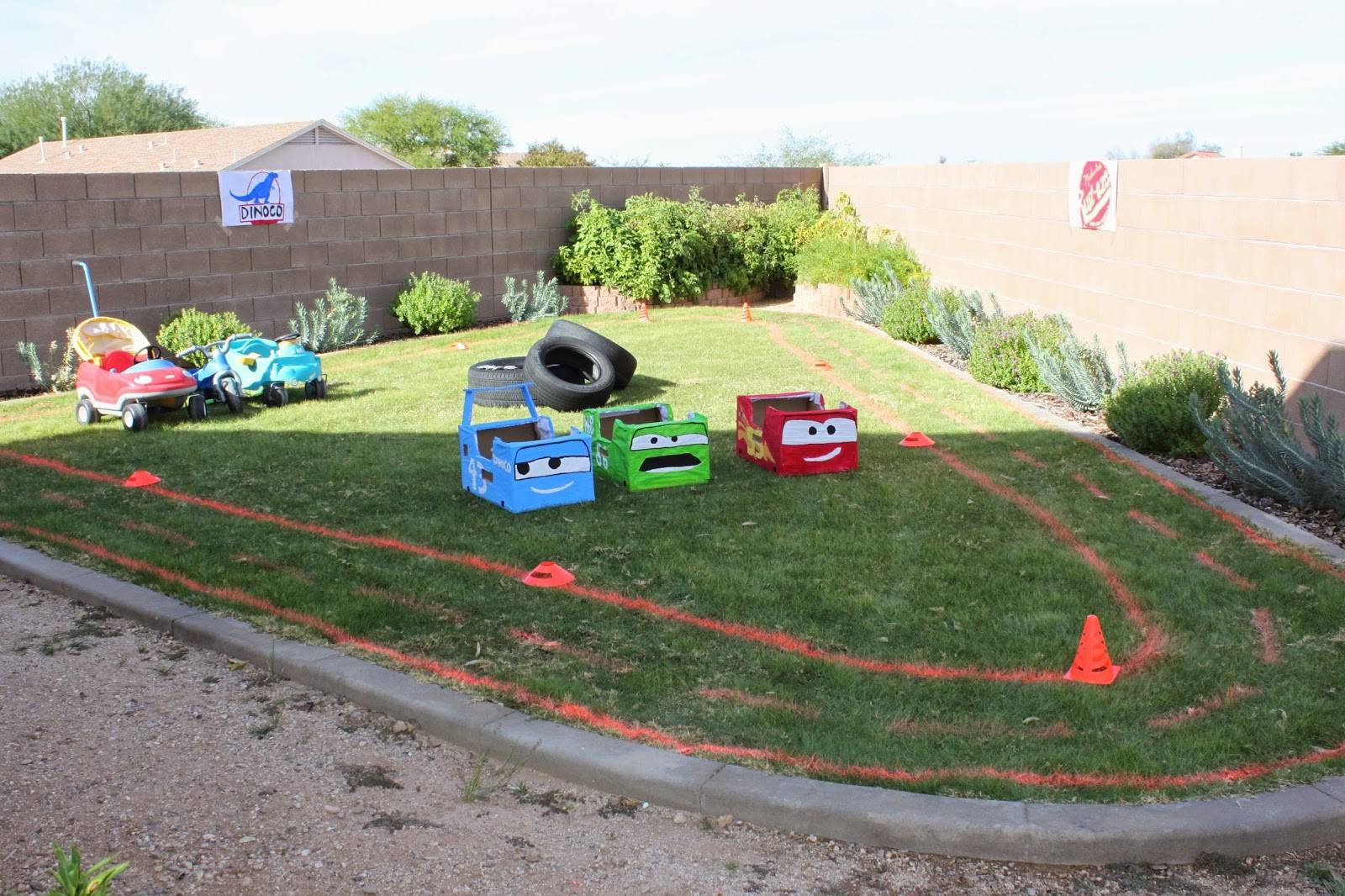 For a party or simply for past time, you will never go wrong with movie-inspired backyard ideas for kids. This Car-inspired lawn turns this space into an ultimate play area for toddlers. Paint on the grass for lanes, cardboard boxes for cars, and a room for creativity will keep kids entertained for hours.
Encourage Creativity with Acrylic Painting Stand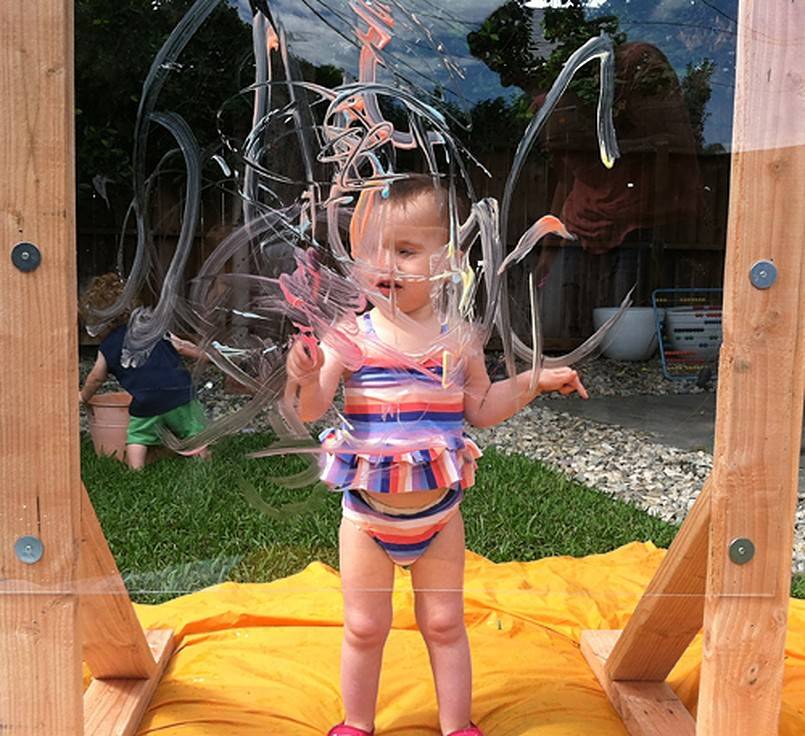 Chalk and sidewalk are not so safe if we are talking about the year 2021. But you can still unleash your kid's painting enthusiasm without the mess and waste while not leaving your backyard. Okay, maybe not with the mess. If you hate constantly buying canvas and papers, let your toddlers doodle food-grade colors on an acrylic easel instead.
Relive the Old School Hopscotch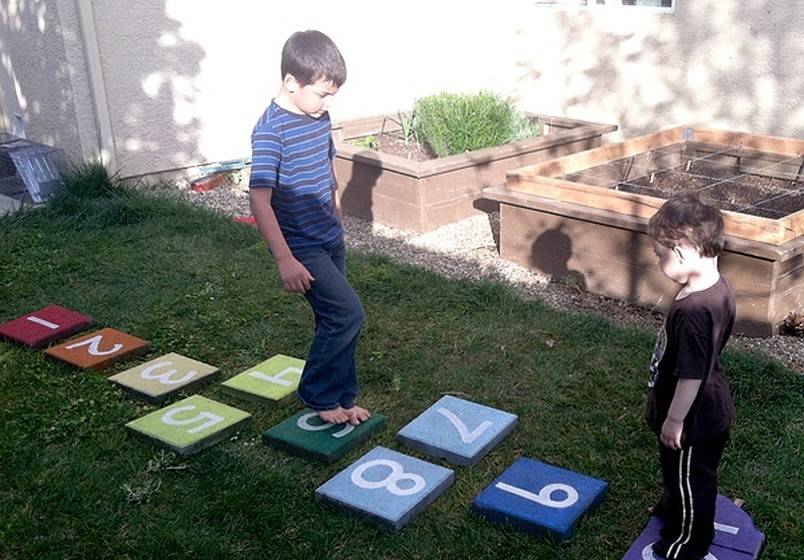 Let's not talk about how the hopscotch game is so 80's or 90's. But here is an upgrade of the iconic game you have played on the streets growing up: paver hopscotch. It's very simple: spray-paint some paver, label them and lay it down your lawn. You know the rules so relay it to the kids.
"Tic-Tac-Toe Through the Tulips with Me"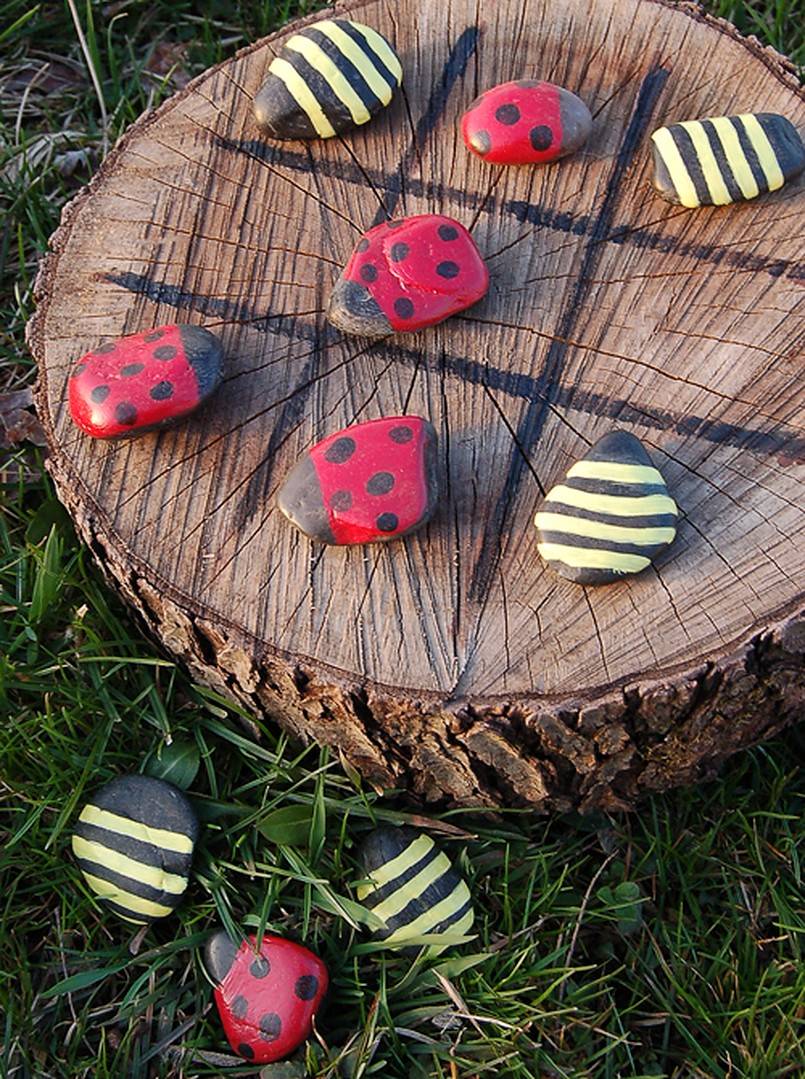 Here is another piece of childhood you can share with your little one. You can bring the old-time tic-tac-toe down the garden with some colorful twist. These clever insect-inspired stones on a tree stump will surely bring more giggles to everyone. Let them explore tactile games instead of learning it from their phone screens with awesome backyard ideas for kids.
Let Them Bask in the Sun in Water Blob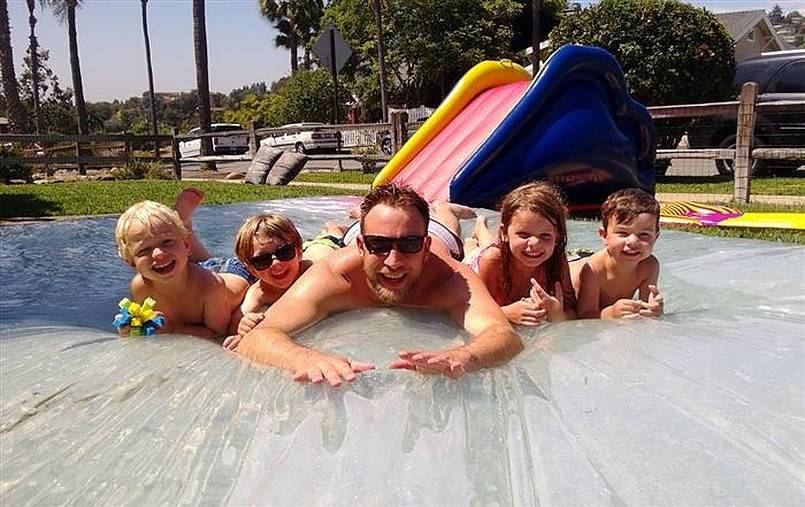 Water blobs are a rage as soon as summer hits the calendar. These inexpensive and easy-to-make backyard ideas for kids are a cool encouragement for them to spend more time outdoors. With some plastic sheet, duct tape, and water, you can DIY this thing from scratch. It is in fact a fun bonding activity that the entire family will surely love. So spread it down in your backyard and let everyone jump, slide, or laze around without getting wet.
Takeaway
Instead of letting kids glued to their gadgets all day, encourage them to enjoy their time outdoors. There is no need to push them beyond your fences. If you have a backyard to spare – wide or a sparse one – turn it into an amazing space they will love. With the best backyard ideas for kids, you can turn your drab lawn into an awesome play spot. So, give them the coolest memories they will have of your backyard while you still can.