We know that photos can be an amazing source of design inspiration, so this article may contain affiliate links that will direct you to a particular decor item. Clicking on a link may result in a portion of proceeds being paid to www.decoist.com
Today's lives are increasingly becoming sedentary in nature and we barely tend to get off of our seat to get things done. Technology has brought with it many advantages without a doubt. But it has done barely any good to our physical well being with neck, shoulder and spinal problems becoming more of a common feature in kids across the world. Add to it obesity and you have an increasingly unhealthy young population that cannot seem to find a way out of their smartphones and gaming consoles. The best way to beat this is to create a more active lifestyle at a very early age that has them interested in outdoor activities.
If any of these climbing walls inspire you, they're surprisingly easy (and cheap!) to build. You can add this set of 25 climbing rocks and an 8-foot knotted rope to your cart for less than $40. The hardware kit is even included. For additional safety, considering picking up this tumbling mat that you can fold up and hide away when needed.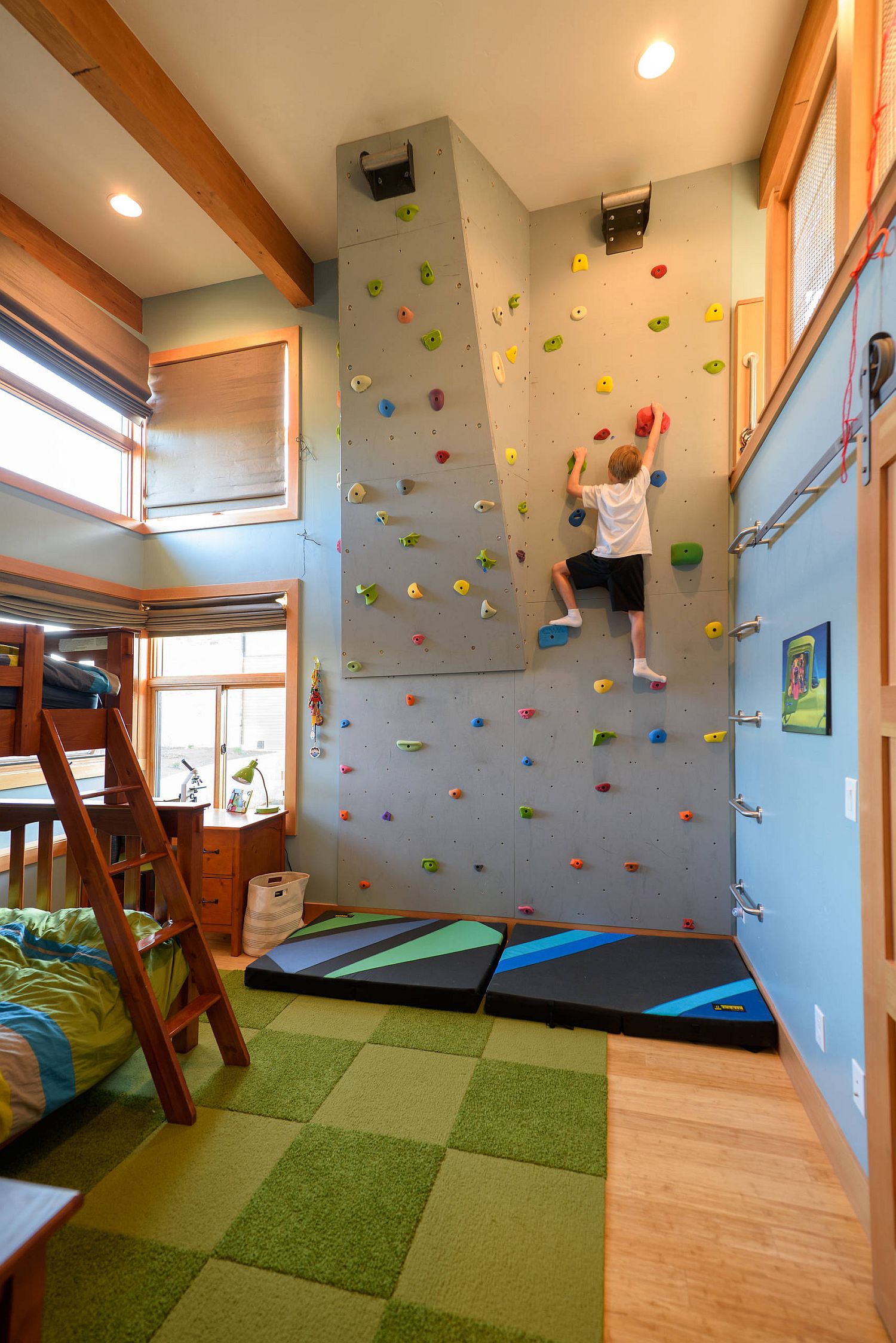 One of the best ways to do this is by bringing a climbing wall into the kids' bedroom that helps them take a more active route in life. The climbing wall not only is an addition that promotes active lifestyle, but it also keeps away boredom and makes playtime indoors a whole lot more fun. Of course, you still need the right climbing wall for your home and it can be ushered into the smallest of rooms without demanding too much in terms of square footage. From the colorful to the most challenging, this is a look at some of the best kids' rooms with climbing walls –
Making Most of Limited Space
In the kids' bedroom, it is often space that is the biggest constraint. Most kids' rooms are not too large and if you have more than one kid around, then it becomes even more difficult to accommodate all their needs. But the climbing wall is not one of those additions and you just need to look at that blank wall on one side to make the most of forgotten space. The climbing wall can come in whatever variety you want and it is not a very costly addition either. You will notice that kids of all ages will enjoy it and do not ever feel that it is a feature just for the boys' bedroom!
RELATED: Colorful Zest: 25 Eye-Catching Rug Ideas for Kids' Rooms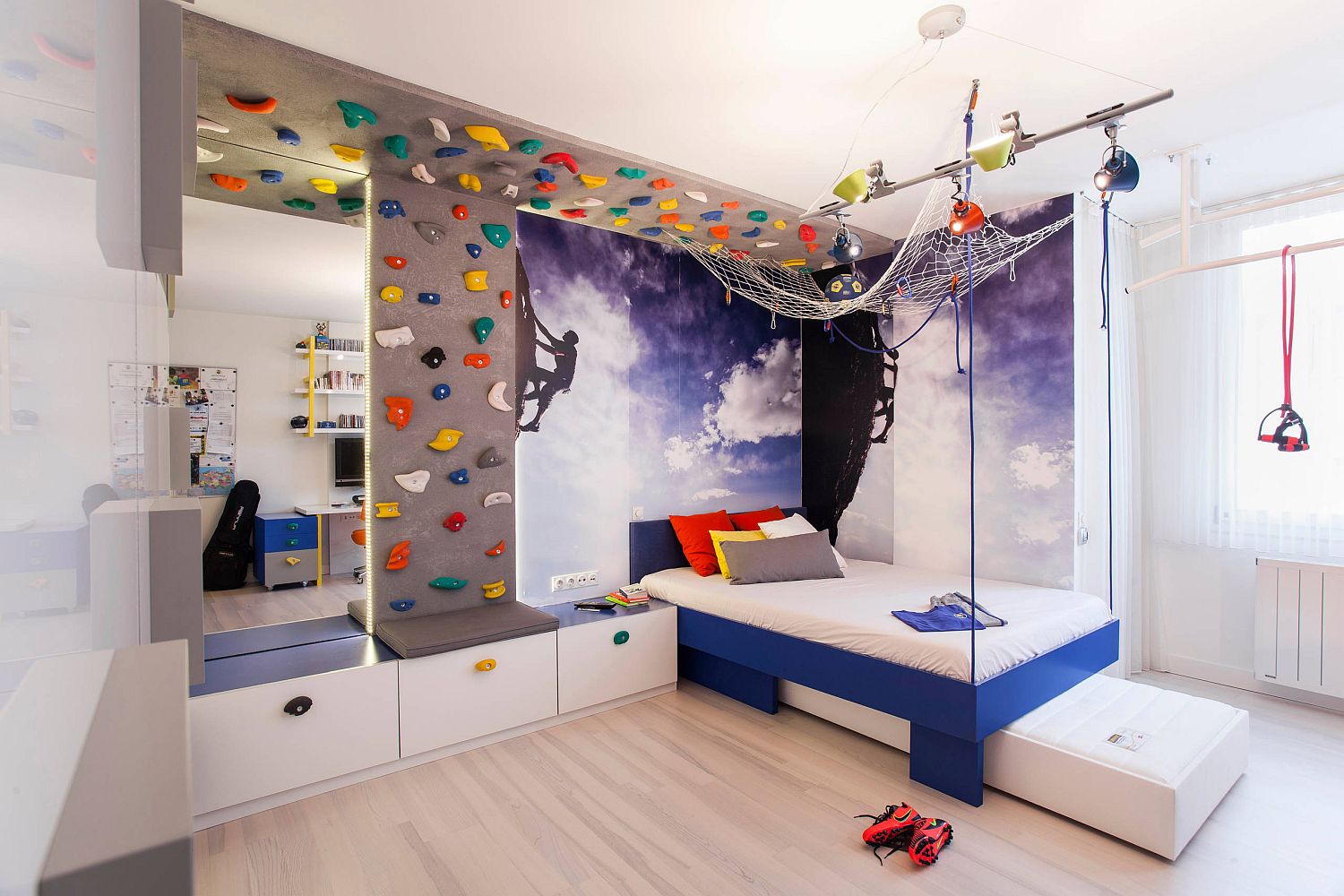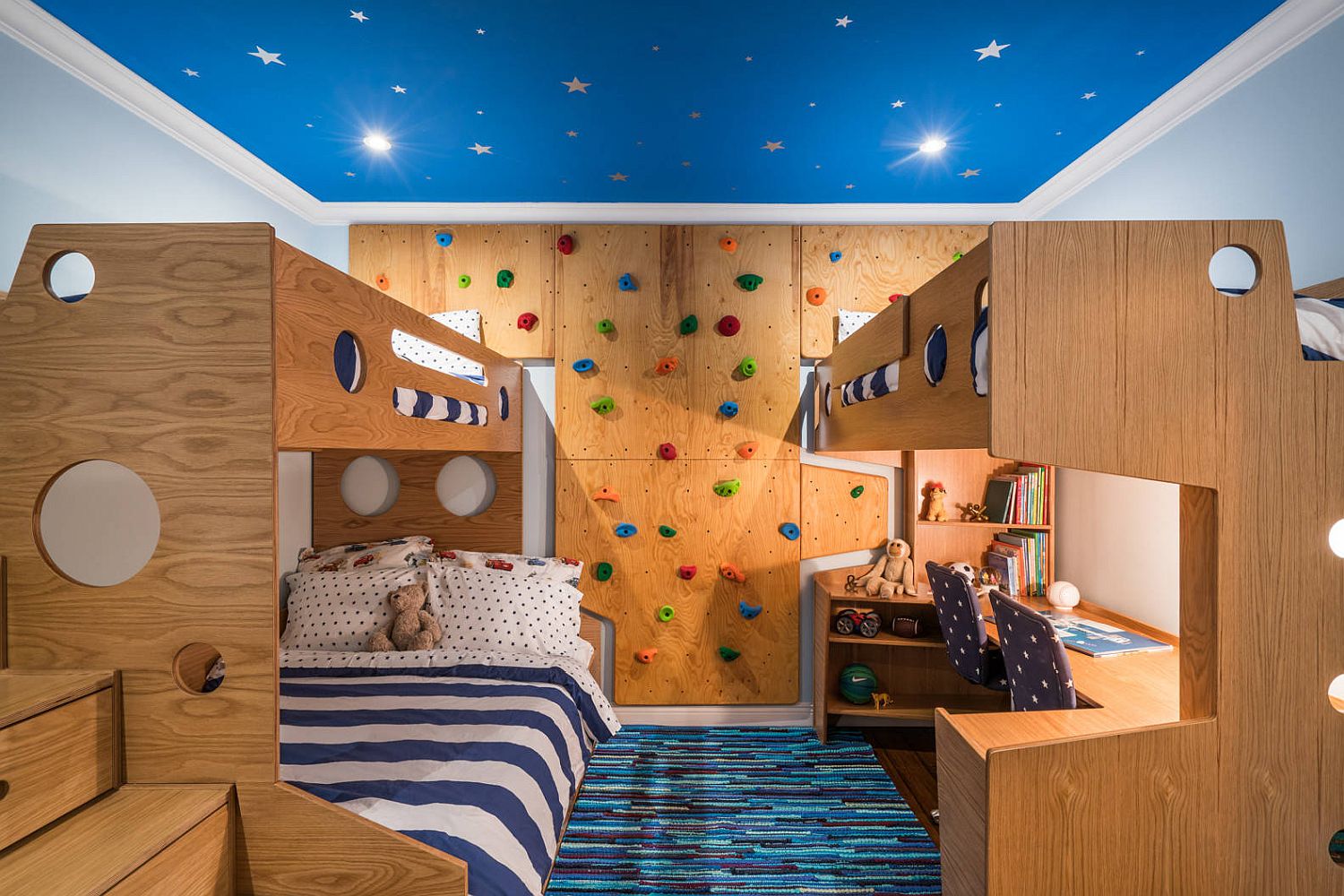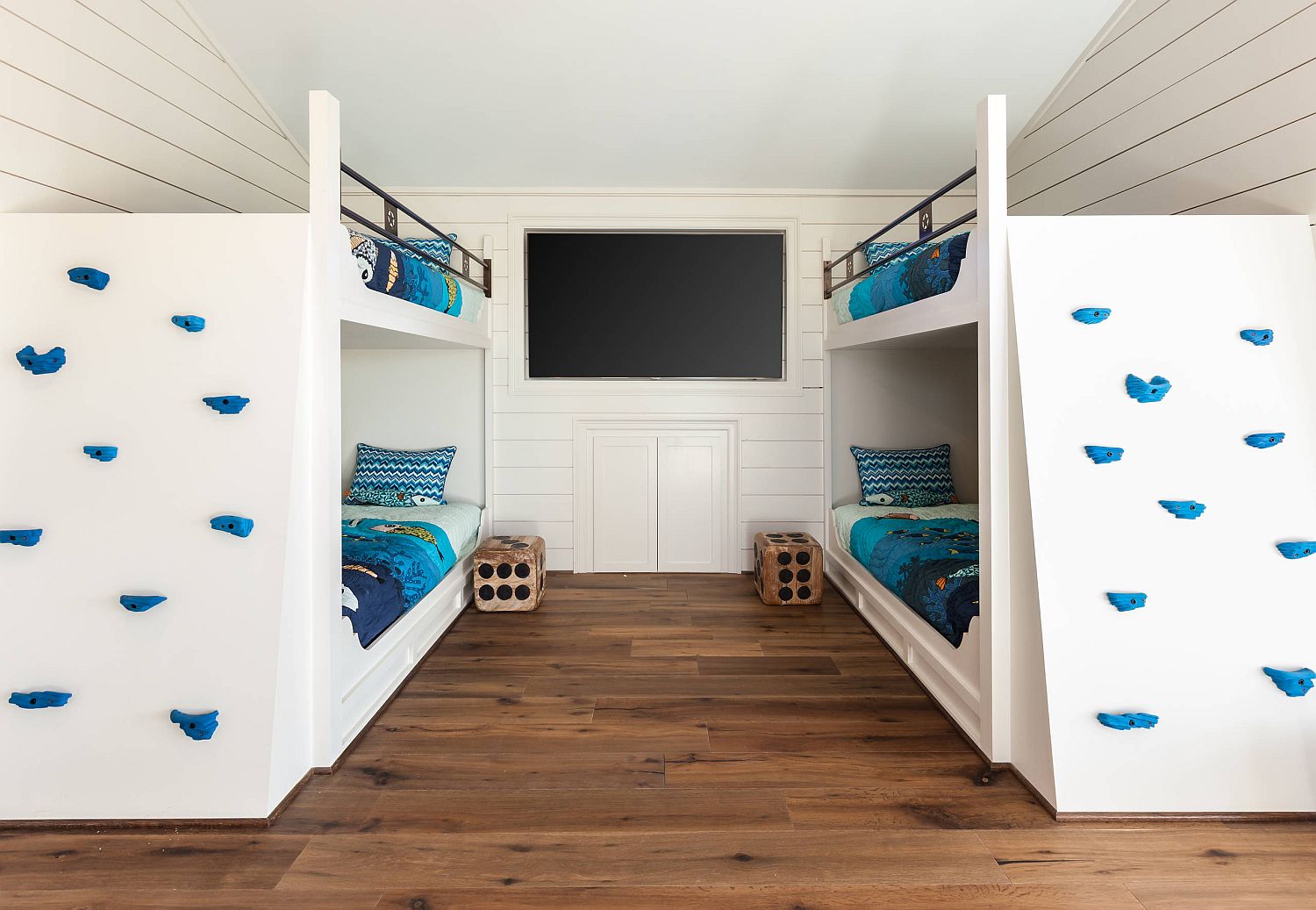 Creative Kids' Rooms with a Difference
One of the features that we love the most in a kids' room is a combination of the slide and the climbing wall that give the little ones different ways to move up and down the bunk bed. Integrating the climbing wall with the bunk bed is a great idea that saves space and also removes the need for stairs. Get creative with the way you incorporate the climbing wall into the bedroom silhouette and adding a bit of a curve to its end makes it even more challenging. A small reading nook at the top of the climbing wall makes it all the more rewarding.
RELATED: 27 Creative Kids' Rooms with Space-Savvy Sliding Barn Doors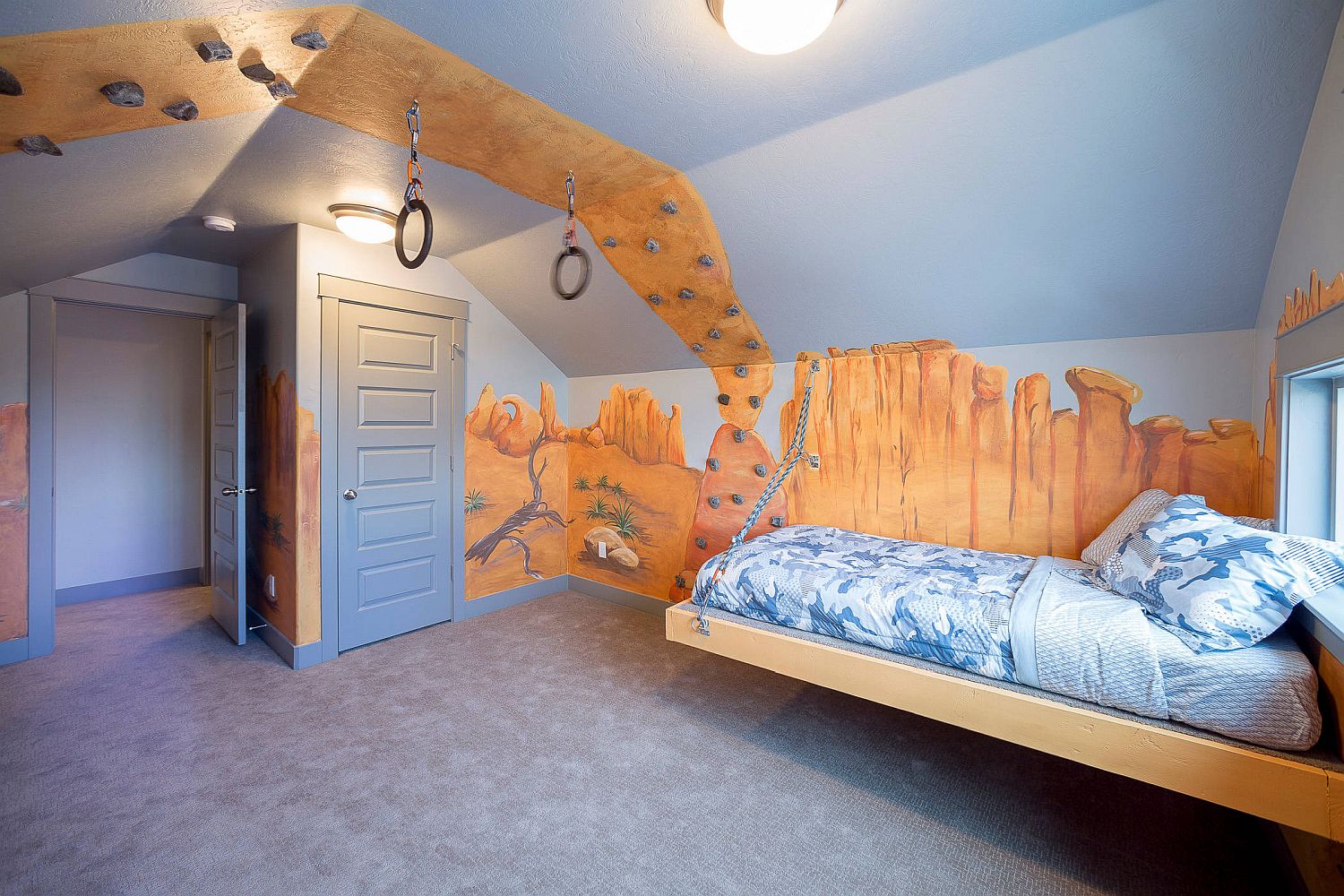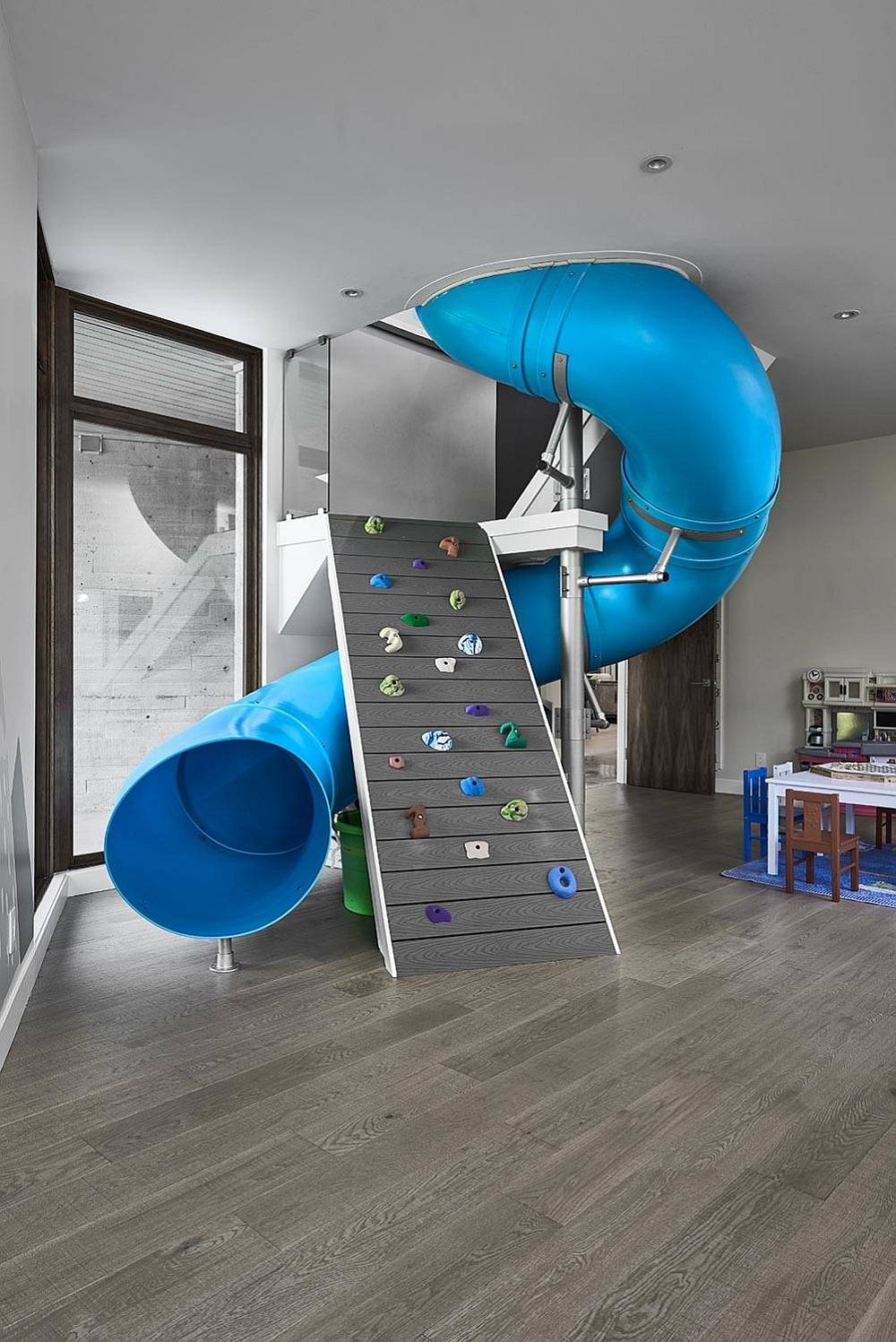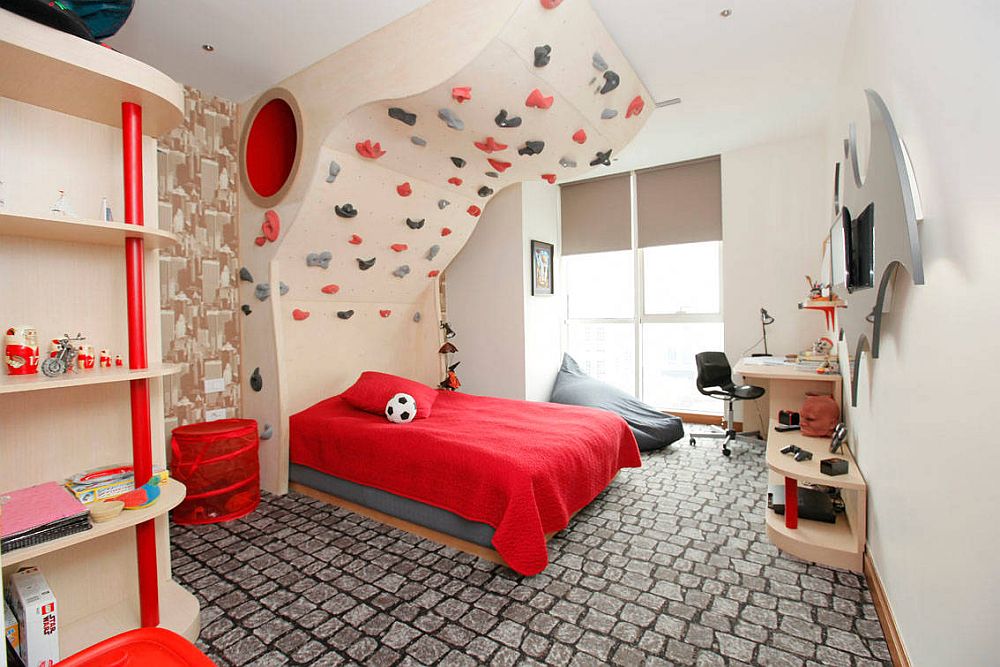 Pops of Color and a Bit of Pattern
Giving the bedroom a custom climbing wall does not have to be an expensive affair at all. A custom and standalone unit with a bookshelf behind and a climbing wall in front takes little in terms of square footage and adds ample storage space. Combining storage units with the climbing wall also adds a functional aspect to an aesthetic climbing wall and even the smallest addition makes a big difference. Creating a cool bedroom with a climbing wall, be it in the boys' bedroom and girls' room is one that is easy to work with. Just make sure the backdrop is as neutral as possible to accentuate its look.
RELATED: Inspired Displays: 20 Unique Shelves for a Creative Kids' Room