Concrete countertops have some serious advantages over granite and other popular stone toppers. Concrete can be dyed any color (or have colorful or shiny bits added into it). It can take almost any size or shape, which is ideal for small or unique spaces and makes room for creativity in execution.
Concrete can also have invisible seams, so you can have a large even-looking expanse, and over time, it develops a beautiful patina. You do need to seal the concrete, to make it waterproof (raw concrete will absorb water and stains), but other than that initial job, it's pretty low-maintenance stuff.
Creative Shapes and Fittings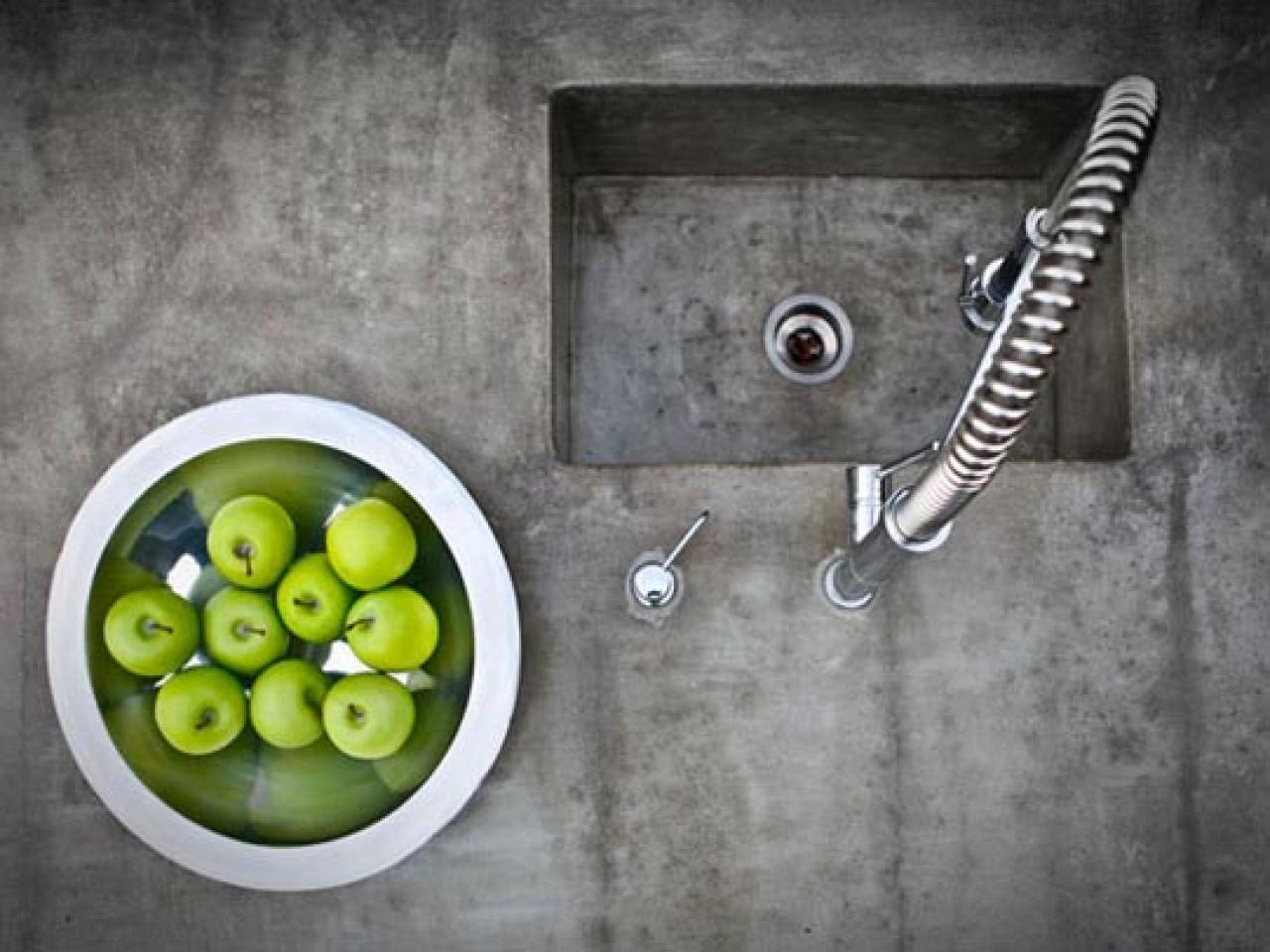 Concrete countertops can be designed with sinks built in, as in this example, with a great wide countertop for food prep.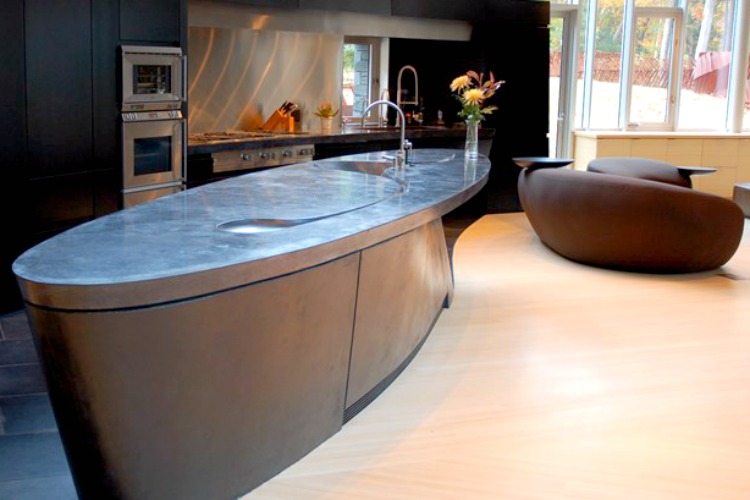 If you like rounded edges and soft lines, concrete countertops make it happen, like this one from Stone Soup Concrete in Massachusetts.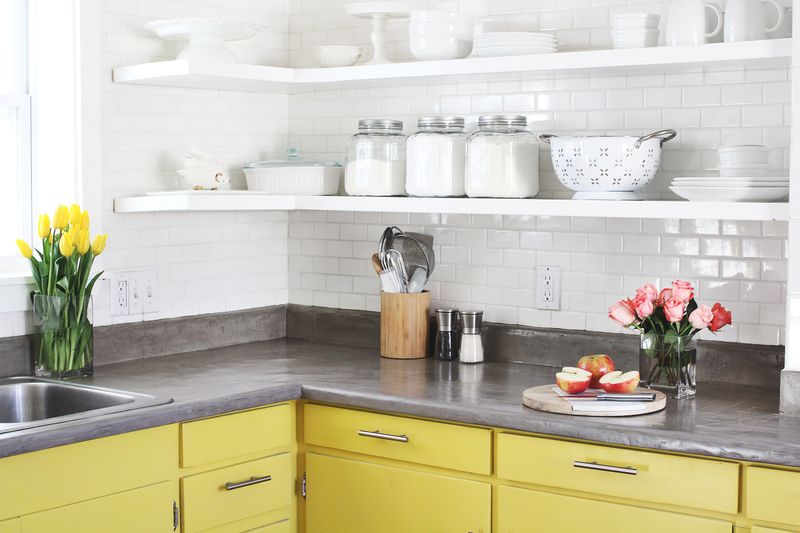 It's hard to believe that this concrete countertop is DIY, but it is! It's actually just a layer of concrete over an existent old, worn counter.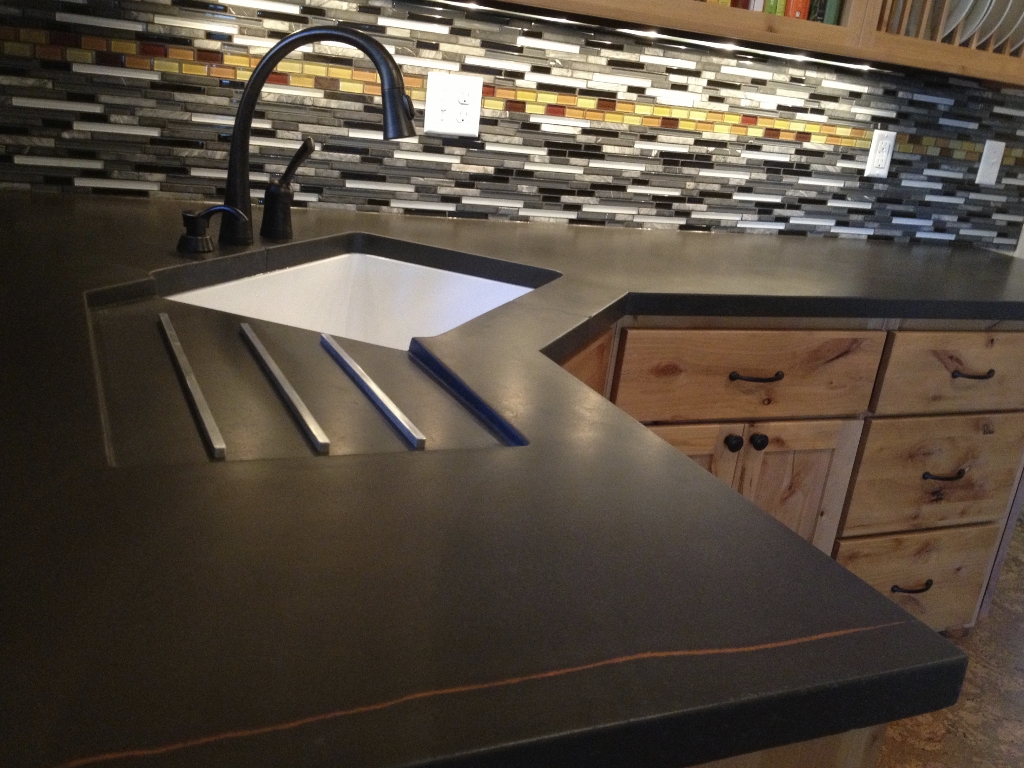 A tight angle that's specific to a singular kitchen space shows concrete's versatility.
Amazing Abstract Additions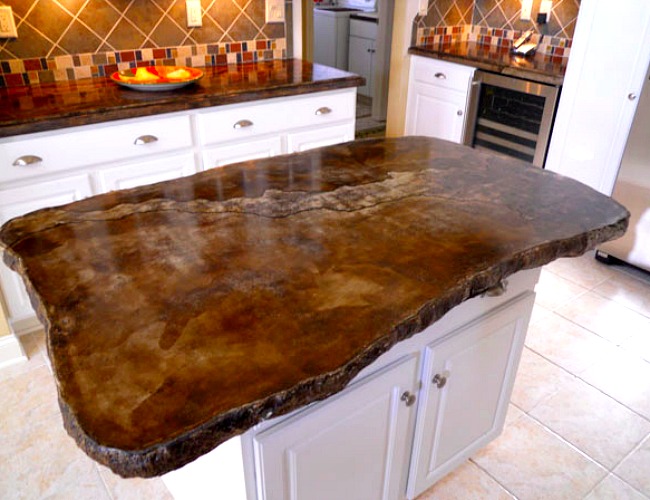 This beautiful chisel-edge countertop looks at a quick glance like wood—but it's actually a great example of the colorations possible with concrete.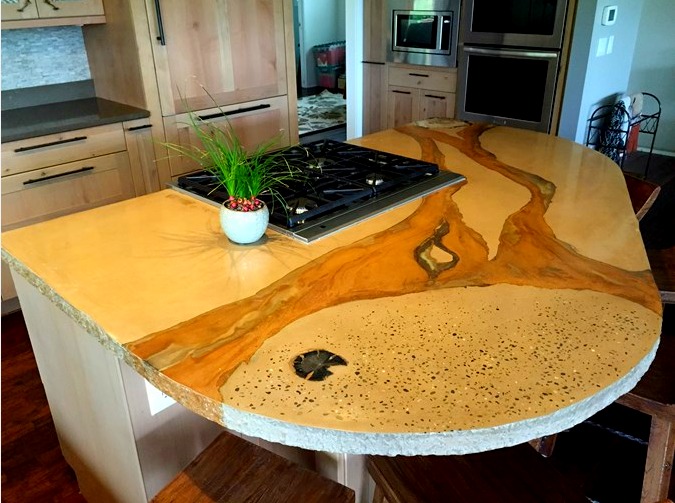 This is a beautiful example of petrified wood and recycled glass embedded in concrete for dramatic effect in a kitchen by Absolute ConcreteWorks.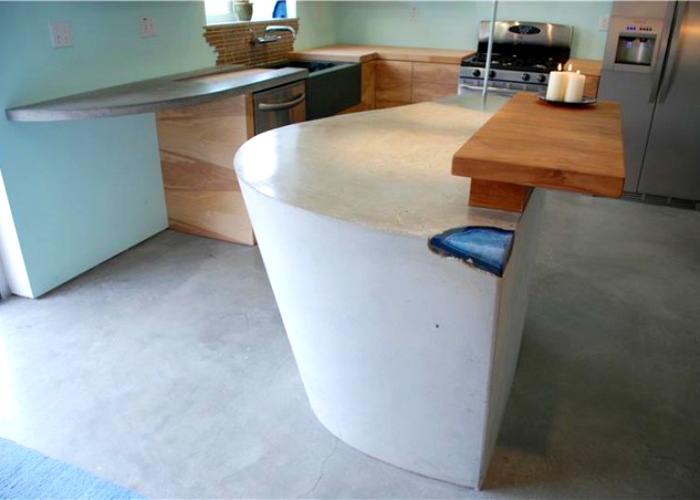 This beautiful concrete countertop has a colorful and unique agate corner insert that sets the sophisticated tone for the whole kitchen.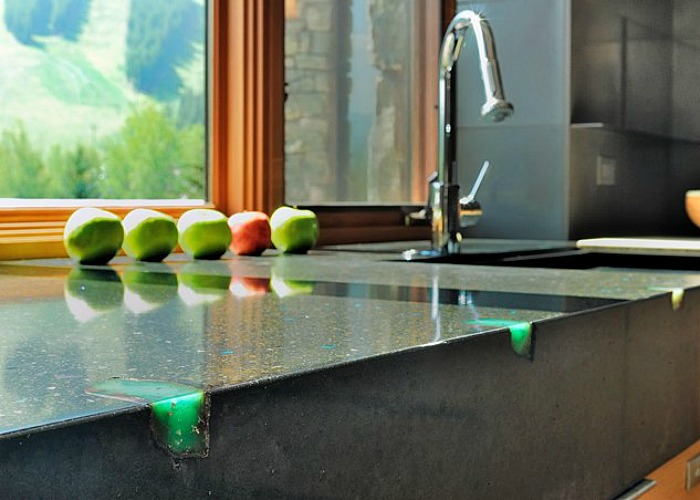 This countertop is another interesting example of what you can do with creative additions to concrete; here recycled glass is embedded into the concrete in small bits—and some larger pieces as well, creating translucent spots.
Rustic Beauty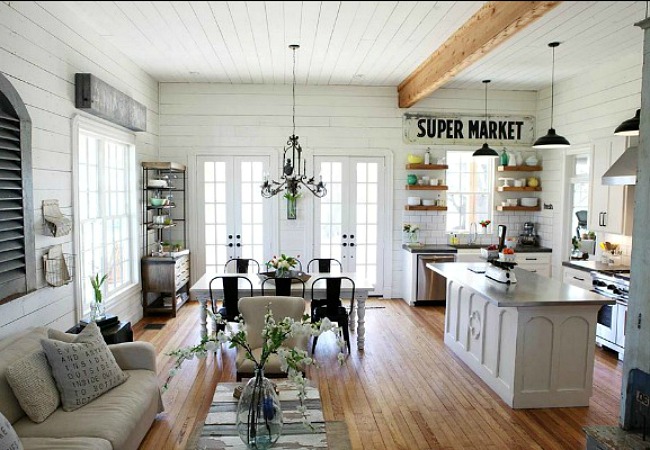 Concrete can be the perfect addition to a rustic kitchen, as shown by this 1890s Texas farmhouse, which got a modern update with poured concrete countertops that offset the vintage decor.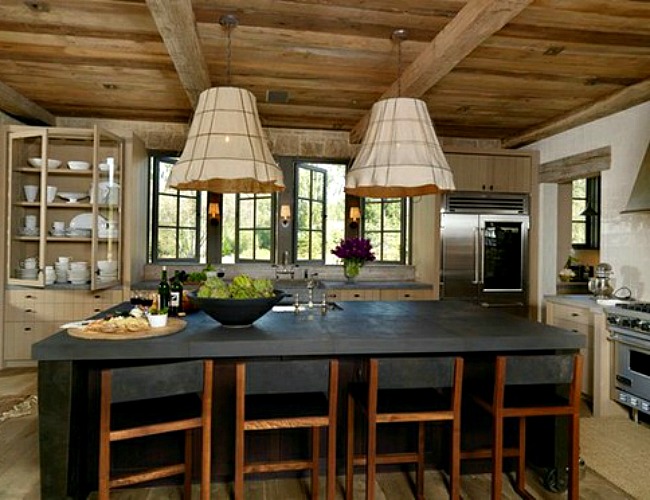 This rustic kitchen with a beautiful concrete island is a lovely example of how to pair the industrial with the farmhouse look.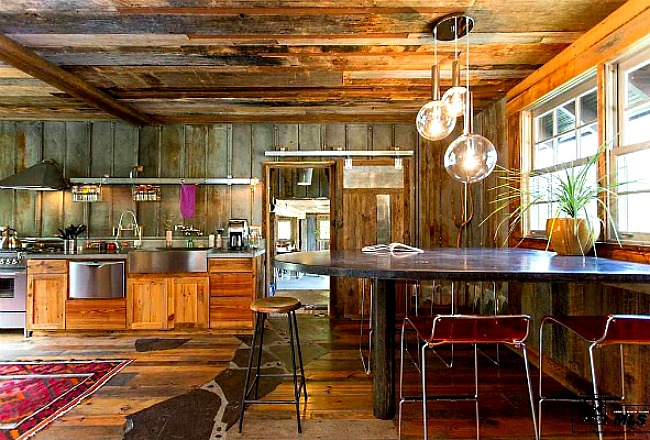 A huge built-in kitchen table made from concrete gives this Steamboat Springs, Colorado home's eat-in-kitchen a classy, but still cozy and laid-back vibe.
Modern Wonder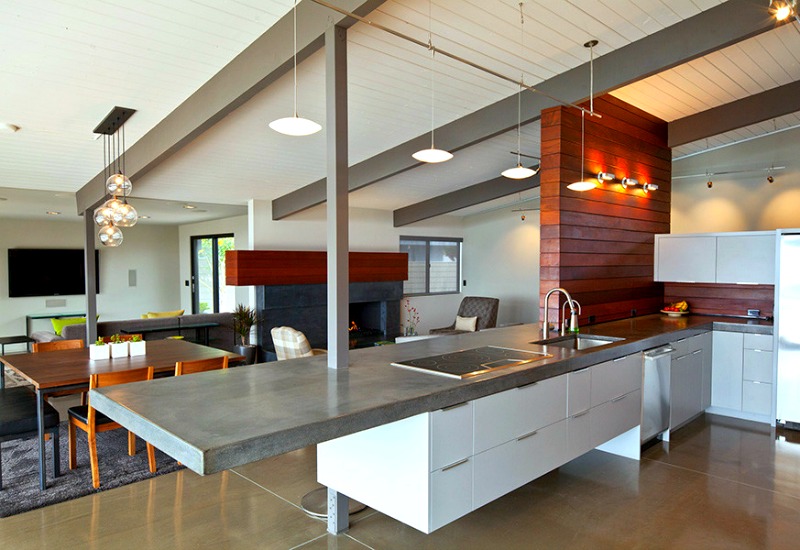 Concrete beautifully complements modern kitchens, adding clean-lined flair to sleek spaces. This striking kitchen keeps it warm and comfortable, even with a modern aesthetic, concrete countertops and steel beams, by pairing with textures and warmer colors.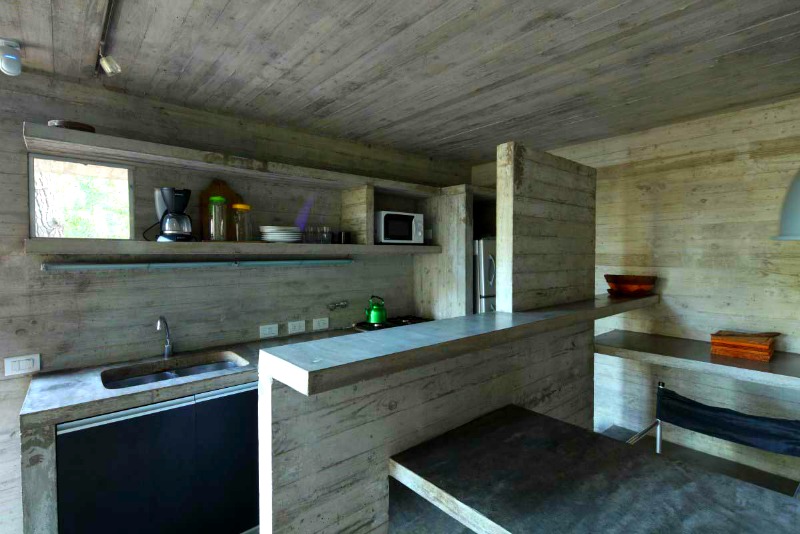 Concrete everything gives off a very specifically cool, almost Brutalist vibe—but it works in this space, with just a few other colors and textures to complement it.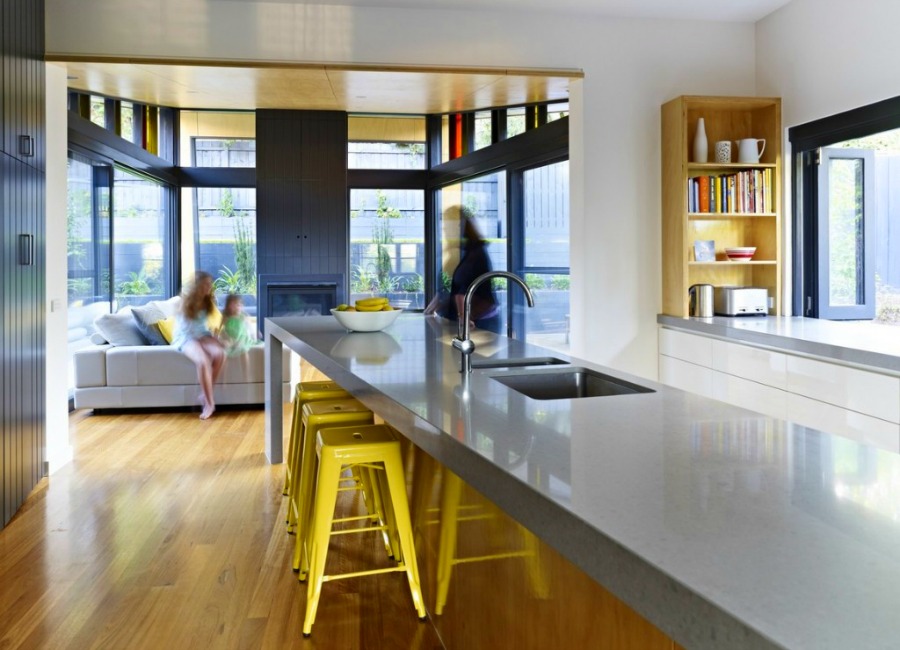 The glass wall in this kitchen floods it with light, while the shiny concrete reflects it, and the long counter feeds directly into the living room area, joining the two rooms.