Are you going for a clean, fresh look in the powder room? Kate here, and a couple of years ago I moved into a home with beige tile in the bathrooms. My husband and I removed the yellow cultured marble countertops and opted for all-white cultured marble, which created a crisp look. We love the modern, less-is-more vibe that resulted, but we've struggled to finish decorating these two bathrooms for fear of cluttering them and ruining the minimalist feel. This design challenge inspired today's post, which is all about simple ways to add style without going over the top. The result: a refreshing modern bathroom space that speaks for itself!
Fresh, Green Plants
One of my favorite ways to add style in the powder room is with plants. Check out my post on the best bathroom plants for ideas, and if you're looking for a fun way to display them, place the pots in baskets, as shown below. [photo from C+M Studio]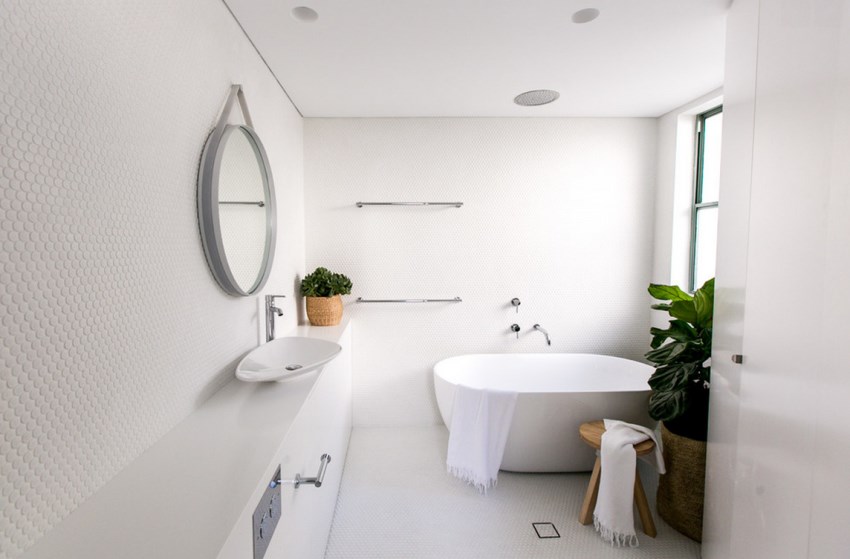 If your bathroom is on the small side and you don't want to fill the counter with greenery, try a tall, slender topiary for the floor. It won't take up much space, and it can easily serve as an intriguing focal point. [from MeddioDesign]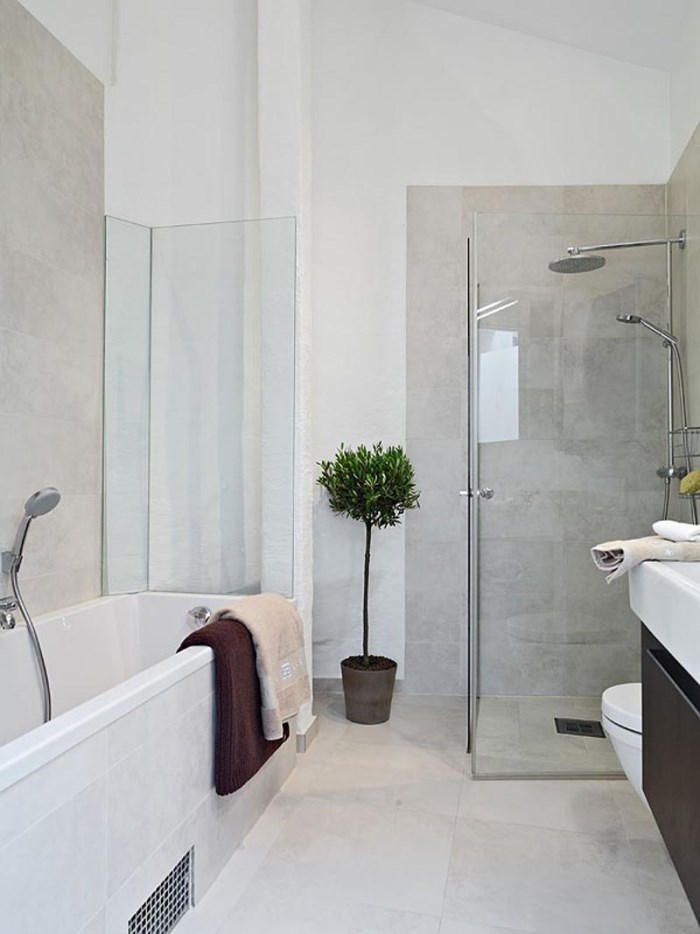 Earthy Accents
When adopting a minimalist approach for the powder room, there can be a tendency to go sleek. Sometimes so sleek that the space starts to look like every other modern bathroom with slick, matchy-matchy features. To add a dash of earthy style, warm up the space with textured baskets, as shown below with the Newport Wall Cabinet (and corresponding baskets) from Pottery Barn: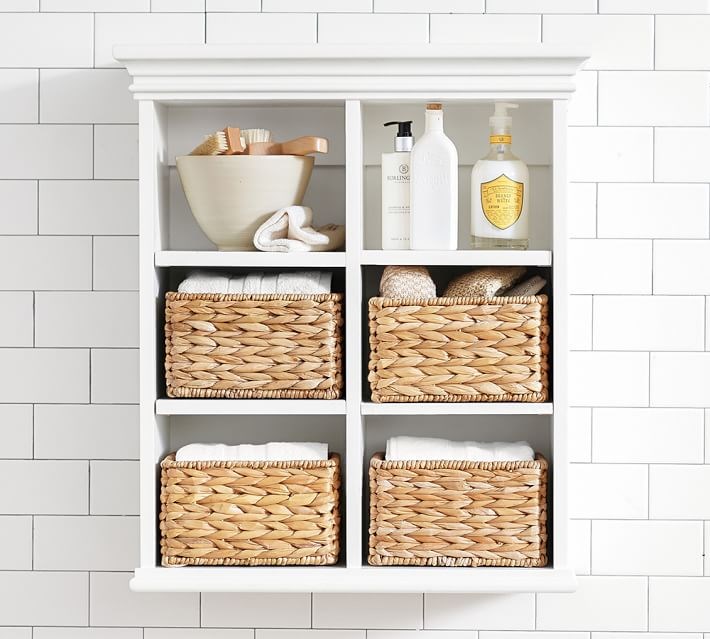 As mentioned earlier in the post, a woven basket makes the perfect earthy plant holder, and you can even go with unexpected touches such as woven pendant lights, which provide a wonderful contrast to the clean-lined features of many modern of bathrooms! [photo from C+M Studio]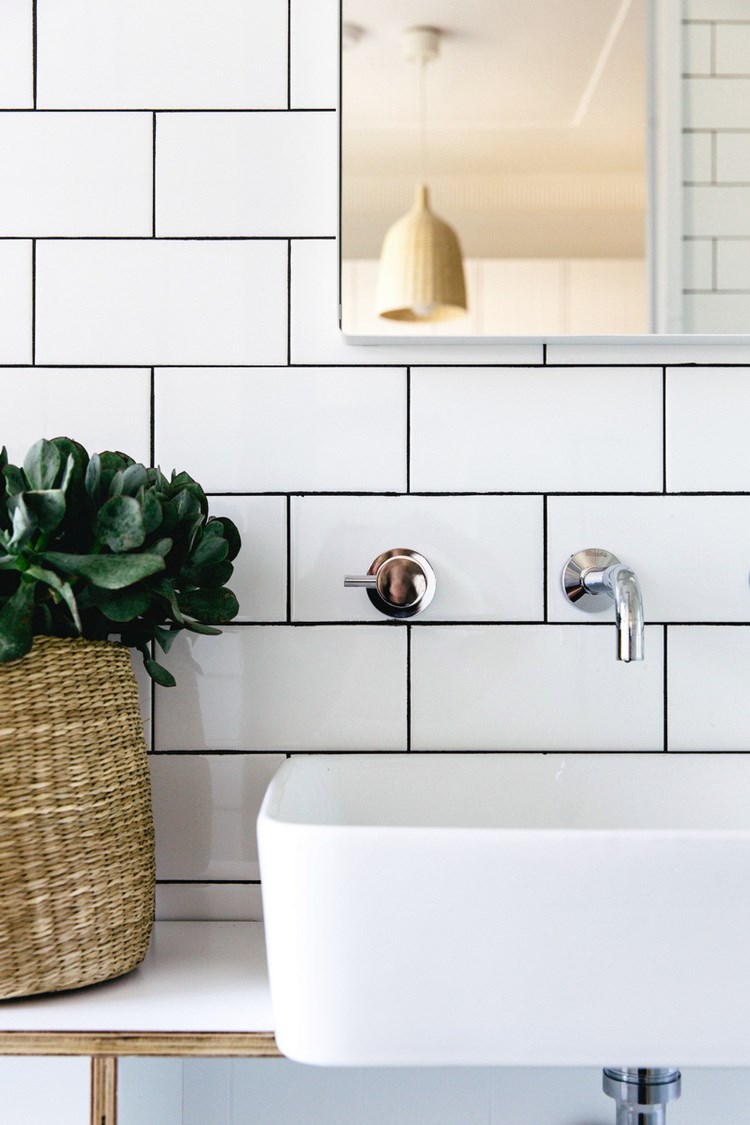 Contrasting Color
If you have an all-white (or cream, or beige, or grey) bathroom and you're hesitatnt to add bold bursts of color, try subtle accents in one main hue. For example, green adds a refreshing twist to the white tiled powder room below. Note the green of the plant, the green of the glasses, and the minty shade of the bottle/decanter. [from Gregory Phillips Architects]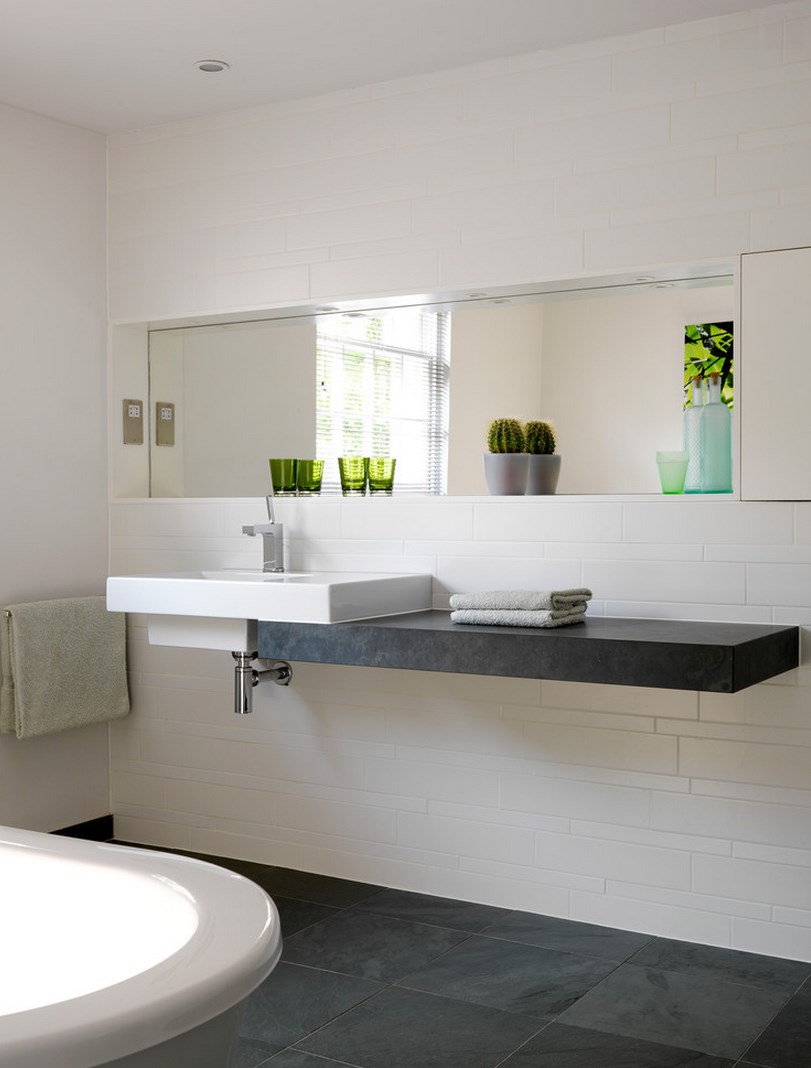 In the next image, we see the elegant powder room of blogger Camille Styles in a sneak peek shot of her tour in Austin Home. While cream tile clearly sets the tone for the space, fuchsia accents are introduced in the form of striking floral statements. [photo by Casey Dunn]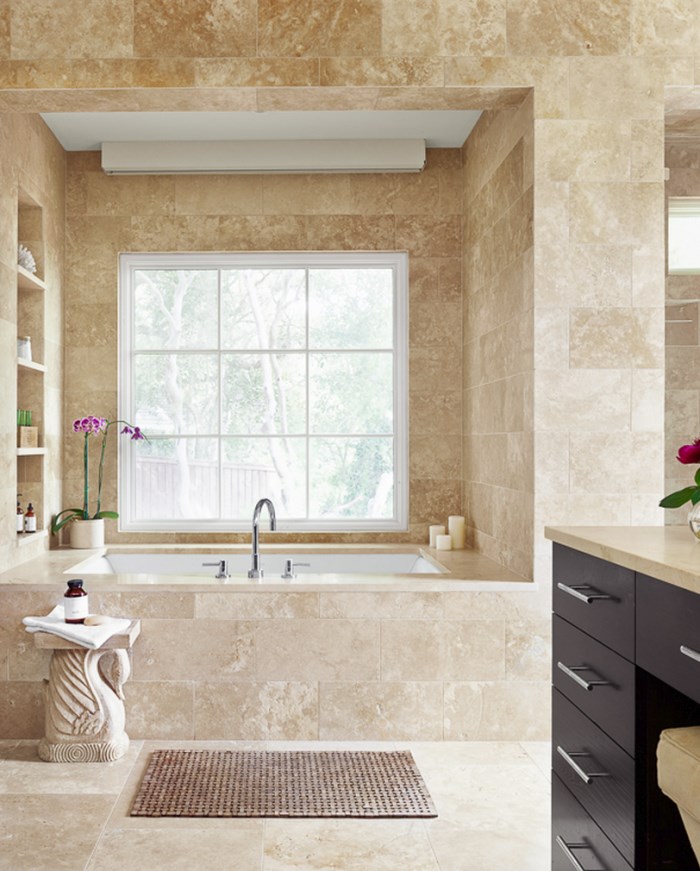 A Touch of Pattern
When keeping it simple, it never hurts to pepper the space with striking accents. Small patterned items can get the job done, as seen with the tub-side stool in this farmhouse-style bathroom: [from Domus Nova]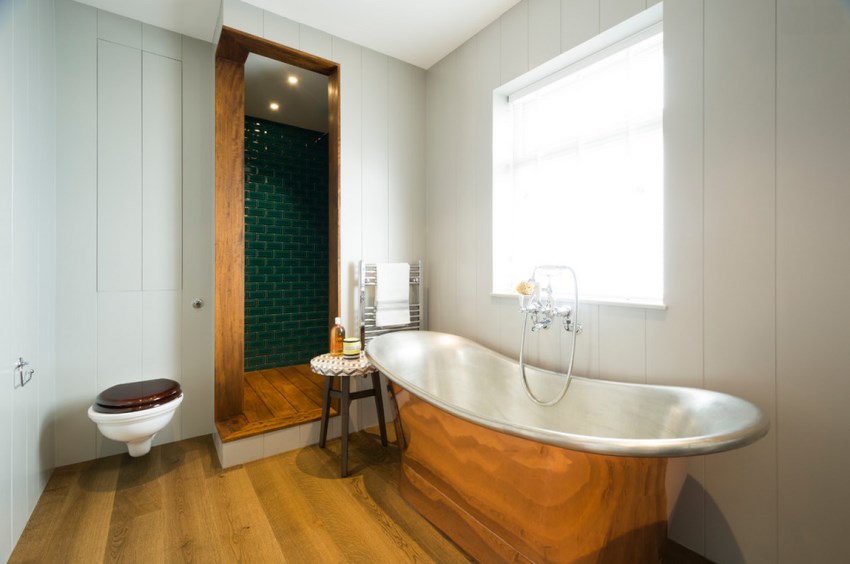 If you're wanting to be subtle, select a pattern in neutral tones. If you're looking to make a bold statement, opt for a colorful print or pattern, as shown by these vibrant bath towels from Missoni Home. [photo by Murray Fredericks, from CplusC Architectural Workshop]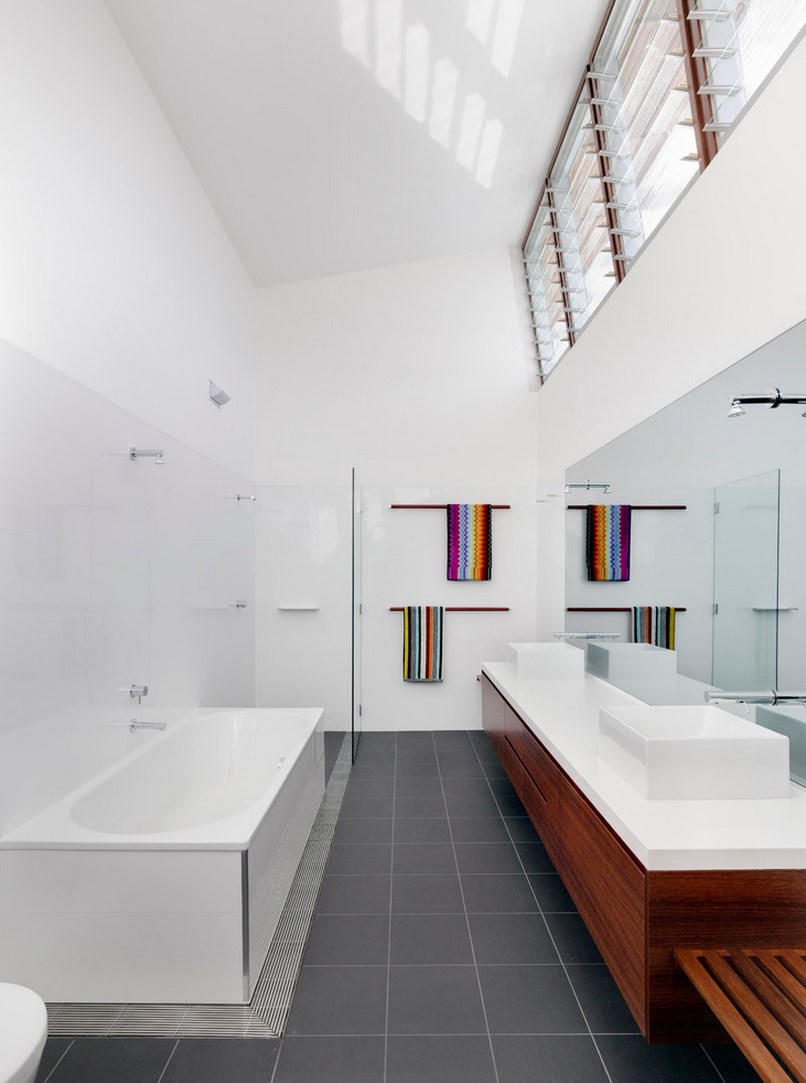 Beautiful Bath Products
This last section of today's post is a great reminder to keep it simple when it comes to grooming products. Nothing can clutter a modern space like a counter filled with bottles and tubes in loud packaging. One option is to keep all but the most beautifully packaged grooming items behind closed cabinets. Another option: pour liquids into matching bottles. I like the closed cabinet approach! [photo by Paul Craig, from Trunk Creative]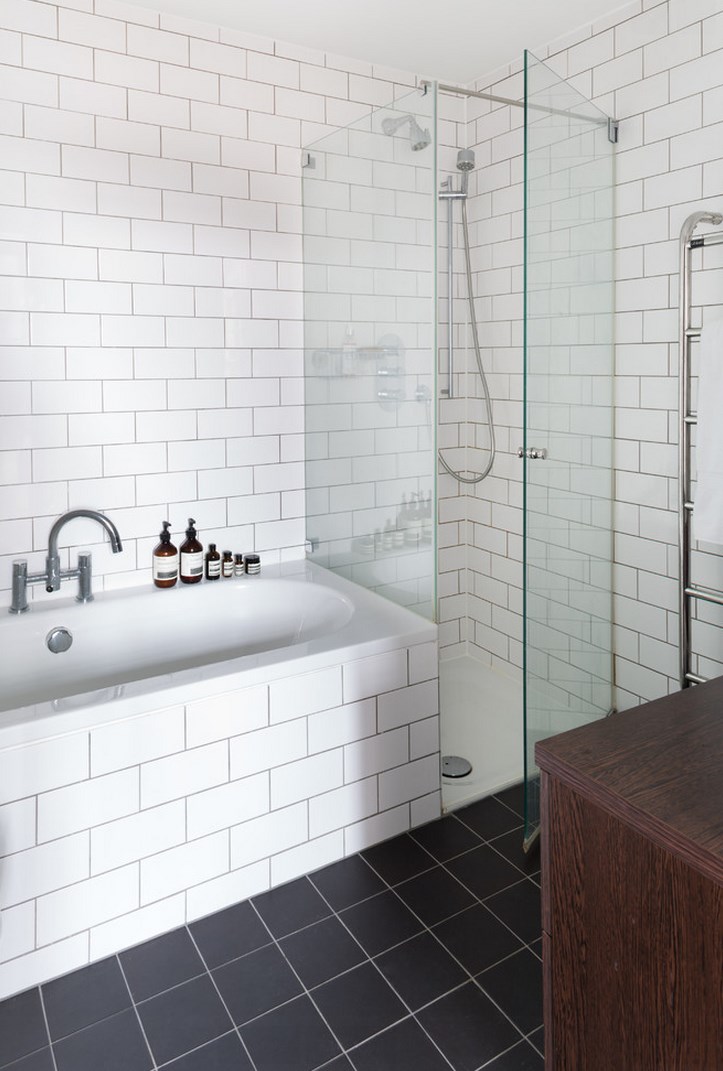 Then again, if your grooming products look as classy as the ones below, display them with pride! They can truly add a spa feel to your modern bathroom. And here's some good news: this Gla Nature Personal Care Collection from West Elm is now on sale for $9.99 for the set!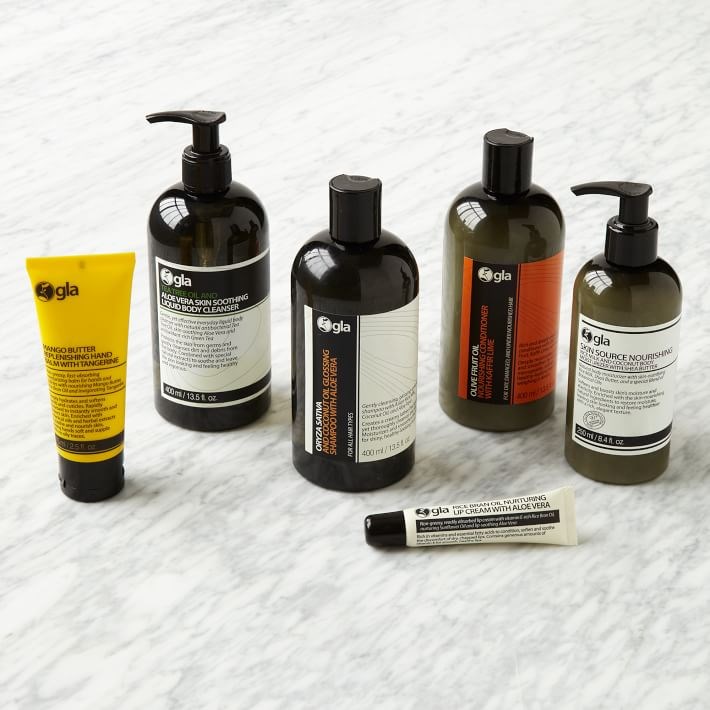 Green plants, earthy accents, colorful touches, patterned pieces and lovely spa products are a few ways to add interest to your clean-lined bathroom without adding clutter. Will you be incorporating any of these ideas into your powder room? I can't wait to get started…